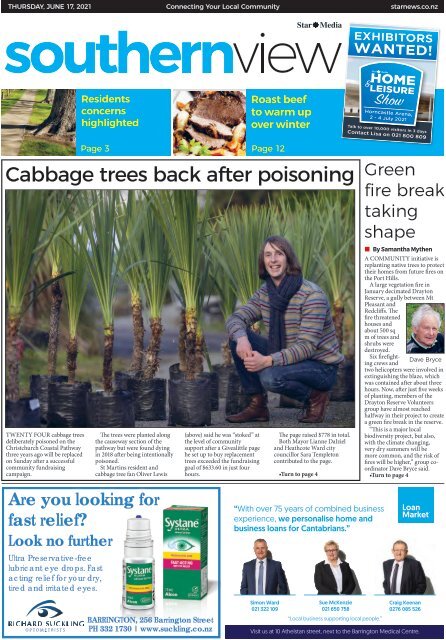 Southern View: June 17, 2021
You also want an ePaper? Increase the reach of your titles
YUMPU automatically turns print PDFs into web optimized ePapers that Google loves.
THURSDAY, JUNE 17, 2021

Connecting Your Local Community

starnews.co.nz

Residents

concerns

highlighted

Roast beef

to warm up

over winter

Talk to over 10,000 visitors in 3 days

Contact Lisa on 021 800 809

TWENTY FOUR cabbage trees

deliberately poisoned on the

Christchurch Coastal Pathway

three years ago will be replaced

on Sunday after a successful

community fundraising

campaign.

Page 3

The trees were planted along

the causeway section of the

pathway but were found dying

in 2018 after being intentionally

poisoned.

St Martins resident and

cabbage tree fan Oliver Lewis

(above) said he was "stoked" at

the level of community

support after a Givealittle page

he set up to buy replacement

trees exceeded the fundraising

goal of $633.60 in just four

hours.

Page 12

Cabbage trees back after poisoning

The page raised $778 in total.

Both Mayor Lianne Dalziel

and Heathcote Ward city

councillor Sara Templeton

contributed to the page.

•Turn to page 4

Green

fire break

taking

shape

• By Samantha Mythen

A COMMUNITY initiative is

replanting native trees to protect

their homes from future fires on

the Port Hills.

A large vegetation fire in

January decimated Drayton

Reserve, a gully between Mt

Pleasant and

Redcliffs. The

fire threatened

houses and

about 500 sq

m of trees and

shrubs were

destroyed.

Six firefighting

crews and

Dave Bryce

two helicopters were involved in

extinguishing the blaze, which

was contained after about three

hours. Now, after just five weeks

of planting, members of the

Drayton Reserve Volunteers

group have almost reached

halfway in their project to create

a green fire break in the reserve.

"This is a major local

biodiversity project, but also,

with the climate changing,

very dry summers will be

more common, and the risk of

fires will be higher," group coordinator

Dave Bryce said.

•Turn to page 4

Are you looking for

fast relief?

Look no further

Ultra Preservative-free

lubricant eye drops. Fast

acting relief for your dry,

tired and irritated eyes.

"With over 75 years of combined business

experience, we personalise home and

business loans for Cantabrians."

BARRINGTON, 256 Barrington Street

PH 332 1730 | www.suckling.co.nz

Simon Ward

021 322 109

Sue McKenzie

021 650 758

"Local business supporting local people."

Craig Keenan

0276 085 526

Visit us at 10 Athelstan street, next to the Barrington Medical Centre.
---
2 Thursday June 17 2021

Latest Canterbury news at starnews.co.nz

SOUTHERN VIEW

GENERAL INQUIRIES Ph 379 7100

CLASSIFIED ADVERTISING Ph 379 1100

Star Media, a division of Allied Press Ltd

PO Box 1467, Christchurch

starmedia.kiwi

NEWS

Bea Gooding

Ph: 021 911 576

bea.gooding@starmedia.kiwi

ADVERTISING

Mark Sinclair

Ph: 364 7461

mark.sinclair@starmedia.kiwi

Your local community news

delivered to 21,586 homes

within The Star each week.

Spreydon • Hoon Hay • Hillmorton • Cracroft

Cashmere • St Martins • Somerfield

Sydenham • Addington • Waltham • Opawa

Beckenham • Huntsbury • Woolston

what's on

this week

JP Clinics

Thursday, 10.30am-1.30pm, at

Spreydon, Tuesday, 10am-1pm, at

Halswell, Linwood and South

Halswell, Linwood, South and

Spreydon libraries

A justice of the peace will

be available to members of the

community to witness signatures

and documents, certify document

copies, hear oaths, declarations,

affidavits or affirmations as well as

sign citizenship, sponsorship or rates

rebates applications. This service is

free.

Mah-Jong

Thursday, 1-3.30pm

60 Vincent Pl, Opawa

If you are interested in playing

Mah-Jong, go along whether you are

a beginner or an advanced player.

Phone Noel at 322 8636 for more

information.

Technology Help Drop-In

Sessions

Thursday, 2-3pm at South,

Tuesday, 10.30-11.30am, at

Spreydon, 2-3pm, at Halswell

Halswell, South and Spreydon libraries

Need help using your computer,

smartphone, or tablet? Take your

device to the drop-in sessions for

help with general computer and

internet queries. Free, no bookings

required.

Rotary Market

Sunday, 8.30am-12.30pm

Bug Motels - After School Activity Zone, Thursday, 3.30-4.30pm,

Linwood Library. Provide some shelter for the critters in your backyard. Go

along and create a Bug Motel to put in the garden at home to help celebrate

wildlife in Christcurch. Free, all materials provided. ​

Woolston Club, 43 Hargood St

A variety of stalls will be available,

including fresh produce, jams and

preserves, and recycled clothing,

books and tools. Every Sunday, with

all proceeds supporting the local

community. For site inquiries, phone

Vance at 022 382 0086.

Creative Writing on Sundays

Sunday, 1.30-3.30pm

Linwood Library

Writing group leader Jennifer will

work with group members to craft,

create and develop their own stories.

Take some pens or pencils, paper, or

a laptop. This class is free.

The Southern Jazzmen

Sunday, 3-6pm

Oak n Ferry, 608 Ferry Rd

The Southern Jazzmen are

performing this Sunday at the Oak n

Ferry restaurant. All welcome. Phone

Jeff Bradley on 0274411991 for more

information.

Scrabble

Monday, 2-4pm

Old Stone House, Shalamar Drive,

Cracroft

Go along for a game with a

friendly and social group. If you do

not know how to play, they will teach

you. $2. Phone Anne at 338 7366 for

inquiries.

Risingholme Singers Choir

Monday, 7.30-9.30pm

Risingholme Theatre, 99 Hawford Rd,

Opawa

If you love singing, go along and

join the friendly choir. They sing

a variety of music from movies,

TV shows, hit records and more.

Reading music is an advantage but

not essential. All welcome, especially

tenors and basses. Phone Jill at 388

3235 for more information.

Tai Chi: Meditation in Motion

Tuesday and Friday, 7-8.30pm

St Anne's School hall, 739 Ferry Rd

Tai Chi is a low impact mind and

body exercise known for its many

physical and mental health benefits.

First class is free. Phone Frances on

027 698 0057 for more information.

Not-for-profit organisations can

send their What's On listings to

southern@starmedia.kiwi

Most elder abuse is

hidden in plain sight

Abusers are often someone close – A family member, a caregiver,

someone trusted. If you're concerned about how someone is being treated,

it's OK to help.

CALL OUR FREE HELPLINE
---
SOUTHERN VIEW Latest Canterbury news at starnews.co.nz

Thursday June 17 2021 3

Issues highlighted in survey

• By Matt Slaughter

RESIDENTS ARE largely

unsatisfied with the condition

of roads and footpaths in

Christchurch.

The city council's recent

Christchurch Residents' Survey

revealed only

29 per cent

of those who

gave feedback

are satisfied

with the

condition of

roads and 36

Bronwyn

Hayward

per cent with

footpaths.

It comes

as the city council's Long Term

Plan, which outlines its 10-year

budget, and has been undergoing

consultation since March, will be

finalised this month. It includes a

proposed budget of $18.3 million

a year, for the first three years of

the plan, for road resurfacing.

Meanwhile, the results of

the survey show 24 per cent

of respondents who have been

involved in governance processes

are satisfied with their influence

on city council decisions and

only 36 per cent understand how

its decisions are made.

It comes as 2381 Christchurch

residents gave feedback on

the city council's draft Long

PARENTS

Do you have a son or daughter

interested in horse riding?

✭ Courses every weekend.

✭ 2, 5 & 7 day School Holiday courses.

✭ Private lessons available

Monday to Friday

✭ One day / one night $90 child

✭ Opportunity to compete on our horses.

✭ ½ day lessons and treks available.

•HAVE YOUR SAY: What are your thoughts on footpaths

and other issues? Email matt.slaughter@starmedia.kiwi

Term Plan.

The city council says it is working

on ways to improve engagement.

The Star spoke to residents

in April after written consultation

for the Long Term Plan had

closed. All either did not know

what the Long Term Plan is, or

chose not to give feedback on it.

Canterbury University professor

Bronwyn Hayward believes

the number of people who gave

feedback on the draft Long Term

Plan is promising. However,

she said the reason more people

did not give feedback, could be

because they have a lack satisfaction

with their influence on city

council decisions.

"It is costly in terms of time

and resources to actually read

a plan and spend time writing

formal submissions.

"Many people that give submissions

are not expecting to

have their submissions agreed

with, but we do know that people

have confidence in a process

when they feel that they were

listened to respectfully and given

enough time to be heard."

Said city councillor Yani Johanson:

"I think at a governance

level, we do need to consider how

we make it easier for people to

understand what council's doing

and to be involved in what council's

doing.

"Certainly, making it easier for

people to understand information

is critical. The second thing

is having greater transparency

and openness around our briefings."

Said city council head of community

support, governance and

partnerships John Filsell: "We

are always looking at ways we

can improve our engagement.

"We are continuing to engage

and educate on decisions and we

actively encourage as many people

as possible to submit, contribute

and get involved via a variety

of channels – online, hard copy

and face to face.

"These questions [in the survey]

seek to establish if citizens

have had that opportunity to

contribute/influence/have their

say on council decisions – rather

than whether they were able

to influence council's decision

to the individually preferred

outcome."

In contrast to the city council

services residents are most concerned

with, there are many they

are happy with.

Of those surveyed, 100 per cent

are satisfied with education programmes

in Christchurch, 98 per

cent are happy with the Botanic

Gardens and Mona Vale, 95 per

cent with libraries, 97 per cent

with walk-in customer service

and 92 per cent with customer

service over the phone.

Overall satisfaction with city

council services is sitting at 49

per cent – a slight decrease from

50 per cent last year.

with Tracey McLellan, MP for Banks Peninsula

Somerfield Community Centre,

47 Studholme St

10–11am Saturday 19 June

642 Ferry Road, PO BOX 19 661, Woolston, Christchurch

03 376 4512

Tracey.McLellanMP@parliament.govt.nz

Christchurch Residents'

Survey satisfaction

percentages

Reliability of water supply

– 75 per cent

Inner city parks – 82 per

cent

Kerbside bins collection –

80 per cent

Education programmes –

100 per cent

Libraries – 95 per cent

Botanic Gardens and

Mona Vale – 98 per cent

External communication –

82 per cent

Customer service – walkins

97 per cent/email – 71

per cent/phone – 92 per

cent

Condition of footpaths –

36 per cent

Walking friendly city – 74

per cent

Condition of roads – 29 per

cent

Community parks – 63 per

cent

Influence on city council

decisions – 24 per cent

Understanding of city

council decisions – 36 per

cent

Public influence on

decisions – small influence

– 46 per cent/large or

some influence – 30 per

cent

Heritage buildings – 48 per

cent

Stormwater drainage – 45

per cent

Water supply –

responsiveness – 52 per

cent/quality 45 per cent

Somerfield Community

Drop-in Session

2264064

711 Island Rd View Hill, OXFORD 7495

03 312-4309 www.kowhai.co.nz

Authorised by Tracey McLellan MP,

642 Ferry Road, Woolston

happy biSCuits at i Spy

Good honest

homestyle baking

Rustic baguettes and

hearty soup buns to go

with your winter warmers

Small batch made from scratch, Coffee to go!

I Spy Food 78 Barrington Street, somerfield | Phone: 03 337 0422

Open 7 Days | Phone 337 8214

Shop 2, 73 Centaurus Road,

Huntsbury, Christchurch
---
4 Thursday June 17 2021

Latest Canterbury news at starnews.co.nz

SOUTHERN VIEW

Cabbage

trees to be

replanted in

working bee

•From page 1

Lewis said he was "delighted"

Dalziel and Templeton had

thrown their weight behind the

campaign.

Templeton said the level of

public support was heartening

and remains hopeful the

community funding and

'sponsorship' of trees would

show the poisoner that the trees

were loved by many.

"I personally think that they're

beautiful trees and I'm really

hopeful the community buy-in

and involvement in funding and

planting them will stop anyone

trying something like that

again," she said.

Lewis had "zero sympathy"

for the poisoner.

"It was a petty and disgraceful

thing to kill trees in the public

domain."

The 24 replacement cabbage

trees will mean the original

planting design along the

causeway will be restored.

A working bee to

reinstate the trees along

Main Rd and plant several

hundred other natives

along Beachville Rd will be

held at 10am on Sunday.

SOIL AND

HARDFILL

DUMPING

Helping protect homes from fire

•From page 1

The project involves planting

800 low flammable native

species for the first 10m below

residential properties to create

the fire break.

"Creating a fire break along

the reserve's boundary has been

a priority to establish and give

protection to neighbouring

properties," said Bryce.

He said the residents of the

houses closest to the reserve are

helping out themselves.

"This is a community biodiversity

area.

"We want to get the surrounding

community engaged with the

reserve and looking after it."

There are about 200 current

members of Drayton Reserve

volunteers.

The group started in April

2016. Their aim is to work with

the city council to return the

reserve to its original forest cover

for conservation, recreation and

educational purposes.

Bryce said the original forest

in the valley was wiped out for

farming and grazing.

They now hope to restore the

nine different ecosystems that

exist there, including an aquatic

ecosystem in the stream that

runs through the reserve.

Some of their other work

includes improving streambed

WE NOW HIRE

LANDSCAPING AND

GARDEN EQUIPMENT

DIGGERS, TRUCKS, WOOD CHIPPERS, POLE SAWS,

BREAKERS, WATER BLASTERS, ETC.

PLUS WE SUPPLY THE BEST

LANDSCAPE & GARDEN SUPPLIES

•BARKS •COMPOSTS

•AGGREGATES - CHIP, ROUND & BASECOURSE

•SCHIST PRODUCTS •PUNGAS

•DECORATIVE STONE & LANDSCAPING ROCKS

•TRAILER HIRE - FIRST HOUR FREE WITH PURCHASE

•BAG & BULK - PICK UP OR DELIVERED

DYERS ROAD LANDSCAPE & HIRE

PHONE: 03 384 6540

183 DYERS RD, BROMLEY ● OPEN 7 DAYS

Weekdays 7.30am-5pm. Weekends 8.30am-3pm

www.dyersroadlandscape.co.nz

HARD WORK: Volunteers replant trees in Drayton Reserve after a fire in January decimated

the area and threatened homes. ​

and water quality, pest control,

improving walking tacks, and

managing litter.

The group is hoping to have

completed the fire break by

August.

Fantastic teamwork by Cameron and his team. They

were super prompt with replies to emails and following

up with any questions.

Our sale price exceeded our expectations due to

Cameron's negotiation skills.

- Jo Corden -

Phone or text 027 555 7079

REINZ Salesperson of the Year across all brands in NZ

cameron.bailey@harcourts.co.nz

No.1 Harcourts Canterbury 2012-2021

No.1 Harcourts New Zealand 2017-2021

www.cameronbailey.harcourts.co.nz No.1 Harcourts International 2017-2020

Licensed Sales Consultant REAA 2008
---
SOUTHERN VIEW Latest Canterbury news at starnews.co.nz

Thursday June 17 2021 5

Pupils visit Scott Base's oldest building, VR style

SCOTT BASE'S oldest building

in Antarctica, a hut built by a

Sir Edmund Hillary-led team,

visited St Martins School this

week, but in virtual reality form.

Antarctic Heritage Trust's

roadshow has been visiting

classes since Monday, with the

final leg under way today.

Developed in partnership

with Auckland University of

Technology, the virtual reality

experience allows users to

explore Sir Edmund Hillary's hut

in Antarctica.

The experience provides insight

into how the 23 men of Sir

Ed's team lived and worked in

the world's most extreme environment

more than 60 years ago.

The trust's general manager

operations and communications

Francesca Eathorne, who

oversaw the project development,

hopes the VR tour inspires

people to learn more about

Antarctica and the nation's most

famous son.

"Sir Ed's hut is part of the rich

history of Antarctic exploration

and we are excited to bring this

experience to as many students

around New Zealand as we can,"

she said.

"Most people will never get

the chance to visit Antarctica

so virtual reality is a fantastic

way to give people a glimpse of

NUMBER ONE SUPPLIER

TO THE NZ JET BOATING

COMMUNITY FOR OVER

50 YEARS

• Part Boats & Hulls

• Turn Key Packages

• New Jet Units

• Custom Fabrication

• Expert Advice

SERVICING

Peter Tonkin

03 962 0505

peter.tonkin@hamiltonjet.nz

• Spare Parts Retailer

• Jet Unit Refurbishment

• Engine Tune-Ups

• Insurance Repairs

• Impellor Reconditioning

EXPLORATION: Antarctic Heritage Trust public engagement

officer Sarah Bouckoms walks St Martins School pupils

through Scott Base's oldest building in Antarctica through

virtual reality. ​

what it would be like to visit this

special place.

"Hopefully the fascinating stories

of what Sir Ed and his team

achieved furthering science and

exploration will inspire the next

generation of explorers."

Hillary's hut was Scott Base's

first building and was built by a

team led by Sir Ed to support the

Commonwealth Trans-Antarctic

oN sAle Now!

AvAilAble from stAr mediA:

Level One, 359 Lincoln Road

Addington, Christchurch

Phone 379 7100

Expedition and the International

Geophysical Year.

The trust cares for this hut and

four other historic expedition

bases in Antarctica. The Trust

conserved Hillary's Hut in time

for Scott Base's 60th anniversary

in 2017.

Users can tour the five rooms

of the building, viewing hundreds

of artefacts from the early

Now only

$35.80

Plus $5 P&H per copy

years of New Zealand's Antarctic

programme, while learning

BELOW: St Martins School pupils dress up

in gear designed to weather the storms of

Antarctica.

more about NZ's first presence in

Antarctica.

Modern Property Wanted

Modern Property Wanted – up to $800k

St Martin's, Beckenham, Cashmere or Hoon Hay

I have a buyer looking for a modern single story

3 bedroom house up to $800,000 in the

St Martin's, Beckenham, Cashmere or Hoon Hay

areas. If you can help please contact me

Debbie Pettigrew on 027 777 0411

Your agent, Your home, Your future

P 027 777 0411

LICENSED SALES CONSULTANT REAA 2008

Time for a new

hairstyle or maybe

just a trim up

Haircuts for the whole family

by our trained stylists…

No

appoiNtmeNts

Necessary,

just come on in

EVERY 8 TH

HAIRCUT

IS FREE!

With your

loyalty card

Open 7 Days - no appointment necessary

Bush Inn Cnr. Riccarton & Waimairi Rds. Ph 03 348 7008

South City 555 Colombo St. Ph 03 366 0619
---
6 Thursday June 17 2021

Latest Canterbury news at starnews.co.nz

SOUTHERN VIEW

GREAT

WINTER

READS

INSTORE NOW!

NEW RELEASES

How Stella Learned to Talk

by Christina Hunge

An incredible, revolutionary true story and surprisingly simple guide to teaching your dog to talk from

speech-language pathologist Christina Hunger, who taught her dog, Stella, to communicate using simple

paw-sized buttons associated with different words. When speech-language pathologist Christina Hunger first

came home with her puppy, Stella, it didn't take long for her to start drawing connections between her job

and her new pet. During the day, she worked with toddlers with significant delays in language development

and used Augmentative and Alternative Communication (AAC) devices to help them communicate. At night,

she wondered: If dogs can understand words we say to them, shouldn't they be able to say words to us?

Can dogs use AAC to communicate with humans? Christina decided to put this to the test with Stella and

started using a paw-sized button, programmed with her voice to say the word 'outside' when clicked,

whenever she took Stella out of the house.

Stella now has a bank of more than thirty word buttons, and uses them either individually or together

to create near-complete sentences. How Stella Learned to Talk is part memoir and part how-to guide. It

chronicles the journey Christina and Stella have taken together from the day they met to the day Stella

'spoke' her first word, and the other breakthroughs they've had since. It also reveals the techniques Christina

used to teach Stella, broken down into simple stages and actionable steps any dog owner can use to

start communicating with their pets.

My Amy

by Tyler James

Written with a searing honesty and published for the tenth anniversary of Amy Winehouse's death, My

Amy is an evocative portrait of unbreakable lifelong friendship – and a devastating study into fame,

addiction and self-sabotage.

Only one person knows what really happened to Amy, other than Amy herself. He is Tyler James, Amy's

best friend from the age of thirteen. They met at stage school as two insecure outsiders, formed an

instant connection and lived together from their late teenage years right up until the day she died, aged

just twenty-seven.

Tyler was there by her side through it all. From their carefree early years touring together to the creation

of the multiple Grammy-winning Back To Black, which she wrote on their kitchen floor. From her volatile

marriage to Blake Fielder-Civil through her escalating addictions, self-harm and eating disorders as the

toxic nature of fame warped Amy's reality. For the last three years of her life, Tyler was with her every day

when she'd beaten drugs and was close to beating alcoholism too. He also knew better than anyone the

real Amy Winehouse who the tabloid-reading public rarely saw – the hilarious, uncompromising forceof-nature

busy taking care of everyone else.

We all think we know what happened to Amy Winehouse, but we don't. This definitive insider's story

tells us all, finally, the truth.

The Forager's Treasury

by Johanna Knox

A New Zealand guide to the art of foraging - a comprehensive guide to finding sustainable,

free and fascinating plants.

In the urban and rural wildernesses, there is an abundance of food just waiting to be

discovered, if only you know what to look for. Foraged food is healthy, economical and

sustainable, but the best part is the fun you will have finding it.

This book is guaranteed to make you look at the plants around you in a different light.

The Forager's Treasury features profiles of many edible plants commonly found in New

Zealand; advice on where to find them, how to harvest them and how best to use them;

and over 60 delicious food recipes as well as more than 30 recipes for medicine, natural

dyes, perfumes and skin care.

This fully revised and updated edition of a classic bestseller is an exhaustive treasure

trove of information about our wild plants.

Bob Dylan - No Direction Home

by robert Shelton, foreword & afterword by elizabeth Thomson

Robert Shelton met Bob Dylan when the young singer arrived in New York in 1961. He became

Dylan's friend, champion, and critic. His book, first published in 1986, was hailed as the definitive

unauthorized biography of this moody, passionate genius. Shelton tells the intimate and first-hand story

of Bob Dylan's formative years in Greenwich Village NYC, and it is the only biography that has been

written with his active cooperation.

Dylan gave Shelton access to his parents, Abe and Beatty Zimmerman – whom no other journalist has ever

interviewed; to his brother, David; to childhood friends from Hibbing; to fellow students and friends from

Minneapolis; and to Suze Rotolo, the muse immortalized on the cover of Freewheelin' , among others.

Concluding Dylan's story backstage during his triumphant 1978 world tour, No Direction Home took

20 years to complete and when it was finally published the book received widespread critical acclaim.

Following his Nobel Prize for Literature Award in 2016, Dylan's standing is higher than at any time

since the 1960s and Shelton's book is now seen as a classic. This new illustrated edition, published

in the year of Dylan's 80th birthday, includes key images of Dylan throughout his incredible, enduring

career, making it a must for all Dylan fans.

You Are a Champion: How to Be the Best You Can Be

by Marcus rashford, with Carl Anka

Marcus Rashford is famous worldwide for his skills both on-and-off the pitch – but before he was

a Manchester United and England footballer, and long before he started his inspiring campaign to

end child food poverty, he was just an average kid from Wythenshawe, South Manchester. Now,

Marcus Rashford MBE wants to show YOU how to achieve your dreams, in this positive and inspiring

guide-for-life.

No matter who you are and no matter where you come from, every single person in the world has

the potential to be a champion. In You Are a Champion, the world's favourite footballer gives you the

tools you need to reach your full potential, showing you how to be the very BEST version of yourself

you can be. Written with journalist Carl Anka, this empowering guide is packed full of stories from

Marcus's own life, brilliant advice and top-tips from performance psychologist Katie Warriner. Perfect

for readers who need to hear that they already are champions – they just might not know it yet.

This book shows kids how to: Be comfortable with who you are – you can't be a champion until

you're happy being you! Dream big Practise like a champion – good things take hard work and

time. Get out of your comfort zone and learn from your mistakes. Navigate adversity in a positive

way. Find your team. Use your voice and stand.

1005 Ferry rd

Ph 384 2063

while stocks last (see instore for terms and conditions)

Barry & kerry
---
SOUTHERN VIEW Latest Canterbury news at starnews.co.nz

Thursday June 17 2021 7

Siblings show

how it's done on

the sports fields

• By Fiona Ellis

THE SPORTING success of

Cashmere siblings on Saturday is

proving that good things come in

threes.

Campbell siblings Lily, 11,

Bodhi, 12, and Josh, 17, each

won player of the day in their

respective matches.

Their father Mark Campbell

said Josh's game was the last of the

day.

"We were joking: 'Wouldn't it be

funny if he got player of the day?'

and he did."

He was not surprised that

each of the three won the award

individually.

"They're all super hardworking

and right into it. They'll always be

contenders."

However, he was surprised they

all received the award on the same

day, which had never happened

before.

Watching the successful day of

sports felt "pretty good", he said.

His children had plenty of drive.

"They're very self motivated.

Most kids get carted [to sports

games] by their parents."

Lily was the first to take the

award on the day, playing centre

for Cashmere Netball Club's J

team.

"She's not very big, but she's

fast and nippy like an Energizer

bunny."

Bodhi followed suit as centre

defender in his football game for

Cashmere Technical 12th grade

gold.

"He's a very skilful player. He

takes responsibility for shutting

down other attacks."

They then watched Josh play

centre back for the club's 17th

grade blue, and it was clear he was

also playing a strong game.

"[He] scored a thundering low

knuckleball left-footed half volley

from 18m. He is right-footed and

has taught himself mastery of his

left foot."

The element his children had in

common was the ability to play a

strong defence, he said.

FIELD OF VICTORY: Campbell

siblings (from left) Josh, Bodhi

and Lily, were each awarded

player of the day after their

sports games on Saturday.

Warm and Cosy

Winter Nightwear

All PJs

ONE WEEK ONLY

25% OFF

Sizes from

XS - 4XL.

Many styles to

choose from.

Choose from

our great

selection

of our

wonderful

range

• Robes

• Nighties

• Pyjamas • Bras

• Camisoles

• Knickers

• Bed socks

• Hankies

Excluding Merino Cotton

Shop 48 Barrington, Barrington St

Phone 03 337 6609

www.lingerieonbarrington.co.nz

Introducing

Mark

Sinclair

Mark lives and works locally, he

is passionate about working with

South Christchurch and Canterbury

businesses offering print and digital

media solutions to help promote their

companies products and services in

the local Southern View and Star Media

publications. He has a longstanding

association with the media industry and

has been with Star Media, a division of

Allied Press, for the last 12 years.

The Southern View is delivered FREE

each Thursday, covering the latest local

news and information, and is delivered

into residential households across South

Christchurch. Digital editions are also

available to view online at

www.starnews.co.nz.

CALL Mark TODAY to discuss how he

can help PROMOTE YOUR BUSINESS

to local readers, or to the entire

Canterbury district.

Contact Mark

DDI: 03 3647461

Mobile: 021 913566

Email: Mark.Sinclair@starmedia.kiwi

Turn everyday

essentials into

SuperGold

Find all the ways you could

stretch your money further.

Visit www.supergold.govt.nz or download

and check the SuperGoldNZ app.

SG_180x130_garden
---
8 Thursday June 17 2021

Latest Canterbury news at starnews.co.nz

SOUTHERN VIEW

Prepare your

home for winter

The Mitsubishi Electric EcoCore AP35

heatpump is whisper quiet and ideal for living

rooms & bedrooms.

Back-to-back installation of the EcoCore AP35

heat pump for just $2450 including GST.

T&C's apply. Enquire Today!

Exterior lighting

Repair or install

• Landscape lighting

• Security lighting

• Path and driveway

lighting

• Discuss the many

more options

Switchboard

health check

Ensure your electrical

wiring and connected

equipment are safe

and compliant.

Just

$190

SAVE $85!

incl.GST

Six tips to get the most efficiency

out of your heat pump

Make sure it's clean

A clean heat pump filter will help your

heat pump run more effectively and

efficiently.

Give your filter a good clean as we head

into the cold season, and ideally clean your

filters once a month during winter.

Know your temperatures

Set your heat pump temperature to 18

deg C or above to help fight damp and

mould, and below 21 deg C to save on

power.

Heat where you eat/sleep, play

Heat pumps use the most energy

when they're getting a room up to a set

temperature. Heat the rooms you use

most often.

Close the doors to unused rooms

to avoid heating unrequired space (ie

spare bedrooms etc).

Don't run your heat pump

constantly

A lot of people believe that keeping a

heat pump running 24/7 is an efficient,

cost-effective way to heat their home.

Doing this will use more energy than

only using it as required.

Fixed Price.

Full Service.

Guaranteed

Quality.

Now,

that's hot.

Use your timer

Set your timer to turn on just before you

get home from work and/or before you

wake.

Set or turn off when you leave for the

day and before retiring to another room.

Avoid an expensive mistake

If you are looking to buy a heat pump,

talk to the experts.

Consider energy star ratings, location,

and the size required for the area/s you

wish to heat.

For a fully project-managed

hot water repair or upgrade.

Give us a call today 24/7 03 365 9712

aoteaelectriccanterbury.co.nz

Conditions apply. This offer is exclusive to Aotea Electric Canterbury for residential homes in the Canterbury area only.

Award winning company, trusted in Canterbury for 37 years

Call the installation hotline

0800 HOT WATER

hotwatershop.co.nz
---
SOUTHERN VIEW Latest Canterbury news at starnews.co.nz

Thursday June 17 2021 9

Prepare your

home for winter

Minimise your heat loss

Insulation

Without insulation, approx. 30-35%

of the heat loss occurs through the roof,

20-30% through windows, and 20-25%

through walls. The floor and air leakage

make up the balance.

Drafts

Seal up any unused openings such as cat

doors and open fireplaces.

Use draft stopping tape around windows

and tape, door 'sausages or a rolled-up

towel for doors.

Double glaze windows, there is a wide

range of DIY Window insulation kits that

are both effective and economical.

Downlight fittings

Some modern LED downlights have

insulation fitted over them, instead of

leaving a gap for fire prevention.

Super-efficient LEDs use less energy

and can save lighting costs. Ask a lighting

specialist or registered electrician for

advice.

Simple steps to reduce dampness

Air your home regularly

Open doors and windows for 10-15

minutes each morning or use a ventilation

system.

Use energy efficient, low

emissions heaters

Heat rooms being used to at least 18˚C.

Don't use unflued or portable gas heaters.

Use extractor fans

They can help to get rid of moisture in

the bathroom and laundry and use a fan or

rangehood in the kitchen.

Use lids on pots when you cook

This helps to stop the steam escaping.

Turn on the fan before a shower

or bath

Shut the bathroom door and open the

window slightly. Afterwards, leave the fan

running until the moisture clears.

Move furniture away from walls in

winter

A 10cm gap discourages mould

(especially on external walls).

Dry washing outside

Use a washing line or rack in the garage

or a under covered area.

Leave wardrobes slightly open

A little air circulation discourages mould

growing on fabric.

Buy — sell — reside with

peace of mind

Any property, old or new, can have

hidden problems. It is important to know

the true condition of your current, or

potential property.

An AA House Check report can provide

you with the confidence to buy or sell with

no surprises.

Property examinations provide detailed

room by room inspections, including

roof cavity, insulation, flooring, electrical,

plumbing, drainage, hot water systems,

roofing, decks, paths and driveways,

garages, asbestos identification and more.

A BOINZ accredited building surveyor

can also carry out moisture checks,

residential foundation inspections,

earthquake damage repair assessments and

methamphetamine testing.

Serving Canterbury homeowners,

landlords and prospective home buyers for

over 15 years AA House Checks have your

house inspection needs covered.

Retrofit Insulation

Specialists

Retrofitting insulation in your ceiling,

walls and underfloor will make your home

warmer, healthier and more energy efficient.

An investment you cant afford to be without.

CONTACT US NOW

Phone 0800 220 055

www.canterburyinsulation.co.nz
---
10 Thursday June 17 2021

Latest Canterbury news at starnews.co.nz

HOME & HEATING

SOUTHERN VIEW

Author shortlisted

for another award

GAVIN BISHOP has

been shortlisted for New

Zealand book awards

more times than any other

author across the country.

The Cashmere picture

book author and artist has

published 70 titles locally

and abroad that have won

numerous awards and are

translated into 12 different

languages.

Now he can add another

nomination under his belt

having made the shortlist

for the Wright Family

Foundation Te Kura Pounamu

Award at the New

Zealand Book Awards

for Children and Young

Adults for Mihi, his latest

work.

The finalists for this

award are for books written

entirely in te reo Māori.

Mihi introduces concepts

of whānau and place in the

world – the starting point

for everyone learning te

reo Māori. The book's simplicity

makes learning the

language more accessible.

The book shows the special

places and people with

whom readers can identify,

both at home and in the

community, providing a

solid foundation for learning

te reo in the future.

The repetition of colours

and shapes show connections

between waka,

mountain and iwi, through

to mama, papa and the

baby reader.

A mihi, or pepeha, is a

way for people to introduce

themselves that often goes

beyond one's name in te

reo Māori, expressing

links to the land, one's

spiritual home and sense of

purpose.

Of 166 entries nationwide,

Bishop is one of 28

finalists in the running

for an award across six

categories.

FINALIST: Children's

book writer and

illustrator Gavin Bishop

has made the shortlist

at the New Zealand

Book Awards for

Children and Young

Adults. PHOTO: MARTI

FRIEDLANDER ​

"The diversity of ideas

in this year's entries really

stood out," said convener

of judges Alan Dingley.

"It's clear that our authors

truly credit kids and

young people with having

the emotional intelligence

to deal with complex

themes, issues and feelings."

Whether that's celebrating

Māori culture

or dealing with the injustices

of inequality, seeing

a reflection of their own

small-town community or

exploring body image, disability

and adversity – no

topic was off-limits.

But big ideas are delivered

in a way that also

entertains, Dingley said.

Bishop was made an

Officer of the New Zealand

Order of Merit for services

to children's literature in

2013.

He has been writing

and illustrating books left,

right and centre since 1981.

Iconic titles include Taming

the Sun: four Māori

Myths, Mrs McGinty and

the Bizarre Plant, Aotearoa:

The New Zealand Story and

many more.

His accolades previously

include Margaret

Mahy Book of the

Year Award, the Prime

Minister's Award for

Literary Achievement,

the Mallinson Rendel

Illustrators Award and the

Margaret Mahy Medal

for Services to Children's

Literature.

Keep cosy with

RD Petroleum

this winter

RD Petroleum (RDP) is a familiar sight

for farm and rural residents around the

Canterbury region, however now days urban

residents also enjoy the same excellent

customer service for which RDP is known for

in rural communities, through their home

heating diesel.

RDP began its home heating diesel delivery

service to the lower South Island's main urban

centres of Christchurch, Timaru, Dunedin

and Invercargill a number of years ago.

Customer demand has continued to increase

year upon year, and RDP has responded

with specialised improvements to its delivery

equipment.

The trucks that deliver RDP's home heating

diesel in each urban centre are drawn from

the company's extensive vehicle fleet. This

means they have the latest communication

and GPS tracking technology on board, so

the operations team always know where they

are and how far away they are from their next

delivery stop.

RDP's home heating diesel trucks come

equipped with a specially-designed hose,

through which the diesel is pumped from

the truck into house tanks. The length of

the hose allows the trucks to access tanks

without having to enter the property, avoiding

damaging the driveway. RDP is the place to

go if you require diesel conveniently delivered

to your home and as a loyal RDP customer

you're offered discounted pricing and can

become eligible for value-added benefits.

For all enquiries please phone

0800 44 00 14, or visit the RDP website at

https://www.rdp.co.nz/home-heating or

signup at apply.rdp.co.nz/home-heating

Read local
---
SOUTHERN VIEW Latest Canterbury news at starnews.co.nz

Thursday June 17 2021 11

HOME & HEATING

Get the balance

right this winter

Enviro Master has been helping

Cantabrians get the balance right when it

comes to choosing the perfect heat pump or

air conditioning system for their home or

office since 2002.

Their team of expert sales people, qualified

electricians, heating and refrigeration

engineers, help to supply and install

Christchurch's widest range of heat pumps,

and because they have no affiliation with any

one brand, you can be assured their advice

on the benefits and differences between each

product is unbiased.

They will recommend the most energyefficient

and cost-effective system for your

individual situation, and will have you

regulating the heat in your home or office in

no time.

Nowadays, customers are often wanting

whole home solutions to be able to maintain

even temperatures throughout the home both

in Winter and Summer. This can be achieved

by using ducted systems or multi systems

and Enviro Master are experts in designing,

installing and commissioning these systems.

Help is currently available with a

government subsidy covering 80 per cent of

the cost of a new heat pump up to $3000.

The subsidy is part of the Warmer Kiwi

Homes initiative and is available to Home

owner/occupiers with a Community Services

Card, a SuperGold combo card or who live in

a low-income area as determined by deciles

8-10 on the New Zealand Deprivation Index.

The applicant's home must also have been

built before 2008, have insulation up to code

(insulation subsidies also available) and have

no fixed heating in a living area, such as an

existing operational heat pump or fireplace.

With new regulations coming in for

Landlords to provide heating in rentals,

now is a great time to beat the deadline.

Inadequate heating and ventilation can lead

to mould growth and dampness in your

property, leading to costlier maintenance

and an unhealthy living environment.

Providing a fixed heater with a higher heat

output and lower running costs, like a heat

pump, will enable your tenants to heat the

area effectively. Enviro Master are well

experienced with the Tenancy Services

software to ensure that you are meeting your

requirements.

To ensure you choose the right system for

your home or business, one of Enviro Master's

experts will visit to assess your individual

situation, offer advice and answer any

questions you may have. This consultation

is at no cost to the customer and is always

provided before a heat pump is installed.

Anyone wondering about their eligibility

for a subsidised heat pump are welcome to

get in touch for details and help with the

application process. To find out more, call

Enviro Master on (03) 366 0525 or visit

their website www.enviromaster.co.nz.

What makes a great

Heat Transfer System?

There are a number of Heat Transfer

systems on the market. Smooth-Air

ventilation specialists offer a range of HTU

Heat Transfer Units with carefully selected

components to optimise the system:

They use insulated duct to transfer the

heated air with as little heat loss as possible.

The fan moves sufficient air for the distance

and number of rooms, without being noisy.

The diffusers send the heat to the floor, not to

skim the across the ceilings. All components

are good quality - designed to operate for

years without problems.

Smooth-Air's HTUs come in a range of

options: One to four rooms, with or without

thermostat and with a choice of grilles and

diffusers. HTUs improve energy efficiency

in your house, as you are using excess

heat. They have low power consumption

- only 80watts for the three room system.

Circulating air through the house also

reduces the risk of damp.

You can also choose the HTU version with

downjet diffusers, which throw the warm

air downwards to the floor. These downjet

diffusers can also be adjusted to regulate

which room receives the most warm air.

An average size living room requires 2-4 kw

of heating, yet appliances such as log burners

generate heat in the region of 10 -20kw. This

leaves an excess of 8 -16kw of heat which

sits at high level in the heated room, usually

above door level.

Heat transfer units work best where very

hot air has 'stratified' into a layer near the

ceiling. So heat pumps, which circulate warm

air around the room with no layering, are

not suitable as a heat source by themselves.

However, if you have both log burner and

a heat pump, heat transfer systems with

thermostat can work very well: The heat

pump stops operating once the heat from the

fire has heated the room, and the heat transfer

kicks in above this point, once there is a layer

of hot air at the ceiling.

Contact Smooth-Air on 0800 SMOOTH

(0800 766 684) to ask how they can help you

with your Heat Transfer, as well as any other

ventilation requirements.

ATTACK RISING DAMP

Smooth-Air

Ventilation Equipment Suppliers

to

trade

&

retail

Smooth-Air also has a wide range

of ventilation equipment to bring

fresh air into your home.

T. 03 376 4608 E info@foamconcrete.nz

W. www.foamconcrete.nz

Domestic

Commercial

Industrial

HEAT PUMP

SALE NOW ON!

Amazin' Winter Specials!!

80%

SubSidy

Warmer KiWi HomeS

Programme

*Eligibility criteria apply

• We will offer you the best quality brands and

option of heat pump for your home/business

• Providing Heat Pump solutions for over 19 years to Cantabrians

• We personally guarantee all our products & installs for 5 years

(providing annual maintenance has been completed)

Phone us today for your free consultation & quote

41A SHAKESPEARE RD, WALTHAM

PHONE 03 366 0525

www.enviromaster.co.nz

"A local team for local people"

0800 SMOOTH

(0800 766 684)

sales@smooth-air.co.nz

Transfer

the excess

from your

log burner

to your bedrooms

264 Annex Rd

Riccarton

Christchurch

03 343 6184

heat

Monday - Friday

7.30am - 5pm

www.smooth-air.co.nz
---
12

Thursday June 17 2021

Latest Canterbury news at starnews.co.nz

SOUTHERN VIEW

Use garlic and onions to jazz up roast

Sunday roasts are

a traditional Kiwi

favourite. Try adding

some powerful flavours

for a change that

should please the

whole family

Roast beef with garlic and

onions

Ingredients

1.5kg rolled roast beef

2 medium onions

2 carrots

2 sticks celery

1 bulb of garlic

1 bunch of mixed fresh herbs ,

such as thyme, rosemary, bay,

sage

olive oil

Directions

roasting tray and drizzle with oil.

Drizzle the beef with oil and

season well with sea salt and

black pepper, then rub all over

the meat. Place the beef on top of

the vegetables.

Place the tray in the oven,

then turn the heat down

immediately to 200 deg C

and cook for 1 hour for

medium beef. If you prefer it

medium-rare, take it out five to

10min earlier. For well done,

leave it in for another 10

to 15min.

If you're doing roast potatoes

and veges, this is the time to

crack on with them – get them

into the oven for the last 45min

of cooking.

cooking and if the veges look dry,

add a splash of water to the tray

to stop them from burning.

When the beef is cooked

to your liking, take the tray out of

the oven and transfer the beef to

a board to rest for 15min. Cover

it with a layer of tin foil and a tea

towel and leave

aside while you make your

gravy, horseradish sauce and

yorkshire puddings.

Remove the beef from the

fridge 30min before you want to

cook it, to let it come up to room

temperature.

Preheat the oven to 240 deg C.

Baked chicken breasts

Wash and roughly chop the

vegetables – there's no need

Ingredients

to peel them. Break the garlic

bulb

260

into cloves, leaving them

x 180

4 tablespoons olive oil

unpeeled.

3 tablespoons honey

Pile all the veges, garlic and

2 tablespoons whole grain

herbs into the middle of a large Baste the beef halfway through mustard

1 tablespoon smooth and mild

Dijon mustard

4 cloves garlic, peeled and

minced

1-2 tablespoons fresh lemon

juice

1/2 teaspoon paprika

2 pounds (1 kg) boneless skinless

chicken breasts, (4 large

chicken breasts)

Salt and cracked black pepper,

to season

2 tablespoons fresh chopped

parsley, to garnish (optional)

Lemon wedges, to serve

(optional)

Directions

Onions roast

up well in

the oven

with beef,

don't forget

to garnish

with herbs

before

serving

Preheat oven to 200 deg C.

Lightly grease a baking tray/

sheet with oil and line with foil or

parchment paper.

Combine the oil, honey,

mustards, garlic, lemon juice

and paprika in a small bowl to

combine well.

Place the chicken onto the

prepared baking sheet (tray).

Season generously with salt and

pepper. Spoon three-quarters

of the honey mustard mixture

evenly over the chicken and

spread evenly all over each

breast. Pour a quarter of a cup of

water onto the baking sheet to

prevent burning, creating a sauce

while baking.

Bake until cooked through

(about 20-30min, depending

on the thickness of the breasts).

Spoon the remaining sauce over

each breast and broil (or grill) for

a further three-to-four minutes

on medium-high heat to brown

the chicken and caramelise the

edges.

Cover with foil and allow to

rest for 10min to let the juices

settle before serving.

Garnish with parsley and serve

immediately with lemon wedges.

Notes

To include roasted asparagus,

arrange them onto the same

baking sheet around the chicken

in the last 10 minutes of cooking

time. Rotate them in the pan

juices or pan sauce and season

with salt and pepper.

Need Heat Fast?

The Fastest, Warmest Indoor/Outdoor Heater You Will Ever Own!

Buy One Get One Free! *

+Plus

Free

Floor

Stand!*

worth

$199.99

• Heats Up Instantly

• Suitable for Indoors or Outdoors

– In Rain, Fog, Wind or Snow

• Carbon-Fibre Bulb Technology

*Call for Terms

& Conditions

• Multi-Directional Stand

• Includes Remote Control &

Built-In Timer

• Motion Detection Function

1.8m High

• Commercial Grade

• Multi-Directional

• Easy Install

• Portable

• Indoors & Outdoors

CALL NOW! 0800 665 665
---
SOUTHERN VIEW Latest Canterbury news at starnews.co.nz

Thursday June 17 2021 13

For inquiries: Anne (Sales)

M: 027 727 4770 W: 03 943 6006

E: anneb@archer.org.nz www.archer.org.nz
---
14

Thursday June 17 2021

Latest Canterbury news at starnews.co.nz

SOUTHERN VIEW

Be inspired with thousands of ideas under one roof!

2 – 4 July 2021

IN ASSOCIATION WITH

Free informative seminars

thanks to

Complimentary

goodie bags! show-only specials

and giveaways!

Live AUCTION!

Courtesy of

This MEGA tiny home

could be yOUrs!

A 2016 Nissan Leaf

worth $ 22,000!!

2 - 4 July 2021 • 10am - 5pm • Christchurch Arena • www.starhomeshow.kiwi

CUT THIS AD OUT FOR

1x FREE DOUBLE PASS

Join us at the Home & Leisure show, stand number 176.

Appliances, beds, furniture & tech.

Everything you need for your home.
---
SOUTHERN VIEW Latest Canterbury news at starnews.co.nz

Thursday June 17 2021 15

Classifieds Contact us today Phone our local team 03 379 1100

Food

Trades & Services

Trades & Services

Trades & Services

Trades & Services

Wanted To Buy

saitouchofspice.co.nz

82 Barrintgon Street the

best Curry Takeaway,

Open 11.30am to 2.30pm,

4.00pm to 9.30pm, Butter

chicken,naan, rice &

coke $14.90. Ph Orders

3327885, or text order to

0212324544

Gardening

& Supplies

Gardener available for

maintenance, weeding

pruning, spraying,

planting, advice. Qual &

exp.Pensioner discount

25%. Ph Richard 0274 918

234, 03 349 4022

Trades & Services

FOR ALL YOUR

★Garden Clean-ups

★Pruning

★Lawn Mowing

★Garden Maintenance

Call us today for a FREE quote

PH 0800 4 546 546

(0800 4 JIMJIM)

ADD SOME

COLOUR

TO YOUR ADVERT!

HALSWELL

GLASS & GLAZING 2017 LTD

THE PET DOOR SPECIALIST

• PET DOORS

• NEW GLAZING

• FRAMELESS SHOWERS

• MIRRORS

• INSURANCE CLAIMS

• RETRO GLAZING

• BALUSTRADING

ALL SUBURBS COVERED FOR

ALL YOUR GLAZING NEEDS

PHONE GAIL ON

322 7999 OR 021 CAT DOOR

(228 3667)

Trades & Services

BRICKLAYER

George Lockyer. Over

40 years bricklaying

experience. UK trained.

Insurance work, EQC

repairs. Heritage

brickwork & stonework

a speciality. No job too

small. Governers Bay.

Home 329 9344. Cell

027 684 4046. E mail

georgelockyer@xtra.co.nz

CARPET LAYING

Exp. Repairs, uplifting,

relaying, restretching.

Phone John on 0800

003181, 027 240 7416

jflattery@xtra.co.nz

ELECTRICIAN

Prompt & reliable

registered electrician

with 24 years experience

for all residential and

commercial work, new

housing and switch board

replacements. Phone Chris

027 516 0669

ELECTRICIAN

Contact for a free quote

phone 027 331 0400

dave@davesimpsonelectrical.co.nz

davesimpsonelectrical.co.nz

Experienced Domestic Electrician

Quality Workmanship

• New Build

• Renovations

• Fault finding

Specializing in:

• Roof Painting

• Interior/exterior

residential

• Small commercial

painting

PAINTERS

Noel 027-411-3596

kemp.painters@gmail.com

kemp painters and decorators

• Power

• Lighting

• Switchboards

Painters and Decorators Ltd

Canterbury Owned and Operated

A husband and wife team

We offer

free quotes

Quality not

Quantity

PLUMBER

NEED A PLUMBER

Call us now for fast friendly service.

Get your problems sorted out

quick smart - on time!!

Phone for a

FREE

quote now.

Phone 03 377 1280 | Mobile 021 898 380

ROOF REPAIRS

Locally owned & operated with

over 30 years experience.

• Extensions & repair • Roof coating

• Concrete & clay tiles • Butynol

• Malthoid • Asbestos Certified

• Coloursteel • Old iron • Guttering

Phone Dave 981 0278

or 021 223 4200

E: dave@beaumontroofing.co.nz

BEAUMONT ROOFING LTD

GUTTER CLEANING

Gutter cleaning special

from $99 plus gst for a

whole house clean"".

Free Quotes, call Morgan

Thomas today 022 375

8506

PAINTING

Indoor / Outdoor, over 30

yrs exp, same day quotes,

ph Steve 021 255 7968

ROOFING REPAIRS

Fully qualified, over 40

yrs experience. Ph John

027 432-3822 or 351-

9147 email johnchmill@

outlook.com

STONEMASON, BRICK

& BLOCKLAYER,

Earthquake Repairs, Grind

Out & Repoint, River/

Oamaru stone, Schist,

Volcanic Rock, Paving,

all Alterations new & old,

Quality Workmanship,

visit www.featureworks.

co.nz or ph 027 601-3145

STUMP GRINDING

Best price guarantee Tony

0275 588 895

VHS VIDEO TAPES

& all camera tapes

converted to DVD or

USB. Video taping

special occasions, www.

grahamsvideo.co.nz ph 03

338-1655

ADVERTISE YOUR

BUSINESS HERE

Phone for further details

(03) 379 1100

stoves, washing machines,

stoves, washing machines,

fridge freezers. Same day

service. Selwyn Dealers.

Phone 980 5812 or 027

AAA Buying goods

quality furniture, beds,

fridge freezers. Same

day service. Selwyn

Dealers. Phone 980

5812 or 027 313 8156

AAA Buying goods

quality furniture, beds,

313 8156

mechanical, engineering,

sawbenches, lathes, cash

TOOLS Garden,

garage, woodworking,

buyer, ph 355-2045

Public Notices

EntEr

now!

be in to WIN

WIth our 7 th AnNual bIrd

photo competition

Your favourite bird photo competition

sINce 2015!

our 2020 Winner:

Karen Moffatt-Mcleod

over $1000

in prizes

Including a Canon EOS M200

inter-changeable lens

camera, a Topflite Native Bird

Nurturer Pack & more!

Entries can be sent electronically (high resolution files) to giveaways@gardener.kiwi, with the subject line 'Photo Competition 2021', or posted to Photo

Competition 2021, Kiwi Gardener, PO Box 1467, Christchurch 8140. All entries must be received by 5pm, Thursday, July 1 2021. You can enter more than

once. The winning photos will be published in the August issue (out July 26).
---
Advert: FCSV1706 Newspaper: Southern View

16 Thursday June 17 2021

Latest Canterbury news at starnews.co.nz

SOUTHERN VIEW

Shop online at

FreshChoiceYourWay.co.nz

or download the

FreshChoice app

Loose Sweet

Juicy

Mandarins $

4 00

kg

Fresh NZ

Corned Beef

Silverside

$

9 90

kg

Cadbury

Chocolate Blocks

150-190g

$

2 50

ea

Loose Red or Orange

Kumara

$

3 50

kg

Fresh NZ Beef Sirloin

Steak or Roast

$

23 90

kg

Tip Top Ice Cream

2L

$

5 90

ea

Barrington

City Market

Open 7am – 10pm, 7 days a week.

barrington.store.freshchoice.co.nz

Open 7am – 9pm, 7 days a week.

citymarket.store.freshchoice.co.nz

Prices apply from Monday 14th to Sunday 20th June 2021, or while stocks last at FreshChoice Barrington & City Market only. Limits may apply.

FreshChoiceNZ

OWNED &

OPERATED BY

LOCALS

FCSV1706