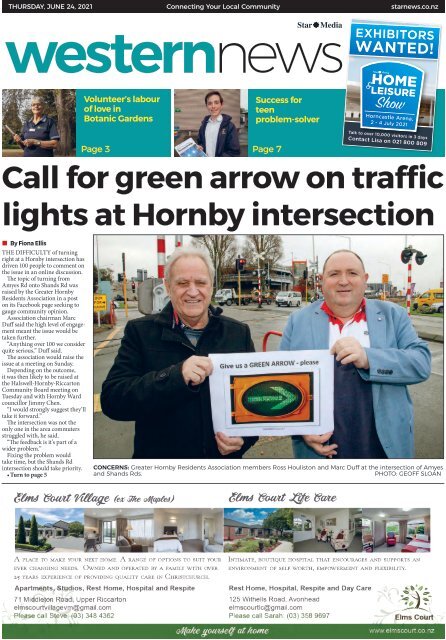 Western News: June 24, 2021
Create successful ePaper yourself
Turn your PDF publications into a flip-book with our unique Google optimized e-Paper software.
THURSDAY, JUNE 24, 2021

Connecting Your Local Community

starnews.co.nz

Volunteer's labour

of love in

Botanic Gardens

Success for

teen

problem-solver

Page 3 Page 7

Talk to over 10,000 visitors in 3 days

Contact Lisa on 021 800 809

Call for green arrow on traffic

lights at Hornby intersection

• By Fiona Ellis

THE DIFFICULTY of turning

right at a Hornby intersection has

driven 100 people to comment on

the issue in an online discussion.

The topic of turning from

Amyes Rd onto Shands Rd was

raised by the Greater Hornby

Residents Association in a post

on its Facebook page seeking to

gauge community opinion.

Association chairman Marc

Duff said the high level of engagement

meant the issue would be

taken further.

"Anything over 100 we consider

quite serious," Duff said.

The association would raise the

issue at a meeting on Sunday.

Depending on the outcome,

it was then likely to be raised at

the Halswell-Hornby-Riccarton

Community Board meeting on

Tuesday and with Hornby Ward

councillor Jimmy Chen.

"I would strongly suggest they'll

take it forward."

The intersection was not the

only one in the area commuters

struggled with, he said.

"The feedback is it's part of a

wider problem."

Fixing the problem would

take time, but the Shands Rd

intersection should take priority.

• Turn to page 5

CONCERNS: Greater Hornby Residents Association members Ross Houliston and Marc Duff at the intersection of Amyes

and Shands Rds.

PHOTO: GEOFF SLOAN
---
2 Thursday June 24 2021

Latest Canterbury news at starnews.co.nz

what's on

this week

WESTERN NEWS

GENERAL INQUIRIES Ph 379 7100

CLASSIFIED ADVERTISING Ph 379 1100

Star Media, a division of Allied Press Ltd

PO Box 1467, Christchurch

starmedia.kiwi

NEWS

Fiona Ellis

Ph: 021 914 407

fiona.ellis@starmedia.kiwi

ADVERTISING

Alana Powell

Ph: 962 8753

alana.powell@starmedia.kiwi

Your local community news

delivered to 24,894 homes

within The Star each week.

Templeton • Islington • Hei Hei • Broomfield

Halswell • Oaklands • Westlake • Hornby • Ilam

Wigram • Sockburn • Church Corner • Avonhead

Hyde Park • Russley • Riccarton Park • Riccarton

JP Clinic

Thursday, 9.30am-12.30pm, at

Hornby, Saturday, 10am-noon, at

Fendalton, Tuesday, 10am-1pm, at

Halswell and Upper Riccarton

Fendalton, Hornby, Halswell and

Upper Riccarton libraries

A justice of the peace will be available

to members of the community

to witness signatures and documents,

certify document copies, hear oaths,

declarations, affidavits or affirmations

as well as sign citizenship, sponsorship

or rates rebates applications. This

service is free.

Knit 'n' Yarn

Thursday, 10.30am-2.30pm,

Tuesday, 1-3pm, at Upper

Riccarton, Thursday, 2-3.30pm, at

Fendalton, Thursday 1-3, Saturday,

1-3pm, at Halswell, Tuesday, 10amnoon,

at Hornby

Fendalton, Halswell, Hornby and

Upper Riccarton libraries

Take your knitting, crochet, stitching

or any other handcraft and enjoy

the company of others. Share skills

and be inspired.

Citizens Advice Bureau

Thursday, Friday, Monday,

Tuesday, Wednesday, 9am-5pm,

at Hornby, Thursday, Friday,

Monday,, Wednesday 11am-5pm,

Tuesday 2-5pm, Fendalton.

Hornby and Fendalton Libraries

Citizen's Advice Bureau provides

free, confidential advice to everyone.

They take the time to listen and equip

GenConnect Thursday, 1-1.45pm Upper Riccarton Library. If you have

questions about your smartphone or tablet, ask an expert for advice. Free,

no bookings required. ​

you with information, options and

support that fit your needs. Free,

phone 349 5236 for more information.

Free Legal Advice

Thursday, 6.15-8.15pm

Hornby Library

A lawyer will be available to answer

your legal questions. Take relevant

documents. Free. No bookings required.

Afternoon Euchre

Friday, 1.15-3.30pm

Halswell Bowling Club, Halswell

Domain

Join in for an afternoon of playing

Euchre with other like-minded people.

Hot beverages on offer. $3 entry,

$2 raffle. Phone Noel on 322 8636 for

more information.

Wā Kōrero-Storytimes

Tuesday, 10.30-11am, at Fendalton,

Wednesday, 10.15-10.45am, at

Hornby

Fendalton and Hornby libraries

Storytimes is an interactive programme

including books, songs,

rhymes and play.

Recommended for children twoyears-old

and up. No bookings

required.

Family History

Wednesday, 11am-1pm

Upper Riccarton Library

A volunteer from the Riccarton

branch of the New Zealand Society of

Genealogists will be available to help

you with finding your family history

online. Meet at the family history

computer.

Mah-Jong Group

Wednesday, 1-3 pm

Upper Riccarton Library

If you are interested in playing

Mah-Jong, go along whether you are

a beginner or an advanced player.

Not-for-profit organisations

can send their What's On listings

to western@starmedia.

kiwi

bespoke, upscale & personalised care

The reassurance of quality is built in to everything we do at The Russley Village. However, nowhere

is the requirement for reassurance more important than within our new Ashley Suites Care Facility

– setting new standards in care, comfort and security. Our highly appointed care suites offer private

ensuite and a kitchenette with refrigerator, microwave and refreshment making facilities –

providing a sense of residence. This boutique facility is truly unique, and offers personalised rest home

and hospital care within an elegant residential setting.

rest home & hospital level care
---
WESTERN NEWS Latest Canterbury news at starnews.co.nz

Thursday June 24 2021 3

Chance to guide visitors around

gardens a privilege for volunteer

VOLUNTEERING at the

Botanic Gardens has been a

chance to branch out for

Susan Lawrence.

The Bryndwr 72-year-old

began guiding visitors at the

gardens in 2012.

Volunteer guides – all

members of the Friends of the

Botanic Gardens – run free

walks in different parts of the

Botanic Gardens each day

between October and April.

"I find being a volunteer

guide incredibly rewarding,''

said Susan.

"It has provided me with an

opportunity to learn and grow

in my knowledge of plants. I

cringe sometimes when I think

of how little I knew at the start.''

She led two or three walks a

month, co-ordinated the team of

volunteer guides, and served on

the committee of the Friends of

the Botanic Gardens.

"Being part of a team

is fulfilling – we are very

supportive of one another and

each one brings his or her own

skills to the task, and we learn

from each other."

"Having the opportunity

to share our knowledge and

stories with the public is a great

privilege, whether they are

locals or tourists.

"Locals are often surprised at

how much of the gardens they

are unfamiliar with."

Mrs Lawrence says engaging

with the public on the tours

is a two-way experience and

the guides often come away

having learned a thing or two

themselves.

"Above all it is a great

privilege to give out to others

– our lives are enriched in the

process.''

She estimated she spent about

30 hours a month working on a

voluntary basis for the Friends

of the Botanic Gardens, which

exist to support and promote the

work of the gardens.

Funds raised provide education

and travel opportunities for

gardens' staff, apprenticeships

and annual library grants

amongst other things.

A large volunteer team

LABOUR

OF LOVE:

Volunteer

Susan

Lawrence

spends

about

30 hours

a month

showing

groups of

people

what the

Botanic

Gardens has

to offer.

PHOTO:

NEWSLINE

work in propagation, guiding,

weeding and duties in the kiosk.

"I would encourage anyone who

appreciates the sanctuary that is

our Christchurch Botanic Gardens

to join the friends,'' she said.

•Father, daughter on graffiti

mission, page 5

•June 20 to 26 is

National Volunteer

Week. Find out how you

can make a difference

in your community by

volunteering.

MP says

hello

• By Fiona Ellis

ILAM MP Sarah Pallett has paid

her first visit to the Papanui-

Innes Community Board since

her election last October.

A timetable clash usually prevented

her from

attending the

board's meetings,

she said.

Most of her

electorate lay

outside the

Sarah Pallett

board's area.

However, she

encouraged

board members to reach out with

feedback or requests for help.

"Regard this as a hello and a

commitment to continue to work

together as much as we can."

Community board member

Pauline Cotter said: "For community

boards, it's very important to

have dialogues with MPs."

Pallett first met with the main

community board in her area in

late March.

Fendalton-Waimairi-Harewood

Community Board chairwoman

Bridget Williams said:

"She has come and presented to

us at least twice now."

She was pleased with Pallett's

engagement with the board.

HORNBY SOUTH

FAMILY STORE

Te Ope Whakaora

pRELOVEd qUALiTy cLOTHiNG,

FURNiTURE & HOUSEHOLd iTEmS

We can arrange

pick-up of

donations simply

by phoning us.

VOLUNTEERS REqUiREd

wOULd yOU LikE TO SUppORT yOUR cOmmUNiTy?

Cnr Columbia Ave & Halswell Junction Rd

Ph 344 2530

Hours Mon - Fri 9am - 4.30pm

Sat 9.30am - 1.30pm
---
4 Thursday June 24 2021

Latest Canterbury news at starnews.co.nz

WESTERN NEWS

A communal garden

that's big enough to

feed a community.

Parkstone. The space to be yourself.

Come and see a retirement village where the communal garden is

big enough to feed the community, where a lap of the pool isn't the

same as a width, and where the cinema is not just a big telly.

Come to Bupa Parkstone where you have the space to be yourself.

Situated in Ilam this new development is ready to move in now.

Visit our Open Home this Saturday at 10am to 12pm, and see if

Bupa Parkstone is right for you.

Call Debbs on (03) 344 1422 or 027 247 4250 to book a tour.

2 Athol Terrace, Ilam

bupa.co.nz/parkstone
---
WESTERN NEWS Latest Canterbury news at starnews.co.nz

Thursday June 24 2021 5

MAKING A

DIFFERENCE:

Ben and

Nevaeh

McCallum

paint over

graffiti in their

neighbourhood

as part of

the Off the

Wall graffiti

programme,

PHOTO:

NEWSLINE

Dad and daughter team

up to take down graffiti

REMOVING graffiti

from their Spreydon

neighbourhood has become

a family affair for a father

and daughter.

Ben and Nevaeh Mc-

Callum volunteered for

the Off the Wall graffiti

programme, run by the city

council, in 2017 after seeing

a brochure about it at their

local library.

Nevaeh was only seven at

the time, but Ben wanted

her to have a strong work

ethic and felt getting rid of

• From page 1

The intersection needed

a green arrow to give rightturning

traffic the chance

to flow forward, he said.

"It's not unusual to sit

for nine, or 10, or 11

changes."

The intersection had

been a concern for the

association since it was

formed three years ago.

"It's only [got] a red

arrow to be used when

pedestrians are crossing"

Safety was a concern,

especially when the traffic

backed up past South

Hornby School.

City council data from

graffiti was a worthwhile

task to tackle together.

"At the time there was a

lot of graffiti along the front

of our shops so we decided

to get active with that," Ben

said.

As part of the Off the

Wall graffiti programme,

they help paint over graffiti

in their neighbourhood.

They're also 'tag-spotters',

who report graffiti to the

council when they see it. It

has been a fun experience

for Nevaeh, which has come

August 15, 2018, showed

that on that day, 12,654 cars

went through the intersection

between 7am and 6pm.

Of these, 1216 made the

right turn from Amyes Rd

onto Shands Rd.

Between January 1, 2018,

and January 1, 2021, seven

crashes occurred at the

intersection, one of which

resulted in a minor injury.

with an added bonus many

other kids will relate to.

"It gets me away from my

brother," she said.

Ben doesn't know many

other people in his age

group who volunteer and

worries it is a dying art.

He said more people

should give volunteering

a go.

"Definitely give it a go.

You've got nothing to lose.

If it's not for you, it's not for

you. But you won't know

until you give it a go."

Safety concerns near school

•HAVE YOUR SAY:

What are your views

on the Amyes and

Shands Rd intersection.

Email fiona.ellis@

starmedia.kiwi

Keep your Toes

Cosy &

Warm

With

our

selection

of stylish

slippers

Paulette Stickley commented

on the association's

post, calling the intersection

a nuisance.

"Definitely turn arrows

would be great," she said.

Gaylene Leadley also said

a turn arrow was needed.

"The lights at that

intersection need sorting

out . . . another really bad

one is coming out of Mitre

10/Countdown onto the

main road.''

Rachel Cooper said

she found it quicker to

detour.

"It can be such a long

wait that I often go the

other way," she said.

LIPOMAS

A Lipoma is a benign mesenchymal

tumour comprised of "mature adipocytes"

(namely fat cells). Lipomas are very

common in the dog, rarely in the cat.

Believe it or not I have several small

lipomas on my arms that cause no issue.

They are often picked up in a routine visit,

are non-painful, soft, moveable and slow

growing. Breeds at risk are the Labrador,

Retriever, Doberman, Spaniel and Beagle.

No one knows why they pop up and they

are classified into three groups –

• Simple lipoma – a benign, slow growing

mass that expands rather than invades.

They can get really huge. They are usually

encapsulated and easy to surgically shell

out. They are most commonly seen within

the fat tissue on the trunk and limbs. Very

occasionally they can be found in the

chest and abdomen. Depending on where

they are they can impede movement

causing abnormal gaits and neurological

deficits may be noticed.

• Infiltrative lipoma – These are locally

aggressive, invasive and can disrupt the

surrounding tissues. These have been

known to cause spinal cord compression.

• Myelolipoma – These are benign and can

commonly occur on the spleen, adrenal

glands and liver. We rarely see these.

Diagnosis is made by fine needle

aspiration cytology, radiographs and

ultrasound (especially of lipomas in the

thorax and abdomen or those inbetween

muscle planes). Cytology of the mass can

be done while you wait.

Most lipomas require NO specific therapy.

We usually only suggest surgical removal

if they are impeding motion or function or

in an area that irritates the dog. Surgery is

usually straight forward and it helps having

cautery for the large tumour removals as

they have a decent blood supply. Often

suction drains are inserted due to all the

dead space left and blood tends to want

McMaster & Heap

Veterinary practice

to pool there. Complications of surgery

can be delayed wound healing, seromas

forming or occasionally nerve damage if

the lipoma is deep.

Recently we had a referral to give our

opinion on lipoma surgery for a 12 year

old Labrador called "Tess". She's had a

multitude of lipomas (diagnosed via

cytology) for years but some have started

growing quickly, causing her severe

mobility issues. Kirsty initially saw Tess

and thought she could make a difference

surgically to her quality of life and mobility.

One large lipoma had extended down the

right side of her chest and into her axilla

(armpit), impinging on nerves affecting

limb placement. She kept throwing this leg

outward.

Tess was a trouper under her anaesthetic

and has recovered well. The surgery took

nearly two hours and required lots of

sutures and drains to close large wounds.

Six lipoma masses were removed, the

largest weighing in at 1.6kg. She should

hopefully find it easier to walk now. Tess

was discharged on good pain medications,

weight loss diet and a recommendation

for Physio to help her mobilise quicker and

improve muscle strength. She was a gentle

old soul to treat and we hope we have

made a difference to her quality of life.

Dr Michele McMaster

Fashionable • Functional • Footwear

Unit 3, 355 Riccarton Rd, Upper Riccarton

P. (03) 929 0927 E. info@theshoeroom.co.nz

www.theshoeroom.co.nz

FASHIONABLE FUNCTIONAL FOOTWEAR

Open 7 days

Cnr Hoon Hay & Coppell place

phone 338 2534, Fax 339 8624

e. mcmasterandheap@yahoo.co.nz

www.mcmasterheap.co.nz

McMaster & Heap
---
6 Thursday June 24 2021

Latest Canterbury news at starnews.co.nz

WESTERN NEWS

Christchurch

Intermediate Schools

specialists in Year 7

and Year 8 education

Intermediate Schools are exciting places

for students to begin their adventure into

adolescence!

Intermediate aged children are changing

rapidly – physically, emotionally and

socially. Intermediate schools focus solely

on this age group and are well positioned to

meet their needs.

Intermediates provide a rich, age and

stage, middle-years specific curriculum in

a stimulating, challenging and rewarding

environment, and cater for many interest

groups and clubs.

Intermediate teachers are focussed

solely on the middle years. They work

collaboratively to provide level-appropriate

engaging programmes that connect learning

to students' lives and interests and provide

challenges for all students to achieve to the

best of their ability.

Intermediate Schools have a mix of

specialist and home room teachers which

enhance the choices, challenge, practical

activities and academic rigour that can be

provided.

Intermediates plan and resource deliberately

to meet early adolescent student needs,

help build self esteem, assist students to

develop and find strengths and link learning

with career aspirations.

An intermediate school can support your

child by providing:

• Opportunities to excel and thrive right

across the curriculum both in and out of

the classroom

• Broad enrichment and extension

opportunities

• Opportunities to develop leadership

skills

• Carefully tailored wellbeing programmes

and learning support

• Teachers who understand and have an

affinity for this age and stage

• Structured and safe learning

environments that focus on relationships,

emotional and academic development.

• Technology and specialist programmes

that are hands-on and designed to

encourage creativity and curiosity.

• Schools that are resourced and

designed to meet the needs of this age

group with age appropriate experiences,

opportunities and challenges.

• Challenging extra-curricular experiences

The intermediate schools and principals

in Christchurch work closely together

to collectively provide a wide range of

extracurricular opportunities for students

in sporting, cultural and academic

contexts.

Find out more about your local

intermediate school and enrol now

for 2022.

Now is the time to eNrol for 2021

school Principal Contact Details

Breens Nikki Clarke website: www.breens.school.nz Phone: 359 8108 email: office@breens.school.nz

Casebrook Sharon Keen website: www.casebrook.school.nz Phone: 359 7428 email: office@casebrook.school.nz

Chisnallwood Justin Fields website: www.chisnallwood.school.nz Phone: 388 4199 email: info@chisnallwood.school.nz

Christchurch

south Karamata

Ross Hastings

website: www.chchsouth.ac.nz Phone: 332 2408 email: office@chchsouth.ac.nz

Cobham Eddie Norgate website: www.cobham.school.nz Phone: 351 6381 email: office@cobham.school.nz

heaton Andrea Knight website: www.heaton.school.nz Phone: 355 9555 email: admin@heaton.school.nz

Kirkwood Phil Tappenden website: www.kirkwood.school.nz Phone: 348 7718 email: school.information@kirkwood.school.nz

shirley Geoff Siave website: www.sis.school.nz Phone: 385 2229 email: office@sis.school.nz
---
WESTERN NEWS Latest Canterbury news at starnews.co.nz

Thursday June 24 2021 7

Success for teen problem-solver

Student

absorbs

pressure in

international

competition

• By Fiona Ellis

THE PRESSURE was on for

Riccarton High School student

Hugh Ryan as three-and-a-half

months of preparation boiled

down to just two vital hours.

However, the 14-yearold

pulled through to place

second in his division at the

international global issues

problem solving competition this

month.

"Everything I'd worked for

came up to that moment," Hugh

said.

"I got quite nervous a couple of

days before the competition."

Of the 50 competitors to take

part in the competition's middle

individual division, he was one

of just three from New Zealand.

To qualify for the competition,

he had to do well at first

the regional, then national,

competitions.

Neurotechnology was

announced as the topic of the

competition in late February,

giving competitors time to

research the topic.

For the competition, he

then had a specific scenario to

solve – in the year 2045, brain

implants are improving life in all

kinds of ways, but not without

drawbacks.

"THere were all these side

effects that were going to be a

problem.

"My winning solution was to

use brain-scan technology to

target a specific problem."

Normally the competition was

held in the United States, Hugh

said.

"It was online, sadly.

"I would've had the

opportunity to go to the

University of Massachusetts."

Going digital came with its

FUTURISTIC:

Hugh Ryan

has a longterm

interest

in problemsolving.

PHOTO:

GEOFF

SLOAN

own problems.

He had to re-write a part of

his answer after it vanished into

cyberspace.

However, the organisers

gave him some extra time to

compensate for the glitch, he

said.

"Overall it was fun, and really

interesting."

Future problem solving was

a long-time interest of his, and

he had competed in the junior

division of the competition

before, he said.

He liked thinking about future

scenarios because they dealt with

important issues.

"It's so much about the future

that will affect me and my

generation, and society as a

whole."

After the competition,

winning results were announced

backwards.

As he learned someone else had

come sixth, then fifth, then fourth,

it seemed less and less likely that

he had placed, Hugh said.

He was pleased with his

result and was keen enter the

competition again next year.

School librarian Sally Blake

said she and teacher Jack Gibson

were forming a non-competitive

future problem solving group in

the wake of Hugh's achievement.

"We were interested in

introducing [it] to Riccarton

High due to Hugh's involvement

and success," she said.

"[We are] looking forward to

putting Hugh's exceptional skills

to work."

THe two other New Zealand

competitors in his division,

who did not place, were James

Anthony of St Andrew's College,

and Daniel Zheng of Westlake

Boys' High School, Auckland.

SAFER SPEED REVIEW

Christchurch to Akaroa

Have your say on safer speeds

Speed on impact determines if the people in a crash are

killed, injured or walk away unharmed.

Through Road to Zero – New Zealand's road safety

strategy – we're working towards a future where no-one

is killed or seriously injured on our roads.

Christchurch to Akaroa is Canterbury's highest-risk route

– in terms of personal safety – and in New Zealand's

top 10% where we can make the greatest difference in

reducing road deaths and serious injuries.

Do traffic speeds affect how you use the road?

Come along to a pop-up event and have your say.

Feedback closes on 27 July 2021.

Pop-up events

Te Hapua Halswell Centre

Thursday 1 July, 3–6pm

Tai Tapu Hotel

Tuesday 6 July, 10am–1pm

Little River School

Tuesday 6 July, 3–6pm

The Gaiety Hall, Akaroa

Saturday 10 July, 11am–2pm

Head to www.nzta.govt.nz/chchtoakaroa

to have your say online or email us

chchtoakaroaspeeds@nzta.govt.nz

nzta.govt.nz
---
8 Thursday June 24 2021

Latest Canterbury news at starnews.co.nz

WESTERN NEWS

Locals

supporting

Locals

Welcome to

Valentines Hornby

The true kiwi buffet restaurant

with an extensive menu.

At Valentines Hornby we pride

ourselves on the quality and taste

sensations we dish up daily. Our

seafood menu is prepared daily,

our meats cooked fresh on the grill

or roasted with a variety of sauces

and our desserts baked daily all

ready for you to choose with all

you can eat at one very special

price.

Oysters, Prawns, Squid, Steak

and not to forget the delectable

Chocolate fountain paired with an

endless supply of ice cream from

our ice cream machine is sure to

WOW anyone… BOOK NOW

Bring this

voucher in to get

10% off your bill

Not available in conjunction with any other offer or promotion. Limit 1 coupon per

table. Offers redeemable Monday to Friday, Lunch & Dinner only. Not valid during

Mother's Day Weekend. Valid till 30th of June 2021. Discount can not exceed $50.

"Sweets "Sweets for every for every occasion" occasion"

64 64 Carmen Road, Road, Hornby Hornby

173 173 Dyers Dyers Road, Road, Bromley

www.lollyshop.co.nz

Use code Use code 'news' 'news' in store in store online or online for for

a 10% a discount 10% discount

discount discount on full on priced full priced items only. items only.

valid till valid midnight till midnight Friday Friday 2nd July 2nd 2021 July 2021

Sweets for every occasion

We are the famous pink

LollyShop and have been

a trusted place to visit for over

20 years. As a family-owned

New Zealand business every

customer is valuable to us, so

why not pop into one of our two

amazing shops in Christchurch

or try our popular online store.

We have over 600 different

lollies and can cater for any

occasion… If you're a business,

we'll help you too! If you want

kiwi favourites, old fashioned

lollies, gift boxes, single colours,

business promotions, gluten free,

sugar free, international candy or

anything in between shop with us

today!

A Family Owned Business

Ilam Watchmakers has been in

business almost 20 years. Geoff

and Michelle started their family

owned business in December 2001

and it has grown steadily over the

years to now having a great team

of 18. This makes us one of the

largest watch repair centres in New

Zealand.

We repair all brands of watches

and clocks. Due to our large

number of repair staff we are able

to maintain a fast turn around

time while keeping to the high

standards we pride ourselves on.

Ilam Watchmakers is a Service

Agency for several major brands,

including Omega, Citizen and

many others.

For all your watch and clock repairs

Ilam Watchmakers

207 Waimairi Road, Ilam, Christchurch 8041

P: 357 1002 | www.ilam-watchmakers.co.nz

MUSGROVES LTD

Buyers and Sellers of Recycled and

New Building Materials and Joinery

Timber, flooring, doors, windows,

kitchens, roofing materials and many

more quality recycled & new products.

Less waste, more purpose.

3 Musgrove Close, Wigram, Christchurch

03 322 7922 sales@musgroves.co.nz

www.musgroves.co.nz

Exploring Musgroves

It is fascinating exploring

Musgrove's sheds where

there's a huge variety of recycled

and new building products for

sale. They have sheds of timber

(including flooring) and a whole

area dedicated to roofing iron.

There are windows and doors

galore plus they have insulation

and even complete kitchens.

You'll find some neat stories and

project examples on their website

of what some of their customers

have created, but until you've

paid them a visit, you won't

be able to fully appreciate this

amazing place. It is so well laid

out; their staff are great to deal

with and they're local.
---
WESTERN NEWS Latest Canterbury news at starnews.co.nz

Thursday June 24 2021 9

Former Olympian still has the competitive spirit

THE OLYMPIC spirit still shines

brightly with John Abrams.

John, a New Zealand hockey

team member from the 1956

Melbourne and 1960 Rome

Olympic Games, remembers

close matches and physical

tussles, as the team played its

heart out from the get-go.

John and New Zealand team

made their Olympic debuts in

Melbourne.

He recalls the Australian adventures,

as he sits alongside his

wife Dawn – both residents of

Diana Isaac Retirement Village

in Mairehau.

Now, John is looking forward

to his next Olympics adventure.

Ryman Healthcare is bringing

together 12,500 residents across

41 villages in New Zealand and

Australia to compete in the

world's first international retirement

village Olympic Games.

The residents will be competing

in cycling, swimming, bowls,

a 21.6km team walking relay and

Quiznastics (gymnastics for the

brain).

Back in 1956, John and other

Kiwi games athletes were invited,

and went, to social events hosted

by gracious Melburnians.

"Even if you were wandering

around outside the village, a car

would pull up and they would

say: 'Hey you guys, we're having

MEMORIES: John Abrams, who played at right fullback in

Canterbury and New Zealand hockey teams.

a barbie tonight, would you like

to join us?' " John said.

Times at the games were different

back then, and security settings

were much lower. In 1960

John was able to watch, trackside,

the performance of Kiwi

medal winners including Barry

Magee, Peter Snell and Murray

Halberg.

As well as these memories,

John and Dawn have plenty of

Olympic memorabilia on their

walls in their independent apartment

at the village.

John's historic collection

includes photos, an Olympic

tie and an Olympic blazer from

Rome.

The items date back to the

games and more recently to

get-togethers. As Olympians he

and others were honoured by the

Christchurch High School Old

Boys with names inscribed on

a sports shirt. His shirt is now

framed and mounted on the

wall.

Both Woolston Primary

School, CBHS and later

Woolston Hockey Club were

proving grounds for John and

others. His schoolmates Noel

Hobson and Ross Gillespie (who

later coached the Kiwi 1976 gold

medal-winning team) played

together in 1960.

Provincial and national representation

followed, then John

says that he and his family had to

listen to a 6pm radio broadcast

to find if he was included in the

team for Melbourne.

The departure for Melbourne

was quite a ruckus. His father,

Dawn and young daughter,

Nicola, saw him off only to

discover the car keys (to get

home) were in John's pocket and

on the plane. They were eventually

tossed down by the pilot to

ground level before the aircraft

took off.

In Melbourne the team finished

in sixth place just behind

Australia.

The Rome Games were longhaul

in terms of travel, with the

hockey players ending in fifth

place this time after beating Australia

in the final match.

John says the team were very

close to contending for a medal,

but lost 1-0 in a thrilling quarterfinal

against Spain. The score

could have been reversed; he

says.

"We had a penalty corner and

the ball was definitely going into

the net, and it hit one of their

defenders in the jaw and went

out," John said.

"A few minutes after that, they

scored, and then it was fulltime."

The team was consigned to

the sidelines. "(But) one of the

marvellous things, then and in

Rome, the competitors had a reserve

stand at the main stadium,"

John said.

John got to sit beside athletics

coach Arthur Lydiard in the

Rome stadium to see the arrival

of the marathon athletes including

Barry Magee (now a Ryman

resident at Murray Halberg) who

finished with a bronze medal.

"It was a fabulous effort," he

said.

In Rome, he watched Peter

Snell and Murray Halberg's gold

medal performances.

Snell, in fact, spent a lot of

time at the dining table with

the hockey team, knowing well

the Auckland team members

having played hockey against

them.

Years later John, a trained

lifesaver, found Snell cramping

in the water at Tahunanui Beach

near Nelson. He pulled him to

safety, with Snell forever grateful.

Both John and Dawn are

looking forward to the Tokyo

summer Olympics and Ryman's

version of the games.

NUMBER ONE SUPPLIER

TO THE NZ JET BOATING

COMMUNITY FOR OVER

50 YEARS

• Part Boats & Hulls

• Turn Key Packages

• New Jet Units

• Custom Fabrication

• Expert Advice

SERVICING

Peter Tonkin

03 962 0505

peter.tonkin@hamiltonjet.nz

• Spare Parts Retailer

• Jet Unit Refurbishment

• Engine Tune-Ups

• Insurance Repairs

• Impellor Reconditioning

For everything

AUTO ELECTRIC

CARS • BOATS • TRUCKS

CARAVANS • TRAILERS • 4WDS

ELECTRIC & HYBRID VEHICLES

• Starter Motors

• Alternators

• Central

Locking

• electric

Windows

• ABS & Airbags

• Stereos/

Alarms

• Batteries

• tuneups

• engine

Management

Amazing

Auto USUALLy

AAE Electric SAMe DAy

ServiCe

65 Coleridge St, Sydenham

Phone 03 379 4250

www.amazingautoelectric.co.nz

BECAUSE YOUR

FEET MATTER

• General Foot Care

• Biomechanical

• Orthotics

• Ingrown Toenails

• ACC Registered

• Diabetic Foot Care

40 years

combined

experience

45 Merrin Street, Avonhead

Ph: 03 357 0155

E: info@footmatterspodiatry.co.nz

Book Online! No referral required.

EntEr

now!

be in to Win

With our 7 th AnnuaL bird photo competition

over $1000

in prizes

Including a Canon EOS M200

inter-changeable lens camera, a Topflite

Native Bird Nurturer Pack & more!

Your favourite bird

photo competition

since 2015!

our 2020 Winner:

Karen Moffatt-McLeod

Entries can be sent electronically (high resolution files) to giveaways@gardener.kiwi, with the subject line 'Photo Competition 2021', or posted to

Photo Competition 2021, Kiwi Gardener, PO Box 1467, Christchurch 8140. All entries must be received by 5pm, Thursday, July 1 2021. You can enter

more than once. The winning photos will be published in the August issue (out July 26).
---
10

Thursday June 24 2021

Latest Canterbury news at starnews.co.nz

WESTERN NEWS

Cabbage trees replaced along pathway

TREE

WARRIORS:

Oliver Lewis

and a team

of volunteers

braved the

rain on Sunday

to plant 24

cabbage trees,

replacing the

ones that had

been poisoned

in 2018. ​

• By Samantha Mythen passion for cabbage trees, had back in their rightful place and I

set up a fundraiser to replace can't wait to see them mature in

DRIZZLING RAIN and cold the 24 that were poisoned along the years to come," said Lewis.

weather did not prevent 30 the Coastal Pathway in 2018. Christchurch Coastal Pathway

volunteers from planting more Nearly $800 was raised.

Group chair Hanno Sander said:

than

260

300 natives and 24 cabbage The person

x

who poisoned

180

"The cabbage trees look great

trees along the Coastal Pathway the trees has never been

and I think they will make a

on Sunday.

identified.

good addition to the Coastal

Oliver Lewis, who has a

"I'm really happy the trees are Pathway."

The other native plants were

bought from money raised by

the Coastal Pathway Group. The

plants were supplied by Trees 4

Canterbury.

"This planting was a

wonderful demonstration of the

passion the neighbours of the

Coastal Pathway have for their

area," said Sander.

Said Lewis: "Lots of passing

motorists tooted in support,

so I just hope the groundswell

of enthusiasm for the project

shows people who think they

can mess with public trees that

they're on the wrong side

of history."

Need Heat Fast?

The Fastest, Warmest Indoor/Outdoor Heater You Will Ever Own!

Buy One Get One Free! *

+Plus

Free

Floor

Stand!*

worth

$199.99

• Heats Up Instantly

• Suitable for Indoors or Outdoors

– In Rain, Fog, Wind or Snow

• Carbon-Fibre Bulb Technology

*Call for Terms

& Conditions

• Multi-Directional Stand

• Includes Remote Control &

Built-In Timer

• Motion Detection Function

1.8m High

• Commercial Grade

• Multi-Directional

• Easy Install

• Portable

• Indoors & Outdoors

CALL NOW! 0800 665 665
---
WESTERN NEWS Latest Canterbury news at starnews.co.nz

Thursday June 24 2021 11

Whether it is a RELAXING WANDER,

or buying that PERFECT GIFT...

NEW ARRIVALS FROM

wonderful new books releases

Still Life

by Sarah Winman

A big-hearted story of

people brought together

by love, war, art and the

ghost of E.M. Forster. 1944

Sixteen Horses

by Greg Buchanan

Near the dying English seaside

town of Ilmarsh, local police

detective Alec Nichols discovers

sixteen horses' heads on a farm,

each buried with a single eye

facing the low winter sun

The Quiet People

by Paul Cleave

Can a pair of successful

crime writers get away

with murder?

The Clockmaker's

Daughter

by Kate Morton

An ambitious, complex,

compelling historical mystery with

a fabulous cast of characters.

facebook.com/missbondclothing

Avonhead Shopping Centre

Phone 358 8598

MON TO SAT 9am - 5pm SUN 10am - 4pm

Shop 1, Avonhead Mall

Corner of Merrin Street & Withells Road, Avonhead

Ph: 358 4835 | www.piccadillybooks.co.nz

We now stock a range of

Natural Dermaveen

Daily Nourish and Extra Hydration

500ml moisturising lotions, bodywashes

and shower & bath oils Just

$

14 99

ea

Craft Bakery/Cafe

We Bake Fresh Daily

Bread, Rolls, Sourdough,

Pies, Donuts, Coffee

and much much more...

Vegan and Egg & Dairy

Free options Available

Now available at...

Avonhead Mall, Withells Rd/Merrin St, Christchurch, Phone (03) 358-5449

We look forward to seeing you

at Shop 8, Avonhead Mall

Whether it is a

RELAXING WANDER,

picking up some

GROCERIES,

buying that

PERFECT GIFT,

or a little well deserved

SELF-INDULGENCE...

AvonheadShoppingCentre | Cnr Withells Road & Merrin Street, Avonhead | www.avonhead.co.nz
---
$10.50

$8.00 incl. GST

12

Thursday June 24 2021

Latest Canterbury news at starnews.co.nz

WESTERN NEWS

Give your fresh fish a point of difference

There's an abundance

of fish types

readily available in

supermarkets and fish

retailers. Jazz up your

snapper with some

tangy sauce or go really

wild with a salmon and

avocado salad

Snapper with caper sauce

Serves 4

Ingredients

Marinade:

3 cloves garlic

1 green chilli, seeded and

chopped

1 tsp thyme leaves

1/3 cup lime juice

Salt and pepper to taste

Fish:

Four fillets skinned and boned,

about 600gm

Caper sauce:

2 tbsp water

3 tbsp each – lime juice, olive

oil

2 tsp each – red wine vinegar,

diced seeded green chilli

½cup fresh coriander leaves

1 shallot, peeled

1 tbsp capers, rinsed and

drained

1 garlic clove, peeled and

halved

¼ tsp pepper

Directions

Combine the marinade ingredients

in a small food processor.

Whizz until well blended.

Pour into a large resealable

plastic bag.

Pat the fillets dry. Place in the

plastic bag, seal and turn fillets

to coat.

Marinate in the refrigerator for

45min.

To prepare the caper sauce,

place the ingredients in a small

food processor and blend, until

smooth. Place aside.

Drain and discard marinade.

Grill the marinated fish on the

barbecue or under a preheated

grill for 3-5min each side or

until the fish flakes easily when

pulled with a fork.

Serve the sauce with the fish.

Salmon, avocado and

noodle salad

Serves 2

Ingredients

50gm noodles

Ginger dressing:

3 tbsp extra virgin olive oil

1 tsp sesame oil

2 tsp grated root ginger

1 tbsp each – rice vinegar, light

soy sauce, lemon juice

½ tsp sugar

1 tbsp finely chopped coriander

Salad:

Caper sauce

for snapper

and avocado

salad with

salmon are

unusual

dinner treats.

150gm hot smoked salmon

1 medium avocado, peeled,

stoned and diced

Flaky sea salt and freshly

ground black pepper to taste

¼ cup coriander leaves

Directions

Cook noodles in boiling

water according to packet instructions.

Drain noodles, wash under

cold water, drain well, then allow

to cool.

Meanwhile, combine ingredients

for the dressing in a small

food processor and blend until

smooth. Place aside.

Break the salmon into

chunks.

Place in a large bowl with the

cold noodles, avocado, seasoning

and coriander leaves.

Add about 3/4 of dressing.

Gently toss to coat.

Add remainder of the

dressing.

Something for everyone

Available in all good bookstores and supermarkets, or subscribe from as little as $20.

GENTLEMAN JIM RICHARDS & THE WILLMENT ESCORT

FREE FIRST XV SEASON PREVIEW MAGAZINE INSIDE

CLASSIC ALPINE TOUR | PELLAND COUPÉ | JIM RICHARD'S WILLMENT ESCORT | TERRY MARSHALL | VAUXHALL FIRENZA | RICHARD BROCKLEHURST MAR-APR 2021

ISSUE 94

THE MOTORSPORT

PHOTOGRAPHY OF

TERRY MARSHALL

RARA AVIS:

PELLAND COUPÉ

A SHORT TIME IN FRONT: RICHARD BROCKLEHURST

50TH ANNIVERSARY OF THE VAUXHALL FIRENZA

SOUTHERN MEN AND TALES OF THE SOUTH

MARCH-APRIL 2021

SOUTHERN

SOJOURN

THE CLASSIC ALPINE TOUR

COME ON, FEEL THE

NOISE: CLASSIC

RACING ENGINES

9 416770 121332

TONY JOHNSON

ON THE COMING OF

MOANA PASIFIKA

AARON SMITH

'WHY I RATE

DUPONT'

SEAN FITZPATRICK

'WE NEED MONEY TO

SUSTAIN THE GAME'

rrp $10.99

9 416770 121325

MAY 2021

DAN

CARTER

REFLECTING ON A

GREAT CAREER

JEROME

KAINO

SORTED FOR

LIFE AFTER

RUGBY

• PHIL GIFFORD: THE BEST

SCHOOLBOY STARS HE SAW

• DARYL GIBSON: HIS VISION

FOR THE BOP STEAMERS

$9.25 incl. GST

ISSN 2423-0626

meet 20 of our Kiwi garden favourites

From abelia to

viburnum

& all the varieties

in between

Why we

like them

& where they

like to grow

AuTumN 2021

The Shrub Hub

How to keep your

shrub in shape

& propagate more

of those you love

growing with you Issue 504 | May 2021 | 100%

A tropicAl

flock

Grow your own

bird of paradise

Capitalising

on CaCti

Faran Gillbanks

on a succulent

movement

9 416770 121318

Roses on the wishlist

Hot new releases for 2021

Space iSSueS?

Try gardening

like the French

The lowdown on

cover crops

Why, when & how

For the motoring

enthusiasts

For the

rugby fans

For the seasonal

gardeners

For the green

thumbs

growing with you 100%

alliedpressmagazines.co.nz

Rugby News & Kiwi Gardener: 0800 77 77 10 Classic Driver & General: 0800 624 295
---
WESTERN NEWS Latest Canterbury news at starnews.co.nz

Thursday June 24 2021 13

Vaccinations for

the rest of Aotearoa

New Zealand

The COVID-19 vaccination rollout for the general population

starts from the end of July.

Our COVID-19 vaccination programme has built momentum

steadily since February. We are vaccinating around 100,000

people a week at the moment. In the second half of the year

we hit top speed and everyone in New Zealand aged 16 and

over will be able to be vaccinated.

Moving to the general population

So far, vaccinations have been made available to those most at

risk of getting COVID-19 to limit the chances of it getting into the

wider population.

With more vaccine supply coming on, and having ramped up our

infrastructure, vaccinations for everyone else in New Zealand

aged 16 and over (the general population) start from 28 July.

This is a very large group of people. To make this flow smoothly,

we will break this down by age bands.

All people aged 60 plus can book their vaccinations from 28 July.

Then, two weeks later, people who are 55 plus. From there, new

age bands will be opened up every 2–3 weeks based on confirmed

deliveries of the vaccine and the speed of rollout to earlier groups.

By mid to late August, invitations should be open for people over

45. By mid to late September, invitations should be open for those

over 35, with everyone else being eligible from October.

Invitations

Most people will get a direct invitation to book – either by email,

text, phone call or in the post. You will then be able to book through

Book My Vaccine, a new national booking system that will be online

from 28 July, or phone a new national call centre. Availability of

booking slots (the date, time and place you can be vaccinated)

will vary between district health board (DHB) regions.

Once you are eligible to be vaccinated, you can be vaccinated

at any time. There is no cut off.

Registration

Even if your age band isn't open, everyone aged 16 and over will

be able to go to Book My Vaccine to register for an invitation from

28 July. Registration means we will be certain to have your correct

contact details and when your age group is opened, you will get an

invitation telling you it's your turn to book.

Getting a vaccination

Step 1

Step 2

Step 3

Receiving an invitation

We'll call or send you an email, text or letter to invite

you to book.

Make your booking

From 28 July, go to Book My Vaccine or call the new

national call centre to book both doses, or to register

if your age band isn't open yet.

Get your vaccination

Have your first vaccination dose.

3–6 weeks later have your second vaccination dose.

If you don't hear from us, or are concerned, you can register

for your vaccination through the new national Book My Vaccine

booking system at any time from 28 July.

Important dates

28 July People 60+ Vaccinations open

11 August People 55+ Vaccinations open

Mid to late Aug People 45 + Invitations should open

Mid to late Sept People 35+ Invitations should open

October People 16+ Invitations should open

Other ways to get vaccinated

As we go through the year there will be other ways for people

to be vaccinated. These will include workplace vaccinations and

other targeted vaccination events across the country. For some

remote rural communities we will vaccinate all age groups at the

same time to make it easier for them. Our successful whānaucentred

approach to vaccinations will continue for Māori and

Pacific communities and those with disabilities.

Find out more at Covid19.govt.nz
---
14

Thursday June 24 2021

Latest Canterbury news at starnews.co.nz

WESTERN NEWS

Be inspired with thousands of ideas under one roof!

2 – 4 July 2021

IN ASSOCIATION WITH

Free informative seminars

thanks to !

Complimentary goodie bags!

show-only specials & giveaways!

Place a bid in the live AUCTION!

This MEGA tiny home could be YOUrs!

have an EV worth

$

22,000

TO

GIVE AWAY!

CUT THIS AD OUT FOR

1x FREE DOUBLE PASS

Join us at the Home & Leisure show, stand number 176.

Appliances, beds, furniture & tech.

Everything you need for your home.

2 - 4 July 2021 • 10am - 5pm • Christchurch Arena • www.starhomeshow.kiwi
---
WESTERN NEWS Latest Canterbury news at starnews.co.nz

Thursday June 24 2021 15

Gardening

& Supplies

Gardener available for

maintenance, weeding

pruning, spraying,

planting, advice. Qual &

exp.Pensioner discount

25%. Ph Richard 0274 918

234, 03 349 4022

Wanted To Buy

AAA Buying goods

quality furniture, beds,

stoves, washing machines,

fridge freezers. Same day

service. Selwyn Dealers.

Phone 980 5812 or 027

313 8156

TOOLS Garden,

garage, woodworking,

mechanical, engineering,

sawbenches, lathes, cash

buyer, ph 355-2045

Classifieds Contact us today Phone our local team 03 379 1100

Trades & Services

PLUMBER

NEED A PLUMBER

Call us now for fast friendly service.

Get your problems sorted out

quick smart - on time!!

Phone for a

FREE

quote now.

Trades & Services

HALSWELL

GLASS & GLAZING 2017 LTD

THE PET DOOR SPECIALIST

• PET DOORS

• NEW GLAZING

• FRAMELESS SHOWERS

• MIRRORS

• INSURANCE CLAIMS

• RETRO GLAZING

• BALUSTRADING

ALL SUBURBS COVERED FOR

ALL YOUR GLAZING NEEDS

PHONE GAIL ON

322 7999 OR 021 CAT DOOR

(228 3667)

BATHROOM

Renovations, complete

service from start to finish,

free quotes, ph Dave 027

334 4125

Phone 03 377 1280 | Mobile 021 898 380

Trades & Services

Accountant

Debra Jowsey & Karla Kilner

Ph 03 382 3470

We help with all Tax returns for the

salary & wage earner, self employed, rental,

business, farm, GST, pay day filing, rental returns

Trades & Services

BRICKLAYER.

George Lockyer. Over

40 years bricklaying

experience. UK trained.

Insurance work, EQC

repairs. Heritage

brickwork & stonework

a speciality. No job too

small. Governers Bay.

Home 329 9344. Cell

027 684 4046. E mail

georgelockyer@xtra.co.nz

CARPET LAYING

Exp. Repairs, uplifting,

relaying, restretching.

Phone John on 0800

003181, 027 240 7416

jflattery@xtra.co.nz

PAINTING

Indoor / Outdoor, over 30

yrs exp, same day quotes,

ph Steve 021 255 7968

ROOFING REPAIRS

Fully qualified, over 40

yrs experience. Ph John

027 432-3822 or 351-

9147 email johnchmill@

outlook.com

STUMP GRINDING

Best price guarantee Tony

0275 588 895

Trades & Services

TILING

Flooring - Splashbacks -

Wall incl tile removal, reg

master tiler, ph Dave 027

334 4125

VHS VIDEO TAPES

& all camera tapes

converted to DVD or

USB. Video taping

special occasions, www.

grahamsvideo.co.nz ph 03

338-1655

EXPERIENCED

GARDENER

(Kevin Garnett)

30 Years

Christchurch Botanic

Gardens.

ALL landscape

work done.

Maintenance, pruning,

tidy up, lawn work,

landscape planning

and planting etc.

Free Quotes

Phone 348 3482

ROOF REPAIRS

Locally owned & operated with

over 30 years experience.

• Extensions & repair • Roof coating

• Concrete & clay tiles • Butynol

• Malthoid • Asbestos Certified

• Coloursteel • Old iron • Guttering

Phone Dave 981 0278

or 021 223 4200

E: dave@beaumontroofing.co.nz

BEAUMONT ROOFING LTD

WINDOW TINTING

tintawindow

advanced film solutions

99% uv block

fade protection

heat control

reduce glare

25 Years Experience

Trades & Services

privacy films

frosting designs

non-darkening films

Workmanship Guaranteed

Lifetime Warranties on Most Films

UV

block

Free Quotes Canterbury and Districts

03 365 3653 0800 368 468

ADVERTISE YOUR BUSINESS HERE

Phone for further details

(03) 379 1100

EntEr

now!

FREE FIRST XV SEASON PREVIEW MAGAZINE INSIDE

TONY JOHNSON

ON THE COMING OF

MOANA PASIFIKA

AARON SMITH

'WHY I RATE

DUPONT'

SEAN FITZPATRICK

'WE NEED MONEY TO

SUSTAIN THE GAME'

rrp $10.99

9 416770 121325

*Competition runs till July 31st

2021. Offer only applies to NZ

residents and subscription

periods of six issues or more.

our 2020 Winner:

Karen Moffatt-Mcleod

MAY 2021

SEILALA MAPUSUA INTERVIEW: HIS VISION FOR MANU SAMOA

DAN

CARTER

REFLECTING ON A

GREAT CAREER

CRUSADERS

FIVE OF THE BEST

TONY

JOHNSON

JEROME

KAINO

CAN THE

SABBATICAL SORTED FOR

LIFE AFTER

RUGBY

BEEGEE'S

DREAM

• PHIL GIFFORD: THE BEST

SCHOOLBOY STARS HE SAW

• DARYL GIBSON: HIS VISION

FOR THE BOP STEAMERS

WHY MOANA

PASIFIKA WILL BE A

GAME-CHANGER

rrp $10.99

9 416770 121325

JUNE 2021

SAM CANE

THE LONG

ROAD BACK

WAYNE PIVAC

FROM THE OUTHOUSE

TO THE PENTHOUSE

• WHERE ARE THEY NOW:

MATTHEW COOPER

• SARAH HIRINI:

BRINGING THE MANA

BE IN TO WIN

be in to WIN

Subscribe to New Zealand's premier rugby read for six issues or

A SONY x90h ANdROId Tv WORTh $2,500!

WIth our 7 th AnNual bIrd

photo competition

more to go in the draw. Ten lucky subscribers will also win one

of five All Blacks jerseys, Lone Star and Joe's Garage vouchers.

Your favourite bird photo competition

sINce 2015!

over $1000

in prizes

SIx ISSUES

$39

Including a Canon EOS M200

inter-changeable lens

camera, a Topflite Native Bird

Nurturer Pack & more!

SAvE 41%

+ ChANCE

TO WIN A Tv

& mORE!

Entries can be sent electronically (high resolution files) to giveaways@gardener.kiwi, with the subject line 'Photo Competition 2021', or posted to Photo

Competition 2021, Kiwi Gardener, PO Box 1467, Christchurch 8140. All entries must be received by 5pm, Thursday, July 1 2021. You can enter more than

once. The winning photos will be published in the August issue (out July 26).

SUBSCRIBE AT RUGBYNEWS.CO.NZ OR 0800 77 77 10 | AvAIlABlE AT All GOOd BOOkSTORES ANd SUpERmARkETS
---
16 Thursday June 24 2021

Latest Canterbury news at starnews.co.nz

WESTERN NEWS

Celebrate the very best

of winter in one of New Zealand's

most picturesque alpine villages

Hanmer Springs kicks off its first-ever Winter Festival

this July. Gather your friends and family for this epic

wintry line-up, featuring all this and more ...

• Ice Skating: 1 st July – 1 st August

• NEW Winter Wonderland Window

& Lights Display: 1 st – 31 st July

• Hanmer Springs Winter Fete: 2 nd July

• Masquerade Winter Ball: 3 rd July

• Hanmer 10 & Kids 2km Twilight Dash:

10 th July

• NEW Activity Hanmer Family Challenge

Weekend: 16 th – 17 th July

• NEW Hanmer Springs Hotel

Mid Winter Dinner: 17 th July

• Honour Festival Winter Wellness

Retreat: 18 th July

• Canterbury vs Tasman Rugby Match: 23 rd July

• Hanmer Springs Ski Area Open Day: 24 th July

• NEW Amuri Rams Golden Oldies

vs New Brighton Rugby Match: 25 th July

www.visithurunui.co.nz/events