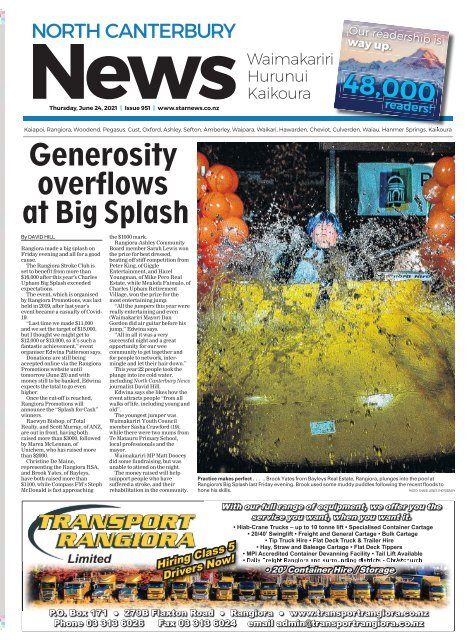 North Canterbury News: June 25, 2021
Do you know the secret to free website traffic?
Use this trick to increase the number of new potential customers.
Our readership is

wayup.

48,000

Thursday,June24, 2021 | Issue951 | www.starnews.co.nz

readers!

Generosity

overflows

at Big Splash

By DAVID HILL

Rangiora made abig splash on

Friday evening and all for agood

cause.

The Rangiora Stroke Club is

set to benefit frommore than

$16,000 after this year'sCharles

UphamBig Splash exceeded

expectations.

The event,which is organised

by Rangiora Promotions, was last

held in 2019, afterlast year's

eventbecame acasualtyofCovid­

19.

''Last time we made$11,000

and we set thetargetof$15,000,

but Ithoughtwemight getto

$12,000 or $13,000, so it'ssuch a

fantastic achievement,'' event

organiser Edwina Patterson says.

Donations arestillbeing

acceptedonline via the Rangiora

Promotions website until

tomorrow (June 25) and with

moneystill to be banked, Edwina

expects the totaltogoeven

higher.

Once the cut­offisreached,

Rangiora Promotionswill

announce the ''Splash for Cash''

winners.

Raewyn Bishop, of Total

Realty, and ScottMurray, of ANZ,

are out in front, having both

raised more than $3000, followed

by MareaMcLennan, of

Unichem, who has raised more

than $2000.

Christine De Maine,

representing the Rangiora RSA,

and Brook Yates,ofBayleys,

have both raised more than

$1100, whileCompass FM's Steph

McDonald is fastapproaching

the $1000 mark.

Rangiora­AshleyCommunity

Board member SarahLewis won

the prize for bestdressed,

beating off stiff competition from

Peter King, of Giggle

Entertainment, and Hazel

Youngman, of Mike Pero Real

Estate, whileMealofa Faimalo, of

Charles UphamRetirement

Village, won the prize for the

mostentertaining jump.

''All the jumpers this year were

really entertaining and even

(Waimakariri Mayor) Dan

Gordon did air guitar beforehis

jump,'' Edwina says.

''All in all it was avery

successful night and agreat

opportunity for our wee

community to get together and

for peopletonetwork, intermingle

and let their hair down.''

Thisyear 22 peopletook the

plunge intoice cold water,

including NorthCanterbury News

journalist DavidHill.

Edwina says she likes how the

event attracts people ''from all

walks of life, including young and

old''.

The youngest jumper was

Waimakariri YouthCouncil

member Sasha Crawford (19),

while there weretwo mumsfrom

Te Matauru Primary School,

local professionalsand the

mayor.

Waimakariri MP Matt Doocey

did some fundraising, but was

unable to attend on the night.

The moneyraisedwill help

suipport people who have

suffered astroke, andtheir

rehabilitation in the community.

Practice makes perfect ... .. Brook Yates from Bayleys Real Estate, Rangiora, plunges into the pool at

Rangiora's Big Splash last Friday evening. Brook used some muddy puddles following the recent floods to

hone his skills.

PHOTO: SHANE JONESPHOTOGRAPY

Hiring Hiring Class Class 55

Drivers Drivers Now! Now!

With our full range of equipment, we offer you the

service you want, when you want it.

•Hiab-Crane Trucks –upto10tonne lift •Specialised Container Cartage

•20/40' Swinglift •Freight and General Cartage •Bulk Cartage

•Tip Truck Hire •Flat Deck Truck &Trailer Hire

•Hay, Straw and Baleage Cartage •Flat Deck Tippers

•MPI Accredited Container Devanning Facility •Tail Lift Available

• Daily Freight Rangiora and surrounding districts - Christchurch

•20' Container Hire /Storage

P.O. Box 171 ● 279B Flaxton Road ● Rangiora ● www.transportrangiora.co.nz

Phone 03 313 6026 Fax 03313 6024 email admin@transportrangiora.co.nz

2386578
---
NEWS

2 The North Canterbury News, June 24, 2021

Grow

customers,

salesand

profits

with North

Canterbury's

bestread

newspaper

Readership: 47,000 weekly

Circulation: 30,150copiesdelivered

to EVERY farm, RD, lifestyle block

and home inWaimakariri, Hurunui

&Kaikoura every Thursday.

news

RobynBristow

Managing Editor

027 312 1581

robyn.bristow

@ncnews.co.nz

Reporters

David Hill, Shelley Topp.

advertising

DaynaBurton

Sales Co-ordinator

027 312 0089

dayna.burton

@ncnews.co.nz

Amanda Keys

Advertising

027 536 6224

amanda.keys

@ncnews.co.nz

After hours facility still on target

By ROBYN BRISTOW

Rangiora'safter hours facility should

begintotake shape in January.

The facility will provide seven­day

urgent carefrom8am to 10pm,and will

also house other services, including a

pharmacyand radiology services,'

Aconcept design was presented to a

public meeting in Rangiora lastweek by

new Canterbury District HealthBoard

(CDHB) chiefexecutive, Peter Bramley.

Dr Bramley said the board was

committed to providingthe facility as he

gave an overview of healthservicesinthe

Waimakariri.

Health services willinclude

maintainingbeds at Oxford Hospital,and

resourcing the hospitaltoprovidecare for

people closetohome.

Waimakariri MP Matt Doocey, who

organised the meeting, saysthe afterhours

concept plan is ''quite stunning''.

He says SouthLink Health has

confirmed it plans to startconstruction in

January.

''Unfortunately it comes at the expense

of the Rangiora Hospitalbeing

demolished,'' he says.

Dr Peter Bramley

Dr Bramley also committedtoa

paramedic servicefor the Waimakariri

area.

''It is important livinginan area likethe

Waimakariridistrict, that you have access

to public service education or health

services, that are comparabletopeople

living in major urban areas,'' says Mr

Doocey. ''Peopleshould not be penalised

for living in rural areas.''

The CDHB is keen to engage further

with Waimakariri residents following the

old­style, robust town hallmeeting, at

whicharound200 peopleturnedout at last

Thursday,despite the rain.

Mr Doocey saysresidents and CDHB

representativeswere excited about the

levelofcommunity engagement the

meeting provided,and whichraised not

only concerns, but some greatideas.

''I'mthrilled that this has sparked an

ongoing conversation the CDHB will be

having directly withour community about

creating wrap­around services for our

residents.

''They've taken the concerns that were

raised and willbecoming back with some

ideasthat theywill workshop directly with

us as acommunity, and that is very

exciting,'' Mr Doocey says.

''This putsour residents at the heart of

our health services.

''Many of those who attended are

working in our communityhealth and

aged­care sectorsinWaimakariri, and

they were abletobring someoftheir

concernsabout in­community care and to

feed those concerns through,'' says Mr

Doocey.

Swimming brings happiness

By ROBYN BRISTOW

Swimming is provingtobejustthe tonic

for ChristinePatterson.

Christine,who has been battling

depression for over adecade,has taken

the plunge,and is back in the pool, which

is proving to be agreat place to find

solace.

Recently she swam100 lengths of

Rangiora'sDudley Park pool.

Her effortswere not just for her own

wellbeing however, but to help raise

fundsfor aSalvation Army project,

Embrace Fiji,aretreat for women.

''Formepersonally, through helping

theseladies in Fiji, Ihave been helped in

return,'' says Christine.

Her decision to get back in the pool has

been life changing.

She can now do every day jobs like

grocery shopping, and enjoys being back

in the garden.

Her problems began with paininher

feet ­Plantar fasciitis.

With the pain beingsohorrific, feet

bandaged, unabletoswim, unable to walk,

unable to continueher lifeguard work,and

unable to be aswim instructor,orwork at

an elderly personshome, Louisebecame

isolated.

The February 2011 Christchurch

earthquake alsotook its toll.

''With the sale of our house, and unable

to begin our new build, it must have been

all too muchand depressionset in.

Once the bandages wereoff, she couldn't

In the swim .. Christine (centre), with Stacey Bruce from the Salvation Army in Rangiora

(left), and her husband Gordon, who supported her during her swim.

bring herself to get backinto the pool.

But hearing about Embrace Fiji,

Christine madeither goal to get back in

the pool to helpatleastone Fijian lady go

to the retreat, by swimming 100, sponsored

25 metre lengthsofthe Dudley Parkpool,

Once back in the water,Christine found

she was ''surprisingly happy''. Each

Tuesdayfor three weeks she swam,

culminating in tackling the 100 lengths.

Her efforts willhelpatleast 14 women

PHOTO:SUPPLIED

attend the retreat.

Embrace Fiji is the SalvationArmy New

Zealand, Fiji,Tonga and SamoaWomen's

MinistriesTerritorial Project for 2021. ''I

wouldlike to say ahuge thank you to folk

in Rangiora, and beyond, for your

generosity in sponsoringthis swim, to

support the ladies in Fiji.''

People can still donatetothe causewith

formsavailable from the SalvationArmy

office in AshleyStreet, Rangiora.

Kerryn Clark

Advertising

021 586 138

kerryn.clark

@ncnews.co.nz

getintouch

Editorial

info@ncnews.co.nz

Advertising

sales@ncnews.co.nz

Graphic Design

heather.hood@ncnews.co.nz

Distribution/Deliveries

03 314 8335

Rangiora: 03 313 2840 /03314 8335

14 Ashley St, Rangiora

Christchurch: 03 364 7460

www.starnews.co.nz

FREE FLUE KIT * WITH WOODSMAN COLERIDGE

Woodsman

Coleridge fire

and flue combo

Only $2549

Latest ULEB canbeinstalled installedin

any home in Canterbury

SAVE $629

See us nowtoarrange your

FREE, NOOBLIGATION OBLIGATION quote to

have your log fire fully installed.

Wemanage the whole job,

including the council consent.

*Woodsman 4.2m Heat Saver Flue Kit

Offer valid until 28th June 2021

360Flaxton Road, Rangiora

Ph 03 313 5563

www.kingsmowersheating.co.nz

2391761

2095268

Kaiapoi Lodge

Residential Care

Nursing Home, Hospital and

Respite

Person Centred Care,

Care that's built

around you

6Cass Street, Kaiapoi

Ph 03 327 7235
---
RainbringsAqua parktolife

By DAVID HILL

NEWS

The North Canterbury News, June 24, 2021

3

Kaiapoi's proposed aqua play park could

be openbylate October.

Watertest resultstoensurepublic

safety, which delayed the resource

consent process for the project due to a

lack of rain, are now under way.

In apresentation to Monday evening's

Kaiapoi­TuahiwiCommunity Board

meeting, WHoW Charitable Trust trustees

JasonMill and Tony Joseph said water

testingresultsfollowing the May 31 flood

eventhad come back better than expected.

The proposed site is alake in Kaiapoi's

NCF Reserve, tuckedinbehindCourtenay

Drive, in theformer residential red zone.

The Waimakariri District Council hopes

to begin public consultation on the project

next week.

Mr Millsaid the trust's ecologist

completed daily watertests in the days

immediately following the flood eventand

was pleasantly surprised at the results.

''We havecompleted watertests, depth

testsand riparian edge tests,and we've

done moretests following the flood. That

was considered aone in ahundredyear

floodevent and we're not at critical levels,

so that's agood sign.

''We wereabit worried about the impact

of aflush event, but it came backafterfour

days (of testing)atbetter than it was.''

Should the projectgoahead,the trust

anticipates the aquapark would close for

aweek,following amajorrain event, to

allowtime for testing to ensurepublic

safety.

Following advicefrom Environment

Canterbury staff, WHoW aims to do 45

watertests, at the trust's expense. It has

completed aquarter of them.

''We don't needtodoall 45 tests, but we

want to be as diligent as possible,''MrMill

said.

As part of it's social outcomes, the trust

is looking to engage with 88 low decile

schools, with the pupils assistingthe

ecologist with the testing.

''It's providing education and

opportunities forthe kids. We teach them

awee bit about water ecology, bird

Aqua fun ... Consultation is expected to begin soon on Kaiapoi's proposed aqua play

park.

PHOTO: SUPPLIED

habitats, inangahabitats and the

environment,'' Mr Millsaid.

Seven North Canterbury schools,

including Tuahiwi School havebeen

invited to be part of the initiative, with the

intention of providing the pupils with a

free swimfor theirefforts.The trust is also

keen to advanceits conversationswith

Ngai Tuahuririinabid to support

mahinga kai in the area, and already has a

trustee fromTuahiwi.

Should the trust be successful in

obtaining aconsent, Mr Millisoptimistic

the aqua playpark is on tracktoopen in

late October and would operate for five

months beforebeing packedaway over

winter. It is basedonasuccessful concept

employed at Lake Dunstan in Central

Otagolast summer, and is intendedasa

transitional projectfor threeyears while

the trust works on the proposed aqua

sports park.

Mr Millsaid the trust has completed a

marketingstudytogauge interest in the

Greater Christchurch areaand has begun

work on its full feasibility study.

Racecourse quarry decision due early July

By ROBYN BRISTOW

Adecision on applicationsbyTaggart

EarthmovingLtd, to quarry gravel at the

Rangiora Racecourse,should be known

early next month.

The hearing was closed on Friday,

June 18, after the independent

commissioners hearing the applications,

received Taggart's right of reply to

submissions.

The panel chair, Paul Rogers, says the

parties can expect adecision''on or

about Friday,July 9''.

Submitterswho contactedthe North

CanterburyNews believe Taggart's right

of reply minimisesconcerns raised at the

hearing by residents, and experts.

Theyalso feel the legal submissions

madeonbehalf of Taggart Earthmoving

Ltd,completely ignore many

submissions and those who spoke at the

hearing, apart from expertwitnesses.

Taggart Earthmoving Ltd is proposing

aquarrycovering 14.5hectares, with two

hectares disturbed at atime.

It seeks threeconsents fromECan and

aland­use consent from the Waimakariri

District Council, which would be active

for 15 years.

The proposal attracted404

submissions, with 390 opposing it.

Evidence was given on the first day of

the hearing which began earlyMay, that

the quarrywouldassist Taggart

Earthmoving Ltd in meetingthe demand

for aggregateinthe Waimakariridistrict

withoutthe need for any crushing or

screening on site.

The hearingofthe resource consents

was before two independent

commissioners —chairman Mr Rogers

and John Iseli, both of Christchurch—on

behalf of Environment Canterbury and

the WaimakaririDistrict Council.

Here and ready to help

with anyproblem

•Employment •Free CV preparation service

•Consumer issues •Disputes

•Tenancy

•Neighbours

•Relationships

•Help with online forms andapplications

•Noproblemtoo bigortoosmall

Visit CitizensAdviceBureau North Canterbury

TrevorInchMemorialLibrary, Rangiora

Visit, emailorcall us on 03 313 8822 or 0800 367 222

northcanterbury@cab.org.nz

for freeconfidentialadvice and support

Hurry in, selling fast

L19

Mustard

L36 –L42

Lots of

New Styles

& Colours

in store

R66

Black only

L37-41

Kaiapoi Mill, Ranfurly Street, Kaiapoi

Monday –Friday 9am –5pm

Saturday 10am –1pm

Closed on Public Holidays

Ph 03 327 0576

2370800

2392901

We're your local hearing experts.

The team has grown to include an

independent ear nurse and anew audiologist.

Aone-stop shop for all your hearing health

and healthy hearing requirements.

Call 03 423 3158 •Amberley /Rangiora /Cheviot /Hanmer •verasetzaudiology.co.nz

• General Dentistry

• Family Dentistry

• Funded Dental Care

0-18 *

• Dental Therapy

• Hygiene Clinic

2390022

Open Monday to Friday 8.30 to 5.30 |www.pagdental.com

LATE NIGHT TUESDAY

*Conditions Apply

PAGPegasus Dental

54 Pegasus Main St Pegasus

03 920 4003

pagpegasusdental@gmail.com

• Teeth Whitening

• Minor Oral Surgery

• Facial Pain

• Oral Medicine

Specialist

• Finance Options

Available

•Ample parking, easy

access

•Clinicians all New

Zealand trained

•Super Gold and

Community Services

Card Discounts

PAGSilverstream Dental

4/42 Silverstream Boulevard Silverstream

03 925 8003

pagsilverstreamdental@gmail.com
---
ARA INSTITUTE OF CANTERBURY

Is business your calling?

If you're abig thinker, anaturalleader or a

born organiser, businesscould be your perfect

career choice.

AraInstitute of Canterburyhas awide

range of businessstudy optionsdesignedto

equipindividualswiththe skillsneededto

takeadvantage of themanyopportunities

availableinthe businessworld.Qualifications

include certificates, diplomas,degrees

andgraduate certificates anddiplomasin

specialties such as projectmanagement, sales

andmarketing,accounting, HR andchange

management.

School leaver Rachel Fraser decidedshe'd

love ajob in an office environment. She

studiedadiploma in businessatAra and

nowusesthe skillsand knowledgeshe gained

organisingappointment bookingsfor the

SouthCanterburyDistrictHealthBoard.

She says of thediploma:"It wasfilled with

relevant information that directly relatedto

thefield, as well as skillslikecommunication,

time managementand effective planning

whichIfind myself usingevery day. It wasan

amazingexperience."

Olivia Smithworkedinhospitalityfor 12

years before studying abusinessdiploma

at Ara, specialisinginadministration and

technology. "Decidingtostudy business

opened up so many opportunities,"she says.

Olivia didalot of herlearningina

simulated office environment. "Thetutors

were amazing-they adaptedtoeachstudents'

learningstyle.Thehighlight wasrealisingI'd

suddenly acquired amassive number of skills

that Icould useevery dayinall areasofmy

life."

Olivia is applyingthose skillsinher role as

acustomerservice officer at ACC. "I work in

theveryroleIwastrained for, andIcan do it

with confidence."

Mike Robertsdiscoveredapassionfor

projectmanagementwhile workingasa

softwaretester. With thesupport of his

employer,hestudied agraduate diploma

in project management at Arawhere he'd

previouslygainedhis IT degree.

Mike says theindustryprojecthe

undertook as part of hispostgraduate course

wasahighlight of his studies. "Beingableto

demonstrateyourlearnings by workingina

real-world settingissovaluable. It's afantastic

opportunityfor students."

To learnmoreabout Ara'sbusiness

qualifications, visit ara.ac.nz or call

0800 24 24 76.

NEWS

4 North Canterbury News, June 24, 2021

Slipping away ... The deluge took atoll on infrastructure in the Puhi Puhi Valley Road,

north of Kaikoura.

PHOTOS: SUPPLIED

Flooded roads again

By ROBYN BRISTOW

Another significant rain eventon

Sunday, June 21, proved alittlebit

more than was neededfor the Hurunui

and Kaikoura Districts.

Kaikoura'sPuhi Puhi ValleyRoad

suffered damageinthe deluge, while

roadswere closed in the Hurunui

Districtdue to slipsand flooding.

Even Cheviot's main street was

awash, and watered flowedover

sections of the StateHighway as

creeks and rivers struggled to cope.

Hurunui's roading and water teams

were kept busy making sure

conditions, infrastructure and

services were safe.

On Tuesdayaround 10 roads were

still closed, while slipsand swollen

fords on several roads madedriving

tricky.

The Kaiwara, Hurunui No 1, and

Upper Waitohi water schemes were on

boiled water notices.

In the WaimakaririDistrict the Cust

River, already swollen by rain in

recent days, spilledover roads, while

in theSefton, Ashley, and Saltwater

Creek areas surfacewater made

drivinghazardous,with someroads

closed for atime.

Cheviot awash ... State Highway one through Cheviot on Sunday.

Reaching out to the young

Ayouth mentoring initiative in the

Hurunui District is looking for young

people to take part in the programme.

Hurunui District Council's Youth

Development co­ordinator, Rebecca

Pugh says youth between the ages of 12

and 18 are being sought to join the

Hurunui Youth programme.

Early last year, aresearch project,

focusing on Hurunui youth was

developed by three women working in

Youth Wellbeing­ Michelle Cole of

Meaningful Health Hurunui, Sarah

Wylie and Dr Jane Spittlehouse of the

Collaborative Trust for Research and

Training in Youth Development.

They found youth mentoring in the

district would be apositive

experience for our local teens, leading

to the launch of the youth mentoring

initiative.

"The research shows many benefits

of amentoring partnership, such as

improved relationship skills, increase

in self­worth and increased sense of

wellbeing.

''We want this for our young people

in Hurunui," said Rebecca.

Rebeccas is thrilled to have 14

mentors come forward, and is now on

the hunt for young people to join the

programme.

"We would love to hear from any

youth or their whanau who are

interested in this awesome

opportunity and to see if this initiative

is the right fit for them."

For more information, email

Rebecca at Rebecca.pugh@hurunui.

govt.nz or call her on 02718000582.
---
Vaccinationsfor

therestofAotearoa

NewZealand

TheCOVID-19vaccination rolloutfor thegeneral population

starts from theend of July.

OurCOVID-19vaccination programme hasbuilt momentum

steadily since February. We arevaccinating around 100,000

peopleaweekatthe moment. In thesecond half of theyear

we hittop speed andeveryoneinNew Zealand aged16and

over will be able to be vaccinated.

Moving to the general population

So far, vaccinations have been made availabletothose mostat

risk of gettingCOVID-19tolimit thechances of it getting into the

wider population.

With more vaccinesupply coming on,and having ramped up our

infrastructure, vaccinations foreveryoneelse in NewZealand

aged 16 and over (the generalpopulation) startfrom28July.

This is averylargegroup of people. To makethisflow smoothly,

we will breakthisdownbyage bands.

Allpeopleaged60pluscan book theirvaccinationsfrom28July.

Then,two weekslater,peoplewho are55plus. From there, new

agebandswill be openedupevery 2–3weeks basedonconfirmed

deliveriesofthe vaccineand thespeed of rollouttoearlier groups.

By midtolateAugust,invitations should be open forpeopleover

45.Bymid to late September, invitations should be open forthose

over35, witheveryoneelse beingeligiblefrom October.

Invitations

Most peoplewill getadirect invitation to book–eitherbyemail,

text,phone call or in thepost. Youwillthenbeabletobookthrough

Book My Vaccine,anewnationalbookingsystemthatwill be online

from 28 July,orphoneanewnational call centre.Availabilityof

bookingslots (the date,timeand place youcan be vaccinated)

will vary between districthealth board(DHB) regions.

Once youare eligible to be vaccinated, youcan be vaccinated

at anytime. Thereisnocut off.

Registration

Even if your ageband isn't open, everyoneaged16and over will

be abletogotoBook My Vaccine to registerfor an invitationfrom

28 July.Registrationmeans we willbecertain to have your correct

contactdetails and when your agegroup is opened, youwill getan

invitationtelling youit'syour turn to book.

Getting avaccination

Step 1

Step 2

Step 3

Receiving an invitation

We'llcallorsend youanemail,textorlettertoinvite

youtobook.

Makeyour booking

From 28 July,gotoBook My Vaccine or call thenew

national call centretobookbothdoses,ortoregister

if your ageband isn'topenyet.

Get your vaccination

Have your first vaccinationdose.

3–6weekslater have your second vaccinationdose.

If youdon't hear from us, or areconcerned, youcan register

foryour vaccinationthrough thenew national Book My Vaccine

booking system at anytimefrom28July.

Importantdates

28 July People60+ Vaccinations open

11 August People55+ Vaccinations open

MidtolateAug People45+ Invitations shouldopen

MidtolateSept People35+ Invitations shouldopen

October People16+ Invitations should open

Other ways to get vaccinated

As we go throughthe year therewill be otherwaysfor people

to be vaccinated. These willincludeworkplace vaccinations and

other targetedvaccinationeventsacrossthe country. Forsome

remote ruralcommunities we will vaccinate allage groupsatthe

same time to makeiteasierfor them.Our successful whānaucentredapproachtovaccinations

will continue forMāori and

Pacific communitiesand those withdisabilities.

Findout more at Covid19.govt.nz
---
OPINION

6 The North Canterbury News, June 24, 2021

Around the electorate with

STUART SMITH MP FOR KAIKOURA

Final report leaves

many questions

The Climate ChangeCommission has

released its final report, and although it

does take astep back from the Draft

Report, it still leaves many unanswered

questions as to how New Zealand will

reach the net­zero emissions target.

The Commissionproposed policies

such as subsidiesonelectricvehicles

and taxes on some internalcombustion

engines,which the Government

announced last week despitepromising

no new taxes.

This policy will not lower emissions,

and it mayeven drive them up, given

that ute sales have gone through the

roof. Unfortunately it will cost

hardworking Kiwis, especiallythose for

whom there are no practical EV options,

suchasfarmers and tradies.

We live in afree country, and we do

not want the Nanny State tellinguswhat

we can or can't drive. It was galling to

hear the PrimeMinister say that alarge

number of ute buyers are not usingthem

for "legitimate use", it showsjust how

out of touchshe is.

We could be heading down aslippery

slope here, the Government want to tax

our cars now, but what's next?

Will we be restricted on what sized

refrigerator we can buy?

This is why we shouldlet the

Emissions Trading Scheme (ETS), do

the heavy liftinghere.

The Climate Change Commissionin

their report said that the ETS will get us

to net zero by 2050 with acost of $50 per

tonne, which is very reasonable, the

danger here is that these poorlythought

out policies may mean we do not get

there at all or we do at acost thatwill

impoverish us. The ETS willallow us to

reach our 2050 net­zero emissions target

through the least cost way.

But most importantly it givespeople

the choice on how they shouldreduce

their emissions, rather than the

Government controlling it through

taxes.

We need to back the market­driven

solution,not costly policies that put our

country further in debt.

KAIKŌURA VIEWS

MAYOR CRAIG MACKLE

People and events

return to Kaikoura

It was good to seesomany people

coming to Kaikoura over the Queen's

Birthday weekend recently.

The Kaikoura Bike Trails and

Kaikoura Cold Water Classic surfing

events were major drawcards.

Big ups to the community who put the

time in to make these events happen.

Iwas really pleased to seeGina

Solomon on the Queen's Birthday

honour list.

This achievement recognises all the

work that she has done to protect the

environment in Kaikoura, as well as her

commitment to conservation on a

national level.

Long TermPlan community hui have

gone ahead in town, Goose Bay and

Kekerengu.

In general, Iwould say that we have

had the best response to LTP meetings

that Ihave been involved with.

While no­one ishappy with any rates

increase and everyone has adifferent

viewpoint, thereisarealunderstanding

of the issues facing local government

and most people are agreeing with the

key proposalsthe council wants to focus

on over the next 10 years.

I'd really like people to makea

submission if they agree that we should

improve the roads andfootpaths, start

an urban rubbish collection, support

Destination Kaikoura and review our

out­dated District Plan.

The submission form is online. It is

easy to fill out. Youjust check the boxes

and there is also space to tell us why you

chose thisoption, and other comments

you have on our plan for the next 10

years.

The Three Waters Reform shows the

government is keen on establishing a

small number of large newwater

entities, instead of local councils, which

would deliver water services to

households and businesses.

The next stage in theThree Waters

Reform willbeannounced in afew

weeks, as soon as we know more, we'll

pass the information on to you.

Take care andifyou can, take some

time to make asubmission to our LTP.

Your submission will let us know we

are on the right track andwill help us to

make our final decision.

Dear Editor,

SinceIamstanding for

councillor in the West ward

of the Hurunui District

Council it wouldbean

opportune time to explain

the difference between

having 'money' and having

'wealth'.

Moneyallows you to buy

product, anew car,overseas

trip etc.Ifyou don't haveit.

Bad luck.

Wealth on the other hand

relates to whatour culture

offers its citizens.

Examples often quoted are

drinkablewater, swimmable

rivers, quality education,

roadsthat don'tneed

constant repair,an

environment that'sa

pleasure to livein, and all

sorts of things that are

availablenomater what

yoursocioeconomic status

is.

Perhaps it is easier to

explain what wealth isn't or

signs or symptoms of losing

wealth ­MORE taxes, crime,

welfare, pollution,

pornography, bureaucracy,

or LESSresponsibility and

productivity.

The essentialcriteria

councilsmust fulfil is to

provide basic infrastructure

for the residents to build

wealth upon, and to use

ratepayers taxes efficiently

to the maximum benefits of

everyone withinthe district.

Yours,

Richard ERoe BsC, DC,

Rotherham

The Back of the Painting: Secrets and Stories from Art Conservation, by Linda

Waters

The seal of the Prince of Yugoslavia,the icon thatprotectedpersecuted Russians,

Monet's repurposedcanvas, the excised first wife,the stolen Tissot... all these stories can

be found on the backsofpaintings in New Zealandart museums. This book by three

painting conservators explores the backs of 33 paintings,ranging from 14th century

artworkstothe present day.

ABiker's Tale: TourAotearoa, by John Hellemans

The Tour Aotearoa is amountainbike 'brevet' —atimed, longdistance

cyclingevent—covering the length of New Zealand. It starts

at the most northern point of the North Island,Cape Reinga, and

finishes at Stirling Point, justsouth of Bluff at the bottom of theSouth

Island. The Tour is unsupported, so participants carry theirown gear. To be awarded the

brevet, the riders needtocoverthe full distance within 30 days. Hellemans describes his

journey and how it fitted into the complex worldwelive in.

The Jigsaw Man, by Nadine Matheson

Aserial killerand his copycat arelocked in aviolentgame of cat and mouse. CanDI

Angelica Henley stopthem beforeit'stoo late? On the day she returnstoactive dutywith

the SerialCrimes Unit, Detective Inspector Henley is called to acrime scene. The modus operandibearsa

striking resemblancetoPeterOlivier,the notorious JigsawKiller, who has spent thepast two years behind bars.

These titles are available in both Waimakariri and Hurunui libraries. Find out moreabout recentadditions

to the library collection by goingtothe library catalogue at waimakariri.kotui.org.nz or hurunui.kotui.org.nz.

McALPINES MITRE 10 MEGA RANGIORA -OCEAN WATCH

This

Week

Sun

Fishing

Guide

Moon

Wind

Swell

Pegasus Bay

Tide Chart

3

2

1

Ok

Thursday Friday Saturday Sunday Monday Tuesday Wednesday

Jun 24 Jun 25 Jun 26 Jun 27 Jun 28 Jun 29 Jun 30

Rise 8:01am

Set 5:01pm

Best 11:42am

Times

Set 7:07am

Rise 4:13pm

Ok

Rise 8:01am

Set 5:01pm

Best 12:15am

Times 12:47pm

Set 8:21am

Rise 5:12pm

Ok

Rise 8:01am

Set 5:01pm

Best

Times

1:19am

1:51pm

Set 9:24am

Rise 6:21pm

Ok

Rise 8:01am

Set 5:02pm

Best

Times

Rise 8:01am

Set 5:02pm

Rise 8:01am

Set 5:03pm

Rise 8:01am

Set 5:03pm

Gentle SW turning

Gentle Wturning Moderate Sturning Moderate Sturning

Moderate SW

E

Gentle SW

S

SE

SW

Moderate SW

E0.8 mturning

SE 1.2 m SE 0.9 m NE 0.9 m E0.6 m

S SE 1.4 m SE 1.5 m

3 6 9 NOON 3 6 9 3 6 9 NOON 3 6 9 3 6 9 NOON 3 6 9 3 6 9 NOON 3 6 9 3 6 9 NOON 3 6 9 3 6 9 NOON 3 6 9 3 6 9 NOON 3 6 9

2:22am

2:51pm

Set 10:14am

Rise 7:34pm

Ok

Best

Times

3:20am

3:47pm

Set 10:54am

Rise 8:47pm

Good

Best

Times

4:13am

4:37pm

Set 11:26am

Rise 9:58pm

Good

Best

Times

5:01am

5:24pm

Set 11:52am

Rise 11:06pm

0

Highs Lows Highs Lows Highs Lows Highs Lows Highs Lows Highs Lows Highs Lows

Waimakariri 3:32am 2.4 9:45am 0.3 4:29am 2.4 10:44am 0.3 5:27am 2.4 11:41am 0.3 6:25am 2.4 12:18am 0.3 7:23am 2.4 1:12am 0.3 8:19am 2.4 2:06am 0.4 9:13am 2.3 2:59am 0.5

Mouth

4:07pm 2.6 10:26pm 0.3 5:03pm 2.6 11:23pm 0.3 5:59pm 2.6

6:55pm 2.6 12:37pm 0.3 7:50pm 2.5 1:31pm 0.4 8:43pm 2.5 2:24pm 0.4 9:36pm 2.4 3:18pm 0.5

Amberley 3:32am 2.4 9:45am 0.3 4:29am 2.4 10:44am 0.3 5:27am 2.4 11:41am 0.3 6:25am 2.4 12:18am 0.3 7:23am 2.4 1:12am 0.3 8:19am 2.4 2:06am 0.4 9:13am 2.3 2:59am 0.5

Beach

4:07pm 2.6 10:26pm 0.3 5:03pm 2.6 11:23pm 0.3 5:59pm 2.6

6:55pm 2.6 12:37pm 0.3 7:50pm 2.5 1:31pm 0.4 8:43pm 2.5 2:24pm 0.4 9:36pm 2.4 3:18pm 0.5

3:41am 2.4 9:54am 0.3 4:38am 2.4 10:53am 0.3 5:36am 2.4 11:50am 0.3 6:34am 2.4 12:27am 0.3 7:32am 2.4 1:21am 0.3 8:28am 2.4 2:15am 0.4 9:22am 2.3 3:08am 0.5

Motunau 4:16pm 2.6 10:35pm 0.3 5:12pm 2.6 11:32pm 0.3 6:08pm 2.6

7:04pm 2.6 12:46pm 0.3 7:59pm 2.5 1:40pm 0.4 8:52pm 2.5 2:33pm 0.4 9:45pm 2.4 3:27pm 0.5

3:43am 2.4 9:56am 0.3 4:40am 2.4 10:55am 0.3 5:38am 2.4 11:52am 0.3 6:36am 2.4 12:29am 0.3 7:34am 2.4 1:23am 0.3 8:30am 2.4 2:17am 0.4 9:24am 2.3 3:10am 0.5

Gore Bay 4:18pm 2.6 10:37pm 0.3 5:14pm 2.6 11:34pm 0.3 6:10pm 2.6

7:06pm 2.6 12:48pm 0.3 8:01pm 2.5 1:42pm 0.4 8:54pm 2.5 2:35pm 0.4 9:47pm 2.4 3:29pm 0.5

3:37am 1.8 9:46am 0.3 4:35am 1.8 10:43am 0.3 5:33am 1.8 11:41am 0.3 6:31am 1.8 12:24am 0.3 7:29am 1.8 1:21am 0.3 8:26am 1.8 2:18am 0.3 9:21am 1.8 3:13am 0.4

Kaikoura 4:09pm 2.0 10:29pm 0.3 5:07pm 2.0 11:27pm 0.3 6:03pm 2.0

7:00pm 2.0 12:38pm 0.3 7:56pm 2.0 1:35pm 0.3 8:51pm 1.9 2:31pm 0.4 9:46pm 1.8 3:27pm 0.4

*Not for navigational purposes. Wind and swell are based on apoint off Gore Bay. Maori Fishing Guide by Bill Hohepa. www.ofu.co.nz www.tidespy.com Graphic supplied by OceanFun Publishing Ltd.

2118223
---
J

J

See the Good Sports.

$72.16

PER WEEK

$77.06

PER WEEK

$144.16

PER WEEK

$86.86

PER WEEK

2011 Audi A3 Sport 1.4 TFSi

1400cc with 46,944kms, Auto Tiptronic, 8Airbags,

Aero Body Kit, Alloys, Auto Air Con, CD Player,

ESC, Fog Lights, ISOFIX, Leather Wrapped Steering

Wheel, Power Steering,

Traction Control, Remote

Central Locking, Turbo. $13,990

2016 Honda Fit Hybrid FPackage

1500cc with 52,887kms, Auto, CD Player, Centre

Shoulder Belt in Rear, Child Seat Anchor Points,

Climate Air Con, High Grade 4.5, Remote Central

Locking, Smart Key with

$22,990

Push Button Start, ESC,

Traction Control. $14,990

2015 Hyundai Tucson Elite 2.0

1999cc with 90,041kms, Auto Tiptronic, 5Star

ANCAP, 6Airbags, ABS, Alloys, Auto Air Con, AUX/

USB/Bluetooth, Blind Spot Monitoring, Cruise,

Heated Leather Seats, ESC,

Immobiliser, ISOFIX,

Smart Key, Towbar. $28,990

2013 Subaru Legacy 2.5i B

Sports Eyesight GPack 2500cc with

79,033kms, Auto, Aero Body Kit, Alloys, Auto Lights,

Auto Wipers, CD Player, Cruise, Dual Zone Climate

Control, ESC, Smart Key

with Push Button Start,

Traction Control.

$16,990

$70.70

PER WEEK

$124.57

PER WEEK

$109.88

PER WEEK

$72.16

PER WEEK

2008 Nissan X-Trail 20X 4WD

1990cc with 88,599kms, Auto, ABS Brakes, Alloys,

Auto Air Con, CD Player, Dual Airbags, Factory

Privacy Glass, High Seating Position, Leather,

Monsoon Shields, Remote

Central Locking, Towbar,

Trip Computer. $13,990

2018 Suzuki Swift Sport Turbo

1373cc with 22,586kms, Manual, 5Star ANCAP,

6Airbags, Adaptive Cruise, Aero Body Kit, Alloys,

Android Auto, Apple CarPlay, Bluetooth, Emergency

Brake Assist, NZ Sat Nav,

Lane Departure Warning,

Rev. Camera, Smart Key.

$24,990

2018 Hyundai Sonata Elite

Series 2 2359cc, 56,611kms, 5Star ANCAP,

Auto Tiptronic, Android Auto, Apple CarPlay, ESC,

GPS/NZ Sat Nav, Heated Leather Seats, Cruise,

Dual Zone Climate Control,

Rev. Camera, Smart Key,

Wireless Phone Charging.

$21,990

2016 Toyota Corolla Fielder 1.5X

1500cc with 65,122kms, Auto, 8Airbags, Air Con,

CD Player, Chain Driven, Electric Mirrors, Electric

Windows, Lane Departure Warning, Idling Stop,

ISOFIX, Power Steering,

Remote Central Locking,

ESC, Traction Control. $13,990

$62.37

PER WEEK

$116.24

PER WEEK

$81.96

PER WEEK

$81.96

PER WEEK

2009 Subaru Legacy B42.5i

LPackage LTD4WD 2500cc, 61,360kms,

Auto, 8Airbags, Aero Body Kit, Alloys, Climate

Air Con, Factory Privacy Glass, Fog Lights, ISOFIX,

Paddle Shift, Smart Key

with Push Button Start,

ESC, Traction Control.

$11,990

2015 MazdaAxela Hybrid S

2000cc with 29,077kms, Auto, Alloys, Auto Lights,

CD Player, Chain Driven, Cruise, Dual Zone Climate

Control, ESC, Electric Mirrors, High Grade 4.5,

ISOFIX, Smart Key with

Push Button Start, Traction

Control, Trip Computer.

$22,990

2008 Mitsubishi Outlander 30G

3000cc with 68,049kms, Auto Tiptronic, Alloys,

4WD, Auto Air Con, Auto Lights, CD Player,

Cruise, Electric Driver's Seat, ESC, Heated Leather

Seats, Multi Functional

Steering Wheel, Smart Key,

Traction Control. $15,990

2012 Mazda Axela Sport 20S

SkyActiv 2000cc with 47,490kms, Auto

Tiptronic, 6Airbags, Aero Body Kit, Alloys, Auto

Lights, CD Player, Chain Driven, Cruise, I-Stop,

Dual Zone Climate Control,

ESC, Fog Lights, ISOFIX,

Paddle Shift, Smart Key.

$15,990

$111.34

PER WEEK

$121.14

PER WEEK

$155.42

PER WEEK

$129.47

PER WEEK

2017 Nissan LEAF 30X Aero Style

Thanks Edition Electric, Aero Body Kit, ESC,

21,237kms, Alloys, Auto Lights, CD Player, Cruise,

Dual Airbags, Heated Steering Wheel, ISOFIX, Multi

Functional Steering Wheel,

Reverse Camera, Smart Key,

Traction Control.

$21,990

2013 Mazda CX-5 XD LPackage

4WD 2200cc with 32,174kms, Auto Tiptronic,

6Airbags, Alloys, Auto Lights, CD Player, Cruise,

Dual Zone Climate Control, Electric Seats, Heated

Leather Seats, ESC, ISOFIX,

Fog Lights,Smart Key,Turbo

Diesel, Traction Control.

$23,990

2016 Subaru Outback 2.5i

EyeSight 2500cc with 58,369kms, Auto, 4WD,

8Airbags, Alloys, Auto Lights, CD Player, Chain

Driven, Dual Zone Climate Control, ESC, Fog Lights,

ISOFIX, Paddle Shift, Radar

Cruise, SI Drive, Smart Key,

Traction Control.

$30,990

2018 Holden Commodore LT

Blackout 2.0T 1998cc with 56,550kms, Auto

Tiptronic, 5Star ANCAP, 6Airbags, Alloys, Android

Auto, Apple CarPlay, AUX/Bluetooth/USB, Cruise,

Auto Lights, ESC, ISOFIX,

Lane Keep, Rev. Camera,

Smart Key, Turbo.

$25,990

Stadium Cars Rangiora 03 310 7940 | stadiumcars.co.nz

609 Lineside Road, Waimakariri, Rangiora OPEN 6DAYS

*Conditions apply. Not available with any other offer. Finance offer subject to credit and lending criteria.

Finance calculation based on 60 month term. No deposit with an annual fixed interest rate of9.95%,

includes an establishment fee of$445. See our website for full disclosure.

*On road costs may apply to some vehicles
---
STYLE & QUALITY

FOR LESS

WWW.AFFORDABLEFURNITURE.NZ

SUPER

SPECIAL

Wagner Chair &

Radius 1.2Round Dining Table

Bramwell

3+2 Suite

WAS $1999

$

1849

3Seater $1199 $1099

2Seater $839 $779

Wagner Chair

$189 $169

Radius 1.2Round

Marble Top

Dining Table

$1199 $1139

SUPER

SPECIA AL

SUPER

SPECIAL

Calla Corner

Sofa Bed Chaise

with storage ottoman

WAS $2809

$ WAS $2609

2599

$

2419

Byrony Corner Suite

M y Modular

NovaBedroom

Collection

Sylvie

Collection

Bedside $249 $229

Bedframe $849 $759

Under Bed Drawer $169 $149

6DrawerTallboy $799 $719

6DrawerLowboy $729 $659

Dining Table $839 $779

Dining Chair $199 $189

TV Unit 1250mm $489 $459

Bookcase 1800mm $499 $459

Buffet $909 $839

Aspen Bedroom

Collection

MangroveBedroom

Collection

SUPER

SPECIALL

LiftUpBase

Single $489 $459

King Single $509 $479

Double $569 $529

Queen $599 $559

King $669 $619

Queen Slat Bed $979 $909

Bedside Cabinet $299 $279

Lowboy 6Drawers $849 $789

Tallboy 6Drawers $829 $769

Bedside $209 $199

Tallboy $699 $649

Lowboy $649 $599

Queen Base $679 $629

FROM

$

459

FREE

CARPARKING

SOUTHCITY

BATH ST

WE ARE

HERE

255MOORHOUSE AVE

REBEL SPORT

COLOMBOST

MON-FRI 9:30AM–5:30PM

SAT-SUN 10AM–5:30PM

0800 268 264

www.affordablefurniture.nz
---
NEWS

The North Canterbury News, June 24, 2021

Bridge to Bridge

By SHELLEY TOPP

9

Stripped clean ... Looking west along the Ashley/Rakahuri River which is now clear of

weeds and vegetation following the recent flood.

PHOTO: SUPPLIED

Endangeredbirds

benefit from flood

By ROBYN BRISTOW

The populations of endangered

braided river birdscould increase

thanks to the recent floodinthe

Ashley/Rakahuri River.

The forceofthe water has stripped

all the weeds fromthe riverbed,

leaving gravelislands,wherebirds

like to nest, free of cover for predators.

Birdssuch as the wrybill,blackfronted

tern, and banded dotterel,

require baregravel to nest on.

The Ashley/Rakahuri Rivercare

Group(ARRG)has found acorrelation

between bird numbers and the amount

of bare gravel.

Afterseveralyears of no large

floods, the beds of smallerfoot­hills

fed rivers such as the Ashley, Opihi,

and Orarihave been overwhelmed by

weeds.

Groupmember Grant Davey says

wherethere weredeep braidchannels

thereisnow high islands,and vice

versa.

All signsofrecent riverextraction

has also beenerased, and the fairway

widened, in some cases by 50 metres or

more,hesays.

"Almost the entire gravel bed of the

riverseems to have been liftedupand

movedbyflood watersresulting in a

complete change in its morphology.''

Mr Davey saysthe islands are where

the birds prefertonest, and are safest

from predators. Norway rats and stoats

swim to the islands, but other

predators such as hedgehogs and cats

are much less likely to do so.

David Owen, Environment

Canterbury's principal biodiversity

adviser, braided rivers, says, the

floods have presented the opportunity

to try to keep the river relativelyweedfree.

''Left unchecked, the weeds will

inevitably return."

ARRG, with regional council

funding, had been about to

mechanically clear 64 hectares of

weedy islands.ARRG is now working

on astrategy to stop the weeds growing

again.

The floods did hit the grouphard,

however. It lost 100 predator traps, out

of 400, during the floods. They were set

along the bermofthe river and around

the estuary, mostly tied to trees or in

scrub, and were swept awayinthe

raging torrent.

AGivealittle page has been set up to

raise funds to buy more trapsbefore

the breeding season startsin

September. To date over $1800 has

beenraised.Traps cost about $50 to

$70 each.

Overthe past 16 years,ARRG has

protectedan18km stretch of the river

withtraps to eliminatepredators,

allowing the braided river birdsto

breedand raise chicks safely.

Theirwork has helped the birds to

hold their own on the Ashley and even

increaseslightly, comparedwith

gradual to catastrophic decline

(dependingonthe species)on

unprotectedrivers.Tohelp go to:

givealittle.co.nz/cause/flood­destroyspredator­traps­help­us­buy­more.

The Widest Music Variety

The inaugural WaimakaririBridge To

Bridge Ultra Marathon60km event

winner Andrew Wanklyn had asharp

reminder about New Zealand winters on

Saturday.

The Christchurch man had been

workinginthe Australianmine industry,

based at Western Australia'sShark Bay,

but returned home afew days ago, and

despite beingrugged up for his

endurance run on Saturday,hewas still

cold at the finish.

''It was 30 degrees in Shark Bay, when

Ileft,''hesaid. Andrew finishedthe

60km in fivehours, nine minutesand 33

seconds and saiditwas the longestrace

he had ever competed in.

The firstrunnerhome in the Bridge to

Bridge 15kmrun, was Jakob

Cunningham, of Oamaru, who ran the

distancein19minutes and 28 seconds.

His stepfather, Mark Esselink, of

Oamaru won the 30km event, finishing

the distancein2hours10minutes and 55

seconds.

The UltraMarathon included four

events —the 60km Ultra Marathon

starting at the WaimakaririGolf Club,

the 30kmevent from Downs Rd, the 15km

event, starting at HarrsRd, and the 5km,

starting at WaimakaririRiver Park. All

finishedinRaven Quay in Kaiapoi.

The eventwas was organised by Carol

and John MooreofCJM'S Events and was

born from the Waimakariri Bridge to

Bridge MountainBike Race,which was

held in even more winteryweather on

Sunday, using the same routes.

`''Saturday was afantastic day, perfect

for running,'' Carolsaid. ''`Sundaywas a

little bit damp, actuallyquite wet at

times, but the ridersloved it (judging by)

the smiles on everyone's face as they

crossed the finish line. Ithink it brought

BayBlenders

First home ... Andrew Wanklyn taking out

the 60km Bridge to Bridge Ultra Marathon.

MASTER BUILDER

LocaltoNorth Canterbury.

CALL ARTHUR 027 2451601

arthur@robertsonbuilding.co.nz

www.robertsonbuilding.co.nz

PHOTO: SHELLEYTOPP

out the inner child in many riders. With

riders rangingfrom seven to 77­years of

age.''

About400 competitors from

throughout New Zealand took partinthe

events.

BARNS/FARM BULDINGS•RIB RAFT FLOOR SYSTEM INSTALLATION

PROJECTMANAGEMENT•ADDITIONS•NEW HOMES

HOME MAINTENANCE•EQC REPAIRS•ALTERATIONS

FREE QUOTES

2021055

Tune in nowtolistenon104.9 North Canterbury

and103.7 Hanmer Springs andKaikoura

Checkout

ourwebsite for

ourcurrent specials

or sign up at our website

to receivethemdirectly

to your inboxwith our

newsletter!

Balcairn

Stockfoods

Quality Stock Foods at Quality Prices
---
NEWS

10 The North Canterbury News, June 24, 2021

Stunning show ... Barb­a­loots, Swomee Swans and Humming

Fish singing Big Yellow Taxi.

PHOTOS: SUPPLIED

The Lorax ahit

The Loraxpaid avisitto

Rangiora last week.

Loburn Schoolpresented Dr

Seuss', The Lorax,atthe

Rangiora Town Hall, with

nearly 600 peopleattending

overthe two nightseason.

All 173 students at the school

had apart to playinthe

production,whichthey began

practising at the beginning of

Term2.

Principal Stuart Priddy says

the production was based

looselyonthe movie of the

samename,and was a

cautionary tale primarily about

aperson's responsibilities to

the environment.

''Each class were given

specific roles in the production

­Barb­a­loots, Swomee Swans,

Humming Fish, Once­ler's

Family and acollection of

The Lorax .. Barb­a­loots and

Swomee Swans around the

Truffula Trees.

Lorax's,'' he says.The

production was interspersed

with songsand dance.

Shake up of quake-prone buildings

Anew nationalsystemfor

councils to manage

earthquake­prone buildings

comesinto effect on July 1.

Changes to theBuilding Act

also give councils the

opportunity to identify

buildings theysuspect might be

earthquake prone.

The system uses three profile

categories —anunreinforced

masonary building;apre­1976

building, three or more storeys

or 12 metres or greater in

height above the lowest ground

level; or apre­1935buildings,

one or two storeys high.

Hurunui DistrictCouncil

buildingand propertymanager

KerryWalsh saysthe new rules

Floods put stopbanks to the test

By SHELLEY TOPP

The importance of stopbanks was highlighted

duringthe recentNorth Canterburyregion­wide

flood, an EnvironmentCanterburyspokesperson

says.

''Althoughthe bulk of therainfall in theregionwideflood

event earlier this month was further

south, thefloodflowswesaw in NorthCanterbury

werestillsignificant,'' Ecan'sriversmanager

Leigh Griffiths says.

''Overallweare reallypleased withhow the

Waimakariri­Eyre­Custfloodprotection

infrastructure heldup,'' Leigh says.

''Thisisanother reminder that our flood

protection plays abig part in protecting the

health and well­beingofcommunitiesand

critical infrastructuresuch as roads,community

water supplies andpowerlines.''

''Inthe Ashley River at thegorge, thiswas the

biggestfloodonrecord, and the highflows we saw

all the way downthe usuallylow­flow river

do not apply to most residential

and farm buildings.

An assessor will start

inspectingfrom nextMonday

reviewing buildings thathave

met one or more of the three

criteria.

"We have carried out a

desktop study of over 1000

buildings which has helped us

identify what buildingsneed to

be looked at, but it will likely be

lessthan five percent of

properties affected across the

whole district once we have

carried out the inspections."

Inspections will takeuptosix

months. Letterswillthen be

senttoproperty ownerswho

havethe optiontoeitheraccept

the earthquake­pronestatusof

their building and commit to

the cost of havingit

strengthened, or provide

evidence to statetheirbuilding

is not earthquake prone, such

as aseismicassessment.

"This is all about providing a

safe place to work, gatherand

socialise," said Kerry.

''Earthquake strengthening

work can vary in cost, from

$30,000toseveralmillion."

There is no costtothe

propertyowner for assessment

or pre work such as drilling, but

they must pay the

strengtheningcost which can

be doneany time during the

next15years.

underlined the significance of theprimaryand

secondary stopbank system.''

The Waimakariri, Eyre andAshley/Rakahuri

rivers sustainedminortomoderatedamage in

isolatedareas.There wassubstantial damage to

someareas of theWaimakaririand Ashley/

Rakahuriregional parks.

Someareas in theparksremain closed while

repairworktis donetofloodgates, anderosion

management and clearingofdebrisiscarried

out.

''FloodingisNew Zealand's most common

natural disaster andwedoexpect that climate

changewill intensifyrainfall,resultinginmore

frequent,high­intensityevents.''

Areas of the parks worst hitand thosethat

remainclosed,are listed on the Ecanwebsite, for

the safetyofusers.

''Thisallowsour staff and contractors to

undertake recovery work moreefficiently,''

Leigh says. ''We want peopletoenjoyasmuchof

the parks as possible.''

Canterbury,weneedtotalkabout our changing climate. We know this isn't an easy topic. Or asmall one.

Butwehavetostartsomewhere,sowe're starting here–with our region. Learn moreatitstimecanterbury.co.nz

It'stime, Canterbury is climatefriendly-learn more on our website.

It's time to talk about climate change, Canterbury.

Brought to youby:

P61506-PLATO-CP-B
---
MID WINTER

CHRISTMAS

RANGIORA

2

only

Limited

Stock

19

only

now

$

348

Verso 600mm Induction Hob

ECO025584

now

$

998

Delonghi 60cm GasTop Oven

334150

LOTS

MORE

DEALS

now

$

199

Outdoor Sink Unit

353231

HONDAENGINE

Limited

Stock

IN-STORE

1

only

now

$

190

Canzo1000mmDining Table Round

336879

now

$ 199

Limited

Stock

Bosch 18v BlowerBattery/Charger Kit

382796

now

$

2730

Wood Chipper 9HP

909450

100%LOCALLY

OWNED&OPERATED.

RANGIORA

If youfind alower priceonanidentical stocked productlocally, we will beatitby15%

If youfind thesame productfromanother Mitre10store or Mitre10website, we'll matchthatprice.Excludes trade and special

quotes,stock liquidations and commercial quantities.The in-storeprice maybelower than thatadvertised.
---
MID WINTER

CHRISTMAS

RANGIORA

now

$

45

88pcTitanium Drill Bit Pack

938443

now

$

5 60

Misc Colour Duct Tape

ACE0067

ATLAS

FIXINGS

SELLOUT

now

$

55

Ox 30m Heavy Duty Lead

923222

now

$

8 50

UltraBrightFlashlight

917090

Limited

Stock

LOTS

MORE

DEALS

IN-STORE
---
MID WINTER

CHRISTMAS

now

$

12

Ace9pc Tool Set

902126

24

MONTHS

INTEREST FREE

on purchases $799 &over

Limited

Stock

now

$

45

JamBluetoothSpeaker HXP950

921188

WANT IT NOW?

Payfor it using your

AirpointsDollars

10

Only

FINANCE

OPTIONS

AVAILABLE

20% deposit

Paycash priceonly

No booking or

insurancecharge

or 12 MONTHS

INTEREST FREE

Terms, Conditions&Credit Criteria apply

Remember, 1=$1

When youspend$75 or more.

Seein-store forterms &conditions.

100%LOCALLY

OWNED&OPERATED.

RANGIORA

If youfind alower priceonanidentical stocked productlocally, we will beatitby15%

If youfind thesame productfromanother Mitre10store or Mitre10website, we'll matchthatprice.Excludes trade and special

quotes,stock liquidations and commercial quantities.The in-storeprice maybelower than thatadvertised.
---
NEWS

14 The North Canterbury News, June 24, 2021

Satisfaction from helping others

VOLUNTEER WEEK

By LOUISE LEITCH

Volunteering is away of life

for Norman Maindonald.

He has dedicated more than

40 years of service to the

community in Christchurch,

and more recently, North

Canterbury.

The Rangiora resident, who

volunteers with Community

Wellbeing North Canterbury

Trust as aRestorative Justice

panellist, says volunteering

gives him asatisfaction that

nothing else does.

Aself­professed jack of all

trades, masterofnone,

Norman held variousjobs in

Christchurch, including arole

as manager at Smiths City,

before becoming South Island

sales representative for

Masport.

''I was happily married, with

two children. Ihad agreat job

but Iwas too comfortable, says

Norman.

''My prayer was, if Ican do

something more productive,

let me know.''

Normanbelieves his prayer

was answeredwhen aserious

car accident in 1984 left him

with afracturedskull and

unable to resume his job. Once

he had recovered sufficiently

he poured himself into prison

ministry,avoluntary role he

had begun while employed

fulltime.

When Norman began

working with men at Rolleston

Prison, some 41 years ago, his

wife Shirley, while supportive

of her husband's decision,

Volunteer week .. . Norman Maindonald says he gets

''tremendous satisfaction'' from volunteering.

PHOTO: COMMUNITY WELLBEING NORTHCANTERBURY TRUST

stated categorically thatshe

did not want to be involved.

''But three years later, she

was more involved in the

ministry than Iwas,'' says

Norman.

The couple took prison

inmates into their home for

what was known as 72 hour

parole, part of aprogramme to

help prisoners nearing their

time for release to transition

successfully back into society.

''They were often men from

the North Island without any

whanau locally to support

them, says Norman. We would

feed them, talk with them.

Shirley and Imust have had

dozens of prisoners through

our home.''

Norman grew up in Kurow,

NorthOtago and describes his

parents as straight up and

down good people.

''I was brought up to abide

by the rules because Ihad

parents who cared for me,

loved me, but not everyone's

so fortunate,'' says Norman.

''I get tremendous

satisfaction from helping

someone who has been in a

heap of trouble to turn their

life around and have hope for

the future.''

It was Norman's work with

offenders that in 2003, led

Deirdre Ryan, now manager of

Community WellbeingNorth

Canterbury Trust, to invite

Norman to join apilot

Community projects benefit

Twenty­six community

projects have been

supported by the Kaikoura

District Council totalling

$55,000 over the last year.

The Creative

Communities scheme has

contributed $22,000,while

the CommunityInitiative

Fund added$15,000 and the

Sports New Zealand Rural

Travel Fund has provided

$13,380 forthe community.

''It's great to see the range

of different projects that

have received funding,from

art classes and sports

equipment through to the

development of amarine

mammal app,'' community

services manager Susi

Haberstock says.

''These initiatives

highlight the skilland

energy withinour

community.''

The Creative

Communities fund

supported the 48 Hours in

Kaikouraphoto exhibition,

art classes for adults and

tamariki,the Kaikoura Arts

Trailwebsitetopromote

artists in the district and

Zoetrope drawing classes in

schools.

Funding has alsobeen

made available for two

murals, an art book, an

exhibition, the Kaikoura

Talent Quest, the Kaikoura

Children's Choir,

Inspiration Container Lego

exhibition and Re(start) Art

workshops.

Art class ... Rosvita Haas teaches an art class to local

school children, funded by the Creative Communities fund.

The council's Community

Initiative Fund supported a

magician's performance in

the Kaikoura Hospital Rest

Home, asummer holiday

reading programme, the

Great Kaikoura Whale

Count andTinkertime,a

monthly activity programme

for over65s.

The fundhas also

supported the development

of arange of Maori

resources to be utilised

acrossarange of projects

including performance and

the development of a

marinemammalapp which

will enablereal time

collectionofmarine

mammalsightings.

The Sports NZ Rural

TravelFund was used to

help Kaikoura High School

hockey, Kaikoura Netball

PHOTO:KAIKOURA DISTRICTCOUNCIL

Centre and Kaikoura Rugby

travel to localsporting

competitions.

The George Low Trust

Fund has been running for

more than 40 yearsto

providerecreational

equipment for Kaikoura

youth, and it has funded

hockey equipment at

Kaikoura High School,

swim equipmentfor the

Kaikoura AquaticCentre,

which is under

construction, the Kaikoura

NetballCentre's junior

umpire programme and the

Korora schoolholiday

programme.

The council

acknowledges the efforts of

volunteers who sit on the

community grant boards

and go through the

applications.

Restorative Justice service,

that was being developed in

North Canterbury by Safer

Communities Council with the

help of Rangiora Police.

Afounding Restorative

Justice North Canterbury

panellist, Norman is now

approaching 18 years as a

volunteer with what was

named the Turnaround

Programme, now known as the

North Canterbury Police

Diversions Panel.

Restorative Justice North

Canterbury, run by

CommunityWellbeing North

Canterbury Trust, provides an

opportunity for victims to talk

to offenders and say how their

lives have been affected by the

offenders' actions.

Participation is voluntary, in a

facilitated conversation

between offenderand victim.

''Victims can be reluctantto

take part in arestorative

justice conference initially,''

says Norman, ''but afterwards

they often say it was the best

thing that could have

happened.''

Losing Shirleyseven years

ago, after 50 years of marriage,

has been difficult, but Norman

remainsaspassionate about

helping peopleasthe day he

began his voluntary service.

''Life isn't about being abig

shot. Being the wealthiest,

most influential person

around doesn't mean athing,

that's just egotism'', says

Norman.

''We're here to help others

and if Ican do something to

genuinely help someone else,

why wouldn't I?''.

Baker's delight ... Percival Street Bakery's award­winning head baker Wayne Rewi, with

his apprentice bakers Nicole Young (19) and Johnny Murchison (20) and some of the bread

they make on site in Rangiora.

PHOTO: SHELLEY TOPP

Passion for baking bread

By SHELLEY TOPP

Two Rangiora apprentice

bakers are bucking the

nationaltrend of attracting

youngpeople into the

baking profession.

The early­starts put many

youngpeople offtraining to

become bakers.

However, Johnny

Murchison (20) and Nicole

Young(19), who bothwork

at the award­winning

Percival Street Bakeryin

Rangiora are both

passionate about their

career choice, despitethe

earlystarts.

Both Johnny and Nicole

admitgetting to work early

is tough,particularlyfor

Nicolewho is anatural

night owl, but they say

seeinghow much customers

enjoy the bread and other

food they make more than

compensates.

Wayne Rewi, the head

baker at Percival Street

Bakery, says bakingbread is

his passionand he is lucky

to havetwo such talented

apprentices working with

him.

''It is hardtoattract

young,enthusiastic people

into the bakingprofession,

but both Johnny and Nicole

are alsopassionate about

bakingand bread making, so

we are fortunatetohave

Kaikoura

eerily quiet

''Reality is startingtokick in,'' says

Kaikoura Mayor Craig Mackle.

As winter setsinand with no

international tourists for 15 months,

the towniseerily quiet.

''Hopefully it will pick up abit

nextmonth with the school

holidays.Last winterwas pretty

amazing,'' Mr Mackle says.

''I think it comes downtoadapting

to the new environment and some

businesses havedone really well,

but you've got other businesses who

are dependent on touristsand they

can't adapt so easily.''

The North Canterbury Transport

InfrastructureRecovery alliance's

finalproject, at Peketaand the

Parititahi Tunnels, south of

Kaikoura, is coming to end.

But there is causefor optimism,as

Kaikoura'sMayor's Taskforce for

Jobshas exceeded its targets. More

than 50 people were placed in jobs

in its first six monthsand funding

has been secured for another year.

''There's been ahell of alot of

people put into work and they've

evendirected peoplewheretogo,

evenifthey fall outsidethe criteria,

so they're stillhelpingthem which

is good to see.''

Statistics from the Ministry of

Social Developmentshows there

were66Kaikoura residents on a

Jobseeker's Benefit at the end of

May.This is the same number as

May 2020.InMay, 2019 therewere

27. ''Unemployment is about half

whatitcould have been and

hopefully we will get that lower too,

butyou've got to have the work to be

able to offerthe employment,'' Mr

Mackle says.

them.''

Johnny is in charge of

caring for the bakery's four

bread starters, which all

havenames.They include

the oldest, Boris, which

turns 10 in November.

Nicole,who is gluten free,

specialises in makingthe

bakery's large range of

gluten­freeproducts.

Wayne saysthere is

somethingspecial about

baking bread.

''There is justsomething

about it. It is not the same

every day.Little thingssuch

as temperature play abig

partinthe perfect loaf.Not

justanyone can pick it up,

you have to wanttolearn it.''
---
Winter

High Tea

Image is indicative only.

Join us foraWinter HighTea at one

of our three Christchurch villages

Winter certainly is starting to settle in. These coolermonths

can makeitjust that little bit harder to get outand about.

So hereatSummerset we'replanning amonth of warm

winter High Teas andyou're invited.

Just popalong to one of our three Christchurch villagesany

time between 10am and 2pm, on anyFridayinJune,and

enjoyarange of delicious winter treats and hotdrinksonus.

Whilst you're here, whynot also get ataste of the Summerset

lifethat our residents love so much.

10am -2pm

EveryFridayinJune

Summerset at Avonhead

120Hawthornden Road,

Avonhead

Summerset on Cavendish

147Cavendish Road,

Casebrook

SummersetatWigram

135 AwateaRoad,Wigram

Our teams would love to showyou around ourstunning

villagesand showhomes.

We'relooking forwardtoseeingyou!

0800SUMMER |summerset.co.nz

SUM3118_37X8
---
ALL TIPAZ

ON SALE

Double/Queen

Headboard

NOW $

399

Bedside

NOW $

265

NOW ON! SELECT ITEMS

+SUPER DEALS. ENDS 12.7.21.

Riley 3 Seater – Grey

WAS $ 1199

NOW

$

899

Riley

Chaise Sofa –Grey

WAS $ 1699

ALL PARIS

ON SALE

Dining Table – W190

NOW $

799

Dining Chair

NOW $

150

NOW

$

1299

DON'T MISS OUT ON THESE GREAT SUPER DEALS!

Caribbean Queen

Sleepset

WAS $ 849

NOW

$

649

Zara Single Bunk Bed

WAS $

999

NOW

$

699

Lennox 2Seater

WAS $ 1499

NOW

$

1199

SCANQRTOSHOPALl

SUPERDEALSOnLINE!

Shop

Online

Nationwide

Delivery

Finance

Options

PLUSHEapsmoresuperdealsinstore&online!

Lennox

3Seater

NOW $

1399

WINTER SALE NOW ENDS 12.7.21.

250 Moorhouse Ave, Christchurch

Ph: 0800 TARGET (0800 827438)

targetfurniture.co.nz

Offers and product prices advertised here expire 12/07/21.

Sale Excludes Accessories.
---
Speed limits to be reviewed

Speed continues to be ahot topic in the

Oxford area.

Earlier this month the Oxford­Ohoka

Community Board signed off areport

seeking to consult with the community on

proposed speed limit reviews on roads in

and around the board's area.

Top of the list is Oxford's Main Street,

with several residents keen to see the

speed limit reduced to 40kph.

''It's been ahot topic in Oxford for

quite awhile,'' board chairperson Doug

Nicholl says.

''We've been given the proposed new

speed limits and there's afew other

roads we thought should be included.

''We're asking for a40kph speed limit

on Main Street (Oxford) as residents have

been asking us to do something about it.

Whether we get what we want is a

different story.''

Roads under review include the north

and west Oxford Town entrances, at

Ohoka township and Mill Road from

Ohoka to Kaiapoi.

Significant population growth and the

expansion of urban areas over recent

years means the existing speed limits in

some areas are no longer appropriate,

council staff said in areport to this

month's board meeting.

Staff propose reducing the speed limit

through Ohoka from 70kph to 60kph and

down to 80kph on the eastern end of Mill

Road.

The board considered the

recommendations made by staff and

included additional locations in

response to concerns raised about speed.

Speed bumps ... The Waimakariri District

Council will review speed limits in Oxford

and Ohoka.

PHOTO: FILE

These will now be considered in a

report to the council next month and the

public will be invited to give feedback

during September and October.

''We want to do everything we can to

make our roads safer, and making sure

speed limits are suitable helps to reduce

the risk of serious injury or worse,'' Mr

Nicholl says.

''There is always high interest in speed

limits and the public consultation is an

opportunity for people to let us know

what they think and have their say.''

Cemetery policy unveiled

By DAVIDHILL

Waimakariri's newcemeterypolicy is

expected to tidy up ''afew grey

areas''.

The WaimakaririDistrictCouncil

adoptedanew cemetery policy at its

meeting earlier this month,

introducingnew rulesaround the

pre­purchaseofgravesites.

The newpolicy allowsresidentsto

pre­purchaseone plotfor their

exclusive use, butalsorequires the

council to review it every 10 years.

''It's alot more complicatedthan

people think,''Deputy Mayor Neville

Atkinson says.

''Ifyou buy aplot for yourchildren,

it might not be used for 60 years and

then we run the riskofrunningout of

room in our cemeteries,but there'sa

wholelot of empty plots.

''Thequestionwas asked:'what if

peoplewanted to go and buyalot of

plotsand speculate on them'. So

there's gottobeasensible

compromisetopeople owning plots.''

Thenew rules shouldprevent the

risk of speculation, with individuals

only able to pre­purchase oneplot for

theirexclusive use.

Singleplots canbereservedfor 10

years and will be subject to arevalidationbefore

the 10 years is up to

determine if theplot is still required.

Thenew policygives effect to the

newcemetery strategy adopted by the

council in October lastyear.

NEWS

The North Canterbury News, June 24, 2021

Our readership is

wayup

17

Santa is coming to town

By DAVID HILL

Kaiapoi and Rangiora stand

readytoextendthe

Christmas spirit to

Christchurch.

The two townslook set to

benefit after the

cancellation of the

Christchurch Santa Parade

for thesecondyear running.

Kaiapoi Promotions

Association (KPA)

chairperson Martin

Pinkham and his Rangiora

Promotions counterpart

Ross Ditmer saytheir

organisationsare gearing

up for an extra influx of

visitors for their respective

Santaparades.

The river town is first out

of the blocks on Saturday,

December4,followed by

Rangiora on Sunday,

December12.

''Kaiapoi is more than

happytostep up to fill the

void,'' Mr Pinkham says.

''We arewell underway

with our planning and we

are about to callfor

registrations.

''We were very pleased

with the turnout last year

and we estimated that 25

percent of the peoplewere

from northChristchurch, so

hopefully we will get more

this year.''

Therewere arecord 120

floats entered in last year's

KaiapoiSanta Parade, up

from80in 2019,and it was

watched by up to 6000

people.

KPA is planning to stick to

Christmas magic ... Santa Claus is coming to town in

Kaiapoi and Rangiora this December.

PHOTO: FILE

the sameexpanded route it

adopted last year,starting at

1.30pm on the corner of

Charles and Jones streets,

near Kaiapoi New World,

continuing south along

Williams Street and

finishing at HiltonStreet,in

the reserveopposite

Countdown.

The KaiapoiSanta

Parade willonce again be

complemented by amain

street marketinWilliams

Street in the morningand

the Christmascarnivalheld

in the Hilton Street reserve

throughoutthe day.

WhileRangiora

Promotions is yet to begin

preparations, Mr Ditmer

says his organisation willbe

looking to replicate last

year'ssuccessfulevent.

''It'sareal shamefor

Christchurch as it'ssuch an

iconicevent,'' he says.

''For Rangiora

Promotions, our catchment

is North Canterbury, but if

we can get people out from

Christchurch to come and

spend sometime here it'sa

win for the townand it puts

Rangiora on the map.''

He says last year's Santa

paradewas Rangiora's

biggest and he expects to

stick to the same route

which was expanded last

year to copewith the

increased demand.

Once again,the Rangiora

Santa Paradewill be

followed by Party in the

Park in Victoria Park.

8-18 JULY2021 SCIFEST.ORG.NZ DUNEDIN

Reach morepeople than any other

media choice inNorth Canterbury with us.

Source: Nielsen National readership survey y/e Q3 2020 -y/e Q1 2021

Readership of people 15+ in North Canterbury is:

Up 11.6% in

thelast 6months

DON'T MISS OUT!

Full Programme out now!

GO to scifest.org.nz

And get the julyschool

holidays sorted!

Just ONE AD placed in the North Canterbury News isread by:

48,000 people

Reach more customers and growyour profits with us. For professional

advice contact Dayna today, 027 312 0089 or dayna.burton@ncnews.co.nz

www.ncnews.co.nz
---
26

WEEKS

TO GO!

Tiny TotKinder

Board

Assorted colours

Usually $169.99

$

149 99 ea

Tiny TotPlus

Trike/Bike

Assorted colours

Usually $199.99

$

159 99 ea

100pcs Wooden

Blocks in Bucket

Usually $49.99

$

39 99 ea

Save $20 20%

off

Multifunctional Easel

Usually $79.99

$

69 99 ea

Walker with Blocks

Usually $99.99

$

79 99 ea

Real Sounds

Lawnmower

Usually $69.99

$

59 99 ea

Nerf Fortnite TS

Usually $79.99

$ 69 99 ea

15" Big Scoop

Excavator or

DumpTruck

Usually $44.99

$

39 99 ea

Nerf Elite 2.0Turbine CS

Usually $79.99

$

69 99 ea

Maximal

T-Wrecks

$

119 99 ea

Wild Ones

Junior Scooter

Dino,Shark or Unicorn

Usually $99.99

VetPractice

with Pets

Usually $199.99

$

149 99 ea

Save $50

$

79 99 ea

20%

off

Gravitrax

Starter Kit

Usually $129.99

$

119 99 ea

Save $80

Large Stables

Playset

Usually $359.99

$

279 99 ea

Club Ranch

Usually $99.99

Steel Tough

Mightiest

DumpTruck

$

79 99 ea

MetroPolice

Department

Usually $169.99

$

139 99 ea

Save $150

Soft Touch Doll

Usually $119.99

$

119 99 ea

Train &Table Set

Usually $449.99

$

299 99 ea

$

99 99 ea

New Zealand's BEST

TOYLAYAWAY

NO DEPOSIT–NO INTEREST

• Layaway held up to 17th December,2021

• Paymentsinstore or by InternetBanking

• Atleastfortnightly paymentsrequired

• Cancellation Fees apply

• 48hour noticefor pickup(as somelayaways stored offsite)

• Photo ID required forcreating Layaway
---
Hero 2Missile Remote

Control Robot

CHRISTMAS

28

WEEKS

TO GO!

SAVE

$

20

New mailer out now

$ 79 99 ea

SAVE

10

$

10

$ 79 99 ea

30% off

30% off

Ticket

to Ride

Europe

Usually $99.99

$

69 99 ea

Settlers

of Catan

Usually $99.99

$

69 99 ea

Boogie

Board

with 18

Stencils

Usually $79.99

$

69 99 ea

RC Speed

Phantom 2

Usually $159.99

$

139 99 ea

Sequence

Usually $39.99

John Deere

Dump Truck

Usually $79.99

1:50

Diecast

$

59 99 ea

$

34 99 ea

Pass

thePen

Usually $39.99

$

34 99 ea

Rubik's

Race

Usually $29.99

$

24 99 ea

20% off

Liebherr

Wheel Loader

Usually $44.99

$

34 99 ea

20%

off

Regular Doll

Amina,Gabe

andJovie

$

59 99 ea

Deluxe Doll

Megan,Willow

and SydneyLee

Usually$89.99

$

79 99 ea

All 4Pack

Families

Usually $49.99

$

39 99 ea

20% off

Tactical

Truck

Usually $129.99

$

99 99 ea

20%

off

Save

$20

Family

Picnic Van

Usually $64.99

$

49 99 ea

Fire Engine

Usually $179.99

$ 139 99 ea

20%

off

Wooden

Wardrobe

$

199 99 ea

Deluxe

Dressing

Room

Usually $99.99

$

79 99 ea

Beechwood

Hall Gift Set

Usually $199.99

$

169 99 ea

FireStation

Usually $249.99

$ 199 99 ea

TOWER JUNCTION

NZ's BiggestTOYWORLD

Clarence St,Riccarton, Ph 03 3430330

MARSHLAND

199 Marshland Rd,

Ph 03 982 8697

HORNBY

ChalmersSt,

Ph 03 2818127

Valid until 4th July 2021
---
NEWS

20 The North Canterbury News, June 24, 2021

Top honours ... The Amberley Road Crash Rescue team took at first place at the United

Fire Brigade Association's South Island challenge.

PHOTO:SUPPLIED

Road crash rescue champs

By ROBYN BRISTOW

NorthCanterbury motorists are in safe

handsifthey come to grief.

The Amberley RoadCrashRescue

team has carried off the top honours at

the United Fire Brigade Association's

SouthIsland RoadCrashRescue

Challenge.

The team of Logan Retallick(team

leader), Charlie Ballan (medic), James

Carr,Chris Reeves,Hamish Ward, and

medicLucy Turnbull beat eight other

teamstotake out the eventatManfield,

Fielding.

It was also awardedthe honourof

having the best medical team, was

placed firstinthe trauma challenge,

and secondinthe trauma onlysection.

It is the first timeAmberleyhas

competed in the challenge with the

volunteer firefighters training once a

week for the past four months, outside

of the regular Monday evening brigade

practice.

''Theteam put in ahuge effort,and

did alot of extra training, that has paid

off,'' Logan says.

''They workedand performed

extremelywell together in ateam

environment.''

Aformervolunteer and alife member

of the brigade, Gavin Barton, who was

up in Napier, came to support the team

throughout theweekend.

Loganiskeen to hearfrom anyone

who hasold cars that can be cut up, so

volunteerscan continue to hone their

skills.

The brigade is alsokeen to hear from

anyone who wants to join as a

volunteer,orany sponsors keento

support it.

Contact Logan on 027 266 8162.

SPORTS RESULTS

Rangiora Golf Club

Nine hole Stroke/LGU /Hillsand Thomas

Trophy: Ladies: Colleen White36, Jan

Moffatt38, Janet Maguire 39, Ruth

Crawford40c/b. Men: David Klopper 31,

Robert Madden32, Howard Thomas 34,

Tony Fox 35 c/b, Bruce Pugh35.

Rangiora Bridge Club

Individual: North/South: Joyce Gray/

Jenny Shore 1, Judith Calder/Jeanette

Chatterton 2, Babs­Merel de Visser/Carl

de Visser 3. East/West: SamGurney/Tony

Quinlivan 1, David McRae/David Rainey

2, JanelleCrawley/Colleen Adam, 3. Rata

Pairs: N/SJeanette Chatterton/Gaynor

Hurford1,JudithCalder/Jill Amer 2, Des

Steere/Judy Hayton 3. E/W: Sue Solomons/

JanRoose1,DaveTocker/Andrew

Findlay, Jack Lyon/Shirley Symns equal 2.

Junior Night:N/S AnnetteCaldwell/Gail

Dunlop 1, Anne Bagrie/Kate Whitehead 2,

IanRouse/Isabel Goodhew 3. E/W: Wayne

Hutchings/Stuart Atkinson 1,Murray

Davis/SharynDavis2,DesleySimpson/

Judith Robinson, Fons Sanders/Ellis

Sanders equal 3.

Tuesday Teams: DawnSimpson/Jeanette

Chatterton/Lesley Shipley/Norm Shipley

1, AnneAnderson/Helen Phillips/Joyce

Gray/Junette McIntyre 2, Doreen

Mulligan/Lorraine Proffit/Noeline

Goodgame/PaulineMiller and Alison

Fleetwood/Helen Dunn/Janice Pickering/

NitaSheasbyequal 3. Presidents: N/S:

Pauline Miller/LouiseTapper 1, Liz Duke/

Alison MacDonald 2, HelenMora/William

VanDer Mespel 3. E/W: DavidRainey/

ChristineMiller 1, Owen Evans/Maria

Evans 2, Gaynor Hurford/Andrea

Dempsey3.

AmberleyGolf Club

May 12:NScott 70, BFitzgerald 71,J

Wigley73, PCumming73, SHartley 73, J

Robertson 74, BRayner 74.Twos: BGill, S

Manson, BYates, SThomas,IRouse.

Ladies :LRobertson77, KPepper78, J

Cumming80.

MidWeekMen, May 9: GBlackler37, J

Stringleman35, BBalderstone 34. Twos: R

Wilshire,DWilliams, JStringleman, D

Flewellen.Mid WeekLadies, May10:S

Lee72, BPettigrew 78,JMorgan79. 9

Holers:Putting competition:KHowie 13,

GSteltenpool 16.

Men, June19: CliffordCup: BFitzgerald

andLRobertson.Twos: DCameron, L

Robertson, GSmith, PCumming. Longest

Putt: MHarris.Mid week men: DRowell

36, BBalderstone 35,BGill35, IRouse 35.

Nineholders: JDouglas 37,DGoodwin 40.

Ladies: VCook 41, GSteltenpool 42.Paris

BakeryLongestPutt:D.Edwards.

Amberley SmallboreRifle Club

Club shoot, June 21: KBrown 99.7, K

Quigley 99.3, MQuigley98.5, DQuigley

97.8, PWisheart97.3, IFrazer 96.3,C

Rhodes 96.3, JTrembath 90.2, CBoyce

88.2, WParker 88.1,TBoyce87.2, E

Douglas 86.0, AMcLean 85.1, MPalmer

76.0.

Cloudy nights frustrate stargazers

Last year it was Covid­19 and thisyear the

weather is hampering efforts to view the

stars.

This winter began withsomuch promise

at the Oxford AreaSchoolObservatory,

with agrowinginterestinastronomyand a

brandnew 12­inch telescopeinoperation.

But nearlyhalf way through the season,

whichruns fromApril to endofSeptember,

the observatoryhas yet to hold aFriday

open night. The one exception was amidweek

viewing of the ''Blood Moon'' luna

eclipse last month. Volunteers say thereis

plenty to see in July, if the cloudsclear.

NURSING /PRE-HEALTH

Learn about nursing study options at Ara and find

out how our pre-health course can help you meet

the entry criteria for anursing degree or diploma.

Wednesday4August

Manawa campus, 276 Antigua Street

Nursing: 5.30pm-6.30pm

Pre-Health: 6.30pm-7pm

Register toattend atara.ac.nz

HOWMARVEL HEALTH

DELIVERS ADVANCED

DIAGNOSTICSAND SCIENCE-

BASED NATURAL MEDICINE

At Marvel Health,our focusisonregenerative

and preventive healthcare.Thewhole body

scan we performprovides ourdoctors with

acomprehensive report of apatient'sstate

of health.Itrevealshidden diseases and

their causes andour recommendations, are

basedonthe detailedinformation from the

scan.Thescansearchesfor theunderlying

causes of health problems, whetherinfections

caused by virusesand bacteria or heavymetal

contaminationsuchasleadtoxicity or food

allergies. Furthermore, it searches forthe

causes of organdamagesuchasnarrowing

of thearteries, auto-immuneconditionsor

nutrientdeficiencies. After studying thescan

reports, ourdoctors make personalised and

targetedrecommendations.Duringyour

30-minutetele-consultation with thedoctor

they recommendonlythe 3mostessential

medicines that youneed to kick-start your

healingand stop pain anddiscomfort.

We only recommendscience-based natural

remedies that aresupported by published

medical journals andtrialled clinical

studies. The Marvel Health scan is unique

becauseitrecognisesand searchesfor

harmful environmental factors that promote

diseases. It checksthe bodyfor nutrient

levels,environmental toxins, harmful

electromagneticinfluences, food sensitivities

andpredisposition to geneticdisorders.

ADVERTISEMENT

Our Marvel Health Lifestyle Specialists spend

30 minutes with youexploring in detailyour

lifestyle,nutrition andother environmental

influences on your health andtheyprepare

adetailedreportwithpersonalised

recommendationsofthe steps youneed to

taketopreserveyourhealth.

However, your healthcare continues even after

consultationswiththe doctor andlifestyle

specialist. We follow-uponyourhealthand

arethere to assist youalong theway until you

feel better.

Book AScan Today 03-669-5410

www.marvel.health

Unit 13/6 Cone Street, Rangiora, Canterbury, 7400

293 Durham Street, Awly Building, Christchurch, 8013

The inspections from the scan is not asubstitute for medical inspections. It is not assigned to state the final diagnosis
---
Advertising Feature

Love of the share market leads to

emerging funds management firm

AMANDA BOWES-DURAND

Christchurch lawyer and friend, Paul Currie, has this to say about Bernard:

"I have never met anyone who has the share market understanding and insights that

Bernard does. He is very approachable and exceptionally interesting to talk to."

CVIPartnersChief InvestmentOfficer(CIO),Bernard Whimp

As you enter thebusiness park inCone

Street,Rangiora, your eye can't help but be

drawntoastriking redlogo –CVI Partners,

which adorns twopristinecommercial

buildings.

If curiositydrove you tohave alook

featuringamid-century moderntheme.

Downstairs,you wouldbewelcomedbythe

U

abeautiful apartment that canbeusedby

thosewho might work through the night.

Interestingly for Rangiora, this newly re-

Chance Voight Investment Partners Limited

(CVI Partners) share market investment

build onalmost adecade ofexperience as

aprofessional investor incompanies listed

as experience has shown him that in this

part of the world that's where many ofthe

best share market money-making opportunities

are.

At Christmastimein2010, he launched

aseriesofaudacious off-market offers

million in amatterofmonths, all kickedoff

Daring to do something differentmade

lots of money.

ernard thenrelocated to thetropical Pa-

apartment in Port Vila,helookeddownon

what some have described as "the prettiest

Here,heset to work studying theAustral-

as aprofessionalinvestor.

Thetimeawayallowed himtodevelop a

deep understandingofwhat shares to buy,

when to buythemand how muchtopay.

To most people,the sharemarketcan be a

bewilderingarray of unfathomable numbers

T

theopportunity to be incrediblyselective

-

hasabout 160listed companies.

INVEST IN THE CVI

FINANCIAL HIGH YIELD

INTEREST RATE FUND

"Hedge Fund investment is not playing around

like Sharesies or aglorified savings scheme like

KiwiSaver, it's concentrated, high conviction,

deep value, stock picking with the unabashed

objective ofmaking afortune."

10 % pa

TERMS FROM 12–36MONTHS,

INTEREST PAID QUARTERLY

EARN

INTEREST

AT

FULL DETAILS ONTHE RETURN AND INVESTMENT ARE AVAILABLE FROM

THE INFORMATION MEMORANDUM.

CVI FINANCIAL LIMITED IS AMEMBER OFASX EQUITIES INVESTMENT

GROUP, CHANCE VOIGHT INVESTMENT PARTNERS LIMITED.

For further information about investment in the CVI Financial

Limited high yield interest rate offer please call oremail

Chance Voight's Investor Relations Manager, Tracy Macdonald

on 03 3131393 or investors@chancevoight.com

Investment in this fund is only available to wholesale and eligible investors in

accordance with the Financial Markets Conduct Act 2013.

y day (andoften through the night) the

building buzzes with activity,asagrowing

team of hand-pickedemployees work on

fund operation. Having ateamofhigh-performance

people –who earn what they're

worth, is incredibly important for thesuccess

of thebusiness.

SettingupCVI Partnersbackin2018,

headquarters. As he owned acouple of

buildings in Rangiora, itmadesense to use

Living for partofthe year in

city,heisheading in the oppositedirection

–which is theethos of hiswhole investment

philosophy!

So how did CVI comeabout?

"

A

atheory. He made aquick fortuneby

making offers to buy sharesdirectlyfrom

shareholdersincompanies listed on the NZ

StockExchange.

"The sharemarketisessentially a

understandingand theright skills, you

canturnasmall amount of money into a

largeamount ofmoney. Experiencehas

shownmeIcanrepeatedlybuy worthwhile

andcontrarian instincts to unearthshare

"

we canobtainsubstantial valuefor nothing,

wherewecan buy astake in aworthwhile

businessthatisworth alot more thanwe

That's thesortofsituation that CVIPartners

will be concentratingtheir investment

capitalinto.

If thesharesofaworthwhilebusiness

arechanginghands at abargain price, then

"

unless we think the shareprice is capable of

CVIPartnersare not speculatorsor

traders–they are investors (there'sadifference),combingthe

market for bargain

priced shares.

building aconcentrated position in which-

"Compounding investor capital at 20% per

annum orbetter, over multiple years."
---
ever company it might be, then holding that

position untilthe thesis playsout. After

talking with him for awhile,one starts to

thinkwhat acalm and elegant wayCVI's

investment processistomakemoney. The

He doesn'tratemostofwhat goes on in

thesharemarket at all. You're not likely to

make muchmoney doing whateveryone

to be differentand you've got toberight!'.

He points out that he's got littletimefor

what many people payattention to,and says

that hedgefundinvestmentisnot playing

scheme likeKiwiSaver, it's concentrated,

high conviction,deepvalue,stock picking

fortune.

A

theknowledge and experienceI'veaccumulated,tocreatelifechangingwealthfor

investorsbycompounding investor capital

at 20%per annum orbetter, over multiple

in doingthis. Thesetypesofreturns are

typical ofgood Australian hedgefundop-

heardofthem andnoone's ever offeredyou

Foranyoneinterested in followingCVI's

emailCVI's investor enquiriesspecialist,

Irina Sharipova to sign up to receiveCVI's

free monthly investmentnewsletterwhich

sharemarketinvestment.

Christchurch lawyer andfriend,Paul

"I have nevermet anyone whohas the

sharemarketunderstanding and insights

BERNARD WHIMP

One of the things that

attracted metothe

Australian share market

was that I'd watch these

companies that at some point

during ayear would end uptrading

at twice the price they had traded

at, atsome other time ofthe year

and itseemed incredible (and full

of possibilities) tomethat there

could besomething like 100%

variance in the value of amajor

business over 12months orso.

Youdon't usually find this

variance in any other asset

class, but you can imagine how

much money could bemade if,

for instance, houses and farms

changed hands at half their

realistic value at some point of the

year.

In no time at all you'd get onto

the idea ofbuying them attheir

low point and selling at the high

point and making afortune,

you might well not bother to do

anything else inlife, you'd be

making lots ofmoney and having a

good time. Well, that's how Isee

the share market.

If you can find asmooth and

repetitive way toturn $1into

$2 and then doitonalarge

scale (share markets offer this

opportunity) then the chances are,

you're likely toprosper.

Advertising Feature

Of course, you've got to know

what to buy, when to buy it

and how much to pay for it. To

be successful you have to be

incredibly selective and capable of

forming aview ofwhat acompany

is worth. You've got toassemble

acalm, analytical understanding

where you're unaffected by

the market 'noise' that always

surrounds companies and share

prices.

It never ceases to amaze methe

cheap assets (company shares)

to be had from share markets,

companies that will be worth, 2, 3

or 4times as much as you paid for

them in afew short years. Nothing

else I've ever come across offers

such opportunity, so often, at such

discounted prices.

Then there's the liquidity (that's

the ability to buy and sell these

assets). The liquidity is fantastic,

you're not locked intoowning

anything. If you like what you've

bought you can add toitany day

of the working week bytapping

on akeyboard. If you decide you

don't like it, you can sell itaseasily

as you bought it. Inthis business

Ilike tosay that you never have

aproblem because if you own

something and your view changes,

you just sell it all inthe morning,

problem gone!

CVIPartnersCIO,Bernard Whimp

What is a

Hedge Fund?

BERNARD WHIMP

Traditionally ahedge fund

usually referred to atype of

share market investment fund

that held investments that were

both 'long' and 'short' positions,

along position being aholding

the investment firm believes

will rise in value and ashort

position being aholding the firm

thinks will fall (money can be

made in both directions). The

expression 'hedge fund' has

expanded these days outside

the area oflisted equities to

sometimes include investments in

other asset classes or to involve

share investing in aparticularly

incisive and concentrated

manner utilising ahigh conviction

approach –such asallocating

50% ofits available investment

capital toits 5best ideas.

To summarise, you could say, that

ahedge fund is apool ofmoney

contributed by investors and run by

afund manager whose goal isto

maximise returns and minimise risk.

CVIPartners, Cone Street,

Rangiorapremises

INVESTMENT PARTNERS LIMITED

"A hedge fund is

apool ofmoney

contributed

by investors

and run by a

fund manager

whose goal isto

maximise returns

and minimise

risk."

FREE SHAREMARKETNEWSLETTER!

Now you too can be part of the world ofhedge funds and serious share investing! Gain insights into

the thought processes and investment mindset used by many ofthe world's most successful hedge

fund managers to create fortunes for their investors –insights not commonly available anywhere else

in New Zealand! Understand how high conviction, deep value, concentrated sharemarket investment

takes place –and follow the big sharemarket moves andprogress of Chance Voight as it builds an

outstanding New Zealand based investment business in the Australian Stock Market.

INVESTMENT PARTNERS LIMITED

Call or email Irina today – 03 313 1393 or investors@chancevoight.com

to receive your free monthly edition

AVALUE FOCUSED,RESEARCHDRIVEN

INVESTMENTMANAGEMENTFIRM

DISCLAIMER: This feature isintended toprovide general information only. Itdoes not take into account your investment needs or personal circumstances.

It is not intended tobeviewed asinvestment or financial advice and should not betaken assuch.
---
ALLTECH

24 North Canterbury News, June 24, 2021

An important partofthe annual

calendar is the transition period.

This occurs from three weeks before

calving to three weeks after calving,as

the cowtransitionsfrom the dry period

to the milking herd.

The transition periodiskey for the

health of adairyherd.

During this time,cows can suffer

metabolicdisorders suchasketosis,

milk fever, fattyliver, as well as other

health issueslike retained placenta and

displaced abomasum.

All of these can haveamassiveeffect

on the subsequent performance of the

cow for the rest of thelactation.Itis

easytoset dry cowsaside and deem

themunimportant untilthey become

the "money makers"again.

However, maintaining balanced

rations andbestmanagement practices

before calving are criticaltohow well

the cow performsinthe first60days of

lactation.

It cannotbeemphasisedenough that

a cow's lactationdoes notbeginat

calving,but starts at theend of the

previous lactation.

It is well to focusonslow body

condition gaintoreachthe targeted

weight at dry off time. Withinthree

weeks of calving,acow'simmune

systembecomes depressed. It is vital to

maintain drymatter intake at this time.

Nutrientrequirementsofthe foetus

continuetoincrease three weeks

prepartum, yet drymatterintake (DMI)

decreasesby10to30percent.

Maintaining feed intake priortocalving

can impact feed intake after calving

whenenergy demandsare high andthe

amount of feedconsumed directly

correlatestomilk production.

Research studies, (M Lopuszanska­

Rusek, KBilik; Ann. Anim. Sci.

11(4):531­545, 2011) thatmeasurethe

performance andmetabolicstatus of

dairy cows supplemented with Yea­

Sacc® (Alltech® Inc.) three weeks precalving,

showed that those cowshad

higherDMI, higher milkyields,higher

feedconversionefficiency(FCE)and

werequicker to achieve maximum

production whenenteringlactation,

having mobilisedlessbody fatthan

cowsthatdid not.

Thisresearchalso showsthat

Alltech's live yeast Yea­Saccincreased

milkproductionby12% during the first

three weeks after calving,and 7% in the

10 weeks aftercalving.

Enhancingtrace mineral nutrition

during thisperiod, in particular

selenium, copper and zinc,inyour

mineralprogramme,willhelppromote

immunity through thevulnerable

calvingperiod andpreventretained

placenta and otherdiseases. Levels of

these critical trace elements are low in

manyNew Zealandpastures. Bioplex®

organictracemineralshavebeen

proventogivebetter responsesthan

conventional inorganic

supplementation.

If you want to effectively improvethe

health and performanceofyourdairy

cowsinearly lactation,call Alltech

AreaSaleManager,Matt Cassineri on

027 208 4606 or email

matt.cassineri@alltech.com.

WINTER FARM MAINTENANCE

Winter feed crops damaged

Flood­damaged winter feed crops pose

challenges for farmers this winter.

Beef+Lamb New Zealand has joined

forces withPGGWrightson Seed's

veterinary nutritionist Charlotte Westwood

and extensionagronomist nutritionist

Wayne Nichol to offersome advice.

Farmers are encouraged to complete a

feedbudget,prioritising water­damaged

crops, re­transitioning stock back on to

crops, andpaying extra attention to

ongoing crop health, stock health, feed

allocations,and personaland staff safety.

Withupdated feed budgets, farmers can

factor in potential losses of winter crops,

damaged pasture and supplementary feed.

''Itpays to be ruthless. Water­damaged

supplementary feed may not be suitablefor

feeding,'' theysaid.

''Reassess crops for dry matter yield now,

and again later in winter, as plants may be

lostdue to disease or thecrop may stop

growing due to alack of plant­available

nitrogen in the soil.''

Review the extent of the damageona

paddock­by­paddock basis and assess

infrastructure damage.

Troughs may need cleaning if

contaminated by floodwaters and may

need''footing material'' if surrounding soil

is verywet.

Check if kale crops are stillstanding or

beenwashed away, whether swede,turnip

and fodder beet crops are still anchored

and whether or not theyare covered in silt.

Monitorcrops regularly over the coming

weeks to assess plant survival, dry matter

yield and thefeed budget.

''Damagetocropsfrom floodwaters

depends on how longthe crop was under

water. Longer than 48 hours means the

cropisatrisk of soil oxygen depletion with

reducedoxygen available to the roots,

increasing the risk of plant loss,'' they said.

Mud andsilt thatcover bulb crops and

kalestems may increase the risk of fungal

and bacterialplant diseases.

Feed budgets ... Winter feed is going to

pose some challenges.

PHOTO: SHELLEY TOPP

''Stockare lesslikely to eat cropscovered

in silt, so expect feedintakes to be lower.

''Considercontaminants thatmay be

risky to stock and staff. Crops and

supplementaryfeed could be contaminated

with overflow from septic tanks,storeof

agricultural chemicals or fertiliser.''

Once paddocks are dry enough to access,

restoring power and infrastructure is a

priority.

Cattle need to be break­fed on all winter

feed, but wait until conditions underfoot

are suitablefor grazing.

''Re­transition stock back to winter crop,

evenifstock was fully transitioned before

the floods. Thisisespecially important for

cattle grazing fodder beet,''they said.

There are several potential animal

health risks to stockgrazing floodedcrop

areas, includingclostridial disease,footrot

and hoofdamage, contaminants in flood

water, and copper deficiency. Excessive

ingestionofmud and soil during and

following flood events may result in longertermcopper

deficiency.

Contactyour veterinarian for animal

health advice specific to your animals and

situation or call 0800BEEFLAMBfor feed

assistance.

COMPETITOR

MORE MILK LESS FEED

PLUMBING, DRAINAGE, GAS,

PUMPS AND FILTRATION

24 hour service available

Rangiora based and covering

the entire North Canterbury area.

Proudly supporting North Canterbury's

pumping, water, drainage, plumbing

and gas needs since 2010

• Gas hot water –installation, advice and repairs,

no job too big or too small.

• Plumbing –service, repairs, call outs and new sales

• Drainage -servicing existing and installation of new

drainage systems

• Septic tanks –installation of new systems, servicing existing pumps and field drains

• Water treatment systems, water testing (routine water tests and hard water treatment) to suit all requirements

• Filters –replacement filters

• Winter servicing pumps for farm, lifestyle or domestic pumping systems, including farm irrigation pumps

• Pump repairs, pump servicing and replacement, loan pumps if required.

• Back flow prevention as required by councils (meeting council requirements)

• Pipes –westock afull range of LD and MD poly pipe, PVC (pressure or DWV)

• Fit aFrost Buddy to save your pump from freezing

Store open 7.30am to 5pm weekdays, and Saturday morning

8am –12pm, for all your supply requirements.

Our Flaxton Road premises are open.

Yeasts

Results

Alltech.com AlltechNaturally @Alltech

0800 PUMP WATER

786792

Email: accounts@pumpservices.co.nz

2393278
---
WINTER FARM MAINTENANCE

The North Canterbury News, June 24, 2021

25

Flood damage ... Farmers have flood damage to deal with on top of their usual winter farm

maintenance.

PHOTO: FILE

Challenging conditions ... Access to farms in Lees Valley, near Oxford, is achallenge after

the recent flood.

PHOTO: FILE

Damage adds to woes

By DAVID HILL

North Canterbury farmers are taking

stock of flood damage, as it adds to their

winter maintenance workloads.

Canterbury Rural Advisory Group

chairperson Winton Dalley says the

extent of the repair bill from the recent

flood event will not be known for

sometime, but the damage varies for

different parts of the region.

While Mid­Canterbury and Selwyn

farmers appear to have born the brunt of

the damage, farmers in the Ashley and

Okuku River catchments were severely

impacted and there are pockets of

damage throughout North Canterbury.

''There's more damage in Selwyn and

Mid­Canterbury, but we don't want to

minimise the damage for North

Canterbury, which was still severe in

some areas.

''For those in North Canterbury who

are affected, it's just as bad as anywhere

else.''

The Canterbury Rural Advisory Group

has prepared areport to the government

which attempts to give some estimate of

the likely costs to North Canterbury

farmers in the hope more funding will be

made available.

''There's no dollars around what the

cost will be yet. Insurance assessments

are still being carried out and there's an

unknown around the uninsurable

infrastructure and it's unknown what

government assistance could yet be

provided,'' Mr Dalley says.

''We can't send the message that there

is anything coming, but in past events

there has been support available, so we

are still talking to the government.''

North Canterbury farms face repairs to

fences, laneways, access roads, culverts,

land washed away, gravel and silt over

the top of land damage, and water

damage to houses and farm buildings.

There is also infrastructure damage to

roads, bridges, culverts and other council

infrastructure.

In the Waimakariri district the worst

affected areas including Lees Valley,

Okuku, Loburn and some areas near the

coast.

''Some of the farm damage is severe,

particularly in the Lees Valley and

around Okuku and Loburn there's some

devastated wee properties.''

In the Hurunui district there are small

pockets of infrastructure and farm

damage, Mr Dalley says.

''For most Hurunui farmers, the effects

of the drought are still of concern given

what is still ahead of us.

''The rain has been hugely beneficial,

but it doesn't take away the short term

issue of feed supply. That will still be an

issue right through to spring time.

''If we continue to have amild winter

most farmers could get some growth, but

if we have severe weather then the

situation would become more

concerning.''

The Hurunui Adverse Events Group is

continuing to monitor and respond to the

ongoing effects of the drought.

For all your general

farm and forestry

earthmoving

requirements

Baden Ryan: 027 229 1579

Pam Ryan: 027 381 2741

e: ryanearth18@hotmail.com

w: ryanearthmovingltd.co.nz

ryan earthmoving ltd

Proudly servicing the North Canterbury Area

Fences For

• Sheep

• Cattle

• Lifestyle Blocks

2166308

• Deer

• Horses

• Post Driving

Based in Loburn

17 years experience

Phone Mark Sampson

03 312 8335 or 027 777 2882

mrsampson@xtra.co.nz

2372099

EARTHWORKS?

EXCAVATIONS?

www.bayphil.co.nz

CALL BAYDON 027 405 9910

Foundations

Retaining Walls

Landscaping

Irrigation Excavation

Waterline Excavation

Sewer Excavation

Trenching

Tracks &Driveways

Land Clearance

Demolition

Lifestyle Blocks

Drainage

Tip Truck

5-20 Tonne Diggers

Markham Street, Amberley |Karaka Road, Waikari

www.arthurburke.co.nz

Trusted in NorthCanterbury since1935

Areyour vehicles serviced often?

Lookafter your utes,cars,quadsand 2wheelers withaserviceby

theknowledgable team at Arthur Burke to keep them running well

all winter.Weservice all makesand models.

ArthurBurkeSuzuki also offer ON FARM SERVICING

andfullworkshop facilities

Vehicle workshop: Michael 03 3140131|Motorbikeworkshop: Anton 03 3140134

ARTHUR BURKE LTD

Established 1935

2391347
---
IT'S TIMETOSTEP UP

FROM 5IN1TO

COGLAVAX8 VACCINE

The health and welfare of our

animals is really important to

us, so we use products that

achieve results

Hayden Ashby

Livestock Operations Manager,

Brownrigg Agriculture

STEP UP TO 8 IN 1 PROTECTION

When you're running big numbers of sheep and cattle… there's one number you want

to keep really low. And that's unnecessary losses from Clostridial disease.

That's why Brownrigg Agriculture have stepped up from 5 in 1 to Coglavax8

vaccine to protect against 8 Clostridial diseases present in New Zealand.

ONLY AVAILABLE FROM YOUR VET

CEV0001 APFP

coglavax8.co.nz

Ceva Animal Health (NZ) Limited. P: 09 972 2853 ACVM No. 7528 References: 1. JS Munday, HBentall, DAberdein, MNavarro, FAUzal &S Brown, Death of aneonatal lamb due to Clostridium perfringens type B

in New Zealand, New Zealand Veterinary Journal 2020. 2.West, Dave M., Bruere, A. Neil and Ridley, Anne L. The Sheep, Health, Disease and Production. Auckland: Massey University Press, 4th ed., 2018. Print.
---
In the ring ... Sam Holland marshalls lot 4, Hemingford Phoenix P158, in the ring during

last week's Hemingford on­farm bull sale.

PHOTOS: DAVID HILL

The next direction in

Charolais stud bulls

By DAVID HILL

ANorthCanterbury stud

breeder is looking to take

the next direction.

The 12th Hemingford

Charolaison­farmbull sale,

heldnear Culverden last

Thursday, produced some

solid results,withyoung

bulls sired by Hemingford

NextDirection featuring

strongly.

While the day's top price

of $28,000went to ayoung

bullsiredbyAustralianbull

ANC Lynx, Next Direction

featured prominently in the

cataloguewith several of

his progeny toppingthe

$10,000mark.

''Itwas agreat sale. We're

really pleased. We hada

goodtop price of $28,000 for

one stud bulland good,

solid commercialsupport

right through, so we're

really happy,''studowner

Sam Holland said.

''It's taken alongtime.

Breedingcattleisalong

process. We've focusedon

the temperamentand the

musclingwith ourbulls and

it'sexcitingtobeable put

up aline of bulls like this

and have such great local

support and from around

the country.''

NextDirection hasa

growingreputation,with

semen rightsalready sold to

Palgrove Charolaisin

Australia and semen

Punching above his weight ... Lot 2, Hemingford

Punchline P51, displays his size during the Hemingford onfarm

bull sale last week. Punchline sold for $10,000.

exportedtoValley's End

CharolaisinCanada.

''He's abullthat we've

had semen sold overseas

and Next Direction sons

soldreally well.Wehad

onlyused him as ayearling,

so it's just hisfirst crop of

bulls, buthedidn'thaveas

manycullssomostofthem

madethe salewhichwas

great,'' Mr Hollandsaid.

In all, 47 Hemingford

bulls were put up forsale,

with41sold for an average

price of $7488.

The salewas hosted

jointlywith Dave Long's

Alfriston Hereford bull

sale, with five of theseven

Hereford bulls selling fora

top price of $5500 andan

average priceof$4500.

Next door, theKaiwara

Angusbull salesaw 23 out

of 27 bulls selling foran

average priceof$7068 and

twobulls selling for $10,000.

On Friday, the

GrampiansAngus stud,of

Culverden,sold all 35

Angusbullsfor an average

price of $10,957, with three

bulls selling for the top

price of $16,000.

Later in theday, theRed

Oaks Angus stud, of Weka

Pass, Waikari, sold 30 out of

36 bulls foranaverage

price of $7450, with the

day's toppricebeing

$20,000 paid by Sudeley

Genetics of Irwell, north of

Leeston.

RURAL LIFE

The North Canterbury News, June 24, 2021 27

Final awaits Waikari pupils

By DAVID HILL

Waikari School's year 7­8 pupils never

imagined they would be preparing for

next week's national AgriKids final in

Christchurch.

The small North Canterbury rural

school had never competed in the annual

competition before, ahead of the Tasman

region contest held at the Sheffield A&P

Show in March.

The school has just eight year 7­8

pupils, so ayear 6pupil was enlisted so

the school could enter three teams of

three.

All three teams qualified for the final

race­off of seven teams at the regional

contest, with Kool Keas placing second

and Klassic Keas third to qualify for the

national final alongside regional winners

Karetu Kids, of North Loburn School.

''They work very well as teams. They've

all got strengths, so it's about working

together and working out each other's

strengths and planning accordingly,''

Waikari School years 4­8 teacher Debra

Lydon says.

''The younger kids are all keen to get

involved next year. They see it as

something exciting for the older kids, so

this is just the beginning.''

The two teams are ''getting really

excited'' ahead of the national final and

look forward to wearing their new team

uniforms, which have been prepared for

the event thanks to local sponsorship.

''It's going to be quite abig event. It's

hard to anticipate what it's going to be

like, because we haven't been there

before, but being close to home we will

have lots of friends and family coming to

support us,'' Debra says.

In preparation for the event, the

Waikari teams have been learning about

electric fences, weeds, types of wool,

shearing tips, types of farm animals,

different soil types, tying knots, different

Community Conversation series

withEnvironmentCanterbury

Apublic conversation to exchangenewsand views

on topics of interest to the community.

Proposed topics fordiscussion:

• Long-Term Plan 2021-31

• Ourresponse to the recent weatherevent

• Catchment-based project and initiatives

• Biosecurity co-design programme–feedback

• Topics youwouldliketodiscuss with us.

types of farming including aqua culture

and viticulture, motorbike maintenance

and co­operative games.

The AgriKids teams will participate in

the opening ceremony in the

Christchurch central city on Thursday

(July 1), ahead of the competition day the

next day at Innovation Park in

Templeton and the prizegiving in the

Christchurch Town Hall in the evening.

2354936

MEAT2U.NZ

HOME KILL

&WILD GAME

MEAT PROCESSING

313 0022

HILUX, HIACEAND

EVERYTHING IN

BETWEEN

68 FalsgraveStreet,Woolston

W: nzvanspares.co.nz

E: nzvanspares@hotmail.com

Ph: 03 3793932/0508 698267

100% Canterbury Owned

NZ's favourite home for

Recycled Hilux &Hiace Parts

Please register your interest by emailing events@ecan.govt.nz

SUCCESSFUL

CALF REARING

Be confident this calving season with

Dairy Women's Network and SealesWinslow.

Learn all you need toknow about raising healthy calves.

Friday2July

9.30am Arrival |10.00am Start |2.30pm Finish

St John's, Culverden

REGISTER NOW: dwn.co.nz/events |0800 396 748

Tuesday6July2021

12.30pm to 2.00pm, KaikōuraMemorial Hall

6.30pm to8.00pm, OxfordTown Hall (A&P Room)

Wednesday7July2021

6.30pm to 8.00pm, WaiparaMemorial Hall

Taking action together to shape athrivingand

resilient Canterbury,now andfor future generations.

Toitū te maraeoTāne, toitū te maraeoTangaroa,toitūteiwi.

www.ecan.govt.nz
---
RANGIORA MITSUBISHI

321 High Street, Rangiora | 03941 3175 | rangioramitsubishi.co.nz

10 year /160,000km Powertrain Warranty(whichevercomes

first)(nontransferable). 5year/130,000kmNew Vehicle

Warranty(whichevercomesfirst)(nontransferable).

OFFERS

3YEARS FREE SERVICE

WITH THE NEW NISSAN NAVARA

THE ALL-NEW

From$39,990 *

*Price shown is for the Nissan Navara SL 2WD Manual excludes on road costs, which includes registration, WoF and a full tank of fuel. Not available in conjunction with any other offer or promotion. Stock

only. Complimentary 3 years/60,000km (whichever occurs first) no cost service applies to Navara models first registered between May 1 and June 30, 2021. The complimentary service offer to be carried out by

an Authorised Nissan dealer includes all items listed in the service schedule including parts, lubricants and labour. Terms and conditions apply. Excludes all lease and some fleet purchasers. For full information

regarding the schedule and inclusions visit nissan.co.nz/owners/priceguides

RANGIORA NISSAN, 321 High Street,Rangiora

Ph: 03 941 3175

www.rangioranissan.co.nz

rangioranissan.co.nz
---
Best Brands -Best Prices

FREE Pressure

check on Cars, Utes,

4WD &Trailers

5Star Service

346a Flaxton Road |Phone 03 310 6666

0800 226 324 for 24/7 Service

SPORT

North Canterbury News, June 24, 2021

Kaiapoi, Saracens win away

RUGBY

By LINDSAY KERR,PETER

WILLIAMS and DAYLE

SUTHERLAND

It was normal duty for Kaiapoi

and Saracens when play

resumed in the North

Canterbury LuisettiSeeds

division one rugby competition

on Saturday.

Kaiapoihad to workhard to

beat Ohoka23­15, while

Saracens comfortably

accounted for Ashley 29­0.

Points afterthree rounds:

Kaiapoi14, Saracens 12,

Hurunui 10, Oxford 9, Ashley6,

Glenmark­Cheviot 5, Ohoka5,

Woodend 1.

Hard fought win

Kaiapoineeded to show all its

classtohead off adetermined

Ohokaside at Mandeville.

Both sides started with

intent.

Ohokastruck first with a

penalty to Scott Allin. Kaiapoi

was able to regroupquickly

and pressure the Ohoka

defencewhich gaveKaiapoi its

firstconverted try to second

five TaineJacobs­Lawson.

Leading 7­3 thevisitors

camped on Ohoka's goal line

and asense of inevitability

creptacross the home crowd.

However, the home side

certainlydidn't sense this and

displayed acourageous

defensive effort in keeping

Kaiapoi scoreless for the

remaining half.

Although down at the break

7­3, momentum had shifted to

the home side. Two

consecutive triestoCodey

Grimes and NacaniellNamata

gave Kaiapoi much needed

momentumat21­3. Ohoka

clawed its way back closing the

margin to 21­15 through tries to

wing,George Wiggins,and

prop,TobiasPulley. Kaiapoi

was rewardedwith apenalty

on fulltime to close out the

match24­15. Its loose forward

duo of Jared Smith and Jared

Gilmore were momentous

around the park, whileOhoka's

Bernard Ryan, Sam Powell

and Tom Taylor were

industrious. S

Scoreboard: Kaiapoi 24

(Tanie Jacob­Lawson, Codey

Grimes, Nacaniell Namata

tries. Taine Jacobs­lawson 3

conversions, 1penalty) beat

Ohoka 15 (George Wiggins,

Tobias Pulleytries. Scott Allin

1conversion, 1penalty).

Ashleyinthe pink

Tries either side of half time

provedtobekey moments in

Saracens four try to none

defeat of Ashley.

Played at the Loburn

Domain, wherethe large

crowd was also supporting

Ashley's breast cancer appeal,

thefirst20minutes showed

littledifference between the

teams. With apenalty count

heavily favouring Saracens,

thehome teamspent much of

itstime defending.

Saracens super boot, Ricky

Allin, missed two penalty

attempts and it wasn't untilthe

25thminute beforeitwent

ahead withanOllie Bithray

intercepttry. Allin followed

withapenaltyand on the

stroke of halftime No 8, Josh

Maynard, crashedover in a

wallofjerseystoscore.

Minutes into the second spell

Saracens centre TobyAshby

slicedthroughthe defence to

score. Sevenminutes later

fullback Harry Murrayscored.

Spurred on by its groupof

loyal supporters, Ashley

continued to defendwith

considerable spiritand spent a

lot of time on attack in the final

quarter. Luke Goldatfullback

looked for workand loosieSam

Freeman was effectiveatthe

breakdown.

Scoreboard;Saracens 29

(Ollie Bithray, JoshMaynard,

Toby Ashby, HarryMurray

tries. RickyAllin 3conversions

and penalty)beat Ashley 0.

Unusual line up

ThesightofGlenmark­

Cheviot's usualhalf­back,

Jordie Gray liningupatfirstfiveeightwith

No 21 on his

back, was thefirst sign that this

fixturemay be alittle different

fromthe usual Oxfordv

Glenmark ­Cheviot clashes.

Though somemischievously

suggested the No 10 jersey had

beenretired, it appears usual

No 10, Brook Retallick, was

onlyaway temporarily,

29

In the pink ... Sam Freeman secures line out ball at the back of the

Ashley line out. Ashley played in pink on Saturday, supporting the

Breast Cancer Foundation, with the jjerseys being auctioned after

the game to raise funds.

PHOTO: LINDSAY KERR

travellingnorth to welcomehis

All Black brother, Brodie

home. Gray made agood fistof

deputising.Glenmark­Cheviot

didn'tstrike until very late in

the game, makinguse of a

steadystream of goodquality

possession from itsforwards

where flanker Heath

Cruickshank's performance

shone out like abeacon. It

scoredtwo excellent back tries

in the finalquarter, but it was

too late as Oxford had aleadof

31­nil, putting the result

beyonddoubt.

All sixOxford try­scorershad

excellent games,theirtries just

rewardfor their efforts.Inthe

forwardsJesse Houston and

Danny Brooker wereboth

powerhouses who proved

inspirational to their teammates.Firstfive,

Gus Mowat, is

growing intohis pivotal role,

and has an uncanny ability to

deliver some pin­pointskip

passestohis outsidebacks who

thrived on the extra roomthat

was created.

Dayne Paton,Jesse Bowring

and Angus Mitchell all got on

the score sheet, and also

playedapart in an impressive

team­widedefensive effort.

At timestheirdefencewas

tigerish, doing extremely well

to restrict Glenmark­Cheviot to

just the two late tries.

It was aperformance that

will give Oxfordalot of

confidence and signalledtothe

morehighly­ranked teamsthey

intend being in the mix at

semi­final time.

Scoreboard: Oxford 37 (Jesse

Houston, Jesse Bowring, Gus

Mowat, AngusMitchell, Dayne

Paton and Danny Brooker

tries. Matt Roberts 2

conversions,one penalty)beat

Glenmark­Cheviot 10 (Uraia

Natobe, MattEarl tries).

Second half revival

Hurunui had the better of its

second half against Woodend

and turned asix point

advantage at half timeinto a

forty six point lead by fulltime.

Thanks to the trusty bootof

Jordy Swaine, Woodend went

out to a6point lead in the

opening quarter, but could not

holdon.

Before half time Hurunui

ran in two tries and Digby

Heard kicked aconversion.

Woodend's game plan

disappeared in the second half

while Hurunuisteadily got into

its work scoring six further

tries. Scoreboard: Hurunui55

(SamGrigg 2, BrianAnderson,

Emanuel Simpson,Will

Jamison,Ben Funnel,Jock

Phillips, JonathonSchwass

tries. Digby Heard 6

conversions,1penalty) beat

Woodend 9(Jordy Swaine 3

penalties).

WHEEL

ALIGNMENTS

FROM $59

Bookings recommended, terms &conditions apply

2314312

NORTH CANTERBURY

RUGBYSUB UNION DRAW

26 th June 2021

Luisetti SeedsCombined Div 1

Glenmark Cheviot VHurunui, 02:45 PM, Chev 1. Saracens

VOhoka, 02:45 PM, Sbk1. Woodend VAshley, 02:45 PM,

Wood 1. Kaiapoi VOxford,02:45PM, KaiOv.

Ellesmere &North CanterburyDiv 2(SectionA)

Saracens VKaiapoi GOLDS, 01:00 PM, Sbk 2.Kaikoura V

Hurunui,02:45 PM,Kaik1.Glenmark Cheviot BYE.

Ellesmere &North CanterburyDiv 2(SectionB)

Woodend VAmberley, 01:00 PM, Wood 1. Oxford VOhoka,

01:00 PM, OxOval. Ashley BYE.

Combined Colts (SectionA)

Ashley VDarfield, 01:00 PM, Unallocated. Glenmark Cheviot

VLincoln, 01:00 PM,Chev1.

CanstaffWomens2nd round

UoC Viperettes VKaiapoiWomen's,02:45PM, Ilam2.

1st XV Round Robin

RHS 1st XV VAshburton1st XV,01:00 PM,RHS 1.

Under 18

Hurunui VWaihora, 01:00 PM, Cul 2. Oxford VSouthbridge/

Dunsandel, 01:00 PM, Ox 2. RHS 2nd XVVMCRU Alps,

01:00 PM, RHS 2. Kaiapoi BYE.

Under 16

RHS Gold VMCRU Plains, 11:20 AM, RHS 1. RHS Green V

MCRUAlps, 11:20 AM,RHS 2.

Under 15

OxfordVHurunui, 11:15AM, OxOval. WoodendVRHS Green,

11:15 AM, Wood 1. RHS GoldBYE.

U12 -U13 -North CanterburyOnly

Section A

WoodendVOxford Red, 11:00AM, Wood 2. Amberley Black

VGlenmark Cheviot, 11:00 AM, Amb 2. Saracens VKaiapoi

Gold, 12:10 PM, Sbk1. Kaikoura Blue VHurunui Blue, 12:10

PM,Kaik1. Ashley BYE.

Section B

Kaiapoi BlueVOhoka Black, 11:00AM, Kai1.HurunuiBlack

VAshley, 11:00 AM, Cul 2. Saracens VOxford, 11:30 AM,

Sbk 2. Woodend BYE.

Under 11

Kaiapoi VGlenmark Cheviot, 11:00 AM, Kai 2a. Woodend

VOhoka Black, 11:00 AM, Wood 3a. Ashley Blue VOxford,

11:00 AM, Lob 4a. Ohoka Red V Kaikoura, 11:00 AM,

Mandj4b. Saracens BlueVHurunuiBlack,11:05AM, SBJnr6.

Saracens RedVAshley Green, 11:05AM, SBJnr7. Amberley

Black BYE.

Under 10

Kaiapoi VGlenmark Cheviot, 12:10 PM, Kai 2a. OhokaBlack

VAmberley Black, 12:10 PM, Mandj4a. Woodend VOxford,

12:10 PM, WoodJ4a. Ashley VOhoka Red, 12:10 PM, Lob

5a. Saracens Red VSaracens Blue, 12:10 PM, SBJnr7.

Hurunui Black BYE.

Under 9

Woodend VAmberley Black, 10:00 AM, Wood 1a. Hurunui

Black V Ohoka Red, 10:00 AM, Cul4a. Ohoka Black V

Glenmark Cheviot, 10:00 AM, Mandj5a. Ashley Green V

Oxford, 10:00 AM, LobLr6. Saracens Blue VAshley Blue,

10:00 AM, SBJnr6. Kaikoura VKaiapoi BLUE, 11:00 AM,

Kaik1b. KaiapoiGOLD BYE.

Under 8

Saracens Blue VHurunui Black,10:00AM, SBJnr7. Kaikoura

VAshleyGreen,11:00 AM, Kaik1a. SaracensRed VKaiapoi,

11:05 AM, Sbk3a. Glenmark Cheviot VAshley Blue, 11:05

AM, Chev 2a.OhokaBlackVWoodend,11:05 AM, Mandj4a.

OxfordVOhokaRed, 11:05 AM,Oxjn5a. Amberley BlackBYE.

Under 7

Saracens Orange V Ashley Green, 10:00 AM, Sbk3b.

WoodendBlack VOhokaRed, 10:50AM, WoodJ4a. Saracens

BlueVGlenmarkCheviot Black, 10:50AM, Sbk4b. Saracens

Red VGlenmark Cheviot Blue, 10:50 AM, Sbk4a. Ashley

Blue VAmberley Black, 10:50 AM, Lob 4b. Ohoka Black V

Kaiapoi,10:50 AM,Mandj5b.HurunuiBlack VOxford,10:50

AM, Cul5.

Under 6

Section A

Glenmark Cheviot Black VHurunui Blue, 10:00 AM, Chev

1a. Amberley Black VWoodend Green, 10:00 AM, Amb 2a.

Woodend White VWoodend Black, 10:00 AM, Wood 2a.

Kaiapoi GOLD VGlenmark Cheviot Blue, 10:00 AM, KaiOva.

Hurunu Black VKaiapoi BLUE, 10:00 AM, Cul5.

Section B

Saracens RedVSaracensOrange, 10:00 AM,Sbk3a. Ashley

Gold VOhokaRed, 10:00 AM, Lob 4a.SaracensBlueVOxford

Red, 10:00AM, Sbk4a.Ashley Green VKaiapoi WHITE, 10:00

AM,Lob 4b.OhokaBlackVAshley Blue, 10:00 AM,Mandj6.

Ohoka Green VAshley White, 10:00 AM,Mandj7.

Printed draw proudly supported by

Four SeasonsRealty

Your home forlocal property

0800 789 1011

Four Seasons Realty 2017 Ltd|Licensed Agent REAA 2008

For all draw information and updates

please keep up to date with

North Canterbury Rugby

2364200
---
Four

Four

SeasonsRealty

Seasons Realty

LIVING

SELLING

local

Kimberleyhas been apart of the Pegasus

community forseveral years, she has recently built

anew home right in the heart of Pegasus Town

and is passionateabout the growth in and around

the region. Afterworking in the Merivale officefor

the past year,Kimberleyisexcited to makethe

move to our Rangioraofficetooffer her realestate

expertise to the local community.

Thinking of buying or selling, please giveKimberley

acall.

KimberleySmylie

03 313 6158 |021 424 850

kimberley.smylie@harcourts.co.nz

harcourtsfourseasons.co.nz

Four Seasons Realty 2017Ltd |Licensed Agent REAA 2008

Four Seasons Realty

Kimberley

SMYLIE
---
North Canterbury

Coopers Creek 160 Sladdens Bush Road

Cust 87 Campions Road

The search ends here!

With lovely garden, hill views and aspacious verandah, the sceneis

picture perfectfor entertaining in idyllic surroundings. This beautifully

presentedhome featuresacountry-style kitchen, with astunning

macrocarpabenchtop and is complementedbyopen-plan diningand

living spaces,while the large wood burner, with wet back, keeps the

charming atmosphere heated throughout the cooler months. The four

double bedroomsare complemented by two ensuites and afamily

bathroom providing versatility to accommodate large families, or

continuing an air BnB business. Andthen you wander outside!

Deadline Sale closes 14 July at 4.00pm.

4 3 1 3

Deadline Sale closes Wednesday 14th

July, 2021 at 4.00pm, (unless sold

prior)

View By appointment

Web pb.co.nz/RL87464

Maurice Newell

M 027 240 1718

Hamish Anderson

M 027 678 8888

Prime location!

•Views back towardsthe Port Hills acrossthe Waimakariri Plains

•4.2 ha rolling land

•Power to boundary

•Soils described as Claremont moderately deep silt and Waipara

moderatelydeepsilt

•2x1000 litre unitsofcounty water

ForSale $378,000

View By appointment

Web pb.co.nz/RL80307

Hamish Anderson

M 027 678 8888

Maurice Newell

M 027 240 1718

Oxford 3002South Eyre Road

Little ripper

Sunnyand light,threebedroom, relocated board and battenfamilyhome. Entry level lifestyle block on 4hectares andjusta

shortcommutetoOxford. The loungeand two bedroomsopen to the large deck. The externalwalls have been insulated with

battsand there is alog-burner and gas hot water.There is adetached double garage, measuring 12mx6m allowing for a

large studio/workshop.Soil maps indicateMayfield moderately deep siltyloam,whichcan be very productiveand it is fenced

into paddocks for horses,with acentral race and provision for water in all paddocks. With your own well and 2500lt tankthere

is an abundance of water. Theperimeter is deer fenced andthereisestablishedsheltersurrounding the propertymaking it

very private. An excellent opportunity to addvalue.Shortnotice deadline sale closing 4.00pm Thursday 24thJune (unlesssold

prior).

3 1 1 2

Deadline Sale closes Thursday 24th June, 2021 at 4.00pm,

(unless sold prior)

View By appointment

Web pb.co.nz/RL91754

Maurice Newell

M 027 240 1718

E mauricen@pb.co.nz

Hamish Anderson

M 027 678 8888

E hamisha@pb.co.nz

Property Brokers Ltd Licensed REAA 2008 |pb.co.nz

Proudtobehere
---
What's happening in your

community…

Council Seeks Feedback inParking Survey

The Council is asking residents for their feedback

on car parking as it works on anew District

Parking Strategy.

ABOUT AN

AQUA PLAY PARK

With Waimakariri expected togrow from 65,000

people toalmost 100,000 by 2048, we will need

to carefully think about how we manage public

car parking in the future.

We're encouraging people to share their

thoughts and experiences with parking. Your

feedback will help usunderstand how people are

currently parking, what the community views as

key issues and gather ideas on how wemight

build, manage and fund an increased parking

supply for the future.

The parking survey is open for feedback until

Sunday 4July and can be completed online at

waimakariri.govt.nz/letstalk

It's National Volunteer Week

The Council joins with awide range of groups

and organisations in our District that celebrate

and value our wonderful volunteers in National

Volunteer Week (20-26 June).

Wendy Howe, Council's Community Development

Facilitator says, "You really can't underestimate

the contribution that volunteers make inour

community and we want torecognise that. We

also want to share the benefits of volunteering and

the wide range ofoptions around –there really is

something for everyone."

We are running Volunteer Expos this weekend

so people can come and find out more about

volunteering. There are also some really

interesting history talks and guided walks

around Tūhaitara Coastal Park and the work they

do. Anyone who attends an Expo will have the

chance toenter aprize draw and win a$250

grocery voucher.

Pegasus Community Centre –Friday 25 June 5-7pm.

Rangiora Library –Saturday 26 June 10am-2pm.

Heavy Rain Clean Up

Should the Council support aproposal to

install anAqua Play Park in Kaiapoi?

The WHoW Trust are proposing to createa

temporary water park on the lake within

NCF Reserve.

It would include floatingbouncy castles, pontoons

and supporting facilities and would operate during

peak summer months.

Before adecision is made, we'd like to know

what you think. Share your feedback before

5pm on Wednesday 14 July 2021.

Have your say waimakariri.govt.nz/letstalk

Free ComputerClasses

at Waimakariri Libraries

Term Two2021

Introduction to Internet Banking

› Oxford • Monday 28June

› Rangiora • Wednesday 30June

› Kaiapoi • Thursday 1July

Introduction to SmartPhones

› Oxford • Monday 5July

› Kaiapoi • Thursday 8July

› Rangiora • Friday 9July

MATARIKI

› Paramanawa: Morning &Afternoon Teas

› Matariki Weaving Workshop

› Decorate TīRākau –Māori Stick Game

Monday28June -Saturday3July

For full event details, visit our website orask

one of the team atany Waimakariri Library.

Join us asweexplore theMoriNew Year

through storiesand songs, everyoneiswelcome!

› Rangiora • Monday 28June, 10.30am

› Kaiapoi • Friday 2July, 11am

› Kaiapoi • Wednesday 30June, 10.30am

› Oxford • Tuesday 29June, 10.30am

› Rangiora

Tuesday 29June, 10am

Thursday 1July, 10am

› Oxford • Friday 2July, 10am

Contractors and Council staff assessed roads and

infrastructure following the rain over the weekend.

There was surface flooding across parts of the

District and debris where flooding has receded on

many roads.

The rain has raised river levels through Lees Valley

and contractors continue working to repair the

slips and provide 4WD access to residents. The

road remains closed.

All classes run from 10am-12pm

Bookings Essential

Find out more

libraries.waimakariri.govt.nz

03 311 8901

or visit any ofour libraries

Follow us

Find outmore

libraries.waimakariri.govt.nz

03 311 8901

Follow us

All the fords in the District remain closed until

further notice as well as anumber of roads. Check

our website for road closures waimakariri.govt.nz
---
SPORT &CLASSIFIED

North Canterbury News, June 24, 2021

33

Upcoming Council

meetings

The following meetings will be

held in July 2021. All meetings

will be held inthe Function Room,

(upstairs) Rangiora Town Hall,

303 High Street, Rangiora, unless

otherwise stated.

Council

Tuesday 6July at 1pm.

Oxford-Ohoka Community Board

Wednesday7July at 7pminthe A&PRoom, at

theOxfordTownHall, Main Street,Oxford.

(The Public Forum section of the

agenda will occur from 7pm to 7.20pm.)

Woodend-Seon Community Board

Monday 12 July at 6pm at the Woodend

Community Centre, School Road, Woodend.

Rangiora-Ashley Community Board

Wednesday 14July at7pm.

Kaiapoi-Tuahiwi Community Board

Monday 19 July at 5pm inMeeting Room 1

at the Ruataniwha Kaiapoi Civic Centre,

176Williams Street, Kaiapoi.

Audit and Risk Committee

Tuesday 20July at 9am.

Land and Water Committee

Tuesday 20July at 1pm.

Utilities and Roading Committee

Tuesday 20July at 3.30pm.

Allmeetingsare open to thepublic.

Agendas areavailable twoworking days

priortothe meeting.

Agendas and minutes for meetings

can be found onthe Council's website:

waimakariri.govt.nz

Sarah Nichols

GovernanceManager

Winning team ... Rangiora Hockey Club's division one men's team on the way to awin over their southern

visitors.

PHOTO: SUPPLIED

Mid Canterbury toppled

HOCKEY

Rangiora Hockey Club's division

one men's team took home the

points in ahard fought win against

Mid Canterbury at MainPower

Hockey Turf.

Neither team was able to break a

nil­all deadlockuntil late in the

third quarter when Tom Flavell

found away through the southern

visitor'sdefence. He then took

advantage of alucky bounce to beat

the keeper.

Asecond goal from apenalty

corner early in the last quarterto

Lachlan Millergave Rangiora

some breathing room. Mid

Canterbury's reply goal was too

little, too late.

Heavy rain Sunday afternoon

made for challenging conditions

for Rangiora's Superleague

Championshipteams.

The Colts and Oddfellowswere

almost swimming in their Knock

Out Cup dead­rubberagainst each

other ­won easily by the Colts in

the end but it was more about

which team adapted to the

conditions best.

RangioraPiwakawaka were 5­0

down against Southern United

when they decided to abandon the

game in the face of heavy rain and

surface flooding.

Meanwhile Rangiora Korimako

couldn't find rhythm against a

more physicalWaikirikiri Tuis,

and despite improving through the

game couldn't find the goal needed

to boostits confidence.

In the mid week competition the

Rangiora Hurunui Hares secured

a2­1 win,thanks to goalkeeper

Eira Beverley­Stone who had her

best game of the seasontodeny

Carlton Redcliffs an equaliser.

The Rangiora HurunuiHawks

dominated in its bottom of the

table clash with SouthernUnited

with five different players getting

on the score card.

The men's Ateam scored a

lacklustrewin against bottomof

the table Waikirikiri, while the

RangioraAllsorts had chances

against askilful Hinemoa­Kaiapoi

Kauri team but couldn't buy agoal

in the end. Three goals in the last

quarter by Kauri blew out what

was until then arespectablescore.

Results

Division 1: Men ­Rangiora CBK 2

(Tom Flavell 1, Lachlan Miller 1)

beat Mid Canterbury 1.

Sunday Super League

Championship: Men ­Rangiora

Colts 8beat RangioraOddfellows 0.

Women ­RangioraKorimako 0lost

to Waikirikiri Tuis 3. MVP: Alyssa

Campbell; RangioraPiwakawaka 0

lost to Southern United 5. MVP:

Deb Baggott.

Mid Week Open: Men ­RangioraA

5beat Waikirikiri Petrels0;

RangioraAllsorts 0lost to

Hinemoa­Kaiapoi Kauri 6.

Women ­RangioraHurunui Hares

2(Holly Robertson 1, Lisa Cassidy

1) beat Carlton Redcliffs1.MVP:

Eira Beverley­Stone GK; Rangiora

HurunuiHawks 5(Anneke

Cameron1,Haley Lloyd 1, Maddi

Plimmer1,Sally Berry 1, Annabel

Harris 1) beat Southern United 0.

MVP: Hannah Nelson.

Platinum Grades: Men: Rangiora B

1lost to HSOB/Burnside 12;

Women: RangioraA0lost to

Harewood Red 10; Rangiora Bvs

HinemoaKaiapoi rainedout.

Kwik Sticks 11­a­side Grades:

Boys: Rangiora Renegades1

(Henry Webb 1) lost to Avon 11.

MVP: Aaron Eyles. Girls: Rangiora

Rascals 5(Felicite Antoniuk­

Newall 1, Sarah Walsh1,Lillie

Wilson 1, Jasmine Oliver1)beat

SouthernUnited Snow Leopards 0.

MVP: Felicite Antoniuk­Newall.

Kwik Sticks 7­a­side: Boys ­

RangioraRampage 0lost to

Waikirikiri Hawks 8; Rangiora

Rangers 1(Bram Vermeulen1)lost

to CarltonRedcliffs Breakers 2.

MVP: Seth Anders.

Girls ­Rangiora Rebels 2lost to

Waikirikiri Robins 6; Rangiora

Rainbows4(Ruby Taylor2,

Tallulah Kennett­Ditfort 1, Sophie

Cartwright 1) beat Waikirikiri 1.

MVP: Tallulah Kennett­Ditfort.

RangioraRubys 2(Sabrina Galilee

1, Imogen Abernethy 1) lost to

Carlton Redcliffs 3. MVP: Emily

Lunn.

Kiwi Sticks Grades: Boys ­

RangioraRogues 2(Seth Cann 1,

Tyler Cresswell 1) lost to HSOB/

Burnside 6. MVP:Glen Fricker.

Girls ­Rangiora Rabbits 9

(Catherine McKellow5,Quincey

Hawes 2, FreyaClark 1, Ashlee

Harkess 1) beat Harewood 0. MVP:

CatherineMcKellow;Rangiora

Raiders 1(Lucy McLean 1) drew

with Hornby Leopards 1. MVP: Ana

White. Rangiora Road Runners 6

(Bella Cherry 2, Neve Fantham 2,

Erin Cook 1, Sammy Frost­Smith1)

beat Harewood 2. MVP: Erin Cook.

Mini Sticks Grades: Boys ­

RangioraRoadsters 6(Aidan

Ferguson3,Harry Pullar2,Xander

Moore 1) beat St Andrews Prep

School 0. MVP: Ryan Royds.

Girls ­Rangiora Rockets 5(Ruby

Hutchison 3, Shaylee Eastmond 1,

Hazel O'Steen 1) beatMarist

Kowhai 2. MVP:Adele Ferguson.

RangioraRock Stars 6(Anita

Mones­Cazon 3, Charlotte Hawes 2,

Cleo Halloway 1) beatSouthern

United Snowy Owls2.MVP: Anita.

Have you signed up for the Waimakariri

District Council Newsletter?

To joinvisit waimakariri.govt.nz/subscribe

What's happening in

your neighbourhood?

If you've got aninteresting

story to tell, letusknow!

Phoneour editor, Robyn,

on 03 314 8325 or email

robyn.bristow@ncnews.co.nz.

Get your business

noticed by advertising

with us!

Phone 03 314 8335oremail

info@ncnews.co.nztofind out

thebest deal foryou!

Financial

YOU'RE INVITED!

INVEST INTHE CVI FINANCIAL HIGH YIELD INTEREST RATE FUND

EARN INTEREST AT

10 % For further information

about investment inthe

CVI Financial Limited

high yield interest rate

offer please call Chance

Voights' investor enquiries

specialist, Irina Sharipova.

pa

TERMS FROM 12–36MONTHS,

INTEREST PAID QUARTERLY

FULL DETAILS ON THE RETURN AND

INVESTMENT ARE AVAILABLE FROM

THE INFORMATION MEMORANDUM.

CVI FINANCIAL LIMITED ISAMEMBER

OF ASX EQUITIES INVESTMENT

GROUP, CHANCE VOIGHT

INVESTMENT PARTNERS LIMITED.

Call today0800797 799

Investment in this fund is only available

to wholesale and eligible investors in

accordance with the Financial Markets

Conduct Act 2013.
---
CLASSIFIEDS

34 The North Canterbury News, June 24, 2021

Public Notices

PUBLIC NOTICE OF

APPLICATION FOR

CLUB-LICENCE

SECTION 101, SALE

AND SUPPLY OF

ALCOHOL ACT 2012

Rangiora RSA Club has

made application to

the District Licensing

Committee at Rangiora

for the renewal of aClub

Licence in respect of the

premises situated at 82

Victoria St, Rangiora known

as Rangiora RSA Club.

The general nature of the

business conducted (or to

be conducted) under the

licence is Club, Bar and

Restaurant.

The days on which and the

hours during which alcohol

is sold under the licence are

Sunday -Thursday 8am -

11pm, Friday/Saturday

8am -1am Following day.

The application may be

inspected during ordinary

office hours at the office

of the Waimakariri District

Licensing Committee at

215 High Street, Rangiora.

Any person who is entitled

to object and who wishes

to object to the issue of

the licence may, not later

than 15 working days after

the date of the publication

of this notice, file anotice

in writing of the objection

with the Secretary of

the Waimakariri District

Licensing Committee

at Private Bag 1005,

Rangiora.

No objection to the renewal

of alicence may be made

in relation to amatter other

than amatter specified in

section 131 of the Sale

and Supply of Alcohol Act

2012.

This is the first publication

of this notice.

2393743v1

Pets

BICHON HOMESTAY

for smaller dogs. We look

after your dog in our home.

"No kennels". Phone today

03 314 6110.

The Rangiora High School Board of Trustees has

determined that in 2022, ten Year 9 places are

available for out of zone enrolment.

Applications for out of zone enrolments close on

Friday 30 July 2021. If the number of out of zone

applications exceeds the number of places being

offered, students will be selected by ballot. If aballot

is required, it will be held on 4August 2021. Parents

will be informed of the outcome of the ballot within

three school days.

Applications from out of zone students will be

processed in the following order of priority:

(1) students accepted for enrolment in aspecial

programme runbythe school (Lighthouse

Programme);

(2) sibling of acurrent student;

(3) sibling of aformer student;

(4) child of aformer student;

(5) child of an employee of the board, or achild of

amemberofthe board;

(6) all other applicants (by ballot if required).

Forfurther informationplease contact (03) 311 8888

or email enrolments@rangiorahigh.school.nz

Cars Wanted

ANY old cars, anything pre

1990, unfinished Hot Rods,

Classic Cars. Please call

027 258 8366.

Cars Wanted

CASH 4CARS

and 4WD'S

Phone

Automotive

Parts

03 313 7216

CARS, vans, 4WD's

wanted for dismantling or

repair. Phone 027 258

8366.

WANTED to buy Ford,

Holden, Chrysler or

Chev's, Classic cars. Any

other types considered, any

condition. Please phone

Tony 027 313 5000.

Rangiora High School

Out of Zone Enrolments

For Lease

RHSncn951

LAND FOR LEASE

KAIAPOI MR 873 Sec 247

Applications are invited for

alease of 5.613 hectares

(available 1July 2021) situated

at 924 Main North Road,

Kaiapoi. 55-65 stock units.

Ph: 04 474 4657

or email: ritihia.hailwood@

tetumupaeroa.co.nz

for information pack.

Applications close 5July 2021.

2393783

Motorcycles

SouthPacific Motorcycle

Services (Mandeville)

Repairs, service, tyres etc

for all motorcycles.

Greatservice -great rates!

03 312 0066

office@motorbiketours.co.nz

www.motorbiketours.co.nz

2378088v2

Property Wanted

WANTED TO BUY

2-3 bedroom

house in Kaiapoi,

by motivated cash

2393289

buyers. Save

yourself paying

Real Estate Agent's

fees and the hassle

of open homes.

Ph: :021 101 4046

For Lease

FOR LEASE

Industrial shed 18 x 12

metres with 480 m2 of

shingled yard, power

single &3phase plugs,

water & alarm.

Newnham street Rangiora.

Lease terms negotiable

.

Phone 0274342831

Livestock

HOMEKILL

&Wild Game

Meat Processing

313 0022

2309602MEAT2U.NZ

Personal

LADIES are you looking

for amale companion, partner

or just acasual date. I

am single, 5ft11, just

retired, live on own, indep,

fun, witty, charming and

romantic. Why be on your

own? 0276 594 425.

Educational

TUITION available. Primary

and secondary up to

NCEA level 3. In centre

(Rangiora) or interactive

online from your home.

Each student on an individually

tailored programme.

Kip McGrath Rangiora has

been serving the local community

for 30 +years. Give

us acall (03 313 3638) or

book your free assessment

online https://www.kipmcgrath.

co.nz/rangiora

Situations Vacant

School Bus DriversRequired

Would youliketoearn extraincome whilestill

having mostofyour dayfreeand at the same time

do your community aservice by helpingtoprovide

asafe, high standardofschool transportfor our

region'schildren.

Torlesse Travel has positionsavailable forpart time

schoolbus drivers in Darfield and Rangiora.

If youhaveaClass 2license, aPassenger

Endorsement andare interestedindriving on a

part time basis then this couldbefor you.

Alternatively,ifyou areinterestedinbecoming a

bus driver,wecan provide assistance to help you

achieve the correctlicencing.

If youare interestedinthisrole or wish formore

information, please email.

manager@torlessetravel.co.nz

Phone: 021 198 7358

Dairy Farm Assistant

for a1050 cow farm.

Experience preferred but

training will be given.

Great opportunity with

an awesome team, 5

minutes from Rangiora.

Good references

essential. Please contact

027 236 7577 for more

details. 2394336

Wanted To Buy

BUYING estate type old

china, crystal, collectables,

vases. Phone 027 350 3963,

or 313 1878.

$$$

Amalgamated Scrap Metal

Ltd. Specialists in farm

machineryand farm clean

ups, old vehicles etc.

100% locally owned.

Ph 0800 030 712 or

027 695 0480.

2312759

Firewood

DRY WATTLE two years

old, $700 6m2. Dry old

man pine, $550 6m2.Phone

03 312 8726 Rangiora.

SPLIT Old Man Pine 3.7m

@$260, Split Hardwood

Mix 3.7m @$360. Mobile

021 993 497 Paul.

SPLIT PINE $350 for 4.5

cube trailer load, free delivery

to Rangiora area. Phone

021 241 8075.

Trade&Services

ABEL &Prestige Chimney

Cleaning. Nth Cant owned

& operated. Covering all

areas from Waimak to Hanmer.

Professional, guaranteed,

service. Firebox

repairs, carry most parts. Ph

0800 661 244.

AFFORDABLE concrete

cutting with quality and

removal work. Free quotes.

No job too small. Ph 027

442 2219, Fax 03 359 6052

or A/H 03 359 4605.

ALL TREE SERVICES,

arbour work, pruning, tree

removal. Affordable &

friendly service. Telephone

021 111 4322.

ARBORIST qualified.

Copper Beech Tree

Services. Tree removal,

pruning, height reduction,

hedge trimming, shaping,

tree planting, firewood.

Free quotes. Contact Angus

Edwards 027 259 6741

copperbeechtreeservices@gmail.com

BRIAN'S Tree Services.

Tree felling, topping,

shaping, firewood cut, rubbish

removed, stump grinding,

branch chipping.

Affordable rates. Phone 03

327 5505 or 021 124 4894.

BRICK &blocklaying. All

types of work undertaken,

repairs. Phone Hamish

0272 386 003 or 313 5678.

JOBS JOBS JOBS

Labourers (of all skill sets),

sawmill, welders, steel fabricator,

factory, brush

hands, and lots of other

local opportunities. An

advantage if you are

physically fit, able to pass a

drug test, have drivers'

license and reliable transport.

Ph Tina 03 310 7285

or 027 636 6967 Elevate

Recruitment, 113A High

Street, Rangiora.

Gardening

A+ GARDEN hedges cut

to perfection. Tree &arbor

work. Also spraying. Free

quotes. Ph 03 312 0668 or

021 111 4322.

For Sale

HONEY 4kg bucket

cooking honey, $30 special.

Available at Gracebrook,

Amberley. Telephone 03

314 7076.

MINI bales ofbaleage, $20

per bale. Ph 03 313 2373.

PRESERVING JARS for

sale 200mls (14 available)

$10 for the lot, 500mls (50

available) $2 each, one litre

(50 available) $3 each. Call

Kerryn 021 288 4848.

Trade&Services

BUILDERS Father &Son

team. Amac Builders are

available to help you with

your building needs. High

standards, low overheads.

No job too small. Check us

out on fb. Amac Builders

Ltd. Ph 027 318 4400.

DIRTY TILES &Grout?

Professional tile cleaning,

tiled shower restoration,

mouldy silcone, shower

glass & we can even

recolour your old grout!

For all your tile and grout

issues call Grout Pro for a

free, no obligation quote.

Ph Darryl 0800 882 772.

DRESSMAKING Bev's

Sew Good Services. For all

your alterations, repairs,

dressmaking, curtains.

Phone 327 5535.

FIRE GUARDS Custom

made with safety latch.

Phone 021 169 9066. E:

pjfabricators123@gmail.com.

PAINT & wallpaper

services. Wayne Bryant,

exterior, interior. Qualified

tradesman. Free quotes. Ph

313 5337 or 027 654 4568.

PAINTER & Decorator.

25 + years experience.

Interior /exterior, roofs &

waterblasting. For a free

quote, please ph Steve 03

314 4620 or 027 477 1930.

POWER TOOLS repairs,

parts &sales for over 40

years. All main brands serviced.

Grossman Trade

Tools, 23 Watts Road,

Christchurch. Ph 389 9230.

Trade&Services

Log Fires

Pellet Fires

Heat Pumps

Sales

Service

Installations

Free Quotes

03 343 1651

472 Blenheim Rd

www.heatstore.co.nz

METAL WORX. Flashing,

Sheetmetal Fabrication,

Wrought Iron,

Welding, Custom Trailers,

General Metalwork. No job

too big or too small. Ph 021

265 5428 or 03 314 6908.

Find us on facebook/

Glenmark Metal Worx.

glenmarkmetalworx.ltd@gmail.com.

PAINTER. Qualified local

professional, Int / Ext,

roofs, wallpaper. Call or

text Corban 027 846 5035.

RANGIORA Rubbish

Removal and RRR skips.

Wheelie bins any frequency

and skips from 1.5 cube to

9cube. Skips and wheelie

bins for any use, rubbish,

greenwaste, building sites

or just cleanups. Give us a

phone call 313 6957 or for

skips 021 313 255.

ROOFER. All roof repairs,

roof painting, water blasting,

moss treatment,

repointing, gutter cleans &

snow straps. And more.

Free quotes. Phone Nathan

027 516 6609.

SCREEN PRINTING.

For all your printing

requirements. T-shirts,

Hoodies, Hi-Vis vests and

polos, Overalls, Caps etc.

Please phone Heather 03

313 0261 or email heather.

norstar@gmail.com.

STONEMASON, Brick

and Blocklayer. Earthquake

repairs, grind out and

repoint, River/Oamaru

stone, Schist, Volcanic

Rock, paving, all alterations

new and old. Quality

workmanship. Visit

featureworks.co.nz or ph

027 601 3145.

Trade&Services

SHEARER. Hap's Farm &

Lifestyle Services. Shearing,

crutching, drenching,

tailing, feet trimming &

health check. — Ph. 03-

423-3713or021-267-4025.

SUMMERFIELD

FENCING

IN YOUR AREA NOW.

Lifestyle or farm, sheep, cattle,

horse, all types of animals.

Fences, yards, sheds, arenas,

shelters, runs.

30+ years contract fencing.

Steve is available to help with

your design &planning.

Ph office03312 4747

ANTHONY SYMONDS

Forall your painting &

plastering requirements

Local with 30 years

experience

All workmanship

Guaranteed.

Phone 021 344 023

SEPTIC TANK

CLEANING

Bill's Liquid

Waste

Blair Tavendale

Ph 03 314 9371

0275 379-694

Pride &Quality Painting

&Decorating Services

20 yrs exp, fast and friendly

service. For all your painting

needs, phone: Martin 310

6187 or 021 128 9867

REMOVALISTS

Movemen Ltd

2Men &agood sized truck.

From $150 plus GST per

hour.Kaiapoi based.

Call Gerard

027 668 3636

VALUATION -

Specialising in North Canterbury.

Contact Geoff at

Maxwell Valuation. Phone

03 310 8541 or email

geoff@maxval.co.nz.

•Interiorand exterior

painting

•Small-medium size/

repaints

•Minorplasterrepairs

•Timberwindowrepairs

Ph: 0800 462 758 Ph/txt: 021314 319 Mark Taylor

Email: jackiemarktaylor@yahoo.co.nz

Long established local company

www.taylorbuildingmaintenance.co.nz

2091848

2220615

2362002

2343272

You dump it...

Blair pumps it...

027 216 0000

WINDOW TINTING

tintawindow

advanced film solutions

99% uv block

fade protection

heat control

reduce glare

25 Years Experience

privacy films

frosting designs

non-darkening films

Workmanship Guaranteed

Lifetime Warranties on Most Films

UV

block

Free Quotes Canterbury and Districts

03 365 3653 0800 368 468

2225862
---
Trusted Trades &

Professional Services

Guide

To book your spaceinthis guide,phoneAmanda Keys 313 2840 or email amanda.keys@ncnews.co.nz

Accountant

Appliance Repairs

Builder

Butchery

Debra Jowsey &Karla Kilner

Ph 03 314 9480

We help with all Taxreturns for the

salary &wage earner,self employed, rental,

business,farm, GST, payday filing, rentalreturns

2287949

•REGISTERED TECHNICIAN

•AUTHORISED LOCAL SERVICE

F&P, Bosch, Smeg,

ASKO, Ariston, LG,Classique,

Haier, Samsung and more....

"For best resultsbesuretouse authorised service"

NORTHCANTERBURY APPLIANCE SERVICES

Rangiora: 03 313 4420 Kaiapoi: 03 327 3810

1913020

OxfordButchery

Shane and Leanne Frahm

We cankill&process yourstock

FourGenerations of Frahms

since 1957

Ph 312 4205

Oxford

1680439

Number one

old-fashioned bacon

&ham curing.

A/H 312 4709

Chiropractic Services

Computer Repairs

Construction &Concrete

2393549

Dr Jess Ross

ACC RegisteredDrChiropractic

Monday &Thursday |03313 0350

Injury, accidents and maintenance

Libi McKinnon Physiotherapy

privatephysio@xtra.co.nz

027 868 2574

ACC Registered Provider | Tuesday &Friday

Select Health

YOU

COULD

BE

HERE

Advertise

your business

in our Trades

and Services

Phone

Amanda Keys

on

03 313 2840

51 Ashley Street, Rangiora

Senior's Handyman

Landscaping

For all your landscaping needs

All Landscaping, Retaining Walls (Engineered and

Non-Engineered), Timber Fences, Landscape Structures

and more...Lifestyle Block, Rural and Residential.

Phone Jeremy 021 169 9394

www.blackhill.co.nz

2344089v2

2372616

Bruce Evans

131 Ohoka Road

Kaiapoi

03 327 3111

021 293 6331

compucare@xtra.co.nz

www.compucare.co.nz

Computer Repairs &upgrades

Prompt professional services

Digger Hire and Construction

ECOM Digger Hire

and Construction

•9 ton Komatsu with rubber pads.

•Excavotor can be dry hired or with

one of our expert operators.

•Attachments available:

•Post driver

•Concrete/rock breaker

•Grab bucket

•Tilt bucket

•Rock bucket

No job

too big

–Nojob

too small

admin@ecomconstruction

www.ecomconstruction.co.nz

2384249

Light Transport

NEED

?

SOMETHING

LARGE

PICKED UP OR

DROPPED OFF

Specialising in items up to

1500kgs

Quad bikes -mowers -side by sides

Trailers -small vehicles -machinery

Local and NZ wide service

Phone /Txt 0274 332 176

Email benstrailertransport@gmail.com

2276525v2

Virus &malware removal

New &UsedPC's4Sale

2374056v3

2364105

All Construction & Concrete Work

•Driveways, patios &paths

•Bridges and Culverts

•Floors, foundations

•Sheds and buildings

•Dairy Sheds, Herd homes

•Silage pits, effluent ponds

•Excavation and cartage

•Precast concrete

•Insulated panels

2089195v2-4/4-S

Heating

Air to Water Heat Pump for Heating and Cooling

Wood Fired Central Heating

Scrap Metal

Daryl Power

027 230 9401

concretepower@scorch.co.nz

www.concretepower.co.nz

CASH PAID FOR SCRAP

•Car Bodies •Scrap Steel•Specialists in Farm

Machinery•All non Ferrous

MAINLAND

METALS LTD

Ph (03)338 7000

Mike0274 818544 •Robbie0274818 027

Locally owned and operated

1902273

2273277

Allan Pethig

For all your electrical needs. Residential &Commercial

Phone 03 313 7144

027 432 1534

Fax 03 313 2144

rgrantelectrical@gmail.com

PO Box 69, Rangiora

2269236

Thursday,August 2, 2018 | Issue 808 | www.ncnews.co.nz

HAVE YOU BEEN TO

OUR WEBSITE LATELY?

www.ncnews.co.nz

Visit now toview the paper online &more!

CAP 65

CAP 40

CAP 20

Shingle

SHINGLE SUPPLIES

Quarry Prices

DRAINAGE CHIP

from $40 per cube

Electrician

Engineering

For your Engineering needs

187d Ohoka Road, Kaiapoi

Phone 03 327 5246 |027 495 2821

toppeng@xtra.co.nz

from $23 per cube

from $25 per cube

from $30 per cube

all +gst

Plus all excavation and truck hire

house excavations, driveways, subdivisions

CONTRACTING

Ph: KEN 027 201 3302

Email: stress@xtra.co.nz

2009594

To book your spaceinthis guide,phone Amanda Keys 313 2840 or email amanda.keys@ncnews.co.nz
---
RangioraToyota

WANTED

Quality used late

modelToyotas.

Contactus today

if you'relooking

to sell!

2014 Toyota Yaris Vitz 2013Toyota Prius C

•1.3LPetrolAuto,

•1.5LHybrid Petrol, Alloys

•Alloys,5-Door, $ •Camera, Satnav

•Only 32,800kms

13,995 •69,100kms

2009 MazdaDemio

•1.5LPetrolAuto

•Alloys, ReverseCamera

•91,350km

$

8,995

2015Toyota Ractis

•1.3LPetrolAuto

•45,550km

NOW

•CD/AUX/USB Connectivity

$ •Camera, Bluetooth

14,995 $

14,995

$

14,995

2014 Toyota Vitz

•1.5LPetrolAuto, Alloys

•Only 18,900

2018 Toyota Yaris GX

WAS$15,995

•1.3LPetrolAuto

• Reverse Camera, Bluetooth

•40,400kms

$

18,995

2018 Corolla Sedan GX

•1.8L PetrolAuto, Alloys

•Bluetooth, ReverseCamera

•45,800kms

$

21,995

2011 Toyota Sai

•2.4LHybridPetrol, Auto

•Camera,Keyless NOW

•43,300km

2010 Toyota SaiG

WAS$16,995 •2.4LHybridPetrol, Auto

•Camera, Cruise Control NOW

•Alloys, 62,550km

$

15,995

WAS$16,995

$

15,995

2011 HyundaiElantraElite

•1.8L PetrolAuto, Alloys

•Leather,Sunroof

•Camera

$

12,995

2014 Toyota Corolla GX

•1.8L PetrolAuto,

•NZNew,Bluetooth,

•Cruise Control

$

13,995

2016 Corolla GX Sedan

•1.8L PetrolAuto, Bluetooth

•ReverseCamera&Sensors

•60,000kms

$

19,995

2019 CamryHybrid GX

•2.5LPetrolHybrid, Alloys

•SafetySense,Camera

•16,250km

$

36,995

2019 CamryGXHybrid

•2.5LPetrolHybrid, Alloys

•Bluetooth, Safety Sense

•15,250kms

$ 36,995

2011 Toyota Avensis Wagon

•2.0L PetrolAuto,

•Alloys, Camera

•Bluetooth, Keyless

$

14,995

2018 Corolla GX Hatch

•2.0L PetrolAuto, Alloys

•Satnav,Bluetooth,Camera

•78,850kms

$

22,995

2014 MitsubishiLancerGSR

•2.0L PetrolAuto, Hatchback

•Alloys, Camera

•80,050km

$

13,995

2011 Toyota Wish Z

•1.8L PetrolAuto, 6-Seater

•Sunroof,Alloys, Camera NOW

•82,300kms

2019 Toyota RAV4 GXL 2009 Toyota Wish Z

WAS$15,995

•2.5LPetrolAWD,Latest Model

•2.0L PetrolAuto, 6-seater

WAS $14,995

•Satnav,SafetySense $ •Alloys, Keyless NOW

•41,400km

41,995

• 88,500km

$

14,995

$

13,995

2010 Mitsubishi Lancer VRX

•2.4LPetrolAuto

•Alloys, Leather

•80,750kms

$

12,995

2018 LandCruiser Prado VX

•130Kw2.8L TurboDiesel

•SafetySense, GPS, Leather

•NZNew,only52,550kms

$

71,995

2017 Isuzu D-MaxLS

•3.0L TurboDiesel Auto

•2WD,Bluetooth,

•Camera, 96,200kms

$

35,995

2006 Hilux SR5 4X4

•3.0L TurboDiesel Auto

•Canopy &Liner

•Cruise Control

$

22,995

2016 HiluxSR5 PreRunner

•.8L TurboDiesel Manual

• Satnav,Camera

• Tonneau

$

39,995

2007 HiluxSR5 4x4

•3.0L TurboDiesel Auto

•Tonneau,CruiseControl

•Towbar

$

22,995

2013Toyota AlphardSC

•2.4LPetrolAuto, 7-Seater

•DualElectricDoors

•25,250kms

2014 Ford Ranger XLT

2018 Nissan Navara RX4x4

•2.3LTurbo Diesel Manual

•Alloys, Bluetooth

•Only 58,100kms

2018 Landcruiser PradoTZ-G

•2.8L turbodieselauto

•KDSSsuspension, 7-seater

•40,250km

2016 LandCruiser PradoTZ-G

•2.8L Turbo Diesel

•ReverseCamera, Bluetooth

•Sat Nav

•3.2LTurbo Diesel 4WD

$

36,995 •Bluetooth

$

33,995

$

41,995

$ $

•ParkingSensors

71,995

57,995

Percival Street,Rangiora • Ph (03) 313-8186any time • www.rangiora.toyota.co.nz

Signature

CLASS

2386571

FINANCE &INSURANCE AVAILABLE
---
Thursday,June24, 2021 | Issue951 | www.starnews.co.nz

2–4July 2021

IN ASSOCIATION WITH

FREE

CUT THIS AD OUT FOR

1x FREE DOUBLE PASS

Join us at the Home&Leisure show,stand number 176.

Appliances,beds,furniture&tech.

Everything youneed foryour home.
---
Explore our unique zones!

IN ASSOCIATION WITH

IN ASSOCIATION WITH

Sip, taste and try new

products before you buy.

Discover liquorice, gourmet

dips, fruit juices, local wine

and more!

Learn about eco friendly

products and services

including solar power, pellet

fires, energy efficient homes,

LED lighting, electric bikes,

light therapy, alternative

energy and more!

Be inspired by landscaping

plans, pools, spas, outdoor

furniture, fencing, garden

ornaments, decking, glass

and more!

Upgrade your leisure time

with boats, camper vans,

caravans, jet skis and an off

road vehicle!

Take alook inside several tiny

homes, mega tiny homes,

modular homes and place a

bid in alive auction!

2-4July 2021 • 10am -5pm • Christchurch Arena • www.starhomeshow.kiwi
---
IN ASSOCIATION WITH

IN ASSOCIATION WITH

WORTH $ 22,000!

2016 nissan Leaf

Marvel at the car's full leather interior, 360

degree cameras, Android Auto and Apple

CarPlay, Bose sound system and 10 air bags.

Visit the hVs stAnd At our show tobeintowin!

Informative seminars brought to you by

On every day —Friday, Saturday and Sunday

Buildright

11.00am

Covering renovations for your home -whether it be your bathroom, kitchen,

reconfiguration of existing rooms or extensions.

Sunshine Solar

11.30am

Learn if solar is right for you, what type of solar is best for what applications

and how you can make money offsolar with little or no money down. Covering

commercial solar as well as residential and batteries.

Resene

12.00pm

Discover how to take your favourite colours and confidently design colour

schemes to suit you, your home and your lifestyle. Make the most ofyour

space and maximise the appeal of your home.

Kitchen Studio

12.30pm

From inspiration to installation, take note ofour tips and tricks when updating

your kitchen to ensure itfits in with rest of your house.

Whitehouse

Builders

1.00pm

Ever wondered how tobuild an energy efficient home? Learn the 5passive

house principles that contribute to atruly efficient home.

NZ Home Loans

1.30pm

Discover the tools that will allow you to become debt free faster, purchase a

property in Christchurch, either a1st home, construction, or investment.

2-4July 2021 • 10am -5pm • Christchurch Arena • www.starhomeshow.kiwi
---
Place abid in the live auction!

IN ASSOCIATION WITH

IN ASSOCIATION WITH

Cosy Homes are auctioning off abrand

new 2-bedroom 50sqm home at our show!

*Digital rendering of outside

This MEGA tiny home could be YOURS!

This mega tiny home is warm, spacious

and homely, itisbuilt and ready to go

and can be transported anywhere inthe

country. Step inside and feel it for yourself.

Don't miss out on this auction! Cosy

Homes have arange of options to suit

your budget with their 2-bedroom homes

typically ranging in price from $95,000 -

$130,000.

The Cosy Home for auction isatthe

premium end of the range,with the added

bonus of being available immediately!

The auction is set for 1pm on Sunday 4th

of July at the Cosy Home stand.

The auction is sponsored by Ray White

Bishopdale &Strowan.

There isnormally a9month wait on atiny

home, but this one will be yours in aweek!

Auction set for 1pm on Sunday,

4th July at the Cosy Home stand.

To placeabid, youmust register your interest at www.cosyhomes.co.nz/auction

CUT THISADOUT FOR

1x FREE DOUBLE PASS

Join us at theHome &Leisureshow, standnumber 176.

Appliances,beds,furniture&tech.

Everything youneed foryourhome.

2-4July 2021 • 10am -5pm • Christchurch Arena • www.starhomeshow.kiwi