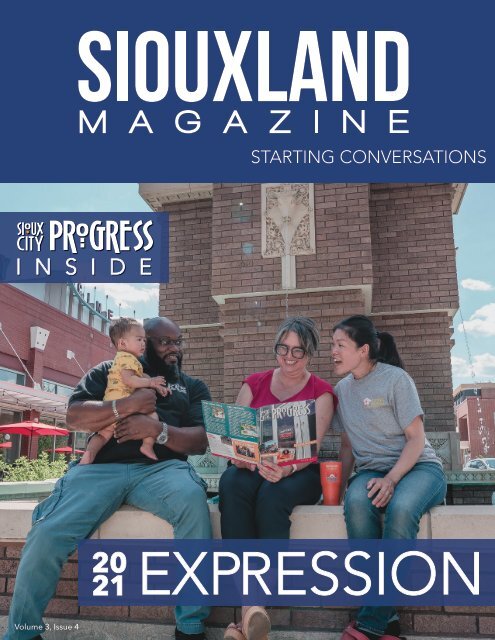 Siouxland Magazine - Volume 3 Issue 4
You also want an ePaper? Increase the reach of your titles
YUMPU automatically turns print PDFs into web optimized ePapers that Google loves.
STARTING CONVERSATIONS

i n s i d e

20

21

EXPRESSION

Volume 3, Issue 4
---
ON THE MOVE.

In your town.

We wake up every day to serve in the towns and places you call home.

We've expanded our innovative care, expertise and access to always keep

you moving. Because forward is the only direction we know.

CNOS.NET | 605-217-2667
---
Welcome to Siouxland Magazine

It's in these pages we educate and inspire. Even more importantly, we

create a community that thrives on connecting with one another. At our

core, we all want to connect. When we seek to understand, by listening

more intently, we find that our relationships deepen and our community

strengthens as a result. With appreciation for the power of connection

through meaningful conversations, it only made sense to name the

b u s i n e s s Empowering Conversations.

Siouxland Magazine | Expression / 3

Stacie Anderson, Owner

It all starts with a conversation; with a desire to learn;

to see things from another perspective; to seek

truth. The truth is, we have more in common than we have

differences. Well, maybe it would be more accurate to say, what

brings us together is stronger than anything that divides us.

We would never want to marginalize our differences. We love the words of Audre Lorde,

"It is not our differences that divide us. It is our inability to recognize, accept, and celebrate

those differences." We are unique in vast and complicated ways. It's our hope that we can

come together with our unique strengths, perspectives, and ideas to build a community with

a powerful narrative of us.

Through this humble publication, we will start having conversations. This is an ambitious and

beautifully optimistic attempt to shine light on all the things that make our community strong,

but also discuss, in a productive and compassionate manner, the challenges we face.

We are doing our small part in building a cohesive community by creating conversations

that refocus our attention on our similarities. We are bringing people together; replacing

judgment with understanding. Perspective is powerful.

We want to hear from you. At Siouxland Magazine, we feel it is imperative to understand what

the community wants and needs. Share your vision and dreams for Siouxland.

We want you to lean into the conversation and participate in the discussion.

connect@empowering-conversations.com

Facebook @siouxlandmag

E m p o w e r i n g

Conversations, LLC

siouxlandmagazine.com
---
Expression

Converse22

Passionate About Conversation - Artist Dialogue...........8

Bridging the Language Barrier.......................................................................10

Inclusive Peek................................................................................................................................12

You Can't Filter a Really Good Conversation..........14

What's Your Big Idea?...............................................................................................15

Grow

Balance

Loess Valley...........................................................................................................................................22

Interested in Delivering Impressive Results

and Making Boundless Progress?...........................................................25

Downtown Events Are Back!...............................................................................26

Tri-State Governors' Conference.................................................................27

Knife, Fork, or Spoon?.......................................................................................................29

2021 Innovation Market............................................................................................31

Getting Out of Survival Mode and into

Expansion Mode.................................................................................................................33

Expressing Yourself Through Your Brand........................................35

Grow Lighter........................................................................................................................................36

'Express Yourself': The Art & Practice of

Accessible Yoga...........................................................................................................................38

Ask the Therapist........................................................................................................................4 0

Cultivating your Ability through your Vulnerability:

The Yin and Yang of Mindfulness Self-Compassion.....42

The Art of Healing...................................................................................................................44

Ten Under 40............................................................................................................................47

"I want to affect people like a clap of thunder, to inflame their minds with the breadth

of my vision, the strength of my conviction, and the power of my expression."

– Rosa Luxemburg
---
"There is a vitality, a life force, an energy, a quickening that is translated through you into

action, and because there is only one of you in all time, this expression is unique. And if you

block it, it will never exist through any other medium and will be lost."

– Martha Graham

Inspire

Larger Than Life Expressions...............................................................................16

A Promise to Yourself..........................................................................................................18

Artistic Expressions on Stage and Canvas..............................20

At our core, we all want to connect. When we

seek to understand by listening more intently, we find

that our relationships deepen and our community

strengthens as a result. That's what our Siouxland

Magazine is all about! We can't wait to talk to you

and truly connect with you and your audience. If

you are interested in learning more about how to

advertise with us, download the media kit on our

website at siouxlandmagazine.com. Always feel free

to reach out to us via phone, email, or Facebook.

We're creating a magazine you won't want to put

down. We promise to not disappoint.

explore

Expression of Beauty..........................................................................................................48

Home Grown Expressions..........................................................................................50

Celebrate Wins.............................................................................................................................52

Market Experience................................................................................................................54

Want to be included in our

September issue?

Contact us soon!

Deadline to reserve space is

August 16th!

Media Kit at siouxlandmagazine.com

JOIN US!

You won't want to miss...

Siouxland Magazine's Facebook

Spotlights @siouxlandmag

Monday @ 7:30 pm,

Small Business Spotlight

Wednesday @ 7:30 pm,

Nonprofit Spotlight

ON THE COVER

Photography by Britton Hacke.

Ike Rayford, Becky Carlson, Peggy La and baby Zeus.
---
Siouxland Magazine writers

CONVERSE

Jetske Wauran,

People of

Siouxland -

Portraits of the

Extraordinary.

INSPIRE

Dr. Cyndi Hanson,

Executive Director for

Northeast Community

College's Extended

Campus.

GROW

Stacy Orndorff,

Entrepreneurial

Community

Navigator &

Stacy O. Speaks.

Tony Michaels,

KSUX Morning

Show Host with

Candice Nash.

Michelle Lessmann,

Fully Licensed Office

Professional in Keith

Bales Office of Thrivent.

Todd Rausch,

SBDC Regional

Director at

WITCC.

EXPLORE

Alex Watters,

Sioux City Council.

Erika Hansen,

Lifelong

Siouxland

Resident &

Model.

Up From the

Earth Leadership

Team.

University of

Nebraska – Lincoln

Nebraska Extension

Educators.

BALANCE

Hali Benson,

Certified Holistic Nutrition

and Wellness Practitioner

& Owner Blossom Services

Dr. Meghan Nelson,

Licensed Physical Therapist,

Professional Yoga Therapist &

Co-owner of Lumin Therapy.

Gladys Smith,

Licensed Independent

Social Worker &

Co-founder of Soul

Creek Nature Therapy.

Dr. Nesrin Abu Ata,

Family Medicine

Physician, Integrative

Psychiatrist & Yoga

Instructor.

Emily Larson,

Licensed Massage

Therapist & Private

Yoga Instructor.

Grace Nordquist,

Business

Development

Coordinator for

Downtown Partners.

Nolan Shook,

Marketing Board

Chair for Sioux

City Growth

Organization.

Peggy Smith,

Executive Director

for Leadership

Siouxland.

Kari Nelson,

Graphic Designer.

Starting Conversations in our Community

Align your business with Siouxland Magazine.

Advertise your business in a publication

commited to improving our community.

Visit SiouxlandMagazine.com

And by the way…

…we want to hear from you.

Send us your stories.

Visit our website and click on article submission.
---
Editors Note

I love all the ways we are able to express

ourselves - life never ceases to amaze me.

All around us, there is a dynamic expression,

and even in the interaction between, an

evolution into its form of being. Life is

demanding play and growth and fuller

expression. It's fun to watch it all unfold.

This publication encourages conversation, which in and of itself

has vast possibilities of expression. Then sometimes words just

aren't enough and outpours music with all its emotion, visual

art with its multitude of forms, and movement. Yes, movement.

From talking with our whole body to dancing. We just keep

moving.

Over the last couple of years, I've tried hard to express my

commitment to this community through this publication;

setting the stage for all of you to share your stories and for

connections to take place. It's exciting to know it's being

received. With so much gratitude, I am pleased to announce a

new partnership with the City and to bring to all of you Sioux

City Progress. Together we will keep progressing.

Siouxland Magazine | Expression / 7

A new partnership!

For more than 15 years, the City of Sioux City's Progress newsletter has shared positive stories, project

updates, and event information with residents and visitors. The publication has evolved over time—both

in design and distribution—but its goals have remained the same:

• Showcase the success in our City to residents and visitors

• Attract and recruit new businesses and employees to the Siouxland area

As we considered new ways of reaching our diverse audience, inserting the Progress newsletter into Siouxland

Magazine was a natural fit. Siouxland Magazine strives to educate and inspire its readers, and it seeks to create a community

that thrives on connecting with one another. We share these aspirations, and we are proud of this new partnership.

Designed as a pull-out piece, the City Progress newsletter can be a handy reference throughout the summer and beyond.

We hope this issue will not only inform you of what's happening in the city, but also invite you to become part of it!

Anne Westra

Communications & Public Engagement Specialist, City of Sioux City

Stacie Anderson

Owner of Empowering Conversations LLC & Siouxland Magazine

Certified John Maxwell Speaker, Trainer & Coach

Passionate about Leadership & Communication

Siouxland Magazine is owned and published by Empowering Conversations, LLC. All materials contained in this magazine (including text, content, and photographs)

are protected by United States copyright law and may not be reproduced, distributed, transmitted, displayed, published, broadcast or modified in any

way without the prior written consent of Empowering Conversations, LLC or in the case of third party materials, the owner of that content. You may not alter or

remove any trademark, copyright or other notice from copies of this content.
---
Expression

statement

communication

Todd

Ryan

Passionate About Conversation - Artist Dialogue

In this issue, our Conversation participants are Todd

Behrens and Ryan Haskins. Ryan is the Music Director

for the Sioux City Symphony Orchestra, and Todd is the

Director of the Sioux City Art Center. As artists, these two

gentlemen have an interesting perspective on Expression.

SM: People are dealing with a lot of uncertainty

and anxiety in general. How does the ability to

express oneself via fine arts help with this?

Behrens: In the best of times, the fine arts show us new

ways of thinking about the realities of life and provide

sensory reminders of the more significant meanings that lie

just above or below the surface of our daily experiences. In

the worst of times, they provide hope. Since the pandemic,

we have been reminded of how precious and short life is.

The pain, uncertainty, and isolation of the last year have

been so challenging. We effectively have had two options:

ignore the problems and proceed with our usual patterns

of life; or use this moment to explore the countless things

that each of us usually has no time or reason to consider.

At their heart, the fine arts are about exploration and

innovation on the creative side, discovering new ideas, and

considering the viewpoints of others on the appreciative

side. All of these things can provide both the intellectual

and emotional stimulation that not only get us through

these tough times but can genuinely make our lives better.

Haskins: Since the beginning, the arts have provided

civilization with a means of comfort and a vehicle to express

our innermost worries, concerns, and anxieties. One of the

reasons this works is because you have to learn to let go

and be willing to be vulnerable to create art. You have to

be willing to put everything on the line and say - "this is

me" - it's not easy - especially in a society that is so quick

to pass judgments. This unguarded letting-go is powerful -

and where art can express the inexpressible. When we find

it difficult to express ourselves, but we have a desire for

emotional release - the arts can help us. It's one of the main

reasons why the arts can have a lasting effect on the overall

health of our body and mind. The arts can help us manage

our quality of life and wellbeing.

An experience in a concert hall, theatre, or gallery can all

provide us with the opportunity to disappear and travel to

a distant time or place. We can be transported away from

our world that is so filled with constant uncertainty and

upheaval.

SM: We find a lot of division and polarization in

current society. In what ways is artistic expression

connected to unity?

Haskins: The arts heal - they provide us with the

opportunity to accept the challenge, then manage it, and

finally heal and recover from it.

Art brings us together - and if we are willing to leave our

"stuff" behind - and allow ourselves to be open - we can

then enjoy some unbelievable experiences - moving us

beyond the unimaginable.

Arts are reflective of what is happening around us, past and

present. This is why a live concert can transport us in just a

few notes to a new land, a new time, or a new experience.

This is what drives us to continue creating a new sculpture,

designing a contemporary dance, or composing a musical

composition - they preserve time so that future generations

can look back and experience where we were at that very

moment. It is pretty magical.
---
image

delivery

impressions

attitude

Our culture and society need to be built not wholly of

like-minded people but of a diverse and rich collection of

individuals who come together to live, gather in celebration

and mourning, discuss, change, and evolve. This bringing

together through culture is what should unify us - even

during these times of division.

Behrens: Artistic creation is one of the many things

that connects all communities, nations, cultures, and

time periods. The impulse and the need to make artistic

interpretations of our lives, whether verbal, visual, musical or

performing, unites all of us. But it is important to remember

that these generalities refer to the entirety of artistic

production. No individual artist or artwork can fully contain a

unified expression of our contemporary society. If we look at

American art over the last century, we find a non-stop effort

on the part of younger generations of artists to redefine

what art's appearance, purpose, and subjects should be.

And that has only accelerated over time as—finally—women,

BIPOC, and LGBTQ artists have had their voices more fully

considered. Increased participation has brought new ideas

into the conversation, and asking questions and stimulating

conversation is a vital part of what the arts can do.

SM: In addition to visual arts, how do you express

your individuality?

Behrens: Actually, I have no special skills to express myself

within the visual arts. Give me lots of time and I can probably

draw something fairly competently. You wouldn't want me

on your team for a game of Pictionary. My studies and

career in the arts have provided me with the confidence to

see the significance within things that might be overlooked

or explain why broad concepts that might be accepted as

givens are based on shaky foundations. Though there can

be a great amount of subjectivity within the fine arts, at the

core of meaningful artworks lie clear purposes, logic, and

vision.

I enjoy working with others to achieve goals as much as I do

working on my solitary ideas. The fun is in shaping a new

vision for the Art Center that allows it to expand whom it

partners with and whom it serves. Basically, working to make

participating in the arts as inclusive as possible for everyone

in the community.

SM: In addition to music, how do you express your

individuality?

Haskins: This is a tricky question for me - there isn't a day

that goes by that I am truly without music - whether I am

preparing for a concert, rehearsing with other musicians, or

just listening to something that I have yet to discover. I will

say, though, I do enjoy cooking. I have fun experimenting

with different ingredients and spices and usually create as I

go. My husband always tells me he thinks I should be on the

Food Network show "Chopped". I'm not convinced I am at

that level - but I suppose I love putting my special touch on

dishes I serve up at home.

SM: What would a first-timer be surprised to

experience at the Sioux City Art Center?

Behrens: First and foremost, a first timer—particularly a

Sioux Citian—would be surprised to learn that our city has

been exceptionally artistic for virtually its entire existence.

The Art Center's collection is small by many museum

standards, with only about 1,200 artworks. But the Art

Center has more than 100 past and present Sioux City

artaists represented in its collection, with a minimum of 25

on display at any one time—the first gallery a first-timer will

discover in the Art Center is filled with more than a century's

worth of art produced by artists who have lived in Sioux City.

Though we work to bring the best artworks of the region to

Sioux City, quite honestly there is always a lot of great art

being made right here.

The second thing is that we are free and a lot of our special

activities are free, as well. While we'reº still being a bit

cautious on the size of crowds in the buildings, when we get

back up to full speed, everything from receptions and artist

talks to concerts and other performances are almost always

free. The brochures we create to describe exhibitions are

free. And we always offer several free children's workshops

during the year, and other classes and workshops are as

affordable as possible. We want to make sure there are no

obstacles between Siouxlanders and access to great art.

SM: SM: What would a first-timer be surprised to

experience at a Sioux City Symphony performance?

Haskins: UNEXPECTEDLY AWESOME - For a first-time

concert goer - the Symphony is not what you might think. I

have had more conversations with people who have lived in

Sioux City all their entire life; they walk through those doors

for the first time, sit down, and are blown away with what

comes out of this Symphony. It truly is one of the greatest

around - not just because of its ridiculously talented

musicians, some who travel hundreds of miles to play at

the Orpheum, but also for the cutting edge, experimental,

unusually cool concerts that we produce. From Beethoven

to Queen, from Mozart to Star Wars, there is something for

everyone. It's not what you expect - and that's OK - we want

you to come through those doors and discover one of the

most exhilarating live concert experiences around!

Photos Courtesy of Sioux City Symphony Orchestra and Sioux

City Art Center.
---
converse

curious

Cultivating Meaningful

Powerful narrative of "us"

truth seekers

Bridging the Language Barrier

By Jetske Wauran

In 2005, Fatiya Adam came to the U.S. at the

young age of 17 years-old. She didn't know how

to read, write, or speak English. "Zero English," she

said.

Fatiya was born and raised in Ethiopia, a landlocked

country on the Horn of Africa. She never imagined

she would be living in America.

"I was a teenage mom with an 8-month old; alone,

without my parents, without my family."

Despite her challenges, Fatiya graduated from

Marshall Senior High School in Marshall, Minnesota

in 2009, and pursued her college career at Marshall

State University, where she received her Bachelor of

Arts in Early Childhood Education. Fast forward 15

years later to 2020, Fatiya is the Director of Refugee

Program at the Mary J. Treglia Community House in

Sioux City, Iowa. MJTCH is a non-profit organization

that educates, empowers, and advocates for

Siouxland's newcomers and immigrants.

"I love what I do, and I get to do it every day."
---
strengthening our community

Conversations exploring perspectives

coming together

open minded

focused on common good

Fatiya has been part of MJTCH since 2013,

empowering and educating hundreds of families

as they adjust to a new life in Siouxland. "This place

is like my home."

She speaks five languages and serves as an

interpreter for the community house, helping

translate paperwork like employment applications

and other necessary documentation for immigrants.

"Helping people, helping their lives, it makes me

smile knowing that I can do that for others."

In 2019, Fatiya and her husband purchased their

very own home in Sioux City's Northside. Together

they have three daughters, one son, and a newborn.

Photo Credit Jetske Wauran

Hello, I'm Jetske Wauran and I am so excited to team up with Siouxland

Magazine! This team effort will serve as an avenue to share my passion

project, "People of Siouxland - Portraits of the Extraordinary." I launched

this in September 2020, in hopes of inspiring and uplifting others in the

most trying of times. As a visual storyteller, my mission is to highlight

people who have made a profound impact in our community and write

stories about the underrepresented individuals and hidden gems within

Siouxland. It is an honor to share their unique and remarkable stories with

you. Stories that are worth encouraging, enjoying, and celebrating.

Jetske Wauran is a community activist, professional photographer, and

Emmy award winning journalist.
---
Siouxland Magazine | Converse / 12

Would Your Organization

Lose Thousands of Dollars

if Your Systems Were

Down for a Day?

How much is your data worth to you? Some feel it's priceless—we agree.

Let RTI focus on your IT while you focus on building your business.

Contact us today for a free IT assessment

of your business or organization!

Visit: www.1RTI.com/SiouxlandMag/ or

Call: 866.804.4388 and mention that you saw this ad!

RTI understands the stress and change that go along with running a business. We are an IT

provider based right here in Siouxland, but we work with small and large businesses nationwide.

Our in-house, U.S.-based technicians and engineers have countless years of experience,

certifications, and expertise to ensure your business IT systems are stable and secure. Despite

today's unique circumstances, RTI has remained a strong partner, serving our current clientele

and many new clients who trust us to ensure their IT systems are available and secure.

We provide national expertise

with a local touch. Ask us how

we can help you take your

business to the next level!

Contact Us Today!

866.804.4388

www.1RTI.com/SiouxlandMag/

The average cost of downtime is

$

8,851

PER MINUTE

Source: Cost of Data Center Outages by Ponemon Institute
---
Inclusive Peek

What challenges have you experienced living in

Siouxland? I first came to Sioux City from Mexico as a

freshman at Morningside College. It was the first time in

my life moving away from home and my family. I decided

to move to another country to earn my college degree

and continue with my golf career. While it was the best

decision I have ever made, it was also challenging since

there was a clear language and cultural barrier. My first

semester in college was challenging since I had trouble

understanding the conversation I was having with

people and the lectures in college. Also, the cultural

shock was pretty drastic. I constantly found myself in

awkward situations when I kept trying to say hello by

kissing in the cheek (Mexican tradition) instead of just

doing a handshake as Americans do.

How has Siouxland been Welcoming?

I felt extremely welcomed when I first arrived in Sioux

City since everybody around me cared about my

well-being and constantly offered help with rides and

even groceries since I was alone in the country. My

teammates always invited me over to their homes to

spend holidays so I wouldn't be alone. My internship

supervisor and mentor, Treyla Lee, introduced me to

a fantastic program called The First Tee that allowed

Inclusive Peek – En Espanol

¿Qué desafíos ha experimentado viviendo en

Siouxland?

Vine por primera vez a Sioux City desde México como

estudiante de primer año en Morningside College. Fue

la primera vez en mi vida que me mudaría de casa y de

mi familia. Decidí mudarme a otro país para obtener

mi titulo universitario y continuar con mi carrera de

golf. Si bien fue la mejor decisión que he tomado en

mi vida, también fue un desafío ya que había una clara

barrera cultural e idiomática. Mi primer semestre en la

universidad fue un desafío ya que tuve problemas para

entender la conversación que estaba teniendo con

la gente y las lecturas en la universidad. Además, el

impacto cultural fue bastante drástico. Constantemente

me encontraba en situaciones incomodas cuando

trataba de saludar con un beso en la mejilla (tradición

mexicana) en lugar de simplemente dar un apretón de

manos como lo hacen los estadounidenses.

¿Como te ha dado la bienvenida Siouxland?

Me sentí muy bienvenida cuando llegué por primera

vez a Sioux City, ya que todos los que me rodeaban

me to spend the last

three summers working

with hundreds of kids

and their families that

accepted me and

my culture into their

community.

What do you want the

people of Siouxland

to know?

I would like them to

know that it is okay to

be scared of change

and the unknown. In

life, we often pass on

opportunities because

we are afraid of failure

Maria Jose Zorrilla Rodriguez

or don't want to get out of our comfort zone. But if there's

anything I learned from the past year, life is unpredictable,

and we should embrace and cherish every day and every

opportunity as they come.

The Siouxland Community has been a part of the best years

in my life, and I am incredibly grateful for every person I

meet in this town.

se preocupaban por mi bienestar y constantemente me

ofrecían ayuda con los paseos e incluso con la comida,

ya que estaba sola en el país. Mis compañeros de equipo

siempre me invitaban a sus casas a pasar los dias festivos

para no estar sola. Mi supervisora de pasantías y mentora,

Treyla Lee, me presento un programa fantástico llamado

The First Tee que me permitió pasar los últimos tres veranos

trabajando con cientos de niños y sus familias que me

aceptaron a mi y a mi cultura en su comunidad.grupos y

nimaría a uiera que desee participar y conocer gente nueva

¿Qué quieres que sepa la gente de Siouxland?

Me gustaría que supieran que está bien tener miedo al

cambio y a lo desconocido. En la vida, a menudo dejamos

pasar oportunidades porque tenemos miedo al fracaso o

no queremos salir de nuestra zona de confort. Pero si hay

algo que aprendí del año pasado, la vida es impredecible,

y debemos abarcar y apreciar cada dia y cada oportunidad

que se presente.

La comunidad de Siouxland ha sido parte de los mejores

años de mi vida y estoy increíblemente agradecida por

cada persona que conozco en esta ciudad.

upo

Photo Credit Jetske Wauran.

Siouxland Magazine | Converse / 13
---
Siouxland Magazine | Converse / 14

You Can't Filter a Really Good Conversation

By Tony Michaels

Whenever somebody talks about expressing

yourself, I am immediately taken back to that jam

by Madonna in 1988. Do I believe in love? You bet

I do. You don't need diamond rings or big fancy cars.

That's like a radio guy's anthem! Man, Madonna was so

ahead of her time.

Social media has changed the game when it comes

to expression, and in my humble opinion, that's not

necessarily a good thing. Posting adorable pictures

and victories only alters the validity of the account.

Can you imagine if there was a fact-checker on your

Snapchat, Instagram, Facebook, and Twitter pages? I

guess someone like Andy Cohen from "Watch What

Happens Live" on Bravo popping up and saying, "that

sweet picture of your kiddo is totes adorbs, but do you

want to address the temper tantrum little Braeden had

in aisle three next to the pop-tarts at the grocery store?

Seriously, that kid is out of control. TMZ had a camera on

that lil' devil, and social media nation will want a reaction

video from you and apologies to everyone who had to

witness that debacle."

I'm here for the crash. When not everything is perfect,

that's the kind of expression I want to see.

In the longest 15 months of our lives, where our faces

were covered with a mask and loved ones emerged in

fear, mental health took a hit. I'm quite certain social

media was not a help. Division, frustration, and angst

were dialed up when we needed calm, compassion, and

care. Less filter. More heart.

I picked a career path where I probably share too much

on the radio. No doubt. My lovely wife will validate this

theory. When the pandemic hit, I decided to double

down on this personality quirk and self-published a

book, 263 pages of self-deprecating humor and real

stories. It is the antithesis of social media. Way too

honest, and I share too many blemishes.

Tony at his book signing for Tacos and Beer Atmosphere at

Sioux City Gifts. His youngest son Beau and his book editor

Kelli as security for the event.

Ok. Papa is done preachin'. It all goes back to the queen of

expression, Madonna.

Tony "Michaels" Michalski is a morning show

host on KSUX 105.7 and author.

Photos Contributed by Tony Michaels.

Paid advertisement.

Like Us on Facebook

and

Share our Facebook Spotlights

Making a Difference for Small Businesses & Nonprofits

Authentic expression is discovered throughout countless

conversations that take place during breakdowns at 2

a.m. after life kicks you in the shins. I can tell you there

are a handful of individuals who know who I am. That

opinion was not based on my social media profile. If you

were to only base your opinion based on what I post,

you would guess I live and die with every Husker loss

and place significant importance on funny actions my

golden retriever does daily. True. But that is just the

narrative I want the world to see.

Siouxland Magazine does a great job of starting

conversations in our society. Just imagine the joy gained

in our closest relationships if we spend less time scrolling

and more time listening.
---
What's Your Big Idea?

By Alex Watters

In my last article, I shared information about

the tools that the City's economic development

team uses to attract and retain businesses to

our community. Now, I want to empower the people

of our community to utilize City staff and our resources

to see if we can help put ideas into motion. Here are

some examples of where a simple conversation has led

to positive results.

other city staff to see what would be possible. After

learning about various permits and incentives, they

developed Yummi Blox, a new food truck hub opening

this summer on West 7th that will bring more diversity

while helping small businesses in the community.

Siouxland Magazine | Converse / 15

Tiny Homes

A couple of years ago, a constituent reached out

to me about her idea to build a tiny home

community in Sioux City. I had always felt that the

city needed to expand our housing stock to include

more affordable "starter type" homes. I was excited to

help get things rolling. She and I exchanged messages

and began conversations with Neighborhood

Services Manager, Jill Wanderscheid, to advance

the idea. Jill helped us brainstorm potential

funding options, identify lots where it would be

appropriate, and what the RFP process would

resemble. A partnership with Kelly Construction began,

and now three smaller homes are nearly completed on

Center Street, with hopes to build more. They may

not be as "tiny" or as "affordable" as I had hoped;

however, they are a great start, and I'm anxious to see

what more we can do with this effort in the future.

Yummi Blox

After traveling to various cities across the United

States with her husband, John Keoasa, Hong Kong

Supermarket Owner Peggy La wanted to develop

a community space for food trucks on West

7th Street. After visiting with me about the proposal,

I recommended that she speak with Community

Development Operations Manager Jeff Hanson and

Kayak launch.

Parks and Recreation

Several quality-of-life amenities have been proposed

by local groups and citizens that have been pursued and

completed to create a more vibrant city. A couple of

these projects can be enjoyed at Bacon Creek Park.

The mountain biking trail and recent kayak launch were

both originally proposed by community members

and pursued by City staff. Additionally, some disc golf

courses throughout Sioux City have been proposed and

supported by the Mayor's Youth Commission.

As you can see, these are three very different examples

where members of our community had an idea and

worked with City staff to bring it to reality! I understand

that not every idea can be implemented, but it's important

to start the conversation and explore possibilities. If you

are feeling inspired or have an idea, don't be afraid to

share it! I would love to hear from you and direct you to

the appropriate member of our staff. Please feel free to

email me at awatters@sioux-city.org.

Alex Watters, City Council of Sioux City

awatters@sioux-city.org.

Photos Contributed by City of Sioux City.
---
Inspire

Lessons learned from stories in our community.

Jessica

Olivia

Larger Than Life Expressions

In this issue, our Conversation participants are

Jessica Hammond and Olivia Lorenz. Each artist

will respond to the same questions, providing you an

opportunity to hear different perspectives and continue the

conversation with your circle of friends.

Jessica Hammond is a local artist with a formal education in

audio engineering and a passion for creating larger-thanlife

artwork. Jessica is involved in the Sioux City Alley Art

Festival, has created several murals around town, and has

an upcoming project at State Steel which you can watch the

progress on Court and Virginia Streets. You can follow Jessica

on Facebook, Instagram, and YouTube by searching for

"Brutal Doodles" or on her website www.brutaldoodlesart.

com.

Olivia Lorenz is a 15-year-old local high school student and

artist. Olivia's goal is to create pieces to which others can

relate and connect. Olivia is driven and, after graduation,

aspires to attend the University of Iowa to become a surgeon

or doctor. Olivia has the gift of expressing her artistic ideas

into works of art for others to enjoy. Olivia recently completed

a mural in the Woodbury County Juvenile Detention Center.

Siouxland Magazine (SM): The theme for this issue

is Expressions. People share themselves through

various forms of expression. Why have you chosen

murals as your form of expression?

Jessica Hammond (JH): Even though my formal

education is in audio engineering, I've always had a passion

for all forms of art. I got started with murals at the 2019 Alley

Arts Festival when my friend Kitty Hart and I created our first

mural. That was followed by one for SUX Pride, then Work &

Church, and others since. I didn't set out to do murals, but it's

like the perfect storm for the things I love, creating art, being

outside, and doing challenging and rewarding work. Plus, I

get paid for living my passion.

Olivia Lorenz (OL): Murals are a great form of artistic

expression for various reasons, whether to show emotion,

color, movement or make a statement. My goal was to create

a lively and vivid space at Juvenile Detention Center for the

kids to observe and interact with, opposed to sorrowful blank

walls with no color. I saw this as an opportunity to change how

these kids feel, allowing them to be seen and understood

through art. Since they are my age, I can appreciate how

isolating rooms can make one feel alone and upset. It can

be difficult for them to handle the emotions they are going

through with nothing to do but stare at walls in a small space.

Creating a dedicated mural for these young people attempts

to show them they are understood, no matter their choices.

SM: What other forms of expression do you use to

share yourself with others?

OL: I use platforms such as Facebook, Snapchat, Instagram,

and Etsy, which all make it easier to reach a wider audience

and connect with others like me. I paint with various mediums,

draw, and sculpt with the mindset of showing who I am and

what I enjoy. It is an amazing thing knowing I can be myself

and share what I am working on with the world.

JH: I have many different forms of expression that I use, and

they are very fluid for me. I was constantly drawing in school,

but I also played guitar, wrote songs, and penned poetry. I
---
non-profit

community

family

small business

people

like all forms of art, and I think each form of expression

does something different for me. For instance, my art is

very meditative for me. I use my poetry to help me sort out

my feelings and emotions and sometimes incorporate my

poetry into my music. I use my singing and guitar playing

as an outlet for other emotions.

SM: Where do you find inspiration for your murals?

JH: I find inspiration everywhere around me, including

nature, space, and music. Often,, the client I am working

with will have part of an idea but won't know how to

describe their vision. I take their idea then create a word

web, listing thoughts that come to mind around their

idea. After that, I will take a picture of the wall and use my

iPad to draw up my vision to show the client, then make

adjustments before I start on the actual piece.

OL: The idea for my mural was to create a colorful and

lively painting so I headed to Pinterest. I know ideas for art

are common on this platform, so all I had to do was find

something my mind was heading toward before starting

the painting.

SM: What do you want your murals to express to

those seeing them?

OL: I want the mural to express understanding, change,

and opportunity. I want these kids to see this painting

and see color and liveliness in situations they may

believe deserve darkness. My main goal is for the ones

encountering the mural to feel seen and understood, and

to believe they still have a chance of a childhood filled

with love and understanding.

Olivia Lorenz

JH: My hope is that my murals will cause people to think.

With the murals, they generally create a positive response

because they are interesting for people to look at with the

bright colors which tend to cheer people up. Each mural

has a story to tell. I like to use a lot of symbolism. It is up to

people to interpret what they see how they see it.

SM: Has anyone shared with you how your art has

impacted on their life?

JH: I received a lot of positive feedback from my work at

the Alley Art Festival, from both other artists and people

who attended it. The entire Festival inspired various

people in the Siouxland community, especially other artists

who are now taking chances they otherwise wouldn't have

taken with their art. Sometimes it's not just the art, it is the

fact that I'm doing it and inspiring others to take on projects

they have put off or to take a leap and pursue something

they are passionate about in life.

OL: As a young artist, I haven't had too many chances

to express myself through art and haven't had much time

to expose others to my work. I've made pieces for family

and friends, and they've always replied positively and

encouragingly. I've taught others my understanding of

aspects of art and they took that information and still use it

today. It's a very rewarding feeling to hear simple lessons

have changed the way others see art for the better.

Jessica Hammond

Photo Credit Britton Hacke Photography.
---
Siouxland Magazine | Inspire / 18

Kincaid and Hough.

A Promise to Yourself

By Dr. Cyndi Hanson

You've met one before – a person who seems

to be positive all the time, who has a cheerful

disposition, and looks for the silver lining on the

cloud when problems arise. That is an optimist!

And it seems like in the last 18 months, we've needed

optimists more than ever. You will find a group of these

people meeting every Wednesday, at 7 a.m., at Dakota

Perk in South Sioux City. They are members of the South

Sioux City Optimist Club.

Club President Diana Kincaid said, "I joined because

I knew some of the members and shared their glasshalf-full

approach to life. I enjoyed the positivity and

found it a good way to plug into the community."

The club formed more than 100 years ago. Optimist

International's mission is to provide hope and positive

vision, to bring out the best in youth, our communities,

and ourselves. The South Sioux City club has been

active for 36 years.

Kincaid proudly noted, "We kept meeting all through the

pandemic! When it was warm enough, we met outside

at Koffee Knechtion, and when it was cool, we met at the

Legion Hall where we could socially distance." The club's

weekly meetings consist of planning for that month's

activity, recognizing an achievement of a youth, and/

or a speaker. Two components that are always present

at the meeting are reciting the Optimist Creed and

positive social interaction among members. "The creed

is a great way to start the day," said Kincaid. "It reminds

me of a poem by Chuck Swindoll about attitude. Every

day we have a choice to make that decides how our day

is going to be. I choose to make it a positive one."

If you've ever interacted with Kincaid or other club

members, you know that the spirit of Optimism is

authentic. Their positive approach to challenges inspires

even the most curmudgeonly of folks to believe that

positive outcomes can be achieved.

"Every day we have a choice to make that

impacts others – it's our attitude."

The South Sioux City Optimist club has a calendar

full of activities, supporting youth and community

improvement. "Some of our projects fell off last year, just

because parents weren't comfortable sending their kids

to events, but we are getting back to it," Kincaid noted.

In 2020, the essay contest, oratorical contest, and Spring

Youth Appreciation event were held outdoors. This year,

the youth appreciation was at the Legion Hall, where

extra space made it possible to do indoors. The event

is to honor youth who have worked in the community

volunteering, often behind the scenes. "It's important
---
to recognize kids," Kincaid explained. "It provides them

some encouragement. They realize someone notices

what they are doing, and then they encourage others

to get involved too. I recently met a young professional

who told me she has the trophy she got from the

Optimist Club in 8th grade. She is so proud of that, and

it has reminded her to keep volunteering to help where

she can."

"All kids need encouragement

and recognition."

Recently, the club has been supporting the efforts of

Siouxland Freedom Park fundraising. The exterior of

the park's Interpretive Center was completed a few

years ago; however the interior and exhibits are not

yet complete. Recognizing the importance of this

community-wide initiative, The Optimist club has joined

with other entities in South Sioux City to get the job

done. "We always have a lot going on. We plugin where

we can when we can." Kincaid noted.

Other regular activities the Optimist Club is involved

with include a youth fishing derby, sponsoring baseball

The Optimist Creed

Promise Yourself

To look at the sunny side of everything

and softball teams, supporting the family night out,

and make your optimism come true.

hosting a 'biking for school supplies' event, fundraising

for childhood cancer research, and scholarships for SSC

High School seniors. "Our members are very active.

Some make it to the morning meetings; others have a

project or expect two they are passionate only the about best. that's when

they engage. Both are fine." Kincaid said. "We recognize

people are busy and welcome what contribution they

can make. It's ok to be involved without attending

meetings if that's what works in your schedule."

To think only of the best, to work only for the best and

To be just as enthusiastic about the success of others

as you are about your own.

If you'd like to learn more about The Optimist Club,

visit their meeting each Wednesday, 7:00-8:00 a.m. at

Dakota Perk, 39th & Dakota Ave., in South Sioux City.

You can also check out their Facebook Page, "Optimist

Club of South Sioux City."

To forget the mistakes of the past and press on to the

GREATER ACHIEVEMENTS of the future.

To wear a cheerful countenance AT ALL TIMES and giv

Expressing hope and optimism in a world of negative

messaging every living has an creature impact. It you all begins meet with a smile. a promise

to yourself to choose positivity.

To give so much time to the improvement of yourself that you

NO TIME to criticize others.

Dr. Cyndi Hanson, Executive Director for Northeast

Community College's Extended Campus.

To be too large for worry, too noble for anger, too strong for

Photos Contributed by Crittenton Center.

and too happy to permit the presence of trouble.

Siouxland Magazine | Inspire / 19

To be SO STRONG that nothing can disturb your peace of mind.

To talk health, happiness and prosperity

to every person you meet.

To make all your friends feel that there is something in them.

To look at the sunny side of everything

and make your optimism come true.

To think only of the best, to work only for the best and to

expect only the best.

To be just as enthusiastic about the success of others

as you are about your own.

To forget the mistakes of the past and press on to the

GREATER ACHIEVEMENTS of the future.

To wear a cheerful countenance AT ALL TIMES and give

every living creature you meet a smile.

To give so much time to the improvement of yourself that you have

NO TIME to criticize others.

To be too large for worry, too noble for anger, too strong for fear,

and too happy to permit the presence of trouble.

Experience the Eide Effect.

We deliver

road trip transportation.

(712) 587-9145

VernEideHyundaiSiouxCity.com

4601 SINGING HILLS BLVD

SIOUX CITY, IA 51106
---
Siouxland Magazine | Inspire / 20

Lil Ed and the Blues Imperials

Artistic Expressions on Stage and Canvas

By Michelle Lessmann

How far must you travel to find world-class

musicians and up-and-coming artists? Fortunately

for Siouxlanders, the answer is not far. A short trip to our

downtown brings you to Vangarde Arts, where you can

find both in one location. Led by music and art enthusiast

Brent Stockton, Vangarde Arts showcases both visual and

performing artists.

This local non-profit was formed in 2012 by a group of

Siouxland art and music aficionados who share a vision to

bring a unique cultural arts center combining a stage for

professional performing arts with an art gallery housed in

a singular space. From that shared vision, Vangarde Arts

were formed. Here, you can find Grammy Award-winning

musicians and groups from around the world performing

on stage.

While the same can be said of Sioux City's opulent

Orpheum Theatre, there are differences between the

two venues. First, there is the size and vibe of the rooms.

Audiences will likely never be closer to the performers

than at Vangarde Arts, where the stage is set in the

intimate atmosphere housing an audience of under

one hundred. Another difference is something that

Vangarde Arts prides itself in being able to do. Thanks

to their generous donors and dedicated volunteers,

Vangarde Arts can make their world-class experiences

very affordable to their audience. Most of the acclaimed

artist's performances have ticket prices from $15 to $20.

John Primer and the Real Deal Blues Band

Many people attending the live acts drop extra money in

the tip jar after their experience, saying it was worth more

than the ticket price.

During a typical month, Vangarde Arts likes to host 4-6

different acts, whether it is a comedian or live music,

including local bands, soloists, or world-renowned

performers. Audiences will hear all genres of music,

including classic rock, R&B, jazz, reggae, and everything

in between. The only significant criteria for the musical

performers is that Vangarde Arts prefers having bands

play only original music. Occasionally a group will perform

cover music, but Vangarde Arts likes to promote original

ideas and original music, not something you can hear in

other venues.
---
Stockton said he often

receives requests

from musicians who

regularly perform for

several hundred fans

asking to perform at

Vangarde Arts due

to the ambiance

of playing in such

a personal setting.

The musicians also

comment on the high

sound quality in the

room. Thanks to a

Missouri River Historical

Development (MRHD)

Grant, Stockton said

they will be upgrading

their audio and visual Brent Stockton, Owner of

recording equipment, Vangarde Arts

including installing

a multi-camera system. This will allow artists to record

their shows on high-quality audio and video equipment

for promotional purposes. Vangarde Arts also recently

received a grant from the Iowa Arts Council, a division

of the Iowa Department of Cultural Affairs. The funds are

designed to help the arts impacted by Covid.

Another thing making Vangarde Arts unique is their

ongoing combination of two creative expressions,

performing arts and visual arts, together in one space.

Every Thursday night, Vangarde Arts host a free Open

Mic Night where anyone, at any skill level and every age,

is welcome to perform. Many people have been exposed

to creative expressions at Vangarde Arts through music,

comedy, dance, and theater, as well as visual arts created

by local artists.

Vangarde Arts host art shows for various visual artists,

whether they are well-recognized in the Siouxland area,

like Paul Chelstad, Amy Thompson, and Jodi Whitlock, or

new to the local art scene like Glenda Drennen and Jessica

Hammond. After Glenda's recent success at Vangarde Arts,

she was invited to showcase her work at the EastBank Art

Gallery & Studio in Sioux Falls. Vangarde Arts was also a

catalyst to help Jessica Hammond become recognized in

Siouxland as her murals began becoming commissioned

around town.

As you enter the space at 416 Pierce Street, you find

yourself surrounded by visual arts, often showcasing local

artist's works. The works of local artist Thomas Kleber

were recently on display for his first independent show.

Vangarde Arts serves hors d'oeuvres, wine, and beverages

for Art Show Openings, where anyone, including the

artist's friends and relatives, can view the masterpieces on

display during these free events. The artists are pleased

and sometimes surprised, that 300-400 people see their

works throughout their Show.

Many people seeing the artwork are drawn to Vangarde

Arts for the musical talent or Open Mic Nights. Some have

never been in an art gallery or have any art background,

yet they find themselves having conversations about the

art. They express emotions they are experiencing from the

art and share their thoughts on the pieces. Some will even

go home with a piece they fall in love with and purchase

from the art show.

During a musical performance, you may even see an artist

creating an original work of art as an expression of the

emotions they experience from the music. Recently, two

artists worked on separate canvases while a band played,

then switched and worked on the other artists' canvas, then

back and forth while the music continued. The diptych, or

piece of art created in two parts, was then auctioned off.

The proceeds benefit Vangarde Arts, which as a non-profit

organization depends completely on ticket sales, private

donations, grants, and "VAP" or Vangarde Arts Partners,

for funding. Anyone can become a VAP for $100 or $250

per year, and each level comes with membership perks.

There are one or two exclusive events for VAP members

each year, where the members can meet the musicians.

During Open Mic Night every Thursday, there is no cover

charge, and you can hear a variety of music from musicians

as young as ten to performers who were around to hear

Sinatra or Elvis perform live during their youth. A few local

bands, including Ultra Violet Fever and Central Time,

were formed at Open Mic Night, where they met. Anyone

wanting to share their talent on stage in front of a friendly,

supportive audience can stop down at Vangarde Arts for

Open Mic Night.

Many people attend

Vangarde Arts regularly

to experience various

expressions of artistic

talent. If you have never

been to a performance

at Vangarde Arts, you

are missing out. Check

out their calendar

and find out when

the next live event is

taking place or stop

down on a Thursday

evening around 7 p.m.

Upcoming Events can be

found on their website

at www.vangardearts.

com or their Vangarde

Arts Facebook page.

Anyone looking to

Thomas Kleber, Artist

showcase their artistic or musical talents or wanting to

become a VAP can contact Brent Stockton at (712) 251-

6432.

Michelle Lessmann, Fully Licensed Office Professional in Keith

Bales Office of Thrivent.

Band Photos Contributed by Vangarde Arts. Picture of Brent

Stockton Photo Credit Britton Hacke Photograph.

Siouxland Magazine | Inspire / 21
---
grow

Don't fear failure. Embrace it. It's where the learning happens.

No risk. No reward.

Loess Valley

Iowa's West Coast Initiative Feature

Business Owner: Becky Flannigan

Business Name: Loess Valley

Main Products/Services: Small batch, handcrafted

goat's milk soap, and skincare products (lip

balm, body scrub, hand cream, skin balm/salve)

Location: Salix, Iowa

Website: loessvalley.com

Short description of your business:

Loess Valley is a soap business specializing in

goat's milk soap. All products are created by hand,

in small batches.

What's unique about your business?

All of my soaps are made with raw, creamy milk from

my small Nubian dairy goat herd.

What's the biggest challenge you've had to

overcome as you've grown your business?

Changing my mindset from being a soap maker to

being a business owner (and thinking and acting like

one) has been challenging.

What has been your greatest reward?

The personal growth and confidence I've gained as I've

stretched myself out of my comfort zone.

What motivated you to start your business?

What drives you each day?

Honestly, I never set out to own and run a business.

Soapmaking started as a 4H project when I was

younger. Throughout the years, I continued to raise

goats and make soap for personal use. Eventually,

friends and family started using and asking for

my soap, and it organically grew from there. I feel

strongly that this business is an opportunity God

has blessed me with in life. I don't completely

understand why or how it has grown into this, but

at this point, Loess Valley is just me stepping out in

faith and obedience to be a good steward of this

gift/opportunity.
---
personal growth

leadership

determination

business development

influence

How have you benefited

from the startup community

in Sioux City and the

region? What resources

did you use?

I've met with Todd at the Small

Business Administration and

received good direction and

advice from him when I first

started. Also, all the resources

and events provided by Iowa's

West Coast Initiative have

been extremely beneficial to

me.

Are there any experiences

that were particularly influential

in that regard?

I have loved the opportunity to get to know, and learn

from, other entrepreneurs and small business owners in the

community. Iowa's West Coast Initiative has been outstanding

about offering programs, especially for businesses in rural

Woodbury County.

What is one thing you know now that you wish you

knew when starting your business?

How much it would stretch and grow me and that everything

I do in running this business is out of my comfort zone, but I

need to do it anyway.

What advice would you give to someone looking to

start a business?

Surround yourself with other small business owners through

networking events, mastermind groups, or local programs

that are offered. Keep at it and learn from mistakes and

setbacks, but don't let them slow you down.

What are some future goals for your company?

Right now, a few of my big goals are building my soap studio

to manufacture from, building a greenhouse,, and adding

houseplants as a branch of my business. I'd also love to host

events and open houses on the farm that allow the public to

hang out with the goats and maybe offer some soap-making

classes.

Photos Contributed by Jess Carrier.

Becky Flannigan and her

goat Grace.

IAWESTCOAST.COM I 712.224.5500

Entrepreneurs and small business owners now have

access to an information specialist who can assist you

in finding solutions to your most pressing questions by

facilitating connections to the right people, data, and

resources.

IASOURCELINK.COM I 866.537.6052

IASourceLink is the premiere business resource in Iowa

for entrepreneurs and small business owners. Free

business webinars, expert advice, and a searchable

directory of organizations that assist Iowa businesses can

all be found on IASourceLink.

IOWASBDC.ORG I 712.274.6454

Do you need free, confidential and customized business

counseling? Contact SBDC for advice on developing a

successful business plan.

SIOUXLANDEDC.COM I 712.279.6430

Siouxland Economic Development Corporation offers

financial assistance programs and services to assist

small and medium sized businesses in getting started or

expanding.

iowaeda.com/innovate/ I 515.348.6159

The Iowa Economic Development Authority offers

funding to demonstrate proof of concept for an

innovative technology, develop and bring new concepts

to market, accelerate the pace of market development

and expand product lines.

SPRINGBOARDCOWORKING.COM I 515.809.0052

Springboard Coworking offers shared office space in

downtown Sioux City for entrepreneurs that combines

the best elements of cafe culture with a productive,

functional, and affordable work environment.

ISUSTARTUPFACTORY.ORG I 515.296.6532

ISU Startup Factory is designed to help businesses bring

new products to the market and work with companies to

make them attractive to outside capital investors.

VENTURENETIOWA.COM I 515.471.1300

VentureNet Iowa connects ideas to resources,

management, and investors, to create jobs and build

businesses in Iowa. If you have a business idea in the

areas of Biosciences, Advanced Manufacturing, Value-

Added Ag, or Information Technology, you may qualify

for assistance through VentureNet Iowa.

Did you use one of these great resources? We

want to share your story! Visit our website at

siouxlandmagazine.com, fill out the form and connect

with us today!
---
Siouxland Magazine | Grow/24
---
Interested in Delivering Impressive Results and Making

Boundless Progress? Start with a Business COACH.

By Linda K. Krei (ActionCOACH ExcelEDGE)

What do Serena Williams, Bill Gates, Leonardo

DiCaprio, and Oprah Winfrey all have in common?

Indeed, great success, and they all invested time and effort

to work with a Business Coach as they understood the

importance of that investment to achieve their desired results.

https://visionfirecoaching.com/famous-entrepreneurs-whohad-business-coaches-and-how-it-helped-them/

A great business coach can guide you too, pushing beyond

any self-perceived limiting beliefs to see things differently,

identify goals, and take action to produce better results and

make significant progress.

Many people don't realize what a business coach

can do for them or their business. At ActionCOACH, we

uphold a process that draws out the wisdom from you, the

client. Our certified coaches have expertise in the process of

coaching, skilled in asking the right kinds of questions and

providing a helpful kind of support so you, the client, can

discover how to "BE" and determine what to "DO." We also

share proven strategies, methodologies, and systems that

can be effectively implemented. An ActionCOACH will guide

you in building a roadmap for your success; we will help you

become a more effective influencer and leader (a necessity

to thrive through challenging times). In addition, we will help

create the kind of work environment that effectively retains

and recruits top talent (something we are all trying to figure

out these days).

A business coach should work alongside you.

Coaching is a confidential engagement focused on designing,

planning, aligning, and achieving your (the client's) personal

goals and business goals. A coaching process includes a

continuous learning attitude that encourages candid and

respectful conversations between coach and client, including

a self-reflective approach to enhance creativity and embrace

change with a problem-solving focus for sustainable

solution(s). This type of investment is a GROWTH strategy for

leaders and companies who want to grow yet seem to have

underlying constraints, such as challenges with recruitment

and retention these days.

Elements of a Powerful Coaching

Partnership

A Winner's Mindset | Awareness | Being COACHABLE

Become aware of the key behaviors that either help or

hinder progress and growth. We cannot change what we

are unaware of, so bringing to our conscious awareness our

current leadership shadow - how we show up and what we

can do differently - is essential.

others had failed because his 'why' was so powerful. Coaching

works best when aligned with what a person or organization

wants to work on and "why" it is significant.

An Attitude for Continuous Learning | DRIVEN | Always

looking to improve

Stay curious and be open to new ways of thinking. Improve

Daily and Learn from what works and what doesn't – Learn from

mistakes. Take Action. Test and Measure. Create clear goals and

a written action plan to help provide a road map to achieve the

future vision. Coaching also provides a baseline for the current

state, pre-coaching, and indicates progress toward the desired

state, post-coaching.

Accountability | Ownership with an Appropriate PACE:

Coaching creates the environment, sets the tone for people

to take responsibility for their growth, and provides built-in

accountability. The coach will check in on the progress made

toward agreed-upon action items from the last coaching session.

This is the power of coaching in action.

Learn more about how you, your team, and your organization

would benefit from an investment with a Professional Business |

Executive Coach. Take a few minutes to connect with a member

of our ActionCOACH ExcelEDGE TEAM:

Certified Coaches Linda Krei, Don Dotson, Carter Krei, Marcia

Erickson, Jason Hamer, and/or our Business Development Team

Jill Madsen and Lillyan Rodriguez. Find us at https://exceledge.

actioncoach.com

At ActionCOACH ExcelEDGE, we

look forward to helping you discover

your EDGE to Excel!

As an award winning, globally recognized,

Certified Executive Business Coach and

Facilitator, Linda would love to help you

take your leadership to the next level.

Siouxland Magazine | Grow/25

A Strong "WHY" | Alignment with Clearly Defined Goals

Thomas Edison, renowned for inventing the light bulb in

1879, said, "Many of life's failures are people who did not

realize how close they were to success when they gave up."

After a thousand failed attempts, he finally succeeded where

Linda Krei, ActionCOACH Excel Edge

712.251.7189

E: lindakrei@actioncoach.com

https://lindakrei.actioncoach.com
---
Siouxland Magazine | Grow/26

Downtown Events Are Back!

By Grace Nordquist

Warmer weather and summer days bring

more activity to downtown Sioux City. There

are so many events being carefully planned for this

year that we want to make sure you know all about

it! To help you navigate all there is to do, Downtown

Partners has brought back our weekly eblasts that

send you an email containing everything going on

for the week. We also want to help you promote your

event downtown. By hosting an event downtown, you

help create the foot traffic and potential customers

needed for our local businesses to thrive. Not sure

where to host your outdoor event downtown? Give us

a call; we have several options to help you plan for an

outdoor venue. Downtown Sioux City has something

for everyone; let us know how we can help you do

more.

Do you know what's happening?

Get a weekly list of events here and always know the

answer: Eblast sign up.

To find out what events are happening downtown, visit

the events tab on our website at downtownsiouxcity.

com. You can also sign up for our weekly email

eblasts. Weekly eblasts contain the possibilities for

the upcoming week and weekend, so you can stay in

the know and check out events that interest you, sent

right to your inbox. Sign up using the web link above

or on our homepage.

Are you holding an event downtown, or do

you want to?

We'd be happy to help you! Post it here: Events

If you're a downtown business/organization planning

an event, or you're an outside business/organization

hosting an event downtown, let us know! We want

everyone to be aware of the fun events you have

planned and can help you promote them. There are a

couple of ways you can share your event with us:

• Tag us on social media. If you create a Facebook

event or post about your downtown event, be

sure to tag us in it.

• Add an event on our website. If you're a

downtown business, you already have a page on

our website. All you must do is claim your

business listing, and then you can upload events

to your page anytime.

• Email us. If you send out an email with your

events and updates, we want in! Add info@

downtownsiouxcity.com to the list.

Live music downtown.

Stay up to date on events and all of the things happening

downtown by following us on social media. Downtown

Partners is excited for events to begin again and

recommends businesses, organizations, and people

attending events to follow CDC guidelines to keep

downtown Sioux City safe and healthy.

Contributed by Downtown Partners, a non-profit

organization that works with downtown stakeholders

to create a vibrant, expanding downtown. To learn

more about Downtown Partners and stay up to

date on downtown projects and events, visit www.

downtownsiouxcity.com.

For more information about Downtown Sioux City, email us

at info@downtownsiouxcity.com.

Photo Credit Adam Gonshorowski.
---
Tri-State Governors' Conference

By Barbara Sloniker

The Siouxland Chamber of Commerce will host

the 17th Tri-State Governors' Conference at the

South Sioux City Marriott Riverfront in South

Sioux City, Nebraska, on July 12, 2021. This event,

which began in 1988, brings together the Governors of

Iowa, Nebraska, and South Dakota to discuss regional

issues affecting all three states. The location of the event

rotates among the three states.

At the first Conference, the Governors executed the

Economic Development Cooperation Agreement of

1988. Through this agreement, the three states committed

to a recognition of the area as a single economic entity,

that its prosperity is a goal common to each state as well

as residents, and that local and state/local partnerships

must be fostered in support of the common goal. The

goal of establishing a positive, cooperative spirit where

geographic boundaries give way to a like-minded desire

to maximize the quality of life for all Siouxland residents

still exists today.

There have been various regional issues discussed at the

conferences during the past 30 years, including housing,

workforce, Missouri River Management, transportation

infrastructure, education, public safety, Tri-State Drug

Task Force, placemaking, broadband, college and career

readiness, and regional economic development. While

our region has enjoyed great success the last decade, and

all three states have received high national rankings in many

categories, there is still more to do. With unemployment

remaining at unprecedented lows, the workforce will once

again be the top issue.

This year we welcome Nebraska Governor Pete Ricketts as

the host, participating in his 4th conference. We also welcome

Iowa Governor Kim Reynolds to her 3rd conference and

South Dakota Governor Kristi Noem to her 2nd conference.

Attendees will have the unique opportunity to learn about

each Governor's experience of leading their respective

states through a global pandemic.

Though Siouxland is a much different region than that

existing in 1988, the need for interstate cooperation remains

critical to realizing our community's full potential. Tri-state

cooperation has served us well in our response to economic

challenges locally and globally the past decade, including

the threat posed by the historic Missouri River flooding

during the summer of 2011 and the COVID-19 pandemic

over the past year. It will most certainly guide our recovery

for the common benefit of all the residents of Siouxland.

Together, We Are Stronger.

Mark your calendar and plan to attend the 17th Tri-State

Governors' Conference on July 12, 2021.

Barbara Sloniker, Executive Vice President, Siouxland

Chamber of Commerce.

Siouxland Magazine | Grow/27
---
Siouxland Magazine | Grow/28

Start Your

Day With

Gourmet coffees, hot breakfast

sandwiches and bakery goods make

your morning just right. For lunch,

choose from steaming soups, tasty

sandwiches, and fresh salads.

Eat in or grab and go!

Crittenton Center

A Legacy of Serving Children and Families

Once known as 'Flo Crit,' a home for unwed mothers,

the Crittenton Center of today is much more. Offering

childcare and preschool, a foster teen program, family

development and parenting classes, we remain true to

our foundation of serving children and families.

We welcome your support as we give vulnerable children,

teens and families hope for a brighter future. Visit

www.facebook.com/crittentoncenter/, call 712-255-4321

or e-mail info@crittentoncenter.org to learn more today!

www.crittentoncenter.org

Order ahead

for pick up!

Text "coffee"

to 474747 to

download the

joe app.

Sioux City • Ho-Chunk Centre

South Sioux City • Flatwater Crossing

Winnebago • Ho-Chunk Village

sweetwatercafe.net
---
Siouxland Magazine | Grow/29

Knife, Fork, or Spoon?

By Peggy Smith

As I was thinking about the theme for this edition

– Expression – I thought about how hard it was

when I was younger to express my thoughts and

ideas in public. I was blessed at the beginning stages

of my career to be given the wonderful opportunity to

participate in the downtown Sioux City Toastmasters

group for a few years. This was a great way to learn the

basics of public speaking and develop good speaking

habits (give a strong introduction, and even stronger

close; leave your audience inspired, challenged, and

hungry for more) and break some bad speaking habits.

(Did you know that at Toastmasters, there is a person

assigned to count all the "ah's" and "uh's" and "um's"

the speaker utters? And the goal is Zero??? Which is

difficult to achieve, believe me!) I strongly recommend

you consider Toastmasters if you know that your public

speaking skills are, ah, uh, um… maybe a little lacking.

Anyone who has been a part of Toastmasters knows

that one of the requirements as you work through

the program to advance to the next level is to learn

to be successful at Extemporaneous Speeches. This

challenging part of the program is when you are

brought up to the podium and given a topic with no

advance notice or ability to prepare and immediately

need to deliver a 3 – 5-minute speech. Believe it or not,

some people find this fun! I still remember my topic for

my first Extemporaneous Speech – "If you had to be a

fork, knife or spoon, which would you be and why?" At

the time, I couldn't imagine a more challenging topic.

Now, I realize I got off pretty easy!

I still remember that I chose spoon but don't remember

how I expressed my reasons for this choice. However,

I have given some thought to my personality over the

years and am happy to stay with the "spoon" decision.

I have learned over the years that I am not a knife – a

utensil that cuts and divides. I am not a fork, a utensil

that can poke and lift layers to decipher and analyze

each component. No, I am a spoon – softer edges

and a utensil that does stir things up (but gently) and then

is used to gather together and lift the portions. In real life,

as a person, not a spoon, I work hard at gathering people

of differing backgrounds and experiences together and

stirring up good conversations and discussions; and then

lifting each person individually and jointly to help them stand

on their own AND stand together. I have learned enough

about myself to express myself in different ways that others

can relate to, also. Everyone knows what a spoon, fork, and

knife are, explaining personalities by using common utensils

can help people truly understand different techniques and

styles.

Learning to express your ideas and thoughts clearly,

respectfully, but honestly is an important skill. A considerable

component of Leadership Siouxland's curriculum is to

provide training on how to have difficult conversations and

how to have conversations that are inclusive vs. divisive; that

are conversations in which the participants seek to listen to

understand vs. listening to persuade or disagree. Expressing

our viewpoints in ways that encourage discussion and open

dialog is of utmost importance. Within the class, it is a safe

environment built on trust and the common desire to learn

and grow together.

If you have a desire to improve your leadership skills

and ability to express yourself and your viewpoints and

experience the delight of learning from others, please

consider joining our next class. Applications are now

being accepted. Go to www.leadershipsiouxland.org or

Leadership Siouxland on Facebook, or contact me at 712-

898-8594.

Peggy Smith, Executive Director for Leadership Siouxland.

Leadership Siouxland is an organization dedicated to

developing diverse, informed leaders who shape our

community for today and tomorrow.
---
Yesterday.

Today.

Tomorrow.

A Station for You.

A Station for Everyone.

Join the Conversation.
---
Siouxland Magazine | Grow/31

Sioux City Growth Organization Members

2021 Innovation Market

By Nolan Shook

As we make our way out of the pandemic and

businesses open up, new companies are beginning

to blossom around Siouxland. May marked Sioux City

Growth Organization's 11th annual Innovation Market event,

and local entrepreneurs were eager to make their pitch ideas

to compete for money for their start-ups.

This year's event was held at the new Expo Center and

featured more than 20 submissions for new business ideas

in Siouxland. Concepts for the businesses included food

trucks, an insulation company, a subscription service, and

more. Competitors met to give their pitch on May 4th to a

crowd of about 150 people.

Innovation Market What's Your Big Idea?

After the crowd had voted, five finalists moved forward to the

pitch event in June for the chance to win the grand prize of

$5,000. These finalists include Jefferson Beer Supply, Brutal

Doodles, Yours Truly Gift Box, themarketdelivers.com, and

Bubba Yah's Bark Bar. We wish the competitors the best of

luck as they compete to make Siouxland a better place!

Photos Contributed by Leadership Siouxland.

Sioux City Growth Organization welcomes progressive

and innovative ideas. As a group, we work to put these

ideas into action and build the momentum to take Sioux

City into the future.

Nolan Shook, Marketing Board Chair for Sioux City Growth

Organization, Owner of Shook Handyman Service, and a

Realtor for Keller Williams.

Innovation Market.
---
Siouxland Magazine | Grow/32

Siouxland Magazine is proud to host the

10th annual 2021 "10 Under 40"

competition! The highly anticipated issue comes

out in September, featuring young professionals in

Siouxland who are making a real difference in our

community. We are currently accepting

nominations. Visit siouxlandmagazine.com

to find application form. Deadline: July 20.

2020 Winners

Want a new career?

Start a home child care business!

Child Care Resource & Referral (CCR&R) can help you begin to take

steps towards opening a home child care business.

CCR&R can provide the foundation for your family child care home to be

successful!

We are a FREE service to help you start and grow your child care

business. Our resources and assistance will help ensure that you provide

a high-quality learning experience for children in your community.

Visit iowaccrr.org

Start your new business today!

Funding provided by the Iowa Department of Human Services through the Child Care Development Fund.
---
Getting Out of Survival Mode and into Expansion Mode

By Todd Rausch

As I sit down to write this today, I cannot help

but notice that many business owners seem

to be still in survival mode. This pandemic has

caused us to focus most of our efforts on the survival

of our business and not look far ahead or make plans

for the next two, three, or five years.

While that is completely understandable, it does not

help our businesses in any way. If we aren't moving

forward to our goals, we are moving away from them

as time passes on. So, what are we supposed to do?

Really, as harsh as this sounds, shake yourself off and

get on with life. Yes, there are still risks involved, but

our businesses don't thrive in survival mode, which is

doing only the bare minimum to survive. This in itself

brings a slow death to any business as we start to

focus on the negative and not the positive.

Currently, there are many businesses that are doing

precisely the opposite, and encourage you to

reach out to any owners you might know who are

in expansion mode. They are actively engaged in

growing their business and thriving in a time when

most aren't. Being around those kinds of owners will

help you to succeed as well.

In the eight years that I have been doing this, I have

never seen anyone in survival mode survive as a

business. It may take a few years, but eventually, they

have to close their doors. At the same time, people

in growth or expansion mode can also fail, but it is

usually because of expanding too fast for their cash

flow instead of simply staying stagnant.

Being around people like her can only lift you up and not

drag you down. Staying in the positive yet not Pollyanna

thinking will lead you to find new ways to increase sales,

grow the business, find new products or services that

match your vision for your business.

All of these things matter and are critical to the success

and life of any operation to include the SBDC. As we go

forward and people start wanting to get "back to normal,"

remember that we are here to help you wherever you may

be in your business. It is our purpose to help you succeed!

We exist solely to help small business owners thrive and

achieve their goals. It is what we do.

Sometimes, we don't have the answers, but we have a vast

network of people who will know someone who will have

the answers. You are not alone. When my first business

failed back in 92, I didn't know who to talk to or reach out

to help me. I felt I was going to have to figure it out myself.

Well, that didn't work out so well. Today, with all of the

service providers in our area, there is no reason to have

to figure it out yourself. Yes, you have to make the final

decisions. But there are a lot of smart people in the area

who are willing to help you.

Have an awesome summer and remember to start thinking

about growth and expansion instead of just getting by

and barely surviving. This could be your time to thrive!

Todd Rausch, Regional Director for the Small Business

Development Center at Western Iowa Tech Community

College. | 712-274-6454 | Todd.rausch@witcc.edu

Siouxland Magazine | | Grow/33 / 39

I look at Stacy as a great example of someone who,

has grown her business through plenty of challenges,

and continues to grow it through this pandemic.

America's SBDC Iowa provides free, confidential,

customized, professional business advice and consulting

in all 99 Iowa counties to entrepreneurs.

"Everyone has their own ways of

expression. I believe we all have a

lot to say, but finding ways to say

it is more than half the battle."

– Criss Jami, Salomé:

In Every Inch In Every Mile

America's SBDC Iowa provides free, confidential,

customized, professional business advice and consulting

in all 99 Iowa counties to entrepreneurs.
---
Siouxland Magazine | Grow/34

My discovery and involvement with OsteoStrong has truly been a blessing.

When I found out I had osteoporosis, they recommended I start immediately on a

series of shots. I took the shots for about five months, once a day in my stomach. I

never felt comfortable taking the shots, it just didn't set with me very well, so I quit.

One day I was reading in the Siouxland Magazine about OsteoStrong; I

showed the article to my husband, and we both agreed, why not try it - what

did I have to lose. Well, now after a year, I have found I had everything to gain.

My last test results from my doctor have shown an improvement over the first

reports I received.

I can only say two things: Thank you, OsteoStrong, and Praise the Lord for

their program!

– Bonnie T.

712-522-5675

5001 Sergeant Rd. Suite 265, Sioux City, IA 51106

Are your crayons out of school

for the summer?

Bring them into Lohr Family Dentistry

for a check up and cleaning!

lohrfamilydentistry.com

712.255.1163

2918 Hamilton Blvd.
---
Expressing Yourself Through Your Brand

By Stacy Orndorff

After many years in the business field and a

lot of trial and error, I finally got it right with

my current business, Coffee & Nosh. I realize

now it was because I finally decided to express

myself directly through the brand. In the past, as an

entrepreneur and creator, I strived to create business

concepts that customers would want; in the end, they

ended up too sophisticated, boring, and a bit stuffy.

In doing so, I lost myself in the angst and frustration

of running a business I felt no connection to at all. I

was none of those things and found myself asking

why I wasted time and energy on brands or concepts

I don't love?

Siouxland Magazine | | Grow/35 / 39

I finally decided to abandon the typical business

model and put my heart, soul, and personality into a

brand. Finally, I got it right with Coffee & Nosh, which

quickly became a place to express myself fully. I can't

stress enough to those in the business world, or any

field for that matter, to find your niche. Figure out

what makes you unique and passionate and infiltrate

it into the core of your business. Our customers often

comment on the brand and its energy. Since taking

the leap of faith and putting myself, literally, into my

brand, I've adopted the saying "Your vibe attracts

Stacy Orndorff with Coffee & Nosh.

your tribe" because it truly does. And when you attract

your people, it makes coming to work every day super

fun and enjoyable."

Photo credit Jayson Hinrichsen.

INNOVATIVE BUSINESS

CONSULTANTS

712-277-2424

www.ibcins.biz
---
alance

Inside and out.

Sunshine is food.

Grow Lighter

By Hali Benson

Are you someone who falls culprit to fatigue?

Often running on an afternoon pick me up whether it

is the carbs/sugar or even caffeine to help you keep

going? Fatigue is often overlooked because of the

busy world we live in today. We are usually running

on little sleep, starting our days with electronics, overcaffeinated,

dehydrated, irritable, and too busy to

notice.

ASHWAGANDHA

This incredible herb has been shown to decrease

anxiety because of its support to the adrenals. When

we think about our body's needs for regulating their

response to our environment's stressors, we want to

be able to feel calm and available to respond with

clarity — that is how ashwagandha is helpful; it creates

a balance for our adrenals to work the way they are

designed. It also has powerhouse anti-inflammation

properties along with regulating blood sugar levels.

Ashwagandha can be taken by a capsule, or if you're

like me — you can take it in powder form as a shooter

every morning.

ADAPTOGENIC MUSHROOMS

Reishi, Chaga, Turkey Tail, Lion's Mane, Cordyceps, Shiitake

maybe you've heard of some of these or even noticed

how more and more people are finding out about all the

wonderful benefits to these magical mushrooms. Regularly

eating or supplementing these mushrooms isis vital for the

human body to navigate life because they are excellent for

the immune system, adrenals, anti-inflammatory, and have

been known to help the body adapt 'adaptogenic.' You can

find a mixed mushroom, or isolate one at a time, knowing

what each one brings to the table. I am drinking mine as tea

with a combination of reishi, chaga, and lion's mane for their

immune-boosting traits.

TIME MANAGEMENT

We live in a world where being overworked is praised or

looked at as hard-working and this needs to be addressed.

Your precious energy should be guarded — like a pot of

gold. You don't want to give it all away the minute someone

asks, right? Slowing down, looking at where you are dividing

your time and choosing where you want to invest yourself

is crucial for owning your life. This includes but not limited

to: guarding your sleep schedule, guarding the time you
---
eathe

clarity

nutrition

flexibility

want to spend with family, time you need to move your

body, time spent alone and doing things that bring you

joy. Having a healthy boundary around the times you

cherish is essential for fighting off a burn out later.

SUNSHINE

This essential vitamin is usually over administered

(spending hours outside is just as harmful) or nonexistent,

sunshine should be a daily regimen like taking a vitamin

orally. Sun exposure is great for us for the enrichment

of Vitamin D but also as a natural mood-booster,

prevention of cancer, improves the health of your eyes,

and creates a healthy immunity. Spending ten minutes

outside with your face, hands and belly exposed to the

sun is the best way to get the absorption from the sun

without the harmful chemicals found inside of sunblock.

Creating a routine for yourself that you can find a place

to sunbathe even within the home should be at the top

of your list.

SEAWEED

Need a way to supplement iodine, tyrosine, many of

your B vitamins, protein, essential amino acids and get a

good source of omega-3 fats? Seaweed is your friend! It

has been shown to reduce free radical damage, support

your thyroid function, promote gut health and improve

blood sugar control. There are various types of seaweed

and maybe you recognize some of these names: bluegreen

algae like chlorella and spirulina, green/brown

algae like nori, kelp, Atlantic dulse, wakame. The green/

brown algae is great for cooking, adding to soups, stews,

dried sprinkled on salads or stir fried vegetables. The

blue-green algae are wonderful supplements and can

even be found in some plant-based protein powders!

A few notable mentions: moving your body daily,

spending time in nature, connecting with loved ones,

drinking plenty of water, quiet time to yourself, and

reading are all great ways to slow down, creating a life

that is free from stealing your time and your health.

Hali Benson, a certified Holistic Nutrition and

Wellness Practitioner, helping clients heal

through nutrition, yoga and mindfulness. You

can find her under the name of Blossom Services

at https://blossom-services.com/.

Photo Credit Coral Mia.

Here's a recipe with healing benefits

that is simple and satisfying:

Ingredients:

4 cups of Vegetable Broth

1 cup water

1 Medium Onion, chopped

2 Large Carrots, chopped

2 Celery Stalks, chopped

2 Fennel Stalks, chopped

1 4oz jar of artichoke hearts, halved

10 cloves of garlic, chopped

1 can pinto beans, drained

1 bay leaf

1 tsp ground cumin

1/2 tsp turmeric

1/2 tsp ground black pepper

A few sprigs of fresh dill, chopped

1 bunch of kale, chopped

1 handful of dried Nori leaves

Directions:

Add 1/4 cup vegetable broth to the bottom of

your pot, add all the vegetables through artichoke

hearts and sauté for about 5 minutes. Add the

rest of the broth and water along with the rest of

ingredients leaving out the kale, nori and fresh dill

till the end.

Get the liquid up to just before a boil and reduce

heat to simmer. Allow to cook for 35-40 minutes.

Add the kale, nori and dill and let sit for another

5 minutes.

When serving you may add fresh cilantro, avocado

or a squeeze of fresh lime. Salt individual bowl to

taste. Enjoy!
---
Siouxland Magazine | Balance /38

Sawyer in full expression of her love and shining light through movement and dance.

'Express Yourself': The Art & Practice of Accessible Yoga

By Dr. Meghan Nelson

Yoga is for EVERYbody—simple statement.

Revolutionary idea. Inflexible: perfect, try

yoga. Are you too stressed? Again, perfect, yoga can

help. And the best excuse of all, "I'm too busy." When

I hear this one, I think of the wisdom that everyone

should meditate for at least 30 minutes a day unless

you don't have enough time. Then you should

meditate for an hour.

It's the cruel irony of our human condition that we are

constantly undermining our success. It's true even

in business. We seek out pain points—problems to

solve. We get a meeting with a CEO or a president

of an organization, and we ask questions like, what's

keeping you awake at night?

Of rejection. Of acceptance. Of showing others and

ourselves who we truly are. So, we give reasons why we

don't come to our mats, and why we don't go for that

run or walk, why we make poor choices around food,

relationships, you name it. There is no shame in this

game. It would seem this is how we're programmed. It's

at least what we're fed—that we're inadequate: we're too

fat, too ugly, too much fill-in-the-blank. It's why we need

diets and makeup and pharmaceuticals whose sideeffects

outweigh their cures.

A yogic life forces one to ask a different question:

When do you feel like your most authentic Self? We

spend a lot of time staring at shadows when we could

be basking in the light. We focus on what makes us

fail instead of the moments of shine.

Why do we deny the world, our communities, our

families, ourselves the magnificence, the divinity of

our most profound self-expression?

Fear.

Sawyer beaming her proud and open heart open to

share the possibilities of love out to the universe.
---
Yoga, of course, shows us another way. That age

carries wisdom. That weight brings opportunities.

That our true beauty resides beneath the surface. That

what makes us different makes us unique. That we are

all expressions of divine creation, of God's presence

in the world.

This is the heart of accessible yoga.

My role as a yoga teacher is to help those I guide (re)

discover the majesty of their unique expressions. I

recall the excitement of having my daughter, Sawyer,

join me for the final week of my Yoga for the Special

Child training with Sonia Sumar in New York City.

Sawyer and I began practicing from her book when

she was just three weeks old. As Sonia assisted with

the locking and lifting of extremities into Bow Pose,

Sawyer was independent and shined her loving and

proud heart open for the world. That was the moment

when a lot of my fear vanished—that moment when

I saw my beautiful little girl expressing herself. In

the six-plus years since that training, I've benefited

from witnessing students of all needs, backgrounds,

and abilities expressing themselves with their body,

breath, and being.

When you witness people shining their light, the

last thing on your mind is what's wrong with them.

God doesn't make junk—we're all lovable. So, there's

nothing wrong with a person with disabilities. They

didn't create the barrier—the rest of us did. The

impairment is the prejudice, the stereotyping, and the

discrimination that arises in people and organizations

who are often too inflexible in their thinking as in their

processes and procedures.

Some of the key ways we can all engage in these

efforts to value the varied and unique expressions of

those we serve are:

• Speak with compassion and clarity through nonviolent

communication. Avoid creating a hierarchy

of poses or awarding "going deeper" and setting

expectations. Assist in noticing the body and giving

the body what it needs to experience the expression

of the pose. There is no "greatest expression of the

pose" which correlates with anatomical alignment.

The greatest expression of a pose is where one

is being aware, celebrating the self, expressing

feelings through movement, postures, and gestures.

• Avoid ableism, discrimination in favor of 'ablebodied'

people—the idea that there is a particular

way the body should be and that this is superior.

We do this when we put higher value in "advanced"

poses, or when we use language that suggests that

props minimize your ability in a pose.

• Feel it, remember, there are no such thing as

bad feelings and good feelings. Feelings are

expressions of the energy moving through you.

Lily always bring her energetic side to her mat and

expresses her positive energy and love in Wild Thing.

Stop and notice. This may be giving you a signal

to pay closer attention. Reflecting on Self will allow

a deeper connection and understanding with the

Self. This freedom, this autonomy to simply be, is the

pathway to self-discovery and transformation.

• Be present by creating a trauma and resilienceinformed

space and practice based on safety,

predictability, and control. Encourage those you love

and serve to have an autonomous practice where

they can express their own self in this experience

within their own unique body, mind, and spirit at that

moment.

We all have a role to play. And we all deserve some

space to be who we are and to express that being in

our own unique love and light.

Spread the word. Share the love.

Dr. Meghan Nelson, a licensed physical therapist

and professional yoga therapist with a passion for

using yoga as medicine for optimal health, injury

prevention, and overall health and wellness.

Meghan is co-owner of Lumin Therapy, which

provides integrative healing of the mind, body,

and spirit through the practice of physical therapy,

medical therapeutic yoga, and mindfulness.

Photo Credit (left page) Britton Hacke Photography.

Photo Credit (right page) Meghan Nelson.

Siouxland Magazine | Balance /39
---
Siouxland Magazine | Balance /40

Ask the Therapist

By Gladys Smith

Question: My son seems to have some of the

symptoms associated with Attention Deficit

Hyperactivity Disorder, but he's far from

hyperactive. He can be forgetful and spacey

at times, but he doesn't have behavior issues.

Can you tell me more about this disorder?

Response: Attention Deficit Hyperactivity Disorder

(ADHD) and Attention Deficit Disorder (ADD),

commonly referred to as cognitive disorders,

encompass a combination of symptoms such as

difficulty sustaining attention, hyperactivity, and

impulsive behavior. Children with ADHD and ADD

are often seen as having behavioral problems. In

an article written by Dr. Thomas Brown, M.D., 2021,

"many people living with ADHD didn't have any

significant behavior problems: they have difficulty

focusing their attention on necessary tasks and

using working memory effectively." Those with

this disorder struggle to engage in the 'selfmanagement

system' located in the brain. Studies

in neuroimaging have shown a structural difference

in the brains of those with ADHD/ADD that play a

role in focus and attention. What has often been

considered behavioral choices – laziness, sloppiness,

and forgetfulness – can be attributed to differences

in brain structure.

There are three subtypes of ADHD. With the

Predominantly Inattentive type, the majority of

symptoms fall under inattention. The child may often

fail to pay close attention to details, have trouble

staying focused on tasks/play, appear not to listen,

have difficulty organizing tasks, and avoid tasks

requiring focused mental effort.

The Predominantly Hyperactive/Impulsive type

is characterized by hyperactivity and impulsive

symptoms. The child may often fidget with or tap his

or her hands or feet, have difficulty staying seated,

have trouble doing activities quietly, be in constant

motion, talk too much, and have problems waiting

their turn.

The Combined type is a mixture of inattentive

symptoms and hyperactivity/impulsive symptoms.

The child may exhibit symptoms in both the

inattentive and hyperactivity/impulsive subtypes

with the combined type.

In his article entitled, "3 Defining Features of ADHD

That Everyone Overlooks," William Dodson, M.D., LF-

APA, 2021, highlights three significant characteristics

of ADHD/ADD that influence one's "perceptions,

emotions, and motivation."

Send Your

Questions to

the Therapist.

The first feature is what Dodson, 2021, refers to as the

Interest-Based Nervous System. This particular feature

can be recognized as an "intense concentration on a

task…that is created by a momentary sense of interest,

competition, novelty or urgency created by a deadline".

With this feature, the child's nervous system is interestbased

as opposed to importance or priority based.

The second feature is Emotional Hyperarousal. This

feature is characterized by "internal feelings of hyper

arousal". It can be recognized by a difficulty relaxing and

sitting still and an inability to shut down the brain and

body at bedtime. An additional feature of emotional

hyperarousal deals with one's thoughts and emotions.

Children with ADHD tend to have what Dodson, 2021,

refers to as "passionate thoughts and emotions that are

more intense than those of the average person" Dodson

goes on to say that these children ``experience happiness

and criticism more powerfully than others".

The third feature is what Dodson, 2021, refers to as

Rejection Sensitivity. This refers to an "intense vulnerability

to the perception, not necessarily the reality, of being

rejected, teased or criticized by important people in

their lives". These feelings of rejection cause "intense

emotional pain that may also be triggered by a sense of

failure or falling short", Dobson, 2021.

The process of diagnosing ADHD/ADD involve tests and

interviews focusing on symptoms, a thorough medical

history, and evaluation of other conditions that are

commonly diagnosed with ADHD (Obsessive Compulsive

Disorder, Oppositional Defiant Disorder, Mood Disorder,

Anxiety and Autism Spectrum Disorder). In order to

meet the criteria for ADHD/ADD, there needs to be a
---
consistent pattern of inattention and or hyperactivity

that interferes with daily functioning in at least 2 settings

(e.g., school/home/job).

The recommended treatment for ADHD/ADD is often

a combination of medication, behavior therapy and

counseling. Medications are commonly prescribed

to help improve symptoms of inattention and

hyperactivity. Behavior therapy focuses on working

with the child to develop strategies to help them better

deal with challenging situations. Counseling provides

the child with the opportunity to talk about the issues

they struggle with and learn new and different ways to

deal with these issues.

Learning how to best parent a child with ADHD/ADD is

an integral part of helping the child to be successful. It's

important for parents to educate themselves on ADHD/

ADD and how your child is impacted by it. Helping

them to understand their disorder and communicating

to them that it's not their fault can aid in supporting a

healthy self esteem. When teaching your child new

skills, or asking them to complete a task, it's important

to provide them with clear expectations, while focusing

on one task at a time, to help them avoid feeling

overwhelmed. In regard to discipline, children with

this disorder do best when it's done in a caring and

supportive manner as they may be sensitive to criticism.

Parenting a child with ADHD/ADD can be challenging,

but luckily there are many resources available to help

support and guide you in caring for your child.

You can send your questions for "Ask the Therapist"

to gladyss@mentalhealthassoc.com. Please put

"Ask the Therapist" in the subject line.

Gladys Smith, a Licensed Independent Social Worker

with Mental Health Associates, who has over 35

years of clinical experience in inpatient, outpatient,

and residential settings. Although she provides

therapy to adults and families, she specializes in

working with adolescents who are struggling with

mental health, behavioral and substance disorders.

Gladys is a co-founder of Soul Creek Nature Therapy

that focuses on offering peace and healing through

a connection with nature.

Child Care Services

CCR&R is your resource

for all things child care!

Parent Referral Hotline

855.244.5301 or

www.iowaccrr.org/families

Parent Specialists offer referrals to parents

for information on child care openings and

no-cost education and guidance on selecting

the best child care program for your families.

Map for Child Care

Programs with Vacancies

bit.ly/2wxr6J1

The Department of Human Services along with

Child Care Resource & Referral are updating

this list daily for essential staff to access.

Resources for

Child Care Businesses

www.iowaccrr.org/providers

Access information that is needed to support

your child care business.

Siouxland Magazine | Balance /41

Photo Credit Carolyn Goodwin Photography.

Funding provided by the Iowa Department of Human Services

through the Child Care Development Fund.
---
Siouxland Magazine | Balance /42

Cultivating your Ability through your Vulnerability:

The Yin and Yang of Mindfulness Self-Compassion

By Dr. Nesrin Abu Ata

Do you ever wonder how you can cultivate what

you feel like a weakness and vulnerability in you into

courage and ability? Brene Brown points out how we all

admire the courage and daring in others, but when it comes to

ourselves, we may be paralyzed by shame, fear, or other selfjudgments

passed on to us from cultural expectations. If you

have that inkling of wondering about how you can cultivate

your vulnerability into ability, then you are courageously ready

to take the next step of transforming your heart.

Are you still with me, or did you move on to the next article

because you feel uncomfortable or afraid reading these

words? Sit with these feelings, feel them in your body. What

are they about anyway? What message do they have for you?

Did I say you're transforming your heart? Yes, I did, because

this kind of vulnerability work takes courage and bravery,

which come from the heart. While the mind is excellent at

analyzing and planning how to do things, it is not equipped to

step into the unknown and uncharted territories. The latter is

the territory of the heart. The mind likes to navigate the surface

of life that it can grasp, measure, compare and map out, while

the heart holds the compass of what is important to us and

showing us the way to what is primarily important to us, from

relationships, hopes, dreams, values and much more. The

heart can be the crucible holding the fires of transformation,

burning needless fluff that gets in the way. Simultaneously, the

essential precious, valuable gifts of your life emerge, having

survived the purification in the crucible of trials.

Kristen Neff and Christopher Germer developed Mindfulness-

Self Compassion (MSC) practices that teach you to transform

your vulnerability into amazing abilities. They refer to it as the

Yin and Yang of Mindfulness Self-Compassion. MSC helps you

cultivate new relationships with yourself and your experiences

in your life.

PART 1: There are three elements of Mindfulness Self-

Compassion (MSC):

• Self-Kindness: You are likely kind and considerate towards

your friends and family when they are suffering or

struggling or feeling inadequate. You probably ask them

what they need and consider what you can do to help

them. Interestingly, most people do not apply that kindness

towards others to themselves. Take a moment and reflect

on how you approached yourself lately during a difficult

or challenging time. Did you judge yourself? Were you

self-critical? If you answered yes, welcome to the rest of

humanity! You are not alone in treating yourself like this.

Self-kindness encourages you to end self-criticism and

open your heart to yourself, responding to your suffering

as you would respond to a dear friend in need. And as you

accept yourself without judgment, you may also soothe,

comfort, and care for yourself. With self-kindness, you learn

to self-nurture, offering support and encouragement to

yourself the way you would to a friend.

• Common Humanity: If you answered yes to having selfjudgment

towards yourself in the previous paragraph, you

are not alone because most of us do it to ourselves. Sit with

that for a second and repeat to yourself, "I am not alone."

How did that feel in your body? One of the challenges with

self-judgment is that it makes you feel isolated and cut off

from others. Self-judgement inherently brings with it selfseparation

from others. As though your problem or difficulty

is yours alone, and you are the only one dealing with it,

and nobody else has dealt with it. The more isolated you

feel, the more you judge yourself, which causes you to feel

more isolated. Do you see how the vicious cycle goes? Selfcompassion

is embedded in the sense of interconnection

and a common humanity: the pain you feel in a difficult

time is like the pain your friend feels in difficult times. With

self-compassion, every moment of difficulty, of vulnerability,

that you feel is a moment that you can feel closer and more

connected to others.

• Mindfulness: Mindfulness is an awareness and a practice

of paying attention to the moment, without judgment and

in the present moment. It neither exaggerates, avoids,

or resists the current present experience. In this sensory

awareness of your experience, you become aware of your

feelings and thoughts and can be with them as they simply

are, without judgment or emotional charge.

You may be wondering what putting the three above ingredients

(Self-kindness, common humanity, and mindfulness) together

might resemble? The acceptance of what is that mindfulness

brings helps lessen self-judgment, which helps to recognize

our common humanity. Self-kindness reduces the impact of

negative emotions, which makes it easier to be mindful of

them. Do you see how this healthy cycle helps you cultivate

your vulnerability into an amazing ability to brave through life?

Now that you have learned about the three ingredients of

Mindfulness Self-Compassion, how can you apply them

to transforming your vulnerability and living from your

courageous heart?
---
Part 2: The Yin and Yang of Self-Compassion:

Self-Compassion has two seemingly opposite sides that are

essentially complementary to each other and interdependent. This

is like the Yin and Yang in traditional Chinese philosophy. One side

cannot exist without the other, and each is called upon at different

times. The yin of self-compassion involves being with yourself in a

compassionate way. The yang of self-compassion is about how you

act in the world.

Yin

• Comforting: This is something you likely do for a dear friend who

is struggling. And just as you provide that to your friend, you can

direct that to yourself by providing support to your emotional

needs.

Siouxland Magazine | Balance /43

• Soothing: You may provide this to your friend by getting them a

hot cup of tea. When you bring soothing to yourself, you provide

comfort to yourself, and as a result, feel physically calmer. You may

place your hand on your heart or go out for a walk.

• Validating: This involves understanding your experience exactly

as it is, no more and no less, and talking to yourself in a kind and

gentle manner.

Yang

• Protecting: This involves you feeling safe, setting boundaries, and

saying no to others who are hurting you.

• Providing: This involves first knowing what you need and then

trying your best to meet your need to the best of your ability.

• Motivating: You, like all of us, likely have behavior patterns that you

would like to change as they don't serve you and don't align with

your values. You, like all of us, likely have hopes and aspirations that

you want to pursue. Yang self-compassion motivates and supports

you the way a coach or a mentor does, without hard criticism. (PS:

if your mentor or coach brings hard criticism, it is time to find a

different coach! That is part of setting boundaries and providing

for your needs!).

Writing this article was not easy because it took courage and

facing my vulnerability, reflecting on my journey in my mindfulness

self-compassion. If you have read through this article till the end,

congratulations, my friend! You kept yourself motivated, knowing

your needs and meeting them while comforting, soothing, and

validating your experiences. The journey of a thousand miles starts

with one step and one breath. Welcome to your own journey towards

your mindfulness self-compassion, joining the rest of us on this path!

Check out Kristen Neff and Christopher Germer on Mindfulness

Self-Compassion.

See you on the other side of MSC!

Dr. Abu Ata is a board-certified psychiatrist and family medicine

physician in private practice, providing holistic care for the mind,

body, and spirit in the context of personal growth and relationships.

Offers a mindfully cultivated practice of presence and expertise. Her

healing practice draws on her mindfulness, yoga, family medicine, and

integrative psychiatry training to weave a unique tapestry supporting

your YOU-nique journey. Connect at www.nesrinabuatamd.com or

drnesrinabuata@gmail.com.

Looking for Child Care?

We Can help!

Choosing quality child care may be one of

the most important decisions your family

will make, there is a lot to consider. CCR&R

Parent Referral Specialists can assist you!

Call our Parent

Specialists

• Customized information on child care

options that match your needs

• Parent resources to help choose a

quality child care provider.

• Our services are free

Call CCR&R to discuss your

child care options:

855-244-5301

or visit our website for an online

selection of child care referrals

www.iowaccrr.org

Funding provided by the Iowa Department of Human Services

through the Child Care Development Fund.

Photo Contributed By Dr. Abu Ata.
---
Siouxland Magazine | Balance /44

Paint becomes a way for Molly to heal and inspire healing.

The Art of Healing

By Emily Larson

Expression through an art form creates a

pathway to the authentic self. As members of this

human family, each of us share a common journey in

getting to know this self because intimately knowing and

expressing the self means we are living in harmony with

its authentic, divinely given purpose. When we live truly

and harmoniously in this way, we can flow and thrive as

individuals and nourish our collective community. The

challenge is that our quickly advancing and expanding

world does not seem to like just to be. This pausing to

look in on the self is very important in getting to know

the self. For example, as I have started to show when

we leave traumatic experiences or difficult emotions

unprocessed, it can create dis-ease. That unprocessed

and buried anger or fear follows us into our daily lives,

presenting itself as depression, physical pain, and even

illness. Through my introduction of healing modalities,

I hope to show you ways to slow down and just be in

this world that keeps going and going. It is okay to need

a specific time to pay attention to your pain, to get to

know it. So that you can transform it, this time, we will

explore how creating and expressing oneself through art

or creative medium helps heal deep wounds and allows

the soul to see and be itself.

Molly Pace, Art Therapist and Licensed Mental Health

Counselor, helps shed light on just how important it is

to tap into this creative nature as human beings with

brains. Remember that thing we always hear about the

left and right side of the brain? The left side of the brain is

known as the logical and analytical center. This inner critic

calculates and deciphers threats and how to survive (This is

also associated with the natural stress dominant state known

as the "fight-or-flight" response). The left side of the brain

also helps us produce language and use communicable

words for the people around us to hear and understand.

For example, when asked, how are you feeling? You might

respond with "I'm good" or "I'm feeling okay." The logical left

brain is helping you form those words to respond. But what

happens when we need to express things that are hard to

put into words?

Molly does art journaling and drawing to express her

inner world.
---
If I asked you, "How are you feeling?" and you could with

a different form of expression besides words (Whatever

your medium, be it painting, dancing, singing, making

toothpick sculptures, or writing magazine articles). We

might get a more authentic answer from the right brain,

which is known as our creative center, the side of the

brain we use primarily when creating art or experiencing

emotions.

By no coincidence, it seems this is also the side of the

brain in which we store traumatic experiences and

emotions that can be difficult for us and our brains to

process or express fully.

Siouxland Magazine | Balance /45

These days, it is also important to acknowledge the

conditioning associated with expressing difficult things

like a traumatic experience or a painful emotion. We learn

to keep these things hidden and left unheard so that we

can "suck it up" and be the professional businessperson,

the strong mother, or the helpful teacher. These are all

valuable aspects of ourselves we have learned, yet with

unacknowledged emotions and experiences locked

inside, they can feel like masks covering the truth within.

Our hidden emotions will manifest as a dis-ease like

depression, anxiety, and insomnia, making it challenging

to beam our true selves through our different aspects as

the businessperson, mother, or student.

Molly teaches us that authentic expression of our inner

world begs for more than the words of our critical right

brain. Thus, art is the hero of the story, the bridge to

our healing. Drawing, dancing, painting, writing, and

creating can help us transform our depression and

anxiety authentically to express what has been locked

away or banished as unacceptable: our anger, our pain,

and our trauma. So, when we make art, we access the

creative right side of the brain and begin to express

the emotions and experiences to which we cling by

representing them sensorily outside ourselves. This is

why you can see or feel an artist's anger upon seeing her

painting or a musician's love when hearing his song.

Rather than using primarily the right brain to say "I'm

angry!" Or "I'm in love!", the creator of the art can more

fully and authentically express an answer to the question

"How are you feeling?" Anger becomes bold, sweeping

brush strokes and bright red paint. The experience and

duality of being in love becomes somber melodies

that pull on the heart. Painful memories become the

embodied movements of dancing.

It only takes a moment's reflection to realize it is hard

to put into words how it actually feels to hear love in a

song or create an angry painting. This is because the

left analytical and language-producing brain has to take

a back seat so we can access the wordless yet creative

world of the right brain. This true expression of our inner

world is simultaneously an act of true expression of

our authentic selves.Thus, creative expression through

art, any form of art, is yet another way we can heal our

wounds and fully live our true purpose as a professional

businessperson, a strong mother, and a helpful teacher.

Brain McCormick a lovingly remembered and missed

member of the Sioux City Community participates in one

of Mollys group soul painting classes.

True and creative expression can not only help us free the

burden of hidden emotions and painful experiences, but

it also helps us become the most authentic and evolved

version of ourselves. When we live from our truth in this way,

it naturally serves a grand purpose in the greater community.

For example, Molly sees and expresses herself by creating

cosmic, intuitive, and soul-driven artwork that can also, at

times, resemble the inside of an enchanted geode. Creating

these paintings and drawings allows Molly to express the

complexity of her unique self which is nearly impossible to

cover with words alone. She practices Art Therapy, teaches

astrology classes, makes beautiful artwork, and has a family. I

could continue to say different ways to identify and describe

Molly and her artwork, but only witnessing it will offer a

window to her soul.

Creating paintings naturally becomes Molly's gift as she

then offers her artwork into the community and also utilizes

this discovered purpose to help her clients heal and see

themselves by creating their own artwork. Thus, the true

expression of self through the art mediums of her choosing

allows Molly to live in harmony by nourishing both herself

and her community.

As a massage therapist, I have learned to deeply appreciate

the complexity of the human body. Molly helps grow this

appreciation as she highlights our ability to reach out into

the world and express the true self through any creative

medium we choose. Even if we have to dig through layers

of trauma and fear to find the self, we can channel these

experiences and emotions through the artwork we make and

begin to heal those wounds. In our healing, we contribute to

the evolution of both our individual selves and the collective

human community.

Emily Larson, Licensed Massage Therapist, Private Yoga

Instructor, Bachelor of Science in Kinesiology and Human

Performance, Co-Teacher of Anatomy for massage

therapists at the Bio-Chi Institute, Mother to Noah.

Photo Credit (left page) Sarah Ann Photography.

Photo Credit (right page) Molly Pace.
---
Looking for some hot stuff?
---
INDEPENDENT LIVING . RESIDENTIAL CARE

NOW OPEN

IN-PERSON OR VIRTUAL TOURS

Call today to schedule your

personal introduction to

Charter Senior Living of

Northpark Place

712. 255 . 1200

Experience the

Difference

. Studio, One and Two

Bedroom Options

. Maintenance-free Living

. Pet-friendly

. Family of people

who are passionate

about helping

residents to live

your best life!

Our Legacy

For over 27 years, Northpark Place has upheld a legacy of helping seniors

live better and age in place. In 1993, this plot of land that had formerly

been known to many as North Jr., was acquired by then, St. Luke's Hospital.

A board of community leaders was tasked with determining what type of

business should replace the education facility. One of those leaders was

Darold Sea.

Darold Sea was born and raised in Sioux City and had previously attended

North Jr. After he graduated, he enlisted in the military. When his military

career ended, he was asked to teach at North Jr. and eventually worked his

way to become Superintendent of Sioux City Community School District.

During this time, he also served on the Board of Directors for St. Luke's

Hospital.

The board decided that a Senior Living Community was just what Sioux City

needed. Being one of the first, Darold's mother became a resident of what

was known as, Northpark Senior Living. Now, 91 years old and retired,

Darold Sea resides in the Independent Living community of Charter Senior

Living of Northpark Place. His apartment is situated in the exact spot

of the classroom where Darold Sea taught during his years at North

Jr.! This is just one piece of the legacy of what is now Charter

Senior Living of Northpark Place.

Charter Senior Living communities are known for providing

extraordinary care and service to enhance the human spirit of

the residents who live in their communities. Choosing Char-

Senior Living at Northpark Place means investing in a joyful

and vibrant experience that is genuine, fulfilling, and FUN!

ter

Darold Sea, Resident
---
explore

Enjoy Your Life. Adventurous

Expression of Beauty

It's that time again! Summer is back, and my annual

list of summer drugstore beauty favorites has returned.

It's always fun to change up your look with whimsical,

inexpensive makeup products, and summer is the best

season to try a trend that's outside of your typical comfort

zone.

• Focus on colorful eye makeup with bright shadows like

the ones in this Revolution Reloaded palette. Experiment!

Play! And try some new techniques from your Pinterest

board, like the trendy tie-dyed look, crafted with rainbow

shades layered one above the other! Or – insider tip –

green eyeshadow looks are huge this year! (Target - $8.00)

Summer favorites always include loads and loads of

color – and this year is no exception. But - you know what

is new? This summer, other people will actually see your

new look!

After a long year of quarantine, video calls, and social

distancing, the summer of 2021 is filled with a renewed

optimism, and it shows up in glowy skin, bright eyes and

lips, and beautiful lashy wisps.

So, here it is, my list of top summer drugstore products

to try!

• Show your fresh face. Less is more in the summer, and

your makeup routine should follow. Heavy foundations

in the hot months look, well, heavy. So lighten up your

base layer with one of the many tinted moisturizer

options available this year. A favorite of mine is L'Oreal's

Skin Paradise Water Infused Tinted Moisturizer. Its

lightweight, clean feel won't leave you with a gunky

layer of makeup on cell phones, masks, and breezy

white tops. And with SPF built right in, it eliminates yet

another step in your skincare regimen. (Ulta - $16.99)

Ban the black and pick up a stick with sparkle.

• And speaking of eyes – ditch the black eyeliner for the

season. It's officially out! There are so many fun colors to

try, blues and aquas topping the list. But pinks, whites, and

purples can look stunning on so many eye colors. Get the
---
Community

Entertainment

Nature

Appreciation

Indulge

waterproof variety, like NYX Epic Wear Liner Sticks,

so that when you're poolside, you don't have to

worry about colorful ribbons running down your

cheeks. (Walgreens - $8.00)

• It looks like summer 2021 might mark the return

of lipstick! Show those lips off for the first time in

months with a bright shade that looks perfect with

sun-kissed skin. My personal favorite? The pH Lip

Balm from Winky Lux. It's a smooth, luxurious lip

balm that mixes with your pH to create the ultimate

customized stain. You know it will look perfect on

you! (Target - $16.00)

• Brows are still full and lush and natural, and drugstore

shelves are full of gels, pencils, stains, and serums

to make this your best brow summer yet. A brand

new option to try? The Arches & Halos line of brow

products sold at your local Target store. Shades of

tints and pencils, growth serums, and shaping tools

mean you won't have to go far (or spend a fortune)

to get Insta-worthy eyes. (Target – starting at $9.99)

• Know what looks killer with a no-makeup vibe?

Natural-looking, full lashes! But don't go all-out

this season – instead, focus on lightweight, feathery

falsies that amplify your dark beauties. Ardell sells a

line of Wispies that aren't as heavy as other eyelash

options. Try them for a fun night out! (Walmart -

$9.84)

• Don't forget your fingertips! Who doesn't love a

good summer mani / pedi? Purple shades are

hot this year (think: new iPhone), and my favorite

lilac choice is SinfulColors Essenchills in Low Key

Lavender. It's shimmery and iridescent and looks

great on so many skin tones! Also – it's scented with

lavender. Also – it's under $2.00. (Target - $1.99)

There it is! My list of the best beauty products to try

this summer. And when they're this inexpensive and

this easy to find, you can experiment all you want!

Let's have some fun this season. Wow – do we all

deserve it or what?!

Freshen up your summer selfie game with new, vibrant

makeup colors!

Erika Hansen, a lifelong Siouxland resident,

model, mom, and community volunteer. Curious

about exploring the connection between outward

appearances and inner power, Erika is passionate

about making fashion fun, and fostering a spirit of

inclusion with no limits on age or body type. You can

find more of Erika's love of style, and her modeling

journey, on Instagram: @kings_from_ash.

Photo Credit (left page) Erika Hansen.

Photo Credit (right page) Britton Hacke Photography.
---
Siouxland Magazine | EXPLORE /50

Home Grown Expressions

By Pam Mickelson

Expressions of beauty, love, and community

are readily available in our gardens.

BEAUTY

We are very fortunate to live on an acreage where

we don't have to look far to find beauty. One

especially beautiful native flower in our garden

is the columbine. We started with one plant and

a bag of wildflower seeds. The columbine has

naturally spread over a shady area next to our

garage. I planted it because it was marked to attract

butterflies and hummingbirds, and my husband

bought the seed packet for me. That was more than

15 years ago, and pretty early in my understanding

of pollinator plants, which are plants that attract

insects to pollinate flowers to produce fruit and

vegetables. I even plant annuals like marigolds

and zinnias by the vegetables, so the bees don't

have far to go when feeding on the cucumbers and

squash. You can find many other native plants – and

be aware of how they express themselves in your

garden as well as the beauty they bring. When the

hummingbirds aren't feeding on the columbine

and other flowers and bugs, we have a feeder for

them to enjoy. Follow this recipe for the health of

the hummers.

Cucumber salad.

Columbine mix.

LOVE

We love summer produce. In July, garlic, new potatoes,

green onions, and early cucumbers are ready to enjoy.

While we anxiously await the tomatoes, the corn should

be knee-high by the 4th of July, as my father-in-law would

say. The taste of a fresh tomato sandwich or the charred

sweetness of a grilled onion is perfect for a summer

meal. My Grandma Luebke always had a big batch of

freshly pickled cucumbers. The tangy vinegar and sugar

mixture is my favorite dressing, while my husband loves

cucumbers mixed with onions and ranch dressing. We

each have our garden favorites. I loved my Grandma's

Cucumbers and hoped you do too. Every time I slice

the cucumbers and laugh, I think of her remembering

how my dad would drink the juice. It makes me pucker

up just thinking about it. Here is her recipe. I hope you

make a batch soon.

COMMUNITY

While July may be filled with long-overdue reunions,

music festivals, vacations, and summer sports, we can

also celebrate the community our gardens can hold. I

enjoy fresh produce and talking to fellow gardeners

on the best ways to battle the summer bugs and water

needs. I also know that many Siouxland residents live

in a food desert – where it is not easy for them to get
---
to a store with fresh produce. So, we donate our extra

produce. Please consider spreading the word of Up

from the Earth or volunteer at a food pantry.

Up from the Earth helps the community by bringing

together gardeners with extra produce with

neighborhood food pantries who can help distribute the

food. The website has a listing of all of the food pantries

in the area and a link to sign up to volunteer.

https://upfromtheearth.wixsite.com/siouxland

Garden beauty, garden love, and garden community

are some home-grown expressions many of us enjoy. If

you do not have a garden - consider starting this Fall in

containers on your deck, or dig up a small area of your

yard and donate your extras to an area church pantry.

Columbine closed.

Child Care: plays a critical role

in your workforce retention

What does child care

mean to your business?

Increase your productivity - Lack of

viable child care options result in chronic

employee tardiness and absenteeism.

Increase employee retention - Employees

cannot remain on the job in the face of

ongoing child care problems.

Strengthen your community & future

workforce - Studies show that investments

in high-quality early learning programs

result in higher wages later in life, increased

tax revenue, more effective public schools,

improved personal and public health, less

crime and more educated, skilled workers.

Siouxland Magazine | EXPLORE / 51

Visit us at our Facebook page:

https://www.facebook.com/upfromtheearth

Or the UFTE Website:

https://upfromtheearth.wixsite.com/siouxland

Pam Mickelson is Professor Emeritus, Morningside University,

and serves on the Up from the Earth Leadership Team. She

and her husband live in rural Sergeant Bluff on an acreage

where they plant, grow, and share their gardens with others.

Visit iowaccrr.org

and start your

new business today!

Up From The Earth exists to connect extra produce from

home gardens to people in need.

Photo Credit Pam Mickelson.

Funding provided by the Iowa Department of Human Services

through the Child Care Development Fund.
---
Siouxland Magazine | EXPLORE /52

"Every creator painfully

experiences the chasm

between his inner vision

and its ultimate expression.

The chasm is never

completely bridged. We

all have the conviction,

perhaps illusory, that we

have much more to say than

appears on the paper."

– Isaac Bashevis Singer
---
Celebrate Wins

By Brenda Sale

Playing sports growing up and coaching teams

has prepared me for business life. Athletics teaches

people to set and achieve goals. If you want something,

you need to work hard and be a team player. It also

reminds us that sometimes you are the leader, but other

times you play a supportive role. Every role matters, and

when in a leadership position, it's your responsibility to

celebrate the success of those around you.

Siouxland Magazine | EXPLORE / 53

When playing on a team, it was common practice to

celebrate a big kill, a great pass, or a game-winning

shot. Nothing gets a better reaction from the crowd

than a diving hustle play. Yet, somewhere along the line,

we stopped doing this. While chest bumps and high

fives might not work at the office, there is something

to be said for acknowledging someone's hustle and

celebrating success. There is a proven benefit for leaders

to utilize this concept and celebrate assists at the office.

A small gesture of celebrating success might help your

organization be winners in its field.

I have always had a love for leadership and motivational

speakers. A favorite quote from Zig Ziglar said, "when

people are appreciated for what they do, they will do

more than they are paid to do." When working with teams

in business, whether they are paid or volunteer, people

will do more when they feel their contribution has value

and they are appreciated for what they do - celebrate

them. According to Gallup, 79% of employees who leave

their jobs claim the lack of appreciation was the primary

reason for leaving. Yet 65% percent of Americans claimed

they were not recognized once during the last year. It

seems like a small price to pay to retain employees and

volunteers. In the same Gallup Poll, 60% of people said

they were more motivated by recognition than money.

You can maintain good staff, prevent turnover, and keep

from having to rehire and retrain by taking more time and

effort to celebrate great plays.

Sergeant Bluff setter Maddie Hinkel celebrates her

teammates success during the state championship game.

Last year, we had a volunteer working on a pandemic

service project, and every day he came in, I thanked

him for helping and called him a Rockstar. It seems like

a simple thing, but towards the end of our project, I

thanked him for all his effort, which contributed to our

success. He said, "I just showed up every day to hear

that I was Rockstar." Most of the projects we work on find

success on the backbones of volunteers. We constantly

find ways to celebrate their contributions, show how

their efforts have value, include them in the outcomes,

and let them know that our success is directly related to

their outstanding efforts. When leaders recognize their

employees, not with everyone gets a prize mentality but

to show genuine, heartfelt appreciation and gratitude,

everyone wins!

Brenda Sale has worked in education for Nebraska

Extension for 20 years. She provides educational outreach

to low-income and limited resources families. She

works on community engagement strategies to engage

stakeholders and volunteers to address food security in

Dakota County. In her free time, she is a youth sports club

coach.

Winning teams have leadership and teammates who

come together to celebrate each other.

Reference: David Novak, Golead, digital leadership platform.

"Taking people with you, the education of an Accidental

CEO and "O Great ONE"! A little story about the Awesome

Power of Recognition."

Photo Credit (left) Brenda Sale. Photo Credit Taylor Brown

(girl jumping).
---
Siouxland Magazine | EXPLORE /54

PRESENTED BY CARLSON GROUP @ RE/MAX

"TURN UP THE MUSIC. DON'T LET IT STOP."

Damon Dotson's "Lake Affect" has become one of the

most unique concert experiences in the country, and

it takes place right here in Iowa. His incomparable

voice matched with unsurpassed songwriting creates

an unforgettable experience and an instant personal

connection with the audience. "Lake Affect" takes that

experience to the next level. The Carlson Group sat

down with Damon to discuss this iconic event.

How is Lake Affect an expression of you as an artist

ultimately?

I always try to say Lake Affect is more of a feeling than

a music event...although I realize those two generally

go hand in hand. Music evokes feeling. The feeling we

as musicians, and even myself as spectators creates a

feeling of beauty, grace, and excitement. It's a feeling

of being together in one common cause. If I had to say

it...that is what I would like my music to express as well.

I love that about music. Between music and sports,

nothing else can bring people of all walks of life and

beliefs together in unity. It's so powerful!

How did you dream up this event?

I believe I was at Captains Getaway...just thinking...

you know what...it would be pretty amazing to try to

have a concert on the water...on a barge. The area is

so beautiful, and the music is so universal; how cool

would it be to try to merge them into one event. The

very first Lake Affect was drastically different from what it

has become today. The first one some 15 years ago was

actually in front of The Central Emporium. We had one

sponsor, one barge, ran our sound production, had no

merch, no coozies, and almost nobody in attendance!

Fast forward to today, and we have more than 20

incredible sponsors, thousands of coozies, lifeguards, a

full sound production crew, a giant LED video screen,

and it's hard to put a number on the attendance...but it's

definitely more than the first one, haha.

What are the biggest challenges in pulling off a

water concert?

Planning the schedules of the different production

crews, bands, and volunteers. One of the biggest

challenges is space limitations. Typical concerts have

almost unlimited stage space as well as storage space

for cases. It's a unique set of circumstances, but I am

very fortunate to work with some amazing crews and

barge operators. This show takes a great team and

working together to make it happen.

What do you hope people experience when they

listen to your music?

Music can be the internal photo book to a specific time

in someone's life. Someone may hear a certain song...it

takes them back to that memory. Hopefully, some of my

songs can bring people to a happy place. Unfortunately,

life just isn't always happy though...and if my music can

somehow help someone heal from a loss or a rough

time that is quintessentially the power of music. Music

heals sometimes where words simply aren't enough.
---
What is the favorite verse you have ever written?

Hmmm....probably from a song of mine called

"Wounds to Heal."

"Never forget where you come from

Never forget who your friends are

Cuz it takes time for some wounds to heal

and everybody needs some place to shine"

What makes the connection to the crowd at Lake

Affect different?

The energy radiating in the bay on the day of Lake

Affect is truly unlike any other show I have ever played.

We all realize collectively...woah...this is unique...and

woah...this is fun.

Siouxland Magazine |EXPLORE/ 55

What are a few of your most memorable

moments on the stage (barge,) during your set?

One thing that has always been a constant...not

only at Lake Affect but when my mom is at a show...

she inevitably will get up and dance on stage and

completely steal the show. It has been a pretty special

feeling to have both my parents out there during Lake

Affect which is held in the bay that my parents raised

my brother and I. It brings new perspective with every

passing year. My mom and dad did so much for us

Damon Dotson climbed near the top of the iTunes charts

with the release of his album, "Tumblin."

to be able to enjoy the lake and all that Okoboji has to

offer. It will always be my home.

We've had someone propose and get engaged on

stage!

One year Captain Morgan made his way onto the barge

with the Morganettes. I was like...wait....I remember the

first Lake Affect...and now this? It was so fun.

How did Honky Tonk Woman come to be?

Over the years, when Mom and Dad would be at my

shows, it would come to that time of night where

mom was just ready to get up and do her thing with

us on stage. Honky Tonk Woman always seemed like a

fitting jam for my mom. It's become a tradition at Lake

Affect. People seem to know when we play Honky Tonk

Woman...Damon's mom is getting on stage and will get

the biggest applause of the day. It's memories like this

that will live forever for me and I don't take them for

granted. Having both parents out there for almost every

single Lake Affect has been one of my most cherished

memories of the entire life of the event.

Memorable performers to take the stage with you

at Lake Affect?

Jason Walsmith of The Nadas played a solo show a few

years in a row. One of my favorite bands, GB Leighton

played the 10th Annual. The Pork Tornadoes also

played the 10th Annual which of course was an amazing

show. There's generally a section where my buddy Jeff

Carlson gets up and brings the house down with his

rendition of some 90's rap. It sets the day off on a whole

new level of fun.