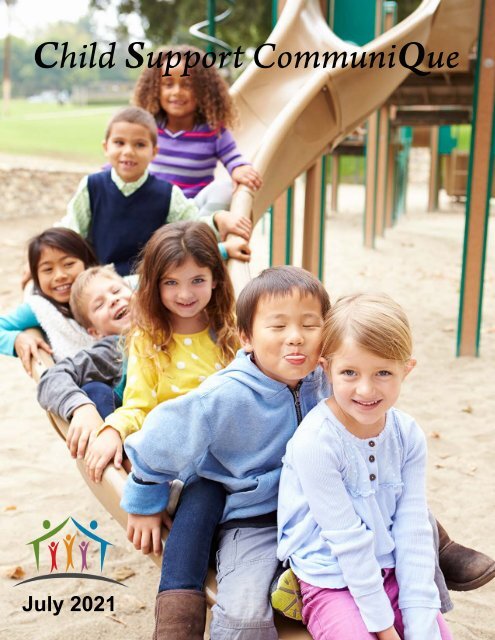 Create successful ePaper yourself
Turn your PDF publications into a flip-book with our unique Google optimized e-Paper software.
ChildSupportCommuniQue
---
Table of Contents

July 2021

President's Message…………………………………………….…………….…….3

Community Corner: Goodbye to Child Support (as we know it)........................5

DEI Work Continues for the Child Support Community………………………...14

Central Registries Doing What We Expect Them to Do………….…………….17

Gender-Neutral Voluntary Establishments of Parentage ………………………25

Motivational Interviewing……………………………………………………………31

NCSEA Needs Your Input for the NCSEA Research Website…………………36

2021 Leadership Symposium Preview…………………….….………………….38

Meet NCSEA U Alumni……………………………………………………………..41
---
President's Message July 2021

by Lisa Skenandore, SMI

Greetings!

I hope this finds you doing well and enjoying the change

in seasons. This year, especially, I found myself happy

to have summer arrive so I can enjoy the outdoors. It is

hard to believe it has been over a year, although

sometimes it feels longer, we have been living through

the COVID-19 pandemic. I have been happy to see

some normalcy return as well as the reemergence of regular activities. This

spring and summer do seem to be a rejuvenation of sorts for us.

Speaking of rejuvenation, it is almost the time of year when NCSEA passes

the gavel for the next leader to take reign. My term as your President started

ten months ago and, before I knew it, it is now almost over. Through it all this

past year, I have been so very pleased to be a part of NCSEA's great work.

In terms of accomplishments, we not only held two record-breaking virtual

conferences, but also will see our first in-person event return with the 2021

NCSEA Leadership Symposium in the great city of Austin, Texas in August.

I, like many of you, am very excited to return in person and not only learn

from each other through the fantastic plenaries and sessions but also

through the networking that the conference provides. It is only the beginning

of many wonderful and engaging new relationships that we are blessed to

develop through these events. I hope many of you will have the opportunity

to join us this year as we have a fantastic event planned with six thoughtprovoking

plenaries.

I'm especially grateful to all our volunteers who make NCSEA what it is, the

national voice for the child support community. Sitting from my seat, I see

the incredible amount of teamwork and countless hours that go into each

and every one of our committees. I am grateful to each of you for your

passion and commitment to NCSEA and our community. I know my work will

continue with NCSEA and I look forward to supporting President-Elect Lori

Bengston in her journey this next year.

I feel incredibly blessed to have had this opportunity. The NCSEA board

members, executive committee, staff, and membership have all played such

an integral role in the success of the association over the course of the past

year. I know I could not have led without the immense support from all of
---
you. I thank you, Yaw'ko, for sharing your time and expertise with us and I

hope that our paths continue to cross.

All the best,

Lisa

Lisa Skenandore joined Systems and Methods Inc. as the Vice President of Business

Development in January of 2016. Prior to joining SMI, Lisa led the Oneida Nation Child

Support Department as IV-D Director which became a comprehensive tribal child

support program in April of 2008. She began her career in child support when her tribe

received its start-up grant in 2005. Along with child support she has also led other

human service programming in the areas of child welfare, domestic violence, prevention

and foster care. She has served as President of the National Tribal Child Support

Association and National Association of Tribal Child Support Directors. Lisa currently

serves as NCSEA President and is on the Board of Directors of the Eastern Regional

Interstate Child Support Association. She holds a Bachelor of Science degree in Public

Administration from the University of Wisconsin at Green Bay.
---
Goodbye to Child Support

(As We Know It)

by Jeff Ball, Project Manager, YoungWilliams

I retired July 9 th . I have spent 34 years thinking about and working in the

child support world. I found my career extremely rewarding. Like Forrest

Gump, I was hanging around during many key moments in the history of

the program, and I have seen its evolution into a well-regarded and welloperated

program.

It is time to ditch this paradigm.

Since the national program's birth in 1975 when Congress created Title IV-

D, we have focused on collections as the measure of our success. Even

the federal performance measures rely more on the collection base for the

amount of incentive dollars a state receives than how the state performs in

the five indicators.

Parents owe over $113 billion in past due support. Some of it is interest; a

large percentage is owed to governments for TANF reimbursement. But

what sticks out is that most of the billions of past-due support are owed by

parents who are low income, and disproportionately, people of color. Are

we perpetuating poverty and parental discord?

Originally, the goal in 1975 was reimbursing the federal, state, and local

governments for the cost of welfare. The program broadened in the early

1980s to assist parents who had never received public assistance.

Eventually, the family's past-due support became prioritized in the

distribution chain over the government debt. Some states today pass part

or all of the current support to parents receiving TANF instead of

reimbursing government. We are incrementally moving away from first

paying back governments to giving families their support dollars, whether

timely paid or not.

Today, we are examining the contours of our program and offering

employment assistance to paying parents. We provide referrals to

programs that can aid a parent to overcome barriers, not only to

employment, but to fruitful interaction with his or her children.
---
But we have dropped ourselves, deus ex

machina, into the lives of people, many

of whom do not want us involved.

Conversely, we have not involved

ourselves in enough situations where our

intervention may make a large difference

to a family, but no one has reached out

to us.

By not representing either parent, we have often disregarded the

arguments and concerns of parents, who appear pro se in the vast majority

of our cases. They usually have a hard time navigating the rules of civil

procedure and evidence in an adversarial court structure that they may

have only previously experienced vicariously by watching Law and Order

episodes.

We usually have an inadequate referral for a parent who cannot see his or

his kids. Our funding is siloed so that all but de minimis activities

associated with parenting plans receive no federal funding.

So what can we do to make two-household children's lives better? How do

we support children?

Enough of incremental change, building on a 1975 model jazzed up to

collect for parents instead of governments but with many of the

weaknesses found in the original model.

What are the elements of a new system to support children?

The Economic Part

First, we implement child support assurance and child support guarantees.

What is this radical notion of child support assurance? It is an idea that has

been floated since the 1980s. The Institute on Research and Poverty at the

University of Wisconsin's researchers have written extensively about the

topic. Even the American Enterprise Institute has weighed in favor of the

concept to reduce poverty in 2018. While the pay first model will have a

price tag of several billion dollars, the collection activities that follow will

keep us close to our current collection rate of about two dollars collected for

every three dollars currently owed. Since time is not of the essence in most

cases, since most if not all child support is paid before it is collected, we

can recalibrate how we collect and devote fewer resources.
---
Child support assurance could be paid directly to the primary residential

parent for the first $10,000 of child support owed per year for one child,

$12,500 for two children, and $15,000 for three or more children. The

program would pay support out in monthly increments and then collect it

from the paying parent through income withholding and tax adjustments. A

few other enforcement tools would be used, but not license suspension. No

interest would accrue on past-due support. Any support order that includes

payments above the assurance amount will be paid monthly through

income withholding or through automatic withdrawal from a bank account.

What is a child support guarantee? It is a floor of support for a child of lowincome

parents who need a supplemental amount of money to even the

playing field with other children. It is a cousin of the child credit that is

starting in July 2021.

If the order for child support fails to provide sufficient support to meet the

basic needs of the child, a floor of child support will supplement the ordered

amount. For instance, the paying parent is incarcerated, the order is $300

per year for one child, and the

custodial parent's contribution to

child support used in the order

calculation is $2400 per year. If

the marginal cost of a child is

$6,000 per year (the difference

between the majority residential

time parent's costs for herself or

himself and the cost for that

What is a child support guarantee? It is a

floor of support for a child of low-income

parents who need a supplemental amount of

money to even the playing field with other

children. It is a cousin of the child credit that

is starting in July 2021.

parent with one child), the government would pay $500 per month to the

majority residential time parent minus the $200 monthly contribution that

the parent could provide ($2400 divided by 12). So for the year, the

government would pay $3600 to the family, and the paying parent would be

billed for $300 of that amount, and whatever was not paid would be a debt

on his or her taxes the next time they were filed.

If the paying parent is granted parole and is gainfully employed in the

future, the new income level would be used to adjust the support order

automatically on an annual basis. Similar adjustments would be made for

the majority residential time parent as well when it comes to the ordered

amount and the minimum contribution that is then supplemented.
---
We also should institute a national age of majority at 18 or high school,

whichever is later. The order goes down automatically when one child

emancipates if there are younger children under the order. A disabled child

may have support continued beyond the age of majority upon proof that the

child is not

able to be selfsupporting

from any income

source

(including

Supplemental

Social

Security Income).

Custody

switches and

significant

increases or

decreases

in overnights for

the paying

parent, once

affirmed as

accurate, instantly

amend the

support amount for

the rest of

the year,

proportionately by months.

The Parental Emotional Ties Part

Title IV-D should be interwoven with the new Title IV-G, which addresses

initial custody decisions, access and visitation issues, and parenting plans.

The two parts of Title IV will have separate appropriations, yet the funding

for each part can be used in the other part. In other words, Title IV-D as a

funding source will not prohibit economic child support staff from working in

unison with Title IV-G emotional child support staff. The more seamless the

process the better, including the sharing of computer systems.

Title IV-G would offer mediation of custody and visitation, promotion of

parenting plans, and provide paid referrals for counseling on anger

management and domestic violence victim therapy as part of the new

approach. Title IV-G would also work with the Court Appointed Special

Advocate Program (CASA) on supervised visitation assistance. Title IV-G

staff would entertain modifications of parenting plans when there were

substantial changes in circumstances, children aging out of a previous

plan, or the two households' distance apart made the last plan impractical.

The Customer Case Ownership Part

Today, the child support agency is the assignee of rights in TANF cases,

stepping in the place of the TANF parent. And even though an applicant in

a never-TANF case can withdraw at any time, Title IV-D agencies control
---
the destiny of that case. Most parents are sidelined by our approach,

waiting for us to act and respond to changes in income, custody,

overnights, etc. The agencies play catch up since we are not directly

involved in the day-to-day life of the family and often not informed of key

changes until months or years later.

Every person who is not living with the other alleged parent or spouse

should be highly encouraged to use IV-D and/or IV-G services as soon as

the separation occurs. A large, national promotional campaign would help

explain our services and availability.

If one goes to court regarding the children and support, all cases should be

placed in Title IV-D and IV-G agencies unless both legally recognized

parents opt out. Unlike today when parents sign away control of their case

until they withdraw, parents can work out settlements at any time during the

early stages of separation and later for modification purposes to reflect the

changing realities of life. For those

parents who cannot agree, both

parents should be given access to

digital sources or handed paper

materials that explain the processes.

Attorneys will be provided for each

parent or caretaker, but the forum will

not be an adversarial, formal

courtroom but an informal setting where parents can discuss their

difference and try to forge a solution. If a stipulation is reached, the court

will review it to be sure that it reflects equal bargaining power, and then

enter an order incorporating the stipulation.

If parents cannot agree, the points in dispute will be heard by a mediator.

No evidentiary rules apply except for relevancy of the testimony or exhibits

to the issues before the mediator, and an appropriate discounting of

hearsay testimony. The mediator will recommend a solution and if there is

no appeal, it becomes final. If either party still wants to appeal, the case

could go to a traditional court venue.

Parentage can be done on a national scale, with parties appearing for a

buccal swab at the closest lab to them. The results are sent to the OCSS

(Office of Child Support Services) Division of Parentage. Using the Revised

Uniform Parentage Act guidelines, the Division inquires to see if there is a

psychological or nurturing alternative parent. If there is none, then the
---
iological parent is made the legal parent. If there is a nurturing parent or

parents as well as a biological parent, then a hearing will be held of the

possible legal parents to determine who should be a legal parent and who

should have primary legal responsibility for support.

Domestic violence screening should be done at the start of every case to

ensure that the program proactively aids those who feel threatened.

The Implementation of Procedural and Fair Justice Part

The use of the adversarial system of justice is meant to ferret out the most

credible evidence and produce a series of decisions a third-party judge or

jury can make after carefully reviewing the evidence. It does not work well

in domestic cases.

First, when both parents do not have competent legal representation of

their interests, it is almost impossible for a pro se litigant to match up well

against a well-represented agency or other party. The setting for settling

domestic disputes and creating the atmosphere for a stable two-household

future for the parties and their children should not be a formal courtroom.

Post-COVID, parents should meet in a room

with comfortable chairs with a mediator,

talking about each issue to see if a common

ground exists for a solution, and work

toward a document that is acceptable to

both parents. The mediator must make sure

that there is no arm-twisting or threats,

veiled or otherwise, occurring. For issues

still unresolved, a second mediation is scheduled. If after that mediation,

there is no settlement on all remaining issues, the mediator will make a

recommended finding for the parties to either accept or reject. If the finding

is rejected, a court hearing can be scheduled. The court could hold a final

pre-hearing meeting to discuss options and if there still is no settlement, a

court hearing would be held.

Whoever is writing the orders (attorney, judge, mediator, magistrate) needs

to use a federally approved order that includes more alternative

occurrences than are generally written in orders today to accommodate

changes in family structure without a return to court. Laddering orders for

each child's emancipation, anticipating a switch in custody or a change in
---
geographic distance between households (beyond reasonable driving

distance) could be addressed. Proofs of these changes may be filed with

the court and the parties to trigger the changes.

Modification of the support ordered amount may be based on alleged

changes that alter the order

by more than 10% and are

contemplated to be

continuous for one year or

more, subject to rebuttal

arguments by the other

Parents (parties) should and would be in

control of their own cases to a much

greater degree than they are today.

party. A mediator will settle the modification issue. Retroactive modification

will be allowed back to the date of the triggering change or one year,

whichever is shorter.

The Restructuring of Roles Part

Parents (parties) should and would be in control of their own cases to a

much greater degree than they are today. The presumption is the parents

are taking care of their issues, with basic remedies such as income

withholding, tax offset, worker's compensation, and unemployment benefit

intercept automatically in place. If additional remedies are needed, the child

support agency could assist, working with both parents on a payment plan.

At the end of the year, if there is a balance owed, it is adjusted on the

payor's tax return based on a form sent to the payor in January.

(Remember that child support assurance and guarantee may make

collection efforts less of a timeliness issue.) Anytime there are disputes that

the parents cannot resolve or if a parent is very hard to track down for

compliance purposes, an elevated response by the agency could be put in

place; however, contempts and criminal prosecutions will be reserved for

only the rarest of egregious situations (e.g., well-off payor purposely hiding

assets or a self-employed payor who dramatically overstates business

deductions or takes small draw-downs).

The federal OCSS and Title IV-G agencies would oversee paternity and

order establishment documentation, using the national guideline, the

national age of majority, and the federal support order and parenting plan

template. All the mediation work would be handled locally. The final orders

would be uploaded to the enhanced National Case Registry, and the
---
paternity orders and Acknowledgments of Paternity would be filed with

state offices of vital records for birth certificate amendment.

Enforcement would be mostly automated at the national level, replacing

state-level automated enforcement activities. When additional enforcement

efforts are needed, the local office may be asked to conduct local

enforcement activities such as imposing real property liens, conducting a

state financial institution match, file a few contempts, etc. Since many

traditional child support state and local jobs would disappear, the federal

government would hire many of the same workers for the expanded federal

role, all working remotely. Both Title IV-D and IV-G local agencies would

hire several thousand mediators, counselors, and employment specialists.

The New Automation Part

As the federal government develops a national child support system, the

vestigial state systems would be replaced or modified by one model system

adaptable to each state's and tribe's needs. The model's licensing would

be available to several vendors, but the common programming and

platform would be the same.

The federal case management system would expand to handle casework,

with the capacity to handle all IV-D, non-IV-D, and IV-G cases. Needless to

say all documents are imaged and universally available to those with

security clearance to work cases. A federal customer service unit would

respond to all texts, emails, calls, and hard mail as a first-tier response,

sending requests for follow up to the appropriate worker at the federal,

state, or local level.

Interstate cases would be handled at the federal level, unless a local

enforcement technique is needed or a modification request needs

mediation. In the local enforcement case, a local child support attorney

would be deputized by the U.S. Attorney's office for that district for that

case. UIFSA would be replaced by a revised and expanded Full Faith and

Credit for Child Support Orders Act that

provides federal nationwide jurisdiction

for child support, with venue based on

where the child resides (alternatively, the

parties can agree to the venue in the

state where the last order was issued).

Ideally, child support venue will follow

custody and visitation jurisdiction based
---
on where the child has resided for the past six months. Congress would

have to make a finding that the in personam jurisdictional limitations of

Kulko v Superior Court are removed to comport with international law and

child custody jurisdiction based on federal plenary nationwide child support

jurisdiction. This is currently the case in federal criminal nonsupport cases.

Mobile applications for both parties would not only put a lot of case data

and program information at the fingertips of the parties, it would allow the

parties to start taking actions in a case, such as a modification. A Q and A

approach like TurboTax would walk the party through the process. Through

the power of videoconferencing a mediator may remotely serve parents in

two different states.

Conclusion

Our collections foundation is too small for the new child support world. The

new goals are:

• Consistent, timely payments to families with a floor level of support;

• more self-help customer service in which the parents are more in

control of their cases;

• a move away from court confrontation to mediation; providing

remedies for all parenting time issues;

• helping parents overcome barriers to parenting and paying support;

and,

• restructuring child support and invigorating the role of the federal

government in establishment, enforcement, and modification of child

support through national jurisdiction and federalized automated

enforcement.

As the 46-year old program refocuses on a broader base for assisting

families, add your vision to what we can do to make the lives of the children

living in two households as enriching as possible.

_______________________________________

Jeff Ball is the Project Manager/IV-D Administrator in Colorado for the El Paso and

Teller County Child Support Services offices for YoungWilliams, PC. He has worked in

the child support field for 28 years and has been an attorney for 34 years. Previously,

Jeff was senior advisor to the OCSE Commissioner, OCSE Technical Assistance

Branch Chief, and OCSE Welfare Reform Liaison. He was general counsel to the U.S.

Commission on Interstate Child Support and helped write the report to Congress:

Supporting Our Children: A Blueprint for Reform. He is a past president of ERICSA and

the 2010 winner of its Felix Infausto Award.
---
NCSEA's Emerging Issues and Leading

Practices Sub-Group Continues DEI Work

for the Child Support Community

by Lara Fors, Public Knowledge

The Emerging Issues and Leading Practices (EI & LP) subcommittee of the

Policy and Government Relations Committee examines issues and

practices that can have an impact on the child support program. EI &LP

has a subgroup devoted to continuing the Diversity, Equity, & Inclusion

(DEI) work that began at the NCSEA Policy Forum. The EI & LP DEI subgroup

members are Trish Skophammer, Phyllis Nance, Landis Rossi, Tish

Keahna, Sean Gorman, and Lara Fors.

Vision for DEI Work

NCSEA believes in the importance

of fostering diversity, equity, and

inclusion in the child support

program for staff and for participants

of the program. NCSEA

acknowledges systemic racism and

discrimination exist. NCSEA will

work through education and

advocacy to raise awareness, eliminate biases, and reduce disparate

outcomes in the child support program. We refer to this self-examination,

and the changes we make as a result, as "doing DEI work."

The EI & LP DEI subgroup formed last year and spent some time thinking

about the best way to approach the DEI topic in the child support program.

We eagerly awaited the 2021 Policy Forum to hear the expert speakers

and listen to the attendees' reactions and feedback. In our subgroup

meetings, we agreed to ground rules to be respectful, thoughtful, and

gracious with ourselves and one another when we discussed racism and

discrimination in our child support program and in our society. We noticed

our own speech slowed as we became aware of our words and considered

their origins of use. One member referred to the different "silos" of
---
government offices, and one of us

pointed out that not everyone

understands "silos" or how the word

applies to that situation. 1 Even a

regional or occupational (in this

case, farming) reference can

exclude others from understanding,

which serves an as important

reminder there are many ways we

inadvertently exclude and there are also many ways we can proactively

create more inclusivity.

After the Policy Forum, the EI & LP DEI group met and reflected on

comments during the Discussion Groups and in the conference feedback,

which highlighted organizations would like to be doing DEI work, but were

not sure where or how to start. The EI & LP DEI group believes NCSEA

can be a resource for child support programs by developing a roadmap

toolkit for child support leaders and their organizations. The roadmap toolkit

will include an order of activities, resources, and offer a community of

support.

NCSEA Connects: Diversity, Equity & Inclusion

We also discovered at Policy Forum that child support professionals

appreciated the opportunity to talk about DEI issues and learned from

sharing their questions and experiences. We think the best way to continue

this self-examination is to energize and empower NCSEA's existing group,

NCSEA Connects: Diversity, Equity, & Inclusion.

This group is a clearinghouse for resources and highlights leading

practices. NCSEA created this community to bring together child support

professionals who are on the forefront of DEI education and reflection and

create a place for sharing research and other information about DEI work.

Currently 69 NCSEA members have joined this community. This is a great

place to start with reviewing DEI research, materials, and leading practices

to create the roadmap toolkit. We propose NCSEA assigns co-chairs to

manage the clearinghouse, secure facilitators, and schedule regular

discussion groups.

1

Merriam-Webster defines a silo as "a trench, pit, or especially a tall cylinder (as of wood or concrete)

usually sealed to exclude air and used for making and storing silage."
---
Next Steps

The EI & LP DEI subgroup would like to start with empowering the NCSEA

Connects: Diversity, Equity & Inclusion community. This will be a great

place to begin creating the roadmap toolkit based on the experiences and

resources of the members already sharing their DEI work in child support.

The EI & LP DEI subgroup would like to expand our group to include others

that are interested in creating this roadmap toolkit for child support

programs. To create the best toolkit that includes the right questions and

answers, we are looking for people who are either experienced with DEI

work in their child support program or who are wanting the roadmap toolkit

to start their own journey.

Invitation for Volunteers

If you are already a member of the NCSEA Connects: Diversity, Equity &

Inclusion community and would like to help facilitate the community,

contact Gillyn Croog. If you would like to join the EI & LP DEI subgroup

and help create the roadmap toolkit, please contact Lara Fors at

lfors@pubknow.com.

_________________________________________

Lara Fors joined the Center for the Support of Families in 2019, now known as Public

Knowledge®, after serving for over 25 years in the IV-D program of Missouri. In

Missouri, Lara served as the IV-D Director of the Family Support Division, the First

Assistant Prosecuting Attorney and Director of a multi-county prosecutors' office in

Springfield, and as Assistant Prosecutor in Kansas City. Lara currently serves on two

NCSEA committees: Policy and Government Relations (PG&R) and is Co-Chair of the

Emerging Issues and Leading Practices P&GR subcommittee. Lara is a past president

of the Eastern Regional Interstate Child Support Association, ERICSA (2014), and of

the Missouri child support professional association, MCSEA (2007).
---
Central Registries – Doing What We

Expect Them To Do, Plus So Much More

by Rob Velcoff, Intergovernmental Support Services

Question – What is this a definition of: "A single unit or office within the

State IV-D agency which receives, disseminates and has oversight

responsibility for processing incoming interstate IV-D cases, including

UIFSA petitions and requests for wage withholding in IV-D cases?"

Answer:

A: Central Authority

B: Interstate Tribunal

C: Central Registry

D: What it will say on the author's tombstone when the time comes.

Assuming you read the title to this article, you know the correct answer is

"C". Even if you didn't read the title, there's a pretty good chance you would

have gotten the correct answer based on your overall knowledge of the IV-

D child support program, especially if you regularly work intergovernmental

cases. After all, each state is federally mandated to operate a Central

Registry. But do you really know everything that Central Registries do?

As previously stated, Central Registries within state IV-D programs are a

requirement in federal regulations: CFR §303.7(b) Provision of services in

intergovernmental IV-D cases. (b) Central registry. (1) The State IV-D

agency must establish a central registry responsible for receiving,

transmitting, and responding to inquiries on all incoming intergovernmental

IV-D cases.

Okay, so what does this mean? Simply put, it means that all IV-D child

support offices within the jurisdiction of the United States (50 states, 4

territories, 60 tribal IV-D agencies) must send all new outgoing interstate

cases to the Central Registry office in the state/territory where the

respondent to an action resides. Hague, federal bilateral, and state-level

agreement foreign countries should send their child support cases in this

same manner. Note that this could mean a filing by either the custodial or
---
the noncustodial parent. So that's a lot of incoming cases! In fact, prepandemic

numbers from some of the larger states showed that Central

Registries might receive in excess of 10,000 cases per year.

Not only must the cases be reviewed for accuracy and completeness, they

must be done so within a very limited timeframe, just 10 working days. Plus

the review process is very detailed. CFR §303.7(b)(2)(i – iv). (2) Within 10

working days of receipt of an intergovernmental IV-D case, the central

registry must:

(i) Ensure that the documentation submitted with the case has been

reviewed to determine completeness;

(ii) Forward the case for necessary action either to the central State

Parent Locator Service for location services or to the appropriate agency

for processing;

(iii) Acknowledge receipt of the case and request any missing

documentation; and

(iv) Inform the initiating agency where the case was sent for action.

The next task is somewhat gray. What happens if a case is incomplete,

lacking the required UIFSA forms to complete a tribunal filing? The

regulations state: §303.7(b)(3) If the documentation received with a case is

incomplete and cannot be remedied by the central registry without the

assistance of the initiating agency, the central registry must forward the

case for any action that can be taken pending necessary action by the

initiating agency.

The gray area is what the Central Registry should do if there is no action

that can be taken without the required documentation, which is generally

the case. Although there is a difference of opinion here, and the actions

vary from Central Registry to Central Registry, many such units hold onto

these incomplete cases pending receipt of the required documents. After

all, what is the logic behind sending a case into court for establishment of a

child support order if the Uniform Support Petition or General Testimony is

missing? How can a tribunal register a foreign order without a certified

copy? Simply put, they can't. So this author's recommendation has always

been for the Central Registry to hold onto such cases pending receipt of

the required documents.

Note the word "required" in the previous sentence. If the pending document

is not a mandatory UIFSA form, or some other item required by state law

(i.e., a certified copy of the order to be registered, as per UIFSA

§602(a)(2)), then the case should not be held at the Central Registry. But if
---
there is literally no action that can be taken by the responding agency

without certain information there is no logic to sending the case forward.

Local county child support agencies have enough on their plates that they

should not have to deal with cases where they are unable to take any

follow-up actions. This is more the role of the Central Registry.

Federal case closure criteria come into play here as well. Per CFR

§303.11(b)(17) Case closure criteria, (17) The responding agency

documents failure by the initiating agency to take an action that is essential

for the next step in providing services. The timeframes are very exact and

spelled out. Per §303.7(c)(6) Initiating State IV-D agency responsibilities. 6)

Within 30 calendar days of receipt of the request for information, provide

the responding agency with an updated intergovernmental form and any

necessary additional documentation, or notify the responding agency when

the information will be provided. This means that if the initiating jurisdiction

does not forward the requested documents, the responding state's Central

Registry may begin the case closure process. §303.11(d)(2) In an

intergovernmental case meeting the criteria for closure under paragraph

(b)(17) of this section, the responding State must notify the initiating

agency, in a record, 60 calendar days prior to closure of the case of the

State's intent to close the case.

What all of this amounts to is that the Central Registry may close its case if

mandatory documentation is not received within appropriate timeframes

following a request to the initiating jurisdiction, and this initial request must

be made within 10 working days of receipt of a case. The general

consensus is that, since there is no action that can be taken without the

required forms, there is no logic for forwarding an incomplete case. Again,

there is some debate about this, as there are some that interpret the

regulations to say that all cases must be forwarded within 10 working days

after receipt by the Central Registry regardless of whether the

documentation is complete or not. This author maintains that on those

cases where there is literally no action that can be taken without certain

documentation, these cases should not be forwarded to a local county child

support office where they would do nothing more than sit idly in a file

cabinet while awaiting the follow-up mandatory paperwork.

Still, since the required documents are received over 90% of the time on

appropriate case referrals (see the statistics below), the overwhelming

majority of cases that are reviewed by the Central Registry are either

complete upon receipt, or are made complete due to follow-up

communication with the initiating jurisdiction. Even incomplete returned
---
cases can be corrected and made complete, and then sent back to the

appropriate Central Registry for eventual processing. Let's look at some

recent numbers which the New York Central Registry was kind enough to

provide specifically for this article.

Total Number of Cases

Received

2018 8,388

2019 8,653

2020 4,657

(Note the huge drop in 2020 due to the pandemic!)

Initial Cases Lacking Complete

Documentation

2018 1,271 (15.2%)

2019 1,140 (13.2%)

2020 492 (10.6%)

(Note: In 2018 the Child Support Agency Confidential Information Form

was still relatively new, and many local county child support agencies did

not yet know that this form is required for all new outgoing interstate cases.

Hence the larger percentage of initial incomplete cases.)

Initial Cases Lacking Complete Documentation Over a 3 Year Period

13%

87%

Cases Lacking Complete Documentation

Cases Containing Complete Documentation
---
Incomplete Cases that Eventually Received the Missing

Documentation

2018 590 (46.4%)

2019 642 (56.3%)

2020 224 (45.5%)

Final Disposition of Initially Incomplete Cases Over a 3

Year Period

49.8%

50.2%

Complete Documentation Eventually Received

Complete Documentation Never Received

Total Percentage by Case Disposition

Case

Case

Completed Returned

Case Inappropriate

2018 7095 (84.6%) 681 (8.1%) 612 (7.3%)

2019 7624 (88.1%) 498 (5.8%) 531 (6.1%)

2020 4042 (86.8%) 268 (5.8%) 347 (7.5%)
---
Total Percentage by Case Disposition Over a 3 Year

Period

7% 7%

86%

Case Completed Case Returned Case Inappropriate

Total Percentage by Case Disposition for

Appropriate Cases Only

Case Completed Case Returned

2018 7095 (91.2%) 681 (8.8%)

2019 7624 (93.9%) 498 (6.1%)

2020 4042 (93.8%) 268 (6.2%)
---
Total Percentage by Case Disposition for

Appropriate Cases Only Over a 3 Year Period

7%

93%

Case Completed

Case Returned

* All statistics were provided by the New York Central Registry, New York

State Division of Child Support Services, along with their permission to

include same in this article.

In and of itself, the processing of incoming intergovernmental cases would

be a huge undertaking, but Central Registries are federally mandated to

perform one additional task. §303.7(b)(4) The central registry must respond

to inquiries from initiating agencies within 5 working days of receipt of the

request for a case status review. You know all of those times when you are

working an interstate case and you can't seem to obtain any status

information from the other state? Well, help is on the way! After performing

due diligence in attempting to obtain case status information from the

appropriate local county child support office, or possibly from a regional

office, the next step would be to contact the Central Registry in the

responding state for assistance. Contact information for all Central

Registries can be found on the federal Office of Child Support

Enforcement's Intergovernmental Reference Guide, the IRG. Such contact

can be made via e-mail, telephone, fax, or written letter (although why an

agency would use the last two options is really bizarre – send an e-mail or

call!). Central Registries are experts at tracking down the appropriate office
---
or caseworker within their own state and following up to make sure a

response is sent. The Central Registries are perhaps the main tool for

assistance whenever there is a breakdown in communications on an

intergovernmental child support case.

Need even more reasons to love those Central Registries? Well, there are

a bunch of them. The author has only listed the federally mandated tasks

that all Central Registries must perform. That being said, they pretty much

all do many other things as well. Most of them assist their own in-state child

support workers when dealing with an unresponsive agency in another

jurisdiction. Many of them contain expert staff when dealing with

complicated UIFSA issues. More conduct many other functions as well; just

ask them and it's a certainty they would be happy to list all the tasks they

routinely take care of. And they really do try their very best to assist with

any intergovernmental questions or issues you might have.

So if you're seeking the unsung heroes of the IV-D program nationwide,

look no further than the state/territory Central Registry offices. And it

wouldn't hurt to add a 'thank you'; they would certainly appreciate that!

Rob Velcoff is an independent child support consultant with his own agency,

Intergovernmental Support Services. Previously, he worked for the New York State

Division of Child Support Services for over 30 years. He served as President of the

Eastern Regional Interstate Child Support Association (ERICSA), and is a recipient of

their Felix Infausto Award (President's Award). Mr. Velcoff has presented at hundreds of

workshops at more than 100 state, regional, federal, national, and even international

child support conferences on a wide range of topics. An individual member of NCSEA,

Mr. Velcoff received a BS in Criminal Justice from the State University College of New

York at Brockport and an MA in Criminal Justice from the State University of New York

at Albany.
---
Gender-Neutral Voluntary

Establishments of Parentage: A

Survey of the Early Adopters

by David Love, Mississippi Project, Young Williams

The Voluntary Acknowledgement of Parentage (VAP) 1 is a document that

parents use to legally establish the parentage of a child without the need

for a court order. Traditionally, heterosexual parents use this form to

establish the paternity of a child born out of wedlock.

With the advent of the United State Supreme Court's decision in Obergefell

v. Hodges, 2 the law of the land guaranteed same-sex couples the legal

right to marry; however, unmarried same-sex couples still face additional

obstacles as most states' VAPs still use the gender-specific "mother,"

"father," and "paternity" terminology.

This practice is beginning to change. Eight states have adopted genderneutral

VAPs. These forms contain language that removes any reference to

the gender of the parent, thereby allowing same-sex couples to use the

forms to establish parentage. Gender-neutral language is often used to

establish the parentage of children born through assisted reproduction or

surrogacy. In these situations, the use of a VAP eliminates the need to

undertake a time-consuming and expensive co-parent adoption process to

establish legal parentage.

The Emerging Issues and Leading Practices Subcommittee of the NCSEA

Policy and Government Relations Committee sent a survey to the eight

state IV-D agencies, and seven provided responses. 3 The chart below

shows the states that have adopted gender-neutral VAPs, the year of each

state's implementation, and whether the revisions were part of adopting the

Uniform Parentage Act 2017 (UPA). The chart also includes links to state-

1

While these documents are not designated as VAPs in every state, this article uses the term to

apply to all states' acknowledgments of parentage forms.

2

576 U.S. 644 (2015).

3

Nevada did not participate in the srvey.
---
specific statutory provisions creating the gender-neutral VAP, and links to

the VAP forms in English and Spanish.

State

Year

Implemented

Part of

UPA 2017

Adoption?

California 2020 Yes 4

Maryland 2019 No

Statutory Citation

CA Fam Code §§

7570 -7581

MD Code Family

Law § 5–1028

Link to

VAP

ENG

SPA

ENG

SPA

Massachusetts 2018 No None ENG

Nevada 2017 NRS 126.053 ENG

New York 2021 No PBH § 4135-B ENG

Rhode Island 2021 Yes 5 R.I. Gen. Laws §

15-8.1-301

ENG

Vermont 2018 Yes 6 15C V.S.A. § 301 ENG

Washington 2019 No RCW 26.26A.205

ENG

SPA

Differences between Gender-Neutral VAP and Traditional VAP

The most notable characteristics shared by each of the forms are the

replacement of the term "paternity" with "parentage" and the removal of

mandatory references to the parents' gender. This allows same-sex

couples to be signatories.

Five of the gender-neutral VAPs use terminology that distinguishes the

birth parent. 7 The remaining three do not make such a distinction and

instead simply use the term "parent." Each of the surveyed states also

chose to use a single form. The survey responses indicate this decision

was driven by a desire for simplicity and the equal treatment of all parents. 8

4

California's revision of the VAP was part of the adoption of the UPA 2017; however, there was not a full

replace and repeal of the paternity statutes as some of the provisions in the UPA 2017 were already

implemented.

5

Rhode Island adopted a combination of the UPA 2017 and the Vermont Parentage Act.

6

Vermont adopted a modified version of the UPA.

7

California, Maryland, New York, Vermont, and Washington require that one of the signatories be the

birth parent.

8

Massachusetts' initial gender-neutral VAP was one of two forms. The dual forms were necessary due to

initial state system limitations. A single gender-neutral form was implemented in 2019.
---
Six of the VAPs do not contain language to identify gender of the non-birth

parent. However, both California and New York require the "other parent" to

indicate whether they are the biological father of the child. Both states

indicated this question was included only for statistical purposes. 9

Massachusetts' VAP requires notarization, and two additional states

require the use of a notary under certain circumstances; however, the

remaining forms no longer contain language requiring notarization. 10 New

York requires two witnesses who are not related to either parent, but the

remaining states only require a single witness.

Three states use a Denial of Parentage form. 11 These documents allow a

presumed or biological parent to release any parental claim to the child. By

completing the denial, the signatory is discharged of all parental rights and

duties. However, the denials must be completed in conjunction with a

properly executed VAP containing the signatures of two parents. The use

of these forms allows these states greater flexibility in situations involving

assisted reproduction and surrogacy.

Processes and Stakeholders Involved in the Creation of Gender-

Neutral VAPs

All the surveyed states except Massachusetts 12 required legislative action

to create a revised VAP. For California, Rhode Island, and Vermont, this

was part of the adoption (in part or in whole) of the 2017 version of the

UPA. In Maryland and New York, the legislative changes addressed the

need for the legal establishment of parentage for those who use assisted

reproduction technologies. In Washington, one goal of the legislation was

to align Department of Health policies with those of the Department of

Licensing. 13

9

California indicated it included the question for statistical reporting of the usage by same-sex couples,

while New York indicated it included the question for the purposes of determining eligibility of the current

federal Paternity Establishment Percentage (PEP) performance measure. Rhode Island indicated it also

asks the gender of each parent for statistical purposes, but that designation is not reflected within the

language of its VAP.

10

Maryland's VAP requires notarization unless signed by a staff member of the hospital, IV-D office, or

Health Department. California requires notarization if the VAP is signed outside of California or outside of

a hospital, prenatal clinic, or authorized agency.

11

Vermont, Rhode Island, and Washington allow the use of denial forms.

12

The impetus to revise the existing VAP was the Massachusetts Supreme Judicial Court's decision in

Partanen v. Gallagher, 59 N.E.3d 1133 (Mass. 2016).

13

The Washington Department of Licensing updated its polices to include gender-neutral licenses and

state identification cards.
---
As is common with legislative change, revising the VAPs was not swiftly

accomplished in all states. In Rhode Island, legislation had to be introduced

three consecutive years before it passed. In Vermont, the first workgroup to

study the issue was convened in 2014, and the necessary legislation was

not passed until 2018. 14 Other states adopted the revisions more quickly. In

Maryland, the legislation passed in the first year it was introduced.

Massachusetts adopted the revisions within a year and a half after the

state's Supreme Judicial Court suggested that same sex couples could

establish parentage by signing a VAP.

To implement these revisions to the VAPs, each state's IV-D agency

consulted with a collection of governmental agencies. In every surveyed

state, this manifested at a minimum as a partnership between the state's

IV-D agency and the Department of Health/Vital Records. 15 The states

indicated there was extensive collaboration to ensure that both agencies

would accept the revisions. Training was also an important part of this

cooperation. Vermont worked closely with its Department of Health to

develop training materials and brochures for the new forms, while New

York developed, coordinated, and hosted trainings for hospital staff in

conjunction with its Department of Health. Some states created a larger

coalition which included the courts, the private bar, medical providers, other

state agencies, advocacy groups, and legislators. 16

Challenges in Creating a Gender-Neutral VAP

Most surveyed states indicated that the major challenge to establishing a

gender-neutral VAP was creating a single form for multiple factual

situations that would address complex legal concepts while keeping the

format concise, user-friendly, and easily understandable. To avoid gender

identification complexities, California chose to ask whether a birth parent is

married and whether the other parent is the only possible genetic parent.

Vermont uses the terms "birth parent" and "parent," but acknowledges this

terminology may lead to confusion.

14

The 2014 workgroup's recommendation was that a statutory change was necessary. In 2017, the state

legislature commissioned a subsequent workgroup, that recommended the passage of the Vermont

Parentage Act, a modified version of the UPA. The legislation was introduced and passed in 2018.

15

Rhode Island and Washington both listed these two entities as being the only agencies involved in the

process.

16

California created a large-scale workgroup within the IV-D agency that consulted with its Department of

Health, the courts and advocacy groups. Vermont's legislative workgroup included representatives from

the courts, the private bar, legislatures, medical providers, Family Services, and the IV-D agency. New

York consulted with its Department of Health, the New York City Department of Health and Mental

Hygiene, and its state IV-E agency.
---
States also focused on inclusive language, demonstrated with the form's

neutral terminology. 17 In addition to the form itself, states indicated that the

language revisions often increased the length and complexity of the

instructions.

All the responding states answered that there have been no legal

challenges to the validity or use of the gender-neutral VAP. 18

Services Provided to Same-Sex Couples

All surveyed states answered that they provide full parentage

establishment services to same-sex couples. This includes filing parentage

complaints when a VAP was not signed or cannot be signed. 19 All

responding states indicated that, with an open IV-D case, they provide the

same services for establishment and enforcement of support to same-sex

couples as they do different-sex couples.

Lessons Learned

Based upon the survey results, implementation of gender-neutral VAPs has

been quite successful. Most of the states would not make any adjustments

to the current VAP process. Rhode Island and Washington commented

that removing the notarized signature requirement is what they like best

about their form.

Several states have acknowledged that the current VAP forms and

processes are not perfect. California indicated the instructions are too

complicated and would ideally prefer to reduce the complexity of the

process, while acknowledging that is likely not possible without the use of

multiple forms. Vermont echoed that assessment and expressed concern

about how the overall complexity of the process places a large burden

upon the signatories; however, Vermont concluded that additional revisions

to the VAP would not lessen that burden. Vermont also noted that its

requirement that signatories initial multiple statements creates a higher

likelihood that the form will not be correctly completed. Rhode Island would

17

California uses the term "person who gave birth" rather than the UPA term "woman who gave birth" and

allows parents to identify as male, female, or nonbinary. New York noted difficulty in translating the form

as the Spanish word for "parent" is not gender neutral.

18

Washington commented that there were objecting organizations and individuals while Senate Bill 6037

was moving through the legislature, but once the law was passed, there have been no challenges.

19

Massachusetts specifically indicated it would assist same-sex couples who file an application with the

establishment of parentage through judicial action. Vermont noted that, while its VAP can be used only by

same-sex couples who are married or by a party to assisted reproductive technologies or a gestational

carrier agreement, it would pursue other judicial avenues for the establishment of parentage in other

circumstances.
---
have redesigned the form so that the Notice of Rights and Responsibilities

is on the back of the VAP.

Number of Gender-Neutral VAPs Used for Same-Sex Couples

There is little data on the usage of VAPs by same-sex couples. This is due

to the relatively recent implementation in most states coupled with the

forms' design, which often solicits no information regarding the gender of

the signatories. Two states have provided data: in California from January

2020 through March 2021, over 1,000 same-sex VAPs were executed, and

in Massachusetts since 2018, 67 same-sex couples completed a VAP. 20

Next Steps

NCSEA will post the survey questions and responses for members to view

on the Emerging Issues and Leading Practices page of the NCSEA

website. The resources linked to this article are offered to any state or

territory considering the implementation of a gender-neutral VAP. The

experiences of the surveyed states indicate revisions to existing VAPs are

not easily accomplished. According to these states, the VAP changes will

require legislative and/or judicial action but do not necessarily require

adoption of UPA 2017. Additionally, IV-D agencies need to build a coalition

of support including multiple governmental agencies, stakeholders, and

advocacy groups to create a document that properly addresses the needs

of all seeking to establish parentage.

_________________________________________

David Love recently joined YoungWilliams as the Assistant Legal Director for the

Mississippi Project after working as an attorney for the Mississippi Department of

Human Services for more than two decades. Before retiring from MDHS, David served

as a Deputy Director. In that role, he led the policy and systems support liaison teams.

David earned his juris doctor from the University of Mississippi School of Law in 1996

and a Bachelor of Arts in Political Science from Mississippi State in 1993.

20

California and Massachusetts statistics were provided May 5, 2021, and March 19, 2021, respectively.
---
Motivational Interviewing Introduction

by Stacey Riley, Senior Child Support Specialist, Michigan

Office of Child Support

Motivational Interviewing (MI) is a meaningful, collaborative conversation

that allows staff to engage customers on a deeper level and strengthen

individuals' motivation to change. MI is an empathetic and practical

approach to reduce customer ambivalence, placing responsibility on

customers by giving them ownership of their actions and success.

More than two years ago, the Michigan Office of Child Support (OCS), a

bureau of the Michigan Department of Health and Human Services

(MDHHS), began researching the strengths and benefits of MI, and

exploring how it could improve customer cooperation with the child support

program to ensure assistance benefits remain open at the appropriate

level. With the use of MI, OCS had high hopes of reducing the number of

cases in noncooperation, while treating all customers fairly to achieve a

common goal.

OCS created and successfully launched a pilot group in September 2019.

This small group of child support specialists logged hundreds of cases and

used MI methods when calling these customers. Of the cases that began in

noncooperation, 80% returned to cooperative status by the end of the call.

Specialists reported they felt less stress on 97% of the MI calls. Due to the

COVID-19 pandemic, the rollout of MI was delayed, but OCS is happy to

announce that, as of the end of May 2021, more than 100 staff have been

trained on MI.

Diversity, Equity, and Inclusion at MDHHS

While researching and learning more about MI, it became apparent that

there was a diversity, equity, and inclusion (DEI) component to this
---
approach. The child support program is comprised of people of all races,

sexual orientations, socio-economic statuses, religions, and so on. MDHHS

continuously seeks methods to improve the lives of Michigan families by

finding ways to reduce and prevent risks, promote equity, foster healthy

habits, and transform the health and human services system (MDHHS,

2019). To achieve this, the department needs to ensure its employees

understand the power of health and social inequities, are aware of the

communities at greater risk for experiencing inequities, and work together

to create effective strategies for promoting equity (MDHHS, 2019).

In 2018, MDHHS proposed a Diversity, Equity, and Inclusion Plan

(MDHHS, 2018) with the following mission statement:

To promote and foster a culture that values diversity, equity,

and inclusion throughout the Michigan Department of Health

and Human Services and the diverse communities we serve in

order to achieve our highest potential. (MDHHS, 2018, p. 1)

The plan's vision statement asserts:

Diversity, as reflected in our leadership and throughout our

workforce, offers a valuable range of experiences and

perspectives. Our diverse workforce will be an essential asset

for developing and providing health and human services that

are culturally proficient to address existing and emerging health

and social issues. (MDHHS, 2018, p. 1)

MDHHS created a proposal to exemplify the values of diversity,

equity, and inclusion (DEI) while aligning with MDHHS's strategic

priority. The department felt this step was "necessary to improve

outcomes for employees, communities, stakeholders, and customers

by addressing inequities at a systemic level" (MDHHS, 2018, p. 3). In

addition to the internal improvements DEI would create for MDHHS,

the department anticipated that DEI would also improve relationships

between employees and the people they serve. In 2019, MDHHS

implemented its Mandatory Diversity, Equity and Inclusion Training

Policy (APB 2019-037) to reduce inequalities and improve the lives of

Michigan's citizens (MDHHS, 2019).

Achieving DEI through MI

There is a legacy of inequity in the world, and state government has not

escaped this problem. Fighting against these injustices can seem

overwhelming. It takes more than individual action to enact change.
---
Motivational interviewing will help ensure OCS customers are viewed as

unique individuals and treated fairly and equally, regardless of their

differences, by creating more consistent interviewing processes and

allowing customers to direct their own outcomes. Allowing customers to

lead conversations through the use of MI will limit implicit bias. Often called

unconscious bias, implicit biases are thoughts, attitudes, and stereotypes

that manifest as a result of one's environment, culture, and even the media,

without the individual realizing the biases are occurring (Ruhl, 2020). These

biases are typically related to race, gender, and sexuality, although there

are additional categories (Ruhl, 2020). Implicit bias differs from the more

familiar explicit bias, which presents as conscious acknowledgment and

expression of discrimination and unfair treatment of others (Maxfield,

Thorpe, Koontz, & Grimm, 2021). While both implicit and explicit biases can

change the way an individual shapes his or her decisions, explicit bias

involves more malice because the individual is aware of his or her

discriminatory behavior and yet continues to act accordingly (Daumeyer,

Onyeador, Brown, & Richeson, 2019).

Implicit bias causes discrimination even when the individual is unaware it is

happening. Implicit bias may pollute decision-making and cause impulsive

negative reactions, which are often undetectable because they are

unconscious and difficult to measure (Mitchell, 2018). Implicit bias can be

powerful enough to influence the decisions a child support specialist makes

(Mitchell, 2018) for a customer. This is why it is best to remove decisionmaking

responsibility from the specialist and place it back onto the

customer, using MI methods. Implicit bias can elicit a visceral reaction and

can be harmful; however, it can be managed through self-awareness

(Maxfield, Thorpe, Koontz, & Grimm, 2021). Studies show that, where

implicit bias is present, accountability decreases because of the

unconscious nature of the bias and unintentional discrimination (Daumeyer

et al., 2019). Trainings and policies addressing implicit bias and the

consequences of discrimination are beneficial in the reduction of implicit

bias over time (Daumeyer et al., 2019).

The goal of MI is to support the customer's freedom of choice, while

keeping the child support specialist's personal feelings and experiences out

of the conversation. One of the four key elements in the spirit of MI is

evocation. Evocation involves eliciting the customer's ideas and solutions,

which is advantageous to the outcome because the customer knows best

his or her own motivation for, and obstacles hindering, change. MI helps

staff avoid communication traps such as taking sides, labeling, blaming,

interrogating, giving unsolicited advice, or setting goals the customer is
---
unable to achieve. These communication traps can also lead to or be

caused by implicit bias or discrimination.

Conclusion

Many child support customers are socially and economically

disadvantaged. Cooperation with the child support program is critical to

these families' financial survival. Introducing motivational interviewing skills

into the child support program helps families lead their own changes and

reduces implicit bias, discrimination, and otherwise unfair and unequal

treatment. Moving responsibility for the outcome of child support cases

from staff to customers and allowing customers to lead the conversations

removes unintended discrimination and behaviors. It is important to

remember that, while the specialist brings child support expertise to the

conversation, the customer is the expert on what is best for himself or

herself. Only the customer knows the history and circumstances that

brought him or her to this moment.

The use of motivational interviewing, in combination with existing

MDHHS policy and mandatory training, will help enact change and combat

racism and other disparities throughout the department. Understanding

implicit bias and training staff to recognize it will reduce unintentional

discrimination that can occur as a result of these unconscious thoughts and

attitudes.

References

Daumeyer, N. M., Onyeador, I. N., Brown, X., & Richeson, J. A. (2019).

Consequences of attributing discrimination to implicit vs. explicit

bias. Journal of Experimental Social Psychology, 84, 103812.

https://doi.org/10.1016/j.jesp.2019.04.010

Maxfield, C., Thorpe, M., Koontz, N., & Grimm, L. (2021). You're Biased!

Deal With It. Journal of the American College of Radiology, 18(1), 161–165.

https://www.jacr.org/article/S1546-1440(20)30680-3/fulltext

MDHHS. (2018). Diversity, Equity, and Inclusion Plan.

https://www.michigan.gov/documents/mdhhs/MDHHS_Diversity_Equity_an

d_Inclusion_Plan_649033_7.pdf MDHHS. (2019).

https://dhhs.michigan.gov/OLMWEB/EX/AP/Public/APR/500.pdf

Mitchell, G. (2018). An implicit bias primer. Virginia Journal of Social Policy

& the Law, 25, 27–59. http://vjspl.org/wp-content/uploads/2019/02/Mitchell-

25.1-formatted-KMM-updated.pdf

Ruhl, C. (2020). Implicit or unconscious bias. Simply Psychology.

https://www.simplypsychology.org/implicit-bias.html.
---
Stacey Riley is a Senior Child Support Specialist for the Michigan Office of Child

Support (OCS), where she has served for the last 7 years. She was previously an

Eligibility Specialist for the Michigan Department of Health and Human Services. Stacey

began researching Motivational Interviewing (MI) 2.5 years ago for OCS, and it carried

over into her master's degree journey at Central Michigan University, providing her with

the opportunity to expand on ideas and knowledge to bring back to OCS. Stacey, joined

by co-lead, Lawrence White, pioneered MI within the OCS along with a small group of

Support Specialists (Kristin Bejarano, Mary Duddles-Smith, LaTresa Eason-Worthy,

Mary Jo Neirink, and Antoinette Wilder), all of whom she would like to thank for their

contributions to the effort. Stacey looks forward to seeing MI expand and grow across

the entire Michigan Child Support Program. Stacey holds a Bachelor of Science in

Psychology and a Master of Science in Administration with a concentration in Project

Management.
---
NCSEA Needs Your Input for the

NCSEA Research Website

by Austin Holik, Terri Jones, Ryann Levering-White

and Jane Venohr

The NCSEA Research Subcommittee is reviewing research relevant to the

child support program and working to make this information easily

accessible. The Research Topics section of the NCSEA website houses a

significant amount of valuable research, but we need your input to make it

better. To keep the website viable and relevant, we ask the child support

community to complete this brief survey as soon as you can. The survey

will close on August 15 th .

Our goal is to provide a one-stop place for NCSEA members and those

exploring the NCSEA website to find recent studies, basic child support

statistics, and research informing child support policy and operations. If you

are not a regular user of the website, we encourage you to check it out and

provide your feedback. Keep reading to learn more about what the website

currently has to offer.

The NCSEA Research Corner contains publications organized into seven

broad categories. Click https://www.ncsea.org/resources-info/research/

and save the link in your favorites for quick access.

1

Child Support Caseloads

and Demographics

Publications include summaries of caseload and

demographics from U.S. Census data, federal Office of

Child Support Enforcement data, and other large databases.

2

Financial Support and

Ability to Pay

Publications on parents' ability to contribute financially to

their children's well-being, materials regarding earnings,

factors associated with support payment or nonpayment,

parent work programs, impacts of large arrearages, and

other related topics.

3

Parental Engagement and

Emotional Support

4

Intersection of Child Support

with Other Family-Focused

Programs

Publications on parents' ability to contribute to their children's

emotional and psychological well-being. This includes

materials regarding custody, parenting time, healthy parenting,

benefits of fatherhood, two-parent cooperation, and other

related topics.

Publications that provide insight into how local, state,

and/or federal programs impact family well-being and

outcomes.
---
5

Child Support Operations

and Program

Administration

Publications that pertain to child support operations and

the administration of the child support program. This

includes publications on performance and program

outcome measures.

6

Child Child Support Guidelines

Reports from state child support guidelines

reviews.

7

Other Websites with

Additional and Related

Research

Links to websites with research relevant to

child support.

The Research Corner was produced through the collaborative efforts of

NCSEA's all-volunteer Research Subcommittee and NCSEA leadership

and staff. Other current activities include drafting a research brief on

modifications, identifying administrative data fields that could be pooled

across states and tribunals for the purpose of researching child support

issues, and developing strategies to encourage research organizations to

produce research and surveys informing child support policies and

practices. We welcome your input on any of these activities. Please provide

your suggestions by answering the last question of the survey.

_________________________________________

Austin, Terri, Ryann, and Jane are part of a workgroup within the NCSEA Research

Subcommittee dedicated to improving the research links for the NCSEA community.

Austin Holik is a Human Services Program Specialist with the Minnesota Child Support

Division in Saint Paul.

Terri Jones is the Central Registry Manager for the Division of Child Support Services of

the Georgia Department of Human Services.

Ryann Levering-White is the Senior Policy Analyst with the Ohio CSEA Directors'

Association (OCDA) in Columbus, Ohio.

Jane Venohr is a research associate/economist with the Center for Policy Research in

Denver, Colorado.
---
NCSEA 2021 Leadership Symposium:

A Preview

by Ashley Dexter & Charles Smith

Co-chairs, Leadership Symposium

NCSEA's 2021 Leadership Symposium will be held IN PERSON August 1

– 4 at the Austin Marriott Downtown in Austin, TX. The venue is centrally

located to many of downtown Austin's sights, restaurants, and nightlife.

Austin is a vibrant top-tier city, with a charm uniquely its own. In Austin, you

can hike or bike around Lady Bird Lake, rent a canoe, or fish from the

shore. Whether you are a shopper, foodie, or enjoy the nightlife, Austin

yields an abundance of shops, restaurants, and musical venues to satisfy

every craving, all within downtown walking distance.

The theme for this year's symposium is Think Forward. The past 15 months

brought uncharted territory for everyone in the program, and things

continue to evolve daily. As leaders, we need to lead ourselves, our teams,

and the child support community forward. The planning committee

reviewed all your wonderful proposal submissions and put together

innovative workshops aimed at helping all of us "think forward" by

continuing to grow in the child support program through vision and a

service-minded focus.

This year's symposium continues with the focus on leadership in the child

support community. Attendees will find a variety of plenaries, workshops,

and hands-on learning labs that will address leadership, child support

program improvements and innovations, technology, and diversity, equity,

and inclusion. Be on the lookout for surveys prior to the conference that will

be used in conjunction with a couple of the workshops or learning labs. The

information you supply upfront will further enhance the robust, interactive

conversations that we look forward to having with you at the Leadership

Symposium.
---
The symposium kicks off Sunday evening with the Welcome Reception at

5:30 p.m. CST and continues Monday morning with breakfast and Plenary

I: Leading with the Heart. You will not want to miss this! Monday afternoon,

we continue exploring the human side of our work, how it impacts our

personal lives, and the mental health and emotional vulnerabilities exposed

during the COVID-19 pandemic. We also offer three opportunities to

participate in learning labs, as well as other great breakout workshops

during the morning and afternoon.

Tuesday kicks off with another must-see plenary, where we will hear from

fathers about their experiences with the child support program. These

fathers' perspectives can help lead us forward to better collaborate and

engage fathers in our daily work. In the afternoon, several IV-D directors

from around the country will share their thoughts and recommendations on

what may become the "new normal" in the child support program. Tuesday

includes three more learning lab opportunities and several breakout

workshops with varying focuses.

Wednesday includes two morning plenaries that will dive deeper into

conversations about the future of the child support program based on

current legislation, global trends, and the human side of change that we

need to consider as we chart the future.

Lastly, we are excited to discuss the networking opportunities at this

symposium. Ninety-eight percent of past attendees said networking was

their primary reason for attending. From the moment the reception begins

on Sunday, we have incorporated opportunities for you to network with your

peers, colleagues, and the vendors sponsoring our symposium. There will

be a Welcome Reception Sunday, a President's Reception Monday, and

opportunities for vendor showcases built into the schedule.

We are excited that the symposium creates the opportunity to come

together, learn, establish new connections, and renew old friendships. As

Austin is a city on the move, we cannot think of a better place to support

this year's focus of "Think Forward." We look forward to seeing y'all in

Austin!
---
Ashley Dexter is a Specialist Senior with Deloitte Consulting LLC. She has served on

the NCSEA Board of Directors and as the Leadership Symposium Planning Committee

Co-Chair for the past 3 years.

Charles Smith is the President/CEO for Charles R. Smith Consulting, a company he

created in June 2018 after retiring from Texas state government in May 2018 with more

than thirty years of credited service. He serves on the NCSEA Board of Directors and

co-chairs the 2021 Leadership Symposium.
---
Is NCSEA U For You?

NCSEA U was chartered in 2013 and currently has

more than 135 alumni. NCSEA U provides a unique

premier educational and professional development

opportunity. It is structured for learning leaders in the

child support community and it complements NCSEA's

other educational initiatives and strategies. The

program is taught by nationally recognized child

support leaders, offering a variety of informative and

strategic topics. Classes are structured with an

emphasis on group discussions that include work/life balance and best practice initiatives

with real time work environment scenarios.

Whether for yourself or your staff, NCSEA U offers a transformative learning experience

and is a catalyst for networking opportunities. NCSEA U alumni would love for you to

become a part of this unique group. Because we are proud of NCSEA U, we will be

featuring Alumni in upcoming CSQ articles. Their stories will highlight why NCSEA U is for

you.

Meet Our NCSEA U Alumni

Laura Van Buskirk- Class 2016

Placer County Department of Child Support Services

Director

Since attending NCSEA U, what opportunities (personal and professional) have you experienced?

Since attending NCSEA U, I now co-chair an NCSEA subcommittee, co-facilitate an NCSEA affinity group,

and am honored to serve on several NCSEA committees. Through NCSEA U and the opportunities that

bring NCSEA U alumni together, I have forged lifelong friendships and important professional alliances. A

year ago, I achieved a lifelong dream to move to California, where I have the distinct privilege of serving as

director of one of the state's 47 regional and county child support agencies. I truly believe realizing this

dream would not have happened without the "NCSEA U boost." Attending NCSEA U helped me form closeknit

relationships with other leaders, which boosted my confidence, enlarged my vision, and emboldened

me to go after my dreams.

Why would you recommend NCSEA U to others? If you want to move into a position of leadership or

dramatically enhance your leadership abilities, attending NCSEA U is the single most important step you

can take.

What is a key leadership attribute that you appreciate in others? Why? Humility - because all the other

virtues of leadership stem from it. Leadership is not about the leader. It's about the team whom the leader

serves. Truly inspirational leaders are not in it for themselves. They understand that this position of

leadership is a tremendous responsibility - an obligation to help their team be the best every day.
---
Jonell Sullivan-Class 2019

Arizona Department of Economic Security

Organizational Enhancement Manager

Most valuable aspect of the NCSEA U experience? Hearing the instructors explain the topics through

their life experiences. Interacting with peers from all across the United States.

NCSEA U @ Leadership Symposium focuses on the emerging and learning leader. How do you

define leadership? Leadership to me is helping grow and inspire people who are within my circle to be the

very best they can be. A leader wants to motivate, inspire and promote energy to their team. Leadership

needs to have a bit of humor and we should not take ourselves too serious.

Do you believe that attending NCSEA U helped shaped this definition? How or how not?

NCSEA U absolutely helped me grow as a leader. Hearing lecture and then doing practical examples really

provided some additional tools to develop leaders. Being able to hear other opinions expanded my

knowledge and provided different options.

Leon Fernando – Class of 2016

Alameda County Child Support Services

Community Relations Manager

What was your course curriculum/theme? Great Ideas - From Concept to Completion. The curriculum

focused on the leader's role in supporting innovation and creativity, developing and getting buy-in for great

ideas, and putting them into action. We looked at everything from decision-making models and project

planning, to considerations for networking and successfully advocating for support from key stakeholders,

and how to deal with obstacles and setbacks successfully.

Since attending NCSEA U, what opportunities (personal and professional) have you experienced?

NCSEA U opened up my perspective on the child support program. I was able to take that new perspective

with me into my work in engaging the public, other child support organizations, and other service agencies. I

learned to see the program from the outside to understand what our participants and key stakeholders

need, and this in turn has led to the development of better service delivery, more productive community

partnerships, and better outcomes for the families we serve.

Do you believe that attending NCSEA U helped shaped this definition? This one is from Abraham

Lincoln "No man is good enough to govern another man without that other's consent." It's a reminder to me

that my position doesn't make me a leader; its what I say and the actions that I take that cause other people

to follow my lead. Leading an organization means advancing its aims, and also supporting the people who

do the work of the organization.