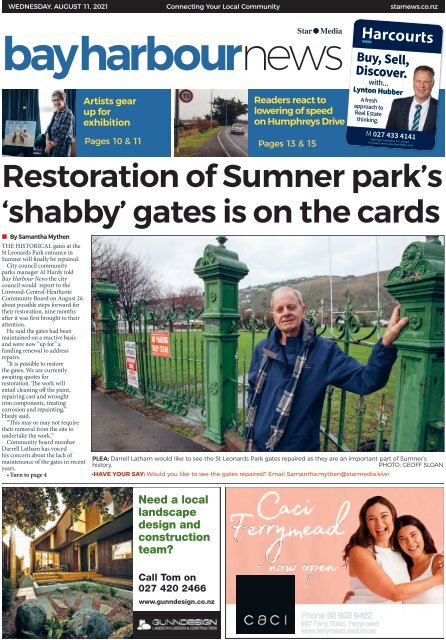 Bay Harbour: August 11, 2021
You also want an ePaper? Increase the reach of your titles
YUMPU automatically turns print PDFs into web optimized ePapers that Google loves.
WEDNESDAY, AUGUST 11, 2021

Connecting Your Local Community

starnews.co.nz

Artists gear

up for

exhibition

Readers react to

lowering of speed

on Humphreys Drive

Buy, Sell,

Discover.

with...

Lynton Hubber

A fresh

approach to

Real Estate

thinking.

Fo

Pages 10 & 11

Pages 13 & 15

M 027 433 4141

Harcourts Grenadier Ferrymead -

Licensed Sales Consultant REAA 2008

Restoration of Sumner park's

'shabby' gates is on the cards

• By Samantha Mythen

THE HISTORICAL gates at the

St Leonards Park entrance in

Sumner will finally be repaired.

City council community

parks manager Al Hardy told

Bay Harbour News the city

council would report to the

Linwood-Central-Heathcote

Community Board on August 26

about possible steps forward for

their restoration, nine months

after it was first brought to their

attention.

He said the gates had been

maintained on a reactive basis

and were now "up for" a

funding renewal to address

repairs.

"It is possible to restore

the gates. We are currently

awaiting quotes for

restoration. The work will

entail cleaning off the paint,

repairing cast and wrought

iron components, treating

corrosion and repainting,"

Hardy said.

"This may or may not require

their removal from the site to

undertake the work."

Community board member

Darrell Latham has voiced

his concern about the lack of

maintenance of the gates in recent

years.

• Turn to page 4

PLEA: Darrell Latham would like to see the St Leonards Park gates repaired as they are an important part of Sumner's

history.

PHOTO: GEOFF SLOAN ​

•HAVE YOUR SAY: Would you like to see the gates repaired? Email Samantha.mythen@starmedia.kiwi

Phone 03 925 9422

987 Ferry Road, Ferrymead

www.ferrymead.caci.co.nz
---
2 Bay Harbour News Wednesday August 11 2021 Latest Canterbury news at starnews.co.nz

from the editor's desk

GENERAL INQUIRIES Ph 379 7100

CLASSIFIED ADVERTISING Ph 379 1100

Star Media, a division of Allied Press Ltd

PO Box 1467, Christchurch

starmedia.kiwi

READERS HAVE reacted to

our article last week about the

city council proposal to drop

the speed limit on Humphreys

Drive in Ferrymead from 70 to

60km/h (see pages 13 & 15).

Some are for it and some are

against the idea. No surprises

there.

Community board member

Darrell Latham has come in

for a bit of stick from readers

over his views which he expressed

in last week's article.

He will no doubt take that on

the chin; having a thick skin is

a fairly necessary requirement

if you are in politics.

Bay Harbour News readers

have also reacted to an idea

for a dog park in Diamond

Harbour.

Resident Liz Wyllie is behind

the idea and it appears to be

getting traction.

– Barry Clarke

barry@starmedia.kiwi

NEWS

Samantha Mythen

Ph: 021 919 917

samantha.mythen@starmedia.kiwi

news

ADVERTISING

Jo-Anne Fuller

Ph: 364 7425

jo.fuller@starmedia.kiwi

Grant recipients announced

Estuary Fest is among the latest round of Linwood-Central-Heathcote

Community Board grants.

Rob Davison

Ph: 021 225 8584

rob.davison@starmedia.kiwi

The best-read local newspaper,

delivered to 10,514 homes every week.

Brookhaven • Heathcote • Ferrymead

Redcliffs • Mt Pleasant • Sumner • Lyttelton

Diamond Harbour • Governors Bay • Akaroa

Page 7

news

Volunteers plant 'zig-zag'

Lyttelton's Joyce St has benefited from the planting of 200 rengarenga

as part of the first stage of native tree plantings up the hill.

Page 17

Apply for a subsidy for your

Summer with

your neighbours

event!

Applications are open from

13 August until 10 September 2021

ccc.govt.nz/GetTogether

Tracey McLellan

MP for Banks Peninsula

Community Drop-in Session

St Martins Community Centre

122 Wilsons Road South

3–4pm, Saturday 14 August

642 Ferry Road, PO BOX 19 661, Woolston, Christchurch

03 376 4512

Tracey.McLellanMP@parliament.govt.nz

Authorised by Tracey McLellan MP,

642 Ferry Road, Woolston
---
Wednesday August 11 2021 Bay Harbour News

Latest Canterbury news at starnews.co.nz

Consultation continues over

NEWS 3

In Brief

future of Godley House site

• By Samantha Mythen

DIAMOND HARBOUR

residents may be able to enjoy

a beverage or two at a licenced

hospitality venue on the site of

the former Godley House in the

future.

Following discussions with the

city council, the Department of

Conservation has suggested part

of the Stoddart Point Reserve

might be able to be leased out for a

hospitality venture under section

73(3) of the Reserves Act 1977.

It said this may be a possibility

if the circumstances comply with

the Act's requirements.

City council head of parks

Andrew Rutledge said council

staff will be working with the

Banks Peninsula Community

Board over the coming months

to "determine the next steps,

taking into consideration the

Department of Conservation

position."

Diamond Harbour Community

Association chairman Nathan

Graham said it had been 10 years

since the original venue, Godley

House, was demolished.

The association hoped, for the

community's sake, "they could

get some sense of restoration of

SUMNER

HEAT PUMPS

& ELECTRICAL

LOCALLY OWNED &

OPERATED

HVAC SPECIALISTS

RESIDENTIAL &

COMMERCIAL

INSTALLATIONS

AND REPAIRS

QUALIFIED ELECTRICIAN

AVAILABLE FOR ANY JOB

PHONE TODAY FOR A

FREE QUOTE

021 228 8127

www.allaboutheat.co.nz

Care &

Compassion

We pride ourselves on the

very highest level of service

If you are thinking about the future, we can help

you explore pre-payment and pre-planning options.

Contact us for a Free Information Pack.

We offer funeral information talks to groups.

Please call us for a speaker to come to you.

DEMOLISHED: The former Godley House.

what they had lost during the

earthquakes.

"We lost a really important

resource and there has been no

indication on whether we could

ever get that back until now," he

said.

"If we can't get it back, it will

ultimately be a huge loss for the

community."

In 2018, it was discovered

that the site had been made a

recreational reserve by the Banks

Peninsula District Council

in 2006.

This means the site can only

be used for the purposes of a

reserve under the 1977 Reserves

Act. The Act defines the legal

(03) 379 0196 | www.simplicity.co.nz

CLIMATE

CONTROL

YOUR ENTIRE

HOME WITH

DUCTING

FROM AS

LITTLE AS

$7999

Mark Glanville

Manager &

Funeral Director

PHOTO: ODT

requirements around what buildings

can be constructed and how

the reserve can be used, which

excludes a licensed venue.

A temporary lease on the site,

which allowed for the establishment

of the Dark Star Ale House

in 2011, was a mistake by the city

council and the lease had to end.

The Banks Peninsula Community

Board has since been

working with the city council

to attempt to change the reserve

status or see what other options

are available.

Graham said the community

association had been campaigning

for a revokation of the status.

"The Godley House reserve is

ANNIVERSARY

Do you have any

unwanted, broken

or worn out gold

jewellery?

70

UP TO

■ All forms bought,

including Alluvial

gold

■we We buy also buy Estate

and Antique

Jewellery

jewellery?

MORE DETAILS ON WEBSITE

Do you have

unwanted, broken

or worn out gold

This is a Special Customer Invitation

Tuesday 7th May 9am – 5pm

Providing you the opportunity to secure a bargain

before we open our doors to the public 9am Wednesday

10 DAYS ONLY

Gold & Silver Bullion/Coins

Wednesday 8th May – Saturday 18th May

Bought

& Sold

Gold & Silver Bullion/Coins Bought & Sold

Trusted 7 since 1967

WESTENDE JEWELLERS

W J Telephone 03 366 5475

the gateway to Diamond Harbour

from the popular ferry," he

said.

"We've been working towards

a way to get some functionality

of the former Godley House."

In 2019, the city council held

a public consultation with community

members, including Diamond

Harbour school, residents

and local businesses, asking

them what they would like to see

at the reserve.

Feedback was diverse but an

overarching theme was the desire

to have somewhere to socialise,

with 132 people specifically

requesting a licenced venue.

Said Graham: "A licenced

venue is high up on people's

agendas."

The community board is now

waiting for a detailed report

from the city council on what

options are available.

• HAVE YOUR SAY: Should

there be a licensed venue

on Stoddart Point Reserve?

Email your opinion to

samantha.mythen@

starmedia.kiwi

Keep responses to 200

words or less

421 Colombo Street, Sydenham

www.westendejewellers.co.nz

NEW FOUR SQUARE OPEN

The new Four Square in Church

Bay is now open for business,

opening yesterday. From today, its

hours will be 7am until 7pm.

GRAFFITI REMOVAL

A city council contractor has

begun removing graffiti at the

Torpedo Boat Museum, as well

as at the nearby jail. Work will

continue into next week.

ROOSTER STILL CROWING

FOR A HOME

Tony the rooster is still waiting

for his forever home. The runaway

was apprehended by the McTear

family in Heathcote after a week

of early morning wake-ups and

capture attempts. He is currently

residing at the SPCA.

NATIVE SEEDLINGS TO BE

PLANTED AT CASS BAY

Three thousand seedlings

will be planted by volunteers

this Saturday in Cass Bay.

Environment Canterbury is

working with Conservation

Volunteers NZ to help reduce

sedimentation in Lyttelton

Harbour by increasing native

plantings. People are welcome

to join in from 10am to 3pm.

Meet at the Steadfast stream by

Governors Bay Rd. The event will

be postponed to August 21 if it is

too wet on the day.

Resene DIY Card special!

Resene

Premium

Paint 10 L

Resene

Testpots

60-80 mL

Come in and see us today at

your local Resene ColorShop!

Addington, Ferrymead,

Hornby, Lichfield St,

Northwood, Rangiora,

Shirley, Tower Junction

or shop online at shop.resene.co.nz

Discounts off the normal retail price from 5-31 August 2021. Valid only with cash/

credit card/EFTPOS purchases and Resene DIY Card. Not available in conjunction

with account sales, promotional vouchers/coupons or other offers. Excludes

trade, ECS and Crown products and PaintWise levy. Sign up for a free Resene DIY

Card at your Resene ColorShop or participating reseller. Offer applies to 10 litre

Resene premium paints, primers/sealers, wood stains and 60-80 mL testpots only.
---
Bay Harbour News Wednesday August 11 2021

4

NEWS

Latest Canterbury news at starnews.co.nz

No simple solution for

stormwater drains

• By Samantha Mythen

HEAVY RAINFALL this year

has meant the stormwater drains

at Sumner have had to be cleared

out on more than 20 occasions

to date.

City council head of three

waters and waste Helen

Beaumont said the outfalls,

which drain onto Sumner beach,

are cleared by excavators when

rain is expected. This helps to

prevent flooding in Sumner

village.

"The forecast is monitored

closely and we respond as

required," said Beaumont.

The total recorded excavation

costs since November 2018 are

$72,929.

Over the 2020-2021 period, the

costs so far have been $26,860.

June and July costs are not

included, but these could add

approximately $18,000.

For the 2019-2020 period, the

costs were $26,943 and for the

2018-2019 period, the costs were

$19,126.

"While the costs are reasonably

consistent, is also worth noting

that the annual rainfall over that

period has been between 50-60%

of the typical annual rainfall in

Sumner," said Beaumont.

DRAINAGE: Stormwater outflow pipes, Sumner Beach.

PHOTO: GEOFF SLOAN ​

"As such, when a more

"typical" year occurs the

costs would be higher due to

more frequent rain events and

potentially higher rainfall."

Beaumont said there is no

simple engineering solution for

preventing the drains from being

blocked due to dynamic sand

levels compared to the level of

the road and the drains.

"A number of years ago, the

level of sand was well below the

outfalls, it has been increasing

over many years and is currently

approximately the same height as

the road," said Beaumont.

"The height of the outfall can't

be increased as it would then

be higher than the point where

water enters the stormwater

network. At this point in time

responding to rain events

is appropriate."

SOIL AND

HARDFILL

DUMPING

Deterioration 'serious'

• From page 1

"Sadly, the gates have been left

to deteriorate and are in very

poor condition. They are in need

of tender loving care to bring

them back to pristine condition,"

he said.

"Paint has faded, the exterior

surface is pitted with rust and in

several places, the rust

has completely eaten

through the main

pillars supporting the

gates."

Prior to his death in

June 2020, Sumner resident

Ross Clapp had

shared his concerns

about the gate's "shabby

state," with Latham, and asked

for his help in doing something

about it.

In response to Clapp's concerns,

Latham had raised the

issue of the gate's disrepair with

the board in October last year,

hoping to see action from the city

council to restore the gates or see

an alternative proposed.

"From my casual observation,

the gates will require considerable

restoration work to restore them

given the serious deterioration that

has taken place," Latham said.

The park is actively used by

Sumner residents, with cricket

and rugby often played on the

grass area.

The Sumner-Redcliffs Historical

Society would also like to see

the gate's repaired.

"They should not have been allowed

to get into that bad state in

the first place," society secretary

Topsy Rule said.

"It's just like your house, you

respect it and if it's been broken,

you fix it."

The park's grounds were

remodelled, made larger and

opened in 1926. The

gates were unlocked

by Sumner Mayoress

Mrs Nicholson.

During the unlocking,

Nicholson

expressed a desire the

park would be a source

of health and happiness

for years to come.

"The gates are an excellent

example of that period in our

history," said Latham.

In response to Hardy's comments,

Latham said he was

pleased to learn that the gates

may be restored.

However, he remained concerned

about the lack of scheduled

maintenance previously

undertaken on the gates.

"To suggest that the gates are

''maintained on a reactive basis''

is somewhat concerning," he said.

"These gates have historical

significance for Sumner residents

and are part of our heritage. They

should be part of a scheduled

maintenance check programme. I

doubt whether the gates of Mona

Vale or the Botanical Gardens are

maintained on a reactive basis."

WE NOW HIRE

LANDSCAPING AND

GARDEN EQUIPMENT

DIGGERS, TRUCKS, WOOD CHIPPERS, POLE SAWS,

BREAKERS, WATER BLASTERS, ETC.

PLUS WE SUPPLY THE BEST

LANDSCAPE & GARDEN SUPPLIES

•BARKS •COMPOSTS

•AGGREGATES - CHIP, ROUND & BASECOURSE

•SCHIST PRODUCTS •PUNGAS

•DECORATIVE STONE & LANDSCAPING ROCKS

•TRAILER HIRE - FIRST HOUR FREE WITH PURCHASE

•BAG & BULK - PICK UP OR DELIVERED

DYERS ROAD LANDSCAPE & HIRE

PHONE: 03 384 6540

183 DYERS RD, BROMLEY ● OPEN 7 DAYS

Weekdays 7.30am-5pm. Weekends 8.30am-3pm

www.dyersroadlandscape.co.nz

huge demand and low in stock.

properties needed!

To find out what your property might be worth in

today's market, call Shaun or Prue for an appraisal.

Living local and working local.

Shaun Davey 027 953 8860 & Prue Dacombe 021 752 348

Harcourts Grenadier Sumner - 43 Nayland Street, Sumner

Grenadier Real Estate Ltd MREINZ. Licensed Agent REAA 2008
---
Wednesday August 11 2021 Bay Harbour News

Latest Canterbury news at starnews.co.nz

Lookout fundraiser nears target

• By Samantha Mythen

THE SUMMIT Road Society is

now onto the home straight with

raising funds to build the John

Jameson Lookout.

The society applied for the

final $65,000 needed from the

Lotteries Environment and

Heritage Fund last week.

It has already sourced 80 per

cent of the funding required to

build the lookout over Lyttelton

Harbour, opposite the Sign of the

Bellbird in Kennedys Bush and

the Ohinetahi Reserve, from a

combination of its own money

and external grants.

The lookout is expected to cost

$340,000 in total.

In March 2020, the project

received $150,000 from a city

council endowment fund and at

the end of last year, it received

$50,000 from the JD Stout

Charitable Trust.

Just recently, in July, it

received $40,000 from the Rāta

Foundation.

Summit

Road Society

secretary Marie

Gray said

last year the

focus was on

the lookout's

design,

Marie Gray

whereas this

year it was on

raising money to make the

project happen.

"We spent 2020 looking at

formalising the design in consultation

with lots of people in the

community and we also had an

engineering survey done," said

Gray.

"The most work we've done

this year has been focused on

funding."

She said the society hopes to

hear back about the Lotteries

fund in November.

"If that is granted, we hope to

start building the lookout early

next year, although there is still a

lot of planning to do."

The Summit Road Society aims

to create an area where everyone

can enjoy the "iconic view" over

Lyttelton Harbour, as well as learn

about the area's cultural

and environmental heritage,

said Gray.

It has been working closely

with Ngāti Wheke of Rāpaki

to incorporate the stories and

history of mana whenua, the

right of Ngāti Wheke to manage

the area of land.

FINAL

STRETCH: A

new lookout

proposed for

the car park

across the

road from

the Sign of

the Bellbird,

Kennedys

Bush, has

almost

reached its

funding goal.

The lookout will continue the

legacy of Harry Ell and the role

of John Jameson and the Summit

Road Society in protecting the

biodiversity of the Port Hills.

Harry Ell was a city councillor

and member of Parliament in the

early 1900s.

He was famous for promoting

Summit Rd and conservation

work around the Port Hills.

His grandson, John Jameson,

founded the Summit Road

Society in 1948 and the lookout

would be named after him.

NEWS 5

Picnic table

shelter for

Akaroa

Recreation

Ground

• By Samantha Mythen

THE AKAROA and Bays Lions

club is gifting a picnic table shelter

to the Akaroa Recreation Ground.

It will commemorate the club's

50th anniversary, which will be in

February, 2022.

However, it is hoped the shelter

will be installed before the end

of the year, ready for use over

summer.

The proposed shelter will be

built by the barbeque the Lions

club gifted to the grounds to mark

its 40th Anniversary in 2012.

The club approached the Banks

Peninsula Community Board

earlier this year with the proposal.

The community board approved

the venture on Monday.

Community board chairwoman

Tori Peden said: "It will be

another great resource for a

well-used area, especially for over

the summer months when the

community is out and about."

It is hoped subsequent shelters

might be installed around the

Banks Peninsula as an ongoing

project by the Lions club.

Sumner Art Society

EXHIBITION

13th-15th August

The Bowling Club

9 James Street, Redcliffs

Friday 5pm - 7pm

Saturday & Sunday

10am - 5pm
---
6 Bay Harbour News Wednesday August 11 2021 Latest Canterbury news at starnews.co.nz

SOME

HOT

NEW BOOKS

To get you

through

the Winter

months

INSTORE NEW RELEASES NOW!

Steve Hansen - The Legacy

The making of a New Zealand coaching great by Gregor Paul

Between the years 2012 and 2019, Sir Steve Hansen oversaw an era of such remarkable

success that it would be almost impossible to repeat. His 15-year career in the All Blacks

coaching team is the heaviest footprint in rugby history. Of the 210 tests he was involved with,

his team lost just 25 times. Of the 107 tests he served as head coach, Sir Steve accumulated

a record 4 World Rugby Coach of the Year awards and orchestrated 93 victories - a winning

percentage of 87 per cent, the highest of any All Blacks coach. Steve Hansen: The Legacy delves

into the highs and the lows that earned the New Zealand rugby knight a place in the pantheon

of world rugby coaching greats. Revealing and perceptive, the book uncovers how

OUR

PRICE

$39.99

RRP $49.99

Hansen dealt with the immeasurable pressure of leading the world's most famous

rugby team; the tension created by being re-appointed specifically to win the Rugby

World Cup. Much more than a biography, in Steve Hansen: The Legacy, awardwinning

writer Gregor Paul tells the compelling story of the former policeman from

Mosgiel, his quest for world rugby dominance and his journey to coaching greatness.

Supercars

The Great Australian Sporting rivalry Story by Luke West

V8 Supercars is a great Australian sporting success story, still going strong for over a quarter

of a century. It was the first local race series to gain a mainstream national following,

catapulting the likes of Peter Brock and Dick Johnson to fame against the backdrop of

Mount Panorama, Bathurst. These days the sport draws huge crowds, attracts big-dollar TV

rights deals and a new generation of heroes have appeared battling over old territory, plus

a host of new street circuits, turning this Australian motor sport into a globally recognised

phenomenon.

The V8s have evolved into today's Supercars Championship, creating household megastars

such as Craig Lowndes, Marcos Ambrose, Jamie Whincup and Scott McLaughlin. Supercars

gives detailed insight into how each and every championship was won, tracking the

development of the Supercars class between 1993-2010.

This comprehensive and absorbing account of a uniquely Australian sport is a must for any

race fan's bookshelf.

Mental Fitness

By Paul Wood

The bestselling author of How to Escape from Prison, prisoner-turned-psychologist Paul Wood on

developing the mental strength and fitness to take on all of life's challenges Getting and staying

mentally fit, just like getting and maintaining a high level of physical fitness, involves hard work,

effort, and consistency. Our level of mental fitness determines how effectively we can flourish

through adversity, realise our potential, and be happier with our lives. We all know about mental

stress (or we think we do). We've definitely all experienced it, and none of us like it. Yet this is not

a threat to be avoided. Mental stress is perfectly analogous to physical stress: it is the mind's way

of telling us that what we are attempting to perform is challenging our resource. This is a catalyst

for growth, and a sign we are pursuing our potential. When we experience stress, we have a

choice: we can heed that signal and give up - after all, we're meant to stay in our psychic comfort

zone all the time, right? In Mental Fitness you will learn how to: Increase your mental fitness, just

as you would increase your physical fitness Get closer to your potential by working proactively to

maintain your mental fitness Experience the right level of stress (this is what makes us get fitter)

Cope effectively for longer before you get fatigued or exhausted (it doesn't mean you don't feel

the struggle) Pay attention to the indicators of fatigue to avoid burnout and unnecessary misery.

In Our Own Backyard

By Anne Kayes

It's March 2020 and Liza, her husband and two teenage children are at home in Auckland

in level-four lockdown due to Covid-19. Reflections with her family around the dining table

inspire Liza to reflect on another challenging time in history nearly forty years before when

the South African Springbok rugby team toured New Zealand. Casting her memory back to

1981, Liza recalls her life as a fifteen-year-old, including her first love, friendships, first-hand

experiences of racism, and what it means and what it costs to find your voice and use it. In

Our Own Backyard is a startling, confronting portrait of a society divided. Anne Kayes has

written a masterful YA novel that considers questions of human equality that are as pertinent

in the twenty-first century as they were in 1981.

A Woman of Intelligence

By Karin Tanabe

An exhilarating tale of one remarkable woman's journey find her purpose, and herself, in

post-war America. New York, 1954. A Fifth Avenue address, parties at the Plaza, two healthy

sons and the ideal husband: what looks like a perfect life for Katharina Edgeworth is anything

but. As a single girl in 1940s Manhattan, Katharina was a translator at the newly formed

United Nations, devoting her days to her work and the promise of world peace - and her nights

to cocktails and the promise of a good time. Now the wife of a beloved pediatric surgeon

and heir to a shipping fortune, Katharina is trapped in a gilded cage, desperate to escape

the constraints of domesticity. So when she is approached by the FBI and asked to join their

ranks as an informant, Katharina seizes the opportunity. A man from her past has become

a high-level Soviet spy, but no one has been able to infiltrate his circle. Enter Katharina, the

perfect woman for the job. Navigating the demands of the FBI and the secrets of the KGB, she

becomes enthralled by her secret mission. But as those closest to her lose their covers, and

their lives, Katharina's secret soon threatens to ruin her.

1005 Ferry rd

Ph 384 2063

while stocks last (see instore for terms and conditions)

Barry & kerry
---
Wednesday August 11 2021 Bay Harbour News

Shorter hours

for customer

service centres

THE OPENING hours of the

Lyttelton and Akaroa customer

service centres are decreasing.

Both service centres will now

be open from 10am-2pm, Monday

to Friday.

The new hours will begin at

Lyttelton Service Centre, located

at 18 Canterbury St, on Monday.

Akaroa Service Centre,

located at its new premises at 78

Rue Lavaud, will follow suit on

September 27.

The changes come after

feedback to the Council's Draft

Long Term Plan 2021–31.

Both centres were originally

proposed for closure in the Long

Term Plan.

However, community activism

has meant the two service

centres will remain open, with

city council funding allocation

to both sites.

Said city council head of

citizen and customer services

Sarah Numan: "The community

told us loud and clear during

the consultation process that

they want these service centres

to remain open."

Lyttelton Library, which

shares a building with the

service centre, and Akaroa

Library at 2 Selwyn Ave, are

keeping the current hours.

The city council customer call

centre phone number is 941 8999.

Latest Canterbury news at starnews.co.nz

Community board grant

recepients announced

• By Samantha Mythen

COMMUNITY GROUPS will

benefit from thousands of dollars

granted by the Linwood-Central-

Heathcote Community Board.

The board granted money to

nine community groups from the

Sumner, Redcliffs, Mt Pleasant,

Heathcote and Ferrymead areas

at a meeting last Wednesday.

The community groups

applied for this funding under

the board's Strengthening

Communities Fund for the 2021-

2022 period.

The largest grant approved was

for $22,000 and will go to the

Sumner Bays Union Trust for

Sumner Community Residents

Association and union trust

projects.

A grant of $8500 was also

approved for the Mt Pleasant

Memorial Community Centre

and Residents' Association.

The funds will go towards

wages for its community centre

development project staff, as well

as towards next years' Estuary

Festival.

The Heathcote Cricket Club

will benefit from a $3000 grant

towards wages for a junior coordinator.

Other grants which have been

FUNDING: Estuary Fest is among the latest round of

community board grant recipients.

approved include:

• $2000 to the Redcliffs Tennis

Club towards the cost of tennis

balls.

• $2000 to the Sumner Rugby

Football Club for a part-time

salary for the club.

• $1500 to the Ferrymead

Bays Football Club towards the

provision of junior football.

• $1000 to the Redcliffs Public

Library Incorporated towards

morning teas for their volunteers

and arts and craft materials for

their holiday programmes.

• $800 from the 2021-22

Strengthening Communities

Fund, $600 for 2022-23 and

$400 for 2023-24 to the Mt

Pleasant Pottery Group towards

operational costs and volunteer

recognition.

• $500 to the Redcliffs

Residents Association for

administration and operational

and project costs.

NEWS 7

Tsunami

warning

system

inadequate

BANKS PENINSULA will get

tsunami warning sirens installed

if a recommended upgrade of

Canterbury's tsunami warning

system goes ahead.

Currently, there are 45 tsunami

warning sirens strategically

located along the Christchurch

coastline between Brooklands and

Taylors Mistake.

However, there are no tsunami

warning sirens in Banks Peninsula,

which could be at risk of

flooding in the event of a large

tsunami.

City council head of civil

defence emergency management

Rob Orchard said: "We have

updated the tsunami evacuation

zones for Christchurch and

Banks Peninsula in response to

[scientific] information as it shows

that flooding could occur further

inland than previously identified."

It is being recommended that

the current tsunami warning

system be extended. The cost is

estimated at $3 million and there

is money in the 2021-31 Long

Term Plan for the work.

A decision will be made on

whether to proceed when the city

council meets tomorrow.

Redcliffs PHARMACY

LOOKING AFTER THE COMMUNITY

20% OFF

GET YOUR FEET

READY FOR SPRING

Skin Care

Combo

SANDERSON

Hair & Lashes Skin & Nails

FX 60s plus Triple Zinc FX

100s

OUR PRICE $29.99

Offer available for a limited time.

NO FILING,

SIMPLY

PAINT IT ON!

OUR PRICE

$69.99

Redcliffs PHARMACY

87 Main Road, Redcliffs. Phone 03 384 1037

www.redcliffspharmacy.co.nz

WE DELIVER! (Small fee may apply)
---
8 Bay Harbour News Wednesday August 11 2021 Latest Canterbury news at starnews.co.nz

War for

Cybertron

Kingdom

Leader Class

Maximal

T- Wrecks

SAvE $30

Usually up to

$129.99

$

79 99

ea

$

79 99

ea

$

50 99

ea

$

99 99

ea

ExCLUSIvE TO

43195 Belle and Rapunzel's

Royal Stables SAvE $10

Usually up to $89.99

71387 Super Mario Adventures

with Luigi Starter Course

SAvE $10 Usually up to $89.99

76194 Tony Stark's Sakaarian

Iron Man 15% Off

Usually up to $59.99

Surge Speedstorm Dual

Pack Assortment* 20% Off

Usually up to $34.99

$

27 99

ea

$

19 99

ea

Slime Surprise

Series 1

Assortment*

20% Off

Usually up

to $24.99

$

9 99

ea

Cones fantasy

Series 1

Assortment*

20% Off

Usually up to $12.99

$

31 99

ea

Sequin Surprise

Series 4 fairycorn

Surprise

Assortment*

20% Off

Usually up to

$39.99

$

19 99

ea

Puppycorn Surprise

Series 3 Assortment*

20% Off

Usually up to $24.99

SAvE

$

10

$

39 99

ea

Tweens Doll

Assortment*

Usually up to

$49.99

flower Shop florist

Usually up to $39.99

20 % Off

$

31 99

ea

Mega Light

Up Dino

Surprise

Egg

Assortment*

Usually up to

$49.99

20 % Off

$

39 99

ea

*Styles will vary from store to store.

20 % Off

$

19 99

ea

Mini Egg Light up

Dino Surprise Egg

Assortment*

Usually up to $24.99

20 % Off

ALL

3 In 1 Ultimate Glitter Beauty Set, Colour Your Own Magic

Sequins Messenger Bag or Inspirtational Rock Art

Usually up to $34.99

$

27 99

ea

$

15 99

ea

Action Pack Pup

Assortment* 20% Off

Usually up to $19.99

SAvE

$

10

$

99 99

ea

20 % Off

$

23 99

ea

SAvE

$

10

20 % Off

$

23 99

ea

?

?

?

?

?

?

?

?

?

?

?

?

Lookout Playset

Usually up to

$109.99

Baby Crawl and Learn Bright

Lights Ball Also available in pink

Usually up to $29.99

2-n-1 Touch &

Learn Tablet

Usually up to

$49.99

$

39 99

mystery prize party pack*

to be won in every stoRE

ea

Learning Watch or

Lets Chat Learning

Phone

Usually up to $29.99

*Mystery Prize Party Pack worth over $250RRP. Contents of each Mystery Prize party Pack will vary from store to store. 1 Prize pack per participating store. Not available online. To enter purchase anything instore between 12th August

– 24th August and fill in the entry form. Each store will randomly draw one winner on the 25th August. Winner will be contacted via email. The Prize is non-transferable and is not redeemable for cash or other goods.

TOWER JUNCTION

NZ's Biggest TOYWORLD

Clarence St, Riccarton, Ph 03 343 0330

MARSHLAND

199 Marshland Rd,

Ph 03 982 8697

Valid from Thurs 12th August to Tuesday 24th August 2021. *Terms and conditions apply.

HORNBY

Chalmers St,

Ph 03 281 8127

†Free Roller Coaster

Set Collectible with

purchase of LEGO®

Brick Sets $100 and

over while stocks

last*. Limit one per

transaction and

limit one per family.
---
Latest Canterbury news at starnews.co.nz

Wednesday August 11 2021 Bay Harbour News

NEWS 9

Vibrant photography club celebrates 25 years

ON LOCATION: The club has held regular workshops and field trips since 1996. including a portrait workshop at Godley House in 2003 and a trip to Castle

Hill in 2013, where club member Dorothy Shrimpton wasn't afraid to get her feet wet (right).

• By Samantha Mythen

THE DIAMOND Harbour

Camera Club is celebrating

25 years of photography and

community this year, with an

exhibition at Stoddart Cottage.

Committee member Joan

Gladwyn joined the club six

years ago with her husband.

They attended a club workshop,

hoping to meet new people

in their community.

Since then, she has been on the

committee for more than four

years and has previously been

chairwoman for three years.

"Of course, my husband and I

have both improved at photography,

but the overwhelming best

thing has been all the friendships

we have made," Gladwyn said.

"It's a really lovely organisation

to be a part of for all the camaraderie."

The club's exhibition 'Rebuild

Refocused' features photos recording

Christchurch's evolving

cityscape, captured during the

club's annual field trip.

Committee secretary Tim

Cheesebrough has been involved

with Christchurch's rebuild and

acts as the club's tour guide,

sharing his knowledge and

insight into how the urban space

has progressed in the last decade.

The exhibition includes images

of new and old architecture,

vibrant street art, bright night

scenes and nature.

"The nice thing about this

exhibition is that the rebuild is so

important and affects everyone

so much," Gladwyn said.

"Being able to show what has

changed is a really good thing."

Gladwyn also said the exhibition

was a great opportunity

to show the community and

visitors what the club does.

"It's a chance to show off."

Currently, there are more

than 40 members, ranging from

beginners to accomplished professionals.

The club runs monthly

meetings with guest speakers,

workshops and field trips,

exploring varied photography

genres. It also produces a

calendar, with money raised

from its sale donated to the

Diamond Harbour Volunteer

Fire Fighter Brigade.

In the past, the club has

organised photography lessons

at Diamond Harbour School

and run a photo competition

for the pupils. Field trips have

included outings to Castle Hill

and Birdlings Flat.

In addition to 'Rebuild

Refocused', club members are

now getting ready for their

annual exhibition, held each year

at Orton Bradley Park during the

Spring Fair.

'Rebuild Refocused' will be on

at Stoddart Cottage until the end

of August.

on trend

on sale

TIPAZ

Bedroom Range

ON SALE

Bedside

NOW $

265

Tallboy

NOW $

799

Lowboy

NOW $

899

Sono Queen Mattress

Boxed

WAS $

599

NOW

$

399

SELECTED ITEMS – IN STORE & ONLINE

ENDS 16.8.21.

boxed for easy

transport!

Verano 2 Seater

NOW $

699

Vermont 2 Seater

NOW $

999

Lennox 2 Seater

NOW $

999

Riley 2 Seater

NOW $

799

NEW!

Larvik

Bedroom Range

Paris 7 Piece Dining

Set – W190

WAS $

2139

NOW

$

1599

36

MONTHS

INTEREST FREE *

Terms & conditions apply.

See in store for details

Veno 7 Piece Dining

Set – W150

WAS $

1199

NOW

$

899

Scan to find store

250 Moorhouse Ave, Christchurch

0800 TARGET (0800 827438)

targetfurniture.co.nz

Offers and product prices advertised here expire

16/08/21. Sale Excludes Accessories.
---
Bay Harbour News Wednesday August 11 2021

10

NEWS

Latest Canterbury news at starnews.co.nz

Art for art's sake – but it is also about

As the Sumner Art

Society gets ready for

its annual exhibition,

reporter Samantha

Mythen went along to

one of their weekly art

practice sessions to see

how the preparation

was going and chat

with the dedicated

artists behind it all

FIFTY-SEVEN years ago, a small

group of artists hosted an art

exhibition for the public.

The exhibition was so successful,

with almost all paintings

sold, that it has been repeated

every year since.

That small group of artists is

known as the Sumner Art Society.

The group's current members

will host its annual exhibition

this weekend.

Rae Manson's current focus is

creating abstract works of art.

Behind her are painted seascapes

of lighthouses floating amid

clouds.

Previously working in real

estate, Rae "had a break from art

for 33 years." It had been something

she had practised since she

was a youngster and could grip

a pencil between small round

fingers.

"I promised myself that when I

retired I would spend more time

with my art," she said.

Now, every Wednesday she

goes along to the-more-oftenthan-not

sunbathed Mt Pleasant

Yacht Club, perched next to the

Avon-Heathcote Estuary, to

spend her morning painting.

"In my five years of practice,

I've improved so much," she said.

Kilmeny Keyse, the society's

secretary, is working next to Rae

on a landscape.

"I often paint with oils. I like

its translucency and as it takes a

while to dry, you can manipulate

it."

She often works with tools

such as palette knives to create

touchable patterns that literally

jump off the canvas.

Kilmeny has really only begun

to dedicate time to her art practise

since retiring.

CREATIVE RETIREMENT: Rae Manson (left) and Benita Dale McMillen are continually exploring different ways to paint

and create as part of the Sumner Art Society.

"I always wanted to go to art

school, but my parents thought

I'd end up a beatnik so sent me

off to study science.

"I love coming here now."

Her two worlds have since

collided . . . at the yacht club she

dons a paint-splattered lab coat.

But the art society is not just

about creating and crafting. It's

about collaboration and friendship.

"This group is a community

service. An awful lot of chat goes

on. People are not shy to give

opinions of each other's art,"

Kilmeny said.

Rae agreed: "There's always

someone around to ask for help

if you're not sure."

Just that morning Benita Dale

McMillen had been asking others

for advice on what colour to

paint a background. She asks me

too, wondering about the colour

of a window sill a cat sits on.

"White or a peachy pink?" she

asked.

She settled on a white, allowing

the eye to be drawn to

the bright colours of the scene

outside of the window.

"We have people who've

worked professionally as artists

as well as new beginners to the

practice. Anyone wanting to

join shouldn't feel anxious or

worried. Everyone is welcome,"

Rae said.

"Since the earthquakes, the art

scene has lost so much," Kilmeny

said.

"It's why this group is so

important, and the fact it's been

going for so long is so special.

We think it's one of the oldest in

New Zealand."

The art society was established

in 1959, with the first few meetups

hosted in its founder Reg

Holcroft's home.

Classes in all matter of instrument

use were taught, from oil

painting to watercolour, pottery

to pastels, to wood carving and

china painting.

Well-known artists and art

teachers often visited to lend a

voice.

Membership was at its peak in

VARIED MEDIUMS: At the Sumner Art Society, Kilmeny Keyse (left) is working on an oil

painting, while Valerie Campbell uses watercolour to add vibrancy to hand-drawn native

birds.

the late 1990s with 200 members.

Now there are 40 members

and they come together each

week to work on their own

practice.

Daphne Russell said one of the

fun parts is that everyone comes

from a different background.

Valerie Campbell, working on

intricate hand-drawn and watercoloured

native birds, agreed.

"The club is great because of

the variety of people. They all

provide positive feedback and

can help point you in the right

direction. It's all about the energy

here."

You do not have to live in

Sumner to attend the group –

members come from all over

Christchurch.

Alison Lowe loves going to

take part each Wednesday.

"It's the social side that makes

this group so good. You can

paint in your studio at home but

why would you when you can

come here every week to enjoy a

good chat," she said.

Alison is currently following

a course by New Zealand artist

Judy Woods.

The group members are all

unique painters, influenced

by their own experiences and

desires. Walking into the yacht

club is like walking into an art

gallery, there are different styles

and different subjects.

Lend a hand at the Cass Bay planting day

Meet 10am Saturday, 14 August at Steadfast Reserve

Please park on Bayview Place, Cass Bay, and walk to Steadfast, Governors Bay Road

Join the Bay community's planting day where we

aim to plant 3000 native seedlings, adding to the

previous year's huge effort to reduce sediment

in Lyttelton Harbour. Stay on afterwards for

a barbecue and cuppa.

Shovels will be provided. Please bring gardening

gloves, warm clothes and boots.

RSVP: email water@ecan.govt.nz by 13 August with

your name and whether you'll need a shovel.

Postponement date 21 August. A postponement

email will be sent on 13 August.

Important groups to acknowledge: Cass Bay

Residents Association and Cass Bay Reserves

Management Committee
---
Wednesday August 11 2021 Bay Harbour News

Latest Canterbury news at starnews.co.nz

NEWS 11

companionship

Sandra Palmer takes along

her own table to the yacht club,

setting up the latest watercolour

painting she is working on.

"I love the way watercolour

does its own thing," she said.

"I love putting pigment down

on a wet background and seeing

the way it moves across the

canvas."

Sandra has always dabbled in

painting, especially when her

children were small and she had

the time.

"It's a life-long practise," she

said.

"It also provides the opportunity

to make new friends and to

travel."

There is much variety in the

subject matter the artists choose

to focus on.

Her love of animals often

inspires Celia Morrison's artwork.

Currently, she is painting delicate

whispers on a curious, big-eyed cat.

Daphne said she "loves

scenery," a mountain landscape

with a glorious azure sky sits

behind her work table, reflecting

the Southern Alps seen in the

distance from the window of the

yacht club.

"As I see it, I want to paint it,"

she said.

Bruce Marks, now retired, but

previously a tradesman also loves

to paint landscapes.

"The places I've been and the

places I'll go," he said.

A Sumner scene is inspiring

his latest artwork, the canvas

he's working on soaked in a deep

cerulean.

Bruce likes to diversify though.

He shows me an oil painting of a

monarch butterfly, sunset wings

over an acrylic background.

Benita Dale originally started

painting as she wanted to create

portraits of her family.

Now she paints an array of subjects,

inspired by her time spent

living both in Christchurch and

Tauranga.

Valerie has been experimenting

with suiboku-ga, Japanese ink

painting. She spent a year living

in Katashima, Japan.

"Painting is such a satisfying

practise. You don't always like your

work, but time flies," she said.

ENGINEER TO ARTIST: John Robb learned drafting during

his years as an engineer. He now uses those skills to

create intricate drawings each Wednesday. (Below) – Celia

Morrison's (right) love of animals inspires her current work

Daphne Russell (centre) is working on a landscape.

PHOTOS: SAMANTHA MYTHEN

"You can sit down at 9am and

next thing it's 2pm and you've

forgotten all about morning tea

and lunch. Nothing else can create

that level of concentration in a

way that is not draining."

Beth Cook is one of the longest-serving

members of the art

society. An artwork herself, she

wears a scarf featuring a kaleidoscope

of colours.

"I've been around since the

1970s," said Beth.

"I come for the companionship

and you learn so much from the

other people around you. It's a

wonderful group."

The oldest member is in her

90s. Their youngest member is 18.

Geri Parawa said she had been

a member of the group for so

long, she could not even remember

when she first joined.

"I love standing in the middle

of the room and looking at what

everyone is doing," she said.

"You can always learn something

from someone else."

Geri is experimenting with

vibrant inks. Her subject matter,

a vase filled with radiant flowers.

John Robb, previously an

engineer, loves to draw buildings

and trains.

His fine-line drawings take

hours. He fills them in with

colour.

"It's so relaxing being here.

And it's a commitment. I come

every week."

The view behind him is the

Ferrymead Estuary.

"The companies nice and I love

to watch the birds."

•The exhibition runs from

5-7pm, Friday, 10am-4pm,

Saturday and Sunday, Bowling

Club, 9 James St, Redcliffs

Treasures

from the past

VOLCANIC PAST: Aerial view of Lyttelton Harbour showing

the flooded volcanic cone.

Te Ūaka The Lyttelton Museum ref 14428.1

https://www.teuaka.org.nz/online-collection/1135157 ​

AROUND 15 million years

ago (Ma) the Pacific Ring of

Fire became active in our

region and began to build the

backbone of Te Waipounamu

South Island – Ka Tiritiri-ote-Moana,

the great Southern

Alps.

In the sea to the east of

this subduction zone's great

uplifting, new shield volcanoes

began to form and rise from the

surrounding waters.

THe first of them was the

Lyttelton Volcano that began

erupting 11 Ma, reaching

almost 1000m high around 10

Ma before explosively forming

the beginnings of today's

natural harbour.

As the volcanic activity

slowly moved southeast away

from Whakaraupō Lyttelton

Harbour, it formed Te Ahu

Pātiki Mt Herbert Volcano

from 9.7 – 8 Ma and then

moved on to form the vast

Akaroa Volcano from 9 – 8

Ma. Volcanic activity began

to subside from around 7 Ma

ceasing altogether after 5.8 Ma.

It's only then, with the

never-ending effects of erosion

along the volcanic valleys, that

we have the beginnings of the

weathered volcanic peninsula

that we know and love today.

Although if Cook had been

sailing at the time he would

have been correct in calling it

an island.

It wasn't until 2 Ma that glaciers

began to grind the Southern

Alps down, with their rock

and loess slowly forming the

Canterbury Plains. And around

20,000 years ago those plains

finally reached the volcanic

island to form Horomaka Banks

Peninsula.

oN sAle Now!

Now only

$35.80

Plus $5 P&H per copy

AvAilAble from stAr mediA:

Level One, 359 Lincoln Road

Addington, Christchurch

Phone 379 7100

YOUR LOCAL

ACCOUNTANT

I COME

TO YOU

Financial Statement Preparation

Tax Preparation & Compliance

Xero & MYOB Specialist

Steven Clarke Ltd. 7 Margot Lane

Mount Pleasant, Christchurch

Phone 03 384 4633 Cell 021 677 670

steven@sclarke.co.nz

Christchurch Heart Institute,

University of Otago, Christchurch

Are you on

treatment for

heart failure?

If so,

you could participate in a clinical trial!

The Christchurch Heart Institute is taking part in an international study

looking at IV iron replacement therapy in heart failure patients.

Transport and parking is paid for by the study.

For more obligation-free information please contact:

Stephanie Rose on 03 378 6137 or

email: Stephanie.Rose@cdhb.health.nz
---
12 Bay Harbour News Wednesday August 11 2021 Latest Canterbury news at starnews.co.nz

PHIL

MAUGER

FOR MAYOR

2022

The change we need!

Authorised by Philip Mauger, 87 Jessons Road, Christchurch

Widely applauded for bringing a fresh style

and a no-nonsense, can-do attitude to the

council table, Burwood councillor Phil Mauger

has announced he is running for the

Christchurch mayoralty in 2022 as

an independent candidate.

"I am standing for mayor

because I want to get

stuff done. I will bring a

practical approach to

council and make the

best decisions for

our city."

MAUGER FOCUS

■

■

■

■

■

■

Keep rates affordable and reduce debt

Finish our roads and footpaths

Deliver better services faster

Spend money carefully

Practical and common sense

leadership

Make Christchurch an even better

place to live
---
Wednesday August 11 2021 Bay Harbour News

Latest Canterbury news at starnews.co.nz

LETTERS 13

Readers respond to

last week's front page

article on a plan to

reduce the speed limit on

Humphreys Drive from 70

to 60km/h.

Darrell Latham is concerned

that a safer speed on Humphreys

Drive will increase commuter

times for motorists into the

city.

I'm sure he's done the maths.

The difference in commute

time between the two speeds

is around 10sec over the just

over 1km. Would motorists

commuting notice this on

their 11min commute to the

city? (I've seen the signs on the

causeway).

This of course assumes that

motorists instantly accelerate to

70km/h and can break instantly

to stopping at the Dyers Rd

signals if they're red. The actual

increase in travel time would

be less than 10sec, and all to

improve safety for all road users?

Fortunately, safety experts

don't wait for crashes to

happen before providing safer

environments, they're fortunate

enough to have data on crash

rates in similar environments

all across the country and can

determine safe and appropriate

speeds without having to wait for

people to be killed or seriously

injured on every road.

It's interesting that 10sec

additional for commuting

motorists (noting we have

ambitious carbon reduction

targets both locally and

nationally) is a concern, but no

issue whatsoever with a much

greater diversion for cyclists

through Charlesworth Reserve

(a far more sustainable mode

for those who are able). There's

also the bus which is now on a

10min frequency at peak times. –

Darren Fidler

The speed limit on Humphreys

Drive should be reduced to

60km/h from the current

70km/h. I often see people

on that road exceeding the

speed limit and doing closer to

80km/h.

When I am cycling, cars

passing at high speed can be very

intimidating and the wind blast

from the vehicle particularly

large commercial ones can be

very disturbing. It is nonsense

to argue that reducing the speed

limit will reduce times into the

city as this stretch of road can

only be 600-700m in length and

ends in traffic lights which may

force you to stop. – Chris Irons

A definite no to decreasing the

speed from 70km/h to 60km/h.

We want to hear your views

on issues in the

Bay Harbour News area

Send emails to:

barry@starmedia.kiwi

Letters may be edited or rejected at Star Media's

discretion. Letters should be about 200 words.

A name, postal address and phone number should be

provided.

Please use your real name, not a nickname, alias, pen

name or abbreviation.

They (council) have just spent

millions of dollars on cycleways

and reduced the speed in

Woolston along with businesses

losing customers to enable

cyclists to travel safely into and

out of town.

We travel Humphreys Drive

daily at peak traffic times. If we

are lucky enough to see a cyclist

and then they aren't even using

the new cycleways – Debbie

Camp

If the city council is really

interested in cyclist safety along

Humphreys Drive they should

pave it in a material that doesn't

flick up stones at cyclists and

other cars. The current speed

is absolutely appropriate given

the rural nature of the road,

no matter what the NZTA

pontificates.

The speed limit should stay

the same and if they're really

concerned, extend the separated

cycle path along Humphreys

Drive and into Ferrymead,

there's plenty of empty land for

them to do so. – Samuel Zelter

As a cyclist, I am delighted

that the council plans to safely

connect up the current cycle

path to town with the Ferrymead

Bridge and to reduce the speed

limit for cars.

The current on-road cycle lane

is narrow, partially obstructed,

often covered in gravel and feels

unsafe.

As a motorist, my initial

concern was the nasty feeling

of being slowed down when

dashing about my daily business.

Then I did the calculations and

found that the maximum extra

time this will take is 10sec.

Actually, I think going 10sec

slower into town is a reasonable

price to pay for the additional

safety. – Pat McIntosh

• More letters, p15

fLOOR COvERING

BARGAINs

Smooth-Air

Ventilation Equipment Suppliers

to

trade

&

retail

Smooth-Air also has a wide range

of ventilation equipment to bring

fresh air into your home.

York Street

By Feltex Carpets - 100% New Zealand wool carpet,

extra heavy duty contemporary textured loop pile, one

outstanding natural colour. Export overruns.

Unbelievable value $129m

SAvE OvER $100m

Only while stocks last

Bases Loaded

Sensational new, entry level cut pile carpet, looks and

feels great, 4 fabulous colours, made from hardwearing

solution dyed polyester.

Great value $69m

(that's $18.85m 2 ) Only while stocks last.

Domestic

Commercial

Industrial

Kenzi

Commercial quality vinyl planks

Exceptional value and 2 great colours in stock now.

Harper Oak & Zane Oak. Normally planks of this quality

sell for $59.00m2.

our price $29.95m2

Only while stocks last

PLUS

MUCH

MORE

INSTORE

Transfer

the excess

from your

heat

log burner

to your bedrooms

47 Gasson Street • Ph 353 8899 • Hours: 8.30am-5pm Mon-Fri

www.theflooringwarehouse.co.nz

0800 SMOOTH

(0800 766 684)

sales@smooth-air.co.nz

264 Annex Rd

Riccarton

Christchurch

03 343 6184

Monday - Friday

7.30am - 5pm

www.smooth-air.co.nz
---
14 Bay Harbour News Wednesday August 11 2021 Latest Canterbury news at starnews.co.nz
---
Wednesday August 11 2021 Bay Harbour News

Latest Canterbury news at starnews.co.nz

LETTERS 15

As a Ferrymead resident and

frequent user by cycle, 70km/h is

fine and safe.

The bigger issue in

transitioning to lower pollution

is the efficiency of existing

combustion engine transport.

Smooth constant velocity uses

far, far less fuel. Stop-start, speed

up slow down burns substantially

more fuel and brake pads and

tyre wear.

Traffic planners are causing

far more pollution than saving

accidents.

EVs in particular are extremely

susceptible to rapid battery

discharge from stop-start, hills

and headwinds. Plant shelter

along roadways. – Des Knowles

The options for walking a dog

off-leash in my neighbourhood

have been steadily decreasing,

though on the face of it there

would appear to be an adequate

amount of green space from a

non-dog owner's point of view. –

Trudy McBeath

I obviously think this is a great

idea. I think Laurenson Park

(left) might work. People already

take their dogs there and it's

partially fenced already.

It also has a bin for putting

poo in. That might keep the

neighbourhood cleaner.

I regularly pick up others'

offerings when walking my dog.

– Liz Wyllie

It is absolutely ridiculous the

council is even considering

not using the alternative route

through Charlesworth Reserve.

The park route is free from

vehicular traffic, sheltered from

the easterly wind, and does not

affect any precious bird activity. –

Alan Truscott

I am writing in response to

Darrell Latham's opposition

to reducing the speed on

Humphreys Drive.

Counting a generous 1.3km of

road at 70km/h, the time taken

is 0.0186 h (3sf). At 60km/h the

time taken is 0.0217 h (3sf). The

difference between these times is

0.0031 h which is 11.2sec (3sf).

Personally, I feel that I will be

able to absorb this prolonged

commuting time when deciding

what time I leave for work. –

Lydia Duport

I think the speed limit should

remain at 70km/h, the road is

wide enough with no buildings

alongside and a great deal of

money spent on the cycle way. –

Graham Fear

I am for the speed limit being

lowered. Currently if you are

driving to Sumner from town

along Linwood Ave, it is 60km/h

along there, then 70km/h along

Humphreys Drive and then back

to 50km/h when you get to Ferry

Rd.

Having it 60km/h from

Linwood Ave to Ferry Rd/Main

Rd would be much simpler and

would also be safer for people

turning into Mitre 10 and the

shops nearby. And also safer for

cyclists.

Also I find it surprising that

board member Darrell Latham is

wanting to keep it at 70km/h due

to not wanting to increase the

commuter time.

Humphreys Drive is

approximately 1.5km long.

At 60km/h an hour, that

takes you 90sec to drive that

distance.

If I have done my maths

correctly, it would take 77sec at

70km/h.

Decreasing the speed limit

would therefore only add 13sec to

your journey.

I feel that time difference is

negligible in most people's car

journeys. – Angela Williams

Keep speed the same please. –

Julie Riley

Diamond Harbour

dog park

Finally, a dog park mooted for

Diamond Harbour.

As a long-term resident and

dog owner of Diamond Harbour,

I am excited by the prospect of

having a local dog park.

My location suggestion would

be in the gently sloping paddock

at the very top of Whero Ave that

stretches through to Bayview Rd.

This provides magnificent

views of the harbour from

Sugarloaf to Godley Head. The

cost of adapting this area would

be minimal as it already has

reasonable fencing and water

outlets.

With signage and suitable

doggy-do facilities installed it

could be up and running in no

time.

This area is central to the

village so handy for most. –

Graham Duncan
---
16 Bay Harbour News Wednesday August 11 2021 Latest Canterbury news at starnews.co.nz

SECURE YOUR

TODAY

Secure your pick of the range in the colour you

want, we have good stock arriving this year and

are taking forward orders today.

Beat the proposed fuel tax and get the Triton

you've always wanted.

Contact us for more details.

*Prices listed are for Triton 2WD GLXR double cab, Triton 4wd GLSB double cab and Triton 2WD

VRX double cab. Prices exclude on road costs which includes WoF, registration, 1,000km road user

charges and a full tank of fuel.

$48,990 +ORC

• Factory-fitted black body kit

• Black 18 inch Alloy Wheels

• Front and rear parking sensors

FROM

GLXR

$39,990 +ORC

• Running Boards

• 7" Touch Screen Smartphone

Link Display

• 18 inch Alloy Wheels

FROM

VRX

$44,990 +ORC

• Black Sports Bar*

• Multi-Around View Monitor

• Leather-Appointed Interior

*On VRX 4WD only

CHRISTCHURCH MITSUBISHI

386 Moorhouse Avenue, Christchurch

Tel: 03 379 0588 | christchurchmitsubishi.co.nz

10 year / 160,000km Powertrain Warranty (whichever comes

first) (non transferable). 5 year / 130,000km New Vehicle

Warranty (whichever comes first) (non transferable).

DRIVE A NEW

NISSAN

STOCK AVAILABLE TODAY

AGILITY MEETS SMARTS

AVAILABLE FROM

$33,990 *

STOCK AVAILABLE NOW

*Price shown is for the Nissan Qashqai ST excludes on road costs of $1,250 which includes registration,

WoF and a full tank of fuel.

CHRISTCHURCH NISSAN, 380 Moorhouse Avenue, Christchurch

Ph: 03 595 6820

www.christchurchnissan.co.nz

THE ALL-NEW

PRO-4X

IN STOCK NOW

christchurchnissan.co.nz
---
Wednesday August 11 2021 Bay Harbour News

NEWS 17

A-FOUR-DABLE

EVERY DAY

A-FOUR-DABLE

EVERY DAY

A-FOUR-DABLE

EVERY DAY

Pams Fresh

Carrots

1.5kg Prepack

Product of

New Zealand

$

3 29 ea

Bananas Loose

Product of Ecuador

$

3 29 kg

PLANTING DAY: A group of volunteers have begun planting up the 'zig-zag'

on Joyce St in Lyttelton. ​

A-FOUR-DABLE

EVERY DAY

A-FOUR-DABLE

EVERY DAY

In spite of Friday's wet and cold weather,

the Lyttelton community event Adopt

the Joyce St Zig-Zag, saw 20 people turn

up at various points to help.

These included city council staff

and their contractor, Conservation

Volunteers, as well as many individuals

from the community.

The group managed to put all 200

rengarenga in the ground and mulch

them within an hour.

This is only the first stage as the group

plans to make their way up the hill with

native plantings.

Pams Fresh

Potatoes

2.5kg Prepack

Product of

New Zealand

Gold Kiwifruit Loose

Product of New Zealand

$

4 49 kg

$

6 49 ea

The Peoples 750ml

(Excludes Pinot Noir)

$

12 99 ea

Speight's

Gold Medal Ale

24 Pack 330ml Bottles

$

33 99 ea

KEEN: Cold weather

did not deter planting

volunteers.

SEE INSTORE

for more info

www.foursquare.co.nz

facebook.com/FourSquareNZ

Specials available South Island only from Monday 9th August until Sunday 22nd

August 2021 or while stocks last. Wine and beer available at stores with an off

licence. Wine and beer purchases restricted to persons aged 18 years old and over.
---
18 Bay Harbour News Wednesday August 11 2021 Latest Canterbury news at starnews.co.nz
---
keep it local

Latest Canterbury news at starnews.co.nz

WESTERN NEWS [Edition datE] 27

and support businesses in your community

A 'gold mine'

of footwear

for all ages

Wednesday August 11 2021 Bay Harbour News 19

The Footwear Factory in Garlands

Road Woolston has been a part of the

Christchurch retail scene for more than

a quarter of a century. Over that time

thousands of people have flocked to the

store to find bargains and good deals in

quality footwear, ranging from children's

shoes, sandals and school shoes to men's

and women's fashion and casual shoes,

outdoor and sports shoes, bowls shoes,

slippers, and safety footwear for the

workplace.

Launched in a small shop in Papanui,

the business later operated in Riccarton

for 12 years before moving to Garlands

Rd 17 years ago. Owned by Russ and Jude

Day, there you will find shelves lined with

footwear in a huge variety of styles and

colours for men, women and children – a

'gold mine' for shoe-seeking shoppers.

The footwear is brought in from all over

the world, as well as coming from New

Zealand manufacturers, and includes

ends of lines and other well-priced items.

Four main brands are carried – the

New Zealand made McKinlays range of

children's school shoes, as well as mens

and women's styles. The well-known

Hi-Tec range of outdoor footwear and

tramping, New Balance sports shoes and

a range of Keens sandals and outdoor

footwear. These known brands cover all

ages. New styles arrive almost every day,

so there are always more to try on, while

Russell and his second-in-charge Karen

are happy to advise on styles and sizing.

Located on a high-profile site at

47C Garlands Rd, (next to Flags

Tyres), the Footwear Factory is easy

to find, and there is off-street parking

available. They are open seven days a

week – 9.30am- 5pm Monday to Friday,

10am-2pm Saturday and 11am-3pm

Sunday. Phone 389-3431. Check out

their website for new arrivals, www.

thefootwearfactory.co.nz

Karen Kirk

displays the

popular Hunter

Junior shoe

Lyttelton

Framing

Four good reasons to use us

to frame your artwork:

1. Know how - UK qualified

conservation framer

2. Experience - We have been

established now for eighteen years

3. Guarantee - All work guaranteed

4. Price - Very competitive prices

Contact Malcolm Ph 328-7350

32 London St, Lyttelton

Mon-Fri 9am-5pm, Sat 9am-1pm

HIKING BOOTS

& SHOES

For men, women

and children

From

$79.95

to $250

47c Garlands Road, Woolston

Phone 389 3431

www.thefootwearfactory.co.nz

$50 OFF

(Offer expires 31st August 2021)

FDA approved amiea med EXCEED

MICRONEEDLING

(Collagen Building Therapy. Normally $300)

"Beautiful atmosphere, warming

and calm. Awesome products used.

End result, I felt like a million

dollars. Totally recommended."

- Tia, Christchurch

EXCEED by amiea med is a medical microneedling

device clinically proven to increase natural Collagen

formation, promote rejuvenation and improvement

of skin texture, visibly reduce fine lines & wrinkles,

treat acne scarring, and normalise the skin structure.

Delivering tranquil and relaxed

treatments, beauty and

massage therapy in a warm and

inviting atmosphere

89b Main Road, Redcliffs

Phone 03 384 4729

www.redcliffsbodycare.co.nz

Open Monday to Saturday

Late nights Wednesday

& Thursday.

Phone 03 384 1743 to

book your appointment.

we now have

Shop Now. Enjoy Now. Pay Later.

Phone (03) 384 1743 | 4/2 Soleares Ave, Mt Pleasant
---
20 Bay Harbour News Wednesday August 11 2021 Latest Canterbury news at starnews.co.nz

Birthday

We are

HOT DEAL!

$

27 99

Celebrate our birthday with our latest

specials!

LONG WHITE VODKA

Range

10 x 320ml Bottles, 4.8%

Includes Lemon & Lime,

Raspberry, Passionfruit, Apple

& Pear, Orange, Nectarine &

Apple, Feijoa

HOT DEAL! HOT DEAL! HOT DEAL!

HOT DEAL!

$

34 99

$

37 99

$

39 99

$

42 99

HOT DEAL!

$

49 99

EXCLUSIVE!

$

59 99

HOT DEAL!

$

64 99

1.125 LITRE

FINLANDIA

1 Litre

GRANT'S

Triple Wood

1 Litre

BACARDÍ Range

1 Litre

Includes Gold, Spiced, White

JIM BEAM

White Label

1.125 Litre

CHIVAS REGAL

12YO

700ml

SAILOR JERRY

Savage Apple

700ml

THE GLENLIVET

12YO

700ml

2 for

$ 50

Single bottle

$27.99

EVERYDAY

PRICE!

$

17 99

each

under $20

TIGER

or BECK'S

1 2 x 33 0 m l

Bottles

Birthday beersie deals!

HOT DEAL!

$

19 99

each

HOT DEAL!

$

24 99

each

HOT DEAL!

$

24 99

each

STELLA

ARTOIS,

ASAHI

12 x 330ml

B ot tl e s

STEINLAGER

CLASSIC

15 x 330ml Bottles

MOUNT DIFFICULTY

ROARING MEG

Pinot Noir

750 m l

WITHER HILLS Pinot

Noir or Syrah

750ml

Also available: Merlot

HOT DEAL!

$

39 99

EXPORT 33

24 x 330ml Bottles

HOT DEAL!

$

41 99

STEINLAGER PURE

24 x 330ml Bottles

Shop local with

AMBERLEY, ASHBURTON, BARRINGTON, BELFAST, BRIGHTON, BURNSIDE,

COLOMBO ST, EDGEWARE, ELMWOOD, FERRYMEAD, HALSWELL, HANMER

SPRINGS, HORNBY, ILAM, KAIAPOI, LEESTON, LINCOLN, METHVEN, OXFORD,

SHOP LATEST DEALS at WWW.SUPERLIQUOR.CO.NZ

NATIONWIDE PICKUP & DELIVERY NOW AVAILABLE

PAPANUI, PEGASUS, RANGIORA, SEASIDE, WOOLSTON

Exclusions may apply on some brands advertised. Offers end close of trade 22nd August 2021, while stocks last. Available at participating stores only. Multi Deal only available in store. Varietals may

vary by store. Limits may apply. Wholesale (other liquor retail banners) not supplied. Terms and conditions may apply. Available 2nd - 22nd August 2021 inclusive. Please see www.superliquor.co.nz for details.

SUP2306_C10
---
REAL ESTATE

Simply sensational

2 Athol Place, Diamond Harbour

Auction 2 September (unless sold prior)

3 bedrooms 2 bathrooms 2 car garage

Listing no. 5515909

Open Homes Sundays 1 pm - 1:45 pm

Latest Canterbury news at starnews.co.nz

Wednesday August 11 2021 Bay Harbour News 21

ADVERTISING FEATURE

The timeless design of this beautiful

two level, permanent material home is

complemented by captivating sea views and

all day sun. Located on a corner site,

providing the optimum position and

nestled amongst landscaped, colourful

gardens, with numerous fruit trees,

including cherries, apples and persimmon,

plus strawberries, to name a few.

This superior, contemporary home

comprises of three bedrooms on the upper

level, a wonderful kitchen, with quality

features, including a spacious granite bench

and pantry. You will enjoy the open plan

living and dining areas that seamlessly

extend to the terrace, capturing wide,

panoramic sea views, while overlooking the

garden.

The lower level features a studio, complete

with ensuite, kitchen bench and large storage

room, which could be easily converted to a

walk-in robe, making this space perfect for

teenagers or extended family. Functional in

every way, the lower level of this home also

consists of the laundry, internal access

double garage with work bench and access

to the garden.

Enhancing this property further is excellent

drive-on access and plenty of additional

off-street parking for the boat and trailer.

This coastal paradise offers an array of

outdoor activities and is ready for a lucky

new owner to experience this rich lifestyle.

We anticipate high demand for this

property, so immediate inspection is advised.

Lynette Hughan

Mob. 027 485 8027

Peter Hughan

Mob. 027 485 8380

Bayleys Christchurch

(Licensed Agents REAA 2008)

260 x 180

Need Heat Fast?

The Fastest, Warmest Indoor/Outdoor Heater You Will Ever Own!

Buy One Get One Free! *

+Plus

Free

Floor

Stand!*

worth

$199.99

• Heats Up Instantly

• Suitable for Indoors or Outdoors

– In Rain, Fog, Wind or Snow

• Carbon-Fibre Bulb Technology

• Multi-Directional Stand

• Includes Remote Control &

Built-In Timer

• Motion Detection Function

1.8m High

• Commercial Grade

• Multi-Directional

• Easy Install

• Portable

• Indoors & Outdoors

*Call for Terms

& Conditions

CALL NOW! 0800 665 665
---
22 Bay Harbour News Wednesday August 11 2021 Latest Canterbury news at starnews.co.nz

Pottery Social Night

Wednesday, 7-9.30pm

Are you hooked on pottery?

This is an opportunity for you to

work alongside others on your

own pottery projects. Tuition

is not provided. Take your own

clay, glazes, tools and ideas. $5

donation per session (cash only).

Email Nikki to book a spot

artatsumnerhub@gmail.com

Sumner Hub, 57 Nayland St

Sumner

Creative Wednesdays

Wednesday, 11.30am-2.30pm

All welcome and you can come

and go as you please. This group

is focused on bringing people

together and getting creative,

no matter what level your art

practice is, beginner or expert.

Every Wednesday.

The Rock, 10 Wakefield Ave,

Sumner

Heathcote Community

Morning Tea

Wednesday, 10am-12pm

Everyone is invited to pop in

for a cuppa, some fresh baking

and to get to know some of the

locals. Every Wednesday.

Heathcote Community

Centre

Sumner Silver Band

Thursday, 7-8.30pm

All are welcome to attend

Email samantha.mythen@starmedia.

kiwi by 5pm each Wednesday

the band's regular rehearsals

to either just listen or to

become part of the band. They

can provide instruments and

encourage returning players of

all ages. Phone Peter Croft for

more information 3849 534.

Redcliffs School, Beachville Rd

Pest Free Banks Peninsula

Thursday, 11am-4pm

Tim is there to answer any

questions you may have about

this "collaborative programme

designed to protect and enhance

biodiversity on the Peninsula

through the widespread

eradication of animal pests."

Happening every Thursday at the

same time.

Akaroa Library

DORA – Intro to Digital

Banking

Friday, 1-3pm

Christchurch City libraries has

partnered with DIAA (Digital

Inclusion Alliance Aotearoa)

to provide free digital banking

programming on DORA

(Digital On-Road Access). This

session will help you understand

banking online, how to

recognise online scams and how

to protect yourself and how to

navigate through online banking

platform and how to get started

with your bank.

Little River Library

Matuku Community

Theatre Cabaret 2021 – Seniors

Session

Friday, 8-10pm

Matuku Community Theatre

presents their 2021 Cabaret:

SING | DANCE | LAUGH |

LOVE | SURF | DREAM. A fun

and fabulous variety show of

songs, dances, silly skits and

surfing with a Sumner twist.

Guest performances by Firefly

Belly Dancers and quartet

Symptomatic. A contribution

from each show will be donated

to Sumner Hub. Find out more at

sumnercommunity.nz. Matuku

Takotako Sumner Centre, 14/16

Wakefield Ave

Diamond Harbour Camera

Club Exhibition

Friday, Saturday and Sunday,

10am-4pm

Every year members of

Diamond Harbour Camera

Club make a field trip into

Christchurch, witnessing and

recording the fast-changing

city landscape year-on-year.

Open also on public holidays

and showing until the end of

August.

Stoddart Cottage, Diamond

Harbour

Community Centre Working

Bee

Saturday, 12.30-2pm

Raking, sweeping and a chair

clean up. Hot drinks provided.

Mt Pleasant Community

Centre

Akaroa Shotokan Cup Kids

Karate Competition

Sunday, 9.30am

Spectators are welcome, entry

is free. There will be a food and

drink stall as a school fundraiser,

please take case. Hosted by the

Akaroa Karate Club.

Akaroa School Gym

Sumner Bridge Club

Monday 7.15pm, Wednesday

1pm

For fun, friendly and

competitive Bridge. If you have

any questions, send an email

to sumnerbridgeclub@gmail.

com

57 Dryden St, Sumner

Go along, meet the artists and

take home a work of art. Entry is

free and there is also a raffle. Prizes

include either a Basket of Delights

or a framed painting by an awardwinning

artist.

Coffee and Conversations

Monday, 10.30am

Sumner Bays Union Trust host

Tea and Talk. Join in for a social

morning with free hot drinks

and snacks. Make yourself

comfortable and spend some

time talking to other members

of the community and your local

librarians. Everyone welcome.

Matuku Takotako: Sumner

Centre

Redcliffs Library Book Club

Tuesday, 10.30am

Go along and meet new people

and share your love of reading

and all things books. Meeting on

the third Tuesday of each month.

Redcliffs Library

Lyttelton Harbour TimeBank

Drop-in Session

Tuesday, 10am-12pm

The Lyttelton Harbour

TimeBank exists to help build

a stronger, more connected

harbour community. Come in

for a chat – get help with joining

or managing your account,

posting an offer or request.

Lyttelton Library

Read local
---
CRYPTIC CROSSWORD

1 2 3 4 5 6

7

8 9 10

11 12

13 14

15 16

17 18 19

20 21 22

23 24

QUICK CROSSWORD

1 2 3 4 5 6 7

13/8

Latest Canterbury news at starnews.co.nz

Across

1. A good job the Romans were without

a remedy for it! (8)

4. Fifty would make it a tree: a thousand,

a month (4)

8. The spare child-spoiler (3)

9. Is uncertain as to how five got the

fever (5)

10. It is by way of those five giving one

a finish (3)

11. Having studied S American country,

half missed the finish (7)

12. Go to one's rest or return to nothing

on the street (5)

13. Is this a vessel for the co-director?

(11)

17. It takes a month and, for the French,

eight musicians (5)

18. A person who does an impressive

job (7)

20. Pouch one almost gets on dismissal

(3)

21. It is due to being in the red (5)

22. Food item frequently bolted (3)

23. How she would shortly appear to be

put off (4)

24. Not a feck for the futile! (8)

Down

1. Cast lines? (6)

2. Lowest point attainable from drain (5)

3. I had to follow the outfit without

bending (5)

5. Mix oil, air and touch of vinegar for

this dish (7)

6. On this, cricket was novel (6)

7. How her fingers may prove

invigorating (10)

9. A divine dispensation it is vain to

destroy (10)

14. The thing is, it will appear in the

newspaper (7)

15. Gives one a push that to boss is not

straightforward (6)

16. Roman brute? Not quite: American!

(6)

18. Award that is a highly valued

acquisition (5)

19. It gives a touch of colour in satin

generally (5)

Wednesday August 11 2021 Bay Harbour News

PUZZLES 23

SUDOKU

Fill the grid so that every column, every row and 3x3

box contains the digits 1 to 9.

8

9 10

11 12 13

14 15

16

17 18 19

20

21 22 23

24 25

Across

1. Perfect world (6)

4. Kidnap payment (6)

9. Merry (5)

10. Match, copy (7)

11. Bright red (7)

13. Journey on foot (4)

14. Cosmetic, skindeep

(11)

17. Border (4)

18. Irish girl (7)

21. Jewellery worn

around neck (7)

22. Firearm (5)

24. Fashionable (6)

25. Car or property for

lease (6)

Down

1. Unfair (6)

2. Night bird (3)

3. Blissful period (5)

5. Relating to water (7)

6. Deadlock (9)

7. Mild-mannered (4)

8. Document of

achievement (11)

12. Plentiful supply (9)

15. Green gem (7)

16. Reveal (6)

19. Sizeable (5)

20. Blemish (4)

23. In good shape (3)

CODECRACKER

QUICK CROSSWORD

Across: 1. Utopia, 4. Ransom, 9. Jolly, 10. Emulate, 11. Scarlet,

13. Trek, 14. Superficial, 17. Edge, 18. Colleen, 21. Pendant, 22.

Rifle, 24. Trendy, 25. Rental.

Down: 1. Unjust, 2. Owl, 3. Idyll, 5. Aquatic, 6. Stalemate, 7.

Meek, 8. Certificate, 12. Abundance, 15. Emerald, 16. Unveil, 19.

Large, 20. Spot, 23. Fit.

CRYPTIC CROSSWORD

Across: 1. Sinecure 4. Arch 8. Rod 9. Vague 10. Via 11. Perused

12. Roost 13. Partnership 17. Octet 18. Printer 20. Sac 21. Owing

22. Nut 23. Shed 24. Feckless.

Down: 1. Script 2. Nadir 3. Rigid 5. Ravioli 6. Hearth 7.

Refreshing 9. Visitation 14. Article 15. Boosts 16. Brutus 18. Prize

19. Tinge.

TARGET

abut arty bait batt batty

bitty brat bratty bruit brut

butt butty rarity ratty rutty

tabu tarry tart taut trait tray

TRIBUTARY tuba turbit yurt

MEDIUM HARD

EASY

TARGET

B R I

R T Y

A U T

Good 13

Very Good 17

Excellent 21+

ALL PUZZLES © THE PUZZLE COMPANY

How many words of four letters or more can you

make? There is at least one nine-letter word.

Each letter may be used only once and all

words must contain the centre letter.

No words starting with a capital, no plurals

ending in s unless the word is also a verb, e.g.

he fires the gun.

Mon-Thurs: 7am - 4pm

Fri-Sun: 7am - 5pm
---
Bay Harbour News Wednesday August 11 2021

24

FOOD

Latest Canterbury news at starnews.co.nz

Use pasta for lunch or a main meal

Vegetarian dishes are

very much in vogue.

Try these pasta

recipes for a quick

lunch or for a family

dinner

Fettucine with garlic

Serves 2

Ingredients

125gm dried fettuccine

2 tbsp olive oil

1 large shallot, thinly sliced

1 cup finely sliced fennel bulb

¾ cup dry white wine

8 cherry tomatoes, halved

½ cup cream

4-6 cloves garlic

Directions

Cook fettuccine according to

packet instructions.

Heat oil in a non-stick frying

pan. Saute shallot until softened.

Add fennel and saute for one to

two minutes.

Pour in white wine and simmer

until reduced by half.

Cook for one minute then add

tomatoes. Heat until softened.

Add cream then garlic and

heat through. Serve over fettuccine.

Cheesy pasta bake

Serves 3

Ingredients

500gm pasta spirals

2 tbsp olive oil

500gm cherry tomatoes, halved

4 green shallots, thinly sliced

400gm grated mozzarella

500gm bottle onion and roast

garlic pasta sauce

1 bunch fresh basil, leaves

picked, plus extra, to serve

Directions

Cook the pasta in a large

saucepan of salted boiling water

following the packet directions or

until al dente. Drain. Preheat the

grill to high.

Wipe pan dry. Heat oil over

medium-high heat. Add the

tomato and shallot.

Cook, stirring, for three to

four minutes or until the tomato

softens. Reduce the heat to low

and add the cooked pasta, pizza

cheese and pasta sauce.

Stir to combine. Remove from

the heat. Add the basil leaves and

stir to combine. Season.

Spoon the pasta mixture into a

20 x 35cm baking dish. Place under

a grill for five or eight minutes

or until cheese is melted.

Quick spinach and

mushroom pasta

Ingredients

250gm linguine

150gm mushrooms

Cherry

tomatoes

complement

well pasta.

Pasta also

makes a tasty

leftover meal.

1 cup cherry tomatoes

1 tbsp cooking oil

150gm fresh spinach

1 tbsp butter

1/4 tsp garlic powder

2 tbsp nutritional yeast

1/4 tsp salt

1/4 tsp freshly cracked black

pepper

Directions

Bring a large pot of water to a

boil for the pasta. Once boiling,

add the pasta and continue to boil

until the pasta is tender (about

seven minutes). Reserve a 1/2 cup

of the pasta water, then drain the

pasta in a colander.

Slice mushrooms and cut the

tomatoes in half.

Heat the oil in a large skillet

over medium heat. Add the

mushrooms and a pinch of salt

to the skillet and sauté until they

have released all of their moisture

(about five to seven minutes).

Add the tomatoes and sauté

for about two minutes more, or

just until they're heated through.

Add the spinach and sauté just

until wilted. Add the cooked and

drained pasta to the skillet along

with the butter. Toss until everything

is coated in melted butter.

Turn the heat off.

Season with garlic powder,

nutritional yeast, salt, and pepper,

then toss to coat.
---
Latest Canterbury news at starnews.co.nz

Wednesday August 11 2021 Bay Harbour News 25

Volvo heads toward electric vehicle goal

AS A COMPANY, Volvo has

come out with some quite

extraordinary announcements in

recent times.

First it was the decision, in the

interests of safety, to speed-limit

all of their vehicles to 180km/h.

That I can understand, Volvo has

long been a safety pioneer and

that didn't surprise me.

However, one decision that

has taken me by surprise is the

direction where it is heading in

terms of electric vehicles. The

company's goal is to produce just

electric-only vehicles by 2040,

with 50 per cent of their models

to be electric-only by 2025, which

is a vision to become completely

carbon neutral.

I'm not totally convinced that

goal is achievable and I'm of the

belief the world will still be buying

cars with internal combustion

engines for many years to come.

That aside, the latest Volvo to

come my way was a another step

towards the electric revolution

– the XC40 Recharge, the title

obviously referring to the plug-in

charging capability. The XC40 Recharge

is a hybrid and that simply

means it has a petrol engine and

an electric motor, the combination

works traditionally, the

petrol engine powers the vehicle

and charges the batteries.

In turn, a 10.7kWh battery

pack powers the electric motor,

taking the load off the engine and

creating fuel saving benefits. Also,

the XC40 Recharge has a plugin

facility, you can charge from

home from a domestic three-pin

outlet, or using a type 2 cable you

can quick charge from one of the

many and increasing number of

stations scattered throughout new

Zealand.

As a driver you can also select

electric-only motion. At best

possible usage you could get

46km without the petrol engine

operating. That's good enough for

my workday commute and the

batteries easily top up with fourhour

domestic charge, while for

interest's sake you can travel up to

about 600km using petrol.

The XC40 isn't new but it is

in hybrid form; the Recharge

is based on the floorpan of its

stablemates and sits in the market

at $85,900 which is just shy of the

Government's rebate scheme, that

being the case it doesn't quality

VOLVO XC40 RECHARGE: Traditional hybrid with petrol

engine and electric motor combination.

for the $5750 reduction.

current from the lithium-ion

Nevertheless, the XC40 Recharge

has many other benefits. energy, and that power comes

system you get a healthy flow of

It is a true luxury sport utility from nowhere, the boost from

vehicle and is loaded with kit. Of zero revolutions is strong and

course, it gets the benefits of all with high torque figures you can

the safety systems Volvo has pioneered

over the years, and such is from any point.

guarantee immediate acceleration

its level of specification there is a Volvo claims a 7.3sec run to

lot of value in the model and the 100km/h from a standstill, which

price seems reasonable in terms is a fairly good indication of available

power. The XC40 Recharge

of what you get.

As a comparison, the petrol-only

XC40 range starts at hard to keep remembering you are

feels sprightly and insightful. It's

$59,900 (2WD), while two fourwheel-drive

models sit at $68,900 response and feel on the road.

actually driving an SUV, such is its

and $73,900.

Drive is channelled to the front

Under the bonnet sits the wheels through a seven-speed

complex driveline, integral to the direct shift gearbox.

system is a 1.5-litre, three-cylinder

turbocharged petrol engine. lured by its environmental-

Buyers of the XC40 will be

Volvo claim power outputs of ly-friendly design and that is a

132kW and 265Nm, add in the direction Volvo has been heading

• Price – Volvo XC40

Recharge, $85,900

• Dimensions – Length,

4425mm; width, 1863mm;

height, 1652mm

• Configuration – Threecylinder,

front-wheeldrive,

1477cc, 132kW,

265Nm, seven-speed

automatic

• Performance – 0-100km/h,

7.5sec

• Fuel usage – 2.2l/100km

towards for several years now.

The Recharge model is listed with

a 7.7-litre per 100km combined

cycle fuel usage average when the

engine is operating freely. That

figure is easily achievable; the

on-board readout was listing at

8.6l/100km when I took the evaluation

car back to the dealership.

In standard hybrid mode Volvo

claims a tempting 2.2/100km

result.

Not only has Volvo weathered

the hard times that claimed its

Swedish competitor Saab, but the

company's vision for the future is

commendable, it has a direction

that's now visible for the entire

world to see.

Volvo will be quids-in and will

have a hefty head start on other

manufacturers going forward,

while for those buyers who aren't

quite ready for full electric, the

XC40 hybrid has the best of all

worlds.

AMPED UP.

THE ALL-NEW VOLVO XC40 PHEV RECHARGE.

The first of Volvo compact plug-in hybrid SUVs is here at Archibalds – and now's the time to discover this stunning planet-friendly vehicle. Take it for a test drive and experience a

powerful electric motor and petrol engine combination, plus a host of exquisite Scandinavian design features.

Contact Archibalds and secure your test drive today.

38 Tuam St,

Christchurch

Thomas Palmer - 03 377 5200 - tpalmer@archibalds.co.nz

archibalds.co.nz

*Plus on-road costs. Model shown is XC40 PHEV Recharge.

For further information visit archibalds.co.nz/VolvoXC40Phev
---
26 Bay Harbour News Wednesday August 11 2021 Latest Canterbury news at starnews.co.nz

152,504 reasons

to advertise with us!

2021 ABC average issue circulation — Star Max vs Press

200,000

The Star

Max *

152,504

circulation

100,000

The Press *

The latest NZ Audit Bureau of

Circulations report is out and

it shows that The Star Max

provides you more circulation

than any other newspaper in

New Zealand.

0

30,256

circulation

Grow more customers, sales and profits for your business,

Call us now for a free advertising consultancy.

Here's what our customers have to say:

We advertise Affordable Furniture specials

in The Star every week and are extremely

pleased with the results.

We find that the large circulation and

readership, really works for reaching our

target market and growing our customers.

We get people coming in with our ad and

asking about the specials we advertise.

We have been benefiting from the

Christchurch Star and Community papers

for 20 years and see no end to it.

Andrew Idour – Managing Director,

Affordable Furniture

After 4 years advertising in the Bay

Harbour News, I decided to widen

my audience by using the Star.

I am very happy with new ad

placement.

My husband Tim was in the shop

today and 2 ladies had come in

to check us out because they had

seen the ad!!! Oh yes they did buy

some goodies!!

Rose Lindley – Mumma Bear

We have advertised with The Star

over the years.

Advertising in The Star we feel we

get more response and feedback

than any other marketing.

We are lucky to have such a great

free paper in the community.

Thanks team Star.

Mark Glanville FDANZ CERT

– Manager and Funeral Director

Phone 03 379 7100

Email shane@starmedia.kiwi

Office Level 1/359 Lincoln Road, Addington

*Source: 2021 ABC Audit Report — Star Max vs Press ANP average total circulation each issue

*Star Max — The Star, Bay Harbour News, Selwyn Times, North Canterbury News
---
h tp: /kaywa.me/8aVDQ

my Kaywa Qr-Code

w.valuecarswarehouse.co.nz

h tp: /kaywa.me/8aVDQ

h tp: /kaywa.me/8aVDQ

my Kaywa Qr-Code

w.valuecarswarehouse.co.nz

my Kaywa Qr-Code

w.valuecarswarehouse.co.nz

Latest Canterbury news at starnews.co.nz

Wednesday August 11 2021 Bay Harbour News 27

Classifieds Contact us today Phone our local team 03 379 1100

Health & Beauty

Trades & Services

Trades & Services

Trades & Services

KATANG

Fitness

Tues 9.15am-10.15am

To Let

RENT ME!

Ideal as an extra

bedroom or office.

no bond required

Fully insulated and double glazed for warmth.

Three convenient sizes from $80 a week:

Standard 3.6m x 2.4m

Large 4.2m x 2.4m | Xtra-large 4.8m x 2.4m

Visit our website

www.justcabins.co.nz

for display cabin locations

www.justcabins.co.nz

Sumner Community

Centre (above library)

$5 per class.

Concession cards available.

For more info

contact Katrina

381 1704 or

027 4966 845

Real Estate

HOME WANTED 3-4

bedrooms. Looking in Nor

West areas, Beckenham

or Somerfield. Prefer

permanent material brick

and post 1990 build. Don't

mind if it needs some TLC

- anything considered.

Cashed up buyer. Phone

021 372 479

Wanted To Buy

AAA Buying goods

quality furniture, beds,

stoves, washing machines,

fridge freezers. Same day

service. Selwyn Dealers.

Phone 980 5812 or 027

313 8156

BANJO ELECTRICAL

LTD. Registered

Electrician. Ph Andrew

022 654 3859.

CARPET LAYING

Exp. Repairs, uplifting,

relaying, restretching.

Phone John on 0800

003181, 027 240 7416

jflattery@xtra.co.nz

CHIM

CHIM

CHIMNEY SWEEPS

We'll sweep your

logburner's flue, check

firebricks, baffles, airtubes

& controls. We're experts

on coal-rangers, and can

sweep any sized open fire.

We quote & undertake

repairs, flue extensions &

install bird netting. 0800

22 44 64 www.chimchim.

nz

ELECTRICIAN

JMP Electrical.

Experienced & registered..

Expert in all home

electrical repairs &

maintenance. Call James

027 4401715

ELECTRICIAN

Andrew Martin Electrical.

25 years experience.

Specialize in home

renovations, repairs and

maintenance. Call Andrew

0274 331 183

GUTTER CLEANING

/ HOUSE WASH

Total gutter / spouting

clear out & clean. House

wash & windows. For a

professional & reliable

service call Greg Brown

A1 Spouting Cleaning 027

616 0331 or 384 2661

Your local professional

FOR ALL YOUR

PLUMBING,

GAS &

DRAINAGE

• Bathroom repairs

• Renovations

• Leaks

• Blocked drains

• Gas and drainage

Carol and Chris

Phone 376 5322 or email

chcheast@laserplumbing.co.nz

HOME

IMPROVEMENTS

Decks, fencing, retaining

walls, kitchens, sleepouts,

kitsets, renovations and

more. Greg 022 475 8227

PAINTING SERVICES

Mature, reliable,

conscientious &

experienced, reasonable

rates, no job too small!

Call Ron 027 434-1400

PAINTING

High quality professional

service. Residential int/ext.

Large & small jobs. Ring

Brent 021 363 432. www.

baileypaintingcontractors.

com

PAINTING

older painter

for older houses

50 years in trade

"All the skills"

GST FREE

Contact Jimmy Bell

0211221487

WINDOW TINTING

tintawindow

advanced film solutions

99% uv block

fade protection

heat control

reduce glare

25 Years Experience

privacy films

frosting designs

non-darkening films

Workmanship Guaranteed

Lifetime Warranties on Most Films

UV

block

Free Quotes Canterbury and Districts

03 365 3653 0800 368 468

DIRTY TILES

& GROUT?

Our unique restoration

processes will make your

tiled areas look NEW again!

We specialise in professional

cost effective solutions for

all your tile & grout issues.

• Tiled shower makeovers

• Re-colouring old grout

• Mouldy silicone replacement

• Professional tile/grout

cleaning, sealing & repairs

Call today for a FREE quote on 0800 882 772

www.theprogroup.co.nz/dpc9385

Incorporating

ISSUE 667 | FrIday 20 novEmbEr 2020

See inside for this week's

4WD feature!

free

best motorbuys

www.drivesouth.co.nz

We've got your

Motoring

Incorporating

One Owner!

2015 IsuZu D-mAX

4WD Ls D/CAb

NZ new, 3.0 intercooled turbo/dsl,

auto, rare flatdeck with ladder/pipe

racks, reverse cam, service history.

$34,995 $192pw

free

Covered!

ISSUE 668 | FrIday 27 novEmbEr 2020

13 sherborne st, edgeware

e biggest range of vehicles

ne location!

house Ave | P: (03) 366 7768 | www.valuecarswarehouse.co.nz

co.nz

2011 Jaguar

XF Premium

$18,999

www.eurofinance.co.nz

See page 4 for more info!

CAR AUDIO

AUDIO VISUAL

Download the Kaywa Qr Code reader (A p Store &Android market) and scan your code!

275 Colombo street, Christchurch

For more see their advert on pages 6 & 7

The biggest range of vehicles

in one location!

2013 Volkswagen

TiguAn TSi

$20,999

CAR SECURITY

CELLULAR

32 Moorhouse Ave | P: (03) 366 7768 | www.valuecarswarehouse.co.nz

454 St asaph Street, 03 378 1818 or 021 480 201

MOBILE INSTALLATION SERVICE

Affordable new parts available for BMW / MERCEDES BENZ

Finance with an edge

See page 5 for more info!

2013 LexuS

LS460 F Sport

Only 79,000kms, black leather

interior, 10x airbags, sunroof,

very smart & very rare.

$39,999 incL

orc

Cell 021 855 884

Incorporating

ISSUE 669 | FrIday 4 dEcEmbEr 2020

See inside for this week's

Classic Car feature!

PH 03 web

REVERSE CAMERAS

RADAR DETECTORS

best motorbuys

For more see their advert on page 31

40 Years Finance

Experience

Cannot be Beaten!

• Talk to us about finance for your next

motor vehicle purchase

• Specialising in Finance for Private Purchases

• Very quick approvals, sensational interest rates

• From no deposit (terms & conditions may apply)

Hiace spares

Cnr Main South Rd and Epsom Rd, Christchurch

Ph: 03 348 4129 | avoncityford.com

Now Available @ NZ Van Spares

Download the Kaywa Qr Code reader (A p Store &Android market) and scan your code!

PARKING SENSORS

AERIALS

0800 212 777

Cell 021 855 884

PH 03 web

DASH CAMERAS

GPS/TRACKING

See our ad on page 2

www.drivesouth.co.nz

40 Years Finance

Experience

Cannot be Beaten!

• Talk to us about finance for your next

motor vehicle purchase

• Specialising in Finance for Private Purchases

• Very quick approvals, sensational interest rates

• From no deposit (terms & conditions may apply)

Hiace spares

Cnr Main South Rd and Epsom Rd, Christchurch

Ph: 03 348 4129 | avoncityford.com

Now Available @ NZ Van Spares

• Cars • Campervans • Caravans • Motorbikes • 4WD's

• You name it, we finance it!

• Phone 0800-888 188 - Stu, David or Mark

See inside for this week's

marine feature!

free

best motorbuys

Cell 021 855 884

PH 03 web

www.drivesouth.co.nz

2.4 auto, alloys, ABS, twin airbags.

2005 toyota rav

$9,990

493 blenheim road, Christchurch For more see their adverts on pages 10 & 11

The biggest range of vehicles

in one location!

2011 Peugeot

3008 Premium

$10,999

32 Moorhouse Ave | P: (03) 366 7768 | www.valuecarswarehouse.co.nz

See page 5 for more info!

Download the Kaywa Qr Code reader (A p Store &Android market) and scan your code!

Hilux spa

Now Available

40 Years Finance

Experience

Cannot be Beaten!

• Talk to us about finance for your next

motor vehicle purchase

• Specialising in Finance for Private Purchases

• Very quick approvals, sensational interest rates

• From no deposit (terms & conditions may apply)

Cnr Main South Rd and Epsom Rd, Christchurch

Ph: 03 348 4129 | avoncityford.com

2.0lt Petrol, 5 Dr Station wagon,

Climate Control, ABS Braking,

Automatic. $34.63pw.

2008 bmW 320i

$10,974 NoW $7,974 + orC

FREE

magazine

out every Friday

at pick up

points near

you!

The South Island's leading motoring

resource, filled with news, reviews

and dealer listings.

From family cars

to work trucks, and

supercars to SUvs.

no matter what

you're looking for,

you can find it all

with drivesouth.

drivesouth.co.nz
---
28 Bay Harbour News Wednesday August 11 2021 Latest Canterbury news at starnews.co.nz

STYLE & QUALITY

FOR LESS

WWW.AFFORDABLEFURNITURE.NZ

SELLOUT

Dining

NZ

Lounge

Bar

Stools

Ex Display

Models

Loads of bargains in-store only

*while stocks last

FREE

CARPARKING

WE ARE

HERE

255 MOORHOUSE AVE

REBEL SPORT

COLOMBO ST

MON-FRI 9:30AM – 5:30PM

SAT-SUN 10AM – 5:30PM

0800 268 264

www.affordablefurniture.nz
---
Get ready

for spring!

Was

$299

$349

now

2 for 1

hot Beverage!

Pine Firewood

This is the most popular firewood. It

burns well when seasoned but has a

tendency to crackle and pop because

it is resinous and a soft firewood.

Get throuGh the last oF Winter With these heatinG solutions!

Was

$199

$249

now

Purchase any hot drink at Columbus

Coffee Ferrymead, bring this voucher in to

redeem a second regular hot drink free!

Offer only valid at Columbus Coffee Ferrymead. Free hot beverage must be equal or lesser value.

Valid until September 30th. Terms & Conditions apply.

Oregon Firewood

One of the most popular burning firewoods

as it splits easily and burns clean. Keep

the Fire Going - Firewood located in our

Landscape Zone - 987 Ferry Road.

$

12 PEr BAG $

14 PEr BAG

$

45 PEr ScOOP $

55 PEr ScOOP

Dimplex

Micathermic

Heater with

Electronic

Climate

Control

2.4kw heat output.

5-year warranty.

279480

Dimplex

Micathermic

Heater with Timer

2kw heat output.

5-year warranty.

279478

Latest Canterbury news at starnews.co.nz

Number 8

Upright Fan Heater

2kw heat output.

Lightweight.

326997

Goldair

Eco Panel Heater

425 watt heat output.

2 year warranty.

369535

$19 98 Wednesday August 11 2021 Bay Harbour News 29

Was

$79

$99

now

Prices valid until August 22nd or while stocks last

Mitre 10 MEGA Ferrymead

1005 Ferry Road. Christchurch

Phone: 366 6306

Find us at: /MEGAFerrymead

Opening Hours:

Monday – Friday:

7am – 7pm

Saturday, Sunday & Public Holidays:

8am – 6pm

www.mitre10.co.nz/local/MegaFerrymead

Ferrymead
---
30 Bay Harbour News Wednesday August 11 2021 Latest Canterbury news at starnews.co.nz

Gear up for some gardening!

Morton Smith-Dawe

Agria Seed Potatoes

All-purpose potatoes. Yellow

flesh. Maturity approximately

90-100 days. 1.5kg.

382000

Botanicals Collection

Begonia Collection

A classic garden favourite,

flowering nonstop during

the Summer period. Assorted

colours. 5 per pack.

351826

Digz

Men's

Gardener

Gloves

Adjustable

Velcro cuffs and

padded palms.

Touchscreen

compatible.

293500

Bloem Ariana Plastic Pots

Was $10.98

Was $14.97

now

now

$ 5 98

$ 9 97

Super Six

Strawberry Camarosa

6 plants per pack. Plant now

and enjoy fresh fruit in Summer.

319347

Was $13.98

now

$ 11 98

Neta

Kiwicare

13mm Irrigation Starter Kit

LawnPro

An easy to handle, one stop watering solution.

Turfclean Ultra

248629

Kills a wide range

of weeds in lawns.

Visible effects seen

within a few hours.

400ml concentrate.

368965

$14 98

Gardena

EasyCut Bypass

Pruning Loppers

Suitable for cutting wood

up to 42mm in diameter.

Ultra-lightweight and soft-grip

aluminium handles. 680mm.

347744

Was $36.99

now

$ 32 99

Gardena

Classic 15m Fitted Hose

UV stabilized. Includes hose fittings.

236279

Was $16.98

now

$ 12

Growing Grocer

Asparagus

Collection

Grow your own mouthwatering

asparagus

stems. 5 crowns per pack.

375639

Was $9.97

now

$ 7 97

Elite Pot

Miniature Cyclamen

Low maintenance outdoor plants. Assorted colours. 100mm

pot.

188096

$5.94 each

3 for $ 15

Taurus Garden

Compost Bin

Ventilation holes for quicker composting.

Compact and lightweight. 240 litre.

235400

Tui

Seed Raising

Mix

Ideal for

germinating seeds

and seedling

establishments.

15 litres.

107376

$9 98

Bloom

Garden Hand Tools

Stainless steel with wooden handles.

320955

$15 98

Life in Colour

Lavenders

Plant in mass in the

garden for a stunning

display or grow in a

pot. 1 litre pot.

148324

each

Was $69.99

now

$ 49 99

$39 99 $45 99

$7.89 each

3 for $ 21

Big Range, Low Price, Local Advice
---
Latest Canterbury news at starnews.co.nz

Wednesday August 11 2021 Bay Harbour News 31

Organic Compost

Garden Mix

Forest Floor

$40 PER

SCOOP

Organic compost from Living Earth is made by collecting and

recycling green-waste and brewing it into plant nourishing

goodness. The processes is tested so you can be sure they are up

to scratch! Mix it through your existing soil to provide your plants

with nutrients and improve the soil's water retention. Caring for

your garden and the earth at the same time.

$29 PER

SCOOP

Mix contains 50% screened soil, 40% organic compost and 10%

sand. It is blended evenly to create an excellent mix for your

garden. This is a great option if you need something to boost up

your garden beds. It is safe to plant straight into this mix.

$29 PER

SCOOP

Dark rich brown bark that contains Cambium, nuggets and

flakes. 10-50mm in size. This product is resistant to wind

disturbances and is often used by councils in reserves, parks,

road frontages and general gardens. It is great for weed

suppression, moisture retention, large areas and putting on hills/

slopes up to 45 degrees.

Medium Prem Nuggets

White Chip

15mm, 30mm, 50mm

Oamaru Pebble

$35 PER

SCOOP

These are clean chunky premium bark nuggets approximately

20mm. They are ideal as a protective layer beneath playground

equipment as well as good looking, effective garden mulch. Can

be used as a pathway in contrast with other garden mulches.

$55 PER

SCOOP

This is a stunning white limestone chip, sourced from Southern

Marlborough. It is an alternative to the traditional limestone

colour. It is used mainly in pathways, gardens, courtyards and

driveways. This finer chip packs down well and is easy to spread.

$65 PER

SCOOP

This is a decorative white, orange and gold pebble 10-19mm in

size sourced from Oamaru. It can be used to add colour to your

path, decorative garden or water feature.

Ask about our delivery and

FREE courtesy trailers today!

Conditions apply

Ferrymead 987 Ferry Road Phone 373 6550 mitre10.co.nz/trade

Hours Mon-Fri 7am-7pm, Sat-Sun and Public Holidays 8am-6pm
---
32 Bay Harbour News Wednesday August 11 2021 Latest Canterbury news at starnews.co.nz

clearance

event

In-store only. On now until august 29 th

Prices valid until August 22nd or while stocks last

Mitre 10 MEGA Ferrymead

1005 Ferry Road. Christchurch

Phone: 366 6306

Find us at: /MEGAFerrymead

Opening Hours:

Monday – Friday:

7am – 7pm

Saturday, Sunday & Public Holidays:

8am – 6pm

www.mitre10.co.nz/local/MegaFerrymead

Ferrymead