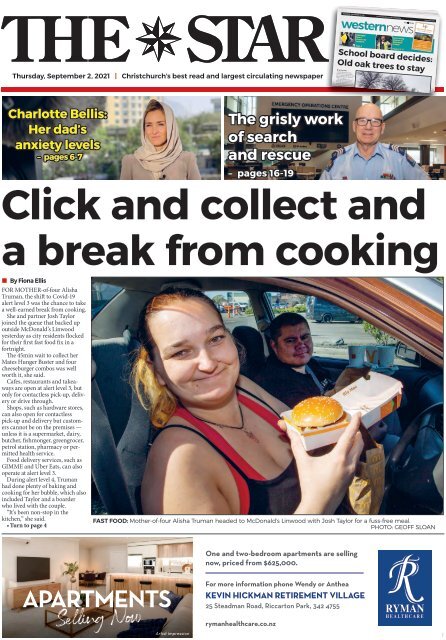 The Star: September 02, 2021
Create successful ePaper yourself
Turn your PDF publications into a flip-book with our unique Google optimized e-Paper software.
line in the mid-1920s, were to be

removed to build an astroturf play

The survey showed 61 per cent

of the parents, senior pupils and

School Rd residents who took

However, this did not mee the

75 per cent approval threshold set

by the school board of trustees in

order to remove the trees.

THURSDAY, SEPTEMBER 2, 2021 Connecting Your Local Community

starnews.co.nz

Damaged

bins a

concern for

residents

Overcoming

demons to

help those

in need

Influenza vaccines

now available

OPEN 7 DAYS

Page 3 Pages 9 & 11

School board decides:

Ph: 343 3661 | 4 Yaldhurst Rd

www.riccartonclinic.co.nz

Old oak trees to stay

Thursday, September 2, 2021 | Christchurch's best read and largest circulating newspaper

• By Fiona Ellis

A CLUSTER of 10 oak trees

nearly a century old have been

given a reprieve from the axe after

plans to fell them failed to gain

sufficient support.

The trees, planted at Halswell

School by the School Rd fence

area pending the approval of the

school community.

part, voting to move ahead with

the plan.

Charlotte Bellis:

Her dad's

anxiety levels

– pages 6-7

Originally just four trees were

considered for removal.

However, an arborist report

stated this would weaken the

remaining trees and pose a

danger.

It recommended that no trees

be removed, but said removing

all 10 trees was preferable to

removing only some of them.

• Turn to page 5

The grisly work

of search

and rescue

– pages 16-19

BECAUSE YOUR

FEET MATTER

• General Foot Care

• Biomechanical

• Orthotics

LIVING ON: Trees at Halswell School by the School Rd fence line will not be removed to build a new play area.

PHOTO: GEOFF SLOAN

• Ingrown Toenails

• ACC Registered

• Diabetic Foot Care

45 Merrin Street, Avonhead

Ph: 03 357 0155

E: info@footmatterspodiatry.co.nz

Book Online! No referral required.

40 years

combined

experience

Bring this

voucher in to get

10% off your bill

Not available in conjunction with any other offer or

promotion. Limit 1 coupon per table. Offers red emable

Monday to Friday, Lunch & Dinner only. Valid ti l 30th of

September 2021. Discount can not exc ed $50.

Click and collect and

a break from cooking

• By Fiona Ellis

FOR MOTHER-of-four Alisha

Truman, the shift to Covid-19

alert level 3 was the chance to take

a well-earned break from cooking.

She and partner Josh Taylor

joined the queue that backed up

outside McDonald's Linwood

yesterday as city residents flocked

for their first fast food fix in a

fortnight.

The 45min wait to collect her

Mates Hunger Buster and four

cheeseburger combos was well

worth it, she said.

Cafes, restaurants and takeaways

are open at alert level 3, but

only for contactless pick-up, delivery

or drive through.

Shops, such as hardware stores,

can also open for contactless

pick-up and delivery but customers

cannot be on the premises —

unless it is a supermarket, dairy,

butcher, fishmonger, greengrocer,

petrol station, pharmacy or permitted

health service.

Food delivery services, such as

GIMME and Uber Eats, can also

operate at alert level 3.

During alert level 4, Truman

had done plenty of baking and

cooking for her bubble, which also

included Taylor and a boarder

who lived with the couple.

"It's been non-stop in the

kitchen," she said.

• Turn to page 4

FAST FOOD: Mother-of-four Alisha Truman headed to McDonald's Linwood with Josh Taylor for a fuss-free meal.

PHOTO: GEOFF SLOAN ​

One and two-bedroom apartments are selling

now, priced from $625,000.

APARTMENTS

Selling Now

Artist impression

For more information phone Wendy or Anthea

KEVIN HICKMAN RETIREMENT VILLAGE

25 Steadman Road, Riccarton Park, 342 4755

rymanhealthcare.co.nz

2766
---
2 The Star Thursday September 2 2021

inside

Smiths City ready for customers................5

Anxious times for father..................................6-7

Shipwreck mystery likely solved........... 8-9

Covid life-changing for woman............... 10

Patroller rewarded................................................12

Our People............................................................16-19

Mayor's column......................................................20

ECan column............................................................22

Seniors' Living Life........................................24-28

Puzzles.............................................................................29

Sport...................................................................................31

DriveSouth...................................................................33

Classified...............................................................35-38

Gig guide..................................................................... 39

newsroom

Chris Barclay Reporter

021 914 169

chris.barclay@starmedia.kiwi

Geoff Sloan Photographer

geoff.sloan@starmedia.kiwi

Barry Clarke Editor in Chief

021 359 426

barry@starmedia.kiwi

advertising

Shane Victor Advertising Manager

021 381 765

shane@starmedia.kiwi

Classified advertising: 379 1100

General inquiries: 379 7100

REACH MORE . . .

183,000 *

readers every week!

*2021 Nielsen Newspaper Readership Report

online

Keep up with the latest

local news as it happens

www.starnews.co.nz

A division of Allied Press

Regional Manager: Steve McCaughan

PO Box 1467, Christchurch

359 Lincoln Rd, Addington

www.starmedia.kiwi

LEOPARD SEAL sightings

have spiked on beaches

during the level 4 lockdown.

Three different leopard

seals were spotted at New

Brighton, north of the

Waimairi surf club and at

Woodend.

Leopardseals.dot.org

founder Dr Krista van der

Linde said it was not unusual

for the marine mammals

to be sighted around New

Zealand's coast at this time

of year.

But she said it seemed

more people were out and

about to see them.

"With limited exercise that

people can do indoors and

gyms being closed, I guess

that pushes more people

out and about to do their

walks in nature, and so we

are getting a lot more people

being able to report than . . .

before, which is really great."

These citizen science

reports were crucial for

researchers, van der Linde

said.

"Our whole research team

really relies on New Zealand

citizen scientists, basically

SNOOZING: People have been enjoying leopard

seal-spotting at local beaches. (This photo was taken

with a telephoto lens to obey DOC safe distancing

advice from the seal, and distances may appear

closer than it is). PHOTO: JULIE CHANDELIER

people around New Zealand

who keep us running and

keep bringing all these

sightings in – they are really

valuable to us."

Van der Linde said sightings

around the Christchurch

coast appeared to be increasing,

although Dunedin

remained the leopard seal

hotspot.

"I guess it [Christchurch]

is only a little bit further

up the coast from there

[Dunedin], so whether that

will keep increasing over the

years, we are not too sure.

"It is also quite hard to

tease out – is it a population

thing, is it that more people

are out and about that they

are seeing more, or is it that

letters

We want to hear

your views on the

issues affecting life in

Canterbury.

Send emails to:

barry@starmedia.kiwi

Letters may be edited

or rejected at The Star's

discretion. Letters should

be about 150 words.

A name, postal address

and phone number

should be provided.

Please use your real

name, not a nickname,

alias, pen name or

abbreviation.

Beachgoers treated to

visits by leopard seals

they have always been there?

"That is kind of the hard

question."

Anyone who sees a leopard

seal should keep their

distance – about 20m away,

for the animal's safety and

well-being, as well as their

own – leopard seals can be

dangerous if they attack.

Canterbury photographer

Julie Chandelier said

she'd been lucky enough

to visit one of the leopard

seals while it was at New

Brighton.

It had been attracting lots

of "excited" visitors, but she

said on Sunday some people

had been edging closer to

it, within the safe perimeter

distance.

"There were quite a few

people getting too close

today, including young

kids, which resulted in us

building a little barrier with

driftwoods."

Chandelier said the

behaviour had changed after

that, and understood police

had also been asked to visit

the site by DOC, to help with

managing the visitors. – RNZ

Smile with

confidence

BEFORE

Full or Partial Dentures

Immediate Dentures

Winz Approved

Insurance Claims

Urgent Denture Repair & Reline

Payment Options Available

aFtER

914 Colombo St | Ph: 03 365 2859

www.cosmeticdentureclinic.co.nz
---
Latest Canterbury news at starnews.co.nz

Major projects delayed due to Covid restrictions

THE COVID-19 lockdown has

pushed out completion dates

for the Te Pae Christchurch

Convention Centre and the

Parakiore Recreation and Sport

Centre.

Te Pae was due to open in

October, but the opening has

been delayed as specialists

needed to complete the facility

are unable to travel from the

A BRITISH newspaper has

apologised and paid damages to

Christchurch-born cricketer Ben

Stokes and his mother Deborah

after running a front page story

in 2019 about a past family

tragedy.

At the time Ben Stokes condemned

The Sun for running

the story calling the newspaper's

decision as "utterly disgusting"

and the "lowest form of journalism"

in a social media post.

"The decision to publish this

article was a decision to expose,

and to profit from exposing

intensely private and painful

matters within our family," said

Deborah Stokes, who lives in

Christchurch.

"The suffering caused to our

family by the publication of this

article is something we cannot

forgive.

"Ben and I can take no pleasure

in concluding this settlement

with The Sun.

Stokes, one of the world's

best allrounders, has played all

of his international cricket for

England, where he was brought

up when his parents, Ged and

Deborah, lived there.

Ged, who died of cancer in

December last year, played

professional rugby league in

England. A former Kiwi, he had

been a longtime club player in

Christchurch.

Said Deborah of the decision:

"We can only hope that our

actions in holding the paper

North Island. "This is a large

facility and we're unlikely to be

able to host the most complex

events, such as big conferences

and exhibitions, this year but

we are optimistic of holding

meetings and banquets before

Christmas," Otakaro Ltd chief

executive John Bridgman said.

"It's been a tough year and we

are really hoping to end it on a

Stokes family gets apology,

damages from UK newspaper

AWARDED DAMAGES: Ben Stokes with mother Deborah and late father Ged at

Christchurch Airport in 2017.

PHOTO: GETTY

to account will leave a lasting

mark, and one that will

contribute to prevent other

families from having to suffer

the same pain as was inflicted

on our family by this article."

The Sun told the BBC at the

time it had received the cooperation

of a family member.

The Sun's statement read: "On

17 September 2019 we published

a story titled 'Tragedy that

Haunts Stokes' Family' which

described a tragic incident that

positive note by hosting some

festive season events at our

impressive new venue."

The 2021 Smart Christchurch

Innovation Expo, scheduled

for October 31 and November

1, was set to be one of the first

events at Te Pae.

Expo organiser and Smart

Christchurch manager Michael

Healy said they are working

had occurred to Deborah Stokes,

the mother of Ben Stokes, in

New Zealand in 1988. The article

caused great distress to the

Stokes family, and especially to

Deborah Stokes. We should not

have published the article. We

apologise to Deborah and Ben

Stokes. We have agreed to pay

them damages and their legal

costs."

Stokes is currently on indefinite

leave from cricket to "prioritise

his mental well-being".

to reschedule the expo to early

2022.

"We are determined to

proceed with the expo at Te Pae

and are currently in discussions

about locking in some new

dates,'' he said.

The sports centre will not be

completed until at least two

months after the pre-lockdown

target of the end of 2022.

It is understood that a variety

of cricket pressures on the

30-year-old and his father's

death culminated in the decision.

Stokes was in India, playing

for Rajasthan Royals, at his

father's behest; when Ged died.

Owing to Covid regulations

Stokes was unable to attend

the funeral in Christchurch

and, like so many others in

a similar situation, unable to

mourn.

Thursday September 2 2021 The Star

NEWS 3

More than

4000

responses to

council's

water survey

A CITY council-generated

survey to gauge residents' views

on proposed Government water

reforms has already attracted

more than 4000 responses.

The survey, which can be accessed

via the home page of the

city council website is designed to

ensure ratepayers and residents

can be part of the decisionmaking

process.

Under the proposed Three

Waters reforms – encompassing

drinking, waste and stormwater

networks – the council's $6.9

million worth of water assets

would be absorbed by a new

organisation

covering 20 local

authorities

in the South

Island.

"The survey

only takes five

minutes to fill

out and you

don't need to

be an expert

Dawn

Baxendale

on the Government's proposed

reform," said city council chief

executive Dawn Baxendale.

"We are in the midst of an

eight-week period in which we

can give the Government feedback

and we want our communities

to help shape our response."

Last week the Canterbury

Mayoral Forum urged local

government minister Nanaia

Mahuta to stall the reform

process to give councils and

communities more time to make

informed decisions.

The survey, which launched last

week, closes on September 12.

•HAVE YOUR SAY:

How should the city

council respond to the

Government's proposed

Three Waters reform? Email

chris.barclay@starmedia.

kiwi Limit responses to 200

words or less

NEED A

PLUMBER?

Call us now for fast

friendly service.

Get your problems sorted out

quick smart - on time!!

Phone for a

FREE

quote now.

Phone 03 377 1280

Mobile 021 898 380

Bras and

shape Wear

ShOPPING AT ITS BEST

• No under wires

• Straps do not fall down

• Full support from beneath the bust

• Front-opening modifications

• Breast Prostheses fitted & supplied

• Esther is a registered

health provider

• Unique shape wear

Formerly

Jeunique Bra

FREE

CONSULTATIONS

& FITTINGS

Esther Rökk UnderFashions

For appointments please phone 322-6590

82 Milns Rd, Halswell • www.eru.co.nz

Care &

Compassion

We pride ourselves on the

very highest level of service

If you are thinking about the future,

we can help you explore pre-payment

and pre-planning options. Contact us

for a Free Information Pack.

We offer funeral information talks to

groups. Please call us for a speaker to

come to you.

Mark Glanville

Manager &

Funeral Director

(03) 379 0196 | www.simplicity.co.nz

Mike Chandler

Funeral Director

Nick Allwright

Funeral Director
---
The Star Thursday September 2 2021

4

NEWS

Latest Canterbury news at starnews.co.nz

Coffee in big demand on arrival of

• From page 1

"It's absolutely something I've

missed [because] I don't have to

cook."

McDonald's spokesman

Simon Kenny said most of the 85

re-opened restaurants saw this

initial rush of eager customers.

"We've had reports that it got

pretty busy through lunchtime,"

he said.

In Riccarton, Dougal and Kate

Boyd were enjoying caffeine hit

outside Park Ranger Cafe, a usual

haunt for the father and daughter.

The coffee was nice but even

better was the ability to go and

buy it again, Kate said.

"It's just the novelty of it, really."

Co-owner Virosha Chheang

said it was nice to see regular

customers returning.

By noon yesterday, they had

processed around 100 orders on

their app, which was developed

for the first lockdown last year.

"It's quite a good response,"

Chheang said.

Meanwhile, Chris Sheppard

took advantage of the lower alert

level to buy two rolled mats from

Mitre 10 Mega Ferrymead.

These would cover the floor of

his and his daughter's cars when

travelling with the family's pet

huskies, he said.

"It's to stop hair getting everywhere."

It was good to be able to get on

top of odd jobs once again, he

said.

HAIRY SITUATION: Chris Sheppard dropped

by Mitre 10 MEGA Ferrymead (above right)

to solve a pet peeve.

LINE-UP: Alisha Truman and Josh Taylor near the front of

the queue at McDonald's Linwood.

COFFEE TO GO: Father and daughter Kate

and Dougal Boyd enjoy a hot beverage with

pet Ferg in Riccarton.

Free Bowel Screening

for 60-74 year olds

Bowel cancers are easier to

treat when detected early

"Encourage your tamā

and tinā to send it

back. One little test

could save their life."

Malu Tulia, Pasifika Health Navigator, Waitaha Primary Health

E sili le puipuia i lo le togafitia.

Prevention is better than cure.

Do you have

Rheumatoid Arthritis?

NZ Clinical Research is looking for people

under the age of 65 with Rheumatoid Arthritis

to take part in a clinical trial.

You will be reimbursed for your time and inconvenience.

Please call 0800 862 27

for more information.

Stay comfortable all year round with

Fujitsu's sleek, stylish Lifestyle Range.

HEAT PUMPS FROM $1999 inc GST INSTALLED!

2020

Heat Pumps

Visit www.timetoscreen.nz for more information

Free phone 0800 924 432

or talk to your GP team

CDHB05Aug2021 BS

03 381 6950

info@powersmart.co.nz

powersmart.co.nz

Fujitsu's Catechin Filters are approved by

the Asthma and Respiratory Foundation

NZ's Sensitive Choice ® programme.

FREE

consultation from

your local Accredited

Heat Pump Expert
---
alert level 3

BACK IN BUSINESS: Park Ranger co-owner Virosha

Chheang is pleased with the public turnout at the

Riccarton cafe while operating under alert level 3

restrictions.

PHOTOS: GEOFF SLOAN

Latest Canterbury news at starnews.co.nz

• By Susan Sandys

STAFF AT Smiths City emerged

yesterday from the isolation of

lockdown to go back to what

they love doing most – serving

customers.

Eagerly anticipating the introduction

of level 3 since Prime

Minister Jacinda Ardern confirmed

the level shift on Monday,

management and team members

returned in limited numbers to

Smiths City's 24 stores across

the country, including three in

Christchurch, in order to meet demand

for click and collect orders.

Managing director Tony

Allison said level 3 enabled

the business to do two things

it could not do in level 4. They

were selling non-essential items

and providing a contactless pickup

service.

In level 4, the business had

only been able to sell half of its

range, with the items of lounge,

dining and most bedroom

furniture deemed non-essential.

In addition, all orders had to be

delivered.

As such, lockdown had seen

business drop dramatically for

the 100 per cent New Zealandowned

company, which employs

370 staff nationwide.

On the bright side, the company's

online store had been

busier than usual, as customers

forced to shop online supported

the store.

Allison said he expected this

week the company would see at

least a small boost from the level

of sales throughout lockdown,

as this had happened last year

when the country moved out of

level 4.

The main thing the company

had been looking forward to,

was some of its sales staff being

able to get back to serving customers

on site.

"They like talking to people,

that's why they are doing the job

they do," Allison said.

That talking of course would

be on phones or at a distance,

through masks, as they met the

rules around contactless pickup.

In addition, staffing would be at

Thursday September 2 2021 The Star 5

NEWS 5

Smiths City ready for customers

CONTACTLESS: Smiths City store manager Imran

Chowdhury is ready to serve click and collect customers.

PHOTO: GEOFF SLOAN

minimum levels.

Yesterday those staff had been

busy with a "steady" level of click

and collect orders and delivery

of back orders.

He hoped level 3 would be

for just one week, and that

customers would continue

to support local retailers, as

they did after last year's

lockdown.

"I felt last time through

Covid there was a strong

feeling towards supporting

New Zealand companies. I

felt like that was an

overwhelming response last

time we had lockdown, and

hopefully it happens again," he

said.

large avocados $ ...................... 1 .49

each

carrots 1.5kg $ ............................... 1 .99

each

Pink Lady Apples $ .................... 1 .49

kg

Beurre Bosc Pears $ ............... 1 .99

kg

Onions 1.5kg ................................. $ 1 .99

each

Lemons $ ................................................ 2 .49

kg

Beef Ribeye Steak $ .................. 32 .99

kg

Lamb Shoulder Chops $ ....... 15 .99

kg

Pork Leg Roast

(bone in) $ .......................................... 8 .99

kg

Chicken Tenderloins $ ......... 12 .99

kg

At

we have...

FRIDAY TO

SUNDAY ONLY

NZ Navel Oranges $ ........ 1 .99

kg

Brushed Agria

Potatoes 5kg ....................... $ 4 .99

each

Beef Short Ribs $ ................. 16 .99

kg

Chicken Drumsticks $ ....... 4 .99

kg

Check our website for

your local stores opening hours

All our fresh meat is 100% NZ FARMED. specials VAlid

30th August - 5TH September 2021.

WHILE STOCKS LAST! ONLY AVAILABLE AT RAEWARD FRESH HAREWOOD RD, TOWER JUNCTION

WWW.

.CO.NZ

Like us on

Facebook
---
The Star Thursday September 2 2021

6

NEWS

BRUCE BELLIS had no qualms

about throwing caution to the

wind as he powered a Ferrari

Daytona along Tram Rd, in

pursuit of a land speed record in

1976.

So the motorsport identity

from yesteryear, and former

Christchurch restaurateur,

accepts his daughter Charlotte's

perseverance with her own

potentially life and death

situation, as she reports from

Taliban-controlled Afghanistan

for media organisation Al

Jazeera.

"It's one of

those things.

It's her decision,

she likes a bit

of a challenge.

From any

early age she

wanted to be a

journalist, she's

too strongwilled

for her father to put her

off," he said.

So from the sanctuary of

his lifestyle block and walnut

orchard near Rangiora, Bellis has

never asked the intrepid senior

producer to join the exodus of

Afghans, ex-pats and United

States military personnel from

the capital, Kabul.

"No. No, no. She's 35.

Obviously I'm worried but she's

knows what the situation is. I can

only watch from afar and hope

she's exercising good judgement,"

he said.

Dad is not among his eldest

daughter's 44.8k Instagram

followers, he doesn't monitor

her Twitter feed either, they

communicate, sporadically, via

Latest Canterbury news at starnews.co.nz

Anxious times thinking about daughter's

• By Chris Barclay

Bruce Bellis

ON LOCATION: Christchurch-born foreign correspondent

Charlotte Bellis is fearlessly documenting the Taliban's

transition to power in Afghanistan as one of the few

female reporters on the ground in Kabul.

email. He relies on Al Jazeera

to track Charlotte's movements,

tuning in daily; he also trusts the

media organisation – and the

Taliban – to keep her as safe as

possible.

"She has a security detail

provided by Al Jazeera and

the other reassuring fact is the

ROAD WARRIOR: Charlotte talking to Taliban fighters as

they patrol Afghanistan's capital. PHOTO: AL JAZEERA

Taliban are sympathetic, they

see them as a friendly news

organisation," he said.

"Whenever Charlotte goes

out she's provided with two

Taliban commanders. That's

a handy thing to have, it's

obviously maximum protection,"

said Bellis, who added the

Government's recent provision of

$3 million in aid to Afghanistan

offered another security blanket.

But the working environment

is obviously incredibly volatile:

the airport was targeted by

suicide bombers last week, an

attack that killed 60 Afghans and

13 US army personnel.

"She wasn't far away from

that," Bellis said, when

pondering the bombing by

Islamic State Khorasan Province,

the anti-Taliban Islamic State

of Iraq and the Levant group

affiliate in Afghanistan.

"You never know over

there, because there's so many

factions," he admitted.

"You can be in the wrong place

at the wrong time I suppose."

A junior tennis star who

studied journalism in the United

States before launching her

television career in Christchurch

with TVNZ in 2009, Charlotte

has been reporting on

Afghanistan for Qatar-based Al

Jazeera since 2017.

Find it hard

to get out of

your chair?

These stunning chairs

have a practical, high

19" seat, making them

easy to get out of.

Available now from our showroom

or in your choice of fabric.

Blakeleys

of Kaiapoi

Specialist in

Traditional and

Modern New

Zealand made

furniture and

Moorcroft Pottery

from England.

Phone: 03 327 8161

117-119 Williams St, Kaiapoi

Mon–Fri: 9am-5.30pm Sat: 10am-2pm

www.blakeleysofkaiapoi.co.nz

Time on your hands?

Presbyterian Support is looking for

volunteers to help at our Enliven

day programmes in Linwood and

Riccarton.

For a few hours each week or

fortnight you'll help our members by

serving meals and refreshments and

help them take part in activities such

as indoor bowls and Housie.

Presbyterian Support Enliven

offers older New Zealanders support

and services to help them stay

connected and provide a positive

ageing experience.

Our Enliven day programmes are

the Tōtara Club and Harakeke Club

for older people who want to connect

with others, participate in social

interaction and find companionship.

They are treated with care and

dignity and enjoy the fun and

stimulation the activities offer.

Our volunteers make a significant

contribution to our day programmes.

We offer full training and support

and value the work they do.

If you'd like to learn more about

volunteering please contact Roni

Jordan on 03 261 2889 or email

ronij@psusi.org.nz.

LEVEL 3 LUCKY DIP!

20 LOVELY BOOKS FOR ONLY $20

Free delivery (ChCh City) to your door!

The Dove Bookshop Bishopdale is providing a

Level 3 on-line service of 20 top quality recycled

books.. Fiction/Non Fiction/Kids...for only $20.

An absolutely amazing bargain! 20 Books too

many? Share the love with your bubble!

Order online with Name, Address & phone

number to: dovebookshop.nz@ gmail.com

DOVE BOOKSHOP, BISHOPDALE MALL

(Next door to Furniture Shop) Ph. 3599-869

Interested? For more information please call:

Roni Jordan

P. 03 261 2889 or 0800 477 874

E. ronij@psusi.org.nz

Volunteers needed!

Are you retired or have time on your hands? Would you

be interested in working as a volunteer in one of our

Enliven day programmes in Linwood or Riccarton?

Our volunteers assist one day per week or fortnight

They help with serving meals, supporting members

to participate in activities, games and other activities

including keeping score for indoor bowls or calling

Housie

www.enlivenuppersouth.org.nz
---
This assignment began on

July 14 and was scheduled for a

fortnight, but once the Taliban

swept to power Charlotte,

who has also worked for Sky

News and the BBC, opted to

hunker down and document the

transition.

She led the questioning at

the Taliban's first press

conference – championing

women's rights. Her latest social

media post, made yesterday

around noon, was a re-tweet

of the Department of Defense

showing the last US soldier

leaving Kabul.

Bellis, who owned the Coachman

Inn on Gloucester St from

1972 to 1986, was unsure when

Charlotte would head for Doha,

or even better, Christchurch.

Her most recent trip home was

in January and see her father.

Mother Barbara lives in Auckland.

"I think she'd like to stay

and keep reporting. I'm not sure

exactly what the circumstances

are now, now the American

military have left," he said.

In spite of anxiousness, the

74-year-old laughed when told

of a Instagram post Charlotte

posted for Father's Day three

years ago, a photo of her on his

Latest Canterbury news at starnews.co.nz

welfare in Afghanistan

FAMILY SNAP: Bruce

Bellis and Charlotte

during a trip to Sydney

in 1989.

LIFTOFF:

Charlotte took

this image

of a military

transport aircraft

soaring from

Hamid Karzai

International,

three days after

a suicide attack

at the airport.

lap during a trip to Sydney in

1989.

"The more I see of the world,

the more I realise I had the

most insanely fortunate childhood.

Bruce is infamous in my

hometown of Christchurch - a

restaurateur, race car driver and

sheep farmer. I used to call people

as a young reporter and on

the other end I'd hear 'oh you're

Bruce's daughter'. Has been a

hell of a reputation to live up to",

the caption read.

"She was exaggerating," he

smiled.

Mission accomplished, by all

media accounts.

NEWS 7

Warning to keep

household 'bubbles'

safe and avoid injuries

WHILE THE majority of

Cantabrians continue to shelter

at home to keep Covid-19 at

bay, ACC has stressed the

importance of safe 'bubbles' as

housebound injuries escalate.

The number – and cost – of

home-related injuries reached

a five-year high in 2020, with

118,260 injuries requiring $171

million to treat.

From 2016 to 2020, there were

551,076 claims recorded, costing

an estimated $672 million.

Nationally, there were 4.9 million

claims for injuries around

the home accepted by ACC from

2016 to 2020, absorbing $5.6

billion.

Last there were just over one

million claims accepted, costing

$1.4 billion, an increase of $143

million from 2019.

ACC head of injury prevention

Isaac Carlson said it is

a challenging time for many

Cantabrians but he urged them

to be safety conscious during

lockdown.

"We want people to be doing

the things that they love

at home, but we also want to

collectively change our mindset

on preventing injury so we can

get through this period without

Thursday September 2 2021 The Star

serious injury," he said.

"We know it's chaos for many

families out there. Trying to

work from home and manage a

family during a lockdown is not

an easy time so we all need to

acknowledge that.

"But it's important to think

about risk during this period so

we can all keep safe and avoid

preventable injuries."

The 50 to 59-year-old age

group are most likely to be

injured at home, ahead of those

aged under nine.

Falls, lifting and carrying,

animal-related activities,

gardening, punctures and cuts,

twisting movements (back issues)

and collisions were the

leading source of claims.
---
The Star Thursday September 2 2021

8

NEWS

Following an earlier The

Star article on the finding

of an old ship cannon

and cave drawings on

a beach at Fiordland,

information has surfaced

suggesting the cannon

may have come from an

1865 shipwreck. Susan

Sandys reports

Latest Canterbury news at starnews.co.nz

Remote Fiordland shipwreck

THE MYSTERY of an unknown

shipwreck in a remote part of

Fiordland may have been solved.

A cannon, found by a scientific

expedition team from Willowbank

Wildlife

Reserve, is possibly

from the

Star of the South.

The steamship

wrecked in the

area in 1865. Its

Michael

Willis

passengers and

crew were all

rescued.

The drawing

of a galleon with names etched

underneath in a nearby cave is

unlikely to be related. They are

believed to have been left by early

sealers.

Members of the expedition

made the discovery of the cannon

in June, as they searched for

the elusive South Island kōkako.

They unearthed the vintage

naval gun by moving stones with

their bare hands after spotting a

patch of rust on the stony beach

at Chalky Inlet. It followed them

viewing the etchings in the cave

the previous month, and they

wondered if the cannon and

etchings may be linked and both

be evidence of an unknown

shipwreck.

Managing director Michael

Willis said information which

has surfaced since, suggested the

cannon may have come from the

shipwrecked Star of the South.

The Star of the South was a

West Coast trading ship with

three masts. She was transporting

cargo and passengers from

Dunedin to Hokitika when she

took shelter from stormy seas at

Chalky Inlet. On December 15,

1865, she struck a sunken rock

and was beached on sandy shores

to prevent her foundering.

A newspaper article on Papers

Past, discovered by a follower on

the Willowbank Facebook page,

suggests one of the ship's cannons

was taken to a nearby shore

by a look-out party to be used as

a signal gun. A January 18, 1866,

The Press article details the efforts

of two crew members going

in the ship's boat to the shore in

the Cape Providence area, and

climbing a hill to light a fire to

UNEARTHED: Dale Hedgcock and Mark

Willis with the cannon they discovered on

a beach in Chalky Inlet. Above: The Star

of the South met her final demise on the

Grey River mouth in 1884.

alert passing ships so they could

be rescued.

"By the difficulty they had in

ascending and descending the

hill, they also ascertained that to

convey to the summit the cannon

they brought with them as a

signal-gun, was out of the question,"

the article says.

This suggests that after arriving

in the boat, they left the cannon

behind on the beach as they

climbed the hill.

Willowbank general manager

Dale Hedgcock said the area of

the beach where he and his fellow

team members found the cannon

would have been an obvious location

for the two Star of the South

crewmen to land their boat,

before walking along the beach

for about 1km to access the hill

referred to in the article.

"That's probably the only area

you would try and land a boat,

there's so many rocks around,"

Hedgcock said.

Other articles on Papers Past

reveal the more than 15 passengers

and crew were lucky to be

rescued from the remote location

six days after the shipwreck, on

December 21. Another steam ship,

the William Miskin, happened to

come across the wreck as she took

shelter from stormy seas.

THE BEST THING

SINCE SLICED BREAD.

For first home buyers only :)

Includes:

• 1.99% p.a. fixed for 1 year

• $2,000 Cash boost

• $1,000 towards House & Contents Insurance

with SBS Insurance

• $1,000 for your Lifestages KiwiSaver *

• SBS Visa Credit Card with up to $2,000 interest

free for 24 months **

0800 727 2265 sbsbank.co.nz/firsthome-combo

Advertised interest rate applies to existing homes only (no new builds) and is subject to change. First Home Loan

and Residential lending and eligibility criteria, minimum equity, terms and conditions and credit fees and charges

apply, including a 1% HNZC premium fee for First Home Loans. Further information on our credit fees and charges

are available at sbsbank.co.nz or on request from any branch of SBS Bank.

*The issuer of the Lifestages KiwiSaver Scheme is Funds Administration New Zealand Limited (FANZ). The PDS for

the Scheme is available at lifestages.co.nz

**Lending and Eligibility Criteria, SBS Visa Credit Card Conditions of Use and fees and charges apply. The prevailing

purchase interest rate will apply to any outstanding balance on expiry of the 24 months interest free term. 24 months

interest free is applied to a single transfer between $250 and $2000 from your card account. $5000 minimum

Credit limit applies. Minimum monthly repayments must be made during the 24 month interest free term.

First Home Loan lending and eligibility criteria, terms and conditions and credit fees and charges apply. FirstHome

Combo T&C's also apply. For further information visit sbsbank.co.nz
---
Latest Canterbury news at starnews.co.nz

mystery likely solved

"Through her providential

formally recorded in the early

arrival, the passengers and crew

1980s.

were saved much distress and

DOC issued a reminder

inconvenience," said a reporter

after the cannon find about the

in the January 20, 1866, edition

importance of not disturbing

of the Taranaki Herald.

heritage sites.

The passengers arrived at their

However, Schmidt acknowledged

the Willowbank team

original destination of Hokitika

on December 27. The Star of the

made the right decision following

their find of the cannon to

South was retrieved, but later

stranded on a beach, at Napier in

contact the Ministry for Culture

1870, before ultimately wrecking

and Heritage.

in 1884, on the mouth of the

"The immediate parties which

Grey River.

additionally should have been

Hedgcock said a maritime historian,

archaeologist and DOC after being retrieved from Chalky Inlet. This painting shows Southland and the Department

STRANDED: The Star of the South continued in service contacted were Environment

representative planned to visit the steam ship stranded on a Napier beach in 1870. of Conservation," Schmidt said.

the site and ultimately preserve

However, Willis said if DOC

the cannon.

cannons were used for signalling. cannons were first used in 1779, wanted to be told, this information

should be on the Ministry

They hoped to determine They were fired as a ship came and generally dated from at least

whether it came from the Star of into harbour to alert the pilot 1800. They were named after the for Culture and Heritage website.

the South or an unknown shipwreck.

The team was awaiting ship into port.

they were designed and made, ministry, he still had not heard

boat to come out and guide the Scottish foundry Carron where Ten weeks after informing the

the right permissions in order to "It's great that it has been initially for the Royal Navy. back from anyone from the

make the visit.

found and has a back story to There were 37 other cannons of ministry.

Naval artillery expert Peter it, because hopefully now some this type that he was aware of Meanwhile, while Willowbank

Cooke said the Star of the South museum authorities will preserve in New Zealand, most of them initially hoped to obtain custodianship

of the cannon, this now

story "seems to ring true" in it," Cooke said.

held in museums around the

answering the question as to how Weapons of that sort needed country.

seems unlikely.

the cannon was buried on the a special type of preservation Department of Conservation "For finds like this, it is important

for finders to work with local

beach at Chalky Inlet.

involving an electrolysis bath to senior heritage adviser Matthew

"If that story places the wreck reverse the rusting process. Schmidt said the etchings which agencies and the community to

of the Star of the South or the Cooke said it was an exciting had also been viewed by the Willowbank

party, were possibly left conserved, it is displayed locally

ensure that if it is recovered and

people from it at this location, find, in that it referenced an

then I think that does solve the event that went back to New by early sealers using the cave for so it remains part of the heritage

mystery," Cooke said.

Zealand's early history.

shelter.

story of Fiordland. The finders

He said merchant ships carried From looking at photos of He said the cave itself did not and conservators would then

arms in the 1800s in case of attack

from pirates. Additionally, was a Carronade. These type of was familiar with locals and story," Schmidt

the cannon, he determined it have a formal name, but the site become part of that local heritage

said.

Thursday September 2 2021 The Star

NEWS 9

Seafood

company in

Ngai Tahu's

spotlight

• By Hamish Rutherford

NGAI TAHU is said to be trying

to build a 20 per cent stake

in NZX-listed seafood giant

Sanford.

On Tuesday evening Craigs

Investment Partners was offering

to buy shares in the company on

behalf of the South Island iwi,

two people said.

One person said shareholders

were being offered $5.40 a share,

which would represent a premium

of about 21 per cent to the

$4.45 the shares closed at on Friday.

Craigs and Ngai Tahu have

not yet responded to requests for

comment.

If the figures are correct it

would suggest an investment of

around $100 million. A 20 per

cent stake would make Ngai Tahu

the largest shareholder in Sanford

by some margin.

The Covid disruptions have hit

Sanford's share price and saw the

company axe dividend payments

in November.

As recently as the start of 2020,

Sanford shares were trading at

above $8, however, the disruption

caused to supply chains saw its

shares price drop as low as $4.30

this year, the lowest price since

2014. – NZ Herald

Check out our latest

deals

$

EVERYDAY

PRICE!

$

17 99

each

WITHER HILLS

Pinot Noir or Syrah

750ml

Also available: Merlot

2 for

$ 50

MT DIFFICULTY

ROARING MEG Pinot Noir

750ml

Single bottles prices apply

Weekend beersies,

sorted!

39 99

each

STEINLAGER CLASSIC or ASAHI

24 x 330ml Bottles

Great gift ideaS for

FATHER'S DAY

SUNDAY 5 TH SEPTEMBER

HOT DEAL!

$

37 99

EVERYDAY

PRICE!

$

39 99

each

EVERYDAY

PRICE!

$

39 99

HOT DEAL!

$

54 99

HOT DEAL!

$

59 99

each

HOT DEAL!

$

29 99

HOT DEAL!

$

54 99

1 LITRE

1 LITRE

1 LITRE

NEW

PRODUCT

BILLY MAVERICK

& COLA

18 x 250ml Cans, 7%

HOT DEAL!

$

39 99

each

WOODFORD RESERVE

700ml

DEWAR'S

White Label

1 Litre

GORDON'S 1 Litre

GORDON'S Sicilian Lemon or

Premium Pink 700ml

SMIRNOFF

RED NO.21

1 Litre

JACK DANIEL'S

1 Litre

THE GLENLIVET

Caribbean Reserve

or Founder's Reserve

700ml

LONG WHITE

VODKA Range

15 x 320ml Bottles, 4.8%

Shop local with

AMBERLEY, ASHBURTON, BARRINGTON, BELFAST, BRIGHTON, BURNSIDE,

COLOMBO ST, EDGEWARE, ELMWOOD, FERRYMEAD, HALSWELL, HANMER

SPRINGS, HORNBY, ILAM, KAIAPOI, LEESTON, LINCOLN, METHVEN, OXFORD,

SHOP LATEST DEALS at WWW.SUPERLIQUOR.CO.NZ

NATIONWIDE DELIVERY NOW AVAILABLE

PAPANUI, PEGASUS, RANGIORA, SEASIDE, WOOLSTON

Exclusions may apply on some brands advertised. Offers end close of trade 5th September 2021, while stocks last. Available at participating stores only. Multi Deal only available in store.

Varietals may vary by store. Limits may apply. Wholesale (other liquor retail banners) not supplied. Terms and conditions may apply. Available 23rd August - 5th September 2021 inclusive.

Please see www.superliquor.co.nz for details.

SUP2366_C11
---
The Star Thursday September 2 2021

10

NEWS

Latest Canterbury news at starnews.co.nz

How Covid-19 has changed woman's life

• By Hamish Clark

THIS IS what long Covid-19

looks like and the toll it has

taken on Sharyn Gallagher, 57.

Living on a lifestyle block at

West Melton, the once fit and

healthy wife and mother caught

Covid in March last year.

Now exactly 16 months later,

Gallagher weighs just 45kg, suffers

stomach aches and nausea

and has very little energy or

strength, and is now worried

about what a Covid-19 vaccine

will do to her already ravaged

body.

Sharyn fell ill on March 27,

2020, the day after New Zealand

was plunged into its first lockdown.

"It took three phone calls to

the doctor before they would

even test me," Gallagher told

John MacDonald on Canterbury

Mornings on Newstalk ZB.

"Because I didn't have a temperature,

they didn't think I had

it but I did, and I was very unwell

for about six weeks."

The virus had attacked her

digestive system, not her lungs,

and she has suffered ongoing

issues ever since. "It hit me like

a tonne of bricks," she told the

New Zealand Herald. "I came

good until about August and

then back downhill."

At the time Sharyn admitted

she was scared. "There were not

the systems in place then like

there are now." She even recalls

turning on the television at night

during lockdown watching people

in Italy and Spain dropping

dead in the streets.

"It's really scary having this

inside you, not really knowing

the consequences will be," she

said.

Her husband and son are

builders and they too caught

Covid-19 around the same time.

Her 28-year-old son Jacob was

very sick for five days. Husband

Don, 57, lost a lot of strength and

took six months to come right.

"I lost a lot of weight and I am

unable to put any weight back on

still."

Today, she can't walk her

dogs, gets exhausted getting the

groceries. "I literally have to sit

down or I'm going to fall down,"

she added.

Gallagher recently registered

to get a Covid vaccine but "cancelled

it at the 11th hour".

"If I hadn't had the virus, I

would definitely get it," she said.

COVID: Don and Sharyn Gallagher have both had

Covid-19, Sharyn now weighs just 45kg. She is pictured

(above) in February 2020 before she caught the virus.

But "because I have had it, I'm

getting very anxious about how

[I] will react to it coming into my

body."

She has since enrolled in a New

Zealand research programme

looking into long Covid, its effects,

and antibodies, curious to

find out if she has any immunity.

She wants to get more information

before getting a vaccine

and is "concerned about how it

will affect me",

In spite of her own fears, Gallagher

recommends everyone

signs up for a vaccine and "definitely

get it".

In the meantime, she just

wants her life back.

"This is not just the normal flu,

it's not funny and not fake, it is a

different beast altogether."

Over the past 16 months, there

have been times when she has

suffered from mental health and

has been "quite down".

"I am still very thin, I definitely

don't do a lot of the things

I used to do but I have a really

good supportive family unit

around me has been my saving

grace really, I am grateful for

that."

– NZ Herald

sick child?

Call your General Practice

(GP) team 24/7 or visit an

urgent care clinic:

• Riccarton Clinic

8am–8pm

• Moorhouse Medical

8am–8pm

Under 14s have free medical visits after-hours

and weekends at urgent care clinics

• X-ray, fracture and wound care available

• Late-night pharmacies and parking on-site

CDHB16AUG21 ED

All clinics open 7 days a week

cdhb.health.nz/urgentcare
---
Thursday September 2 2021 The Star 11

MASSive FlooRiNg

sale

NoW

oN!

26oz Nylon

36oz Nylon

• Detroit/Riveria

• Solution Dyed Nylon

• Extra Heavy Duty

• Great colours to

choose from

• Windsor

• Solution Dyed Nylon

• Extra Heavy Duty

• Great colours to

choose from

only $85 per metre

only $109.90 per metre

50oz Nylon

Polyester

• Grange Fell

• Solution Dyed Nylon

• Extra Heavy Duty

• Great colours to

choose from

• Vermont

• Heavy duty

• 3 Great colours

only $129.90 per metre

only $69.90 per metre

luxury

engineered

timber Flooring

now

1/2 price

vega vinyl

Planks

• 5 stock colours

• Commercial grade

now

1/2 price

FRoM

$

60 00 $

30 00

PeR M2

PeR M2

CAll FoR A FRee MeASuRe + Quote

312 Wilsons Road North, Waltham Phone 366 0070

Q Card Finance

Available

Mon to Fri 8am-5pm and Sat 10am-1pm

Check out our website! www.carpetkingdom.co.nz
---
The Star Thursday September 2 2021

12

NEWS

Patroller rewarded for challenging role

• By Bea Gooding

GEOFF CHAPMAN has always

done what he could to keep

others safe.

During the February 22, 2011,

earthquake rescue and recovery

efforts, the Shirley resident didn't

hesitate to play an integral part

with Civil Defence.

Before that, he even went

as far as Antarctica on nine

separate occasions to carry out

electrical safety inspections at

Scott Base.

These days he patrols the

streets as part of the Burwood

Pegasus Community Watch – a

decade-long dedication to the

role which recently earned him a

community service award.

"I felt very proud, it's 10 years

of serving the community. I've

always had that aim in life,"

Chapman said.

The watch works with police

as the eyes and ears of the community,

targeting areas from

Prestons to South New Brighton.

Using confidential information

provided by police, Chapman

and the other 35 members, most

of whom are retired, patrol areas

in three-hour shifts.

Their daily presence is often

a deterrent for "undesirable"

behaviour, and any issues such

as stolen cars or trespassers are

reported directly to police from

the ground.

Chapman is also in charge of

submitting monthly statistics

to Community Patrols of

New Zealand and speaks to

various groups about the watch's

role.

Not only was it something he

enjoyed doing, but he believed

that looking out for his community

was a necessity.

Every week they came across

stolen cars, and sometimes it

came down to helping a person

with dementia who wandered

too far from home.

"When you're doing about

10km/h to 15km/h [in the patrol

car], you can observe a lot of

things going on because you're

moving quietly and you surprise

people," he said.

"Ninety per cent of the time

there's not much going on, but

it's about being a presence –

people see you and they give you

a wave."

Chapman's most challenging

incident was during a normal

patrol following the earthquake,

PASSION:

Geoff

Chapman's

dedication

to the

Burwood

Pegasus

Community

Watch

earned

him a

community

service

award.

PHOTO:

GEOFF

SLOAN ​

and only a year after he joined

the community watch.

He was waved down by a

resident who said a group of

people were "smashing up" the

neighbouring house, which was

unoccupied because it was in the

red zone.

"We knew we had the element

of surprise, so we moved the

car a wee way down the road,

rang 111, then we sat there and

observed," Chapman said.

"We were in the right place at

the right time. Within five minutes,

five police vans and a dog

showed up."

But not everyone in the community

was a fan of the watch,

and they were not afraid to show

it.

As well as facing verbal abuse

every now and then, Chapman

has even had road cones thrown

at him.

That was why observation and

reporting, instead of confrontation,

was the key.

"The worst thing is when you

get people who try to be a smart

ass with you," said Chapman.

"You just ignore them and

drive away [otherwise] it leads to

violence, there's no need to put

yourself in that situation."

Chapman's experience and

ties to the community were

what lead him to assist Civil

Defence as a communications

co-ordinator immediately after

the earthquakes.

For three weeks he liaised

with the national body in Wellington

to ensure staff, including

Land Search and Rescue were

equipped with the right equipment.

Behind the scenes, his efforts

helped about 700 search and

rescue personnel who were

undertaking welfare checks

in Halswell and surrounding

suburbs.

• Turn to page 15

Care SuiteS alSo available now!

For inquiries: Sue (Sales Manager)

M: 021 902 626 w: 03 943 6006

e: sue@archer.org.nz www.archer.org.nz

$399,900

villa DiSCounteD to
---
Thursday September 2 2021 The Star 13

Click & Collect

now available

Shop our complete range online

Floraviva

Assorted Flowers 10cm Assorted

An assortment of the most popular varieties of flowering

annuals available for your garden.

343385

$2 59 $21 98 $9 98 $12 98

Fuller

Ratchet

Screwdriver Set

43 Piece

A toolbox essential.

Replaces almost every

screwdriver with the

added benefit of

ratchet action.

255229

Natures Flame

Wood Fire

Pellets 15kg

Stainless steel

wooden handles.

280490

Tui

Garden Waste

Bag

Tui Garden Waste

Bags are ideal for

transporting and

storing garden

waste such as leaves,

grass clippings and

garden debris.

221640

Bloom

Garden Hand Tools

Stainless steel wooden handles.

320955

Armor All

Car Care Value Pack

Includes protectant, car wash, windscreen wash, sponge

and cloth.

366605

Grillman

3 Piece BBQ Set

Includes spatula, tongs and grill rake. Stainless steel.

289732

Number 8

Storage Bin 100 Litre Black & Yellow

This heavy duty 100L storage bin includes a robust,

perfect fitting lid that has been designed to work with

padlocks for additional security.

299758

$15 98

Fiskars

Softgrip Bypass

Pruner PA21 Medium

Sharp, precision-ground

blade edge.

323389

Black+Decker

18 Volt Drill

Driver Kit

Chuck size 10mm.

Max drilling capacity

25mm for wood and

plastic, and 10mm

for steel. Variable

speed switch. Soft

grip handle. Includes

1.5Ah battery.

348328

$99

$19 99 $35

$29 99

Weber

Q1000 Black

BBQ

Heavy-duty

push-button

piezo igniter. Rust

resistant cast iron

split cooking grills.

Also available in

titanium.

317366

$409

Cart sold separately

$29 06

Muscle Rack

Shelf Unit 5 Tier

This Edsal heavy duty

wire deck shelving

unit features carbon

steel wire deck

providing 350kg

weight capacity per

shelf. H:1830mm,

W:914mm, D:457mm.

307842

$119

Mitre 10 MEGA

Hornby

☎ 03 349 8497

Mitre 10 MEGA

Papanui

☎ 03 359 5443

Mitre 10

Beckenham

☎ 03 322 7557

Mitre 10 MEGA

Ferrymead

☎ 03 366 6306

Prices valid until the 12th of

September only while stocks last.

If you find a lower price on an identical stocked product locally we will beat it by 15%

*if you find the same product cheaper from another Mitre 10 store or Mitre 10 website we'll match that price.

Excludes trade and special quotes, stock liquidations and commercial quantities. The in-store price may be lower than advertised.

www.mitre10.co.nz
---
14 The Star Thursday September 2 2021

Christchurch City Council COVID-19 update

We're in Alert Level 3

Consenting

• Our consenting teams are supporting the

building and construction industry with onsite

inspections. They will continue to process

building and resource consents electronically,

providing planning and advisory services via

telephone and email. We have additional health

and safety measures in place to help keep

worksites safe.

We are resuming some of

our projects

• We're resuming construction work on our

community facilities, roading, transport,

wastewater and water projects where work was

already underway pre-lockdown. Additional

maintenance work such as road resealing

and repairs can also resume.

• We need your help to stay safe, so if you're

passing through or near any of our worksites,

please be mindful of keeping a safe distance

(a minimum of two metres) from our traffic

management and construction teams.

Please be patient and expect delays.

Transfer stations open again

• EcoDrop transfer stations at Parkhouse Road,

Bromley and Styx Mill are now open to the

public. You'll need to make a booking to drop

off your rubbish, green waste, recycling and

hazardous items. To make a booking online

and for more information please visit

www.ecocentral.co.nz. If you can't book

online please call us on 03 941 8999.

• Barrys Bay Transfer Station is also open under

Alert Level 3, but is operating under

restricted access. Please follow all directions

on arrival, be patient and expect delays.

Getting outdoors

• Enjoy fresh air and exercise locally. You can visit

our parks, beaches and the Port Hills, but the

Botanic Gardens will remain closed until Alert

Level 2. Remember to always maintain a two

metre distance from anyone not in your bubble.

Please continue to keep your dog on a leash,

and take your dog poo and any rubbish home

with you.

Council facilities and offices

are closed, but we have some

great online services

Try our online library services at

christchurchcitylibraries.com

Join a Facebook livestreamed fitness class at

facebook.com/chchrecsport

Use the Gallery's online art collection to

create your own exhibition at

christchurchartgallery.org.nz/mygallery

Bin good with your recycling

• We're processing recycling as normal. Bin good

by only putting the correct, clean items into the

yellow bin. You can find out which items are

acceptable at ccc.govt.nz/recycling

Rates

• We know paying rates isn't as easy when our service

centres are closed. For the latest information about

rates and how we can help, visit ccc.govt.nz/rates

or talk to us on 0800 800 169.

Preparing for Alert Level 2

• We're working on what a change to Alert Level

2 will mean for Council services and facilities

as we await further Government announcements.

As soon as we have more information we'll

update you on ccc.govt.nz. You can also call us

on 0800 800 169.

Contact us

• For all our services and more

information call us on 03 941 8999

or 0800 800 169, 24 hours a day,

seven days a week, or visit

ccc.govt.nz
---
No taking it easy

• From page 12

Chapman attributed his "community

spirit" to those teenage

years as a member of the Jaycee –

a service and community-based

organisation.

Born and raised in Ashburton,

he remained a member until

his early 20s before moving to

Christchurch in 1970.

From here, he married the

love of his life, Vera, built a

home, raised two daughters and

worked as a technician for the

old Municipal Electricity Department

for several years.

His electrical expertise landed

him the gig of a lifetime in 1986

when he was asked by government

agency Antarctica New

Zealand to do electrical inspections

at Scott Base.

Chapman went back to the

continent eight times for two

weeks at a time after that, with

two years in-between trips.

"It's a fantastic place, the sky

is so blue on a clear day – I can't

describe the blueness of the sky,"

Chapman said.

"The atmosphere is a very dry

kind of cold. For example, you

can't make a snowball as there

is no moisture in the snow, you

pick up a handful and it just

fades away."

He retired in early 2010 but

Chapman had no intention of

taking it easy.

So he joined the community

watch and went on to become a

justice of the peace and a marriage

celebrant.

While the community watch

is unable to patrol the streets

during the level 4 lockdown,

Chapman's 50-year interest in

amateur radio is keeping him

connected until restrictions

ease.

HAM:

Chapman's

50-year

passion for

amateur

radio is

keeping

him busy

during the

lockdown.

PHOTO:

GEOFF

SLOAN

Latest Canterbury news at starnews.co.nz

A CHRISTCHURCH relief

teacher who sent a friend

racist posts on social media to

"stimulate discussion" just a

few months after the mosque

attacks has narrowly escaped

being found guilty of serious

misconduct.

The Teachers Disciplinary

Tribunal has instead issued

Simon Humphrey a stern

warning about his "illconsidered

and unacceptable"

racist posts saying any repeat

behaviour would almost

certainly find him in breach and

put his teaching registration at

grave risk.

Humphrey found himself

before the tribunal last year

after the principal of a primary

school he was regularly relieving

for was forwarded anti-Muslim

posts he sent to a friend in May

2019.

The school's principal did

not have any issues about

Humphrey's behaviour towards

children or staff, but requested

he be formally censured due to

the racist nature of the posts.

Among the students Humphrey

had taught at the school, one was

Muslim.

But Humphrey argued that

while he did have concerns

around Islamic political extremism

and certain immigration

rules, any assumption that

everything posted reflected his

"own staunchly held views is

entirely misguided".

"I post on Facebook, not to

declare truths I insist everyone

should agree with, but to

stimulate discussion as a way to

challenge and develop my own

thinking about difficult and

complex issues."

The posts appeared to have

only gone to one person.

He also claimed that

disagreeing with some aspects

of Islam, had "absolutely no

bearing" on how he treated

individual Muslims and that he

had the "mental stability and

probity" to separate his political

views from his teaching practice

Thursday September 2 2021 The Star

NEWS 15

Teacher warned about

'unacceptable' racist posts

which in no way affected the way

he dealt with children.

In its decision, the tribunal

labelled two of his three posts

"ill-considered and undoubtedly

inappropriate", as well as a

"misguided attempt at creating

discussion".

The tribunal disagreed with

Humphrey's view that he was

trying to stimulate discussion

on a difficult issue and felt the

"banal" and "provocative" posts

were instead aimed at trying to

get a rise out of his friend.

It said determining whether

Humphrey's behaviour involved

serious misconduct had been

a "difficult decision" because

sending material with racial

overtones especially so soon

after 51 people were killed in a

terror attack in the city affected

his fitness to be a teacher and

was a definite breach of the code

of conduct.

However, because Humphrey

had only sent the posts to one

friend and had not posted the

objectionable material more

widely, the tribunal did not

find his actions had bought

the teaching profession into

disrepute and therefore did not

meet its high threshold of being

deemed serious misconduct.

– NZ Herald

HyperCore

KW60 Heat Pump

Heating 6.5kW | Cooling 6.1kW

$4,499

INSTALLED *

* Standard installation,

conditions apply.

Guaranteed full heating

capacity … even on the

coldest days!

Call us for a free quote

DO YOU HAVE A

DAMAGED

prOpErtY?

• We buy As Is Where Is

• No AgeNt fees

• settlemeNt to suIt you

03 365 9131 • resolvemyhome.co.nz

resolvemyhome

essential reading for

father's day

CLICK & COLLECT

www.piccadillybooks.co.nz

FREE DELIVERY

for homes between Yaldhurst & Wairakei Roads

EMAIL ORDERS TO: shop@piccadillybooks.co.nz

Shop 1, Avonhead Mall,

Corner of Merrin St & Withells Rd, Avonhead

Ph: 358 4835 | www.piccadillybooks.co.nz
---
The Star Thursday September 2 2021

16

OUR PEOPLE – PHIL SIMMONDS

A mission to find people alive

Canterbury district

emergency management

co-ordinator Sergeant

Phil Simmonds has

been recognised for

almost three decades

involvement in search

and rescue missions

plus international

deployments focused

on disaster victim

investigation. He was

recently awarded the Lou

Grant Memorial Trophy,

named in honour of the

Auckland SAR leader

who died in a helicopter

crash in 1993. Simmonds

revisits his career with

Chris Barclay

When, and why, did you join

the police force?

It was 1988. I'd been a panel

beater for about 12 years. I was

28, I think the cut-off back then

was 30. Joining the police later

meant I was probably a bit more

mature. My father (Mac) was

a policeman and when I was

aged six to 11 we were over in

Greymouth. He was a station

sergeant, we actually lived in the

police station.

So you slowly followed in

dad's footsteps on the beat.

I waited until he'd retired

before I applied. I didn't want to

CRISIS MANAGEMENT: Sergeant Phil Simmonds.

apply and get in on his coattails

if you like.

Did growing up with a

police officer as a father

figure help prepare you for

the job?

It certainly did, especially

living in Greymouth. Every

year the river used to flood

and burst its banks. When

we were over there the

Inangahua earthquake struck,

(May 24, 1968), and the

Strongman mine disaster as well

PHOTO: GEOFF SLOAN

(January 19, 1967). Dad

started Search and Rescue over

there.

You spent a lot of time in

the great outdoors during

your childhood. Did those

experiences encourage you to

apply and join the SAR squad

after you transferred from

Timaru to Christchurch in

1992?

Absolutely. When I was

five I got dragged up Roy's

Peak in Wanaka (elevation:

1578m). We'd go away as a

family quite a bit, two or

three times a year. We'd do

the Three Passes Route (in

Arthur's Pass National Park).

When I was 14 me and a mate

biked over to Greymouth from

Christchurch, it took us three

days, we got the train back.

When I joined SAR I was

familiar with all the training

and areas we did.

Did you ever get lost on

those journeys and need to be

rescued?

No, but we did these trips

up Sudden Valley and once in

the middle of winter, when I

was 16, a mate took a couple of

steps forward and slipped into

the river. When I got down to

him he was on the side of the

bank but all his hair had turned

to ice. He had a gash on his

knee so we hitch hiked back

to Christchurch and got it fixed

up.

Does that constitute your first

rescue then?

No, and I don't actually

remember my first (SAR)

operation.
---
Thursday September 2 2021 The Star

OUR PEOPLE 17

and identifying disaster victims

SAR operations also rely on

civilian input don't they?

We couldn't do it with just the

police. In Canterbury we have

seven land SAR groups. They are

qualified to do SAR.

What does SAR training

involve?

There's the national SAR

course initially and then we'll

have other courses including a

marine SAR course, an extended

search planning course and a

SAR manager's course, which is

probably the pinnacle. To get

to that stage takes about three

years.

Is your standard SAR

squad an old – and new – boys'

club?

No. It's a mix. We just took on

a few reserves and we've got five

women in that group. It's totally

different from when I started.

Women are more than capable

and it's nice to see the interest

in going on to specialist squads

as well. We've got a good mix

of people who have been there a

while, and newbies.

Is SAR a sought after role?

I put out an expression of

interest once every two years

and I'll get up to 10 people apply.

An interest in the outdoors is a

good head start. It gives you an

awareness and a knowledge that

people are capable of being out in

that environment.

EARLY

EXPEDITION:

Phil

Simmonds

and his father

Mac at a back

country hut

during a trek

in the Arthur's

Pass National

Park in 1977.

We associate SAR operations

with missing climbers and

trampers, but there's also ample

work in urban settings isn't there?

We do a lot more searching

within the city itself. We get

a lot of people with dementia,

going for a walk and getting

lost. Sometimes they will come

to a barrier, stop and not go any

further. With our winters, they're

at high risk.

A SAR member's role

dovetails with the grim task

of dealing with murder and

accident victims to take the

strain from front line police

dealing don't you?

Quite a few front line police

have been referred to our welfare

(service) after they attended

horrific incidents so there's a

system in place where the SAR

squad will do the recovery if

someone's visually unidentifiable

or they're fragmented. We run

it pretty well here because there

have been so many (of those

deaths), with the Christchurch

earthquake and the mosque

shootings. We probably do 40-

50 body recoveries a year from

motor accidents, house fires and

people who have died at home

and left there for several months.

If you're in the SAR squad

you're automatically in the

Disaster Victim Identification

team as well aren't you? That

must be confronting at times?

You need respect and empathy.

You're working with the family

TOUGH TASK: Simmonds (right) was heavily involved with

the identification of tourists and Thai locals killed by the

Boxing Day tsunami in 2004.

and you're actually returning

those people back to the family.

You're giving them closure like

that. Some of them have been

dead for a long time and almost

forgotten about.

Which brings us to missing

Australian climber Terry

Jordan, who lay unidentified in

a mortuary for five years after

being found in 2016 on the

Bonar Glacier in Mt Aspiring

National Park. You finally

managed to reunite his remains

with loved ones across the

Tasman in April.

Terry and Marc Weinstein left

Wanaka on December 3, 1978,

to climb Mt Aspiring. A search

12 days later found Marc's body.

In 2016 some people found

human remains and items of

clothing on the lower reaches

of the glacier. We started an

investigation, contacting

climbers from back then. We

got a name but it was spelled

wrong (Gordon not Jordan). We

searched overseas and found

an Australian who knew the

widow of a missing climber.

The clothing included a pair

of Speedos with an Aboriginal

design. She found a photo of him

wearing them.

• Turn to page 18

Millie

Ara graduate

for a career in nursing

Equip yourself to make a difference to the lives

of others with a Bachelor of Nursing from Ara,

starting in February.

Applications close on 30 September,

places are limited.

For details and to apply

visit ara.ac.nz

SPRING

SALE

70

UP TO

%

OFF

More details on Website under 'Current Promotions'

10 DAYS ONLY

Wednesday 1st Sept - Saturday 11th Sept

Weekdays 9am-5pm | Saturday 10am-2pm

421 Colombo Street

Christchurch 8023

P. 03 366-5475 www.westendejewellers.co.nz
---
The Star Thursday September 2 2021

18

OUR PEOPLE

'Even if it's a bad result you're still

• From page 17

It must have been satisfying to

solve that mystery.

That felt pretty good because

he was going to be buried as an

unknown person in an unknown

grave. To me that's a real travesty.

This job doesn't seem like work

a lot of the time. You're actually

able to make a difference to

people and give them a result,

even if it's a bad result you're still

giving them a bit of closure.

The rescue of two missing

climbers from surroundings

familiar to you – Arthur's Pass

National Park – was another

highlight among the thousands

of searches you have overseen

during the last 25 years

Marni Sheppeard and Sonja

Rendell went on a three-day trek

and ended up huddled in a cavity

on a rocky mountainside. I was

in incident control for eight days

and I was absolutely spent. We

had a pretty good idea where they

were going but the weather was

absolutely hopeless – low cloud,

rain and drizzle. We covered a

big area on foot and never really

came up with anything, which

is actually a good sign because if

you're finding nothing there's still

something out there to be found.

It was really bizarre because

on the eighth day we had their

GRIM ASSIGNMENT: The remains of the CTV site following the

February 22, 2011, earthquake.

PHOTO; GEOFF SLOAN

families there and we put them

in an old Iroquois to show them

the search area. I said: 'Keep

your eyes peeled'. They pulled up

above the cloud and said: 'There

they are on the side of the hill.'

It was actually the families that

found them. That was hard case.

Sadly Marni Sheppeard

was not as fortunate after

embarking on a solo trek

near Otira. She was reported

missing in January this year,

her remains were found in the

Rolleston River area in March.

There wasn't that much

information other than she was

going off to the mountains to

do a walk. Some people saw her

name in an entry in Carrington

Hut and a note of her intentions.

Once we got that information

it was a matter of doing

reconnaissance. The West

Coast SAR put a canyoning

team in and they picked up the

remains.

Back in Christchurch, and

back in time to February 22,

2011.

I was pretty much based at the

CTV building for the first two

weeks. With the fire there was

quite a bit of fragmentation with

the bodies. It felt close to home

and they (the DVI team) felt they

had more of a commitment or

obligation to get everything done

and do it well. There were a few

Australian pathologists that came

NO HOLIDAY: Disaster Victim Identification expert

Simmonds was based at Khao Lak after the holiday

resort area in Thailand was swamped by a deadly

tsunami on Boxing Day, 2004. PHOTO: GETTY

across and an anthropologist.

Why an anthropologist?

At the CTV building there

were a whole lot of fragmented

remains co-mingled in an area.

The anthropologist had a look

and said: 'You've got three people

in here. You've got three left knee

caps and they're quite young

people as well'. The problem with

the CTV building is there were

a lot of people in the cafeteria at

lunch time and when it collapsed

everything was jumbled up.

Your DVI expertise

qualified you to head to

Thailand in 2004, following the

Boxing Day tsunami, you ended

up spending three rotations

there.

I left Christchurch on New

Year's Eve. I was initially based

at Khao Lak where a lot of the

resorts are. In some places (the

watermark) was five or six metres

high on the buildings. We had

40-foot refrigerated containers,

58 of them, for bodies. We

processed a thousand in the

first 3-1/2 weeks. After a week

in that heat you could hardly

tell what sex they were, let

alone nationality. We'd have a

debrief every day. It was so hot

that smell you're working with

actually sticks to you. When

we'd go through the lobby to our

accommodation people would

part as you went to your room.

Light

Festival

16 - 18 SEPTEMBEr

Victoria park, rangiora

Experience a light & sound wonderland.

A fairyland of laser lights, neon, disco lights, interactive

lighting displays, glow toys & more. On the main night, food,

UV dance floor, licensed bar, stalls, kid's activities, roving

entertainers, live music & an outdoor movie.

ENTRY: Just $5, $15 per family.

BIGGER, BETTER, BRIGHTER

Limited Numbers, Get Your Tickets Now

rangioralightandsound.co.nz

Rangiora
---
Thursday September 2 2021 The Star

OUR PEOPLE 19

giving them a bit of closure'

Does your mind set alter when

a SAR mission is focused on a

murder victim? Is the quest for

justice a driving force?

Finding the body which leads

to a murder prosecution is a

really big motivator for me. There

was a girl at the Waimak. She

was raped, murdered and left

out there. (Marie Davis, 15, was

killed in April 2008 by Dean

Cameron). We searched for a few

days and ultimately found a body.

Hayden Miles, a boy of 14. He'd

been murdered by a guy (Gavin

John Gosnell), cut up and buried

on top of a grave in Bromley. We

were led to the cemetery and used

ground penetrating radar over

recent graves. After you put the

probe down you let it vent and

then a victim recovery dog can

scent it (decomposing remains).

It's really satisfying when people

are held to account.

You've never searched for

anyone you knew personally,

but has there been an occasion

where the emotional toll has

led you to a lie down on the

psychologist's couch?

I have once. There was a

helicopter rescue guy and copilot

who died out Methven way,

probably 25 years ago or longer.

They were going to rescue a

fisherman in a river and flew into

a stand of trees. I was picking up

(body) pieces and I remember

picking up what I thought was a

dead possum, it was a guy's scalp.

Normally I'd be fine but I was

going through a marriage breakup

at the time and not having

that support at home … it just

got on top of me. One day I got

wound up by a couple of punks

on the beat and I could feel

myself getting tighter and tighter.

When I got back to the (police)

kiosk I said to the guys: 'I feel like

I'm just about ready to explode'.

Someone said something smart

and I smashed a metal locker.

The boss sent me away, I got

reprogrammed a little bit and I

was fine. These days we have a

debrief after each job, we keep an

eye on each other a lot more.

How do you unwind and

have you got any plans for

retirement?

I mountain bike. I've got a

couple of old cars that I'm doing

up. One is a 1938 Morris 12,

I've had it since I was 21. That's

RESTORATION JOB:

Simmonds is working on

restoring this 1938 Morris

12.

been waiting patiently. I really

enjoyed art at school (North

New Brighton School/Grey

Main School/Shirley Boys' High

School) and I've never done

anything with that, perhaps

sculptures with metal work. I

can see myself having a coffee

shop in Chiang Mai. I married

a Thai lady (Tang) in 2006 so

something good came from the

tsunami.

We started this chat on the

West Coast and we'll finish up

there. You attended Pike River

after the mine disaster but never

utilised your DVI skills. Do

you have a view on whether the

bodies should be recovered?

Not really. From the families

there's a mixture of feelings.

Some say that's where they

belong, that's where they died,

that's where they worked and

they should stay and obviously

there's other families that want

more done.

ENTOMBED:

The 29

miners killed

263 x 180

in the Pike

River disaster

remain

underground.

Need To Get Fit Fast?

Tone Up or Body Build, Get A Total Body Workout

One Machine...

That Does it All

Easy Storage

Easily Folds Away

Effective Workout

Fun, low impact workouts.

For All Ages

Personalised Settings For

Beginners and Advanced

Includes

Pilates Kit

& DVDs

Up to

50 % Off

Off

*

*Call for Terms

& Conditions

Call Now! 0800 665 665
---
The Star Thursday September 2 2021

ARA INSTITUTE OF CANTERBURY

Many opportunities for lab technicians

Over the past two years,

more than two million

COVID-19 tests have been

performed in New Zealand

alone. However, the

important work done by

laboratory technicians goes

far beyond helping fight

global pandemics.

"COVID-19 has shown

the world the importance

of high-quality lab testing,

but lab technicians do

important work across

many other sectors," says

Dr Grant Bennett, Ara

Institute of Canterbury's

programme leader for laboratory science.

Food manufacturing, environmental

monitoring, quality assurance, human

health, veterinary diagnostics and product

development are just some of areas lab

technicians work in. "This profession can

take you in so many directions and you

can make a real difference by helping

our community, our environment and

supporting local industries," Grant says.

Ara Institute of Canterbury offers three

qualifications for aspiring lab technicians:

two diplomas and a graduate diploma. Each

is industry driven and heavily hands-on with

a focus on employment. Work placements

are included with the Level 6 diploma and

the graduate diploma.

"Our class sizes are small, our programmes

are highly practical, and our labs are

equipped with the same gear that's used in

industry," Grant says. "Students gain a broad

range of lab skills, but also many transferable

'soft' skills essential to employment, such

as workflow management, teamwork and

Nina

Ara student

communication."

Michelle Knowler studied Ara's Level 5

Diploma in Applied Science. "It's a good

option if you're straight from high school,"

she says. "It's much more practical than

theoretical, which I really liked." Michelle's

goal is to take her skills back to Vanuatu and

to encourage more women there into science

careers.

After completing a Bachelor of Science

at Otago University, Sam Suzuki studied

Ara's Graduate Diploma in Laboratory

Technology. He knew that the advanced

laboratory experience he'd gain, along

with the experience he'd get from the work

placement, would equip him with hands-on,

industry relevant skills that would make him

work-ready.

Sam was right. His work placement was

at Plant & Food Research and now he's

employed there as a lab technician/research

associate within its annual crops group.

All three laboratory technology

programmes start at Ara in February. For

more details, see ara.ac.nz.

20

OPINION

Make an appointment

to dump your rubbish

THE QUESTION I have

been asked most by

people about alert level 3

is this – will the dump be

open?

I think the lockdown

has meant a lot of people

have been in the garden

and using the opportunity

to do some clearing out at

home.

So, here's the answer

– under alert level 3 a

booking service has been

set up to allow access to

EcoDrop transfer stations

and recycling centres at

Metro Place, Styx Mill and

Parkhouse Rd.

They're operating a full

service, allowing you to

drop-off general rubbish,

greenwaste and recyclable

materials.

To keep everyone safe,

you must wear a mask,

maintain social distance

and use contactless payment.

You can make a booking

on the Ecocentral website

–www.ecocentral.co.nz.

If you don't have internet

access, and can't get

someone else to make a

website booking on your

behalf, please phone the

free

denture

CHeCKS

Mayor

Lianne Dalziel

city council on 941 8999

and they can assist you

with making a booking.

News of the shift to level

3 was welcome to many

businesses, but there are

many who cannot trade

under these conditions

and we need to remember

them. Backing local businesses

is the key to our

economic recovery.

I understand the Government's

caution. We

saw how quickly a single

case of the Delta variant

spread.

However, the risk of

community spread is

PHOTO: NEWSLINE

reduced with masks, social

distancing and meeting

contact tracing requirements

by signing in, and

Christchurch residents

have been really good at

following the rules.

The key now is getting

people vaccinated.

You can get the vaccine

if you're aged 12 or over –

it doesn't matter what your

visa or citizenship status

is. Book onlinehttps://

bookmyvaccine.covid19.

health.nz/or phone 0800

282 926.

Vaccinations protect us

all.

At Better Denture

we have a range

of services and

options available. new dentures > relines > repairs >

to support your

community

If you have a passion for supporting individuals

and families during challenging times and a desire

to create positive change in your community,

Ara's Bachelor of Social Work will equip you with the

skills and knowledge needed to make a difference.

This highly practical degree has a strong bi-cultural

focus and includes extensive work placements to

ensure you graduate work-ready.

The Bachelor of Social Work

starts in February.

6 Brynley St, Hornby, Christchurch

Phone: 03 349 5050

www.betterdenture.co.nz

KK11743

Check it out today

at ara.ac.nz
---
Thursday September 2 2021 The Star 21

Get a Spring in your step when you see these

Springtacular deals

Open For Click & Collect at Level 3

Madison Chair 4 Colours

$949

$1699

Metung 3.5 + 2.5

Lounge Suite Madison 3 Seater

$1459

3 Colours

Tudor Oak

Cheval

Mirror

Tudor Oak 1200 Tudor Oak

Extension Table Dining Chair $239

$269

$879

Tudor Oak

Entertainment

Unit

$569

Tudor Oak

Coffee

Table

$529

Tudor Oak

Nest Of

Tables

Tudor Oak

Display Cabinet

$1319

$489

Linea

Highboard

$1750

Raglan Chest

$1139

Raglan Lowboy

$1189

Raglan

Bedside

Cabinet

$379

Linea Sideboard

$1750

Raglan

Headboard

$489

140 Brighton Mall Tel: 388 9128 OPEN 7 DAYS bestfurniture.co.nz
---
The Star Thursday September 2 2021

22

OPINION

ince Environment Canterbury

climate-change emergency

Residents' associations build communities

by sea-level rise this century and threatened and facing increased

our productive and protected land pressures due to river system

Environment

jeopardised by the arrival and change.

spread of new, exotic weeds and Wetlands are also ecosystems

Canterbury Chair

pests from warmer climates. at-risk nationally and regionally,

Jenny Hughey

All these eventualities have degraded by draining, damming

to be planned and prepared for, and diversion affecting their

and enhance that work.

fleet hybrid or long-range electric

and Environment Canterbury ability to sequester carbon,

HOW That EXCITING work included is this? setting I went protect by 2022. our Carbon environment. emissions from

will remain in the vanguard of cleanse freshwater and mitigate

up to a meeting climate-change and came integration away with air At this travel meeting across the local organisation

these climate change efforts. flooding, as well as impacting on

a great sense of optimism about playcentre women talked about

One example is the $40 million biodiversity and mahinga kai.

programme in the Long-term Plan are offset via our own biodiversity

our local well-being.

taking the young children

Waimakariri River flood

With biosecurity, we are

2018-28, ensuring climate change programmes.

We hear so much about walking locally so they can

protection project, completed putting greater emphasis on the

was actively considered across According to a Madworld report

people being disconnected in explore nature. They stop and late last year. The network of risks of new pests establishing

workstreams, increasing visibility in 2019, our gross emissions were

our communities, but it seems talk about insects they see on the floodgates and stopbanks will in Canterbury. Warming

of the science and what we know 2253 tonnes of carbon dioxide

to me that all you need to do in way and talk to people they know. protect half a million people and temperatures, changing soils and

about the impact of climate (CO2) equivalent, compared with

Christchurch is attend your local This is all about instilling a love of $8 billion of community and new land uses mean new weeds

change on Canterbury, and liaising removals of 7883 tonnes of CO2-

residents' association meeting and nature in small children.

business assets from a possible especially, will be able to gain a

on the issue with iwi and regional equivalent through our efficiency

you will see the opposite.

Some parents with children "super flood".

better foothold across the region.

partners, other local authorities efforts and from forestry planting

Last month I engaged with at the local school shared the

The last major flood was in More broadly, we have to

and central government.

across 2700 hectares.

residents at my local residents' experience of their older children December 1957, when parts curb reliance on fossil fuels and

As an organisation, we have The changing climate will pose

association meeting in

learning science skills through of Coutts Island in Belfast and find environmentally suitable

also

Spencerville.

made significant

For 62 years,

progress

locals

in

working

many risks

with

to

volunteers

life and livelihood

of the Kainga were swamped by river alternatives, such as electricity and

addressing have been coming our own together greenhousegas

and emissions, share ideas with with our the aim of regenerating we have seen native how bush occasional, CELEBRATIONS:

to talk Styx

in Canterbury.

Living Laboratory

In recent

Trust

years flow peaking at 3990

The Spencerville

cubic

Volunteer

hydrogen,

Fire

to power

Brigade

our public

is now operating from a new

along

Christchurch improving the building liveability receiving of our a the but Styx extreme, River. The weather value events that have

building. metres It per was second recently (cumecs). awarded a community transport. service medal.

The protection scheme has been When my predecessor Steve

"market-leading" local community – energy and it's efficiency still this had volunteer huge effects work on brings residents is and

Locals designed talked to about defend a wide Christchurch wrote Lowndes about recently retired will as provide chair of make a contribution to your area.

rating going strong. of 5.0 out of 6 in the year enhancing infrastructure the learning around of the local South range from of issues a flood including of as much the as 6500 useful this information council late on how last year, the he Getting involved will boost

to As February we all know, on the good National social children Island. to care for our local continual cumecs. dumping of rubbish traps can highlighted be used in some an urban of the big your well-being and provide

Australian relationships Built and Environment

connections environment. The driest parts of our region, in the Environment local environment Canterbury's and environment. changes on the way. He was a sense of achievement and

Rating with people System around New us Zealand. are vitally along Members the Marlborough of the local toy coast and what leadership can be done of biodiversity about it. and This, optimistic along with we the would be able to meaning as you help to build

important The building's to individual features wellbeing.

solar This panels is really which important can to their Plains, lending are expected practices to reflect get even shared underpinned information by and climate-change

reminded groups, climate will ensure change support and sustainability. environment for us all.

include library across talked much about of the changing Canterbury Community biosecurity board programmes members is also involvement deal with of community the "pressing issues" a of better community and

184

generate our local more neighbourhoods, than 55,000 as the changes drier. North-westerly in our communities, storms are residents concerns. of the upcoming byelection

Canterbury's in the Coastal distinct Ward. braided Canterbury. community, and as a council, • Cr Jenny Hughey is chair

for the goal I share of a his predator-free confidence. As a

kilowatt strength of hours these of relationships electricity per such predicted as helping to become grandparents more intense,

year. helps us all.

and with others torrential with children alpine rainstorms when Residents rivers and are unique also helping wetlands with face By the we way, are taking for more some bold steps of to the Canterbury Regional

Residents' There has associations been a 26% reduction are visiting turning to our borrow braided toys. rivers into a predator many challenges. trapping programme The rivers form information ensure on we predator are in a better control, place

Council

to

(Environment

per examples staff member of a joint in approach emissions to roaring Meanwhile, rapids, the fuelling local fire landslides along a vital the lagoon ecological at Brooklands link provide including cope trapping, with the poisons, changing and climate

Canterbury)

since building 30 June thriving 2010. communities. We now have brigade and causing is celebrating widespread operating erosion. with an the abundant park rangers food – supply just and legislation, and the go to tests www.bionet.nz.

it will set us. But

access Community to electric groups and create hybrid places

It's a year

from

since

a new building after

Environment

being another initiative of the residents' Canterbury

The upshot is that residents'

vehicles

to connect

and

around

hope to

activities

have half our

awarded Canterbury's a community coastal

communities will be

service

threatened association.

nesting grounds for 26 species of there will always be a need to do

native birds – most classified as associations more. or similar groups

with like-minded people who medal on the recommendation of

can support each other and help the residents' association.

Looking to the future, the (such as river care groups) are a

virtual fence on Banks Peninsula I great way to stay connected and

declared a climate-change emergency

JENNY HUGHEY explains what

the council has been doing.

The formal declaration of a

state of climate emergency across

Canterbury was one of the most

serious, and colourful, moments

in the regional council's more than

30-year history.

A year ago this Saturday,

at 11.49am, Environment

Canterbury became New Zealand's

first council to proclaim such an

emergency, formally dedicating

itself to consideration of climate

change at the heart of all it does.

The declaration highlighted

that all the work Environment

Canterbury does – from

freshwater management to

biodiversity and biosecurity,

transport and urban development

to air quality, and also regional

leadership – has a climate change

focus.

Currently, under the Resource

Management Act, regional

councils are required only to adapt

to climate change, not mitigate

it – that responsibility is the

Government's, but could change.

Even in 'adapt mode' many

of Environment Canterbury's

existing policies and plans already

contribute to reduced emissions.

In declaring the climate

emergency, the Council noted it

would continue to show leadership

on climate-change and do so

without adding new programmes

at ratepayers' expense. It also gave

staff a clear mandate to continue

and enhance that work.

That work included setting

up a climate-change integration

programme in the Long-term Plan

2018-28, ensuring climate change

was actively considered across

workstreams, increasing visibility

of the science and what we know

about the impact of climate

change on Canterbury, and liaising

on the issue with iwi and regional

partners, other local authorities

and central government.

As an organisation, we have

also made significant progress in

addressing our own greenhousegas

emissions, with our

Christchurch building receiving a

"market-leading" energy efficiency

rating of 5.0 out of 6 in the year

to February on the National

Australian Built Environment

Rating System New Zealand.

The building's features include

184 solar panels which can

generate more than 55,000

kilowatt hours of electricity per

year.

There has been a 26% reduction

per staff member in emissions

since 30 June 2010. We now have

access to electric and hybrid

vehicles and hope to have half our

Environment

Canterbury Chair

Jenny Hughey

fleet hybrid or long-range electric

by 2022. Carbon emissions from

air travel across the organisation

are offset via our own biodiversity

programmes.

According to a Madworld report

in 2019, our gross emissions were

2253 tonnes of carbon dioxide

(CO2) equivalent, compared with

removals of 7883 tonnes of CO2-

equivalent through our efficiency

efforts and from forestry planting

across 2700 hectares.

The changing climate will pose

many risks to life and livelihood

in Canterbury. In recent years

we have seen how occasional,

but extreme, weather events have

had huge effects on residents and

infrastructure around the South

Island.

The driest parts of our region,

along the Marlborough coast and

across much of the Canterbury

Plains, are expected to get even

drier. North-westerly storms are

predicted to become more intense,

with torrential alpine rainstorms

turning our braided rivers into

roaring rapids, fuelling landslides

and causing widespread erosion.

Canterbury's coastal

communities will be threatened

by sea-level rise this century and

our productive and protected land

jeopardised by the arrival and

spread of new, exotic weeds and

pests from warmer climates.

All these eventualities have

to be planned and prepared for,

and Environment Canterbury

will remain in the vanguard of

these climate change efforts.

One example is the $40 million

Waimakariri River flood

protection project, completed

late last year. The network of

floodgates and stopbanks will

protect half a million people and

$8 billion of community and

business assets from a possible

"super flood".

The last major flood was in

December 1957, when parts

of Coutts Island in Belfast and

Kainga were swamped by river

flow peaking at 3990 cubic

metres per second (cumecs).

The protection scheme has been

designed to defend Christchurch

from a flood of as much as 6500

cumecs.

Environment Canterbury's

leadership of biodiversity and

biosecurity programmes is also

underpinned by climate-change

concerns.

Canterbury's distinct braided

rivers and unique wetlands face

many challenges. The rivers form

a vital ecological link and provide

an abundant food supply and

nesting grounds for 26 species of

native birds – most classified as

threatened and facing increased

pressures due to river system

change.

Wetlands are also ecosystems

at-risk nationally and regionally,

degraded by draining, damming

and diversion affecting their

ability to sequester carbon,

cleanse freshwater and mitigate

flooding, as well as impacting on

biodiversity and mahinga kai.

With biosecurity, we are

putting greater emphasis on the

risks of new pests establishing

in Canterbury. Warming

temperatures, changing soils and

new land uses mean new weeds

especially, will be able to gain a

better foothold across the region.

More broadly, we have to

curb reliance on fossil fuels and

find environmentally suitable

alternatives, such as electricity and

hydrogen, to power our public

transport.

When my predecessor Steve

Lowndes retired as chair of

this council late last year, he

highlighted some of the big

changes on the way. He was

optimistic we would be able to

deal with the "pressing issues" of

climate change and sustainability.

I share his confidence. As a

community, and as a council,

we are taking some bold steps to

ensure we are in a better place to

cope with the changing climate

and the tests it will set us. But

there will always be a need to do

more.

Entries must be received by September 9, 2021
---
Thursday September 2 2021 The Star 23
---
24 The Star Thursday September 2 2021

SENIORS' LIVING LIFE

The perfect lifestyle!

"It's all about location. Geraldine has

everything here for a wonderful, active

lifestyle; we're nestled in a fabulous

microclimate with easy access to parks

and river walks. Geraldine township is

a vibrant community with art galleries,

boutique shopping and fantastic eateries,

with a never-ending schedule of music

festivals, fetes, exhibitions and shows."

If you've reached the point of wanting

to simplify your life, McKenzie Lifestyle

Village should be on your 'must-see' list.

NOW OPEN - One bedroom

apartments. Offering independence

with discreet help on hand. McKenzie

Lifestyle Village also welcomes

subsidised care providers, apartments

are designed to provide Rest Home

and Hospital Level Care. Making an

apartment your ideal forever home.

At the heart of the village is the

Leisure Centre - a central point for

entertainment and events, true resort

style facilities. Too often people tell

us they wish they'd made the decision

to move here sooner, just do it while

you're still independent and you can

enjoy everything that we have to offer.

Whether you're more inclined to enjoy

the company of others, or prefer privacy

and solitude - you'll find your perfect

lifestyle here.

Could Geraldine be your place

to call home? Call today for more

information on 0800 845 524

or mlv.org.nz.

Brand new

One Bedroom Suites

AVAILABLE NOW - One

bedroom assisted care suites.

Offering independence with

discrete help on hand.

VILLAS OPEN TO VIEW BY APPOINTMENT

Belfield Villa 108m 2

2 Bedrooms

Open-plan living/dining

Modern kitchen • Separate toilet

Single garage • North-facing

Belfield Villa 108m 2

2 Bedrooms + Study • Refurbished

Spacious living • Single garage

Bathroom with guest toilet

Generous storage • North-facing

33 CONNOLLY STREET, GERALDINE

FREEPHONE: 0800 845 524

LANDLINE: 03 693 8340

WEBSITE: mlv.org.nz

2231544-12/12-b

Up to

50 % Off

*Call for Terms

& Conditions

Off

*
---
4

[Edition datE]

SENIORS' LIVING LIFE

Thursday September 2 2021 The Star 25

Trains and boats and planes…

Join Supreme Tours & Travel to two of

their latest destinations - Hanmer Springs

and Kaikoura. They have limited seats

available for their Springtime departure.

The Alpine Touring Route has much

to offer. Included is a rail journey on

the Weka Pass Railway through unique

limestone beauty whilst enjoying the

commentary from one of the volunteers

who keep this rural railway running.

Look out for Frog Rock, Chair Rock, Seal

Rock and the "Rushmore" cliffs. Visit

Brookhaven Retirement Village

29 Brookhaven

Brookhaven

Alport Place, Retirement

Retirement

Woolston Village

Village

Ph: 29 Alport Place, Woolston

29

Ph:

Alport

03 384

03 384

Place,

5046

5046

Woolston

Ph: 03 384 5046

Camellia Court Rest Home

84 Camellia

Camellia

Harewood Court

Court

Road, Rest

Rest

Papanui Home

84 Harewood Road, Papanui

Home

Ph:

84

Ph:

Harewood

03 375 0722

03 375 0722

Road, Papanui

Ph: 03 375 0722

Albarosa

Rest Albarosa Home

Albarosa

80 Rest

Rest

Harewood Home

Home

Road, Papanui

Ph: 80 Harewood Road, Papanui

80

Ph:

Harewood

03 375 0727

03 375 0727

Road, Papanui

Ph: 03 375 0727

For

For For more

more more information

information information visit

www.goldenhealthcare.co.nz

visit

visit

www.goldenhealthcare.co.nz

www.goldenhealthcare.co.nz

Member of the Heritage Lifecare Group

Hoon Hay House

Dementia Hoon Hay House

Hoon Hay House

16 Dementia

Dementia

Anvers Place, Hoon Hay

Ph: 16 Anvers Place, Hoon Hay

16

Ph:

Anvers

03 335

03 335

Place,

0297

0297

Hoon Hay

Ph: 03 335 0297

three elegant Canterbury Gardens. Two

nights in Hanmer Springs. Relax with

a soak in those famous pools. Travel to

Kaikoura and enjoy the choice of crayfish

for dinner! Time for an optional Whale

Watch cruise. Travel to Blenheim for

sightseeing and Picton for overnight with

a cruise on the serene waters of Queen

Charlotte Sounds to Lochmara Lodge.

Enjoy morning tea and a garden walk.

A perfect finish to the tour with the rail

journey on the Coastal Pacific train back

A Leader in Healthcare Excellence

for the Older Person

Member of the Heritage Lifecare Group

Golden Age Retirement Village

96 Golden

Golden

Harewood Age Retirement

Age Retirement

Road, Papanui Village

96 Harewood Road, Papanui

Village

Ph:

96

Ph:

Harewood

03 375 0720

03 375 0720

Road, Papanui

Ph: 03 375 0720

Somerfield Rest Home

137 Somerfield

Somerfield

Barrington Rest

Rest

St., Home

Home

Somerfield

Ph: 137 Barrington St., Somerfield

137

03

Ph: 03

Barrington

332 5897

332 5897

St., Somerfield

Ph: 03 332 5897

Hoon Hay

Rest Hoon

Hoon

Home Hay

Hay

16 Rest

Rest

Anvers Home

Home

Place, Hoon Hay

Ph: 16 Anvers Place, Hoon Hay

16

Ph:

Anvers

03 379

03 379

Place,

7825

7825

Hoon Hay

Ph: 03 379 7825

to Christchurch.

If you have always wanted to overnight

in Doubtful Sound, Supreme Tours offers

two nights in picturesque Queenstown

before heading to Manapouri, through

Wilmott Pass to Spectacular Doubtful

where we join our overnight cruise in

twin cabins with private bathrooms. View

the sights and enjoy commentary from

the onboard nature guide. Travel down

the coast via Riverton to Invercargill for

two nights (optional Stewart Island day

trip). Visit the famous sign at Bluff, lunch

at Bill Richardson Transport World.

Travel the incredible Catlins to Dunedin

for two nights before returning home.

Supreme include a home pick up &

return within 25ks of the airport in

Wellington, Christchurch (ask about other

areas). Return flights from Wellington &

Christchurch, all breakfasts, some lunches

and all dinners, all sightseeing mentioned,

Quality Full size Touring Coach,

experienced Tour Manager throughout.

FULLY ESCORTED NZ TOURS

Proudly New Zealand owned and operated

EAST CAPE

PANORAMA

7 days $2,690 pp from Christchurch

(no extra cost for single room)

Departs: 15th Nov 2021, 7th Feb 2022,

8th March 2022, 4th April 2022

HANMER SPRINGS

& KAIKOURA

5 days $2,960 share twin from

Christchurch (limited number of single

rooms available at only extra $199)

Departs: 12 Oct 2021, 17 Feb 2022

SOUTHERN

EXPLORER

Featuring overnight

Doubtful Sound cruise

8 days from $4,099 share twin pp

Departs: 24 Oct 2021 (only 2 cabins left)

• Fly to Auckland (overnight) coach through to Whakatane for overnight.

Pacific Coast Highway - an epic stretch of road with picture postcard

views of Opotiki, Te Kaha, Whanarua Bay to Hicks Bay Motor Lodge for

overnight with magnificent views.

• Follow the rugged coastline through Te Araroa, Ruatoria, Tokomaru Bay,

the Wharf at Tolaga Bay, enjoy lunch.

• Then onto Gisborne (2 nights), Wainui Beach and the famous

Eastwoodhill Aboretum.

• Coach to Rotorua for overnight before heading back to Auckland

via Hamilton.

Includes: Return airfares and 1 night accommodation in Auckland.

Full size touring coach, quality accommodation, all breakfasts, dinners

and some lunches, sightseeing, FREE home pick up + return Christchurch.

*conditions apply

Fabulous Gardens, Hot Springs & Coastal Pacific Train

• Visit Sculpture Park, through Weka Pass on Heritage Train, fabulous

private gardens along the Alpine Touring Route.

• Hanmer Springs (2 nights), enjoy Heritage walk and time to relax in

the famous Hot Pools.

• Travel via Mt Lyford through to Kaikoura for overnight in this coastal

town. (Optional Whale Watch Cruise).

• On to Blenheim with time for sights and then the short drive to Picton

for overnight. Cruise to Lochmara Lodge to enjoy morning tea in

delightful surrounds.

• COASTAL PACIFIC Rail from Picton through to Christchurch.

Includes: Quality accommodation, all breakfasts, dinners, some lunches,

full size touring coach, all entries, Coastal Pacific Rail Journey, FREE

home pick up from Christchurch within a 25k radius of City Centre.

• Queenstown (2 nights) including sights, TSS Earnslaw & Walter Peak

dinner cruise.

• Coach to Manapouri, through Wilmot Pass to join our overnight cruise to

the unspoiled & unforgettable Doubtful Sound. Twin share cabins with

private bathrooms, stunning scenery, onboard nature Guide.

• Coach via Riverton, visit Te Hikoi Museum featuring displays & stories of

how our Maori & European ancestors adapted to survive on natures edge.

• Invercargill (2 nights) including visit to Bluff. Enjoy a visit with lunch at Bill

Richardson Transport World, (optional day trip to Stewart Island)

• Travel through spectacular Catlins to Dunedin (2 nights) including sights

& guided visit to Olveston House.

Includes: Return airfares from Auckland/Tauranga, Wellington or Christchurch.

Quality accommodation, sightseeing, full size touring coach, overnight cruise

Doubtful Sound, all breakfasts, most dinners, some lunches. FREE home pickup

& return within a 25k radius of Auckland/Tauranga/Wellington or Christchurch

airports. Ask about costs from other centres.

SUPREME TOURS & TRAVEL LTD

Phone: 0800 809 300 Email: statltd@xtra.co.nz

TAANZ bonded for your protection and member of Iata
---
26 The Star Thursday September 2 2021

Think new friends

in every neighbour.

Live where like minds live.

At Summerset we believe in living like a true village.

Where people meet, talk and laugh with one another,

and every new neighbour has the potential to

become an old friend.

2021

Aged Aged Care & Retirement Villages

Villages

Think this sounds like you or someone you love?

Summerset at Avonhead

03 357 3202 | summerset.co.nz/avonhead

For the latest information on visiting our villages please call the village, or visit summerset.co.nz/covid-19

SUM3331_37X8
---
6

[Edition datE]

SENIORS' LIVING LIFE

Thursday September 2 2021 The Star 27

Dilo Oil – The Remarkable

Skin Rejuvenator

Until Rachel Hunter's

popular TV series "TOUR

OF BEAUTY" Dilo Oil was

relatively unknown, being one

of the best-kept secrets of the

Pacific Islands. It may however

be the number one natural

beauty oil available as it possesses

powerful natural skin regeneration

and healing properties.

According to ethnobotanist Chris

Kilham, Dilo (pronounced dee-lo) Oil is a

powerful skin regenerator as it is one of the most

effective agents in promoting the regeneration

and formation of new tissue, thereby accelerating

wound healing and the growth of healthy skin.

Dilo Oil is super-absorbing and can penetrate

all three layers of the skin, offering exceptional

cell hydration and regeneration. As well as

this, Dilo Oil has potent anti-inflammatory,

antimicrobial, antifungal and antioxidant

properties.

Traditionally, Dilo Oil is used to keep the

skin young and youthful and for just about

any skin complaint. Some of the conditions

for which it is considered helpful include

abrasions, cuts and cracks, acne and

acne scars, pimples, blemishes, stretch

marks, wrinkles, blisters, burns (including

chemical and radiation), diabetic sores,

rashes, shaving irritation, dry or scaly

skin, eczema, psoriasis,

dermatitis, herpes sores

(cold-sores), insect bites

and stings, rheumatism,

pain, sciatica, shingles,

sunburn, rosacea, athlete's

foot, skin eruptions, warts,

skin ulcers and sores, nappy rash

and almost any other skin ailment

and often with incredible results.

Many beauty and skincare products on the

market today contain unnatural ingredients that

can be toxic and may even contribute to disease.

Generally the benefits are exaggerated and often

only temporary or camouflage. Marshall's Dilo Oil

is 100% pure and certified organic. It has been coldpressed

from the Dilo nut and contains absolutely no

additives. Polynesians and Southeast Asians have

revered Dilo Oil for centuries believing it to be a

sacred gift of nature and the Gods. Dilo oil

stimulates and supports the skins natural

healing process through the growth of new

healthy skin tissue. I personally believe

it is a remarkable product and highly

recommend it to everyone. A 50ml

bottle is $19.90 and 100ml only $32.50.

Further information is available

from the Natural Health Advisers at

Marshall's Health & Natural Therapy in

New Brighton, Phone: 388-5757. We are

always happy to help!

NATURAL HEALING & BEAUTY OIL

As seen on Rachel Hunter's Tour of Beauty

Revered for centuries by Polynesians & Southeast Asians

for its remarkable skin anti-aging & healing properties, Dilo

oil comes from the nut of the sacred Dilo tree, "the tree

of a thousand virtues". Dilo oil is often called the beauty

oil as it can penetrate all three layers of the skin offering

exceptional cell hydration & regeneration. It has a unique

ability to stimulate the growth of healthy skin cells & this

gives it powerful anti-aging & healing properties that can

help reduce lines, blemishes, scars & damage to the skin. It

also possesses anti-inflammatory, antimicrobial, antifungal

& antioxidant properties.

Thinking about pre-arranging

your funeral?

A funeral plan provides you

and your family peace of mind

in knowing that your funeral

wishes are in good hands.

The Lamb & Hayward Funeral

Trustee Ltd. is a secure scheme.

For more information call

0800 99 22 00

or to request a free information pack

www.lambandhayward.co.nz

Dilo Oil Supports

• Skin repair & regeneration – Has a unique ability to

stimulate the growth of healthy new skin cells. This gives

it powerful anti-aging & healing properties

• Exceptional skin hydration & revitalisation. Replaces lost

moisture while supporting skin health

• Excellent for just about every skin complaint including

eczema, psoriasis, dermatitis, rashes, sores, rosacea,

shingles, cold-sores, insect bites & stings, athlete's

foot, cuts, scrapes, acne, burns, sunburn, ulcers, warts,

fungus etc.

• Wound healing – Feeds the skin with nutrients &

stimulates healing

• Skin protection from sun & wind damage as well as

bacteria, viruses & fungus

Bringing You the Best in Natural Health

MARSHALLS HEALTH & NATURAL THERAPY

CONSULTING - PRESCRIBING - DISPENSING - MANUFACTURING - MEDICAL HERBALISTS

101 SEAVIEW RD, NEW BRIGHTON • PH 03 388 5757 • Email: enquiry@marshallshealthshop.co.nz

- WE ARE ALWAYS HAPPY TO HELP! -

AMAZING

PRICES

50ml

only $19.90

100ml

only $32.50

200ml

only $56.90

AMAZING ISLAND

MIRACLE OIL

MAIL ORDER AVAILABLE
---
28 The Star Thursday September 2 2021

SENIORS' LIVING LIFE

Physical activity

can counter effects

of lack of sleep

New Zealand produces enough food to

feed 40 million people worldwide – almost

10 times its own population, but the way

Aotearoa produces is changing, BiotechNZ

executive director Dr Zahra Champion says.

The world cannot feed its children's

children with the current food systems in

use, she says.

In the next 25 years, all the additional

food the global growing population requires

will come from improvements to current

food systems, before they reach capacity

limits.

In New Zealand, Kiwis can grow more

[Edition datE] 7

Biotech driving the

future of clean food

food by continuing to improve current

systems, reducing waste, and addressing

environmental impacts.

Companies are working together to

discuss cell-based agriculture which

can create products from cell cultures as

opposed to whole plants or animals.

Aotearoa is great at developing

technologies that enable sustainable

production, Dr Champion says.

"But it's still insufficient to feed future

populations. We need to look at new biotech

solutions in our food systems if we are to

provide in the future."

A new study, published in the Medical

News Today, shows physical activity and

good sleep work together to counter

negative health effects.

"Higher levels of physical activity can

significantly counteract the negative

health impact of poor sleep," ExerciseNZ

chief executive Richard Beddie says.

"This new research shows exercise

helps many health issues including

inadequate sleep, obesity and type-two

diabetes, impaired immune functioning,

cardiovascular disease, mood disorders,

dementia, and even loneliness," he says.

"More than 37 percent of Kiwis don't

get enough sleep and poor sleep is known

to be a factor correlated to poor health

outcomes.

"That's everything from cardiovascular

disease to mental well-being. So, knowing

that getting enough physical activity can

help offset these health risks are extremely

powerful."

It is important to move around during

the day as sitting for long periods of time

make muscles stiff and poor circulation

can be developed.

Stretching, yoga, walks around the

block and other sources of movement are

beneficial to all ages.
---
Thursday September 2 2021 The Star

CHRISTCHURCH

CREMATORIUM

FUNERAL SERVICES

CROSSWORD

1 2 3 4 5 6 7 8

Latest Canterbury news at starnews.co.nz

208

SUDOKU

Every row, column and box should

contain the digits 1 to 9.

PUZZLES 29

WORDBUILDER

WordBuilder

108

6

P E M

I R U

words of three or more letters,

How

including

many

plurals,

words

can you

of

make

three

from

or

the

more

six

letters, using including each letter plurals, only once? can No you foreign

words or words beginning with a capital are

make from the five letters, using

allowed. There's at least one six-letter word.

each only once? TODAY

Good 13 Very Good 16 Excellent 20

No words beginning with a capital

are allowed. There's at least one

Solution 107: age, ague, ale, alee, eagle, eel, gal,

gee, gel, glee, glue, lag, lea, LEAGUE, lee, leg, leu,

six-letter lug, luge. word.

Good 10 Very Good 14 Excellent 18+

9 10

11 12

13 14 15 16 17

18 19 20

21 22 23 24

25 26

27 28

SOLUTION

No.108

14 15 16 17 18 19 20 21 22 23 24 25 26

P B I A Z V C N O G T M Q

1 2 3 4 5 6 7 8 9 10 11 12 13

L X E Y J U H F R W S K D

14 15 16 17 18 19 20 21 22 23 24 25 26

N

Decoder

Across

1. Diamond shape (7)

5. Farewell party (4-3)

9. Looks furtively (5)

10. Swindler or trickster (9)

11. Amazing (9)

12. Flattens (5)

13. Decree (5)

15. Eradicate (9)

18. Assured (9)

19. Uncertainty (5)

21. Stone worker (5)

23. Capitulate (9)

25. Loathe (9)

26. Strained (5)

27. Fifth letter of the Greek

alphabet (7)

28. Unrelated line of thought

(7)

1 2 3 4 5 6 7 8 9 10 11 12 13

O I

A B C D E F G H I J K L M N O P Q R S T U V W X Y Z

26 21 11 12 1 10 26 10 20 21

10 10 26 13 10 6 3 26 23

15 9 7 10 26 24 13 21 19 6 10

Down

1. Retort (7)

2. Medical procedure (9)

3. Plagued (5)

4. Blasphemy (9)

5. Informal language (5)

6. Declared invalid, cancelled

out (9)

7. Get the better of (5)

8. Flair (7)

14. Every three years (9)

16. Impede (9)

17. Plentiful supply (9)

18. Liken (7)

20. Agony (7)

22. Footwear (5)

23. Blemish (5)

24. Consumed (5)

25 10 2 12 13 7 21 4

25 7 12 11 13 9 15 9 16 10 7

All puzzles copyright

19 19 1 10 13

18 19 7 21 15 17 23 19 14 14 13 20

20 25 6 5 4

T H E P U Z Z L E C O M P A N Y

www.thepuzzlecompany.co.nz

20 12 12 8 22 10 25 13 20 7 12

12 13 1 8 15 8 13 20

DECODER

Each number in our DECODER grid represents a different

letter - there is a number for all 26 letters of the alphabet.

Each Enter number the given represents letters into a different all squares letter with of the matching alphabet. numbers. Write the

given The challenge letters into now all squares is to work with out matching which letters numbers. are Now represented work out

which by the letters other are numbers. represented As you by the get other numbers. letters, enter As you them get into the

letters, the main write grid, them and into the the reference main grid and grid. the To reference keep track grid. Decoder of the

uses letters all you 26 letters have of found, the alphabet. cross them off the alphabet provided.

10 17 23 18 16 14 7 17 15 16 24

G

17 16 17 17 17 9

I

24 6 23 11 20 9 3 19 17 11 11 3

G

3 23 17 16 22 12 8

9 3 1 6 20 24 17 21 20 3 22

20 13 25 1 21 11 15 19 22 15 8

16 21 7 5 16

11 6 21 12 3 21 11 3 26 6 3 1

17 23 11 13 15

21 11 14 3 20 16 17 1 16 24 4

13 24 1 17 25 1 17

15 3 17 9 17 15 1 3 24 17 1 20

17 2 21 13 21 7

23 1 16 21 24 11 17 10 24 22 24

A B C D E F G H I J K L M N O P Q R S T U V W X Y Z

1 2 3 4 5 6 7 8 9 10 11 12 13

14 15 16 17 18 19 20 21 22 23 24 25 26

I

G

SOLUTION

No.107

9 10 17 9 12 20 13 12 20

I O N

11 9 15 9 2 13 21 17 7 19

Each number in our DECODER grid represents a different

letter - there is a number for all 26 letters of the alphabet.

Enter the given letters into all squares with matching numbers.

The challenge now is to work out which letters are represented

by the other numbers. As you get the letters, enter them into

the main grid, and the reference grid. To keep track of the

letters you have found, cross them off the alphabet provided.

109

108

1 2 3 4 5 6 7 8 9 10 11 12 13

L K M H F Y S D C I U J R

14 15 16 17 18 19 20 21 22 23 24 25 26

T B O A Q N G Z W P V E X

Crossword

Across: 1. Rhombus, 5.

Send-off, 9. Peeps, 10.

Charlatan, 11. Startling,

12. Irons, 13. Edict, 15.

Eliminate, 18. Confident,

19. Doubt, 21. Mason, 23.

Surrender, 25. Abominate,

26. Tense, 27. Epsilon, 28.

Tangent.

Down: 1. Riposte, 2.

Operation, 3. Beset, 4.

Sacrilege, 5. Slang, 6.

Nullified, 7. Outdo, 8.

Finesse, 14. Triennial, 16.

Intercept, 17. Abundance, 18.

Compare, 20. Torment, 22.

Shoes, 23. Stain, 24. Eaten.

WordBuilder

Emir, emu, imp, IMPURE,

ire, mire, per, perm, pie,

pier, prim, prime, pure, rep,

rim, rime, rip, ripe, rue, rum,

rump, ump, UMPIRE.

Sudoku

183,000 readers every week...

That's almost as many people who

are at the mall on Christmas Eve.

Source: Nielsen National readership survey y/e Q3 2020 - y/e Q1 2021 (Star Max, one ad)
---
30 The Star Thursday September 2 2021

SECURE YOUR

TODAY

Secure your pick of the range in the colour you

want, we have good stock arriving this year and

are taking forward orders today.

Beat the proposed fuel tax and get the Triton

you've always wanted.

Contact us for more details.

*Prices listed are for Triton 2WD GLXR double cab, Triton 4wd GLSB double cab and Triton 2WD

VRX double cab. Prices exclude on road costs which includes WoF, registration, 1,000km road user

charges and a full tank of fuel.

$48,990 +ORC

• Factory-fitted black body kit

• Black 18 inch Alloy Wheels

• Front and rear parking sensors

FROM

GLXR

$39,990 +ORC

• Running Boards

• 7" Touch Screen Smartphone

Link Display

• 18 inch Alloy Wheels

FROM

VRX

$44,990 +ORC

• Black Sports Bar*

• Multi-Around View Monitor

• Leather-Appointed Interior

*On VRX 4WD only

CHRISTCHURCH MITSUBISHI

386 Moorhouse Avenue, Christchurch

Tel: 03 379 0588 | christchurchmitsubishi.co.nz

10 year / 160,000km Powertrain Warranty (whichever comes

first) (non transferable). 5 year / 130,000km New Vehicle

Warranty (whichever comes first) (non transferable).

DRIVE A NEW

NISSAN

STOCK AVAILABLE TODAY

AGILITY MEETS SMARTS

AVAILABLE FROM

$33,990 *

STOCK AVAILABLE NOW

*Price shown is for the Nissan Qashqai ST excludes on road costs of $1,250 which includes registration,

WoF and a full tank of fuel.

CHRISTCHURCH NISSAN, 380 Moorhouse Avenue, Christchurch

Ph: 03 595 6820

www.christchurchnissan.co.nz

THE ALL-NEW

PRO-4X

IN STOCK NOW

christchurchnissan.co.nz
---
Thursday September 2 2021 The Star 31

SPORTS NEWS

Brought

to you by

Curtains

Blinds

Shutters

99 Sawyers Arms Rd

03 365 4666 or

0800 836 587

www.venluree.co.nz

Birthday celebrations in store

for oldest former Silver Fern

New Zealand's

oldest surviving

Silver Fern turns

100 in Christchurch

tomorrow. Oonah

Shannahan might

have played only one

test, but as Chris

Barclay discovered, it

was ground-breaking

as transtasman netball

rivalry resumed in the

aftermath of World

War 2.

OONAH Shannahan's 100th

birthday celebrations are

panning out similar to her

one and only test for the Silver

Ferns, as New Zealand's oldest

netball international marks

another low-key milestone.

As Oonah Murray, the

midcourter from Christchurch

had the privilege of leading the

Silver Ferns in their second

ever test, the opening game of

a three-match series with Australia

in 1948.

The contest on a purpose-built

court at Dunedin's Forbury Park

racecourse was New Zealand's

first since a one-off test against

their transtasman rivals in 1938,

and the neighbours would not

face each other again until 1960.

Sharp as ever and in good

health, Shannahan's landmark

birthday tomorrow was anything

but extravagant because

Covid-19 restrictions prevented

a planned gathering from taking

place at the house she shares

with a daughter.

Her solitary cap was also

pondered without fanfare by

Shannahan, when she briefly revisited

her career six years ago.

"At the time being captain

of that first test match seemed

HOLDING COURT: Oonah Shannahan and Silver Ferns

coach Dame Noeline Taurua discussed netball over the

years when they met in 2019.

to be quite an honour but you

didn't get carried away with it.

Not a lot was made of it, I felt

it was on a slightly better scale

than an ordinary encounter

with someone like South Canterbury,"

she told Netball New

Zealand's website.

However, that series, swept

3-0 by the Australians, was

anything but standard.

The Silver Ferns only assembled

a day before the opener

and because costs dictated the

players were primarily selected

on a regional basis the line-up

was drastically different in New

Plymouth and Auckland. Only

two of the 14 players utilised

played all three tests.

Shannahan, who was unavailable

for the third test due to

her sister's wedding, was one of

three captains, with Betty Plant

and Beverley Malcolm also taking

charge.

New Zealand also had to

adapt to international rules

at short notice - they were accustomed

to playing nine-a-side

but the regulations trimmed the

formation to seven. Physicality

was another eye-opener.

"We weren't allowed to bump

up against partners but they

could and did it very skilfully

SILVER FERN: Shannahan

before her test debut as

captain against Australia in

1948. ​

and then they shot their goals

very well," Shannahan said,

when reflecting on the 27-16

defeat.

Although her international

career was fleeting, the centre or

wing attack continued to captain

Canterbury, and after her

playing days, years of dedicated

administrative work was recognised

by a Netball New Zealand

service award.

Silver Ferns coach Dame

Noeline Taurua met Shannahan

during a visit to Christchurch

two years ago and led the tributes,

from a distance.

"Our Silver Fern #8, captain

of the 1948 team, is still paving

the way in life as she did in our

sport. Oonah is one of the true

pioneers of New Zealand netball,"

Taurua said.

Christchurch Netball Centre

manager Megan McLay

said the organisation would

acknowledge Shannahan's

birthday at a later date, with

centenary celebrations on

October 28-29 a logical setting.

Life members will be honoured

at a dinner to cap the festivities.

Netball

final likely

to be

abandoned

LINCOLN UNIVERSITY are

on the verge of defending their

Christchurch Netball Centre

premier grade crown without

contesting a final, as Covid-19

restrictions are destined to end

the season prematurely.

With organisers nominating

September 11 as the cut-off point

for the competition so it does not

impinge on school holidays and

the start of summer codes, CNC

manager Megan McLay conceded

it was unlikely the decider

between Lincoln University and

Saints would play out.

"I think the chances of playing

anything at all are probably low.

We would need to be in alert level

2 plus they would need time to

have actually trained, you have to

look at player welfare," she said.

"We had to make the a call on

when the season finishes to be

fair to summer sports and these

players haven't played for some

time now."

Lincoln University qualified

automatically for the final by

topping the regular season standings

so would be declared the

champions.

In the premier grade's second

tier St Nicholas, who were drawn

to play Kereru B would win by the

same methodology.

Those finals were scheduled for

August 24, a week into the level 4

lockdown.

Although restrictions in

Christchurch have been downgraded

to level 3, the competition

could only resume – without

spectators – under level 2.

In other grades section leaders

will be joint winners.

"If there's 10 sections there'll

be 10 winners, there won't be an

overall winner in that grade,"

McLay said.

Use your outdoor living areas

all year round

• Warm & dry in winter

• UV protection for summer

• Stylish & permanent

• 5 year warranty

"AS SEEN ON TV"

Chris Thorndycroft

15 months

INTEREST FREE

TEAM PHOTO: Captain Shannahan kneels by the ball used by New Zealand

and Australia in the opening match of the three-test series in 1948.

Phone 0274 211 079 | www.archgola.co.nz

Normal lending criteria apply
---
32 The Star Thursday September 2 2021

WHY CHoose

WE ARE CURRENTLY OFFERING

$2000 MINIMUM

TRADE IN

*ON SELECTED VEHICLES! TERMS & CONDITIONS APPLY

for Your next VeHICLe?

VALUE

REPUTATION

SELECTION

TRUSTED

PLUS

REGISTRATION

2013 Mazda aXela 15s

$14,999

Stylish hatch, long been a popular choice and

preferred in its class by many, features a 1.5L engine

with tiptronic trans, looks very smart finished in black

with bodykit, rear spoiler and 16" alloys, stylish black

interior, push button start, rear wiper, ABS, T/C and

airbags, inspection will not disappoint!

PLUS

REGISTRATION

2015 Mazda demio

$11,999

Very stylish 5 door hatch, features a 1.3L engine

with skyactiv i-stop technology and automatic

trans with 5.5 star fuel efficiency, low kms, looks

smart in silver with black interior, keyless entry,

rear wiper, rainshields, ABS, T/C and airbags, very

nice vehicle!

PLUS

REGISTRATION

2014 ToyoTa aqua G

$13,999

Very popular 5 door hatch, features a 1.5L hybrid

engine with automatic trans, travelled low kms,

looks good in red with factory body kit, push

button start, heated front seats, isofix, ABS, T/C

and airbags, perfect round town vehicle or for

Uber!

PLUS

REGISTRATION

2016 ToyoTa Ractis G

$13,999

The Ractis is a stylish, nippy, good handling and

spacious hatch, higher roofline and fold flat rear

seating offer great versatility, features a 1.5L engine

with tiptronic trans, low kms, looks very good in back

with 17'' alloys, cruise control, keyless entry, reverse

camera, rear wiper, ABS, and airbags, great vehicle!

PLUS

REGISTRATION

2015 Suzuki sX4 s-cRoss

$19,999

Pratical, spacious crossover hatch, features a 1.6L

engine with tiptronic trans, looks smart in green

with factory body kit, driving lights and 16'' alloys,

smart keyless entry, rear wiper, cruise control, roof

rails, ABS and airbags, very popular!

PLUS

REGISTRATION

2011 ToyoTa maRk X 250G

$12,999

Stylish mid-sized RWD sedan offering refinement

and comfort, features a 2.5L engine with tiptronic

trans, low kms, finished in grey with factory kit and

16" alloys, black interior, push button start, reverse

camera, parking sensors, ABS, T/C and 8 airbags,

come and view!

PLUS

REGISTRATION

2013 ToyoTa camRy HybRid

$19,999

Popular family sedan, practicality with luxury, features

a 2.5L hybrid engine, automatic trans with 5.5 star

fuel efficiency, wine red with chrome detail, driving

lights and 17" alloys, stylish part leather black interior

with woodgrain accents, cruise control, bluetooth,

reverse camera, rainshields, ABS, T/C and 9 airbags.

PLUS

REGISTRATION

2008 VolVo s40 active

$10,999

The S40 is a spacious, stylish, well-appointed and

safe family sedan, features a 2.4L engine with

tiptronic trans, finished in silver with 17" alloys,

travelled low kms, heated seats, ABS, T/C and

multiple airbags, very good buying!

PLUS

REGISTRATION

2009 Subaru outback R

$17,999

Popular family SUV, features a 2.0L engine with

tiptronic trans, looks sharp in white with factory

body kit, and 17'' alloys, stylish charcoal interior,

cruise control, front heated seats, parking sensors.

keyless entry, ABS and 8x airbags, practical, well

built and enjoyable to drive!

PLUS

REGISTRATION

2013 ToyoTa FieldeR Hv

$13,999

Effectively the station wagon of the ever popular

longstanding and reliable Corolla, features a 1.5L

hybrid engine with automatic trans returning 6 star

fuel efficiency, looks great in red with bodykit, driving

lights and 15'' alloys, stylish black interior, push button

start, rear wiper, rainshields, ABS, T/C and airbags.

PLUS

REGISTRATION

2021 ToyoTa landcRuiseR aX

$99,999

Highly sought after family 4WD, features a 4.6L V8

engine with tiptronic trans, looks very smart in black

with chrome detail, running boards, driving lights and

18'' alloys, demo kms only, sunroof, lane departure

warning, hill decent, radar cruise, parking sensors

and more, ABS, T/C and 10x airbags, like new!

PLUS

REGISTRATION

2010 Subaru FoResteR X

$12,999

Popular family SUV, features a 2.0L engine with

automatic trans, looks sharp in grey with factory

body kit and 17'' alloys, AWD, stylish interior, rear

wiper, cruise control, ABS and airbags, practical,

well built and enjoyable to drive!

PLUS

REGISTRATION

2014 Mazda cX-5

$24,999

A modern, tech savvy SUV, 2.0L skyactiv engine with

i-stop and tiptronic trans, looks smart in white with

black factory body kit, driving lights and 17" alloys,

stylish black interior, push button start, rear wiper,

reverse camera, rear vehicle monitoring, LIM cruise,

ABS, T/C and multiple airbags, hurry – won't last long!

PLUS

REGISTRATION

2013 NiSSaN X-tRail

$21,999

Popular and spacious SUV, features a 2.0L engine

with automatic trans, looks good in red with body

kit and 17'' alloys, push button start, black leather

interior, reverse camera, heated front seats, rear

wiper, push button start, ABS, T/C and airbags,

hurry – come and view today!

PLUS

REGISTRATION

2010 ToyoTa alpHaRd

$20,999

Move the whole family in style and comfort, features

a 2.4L engine with tiptronic trans, finished in grey

with factory body kit and 18''alloys, room to seat

7, automatic sliding side doors, push button start,

parking sensors, ABS, T/C and 6x airbags, very nice

example!

Registration for 6 months is $301

Value Cars Warehouse

4.72

CANTERBURY OWNED

& OPERATED

ESTABLIShED 1993

32 Moorhouse Ave, P: (03) 366 7768 IMVDA

www.valuecarswarehouse.co.nz
---
h tp: /kaywa.me/8aVDQ

Download the Kaywa Qr Code reader (A p Store &Android market) and scan your code!

my Kaywa Qr-Code

w.valuecarswarehouse.co.nz

My Kaywa QR-Code

w.valuecarswarehouse.co.nz

Thursday September 2 2021 The Star 33

Golf production shows no sign of slowing

GET YOUR head around this –

Volkswagen's Golf has reached 47

years in production and is now in

its eighth generation.

Only a few nameplates see that

kind of distance, those that have

carved out a healthy reputation in

the marketplace.

According to Volkswagen, it

has produced over 45 million

Golfs from production sites, not

just in Germany but scattered in

plants globally, and there's no sign

that production will end anytime

soon.

Golf 8 has just landed in New

Zealand and at present it is

available here in three variants

– two TSi models and a GTi.

I'm sure the high performance

Golf R will find its way here as

production comes on stream and

supply lines are generated to 100

per cent. The two TSi models

consist of the base specification

$37,990 variant which is

designated Life, and the R-Line

model as tested, it adds $10k. For

interest's sake, the GTi is listed at

$61,490.

The R-Line evaluation car

lived up to all expectation. It

is the quintessential five-door

hatchback that makes you feel

particularly good to be in.

Volkswagen has been

careful not to depart from the

fundamental concept of Golf, it's

exactly what you'd expect from a

generational change, the driveline

has been further refined, the

exterior style has been sharpened,

while the interior has gone very

high-tech.

In terms of the latter, even

though the electronic functions

are vast they are minimalistic

and intuitive. There's a strong

presence of haptic switches and

buttons, fingertip controls that

make understanding and working

the controls simple.

The entire dash panel and

layout is clean and fresh, in

keeping with the rest of the

ultra-modern interior. When

you are inside the Golf 8 you feel

part of the vehicle, and at home

with its ergonomics, it has that

unmistakeable European feel.

Comfort levels are also high

and space for five adults is far

from compromised. The Golf

over the years hasn't dramatically

increased in size, so you still

have that compact feel yet know

there's enough room on board

for the time when it will be full to

capacity.

I have a friend who has the

previous generation model and

she has often had a full load onboard,

that's something you can

do easily with Golf, it makes good

use of its proportions.

Under the bonnet sits a 1.4-litre

ULTRA-MODERN: Comprehensive but minimalistic display

and control systems are intuitive to use.

VOLKSWAGEN GOLF TSI: Eight-generation model is now available in Kiwi market.

turbocharged four-cylinder

engine that is pretty much a

carryover. It's a real honey in

terms of how it operates, it is

smooth, quiet and efficient.

Volkswagen claim power outputs

of 110kW and 250Nm, the

secret to its keen performance

are the areas where power and

torque are developed, both low

down at 5000rpm and 1500rpm

respectively. Consequently, there

is strong boost from take-off and

no drop-off of power through

to the redline, all of the time the

engine is singing sweetly, it is well

isolated and shows no sign of

breathlessness.

Drive is carried through

an eight-speed automatic

transmission that has paddle

shifters if you wish to manually

work up and down the ratios.

Not only is the driveline such

a strong performer – 0-100km in

8.7sec – but it is also a fuel miser.

Volkswagen claim a combined

cycle average of 5.8-litres per

100km. That sits well with the

readout during my time with the

TSi, it was constantly listing at

7l/100km with 4l/100km showing

instantaneously at 100km/h

(engine speed 1800rpm).

When I mentioned that

European feel from inside the car,

that presence is also carried on

through movement. It feels firmly

• Price – Volkswagen Golf

TSi R-Line, $47,990

• Dimensions – Length,

4396mm; width, 1789mm;

height, 1491mm

• Configuration – Fourcylinder,

front-wheeldrive,

1395cc, 110kW,

250Nm, eight-speed

automatic

• Performance – 0-100km/h,

8.7sec

• Fuel usage – 5.8l/100km

connected to the road and has

handling that has you thinking

you are driving something far

more exotic.

Drive is channelled to the front

wheels, and that has been a Golf

fundamental since day one. The

suspension is a mix of struts

up front with an independent

multi-link rear. The combination

provides wheel freedom and

adequate suspension movement.

The spring and damper

rates are exactly what you

would expect, and want, just

enough firming to contain body

movement along with the ability

to tackle the hits from uneven

road surfaces.

Providing the grip are

beautiful Bridgestone tyres,

at 225/40 x 18in the profile is

such that there is just enough

sidewall flex to maintain onboard

comfort, along with the

footprint to promote feedback to

the driver.

I took the evaluation car on

the inland scenic route (SH72)

through to Glenroy from

Darfield, the Golf dispenses

distances with ease and is

a competent handler when

the wide, flowing corners are

presented. In the tight stuff,

steerage is sharp and direct, the

Golf almost dances through

the twisty bits, it is athletic and

nimble, providing the driver with

a great deal of satisfaction.

As an everyday drive, my five

days with the evaluation car

involved the urban commute and

I've deemed it the quintessential

city car, it dawdles the traffic with

a smooth operating manner and

doesn't tax the occupants in any

way.

That's why Golf has done so

well globally, it is a car that does

nothing wrong but everything

right. In R-Line form it has those

extra bits that you could say gives

it a more luxurious feel.

However, I'd be saving the $10k

and pick up the Life variant, it

just seems such a bargain and

would certainly make you feel

like a million dollars every time

you are in it.

has motoring covered.

www.grcaudio.co.nz

Incorporating

ISSUE 667 | FrIday 20 novEmbEr 2020

The biggest range of vehicles

in one location!

2011 Jaguar

XF Premium

$18,999

See inside for this week's

4WD feature!

113 sherborne st, edgeware

32 Moorhouse Ave | P: (03) 366 7768 | www.valuecarswarehouse.co.nz

See page 4 for more info!

CAR AUDIO

AUDIO VISUAL

MOBILE INSTALLAT

free

best motorbuys

Incorporating

ISSUE 668 | FrIday 27 NovEmbEr 2020

275 Colombo street, Christchurch

For more see their advert on pages 6 & 7

The biggest range of vehicles

in one location!

32 Moorhouse Ave | P: (03) 3

2013 Volkswagen

Tiguan TSi

$20,999

CAR SECURITY

CELLULAR

Ce l 021 855 884

Incorporating

ISSUE 669 | FrIday 4 dEcEmbEr 2020

See inside for this week's

Classic Car feature!

PH 03 web

REVERSE CAMERAS

RADAR DETECTORS

www.drivesouth.co.nz

40 Years Finance

Experience

Cannot be Beaten!

• Talk to us about finance for your next

motor vehicle purchase

Specialising in Finance for Private Purchases

Very quick approvals, sensational interest rates

• From no deposit (terms & conditions may apply)

Hiace spares

Cnr Main South Rd and Epsom Rd, Christchurch

Ph: 03 348 4129 | avoncityford.com

Now Available @ NZ Van Spares

PARKING SENSO

One Owner!

2015 IsuZu D-mAX

4WD Ls D/CAb

NZ new, 3.0 intercooled turbo/dsl,

auto, rare flatdeck with ladder/pipe

racks, reverse cam, service history.

$34,995 $192pw

For more see their advert on page 31

free

best motorbuys

www.drivesouth.co.nz

40 Years Finance

Experien

Can

See inside for this week's

marine feature!

free

best motorbuys

www.drivesouth.co.nz

2.4 auto, alloys, ABS, twin airbags.

2005 toyota rav

$9,990

2.0lt Petrol, 5 Dr Station wagon,

Climate Control, ABS Bra

Automatic

$10,974 N

2008 bmW 320i

The South Island's leading

motoring resource, filled

with news, reviews and

dealer listings.

Magazine available for FREE

every Friday at a convenient

pick up point near you!

WOF

only $50

• Courtesy cars

• Oil changes

• Full mechanical repairs

• Brake & clutch repairs

• Transmission flush service

• Tyres & batteries

• Petrol & diesel servicing

FiTzgerald mOTOrs

Phone: 03 349 7813 Unit 8, 193 Waterloo Road, Hornby
---
34 The Star Thursday September 2 2021

152,504 reasons

to advertise with us!

2021 ABC average issue circulation — Star Max vs Press

200,000

The Star

Max *

152,504

circulation

100,000

The Press *

The latest NZ Audit Bureau of

Circulations report is out and

it shows that The Star Max

provides you more circulation

than any other newspaper in

New Zealand.

0

30,256

circulation

Grow more customers, sales and profits for your business,

Call us now for a free advertising consultancy.

Here's what our customers have to say:

We advertise Affordable Furniture specials

in The Star every week and are extremely

pleased with the results.

We find that the large circulation and

readership, really works for reaching our

target market and growing our customers.

We get people coming in with our ad and

asking about the specials we advertise.

We have been benefiting from the

Christchurch Star and Community papers

for 20 years and see no end to it.

Andrew Idour – Managing Director,

Affordable Furniture

After 4 years advertising in the Bay

Harbour News, I decided to widen

my audience by using the Star.

I am very happy with new ad

placement.

My husband Tim was in the shop

today and 2 ladies had come in

to check us out because they had

seen the ad!!! Oh yes they did buy

some goodies!!

Rose Lindley – Mumma Bear

We have advertised with The Star

over the years.

Advertising in The Star we feel we

get more response and feedback

than any other marketing.

We are lucky to have such a great

free paper in the community.

Thanks team Star.

Mark Glanville FDANZ CERT

– Manager and Funeral Director

Phone 03 379 7100

Email shane@starmedia.kiwi

Office Level 1/359 Lincoln Road, Addington

*Source: 2021 ABC Audit Report — Star Max vs Press ANP average total circulation each issue

*Star Max — The Star, Bay Harbour News, Selwyn Times, North Canterbury News
---
Get the TLC experience

Call one of our Licensed Sales Consultants

today for a free appraisal:

Trish Lawrence ph 0274 350 565

'Trust in Trish'

Kay Livingstone ph 021 163 0001

Goes above and beyond'

MAKING YOUR MOVE EASIER

tlc realty limited

Licensed Agent REAA 2008 | www.tlcrealty.co.nz

Appears every week in

For more information:

Mike Fulham

P 379 7100

E mike@starmedia.kiwi

The Star Classifieds

Home & Property appears every Thursday, delivered FREE

throughout Christchurch

For more information and bookings, contact Mike Fulham

M: 021 300 567 E: mike@starmedia.kiwi

Fix those minor defects

Start out front, cleaning, clearing and decluttering

the yard to make a good impression on buyers.

It's a rare house that doesn't have

defects. Even newly renovated ones can

have features that detract for buyers.

But there are ways for sellers to deflect

attention from them without pretending

they're not there. The three main ways

of dealing with defects are:

1. Fix them.

2. Draw the eye away from them.

3. Use them as a selling point.

Simple defects can be fixed easily.

Start out front. Overgrown bushes can

be trimmed, or replaced with a few

matching plants, old fences and front

doors can be painted or stained, and the

paths cleaned.

Do this even if a property is a do-up.

You want to give the impression that

buyers can move into the house and

chip away at the work in their own time.

If you have time and money, paint sills

and eaves using accents.

Inside, the first thing buyers see is the

hallway, which can be brightened up

with a lick of paint. The neutral paint

trick can also be used to paint over

dated wallpaper, completely changing

the look and feel of a tired house.

Bathrooms and kitchens are important

to buyers, and the eye settles on vanities

and benches. These can be resurfaced

relatively quickly to give a modern look.

If the seller can't repaint or tile

the bathroom bring in high quality

matching towels, which become a

feature in the room and draw the eye

from the less than desirable walls and

features. Nice vases and flowers will do

the same.

Replacing handles and knobs to

draw attention away from the units

themselves. This reduces the number of

"I have to do this" thoughts in potential

buyers' minds.

Drawing the eye away from a

multitude of sins is exactly the thing

to do.

If you see an empty house the eye

always goes to marks on the carpet

and walls and this will lower the price

expectation."

Drawing the eye to the furniture and

furnishings, creates better flow, and de

cluttering makes buyers feel the home

would be a nice place to live in.

Finally, good old fashioned elbow

grease is essential in all properties

to remove those sins that are simply

cleanable.

Thursday September 2 2021 The Star 35

Your

Earthquake

damaged

home!

Talk to us if you are serious about

selling your "As is Where is" home.

We have sold over

150 "As is Where is"

homes and we have

a huge database of

qualified buyers.

Phil & Holly Jones

Ph 03-382-2230

Phil 027 435 7711

Holly 027 222 0220

holly.jones@raywhite.com

Licensed (REAA 2008) Results Realty Ltd

RENT ME!

Ideal as an extra

bedroom or office.

no bond required

We have achieved

record breaking

prices recently!

Fully insulated and double glazed for warmth.

Three convenient sizes from $80 a week:

Standard 3.6m x 2.4m

Large 4.2m x 2.4m | Xtra-large 4.8m x 2.4m

Visit our website

www.justcabins.co.nz

for display cabin locations

www.justcabins.co.nz

• Phone our local team 03 379 1100 • Email star.class@starmedia.kiwi

Cars Wanted

AMERICAN, Japanese,

English or what have you.

Keeping options open.

Text me with what you

have & price. I can call/txt

you back, ph 021 861 732.

Boating Accessories

& Equipment

WINDSCREENS

Perspex cut to size and

shape, Fab Plastics ph

366 3634

Building Supplies

PERSPEX, poly

carbonate and other

plastics cut to size and

shape. Fab Plastics phone

366-3634

SHOWER/BATH Liner,

custom made to suit, Fab

Plastics ph 366-3634

Caravans, Motorhomes

& Traliers

CARAVAN Wanted to

buy. Up to $5000 cash

today 027 488-5284.

Car Parts

TYRES Secondhand,

most szs from $30 - $70

fitted, Also batteries, 217

Waltham Road, 027 476

2404

Funeral Directors

No Service

Cremation

$2,000

Family Funeral with Cremation $3,950

Chapel - 35 people, casket, hearse, cremation fees

Phone 0800 804 663 - 24 Hour Availability

Email: info@justfunerals.co.nz

christchurch.justfunerals.co.nz

Funeral Directors

direct

cremation

$2,000 GSt inclusive

(includes committal)

0800 27 28 29

www.mainland

crematorium.co.nz

Firewood

Firewood, good burning

wood, ideal for starting,

good sized trailer load 8

x 4 caged. Will deliver.

$160. Ph 027 507 2224

For Sale

STEEL for sale all

sections, off cuts cut

lengths. siteweld@xtra.

co.nz Ph 0274 508 785

Funeral Directors

Direct

Cremation

No frills, No Service,

No fuss, simply

straight to the crem.

Other options

available.

Ph: 379 0178

for our brochure

or email

office@undertaker.co.nz

Pets & Supplies

CATS UNLOVED

can help with the cost

of desexing your cat.

Ph 3555-022 or email

catsunloved@xtra.co.nz

Garage Sales

GARAGE

SALE

Fridays & Saturdays

Whiteware, powertools

and bric a brac.

027 223 0948

745 Hawkins Road

(Look for the flags)

Plants & Gardens

HAZEL NUT TREES

roughly 7 yrs old, must dig

out. Good crop trees ready

to go. $20 each. Ph 027

507 2224

Real Estate

PRIVATE

BUYERS

Want house

and land within

4kms of CBD

Over 600sqm

Phone

0275 415 252

Real Estate

HOME WANTED 3-4

bedrooms. Looking in Nor

West areas, Beckenham

or Somerfield. Prefer

permanent material brick

and post 1990 build. Don't

mind if it needs some TLC

- anything considered.

Cashed up buyer. Phone

021 372 479

Tuition

COMPUTER LESSONS

avail for computer, IPad,

or Mobile. Please contact

Jobee 027 290 9246 www.

computertutor.nz

Wanted To Buy

STEVE PURCELL

ANTIQUES

BUYING

NOW

Gold jewellery,

watches, coins,

medals, scrap

gold, sterling

silver, pewter,

original paintings,

modern art.

351 9139

stevepurcellantiques.com

Wanted To Buy

AAA Buying goods

quality furniture, beds,

stoves, washing machines,

fridge freezers. Same day

service. Selwyn Dealers.

Phone 980 5812 or 027

313 8156

ALWAYS

BUYING

Estates, China,

Antiques, Art, Royal

Albert, Royal Doulton

etc. Best Prices,

Free Appraisal. Call

Rob at 349-4229 or

027 299 7232

academyantiques.co.nz

A+ ALL whiteware

wanted. Same day

service, cash paid for

freezes, fridges, washing

machines, ovens. Also

buying furniture & h/

hold effects. Anything

considered. Ph Dave 960-

8440, 027 66 22 116

A1 Albums, old photo's,

postcards, coins, gold,

bank notes, badges,

medals, jewellery,

watches, china, crystal,

books, furs, vintage

clothing, paintings,

furniture, estates &

downsizing. Etcetera

Antiques, 194 Edgeware

Rd 385 5117

Wanted To Buy

A+ Household effects,

fridges, freezers, washing

machines, ovens. Good

cash paid. Ph Paul 022

0891 671

A+ Household effects,

fridges, freezers, washing

machines, ovens. Good

cash paid. Ph Paul 022

0891 671

BOOKS. Old wanted.

Anything considered incl

hunting, mountaineering,

fishing, childrens. Ph 354

1621

MILITARIA Any

country, firearms,

uniforms, badges, medals,

memorabilia, WW2 or

earlier ph 338-9931

TOOLS, Garden garage,

saw benches, Lathes. Cash

buyer Phone 355-2045

Tours

Wanted To Buy

STEVE PURCELL

ANTIQUES

BUYING

NOW

Gold jewellery,

watches, coins,

medals, scrap

gold, sterling

silver, pewter,

original paintings,

modern art.

351 9139

stevepurcellantiques.com

Tuition

COMPUTER LESSONS

avail for computer, IPad,

or Mobile. Please contact

Jobee 027 290 9246 www.

computertutor.nz

Coromandel, East Cape,

Napier, Taupo

11 days, departs Tues 12th October

$2,990 pp twin share

Day Trip Cheviot Hills

Wed 15th September $25pp

Call Reid Tours 0800 446 886

Email: reidtours@xtra.co.nz www.reidtours.com
---
36 The Star Thursday September 2 2021

Trusted Trades & Professionals

To advertise:

Phone 379 1100 or email

star.class@starmedia.kiwi

DECORATORS

Driveways

DRIVEWAYS

ELECTRICIAN

Selwyn based but

service the whole of

the South Island

• New Paint • Floor & Roof

• Repaints Painting

• Wallpapering • Spray Painting

• Fences • Commercial

• Repairs • Timber Finishing

• Feature Walls • Plastering

027 724 6846 027 PAINTIN

email: andertondecorators@gmail.com

SWAINS

KIWI KERB

(Since 2005)

Over 22 Years Experience

Quality

Workmanship

• Driveways

• Kerb &

Channel

• Garden Edging

Freephone: 0800 081 400

swainskiwikerb@gmail.com

Exposed Aggregate

Stamped Concrete Plain

Concrete Resurfacing

Things we offer...

Competitive/affordable pricing

Attention to detail

Professional service

free quotes/insurance scopes

Cell 0278 145 848

www.drivecrete.co.nz

Contact for a free quote

phone 027 331 0400

dave@davesimpsonelectrical.co.nz

davesimpsonelectrical.co.nz

Experienced Domestic Electrician

Quality Workmanship

• New Build

• Renovations

• Fault finding

• Power

• Lighting

• Switchboards

FURNITURE

landscaping

Mailer Deliveries

PAINTERS

EXCLUSIVE. STYLISH.

HANDCRAFTED.

Solid timber furniture

A fantastic range

of traditional and

contemporary

furniture designs.

We can also help you

with any custom made

furniture requirements.

19 Elgin St, Sydenham. Ph: (03) 366 9219

www.gavincoxfurniture.co.nz

Landscape

Construction and

Garden Maintenance

You can have your gardens, trees,

shrubs, plants and lawns maintained to look their best

all year round, for a great price.

Residential & Commercial Landscaping

• Maintenance • Pruning • Reconstruction & Rejuvenation

• Rental Property and Commercial Maintenance

• Pre-Sale Tidy-Ups

New Home Landscaping

Lawns • Gardens • Decks • Paving • Water Features

• Quality • Value for money • Experienced • Punctual

• Professional • Flexible • Knowledgeable • Reliable

Call Ross Legg - 027 222 0388

Email ross@revivelandscaping.co.nz

www.revivelandscaping.co.nz

For a local, reliable

mailer delivery

service contact

Star Media

• Newspaper inserts

• Magazine inserts

• Letterbox deliveries

• Urban & Rural deliveries

For a cost effective, targeted

delivery please call 03 379 7100

or email mike@starmedia.kiwi

www.star.kiwi

Painters and Decorators Ltd

Canterbury Owned and Operated

A husband and wife team

Specializing in:

• Roof Painting

• Interior/exterior

residential

• Small commercial

painting

Noel 027-411-3596

kemp.painters@gmail.com

kemp painters and decorators

We offer

free quotes

Quality not

Quantity

PAINTING & PlAsTerING

PLUMBER

POWER WASH

ROOF REPAIRS

• PAINTING • TILING

• PLASTERING

• WALLPAPERING

NEED A PLUMBER

Locally owned & operated with

over 30 years experience.

Phone Kevin Steel

• Interior/Exterior

• New Homes & Repaints

• Quality workmanship assured

• Correct preparation always undertaken

• 20+ years experience

• Earthquake repairs

(Painting/Plastering/Wallpapering/Tiling)

Ph 027 216 8946

www.facebook.com/kevinsteelpainters&decorators

Email: kpsteel@xtra.co.nz

Call us now for fast friendly service.

Get your problems sorted out

quick smart - on time!!

Phone for a

FREE

quote now.

Phone 03 377 1280 | Mobile 021 898 380

SPECIALISTS IN HOUSE WASHDOWNS

We are a Canterbury owned power wash

company that can handle all your exterior

wash requirements.

From the driveway to the top floor, we can remove

dirt, moss, and mould, clean windows and gutters,

remove graffiti and everything in between.

Call us today

P: 022 5146 253

www.thewashdownking.co.nz

• Extensions & repair • Roof coating

• Concrete & clay tiles • Butynol

• Malthoid • Asbestos Certified

• Coloursteel • Old iron • Guttering

Phone Dave 981 0278

or 021 223 4200

E: dave@beaumontroofing.co.nz

BEAUMONT ROOFING LTD

SCRAP METAL

TRADES

TREE SERVICES

WINDOW TINTING

Dominion Trading Co Ltd

• Scrap metal buyers

• Canterbury owned & operated

• Top prices paid $$$

• Open Saturday morning

Open Mon-Fri 8am – 4.30pm Sat. 8.30am-12.30pm

www.happyscrappy.co.nz

03 343 9993 333 Blenheim Rd

Advertise your

business & services

in Christchurch's

best read &

largest circulation

newspaper

Delivered into over 93,000

Christchurch homes every week.

Ask us about our fantastic

cost affordable packages.

Phone: 03 379 1100 | www.star.kiwi

CRAIGS

TREES

Our services include:

Tree felling

Branch chipping

Trimming and pruning

Crown reduction

Stump grinding

P: 027 2299 454

E: craigstrees@xtra.co.nz

www.craigstrees.co.nz

Fully insured

tintawindow

advanced film solutions

99% uv block

fade protection

heat control

reduce glare

25 Years Experience

privacy films

frosting designs

non-darkening films

Workmanship Guaranteed

Lifetime Warranties on Most Films

UV

block

Free Quotes Canterbury and Districts

03 365 3653 0800 368 468
---
Thursday September 2 2021 The Star 37

The Star Classifieds

Trades & Services

• Driveways

• All concrete

• Building

• Decorating

Licenced builder

Phone John: 027 224 2831

www.dohertybuilders.co.nz

CARPET

CLEANING

• Residential

• Commercial

• High Rises

• Tenancy

10 years in business

Ph: 027 227 3740

Demolition

Carbon neutral

demolition/deconstruction

Residential - Commercial

Industrial - garages

For quotes please phone:

0274 052 391

Trades & Services

GLAZING

TWISTY GLASS &

GLAZING LTD

• Mirrors • Pet Door Specialists

• Splashbacks • All Broken Windows

THE CAT DOOR MAN

Phone Cushla or Darren Twist

027 352 6225

ARBORIST

Qualified. Copper

Beech Tree Services.

Tree removal, pruning,

height reduction, hedge

trimming, shaping, tree

planting, firewood. Free

quote. Contact Angus

Edwards 027 259 6741.

copperbeechtreeservices@

Our unique restoration

processes will make your

tiled areas look NEW again!

gmail.com

We specialise in professional

BRICK & BLOCK cost effective solutions for

LAYING all restoration all your tile & grout issues.

work and new work plus

foundations, ph 342 9340

or 021 853 033

BUILDER QUALIfIED

50 yrs exp. Bathrooms,

• Tiled shower makeovers

• Re-colouring old grout

• Mouldy silicone replacement

• Professional tile/grout

cleaning, sealing & repairs

Kitchens, Renovations,

Repairs & Extensions

Free quotes. Discount for

pensioners. Ph Mike 03

980 9771 or 027 2266 930

BUILDER QUALIfIED

Decks, T & G Flooring,

Villa Restoring, New

CARPENTER/

Homes, Weatherboards.

BUILDER

Free Quotes. Bennet &

Licensed Building

Sons Ltd Sam 027 496-

Practitioner no. 100981.

9362 or Tony 027 224-

All carpentry & building

0374

repairs & maintenance.

Alterations & property

BUILDER

upgrades. Laundries /

HANDYMAN

bathroom / kitchens

MAINTENANCE Have

replaced. Specialising in

peace of mind with a

replacement of all rotten

fully qualified owner

timber, fascia boards,

operater LBP. Available

window, windowsills etc.

for all jobs around the

John Sandford, ph 329

home, commercial or

4616, mob 027 5189 598

rental property (extremely

johnsandford2@gmail.

experienced in Healthy

com

Homes Reporting and

COMPUTER REPAIRS

all Remedial works) Call

FAST Friendly

Chris on 027 3888 211

experienced techs

BUILDER

available to help you

New builds, alterations, now. Christchurch based.

decks, fencing. 30 yrs in All work guaranteed.

the trade has given me Computer Help 0800 349

ability to build to a high 669

standard. Free quotes. Ph

CONCRETE CUTTING

Brent 027 241 7471

Affordable Concrete

CARPET LAYING Cutting with Quality, and

Exp. Repairs, uplifting, removal work. Free quote.

relaying, restretching. No job to small. Phone 027

Phone John on 0800 442-2219, Fax 359-6052

003181, 027 240 7416 a/h 359- 4605

jflattery@xtra.co.nz ELECTRICIAN

All types of domestic

OVER THE TOP

& commercial work

undertaken, new housing,

DIRTY TILES

& GROUT?

Call today for a FREE quote on 0800 882 772

www.theprogroup.co.nz/dpc9385

alterations, extensions,

ranges, security lights,

quick response, efficient

service, free quotes,

city -wide. No call out

fee. M/S, 8-5. Call Pat

Barrett 03 359 2087/ 027

7331384.

ELECTRICIAN

Prompt & reliable

registered electrician

with 24 years experience

for all residential and

commercial work, new

housing and switch board

replacements. Phone Chris

027 516 0669

ELECTRICIAN

Available, 30 years

experience, immediate

start, competitive rate, ph

Brian 027 433 9548 No

Call out fee

ELECTRICIAN

Registered, electrical

installation and repairs,

Gorbie Electrical, ph 021

026 73375 or 03 322 4209

EXPERIENCED

GARDENER

(Kevin Garnett)

30 Years

Christchurch Botanic

Gardens.

ALL landscape

work done.

Maintenance, pruning,

tidy up, lawn work,

landscape planning

and planting etc.

Free Quotes

Phone 348 3482

House & Garden

Property services Ltd

Tree & hedge trimming

Stump grinding

Gardening

Landscaping

Gutter cleaning

All aspects of

property maintenance

CALL us 021 405 277

fENCING

All types of fencing . Free

quotes. Ph Jim 022 137

1920

GASfITTING

N.T. Gas Services.

Domestic gas installations.

Reg Craftsman Gas Fitter.

Ph Nick 021 892 491

GLAZIER

Glass repairs - pet doors

- conservatory roofs. Exp

Tradesman. Call Bill on

022 413 3504 or 981-1903

HANDY - DAN

General Handyman for

all your maintenance

requirements. I specialise

in fences and decking, also

do spouting cleans and

repairs and everyday home

maintenance. NO JOB TO

BIG OR SMALL I can do

it all, please don't hesitate

to call me on 022 600 7738

for a no obligation free

quote.

HANDYMAN

For all those odd jobs. Ph

027 294 1508

• Phone our local team 03 379 1100 • Email star.class@starmedia.kiwi

Trades & Services

The Budget Landscaping,

Lawn and Gardening Services

Lawn, section clean up, hedges or any odd jobs

Ring 0276 560 077 or

email thebudgetchch@gmail.com

HOME CLEANING

SERVICES Regular

PAINTING

Weekly or Fortnightly.

Ring Vivien at 03 365 older painter

8422 for free quotation for older houses

50 years in trade

LANDSCAPING

"All the skills"

Paving, Lawns, Irrigation,

Decking, Fencing.

Kanga & small digger

services. Check out Squire

Landscaping on facebook.

FREE QUOTES. Ph

Arthur 347-8796, 027

220-7014 Edwin 027 220-

7154

GST FREE

MOBILE CAR Contact Jimmy Bell

CLEANING SERVICES

0211221487

We come to you where

ever you are. Ring us

at 03 281 8054 for free

quotation.

ODD JOB SPECIALIST

30 years + experience

Small jobs specialists.

Older house

eg: drippy taps, sticky

restorations:

doors, locks, spouting/ no problem!

fence repairs Discount for Quotes: FREE!

pensioners. Ph 390 1565 or

Rates: Reasonable

022 5275 668. Avail now.

Paint supplied at

PAINTER, QUALIfIED trade price!

local professional, Int /

NO JOB TOO SMALL

Ext,roofs,wallpaper, call Light industrial also

or text Corban 027 846

5035

Roger Brott

Painter & Decorator

PAINTING

021-1966-311

Indoor / Outdoor, over 30

yrs exp, same day quotes,

ph Steve 021 255 7968 REMOVALS

Small furniture removals,

PAINTING

have own van, can fit

& PLASTERING Free

various types of whiteware

quotes. Int/ext & roof

appliances, some furn,

painting Family run

bedding, boxes etc, honest

business, work guaranteed.

& reliable, any area

Pensioner discounts. Ph

considered, ph Chch 027

Kerin or Paul 022 191

517 7001

7877 or 379-1281. Website

www.swedekiwipainting.

ROOfING

co.nz

All Roof repairs, Roof

painting, moss treatments,

PAINTING

Gutter cleaning 10 + yrs

Small - Medium jobs exp, free quotes 24 / 7, Ph

Free quotes Ph 027 294 027 516 6609

1508.

RUBBISH REMOVAL

PLASTERING (INT) Van, Trailer Rubbish

and small painting Removal. Ph Gary 342-

jobs. Experience and 8950, 021 529 022

Excellence. Small to SPOUTING

Medium job specialists Select Spouting The

in all aspects of Interior PVC specialist. Repairs &

Plastering. Please call Tim replacement. Ph 022 197

022 5380959

2351

PLASTERING

SPOUTING CLEANING

Gary 4 Fxing, stopping, SPECIALIST Entire

solid plastering, brick spouting system cleared.

repairs & painting. 021 Single or 2 storey. Jo 021

529 022 / 342 8950 164 0365

PLASTERER

SPOUTING CLEANING

Phone Finn for all your Spouting Unblocked,

interior plastering needs. Cleaned Out and Flushed

No job too small - Out, Call Trevor 332 8949

renovations, alterations, or 021 043 2034

holes & cracks. Free STUMP GRINDING

quotes. I'll beat any quote Best price guarantee Tony

by 10% .25 yrs exp. Canty 0275 588 895

born. Ph 022 087 4351 TEST & TAG

PLUMBER

NZ3760 complient (class

A Top Plumbing job 1 and class 2 tools). Can

completed at a fair price, travel to your work site.

all work guaranteed, ph Phone Jamie 022 313 9567

Brian 021 112-3492 or 03 TILER ( MASTER )

960 7673

Int / Ext. Res / Comm. .

QEII COLLISION

Free quote. 18 yrs exp. Ph

REPAIRS

Zac 021 1056 797

Free Courtesy Cars TREE SERVICES

(conditions apply),All Free quotes 20+ yrs exp.

Insurance work, Rust Tree, hedge or shrub

Repairs & Private work. - reduction, shaped or

Spray-painting. Free removed. Ph/text Paul

pickup & delivery. Ph. 03 The Branch Manager

388 5187

0274314720

"I WILL TURN UP

WHEN I SAY I WILL"

Need a certified and reliable plumber for filtration

systems or hot water cylinder replacement?

Bathroom upgrades or refurbishments?

FREE CALL

TEXT

EMAIL

Trades & Services

0508 H2O BOY

426 269

027 245 5100

NICK@NICKJONESPLUMBING.CO.NZ

Re Roofing

Roof Repairs

Spouting

Approved Age Concern provider

Over 30 years experience

Licensed Building Practitioner

N A BARRELL

ROOFING LTD

Ph: 0275 389 415

Email: nabroofing@xtra.co.nz

ROOF

PAINTING 24/7

Rope & harness

a speciality,

no scaffolding

required,

30 years of

breathtaking

experience.

FREE QUOTES

20% OFF other

roof quotes

Exterior staining,

exterior painting,

water blasting.

Moss and mould

treatment $300.

Phone Kevin

027 561 4629

TREE SERVICES

Specialist pruning, Roses,

fruit trees etc. Also garden

tidy ups. Ph Hugh 021 275

5445

TREE SERVICES

Specialist pruning, Roses,

fruit trees etc. Also garden

tidy ups. Ph Hugh 021 275

5445

WATERBLASTING

Housewash, Drives, Paths,

Decks, Moss kills, Gutter

cleans. Ph 020 410 67205

WINDOW CLEANING

Average 3 brm house

inside or out from $45.

Both from $80 Phone

Trevor 344-2170

WINDOW CLEANING

Brown & White Ltd.

Family owned since 2001.

Ph Paul 027 229 3534

GLAZING

TWISTY GLASS &

GLAZING LTD

• Mirrors • Pet Door Specialists

• Splashbacks • All Broken Windows

THE CAT DOOR MAN

Phone Cushla or Darren Twist

027 352 6225

Trades & Services

ROOF

PAINTING 24/7

Rope & harness

a speciality,

no scaffolding

required,

30 years of

breathtaking

experience.

FREE QUOTES

20% OFF other

roof quotes

Exterior staining,

exterior painting,

water blasting.

Moss and mould

treatment $300.

Phone Kevin

027 561 4629

PAINTING

older painter

for older houses

50 years in trade

"All the skills"

Contact Jimmy Bell

0211221487

GST FREE

30 years + experience

Older house

restorations:

no problem!

Quotes: FREE!

Rates: Reasonable

Paint supplied at

trade price!

NO JOB TOO SMALL

Light industrial also

Roger Brott

Painter & Decorator

021-1966-311
---
38 The Star Thursday September 2 2021

The Star Classifieds

Situations Vacant

CLEANERS

REQUIRED

ORCHARD ROAD

AIRPORT AREA

Monday to Friday

4.30pm / 5.30pm

Start time

Total 8 hours per week

AVONHEAD AREA

Monday to Friday

3.15pm to 6.15pm

2 positions available

AVONHEAD AREA

Monday to Friday

3.15pm to 5.15pm

2 positions available

SOMERFIELD AREA

Monday to Friday

3pm to 6pm

CITY CENTRE

Monday to Friday

6pm to 9pm

Plus every 4th Sunday

2.5hrs

We are looking for cleaners

to join our commercial

cleaning team.

You will need to pass a

Security Check and you

MUST have your

own transport.

Must be eligible to work

in New Zealand.

Please email your

Application to

csc@totalcanterbury.co.nz

or phone 338 9056

Visit our website:

totalcanterbury.co.nz

Please advise which job

when emailing your CV.

Public Notices

NOTICE OF

INTENTION TO APPLY

FOR REMOVAL OF

THE ABOVE-NAMED

COMPANY FROM THE

REGISTER

Seaview (2005) Limited

(In Liquidation)

Pursuant to Section 320 (2) of

the Companies Act 1993

Address of Registered Office:

HSW Limited, Accountants,

Level 1, 35 Mandeville Street,

Riccarton, Christchurch, P O

Box 8518, Christchurch.

Notice is hereby given that,

pursuant to section 318 (1)

(e) of the Companies Act

1993, the Registrar will be

removing the above-named

company from the Register

on the grounds that the

liquidator has completed his

duties.

The liquidator has delivered

the documents referred to

in section 257(1)(a) of the

Companies Act 1993 to the

Registrar of Companies thereby

completing the liquidation

pursuant to section 249 of

the Act.

Any objection to removal,

under section 321 of the

Companies Act 1993, must be

delivered to the Registrar by

the 20th working day after

the date of publication of

this notice.

Hamish Alexander Scott,

Liquidator

OUT OUT OF ZONE ENROLMENT ENROLMENT

TERM 1 & 2 2021

SCHOOLS. SPORTS CLUBS OR CULTURAL EVENTS

OUTSTANDING

Fundraising opportunity

The Star has a fantastic opportunity that is an ideal way

to fundraise while at the same time helps to profile and

promote your team and their goals and ambitions.

Call now to find out more about how you can fundraise

those hard to get dollars, while at the same time

promoting some of the great positive work being done

in the community. It also offers exceptional value for

your supporters and sponsors.

Contact:

Mike Fulham

379 7100

mike@starmedia.kiwi

Public Notices

TERM 1 & 2 2022

Public Notices

• Phone our local team 03 379 1100 • Email star.class@starmedia.kiwi

Enrolment at the school is governed by an enrolment scheme, details of which are available

from the school office and on the website.

Applications for 10 out-of-zone places are now being invited for new entrants who will

become eligible for enrolment during the period Term 1 & 2 2021 .

To apply for an out-of-zone application please email ​enrolments@thorrington.ac.nz

The deadline for receipt of applications for out-of-zone places is 3pm Wednesday 28

October 2020.

If a ballot for out-of-zone places is required, it will be held on Thursday 29 October 2020.

Parents will be informed of the outcome of the ballot within three school days of the ballot

being held.

Enrolment at the school is governed by an

enrolment scheme, details of which are available

from the school office and on the website.

Applications for 5 out-of-zone places are now being

invited for new entrants who will become eligible for

enrolment during the period Term 1 & 2 2022.

To apply for an out-of-zone application please

email admin@thorrington.ac.nz

The deadline for receipt of applications for out-ofzone

places is 3.30pm Friday 15 October 2021.

If a ballot for out-of-zone places is required, it will be

held on Monday 18 October 2021.

Parents will be informed of the outcome of the ballot

within three school days of the ballot being held.

Any questions can be directed to the email address

above or phone 03 332 7480.

Vehicles Wanted

CAR REMOVALS

$$CASH PAID$$

CARS, VANS, UTES & 4X4 WANTED

NZ OWNED AND OPERATED FOR 24 YEARS

We use world class vehicle depollution systems

0800 77 80 80

www.pickapart.co.nz

Entertainment

Over the years, Grant Amos has helped thousands

of people overcome their fear of flying.

Enrolments for our next "Flying Without Fear"

Programme are now being taken in your area.

HURRY! ONLY CHRISTCHURCH COURSE FOR THIS YEAR!

REMEMBER, FEAR OF FLYING IS NOT

IRRATIONAL - DOING NOTHING ABOUT IT IS

For further details, contact Sue on 09 483 5547

or 0800 737 225 www.flyok.co.nz

Newspaper Classifieds

"Little adds with BIG IMPACT"

Phone 379 1100

After you've read

the classified

section of The

Star - you'll be

sure to have

discovered

something...

maybe even a

hidden talent?
---
Thursday September 2 2021 The Star 39

EAT

DRINK

SLEEP

The

RACECOURSE HOTEL

& Motorlodge

To add a listing, contact

Jo Fuller 03 364 7425 or

027 458 8590

jo.fuller@starmedia.kiwi

www.star.kiwi/whatson

Due to COVID LEVEL 3 restrictions, our Hoofbeats Restaurant,

Carbine Bar, and Sports Bar remain closed.

Keep safe. We look forward to seeing everyone soon.

Racecourse Hotel & Motor Lodge ● Ph 03 342 7150

118 Racecourse Rd ● Christchurch ● www.racecoursehotel.co.nz

GARDEN RESTAURANT

TAKEAWAY

ENJOY YOUR

GARDEN RESTAURANT

FAVOURITES!

TAKEAWAY

DINNER BUFFET

AVAILABLE 5-8PM

DAILY.

Menu options on our

website and facebook pages.

Pre-order essential

via 03 386 0088 or

QR code

or at

gardenrestaurantbuffet.co.nz

Contactless payment

on credit card via phone

or paywave on pick up.

@GardenRestaurantBuffet

Have you made plans for Father's Day yet?

This Sunday

5th September

Lunch/Dinner

CLICK & COLLECT

CAFÉ

COFFEE

@GBCCHCH

Treat Dad to a feast at

home prepared by us!

Only $109

for a takeaway

buffet for 4 people.

Orders essential

before noon Saturday.

Preorder and pay by

noon Saturday

on 03 386 0088

or email us

gardenr@gardenhotel.co.nz.

Pickup times:

11.30am to 1pm &

5pm - 7.30pm

THE ENTERTAINMENT HUB OF THE NORTH!

DUE TO COVID

LEVEL 3 RESTRICTIONS,

THE CLUB IS CURRENTLY CLOSED.

SEE YOU SOON.

SOMETHING TO LOOK FORWARD TO

(COVID LEVELS PERMITTING)

FRIDAY 24TH SEPTEMBER, 8PM

HOUSIE

EVERY THURSDAY

12PM

EYES DOWN 12.30PM

80's

SMASH HITS

PRE-SALE TICKETS $25 | DOOR SALES $30

BISTRO

OPEN FROM 12PM

WEDNESDAY

TO SUNDAY

BAR HOURS

MON 3PM-10PM

TUES & WEDS 11.30AM

THURS 11AM | FRI 11.30AM

SAT & SUN 11AM

Closing times will vary.

113 RAVEN QUAY | PHONE: 03 327 7884

As an essential food manufacturing business

mumma bear is still busy whipping up delicious

healthy afordable mueslis, porridges and granolas

- all contactless courier deliveries.

No one should be without their mumma bear!

www.mummab.co.nz

Free Christchurch delivery for orders $40 and over.

The shop - 2/2 Soleares Ave, Mt Pleasant

is CLOSED until Level 2.

Facebook, instagram or Rose at 027 329 1818
---
40 The Star Thursday September 2 2021

We're having a

CLEAR-OUT!

ALL BEDROOM, LOUNGE, DINING, OFFICE, MATTRESSES ON SALE! Ends 20.9.21.

Riley Chaise Sofa – Grey

WAS $

1699

NOW

$

1199

Brix Light /Peyton Grey

7 Piece Dining Set

WAS $

1569

NOW

$

1149

ALL

MATTRESSES

ON SALE

HEAPS of SUPER DEALS!

Ramsey Single/Single

Bunk Bed

WAS $

1299

Charlie Angular Chaise

WAS $

2699

NOW

$

2399

SCAN QR TO SHOP

NOW

$

999

ALL DINING

CHAIRS

ON SALE

Zen PU

$

125

Duke

$

125

Peyton

$

115

Vintage

$

95

Camille

$

75

PARKLANE

ON SALE

5 Drawer Chest

NOW $

799

6 Drawer Lowboy

NOW $

799

Xander Recliner

WAS $

799

NOW

$

599

Get excited!

Your goods are revving to go!

While our store is still

closed, we are resuming

contactless click & collect

and deliveries! Scan QR

for more information.

Scan to find store

250 Moorhouse Ave, Christchurch

0800 TARGET (0800 827438)

targetfurniture.co.nz

Offers and product prices advertised here expire

20/09/21. Sale Excludes Accessories.