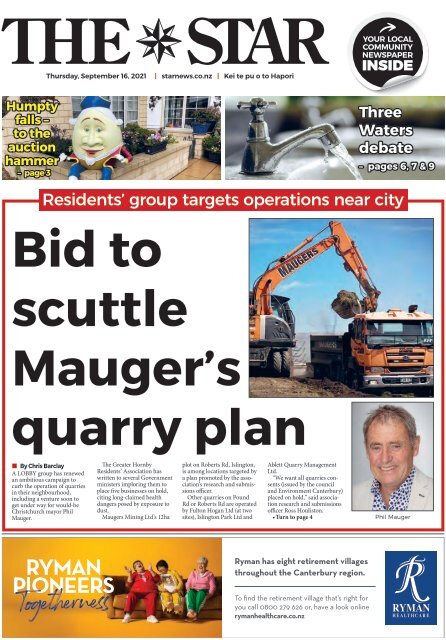 The Star: September 16, 2021
You also want an ePaper? Increase the reach of your titles
YUMPU automatically turns print PDFs into web optimized ePapers that Google loves.
Thursday, September 16, 2021

| starnews.co.nz | Kei te pu o to Hapori

Humpty

falls –

to the

auction

hammer

– page 3

Three

Waters

debate

– pages 6, 7 & 9

Residents' group targets operations near city

Bid to

scuttle

Mauger's

quarry plan

• By Chris Barclay

A LOBBY group has renewed

an ambitious campaign to

curb the operation of quarries

in their neighbourhood,

including a venture soon to

get under way for would-be

Christchurch mayor Phil

Mauger.

The Greater Hornby

Residents' Association has

written to several Government

ministers imploring them to

place five businesses on hold,

citing long-claimed health

dangers posed by exposure to

dust.

Maugers Mining Ltd's 12ha

plot on Roberts Rd, Islington,

is among locations targeted by

a plan promoted by the association's

research and submissions

officer.

Other quarries on Pound

Rd or Roberts Rd are operated

by Fulton Hogan Ltd (at two

sites), Islington Park Ltd and

Ablett Quarry Management

Ltd.

"We want all quarries consents

(issued by the council

and Environment Canterbury)

placed on hold," said association

research and submissions

officer Ross Houliston.

• Turn to page 4

Phil Mauger

Ryman has eight retirement villages

throughout the Canterbury region.

To find the retirement village that's right for

you call 0800 279 626 or, have a look online

rymanhealthcare.co.nz
---
2 The Star Thursday July 30 2020

2 The Star Thursday September 16 2021

inside

Death

Tributes

not

flow

suspicious...............................................5

after death .................................. 5

Councillors Man fined after united docking on water............6, puppies ............ 7 & 97

Another New hospital jump child in house care initiative prices.................. ....................9 10

Holocaust Bank to stop dress-up cash, cheque 'appalling'...................12

deposits ....10

Photographer New home for captures Smiths rare City red ......................... sprite..14 15

From

Return

grief

to Trump,

to hope................................................17

pandemic ..............20-21

Will vaccinated by locked down?....18-19

Heritage in photos .............................................25

Letters.....................................................................20-22

Check your shopping receipts .............. 27

Mayor's column.......................................................22

ECan Food column.............................................................25

.................................................................................28

Spring Gardening Gardening......................................... ................................................................ 26-27 29

Puzzles.............................................................................28

Sport ................................................................................. 31

Sport..................................................................................29

Drivesouth .................................................................33

DriveSouth....................................................................31

Puzzles ..........................................................................34

Classified...............................................................33-37

Classified ............................................................35-42

Gig guide...................................................................... 37

Gig guide ................................................................... 43

newsroom

Chris Louis Barclay Day Reporter Reporter

021 021914 919 169 917

chris.barclay@starmedia.kiwi

louis.day@starmedia.kiwi

Geoff Matt Sloan Slaughter Photographer Reporter

geoff.sloan@starmedia.kiwi

021 910 788

Barry matt.slaughter@starmedia.kiwi

Clarke Editor in Chief

Chris 021 359 Barclay 426 Reporter

barry@starmedia.kiwi

021 914 169

chris.barclay@starmedia.kiwi

advertising

Barry Clarke Editor in Chief

021 359 426

Shane barry@starmedia.kiwi

Victor Advertising Manager

021 381 765

advertising

shane@starmedia.kiwi

Classified Shane Victor advertising: Advertising 379 Manager 1100

General 021 381 inquiries: 765 379 7100

shane@starmedia.kiwi

readership Classified advertising: up 8.8% 379 1100

General inquiries: 379 7100

199,000 *

readers every week!

178,000 *

REACH MORE . . .

*2021 Nielsen Newspaper Readership Report Starmax

online

readers every week!

*2019 Nielsen Newspaper Readership Report

Keep up with the latest

local news as it happens

online

www.starnews.co.nz

Keep up with the latest

local news as it happens

www.starnews.co.nz

A division of Allied Press

Regional Manager: Steve McCaughan

PO

A division

Box 1467,

of

Christchurch

Allied Press

359

Regional

Lincoln

Manager:

Rd, Addington

Steve McCaughan

www.starmedia.kiwi

PO Box 1467, Christchurch

359 Lincoln Rd, Addington

www.starmedia.kiwi

2021 Suffrage Day

Celebrations

Sunday 10am-2.30pm

Celebrate Suffrage Day at Kate Sheppard's former home.

Enjoy a guided tour of the house, morning tea and a coach

tour past significant city sites before attending the Kate

Sheppard National Memorial Event. Opening address by

Hon. Lianne Dalziel. Tickets: Adults: $39.50 Concession: $32.

Due to covid level 2 restrictions, tickets are limited and must

be booked by the end of Thursday. (eventbrite.co.nz)

Kate Sheppard House, 83 Clyde Rd, Ilam

Kate Sheppard House

visitor experience

Wed to Sunday 10am-4pm

Learn about Kate Sheppard and her campaign for social

reform and women's rights. Admission: Adults: $15, Gold

card holders and students: $7.50, Children: (under 15yrs)

Free. Kate Sheppard House, 83 Clyde Rd

letters

We want to to hear hear

your views on on the the

issues affecting life life in in

Canterbury.

Send

Send

emails

emails

to:

to:

barry@starmedia.kiwi

barry@starmedia.kiwi

Letters

Letters

may

may

be

be

edited

edited

or

or

rejected

rejected

at

at

The

The

Star's

Star's

discretion.

discretion.

Letters

Letters

should

should

be

be

about

about

150

150

words.

words.

A name,

name,

postal

postal

address

address

and

and

phone

phone

number

number

should

should

be

be

provided.

provided.

Please

Please

use

use

your

your

real

real

name,

name,

not

not

a nickname,

nickname,

alias,

alias,

pen

pen

name

name

or

or

abbreviation.

abbreviation.

Victorian Tea Party for Kate

Sheppard

Sunday 12.30pm-3.30pm

Go join The Port Hills Foundation Charitable Trust's annual

event honouring Kate Sheppard's legacy. Tea, coffee, lunch,

speeches and networking. Keynote speaker is MP for Banks

Peninsula, Tracey McLellan. Admission: Koha/donation.

Curators House Restaurant, 7 Rolleston Ave

Pleasant Point Yacht Club

opening day

Saturday 1.30pm-5pm

Go and watch as the Pleasant Point Yacht Club launches

its' 101st season with new boats and facilities. Spectate or

have a go at sailing in a safe, supportive environment for the

whole family. Open race for dinghy sailors starts at 2.40pm.

Admission: Free. South New Brighton Park

Spring into Riverside!

Spring Festival Saturday and

Sunday noon-5pm

Welcome in Spring with live music, a Saturday craft market,

Spring grotto and an interactive farmyard with alpaca,

calf, baby goat, lamb, rabbits, guinea pigs and chickens.

Admission: Free. Riverside Market, 78 Cashel St

ESCAPE AND

SAVE THIS SPRING

Receive $50 resort credit for every night you

stay at Millbrook Resort.

From five-star dining, award-winning spa treatments,

championship golf or onsite wine tastings – there is something

for everyone to love at Millbrook Resort.

T&C: Valid for stays until 31 st October 2021 and subject to availability.

Valid for ROD bookings cannot be used in conjunction with any other offer or promotion.

$50 resort credit is issued per night and is not transferable for cash/no refunds.

We strongly recommend booking your Millbrook activities in advance to avoid disappointment.

Millbrook Resort

1124 Malaghans Road, Arrowtown 9371

T: +64 (0)3 441 7000

E: front.desk@millbrook.co.nz
---
Latest Canterbury news at starnews.co.nz

Thursday September 16 2021 The Star

NEWS 3

in brief

Going, going, gone – Humpty

falls to auctioneer's hammer

SOLD: Auctioneer Rob McKellar takes a final bid of $2100 for the fibreglass giraffe, while Humpty fetched $3900 – two of

many statues now on their way to new homes.

PHOTOS: GEOFF SLOAN ​

Search for missing

twelve year-old

Police are

searching for

a boy who has

been missing

since Sunday.

TJ, 12, was

reported

missing to

police on

Tuesday,

but was last seen on Sunday

in the Northcote area. He is

described as 150-160cm tall.

Anyone with information as

to his whereabouts is asked

to phone 111 and quote file

210914/5286.

Missing woman

found

A 39-year-old Sockburn

woman who was last seen

about a month ago has been

found. Police appealed for

sightings of Andrea

Hopkinson through its

Facebook page. The post

said she was last seen leaving

her home in Sockburn in

mid-August and there were

concerns for her welfare.

But yesterday police said she

had been located.

"Thanks to the public for their

help in finding her," police

said.

Akaroa Festival

postponed

The Akaroa French Festival

has been postponed due to

Covid-19. The biennial festival

was scheduled to run from

October 15 to 17, but would

now be postponed to the end of

April next year.

• By Samantha Mythen

MAGICAL fairytale creatures

and animals that adorn the

garden of fantastical Redcliffs

house 'Brigadoon'

will travel to new homes

after an auction emptied the

property.

Just over 100 chattels,

including a child's playhouse,

a fibreglass rhinoceros and a

Humpty Dumpty statue, were

auctioned off by McCormack

and McKellar Antique and Fine

Art Auctioneers on Tuesday.

Rob McKellar said all 110

items were sold and the owners

of the "iconic" house and garden

were "extremely happy" with this

result.

"There were strong prices and a

good crowd who were following

Alert Level 2 restrictions with

face masks," he said.

"It was a well-received auction.

As the house is off Main Rd,

many people drive past it and see

the garden."

Humpty Dumpty sold for

$3900, while a wooden horse

made from driftwood sold for

$3400.

The child's playhouse sold for

$2600, the rhino for $2800 and

the giraffe for $2100.

McKellar said the auction saw

people bidding via telephone

from Auckland and Tauranga,

although the majority of items

were sold to people from

Christchurch and Akaroa.

The age range of buyers was

from 35 to 70, he said.

The Brigadoon garden has

previously won multiple awards

as part of the Christchurch

Beautifying Association's

annual competitions.

Armed hold-up in

Aranui nets cash

A man with a knife held up a

Christchurch service station on

Monday night, before fleeing

on foot. A police spokesperson

said the man entered Mobil on

the corner of Pages and

Breezes Rds in Aranui about

9.15pm on Monday. The robber

ran off with an amount

of money.

NEED A

PLUMBER?

Call us now for fast

friendly service.

Get your problems sorted out

quick smart - on time!!

Phone for a

FREE

quote now.

Phone 03 377 1280

Mobile 021 898 380

Bras and

shape Wear

ShOPPING AT ITS BEST

• No under wires

• Straps do not fall down

• Full support from beneath the bust

• Front-opening modifications

• Breast Prostheses fitted & supplied

• Esther is a registered

health provider

• Unique shape wear

Formerly

Jeunique Bra

FREE

CONSULTATIONS

& FITTINGS

Esther Rökk UnderFashions

For appointments please phone 322-6590

82 Milns Rd, Halswell • www.eru.co.nz

Care &

Compassion

We pride ourselves on the

very highest level of service

If you are thinking about the future, we can help

you explore pre-payment and pre-planning options.

Contact us for a Free Information Pack.

We offer funeral information talks to groups.

Please call us for a speaker to come to you.

(03) 379 0196 | www.simplicity.co.nz

Mike Chandler

Funeral Director
---
The Star Thursday September 16 2021

4

NEWS

• From page 1

An email to MPs including

Health Minister Andrew Little,

Environment Minister David

Parker and Climate Change Minister

James Shaw, featured videos

of dust swirling on Pound Rd.

"The health and well-being of

many residents in the western

districts of our city are being

affected both medically and

mentally by the continuing issue

of quarries often on our back

doorsteps," Houliston told the

ministers.

"This area is subjected to high

levels of dust which can, and often

does, carry cancerous residual

crystalline silica."

Houliston told The Star they

had no choice but to contact the

Beehive.

"Council have basically said

they cannot do anything, it

would be up to the Government

to pass legislation," he said, realistic

about the outcome.

"We're struggling, we know

we're belting our heads against a

brick wall but we're not going to

give up."

Houliston was frustrated,

claiming of the 106 complaints

made over a five-year period only

about 40 were investigated by

ECan or the council.

"They'll say they cannot identify

where the problem is coming

from because the quarries are all

next to each other. This is what

we go through. It's like a game to

them I think," he said.

ECan central zone manager

Johannes Welsch told The

Star said a dust monitoring

programme carried out in 2017-

18 indicated no serious health

risks.

'If it's too windy we won't

be working. The last thing I

want to do is p**s people off.'

– Phil Mauger

Mauger, who launched his

campaign last month for the

city's mayoralty, understood concerns

but insisted his site would

not be an issue.

"That's all been aired in the

past, the health concerns, I

thought that had been put to

bed," he said.

"There's no way in the world

Latest Canterbury news at starnews.co.nz

Health concerns not considered an issue

I'd be pushing for out and out

quarrying. It's only extraction,

so there's little or no dust," he

said, unfased by the association's

move.

"There's little or no dust coming

of it when it's just being

extracted."

Mauger purchased the "sliver"

of land about six years ago – before

he became a city councillor –

to extract gravel for use on roads

and concreting, ideally around

Christmas.

"I've been quietly chipping

away. I've got to finish a few

bunds (stabilising walls) and put

some monitoring wells in just to

make sure the ground water isn't

being contaminated," he said.

"If it's too windy we won't be

working. The last thing I want to

do is p**s people off."

•Additional reporting Fiona

Ellis

DUST-UP: Greater Hornby Resident's Association research

and submissions officer Ross Houliston is hoping the

Government can clamp down on quarry operations owned

by Mauger Mining Ltd (left) Fulton Hogan Ltd (right) and

Ablett Quarry Management Ltd (below).

Become a nurse –

build on any degree

Thinking of a career change?

Our two-year Master of Nursing Science offers a unique pathway to a nursing

career for graduates of any discipline. A world-wide nursing shortage means

you are entering an in-demand profession.

• Delivered through our Christchurch campus.

• Flexible programme delivery: on-campus block courses and

facilitated online learning.

• Clinical placements available throughout the South Island.

• Access to a state-of-the art simulation centre.

• Part-time study options available.

Join us in person or online at our upcoming information evening and hear from

staff and students.

Thursday 23 September I 5:30–6:30pm

Centre for Postgraduate Nursing Studies,

University of Otago, Christchurch, 72 Oxford Terrace

CHCH-HM1152-0821

TO REGISTER AND FOR STREAMING DETAILS VISIT:

otago.ac.nz/nursingmasters
---
Thursday September 16 2021 The Star

• By Anna Leask

POLICE HAVE determined that

the death of a mother-of-four

found at her Christchurch home

with severe injuries was not

suspicious.

But it remains "unexplained"

and it is expected to be referred

to the coroner.

Heather Foote, 56, died on

July 28 – two days after she was

found with critical injuries at

her Port Hills Rd home in the

Heathcote Valley area.

A post-mortem examination

was carried out and the investigation

into her death has been

ongoing.

Detective Senior Sergeant

Craig Johnson confirmed the

death was not suspicious.

"The Operation Port inquiry

is continuing given the unexplained

circumstances of Ms

Foote's death," Johnson said.

"However at present there is

no indication that her death is

suspicious, and it is likely the

matter will be referred to the

coroner in due course."

The mother-of-four was farewelled

at a private service.

"Family and close friends

would like to thank the community

of Heathcote in particular,

as well as the wider public for

their humbling support, kindness

and love freely shown

towards Heather and her family,"

a public notice published after

her funeral stated.

"Those that spent the last

hours by Heather's side would

like to thank the amazing medical

teams at the hospital for their

care of Heather and the compassion

shown, both of which far

exceeded their collective job

descriptions.

"The family would also like

to acknowledge and thank the

police for their support and

Latest Canterbury news at starnews.co.nz

Death of mother-of-four unexplained

but not suspicious, police say

TRIBUTE: Flowers outside Heather Foote's home where she sustained fatal injuries.

PHOTO: GEORGE HEARD / NZ HERALD

guidance for and to the family

and close friends."

Foote's family said in lieu of

messages or flowers, donations

could be made to the Maia

Health Foundation – a healthcare

charity in Christchurch.

A Givealittle page has been set

up to support her family.

"This page has been set up in

response to requests from members

of the community to enable

people to offer their support for

Heather's family at this tough

time," it said.

"Heather's sudden passing has

been a devastating loss to her

children, three of whom lived

with her full time.

"There are many unexpected

financial costs that are adding

additional burden at the

moment. Any support that can

be offered at this time will be

greatly appreciated.

"Funds are no longer needed

for funeral costs but are still

needed for day to day running of

household while getting back on

their feet." —NZ Herald

NEWS 5

Students

cheating

up 458%

ONLINE LEARNING at

universities has become a

loophole for students to cheat,

with cases skyrocketing from last

year's lockdown.

Figures released to RNZ under

the Official Information Act show

a 458 per cent increase in cheating

at Lincoln University last year,

nearly five times higher than

before the pandemic.

Lecturers say the issue is far

worse than figures show, as

lockdowns disrupt valuable faceto-face

teaching.

The figures show five out of

eight universities had an increase

in cheating last year.

Canterbury University had a

204 per cent increase in academic

misconduct in 2020 compared

to 2019. Victoria University of

Wellington had an 180 per cent

increase and Massey 110 per cent.

In its OIA release, Lincoln

University said: "Prior to 2019,

instances of low-level academic

misconduct were recorded by

departments but not necessarily

notified to the Proctors. The sharp

increase in notifications from

2019 reflects the introduction

of new systems of centralised

reporting to the Proctors."

bananas $ ........................................... 1 .99

KG

avocados .........................................99 c

kg

Royal Gala Apples $ .............. 1 .49

kg

cabbages $ ......................................... 2 .49

kg

Loose brown Onions .........99 c

kg

Packham Pears $ .......................... 2 .49

kg

Beef Schnitzel $ .......................... 15 .99

kg

beef brisket $ ................................. 13 .99

kg

whole Lamb Legs $ ................... 15 .99

kg

Pork Loin Chops $ ...................... 12 .99

kg

Skinless Chicken Breast

Fillets $ ................................................. 9 .99

kg

At

we have...

FRIDAY TO

SUNDAY ONLY

broccoli .......................

2 for

$3 .00

Lemons ...........................$1 .99

kg

beef cheeks ..............$16 .99

kg

Check our website for

your local stores opening hours

All our fresh meat is 100% NZ FARMED. specials VAlid

13th September - 19TH September 2021.

WHILE STOCKS LAST! ONLY AVAILABLE AT RAEWARD FRESH HAREWOOD RD, TOWER JUNCTION

WWW.

.CO.NZ

Like us on

Facebook
---
The Star Thursday September 16 2021

6

NEWS

Latest Canterbury news at starnews.co.nz

City councillors united against Three

• By Chris Barclay

CHRISTCHURCH city

councillors decide in December

if the local authority will opt

in or out of the Three Waters

reform proposed by the

Government.

Broadly, the city council will

be paid $122.4 million to transfer

$6.9 billion worth of waterrelated

assets – and $1.1 billion of

debt – to a new model where the

country's drinking, wastewater

and stormwater networks are

absorbed into four new entities,

including one in the South Island

which covers 21 local authorities.

The council sought feedback

from residents

through a

survey that

attracted 5125

responses.

Phrasing of

the survey

was a talking

point, with no

Phil Mauger

explicit 'yes'

or 'no' or 'for'

or 'against' option surprising

some ratepayers, and councillors.

Phil Mauger started the

conversation last week when

he said the lack of a 'yes' or 'no'

option was an oversight.

The Star polled other

councillors and Mayor Lianne

Dalziel for their view on the

Government's vision for the

future of a precious asset and

whether the survey was effective

in terms of accurately gauging

public sentiment. None of the

councillors contacted endorsed

the proposed reforms.

Pauline

Cotter – "I

have an issue

with the

Government

being able

to basically

tear up a

section of the Local Government

Act - section 130 specifically

protects our waters from being

transferred or sold as assets.

The entities are going to be

horrendously complex moneyhungry

beasts which will eat up

any efficiencies that might be

made. Local authorities will

not have the right to direct the

entity on investment projects

or pricing. We will have no

voice."

Was the survey on the mark?

"It was more about garnering

peoples' feelings about how we

value our water here and how

we want it delivered rather than

address the 'opt in' or 'opt out'

issue. I was a bit disappointed

that we didn't go there but

OPPOSITION:

City councillors

all have

concerns about

the proposed

water reforms.

this wasn't meant to be a

consultation, it was meant to be

a soft engagement to alert people

to what's happening."

Andrew

Turner

– "I agree

nationally

there's a

problem to

be solved but

the proposal

in front of us isn't right for

Christchurch.

"It would see the larger

councils funding the smaller

councils' infrastructure. There's

also some question about

the accuracy of the financial

modelling that's been put in

front of us."

Was the survey on the mark?

"We're not in a position for

people to be able to give a 'yes' or

'no' answer at this stage. There's a

need for more information to be

out there."

Jake

McLennan

– "I suspect

they're trying

to push

through

something

before the

next election, whether those

numbers will be there for water

reform after the election you

don't know what you don't

know.

"I can see why the

Government would be keen to

progress it quickly, but you have

to wonder if (fast tracking) is

actually leading to information

that isn't as precise as what you'd

really need to make a decision as

important as this."

Was the survey on the mark?

"It couldn't have hurt to have

included a 'yes' or 'no' option

but I have some sympathy for

the view it's early days and we

initially wanted to do more of a

holistic survey."

ST CHRISTOPHER'S

CHURCH bOOk FAIR

FRI 24TH & SAT 25TH SEPTEmBER

Two halls full of fantastic books!

WARREN HALL - Great fiction $2 or 6 for $10 plus kids books etc.

ROBERTON HALL - Specially priced non fiction - ART, TRANSPORT,

HISTORY, TECHNICAL, COOKING, CRAFT, NZ, SPECIAL ITEMS ETC

plus A BIG SELECTION OF MILITARY

THE BEST BOUTIQUE BOOKFAIR IN TOWN!

Cash or Eftpos.

ST CHRISTOPHER'S 244 AVONHEAD ROAD

Friday 9am - 5pm, Saturday 9am - 4pm | Ph. 3588-780

Do you have

Rheumatoid Arthritis?

NZ Clinical Research is looking for people

under the age of 65 with Rheumatoid Arthritis

to take part in a clinical trial.

You will be reimbursed for your time and inconvenience.

Please call 0800 862 278

for more information.

Wakey wakey. Better ratey.

1.45% p.a.

6-9 month term investments.

0800 727 2265 sbsbank.co.nz

Rate is subject to change and applies to interest at maturity redeemable share term investments only.

Specific account opening criteria, terms and conditions apply. Our Term Investment Terms and Conditions

are available on request and free of charge at sbsbank.co.nz
---
Thursday September 16 2021 The Star

Sam

McDonald –

"What's scary

is without

consultation

they're talking

about changing

the Local

Government Act temporarily to

get these changes through. It's

incredibly undemocratic. I'm also

concerned about the efficiencies

they've modelled. You can't

actually dig down into what lay

behind that."

Was the survey on the mark?

"We can debate the questions all

we like. I'm more interested in

the section where people can put

their own comments."

Sara

Templeton –

"The

Government

leapt to one

solution

without

actually

working with councils on other

options. Central government

has written into legislation that

councils need to always give

options, but they haven't done

the same. There's a view from

central government that as long

as they showed people it would

be cheaper if it was centralised

that would be what drove

people's opinion. That's clearly

not the case. They want to know

they have control over what

happens and people can be held

accountable."

Was the survey on the mark?

"There hasn't been enough

information on from the

Government for people to

make a good 'opt in' or 'opt out'

decision, but it's really clear the

Government have completely

Latest Canterbury news at starnews.co.nz

Waters reform proposal

misread the sentiment about

water in Christchurch."

Yani

Johanson –

"Fundamentally

it's taking away

local control.

For a city like

Christchurch,

how would

you determine where the

priorities are? If it was a bigger

entity across a wider area what

guarantee would you have that

the money from Christchurch

area was put into fixing our

broken infrastructure?"

Was the survey on the mark?

"The survey was to get a

general understanding from

the community around the

issues. When we've got more

information there will be a

formal process to get specific

feedback on whether we should

'opt in' or 'opt out'.

James

Gough

– "Where

approximately

$7 billion net

worth of assets

is transferred

away from

local ownership for $122.4

million, it's blatant theft. The

people of Christchurch are not

in charge of their own destiny on

this and that's terrifying."

Was the survey on the mark?

"I'm not going to bag the council

for testing the waters on public

opinion but I don't think there's

any value in beating about the

bush. People are pretty clued up

about it at this point and I think

there would be a lot of value in

getting a direct 'yes' or 'no'.

• Turn to page 9

NEWS 7

Waimakariri

residents

say 'no'

WHILE THE city council is

not ready to ask residents if

they should support or reject

controversial Government-driven

water reforms, a neighbouring

local authority had no qualms

about stating the obvious.

Given three options to gauge

Waimakariri District Council

ratepayers views on the reorganisation

of drinking, stormwater

and wastewater networks nationally,

95 per cent of respondents

ticked opt-out before selecting

reasons. The other options were

opt-in and undecided

The council collated more than

3800 submissions over a threeweek

period.

Meanwhile, the Selwyn District

Council may soon be surveying

its ratepayers on the issue.

Mayor Sam Broughton said

so far the district council was

unconvinced the reforms would

be good for the district.

A survey could form part of

in-depth consultation the district

council was planning for November,

which would be similar

to major consultation exercises it

undertook with its annual plan.

"There will be a lot of

information (for residents) in the

first instance," Broughton said.

Smile with confidence

Stay comfortable all year round with

Fujitsu's sleek, stylish Lifestyle Range.

HEAT PUMPS FROM $1999 inc GST INSTALLED!

BEFORE

aFtER

2020

Full or Partial Dentures

Immediate Dentures

Winz Approved

Insurance Claims

Urgent Denture Repair & Reline

Payment Options Available

Heat Pumps

Fujitsu's Catechin Filters are approved by

the Asthma and Respiratory Foundation

NZ's Sensitive Choice ® programme.

914 Colombo St | Ph: 03 365 2859 | www.cosmeticdentureclinic.co.nz

03 381 6950

info@powersmart.co.nz

powersmart.co.nz

FREE

consultation from

your local Accredited

Heat Pump Expert

"Capital gain was

important to our

proactive approach

to aging...

"We wanted to make the move before we had to.

Here everything is really well thought out. Our home is spacious and

easy to look after. And the capital gain gives us the confidence to do

the things we've always looked forward to."

There are many more reasons why Woodcroft Estate could be the right

choice for you. Why not drop into our onsite office and discover just how

good your retirement living could be.

MARGARET GARDINER - RETIRED SPECIAL EDUCATION

ADVISOR & TEACHER

PAVILION & SALES OFFICE OPEN BY APPOINTMENT

MON-FRI 9AM TILL 3PM | CALL 0800 KARAKA TO BOOK

34 KENDON DRIVE LEVI PARK, ROLLESTON | CORINNE 03 421 7796 | 021 292 1141 |

SALES@WOODCROFTESTATE.CO.NZ |

karakapines.co.nz
---
8 The Star Thursday September 16 2021

short sharp

out thE door

10-50% off

50off

display

stocK

%

50off

display

stocK

%

10-

display

stocK

%

50off

%

50off

glazEd

pots

50off

display

stocK

%

ExclusivE to grow landscapE & lifEstylE

69 Moorhouse Ave | www.garden.co.nz | P: 365 9945 | E: info@garden.co.nz

Open: Monday–Friday 9am–5pm, Saturday 10am–4pm, Sunday Closed

Hagley Park

Hagley Ave

Selwyn St

Moorhouse Ave

Waller Tce

Stewart St

Horatio St

Montreal St
---
• From page 7

Aaron

Keown

– "This is

the biggest

takeover of

any sort in

our country's

history and

everyone seems to be asleep at

the wheel kind of going 'Well the

Government is saying your water

isn't good.

"Most people have clean

drinking water. It's not like we're

all drinking sewer water waiting

for the Government to save us.

Water will become a bill like

power is. There's a very strong

element of predetermination in

this, they're just going to take

over water."

Was the survey on the mark?

"It's a complete waste of time

and ratepayers' money because

the number one question not

in there was: 'Are you happy for

us to give our assets to central

government?' There had to be a

straight yes or no answer on that.

"To ask questions like: 'Do

you think we should have clean

drinking water?' That's like saying

to someone: 'Do you think you

should have oxygen? What a

ridiculous question to ask. No

one is going to disagree and the

government can say: 'Look, we've

got major support right across the

whole country for this. We've done

surveys and the overwhelming

feedback was positive'.

Tim

Scandrett

– "There's

no question

things have to

change so why

don't we put

1.5 per cent on

GST and use

that? There's already a system to

collect it, it goes to the Treasury,

they can give it to the water

authority and then we go from

there. The other issue is the layer

cake of bureaucracy. It'll be like a

trough, let's be honest."

Was the survey on the mark?

"Asking everybody if New

Zealand should be able to have

clean drinking water? That's the

same line from the Government.

I do think having a 'yes' or 'no'

at the end of it would have been

really helpful."

Anne

Galloway

– "A lot of

people, me

included, feel

very rushed.

It's such a huge

thing we're

being asked to

consider. There's a lot of ifs, buts

and maybes that haven't really

been answered."

Was the survey on the mark?

Latest Canterbury news at starnews.co.nz

"It wasn't a decision-making

survey, it was more about getting

feedback from the community.

Once we've got our response

sorted out, that's the point

where we should take it to our

community and ask: 'What do

you think?'

Mike

Davidson

– The council

has invested

millions

of dollars

into water

infrastructure

and we're headed in the right

direction. We're not perfect, but

we're pretty bloody good at what

we're doing."

Was the survey on the mark?

"It's a start. We'll have formal

consultation when we have all

the information. I've had a few

emails concerned about the

survey. I think that's because they

were expecting it to be the only

engagement. They're happy once

they realise this is just the start of

the conversation."

Catherine

Chu –

"The last

we want is

this to be an

asset grab by

stealth and

democracy

to be completely thrown out the

window, I've had more calls,

emails and texts about this than

I have on any other issue. I've not

had one positive response about

this reform."

Was the survey on the mark?

"In hindsight asking whether

to opt or out would have been a

good poll to have, but the more

important question was 'what

are the major concerns and

Thursday September 16 2021 The Star

NEWS 9

'Number of issues to be worked through' – mayor

what do they want to see in the

reforms?'

Jimmy

Chen –

"We're proud

of our water,

these assets

should be

owned by

the people of

Christchurch.

We need a clearer picture, more

information. How much does

each household have to pay?"

Was the survey on the mark?

"This survey wasn't formal

consultation, we need more

information and this will happen.''

Mayor

Lianne

Dalziel –

"There are a

huge number of

issues that still

need to worked

through.

The council will sign off on its

feedback to the Government on

September 27. That's when we'll

indicate a position on the reform

based on all the information

provided to us."

Was the survey on the mark?

"We're weren't in a position to

say 'opt in' or 'opt out' but we are

committed to consulting with

our community on that decision

when the times comes."

• Letters, pages 20, 21 & 22

Check out our latest

deals

vinoS

for a sweet

as night in

WITHER HILLS

Red Range

750ml

EVERYDAY

PRICE!

$

17 99

each

weet aS

beersie deals

HOT DEAL!

$

24 99

HEINEKEN

12 x 330ml Bottles

HOT DEAL!

$

39 99

each

CARLSBERG PILSNER or

STEINLAGER CLASSIC

24 x 330ml Bottles

Fill the

weekend

with flavour

HOT DEAL!

$

36 99

HOT DEAL!

$

39 99

each

HOT DEAL!

$

44 99

Perfect

for celebrating

BOURBON

MONTH

SEPTEMBER 2021

HOT DEAL!

$

49 99

each

RTD deals

HOT DEAL!

$

24 99

SMIRNOFF ICE DOUBLE

BLACK & GUARANA

12 x 250ml Cans, 7%

HOT DEAL!

$

29 99

1 LITRE 1 LITRE 1.125 LITRE

1 LITRE

FINLANDIA

1 Litre

CAPTAIN MORGAN Dark

or Spiced Gold

1 Litre

JIM BEAM

White Label

1.125 Litre

BOMBAY SAPPHIRE 1 Litre

BOMBAY BRAMBLE Gin with

Blackberry & Raspberry 700ml

$

67 99

GLENFIDDICH

12YO

700ml

BILLY

MAVERICK &

COLA

18 x 250ml

Cans, 7%

Shop local with

AMBERLEY, ASHBURTON, BARRINGTON, BELFAST, BRIGHTON, BURNSIDE,

COLOMBO ST, EDGEWARE, ELMWOOD, FERRYMEAD, HALSWELL, HANMER

SPRINGS, HORNBY, ILAM, KAIAPOI, LEESTON, LINCOLN, METHVEN, OXFORD,

SHOP LATEST DEALS at WWW.SUPERLIQUOR.CO.NZ

NATIONWIDE DELIVERY NOW AVAILABLE

PAPANUI, PEGASUS, RANGIORA, SEASIDE, WOOLSTON

Exclusions may apply on some brands advertised. Offers end close of trade 19th September 2021, while stocks last. Available at participating stores only. Multi Deal only available in store.

Varietals may vary by store. Limits may apply. Wholesale (other liquor retail banners) not supplied. Terms and conditions may apply. Available 6th - 19th September 2021 inclusive.

Please see www.superliquor.co.nz for details.

SUP2383_C12
---
The Star Thursday September 16 2021

10

NEWS

THE LATEST lockdown has

done little to dampen confidence

in the housing market in

Canterbury.

The Real Estate Institute says

median house prices in Canterbury

set a new record of $619,000

in August, up 24.3 per cent from

$498,000 in August 2020.

Christchurch City ($650,000,

up from $495,000), Selwyn

District ($735,000, up from

$585,000), and Waimakariri

District ($645,000, up from

$515,000) all reached record

median prices.

"Canterbury

is experiencing

a low level of

stock down 49.6

per cent annually.

These low

levels of stock

have meant that

competition

has remained high for available

properties, and these are selling

quick," said REINZ chief executive

Jen Baird.

"Canterbury saw the lowest

median days to sell a property

for an August month since 2013,

at just 28 days. Before the level 4

lockdown, listings were starting

to increase heading into spring,

but the lockdown slowed things

down and as a result, new listings

are down 35.5 per cent when

compared to August last year.

"Auctions have continued

online throughout the lockdown

and August saw Canterbury

sell 28 per cent of properties by

auction up from 13.8 per cent

the year prior. Canterbury saw a

new record on the REINZ House

Price Index of 3492 up 31.2 per

cent annually.

"People are remaining optimistic

that if alert levels continue

to ease, activity should increase

and recover from the lockdown

promptly. The impacts of the

lockdown are expected to be felt

throughout the coming weeks,

easing as more properties come

to the market."

Latest Canterbury news at starnews.co.nz

Median house price hits new high in August

Jen Baird

UPWARD: House prices continued to climb during the latest lockdown.

PHOTO: GEOFF SLOAN

The Real Estate Institute's

house price index, which

measures the changing value of

property in the market, rose 31.1

per cent nationally in the year

ended August to 4012.

The national median house

price rose a seasonally adjusted

25.5 per cent in the past

12 months to $850,000. The

national median price excluding

Auckland was $700,000, a 22.8

per cent increase on a year ago.

"This latest lockdown has not

dampened demand for, or confidence

in, the housing market as

we saw in early 2020," Baird said.

The number of properties sold

in August fell by 26.5 percent

when compared to the same time

last year, reflecting the effect of

the reintroduction of lockdown

restrictions.

At the same time the number

of properties available for sale

fell by close to a third in the past

12 months to 12,259, the lowest

level of inventory ever recorded.

"We have heard from across

the industry that prices achieved

on sales completed in the early

part of this lockdown continue

to illustrate an ongoing excess of

demand over supply; prices are

still rising," Baird said.

However, Baird expected more

properties would soon come to

market.

"It is this time of year that

people start to prepare their

property for the usual increase in

spring sales activity, and it is expected

that this will be stronger

this year as listing is delayed as a

result of lockdown.

"We understand that vendors

have been preparing their properties

for market, to list once

we reach a lower alert level – we

expect to see the result of this in

our September data," Baird said.

The median number of days to

sell a property fell three days to

30 days. August saw 26 per cent

of all properties sold via auction,

the highest percentage ever

recorded.

"Conducting an auction is a

great way to understand the value

of a property in a fast-moving

market, and even with August

being in alert level 4 lockdown

for half the month, auctions still

made up more than a quarter of

all sales," Baird said.

Properties prices hit new

median highs in four of out 16

regions, including Auckland,

Waikato, Manawatu-Wanganui

and Canterbury.

The median house price

in Auckland is $1.2 million

compared with $949,500 in

August 2020.

Four generations worth of care ADVERTISEMENT

KORU NUTRITION

Like many Kiwi's, Kerry loves

helping out those around her;

whether they are in the community

or her own family. For years, she

has worked in the not-for-profit

sector helping those that needed

that little bit extra. But for Kerry

in her own life, her body was

beginning to need that bit extra.

At night she would lie awake

with restless legs wishing there

was something that could help her.

During the day, she would start a

task but after only a short time she

would feel exhausted. She looked

around and tried many products

but nothing seemed to be able to

help her.

One day while picking up a script

from the pharmacy, she noticed a

little bottle on the shelves. Picking

it up and reading the blurb, she

became very interested. Full of

natural ingredients and a fast action

muscle and joint support cream,

she turned back to the pharmacist

to ask about this cream.

"The pharmacist couldn't

talk more highly of Koru FX.

He shared with me some of

the many testimonies of return

customers. 'It just flies off the

shelves', he said. Well with that

kind of recommendation from a

pharmacist, I had to try it. I mean,

they get to see all the products."

"As soon as I got home, I put

it on. It worked so fast that I

was ordering more Koru FX that

night!!!"

Containing high quality oils like

calendula, arnica, manuka and

peppermint, along with 12 others,

Koru FX provides the perfect

formulation for supporting joints

and muscles.

"I took it to work that week and

whenever some of the clients or

my colleagues started complaining

about joints or muscles, I offered

them some of my new cream. I

tell you what, they were back to

ask me where I found this magical

cream."

"I went and visited my parents,

they are always skeptical but they

soon became converts. I went to

my daughter-in-law's only to find

that she already had a bottle of

Koru FX and Skin FX that she

and the grandchildren use. That is

four generations being cared for by

Koru Nutrition."

"I am now sleeping better and

am feeling so much more like

myself. I finally got to spring

cleaning some of the rooms. There

is no way I could have done that

two years ago!"

Koru FX cream by Koru

Nutrition has become NZ's #1

Always read the label and use as directed. If symptoms persist see your healthcare professional. Koru Nutrition Ltd, Christchurch.

fastest growing topical joint

support cream. With thousands of

happy customers, Koru FX has set

a new bar for joint support.

If you're looking for a fast-acting

and long-lasting, natural product,

harnessing the benefits of essential

oils, then Koru FX is for you.

It is no wonder that countless

pharmacists and doctors are

recommending Koru FX cream

due to its natural ingredients and

fast acting delivery.

Ask for Koru FX cream next

time you're in the pharmacy and

try it for yourself.

SPECIAL OFFER

FOR READERS
---
FINal

DaYs!

MASSive FlooRiNg

sale

Thursday September 16 2021 The Star 11

NoW

oN!

26oz Nylon

• Detroit/Riveria

• Solution Dyed Nylon

• Extra Heavy Duty

• Great colours to

choose from

36oz Nylon

• Windsor

• Solution Dyed Nylon

• Extra Heavy Duty

• Great colours to

choose from

only $85 per metre

only $109.90 per metre

50oz Nylon

Polyester

• Grange Fell

• Solution Dyed Nylon

• Extra Heavy Duty

• Great colours to

choose from

• Vermont

• Heavy duty

• 3 Great colours

only $129.90 per metre

only $69.90 per metre

luxury

engineered

timber Flooring

now

1/2 price

vega vinyl

Planks

• 5 stock colours

• Commercial grade

now

1/2 price

FRoM

$

60 00 $

30 00

PeR M2

PeR M2

CAll FoR A FRee MeASuRe + Quote

312 Wilsons Road North, Waltham Phone 366 0070

Q Card Finance

Available

Mon to Fri 8am-5pm and Sat 10am-1pm

Check out our website! www.carpetkingdom.co.nz
---
The Star Thursday September 16 2021

12

NEWS

• By Anna Leask

A PHOTOGRAPH of

Christchurch partygoers dressed

as concentration camp victims

surrounding Adolf Hitler and

making Nazi gestures has

gone viral and been labelled

"absolutely appalling".

A woman whose family

members were murdered in

the Holocaust said their choice

of costume showed ignorance

and a cruel lack of empathy and

education.

And she said it was especially

sad given those in the photo live

in a city that had recently experienced

a massacre driven by hate

and racism.

The photo was posted to social

media site Instagram at the

weekend.

It shows a woman dressed as

Adolf Hitler in a suit with his

infamous Nazi arm band and

moustache. Five people wearing

striped suits surround her with

their arms raised in a pose historically

used by Nazi supporters

and white supremacists.

The caption on the photo,

which has since been removed

from Instagram, states: "I do

what I f**ken want b*tch".

Holocaust Centre of New Zealand

chair Deborah Hart said the

photo was "absolutely appalling".

"I was absolutely appalled at

the lack of empathy coupled with

a seemingly complete ignorance

of quite recent history," she told

the Herald.

Hart's mother Inge Woolf

was a child Holocaust survivor

and after she

had arrived in

New Zealand

as a refugee, cofounded

the centre

with a view

to bear witness

to the Holocaust,

to remember, to

educate and to

act.

Latest Canterbury news at starnews.co.nz

Holocaust dress-up 'absolutely appalling'

IGNORANT: A photo of party-goers who apparently dressed up as Hilter and

concentration camp victims has been labelled 'appalling'.

PHOTO: NZ HERALD

Deborah

Hart

"They seem to be young people

joking about genocide – what

we're talking about is the extermination

of six million Jews,"

Hart said. "The extermination

of 1.5 million children . . . each

one was a person, a person with

a family.

"There are many people like

myself who had family members

murdered in the Holocaust and

for those of us in that position

to see young people like this just

think it is a joke is really, really

appalling."

Hart said a survey of people

in New Zealand in 2019 showed

that many did not have a clue

about the facts of the Holocaust.

The statistics for young people

were even worse.

"I would say to anyone of these

young people in that photo who

chose to dress up as Holocaust

victims and to the woman who

dressed up as Hitler – reach out

to us," Hart said.

"We're not about to out you,

but come and visit us – we really

need to talk about this and what

What was the Holocaust?

The Holocaust refers to the

genocide of six million Jews

carried out by Nazi Germany

and its allies between 1933 and

1945.

The term encompasses

an escalation from

disenfranchisement to

discrimination, persecution

and finally extermination.

This reached its deadliest

point in the Nazis' 'Final

Solution' and the establishment

of extermination camps, such

as Chełmno, Bełżec, Sobibor,

Treblinka, Majdanek, and

Auschwitz-Birkenau.

you were joking about."

Hart said anti semitism –

hostility to, prejudice towards,

or discrimination against Jewish

people – was increasing around

the world and sadly in New

Zealand. She said it was crucial

to fight those attitudes.

Hart said after the 2019 terror

attack where 51 Muslims were

shot and killed and a further 40

wounded by a lone gunman, she

was surprised people in the city

would find the Holocaust funny.

"It's sad that it's happened in

New Zealand but especially in

Christchurch – that city has had

enough awful things happen and

it's not something to be joking

about."

—NZ Herald

HELLO SPRING!

Riley

Living & Bedroom

ON SALE

3 Seater

NOW $

899

Chaise Sofa

NOW $

1199

WELCOME WARMER WEATHER WITH OUR

STOREWIDE

SPRING

Queen Bed

NOW $

699

Lincoln 4 Seater

WAS $

2699

NOW

$

1999

Maison

Living Range

Bookcase

NOW $

999

SALE

STARTS 15.9.21

2.5

ON SALE

Buffet

NOW $

899

Seater

NOW $

1499

Recliner

NOW $

999

2 Seater Recliner

NOW $

1699

3 Seater Recliner

NOW $

1999

We are

open!

Scan to find store

Paris 7 Piece

Dining Set – W190

WAS $

2139

NOW

$

1599

250 Moorhouse Ave, Christchurch

0800 TARGET (0800 827438)

ON SALE

Riva Electric

Recliner Range

Our store is open and operating

under our normal store hours. We

are complying with all Ministry of

Health Guidelines and ask all our

customers to do the same.

Don't forget

your mask!

targetfurniture.co.nz

Offers and product prices advertised here expire

18/10/21. Sale Excludes Accessories.
---
Thursday September 16 2021 The Star 13

Spring has

sprung!

Big Range, Low Price, Local Advice

Potted Colour 100mm

Assorted varieties.

148013

$1 29

each

Strawberry Plant

Plant now for juicy

summer fruit.

377824

from

$3 49

each

Growfresh

Vege Cell

Packs 6pk

Assorted Veges.

188458

188455

188501

$3.98 each

3 for $ 11

Growfresh

Assorted

Herb Plants

Assorted Herb

Plants. Pick your

own fresh herbs

straight from

the garden.

100mm pot.

181836 300432

$4.79 each

3 for $ 12

Flowering Patio

Planter 25cm

188609

$12 98 Number 8

Gardening Solutionz

Lavender Ruffles

Razzleberry 1.9 litre

Quick growing and easy care.

Prefers full sun and a welldrained

site.

366599

$16 49

Tui

Lawn Force All Purpose

Slow Release Lawn

Fertiliser 2.5kgs

Feeds for 3 months without burning.

319510

Was $29.98

now

$ 19 98

Number 8

Hardwearing

Lawn Seed 1kg

A blend of seed

varieties suitable for

lawn areas in constant

use. Coated with bird

repellent, fungicide

and fertiliser.

$10

247094

98

Tui

Seaweed & Fish

Fertiliser

Boosts plant growth, fruit

and flower production.

Dynamic liquid compost

conditions soil. Use

throughout your garden.

377035

$12 98 Yates

Weed n Feed BONUS

PACK 2.4 litre

20% extra free than the

standard 2 litre bottle. Clicks

directly onto your hose.

Controls weeds in lawns.

218174

$16 66

Compost 40L

Suitable for a wide range

of plants. 100% weed free.

Soil conditioner and a

source of organic matter

to replenish garden beds.

246152

$5 99

Number 8

Potting Mix 40L

A blend of fine bark, gypsum

and a 3 month slow release

fertiliser. Ideal for growing

indoor and outdoor plants in

tubs, troughs, hanging baskets,

window boxes and pots.

245877

$8 99

Masport

Maestro Gas BBQ 4

Burner Mint

A compact,

modern BBQ.

379267

Weber

Q2000

Titanium

BBQ

H: 370mm,

W: 1310mm,

D: 620mm.

318399 239465

Nouveau

Montego 3pc Outdoor Furniture Setting

Set includes 2 double loungers, drinks tray and a coffee table.

Rust resistant powder-coated aluminium frame.

354037

Nouveau

Lorca Outdoor 5Pc Lounge & Dining Setting

319516

$899

$569

$2699 $1099

Cart sold separately

huge RAnge of

houSe PLAntS

inStoRe now!

is back open!

with an extensive menu, cabinet

food and hot & cold drinks.

Visit them today!

Mitre 10 MEGA

Hornby

☎ 03 349 8497

Mitre 10 MEGA

Papanui

☎ 03 359 5443

Mitre 10

Beckenham

☎ 03 322 7557

Mitre 10 MEGA

Ferrymead

☎ 03 366 6306

Prices valid until the 22nd of

September only while stocks last.

If you find a lower price on an identical stocked product locally we will beat it by 15%

*if you find the same product cheaper from another Mitre 10 store or Mitre 10 website we'll match that price.

Excludes trade and special quotes, stock liquidations and commercial quantities. The in-store price may be lower than advertised.

www.mitre10.co.nz
---
The Star Thursday September 16 2021

14

NEWS

Latest Canterbury news at starnews.co.nz

Photographer captures rare red sprite

• By Devon Bolger

A CHRISTCHURCH

photographer may be just the

third person in the country to

capture a weather phenomenon

known as a red sprite, rare bolts

of red lightning rarely seen from

the ground because of their high

altitude.

Ethan Takerei,

who runs Ethan

Haze Photography,

was in

bed last Sunday

when he saw a

forecast that a

Ethan

Takerei

major storm was

about to hit the

South Island.

He leaped out

of bed, packed up his gear, and

headed to Halswell Quarry.

"We did have a high wind

warning and I did want to track

the storm down south but I

thought it was too dangerous

to go ahead with that plan so

I stuck to my own neighbourhood,"

he said.

He found a spot up on a hill,

thinking he would get some

night-time storm photos but was

not feeling confident he would

capture a rare sprite.

"I thought I would have to

travel to America to see them, I

never thought I'd be able to see

them from home."

But Takerei lucked it when the

PHENOMENON: Ethan Takerei is just the third New Zealander to capture the rare red sprite.

Brendan Gully (top right) was the second.

PHOTO: ETHAN TAKEREI/NZ HERALD

phenomenon happened right

in front of his eyes within five

minutes of him arriving.

"I continued to film the storm

and to see how I would capture

the sprites, not knowing how I

would do it or what settings I

was going to use on my camera."

He checked the photos on his

camera and was over the moon

hot

ULEBs are

Metro Ultra Insert

Pyroclassic Mini

and Pyro IV

Woodsman

Serene

Metro

Ultra

See our range of

these ultra Low

emission Burners

on our website and

take a Virtual Tour of our

showroom online at :

www.simplyheat.co.nz

These burners comply with the

strictest clean air regulations so

you can cosy up to a wood fire

in comfort.

when he saw he had captured the

sprites.

He spent the next five hours

taking photos and got home

about 3am.

"It worked out very well for

me, I'm still ecstatic today. I'm so

over the moon being the third in

New Zealand to capture it."

Red sprites are rarely seen

METRO ULTRA

InSERT

Fits existing masonry

fireplace and chimney.

from the ground and form 50-

90km above Earth and last only

a few milliseconds.

Larryn Rae, who runs Shadow

and Shade photography, was

the first person to capture a red

sprite in New Zealand in 2018.

The picture was taken accidentally

when he set up a time-lapse

during an astrophotography

workshop at Te Arai beach north

of Auckland.

The second person was

Brendan Gully who captured the

sprites from the Kāpiti Coast in

April this year.

It is possible that somebody

has captured the sprites unknowingly

but Takerei appears

to be the third documented case.

He has been a hobby photographer

for 12 years but spent the

last two years hoping to capture

the weather event.

"I could not believe it, I had to

stop taking photos so I could view

them on the back of my camera.

I had a little scream to myself, in

the pitch black, which is what I

do when I find an awesome photo

and I know that I'm coming home

with something cool."

Takerei thanked Rae for inspiring

him.

"He messaged me saying, welcome

to the sprite family, which

I thought was awesome."

To follow more of Takerei's

photography, visit his page on

Instagram.

—NZ Herald

When the latest Ultra Low Emission Burners

are here, Simply Heat will have them.

PYROCLASSIC MInI

And PYRO IV

Inside colour: flame red

Exterior colours: 200+

WOOdSMAn

SEREnE

Latest in the range.

Come and see us, our showroom

has all the latest heating solutions

METRO FITS FInE

right where any old

woodburner did.

95 Byron Street, Sydenham,

next door to Rockgas

Call today 03 365 3685

www.simplyheat.co.nz

facebook.com/simplyheat

GAssoN sT

Moorhouse Ave

CArLYLe sT

BYroN sT

BrIsBANe ST

WALThAM rD overBrIDGe
---
Thursday September 16 2021 The Star 15

'Ugly

Customers'

CAS'n'OVA PRODUCTIONS

BOOK ONLINE

www.casnova.co.nz
---
16 The Star Thursday September 16 2021

CHRISTCHURCH MITSUBISHI

386 Moorhouse Avenue, Christchurch

03 379 0588 | christchurchmitsubishi.co.nz

• BLACK 18" ALLOY WHEELS & EXTERIOR HIGHLIGHTS

DRIVE

•

A

CLASS

NEW

LEADING FUEL ECONOMY

• APPLE CARPLAY® & ANDROID AUTO

• 5 STAR SAFETY RATING

NISSAN

STOCK AVAILABLE TODAY

AGILITY MEETS SMARTS

AVAILABLE FROM

$33,990 *

STOCK AVAILABLE NOW

*Price shown is for the Nissan Qashqai ST excludes on road costs of $1,250 which includes registration,

WoF and a full tank of fuel.

CHRISTCHURCH NISSAN, 380 Moorhouse Avenue, Christchurch

Ph: 03 595 6820

www.christchurchnissan.co.nz

NAVARA SL-450

LIMITED EDITION

• BLACK 18" ALLOY WHEELS & EXTERIOR HIGHLIGHTS

• CLASS LEADING FUEL ECONOMY

• APPLE CARPLAY® & ANDROID AUTO

• 5 STAR SAFETY RATING

christchurchnissan.co.nz
---
Thursday September 16 2021 The Star

Latest Canterbury news at starnews.co.nz

NEWS 17

From grief to hope: Resilience helps

couple prepare for Coast to Coast

SEVEN YEARS ago, Sumner

parents Lucy and Trevor Hone

experienced the unimaginable

when their 12-year-old daughter

Abi was killed in a car crash.

The resilience they learned

throughout their grieving process

is now helping them take on

the Coast to Coast.

Lucy said she had thought

about tackling the event for more

than a decade.

"It's something I've thought

about doing but has always felt

beyond me," she said.

"And I was terrified of Goat

Pass – I've done a lot of running

over the years but I'm not comfortable

climbing over boulders

and I wasn't sure I'd be able to get

down that riverbed."

After hearing about a fellow

gym member's experience of

taking part in the multisport

event and realising she could

compete in tandem, Hone

decided to enter in the 2022

Coast to Coast, persuading

Trevor to enter with her.

"I knew that with Trevor by

my side I could somehow get

through it," she said.

In 2014, the couple were

tested to the extreme when their

daughter Abi, her best friend Ella

Summerfield and Ella's mother

Sally Summerfield

were killed

instantly after

Johannes

Appelman – a

Dutch businessman

who

had just hours

before arrived in New Zealand

DO YOU HAVE A

DAMAGED

prOpErtY?

• We buy As Is Where Is

• No AgeNt fees

• settlemeNt to suIt you

03 365 9131 • resolvemyhome.co.nz

and hired a rental vehicle –

failed to stop at an intersection

and crashed into their car near

Rakaia.

More than seven years on from

the tragedy, Lucy now works as a

resilience teacher with the New

Zealand Institute of Wellbeing

and Resilience.

She has researched resilience

for more than decade, starting at

resolvemyhome

$1000 prEzzY cArD fOr EVErY sUccEssfUl sAlE. t & c's ApplY.

BIG

CHALLENGE:

Lucy and

Trevor Hone

spent a

week on the

Whanganui

River training

for the Coast

to Coast.

the University of Pennsylvania in

Philadelphia, which in 2009 was

the only place in the world where

she could study the field.

Lucy said, without a doubt,

her work has given her a mental

advantage when taking on

training for the Coast to Coast,

but the physical side of training is

often the bigger challenge.

"I can overcome the mind

games. I have that self-belief . . .

but I need to put things in place

to overcome the physical side,"

she said.

"I've got a very busy start-up

business and my body's not

feeling as good as it used to.

I'm tired all the time from

training and it's a juggle to keep

progressing but allow time for

recovery too."

Lucy and Trevor are currently

training with two bike rides,

three runs and one kayak a

week, following a programme

from Team CP endurance coach

Richard Greer.

Complete "newbies," to the

event, Lucy said they are both

feeling "exhausted and rather

bewildered" with their training

right now.

The Port Hills, Sumner beach

and Avon-Heathcote Estuary are

their training environment.

They had never white water

kayaked before, which was a

"really steep learning curve."

"I don't think I've ever been as

scared as I was that first weekend

on the white water, but we've

practised lots on the estuary and

each week it gets a bit better,"

she said.

Do you suffer from

arthritis, heart Disease,

Diabetes?

These and many conditions are related to a decrease in your own adult stem

cell migration . . . but now there are natural solutions.

Come and learn:

• why our bodies age

• about the role of adult stem cells in the natural renewal and

repair of the body

• how you can support your bodies stem cell physiology

• how to reach an unmatched level of wellness both outside and in

Join us for a 60 minute

presentation. Hear from

speaker Linda Hoggard on

her professional and personal

experience of

Adult Stem Cell Nutrition.

Sunday, 19 September 2021

Doors open at

1.30pm for 2pm start.

Pavillions Hotel 42 Papanui Rd, Christchurch.

FREE ENTRY! Seats are limited. Please phone

Verna 0274 357 289 to secure your booking.

HyperCore

KW60 Heat Pump

Heating 6.5kW | Cooling 6.1kW

$4,499

INSTALLED *

* Standard installation,

conditions apply.

Guaranteed full heating

capacity … even on the

coldest days!

Call us for a free quote

PRESENTER, LINDA HOGGARD -

NATUR0PATH & STRUCTURAL KINESIOLOGIST

I have been fortunate to work along side of, and to get to know Linda.

Her knowledge in this field is vast. Linda played an instrumental role in

bringing the first stem cell nutritional range into Australasia 10 years

ago, and describes their effect as surpassing anything she had previously

worked with. She has extensive understanding of the stem cell theory of

renewal (how the body renews and heals itself through adult stem cell

migration), and the application of the product range. ~ Verna Wilkie

My husband Tim and I have been taking these products for seven

months. I have experienced having more energy, less pain, and better

joint mobility. Tim more energy, lack of brain fog, increased lung

function, improved tinnitus, better balance, improved sleep, and no

more hip pain. This has been life changing for us.

For more information, I welcome you to phone me,

Verna 0274 357 289 for an informal chat.
---
The Star Thursday September 16 2021

18

OPINION

Future outbreaks: Will the vaccinated still be

New

Zealand

Herald

political

editor Claire

Trevett looks

at what

a future lockdown

might look like for the

vaccinated

ONE OF the most peculiar

questions the PM and Ashley

Bloomfield have faced was

whether sexual relations while

visiting someone in hospital

was deemed a high-risk activity

during a lockdown.

Bloomfield made an attempt

to answer the question while

the PM let her face do the talking

before venturing that even

without Covid-19, sex during

visiting hours might not be the

done thing.

Is it perhaps one of the rules

that does not need to be spelled

out at a time when there are a lot

of rules and a high risk of inadvertently

breaking them.

When it comes to other lockdown

rules, the further down

the alert levels we get the more

confusion tends to reign.

Level 2 is far preferable to level

four, but this time there was not

the same euphoria that went

with moving to level 2 in 2020.

The tighter rules – especially

the new cap of 50 punters at an

indoor venue – have made it particularly

hard for businesses, and

there is talk of potentially needing

to stay at level 2 for months.

It won't feel like it, but it may

be to Auckland's benefit that the

rest of the country has gone first

to test-drive what impact the

new rules will have on the ability

of businesses to keep operating.

The last-minute scramble

highlighted again that the Delta

outbreak seemed to have caught

the Government out. Asked

about it this week, Grant Robertson

chose to depict it as being

adaptable – and changing the

rules on the basis of last-minute

health advice.

"Adaptable" is another word

for on the hop.

In that regard, it should be

hoped that planning to handle

future outbreaks is done ahead of

time – and signalled in advance.

In particular, a clear picture of

what would be involved in postvaccination

outbreaks is needed.

The Government is understood

to have begun work on developing

an entirely new alert levels

system for post-vaccination

outbreaks.

That is reassuring.

The big question confronting

it in that work is what difference

a vaccination would make in

everyday life, rather than just for

Latest Canterbury news at starnews.co.nz

AWKWARD: The PM let her face do the talking when asked if having sex with someone in

hospital was deemed high-risk during lockdown.

PHOTO: NZ HERALD

international travel.

That is particularly important

given repeated warnings that

future outbreaks could still result

in lockdowns, even with relatively

high vaccination numbers.

Those warnings are borne

from the impact that Delta is

having on countries overseas

with high vaccination rates.

There is also the reality that a

significant portion of the population

here will not be able to be

vaccinated – not least younger

children, for whom there is as yet

no approved vaccination.

The promise so far has been that

higher vaccination rates would

mean lockdowns would not have

to be as strict or as broad.

Given that, the Government

needs to assess what impact

vaccinations will have in determining

those future restrictions.

There would be a higher risk of

non-compliance with restrictions

by vaccinated people.

The trouble it will face will be

vaccinated people wondering

why they cannot do more things

than unvaccinated people in the

event of an outbreak.

The answer to that is because

vaccinated people can still catch

and transmit Covid.

In an interview with the

NZ Herald earlier this year,

Ardern ruled out a system that

would give vaccinated people

more opportunities than

the unvaccinated within our

domestic borders.

End of lease

Massive

stock

clearance

20% oFF

• Statues • Indoor & Outdoor Furniture

• Handy Crafts & Giftware

• Water Fountains• Pottery and more

Restoring your confidence through your smile

Full service Denture Clinic

and Laboratory

Caldent Denture Cleaner

Free Consultation

No Obligation

395 Brougham St. Ph 365 3411. Open 7 days: 10.30am-4.30pm

Ph: 385 5517 + 396 Innes Road, St Albans

admin@denturesplus.co.nz

+ denturesplus.co.nz
---
She was asked after countries

in Europe with vaccination rates

over 60 to 70 per cent started to

re-open restaurants and public

venues – but only to vaccinated

people.

Last week, Australia's PM Scott

Morrison also voiced support

for a vaccination pass to offer

the vaccinated more freedoms in

everyday life.

Rather than stopping everybody

going to places where they

might spread Covid, the aim is

to stop the unvaccinated from

going to places where they might

catch it.

Any such decision is best coming

from the Government, rather

than leaving it to businesses

themselves to impose "vaccinated

customer only" rules. That is not

fair on them.

Ardern would still be reluctant

– not least because a significant

portion of the unvaccinated will

be young children who cannot

yet get vaccinated.

It would also exclude others,

who could not get vaccinated for

legitimate reasons, from many

elements of ordinary life. And

there are civil liberties issues for

those who choose not to be vaccinated.

It would more likely to be used

as an outbreak measure rather

than a permanent measure.

Ardern would need to be convinced

it would work.

Latest Canterbury news at starnews.co.nz

locked down and will we need passports?

But there was also a time she

would never have envisaged locking

the entire country up in their

homes for weeks on end.

Covid-19 has made a pragmatist

out of Ardern.

There are already signs she is

budging: Grant Robertson confirmed

yesterday such a vaccines

pass was under consideration –

PHOTO: NZ HERALD

albeit only in its early stages.

Then there would be the issue

of enforcing it.

However, if the alternative to

a system that excludes some is

Thursday September 16 2021 The Star

OPINION 19

•HAVE YOUR SAY: Do you

think a vaccination passport

is a good idea?

Email barry@starmedia.kiwi

Keep responses to 200

words or less

a hard lockdown on everybody,

Ardern may find the pressure is

too much to push back on.

The Government will also be

aware of the impact of lockdowns

on its own pocket.

Ardern and Robertson have

frequently used the phrase that

the best health response is also

the best economic response.

But that has also required the

Government to drawn down

billions in debt, and to fork out

billions in wage subsidies and

business support to ensure there

is an economy.

It worked, but as Robertson

said yesterday, the Government

cannot continue to subsidise the

wage bills of business forever.

The best health response has

also proved to be the best political

response – at least so far.

But in the long term, that

health response was supposed

to be vaccinations rather than

lockdowns.

And if the economic cost ends

up being too much, the political

cost will also rise.

—NZ Herald

RecoveR youR loved fuRnituRe

Quality furniture

specialists

100s of fabrics to

choose from

KK11743

www.qualityfurniture.co.nz

Hours: Mon - Thurs, 7am - 4.30pm, Fri 8am - Midday,

or by appointment with Keith 027 566 3909

WIN

$1000 *

TOWARDS YOUR

new insect or

security solution

PREPARE FOR

SUMMER

Request a free measure

and quote from

HomePlus and go into

the draw to win $1000

towards your Insect

Screen or Security

Solution.

Make the most of the warm

weather while still being secure.

*

Promotion closes 30th September 2021

424 ST ASAPH STREET PH 371 7500

RE-UPHOLSTERY SPECIALISTS KEITH HARTSHORNE 0275 663 909

Measured, made

and installed by our

team of experts.

5 year warranty.

AWNINGS & BLINDS BALUSTRADES FENCING & GATES INSECT SCREENS LOUVRE ROOFS SECURITY SCREENS SHOWERS WARDROBES & DOORS

88 Gasson St, Sydenham | 03 379 3740 | www.homeplus.co.nz
---
The Star Thursday September 16 2021

20

LETTERS

Latest Canterbury news at starnews.co.nz

Readers respond to last week's article on the proposed Three Waters reform and whether the

city council residents' survey should have had a yes or no question on the plan

I am writing to express my

strong opposition to the

proposed Three Waters scheme.

This proposal represents a

terrible attack on our democratic

process.

This looks like an attempt

to rush through the transfer

of control of our $6.8 billion

asset to an unelected body of

Wellington bureaucrats who

would not be accountable to us.

I expect that the cost of our

water would be increased every

year and we would not be able to

replace ineffective management,

unlike what we enjoy now

with the democratic process

of electing city councillors. –

Victoria Sinclair

I am disappointed with

the lack of basic information

in the council survey and as

noted no clear indication in

favour or not, with a simple yes

or no, which would be more

balanced, as a survey rather

than being loaded with nebulous

irrelevances.

It is obvious to many, that this

is one of 'Cindy's' ploys under

her He Puapua 50/50 initiatives

to gift these water resources to

Maori.

These resources have in

reality been paid for by many

generations of ratepayers. – A

White

I strongly oppose this asset

grab on the grounds as a

pensioner and the associated rate

rise that will come.

On a fixed income and

continual rates, insurance,

energy, food, transport cost

increases, where is this money

going to come from? The politics

and racial discrimination on

this topic are another matter

altogether. – Peter Clark

Even if the city council of the

Three Waters and Waste requires

more information before the

yes/no option is included in

the community survey, the

constituents don't.

It is obvious what Minister

Mahuta wants, especially so

when she consistently refused

to answer on Q&A, whether she

would compulsorily take control

of her Three Waters scheme,

whether the constituents and the

councils voted for her scheme or

not.

This means she is going to

get her own way come what may.

Fresh water is not owned by

anyone, or possibly owned by

all of us, not just a select few but

that is not what the minister

wants.

So we need plain yes or no,

and if the vote is no, and the

city council votes no, Minister

Mahuta is likely to invoke

compulsory control and then

give ultimate control to a nonelected

organisation.

Time will tell. – R Williams

Please please don't sell our

local water assets to the state.

We must keep control of our

own affairs.

If the state tries to run this

it will fail or become such an

expensive bureaucracy.

It will also take more time for

the council having to deal with

another middle layer and iwi.

I just can't see any benefit. –

Alan Roberts

As a ratepayer I do not support

the value proposition the

Government is making for the

three waters reform.

Essentially they are proposing

that they will purchase assets

that have been paid for over

generations by ratepayers for a

fraction of their value.

The water supply for

Christchurch is pristine

and unmatched and the city

council should do everything

in it's power to maintain

ownership and control of

this asset for the benefit of

the ratepayers and people of

Christchurch.

Central government has

already demonstrated that

they prefer a one-size fits all

way of making decisions in

relation to water (chlorine)

which may have benefits in low

quality rural water schemes

but is entirely unnecessary for

Christchurch.

Central government has

also consistently shown that

consultation is a not process by

which they listen to feedback. –

Alan Geraghty

Clearly the city council survey

should have had a simple yes

or no option/response to the

planned water changes. My vote

is for a very big no.

Why would we possibly

consider handing over $6.9

billion of water-based assets

to a Government controlled

board of one entity for 21 local

authorities.

This proposal is just so wrong.

– Eric Dally

SEPTEMBER 2021

24 SEPT - 3 OCT 2021

SEPTEMBER 2021

Head to a participating eatery over the festival,

order the SCOFF special and bein to win great

prizes including goody bags, vouchers and a

weekend escape to South Canterbury.

MACKENZIE · TIMARU · WAIMATE

Learn more at scoffsc.nz

EAT

DRINK

SAVOUR

ENJOY
---
Thursday September 16 2021 The Star

The article in The Star focused

on whether there should have

been a yes or no option in the city

council survey.

I think the biggest thing

missing is why yes or no.

My concern is that being part

of a larger conglomerate will be

the lack of control.

We have beautiful clean

water here that does not

need chlorine, yet they will

end up treating everywhere

the same – which will mean

permanent chlorination for

Christchurch.

We are having enough trouble

getting rid of it even now – being

one part of a larger organisation

will mean no chance.

We must stop these reforms. –

Lindsay Sandford

Expressing opinion

I wish to thank The Star for

publishing the readers' letters on

September 9.

Mainstream media in New

Zealand currently, don't seem

to be willing to discuss sensitive

or controversial topics, so it is

reassuring to me, that the views

expressed in the letters, were

published.

I do agree with the thoughts

of the your readers, particularly

those of J. Stone.

The ads he refers to as 'childish

and simplistic', I think, are also

deceitful and seemed to have

a racial content, which I don't

think is acceptable.

The control of all our water

requirements should remain

with the democratically elected

councils and not divided up into

tribal boundaries, and overseen

by outside organisations. – Tom

Delamore

Lawnmower man

attack

''We're underage, we can do

whatever we (expletive) like.''

This is a quote from a teen

offender on the front page of last

week's The Star.

This is the attitude that has

slowly but steadily grown

over decades. An attitude

that undermines the values,

culture and traditions of New

Zealanders.

No longer do children respect

elders or their own parents

when they have been told that

their rights supersede parental

guidance/wishes and discipline

has become a bad word.

Children can now choose

health procedures without

parental consent or knowledge.

Our governments over

the years have taken away

parental rights but not parental

responsibility to care for our

children.

We cannot then be surprised

by young offenders believing they

are entitled to do as they please

as youth culture emphasises they

know best, and for example, are

the only ones that know how to

save the planet.

Latest Canterbury news at starnews.co.nz

Not all young people are

foolish and not all old people

are wise, but generations need to

grow together if we are to create a

better future. – D Downward

We want to hear your views

on the issues affecting life

in Canterbury

Send emails to:

barry@starmedia.kiwi

Lockdown

Is the world descending rapidly

into insanity or what?

Out and about today, traffic

returning to normal volume, I

Letters may be edited or rejected at Star Media's

discretion. Letters should be about 200 words.

A name, postal address and phone number should be

provided.

Please use your real name, not a nickname, alias, pen

name or abbreviation.

LETTERS 21

see so many solo drivers wearing

masks.

I feel a little like Rip Van

Winkle when he awoke to a

strangely changed world.

I fail to understand why this

whole country has been brought

to a standstill once more – with

healthy people withheld from

normal activities – for a virus

that has claimed 27 lives in

18 months, and most of those

elderly and in doubtful health.

Thus far we have had

nearly 4000 cases but the real

statistics are 27 deaths and 40+

hospitalisations, and these figures

pale beside the annual flu fatality

rate in New Zealand.

Added to the totally out-ofproportion

picture, we as a

nation have spent $90 billion

maintaining the consequences

of this Covid contagion.

Outrageous. – Chris Watkins

Racism

I consider this Government

to be racist. To treat a person

differently because of their race is

racism. Just one example of this

is the new Maori Health Board.

We should not favour or treat

people differently because of their

ethnicity.

Desist from using the ethnic

labels of Maori, European,

Chinese, Indian etc. We are all

immigrants to this country.

Judge people by their qualities

and actions. – Madge Baker

• Turn to page 22
---
The Star Thursday September 16 2021

22

OPINION

Health rather than wealth

the basis of prosperity

PHOTO: NZ POLICE

• From page 21

Countdown attack

The first point is that this

should never have happened.

What was this goon doing

traipsing around our country

with his known background.

He should never have been

allowed in in the first place.

The cost of keeping a close

watch on him over an extended

period of time him falls

ultimately to the taxpayer.

The second point is that the

laws passed in 2002 to deal with

acts of terrorism were always far

to loose.

The courts should therefore not

be blamed for setting this man

free to carry out his attack.

The courts are not there to

make new statute law but only to

interpret what Parliament passes.

The politicians and members of

the select committee responsible

for passing this loose law

and allowing attacks like the

Auckland example have blood on

their hands over this.

The plain fact is that there

are far too many theories being

floated by assorted academics

and loudmouths, usually with

no practical experience to speak

of to back their theories, and not

nearly enough common sense.

What we are left with is a sad

knee-jerk reaction society.

This will happen again so long

as we here in New Zealand are

recognised as a soft touch for this

type of predator to pedal their

extreme politics in such a tragic

manner.

The current terrorism law

clearly illustrates what a soft

touch we are.

Finally, the public owe a vote

of thanks to the frontline police

for bringing this whole episode

to a close so quickly without

any further injury. – Neville

Higgison, retired Canterbury

police armed offenders squad

member.

I HAVE received an invitation

to an online workshop at

7pm-9pm on Monday next

week. I have decided to write

about it because it should be

incredibly interesting, and

there is a chance for others to

watch: http://wiseresponse.org.

nz/. The question that is being

workshopped is: Are there

biophysical limits to growth?

It is being hosted by

Victoria University's School

of Government and Wise

Response, which is a broad

coalition of academics,

engineers, lawyers, artists,

sportspeople and others, who

are calling on New Zealand's

Parliament to comprehensively

assess imminent risks to New

Zealand and to draw up plans to

deal with them.

As demand for growth

exceeds earth's physical limits,

causing unprecedented risks,

what knowledge and changes

do we need to secure New

Zealand's future well-being?

There is an amazing line-up

of international speakers,

including Tim Jackson,

Professor of Sustainable

Development (University of

Surrey), who is a well-known

ecological economist and writer

Mayor

Lianne Dalziel

(Prosperity without Growth; Post

Growth – life after capitalism).

In his introductory notes,

Jackson says that the most

profound lesson from the

global pandemic was that it

is health rather than wealth

which constitutes the basis

of prosperity. Without health

the relentless accumulation

of wealth and status is

meaningless. He gives

the example of diseases of

overconsumption now killing

more people worldwide than

undernutrition.

Jackson is advocating a 'postgrowth'

economics that replaces

the relentless pursuit of GDP

with a broader conception of

social and planetary well-being

and builds the foundations

for an economy of care for

people and planet. Enterprise as

service, work as participation,

investment as commitment, and

money as a social good – these

four principles provide solid

foundations for the economy of

tomorrow.

Well worth tuning in for

this.
---
Thursday September 16 2021 The Star 23
---
24 The Star Thursday September 16 2021

Hurunui Garden Festival

Thursday 28 th

to Sunday 31 st

October 2021

A bounty of gardens to admire and inspire, will

be on show in the Hurunui district this Spring.

The Hurunui Garden Festival (HGF) has 22 gardens, in six

clusters, on offer, and runs from Thursday, October 28 to

Sunday, October 31 from 9am to 5pm each day.

Some favourite gardens return, along with seven new

ones. There will be maps of each garden to download and

print from the HGF website.

This year for the first time, there is the opportunity to walk

inside some of Hurunui's outstanding historic homesteads.

Also on offer is a showcase of local artists, their

place of work and beautiful exhibits for sale.

Lynda Hallinan, a gardener, author, broadcaster, journalist,

part-time farmer, parent and plantaholic, will join the

festival for two chats — one during an afternoon tea and

the other will be a dinner talk.

For half her life, the former editor of New Zealand

Gardener magazine has been digging up ideas and

inspiration for growing food and flowers in Kiwi gardens.

She lives with her family in the foothills of the Hunua

Ranges, south-east of Auckland, and is currently splitting

her time between her large country garden and a small

colonial cottage renovation project.

She is also launching a new book, The Joy of Gardening,

this year.

Julia Atkinson-Dunn, from the home and garden website

Studiohome.co.nz and author of the beginner's gardening

book, Petal Power, will speak at three gardens on different

days.

With a background in writing, design and art, Julia

fell firmly in love with gardening while transforming

her small Christchurch patch just 4 1/2 years ago.

The festival was launched in 2018 by a group of keen local

garden owners to help the Hurunui district recover from

the impact of the devastating earthquake of November

2016.

It has become a popular event, with many visitors making

it a long weekend so they can enjoy as many gardens as

possible, along with the many attractions the district has

on offer.

Hurunui Garden Festival Incorporated (HGF), is committed

to investing back in its community.

If it makes a reasonable profit, it will give one graduating

secondary school student, whose home is in the Hurunui

district, a scholarship to the value of $2000 towards study

in horticulture, agriculture, landscape design or a related

field, at their choice of university or institute of technology.

The scholarship is on offer now, and is only made when

HGF makes a reasonable profit from its annual event.

■ The website shop - (hurunuigardenfestival.com) - is

now open for ticket sales, including an earlybird special

until August 31 - buy 10 and get one free. Admissions is

$10 for an adult to visit each garden, payable on the day as

you enter the garden. Children 18 years of age and under

accompanied by an adult may enter for free.

Please have cash with you, as the gardens cannot process

electronic payments. Alternately you can purchase a 10

ticket admission pack through the website.

Tickets available now from

hurunuigardenfestival.com
---
2

[Edition datE]

REGULAR JENNY HUGHEY readers explains of my what

column the council will has know been doing. just how

much The I formal value declaration an engaged of a

community state of climate and emergency how I'm across

Canterbury was one of the most

always

serious,

encouraging

and colourful, moments

people

to in get the more regional involved. council's more than

30-year Whether history. having a

say A in year council's ago this Saturday, plans or

at 11.49am, Environment

proposals, Canterbury or became being New actively Zealand's

involved first council in to environmental

proclaim such an

work emergency, through formally community dedicating

groups,

itself to consideration

it's democracy

of climate

in

change at the heart of all it does.

action The declaration when the highlighted public is

invested that all the in work the Environment region and

making Canterbury a difference.

does – from

freshwater

Great things

management

also happen

to

biodiversity and biosecurity,

when transport councils and urban and development community

to air quality, work and together. also regional

leadership To that end, – has a I'm climate excited change

to

focus.

tell you about a new

Currently, under the Resource

fund Management that we've Act, launched regional

that councils supports are required community only to adapt

organisations to climate change, and not their mitigate

environmental

it – that responsibility

projects.

is the

Government's, but could change.

Even The in Waitaha 'adapt mode' Action many

to of Impact Environment Fund Canterbury's is itself

a existing product policies of community

and plans already

engagement.

contribute to reduced

From

emissions.

focus

In declaring the climate

groups emergency, and the discussions, Council noted we it

saw would the continue value in to show supporting

on and climate-change tapping into and do the so

leadership

without adding new programmes

expertise of community

at ratepayers' expense. It also gave

groups staff a clear and mandate organisations to continue

who are improving their

corner of Canterbury.

Under the fund, community

groups can apply

for between $5000 and

$30,000 a year to go

towards work that will

have a positive impact on

the environment – either

by helping to solve an

environmental problem or

finding new ways to make

things better.

To qualify, it's important

that the work is aligned to

the environmental goals of

the council. For instance, it

might be about improving

the health of our waterways

or land and coastal

ecosystems.

It could be about helping

communities to be better

prepared for changes to

the natural environment

or about fostering relationships

There to has improve been a 26% environmental

reduction

per staff member

leadership.

in emissions

since 30 June 2010. We now have

access We to do electric ask that and the hybrid community

vehicles and group hope contributes

to have half our

30 per cent of the project

budget, but this could

come from funding or

equivalent in-kind contributions,

such as volunteer

hours or through goods

such as plants or building

materials.

Great things can happen

when like-minded organisations

come together.

Collaboration is not just

about sharing the load –

it's about expanding the

skill set and getting greater

expertise focused on an

issue or goal.

In so doing, it's possible

to achieve far more than

either party could through

working alone. More

resources and expertise

can mean bigger and better

results.

I'm confident that the

OPINION 25

INITIATIVE: Community groups focused on improving the environment

can now apply for assistance under the new Waitaha Action to Impact

Fund.

New fund to support

community groups

turning Waitaha our Action braided rivers to Impact into

roaring

Fund will

rapids,

prove

fuelling

to

landslides

be a

and causing widespread erosion.

great Canterbury's initiative coastal for accelerating

environmental

will be threatened

communities

change and shaping a

thriving and resilient Canterbury.

I'm excited by the

thought of what we will be

able to achieve together.

If you're part of a

community group or

organisation doing great

environmental work, you

should consider applying

for support through the

Waitaha Action to Impact

Fund.

More details can be

found on the Environment

Canterbury website.

• Cr Jenny Hughey

is chair of the

Canterbury Regional

Council (Environment

Canterbury)

ARA INSTITUTE OF CANTERBURY

Proud Samoan builds

future for family

Tony Siva is a proud

Samoan and even prouder

since he returned to

study and got himself an

apprenticeship to become a

builder.

"My plan for the future

is to buy or build my own

house and hopefully go

back to Samoa to rebuild

my village," he says.

Prior to studying at Ara

Institute of Canterbury,

Tony worked as a sales

assistant for Fonterra. He

says he decided to become

a qualified builder because

he wanted to build a better

future for his family.

Tony completed the New Zealand

Certificate in Construction Trade Skills at

Ara, which was free through Ara's Pacific

Trades Training scheme. During his studies,

It's a year since Environment Canterbury

declared a climate-change emergency

and enhance that work.

That work included setting

up a climate-change integration

programme in the Long-term Plan

2018-28, ensuring climate change

was actively considered across

workstreams, increasing visibility

of the science and what we know

about the impact of climate

change on Canterbury, and liaising

on the issue with iwi and regional

partners, other local authorities

and central government.

As an organisation, we have

also made significant progress in

addressing our own greenhousegas

emissions, with our

Christchurch building receiving a

"market-leading" energy efficiency

rating of 5.0 out of 6 in the year

to February on the National

Australian Built Environment

Rating System New Zealand.

The building's features include

184 solar panels which can

generate more than 55,000

kilowatt hours of electricity per

year.

ironment Canterbury

change emergency

Environment

Canterbury Chair

Jenny Hughey

fleet hybrid or long-range electric

by 2022. Carbon emissions from

air travel across the organisation

are offset via our own biodiversity

programmes.

According to a Madworld report

in 2019, our gross emissions were

2253 tonnes of carbon dioxide

(CO2) equivalent, compared with

removals of 7883 tonnes of CO2-

equivalent through our efficiency

efforts and from forestry planting

across 2700 hectares.

The changing climate will pose

many risks to life and livelihood

in Canterbury. In recent years

we have seen how occasional,

but extreme, weather events have

had huge effects on residents and

infrastructure around the South

Island.

The driest parts of our region,

along the Marlborough coast and

across much of the Canterbury

Plains, are expected to get even

drier. North-westerly storms are

predicted to become more intense,

with torrential alpine rainstorms

Tony was encouraged to explore his culture.

"We were given our own tools for the

course, and we learned how to interpret our

culture through woodwork," he says. "So as

well as learning how to build a house and

things like retaining walls, decks change. and fences,

I also made a To'oto'o (Samoan chief 's staff)."

Ara's Pacific Trades Training scheme

provides

All these eventualities

extensive pastoral

have

support to

students. "It helps you get to your end goal,"

Tony says. "There's lots of care and support

provided - like bus money, petrol vouchers,

food vouchers, counsellors and advisors.

The Pacific Island Students Association

offers a lot too, and Ara puts on lots of social

by sea-level rise this century and

our productive and protected land

jeopardised by the arrival and

spread of new, exotic weeds and

pests from warmer climates.

to be planned and prepared for,

and Environment Canterbury

will remain in the vanguard of

these climate change efforts.

One example is the $40 million

Waimakariri River flood

protection project, completed

late last year. The network of

floodgates and stopbanks will

protect half a million people and

$8 billion of community and

business assets from a possible

"super flood".

Tepora

The last major flood was in

Ara graduate

December 1957, when parts

of Coutts Island in Belfast and

Kainga were swamped by river

flow peaking at 3990 cubic

metres per second (cumecs).

The protection scheme has been

designed to defend Christchurch

from a flood of as much as 6500

cumecs.

Environment Canterbury's

leadership of biodiversity and

biosecurity programmes is also

underpinned by climate-change

concerns.

Canterbury's distinct braided

rivers and unique wetlands face

many challenges. The rivers form

a vital ecological link and provide

an abundant food supply and

nesting grounds for 26 species of

native birds – most classified as

threatened and facing increased

pressures due to river system

Wetlands are also ecosystems

at-risk nationally and regionally,

degraded by draining, damming

and diversion affecting their

ability to sequester carbon,

cleanse freshwater and mitigate

flooding, as well as impacting on

biodiversity and mahinga kai.

With biosecurity, we are

putting greater emphasis on the

risks of new pests establishing

in Canterbury. Warming

temperatures, changing soils and

new land uses mean new weeds

especially, will be able to gain a

better foothold across the region.

More broadly, we have to

curb reliance on fossil fuels and

find environmentally suitable

alternatives, such as electricity and

hydrogen, to power our public

transport.

When my predecessor Steve

Lowndes retired as chair of

this council late last year, he

highlighted some of the big

changes on the way. He was

optimistic we would be able to

deal with the "pressing issues" of

climate change and sustainability.

I share his confidence. As a

community, and as a council,

we are taking some bold steps to

ensure we are in a better place to

cope with the changing climate

and the tests it will set us. But

there will always be a need to do

more.

Thursday September 16 2021 The Star

and sports events throughout the semester."

Tony says returning to study as an adult

was a little daunting, especially as this was

his first experience of tertiary-level study.

"At first I thought it would be a bit awkward

because of my age, being surrounded by

kids who just finished school. But my

tutors were great – they made learning

relevant and fun – and I was encouraged to

persevere and complete the course."

Tony is undertaking his apprenticeship

with Home NZ Construction. He's applying

the skills he learned at Ara and picking up

many more on the job, while earning a good

wage. He's quick to encourage other adults

to consider learning a trade.

"It's never too late to study or change

your career path. If you work hard and put

the time and effort into a trade, I guarantee

you'll reap the benefits."

to build a solid future

If you're Māori or Pacific, you can gain in-demand

trade skills for FREE through Māori and Pacific

Trades Training at Ara. You'll learn from inspirational

mentors, explore your culture and have access to all

the support, resources and financial assistance you

need to succeed.

Courses starting in February include carpentry,

automotive, mechanical engineering, joinery,

electrical engineering and plumbing.

Explore this FREE option

today at ara.ac.nz
---
The Star Thursday September 16 2021

26

SPRING GARDENING

Latest Canterbury news at starnews.co.nz

Cosmos are bursting

with hot colours

THESE DAYS, garden design

seems to be all about simple foliage

and clean lines.

If you like a contemporary

look easy-to-grow cosmos comes

in to play.

Bursting with hot colours and

growing to around 1m tall, cosmos

are no shrinking violets, and

they sway gently in the breeze.

These devil-may-care flowers

are easy to grow, thriving in

the heat and flourishing almost

anywhere, as long as it's hot, dry

and sunny.

Like all annuals, they germinate,

flower and die within a

season or a year. But don't fret

– they also pop up again each

following year.

Cosmos look best when grown

en masse, creating a sea of

country-cottage colour.

Once you've found a good spot

and you're ready to plant these

American natives, add a good

general fertiliser, like nitrophoska

blue, to the soil to encourage

growth.

Then simply dig a hole (approximately

3cm deep) and

place your seedling inside. Plant

each subsequent seedling about

10cm apart, giving them space to

grow but ensuring they're close

VIBRANT: Some cosmos grows to around 1m tall, they

thrive in the heat.

enough to support each other in

strong winds.

Next, layer newspaper around

your plants, and then cover it

with pea straw.

This homemade mulch will

prevent your plants drying out

during the day and in between

watering sessions.

Voila – you'll have a cosmos

floral fiesta in no time, and get

to enjoy an array of colour until

the first frost hits, usually around

June.

And if you really want to bring

the outside in, just a handful of

these long-stemmed beauties

look great in a tall vase (just don't

forget to put them in a cool place

and change the water every two

to three days).

You'll be thanking yourself for

adding a bit of country colour at

your place.

FRESH: Endive has a mild bitter taste.

Pick salad ingredients

from your vege patch

SPRING HAS arrived, which

means salad season is just

around the corner. And there's

nothing like picking fresh salad

ingredients straight out of your

garden.

Endive is a great addition to

any salad. With its fine curled,

mid-green leaves it partners well

with rocket. Endive is a bit bitter

and rocket is a little peppery,

together they're a great combo.

What's equally important is it's

so easy and quick to grow. Unlike

most lettuces, it doesn't need to

create a heart in the centre so it's

very quick to produce.

Simply pick the leaves off as

you need them.

To plant, look for a welldrained

spot in the garden.

If the soil is still a bit wet and

cold from winter, try growing

endive in a pot. Just add some

good quality potting mix, plant a

couple of seedlings around 5cm

apart and away you go.

Depending on where you are

in New Zealand and how warm

the soil is yet, it will take around

four to six weeks for your endive

to be ready to harvest.

Remember, you can tell the

soil is warming up when you

need to start mowing your lawns

again.

The one-stop

solution for

tomato growing.

5 Month

Fertiliser

High K

Formula

Wetting

Agent

Trace

Elements
---
Latest Canterbury news at starnews.co.nz

Thursday September 16 2021 The Star

SPRING GARDENING 27

Time to prepare for warm days ahead

NEITHER WINTER nor

summer, September can be

termed the 'in-between' month.

Spring is here and there's a taste

of better things to come, and it's

a very busy month preparing for

the heat to come.

Houseplant care

Hopefully your houseplants

have successfully survived winter.

It is a difficult time for them as

many originate from tropical

countries.

As tempting as it is, delay

purchasing new houseplants for

another month until indoor temperatures

warm up consistently

throughout the day.

Continue to water plants sparingly

and mist the foliage (leaves)

regularly with lukewarm water

and ensure they are positioned

in a 'high-light' part of the house.

With large "glossy" green-leaved

houseplants such as fiddle leaf fig,

clean the leaves regularly with a

soft sponge.

If you have any houseplants

that are struggling, a few days in

a steamy bathroom is an excellent

way to revive them.

In the vege patch

It's the very end for harvesting

traditional winter vegetables;

broccoli, brussels sprouts, cabbage,

cauliflower, celery, leeks,

lettuce, parsnips, rhubarb, silverbeet,

spinach and turnips. Keep

VIBRANT: Bulbs should now be in full bloom. Mark the area where they are planted so

they aren't disturbed before next year's showpiece.

planting out year-round vegetables

like celery, lettuce, silverbeet,

beetroot and spinach.

Many rush to plant out traditional

summer vegetable

seedlings in September such as,

tomatoes and cucumbers, but it

is still a little early. You are better

to wait until mid-October when

soils have warmed up.

However, you can now sow

summer vegetable seeds in seed

trays or punnets and place them

in a warm sheltered position

indoors or in glass houses.

Where areas of your vegetable

garden not too wet, start preparing

your summer garden by

digging in fresh compost. When

'cleaning up' the winter vegetable

garden, all the green material can

go straight into the compost bin

(so long as it is disease free).

Blooming bulbs

A wonderful month to enjoy

the spring flowers of traditional

bulbs.

When they finish flowering,

sadly sometimes too briefly, allow

the foliage to 'brown' and die

down before removing.

This is how the bulbs obtain

enough nutrients for the next

seasons flowering.

It can be worth marking in the

areas of your major bulb plantings

with some small stakes to

avoid disturbing later in the season

when planting possible trees

and shrubs.

Flowering annuals

Most winter annuals are

now coming to the end of flowering.

Begin preparing for planting

summer flowering annuals by

sowing varieties in seed trays

ready to plant out later.

In the meantime, for continuous

flowers in your garden, plant

annuals that flower all year round;

alyssum, calendulas, cornflowers,

lobelias, pansies and violas.

Roses

Many rose varieties will now be

in full growth and the first flowers

will appear towards the end of the

month.

Apply the first side dressing

of rose fertiliser. Make sure your

fertiliser is high in potash which

promotes strong flowers.

Compost can be spread around

the base of the roses. This works

as both a soil conditioner and

mulch.

Lawn care

Grass will begin growing again

in some warmer areas.

Towards the end of the month

the first dressing of fertiliser can

be applied.

Check the lawn for wet spots or

areas that may require additional

drainage to be installed over the

summer months.

Ornamental trees and

shrubs

Camellias and azaleas will be

near the end of their flowering,

while rhododendrons are in full

bloom.

Complete any additional

planting of trees and shrubs in

September, before soils dry out in

early summer.

naTiVe planT

nursery

Trees for CanTerbury

speCialisTs in

• Groundcovers

• Ferns

• Grasses

• Small to big

sized shrubs

• Shelterbelts

• ALL grades

• Expert advice

• Planting now

Ask us about Super

Gold Card discounts

Helping our community grow

42 Charlesworth Street

Ph (03) 982-1028

OPEN 7 DAYS

www.treesforcanterbury.org.nz

oN sAle Now!

Now only

$35.80

Plus $5 P&H per copy

AvAilAble from stAr mediA:

Level One, 359 Lincoln Road

Addington, Christchurch

Phone 379 7100

Use your outdoor living areas

all year round

• Warm & dry in winter

• UV protection for summer

• Stylish & permanent

• 5 year warranty

"AS SEEN ON TV"

Chris Thorndycroft

Phone 0274 211 079 | www.archgola.co.nz

15 months

INTEREST FREE

Normal lending criteria apply

Come for a visit

and see our

great range of

working water

features on

display

Enjoy a coffEE

from Red Eight at Portstone

PORTSTONE

Garden Gifts Cafe

465 Ferry Road | P: 03 389 4352

Open 9am - 5pm 7 Days

www.portstone.co.nz
---
The Star Thursday September 16 2021

28

PUZZLES

CHRISTCHURCH

CREMATORIUM

FUNERAL SERVICES

CROSSWORD

1 2 3 4 5 6

7 8 9

Latest Canterbury news at starnews.co.nz

210

SUDOKU

Every row, column and box should

contain the digits 1 to 9.

WORDBUILDER

WordBuilder

110

6

Y B A

E T U

How many words of three or more letters,

How including many plurals, words can you of make three from or the more six

using each letter only once? No foreign

letters, including plurals, can you

words or words beginning with a capital are

make allowed. from There's the at five least one letters, six-letter using word.

each only once?

TODAY

Good 18 Very Good 23 Excellent 27

No Solution words 109: into, beginning ion, nip, nit, with not, opt, a capital pin, pint,

are pinto, allowed. piny, pion, pit, There's piton, pity, at poi, least point, one POINTY,

pont, pony, pot, tin, tiny, tip, ton, tony, top, topi, toy,

six-letter

typo, yin, yip,

word.

yon.

Good 14 Very Good 18 Excellent 25+

10 11

12 13 14

15 16 17

19 20 21 22

23 24

18

25 26

SOLUTION

No.110

14 15 16 17 18 19 20 21 22 23 24 25 26

B H C I L J Q M T A R K N

1 2 3 4 5 6 7 8 9 10 11 12 13

O F Z S P W G X V D Y U E

14 15 16 17 18 19 20 21 22 23 24 25 26

Decoder A

T

Across

7. Many (8)

9. Harem attendant (6)

10. Essence (4)

11. Intimidating (10)

12. Detector (6)

14. Captive (8)

15. Scanty (6)

16. Equality (6)

19. Imagine (8)

21. Ripen (6)

23. Resonant (10)

24. Bare, unadorned (4)

25. Solidly built (6)

26. Chaos (8)

A B C D E F G H I J K L M N O P Q R S T U V W X Y Z

1 2 3 4 5 6 7 8 9 10 11 12 13

21 26 5 23 26 26

8 13 10 13 7 5 26 25 15 18 26 18

25 21 13 16 4 25 15

Down

1. Lying face up (6)

2. Encounter (4)

3. Validates (8)

4. Star sign (6)

5. Opponent (10)

6. Larder (8)

8. Angel (6)

13. Immobile (10)

15. Holiness (8)

17. Chide (8)

18. To the rear (6)

20. An assumed or fictitious

name (6)

22. Respite (6)

24. Minstrel (4)

3 21 22 13 26 25 10 5 22 12 13 11

17 18 18 9 18 22 21

All puzzles copyright

7 14 23 17 21 5 25 14 3

2 23 1 4 21 11 12

11 10 21 7 6 13 10 10 18

T H E P U Z Z L E C O M P A N Y

www.thepuzzlecompany.co.nz

4 16 20 3 9 18 10

14 4 11 10 15 22 12 15 9 13 23 21

DECODER

Each number in our DECODER grid represents a different

letter - there is a number for all 26 letters of the alphabet.

Each Enter number the given represents letters into a different all squares letter of with the matching alphabet. numbers. Write the

given The challenge letters into now all squares is to work with out matching which letters numbers. are Now represented work out

which by the letters other are numbers. represented As you by the get other numbers. letters, enter As you them get into the

letters, the main write grid, them and into the the main reference grid and grid. the To reference keep track grid. Decoder of the

uses

letters

all 26

you

letters

have

of

found,

the alphabet.

cross them off the alphabet provided.

14 12 26 25 13 24 4 23 6 23 4 15

23 13 11 10 18 23

18 23 6 26 17 26 20 12 13 4 22 4

13 16 15 22 18 1 15

10 13 1 10 1 24 23 26 22 4 17

15 15 3 18 14 6 19

26 15 26 26 25 25 21 24 14 13 4 21

T A T

18 18 9 21 16 9

the main grid, and the reference grid. To keep track of the

letters you have found, cross them off the alphabet provided.

Each number in our DECODER grid represents a different

letter - there is a number for all 26 letters of the alphabet.

Enter the given letters into all squares with matching numbers.

The challenge now is to work out which letters are represented

by the other numbers. As you get the letters, enter them into

21 12 8 13 17 4

23 9 13 24 4 13 2 24 13 26 16 15

21 24 13 23 17 19

26 16 15 23 26 7 13 18 13 4 4

13 7 1 4 4 16 5

110

4 6 23 18 18 1 6 4 4 22 17 24

17 3 10 13 13 23

23 14 13 22 4 24 17 7 17 10 18 11

A B C D E F G H I J K L M N O P Q R S T U V W X Y Z

1 2 3 4 5 6 7 8 9 10 11 12 13

S

14 15 16 17 18 19 20 21 22 23 24 25 26

H

A

111

H

A

S

Crossword

Across: 7. Numerous,

9. Eunuch, 10. Gist, 11.

Formidable, 12. Sensor,

14. Prisoner, 15. Sparse,

16. Parity, 19. Envisage,

21. Mature, 23. Stentorian,

24. Bald, 25. Sturdy, 26.

Disorder.

Down: 1. Supine, 2. Meet,

3. Confirms, 4. Gemini, 5.

Antagonist, 6. Scullery, 8.

Seraph, 13. Stationary, 15.

Sanctity, 17. Admonish, 18.

Behind, 20. Anonym, 22.

Relief, 24. Bard.

WordBuilder

abet, abut, ate, aye, bat,

bate, bay, beat, beau, beaut,

BEAUTY, bet, beta, bey,

but, buy, bye, byte, eat, eta,

tab, tabu, tau, tea, tub, tuba,

tube, ute, yea, yet.

Sudoku

SOLUTION

No.109

1 2 3 4 5 6 7 8 9 10 11 12 13

H M Z W Q D S K A E C O I

14 15 16 17 18 19 20 21 22 23 24 25 26

F L X Y J U N T B P V G R
---
Thursday September 16 2021 The Star

SPORTS NEWS

Brought

to you by

Curtains

Blinds

Shutters

99 Sawyers Arms Rd

03 365 4666 or

0800 836 587

www.venluree.co.nz

Centenary celebrations at netball centre postponed

• By Chris Barclay

CHRISTCHURCH Netball

Centre's centenary celebrations

are on hold until 2022,

organisers erring on the side of

caution as Covid-19 continues

to cast a shadow over events.

Plans to host a two-day celebration

from October 28 were

• By Chris Barclay

DAN SCHWARZ has no

concerns about his players being

left to their own devices – and

exercise programmes – during

Cashmere Technical's enforced

mid-season break.

An ingrained title-winning

mindset and an ultra-competitive

squad gave the head coach

comfort when the reassembled

after Covid-19 restrictions

relaxed, substituting Zoom calls

for actual training at English

Park.

They got together for the first

time last Thursday and replicated

game conditions last weekend

ahead of Saturday's Southern

League clash with Nelson Suburbs.

"It's been nice to get the football

moving again and normality

back in that space," Schwarz

said.

The reigning Mainland Football

premierships champions

have not played since advancing

to the final of the English Cup

by eliminating Universities on

August 17, hours before the nationwide

lockdown began.

"We've set programmes for

the lads to hit, we leave it in their

revised last week, in spite of the

city's alert level downgrading.

"We felt the current schedule

is too uncertain for us to be

confidently able to proceed,"

CNC chief executive Megan

McLay said.

"It was only six weeks away

and we thought it was just too

big a risk. Health and safety had

WATCHFUL EYE: Cashmere Technical coach Dan Schwarz

oversees a training session at English Park.

court to do it," Schwarz said. see the upside to a break.

"A lot of them have (exercise) "The majority of the squad

bikes, there's also body weight have gone back-to-back with

exercises and a bit of pavement local local football and national

plodding."

league football for five to six

At first glance the players had years. It's actually quite nice that

kept in shape during lockdown some of them have had a break

and the enthusiasm was infectious

at the first training session. another year," he said.

that they might not have got

"The excitement really pushed "The younger boys in the

them through the session more group also play a lot of schools'

than anything. There were a lot football, they train with our first

of excited players that wanted to team or the reserves and play

run around and release a bit of games . . . it's been really good

energy.

for the young boys to reset and

"They ran off a bit of steam, start again."

now we carry on with a bit more Schwarz is also content with

in-depth training."

Cashmere Technical's league

Although there could be an position with two games remaining.

They lead Coastal Spirit

injury risk after a month without

game time, Schwarz preferred to – who have a game in hand – by

BIG CLUB MATCH-UPS THIS WEEKEND

three points.

The top two clubs qualify for

the National League.

Coastal Spirit travel to Dunedin

where they play South

City Royals; out of contention

Christchurch United host Otago

University .

While Cashmere Technical are

no strangers to silverware, the

Christ's College 1st XV's quest

for a maiden Crusaders region

championship is also back on

track when school's reopened.

The squad also head north

where they take on two-time

champions Nelson College on

Saturday, their third final and

first since 2018 where Christchurch

Boys High School were

awarded the trophy after an

18-all draw because they scored

more tries.

They trained on Thursday,

Saturday and had three other

session before they depart.

"Hopefully that gives us

enough time to get ready. The

time frame is plenty, they're really

fit, that's the thing with these

to come first."

Although the bulk of participants

would be local, potential

visitors from outside the region

also impacted on the decision.

"People might be a little reluctant

to travel, that's something

we had to take into consideration,"

McLay said.

McLay referenced the postponed

Tokyo Olympics when

looking ahead to what would

be "a real celebration of netball

through the ages."

"The precedent has been set.

Tokyo was off for a year and

that was reasonably successful.

We hope to go along the same

lines."

Meanwhile, Lincoln University

has defended their premier

grade crown after Covid-19

restrictions did not give players

enough time to prepare for a

final before the September 11

cut-off date for the season.

They were originally scheduled

to play Saints on August 24

but alert level 4 restrictions

sabotaged those plans.

Zoom calls swapped for on-field training

Cashmere

Technical

ready for

Southern

League

football clash

TRAINING

DAY: Declan

Tyndall passes

to a Cashmere

Technical

teammate

ahead of the

Southern

League's

resumption

on Saturday.

Right – Dan

Schwarz talks

tactics with

the team.

PRACTICE RUN: Yuya Taguchi spearheads an attacking

move with Lyle Matthysen and Tom Schwarz trailing

during a Cashmere Technical training run at English Park.

PHOTOS: CHRIS BARCLAY

games. If you're fit you should

be okay, we're happy enough

with where they're at," master

in charge of rugby Steven Dods

said.

"They've come back in a good

frame of mind."

The annual top 4 has been

scrapped because Auckland cannot

supply a team inside the time

frame so Christ's College are

hoping to play Otago Boys' High

School in a South Island final in

Dunedin next Saturday.

Meanwhile, the Canterbury

Hockey premier league finals

also wrap up the elite club competition

on Saturday

Carlton Redcliffs play HSOB/

Burnside in the men's decider

at Nga Puna Wai at 2pm followed

by the women's showpiece

between Harewood at Marist at

4pm.

Southern League points: Cashmere

Technical 12, Coastal Spirit

9, South City Royals 6, Selwyn

United 6, Otago University 6,

Nelson Suburbs 4, Christchurch

United 4, Green Island 0.
---
30 The Star Thursday September 16 2021

WHY CHoose

WE ARE CURRENTLY OFFERING

$2000 MINIMUM

TRADE IN

*ON SELECTED VEHICLES! TERMS & CONDITIONS APPLY

for Your next VeHICLe?

VALUE

REPUTATION

SELECTION

TRUSTED

PLUS

REGISTRATION

2013 bMW Mini Cooper

$20,999

Very stylish and popular European hatch, features

a 1.6L engine with tiptronic trans and paddleshift

option, looks good in blue with white roof, driving

lights and 17'' alloys, black interior, rear wiper,

ABS, T/C and multiple airbags, very cool vehicle!

PLUS

REGISTRATION

2016 Subaru XV

$24,999

Very nice example of this stylish AWD family

hatch, features a 2.0L engine with tiptronic trans,

looks stunning in orange with factory bodykit and

17'' alloys, Eyesight, SI-Drive, adaptive cruise,

push button start, idle stop, rear wiper, ABS, T/C

and 8x airbags, come and test drive today!

PLUS

REGISTRATION

2016 Suzuki Swift GLB

$14,999

The Swift is a very popular 5 door hatch and

preferred in its class by many, features and

economical 1.4L engine with 5 speed manual

transmission, NZ new, looks smart in black,

rear wiper, low kms, ABS and multiple airbags,

inspection will not disappoint!

PLUS

REGISTRATION

2020 MitSubiSHi MirAGe

$13,999

Surprisingly spacious 5 door hatch, features an

economical 1.2L engine with automatic trans, looks

smart in silver with 15" alloys and rear spoiler,

idle stop, rear wiper, travelled low kms, collision

avoidance warning, ABS, T/C and airbags, perfect

round town vehicle!

PLUS

REGISTRATION

2010 Mazda AtenzA 25S

$14,999

The Atenza is a desirable sleek and sporty looking

vehicle, features a 2.5L engine with tiptronic trans,

looks great in red with body kit, rear spoiler and

white 17'' alloys, push button start, multi-function

steering wheel, rear wiper, ABS, T/C and airbags,

hurry – won't last long!

PLUS

REGISTRATION

2012 toyota AVenSiS Xi

$13,999

The Avensis is a popular car built for the European

market and is the first Japanese car to be awarded

NCAP 5 star rating, features a 2.0L engine with tiptronic

trans and paddleshift option, finished in silver with black

interior, push button start, parking sensors, reverse

camera, ABS, T/C and 9x airbags, will sell quickly!

PLUS

REGISTRATION

2011 Subaru LeGACy

$13,999

Stylish and well sought after wagon, features a 2.5L

engine with tiptronic trans and paddle shift option,

looks sharp in white with black part leather interior,

AWD, push button start, SI-Drive, rear wiper, cruise

control, lane departure and collision avoidance warning,

safety of ABS, T/C and 8 airbags, very nice vehicle!

PLUS

REGISTRATION

2009 Honda odySSey M

$10,999

Popular family wagon with room to seat 7, features

a 2.4L engine with automatic trans, looks good

in grey with 19'' alloys, reverse camera, keyless

entry, rear wiper, ABS, T/C and airbags, upgrade

your family vehicle today!

PLUS

REGISTRATION

2012 Mazda preMACy

$11,999

Very popular family wagon with room to seat 7,

features a 2.0L engine with tiptronic trans, looks

good finished in silver with black interior, , rear

wiper, keyless entry, ABS and airbags very good

buying!

PLUS

REGISTRATION

2018 Mazda CX5 25S

$37,999

A modern, tech savvy Suv, 2.5L skyactiv engine with

tiptronic trans and i-stop, smart in bronze with factory

body kit, driving lights and 18" alloys, stylish black

leather interior, push button start, reverse camera,

cruise control, Bose, collision avoidance and lane

departure warning, ABS, TIC and multiple airbags.

PLUS

REGISTRATION

2015 toyota LAndCruiSer prAdo tX

$55,999

Very desired family SUV, features a 2.8L turbo

diesel engine with automatic trans, looks very

good in red with roof rails and 17'' alloys, 4WD,

parking sensors, sunroof, push button start,

rear spoiler, low kms, ABS, T/C and 6x airbags,

inspection will impress!

PLUS

REGISTRATION

2013 Ford KuGA

$21,999

The Kuga is a European designed SUV and one of

the best in its class with a blend of good looks and

safety features, 1.6 L turbo engine with tiptronic

trans, AWD, roof rails, sunroof, leather interior,

front heated seats, cruise control, ABS, T/C and

multiple airbags, very nice example!

PLUS

REGISTRATION

2019 Ford rAnGer XLt

$53,999

Extremely popular ute, features a 3.2L turbo

diesel engine with automatic trans, NZ new, 4WD,

finished in silver with canopy and 17'' alloys, cruise

control, parking sensors, Bluetooth, towbar, ABS,

T/C and 6x airbags, very nice vehicle!

PLUS

REGISTRATION

2019 toyota HiLuX z

$53,999

Very stylish, practical and popular ute, features

a 2.4L diesel engine with tiptronic trans, looks

stunning in black with running boards, driving lights

and 17'' alloys, reverse camera, cruise control, push

button start and many more features, ABS, T/C and

multiple airbags, viewing will impress!

PLUS

REGISTRATION

2008 toyota VeLLfire

$16,999

Vellfire is a sportier styled version of the ever

popular Alphard, features a 3.5L engine with

automatic trans, looks smart in grey with body kit

and 18'' alloys, 7 seats, push button start, cruise

control, parking sensors, ABS and 18'' alloys, travel

in style and comfort!

Registration for 6 months is $301

Value Cars Warehouse

4.72

CANTERBURY OWNED

& OPERATED

ESTABLIShED 1993

32 Moorhouse Ave, P: (03) 366 7768 IMVDA

www.valuecarswarehouse.co.nz
---
2013 Volkswagen

Tiguan TSi

h tp: /kaywa.me/8aVDQ

Download the Kaywa Qr Code reader (A p Store &Android market) and scan your code!

my Kaywa Qr-Code

w.valuecarswarehouse.co.nz

CELLULAR

See page 5 for more info!

2

h tp: /kaywa.me/8aVDQ

Download the Kaywa QR Code Reader (a p Store &android Market) and scan your code!

REVERSE CAMERAS

My Kaywa QR-Code

w.valuecarswarehouse.co.nz

PARKING SENSORS

0800 212 777

Ce l 021 855 884

GPS/TRACKING

motor vehicle purchase

See our ad on page 2

Thursday September 16 2021 The Star 31

Honda's hybrid technology put to test

HONDA IS no stranger to hybrid

vehicles.

It all started in 1999 with the

Insight and since then Civic and

Jazz (Fit) hybrids have long been

on offer, and if you take into

account Fit and Civic models that

have landed pre-owned from Japan,

then the company has a fairly

broad hybrid representation in the

New Zealand market.

A new Jazz has just landed and

the line-up includes a hybrid.

However, it must be said that this

hybrid works quite differently than

previous generation versions.

The newcomer has a two-motor

system driving the front wheels.

Yes, the petrol engine works in

typical hybrid fashion, working

to promote drive and charging

the lithium-ion battery pack. The

entire system is seamless and as a

driver you'd never know there is a

complex set of mechanicals under

the bonnet.

The e:HEV Jazz sits in a threemodel

line-up that starts at $28,000

for the entry-level Life. A Crossstar

version adds $2000 while the

e:HEV Luxe at $35,000 represents

economical motoring and environmental

benefits for those who want

to join the electric revolution but

also want the versatility a petrolfuelled

engine offers.

One of the aspects I particularly

like is the range of the Jazz hybrid.

When I picked the evaluation

car up it was full of fuel, offering

around 800km before a fill-up was

BIG CHANGES: The latest generation Honda Jazz has

many styling differences from that of its predecessor.

HONDA JAZZ E:HEV: State-of-the-art hybrid driveline.

necessary. Of course, I never drove

that distance, but in the 280km I

did travel the fuel gauge barely left

the top mark.

In real terms, Honda claim at

best possible usage a 2.8-litre per

100km combined cycle average.

My time in the e:HEV Jazz concluded

with the readout showing

4.8l/100km that I thought was quite

remarkable given that my driving

style is never that thrifty.

What makes the e:HEV Jazz so

economical is the way the engine/

motor combination works. The

engine is largely biased towards

recharging the batteries; sure, there

is associated drive when required

but the motors do provide a large

part of momentum.

What's more, the hybrid Jazz just

builds on what has made the model

so popular in generations past, it

has always been a fuel miser, even

the petrol-only models are rated

with a 5.8l/100km combined cycle

average. That's something that

Honda has focused heavily on over

the years, efficient engines have

long been a priority.

Driving the hybrid Jazz requires

no special technique, if you weren't

told it was a hybrid I doubt that

you would find anything different

about it, except for the engine

cutting in and out as it gets about

its work. Honda has focused on

simplicity and that's what makes it

so it intuitive to drive, the controls

and layout are deep but simplistic

to use. You can also select an electric

drive only function, that will

give you a range of about 40km,

depending on weight in the car and

the type of journey ie: hills or flat

roads and driving style.

The Jazz e:HEV is also loaded

with features and specification such

as full leather trim with heated

seats up front, keyless entry and

ignition, Apple CarPlay, cruise control,

and 9in central dash display

that incorporates large and easy-tounderstand

icons.

If you are thinking that's a lot of

kit to fit into a small car, bear in

mind that the Jazz is the space master.

It may be compact, but Honda's

designers have made use of every

centimetre of space and it works

functionally.

Luggage capacity is rated by

Honda at 304-litres with the rear

seats in place, extending to 1205-litres

when folded flat. Honda's

legendary 'Magic Seat' configuration

allows both fold-flat or flip-up

flexibility, the latter giving higher

load space.

Honda, as a manufacturer, is also

very proactive in terms of building

safety into its models. The e:HEV

Jazz gets a full suite of safety kit that

is labelled Honda Sensing and it

includes the electronic and mechanical

functions that keep you out of

trouble in the first instance. It forms

part of the criteria that easily meets

a five-star Australasian New Car

Assessment Program rating.

• Price – Honda Jazz e:HEV,

$35,000

• Dimensions – Length,

4045mm; width, 1695mm;

height, 1537mm

• Configuration – Fourcylinder,

front-wheeldrive,

1497cc, 72kW

(+80kW), 131Nm (+253Nm),

continuously variable

automatic

• Performance –

0-100km/h, 8.5sec

• Fuel usage – 2.81l/100km

I took the evaluation car on my

normal highway route heading

west to Hororata and returning

to the city via Dunsandel. It is an

adept open road cruiser with quiet

motion and solid road feel. Vision

through all quarters is vast, and if

you look at the way the panoramic

front windshield is angled well

forward of the dash panel you get a

fairly good idea of how well the car

is engineered in the first instance.

In terms of handling, the Jazz

feels nimble and agile, that's no

surprise, it is light and what weight

is in the car sits low in the floorpan.

In comparison to its length

and width, the height of the Jazz at

1.53m doesn't affect the handling,

gravitational movement is minimal.

What's more, the Jazz gets a

perfect ride, the spring and damper

rates have been chosen sensibly,

there is much comfort on offer

without the compromise to suit

better handling. I must mention

also the feel through the steering

wheel, there is good self-centering

return and the promise of solid

feedback from the fuel-saving Yokohama

tyres (185/60 x 16in).

Further to the fuel usage performance

I mentioned earlier, the Jazz

hybrid's four-cylinder engine also

has the goods in term of overall

ability. Honda rates the 1497cc unit

at 72kW and 131Nm, both outputs

realised mid-way through the rev

band, and if you add in an extra

80kW and 253Nm from the hybrid

system, there is strength well in

keeping with the Jazz's purpose.

For the record, an acceleration

time of 8.5sec to make 100km/h

from a standstill is possible along

with a highway overtake time of

5.8sec to make 120 from 80km/h.

Several of my acquaintances own

a Jazz, or Fit, and one of them even

has an old Fit hybrid that is still

giving good service. That person

is always boasting about fuel usage

and the associated low running

costs.

I've tried to convince him that

the new e:HEV Jazz is an obvious

step forward when the time comes

to upgrade. I know that he will be

perfectly satisfied if that does come

to fruition.

has motoring covered!

Incorporating

ISSUE 667 | FrIday 20 novEmbEr 2020

iggest range of vehicles

location!

2011 Jaguar

XF Premium

$18,999

See inside for this week's

4WD feature!

sherborne st, edgeware

se Ave | P: (03) 366 7768 | www.valuecarswarehouse.co.nz

See page 4 for more info!

free

best motorbuys

Incorporating

ISSUE 668 | FrIday 27 NovEmbEr 2020

275 Colombo street, Christchurch

For more see their advert on pages 6 & 7

Ce l 021 855 884

Incorporating

ISSUE 669 | FrIday 4 dEcEmbEr 2020

See inside for this week's

Classic Car feature!

PH 03 web

www.drivesouth.co.nz

One Owner!

40 Years Finance

Experience

Cannot be Beaten!

• Talk to us about finance for your next

motor vehicle purchase

Specialising in Finance for Private Purchases

Very quick approvals, sensational interest rates

• From no deposit (terms & conditions may apply)

Hiace spares

Cnr Main South Rd and Epsom Rd, Christchurch

Ph: 03 348 4129 | avoncityford.com

2015 IsuZu D-mAX

4WD Ls D/CAb

NZ new, 3.0 intercooled turbo/dsl,

auto, rare flatdeck with ladder/pipe

racks, reverse cam, service history.

$34,995 $192pw

For more see their advert on page 31

free

best motorbuys

www.drivesouth.co.nz

See inside for this week's

marine feature!

free

best motorbuys

The South Island's leading motoring resource,

filled with news, reviews and dealer listings.

From family cars to work trucks, and supercars

to SUVs. No matter what you're looking for,

you can find it all with Drivesouth.

Magazine available for FREE every Friday

at a convenient pick up point near you!

The biggest range of vehicles

in one location!

Now Available @ NZ Van Spares

www.drivesouth.co.nz

2.4 auto, alloys, ABS, twin airbags.

2005 toyota rav

$20,999

$9,990

40 Years Finance

2008 bmW 320i

2.0lt Petrol, 5 Dr Station wagon,

Climate Control, ABS Braking,

.nz

CAR AUDIO

AUDIO VISUAL

CAR SECURITY

32 Moorhouse Ave | P: (03) 366 7768 | www.valuecarswarehouse.co.nz

MOBILE INSTALLATION SERVICE

RADAR DETECTORS

DASH CAMERAS

Cannot be Beaten!

$10,974 NoW $7,974 + orC

Experience

Automatic. $34.63pw.

AERIALS

• Talk to us about finance for your next

Specialising in Finance for Private Purchas

• Very quick approvals, sensation

• From no deposit (term
---
32 The Star Thursday September 16 2021

Our

readership is

skyrocketing

AGAIN!

Read

199,000 times every week!

*Source: Nielsen's National Readership Survey. Christchurch area, people over 15 years of age.

*Star Max — The Star, Bay Harbour News, Selwyn Times, North Canterbury News.

8.8% increase!

That's an

in readership over the last three months!

Reach more customers and grow your profits with our free professional advertising

consultancy for your business. Contact Shane on 021 381 765 / shane@starmedia.kiwi
---
Get the TLC experience

Call one of our Licensed Sales Consultants

today for a free appraisal:

Trish Lawrence ph 0274 350 565

'Trust in Trish'

Kay Livingstone ph 021 163 0001

Goes above and beyond'

MAKING YOUR MOVE EASIER

tlc realty limited

Licensed Agent REAA 2008 | www.tlcrealty.co.nz

"I WILL TURN UP

WHEN I SAY I WILL"

Need a certified and reliable plumber for filtration

systems or hot water cylinder replacement?

Bathroom upgrades or refurbishments?

FREE CALL

TEXT

EMAIL

0508 H2O BOY

426 269

027 245 5100

The Star Classifieds

Adult Information

A SEXY BLONDE talk

live or listen. Ph 0900 44

666. $3.99 + GST pm.

R18.

Boating Accessories

& Equipment

WINDSCREENS

Perspex cut to size and

shape, Fab Plastics ph

366 3634

Building Supplies

PERSPEX, poly carbonate

and other plastics cut

to size and shape. Fab

Plastics phone 366-3634

PERSPEX, poly

carbonate and other

plastics cut to size and

shape. Fab Plastics phone

366-3634

SHOWER/BATH Liner,

custom made to suit, Fab

Plastics ph 366-3634

Cars Wanted

CLASSIC Car wanted

1950s, 60s, 70s, 80s, or a

modern classic.

American, Japanese,

English or what have you.

Keeping options open.

Text me with what you

have, I can call / txt you

back, Ph 021 861 732.

Caravans, Motorhomes

& Traliers

CARAVAN Wanted to

buy. Up to $5000 cash

today 027 488-5284.

NICK@NICKJONESPLUMBING.CO.NZ

Car Parts

TYRES Secondhand,

most szs from $30 - $70

fitted, Also batteries, 217

Waltham Road, 027 476

2404

Church Notices

Christian

sPiritUaList

ChUrCh

182 Edgeware Road

Sunday Service

7pm

Address

Debbie

Clairvoyant

Debbie

All Welcome

NEW AGE CHRISTIAN

SPIRITUAL CENTRE

61 Grafton Street

Sunday 7pm

Address:

Gaynor

Clairvoyance:

Gaynor

Tuesday

Healing 1-1.45pm

Clairvoyance 2pm

All Welcome

* MASKS NECESSARY

If you've been to an open home recently,

or been browsing the 'for sale' adverts, you

might have noticed that some sellers put

together information packs for potential

buyers. These sellers will know that

researching a property takes time and

money, and they don't want this to be a

barrier to a successful sale. They believe that

providing information like a LIM (a Land

Information Memorandum from the local

council) and a building inspection report can

help busy people get an offer on the table.

This is great in theory, but you need to tread

carefully all the same.

If, for example, a real estate agent or

seller gives you a LIM for the property,

check carefully when it was prepared.

A LIM is a summary of all the current

property information held by the different

departments at a council at the time. It

contains details of council consents for any

work done, how much the rates are and

information on any geographic hazards

that might have an impact on the property,

such as subsidence. Bear in mind that this

information can be reasonably general. If the

LIM is dated a couple of weeks ago, it's safe to

assume it's reasonably up to date. If it's dated

a year ago, it's a good idea to make further

enquiries. Getting a LIM costs money in

most areas (prices vary from council to

council). You can also ask to see the property

file held by the council, which holds other

information about a property, like a site map

and original house plans.

Building reports are a bit trickier. Using

a building report provided by the seller (or

the real estate agent working for them) may

seem like an easy option in the short term.

However, if you buy the property and then

find problems with it that cost a significant

amount to fix, you're not protected by the

building report because the inspector's

contract is with the seller, not you. The

Home & Property appears every Thursday, delivered FREE

throughout Christchurch

For more information and bookings, contact Mike Fulham

M: 021 300 567 E: mike@starmedia.kiwi

Can I trust a seller's building report?

PAYING ATTENTION?

cONTINUING FROM PAGE 27, sEPT 9TH.

The crucified malefactor addressed Jesus as Lord;

believed in resurrection of both; in Jesus' second

coming; eternal life in restored earthly Edenic

garden. (Luke 19 vs: 11 and Acts 3 vs: 21)

PLANET EARTH SAVED!

BY IMMORTAL BODY

is visible, touchable, converses, eats, walks.

(Luke 24 vs: 13 to 31 and 36 to 53. Genesis 19 and

elsewhere). Unmarried; equality with angels -

Divine messengers Luke 20 vs: 35 (Angels haven't

wings). In Christ's millennial rule, those morally

worthy, will be kings and priests. (Revelations 5 vs:

10 and 20 vs: 6). One God, one world king, religion,

capital (Jerusalem), government, law, language.

PRAY, "THY KINGDOM COME ...

PEACE ON EARTH..."

JESUS WANTS HELPERS. ENQUIRE NOW

www.keytothebible.org

Fairs & Markets

Gatewood

Market

788 Old Tai Tapu Rd

THIS SUNDAY

10am-2pm

Child & dog friendly

Church Notices

Real Estate Authority (REA) recommends

using an accredited property inspector who

complies with the New Zealand building

inspection standard 4306:2005. Their

written report will identify any current

defects as well as highlight any urgent and

long-term maintenance required. Look for

someone who has a good level of indemnity

insurance, as this will protect you if you buy

the property and then find you need to fix

something that wasn't in the report. Building

inspections do come at a cost, but we think

it's worth it to be sure that you're fully aware

of what you're signing up for.

If you end up with a report with a lot of

information about the property it doesn't

mean you should walk away. Instead, see it

as giving you the opportunity to know what

you're buying. Doing this before you make

an offer means you are fully aware of what

the property may need to have done to it and

your offer figure can reflect that. However,

if you don't feel comfortable paying for a

building report before you make an offer,

you can make a property inspection a

condition of your offer. Like most things in

life, buying a property will go more smoothly

if you put the work in. If a short cut seems

too good to be true, it usually is.

For independent guidance and

information on buying or selling, check

out settled.govt.nz.

Thursday September 16 2021 The Star 33

Your

Earthquake

damaged

home!

Talk to us if you are serious about

selling your "As is Where is" home.

We have sold over

150 "As is Where is"

homes and we have

a huge database of

qualified buyers.

Phil & Holly Jones

Ph 03-382-2230

Phil 027 435 7711

Holly 027 222 0220

holly.jones@raywhite.com

Licensed (REAA 2008) Results Realty Ltd

RENT ME!

Ideal as an extra

bedroom or office.

no bond required

We have achieved

record breaking

prices recently!

Fully insulated and double glazed for warmth.

Three convenient sizes from $80 a week:

Standard 3.6m x 2.4m

Large 4.2m x 2.4m | Xtra-large 4.8m x 2.4m

Visit our website

www.justcabins.co.nz

for display cabin locations

www.justcabins.co.nz

• Phone our local team 03 379 1100 • Email star.class@starmedia.kiwi

Funeral Directors

Direct

Cremation

No frills, No Service,

No fuss, simply

straight to the crem.

Other options

available.

Ph: 379 0178

for our brochure

or email

office@undertaker.co.nz

Funeral Directors

No Service

Cremation

$2,000

Family Funeral with Cremation $3,950

Chapel - 35 people, casket, hearse, cremation fees

Phone 0800 804 663 - 24 Hour Availability

Email: info@justfunerals.co.nz

christchurch.justfunerals.co.nz

Gardening & Supplies

Back by popular demand the

Rotary Club of Christchurch South is

again selling its much sought after

ChiCken manuRe

at a street site near you!

Just $8 a bag or 3 for $20

our product will give your garden

the boost you are looking for.

Saturday September 18th (8.30am – 2.00pm) and

again Saturday September 25th if stock still available,

at the following sites:

• Colombo Street in front of

Cashmere Club.

• McCormacks Bay. West end.

• Wairakei Road. Near school.

• Pages Road. Woodham Road corner.

• Innes Road. Malvern Park.

• Halswell. Opp Halswell Timber.

• Harewood Road. Near Nunweek Park.

• Cashmere Road. Opp Crighton Terrace.

• Yaldhurst Road. Near Racecourse Road.

all funds raised are used for

charitable work by Rotary.

For Sale

STEEL for sale all

sections, off cuts cut

lengths. siteweld@ xtra.

co.nz Ph 0274 508 785

Personals

ARE YOU SINGLE, over

65 living in the Wigram

area??

Interested in forming a

social group for outings,

meals out etc. Please

phone 021 238 6425 for

details.

Male 59 seeks lady any

age / size for intimate fun.

021 146 8156

Pets & Supplies

CATS UNLOVED

can help with the cost

of desexing your cat.

Ph 3555-022 or email

catsunloved@xtra.co.nz

Real Estate

HOME WANTED 3-4

bedrooms. Looking in Nor

West areas, Beckenham

or Somerfield. Prefer

permanent material brick

and post 1990 build. Don't

mind if it needs some TLC

- anything considered.

Cashed up buyer. Phone

021 372 479

INDUSTRIAL

COMMERCIAL

property sought Off

Market. Deal to suit your

needs. Private qualified

buyer. Contact Lester 021

0244 9280

Real Estate

PRIVATE

BUYERS

Want house

and land within

4kms of CBD

Over 600sqm

Phone

0275 415 252

Trades & Services

ROOF

PAINTING 24/7

Rope & harness

a speciality,

no scaffolding

required,

30 years of

breathtaking

experience.

FREE QUOTES

20% OFF other

roof quotes

Exterior staining,

exterior painting,

water blasting.

Moss and mould

treatment $300.

Phone Kevin

027 561 4629
---
34 The Star Thursday September 16 2021

Trusted Trades & Professionals

To advertise:

Phone 379 1100 or email

star.class@starmedia.kiwi

CAR REMOVALS

DECORATORS

DRIVEWAYS

Driveways

CASH PAID

FOR DAMAGED

CARS & TRUCKS

Phone or text

details to

021 1056 797 - 24/7

Selwyn based but

service the whole of

the South Island

• New Paint • Floor & Roof

• Repaints Painting

• Wallpapering • Spray Painting

• Fences • Commercial

• Repairs • Timber Finishing

• Feature Walls • Plastering

027 724 6846 027 PAINTIN

email: andertondecorators@gmail.com

Exposed Aggregate

Stamped Concrete Plain

Concrete Resurfacing

Things we offer...

Competitive/affordable pricing

Attention to detail

Professional service

free quotes/insurance scopes

Cell 0278 145 848

www.drivecrete.co.nz

SWAINS

KIWI KERB

(Since 2005)

Over 22 Years Experience

Quality

Workmanship

• Driveways

• Kerb &

Channel

• Garden Edging

Freephone: 0800 081 400

swainskiwikerb@gmail.com

ELECTRICIAN

Excavations

FURNITURE

landscaping

Contact for a free quote

phone 027 331 0400

dave@davesimpsonelectrical.co.nz

davesimpsonelectrical.co.nz

Experienced Domestic Electrician

Quality Workmanship

• New Build

• Renovations

• Fault finding

• Power

• Lighting

• Switchboards

• Driveways

• Car Parks

• Site Cleaning

• Demolition

• Farm Tracks

• Drain Cleaning

• Stump & Hedge

Removal

• Asphalt Concrete

Wide range

of truckS

for a free quote

on your next project

Phone Steve on

021 338 247

• Tennis Courts &

Swimming Pools

• Chip Seal Driveways

• Diggers – 2 Ton

up to 20 Ton

• Excavators

• Bobcat & Drilling

• For Posthole &

Fence hole

free

quote

EXCLUSIVE. STYLISH.

HANDCRAFTED.

Solid timber furniture

A fantastic range

of traditional and

contemporary

furniture designs.

We can also help you

with any custom made

furniture requirements.

19 Elgin St, Sydenham. Ph: (03) 366 9219

www.gavincoxfurniture.co.nz

Landscape

Construction and

Garden Maintenance

You can have your gardens, trees,

shrubs, plants and lawns maintained to look their best

all year round, for a great price.

Residential & Commercial Landscaping

• Maintenance • Pruning • Reconstruction & Rejuvenation

• Rental Property and Commercial Maintenance

• Pre-Sale Tidy-Ups

New Home Landscaping

Lawns • Gardens • Decks • Paving • Water Features

• Quality • Value for money • Experienced • Punctual

• Professional • Flexible • Knowledgeable • Reliable

Call Ross Legg - 027 222 0388

Email ross@revivelandscaping.co.nz

www.revivelandscaping.co.nz

Mailer Deliveries

PAINTERS

PLUMBER

POWER WASH

For a local, reliable

mailer delivery

service contact

Star Media

• Newspaper inserts

• Magazine inserts

• Letterbox deliveries

• Urban & Rural deliveries

For a cost effective, targeted

delivery please call 03 379 7100

or email mike@starmedia.kiwi

www.star.kiwi

Painters and Decorators Ltd

Canterbury Owned and Operated

A husband and wife team

Specializing in:

• Roof Painting

• Interior/exterior

residential

• Small commercial

painting

Noel 027-411-3596

kemp.painters@gmail.com

kemp painters and decorators

We offer

free quotes

Quality not

Quantity

NEED A PLUMBER

Call us now for fast friendly service.

Get your problems sorted out

quick smart - on time!!

Phone for a

FREE

quote now.

Phone 03 377 1280 | Mobile 021 898 380

SPECIALISTS IN HOUSE WASHDOWNS

We are a Canterbury owned power wash

company that can handle all your exterior

wash requirements.

From the driveway to the top floor, we can remove

dirt, moss, and mould, clean windows and gutters,

remove graffiti and everything in between.

Call us today

P: 022 5146 253

www.thewashdownking.co.nz

SCRAP METAL

TRADES

TREE SERVICES

WINDOW TINTING

Dominion Trading Co Ltd

• Scrap metal buyers

• Canterbury owned & operated

• Top prices paid $$$

• Open Saturday morning

Open Mon-Fri 8am – 4.30pm Sat. 8.30am-12.30pm

www.happyscrappy.co.nz

03 343 9993 333 Blenheim Rd

Advertise your

business & services

in Christchurch's

best read &

largest circulation

newspaper

Delivered into over 93,000

Christchurch homes every week.

Ask us about our fantastic

cost affordable packages.

Phone: 03 379 1100 | www.star.kiwi

CRAIGS

TREES

Our services include:

Tree felling

Branch chipping

Trimming and pruning

Crown reduction

Stump grinding

P: 027 2299 454

E: craigstrees@xtra.co.nz

www.craigstrees.co.nz

Fully insured

tintawindow

advanced film solutions

99% uv block

fade protection

heat control

reduce glare

25 Years Experience

privacy films

frosting designs

non-darkening films

Workmanship Guaranteed

Lifetime Warranties on Most Films

UV

block

Free Quotes Canterbury and Districts

03 365 3653 0800 368 468
---
The Star Classifieds

STOP BIRDS

hail, leaves, snow & vermin from

blocking & damaging your spouting

Quality materials: BHP Colorbond steel mesh with

unique patented louvre will even keep out pine needles.

Will not rust or sag with age or load. 10 year warranty,

range of colours.

Proven in Australia & New Zealand over the last 15 years.

FOR SAFE, PURE DRINKING

WATER FROM YOUR ROOF.

NOW AVAILABLE: STAINLESS STEEL

MICO MESH

Call Rohan anytime Mon-Sat for a

no-obligation assessment & quote

03 982 8850 0800 486532

www.gumleaf.co.nz

LANDSCAPING

Call Aaron &

the team today!

Select Services

Phone: 03 347 4422

or 021 542 402

Email: Aaron@theoutdoorspace.co.nz

Trades & Services

It's time to

SPRING CLEAN

the exterior of your

property

For the Outdoor

Space of your

Dreams...

Paving, Irrigation,

Lawns, Planting,

Fences, Pergolas,

Water-features,

Outdoor fires, Raised

Vege beds, Decks,

Artificial grass,

Garden maintenance

& more...

www.theoutdoorspace.co.nz

We are your local specialists

in House Washing and Moss

Treatments, including paths,

roofs and decks and much more.

Rejuvenate and prolong the life of

your paint work – saving you money!

Call us today on 0274 907 364.

Re Roofing

Roof Repairs

Spouting

Approved Age Concern provider

Over 30 years experience

Licensed Building Practitioner

N A BARRELL

ROOFING LTD

Ph: 0275 389 415

Email: nabroofing@xtra.co.nz

Trades & Services

Painter and Decorator

Paint Pro Ltd

Painting & Decorating

Thursday September 16 2021 The Star 35

• Phone our local team 03 379 1100 • Email star.class@starmedia.kiwi

Services include:

Painting, Plastering, Wallpaper Specialists,

Water Blasting, Gib Stopping & Fixing

No obligation free quote. Fast and friendly service.

Locally owned & operated. 30 years in the trade.

Gordon McGrath 021 159 0759

paintproltd@gmail.com

2417353

GLAZING

TWISTY GLASS &

GLAZING LTD

• Mirrors • Pet Door Specialists

• Splashbacks • All Broken Windows

House & Garden

Property services Ltd

Tree & hedge trimming

Stump grinding

Gardening

Landscaping

Gutter cleaning

All aspects of

property maintenance

CALL us 021 405 277

• Driveways

• All concrete

• Building

• Decorating

Licenced builder

Phone John: 027 224 2831

www.dohertybuilders.co.nz

EXPERIENCED

GARDENER

(Kevin Garnett)

30 Years

Christchurch Botanic

Gardens.

ALL landscape

work done.

Maintenance, pruning,

tidy up, lawn work,

landscape planning

and planting etc.

Free Quotes

Phone 348 3482

PAINTING

older painter

for older houses

50 years in trade

"All the skills"

GST FREE

Contact Jimmy Bell

0211221487

Demolition

Carbon neutral

demolition/deconstruction

Residential - Commercial

Industrial - garages

For quotes please phone:

0274 052 391

Trades & Services

Trades & Services

Trades & Services

DIRTY TILES

& GROUT?

ARBORIST

ELECTRICIAN

Qualified. Copper Prompt & reliable

Beech Tree Services. registered electrician

Tree removal, pruning, with 24 years experience

height reduction, hedge for all residential and

trimming, shaping, tree commercial work, new

planting, firewood. Free housing and switch board

quote.Contact Angus replacements. Phone Chris Our unique restoration

Edwards 027 259 6741. 027 516 0669

processes will make your

copperbeechtreeservices@ ELECTRICIAN

tiled areas look NEW again!

gmail.com

Available, 30 years We specialise in professional

BRICK & BLOCK

cost effective solutions for

experience, immediate

all your tile & grout issues.

LAYING

start, competitive rate,

all restoration work ph Brian 027 433 9548

• Tiled shower makeovers

and new work plus

• Re-colouring old grout

No Call out fee

foundations, ph 342 9340

• Mouldy silicone replacement

ELECTRICIAN

or 021 853 033

• Professional tile/grout

Registered, electrical cleaning, sealing & repairs

BUILDER QUALIfIED installation and repairs,

50 yrs exp. Bathrooms, Gorbie Electrical, ph 021

Kitchens, Renovations, 026 73375 or 03 322 4209

Repairs & Extensions fENCING

Free quotes. Discount for All types of fencing . Free Call today for a FREE quote on 0800 882 772

pensioners. Ph Mike 03 quotes. Ph Jim 022 137

www.theprogroup.co.nz/dpc9385

980 9771 or 027 2266 930 1920

THE CAT DOOR MAN

BUILDER QUALIfIED GARDENER

Phone Cushla or Darren Twist

Trades & Services Trades & Services

Decks, T & G Flooring, Experienced & reliable

027 352 6225

Villa Restoring, New available for weeding, PAINTING

PLUMBER

Homes, Weatherboards. planting & light Indoor / Outdoor, over 30 A Top Plumbing job

Free Quotes. Bennet & pruning.$25 per hour. yrs exp, same day quotes, completed at a fair price,

Sons Ltd Sam 027 496- Phone Wendy 027 ph Steve 021 255 7968 all work guaranteed, ph

9362 or Tony 027 224- 2828515

PAINTING

Brian 021 112-3492 or 03

0374

GASfITTING

PLASTERING

960 7673

30 years + experience BUILDER,

N.T. Gas Services. Free quotes. Int/ext & QEII COLLISION

Older house HANDYMAN,

Domestic gas installations. roof painting Family run REPAIRS

restorations: MAINTENANCE

Reg Craftsman Gas Fitter. business, work guaranteed. Free Courtesy Cars

no problem! Have peace of mind with

Ph Nick 021 892 491 Pensioner discounts. Ph (conditions apply),All

Quotes: FREE! a fully qualified owner

GLAZIER

Kerin or Paul 022 191 Insurance work, Rust

operater LBP. Available

Rates: Reasonable

Glass repairs - pet doors 7877 or 379-1281. Website Repairs & Private work.

for all jobs around the

Paint supplied at

- conservatory roofs. Exp www.swedekiwipainting.

home, commercial or

Spray-painting.

trade price!

Tradesman. Call Bill on co.nz

rental property (extremely

Free pickup & delivery.

022 413 3504 or 981-1903

NO JOB TOO SMALL experienced in Healthy

PAINTING

Ph. 03 388 5187

HANDY - DAN

Light industrial also Homes Reporting and

Small - Medium jobs REMOVALS

General Handyman for

all Remedial works) Call

Free quotes Ph 027 294 Small furniture removals,

Roger Brott

all your maintenance

Chris on 027 3888 211

1508.

have own van, can fit

Painter & Decorator

requirements. I specialise

BUILDER

PAINTER

in fences and decking, also

various types of whiteware

021-1966-311 New builds, alterations,

CARPENTER

do spouting cleans and

appliances, some furn,

decks, fencing. 30 yrs in

Repairs. Free quotes. Ph

repairs and everyday home

bedding, boxes etc, honest

the trade has given me

Joe 0220 916 671

maintenance. NO JOB TO

& reliable, any area

ability to build to a high

PLASTERING (INT)

BIG OR SMALL I can do

considered, ph Chch 027

ROOF standard. Free quotes. Ph

and small painting jobs

it all, please don't hesitate

517 7001

PAINTING 24/7 Brent 027 241 7471

Experience and

to call me on 022 600 7738

ROOfING

Rope & harness CARPET LAYING

Excellence. Small to

for a no obligation free

All Roof repairs, Roof

a speciality, Exp. Repairs, uplifting,

Medium job specialists

quote.

painting, moss treatments,

no scaffolding

relaying, restretching.

in all aspects of Interior

HANDYMAN

required,

Phone John on 0800

Gutter cleaning 10 + yrs

Plastering. Please call Tim

For all those odd jobs. Ph

003181, 027 240 7416

exp, free quotes 24 / 7, Ph

30 years of

027 294 1508

022 5380959

jflattery@xtra.co.nz

027 516 6609

breathtaking

HOME CLEANING

PLASTERER

CARPENTER

SPOUTING CLEANING

experience.

SERVICES

Phone Finn for all your

BUILDER

SPECIALIST

FREE QUOTES

Regular Weekly or interior plastering needs.

Licensed Building

Fortnightly. Ring Vivien No job too small -

Entire spouting system

20% OFF other Practitioner no. 100981.

at 03 365 8422 for free renovations, alterations,

cleared. Single or 2 storey.

roof quotes All carpentry & building

quotation

holes & cracks. Free Jo 021 164 0365

repairs & maintenance.

Exterior staining,

Alterations & property

LANDSCAPING quotes. I'll beat any quote SPOUTING

exterior painting,

water blasting.

upgrades.Laundries /

Paving, Lawns, Irrigation, by 10% .25 yrs exp. Canty CLEANING

Moss and mould bathroom / kitchens

Decking, Fencing. born. Ph 022 087 4351 Spouting Unblocked,

treatment $300. replaced. Specialising in

Kanga & small digger PLASTERER

Cleaned Out and Flushed

replacement of all rotten

services. Check out Squire Available for mid to Out, Call Trevor 332 8949

Phone Kevin timber, fascia boards, Landscaping on facebook. small jobs. Free quote.. or 021 043 2034

027 561 4629 window, windowsills etc. FREE QUOTES. Ph Ph 022 430 0277 SPOUTING

John Sandford, ph 329 Arthur 347-8796, 027 PLASTERER

Select Spouting

4616, mob 027 5189 598 220-7014 Edwin 027 220- Available for mid to small The PVC specialist.

johnsandford2@gmail. 7154

jobs. Free quote..Ph 022 Repairs & replacement. Ph

com

LAWN CUTTING & 430 0277

022 197 2351

rooF

COMPUTER REPAIRS HEDGE TRIMMING

fAST

SERVICES

painting

Friendly experienced 30 yrs + exp. Ph Jerry 021

by Certified Tradesman

techs available to help you 037 4138

Book now now. Christchurch based. LAWNMOWING

All work guaranteed. Weeding, pruning, outdoor

and receive Computer Help 0800 349 tidyup's. Call Phil 021 661

20% discount. 669

246 for your free quote.

CONCRETE CUTTING MOBILE CAR

Rope and harness Affordable Concrete CLEANING SERVICES "I WILL TURN UP

a speciality. Cutting with Quality, and We come to you where

WHEN I SAY I WILL"

No scaffolding

removal work. Free quote. ever you are. Ring us

No job to small. Phone 027 at 03 281 8054 for free

required.

Need a certified and reliable plumber for filtration

442-2219, Fax 359-6052 quotation.

systems or hot water cylinder replacement?

30 years a/h 359- 4605

ODD JOB SPECIALIST

Bathroom upgrades or refurbishments?

experience. ELECTRICIAN

Small jobs specialists.

All types of domestic eg: drippy taps, sticky

Free quotes, & commercial work doors, locks, spouting/

call Craig undertaken, new housing, fence repairs Discount for

FREE CALL

021 060 2392 alterations, extensions, pensioners.

0508 H2O BOY

426 269

ranges, security lights, Ph 390 1565 or 022 5275

Trades & Services quick response, efficient 668. Avail now.

TEXT 027 245 5100

service, free quotes, PAINTER,QUALIfIED

AA SHOWER

EMAIL NICK@NICKJONESPLUMBING.CO.NZ

city -wide. No call out local professional, Int /

CLEANING

fee. M/S, 8-5. Call Pat Ext,roofs,wallpaper, call

From $60 Spring Clean Barrett 03 359 2087/ 027 or text Corban 027 846

now!. Ph 021 022 824 85 7331384.

5035
---
36 The Star Thursday September 16 2021

The Star Classifieds

Trades & Services

STUMP GRINDING

Best price guarantee Tony

0275 588 895

TILER ( MaSTER )

Int / Ext. Res / Comm. .

Free quote. 18 yrs exp. Ph

Zac 021 1056 797

TREE SERVICES

Free quotes 20+ yrs exp.

Tree, hedge or shrub

- reduction, shaped or

removed. Ph/text Paul

The Branch Manager

0274314720

TREE SERVICES

Specialist small tree

pruning, Also garden

tidy ups. Ph Hugh

"THE LITTLE GREEN

GROOMER" 021 275

5445

TREE SERVICES

Hedges, shrubs, tree

trimming & rubbish

removal. Phone for free

quotes 022 540 4900

WaTERBLaSTING

Housewash, Drives, Paths,

Decks, Moss kills, Gutter

cleans. Ph 020 410 67205

WINDOW CLEaNING

Average 3 brm house

inside or out from $45.

Both from $80 Phone

Trevor 344-2170

WINDOW CLEaNING

Brown & White Ltd.

Family owned since 2001.

Ph Paul 027 229 3534

Tuition

COMPUTER LESSONS

avail for computer, IPad,

or Mobile. Please contact

Jobee 027 290 9246 www.

computertutor.nz

Wanted To Buy

STEVE PURCELL

ANTIQUES

BUYING

NOW

Gold jewellery,

watches, coins,

medals, scrap

gold, sterling

silver, pewter,

original paintings,

modern art.

351 9139

stevepurcellantiques.com

AAA Buying goods

quality furniture, beds,

stoves, washing machines,

fridge freezers. Same day

service. Selwyn Dealers.

Phone 980 5812 or 027

313 8156

A+ ALL whiteware

wanted. Same day

service, cash paid for

freezes, fridges, washing

machines, ovens. Also

buying furniture & h/

Wanted To Buy

ACADEMY ANTIQUES

Buying estates, antiques,

old china, crystal, art,

Royal Doulton , Royal

Albert etc. Best prices,

free appraisal. Call Rob

349-4229

A+ Household effects,

fridges, freezers, washing

machines, ovens. Good

cash paid. Ph Paul 022

0891 671

BOOKS.

Old wanted.

Anything considered incl

hunting,

mountineering,

fishing,childrens.

Ph 354 1621

CLOTHING 1900 - 1999.

0272 222 425

HORIZONTAL

gymnastics Bar. Ph 021

037 8857

MILITARIA Any

country, firearms,

uniforms, badges, medals,

memoribilia, WW2 or

earlier ph 338-9931

TOOLS, Garden garage,

saw benches, Lathes. Cash

buyer Phone 355-2045

Situations Vacant

CLEANERS

REQUIRED

ORCHARD ROAD

AIRPORT AREA

Monday to Friday

4.30pm / 5.30pm

Start time

Total 8 hours per week

CITY CENTRE

Monday to Friday

6pm to 9pm

Plus every 4th Sunday

2.5hrs

We are looking for cleaners

to join our commercial

cleaning team.

You will need to pass a

Security Check and you

MUST have your

own transport.

Must be eligible to work

in New Zealand.

Please email your

Application to

csc@totalcanterbury.co.nz

or phone 338 9056

Visit our website:

totalcanterbury.co.nz

Please advise which job

when emailing your CV.

MODELS Wanted for

various photographic

assignments. No

experience necesary. All

shapes and sizes. Part time

/ casual. Email interest

to: johngallagher2108@

gmail.com

RETAIL STAFF Part

effects.Anything Time, 15 - 18 hrs per week.

Must be reliable. Ph 027

223 0948

hold

considered. Ph Dave 960-

8440, 027 66 22 116

Vehicles Wanted

Situations Vacant

BUPA CASHMERE VIEW CARE

HOME - CHRISTCHURCH

CASUAL LAUNDRY

ASSISTANT

Bupa are looking for a Laundry assistant to

join the team in our Bupa Cashmere view

Care Home in Christchurch.

This a casual position with possibility of

switching to fixed term contract providing

an opportunity to work in an incredibly

rewarding environment, with our wonderful

residents. In return for your dedication we will

support you with on-going training to assist

your development both professionally and

personally.

What Bupa is looking for?

• Enthusiasm, care and passion for

making a difference to residents

• To have full clean driver's licence

• The ability to work rostered and rotating

shift (including weekends)

• Reliable transport or travel

arrangements

• Previous experience preferred

Please bring your CV to the Cashmere view

Care Home directly: 72 Rose Street, Spreydon,

Christchurch 8024

Public Notices

Senior Citizens

Outings

with Companion Driving Service Ltd

A few seats left on our 2 night / 3 day

visit to Tekapo (overnight) & Wanaka

(overnight). Dinner - Bed - Breakfast

plus lunches included $796.00

Upcoming tours

in the near future

CHRISTCHURCH TO PICTON MAIL BOAT RUN

Christchurch - Kaikoura (overnight Dinner - Bed

- Breakfast) then onto Picton - Mail boat sailing

- overnight at Picton. Next day free morning and

then return to Christchurch on Coastal Pacific

train. Pick up & drop off included. Single unit

(no sharing) - $996.00 includes mail boat &

train journey. Walkers welcome.

PUNAKAIKI RESORT HOTEL SPECIAL

Hokitika - Greymouth - Punakaiki by coach.

Overnight at Punakaiki (single room - no sharing).

Next day free time in Greymouth then return to

Christchurch on Tranz Alpine train. Pick up &

drop off included in our price of $494.00.

PHONE PETER ON 0800 453 873

for info and bookings.

COMPANION DRIVING SERVICE LTD.

CAR REMOVALS

$$CASH PAID$$

CARS, VANS, UTES & 4X4 WANTED

NZ OWNED AND OPERATED FOR 24 YEARS

We use world class vehicle depollution systems

0800 77 80 80

www.pickapart.co.nz

• Phone our local team 03 379 1100 • Email star.class@starmedia.kiwi

Over the years, Grant Amos has helped thousands

of people overcome their fear of flying.

Enrolments for our next "Flying Without Fear"

Programme are now being taken in your area.

HURRY! ONLY CHRISTCHURCH COURSE FOR THIS YEAR!

REMEMBER, FEAR OF FLYING IS NOT

IRRATIONAL - DOING NOTHING ABOUT IT IS

For further details, contact Sue on 09 483 5547

or 0800 737 225 www.flyok.co.nz

Call us

and we'll

help you

place

your

classified

advert

(with no

hassles!)

Nobody knows

Christchurch

like a local

We're local,

we're in

Christchurch

and we speak

your language!

Ph: 379 1100

Classifieds

The Star is published every

Thursday, is home delivered

free into 93,000 households and

is available at over 500 pick up

points throughout Christchurch

www.starkiwi

Entertainment

SCHOOLS. SPORTS CLUBS OR CULTURAL EVENTS

OUTSTANDING

Fundraising opportunity

The Star has a fantastic opportunity that is an ideal way

to fundraise while at the same time helps to profile and

promote your team and their goals and ambitions.

Call now to find out more about how you can fundraise

those hard to get dollars, while at the same time

promoting some of the great positive work being done

in the community. It also offers exceptional value for

your supporters and sponsors.

Contact:

Mike Fulham

379 7100

mike@starmedia.kiwi
---
Thursday September 16 2021 The Star 37

SUBJECT TO

ALERT LEVEL 2

RESTRICTIONS

12 BAR, 342 St Asaph St: Thursday 6pm -

Riverside Jazz Club (relocated) with the Mike

Ferrar Trio, tickets at events.humanitix.com.

Friday 8pm - Kate Anastasiou. Saturday 8pm -

Phil Doublet.

A ROLLING STONE, 579 Colombo St:

Thursday 7.30pm - Cathcart, Walsh & Blaikie

(CWB). Friday 8pm - Live music. Saturday 9pm

- Rock out in your seat with Mammoth. Sunday

5pm - Malarkey Irish Band plus O'Neill's Irish

Dancers. Monday 7pm - Quiz. Tuesday 8pm -

Open Mic Comedy. All events limited to 50ppl.

Phone 03 377 4787 to reserve a table.

BOO RADLEY'S, 1 Halswell Rd: Friday

8.30pm - Mirrors duo. Saturday 11.30pm - Neil

Alexander.

CARLTON, 1 Papanui Rd: Friday 8pm -

Topia. Saturday 6.30pm - Diamond Blue.

To add a listing, contact

Jo Fuller 03 364 7425 or

027 458 8590

jo.fuller@starmedia.kiwi

www.star.kiwi/whatson

FAT EDDIES, 76 Hereford St: Thursday

7pm - VOXY Duo; 10.30pm DJ Jezza. Friday

6pm - Jack Bubb; 8.30pm - Perry Dup; 11.45pm

- DJ Jezza. Saturday 6pm - Lauren Marshall;

8.30pm - Mirrors; 11.45pm - DJ Jezza.

SULLIVANS IRISH PUB, 291 Lincoln Rd:

Wednesday 7pm - Willie's Open Mic. Friday

7.30pm - Willie McArthur One Man Band.

THE EMBANKMENT, 181 Ferry Rd: Friday

7.30pm - Open Mic & Jam. Wednesday 9pm -

Titanic (Kevin Emmett, Nick Buchanan, and

Peter K Malthus).

THE MILLER BAR, 308 Lincoln Rd:

Thursday 7pm - Mel Perkins. Sunday 6pm -

Lance Kiwi Karaoke. Tuesday 7pm - Quiz.

Wednesday 7.30pm - Lance Kiwi Karaoke.

RESTAURANT & CAFÉ

WE ARE OPEN

SENIORS SPECIAL $23

2 Courses: Soup/Roast or Roast/Dessert

Special available lunch only. Mon-Sat 12pm - 2.30pm.

KIDS 2 COURSE SPECIAL $13

Great Kids menu, plus designated play area.

Open daily from 6.30am

Breakfast, Lunch & Dinner

SPORTS BAR & TAB OPEN DAILY FROM 11AM

The

RACECOURSE HOTEL

& Motorlodge

118 Racecourse Rd, Sockburn,

Christchurch. Ph 03 342 7150

www.racecoursehotel.co.nz

In Alert Level 2

A reminder that at Alert Level 2,

it will be seated table service only

and there is a limited capacity.

Pavilion:

Open 9am to 3pm

Sunday to Thursday

9am to 7pm

Friday & Saturday

Legends:

Open 10am - 9pm

Sunday to Thursday

and 10am - 10pm on

Fridays and Saturdays

- Looking for the perfect -

CHRISTMAS

The Garden Restaurant

WE SERVE YOU

Buffet @Your Table

Bookings Essential PH 386 0088

@GardenRestaurantBuffet

THE ENTERTAINMENT HUB OF THE NORTH!

we are open

TO OUR MEMBERS!

11AM - 8PM

DINING IN RFS BAR

Access via Main Entrance

BAR & GAMING

Access via TAB Entrance

(No food or drink the Gaming area)

HOUSIE IS CURRENTLY

CANCELLED.

COMING UP AT THE CLUB

(COVID LEVELS PERMITTING)

POSTPONED FROM FRIDAY 24th SEPT TO

SATURDAY 2nd OCTOBER

WE ARE THE HOME OF EVENTS,

WITH LARGE ROOMS,

GREAT FOOD, AND LIVE MUSIC

BOOK YOUR FUNCTION NOW!

Come on down!

17 CARMEN RD. PH. 03 349 9026

WWW.HORNBYWMC.CO.NZ

9AM - 4PM

SUNDAY TO FRIDAY

(CLOSED SATURDAY)

CLICK & COLLECT

CAFÉ

COFFEE

@GBCCHCH

THURSDAY & FRIDAY:

FISH & CHIPS

SATURDAY:

CHICKEN NIBBLES & CHIPS

SUNDAY: ROAST MEAL

TUESDAY:

CHICKEN NIBBLES & CHIPS

WEDNESDAY: ROAST MEAL

Available 11.30am-2pm

80's

SMASH HITS

REGRETTABLY, DUE TO LEVEL RESTRICTIONS

THIS SHOW HAS HAD TO BE RESCHEDULED TO

SATURDAY 2 OCTOBER. 8PM START.

TICKETS DATED FRIDAY 24 SEPTEMBER

WILL BE VALID FOR THIS SHOW.

PRE-SALE TICKETS $25 | DOOR SALES $30

113 RAVEN QUAY

PHONE: 03 327 7884
---
38 The Star Thursday September 16 2021

STYLE & QUALITY

FOR LESS

SELL

OUT

STORE OPEN AT LEVEL2

CHRISTCHURCH'S MOST AFFORDABLE

NZ MADE LOUNGE SUITES

CUSTOMISE TO YOUR REQUIREMENTS

WAS $1999

$

1799

Havana 3+2

SUPER

SPECIAL

SUPER

SPECIAL

Haus Bar Stool

Avalible in:

Vintage Grey, Cognac,

Dark Brown, Black

Rustic Bar

Stool

WAS $199

WAS $249

$

179 $ WAS $739

219

$

679

Forged Coffee

Table

5 Year Warranty

Pocket Spring,

Euro Top, Quilt Fibre,

Wave Foam & Comfort Foam

5 Year Warranty

Zone Pocket Spring, Mini

Pocket Topper, Plush Fabric,

Quilt Fibre & Wave Foam

Elm

Collection

Table Large $1249 $1159

Table Small $759 $699

Buffet $1559 $1439

FROM

$

689

King Single $749 $689

Double $829 $769

Queen $919 $849

Cloud Rest Mattress

King $1019 $939

Super King $1099$999

FROM

$

689

King Single $749 $689

Queen $1019 $939

Indulgence Mattress

King $1059 $979

Super King $1079 $989

Willis Chaise Outdoor Set

WAS $2199

$

1999

Piha

Outdoor Table

WAS $1899

$

1749

Afforda

WAS $2199

$

1999 Tekapo

3 + 1 + 1 + Table + Bench Outdoor Set

GIFT REGISTRY

AVAILABLE NOW

Marley Outdoor

Dining Chair

Gunmetal

WAS $179

$

169

FREE

CARPARKING

SOUTH CITY

BATH ST

WE ARE

HERE

255 MOORHOUSE AVE

REBEL SPORT

COLOMBO ST

MON-FRI 9:30AM – 5:30PM

SAT-SUN 10AM – 5:30PM

0800 268 264

www.affordablefurniture.nz
---
RESIDENTS IN small Burnside

drivers' during a meeting on

Tuesday, addressing the concerns

However, the board's initial plan

to improve visibility by moving

the nearby Clyde Rd bus stop so it

was nex to existing no-stopping

restrictions by the intersection was

not well received by residents.

Five submissions were received

by the board on the plan, just one

of which was in favour of it.

A new plan was then created in

which the no-stopping zone was

talk about your home.

Mike Pero Real Estate Ltd Licensed REAA (2008)

Brand and Territory Owners - Bishopdale

027 660 1920 • 027 849 0404

THURSDAY, SEPTEMBER 16, 2021 Connecting Your Local Community

starnews.co.nz

Top chefs to

get together

for fundraiser

Page 2 Page 3

Loss of car

parks forces

dairy to close

Your

local news.

anywhere,

anytime.

Visibility set to improve

traffic safety on busy street

• By Fiona Ellis

Thursday, September 16, 2021 | Christchurch's best read and largest circulating newspaper

street have won a quick victory to

make their area safer.

No parking restrictions will be

increased on busy Clyde Rd so

residents turning in and out of

Penhelig Place will have a better

view of incoming traffic.

The Fendalton-Waimairi-

Harewood Community Board

approved a plan to increase

of the Clyde Penhelig Residents

Association.

The safety of the Clyde Rd and

Penhelig Place intersection was

raised as an issue by the association

before the Covid-19 lockdown

this year.

extended and the bus stop was not

moved.

• Turn to page 2

'Ugly

Customers'

Low Supply & High Demand!

Now is a fantastic time to sell.

Want to know what your home

might be worth in the current

market?

CHANGE MAKERS: Trevor Foster (left) and Clyde Penhelig Residents Association chairman Ian Cumberpatch have

been part of a push to improve the safety of the Clyde Rd and Penhelig Place intersection. PHOTO: GEOFF SLOAN

CAS'n'OVA PRODUCTIONS

Freephone direct to Cathy

and Ian to arrange a time to

BOOK ONLINE

0800 888 426

cathy.falconer@mikepero.com

www.casnova.co.nz

Ian & Cathy Falconer

Authentic Thai and

Vietnamese cuisine

open from 5pm

YOU'RE IN CAPABLE HANDS

All of our chefs are qualified in the art of Thai, Vietnamese, Malaysian or Chinese cuisine

and have years of experience in cooking and training throughout Asia. Many have worked

in some of the best restaurants throughout Southeast Asia. Our restaurants let you travel

across the borders and sample some of the exciting flavours of our Asian neighbours.

Halswell

Papanui

Riccarton

Sumner

Harewood

Beckenham

To view our menus, go to our website www.agh.co.nz
---
Halswell

Hoi An House

Thai and Vietnamese cuisine

Hoi An House means "The perfect meeting

place" a place to come relax, eat, enjoy, and

never leave the table hungry! Function area

caters up to 80 people.

Only a 10 minute drive from Beckenham

Open 7 days from 5pm - 8.30pm • 265 Halswell Road, Halswell • 03 260 1799 • www.hoianhouse.co.nz - book online!

PaPaNUI

Thai Garden

Simple, yet adventurous

Thai Garden is about fun, fresh food that

combines the best of Asian flavours. We think

we've hit the trifecta of good Thai: fast service,

friendly staff and fresh ingredients.

Open 7 days from 5pm - 8.30pm • 484 Cranford Street, Christchurch • 03 354 9203 • www.thaigarden.co.nz

rICCartoN

Buddha Stix

The best pan-Asian cuisine

Vivid with colour and saturated with flavour,

Buddha Stix indulges all of your senses to create

an intimate and memorable dining experience.

Open 7 days from 5pm - 8.30pm • 74 Riccarton Road, Riccarton • 03 961 1704 • www.buddhastix.co.nz

sUMNer

Le Xōm

Inodchina, Vietnamese cuisine

Here you will find the delectable flavourings of

Asia served up in an environment that creates an

enticing atmosphere.

Open 7 days from 5pm - 8.30pm • 6 Wakefield Ave, Sumner • 03 326 4352 • www.lexom.co.nz

BeCKeNHaM

Commi

Food for the people!

We believe that sharing is caring. Our menu has

been carefully created to empower the people.

A fresh, fast and casual dining experience for

everyone to enjoy – no bookings are required!

Open 7 days from 5pm - 8.30pm • Cnr Somerfield/Colombo Streets • 03 366 8844 • www.commi.co.nz

Harewood

BooK a

Class today!

Cooking is an art form, an expression of life.

At Asian Garden Cooking School, we admire the philosophy

and techniques of Asian Cuisine.

10 Whitchurch Place, Harewood • 03 359 8917 • www.asiancookschool.co.nz
---
Thursday September 16 2021 The Star 41

Heaps of styles.

Tonnes of deals.

We've got beds & furniture stock ready to sit on right now.

the big

furniture

sale.

%

30off #

selected

Lounge Suites
---
42 The Star Thursday September 16 2021

yellow

square

deal

The small comforts

in your life deserve

an upgrade.

yellow

square

deal

Ari 2 Seater

Chaise Lounge

Suite 9062445

$1499

was

$2499

Munich Fabric Chair

Available in Midnight

(Pictured), Grey and Oatmeal

$699

was

$999

9060289

Bremen 6 Seater

Lounge Suite

yellow

square

deal

$3699

was

$5399

9045666

Buy the Lisbon

3 Seater & get the

2 Seater FREE. *1

Marseille Tub Chair

Available in Charcoal

(Pictured), Navy, Silver & Steel.

$599

was

$899

9060286

Vienna 2 Seater

Chaise with Recliners

Available in Graphite

(Pictured) and Stone.

$2349

was

$3399

9027274

Bella 7 Seater Fabric

Lounge Suite - Grey

Available in Grey (Pictured)

and Silverstreak.

$3999

was

$5999

9063968

Lisbon 3 Seater

Fabric Sofa - Smoke

$1999

SAVE

$1549

Limited Stock

9068728

NZ Made
---
Thursday September 16 2021 The Star 43

yellow

square

deal

Upgrade the space

you spend a third

of your life in.

yellow

square

deal

Bahamas Queen Slatbed

with 2 Drawers 9062352

$1599

+ 2 Free Bedsides

worth $329 each

Brittany 4 Piece Queen Bedroom Suite

$2449

was

$3579

9067082

Louie Queen Slatbed

with 2 Drawers

Also available in

King size for $1999

$1859

+ 2 Free Bedsides

worth $479 each

9066816

yellow

square

deal

You'll want to sit at

the table for dinner,

for a change.

Brooklyn 3 Piece Dining Suite

$1899

9067241

+ Free Brooklyn Nest

of Tables worth $429

New York 6 Piece

Dining Suite

$2309

was

$3299

9040252
---
44 The Star Thursday September 16 2021

yellow

square

deal

%

60off #

Model Run Out

Sleepyhead Matrix Range

$1823

was

$4559

Sleepyhead Matrix

9061221

Firm Queen Bed

60 months

INTEREST FREE

on furniture & beds $1499 & over*

36 months

INTEREST FREE

on everything $499 & over*

Shop your way, delivered to your

door or click & collect in-store.

smithscity.co.nz

Offers valid dates vary, check product pages online for details. Available while stocks last or unless otherwise stated. Some products on display in selected stores only — please call 0800 764 847 to check availability. Personal

shoppers only, trade not supplied. *Apple, selected computers, game consoles, gift cards, clearance items and some promotional items are not available in conjunction with interest free offers. Flooring available on a maximum

of 18 months interest free. Exclusions, fees, terms, conditions and credit criteria apply. Available in-store only. Equal instalment amounts include one-off booking fee of $45.00, annual fees of $45.00 p.a., and security registration

fee of $8.05, and exclude insurance. Current interest rate of 23.95% applies to any unpaid balance and after expiry of (any) interest free period. See in-store or visit smithscity.co.nz/interest-free for details. *1 Offer valid 08 - 28

Sep 2021, or while stock lasts only. Availability may vary between stores. Not available in conjunction with any other offer. Limits and other exclusions may apply, ask in-store for details. In the event of an order cancellation or

refund, the bonus product must also be returned. Personal shoppers only. Trade not supplied. # Discount is off our full retail price and not available in conjunction with any other offer.