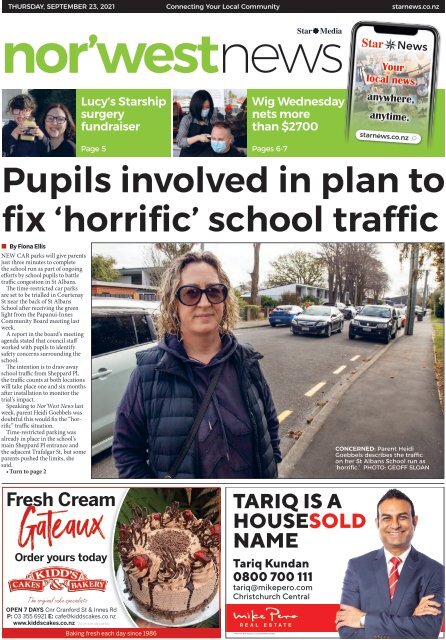 Nor'West News: September 23, 2021
You also want an ePaper? Increase the reach of your titles
YUMPU automatically turns print PDFs into web optimized ePapers that Google loves.
THURSDAY, SEPTEMBER 23, 2021

Connecting Your Local Community

starnews.co.nz

Lucy's Starship

surgery

fundraiser

Wig Wednesday

nets more

than $2700

Your

local news.

anywhere,

anytime.

Page 5 Pages 6-7

Pupils involved in plan to

fix 'horrific' school traffic

• By Fiona Ellis

NEW CAR parks will give parents

just three minutes to complete

the school run as part of ongoing

efforts by school pupils to battle

traffic congestion in St Albans.

The time-restricted car parks

are set to be trialled in Courtenay

St near the back of St Albans

School after receiving the green

light from the Papanui-Innes

Community Board meeting last

week.

A report in the board's meeting

agenda stated that council staff

worked with pupils to identify

safety concerns surrounding the

school.

The intention is to draw away

school traffic from Sheppard Pl,

the traffic counts at both locations

will take place one and six months

after installation to monitor the

trial's impact.

Speaking to Nor'West News last

week, parent Heidi Goebbels was

doubtful this would fix the "horrific"

traffic situation.

Time-restricted parking was

already in place in the school's

main Sheppard Pl entrance and

the adjacent Trafalgar St, but some

parents pushed the limits, she

said.

• Turn to page 2

Fresh Cream

Gateaux

Order yours today

OPEN 7 DAYS Cnr Cranford St & Innes Rd

P: 03 355 6921 E: cafe@kiddscakes.co.nz

www.kiddscakes.co.nz (34 on site car parks)

Baking fresh each day since 1986

TARIQ IS A

HOUSESOLD

NAME

Tariq Kundan

0800 700 111

tariq@mikepero.com

Christchurch Central

Mike Pero Real Estate Ltd Licensed REAA (2008)

CONCERNED: Parent Heidi

Goebbels describes the traffic

on her St Albans School run as

'horrific.' PHOTO: GEOFF SLOAN ​
---
2 Thursday September 23 2021

Latest Canterbury news at starnews.co.nz

NOR'WEST NEWS

GENERAL INQUIRIES Ph 379 7100

CLASSIFIED ADVERTISING Ph 379 1100

Star Media, a division of Allied Press Ltd

PO Box 1467, Christchurch

starmedia.kiwi

NEWS

Fiona Ellis

Ph: 021 914 407

fiona.ellis@starmedia.kiwi

ADVERTISING

Monique Maynard

Ph: 021 372 481

monique.maynard@starmedia.kiwi

Your local community news

delivered to 28,748 homes

within The Star each week.

Harewood • Burnside • Bishopdale • Bryndwr

Fendalton • Merivale • St Albans • Mairehau

Papanui • Casebrook • Redwood • Styx Mill

Regents Park • Northwood • Belfast • Strowan

Drivers become impatient

• From page 1

"There's no one here to

police the three-minute

parking. They need someone."

She was concerned the

heavy traffic would lead to a

child being hit by a car one

day.

"You see near misses –

the number of people is

crazy."

However, she was pleased

that pupils were thinking

about how to tackle the

traffic.

"[My son] is on the school

council and he's all over it."

Parent Simon Rogers said

he avoided driving by the

main school entrance.

"It's a bit of a nightmare,

I park elsewhere and walk

in," Rogers said.

"[School staff] do what

they can but as a parent,

you're still nervous."

He sometimes parked in

Courtenay St, and although

he was unsure whether

restrictions there would

improve the situation, he

thought it was worth trying.

This was also the overall

attitude of the community

board, in spite of dissent

from Emma Twaddell and

Ali Jones, both of whom

ON FOOT: Parent

Simon Rogers, with

daughter Nina,

avoids parking by St

Albans School's main

Sheppard Pl entrance

because it is too busy.

questioned the safety of the

trial.

The restricted parking

will begin 16m from the

Westminster St intersection,

where Jones said traffic

bottlenecked and drivers

became impatient.

"There is no doubt that

there needs to be more of

this kind of parking around

the area, but this is an horrendous,

and I'm not overstating

that, intersection,"

she said.

MORNING RUSH: St Albans School traffic is heavy

in Sheppard Pl.

PHOTOS: GEOFF SLOAN

"To encourage children

to be getting in and out of

vehicles essentially at an intersection

is just gobsmacking,

to be honest."

Chairwoman Emma Norrish

was supportive of the

change because she thought

new solutions needed to be

tried.

"It is aimed to be constantly

monitored and

reviewed, and revoked if

necessary."

Board member and Innes

Ward city councillor Pauline

Cotter said the board

needed to trust the council

staff who recommended the

change.

"I don't believe they'd

recommend us to put in a

parking treatment that was

going to endanger any lives

anymore so than they currently

are," Cotter said.

"Admittedly it is a busy

area."

PAINT

YOUR

FENCE!

FREE

PAINTING

KIT WITH

EVERY

FENCE

PAINT

ORDER!

SHOP ONLINE

www.rstradecentre.co.nz

FREE CHRISTCHURCH DELIVERY

0800 99 99 76

LOCATIONS:

484 Papanui Road, Papanui

68 Montreal Street, Sydenham

HOURS:

Monday - Friday 7.00am - 5.00pm
---
NOR'WEST NEWS Latest Canterbury news at starnews.co.nz

Thursday September 23 2021 3

Bin collection changes

to improve service

• By Fiona Ellis

UNCOLLECTED BINS may

have been bumped from the

top spot as the biggest concern

for those in the Papanui-Innes

Community Board area, but the

area still stands to benefit from

changes to the collection service.

A ticket

report has revealed

a breakdown

of issues

area residents

reported to the

city council

Ross Trotter

between July 21

and August 19.

Unlike the

two months prior, bins left

uncollected were not the biggest

concern, although they remained

an issue.

Subcontractor EnviroWaste

Services Ltd has been appointed

to help with Christchurch's

kerbside collection service issues,

starting on September 6.

The impact of this is not yet

reflected in ticket reports, but

is intended to help contractor

Waste Management NZ Ltd,

UNCOLLECTED: Bins remain an issue for those in the

Papanui-Innes Community Board area. ​

which has struggled to meet

some performance targets.

City council resource recovery

manager Ross Trotter said a

shortage of class 4 drivers was a

factor in this.

"They have been working hard

to recruit new drivers and increase

the size of their fleet, but

unfortunately there continues to

be days when a small number of

streets have not been collected

due to the driver shortage.

"We want everyone's bins

though to be collected on

the scheduled day so we have

appointed a subcontractor to collect

bins on one of the collection

routes each day,'' Trotter said.

"This should ease the pressure

on our contractor and help

ensure that all the scheduled collections

happen on the right day

to provide a high level of service

to our residents.''

The most recent ticket report

shows leaking water supplies to

be most common cause of complaint,

with 136 tickets, while

uncollected or damaged bins

placed second and third with 124

and 115 tickets respectively.

Last month 161 tickets for

uncollected bins were issued in

the area, while 118 tickets were

issued for water leaks.

The most recent report also

showed a general decrease of

tickets, at 1042 completed in

an average 3.1 days, down from

1363 tickets completed within an

average of three days the previous

month.

The most recent ticket report

for the Fendalton-Waimairi-

Harewood Community Board

area also shows collection issues

to be a concern.

In the ticket report for July 21

to August 19 contained in last

week's meeting agenda, uncollected

bins were also the second

largest issue, with 130 tickets

issued.

However, the main reason

people in the area reached out to

the council concerned residential

property files.

In Brief

FUNDING APPLICATIONS

THe city council has received 251

Summer with Your Neighbours

funding applications for

community-focused events,

including 60 from north-west

Christchurch. Community boards

will consider the applications

in early to mid-October. The

Fendalton-Waimairi-Harewood

Community Board has $4000 to

allocate between 36 applications

and the Papanui-Innes

Community Board has $3500 to

allocate between 24 applications.

NEW SEAL FOR ROADS

THe Christchurch Northern

Corridor and QE II Drive are set

to receive a layer of top seal that

will reduce the noise of traffic

and its impact on those who live

nearby. The work is expected

to begin in late October or early

November.

TENNIS COURT SURFACE

Burnside Park is set to upgrade

its four Astro Grass tennis courts

following a grant of $16,000

from the Fendalton-Waimairi-

Harewood Community Board

last week. The board approved

the grant to the Burnside Park

Tennis Club to replace the current

surfacing, which was worn and

slippery, and therefore unsafe.

Ideas for cooler

spring evenings

Ph: 03 359 8207 E: bishopdalepostshop@gmail.com

Bishopdale Village Mall Plenty of free parking!

Bishopdale Pharmacy

We have more COVID vaccination

appointments available!

You will need to BOOK DIRECTLY WITH US and not through the National Booking

System. You can book with us in the following ways:

• Click BOOK NOW at the top of our Unichem Bishopdale Pharmacy

Facebook page and follow the prompts.

• Visit our website www.bishopdalepharmacy.co.nz to make an online booking.

• Phone us on 03 359 8302.

Follow us on facebook

37 Bishopdale Court, Bishopdale Village Mall | Phone 03 359 8302

PLENTY OF FREE PARKING www.bishopdalepharmacy.co.nz

Monday - Friday 8.30am - 6pm Saturday 9.30am - 4pm

Cameron and his team were fabulous to deal with from initial enquiry through

to settlement. Their seamless service was beyond world-class. I had been

recommended Cameron and his team by a number of people and I didn't really

know what to expect, but what I experienced was phenomenal service, credible

advice, a realistic approach with practical solutions right throughout the campaign

and on auction day. We were thrilled with the result, and regardless of any outcome,

even prior to the auction we genuinely felt that the market had been well captured

by the level of interest and the feedback.

- Amy Moore -

Phone or text 027 555 7079

REINZ Salesperson of the Year across all brands in NZ

cameron.bailey@harcourts.co.nz

No.1 Harcourts Canterbury 2012-2021

No.1 Harcourts New Zealand 2017-2021

www.cameronbailey.harcourts.co.nz No.1 Harcourts International 2017-2020

Licensed Sales Consultant REAA 2008
---
4 Thursday September 23 2021

Latest Canterbury news at starnews.co.nz

NOR'WEST NEWS

We've come first,

by putting you first.

Ray White Bishopdale and Strowan have been

recognised for their contribution to the local

community by being awarded the Community Service

Award at both The Real Estate Institute of New Zealand

annual awards and the Ray White New Zealand annual

awards.

These awards honour businesses that go above and

beyond in their local area and have had a positive

impact on the community.

Ray White Bishopdale and Strowan owners, Barry &

Karen Ellis, said it was a great honour to receive the

awards.

"It was an absolute honour to receive these awards.

We are driven by our core purpose to proactively

add value to our community, and we are thrilled to be

recognised for this. By supporting us, you're supporting

your local community".

Ray White managing director, Dan White, said a

commitment to community is imperative in modern

real estate.

"This award acknowledges businesses that have

achieved tremendous things," Mr White said.

"The team at Bishopdale and Strowan represent Ray

White extraordinarily well in their local communities

and have presented exemplary service. This was a welldeserved

award and is a reflection of their dedication to

their community and knowledge of their marketplace."

Auction

11B Purakanui Place, Northwood 1 1

3 1

1

• Rest home booked

• Potential to enhance

• Sited on 920m 2

Auction: 10:30am, Friday 15th October

at Ray White Bishopdale.

rwbishopdale.co.nz/BHP30119

Open Homes:

Sat 25th & Sun 26th September

11:00 - 11:30am

Karen Ellis

021 519 275

Ray White BS

Bishopdale & Strowan

0800 YELLOW (0800 935 569)

5/333 Harewood Road, Bishopdale | 55 Blighs Road, Strowan

rwbishopdale.co.nz | rwstrowan.co.nz

Inline Realty Limited (Licensed REAA 2008)

Proudly owned by

Karen Ellis

021 519 275

Barry Ellis

021 519 274
---
NOR'WEST NEWS Latest Canterbury news at starnews.co.nz

Thursday September 23 2021 5

Sweet fundraiser for Starship

• By Samantha Mythen

SEVEN-YEAR-OLD Lucy

White is on a waiting list for

heart surgery due to a shortage

of intensive care beds. But it has

not stopped her family from

fundraising to help alleviate the

shortfall.

Starship's Paediatric Intensive

Care Unit (PICU) in Auckland

is currently at critical capacity

every 48 hours. It is the only

dedicated children's intensive

care unit in the country, where

the most critically ill and injured

children are treated.

Starship needs to raise $40

million to meet its shortfall to fix

the bed shortage and upgrade its

PICU.

Lucy's mother Charlotte

Easton said due to an

overwhelming need for PICU

beds, mostly due to the RSV

virus, they needed to wait one to

two months before Lucy could

have her surgery.

While they waited, they

wanted to help with Starship's

fundraising efforts.

As Lucy's father Myles White

has 100 beehives, the family

decided to spend a weekend

selling honey from their stall on

Blackpoint Rd in Charteris Bay.

They sold 43 jars and raised

more than $600, all with the

"incredible support" of the

RAISING MONEY: Myles, Max, Lucy and Charlotte in front of their honey stall, and Lucy in

hospital at five weeks old.

PHOTO: GEOFF SLOAN ​

harbour community.

Easton said Lucy, her first

child, had been a "perfect

pregnancy" and nothing

"troublesome" had been picked

up during her scans.

It was a normal birth until

they realised Lucy was not

breathing and she needed to be

resuscitated.

Lucy was diagnosed with

Williams Syndrome, a rare

genetic condition affecting only

one in 10,000 births.

It is characterised by

medical problems including

cardiovascular disease,

developmental delays, learning

challenges, and a highly social

personality.

The family took Lucy home

after she was born with several

oxygen tanks in tow.

At five weeks old, Lucy and

Easton were flown up to Starship

on a "life flight" for emergency

surgery. Lucy had a cardiac

arrest on the operating table but

the medical staff saved her.

She had further surgery at

15-months-old and has since

travelled up to Auckland a

further 15 times.

"We were told they didn't

know if she would get to age one

but getting her to three would be

great," said Easton.

"And yet, she's now made it to

seven."

Lucy is waiting for surgery

because the stents in her

descending aorta are too small

and need to be replaced.

The Government has already

provided $25 million to

Starship's fundraiser.

Visit starshipicu.org.nz/home

to donate.

New bowling hub

planned after

$10m sale of land

• By Fiona Ellis

THE $10 million sale price of

a former bowling club site in

Merivale will help to fund the

building of a new bowling hub.

The 5107 sq m former St

Albans Bowling Club site at 5

Donald Pl sold for $10 million

last week.

Elmwood Park Bowling Club

president Peter Smith said

$2 million of this will go to

funding the planned rebuild of

the club's Heaton St site.

Smith hopes the demolition

stage of the $3.5 million

project will be under way by

December.

The merger of the Elmwood

Park and St Albans bowling

clubs prompted the sale after the

two clubs joined in 2018.

The Heaton St upgrade project

prevented the club from leaving

the Merivale site.

"We'll still get the use of

Donald Pl," Smith said.

"The settlement date is

December 2023 [although] it

could be brought forward. That

gives us plenty of time to get the

new one up-and-running."

The remaining sale proceeds

of the "very satisfactory" deal

will be reinvested by the club,

he said.

INDEPENDENCE

with support

$325,000

SA412 1

Serviced apartments are located in the heart of the village and

come with support that makes life easier, like housekeeping and a

chef-prepared meal every day. You can even receive resthome-level

care in the comfort of your serviced apartment.

The feeling of togetherness is the real icing on the cake for serviced

apartment residents. This is enhanced by a variety of outings,

regular transport options and endless opportunities to join in with

activities when you feel like it.

If you're interested in our village you can secure an apartment

with a deposit of only $10,000.

rymanhealthcare.co.nz

Convenience and comfort

Enjoy the afternoon sun and beautiful garden views in this

studio serviced apartment. The central location of this

apartment means you are close to the village centre to meet

friends for lunch and make use of the village amenities.

Call Danielle to find out more

NGAIO MARSH VILLAGE

95 Grants Road, Papanui, 354 6608

2946
---
6 Thursday September 23 2021

Latest Canterbury news at starnews.co.nz

NOR'WEST NEWS

'Phenomenal' support for Wig Wednesday

HALFWAY POINT: New World Bishopdale grocery team

member Jess Scarsbrook celebrates her haircut before

scissors are swapped out for a razor.

• By Fiona Ellis

A CHILD Cancer Foundation

fundraiser caused a buzz in

Bishopdale last week, as four

people underwent a close crop to

help raise $2783.

New World Bishopdale owner

Marc Brokenshire was one of

four to lose their locks during the

supermarket's first Wig Wednesday

event.

"My best friend died when he

was 10. Everyone's got a link with

cancer," Brokenshire said.

The support for the event was

"phenomenal".

"It's fantastic that the Bishopdale

community has got behind

it."

People were able to donate in

store, and a $10 contribution was

made for each customer to wear

a wig.

Taking advantage of the

chance to have "a bit of fun"

some staff donned colourful wigs

or wore creative hairstyles.

Staff contributions alone were

over $1000, and three others

joined Brokenshire to have their

heads shaved near the store

entrance by Valentino's Hair

Design hairdressers.

They were head of retail operations

for Foodstuff South Island

Ross Martin, deli manager Etan

Taner and grocery team member

HANDS-ON: Owner Marc Brokenshire takes part in the

store's first Wig Wednesday event last week.

Jess Scarsbrook.

Scarsbrook said she had been

growing out her hair since last year

and the idea of having it shaved

to combat cancer had been in the

back of her mind for a while.

When the call for volunteers

went out at work, she saw an opportunity.

"I've always wanted to do it

and it's for a good cause," she

said.

The event was originally set

to take place a week earlier,

but as that was the first day

out of the Covid-19 lockdown,

Brokenshire said it was better

to wait until people were feeling

more comfortable with level two

protocols.

Cushla's Pop Up Shop

Patchwork & Quilting

Christchurch - September 2021

208 Cavendish Road, Casebrook

Big, Bold & Beautiful

When space and style are required, this beautifully

presented home is the one for you. Everything about

the house is built with the view of having space

around you. From the large section to the living areas,

there is room for you and your family. The open plan

family area will be the hub of the home, and there is

a separate living room to retreat to when peace and

quiet is desired. Five bedrooms and two bathrooms

give room for family as well as guests. The icing on

the cake must be the garaging - huge, ample room for

those who want a real workshop or to house the boat,

three cars or as many motorbikes you may care

Grenadier Real Estate Ltd MREINZ Licensed Agent REAA 2008

GRENADIER

5 2 2 1 4 5

to fit in. With generous off-street parking and secure

fencing, the campervan can safely be accommodated.

This is truly a lovely well-designed home - not one to

be missed!

Auction Thur 30 Sep 2021 (Unless Sold Prior)

(98 Moorhouse Avenue, Christchurch)

View harcourts.co.nz/BE193758

Debbie Pettigrew

M 027 777 0411

St James Church Hall

750 Harewood Road

Tuesday 28th 10.00 – 4.30

Wednesday 29th 9.00 – 1.00

Eftpos Available

Simply great kiwi cuisine

100% owner operated

Products made by our own

team of qualified bakers

Classic kiwi

cuisine at an

affordable

price is our

formula for

success

135 Farrington Ave, Bishopdale

P 03 359 1020 E mabaker@mabaker.nz

Also at 1066 Colombo St, Edgeware

"Is there

a test for

emissions?"

"How can I

reduce my

emissions

right now?"

"Who can help

me lower my

emissions?"

Got questions about lower emissions? We can help.

mta.org.nz/tackling-emissions
---
NOR'WEST NEWS Latest Canterbury news at starnews.co.nz

Thursday September 23 2021 7

fundraiser nets more than $2700

TEAM WORK:

(From left) –

Deli manager

Etan Taner,

Martin,

Brokenshire

and Scarsbrook

shaved their

heads for

Child Cancer

Foundation

fundraiser Wig

Wednesday

last week.

CAUSE: Ross Martin head of retail

operations for Foodstuffs South

Island loses his locks.

FINAL TOUCHES: A Valentino's Hair Design

hairdresser gives Taner (left and above) a

new look.

PHOTOS: FIONA ELLIS

EASY

Living

$460,000

IA103

1 1

Independent and secure, the living is easy at Diana Isaac Village.

Our apartments are light and inviting with a clever design layout

that provides an easy flow throughout.

Nestled amidst beautifully landscaped gardens, you'll enjoy

a lovely flow to the outdoors. Scenic pathways weave their

way around the village, promoting a sense of connection to

your neighbours.

If you're interested in our village you can secure an apartment

with a deposit of only $10,000.

rymanhealthcare.co.nz

Modern and bright

This spacious apartment is located on the ground floor

and features a large open-plan living area with a stylish

kitchen. Relax and enjoy the views of the village gardens

from your patio.

Call Chris or Adrienne to find out more

DIANA ISAAC VILLAGE

1 Lady Isaac Way, Mairehau, 385 3518

2939
---
8 Thursday September 23 2021

Latest Canterbury news at starnews.co.nz

NOR'WEST NEWS

RAY WHITE PAPANUI NEWS

The Power of Auctions

Onsite Auctions

The traditional auction method,

usually conducted outside

the property with bidders

in attendance along with

neighbours and bystanders.

These onlookers increase

the attendance size and

therefore add to the feeling of

competition for the registered

bidders.

The fact bidders are making

offers outside their possible

future home can make buyers

bid emotionally. This type

of auction, with the right

auctioneer, can add a touch of theatre to

the auction process.

In-room Auctions

This type of auction will usually be

held in an office, auction house, hotel

or other large space and will normally

have several properties going under

the hammer over a short period of time.

This type of event allows us to control

factors that we otherwise couldn't such

as weather, noisy neighbours, traffic

etc. It gives the bidders an increased

feeling of competition as there will be

many registered bidders spread over

properties, thereby giving perceived

extra competition.

Online Auctions

Born out of necessity, this method offers

an online solution allowing bidders to

purchase from the comfort of their

own homes. It also allows buyers from

interstate/overseas to bid. Since the

full-time introduction of online auctions

throughout the COVID-19 restrictions,

bidder numbers have increased

dramatically. Online auctions can be

offered either as a stand-alone product

or to complement the on-site and

in-room auctions allowing bidders the

option to attend the home or venue or

bid from a laptop or other device.

There are several options for online

auctions such as BidTracker, Gavl and

Auction Now.

You can watch all of the Ray White Morris

& Co auctions online via our website -

https://raywhitemorrisandco.co.nz/

watch-our-auctions-live

Vanessa Golightly,

Business Owner

and Licensee Agent

Ray White Papanui

027 664 9292

Feature Property

160 Richardson Terrace, Woolston

Vanessa Golightly & Maria Paterson

Just Sold

5 Paddington Street, Northcote

Richie Eggelton

Vanessa Golightly

Licensee Agent &

Business Owner

027 664 9292

Stuart Morris

Licensee Agent

& Auctioneer

027 422 6395

Tracy Thomson

Licensee Salesperson

027 440 3035

Claire Morris

Licensee Agent &

Business Owner

027 662 4822

Katrina Green

Operations Manager

Property Management

027 606 0030

Richie Eggelton

Licensee Salesperson

021 089 65594

When do I have to comply with

Healthy Homes Standards?

I continue to see a massive

misunderstanding of what notice

period is required for what reason

amongst landlords out there and it has

not of course been made any easier

by introducing new legislation while a

lot of people are still working through

understanding the timelines for Healthy

Homes standards.

So, let's talk about the Healthy Homes

key dates this week.

All periodic tenancies dated prior to 1st

December 2020 will have until 1st July

2024 to comply with the Healthy Homes

standards, including not having to supply

a Healthy Homes Statement.

Any periodic tenancy prior to 1st July

2021 which may be extended for any

lesser period than the original period, so

a 12 month fixed term that is extended

for 11 months, will not be required

to comply, or have a Healthy Homes

Statement. Also, any Government

housing is not required to comply until

1st July 2024.

Any periodic tenancy dated after 1st

December 2020 does require a Healthy

Homes Statement and has 90 days from

the commencement of the tenancy

to comply with the Healthy Homes

Standards. Any fixed term tenancy

from 1st July 2021, or any variation to a

fixed-term tenancy after 1st July 2021,

must include a Healthy Homes Statement

and again, has 90 days to comply with

the standards. So, this means that even

though the original date of a fixed-term

may have commenced 1st January 2021,

upon renewal of this tenancy for another

12 months in January 2022 the property

will have to have a Healthy Homes report

completed and also comply within 90

days.

And lastly, if a fixed-term tenancy rolls

into a periodic tenancy any time from

1st July 2021, this will also need the

statement and have 90 days to comply.

My advice is to plan ahead. If you have

a fixed-term tenancy that is due to end

soon you need to ensure you have the

Healthy Homes report ready so you can

provide a copy to the existing tenant,

or have it ready for any new tenancy

agreement, and of course, if there is any

work which is required to be done to

comply with the Act, don't put it off. Get

the work organised now to ensure you

are well and truly compliant in time to

avoid any potential fines.

Next time I will talk about the new notice

periods under the 2020 Residential

Tenancies Amendments Act.

Katrina Green,

Operations Manager

Property Management

027 606 0030

47 Balgay Street, Upper Riccarton

Vanessa Golightly & Maria Paterson

6 Archer Street, St Albans

Vanessa Golightly & Maria Paterson

7 Surfers Place, North New Brighton

Vanessa Golightly & Maria Paterson

Maria Paterson

Licensee Salesperson

027 543 4689

Hasna Ngara

Licensee Salesperson

021 262 4943

Olivia Hendry

Executive Assistant

Estelle Schuurman

Property Manager

Paul Nicholson

Licensee Salesperson

027 921 2160

Jana Schleehauf

Licensee Salesperson

022 090 1227

Georgia Tuuta

Executive Assistant

Joy Coughlan

Mortgage Broker

027 223 3572

Level 1, 7 Winston Avenue, Papanui

Phone (03) 352 0567 | rwpapanui.co.nz | /RayWhitePapanui Morris & Co Limited | Licenced REAA 2008
---
NOR'WEST NEWS Latest Canterbury news at starnews.co.nz

Thursday September 23 2021 9

Yachties tacking for competitive season

• By John Cosgrove

AN EASTERLY wind made

racing fun at the Pleasant

Point Yacht Clubs 101 st season

opening held last Saturday at

South Brighton.

About 50 members and

guests joined in the opening

ceremony before 17 crews and

their yachts tackled the blustery

conditions in an assortment

of multi-hulls, trailer and

sunburst yachts.

Club official Nigel Humphrey

said it was a great turnout for

the start of the season as the

yachts took their turn at

lining up for the Mark Foy

handicap formatted race,

whereby the slowest starts first

for the hour and a half race

around the estuary at South

Brighton.

In the multi-hull race for

the Eric Orange trophy, Ian

Douglas and Simon Thompson

won aboard Iznerz, a Weta

trimaran, from James Cains

in Neva Weta, while in the

Pet Cup Noémi Gulliver

and Graeme Hore were first

aboard Tafua (Sunburst class).

In the Nina Mander trophy

Dan O'Sullivan in Humbug

(Firebug) was first from Arthur

Mahon in Aphid (Firebug).

HELPING HAND: Brigid Sheen helps Ruaraidh Forster, 14, rig

their boat before heading out to tackle the course.

Below – The complexities of racing a multi-hull make

yachting fun for the Pleasant Point Yacht Club Commodore

Ian Douglas.

FAMILY FUN: Letting father Scott Lancaster do the heavy

lifting was Matthew Lancaster, 7, as he helps guide their

yacht down to the water.

Your life

YOUR WAY

Live life to the

FULLEST

The Sterling, Kaiapoi, our later living village

in the heart of Silverstream, provides a

diverse lifestyle, full of intergenerational

connection and resident-led activity.

VILLAS

SELLING

FAST

Step into the lifestyle you have always

dreamed of, always deserved, but never

imagined living. A lifestyle built around

your home, where friends, community

and amenities are all within your reach.

Our independent living options and

borderless village design offer you the

freedom to live how you choose, all while

being seamlessly integrated within the

Silverstream community. Your life your way!

Find out more by calling Michelle now!

STAGE 1 VILLAS

Limited Numbers Available

VISIT us

Cnr Silverstream Blvd

& Island Rd, Kaiapoi

TALK to us

0508 783 754

hello@thesterling.co.nz

LEARN more

thesterling.co.nz

Images are artist impressions and subject to change
---
10 Thursday September 23 2021

Latest Canterbury news at starnews.co.nz

NOR'WEST NEWS

The School of Opportunity for

Year 7 & 8 Students

Our school environment is one where

students are safe and have the

confidence to take risks with their

learning.

In this way, the students at Casebrook

are supported and encouraged to

become self-motived, independent

learners.

We value the partnership between home

and school. Together we can create an

environment where we foster feelings of

pride and belonging. We are sure you

will enjoy being a part of our community

and I would welcome the opportunity

to meet with you to discuss your child's

future at Casebrook.

Sharon Keen

Casebrook Intermediate School

Principal

WE HAVE A SMALL NUMBER OF 'IN ZONE' &

'OUT OF ZONE' PLACES STILL AVAILABLE FOR 2022

ENROLMENT CLOSES 18th OCTOBER

Veitches Road, Christchurch - Ph. 03 359 7428

Email: office@casebrook.school.nz

www.casebrook.school.nz

casebrookint

RESPECT EXCELLENCE PERSEVERANCE

CASEBROOK
---
NOR'WEST NEWS Latest Canterbury news at starnews.co.nz

Thursday September 23 2021 11

Join the annual seaside spruce-up

• By John Cosgrove

COMMUNITY groups are

rallying for New Brighton's big

annual clean-up.

Brighten Up Brighton will be

held on October 10 after being

delayed due to recent Covid

restrictions.

The New Brighton Residents

Association and New Brighton

Project are leading the event

which has attracted big interest

from other community groups.

NBP co-ordinator Martha

Baxendell said she and her team

were very appreciative of the

assistance and resources offered

by others including The Graffiti

Programme, City Care, New

Brighton Volunteer Fire Brigade,

PEEEP Trust, Keep Christchurch

Beautiful, Coastal Time Bank,

Sustain South Brighton, New

Brighton Lions, the Union

Parish, Christchurch Archery,

and volunteers from the Student

Volunteer Army and several

others in the community.

"We will meet at the Our

Bright Town mural at 10am and

from there we are looking to

head out into the community to

undertake a variety of tasks for a

couple of hours," she said.

Coastal-Burwood-Community

Board deputy chairwoman Jo

Zervos said those tasks included

removing tagging, picking up

rubbish, pruning and weeding

while others may be washing

windows, washing seats or undertake

a bit of painting, sweeping,

removal of stickers, tidying

up planter boxes and tidying the

toilet block area."

"We are hoping for more volunteers

so would like to get the

word out and make this a really

good community effort," Zervos

said.

New Brighton Residents

Association chairwoman Celeste

Donovan added that while they

will be removing tagging, they

will be trying to preserve the

many unique graffiti-style artworks

around the mall area.

CLEAN UP CREW:

Community groups and

residents in New Brighton

are well known for their

efforts during appeals for

clean-up operations. This

crew assembled for the

last event, in preparation

for July's Matariki night of

nights festival.

Work begins

on woodland

playground

WORK HAS started on the 2ha

childrens accessible woodland

playground at Rawhiti Domain,

after five years of planning.

Contractor Creative Intentions

owner Geg Howell said the work

came together very quickly after

years in the making.

"This is only the start of what

the community can do with this

space," he said.

The pathway around the site is

wide enough for two wheelchairs

to move side by side, while the

open space at the front will have

equipment for children of all

physical abilities.

The woodland area will have

physically challenging activities to

get children back to nature.

More fundraising will be

needed to fully complete the

playground, but the current work

should be finished by Christmas.

Bobbi | Bowflex Max Trainer User

I lost 15kg in 10 weeks. That is ridiculous. The fat just

melts right off. I mean, it absolutely changed my life!

CALL NOW! 0800 665 665
---
12 Thursday September 23 2021

Latest Canterbury news at starnews.co.nz

NOR'WEST NEWS

Make beef steaks go the distance

Beef and chicken are

the basis for many

family favourites,

this wholesome

stroganoff may well

provide enough for

a snack lunch the

following day

Beef stroganoff

Serves 5

Ingredients

600gm sirloin steaks, pat with

paper towels and slice into large

bite-size pieces (leave sitting at

room temperature)

2 tablespoons flour, place in

bowl with:

½ teaspoon salt

2 measures of 2 tablespoons

olive oil, place in 1 measure into

frypan

½ cup red wine (can use beef

stock)

1 large onion, chopped

6 cloves garlic, crushed

250gm mushrooms, halved

1½ teaspoons paprika

2 tablespoons onion flakes

¾ teaspoon garlic powder

1½ tablespoons tomato paste

1 cup beef stock

Peppercorns

1 x 125gm pottle (½ cup) sour

cream for thickening once

cooked

Parsley

Directions

Toss beef in flour/salt to coat as

much as possible. Heat first measure

of olive oil and stir fry beef

in batches for about a minute,

until browned.

Transfer to largest casserole

dish that has been lined with two

layers of non-stick tin foil and set

aside.

Add wine (or first measure of

stock) to deglaze pan, simmer

while rubbing loose any pan

brownings, until wine has almost

evaporated.

Add second measure of oil,

then onion and garlic and saute

until soft. Add mushrooms and

cook for two minutes, then add

onion powder, paprika, garlic

powder and peppercorns and

cook a further one minute.

Add tomato paste and second

measure of stock, bring to a simmer

and cook for one to two minutes

or until slightly thickened.

Pour over beef and stir through.

Bake at 160 deg C for two hours.

Remove from oven and stir the

sour cream through. Garnish

with parsley

Cauliflower and chicken

pasta bake

Serves 5

Ingredients

FLAVOURS:

Beef

stroganoff

traditionally

uses

mushrooms

and assorted

spices to

enhance

taste.

500gm penne, place in largest

saucepan

1 head of cauliflower, broken

into small florets

300gm tub sour cream, place in

bowl with:

1 cup thickened cream

1 cup tasty cheese

Parsley, chopped

Peppercorns

Directions

Boil penne in salted water for

five minutes, add cauliflower and

boil for a further five to seven

minutes until pasta is tender,

drain and transfer to a 12-cup

baking dish that has been lined

withf non-stick tin foil.

Add combined sour cream,

cream, cheese, parsley and peppercorns.

Ingredients

Topping

3 cups breadcrumbs, place in

bowl with:

Either 150gm shredded chicken,

or two chicken breast fillets,

diced

½ cup parmesan cheese

1 tablespoon fresh thyme leaves,

or one heaped teaspoon dried

thyme

Sprinkle topping over pasta

mixture and bake at 200 deg C

for 15-20min until golden and

bubbling.

Harriet Millar Galina Kim Kerry

NUMBER ONE SUPPLIER

TO THE NZ JET BOATING

COMMUNITY FOR OVER

50 YEARS

• Part Boats & Hulls

• Turn Key Packages

• New Jet Units

• Custom Fabrication

• Expert Advice

SERVICING

Peter Tonkin

03 962 0505

peter.tonkin@hamiltonjet.nz

• Spare Parts Retailer

• Jet Unit Refurbishment

• Engine Tune-Ups

• Insurance Repairs

• Impellor Reconditioning

'CEREC' & cosmetic dentistry

Wisdom tooth removal

Painless, high quality dentistry

Sedation dentistry

Experienced, conscientious team

Experienced hygienists

OPEN SATURDAYS

355 9380

144 Cranford Street

www.stalbansdentalcentre.co.nz

GROW YOUR CUSTOMERS

SALES & PROFITS WITH ME

I have been successfully working with local businesses,

offering advice and effective marketing solutions across

a range of media platforms for over 25 years.

CALL me today to personalise a

marketing plan to grow your business.

Phone Monique

DDI: 03 364 7474 Mobile: 021 372 481

Email: monique.maynard@starmedia.kiwi

The Flower Show

Little River Gallery 25 September – 26 October

25 September – 26 October

Celebrating the season's proliferation of vibrant blooms,

'The Flower Show' is a timely homage to Spring, interpreted by four

artists who are all new to exhibiting at the Little River Gallery.

What exactly do flowers show? For a careful observer they show the

fragility and power within us. Flowers show us that regardless of our

colours, shapes, characters, places we live in, we can bloom freely

simply by allowing all that we are to shine. - Galina Kim

Galina Kim is an award-winning Christchurch artist renowned for her

contemporary acrylic and mixed-media works. Her artistic studies

focused predominantly on textiles, and this influence is evident in

her rich, visually tactile style that is distinctively her own.

Motueka artist Kerry Fenton-Johns paints in both acrylic and

oils, expressing her love of nature through her intricately detailed

botanical paintings. Kerry paints mostly in a realistic style, inspired

by the contrast of light and dark and the use of subtle tones in the

natural world.

Informed by her print and pattern design background, Nelson artist

Georgina Hoby Scutt develops distinctive earthy colour palettes and

paints with broad expressive brushstrokes. Working across a range of

media, her work is primarily semi-abstracted landscapes, still life and

portraits.

Christchurch artist Harriet Millar's works are hugely inspired by her

love of New Zealand landscapes, flora and fauna. Painting mainly

with acrylics, her interpretive style involves substantial layering of

paint with thick loose strokes and hints of unexpected colour.

1 - 25 May 2021

OPENING 1 May 11.00am

Harriet Millar Galina Kim Kerry Fenton-Johns Georgina Hoby Scutt

The Flower Show

25 September – 26 October

'Bolero'- Galina Kim

'Nouveau Floral'

- Georgina Hoby Scutt

Main Rd, Little River | 03 325 1944 | art@littlerivergallery.com
---
NOR'WEST NEWS Latest Canterbury news at starnews.co.nz

Thursday September 23 2021 13

Village Centre

Now Open!

OPEN WEEKEND, 25 & 26 SEPTEMBER

BETWEEN 10AM AND 3PM

Summerset Avonheads' brand-new village centre is open!

The village centre is the heart of our village and offers a wonderful range of

resort-style facilities, like the pool, spa, bowling green, library, bar, exercise

room, and the café.

We'd love to show you around. Come along to our Open Weekend,

Saturday 25 and Sunday 26 September, between 10am and 3pm,

and see for yourself why our residents love the Summerset life.

Summerset at Avonhead

120 Hawthornden Road, Avonhead | 03 357 3202

*Licence to occupy.

Please note that the format of this event may change if we are not in COVID-19 Level One. For the latest criteria

and information on visiting our villages, please call the sales manager or visit www.summerset.co.nz

SUM3330_FP
---
14

Thursday September 23 2021

Latest Canterbury news at starnews.co.nz

NOR'WEST NEWS

152,504 reasons

to advertise with us!

2021 ABC average issue circulation — Star Max vs Press

200,000

The Star

Max *

152,504

circulation

100,000

The Press *

The latest NZ Audit Bureau of

Circulations report is out and

it shows that The Star Max

provides you more circulation

than any other newspaper in

New Zealand.

0

30,256

circulation

Grow more customers, sales and profits for your business,

Call us now for a free advertising consultancy.

Here's what our customers have to say:

We advertise Affordable Furniture specials

in The Star every week and are extremely

pleased with the results.

We find that the large circulation and

readership, really works for reaching our

target market and growing our customers.

We get people coming in with our ad and

asking about the specials we advertise.

We have been benefiting from the

Christchurch Star and Community papers

for 20 years and see no end to it.

Andrew Idour – Managing Director,

Affordable Furniture

After 4 years advertising in the Bay

Harbour News, I decided to widen

my audience by using the Star.

I am very happy with new ad

placement.

My husband Tim was in the shop

today and 2 ladies had come in

to check us out because they had

seen the ad!!! Oh yes they did buy

some goodies!!

Rose Lindley – Mumma Bear

We have advertised with The Star

over the years.

Advertising in The Star we feel we

get more response and feedback

than any other marketing.

We are lucky to have such a great

free paper in the community.

Thanks team Star.

Mark Glanville FDANZ CERT

– Manager and Funeral Director

Phone 03 379 7100

Email shane@starmedia.kiwi

Office Level 1/359 Lincoln Road, Addington

*Source: 2021 ABC Audit Report — Star Max vs Press ANP average total circulation each issue

*Star Max — The Star, Bay Harbour News, Selwyn Times, North Canterbury News
---
NOR'WEST NEWS Latest Canterbury news at starnews.co.nz

Thursday September 23 2021 15

Classifieds Contact us today Phone our local team 03 379 1100

Real Estate

HOME WANTED 3-4

bedrooms. Looking in Nor

West areas, Beckenham

or Somerfield. Prefer

permanent material brick

and post 1990 build. Don't

mind if it needs some TLC

- anything considered.

Cashed up buyer. Phone

021 372 479

Wanted To Buy

AAA Buying goods

quality furniture, beds,

stoves, washing machines,

fridge freezers. Same day

service. Selwyn Dealers.

Phone 980 5812 or 027

313 8156

TOOLS Garden,

garage, woodworking,

mechanical, engineering,

sawbenches, lathes, cash

buyer, ph 355-2045

Trades & Services

HALSWELL

GLASS & GLAZING 2017 LTD

THE PET DOOR SPECIALIST

• PET DOORS

• NEW GLAZING

• FRAMELESS SHOWERS

• MIRRORS

• INSURANCE CLAIMS

• RETRO GLAZING

• BALUSTRADING

ALL SUBURBS COVERED FOR

ALL YOUR GLAZING NEEDS

PHONE GAIL ON

322 7999 OR 021 CAT DOOR

(228 3667)

Trades & Services

ROOF

PAINTING 24/7

Rope & harness

a speciality,

no scaffolding

required,

30 years of

breathtaking

experience.

FREE QUOTES

20% OFF other

roof quotes

Exterior staining,

exterior painting,

water blasting.

Moss and mould

treatment $300.

Phone Kevin

027 561 4629

BETTER

LAWNMOWING

Better job. Better

Price. Better ring Grant

0277402508

BETTER

LAWNMOWING

Better job. Better

Price. Better ring Grant

0277402508

BRICKLAYER

George Lockyer. Over

40 years bricklaying

experience. UK trained.

Insurance work, EQC

repairs. Heritage

brickwork & stonework

a speciality. No job too

small. Governers Bay.

Home 329 9344. Cell

027 684 4046. E mail

georgelockyer@xtra.co.nz

Trades & Services

TRELLIS

DIRECT FROM THE

FACTORY

For: Outdoor Privacy, Windbreak, Decorative.

All Styles made to your requirements.

Optional: Painting, Installation, & Local Delivery Service.

Phone or Email your measurements

FOR A FREE QUOTE

Email: towntrellis@xtra.co.nz Phone: 03 3494995

Address: 38A Waterloo Road

www.towntrellis.co.nz

BUILDER

New builds, alterations,

decks, fencing. 30 yrs in

the trade has given me

ability to build to a high

standard. Free quotes. Ph

Brent 027 241 7471

CARPET LAYING

Exp. Repairs, uplifting,

relaying, restretching.

Phone John on 0800

003181, 027 240 7416

jflattery@xtra.co.nz

CLEANER

Home - Office - daily -

weekly - monthly. 2 yrs

exp. Competitive rates.

Call or txt 022 353 0264

PAINTER, QUALIfIED

local professional, int/ Ext,

roofs, wallpaper, call or

text Corban 027 846 5035

PAINTER, QUALIfIED

local professional, int/ Ext,

roofs, wallpaper, call or

text Corban 027 846 5035

STUMP GRINDING

Best price guarantee Tony

0275 588 895

TILING

Flooring - Splashbacks -

Wall incl tile removal, reg

master tiler, ph Dave 027

334 4125

GUTTER CLEANING VHS VIDEO TAPES

Gutter cleaning special & all camera tapes

63 x

from $99 plus

180

gst for a converted to DVD or

whole house clean"". USB. Video taping

Free Quotes, call Morgan special occasions, www.

Thomas today 022 375 grahamsvideo.co.nz ph 03

8506

338-1655

Painters and Decorators Ltd

Canterbury Owned and Operated

A husband and wife team

Specializing in:

• Roof Painting

• Interior/exterior

residential

• Small commercial

painting

Trades & Services

DRIVEWAYS

Exposed Aggregate

Stamped Concrete Plain

Concrete Resurfacing

Things we offer...

Competitive/affordable pricing

Attention to detail

Professional service

free quotes/insurance scopes

Cell 0278 145 848

www.drivecrete.co.nz

PAINTERS

Noel 027-411-3596

kemp.painters@gmail.com

kemp painters and decorators

We offer

free quotes

Quality not

Quantity

Trades & Services

FURNITURE

EXCLUSIVE. STYLISH.

HANDCRAFTED.

Solid timber furniture

A fantastic range

of traditional and

contemporary

furniture designs.

We can also help you

with any custom made

furniture requirements.

19 Elgin St, Sydenham. Ph: (03) 366 9219

www.gavincoxfurniture.co.nz

PLUMBER

NEED A PLUMBER

Call us now for fast friendly service.

Get your problems sorted out

quick smart - on time!!

Phone for a

FREE

quote now.

Phone 03 377 1280 | Mobile 021 898 380

Up to

50 % Off

*Call for Terms

& Conditions

Off

*
---
16 Thursday September 23 2021

Latest Canterbury news at starnews.co.nz

NOR'WEST NEWS