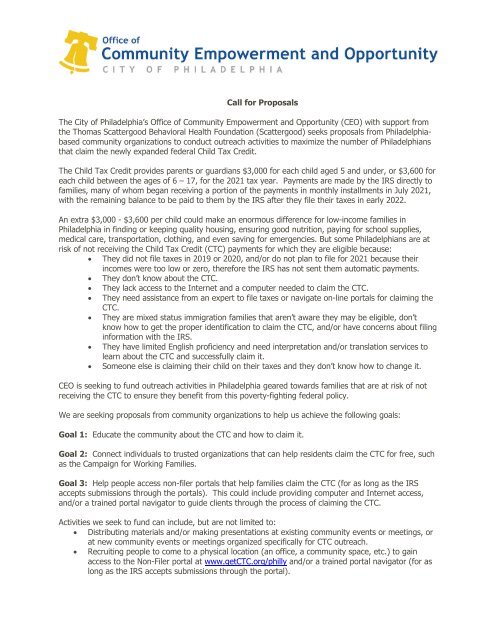 Child Tax Credit Grant Opportunity Call for Proposals
Do you know the secret to free website traffic?
Use this trick to increase the number of new potential customers.
Call for Proposals

The City of Philadelphia's Office of Community Empowerment and Opportunity (CEO) with support from

the Thomas Scattergood Behavioral Health Foundation (Scattergood) seeks proposals from Philadelphiabased

community organizations to conduct outreach activities to maximize the number of Philadelphians

that claim the newly expanded federal Child Tax Credit.

The Child Tax Credit provides parents or guardians $3,000 for each child aged 5 and under, or $3,600 for

each child between the ages of 6 – 17, for the 2021 tax year. Payments are made by the IRS directly to

families, many of whom began receiving a portion of the payments in monthly installments in July 2021,

with the remaining balance to be paid to them by the IRS after they file their taxes in early 2022.

An extra $3,000 - $3,600 per child could make an enormous difference for low-income families in

Philadelphia in finding or keeping quality housing, ensuring good nutrition, paying for school supplies,

medical care, transportation, clothing, and even saving for emergencies. But some Philadelphians are at

risk of not receiving the Child Tax Credit (CTC) payments for which they are eligible because:

• They did not file taxes in 2019 or 2020, and/or do not plan to file for 2021 because their

incomes were too low or zero, therefore the IRS has not sent them automatic payments.

• They don't know about the CTC.

• They lack access to the Internet and a computer needed to claim the CTC.

• They need assistance from an expert to file taxes or navigate on-line portals for claiming the

CTC.

• They are mixed status immigration families that aren't aware they may be eligible, don't

know how to get the proper identification to claim the CTC, and/or have concerns about filing

information with the IRS.

• They have limited English proficiency and need interpretation and/or translation services to

learn about the CTC and successfully claim it.

• Someone else is claiming their child on their taxes and they don't know how to change it.

CEO is seeking to fund outreach activities in Philadelphia geared towards families that are at risk of not

receiving the CTC to ensure they benefit from this poverty-fighting federal policy.

We are seeking proposals from community organizations to help us achieve the following goals:

Goal 1: Educate the community about the CTC and how to claim it.

Goal 2: Connect individuals to trusted organizations that can help residents claim the CTC for free, such

as the Campaign for Working Families.

Goal 3: Help people access non-filer portals that help families claim the CTC (for as long as the IRS

accepts submissions through the portals). This could include providing computer and Internet access,

and/or a trained portal navigator to guide clients through the process of claiming the CTC.

Activities we seek to fund can include, but are not limited to:

• Distributing materials and/or making presentations at existing community events or meetings, or

at new community events or meetings organized specifically for CTC outreach.

• Recruiting people to come to a physical location (an office, a community space, etc.) to gain

access to the Non-Filer portal at www.getCTC.org/philly and/or a trained portal navigator (for as

long as the IRS accepts submissions through the portal).
---
• Partnering with community institutions like libraries, health care institutions, banks, or others for

outreach/assistance at their locations.

• Outreach through grassroots methods such as canvassing, flyering, phone calling, texting, etc.

• Assisting visitors to County Assistance Offices with access to the IRS portals at CAO kiosks, in

coordination with the Pennsylvania Department of Human Services (DHS) as facilitated by CEO.

• Gathering the stories of families that claimed the CTC in testimonials that may be delivered via

video, photographs, audio, or in writing to be used to demonstrate the importance of making the

CTC permanent and/or extending it for additional years (if combined with any of the activities

above).

• Or any other activities that will reach and assist Philadelphian families at risk of not receiving the

CTC.

Activities we will not consider funding include:

• The purchase of advertising such as radio, print, billboards, or web-based ads.

• Tax filing or preparation services, other than assistance with non-filer portal navigation.

• Activities conducted outside of Philadelphia or targeted at families that do not live in Philadelphia.

Who Should Apply

Philadelphia-based community organizations with 501 (c)(3) status, or a fiscal sponsor, that already serve

very low-income communities or groups that are at risk of not receiving the CTC are encouraged to

apply.

According to the U.S. Treasury, the following neighborhoods have the highest number of children in deep

poverty whose parents or guardians are unlikely to already be receiving the CTC. Organizations that

have a track recording serving these neighborhoods are also encouraged to apply: (In from highest to

lowest) Port Richmond, Juniata/Frankford/Feltonville, Hunting Park, Logan/Olney/Feltonville, University

City, Frankford/Mayfair, Lawndale/Castor Gardens, Fairhill/N. Phila, Germantown, Strawberry Mansion,

West Phila/Walnut Hill, S.Phila/Whitman/Pennsport, Wynnefield, Brewerytown, Passyunk/Grad

Hosp/Grays Ferry, West Oak Lane, Tacony, S.W. Phila/Elmwood, University

City/Belmont/Parkside/Powelton Village, Holmesburg.

We encourage applications from organizations whose staff, board, and/or volunteers include

representation from the communities this project aims to reach.

Timeline

• Proposals Due: November 1, 2021

• Funding Decisions Announced: December 1, 2021

• Work Commences: January 3, 2022

• Work Concludes: June 30, 2022

• Reports Due: July 15, 2022

Funding available

We expect to fund 10 – 20 organizations for proposals of $5,000 to $20,000 each. Proposals for greater

than $20,000 will be considered if they have the potential to make a significant impact in the number of

Philadelphians reached. The total amount of funding available for all applicants combined is $192,000.

Where to Apply

The grant application process is being hosted by the Scattergood Foundation. Please visit their grant

portal here.
---
For questions

Please review the Frequently Asked Questions document posted first. If your question is not addressed,

email beth.mcconnell@phila.gov with questions about this grant opportunity.