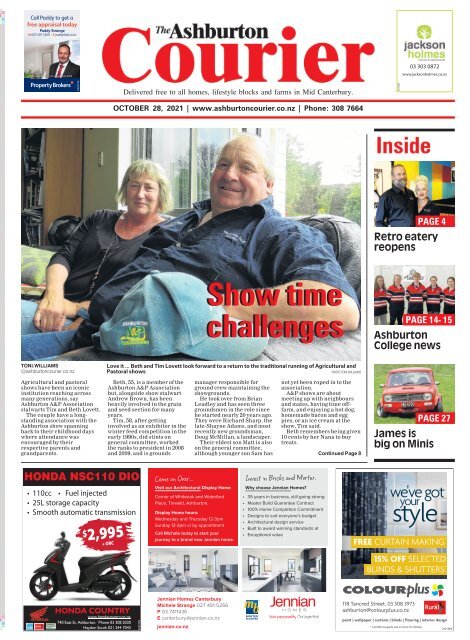 Ashburton Courier: October 28, 2021
Create successful ePaper yourself
Turn your PDF publications into a flip-book with our unique Google optimized e-Paper software.
free appraisal today

03 303 0872

www.jacksonholmes.co.nz

2425755

Delivered free to all homes, lifestyle blocks and farms in Mid Canterbury.

OCTOBER 28, 2021 |www.ashburtoncourier.co.nz |Phone: 308 7664

2422685

PAGE 4

Retro eatery

reopens

Showtime

challenges

PAGE 14­ 15

Ashburton

College news

TONI.WILLIAMS

@ashburtoncourier.co.nz

Love it ... Beth and Tim Lovett lookforward to areturn to thetraditional running of Agricultural and

Pastoral shows

PHOTO TONI WILLIAMS

Agricultural andpastoral

shows havebeenaniconic

institution reaching across

many generations,say

AshburtonA&PAssociation

stalwarts Timand Beth Lovett.

Thecouple have alongstanding

association with the

Ashburtonshow spanning

backtotheirchildhood days

where attendance was

encouragedbytheir

respectiveparents and

grandparents.

Beth, 55,isamember of the

AshburtonA&P Association

but,alongsideshowstalwart

AndrewBrown, has been

heavilyinvolved in the grain

and seed sectionfor many

years.

Tim, 58, after getting

involved as an exhibitorin the

winter feed competition in the

early 1990s, did stints on

general committee, worked

the ranks to president in 2008

and 2009, and is grounds

managerresponsible for

ground crewmaintainingthe

showgrounds.

Hetook overfrom Brian

Leadleyand hasseenthree

groundsmen in the rolesince

he started nearly 20 yearsago.

They wereRichard Sharp, the

late­ShayneAdams, and most

recentlynew groundsman,

Doug McMillan, alandscaper.

Their eldestson Matt is also

on the general committee,

althoughyounger son Samhas

notyet been roped in to the

association.

A&P shows are about

meetingupwith neighbours

andmates, havingtimeofffarm,

and enjoying ahot dog,

homemade baconand egg

pies, or an icecreamatthe

show,Tim said.

Bethremembers being given

10 cents by her Nana to buy

treats.

Continued Page 8

PAGE 27

James is

big on Minis

HONDA NSC110 DIO

•110cc • Fuel injected

•25L storage capacity

•Smooth automatic transmission

$2,995

+ORC

Come on Over...

Visit our Architectural Display Home

Join us for the Grand opening of

Corner Jennian's of Whiteoak New Display and Waterford home

Place, Tinwald, Ashburton.

Display Home hours:

Wednesday and Thursday 12-3pm

Sunday 12-3pm or by appointment

Call Michele today to start your

journey to abrand new Jennian home.

Invest in Bricks and Mortar.

Why choose Jennian Homes?

• 35years in business, still going strong

• Master Build Guarantee Contract

• 100% Home Completion Commitment

• Designs to suit everyone's budget

• Architectural design service

• Built to award winning standards at

• Exceptional value

HONDA COUNTRY

www.hondacountry.co.nz

740 East St, Ashburton. Phone 03 308 2030

Haydon South 021 244 7043

2425782

Jennian Homes Canterbury

Michele Strange 027 491 5266

P 03 7411436

E canterbury@jennian.co.nz

jennian.co.nz

2421666
---
NEWS

2 Ashburton Courier, October 28, 2021

www.ashburtoncourier.co.nz

BUSINESS OWNERS

Build customers,

sales and profits

with us ...

Delivered

to all homes,lifestyle

blocks and farms in

MidCanterbury

and Geraldine

news

Daniel Tobin

Editor

308 7664

027 628 7679

daniel.tobin@ashburtoncourier.co.nz

Reporters

Mick Jensen

mick.jensen@ashburtoncourier.co.nz

Toni Williams

toni.williams@alliedpress.co.nz

advertising

Jann Thompson

Sales Manager

308 7664

027 587 6351

jann.thompson@ashburtoncourier.co.nz

Karen Gane

Sales Account Manager

308 7664

021 510 804

karen.gane@ashburtoncourier.co.nz

getintouch

Editorial

daniel.tobin@ashburtoncourier.co.nz

Advertising

info@ashburtoncourier.co.nz

CreativeManager

murray.thompson@ashburtoncourier.co.nz

Accounts

accounts@alliedpress.co.nz

Distribution/Deliveries

mary.summerfield@ashburtoncourier.co.nz

Office

office@ashburtoncourier.co.nz

03 308 7664

199 Burnett Street,Ashburton

www.ashburtoncourier.co.nz

2388023

Name change now official

MICK.JENSEN

@ashburtoncourier.co.nz

Therewill soonbevisible signsofa

name changefor theAshburton

Licensing Trust.

Known for many years simply as

Ashburton Trust, thenew official

name for the entity is now Braided

Rivers Community Trust.

The name change reflects the

change in business modeland

directionthe trust has takensince

early2016.

Although only recently confirmed,

the new name was decided on and

notified in 2018.

Trust chief executive Rob Reid said

the change to acommunity trust had

turned into along drawn out process

and had also been delayed by covid.

The new name had needed to

contain the words'Community Trust'

and reflected the braided riversof

Mid Canterbury.

''The new name betterrepresents

the trust's place in this community

and the fact it has not issued liquor

licences for many years,'' Mr Reid

said.

Anew trust deedhad converted

the currentoperationfrom a

licensing trust legalstructure to that

of acommunity trust, he said.

Community ownership, control,

boundaries andpublic

accountability obligations all

remainedunchanged.

Anew granting policy thattook

affect in 2018reflectedthe plan to

convert to acommunity trust, Mr

Cross 7pce Dining Suite

RobReid with thenew Braided Rivers Community Trust name andlogo.

Reid said.

From March 2023the trust will

increase its granting pool to four per

cent (less operating costs)ofnet

assets,which willresult in a

significant increase in grants to the

community.

Since2018 thatpoolhas been

restricted to $100,000 per year.

BraidedRivers CommunityTrust

was $ 3343 NOW $ 2674 was $ 4393

signage willsoonbeput up at the

tenniscentre on OakGrove, at the

rugbydugouts at the Ashburton

Showgroundsand at the Mid

Canterbury Basketballstadium.

Final signage design is been

worked on for the event centre and

thenew name andlogowill go up on

theleft side of theWills Street

building.

Report creates discusssion

MICK.JENSEN

@ashburtoncourier.co.nz

Not all Ashburton District

councillors were in favour of

receiving an updated report on the

proposed Resilient Business

Programme at last week's council

meeting.

Theprogramme aimstodevelop

the district's economytobemore

diverse,resilientand sustainable

and will supportfarmers to explore

and implement landuses thatwill

deliver good environmental, social

and financial outcomes.

Aworking groupoffarmers,

industry organisations andentities

active in thecommunitywas setup

12 months ago to understand whatit

means for farms to be positioned

moreresilientlytoaddress anumber

of new environmental regulations

coming in.

''Wesee council in therole of a

brokerand facilitator in this process

and what has been becomeclear in

this lastyear is that there is market

failureand agap for the'honest

broker' andsomeone with whohas

visibilityand thebest interests of the

communitytohelp broker

conversations,'' council agricultural

portfolio broker Richard Fitzgerald

told councillors.

The programme was proposedto

empower farmers and provide them

with solutions andnot tell themwhat

to do.

''It's about creating an

environment and knowledge and

using skills to solve their own

problemsand to build resilience,''

he said.

Fundingfor the programme would

besourced from government and

also from local andregional entities

with avested interest in the success

and prosperity of the agricultural

industry.

CouncillorStuart Wilsonsaid

there were more farm consultants in

the district per farmer than

anywhereelse in the country and

alsoanumber of discussiongroups.

Farmers saw opportunities,''were

not stupid'' andfollowedrevenues.

''Whoisthe counciltotellthem

farmerswhattodo?'' he asked.

Cr Rodger Letham saidheagreed

anddid notbelievethe programme

wasacore businessofcouncil.

Cr Lynette Lovett and Cr John

Falloonboth sharedsimilar

sentiments.

Cr Falloon saidfarmers were the

best judgesoftheir ownfuturesand

had the best advisers and

representativegroups available.

Cr Carolyn Cameronsaid there

wasnodownside in receiving the

report and nothing wouldhappen

unless fundingcouldbeaccessed.

Amajority of councillorsvotedto

receive thereport.

The ResilientBusiness

Programme is estimated to cost $5

millionover three years.

Stockholm 7piece

Extension Dining Suite

NOW $ 3515

Burnett Street,Ashburton l Phone (03) 308 5269 l www.redmonds.co.nz

2422829
---
www.ashburtoncourier.co.nz

NEWS

Ashburton Courier, October 28, 2021

3

History panels set to tell district's story

MICK.JENSEN

@ashburtoncourier.co.nz

Aseries of interpretative

historypanels will be going up

in theAshburton CBD to help

tell thestoryofthe districtand

its people.

The panelsare being

progressedalongside the town

centre revitalization project

and buildingofthe new civic

centre and libraryonBaring

SquareEast.

Aworkinggroupof

councillors,council staff,

museum volunteers andothers

was formedinMay after aprescopingreport

by Ashburton

DistrictCouncil.

Council community services

manager Steve Fabish saidthe

historypanels wouldbe

erectedatkey points in the

CBD to pairwith thecurrent

revitalizationproject.

There hadbeen an identified

need to increaseawareness

andraisethe profile ofthe

history of Ashburton townand

the district,hesaid.

Mr Fabish said the history

plaqueswould feature in a

heritage walkway that would

berefreshed androtated with

newpanelsevery sixmonths or

so.

Thepanels wereabout

sharing information andthat

information would also be used

by the art galleryand museum

as part of itsschools

programme.

Theinterpretationpanel

project could be expanded out

fromawalking trailand into a

driving trail in thefuture,he

said.

Thedesign layoutofthe

panels followscouncil's

signage strategy and is similar

to theinformation signs at the

Salmon Tales site, in Rakaia.

The panelsfeature aspecial

coating to help protectthem

from vandalism andgraffiti

andaQR codeisbeing

considered to directpeople to

further information.

An audio optionisa

possibilityinthe future.

Behind the masks and showing

an example of the interpretative

history panels are Ashburton

Museum and Historical Society

president Glenn Vallender (left)

and society member Dave

Stewart.

SUPER DEALS ...SUPERSERVICE

Our staff

are vaccinated

Airport plan

developing

Work is progressing on adevelopment plan

for Ashburton Airport.

The airport occupies over 100 hectares of

land and is just 5.5km from the town centre.

AshburtonDistrict Council owns the

airport and leases sites for hangars and

airport activities.

Facilities consistoffour unsealed

runways, one of which is lit to enable night

flying.

Acouncilsubcommitteemeetsevery eight

weeks to monitor happeningsatthe airport

and councilstaff are in regularcontact with

an airport user group and working with them

on afuture development plan.

The plan will be worked on in­houseand is

seen as an opportunity for Ashburton Airport

to become arevenue neutral or profit

generating entity.

Airport subcommittee chair Leen Braam

said the airport was verywell used and

operatingrules neededtobefirmedupto

run the facility smarter and to meet demand.

More smalleraircraft wereflyingin, anew

skydiving business was keen to come to town

and demandfor hanger spacewas strong.

''Thetown is getting closer to the airport,

but we can't make the spacewehave bigger

and we need to work withwhat we'vegot.''

Currently two hangars, each345m2, are

underconstruction and two more are in the

finalstages of the consentingprocess.

Mr Braam said the Ashburton Aviation

Museum was one of the best around and also

had plans for anew big hangerinthe next

couple of years.

Asystem for monitoring flights at the

airport is currently being developed, as is a

programme of maintenance to ensurethe

site continues to be keptatahigh standard.

Casual landing fees are $8 per landingfor

microlights, $10 for aircraft over 600kg and

$15 for aircraft over 1500kg. Regularlocal

flyers typically pay aone­off annual fee of

$115.

Landing fees contribute towards the

maintenance and upkeep of airportfacilities

and are paid at the honestyboxes situated on

the aviation museum hangar.

LIMITED

STOCK

BEAT

PRICE

RISE

Fridge Freezer

• 198 litres (144

fridge/54 freezer

• Frost free freezer,

convenientand saves

time

• Reversible doors,

position wherebest

foryou

• 1420mmH,540mm W,

595mm D

49''4KSmartTV

IMMEDIATE

DELIVERY

was$2299

$

1497

$10.10weekly

• 4Kresolution offers amazing vibrantcoloursfor amazing picturequality

• Panasonic's easy to use remoteand operating system make it simple to access

all your favouriteapplications

• UHF tuner allows youtowatchFreeview straightfromthe TV

LIMITED STOCK

Trundle Domino

MEDIUM

COMFORT

• 3-in-1i 1 bedd with strongt metalt l trundle unit.Ideal l forthef

kids room

or accommodating extraguests overthe holidays.

Devotion Queen Bed

GREATPRICE

• Conforma Coil SupportSystem–providesSystem – provides minimum partner disturbance

• Breathable Knit Fabric –healthier sleep surface

was$849

$

665

$4.66weekly

was$1799

$

1198

$8.14weekly

was$2699

$

1490

$10.05 weekly

BONUS

WITH THIS OFFER

c

2 0 OFF

13 placesettings

LAST

ONE

Dishwasher

• 13placesettings

• 6cleaning

programmes

• Delaystartoption,

set to finishwhen

best foryou

• 850mm H, 598mm

W, 598mm D

BONUS

WITH THIS OFFER

c

2 0 OFF

75''4KSmartTV

BONUS

WITH THIS OFFER

c

3 5 OFF

was$929

$

678

$4.74weekly

IMMEDIATE

DELIVERY

was$4499

$

2998

$19.90weekly

• Large format screen, perfect forthe living room or movie room

• 4Kresolution offers amazing vibrantcoloursfor amazing picturequality

• Samsung's wide range of apps will keep youentertained forhours

Weber Q2200

$

619

OFFER FINISHES

LAST 3DAYS! 30/10/21

TERMS &CONDITIONS APPLY

2422825
---
NEWS

4 Ashburton Courier, October 28, 2021

www.ashburtoncourier.co.nz

Popular downtown eatery opens again

DANIEL.TOBIN

@ashburtoncourier.co.nz

Brush off your leather jacket

and slick back yourhair

because the Retro Kitchenon

Burnett Street has openedits

doors again.

The 1960's Kiwiana style

restaurant made the decision to

close March this year because

of the disruption caused by

roadworks.

Owner Kelly Macvey said

revenue plummeted by 80

percent because of the works.

''Theroadworks were meant

to be short term but took alot

longer,and it's not one road, it's

all the roads that are affected.

''Burnett Street was

supposed to be six to eight

weeks,wehave been closed six

months'' Mr Macvey said.

It was atough decision to

close because the restaurant

had only been open afew

monthsand was startingto

build asolid client base.

''Until they started the

roadworks we were absolutely

humming, alot of the customers

are pensionerswho like the

Kelly andDebbie Macvey arethrilled to be open again.

retro styleand they can sit

down have ameal for under20

bucksand they are full.''

Coming to an arrangement

with their landlord helped

them make the call to close

until the road was finished.

''Our landlord has beenreally

good, they have been very

accommodating coming to a

mutual agreement which was

beneficial to both parties.''

The restaurantwill initially

operate daytime hours

PHOTO DANIEL TOBIN

includingbreakfast with a

skeleton crew and afew new

treats on the menu.

''My wife and Iwill work here

with acouple of casuals, we'll

be doing new desserts like

cheesecake and lemon

meringue pie and aChristmas

menu in December,wewill also

host functions and birthday

parties.''

In hindsight Mr Macvey

thinks they made the right

decisiontoclose; he and wife

Debbie also run the Riverside

food bar.

''It was abrilliant decision,

we made the right call to close

down, we werefortunate

enough to have another

business to keep us going and I

got afull time job driving a

bread truck.''

Fans of the restaurant have

been hanging out for the

restaurant to reopen it's doors.

''I have been hassled to

reopen over the last five

monthsnon stop.

''The best advertising Ihave

had is being closed, the other

day 40 people cameto the door

when Iwas here asking when I

am opening.''

Now that he is back Mr

Macveyispleasedwith how

BurnettStreet looks

''Change has got to be good,

the town is going to look

better.''

Online map helps locate local op shops

TONI.WILLIAMS

@ashburtoncourier.co.nz

Charity opportunityshops, and

recycling recovery parks, across

Canterburyhavebeenpinpointed on a

newonlinemap setupthrough

VolunteerMid and South Canterbury,

in partnershipwithVolunteering

Canterbury.

The backgroundwork wascarried

outbyAshburton volunteerConnor

Venmorewho spentconsiderable time

finding the district'sopportunityshops

andrecovery parks, as well astheir

days andhoursofoperation.

Andit'ssomethinghehas really

enjoyed.

Connorhas volunteered with the

organisation on many projectsand

enjoyed theresearchingthe charity

shops.

Hehas been apastvolunteeratthe

AshburtonMuseum,butstill

volunteers with Hospice Mid

Canterbury and CCS Disability Action

Group. He enjoys family history

research and also has an interest in

different cultures and countries.

His op shop researchhas been

placed on an interactivemap produced

by ProfessorDonald Matheson,of

CanterburyUniversity and loaded on

the VolunteeringMid and South

Canterburywebsite.

It includes around100 op shops

across Canterbury ­atleast sixare in

MidCanterbury­aswellasresource

recoveryparks,where bargain hunters

can find quality, pre­lovedhousehold

goods, furniture, products and

clothing.

It's alsoagreat waytorecycle

products to up­cycle andreuse which

mayhaveendedupatlandfill

otherwise.

Volunteering Mid and South

Canterbury, Mid Canterbury manager

Dellwyn Moylan said after mere hours

of the launch ­timed forrecycling

awareness week ­ithadalready drawn

many positive comments.

''We have hadanamazingresponse

to it,peopleare really lookingforward

to using it and wehave had the nameof

twomoreshops to addwhichisgreat,''

shesaid.

MissMoylansaidonlinethe maphad

seen scores of Facebook likesand

comments and shares.

It hadreachedmore than10,000

people injustacoupleofhours, she

said.

The map can be found onthe

organisation's websiteatwww.vmsc.

org.nz

Research volunteer Connor Venmore,

left, andVolunteeringMid andSouth

Canterbury'sDellwyn Moylan outside

the Hospice MidCanterburyop shop in

Ashburton.

PHOTO TONI WILLIAMS

TheLast Duel

ReviewedbyRowenaHart

Atrue story ofcrime, scandal andTrial by Combat in

Medieval France. The story was from the 2004 book

by American author Eric Jager,about the last officially

recognized judicial duel foughtinFrance.

It wasin1386, the Norman knightJean de Carrouges

(Matt Damon) and squire Jacques Le Gris (Adam

Driver) foughttothe death!

Thefeud startedoverapieceofland. Then Jeans wife,

Margeurite very bravely told her husband that she

had been raped by his best buddy Jacques Le Gris.

Jean took it to court. It was decided aduel would be

foughttothe death.

If Jean won the duel he and his wife were free tolive

on but if Jacques won, Marguerite would be found

guiltyand burned at the stake!

She wasextremelybrave and thatiswhy she has been

remembered.

Itwasfascinating seeing CharlesV1 and his young wife

sitting on the throne, looking like young teenagers

...Ijust read that Charles was 11years old when he

wascrowned King!

The Castles, the costumes ...especially the horses

outfits were so gorgeous.

AndMarguerites hair-do'ssomething else indeed!

SINCE 1934

ROLLESTON

ASHBURTON

TIMARU

bookings ph 307 1230

www.regentcinema.co.nz

2422692

2425766
---
www.ashburtoncourier.co.nz

NEWS

Ashburton Courier, October 28, 2021

5

Chance to get close to military memories

MICK.JENSEN

@ashburtoncourier.co.nz

Living military and aviation

history will be on show at abig

fundraising event in Ashburton

over Waitangi weekend.

The Militaria &Aviation

Extravaganza will showcase the

Ashburton Aviation Museum's

extensive collection of

preserved aircraft and will

offer aclose up of vehicles,

uniforms, weapons and vintage

cars.

Displays will include abig

uniform collection spanning

150 years, from the Maori Wars

through to Timor­Leste.

Members of the Military

Adventure Group (MAG) from

Christchurch will set up army

displays, offer rides in military

vehicles and share their

enthusiasm for war history.

MAG member Phil Nelson

said there were expected to be

over 60 uniforms on show and a

display that wouldn't be seen

anywhere else in New Zealand.

He said MAG members were

personal collectors who wanted

to keep history alive.

The items they owned told

stories and featured family

history.

Mr Nelson said displays

would include weapons and

items like army pay books, and

would offer ataste of what it

was like to be both behind the

lines and on the front line.

There would be afocus on the

role of women in the forces, a

taste of German militaria and

atmospheric 1940s dance music

and singing in the background.

The MAG group was keen to

support Ashburton Aviation

Museum, which was rightly

acknowledged as one of the

finest in the country.

Mr Nelson said MAG hoped

the extravaganza weekend

could become biennial.

The Militaria &Aviation

Extravaganza is amajor

fundraiser for Ashburton

Aviation Museum, which is

looking to build another big

hangar to display its extensive

collection.

Museum spokesman Dennis

Swaney said the extravaganza

event was coming together

nicely.

''It's alearning curve for the

museum, but we're excited to

be hosting it and grateful for

the support of groups like MAG

that have come on board.''

Photo: Checking out asmall

selectionof whatthe Military

Adventure Group intends

displaying at the Militaria &

Aviation Extravaganza are

(fromleft) aviation museum

members Stephen Johnston

and DennisSwaney with(front)

Phil Nelson from the Military

AdventureGroup.

Mr Swaney said he believed

there would be huge interest

South Island­wide in the event.

''Where else will you be able

to view military vehicles,

uniforms and arange of

weapons. Vintage cars are

always great to see, especially

so when they fit in with the

period this event covers.

''And don't forget all our

magnificent aircraft display to

show off as well.''

Mr Swaney said it was hoped

to get local cadet units and

colleges involved in some way

as well.

Anyone interested in

supplying items for military or

aviation displays is welcome to

contact the MAG group

(noel@mag.org.nz) or aviation

museum (djswaney@xtra.co.

nz).

Manager's

DEALS!

Super

HOTDEAL!

$

36 99

each

Super

HOTDEAL!

$

19 99

each

JÄGERMEISTER

700ml

O'MARA'S IRISHCOUNTRY CREAM RANGE

Includes Original,ChocolateOrange &Salted Caramel

700ml

Bill Hart with ahelmet being sold by the museum.

PHOTO DANIEL TOBIN

History in ahelmet

DANIEL.TOBIN

@ashburtoncourier.co.nz

History buffs have the chance to

own apolished piece of the

Ashburton Fire Brigade's past

with the Fire Museum selling

replicas of vintage brass

helmets.

Grey Watch Ashburton Fire

Museum member Bill Hart said

the helmets were proving a

popular addition to the museum

shop.

''It's all part of this little shop

here where we sell fire related

models, toys, caps and helmets.''

The brass helmets are

authentic replicas of helmets

used by the Ashburton Fire

Brigade from the mid 1800's to

around 1940.

Today the helmets are still

used for special occasions like

ceremonies.

Bill said an original vintage

brass fire helmet would cost

around $1000 ''if you can find

one.''

Areplica costing $230 is an

economical way to own apiece

of history and to support the

museum.

The helmets are moving out

the door fast, with Bill selling

six in afew days after posting an

advert on Facebook.

The money raised from

helmet sales goes back into the

museum, and will be put to good

use with the museum looking

into adding an extension in the

future.

But if you want one you need

to get in quick as resupplying

stock is uncertain in these covid

times.

Email Bill at hartwy@xtra.co.

nz if you would like to purchase

ahelmet.

MALFY GIN RANGE

Includes Original,Blood Orange,Pink Grapefruit &Lemon

700ml

ASHBURTON

266 Havelock Street,

Ashburton.

Ph.308 7149

MSA

www.superliquor.co.nz

PLEASE NOTE: Trading hours

changed until further notice.

HOURS

Super

HOTDEAL!

$

49 99

each

Monday

Tuesday-Thursday

Friday&Saturday

Sunday

JIM BEAM WHITE

LABEL BOURBON

700ml

11:00am -6:00pm

11:00am -8:00pm

11:00am -9:00pm

11:00am -6:00pm

Super

HOTDEAL!

$

29 99

each

Offer ends

11 November 2021

*Terms and conditions apply

2422875
---
NEWS

6 Ashburton Courier, October 28, 2021

High tourism

spend in July

Tourism spendin

the Ashburton

District in July was

arecord$8.2

million.

Bruce Moffat

from Mid

Canterbury

tourism promoter

ChristchurchNZ

told Ashburton

District

councillors last

week that

electronic card

transactions

showed $3.2m had

been spent in

Ashburton, $3.8m Bruce Moffat

in Methven and the

rest aroundthe district.

''It's the healthiest July ever and $1m up on

the same monthlastyear,'' he said.

Mr Moffat said the July momentumlooked set

continue before another lockdown came into

force and stopped visitors from Auckland and

other areas coming here during the school

holidays.

He said tourism data had been difficult to

capture during covid times and thepandemic's

impact continued to reverberate across the

tourism industry.

Forthe period June to August 2021 domestic

spend in the district was $15.8m and up 21

percent on the same period in 2019.

International spend was $1.6m and down 64

percent compared with the 2019 period.

www.ashburtoncourier.co.nz

Water report bleak reading

MICK.JENSEN

@ashburtoncourier.co.nz

An economic impactreport looking

at the implicationsofnew land and

water legislation on farming in Mid

Canterburydoesn'tmake pretty

reading.

The report, commissionedby

AshburtonDistrict Council, uses

modelling andfarm systemanalysis

to lookatthe changes that will need

to occur to achieve afuture

freshwater soluble nitrate levelof

2.4mg perlitre.

Results from the report show the

district's gross domestic product will

declineby$409 million or 23% and

that there could be the loss of 1735

jobs.

Farm profitability would be

reduced by 62%and land values

would go down to $25,306per hectare

or $7.4 billion district wide.

Council's agricultural portfolio

adviserRichard Fitzgerald, who

wrote thereport, said the

implications of achieving 2.4mg were

not wellunderstood at afarm level or

on the impact to the district's

economy.

There were still anumber of

unknowns,and the bold targets set by

government would present many

challenges.

Mr Fitzgerald said report analysis

had looked at three mitigation

interventions; on­farmnutrientloss,

groundwater supplementation, and

land use change.

Forestry had been chosenfor land

use change because it was alow

nitrate crop knowntothe Canterbury

plains.

The interventions would result in a

reduction of dairy farming and dairy

support land use by over 50 percent

from currentlevels.

By applying the interventions, the

freshwater nitratelevels would shift

from the weighted average starting

ADC agricultural portfolio adviser Richard Fitzgerald.

point of 11.5mg to 6.3mg,and would

dropfurtherto2.4mg when the

managed aquiferrecharge scheme

andland use changeswere included.

Therewas no timeframe forthe

legislation,but it was likely to be

overthe next 30 to 40 years, he said.

AshburtonDistrict mayor Neil

Brownsaid thereport was never

going to be pretty reading.

Asimilar report late last year had

shown the direeconomic impact of

havingtoreachatarget of 6.9mg.

Council hadasked for the current

reportand it wasaworst case

scenario.

''The 2.4mg of nitrate target is not

going to go away and we need to try

andachieve it.

''We need scienceand we need

time to achieveit, but the report

shows us what will happen if we do

nothingtoday.''

The intention of council is to refer

the reporttothe CanterburyMayoral

Forumand other relevant

stakeholders, for consideration and

comment.

Councillor Stuart Wilson was less

than impressed with the report.

He asked if council was nowgoing

to go outand ''tell farmershow to

suck eggs''.

Council was beingpresumptuous

with thereport.

''We should be going out and

lobbying Environment Canterbury

(ECan)because they hold the reins to

what's going to happen in the future,

notthe local accountants or thelocal

farmers.

''I don't want to seeratepayers

money used in thewrong way.''

Mr Brownsaidhebelievedthe

workings in the report andany other

reports could be used by ECan when

it came time to writing theregional

plan.

Council adopts new dog bylaw

AshburtonDistrict Councilhas

adopted its newDog Control Bylaw

and Dog Control Policy and it

includes an extended dog exercise

areaatArgyle Park andanew area

off Company Road.

Anotherarea at Ashton Beach is

now off­limits to dogs becauseof

specialflora and fauna in the area.

Thenew bylaw includesaclause

that owners mustensure dogsare

wearing current registration tags on

any landthatisnot theirown and

thatowners must carryplastic bags

or other means to pickupdog poo.

Council received 29 submissions

on the proposedbylaw changes.

Dogs mustbekept on aleash in all

public placesatall times, exceptin

areas specified as dogexercise

areas.

Exercise areas in the policyare

the AshburtonDog Park(near the

AshburtonRiver), PioneerPark,

Digby Park,PatchingStreetReserve,

Smallbone DriveReserve, Devon

Park, Argyle Park,Company Road,

the Tinwald Green, George Glassey

Park andthe MethvenDog Park.

Dogownerscan also use the old

Ashburton landfill areaatthe endof

Range Street to run theirdogs off the

leash.

Dogs are prohibited at all boat

ramps and slipways, all cemeteries,

public sportsgrounds, AshtonBeach

andreserve shoresatLake Camp,

Lake Clearwater,Lake Heronand

Maori Lakes.

Optimum 2021

spring/summer

range in-store

Superb quality knitsmade in NZ from

100% cotton and cotton blends. Pictured

is the Subtle Plaid Jacket–lightweightand

versatile, great forcasual ormore formal

occasions. Available in sizes 8to18.

Find us just 1 Km off Hwy 1 at Rangitata

on Hwy 79. Open 7 days 9am to 5pm,

Ph 0508 504 006 thetinshed.co.nz

GREAT

RATES

PC Repairs, Set-up and Tutoring

Icome to youday or evening!

NewPCs

and Laptops

forsale

•PCRepairs/Sales •Networks/Servers

•Firewalls/Security •Spyware Clean-up •Training

20 YearsExperience Microso Cerfied Professional

07 Tin 2021 Snow

NETWORKS FIREWALLS AND PCS LTD

Robin Johnstone 67 Aitken Street, Ashburton

P: 03 308 1440 C: 027 768 4058

robinbj@xtra.co.nz

2422648
---
Power through

your garden with

these great deals

$

79

Black+Decker

99

Astro Cordless Axial Leaf

BlowerSkin18Volt

High blowing volume.

Integrated leaf scraper.

2.5kg light weight foreasy use.

367892

279 119 519

$ $ $

McCulloch Black+Decker EGO

Petrol Blower - 26cc BlowerVac 2300W BlowerKit 2.5 AH Battery

Fanspeed can easily set with thecruisecontrol.

No fuss startevery time.Easytoattachtubes,

quick assembly and storage.

350359

3-in-1-1 compact blower,

vacuum and shredder.

Two speed settings.

Flexi

tube foreasy

maneuverability.

367896

56 Volt ARC Lithium-Ion battery.

Hi-efficiency brushless motor.

Variable speeds.

Jet turbine fan engineering.

289819

140 Electric Chainsaw 159 384 759

Black+Decker

$ $

$

$

2200 Watt 450mm

Lowkick back chain. Chain break system forsafety.

Tool free chain tensioning forquick and easy chain

fitting and adjustment. Anti-vibration system and

rubber over mold handle forcomfort.

267749

EXCLUSIVE

Makita

Chainsaw - 32cc

Jobmate

Petrol Chainsaw - 45cc

Lateralchain adjuster.Metal spiker bar.

45cm (18 inch) Jobmate bar.

Soft touch stop system.

2stroke engine.

M2M anti-vibration design.

Includes: 1xfile,1xsocket

35cm bar.

spanner and 1screwdriver. 307456

334615

De-Walt

FV Chainsaw Kit - 1500 Watt

High efficiencybrushless motor,1500 Watt power

output delivers heavy dutyperformance.

Variable speed trigger,

no pull starting.

40cm Oregon bar.

346944

$

479

Morrison

Electric Shredder

2400 Watt

40mm cutting capacity.

Directdrive.

Double insulated.

Rotating blade

cutting.

High quality

wheels.

347611

$

69

EXCLUSIVE

Jobmate

HedgeTrimmer - 500 Watt

363902

$

899

EXCLUSIVE

EGO

Commercial Hedge Trimmer

16mm tooth spacing.

Unique handle and trigger design.

T-shaped assist handle.

Lowcutter guard.

Dual safetyswitch.

Blade tip protector.

Dual action blades.

75cm blade length with

Blade tip protector.

33mm cutting capacity.

Electric brake. 342247

$

2199

Gardena

Sileno Life Robotic

Lawn Mower-750m 2

Veryquiet operation. Spot cutting featurefor hard

to reach areas.Collision and tilt sensors for

continuous mowing and safety. Frost protectionand

pin-code theftprotection.

372514

$

319

Masport

Electric Lawn Mower

Powerful 1800 watt motor.

420mmcutting width.

Cutting height of 20-70mm.

45L plastic catcher.

Mow

your lawns to

perfection with

no messy fueling or

fumes.

376949

1499

329

899

$ $

$

EXCLUSIVEE

Jobmate

Electric

Lawn Mower &

Line Trimmer Set

1000 Watt, 30cmcutting

width. 30L fabric catcher.

250 Watt line trimmer,

23cm cutting diameter.

363903

Bosch

CompactCordless

LawnMower

Cut and catch.

330mmcutting width.

31 litre catcher.

Battery &charger

not included.

366415

EXCLUSIVE

18 Volt x2.Reliable

long lasting batteries

compatible with other

equipment in the

Makita range.

Low noise

and zero

emissions.

382924

Makita

Lawn Mower&

Line Trimmer Kit

Offers available from Thursday28thOctober till Thursday4th November,2021orwhile stocks last.

ASHBURTON MITRE 10 MEGA

West Street, Ashburton

PHONE 03 308 5119

TIMARUMITRE 10 MEGA

23 Bank Street, Timaru

PHONE 03 687 2033

OAMARUMITRE 10 MEGA

DeeStreet, Oamaru

PHONE 03 434 9860
---
NEWS

8 Ashburton Courier, October 28, 2021

www.ashburtoncourier.co.nz

Lovetts have long association with show

From Page 1

Covid has affected the

Ashburton A&P Show for the

second year in arow.Although

some competitions will go

ahead, it has involved abit of

compromise, and alotof

planning to ensure thereis

spacebetweensections ­and

peopleinbubbles.

Shearing, dog trials, alpacas,

wool classes, home industries,

equestrian, showjumping will

each run but behind closed

doorswith no trade sites,

market stalls, food vendors or

the generalpublic.

Beth got involved with the

association after taking over

the long­standing membership

fromher late­father David

Nelmes, of Fairton, after he

passedinthemid­1980s.He

was along­standing horse

committee member.

Tim's first memorable

encounter with Beth's father

wasasa14­year­old being

given themost improved rider

recognition after aclean round

on his pony Mickey.

The round wasamarked

improvement on theyear

earlier when Mr Nelmes had

witnessed Tim being projected

off his pony on top of ajump,

which broke as aresult.

It's amemory which still

amuses Tim.

Tim and Beth Lovett holidaying on the Etosha Pan, Namibia in 2018.

The Lovettsboth grew up in

arable country, near Fairton,

but arenow dairy farmers.

They tookover the nearly

400­hectare Brackleigh Farm,

ownedbyTim'sparents, Stuart

andthe late­Nola, on Fairfield

Road, at Newlands. But made

the conversion to dairyin2008.

Tim still gets abit of ribbing

from his siblingsAndrea,

Richard,and Greg (of Lovett

Family Farms at Wakanui),

who are usedtothe family farm

beingasheep and crop

operation.

Tim and Beth, whose two

adult sons work off­farm, made

the decisiontoconvertafter

travellingtoMichigan, in the

mid­westernUnitedStates in

2007.

Tim had travelled

extensively aroundthe world

over the years, andwas

returning to visit Canadian

farms being runbyyounger

generations.

PHOTO SUPPLIED

It was abit of an eye­opener

to what waspossible so, with

succession in mind, changes

were made on thereturn home.

Ten days laterthe wheels

were in motiontoconvert the

farm.

They now supply Fonterra,

andare milking1100­Kiwicross

cowsina70 bail rotary

shed. Thereare also afew

White Galloways, MurrayGreys

andBelgianBlues thrown in

the mix.

It has beenthe perfect

lifestyle choicefor the Lovetts,

and they have no regrets.

They are more efficientwith

their water use, changing from

roto rainer to pivotirrigation.

They arehooked into theBCI

irrigation schemeaswellas

underground water, Timsaid.

The conversion to dairy has

given them asuccession plan

and brought in others working

throughthe ranks of thedairy

industry system.With contract

milkers in place it has also

freed up at least six weeks a

year forthe Lovetts to travel

the world.

They have travelled to the

UnitedStates, Africa,Vietnam

and slept rough across

thousands of kilometres. It was

pup tents during 8500km travel

in Africa,and atiny campervan

travelling 12,000km from

SeattletoAnchorage.

They have alsoseen firsthand

how respectedfarmers

from NewZealandare

considered by peopleoverseas.

When the country reopens

they have their hearts set on

travelling the'Stans of Central

Asia; Kazakhstan, Tajikistan,

Uzbekistan, Kyrgyzstan,

Turkmenistan. And arealso

keen for areturn to having

traditionalA&P shows for the

whole family to attend.

It's just amatteroftime.

Ashburton

November 9, 10,

11, 15, 16, 17, 18

2423809

90 per cent target to relax rules

The South Island couldsee relaxed

covidrestrictions aheadof the rest of

the country, once every district health

board reaches a90per centdouble

dose vaccine target.

The Government target, announced

last week,was needed before the

movetoanationwide ''traffic light''

system which would replace current

alertlevelsystemandnational

lockdowns.

However localised lockdownscould

still happen.

Leeann Watsonfrom Canterbury

Employers'Chamber of Commerce

welcomed the new Covid­19

protectionframework and details of

what it would taketoget the South

Islandout of the current Alert Level2.

''It is positivetohear aplan for

reopening the economy and apathway

out of lockdown that instead focuses

on vaccinations,'' she said.

Enjoy all year

round wellbeing

SAVE

40%

GO Vitamin

D3 1,000Iu

1-A-Day Plus

60s

NOW $17 99

was $29.99

Managing stress

SAVE

40%

''This will provide businesses a

degree of certainty and confidence to

start planning ahead,but it comes

with the condition that we must reach

our 90 percent double dosed

vaccination rate to getthere.''

The Chamberadvocated strongly

for Canterbury businessesand indeed

the South Island to move downthe

AlertLevels and wanted moreclarity

and information on what future

operating restrictions would look like

­and atimeframe.

Level3hadmuchtighter

restrictions butthe impact for

business at Level2­particularly those

involved in hospitality, retail,

accommodation and events­was still

significant.

Ms Watson said increased financial

support,available through the

Resurgence SupportPayment from

November 12, would help businesses

and sectors in Canterbury most

impactedbyAlert Level2and

operating underrestrictions,

alongside the continuation of the

Wage Subsidy.

The framework alsoprovided legal

guidelines for businesses.

''Weare very pleased thatthe

Government has signalled that this

framework willset up legal

protections forbusinesses to refuse

non­vaccinated people and employers

for staff mandates, as this is an area

that we receive numerous inquiries

about from our members and wider

business community,'' she said.

''Businessesalso need approaches

and guidance to be ableto take

defendable decisions in preparing

their workforces moving forward and

we look forward to continuing to work

with government to gain greater

clarity on this.''

EARN UP TO 30 POINTS

Adrenal support

50s NOW $19.79 was $32.99

100s NOW $29.99 was $49.99

Plastic welding

We repair all types of plastic products

andequipment.

•Water tanks •Calf feeders •FuelTanks

•Car bumpers •Cab roofs

ARTHUR

CATES

LIMITED

26 McNALLYSTREET,

RIVERSIDE INDUSTRIAL

PARK,ASHBURTON

TEL 308 5397

www.arthurcates.co.nz

2421851

2427882
---
BEATTHE PRICE INCREASES AND STOCK SHORTAGES

&

LADIES'

SNAPPY TOP

$

125 .00

DIRE PANT

DARLING

DRESS

IN-STORE

NOW

$

145 .00 $

149 .90

$

165 .00 was $645 NOW $ 500

ANGLAIS

DRESS

$

179 .00

RUFFLE

DETAIL

BLOUSE

CLARATOP

$

249 .00 WHISPERER

DRESS

$

269 .00

IN-STORE

NOW

ICEBREAKER

FACE

MASK

PAPER FLORAL

PRINT DRESS

LAST WEEK, LAST CHANCE

$

149 .99 $

139 .90

ESCAPE

DRESS

CRAFTSMAN

Chestnut &Black

CARO PANT

COCO SHIRT

$

379 .00

•MERINO

•WASHABLE

$

15 .00

EACH

ADELAIDE

Chestnut &Black

$

299 .00 $

319 .00

&LILIANA

SKIRT

LADYYEARLING

Chestnut &Black

2427147

03 308 5771

East Street Ashburton

TERMS AND CONDITIONS APPLY, ONLY WHILE STOCKS LAST

www.sparrows.co.nz
---
Deaths

HANSEN, Peter Lawrence

'Satch' Formerly of Ashburton.

Passed away suddenly at home

in Levin on Friday, 15 October,

2021. Very much loved partner

of Vanessa Dickson. Much loved

Dad, Grandad and father-in-law

to Karl, Donna, Danielle and

Tayla Hansen; Jeremy Hansen;

Carrie, Sam, Olivia and Scarlett

Collett; Brooke, Chris and

Hudson Leary. Loved brother

and brother-in-law of Dick

and Lorraine Hansen. Loved

uncle to Chris and Steph. All

messages to the Hansen Family,

c/- P.O. Box1017, Levin.

A farewell for Peter will be

held at the Allenton Rugby

Club Rooms, Melrose Road,

Ashburton, on Tuesday 2nd

November 2021 at 1pm.

Due to COVID restrictions,

please RSVP to 027 379 2403 so

numbers can be confirmed.

LAPSLIE, Peter John -Warrant

Officer First Class RNZAOC

V823189, Retired. OnOctober

22, 2021. Peacefully passed at

Radius Millstream, Ashburton

aged 85 years. Dearly loved

husband of Edra. Loving

father and father-in-law of

Michael and Marie, Christopher

and Frances, Stephen and

Nicky, and Kevin. Loved and

respected brother of Bill and

the late Marie and Pat. Special

thanks to all the Hospital

Staff who cared for Peter in

his last 2 weeks. Messages

to the Lapslie family c/- P O

Box 472, Ashburton. 7740.

Service tocelebrate Peter's life

will be held at our chapel, cnr

East & Cox Street, Ashburton

on Thursday October 28,

commencing at 11.00am,

followed byprivate cremation

at the Ashburton Crematorium.

For anyone wishing to view

the service online go to www.

patersonsfuneralservices.co.nz

Funeral Notices, and click on

Peter'snoticefor the link.

Paterson's

Ashburton

FDANZ

03 3077433

RANTON, Marion – Passed

away peacefully on October

21, 2021 at Ashburton Hospital,

aged 88 years. Loved wifeofthe

late Jack, and mother of Pam.

Loved sister of Eric, and Ivan,

and the late Bill, Bob, Doug,

and Harry Maw. Messages to

Marion's family c/- POBox 472,

Ashburton 7740. A private

funeral forMarion will be held.

Paterson's

Ashburton

FDANZ

03 3077433

A

Family Notices

Deaths

WALLS, Mary Patricia (Pat)

(nee McCormick) -OnOctober

22, 2021, Peacefully at Radius

Millstream, Ashburton, aged

91 years. Loved wife ofthe late

Harry and loving mother of

Garry, and the late Susan."RIP"

Messages to the Walls family c/-

POBox 472, Ashburton 7740.

ARequiem Mass to celebrate

Pat's life will be held at the

Church of theHoly Name,Sealy

Street, Ashburton onThursday

October 28, commencing at

1.30pm, followed byinterment

at the RSA Section, Ashburton

New Lawn Cemetery. Recitation

of the Rosary will beheld on

Wednesday afternoon, at

4.15pm at the Church.

Paterson's

Ashburton

FDANZ

03 307 7433

WALLS, Mary Patricia (Pat)

(nee McCormick) –OnOctober

22, 2021. Loved eldest child

of the late Frank and Edith

McCormick and loved sister of

Kevin and Tari, the late Gerald,

Monica and the late Johnny.

Loved by all her nieces and

nephews.

Acknowledgement

TRUMAN, Neville Digby

9/1/33 – 2/10/2021: Ann,

Christine, Leone and Grant,

Grant, Michelle and Mike,

grandchildren and their

extended families, sincerely

wish to thank the manyfriends,

neighbours, organisations,

Rosebank staff, Ashburton

Hospital, Carol Gunn for her

lovely service, Patersons

Funeral Services for their

care and compassion to the

family. The beautiful floral

tributes,cards andbaking were

overwhelming. Thank you so

much. Neville is nowatpeace.

Death leaves aheartache no one

canheal,

Love leaves amemory noone

cansteal.

Until we meet again love.

Family

Notices

Enquiries phone

Mary,Jann or Karen

on

308 7664

or call into

199 Burnett Street.

Family owned,

locally owned

22 MooreStreet,

Ashburton

0800 263 6679

2413353

NEWS

10 Ashburton Courier, October 28, 2021

Strumming on new Fender

Molly Harrison'spassion formusic

hasopenednew opportunities this

year.

The12­year­oldwon the junior

country rock title at the2021Gold

Guitars in Gore, and the junior

overall runner­up title,and

recentlyopenedonstagefor her

owncountry music idol, Jody

Direen.

Andthroughthat encounter,with

prize moneyfrom theGoldGuitars

and abit of savings,was able to buy

theguitar of herdreams, afull­sized

acoustic/electric Fender,indark

brown.

Mollycould notbehappier.

Shewas invited to be the opening

actfor JodyDireen at the recent

Farming Families organised, Mid

Canterbury Rural Community Ball

at theHotelAshburton.

Theeveningincludedthe

entertainment of the countrysinger

andasilent charityauctionwith

some donationsfrom sponsors of

the event, including Farm Source,

Quigley Contracting and

Ravensdown.

Mollyjumpedatthechancetobe

involved.

Shegot to meet her musicalidol,

andalsosome invaluable stagetime

playing to the 100­plusstrong

crowdfor aroundanhourahead of

the country singer.

''Itwas agreat opportunity and

I'mmost gratefulfor (it) andtomeet

Jody ­she's agreat singer,socool,''

Molly said.

FarmingFamilies members,

Molly Harrison, front, with her new acoustic/electric Fender guitar, and

Farming Families representatives, from left, Frances Beeston, Rebecca Miller

and Jane Hansen.

PHOTO TONI WILLIAMS

aware of hersavings goal,surprised

Molly by matching hersavings to

buy theFender.

''It's agreat sound,'' she said,of

the new guitar.

Molly hasbeen learning guitarfor

the pastthree years, studying under

Starbound Studiosmusic teacher

SherylBradley, of Timaru.

Sheplans to returnthe the Gold

Guitars nextyear whereshe will

compete in the intermediate age

group.

Farming Families groupismade

up of farmersand rural

professionalswho are keen to see

therural community gettogether

forsomefun, family friendlyevents.

Theywanttounite andsupport

people in their rural community

with eventsthatwillupliftand

create strongerrelationships.

Theyhave asocial media

following withaFarming Families

Facebookpagetokeeppeopleupto

date withtheir events.

Sacred Heart College reunion

Friendly 50's decade: Maureen Williams (nee Keane), Elizabeth Basher (Tobin), Helen Bradley (Hanham), Yvonne

Harrison (Clemens), Mary Hawkins (Taylor) and Lorraine Jamison (Sheehan).

PHOTO SUPPLIED

Former students of Ashburton's

Sacred HeartCollege have come

together for areunion and trip down

memory lane.

Around 120 past studentsgathered

over LabourWeekend.

Everyone registered received a150

page book written by localhistorian

Michael Hanrahan,and featuring

stories and memories compiled by

former student MarySchmack.

Sacred Heart was demolished in

1960 and anew single storeyschool

built, which is today used bythe

Ashburton Learning Centre.

Complete

Local Care

Since 1982
---
Nest forlessthis seasonwith up to

60 monthsinterest free finance.

Queen, King, Super

King. Same price.

ChiropracticHDLimited Edition

9069927 |9069926 |9069928

Up to

68% off

Allsizes

$2499

Love every detail.

Especially the price.

48" OLED TV

9070152 OLED48A1

$2199

Limited Stock

Air FryCrisp'nBakeToaster Oven

9060751 RHTOV25

$139

was

$199

less than

$16

perweek for

36 months on

interest free*

50% off

Amble Dining Suite #

Amble 5PieceRound Dining Suite 9066934

$649

was

$1299

lessthan

$6 perweekfor

36 months on

interestfree*

30% off

selected Dining&Bedroom furniture #

Nevada 6Piece Dining Suite 9064698

$2309

less than

$10 p 6

per week for

60months on

interestfree*

was

$3299

Big bargains on big

brand whiteware.

7.5kgFront Load

Washing Machine

9026624 WW75J4213IW

$899

$7

less than

perweek for

36 months on

interest free*

Alberta Outdoor 7Piece DiningSetting 9067498

$1999

Lisbon 3Seater Sofa

9068728

was

$2859

lessthan

$9 perweekfor

60 months on

interestfree*

Lisbon 2Seater Sofa

9068727

$1399 $1999

was

$1049

Matching Ottoman availablefor

Validuntil9th November 2021.

r$379

was

$1549

LIMITED STOCK

DesireMatteBlack Hand Mixer

9064801 RHMX5BLK

$44 99

was

$999

HomePod Mini

9070097

$150

Raidmax Drakonn

GamingChair

9066714

Available in Blue

andRed.

$199

less than

per week for

52weeks on $5 EasyCard**

60

months 36months

INTERESTFREE

INTEREST FREE

on beds &furniture$1499&over* on everything $499 &over*

Offers validuntil Tuesday2nd November 2021,whilestockslast, unless otherwise stated. Some productsondisplay in selectedstoresonly –pleasecall 0800764 847tocheck availability.Personalshoppersonly.*Apple, selected computers, game

consoles, gift cards, clearance items and some promotional items are not available inconjunction with interest free offers. Flooring available on amaximum of 18 months interest free. Exclusions, fees, terms, conditions and credit criteria apply.

Available in-store only.Equal instalment amountsinclude one-off booking feeof$45.00,annual fees of $45.00 p.a., andsecurityregistrationfee of $8.05, andexclude insurance.Current interest rate of 23.95%appliestoanyunpaidbalance and

afterexpiryof(any) interest free period. See in-store or visitsmithscity.co.nz/interest-free for details. #Discount is offour full retail priceand not availableinconjunction with anyother offer.
---
NEWS

12 Ashburton Courier, October 28, 2021

www.ashburtoncourier.co.nz

Ladies holidaying at the Rangitata North Hutsduring the1950's competeto eat atreat with no hands.

PHOTO SUPPLIED

Iconic holiday destination to open doors

DANIEL.TOBIN

@ashburtobcourier.co.nz

Membersofthe publicwillget

the opportunitytoexplore the

fishinghuts and baches that

make up the Rangitata North

Huts fishingvillage at an open

day nextmonth.

Tickets arebeingsold forthe

tourtoraisefundsfor a

reunionthat willbeheld next

yeartocelebrate the 125th

anniversary of the foundingof

theiconic holiday andfishing

destination.

Committeemembers Deb

Boon andShirleyFalloonsaid

around 22 baches willbeopen

to ticketholders.

''We just thought it would be

interesting for people to see

what canbedonewith abasic

fishermanscottage.

''Some people havelefttheir

cottages very original, one still

hasadirt floor,'' they said.

The communitybegan 1897

with afew hutsbeingbuilt by

fishermenonthe Rangitata

River mouth,theninthe 1950s

it started to become moreofa

holiday destination.

''Mum and the kidswould

stay thereover holidaysand

thedad would come backto

town to work,''Shirley said.

One familyhas hadabach

therefor six generations.

At least10peoplelive in the

community permanently, and

bachesstill comeupfor sale.

The village has alittlehall

called Murphys with kitchen

facilities, aplayground forkids

and evenalibrary.

Shirley said theplace had a

friendlyand communal

atmosphere, ''thereare no

fences,you see people

wanderingpast your bedroom,

and that's fine.''

Thecommitteehave other

eventsplanned to raise money

including raffles,quiznights, a

garagesale at the huts and a

bookisinthe workstelling the

story of the RangitataNorth

Hutsand will be available

early next year.

'Open Hutsatthe Rangi' is on

November 13,tickets can be

purchasedfrom their facebook

page: www.facebook.com/

RangiReunion2022

Let'skeep safe–Theft/BurglaryPrevention Campaign

The model of "Neighbourhood

Watch" was first introduced to New

Zealand from America in the 90'sas

their wayofaddressing crime. After

a brief sabbatical, its resurgence

saw a desire to restructure the

model to fit the New Zealand way

of life. It wassubsequently renamed

and rebranded "Neighbourhood

Support" sending it in adirection of

pro-activeinitiatives and prevention

and encouraging it to work

towards building resilience in the

Community with an ability tolook

out for one another. Itmaintains a

"Memorandum of Understanding"

with the Police, has 69 groups

throughout New Zealand and the

Canterbury region retains five

DistrictCoordinators and one Junior

Coordinator who works closely with

schools in the Christchurch area.

TheAshburtonDistrict'sCoordinator

has been in post fornearly ayear and

building on its previous platform

sees areal need in the Community

for prevention. Her aim for the year

has been to build on this and the

next year sees a need for further

development particularly in the

ethnic and rural communities. Every

area in Mid Canterbury isdifferent

and has its own set of security

Left to right: LesleySymington (SafeCommunities Co-ordinator), Sue Abel

(NeighbourhoodSupportCo-ordinator),SeniorSergeant Leigh Jenkins show

three information flyersonkeepinghomes,vehiclesand tradies'tools safefrom

theft/burglary.

and safetyneeds.

In conjunction with Safe

Communities, Police and

Neighbourhood Support, and in

the run up to Christmas, we are

kick starting the campaign "Lets

Keep Safe" byintroducing aseries

of 6 week proposals on how to

address Burglary and Theft inthe

community. Each week will address

aspecific topic with information and

adviceonhow to ensureyour safety

in the home, with vehicles and with

tools in an effort toreduce crime

surrounding this.

Should you require any further

information regarding this

please contact Sue Abel, District

Neighbourhood Support

CoordinatorM:0272961006

Join aGroup

StartaGroup

Volunteer

Neighbourhood SupportCo-ordinators forHakatere.

Ourlatest NS group to join with over 100 members

2427216
---
m MACROCRAFT furniture EST 1992

PRE-CHRISTMAS SALE

$1789 $550 $699

$399

Macrocarpa Outdoor Table and 2Forms NZ Pine Bookcase,1.8m high Macrocarpa Recycled Timber Bar-leaner NZ PineRecycled HallTable,2drawer

$1699

$150 $282 $799

American Oak 1.1mlong Table &4Chairs Pine PaintedBlack Bedside (each) NZ Pine,3drawer Bedside NZ Pine6drawer Chest

$979

$199

$1,675

$599

NZ Pine Farmhouse 7drawerLowboy NZ Pine Rimu and WhiteSofaTable Macrocarpa 1.3 Table and 4Chairs NZ PineBookcase 1.5m x900 with drawer

$565

$599 $1,949 $875

Macrocarpa CoffeeTable1m, drawer

and shelf

NZ Pine 3door DisplayUnit NZ Pine Glass DisplayUnit 1.8m high MahoganyDropLeaf Table and 2chairs

$399 $415

$2099 $299

NZ Pine 4drawerCoffee Table Macrocarpa Small Butcher's Block NZPine 1.8m Table and 6Fabric Chairs Rimu CoffeeTable with Shelf

Hours:

Mon -Fri 8am-5pm; Sat10am -3pm

103 South Street 308 0417

www.macrocraftfurniture.co.nz

2427612
---
Ashburton College

Individual Excellence in aSupportive Learning Environment

News

Issue 35

28 October 2021

Message From ThePrincipal

Term Four Challenges

This term is very much asprint towards the end of

theyear, andthis has beenmade morecomplexby

the previous COVID-19 interruptions.

Normally at this time of the year many of our internal

assessments arecompleted and the focus is on the

external exams. However, with the COVIDabsences

from the classroom, timeframes arecompressed for

students asthey complete internal assessments,

while beginning their exampreparation.

Term Four Celebrations

Sadly,manyofour Term Four celebrations arenolonger possible dueto

Ministry of Education guidelinesaroundCOVID-19.

Becausegatherings arenow restrictedto100 this has resulted in having to

planfor senior prize-givingswith prize-winners only, minimal staff andno

parents/caregivers present tohelp celebrate the student achievements.

However, theywill be recorded so that families can view theevent.

Our senior celebrations can happen safely inour College Auditorium

rather than risking theuse of outside facilities.

On reflection, however, our school and our students are certainly ina

much better positionthanthose in Auckland.

ResidencyVisas

Recently our Government announced that they are willing to start

processing residency visas ofmigrant workers and their families. This is

fantastic news formanyofour Ashburton College families,and especially

importantfor many of our students. Ifaschool-leaverwants to undertake

tertiary study and their parents don't have 'residency status', then the

student couldn't study unlessthey paid international fees.

Iwish our families well as they seek to secure acertain future for their

whānau.

Irecently ran into afamily who has been inMid Canterbury for six years

and had only just gained 'permanent residency'. They felt like 'lotto'

winners.

MotorIndustryTraining Organisation (MITO)

Last week we were delightedtobeacknowledged by the MotorIndustry

Training Organisation (MITO) for the quality ofour programmes and the

excellentachievementlevels of our students.

Maureen McClenaghan, Industry Training Advisor (MITO) visited last

Friday toacknowledge what agreat Automotive programme we had

on offer at Ashburton College. Much of this kudos is due to Teacher-in-

Charge Kyle Backhouse-Smith, and Technology Workshop Technician

Daniel Tew. Unfortunately Kyle leaves usnext year on promotion toa

Technology HeadofFaculty positionatacentralNorth Islandschool. We

arecurrently advertising this positionfor commencementnextyear.

Rebuild Progress

Our new build is underway with Bradford Building working on the

construction of thenew Phoenix Pre-school on the old netball courts site.

This will then create the clear space necessary to build our first major

block. However,weare duetostartarebuild of GymChanging facilities,

with the aim of having these completed beforethe onsetofnextwinter.

Sadly,westill haven'tbeen able to finalise our Master Plan forthe campus.

Onset of Warmer Weather

This warmer weather certainly helpseverybody feel better about lifeand

we are all eagerly anticipating summer, hopefully with safe travel and

greaterfreedom.

Ross Preece

Principal •Tumuaki

Forthcoming Events

Please note: dates are as at the time of publishing. Alterations, due to

COVID-level restrictions will be advised torelevant groups as soon as

details areknown.

October

28-29 Year 9/10 Matesand Dates

29 CANCELLED –AorakiSports Awards Evening,Timaru

(Awardsstill to be made)

30 Canterbury SecondarySchools'Dressage,McLean's Island,

Christchurch

November

01 Year 9/10 Matesand Dates

01-03 Year 12 Outdoor Education, Hanmer Springs

02 Shave foraCure

03 Year 12 Chainsaws Day3,locationtba

Cultural Bites,Chessboard, lunchtime

Year 9/10 Matesand Dates

Performance/Principals' Awards presentations,Period 4

BoardofTrustees meeting,TurretRoom, Menorlue,6:15pm

05 Staff vStudent Chess Match, College Chessboard

08 Year 13 PED Golf Assessment, AshburtonGolfCourse,8:45am -

12:30pm

09 Year 13 PED Golf Assessment, AshburtonGolfCourse,12noon -

3:30pm

10-11 Year 10 Bush Survival

11 Year 9X Museum Trip,AshburtonMuseum, 10:00am-1:20pm

12 CanterburyAnniversaryDay -public holiday

Information

AshburtonCollege Year 9

Academic Scholarships

Criteria and application forms arenow available

from your child's school.

TheClosing Date forapplications is

Monday15November 2020, 12 noon.

Theacademicexaminationswill be held at AshburtonCollege

on Monday22Novemberfrom9:00am–11:15am.

Enquiries and applicationstobemadeto

Sheena Tyrrell,Management Administrator,

Email:ts@ashcoll.school.nz

Phone: 3084193, extension812; 027247 8003.

Please note that these Scholarships are

Academic ExcellenceScholarships.

Appreciation

Year 11 and 12 Awards

FollowingonfromNewsletter 33 wheresome of the prestigiousawards

which are presented atthe Year 13 Award Ceremony were outlined,

we now highlight additional awards which are available mainly for

presentation to Year 11 and 12 students, but some across the three

seniorstudents' levels (Years 11-13).Again,wesincerely acknowledge

communitygenerosity to awards.

AshburtonTechnical High School OldPupils'Trades Scholarship

This scholarship wasfirst awarded to an Ashburton College studentin2014,

with BryceChisnall the first recipient.

Students who have received offers of apprenticeships are nominated

by teachers, with the successful recipient selected from ashortlist, by

representatives of the Old Pupils'Association after interviewing the future

employers of the candidates.Winnershavegone on to TradesCareers in the

Electrical,Engineering and otherrelatedindustries.

(Pictured right):

Brycepictured

with Trustees

Alan Lilley and

Gordon Clinton.

Digital Technology Prizes

These vitally important subjects for today's world have been generously

supported, foranumber of years,byHeartland Technology.

They are awarded at Year 11, Year 12 and Year 13 levels; in Digital

Information Technology, Digital

Information Practical, and Digital

Programming. These subjects cover

all future areas and competencies

required to set students up forcareers,

interest/hobbies and employment

opportunities.

PatStephenson Trophyfor ExcellenceinWriting

This trophy was first awarded in 2020 and is

presented toasenior student who has shown

the most well-rounded, overall excellence

in their writing in English, and also in other

subjects and areas where applicable.

This trophywas donatedtoAshburtonCollege

in memory of Mrs Pat Stephenson who

was a founding member of the Ashburton

County Lions, and who lived her whole life in

Ashburton.

Pat left money to the County Lions who

subsequently decided, in her honour, to

donate atrophy toAshburton College to be

presented annually inher name, with asmall

monetaryamounttogowith thetrophyeach year.

Recognition of Tikanga

Thereare twospecial Tikanga awards forsenior students each year:

• The Corbett Trophy forTikanga - and the

• MauiAward fordemonstrating the SpiritofTikanga Māori.

Tikanga is about 'doing things right'. Tikanga includes Māori beliefs that

areinheritedvalues and concepts practised from generation to generation.

Values include the importance of te reo (language), whenua (land) and, in

particular, whānau (family and extended family group).

Both of these awards are available to asenior student, across one of Years

11,12or13.

The CorbettTrophy

This is awarded to asenior student whodemonstrates the values of Tikanga

in their actions within College, and always acts in accordance with these

principles.

Appreciation

The Maui Award

This Awardisfor Serviceand Supportand acting by the principles of Tikanga

at College, and is awarded to asenior student who sets an example with

their behaviour and who supports others on their journey.

(Pictured above,leftand right): TheCorbett Trophyand TheMauiAward.

TopMāori Students

At each ofYear 11 andYear 12 prize-givings top academic Māori students

arerecognised,with the-

• Rakiroa Trophy being presented tothe top academic Year 11 Māori

student–andthe

• Rarakiroa Award to thetop Academic Year 12 MāoriStudent

TheTop Overall Studentineach of Year 12 and Year 11

is recognised by the –

ANZ Bank Academic Achievement Award for the TopStudent inYear 12

and the Ashburton High School Centennial Trust TopScholar Monetary

Awardfor Year 11.

(Pictured right):

TheANZ Bank Award.

Thistle Masonic LodgeCitizenship Award

This award is presented to a student

who takes responsibility for their actions

and learning, isconsistently courteous,

helpful and thoughtful to others, and

shows respecttoall,displaying excellence

in citizenship and communityspirit.

This is a prestigious award which is

aligned with the AshColl Values of

Quality, Pride and Respect.

Events

Bridge Designs –byYear9Science Students

Ashburton College Year 9Science students, towards the end of Term

Three, tried their hand at bridge design, motivated by this year's

historic floods that damaged the Ashburton River State Highway 1

BridgeinMay of this year.

Invited to checkout the students'designs and talkabout theirworking lives

were three AshburtonDistrictCouncil roading engineers.

College teacher, and former engineer, Bryan Bell said this was avaluable

opportunity to show students the important, if often overlooked, role

engineering plays in society.

TheCouncil Engineers lookedatsix differentdesigns and models createdby

the students, asaresult of the project being to design atemporary bridge

structure for the Ashburton Bridge. Arange of options, from full bridge

replacementtoreplacingjust the damaged span, were on display.

(Pictured above, left toright): Ashburton District Council Road Engineer

Martin Lo, Zoey Sargent and Rosara Ackroyd with their Arch Bridge, and

Council Roading EngineersAsheinAbeysekara and JeremyLambert.

Mr Bell said the students had achance to learnfromareal-lifesituation on

their doorstep,and potentially be drawntoengineering as aprofession.

The students' designs included asuspension bridge, several truss bridges

and arch bridges.

The Council Engineers noted they were impressed by the thought and

creativity of the designs, and how they would stand up in the local

environment, which included hazards like flooding, high winds and

earthquakes. Bridges needed to be able to withstand many forces, last a

long timeand not be tooexpensive.
---
Ashburton College

Individual Excellence in aSupportive Learning Environment

News

Issue 35

28 October 2021

Events

Truss bridges were favoured for their sturdiness and lower cost, while

suspension bridges were moreattractive but cost alot more.

Other Ashburton College students have toured the construction site of

Council's new libraryand Civic Centre,aspartoftheir Trades Course.

Infrastructure Services Group Manager Neil McCann said it was agreat

opportunity for staff to share industry experiences with students, saying

'some of those Year 9students mightsee apathway to becoming engineers'.

This combination of

classroom work and reality

shared with the Ashburton

District Council Engineers

was very much appreciated byAshburton College, aswas their time given

in sharingknowledge.

Students'Perspectiveofthe Project

With information provided by Year 9students

Jorja Abernethyand Ashleigh Houston

Our teacher, Mr Bell, gave us atask todesign and construct abridge to

temporarily be on the damaged area of the AshburtonBridge.

Firstly we looked at four differentbridge types. Welooked at the good and

bad things about the bridge types and then movedintopairsorgroups and

selectedour bridgetype.

We did research on our chosen bridge and then designed it, afterwhich

we constructedour bridge out of plywood strips and cardboard. After

our model wasbuilt we made aposter explaining all the details about our

bridge.

(Pictured above, left and right): The authors of this part ofthe information,

Ashleigh Houston and Jorja Abernethy, with their Truss Bridge and poster.

On the final dayofTermThree,three bridge engineers from the Ashburton

DistrictCouncil came to inspectthe bridgedesigns we hadconstructed-to

be either temporary ortoreplace the current bridge.They also showed us

the grim damage thathappened to the roads and bridges of the Ashburton

Districtfromthe floods in May.

The engineers went around each group, and looked at each part ofthe

bridge,asking us questions about our designand howeverything worked.

They also told us about the pros and cons of our models and things we

could have added to make it moreefficient.

After they had looked at everyone's models and posters they discussed

what bridges they preferred, and which would work best for the situation.

Everyone then went and looked at each bridge and the engineers talked

about the pros, cons, costs and whether the idea of the certain type of

bridge wassuitable.

The things that were good about the experience were that welearnt

that bridges need to be stable and strong. Wealso learned what actually

happened to the Ashburtonbridgeand whatthey had to do to repair it.We

also liked seeing all the damage that happened to each road and bridge,

and it wasinteresting to see howsome bridges were made and repaired.

Congratulations

(Pictured left, left

to right): With their

Cable-StayedBridge

are JonnyThorpe and

Mitchell Lyewith the

Council Engineers

Martin Lo,

JeremyLambertand

Ashein Abeysekara.

Outstanding Target Shooting Successesfor

College Competitors

Postal Competitions

The competitions outlined below are postal competitions and, due to

COVID-19, their timeframes were extended alittle, hence acollection

of results which have arrived at one time.

Target Shooting NewZealand (TSNZ) NewZealand Secondary

Schools'Competition

This competition involved 183 shooters from across New Zealand, insixtyone

teams of three shooters each.

AshburtonCollege Champions and Whitcoulls Trophy Winners,and the

Winning MixedTeam.

Congratulations

Not only wasAshburtonCollege the winning team but also the defenders of

the Whitcoulls Trophy, having wonthis in 2020.

Winning team members were: (pictured below, lefttoright): with the trophy-

CharlotteMcKenzie (Year 11), Jack Jones (Year 11) and Madi Tourle (Year 10).

Their totals ranged

from 588.30-600.60,

meaning they

averaged 98/100,

which is equivalent

to Master Grade

shooting results. As

Manager

Nina McKenzie said,

the results were a

mighty effortfor

such ayoung team.

Additional Results were:

CharlotteMcKenzie 2nd topshot (199.12/200.20) and 2nd topgirl.

Jack Jones 2nd topboy (196.10/200.20).

AshburtonCollege 3rdBoys'Grade: (pictured below,lefttoright):

Luke Rhodes (Year 9),

Jack McIntosh

(Year 11) and

Tāne Moore(Year 11),

with atotal of 566.16.

Theteam had areally

strong finish, and is

showing as an exciting

young team.

AshburtonCollege 3rdGirls'Grade: (pictured below,lefttoright):

Claudia Cudmore

(Year 11),

Sama Sooialo

(Year 11) and

Phoebe McKenzie

(Year 9), with a

total of 562.11,

which was

another great

finishinavery

strong grade.

Again, another

young and

exciting team.

AshburtonCollege 10th Girls'Grade: (pictured below,lefttoright)

Maddie Page

(Year 9),

Imogen Felton

(Year 12) and

Bree Greer

(Year 10) with a

total of 529.07;

which wasavery

good outcome

from ayoung and

inexperiencedteam,

also showing lots

of promise forthe

future.

Nina said that it's hard toover-emphasise what aremarkable win this was

forthis team. They areveryyoung,and up against schools with much older,

moreexperienced (and,insomecases,highergraded) shooters than them.

Certainly,they were underdogs going into this particular competition.

Silver Medal from the NewZealand

SecondarySchools'Championships (Triple S)

In aprevious newsletter we updated the positions of the College shooters

during this competition, but were awaiting the final round and results.

These results are now in, with the College team finishing admirably in the

runner-up position to the winning team of Palmerston North Girls' High

School.

Twenty four teams contested this championship, with teams of four-five

members and the topfour scores counting in each round.

AshburtonCollege Runner-Up Champion Team

(Pictured below, left to right): Claudia Cudmore, Charlotte McKenzie,

Jack Jones,Phoebe McKenzie and Madi Tourle.

The team gained this position through a combined score of

1919.64/2000.200; and was, notably,the topscoring school in the last,more

demanding,double cardround.

Additional Specific Resultswere:

Medal Winners

• Madi Tourle Gold Medal,CGrade;

• CharlotteMcKenzie SilverMedal,AGrade;

• Tāne Moore BronzeMedal,DGrade.

TopTen Performances in their Grade

• Jack Jones -BGrade;Phoebe McKenzie -DGrade;

Claudia Cudmore-DGrade.

Team Results

• AshburtonCollege 2: 9th placed,and the first second team from any

school. Team members: Tāne Moore, Jack McIntosh, Sama Sooialo,

Bree Greer,Carly vanWyk,with ascore of 1870.41.

• Ashburton College 3: 18th placed, and the first third team

from any school. Team members: Imogen Felton, Maddie Page,

Sophia Clifford,Taylor Doyle. This was fantastic work from avery new

team, including apersonal best forTaylor on the double,after missing

agreat deal of the season.

This is the competition for which last year's College team holds the record,

and which we had previously wonoversix consecutiveyears.

Nina said they knew, this year, that the young team was upagainst it

competing with schools with more experience, but they have proven they

are amatch for anyone, and will be the only one of nearly all the teams to

have all students still at secondaryschool level again next year.

They arereally proud to have claimed the Silver Medal spot.

In next week's Newsletter we will look at the results from the

National DistrictChampionship Final.

Information

End-of-Year Datesand COVID-

ImpactedChanges

Due toCovid Level 2restrictions we now advise and confirm the

adjustments outlined below.

Pleasenotepresentationeventswillberecorded and available

to viewonthe College web-site.

Details will be forwarded to families.

Blues/Colours Assembly –Thursday28October

To nowtake place in the Auditorium,with recipients only.

Performance/PrincipalAwards–Wednesday03November

Will be presentedto recipients during Akotime by Senior Leadership Team

members and HeadsofSchool.

Staff vStudentExecutiveChess Match–Friday05November

Lunch break –will proceed as scheduled.

Red Carpet Evening –cancelled (was scheduled for05November)

Senior Student Prize-giving Dates2021

These will nowbeheldon-siteatCollege,inschool time and without an

audience, and with Years 11 and 12 prize-givings nowseparated.

Further details forwarded to families.

• Year 13 -Wednesday 10November, College Auditorium, recipients

only. Students not receiving prizes arereleased from College,

from the startoflunchtime.

• Year 12 -Monday15November,College Auditorium recipients only,

Period 4. Scheduled classes continue as normal, only prize

recipients to Auditorium.

• Year 11 -Monday15November,College Auditorium recipients only,

Period 5. Scheduled classes continue as normal, only prize

recipients to Auditorium.

Last dayofschool attendancefor Senior Students as follows:

• Year 13 Thursday11November

• Years 11 and 12 Wednesday17November

GetOut There(GOT) Day–Tuesday 07 December

To proceed as scheduled.

Te WhareManaaki Prize-Giving

To take place. Students and relevant staff only, with recording to be

distributedtostudents'families.

Last dayofschool attendanceand Prize-givingsfor

Junior Students:

These arenow to proceed in the Auditorium forrecipients only.

• Year 10 Thursday09December:Period 4, College Auditorium

• Year 9 Thursday09December:Period 5, College Auditorium

At both levels, scheduled classes continue as normal, only prize recipients to

Auditorium. This remains the final day for the year for bothyear levels.

Year 13 Graduation Dinner -Sunday 12 December

Regretfully cancelled.

ForthcomingPublic HolidayDate:

CanterburyAnniversaryDay Friday 12 November

AdditionalCollege Date foryour Diaries:

Thursday25November Teacher Only Day.College closed forinstruction).
---
NEWS

16 Ashburton Courier, October 28, 2021

www.ashburtoncourier.co.nz

Harry and Sylvia Smith pictured at St Andrew's Church, Ashburton on their wedding day 65 years ago. Arecentphoto of Harry and Sylvia Smith.

Smiths celebrate 65 years of marriage

Former long­time Mid

Canterbury residents Harry

(Henry) and Sylvia Smith

yesterday celebrated their 65th

wedding anniversary.

These days the couple are

residents of Geraldine, but

were married at St Andrew's

Church, Ashburton on October

27, 1956.

The localpipeband were

guests on the day and marched

in front of the wedding car.

Harry (Lowen­Smith) is well

known as an artist and is mostly

self taught. He wasraised in

Wakanui.

Sylvia hails from England

and has enjoyedalong

associationwith Ashburton,

Tinwald and Methven operatic

societies, and also with both the

Mid Canterbury Women's

Institute Federation Choir (51

years) and Mid Canterbury

Choir (19 years).

The couplemet in Ashburton

on Sylvia's 18th birthday.

Harry is 86 and Sylvia has just

celebrated her 85th.

Council funds for rail move

Ashburton District Council will

contribute $2.33 million

towards relocating Ashburton's

rail container terminal from

the middle of town to Fairton.

Relocating the rail hub is a

$14m project involving council,

Fairfield Freight Hub (part of

the Wareing Group) and

KiwiRail.

Government has also given

$2m to the project.

Ashburton District mayor

Neil Brown said council

confirmed its commitment to

the hub at its meeting last week

and also agreed to provideloan

funding of $3m to the project.

''Relocatingthe rail

container terminal to Fairton

has been an ongoing discussion

for council for years and we are

delighted it is finally going to

happen.

''It will pave the way for

increased rail freightfrom this

district and reduce truck

movements on StateHighway

1.

''It also means shunting

operations willnolonger

resultintrains blocking

intersections in town.''

Construction of the hub is

expected to begin early next

year and be completed by late

2022.

Operations will continueat

the current siteonWest Street

untilthe new hub is open.

The new freighthub is near

council's north­east Ashburton

Business Estate and will

involve the re­engineering of

an existing railsiding that

once servedthe Fairton

Freezing Works.

Mr Brown said the new rail

hub would also set the district

up for alower­carbon future.

''Helpingexporters and

businesses movemore freight

by rail makes good sense and

helps reducetransport

emissions,'' he said.

KiwiRail has plansto

increase the amount of local

railfreight from 6000

containers ayear to 20,000.

Time to vote for

Bird of the Year

Voting is openfor Forest &

Bird's16th annualBird of the

Yearcompetition.

Thecompetition will be

fierce as 75 birdsand one bat

are in the mix this year.

Is your favourite native bird

the fantail, kereru, silver­eye,

bellbird, morepork,orfalcon?

Whatabout oneofthe wellknowniconic

species –the

kiwi, kea or kakapo?

Or perhaps one of the

braided river bed birds –the

wrybill, black­fronted tern or

banded dotterell.

Ashburton residents all

know about the tarapuka or

black­billed gull, which makes

it's summer home in the local

riverbed. They are the rarest

gull in the world andmay be

very deserving of your vote.

Some speciesonthe Bird of

the Year website alsofeature

aNew ZealandSign Language

translation to learnalongside

their English and te reo Maori

names.

As in previous years, voters

can ranktheir top five

favourite species in an STV

style voting system.

The 2020 Bird of the Year

winner was the kakapo.

The seriousside to the Bird

of the Year competition is the

opportunity to educate the

public out theplightofnative

speciesand thethreat of

extinction that many of our

native birds face.

Voting ends Sundayat5pm.

The winnerwillbeannounced

on November 1.

More informationon the

birdoftheyear.org.nz website.

Know aloved one who

is hardtobuy for?

PROFESSIONAL

PORTRAIT

AND

COMMERCIAL

PHOTOGRAPHER

Abespoke

photographysession is

the perfect solution.

GiftVouchers available.

106B Victoria Street,Ashburton l www.emilyharmer.co.nz l 0800 881122 or 027 310 6521

2429092
---
2019 Mitsubishi Triton

2019 LDVT60 4X4

2016 Honda HRVL

2016 NissanJuke

ARRIVING SOON

2.4L diesel, auto, 4WD,leather,tow bar,tuff

deck,reverse camera, NZ new,23,300km

$48,990

2.8L turbo diesel, 4X$, ABS, alloys, hardlid

cover, roof rails, towbar,tuff deck,15,000km

COST FREE APPLIES

$34,995

1.8L,auto, ABS, adaptivecruise control,

bluetooth, leatherseats, NZ new,72,000km

$23,990

1.6L turbo,automatic, 4WD,bluetooth,GPS,

heated leatherseats, 32,700km

$25,990

2021 NissanQashqai ST

2014 Toyota IQ

2012 Holden CruzeCD

2013 Holden ColoradoLTZ 4X4

2.0L automatic, packed with the latest

technology,NZnew,travelled just7,300km

$30,990

1.0L,automatic, 9airbags, easytopark, easy

access, supereconomy,53,600km

$9,990

1.8L automatic, 6airbags, cruise control, NZ

new,47,600km

$11,990

2.8L turbo diesel, auto, 4WD with high/low

range, double cab, tuff deck, 229,100km

$26,990

2017 Toyota Highlander GXL

2019 Ford Ecosport Titanium

2015 Ford Kuga Ambiente

2014 Mitsubishi ASX LS

3.5L,auto, 4WD,full leather,electronic boot

lift,NZnew,18" alloys, GPS, 32,000km

$52,990

1L turbo, auto, keyless start, cruise control,

reverse camera, parking sensors, 11,000km

$24,990

1.5L auto, cruise control, AWD, towbar,

keyless start, immobiliser,41,360km

$23,990

Apply for finance online www.hollandstimaru.co.nz

All serviceplans exclude dieselsand 4WD's *(conditions apply) Allpricesvalid until October 31 2021. Allbrand new cars incur ORC.

13-15 NorthStreet,Timaru

Ph 6888297

www.hollandstimaru.co.nz

2.0L automatic, cruisecontrol, ABS, 5spoke

alloys, towbar,49,100km

$19,990

David Hunt Branch Manager A/H 0275 757 885

MonicaSmith Sales Manager A/H0274 288406

David Peck Sales A/H 0272 115 050

Kevin Hunter Service Manager M027 9177053

The home ofCOST FREE MOTORING since 1986

2428238
---
RURAL

18 Ashburton Courier, October 28, 2021

Researcher Rachael Inch shares the essential freshwater social impact report with Rural Support Trust's Josh Dondertman.

PHOTO TONI WILLIAMS

Social impactreport released

Anxiety, stress and uncertainty

amongthe Mid Canterbury

community were key findings

in the social impact report

commissionedbythe Mid

Canterbury RuralSupport

Trust (RST)around new

freshwater rules and

regulations.

The National Policy

Statementfor Freshwater

Managementand associated

legislation came into forcein

August 2020. It was

government's attemptto

address water quality issues in

NewZealandbyproviding a

national objectives framework

for freshwater management.

However at the onset the

proposedregulations, which

affectedall farming types,

causedmoreuncertainty for

those in the agriculture sector

from farmersatthe coalface,to

those in agri­support roles.

The RST commissioned

researcher Rachael Inchto

explore the social impact of

the new rules on the

AshburtonDistrict.

The findings, gatheredfrom

qualitative research from a

range of people and groups

between April and May 2021,

suggested therehad been an

increasingly adverse social

impact on farmers and their

families.

Mrs Inch's work, peer

reviewed by Dr Heather

Collins, was presented to

invited members of the

community last week.

It includedAshburton

District mayor Neil Brown and

councillors,representatives

from Federated Farmers,

RuralWomen NewZealand,

Ashburton District Council,

AshburtonCollege as well as

Environment Canterbury

councillorMegan Handsand

North Canterbury RST

chairwomanGayleLitchfield.

''Farmers were already

struggling to copewiththe

pressures they were

experiencing,'' Mrs Inch said.

Thepolicycame on the back

of otherruralissues such as

MycoplasmaBovis, banking

reforms,Covid­19, anddrought

which were already stress

factors forfarmers.

''The newrules and

regulations then compounded

theexistingpressures, adding

even more anxiety and

tension.''

Concernsraised included

flow­on impacts for loss of

farms, reduced spendinginthe

districtimpacting on the

viabilityofrural supply

businessesand increased

unemployment.

There was also concern for

the impact on schools if

families relocated away from

the district, searching for

work, and increasedneedfor

social services as well as

increased compliance costs

and capital investment.

Accordingtothe research,

the initialengagement process

by government ­specifically

the consultationseminar held

in Ashburton ­createdanxiety,

stress, and uncertainty for the

agri­sector with no clear

pathway, little clarity on the

changes or any reassurance

about the knowledgeof

different farming systems.

There was also lack of

acknowledgement for the

positive works done by farmers

throughthe CanterburyWater

Management Strategy.

''One of the critical impacts

for agri­professionals was the

increasing stress and tension

when interacting with farmers.

''The uncertainty hindered

their ability to plan,provide

practical advice,and progress

forward with projects,'' Mrs

Inch said.

Conservativestancestaken

by banks and lending

organisationssaw advice to

farmers oftenreferred to

Environment Canterbury, who

were alsointhe dark around

required targetsand limits.

''Thedecreasedconfidence

in farming was atheme for

young farmers as they

described how the new

freshwater rules impacted

them,'' Mrs Inch said.

It centred around public

perception, and negative

publicviews expressed on

socialmedia.

It saw many begin to

question their futures in

farming.

Mayor NeilBrown, afterthe

presentation, wanted to ease

concern in the community and

said the districtwould not be

planted in pine trees or be

pushedtofarmingcows in

barns.

''I don't think it's all doom

and gloom so don'tget hung up

on (the nitrate numbers).

''There is light on the

horizon. The technology is not

here yet but we do have time,''

he said.

www.ashburtoncourier.co.nz

Movement

on Dairy

Board

Dairy farmer representative

JacquelineRowarth has been

re­elected to DairyNZ's board

during therecent livestreamed

Annual General Meeting.

It is athreeyear position.

DairyNZ chair Jim van der

Poelsaid the boardlooked

forwardto Jacqueline rejoining

them in what wasan

excitingphase asitoversaw the

delivery of the newDairyNZ

strategy for farmers.

Jacquelinehas aBachelors

degree in Agricultural Science

with honours inEnvironmental

Agriculture, and aPhD in Soil

Science from Massey

University.

She has worked in research,

education, management and

governance across universities

and researchorganisations.

She is also past president of

the NewZealand Institute of

Agricultural and Horticultural

Science, and of the New

Zealand Grassland Association.

In 2008 she was awarded

Companion of the New Zealand

Order of Merit for servicesto

agriculturalscience.

At the AGM,Mrvan der Poel

alsoannouncedthe resignation

ofJoCoughlanasan

independent director, for

personal reasons andtofocus

on other commitments.

"Jo's public relations

expertise has been invaluable

during herterm on the board,

especially as we have put a

greater focus on meeting the

needsofour farmers andtelling

dairy's story to the public," he

said.

This year's AGM celebrated

dairy's achievements during a

busyand often challenging

year, andsharedhighlights

from DairyNZ's Annual Report.

"Dairy continues to play an

important role in New

Zealand's economy as Covid­19

continuestoaffect our

communities.

''EveryKiwi is benefiting

from dairy's contributionto

our country," Mr van derPoel

said.

"Covid­19 has also affected

farmersbeyondthe farm gate,

exacerbating staff shortages.

''DairyNZ has beenstrongly

advocating for immigration

policy changes to help address

this issue.''

Free trade boost

New Zealand's historic free trade

agreement (FTA) withthe United

Kingdom will havefar reaching

benefits for Kiwi exporters into

the UK market.

It not onlygivesunprecedented

access but will boost theNew

Zealandgross domestic product

by $1­billion and save more than

97 percent of the exporters,

around $37.8m ayearontariff

elimination alone.

Tariffs were to be eliminated

on honey, wine, kiwifruit,onions,

arange of dairy and meat

products, and mostindustrial

products. There werealso

significantaccess increases for

beefand sheepmeatmarketsand

extended workingholiday

arrangements for Kiwis

travelling.

New Zealand was the second

countrytosecure anew free

tradeagreementwith the United

Kingdom post Brexit.

Prime Minister Jacinda Ardern

said the dealserved New

Zealand's economy and

exporters well as they

reconnected, rebuilt and

recovered from covid,and looked

to the future. "It's one of our best

deals ever and securedata

crucial time in our covid

recovery," Ms Ardern said.

Thedeal, which included

increased beef volumes from

12,000 tonnes to 60,000 tonnes,

and sheep meat increases 149,205

tonnes to over164,000tonnes, put

money back into the pockets of

farmers while presenting them

the opportunity for further

growth. It would provide

meaningfulaccess for New

Zealand exportersand

businesses, and especially those

whichwere the backbone of New

Zealand's economy.

DAIRYLANE MAINTENANCE

OurInstigatorwill remove the built-up

edges around your lanes with no

fenceremovalneeded.

'Givemeacall today and keep those girls happy'

J&NHedgecutting Ltd

John McDonnell 027203 0008

2425832

UPGRADE

YOUR EVERYDAY

BLOWERS

FROM

$

335 *

125B

28.0cc -76m/s -4.26kg

*

Offer valid 01/09/21-31/01/22atparticipating Husqvarna Dealers, only while stocks last.

$

335referstomodel 125B.

CLAAS HARVEST CENTRE

MAIN SOUTH ROAD, ASHBURTON

RICHARD ORR -027 240 1226

WWW.ASHBURTONHUSQVARNA.CO.NZ
---
15,268 reasons to

advertise with us!

Youcan trust us to deliver what we promise!

2021 ABC averageissue circulation —Ashburton Courier Vs Ashburton Guardian

20,000

Ashburton

Courier

2021

15,268

circulation

10,000

0

Ashburton

Guardian

2021

Did not

release

audit.

Ashburton

Guardian

2019

4,306

circulation

Thelatest NZ Audit Bureau

of Circulations report

is out and it shows that

the Ashburton Courier is

the highest circulating

newspaper in our region.

Grow more customers, sales and profits for your business,

Call us now for afree advertising consultancy.

Here's what our customers have to say:

Advertising is effectiveand hassle-free

with the Ashburton Courier. Thanks

to their large distribution, we are able

to advertise locally throughout Mid

Canterbury, as well as in Selwynand

Timaru. In our business, it's important

to attract customers from out of town

as much as it is locally.Being able to

deal with just one person while having

the ability to promoteour events out of

Mid Canterburysoeasily,

is adefiniteadvantage.

-Casey, Ashburton Trust Event Centre

With the Ashburton Courier being

delivered from Rakaia to Geraldine, I

receivetotal coverage in the

Mid Canterburyregion, making it a

no brainer that Ichoose to my

advertising dollars with them.

Iknowitworksdue to the amount of

people who mention the advert,

or bring it in with them.

-Keith, AtoBAutos Ltd

We utilised the Ashburton Courier to

advertise our newSmiths City store

opening recently and have to say

we were extremely pleased

with the response.

Thereponse from the Ashburton

Courier really put our store on the

map and customers were coming

in with the paper, asking forthe

specials, our sales surpassed

our expections.

-DaveBoyte,Marketing Manager,

Smiths City

Phone 308 7664

Email jann.thompson@ashburtoncourier.co.nz

Office 199 Burnett street, Ashburton

2406455
---
COUNCILBRIEF

5BaringSquareWest, Ashburton |POBox 94, Ashburton, NewZealand 7740 | Telephone (03) 307 7700 | Website ashburtondc.govt.nz

Thursday,28October2021 | ISSUE 52

Walking week, Irish festival win tourism funds

A Methven and foothills walking

festival, an aviation and military

extravaganza and the South Island

Motor Home Show are among nine

events inMid Canterbury to secure

regionaltourismfunding.

Acollective $38,175 was allocated tothe

nine events, all of which will encourage

visitors to come and stayinthe Ashburton

district.

OthereventsincludedanIrish celebration

called the Opuke Gathering, two big

golf tournaments and a basketball

tournament.

Ashburton District Deputy Mayor Liz

McMillan is chairperson of the sevenmember

panel that decided the funding

applications.

"It wasgreat to see thatinthese uncertain

times people are looking ahead and still

planning positively for events that bring

people together, in asafeway.

"These eventswill all bring people to our

districtandourbusinesses canshareinthe

widereconomic windfall. Mid Canterbury

is definitely openfor business."

TheMethvenandFoothillsWalkingFestival

isaproposedweek-longeventfeaturing10

walks in the Aprilschool holidays next year

and is modelledonthe town's successful

walkingfestivals of the early 2000s.

The organiserssay an increase in walking

trails around Methven, andpeople looking

for alternative activities within New

Zealand, was added inspiration to reignite

the festival. It could grow over the

years toinclude walks around the rest of

the district.

The AshburtonAviation Museum received

funds to help stage its Militeria and

Aviation Extravaganzaon5and 6February

next year.

The museum is raising funds for a

new display hangar and hopes the

extravaganza will become a bi-annual

event thatwill encouragevisitorsfromall

overthe country.

Ashburton played a significant part

during World WarTwo in thetraining and

preparation of pilots for the RNZAF. That

aviation history will be on show, alongside

military displays.

Organisers say the event is not just

about planes and guns, but it willalso be

educational and informative.

The full listoftourism funding recipientsis:

South Island AG Summit, agricultural

conferenceinMethven on 27 and 28 May

2022.

Lions District 202J Convention, aLions

convention in Methven in April2022.

The Opuke Gathering, acelebration of

traditional Irish music and culture in

Methven on 8and 9April, 2022.

South Island Golf Tournament (Ashburton

RSA), achartered clubs mixed pairs golf

tournament at the Tinwald course on 4

and 5June 2022.

NZ Men'sInter Provincial Golf Tournament

(Ashburton Golf Club), being held 30

Novemberto4December.

South Island U13 Basketball

Championships, an event with teams

from all over the South Island at the EA

Methvenisplanningtobring back itspopular walking festival.

NetworksCentre.

South Island Motorhome Show, in

Ashburton 12 and 13 February.

Militariaand Aviation Extravaganza, at the

Ashburton Airport5and 6February.

Methven and Foothills Walking Festival,

April school holidays 2022.

The nine funding applications sought

about $60,000, but only $38,175 was

available.

The selection panel also included Jan

Cochrane (Sport Canterbury), Roger

Farr (Ashburton Trust Event Centre),

Bruce Moffat (Christchurch NZ), Simon

Worthington (Ashburton District Council),

Andrea Lee (Covid-19 Economic Advisory

Panel), Jen Parkes (Mid Canterbury

Tourism AdvisoryGroup).

NeilBrown -Mayor

Getting agrip on nitrates

A report to Council on the

economic impact of achieving

2.4mg nitrate in lowland streams

makes sobering reading: Dairy

farming and dairy support land

use will need to reduce by 50

per cent from current levels, the

district'sGDP will decline by $409

million and 1735jobswill be lost.

That'sifwedonothing. Ourfarming

community is already well on the

waytogoodmanagementpractices

thatreducenitratesleaching into

waterways or aquifers.Wejust

needscienceand time to gettothe

2.4mg target setbyGovernment

in itsNationalPolicyStatementon

Freshwater.

We were already on theway because

farmers were workingtoa6.9mgtarget

setbyEnvironment Canterbury afew

yearsago in itsregional plan. Ecanis

nowrewritingthatplan to take into

accountGovernment'snew 2.4mg rule.

The new2.4mg rule wasamong

blanket freshwatertargets setfor the

whole of the countryand farmersin

huge numbershavesaid thatwas

neveragood idea as different partsof

the country havedifferent issues.

Here in MidCanterbury, alegacyissue

with nitrate is the result of farming

practices of the past.Weknownow

thatirrigation actuallyhelps reduce

nitrate leaching compared to dryland

farming and fertiliser use need to be

carefully calaculated.

Government's freshwaterconsultation

documentthatpreceded the NPShad

little in the wayofeconomic impact

analysis forMid Canterburysowe have

commissioned ourown reports.

We plantouse the 2.4mg report to

lobby Ecanfor time –wehavebeen

vaguelygiven "a generation"–for

farming to achievethe newtarget.

Thereisplentyofevidence to show

farming is alreadywalkingthe

talk to improve outcomesforthe

environment in our district.

Agricultureisasignificant contributor

to the Ashburton District'sGDP and

adecline in farm productivity and

financialperformancewould have

spinoffsfor the whole district.A

reductioninlivestock numbers and

lowervolumes of producewould

affectthe transport industry, irrigation

serviceindustryand businesses who

maintain vehicle andfarm equipment.

The regulations do notdefine a

timeframe by when theymustbemet

–ashorttimeframe will exacerbate

the negativeeffectswhile alonger

timeframewill enablebusinesses to

adjustand adopt newscienceand

technologytomeetthe regulations.

We see along-term viewwhere both

farming and the environmentare

winnersand we hope our reportwill

add to abody of information thatwill

engagepeople to change.

Maorinames

gifted for

newbuilding

Ashburton District Council has

accepted twoMaori names,gifted by

Arowhenua, forthe new libraryand

civicbuilding.

The library will be known asTePataka

okaTuhituhi and the civic centre asTe

WaharoaaHine Paaka.

Te Pataka o ka Tuhituhi means the

storehouse of written publications, while

Te Waharoa aHine Paaka derives from

an ancient matai tree that once stood at

Alford Forest. Known as Hine Paaka, the

tree was asignificant landmark toMaori

travellingthrough the district.

Ashburton Mayor Neil Brown said the

names celebrated tereo inaprominent

andobvious wayand linked to the history

andheritagethatmanawhenua had in the

district.

"Arowhenua have gifted two separate

namesonthe basis thatone namealone

could not capture all that the building

offered. We're delighted to accept both

and will find asuitable place to display

them in the newbuilding."

1 Thursday,28October 2021 |ISSUE 52

ashburtondc.govt.nz
---
New exercise areas

for dogsofflead

The Company Road Dog Exercise

Area was added to Ashburton

District Council's official list of dog

exercise areaswhen the DogControl

Bylaw and Dog Control Policy has

beenadopted.

The dog exercise area atArgyle Park was

alsoextendedandanarea ofAshtonBeach

is nowoff-limitstodogs because of special

flora andfaunainthe area.Otherchanges

to the previousbylawinclude aclause that

ownersmustensure that dogsare wearing

current registrationtags on anyland thatis

nottheir ownand thatownersmustcarry

plasticbagsorothermeansto pickuptheir

dog'spoo.

Councilreceived 29 submissionswhen the

documentswerereviewedearlier this year

andput out forpublicconsultation.

Thedog control bylawsets out standards

of control that must beobserved bydog

ownersand aimstominimise the potential

fordogstocause harm.

Dogs must be kept on aleash in all public

placesatalltimes,exceptinareasspecified

as dogexercise areas.

Exercise areas in the policy are the

Ashburton Dog Park (near the Ashburton

River), PioneerPark, DigbyPark,Patching

Street Reserve, Smallbone Drive Reserve,

DevonPark, Argyle Park, Company Road,

the Tinwald Green, George Glassey Park

andthe Methven Dog Park.

DogownerscanalsousetheoldAshburton

landfill area at the end of RangeStreetto

runtheir dogs off the leash. The area is not

an official dog exercise area and access

is sometimes restricted; dog bags are

provided onsite.

Dogs areprohibitedatall boat ramps and

slipways, all cemeteries, public sports

grounds, Ashton Beach, Lake Camp

reserve,LakeClearwaterhutsand shores,

LakeHeronshoresandMaoriLakesshores.

Strategy and ComplianceGroupManager

Jane Donaldson said dog owners had a

raftofresponsibilities, and most kept and

exercisedtheir dogs within the rules.

"Our dog control is carried out by

contractors and our aim is education first

when we find someone is notcomplying.

But the rules are there for areason and

that is to keep our communitysafe."

She said there were good resources on

Council's website, including abrochure

with the most importantinformation.

PUBLICNOTICES

THOMPSONS TRACKROADWORKS

A1.7km section of Thompsons Track willbeclosed forsix weeks from 1November so

the road surfacecan be dug out,widened and strengthened.

Thompsons Trackwill be temporarily closed between Jamiesons Road andLine

Road on 1November and traffic will be abletodetour around the work site using

PannettsRoad, LauristonBarrhill Roadand WinchmoreLauristonRoad.

This work should be complete by Christmas.The work is partofa$2.3 million

rehabilitationcontract awarded to HEBConstruction.

Other sections of Thompsons Trackand Arundel Rakaia GorgeRoadwillalsobe

rehabilitated.

Argyle Park Excercise Areas

ARGYLE

PARK

Company Road Dog Exercise Area

COMPANYROADDOG EXERCISE AREA

WASTEWATER DRAINAGE BYLAW

On 20 October2021,Councilrolled over the Wastewater DrainageBylaw under

Section 156(2)(a) of theLocal Government Act2002.

ThissectionstatesthatCouncil canmakeminor changes to abylaw via publiclynotified

resolutionifthe changes do notaffectanexisting right,interest,title, immunity,duty,

status or capacity of any person to whom thebylawapplies.

The minorchanges made to thebylawinclude updating legislation and references, and

reordering aclausefor readability.

The Wastewater DrainageBylaw2021 is available on Council's website or from the

Council reception.

$2.33mfor rail hubmove

Ashburton District Council will

contribute $2.33 million towards

relocatingAshburton's rail container

terminal from the middle of town to

Fairton.

Relocating the rail hub is a$14m project

involving Council, Fairfield Freight Hub

(part of the Wareing Group) andKiwiRail.

Government has also given $2m to the

project.

Ashburton Mayor Neil Brownsaid Council

confirmed its commitment to the hub at

its meeting last week and also agreed to

provide loan funding of$3m to the project.

"Relocating the rail container terminal to

Fairton has been an ongoing discussion for

Council foryears and we aredelighted it is

finally going to happen.

"It will pave the way for increased rail

freight from thisdistrictand reducetruck

movements onState Highway 1. It also

means shunting operations will no longer

result in trains blocking intersections in

town."

Construction of the hub is expected to

begin early next year and be completedby

late 2022. Operations will continue at the

current site onWest Street until the new

hub is open.

The new freight hub is near Council's

north-east Ashburton Business Estate

and will involve the re-engineering of an

existing rail siding that once served the

Fairton Freezing Works.

MayorBrown said the newrail hub would

alsoset thedistrict up foralower-carbon

future.

"Helping exporters and businesses move

morefreight by rail makes good sense and

helps reducetransport emissions."

KiwiRail has plans to increasethe amount

of local rail freight from 6000 containersa

year to 20,000.

30 th

October

10.30am

SmallboneReserve

Disc Golf Course

RibbonCutting,haveago, disc specials

andmuch more.

Come downand witnessthe openingof

this newcommunityasset andhaveago

at this awesome fast growing sport!

Great activityall agesand

abilities can enjoy.

PUBLICNOTICES

MISSION MT SOMERS

ROAD CLOSURE

Pursuanttothe Transport(Vehicular

Traffic Road Closure)Regulations 1965,

noticeishereby given that forthe

purpose of allowing Enduranz Events to

hold the Mission Mt SomersRace the

following roadswillbeclosed to ordinary

vehicular traffic(with theexception

of emergency vehicles) for the period

indicatedhereunder.

Roads to be closed:

· SYMES ROAD,forthe whole length

Period of Closure:

From 5.30am until 3.30pm on Saturday,

30 October2021

It will be an offence under theabove

regulations forany person otherwise

thanunder authority of an authorised

permittouse theroads forordinary

vehicular trafficduring theperiod of

closure.

NMcCANN

InfrastructureServices Group Manager

COUNCIL OFFICE

5Baring Square West

Mon, Tue, Wed &Fri 8.30am -5pm

Thursday 9am -5pm

ASHBURTONPUBLIC LIBRARY

180 Havelock Street,Ashburton 7700

Mon -Fri 9.00am -8.00pm

Sat10am-1pm | Sun 1pm -4pm

EA NETWORKSCENTRE

20 River Terrace

Mon -Fri 6.00am -9.00pm

Sat&Sun 7.00am -7.00pm

ASHBURTONART GALLERY &

ASHBURTONMUSEUM

327 WestStreet

10am -4pm daily.Closed Public Holidays.

ashburtondc.govt.nz Thursday,28October 2021 |ISSUE 52

2
---
NEWS

22 Ashburton Courier, October 28, 2021

New clock for Methven

www.ashburtoncourier.co.nz

The clock on the Methven Medical Centre building is set to be replaced.

An oldand poor functioning

clock on the Methven

Medical Centre is set tobe

replaced.

The timepiece is 20­yearsold

and is seenasthe

Methven townclock.

Methven Lions and the

Methven Community Board

(MCB) will share the costofa

newclock and willeachchip

in $1400.

MCB willwill use its

discretionary funds to part

fundthe upgrade.

MCBboard member Ron

Smith said anew clock had

been sourced because the old

clock was''buggered''.

It had been checked by a

qualified personand needed

to be replaced rather than

repaired.

Thenew clock would show

the time, thetemperature

andcould runshort messages

of importance.

Those messagescould

includeany upcoming

events, noticesand thelike,

Mr Smith said.

Feedbackvia local social

mediawas thatpeople would

miss the clockifit

disappeared and there was

strongsupport for anew

clock.

Methven Lions willmanage

the installation.

Methven Pony Club riders (from left) Molly Rudge on Northwind

Holden, Zara Stewart on Medora Classic Touch, Ruby Stewarton

Apache and Blaise France on Goldridge won the two age group shield

at the SpringstonTrophy event.

PHOTO TANIA CLARKE PHOTOGRAPHY

Pony club winners

Methven PonyClubriders have

enjoyed success at the 49th

SpringstonTrophy.

Theevent was hosted by

CentralSouthland PonyClub

overthe recentschool holidays.

Methvenriders claimedan

inauguraltwo agegroup shield,

which is awardedtoponyclubs

fielding asmaller teamoffour,

insteadofthe traditional six

riderteam.

Thewinning Methven team

was madeupofintermediate

riders MollyRudge and Zara

Stewart, competing at the95cm

height, and juniorriders Ruby

Stewart and BlaiseFrance,

riding at 80cm.

Theteam wascoachedbyJane

Withers andKristen Hubbard.

Sixother pony clubsalso

fielded two age group teams.

Methven accumulated the

leastpenaltiesover threedays of

dressage, cross country and

show jumping.

Theeventdrew 22 teams from

pony clubs throughout the South

Island.

Thecombined Methven/

TinwaldPony Clubteam also

performedwell.Itwas madeup

of intermediate ridersSami

Meadand Bella Casey Sollyand

juniors Nikita Burton and

Mandy Mead, who all finished on

livescores.

Magnificent views, luxury and service.

The only 5star Qualmark boutique

lodge onthe west coast located in

Hokitika.

Book now for domestic specials.

P: 03 7555255 | E:stay@rimulodge.co.nz | 33 Seddons TerraceRoad, Hokitika | www.rimulodge.co.nz

Vaccination milestone

The Prime Minister announced

the new Covid­19 Protection

Framework last week which will

help us stay safe into the future

while providing more freedoms

for vaccinated New Zealanders.

It sets out apathway out of

lockdowns and provides

certainty to businesses and

events, while minimising the

impact of Covid­19 and

protecting New Zealanders.

Under the framework, if you are

not vaccinated, there will be

everyday things you will miss out

on. If you are vaccinated, you

will be able to visit bars and

restaurants, reconnect with

family and friends, and do the

things you love with greater

certainty. It's up to all of us to

make the choice to be able to do

more of what we love, see the

people we love, and protect

those who can't be vaccinated.

We will move into the new

framework when 90% of people

in each DHB region across New

Zealand are fully vaccinated.

If you haven't managed to get

your first shot yet, Iwant to

really encourage you to do so

now, to ensure you're fully

protected in time for summer.

You can book online at

bookmyvaccine.nz or by calling

0800 28 29 26. Some vaccination

centres don't even require a

booking –you can simply turn up.

It's our ticket to summer, with

businesses open and life feeling

abit more normal.

It was wonderful to see so

many in the Mid/South

Canterbury area step up and get

vaccinated on Super Saturday ­

thank you for putting our

community first. Thanks also to

the many health workers,

volunteers and local businesses

who helped the day run smoothly

and made Super Saturday so

successful.

Moving forward, our strategy is

to minimise and protect. We'll

keep the spread of Covid­19 as

low as possible by using the tools

in the new framework, and we'll

protect people from the virus

with vaccination and

management.

We know that the vaccine is

highly effective if people have

both doses. That means, if you do

catch Covid­19, you're far less

likely to fall seriously ill and less

likely to pass the virus on to

others. That's why we want to see

as many Kiwis vaccinated as

possible, as soon as possible.

Iknow some people are still a

little hesitant about getting

vaccinated and it's OK to have

questions. What is really

important though is to make sure

you're getting reliable

information to make this choice.

Agreat place to start is covid19.

govt.nz, where you can find

accurate, evidence­based

information, along with advice

from medical experts. You might

also like to check in with your GP

or other health provider if you

have specific queries.

Thanks again for all of your

efforts to look out for each other

at Level 2and keep Mid

Canterbury asupportive, vibrant

community. Now, let's keep

working to get those vaccination

rates up!
---
Keep up with the

latest Council news

by following us on

social media!

ISSUE 2021 OCTOBER

MEETING WRAP

Our first guestspeakers

were from Toastmasters

Ashburton and theygave

us alesson on public

speaking and interpersonal

communication.

Threemembers from theAshburton

Toastmasterscameintotalktous,

Rebecca,Matt,and Mike.They gave

us ataskandit was to receive a

topicandthen talk about it forone

to twominutes.Itwas challenging

butavery helpfultasktorecognise

ourstrengthsandweaknesses.

They alsogaveus feedback ina

complimentsandwich;starting with

acompliment,arecommendation,

andthen finishingitoffwith

another compliment. Thisoverall

experience wasveryeducational

andbeneficialtousasyouth.

Dellwyn Moylan,the manager

of Volunteering MidandSouth

Canterbury, basedatCommunity

House cameintodiscussand get

ouropinions on theirnewidea

of creatinganaward tocelebrate

theyouth whoare involvedin

volunteering. This willgiveour

youthmorerecognitionfortheir

effortsand hopefullyencourage

more youth to volunteer.

We discussed our plans forthe

rest of the yearandunfortunately,

Covid-19hasput astopto some.

However, we do have some more

things plannedsokeepaneyeout!

This year Volunteering Mid

& South Canterbury decided

to include a youth on their

volunteer Board.

This not only gives the young person

governance experience it also provides

adifferent perspective. Our youth board

memberthisyearisJanre Lim.

Janreiscurrently ayear12and studying

at Mount Hutt College. Originally from

the Philippines, hehas been staying in

Ashburtonsince he wasinyear9.

Some of his hobbies include volleyball,

readingandmusic.Hereallyenjoystaking

up different opportunities including

being ayouth member for the board of

Volunteering Mid and South Canterbury.

In his spare time ,he volunteers around

the school and outside ofthe school as

Janre believes it is away of giving back

around ourcommunity.

He isinvolved inanumber of groups

including Ashburton Youth Council

where he isthe submission officer and

Mount Hutt College UN Youth group

which heiscurrently leading alongside

another student. Aside from those, He

feels privileged to be elected as deputy

house captain for Mount Hutt College,

and currently Janre isinvolved in three

different committees namely welfare,

environmentand magazine.

facebook.com/AshYouthCouncil

Volunteering Mid &SouthCanterbury

Apply now

for2022

Ihave really enjoyed being on

the Ashburton Youth Council

this year working with adiverse

rangeofpeople.

It has given meagreat dealofsatisfaction

giving back to my community. Next year

is goingto beachallengeaswecontinue

to live with Covid-19. Itwillbeimportant

to tryand make life as normal as possible.

If youhave alittle free timeandwant to

help organiseeventsand activities forthe

youthofAshburton then youneedtofill

outanapplicationform.

Youcan pop intothe Ashburton District

Council or the website which iswww.

ashburtondc.govt,nz/council/governingbodies/youth-council

JANRELIM

Mental Health week

EASTERLIN FAAMAUSILI

AYCmember

DOM COTTER

AYC Member

Recruiting

2022

For info ortoapply visit the Council website ashburtondc.govt.nz or call 03 307 7700.

Applications opens 1October and close 21 December 2021.

The Mental Health Awareness

Week or MHAW has been a

successfulcollaborationbetween

the Ashburton YouthCouncil and

the Selwyn YouthCouncil.

Throughmultiplezoommeetingbetween

the two youth councils, we were able to

create aplan and implement itfor the

mental health awareness week.

Purple shirt day was created which

aimed to commemorate and raise more

awarenessaboutMentalHealth.Schools

throughout Selwyn and Ashburton

College also helped to make Purple

Shirt Day asuccess, making this specific

day apart oftheir non-uniform day and

fundraisingmoneytowardsorganisations

suchasMentalHealthFoundation.Mental

Health Awareness Week or MHAW is an

annual campaign by the Mental Health

Foundation to help Kiwis understand

what boosts their wellbeing and mental

health. There are also the Five Ways to

Wellbeingthathelpsimprove ourmental

health and wellbeing: Connect, Keep

Learning,BeActive,Give,andTake Notice.

Using our social media platforms, both

youthcouncilsdecidedthatusingthe five

ways to wellbeing as content to further

promote mental healthawareness.

Both the Ashburton and Selwyn youth

councils appreciate the help and the

participation of the schools from our

districts, the district councils and

especialy therangatahi formaking MHAW

asuccess!

JOHNMAGYAYA

AYC Member

PO Box94, Ashburton, NewZealand 7740 | Telephone (03) 307 7700 | Website ashburtondc.govt.nz |facebook.com/AshYouthCouncil
---
NEWS

24 Ashburton Courier, October 28, 2021

www.ashburtoncourier.co.nz

Women's Institute celebrates century

TONI.WILLIAMS

@ashburtoncourier.co.nz

The sun was shining and the birds

singing as scores of Women's

Institutesmembers ­indecorated

sunhats ­gathered for a'meetinthe

middle'picniclunchinAshburton

Domain to commemorate100 years

of the national organisation.

Membersfrom Mid Canterbury

werejoined by members from North

Canterbury,Canterbury District,

Canterbury Eastand Waimate.

Among them were also members

from the national executive

committee such as president Fay

Leonard,KathrynHopkinson and

Mid Canterbury's Jude Vaughan.

MidCanterburyFederation of

Women'sInstitutepresidentMavis

Wilkins said thegathering was made

even more special as it was national

awareness weekfor the

organisation.

The day in Ashburton, chosen as a

centrallocation to all the

Canterbury WIs,included avisittoa

speciallycommemorationdisplay in

the AshburtonMuseum,which

would be on show for five weeks.

The display included memorabilia

of WI life from eachofthe eight WI's

in Mid Canterbury.

The Women's Institutewas

founded by Anna''Bessie'' Spencer

at at Rissington,Hawke'sBay in 1921

aftershe was introducedtothe

Women'sInstituteofEnglandona

visittoLondon.

Shewas so captivated by the

concept of the WI she wassure the

organisation wouldbebeneficialto

country­women in NewZealand.

Now there are more than4000

members nationwide.

Above: Women'sInstitute members

Leone Tremberth,ofCanterbury District,

(left) with Denise Clark and Margaret

Cullimore, of Mid Canterbury,atthe

meet in the middle centennial

commemorationpicnic at Ashburton

Domain.

Right; Mid Canterbury Federation of

Women's Institutes members Jude

Vaughan and MavisWilkins among

the WI items on display at the

centenaryexhibition Ashburton

Museum.

WE'RE HIRING NOW

Processquality NewZealand

beefand lamb –noprior

experiencerequired.

AREYOU MOTIVATEDAND PHYSICALLY FIT?

Come andworkinamodern factory

with greatpeople.

Immediate startand variousshifts

available.

Competitve hourly rates and

additionalbonuses.

Full training provided with opportunities

to upskilland earn more.

Entrylevel jobs available in allareas.

WAVE26402

Don't miss out, getyourapplicationinNOW!

VisitusatSPM Malvern, 1044 TwoChain Road,

Burnham, applyonourwebsite southpacificmeats.co.nz

or call us on 03 3476681.

SOUTHPACIFICMEATS.CO.NZ |03347 6681
---
www.ashburtoncourier.co.nz

NEWS

Ashburton Courier, October 28, 2021

25

Long­running golf event raises $24,000

Twenty years since it's

inception, golfers playinginthe

Ashburton Charity Golf Classic

this year were also playing for

the inauguralRodger Bradford

Memorial Trophy.

Thetrophy, won by ateam

from BrophyKnight,weighs

more than 10kg, and wasmade

by stafffrom Bradfordsin

memory of Mr Bradford who

died in November last year.

It was created from apieceof

precast concreteslab, sits on an

oak base and is topped with a

brasscoloured golf clubhead,

sourced fromMrBradford's

personal golf clubs.

TheBradfordGroup

alongsideBrophy Knight Ltd

were among the founding

sponsors of thegolf

tournament, and alongside

fellowsponsor Placemakers

Ashburton helped to raise more

than $24,000 forcharity at this

year's event;$19,000 for Cancer

Society and$5,000for Hospice

Mid Canterbury.

The fun,social tournament ­

which includedstaff, friends

and clients who enjoyed the

networkingopportunity as

much asthe golf ­was limited

to just 84 playersthis yeardue

to covid,insteadofthe usual

120.

It saw playersenjoy apacked

lunch on­courseand

refreshments delivered

around the coursebygolf carts

beforeenjoying asit downspit

roast eveningmeal.

Moneywas raised through

entry fees, rafflesmostly sold

on theday andanauction

which included muchsoughtaftergolfing

packages in

Queenstownand at Clearwater

Golf Club, as wellassigned All

Black jerseys and acatering

barbecuecrewpackage.

Ashburton Charity Golf Classic

company sponsor

representatives Placemakers

Ashburton's Paul Robinson,

Brophy Knight's Greg Wall and

Bradford Group's Graeme

Instone, holding the inaugural

Rodger Bradford Memorial

Trophy, and recipient

representative Mandy Casey, of

the Cancer Society.

040 trainsNmodels

10am -4pm

Tuesday, Wednesdayand Thursday

or by appointment

03 3070155 www.040trainsnmodels.co.nz

150 Racecourse Road,Ashburton

DO YOUNEEDAN

INSECTSCREEN OR

SECURITYSOLUTION?

Davidwill be coming to Ashburtonon

Thursday4 th November.

Please contactthe officetobook afree

measureand quote forthese or forany

otherproductsinthe HomePlus range.

AWNINGS&BLINDS BALUSTRADES FENCING &GATES LOUVRE ROOFS SHOWERS INSECT& SECURITYSCREENS

88 Gasson St,Sydenham |03379 3740 |www.homeplus.co.nz

2428077

Road

repairs

to start

A1.7km section of

Thompsons Track will be

closed for six weeksfrom

November 1sothe road

surface can be dug out,

widenedand strengthened.

ThompsonsTrack willbe

temporarilyclosed between

Jamiesons Road and Line

Roadwhile the

rehabilitationwork is

completed and traffic will

be abletodetour around

the work site using

Pannetts Road, Lauriston

BarrhillRoad and

Winchmore Lauriston

Road.

Falls

classes

popular

In normal times some 24

strengths and balancing

classes are held around the

district aimed at older

people. The classes support

afalls prevention

programme promoted

through Safe Communities

and help seniors stay

flexible and mobile. An

estimated 600 people take

part.

Covid has put the brakes

on the classes in recent

times and numbers have

dropped off with social

distancing rules in place.

Once back in Level 1the

classes will be promoted

again.

METHVEN BRIEFS

CEMETERYTREES

Amacrocarpa is thelast of anumber

of treestaken out of Methven

Cemetery becauseofwind damage.

Big windsinSeptemberdamaged

treesand forcedAshburtonDistrict

Council (ADC) intoabig clean up

operation. Harvested treeswere due

to be sold.Anewstrategic/

development plan for the cemetery,

including additional internment

capacity, arealigned driveway and

new nativeplantings, will be tabled at

the nextMethven Community Board

meeting.

BABYCHANGE

Babychange tables have been

purchasedand will be installed in the

publictoiletsoff Main Street, Methven.

The tables will be located in boththe

men's andwomen'sfacilities.

BUILD CONSENTS

The value of building consentsin

Methven for theperiod January to

August this year is $4,661,104.The

figurecompares to $1,938,22for the

sameperiodin2020. For the eight

months of this year atotalof29

consents were issues, comparedwith

18 in the previous year. In August

nearly $1.1m of work was consented.

Theyear to datetotal doesnot include

consents issued for the Thyme Stream

subdivisionof$1.95m, which sits

outside of the township boundary.

PIPE SHED

Rangitata Diversion Race (RDR) staff

will assess the conditionofthe historic

pipe shed located in apaddock near

the GardenOfHarmony.Once the

safety aspects havebeenconfirmed,

includingthe base, planswill progress

for fencing aroundthe shedand a

formal path.ADC and the RDRhave

reached an agreement to fundvarious

aspects of the projectand the shedwill

stay in its current location.Methven's

pipe shed is avisible representativeof

the RDRand is madefrom oneofthe

large circular concrete pipesmade for

the scheme. There are no known

examples of other buildings being

constructed of concrete pipes

elsewhere in New Zealandand the

shedisaCategory 1listing with

Heritage New Zealand.
---
FEATURE

26 Ashburton Courier, October 28, 2021

www.ashburtoncourier.co.nz

Toyota Fortuner built to handle all terrain

BY BOB NETTLETON

Toyota's Fortuner is the

awkwardlystyled low profile

memberofthe highprofile Hi

Lux Ute family.

It's an SUV built on the Hi Lux

chassis and shares the same

powertrain and 4WD system. If

you're after atough as teak go

anywhereSUV that seatsseven,

the Fortuner makes a

compelling casefor inclusion on

your shoppinglist.

Launched herein2017,the

Fortuner has been upgraded

with amore powerful turbo

diesel borrowed from the Hi

Lux. Furtherrefinements have

been made to the cabin and

audiosystems, while it's safety

credentials are strongerthan

ever withthe addition of

Toyota's latestsafety technology.

The Fortuner is available in

entrylevel the GXL form

($57,290) withonly amodest $3k

step up to the superbly

appointed Limited ($60,290)

providedfor this road test.

Both models gain Parking

Support Alert, whichincludes

two front and fourrear parking

sensors.Inside, the touchscreen

is upgraded to an 8­inch display

and an audio systemfeaturing

AppleCarPlay® and Android

AutoTM. The instrumentcluster

and Multi­informationDisplay

have beenrevised with new

informationavailable including

front wheelturning angle. The

main cosmetic change is a

cleaner and smarter looking

front grille and headlamps,

along with some minor tweaksto

the rear tail lights.

Amajor revamp of the 2.8­litre

turbo­diesel sees if delivering

150kW of maximum power, a

healthy 20kwincrease

overthe old motor. Peak

torque muscles up by just

over10% to hit the magical

500nm mark.All that

additional torque is on the

job earlier than before,

with80percent at the

ready from as low as

1200rpm.Changes to the

cylinder blockand pistons,

in tandemwith

modifications to the turbo

design and revisions to the

cooling system have

transformed and reenergized

this engine.

At highway speeds, the

motor feels strong and

effortless just as it does in

the current Hi Lux. In low

speed town driving, a

larger mutebutton has

beenapplied to noise

levels thatare well down

on the previousmodel.

The motor excelsinoff

roadterrainwith its

additional throttle

responseand pulling

power comfortably seeing

off challengingcross­country

driving assignments.

The six­speedautomaticand

the engineare the dream team,

but there's nothing sleepy about

the swift and precisegear

changes that keep the motor

operating in its 'sweet spot' for

longer. This transmissionisthe

ideal fit for the Fortuner and

adapts seamlessly betweenon

and off road driving.

This cabinisn't the roomiest in

itsclass, and feels narrow and

constrained, somethingthat may

disappointthose after more in

the way of wide­open interior

spaces. Athird row of seats is

onlysuitable for children and

whenthey're being used there's

minimal cargo storage behind

them.

The Limited is wellappointed

and packed withthe connectivity

features buyers demandthese

days. The hub for muchofthis

technology is centeredon an 8"

touch screendisplayaudio

system with voicerecognition

and steering wheel controls.It

offers the latest in mobility for

AUX/USB and Bluetooth

functions and includes Satellite

Navigation, SUNA traffic control

and Digital AudioBroadcast.A

Multi Information Display

provides all the important stuff

suchasoutside temperature,

average fuel consumption, plus

the available fuel range.

With its coilspring suspension

and rear differential lock, the

Fortuner is built to handle most

all terrain missions. However,

the suspensionhas beenfurther

refined, making it asurprisingly

competentand relaxing drive.

Light and vaguesteering doesn't

helpthe vehicles drivability.

Low speedride is on the listless

side, but the suspension

generates greater rhythm at

open road speeds and feels

smoother and more composed.

Ride comfort is consistently

good over awide rangeofroad

surfaces even wellweathered

and beaten back blockfarm

tracks.

Rating out of 10: Performance

6, Handling 5, Build Quality6,

Comfort 6, Space 6, Styling 5,

Fuel Economy; Rightcar website

rating 8.6L/100km, on road test

averageconsumption 9.8L/100km

Value formoney6,Safety, Five

starANCAP crash rating, not

rated yet.

Overall pointsout of 10: 6.5

2421880

Specialising in restoration repairs and refinishing

Custom fabrications and modifications

Deal directly with the owner, Bill Johnson

Panel beating and painting on all vehicles, including horse floats, caravans and small boats

2414237

16 -18Cass Street, Ashburton l E: johnsons.panelpaint@gmail.com l www.johnsonspanelpaint.co.nz
---
www.ashburtoncourier.co.nz

FEATURE

Ashburton Courier, October 28, 2021

27

James' mini fixation has abig impact

TONI.WILLIAMS

@ashburtoncourier.co.nz

Car enthusiast James Storeyhas a

collectionofcompact minis in his

possession.

Hehashad afixationwith theclassic

two door mini for many years.

Hehadnine when he lived in the UK,

and brought a1300cc race engine with

himwhen he movedtoNew Zealand13

years ago.

The engine, which he has owned for

around 20 years, waslovinglyboxed up

and shipped out, ahead of anyother

possessions.

Itnow sits in hisNew Zealand­built

1975Mini Clubman, which he recently

used for the Ashburton Car Clubgrass

motokhana; the club's secondevent of the

season,and thefirst since the Ashburton

Rivernorth branch flooded in late­May

and water flowed across the club grounds.

James' best run time around thegrass

slalom course was 28.86sec.

He ended up placing fifthout of 12

entries.

Compactminis did wellinthe event

taking out firstand second places;Daniel

Maleswon with best runtime of 26.38sec,

and Adrian Harris wassecond (28.16sec).

James' red mini has amanual gearbox,

interior doorpanels lined with alloy

checked panelling, and is fitted with aroll

cage.

Although notcurrently road legal,

because ofthe roll cage andthe need for

official sign­off, James does haveplansto

get it legalfor road use. But for now he

transports it to eventstocompete.

James has been amemberofthe car

club forthe pastseven years.

In total he is the proud owner of 14 cars;

one is his red Evo1 used forothercar club

events, such as the recent standing

quarter mile sprint. James scored abest

time of 12.71sec,earninghim a

respectable 10th placeinthat event.

But there aresix minisinvarying states

of restoration; once finishedthey will be

soldtofundthenextmini project.

He likes that they are''smalland

nimble, agokart onwheels''.

LatelyJames' interest in the mini

speedstershas piquedthe interest of his

youngsons, aged 13 and11.

They both have their own 1000ccmini

projectsnowtoo. And the elder of thetwo

is nearlyready to take part in hisfirstclub

event.

ONE STOP TOWING AND COLLISION REPAIR

24/7

• Engineering services/fabrication/welding by qualified technicians

• Break down

• All vehicle types including boats/caravans/motorhomes

services

• Insurance companies approved

• Accidentrecovery

• Headlight restoration

• Specialised 4x4 recovery

• Fast assessment

• Insurancecompanies

• Quality fast turn around on repairs

approved

• Loan cars / Pick up & drop off service

• Securestorage yard

• Life time guarantee

• Vehicle relocation

• Locally owned and operated

• Locally owned and operated

027 431 8598

Photos: above; James Storey has asmall

collection of the compact cars in his stable in

varying stages of restoration, and right: James in

action driving his 1975 Mini Clubman during the

Ashburton Car Club grass motokhana.

QualityEuropean

Vehicle Servicing

•Advanced

Diagnostics

•Experienced

Technicians

Bruce McIlroy Limited

309MethvenHighway, Ashburton 7776

Tel: 03 3087282 •E:bruce.mcilroy@xtra.co.nz

MTAAPPROVED

Call us for a

FREE

QUOTE

•Collection/Delivery

'Free of Charge'

in Ashburton

2414337

PANELCRAFT

COLLISION REPAIR CENTRE

UBEND IT.....WE MEND IT

Your under car specialists

WOF WOF repairs

Vehicle servicing

Exhaust specialists

Mechanical repairs

Tyres/Alignments

Batteries Towbars

Open Saturdays for WOF, 8am to 12 noon

EVAN KYLE ROBBIE WILLY

03 308 9984

cnr Cass and South Street,Ashburton

www.robbies.co.nz

AFLAWLESSFINISHEVERYTIME

EVERYTIME

104 South Street,Ashburton

308 5238 / 027 283 1513

info@panelcraftltd.co.nz

FREE

COFFEE WITH

YOUR FREE

QUOTE

2414333

Approved

Repairer for

2414332
---
CLUB NEWS

28 Ashburton Courier, October 28, 2021

www.ashburtoncourier.co.nz

Ashburton Bowling Club

Ashburton has spent the past

weekhosting,along with

Allenton, Hampstead,and

Methven,the LadiesChartered

Clubs Tournament.

Averybig entryonour bowling

calendar.

The ultimate event,iethe

Championship Final wasplayed

at Ashburton on Fridaywhena

teamfrom the Papanui Clubbeat

ateam fromthe Hornby Club

21­15.

Aclose result! Ahuge thank

you fromMargaretgoestoall

those who unselfishlygave their

timetocontributetothe catering

for thisevent. They are Annette,

Shirley,Christine, Anne,Allison,

Diane, Gavin andRoger.

Bakingincluded loavesfrom

Wendy and Joyce fromMSA.

Margaret saidall this help

amountedtoavery smoothly run

operation!

At theFriday Triplesat

Allenton, Ashburton's teamofJ

Smart,JRyk, AMacKenziecame

3rd with 3wins and14ends.

The placings forSaturday's

Open2bowl triples, sponsored

by SkipToIt, whichincludedour

fellowmembersfromMSA,are:

1st MAnderson, JKewish, A

Millar; 2ndJDrayton, MBehrns,

RCoyl; 3rdMHill, AMacKenzie,

RDakers;4th JRyk,HGoodall,

JRyk; 5thDTurnbull, AHolmes,

GBrooker; 6th WSuttie,R

Keeling, LSpargo.

Abig thank you to Aureen for

her catering skills andajolly

Clubday washad by all!

The GillTrophy Foursat

Hinds on Sunday saw

Ashburton's team of GEder, G

Taylor, GSparks,WLee take 1st

place.

Welldonegentlemen!

The Ashburton Ladies

Championship fours resumethis

weekonTuesdayand Thursday.

And our Clubdays willalso

continue on Tuesday and

Thursday.

There willbenorollover

triplesonSaturday 30thbecause

of our upcoming Inhouse/Ingold

Traycompetition, of which,

names of the whiteboardplease!

We willcommence at 1.15pm–

alsowear whites and please

bring aplate!

Areminderthat therearrangedLadies

Murton Cup

Fours willnow take place at

RakaiaonMonday 1st November

at 9.30am.

Goodbowling everyone–may

the sun keep shining!But,

remember the protocols andstay

safe!

AshburtonMSA Petanque

Club

The last twoweekendshave

beenbusywith Men's and

Women'sClub Singles and

Doubles, followedbythe

Canterbury Singles andDoubles

all played locally.

The Men's Singles topthree

winners were Neville Bensdorp,

RichardBrowne and Jonathan

Crum.

The topthreewomenwere

Chris Taylor, RewaKyle and

Carol Hogg.

There were alot of very close

games which keeps our

tournamentsinteresting and

competitive.

LastSaturday theCanterbury

Singleswereplayed with men

fromChristchurch and Dunedin

taking out the twotop places,

followed by local players

ChristineTaylor and Richard

Browne 3rdequal.

Jonathan Crumwas 3rd equal

in theConsolation,while

Bernice Laird and TrevorNish

were3rd equalinthe Bowl.

On Sunday JanGuilford was

3rd equal with herChristchurch

partner in theCanterbury

DoublesChampionship.

RichardBrowne and Neville

Bensdorptook outthe

Consolation,withPeter Marriott

andhis Christchurchpartnerin

3rdequal.

Christine Taylorand her

Dunedin partner won thePlate,

with LindaMillard andJonathan

Crum 2nd in the Plate

Consolation.

Allother places werewon by

players from Christchurch,

Dunedin or Alexandra in both

competitions.

Theseare great tournaments

to be apart of, and while it is

competitive it is still friendly

with some of theplayers giving

some coachingduringthe game

to less experienced players.

This Thursday we aregiving

some time to Shootingand

Pointing which shouldbean

interesting change for some

training on this aspect of the

game.

Rememberyou are most

welcome to joinusany Tuesday

andThursday,justafter 1pm, at

115Racecourse Road.

Ashburton Horticultural

Society

PresidentJoy welcomed11

members to ourGarden Group

October meeting.

Members agreedtocontinue

with an afternoonmeeting on

3rdFriday of each month.

Members discussedthe new

programme andsuggestions for

Guest Speakers or activitiesfor

each meeting

Table show results

JoyJaine –13firsts, 3seconds,

1third

John Hoogweg –5,5,0

BrianGlassey–5,2,1

PatTarbotton–2, 0, 1

Cyril Keen–1,3,0

Anne Gamblin –1,1,0

TrevorGamblin–0,0, 1

Premier Award:Joy Jaine–

Small flowering Rhododendron

Raffle was won by Joy Jaine

Next meeting will be aPot

Luck LunchonFriday 19th

Novemberat12.30 pm at Domain

Pavilion,Walnut Ave.New

members welcome.

LionsClub of Ashburton

Pakeke

OurOctober tea meeting was

held on Monday,October 25.

President RobertSpencer

welcomed everyone and ran

throughthe covid rules for the

evening.

Apologies for13Lions was

read by Lion Joe Butchard. Five

social ladieswerepresent.

Lion JoeButchard advised we

cannotselltickets for our

Christmas raffle from the two

Countdown storesinthe current

covidclimate. Alternativesites

will be secured.

Charity Marketwillbeat the

endofJanuary 2022, amonth

earlier than usual,withthe two

public selling day dates to be

confirmed shortly.

Past PresidentJim Martin

encouraged fellow Lion

members to attend as many

otherlocal Lionsmeetings as

they can

Acar trial is plannedfor late

Novemberand atraining day

will be heldatOamaruon

SaturdayNovember27.

Ourguestspeakerwas Craig

Wiggins,avery well­known

sportscommentator for rodeo,

jetboat sprints,rural games,

youngfarmer contests, herein

NewZealandand overseas. He

is heavilyinvolved in mental

health having designed and

implemented several national

mentalhealth support programs

forruralfolk.

Lion Joeand Stephanie

Butchard didthe tail twisting,

extracting fines.

President Robertclosedthe

evening andwishedeveryone a

safe trip home.

another favourite charity has won afree solar system

the

solar for good

project

it's time to

let the sun in

to celebrate the opening of our

new solar hub in Christchurch

we asked you to nominate your

favourite local charity

congratulations

Edible Canterbury

winners of a$30k solar system

to find out more visit

www.lightforce.co.nz
---
www.ashburtoncourier.co.nz

RESULTS

Ashburton Courier, October 28, 2021

29

Tinwald CyclingClub

Having gonecloseonseveral

occasion this seasonSam

Barltrop brokethrough to take

victory in Tinwald Cycling

Club's, Advance Ashburton,

48km handicapevent around

the Grahams Road blockon

Sunday.

Theresultwas far from a

forgone conclusion leading

intothe finalstages witha

solidgroup of riders in the

front bunch andthe back

markers cutting into their

margin.

It was Barltropwho had

made the decisive move,

jumping from thepack withthe

finish line in sightand holding

on stronglytotakethe win and

liftthe Brian CavillMemorial

Shield.

BrianCavill's nephew, the

evergreen Tony McManus was

in the thickofthe finish to

securesecond place.

Paul Chapman puthis recent

block of trainingtogooduse,

stepped onto the final podium

position.

Jelle Hendrikson produced

hisbest raceofthe season to

securefourth spot.

GedWalland JohnDoherty

rounded outthe topsix.

Back marker Steve Hands

claimedfastesttimehonours,

ridingthe course in 65.51.

Co­markers Larry Nealand

Craig Domigan recorded

secondand third time.

Thejuniorsand division 2

contested a16kmhandicap

event.

HonorBradford dug deepin

afour up sprint to the line to

claimthe hard fought win.

Eliza McKenziekickedher

first hit outofthe season with a

greatridetotake second place.

Leah Reid backed up some

good recent results to secure

third place.

IsabelWall, Thomas

Stevenson, andCharlotte Neal

filled out the top half dozen.

Scratch markerIsabella

Inglislifted the fastest time

trophy, riding thedistance in

28.56.

Merv Grewar took division

two honours from Kenny

Johnston and JanetteHooper.

Next week theClub will

contest agraded scratch event

aroundthe Blackbridge block.

Ashburton MSA Petanque

Club

Club Pointing Competition

Winner:­PeterMarriott

R/Up KateMarriott

3rd=Lyn Allison

3rd =TrevorNish.

Ashburton 9Holers

Lastweek'swinnersofthe

Netherby Pharmacy Russian

Roulette wereRobynneNicoll

andPeter Woods with ascore

of 36. Second, on countback,

Don McLeodand Muriel

Morganwith 32.Tonee Hurley

and DickHansen also scored

32.Bruce Sim scoredaSmith&

Church gobbler.Thisweek,

we'llplayHotel Ashburton

Hidden Holes and the week

after, on 4thNovember, we will

play at Tinwald because

Ashburtoncourse will be

closed formaintenance.

AllentonBowling Club

Results Week Ending Sunday

24thOctober

On Friday 22nd October

Allenton hosted the Friday

Tripleswithagoodnumberof

teamsresults were as follows:

First: GraemeBishop,John

Forde,Millie Foggo3wins 15

ends 30points

Second:Murray Palmer,

Marty Watson, TrevorJohnson

3wins 15 ends26points

Third: John Smart, Jo Ryk,

AlistairMcKenzie 3wins13

ends34points

Fourth: DavidBell,Lindsay

Kearns,Janice Bell2wins14

ends25points

On Saturday 23rd October

Club rollupresultswereas

follows:

First: Bruce Hopwood, Alan

Members of the Tinwald Cycling Club in action over the weekend.

Smith 3Wins

Second:Alan Leis,Bruce

Henderson2Wins

Events being held for the

week starting Monday 25th

October

Tuesday26th Allenton

LadiesClub Day

Thursday28th Centre Over

60's Singlessection play

Friday29thCentreOver60's

Singles post sectionplay

Friday 29thHampstead

FridayTriples

Saturday 30thInterclub

Round 1

Sunday31stCentreTriples

Section Play.

AshburtonGolfClub

Saturday 23/10/2021

Competition: Barnett &

BermalineCup (ParRound)

The Radius Care player of

the dayand winnerofthe

Barnett CupGeorge Brown +5

2nd DaveRobertson+4

3rd Bruce Ferriman+3

Winner of the Bermaline Cup

wasBrendon Davidson +2

Other good score were Brian

Mee +2,Barry Jury +2,Grieg

Sparrow +1,Gavin Douglas +1,

Jason Overend+1, John

Ramsay+1, GabyJansen +1,

Pete Morison0,&DaveFisher

0, by alot fromR.Chatterson

andB.Fallaver.

Twos:HamishNiles &

BrendonDavidson

HOLE IN ONEon14# Dave

Morrison.

Nearest The Pins:

Hole 4# Dock'sSeafoodBar

&Grill: Matt Fallaver

Hole 8# Three Stogie's:

Brown Bombers: Grieg

Sparrow

dHole 12#Value Plus:

BrendonDavidson

Hole 14#South IslandSeeds

Processing &StorageCo: Dave

Morrison

Hole6#Hamish Niles

Shout!!:Ron Carlson

Hole 9# Ton'sThaiLongest

Putt:RossChatterton

BonusSpotPrize:

Alluvial RestaurantTinwald

SpotPrize: Bruce Day

BirdieJackpotHole: 16#

NettEagle Jackpot Hole: 9#

Saturday9Hole Competition

ParRound

Harvey BakehouseWinnerof

theday:Peter Woods+3

2nd Elaine King+2

3rd Hughie Murchie +1

4thSam Prince +1

Ashburton GolfCourse will

beCLOSEDfor the South

Island Interprovincialfor the

30th &31stofOctober 2021.

AshburtonBridgeClub

Monday Evening ­October

18th, Individual &Walker's

Trophy

PHOTO SUPPLIED

1st =Wendy Parr&Heather

Simand SueSmith&Janine

Havis, 2ndDee Murdoch &

Paul Leadley,3rdMarjorie

Hoar &KathyDunn,4th Gladys

&NoelBaker, 5thKateWhite

&EricParr, 6th Bruce

Leighton &Mervyn Jones

Tuesday Evening ­October

19th, ALadder

1ST Debbie Seddon ­Sewell

&David Sewell,2nd Colin

Clemens&MarykeBlignault,

3rd Jason Vannini&Maree

Moore, 4th Rewa Kyle &Peter

Wilson,5th Audrey &Jim

Rooney, 6thMary Buckland &

SoniaGill Wednesday

Afternoon ­October 20th,

BrabantTrophy

1st PeterWilson &Rosemary

McLaughlin, 2nd Peter&Trish

Downward, 3rd MaryBuckland

&Bev Turton, 4thJudith

Edmond &Maree Moore, 5th

=Janet Cuttle &Jill Browne

and JudithMoore &Johnny

Wright,6th Edna Segers&Kay

Robb

Thursday Evening ­October

21st, President's Trophy

N/S 1st Mary Buckland &

Trish Downward,2nd Maureen

Kolkman &Pat Jordan,3rd

Paul Leadley&Ian Doel

E/W 1st John Shearer &Bill

Kolkman,2nd Rewa Kyle &

Peter Downward,3rd Trish

Small &Val Palmer.

DentureProblems?

Come &see us at Life Dental!

• FREE

Consultation

•1year FREE

aftercarewith

newdentures

"Qualityisour

Goal,Drive,

&Motto"

2369969

5% Discount Gold Card &Community Services Card

5% DiscountOuter District (Oamaru, Waimate, Tekapo,Twizel,Ashburton)

8Woollcombe St,Timaru |P:03688 3504 |W:lifedental.co.nz

Mr RafikHanna

Clinical Dental Technologist

PGClinDentTech (Otago),

BDentTech(Otago), MBA (Otago)
---
Your LOCAL real estate

company is CELEBRATING!!

st

1in NZ to bring you 3D virtual

reality marketing 4years ago!

Trevor &the TEAM at RENZ

are giving away $2000

from EVERY sale to CELEBRATE

this GREAT achievement !

*

That's right... just LIST &SELL with

your LOCAL that puts YOU first and

get $2000...SIMPLE !

T&C's apply

Starts 1August and ends 31 October 2021

*information supplied byMatterport and based on packages sold to NZin 2017

Contact: admin@renz.net.nz

308 6173 or do it online with our

FREE no obligation market appraisal

Scan for free appraisal

191 Burnett St, Ashburton
---
What'smy

property worth?

It's FREE to

find out!

RESIDENTIAL

LIFESTYLE

PROPERTY

MANAGEMENT

191 BurnettSt, Ashburton

308 6173 or admin@renz.net.nz

3D VIRTUAL

REALITY TOURS

Trevor Hurley Real Estate Ltd LREA 2008 -MREINZ

Your LOCAL real estate

company is CELEBRATING!!

st

1in NZ to bring you 3D virtual

reality marketing 4years ago!

Trevor &the TEAM at RENZ

are giving away $2000

from EVERY sale to CELEBRATE

this GREAT achievement !

*

"A" ForAwesome & Affordable!

This spaciousstandalone townhouse is situatedinaprime Allentonlocation close to all amenities.

Modern, sunnyand space galoregreetsyou in thehub of the home.

Excellentindoor outdoor flow, three good sized bedrooms, masterwith ensuiteplus largewalk in

wardrobe. Fully fenced at the rear with easycaresection plusattached double garaging.

This property ticksall the boxesand is definitely amustsee!

Negotiable Over $579,000

Forstress free Property

Management think "Pink"

LAKE BRUNNER

ID: W723

3 2 2

Call our Pink Ladies

to find out more!

RENZ Property Management

191 Burnett St, Ashburton

03 308 6173

rentals@renz.net.nz

1946Arnold ValleyRoad,

Moana,LakeBrunner

Surrounded in nativebush

with wildliferightonyour

doorstepthis exceptionally

privateproperty offersthe

ultimate lifestyle!

This would be agreat

business venture offering

exceptional opportunities

forthe buyer,this property

could beusedutilised as a

lodge, an Air BnB,hunting

lodge, wedding venue,

wellness retreatoreven

anudistcamp...it's that

private! Fivebedroom

lodgeplus fullycontained

one bedroom cottage with

carport & gashot water.

OffersOver$759,000+GST

5 3 2

ID: LB05

That's right... just LIST &SELL with

your LOCAL that puts YOU first and

get $2000...SIMPLE !

T&C's apply

Starts 1August and ends 31October 2021

*information supplied by Matterport and based on packages sold to NZ in 2017

Contact: sales@renz.net.nz

308 6173 or do it online with our

FREE no obligation market appraisal

BANKS PENINSULA

Scan for free

appraisal

Proud supporters of the HeartFoundation of NewZealand! Wedonatefromevery property sold!

TwoHomes In One!

•House divided into two

flats, currently rented for

$560p/w.

•Openplan kitchen/

dining. Insulatedceiling &

underfloor.

•Double garage,easycare

section

•Outdoor entertaining patio

•Fantasticinvestment

opportunity with potential

to add value

OffersOver$469,000

3 2 2 ID: E731

PrivateSanctuary Or luxury

HolidayHome ID: BP0003

This stunning 4.8ha property,

setinalittle piece of paradise

on the BanksPeninsula

would bethe ultimate retreat

forthose seeking achangeof

lifestyle. Surrounded by NZ

nativebush, with an amazing

viewtothe Akaroa Harbour,

this beautiful homestead is

amustsee! Four shedsone

with 3phase power, twowith

3baystostableyour horses

or an animal of your choice.

Fullydeer fenced with13

paddockswith troughs.

$2,200,000

5 3 2

Manager/Sales Consultant

Trevor Hurley

0275 435 799

Sales Consultant

Manu Otene

022 308 6885

Sales Consultant

Stephen Watson

027 433 9695

Sales Consultant

Julie Srhoy

021 354 885

Sales Consultant

Manoj Rana

022 453 1964

Sales Consultant

Deborah Roberts

0210 752 180
---
SATURDAY 30TH OCTOBER

24 Melcombe Street, Ashburton 10:30am -11:00am 3 1 2 AHB30050

180 ChalmersAvenue, Ashburton 12:00pm -12:30pm 5 1 2 AHB30011

33 Manchester St,Ashburton 12:45pm -1:15pm 3 1 0 AHB30095

66 Nuffield Drive, Methven 2:00pm -2:45pm 5 3 2 MVN30008

SATURDAY 31ST OCTOBER

NO OPEN HOMES TODAY

180 ChalmersAvenue, Ashburton

5 1 2

*5Bedrooms, Modern Kitchen

*Modern Bathroom

*Modern Roof, Modern Carpet

*Re-Painted internally

*961sqm Section on 2Titles

Asimply Amazing chance has surfaced here for you tobuy a

classic New ZealandVilla with so much room both inside and

out for the whole family.

ForSale

POA

View

Saturday12:00 -12:30pm

Armand vander Eik

021 597 527

rwashburton.co.nz/AHB30011

Real Estate Mid Canterbury Property Limited Licensed (REAA 2008)

22 Galbraith Street, Ashburton

2 1 2

*Two double bedrooms, Modernised bathroom

*Reclad 2008

*Insulated ceiling and underfloor

*Heat pump -compliant log fire (CCC 2010) -wall heater

*Double garage (CCC 2006), Well fenced section

Under Contract

View

by appointment only

Kim Miller

027 236 8627

rwashburton.co.nz/AHB30099

Real Estate Mid Canterbury Property Limited Licensed (REAA 2008)

33 Manchester Street, Tinwald

2 1 1

91 Seafield Road, Ashburton

4 1 2

*Fully renovated home inhandy Allenton location

*Double garage with two new auto doors

*Open plan kitchen/dining living area

*Great familyhome orretirement

*Space topark acaravan on anew concrete pad

SetDate of Sale

closing 2November 2021, at

3:00pm (unless sold prior)

View

Saturday12:45 -1:15pm

Armand vander Eik

021 597 527

*4 bedroom family home with modern brick cladding &slate

roof

*1.2141 hectares zoned Residential D

*Subdividable land with potential for3lots.

*Secure workshop and garden shed &Compliant log fire

ForSale

Offers over$820,000

View

by appointment only

BruceMcPherson

027 438 4250

Denise McPherson

027 242 7677

rwashburton.co.nz/AHB30095

Real Estate Mid CanterburyProperty Limited Licensed (REAA 2008)

rwashburton.co.nz/AHB30359

Real Estate Mid Canterbury Property Limited Licensed (REAA 2008)

Kim Miller

Sales Consultant

027 236 8627

Denise Russell

Sales Consultant

027 432 9717

ChrissyMilne

Sales Consultant

027 290 6606

Cheryl Fowler

Sales Consultant

027 461 2614

Margaret Feiss

Sales Consultant

021 751 009

ShirleyFitzgerald

Sales Consultant

027 220 1528

Denise McPherson

Sales Consultant

027 242 7677

Armand vander Eik

Sales Consultant

021 597 527

Lynne Bridge

Sales Consultant

027 410 6216

Mike Grant ncre

Sales Consultant

021 272 0202

Mark Totty

Sales Consultant

021 664 113

BruceMcPherson

Sales Consultant

027 438 4250

Janene McDowell

Property Manager

027 287 3388

Carey VonLubke

Property Manager

027 697 6948

96 TancredStreet, Ashburton 03 307 8317 Main Road,Tinwald 03 307 8317

rwashburton.co.nz

36 McMillanStreet, Methven 03 303 3032
---
Armand van der Eik

021 597 527

Bruce McPherson

027 438 4250

Denise McPherson

027 242 7677

List andSell

with us!

Cheryl Fowler

027 461 2614

Denise Russell

027 432 9717

1st October-31 December2021

EVERYSOLDLISTING

Thevendor will receive a

2minute grocery dash and grab*

at Ashburton NewWorld.

Call todaytosecure your

free no obligation appraisal.

ChrissyMilne

027 290 6606

Kim Miller

027 236 8627

Lynne Bridge

027 410 6216

03 307 8317

*T &C's Apply

Mark Totty

021 664 113

Big Mike

021 272 0202

Margaret Feiss

021 751 009

ShirleyFitzgerald

027 220 1528

Here's yourchanceto

grab free groceries!

RayWhiteMid Canterbury

03 307 8317 96Tancred Street,Ashburton 7700

rwashburton.co.nz

Real Estate Mid Canterbury Property Limited Licensed (REAA2008)
---
PUZZLE PAGE

34 Ashburton Courier, October 28, 2021

www.ashburtoncourier.co.nz

CRYPTIC CROSSWORD

1 2 3 4 5 6

7

8 9 10

12 13 14 15

16 17 18

19 20 21 22

23

29/10

11

Across

7. Thingsone recalls concerning

assemblages of paintings (13)

8. Whereblood is concerned, amatter

of give-and-take(11)

12. Againshowwhat happened about

thedrama (6)

14. Setahigh value on being met: seeit

differently (6)

16. Inspiration maybedrawn from the

bar(6)

18. Richman taking time to strip one (6)

19. Give proof of how modest arent

maybe(11)

23. In fit relationship to poor parent, one

mightput it (13)

Down

1. Lonsdale'srecognition of asharp

blow (4)

2. Last thing for musician to playheld

up in braggadocio (4)

3. Vitreouslook girl has, being held by

non-u guy (6)

4. Charge one,havingput copper in the

wrong case (6)

5. Motorway, oneI'd turnedupinthe

south of France(4)

6. In one instantit'sonanalteration (4)

9. Completelyfull reel petmakes of it (7)

10. Havetoo much intake:get too'ot?

(7)

11. Blackspot must take itsthird ahead

(4)

12. Port of redstone(4)

13. Proverbially industriousworker may

be asoldier (3)

15. Almostjumpoverthe rope to go on

thepiste (3)

17. Countrysuffersaloss,being in need

of food (6)

18. Hold one back while arrangingdate

at home(6)

19. One is ignorant of beingkeptinit(4)

20. Poem about which onewill be

listless (4)

21. Afemale, relatively(4)

22. Youngpigsheld up by therustlers

(4)

SUDOKU

Fill the grid so that every column, everyrow and 3x3

box containsthe digits1to 9.

QUICK CROSSWORD

1 2 3 4 5 6

7

8 9

10 11

12

13 14

15 16

17 18 19

20

21 22

23 24

Across

1. At a distance (4)

4. Lethal (6)

8. Relating to theheart

(7)

9. Cut off (5)

10. Impoverished (4)

11. Biased (3-5)

13. Resign(4,5)

17. Small space rock

(8)

19. Holler (4)

21. Brushed leather (5)

22. Alligator pear (7)

23. Girl (Scottish)(6)

24. Family diagram (4)

Down

2. Enraged(7)

3. Destroy utterly (4)

4. Sterilise (13)

5. Hired killer(8)

6. Extremelyangry (5)

7. Unrefined (5)

8. Limits (4)

12. Unafraid(8)

14. Liftup(7)

15. Midriff (5)

16. As well (4)

18. Eighth letterof

Greekalphabet (5)

20. Surprise, shock(4)

CODECRACKER

QUICK CROSSWORD

Across: 1. Afar, 4. Deadly, 8. Cardiac, 9. Sever,10. Poor,11.

One-sided, 13. Step aside,17. Asteroid, 19. Yell, 21.Suede, 22.

Avocado,23. Lassie, 24.Tree.

Down: 2. Furious, 3. Ruin, 4. Decontaminate, 5. Assassin, 6.

Livid,7.Crude, 8. Caps,12. Fearless, 14.Elevate, 15. Waist, 16.

Also, 18. Theta,20. Jolt.

CRYPTIC CROSSWORD

Across: 7. Recollections 8. Transfusion 12.Replay 14. Esteem 16.

Breath18. Divest 19. Demonstrate 23.Proportionate.

Down: 1. Belt 2. Coda 3. Glassy 4. Accuse 5. Midi6.Anon 9.

Replete 10. Overeat 11. Smut 12. Ruby13. Ant 15. Ski 17.

Hungry18. Detain19. Dark 20.Mope21. Aunt 22.Elts.

TARGET

fells flesh flush fouls fuels

fuse hoes hose house hulls

lose louse loves lush ousel

self sell shelf shell shoe

shove shovel SHOVELFUL

shul sloe slue sole solve

soul

MEDIUM HARD

EASY

TARGET

L E O

H S F

L U V

Good 14

Very Good 20

Excellent 25+

ALL PUZZLES ©THE PUZZLE COMPANY

How many words of four letters or more can you

make? There is at least one nine-letter word.

Each letter may be used only once and all

words must contain the centre letter.

No words starting with acapital, no plurals

ending in sunless the word is also averb, e.g.

he fires the gun.

Big

Mike

Big Mikewith near on 30 years' experience underthe belt you

start to think,where has all that time gone? From big brick

mobiles bigger than ashoe box to radio telephones that had

various interruption's -Yes Ihave experienced alot inmytime

in the industry. If you're asuperannuant like me, it's time to

talk. Big Mike; Iwould love to share acoffee with you.

021 272 0202 • mike.grant@raywhite.com

Ashburton •Tinwald •Methven •rwashburton.co.nz •03307 8317

Real Estate Mid Canterbury PropertyLimited Licensed (REAA 2008)
---
www.ashburtoncourier.co.nz

2421615

ENTERTAINMENT ENTERTAINMENT ENTERTAINMENT ENTERTAINMENT

Frank Talbot Quartet

Saturday 30th October, 7pm

Adult $25* /Senior $20* /Student $20*

Exciting original jazz music from one of New

Zealand's finest saxophonists, Frank Talbot.

Hailing from Devonport, Talbot moved to

Wellington in 2016 where he's quickly made a

name for himself, as aConcerto Competition

finalist, twice winner of the annual combo

competition and section leader in the big

band. Frank is one not to be missed.

TheMerryLittle Christmas Market

28th November 11-30am until 4pm

Gold Coin Donation

Join us for the Merry Little Christmas

Market this November.Agreat event to

purchase unique Christmas presents with

awide array of stalls. We are now taking

registrations. Please email

casey@ateventcentre.co.nz

or phone 027-292-2601.

BOOK

NOW

03 3072010 211A Wills Street, Ashburton 7700 admin@ateventcentre.co.nz

Advertising

that

works!

Talk to Jann or

Karentodayabout

ways youcan

reach potential

customers or

advertising with

thatspecial

differenceprofessional

service

with asmile.

For more information

www.ateventcentre.co.nz

HotelCalifornia –The Eagles Experience

Friday 5th November 8pm

Adult $61* /Group 6$56 each* /Child 13 &under $32*

It's time to check into the Hotel California -

The Eagles Experience with this captivating

live concert and stage show saluting the

extraordinary talent and timeless catalogue

of The Eagles. With astage full of show

stopping voices and musicians this is a

tribute you will truly appreciate.

GIFT VOUCHERS AVAILABLE

Stuck for aChristmas gift idea?

THREE

Great Shows

ONE

Incredible Night

THREE

Great Shows

ONE

Incredible Night

Why not give them an Ashburton

Trust Event Centre gift voucher so

they can come and see the show

of their choice when they want?

*Service fees apply

WANTED TO BUY

ASHBURTON Scrap Metal

Recyclers buy heavy metal

etc. Free light-grade metal

in-yard dumping 9am-5pm

weekdays &9.30-11.30am

Saturdays. 117 Alford Forest

Rd, (behind

PlaceMakers). Phone 03

308 8033 or 027 249 6625.

EveryHome

EveryWeek-that's

Phone 308 7664

199 Burnett Street

Ashburton

2376123

SELL

LPG REFILLS

9kg cylinders

$27.50

Askaboutour

deliveryservice

Anysizecylinder filled

17 Grey St,Ashburton

Phone 307 2707

2422689

MOBILITY Scooter. Pegasus

Invacare, bigger version.

New Battery. In good condition.

Price on enquiry. Ph

027 203 6692

SIX Dining room chairs. Rimu

spindle back. Two are

carvers. $320. Ph 027 602

4855

VICTOR Mustang Rotary

Lawnmower. 19", 4stroke,

163cc motor. Instart, battery

ignition, mulcher, as

new. Phone 027 640 3981.

CANNON Laser Shot printer

scanner. Hardly been used.

$100. Ph 027 602 4885

EXERCISE Cubii. Only

10months old. Seldom

used. Excellent condition.

$500. Phone 307 0232.

LPG

REFILLS

Small LPG cylinders

Off Street Parking

Available

Arthur Cates Ltd

26 McNally Street

Ph 308 5397

Riverside Industrial Estate

2422683

CLASSIFIEDS

Ashburton Courier, October 28, 2021

SITUATIONS VACANT

35

SITUATIONS VACANT

SPRAY PAINTER/PREPPER

Afull time position has become available in our

Panel and Paintshop foraQualified Spray Painter.

Theposition requires

• Good work ethics

• Have ahigh standardindetail and finish

• Tobereliable

• The abilitytoworkunsupervised

• Toworkinateam and meet production deadlines

• NZresidencyorvalid NZ work visa

Please send resume and coverletter to

TheGeneral Manager

Bus and Truck Body Work Ltd

PO Box51, Ashburton7740

Phone Keith on 0274 274 007 or 307 0378

Email busandtruckbodywork@xtra.co.nz

GARDEN SUPPLIES

GARDEN SUPPLIES

MUSHROOM COMPOST

Nowisthe time to dig in our topqualitymushroom

compost to your vegetable garden. Ideal to replenish nutrients

used by previous crops and improvethe soil structure.

It also adds beneficial micro-organisms to thetired soil.

$50 per cubic metreor$10 bag.

Freedelivery within town boundary.

Open 6daysaweek at our Tinwald yard,

208 Maronan Road. Phone 021 129 8936 or 03 308 3331

PAUL'S Garden Nursery,

101 Harrison St, Ashburton.

Tomato, vegetable and

flower plants,14 varieties of

seed potatoes, seed yams

and farm fresh, free range

eggs available. Enquiries to

Paul 027 278 1354. Open 7

days.

THE Courier is the best way

to advertise in Mid Canterbury.

Ask anyone who

regularly advertises with us

and they'll tell you, they get

results.

2423431

2417586

JORDANS'S NURSERY

Rhododendrons from $15.

91 Pye Road The Downs

Geraldine. Wednesday to

Saturday 10am to 4pm or

by arrangement. phone 03

6938332 or 0274311815

GARDENERS Specials.

Sheep or Cow manure

$8/bag. Medium-square linseed

straw $50. Mediumsquare

pea straw $60.

Phone Alan 027 496 7136,

Ian 027 286 3697. AHinds

Lions Project.

Phone

308 7664

199 Burnett St,Ashburton

AshburtonClub&MSA

This Saturday, 30 October, 7pm

Tickets $25 available from the club

231 Burnett St, Ashburton03308 7149

2429759

Business owners

Build customers,sales

and profits,with us ...

Print, Online

and Mobile 24/7

Over

16,065

copies

delivered

every

Thursday

Staveley

Mount Somers

Alford Forest

Valetta

Mayfield

77

Ruapuna

Arundel

Orari Bridge

Geraldine

77 1

Ealing

Ashburton

Forks

Moranan Maronan

Hinds

Lowcliffe

Methven

Winchmore

1

Willowby

Lauriston

Ashburton

1

Wakanui

Chertsey

Rakaia

ContactJann Thompson 03 308 7664 jann.thompson@ashburtoncourier.co.nz
---
CLASSIFIEDS

36 Ashburton Courier, October 28, 2021

SITUATIONS VACANT SITUATIONS VACANT SITUATIONS VACANT

Want to get

paid for your

weeklywalk?

I'mMarythe Delivery

Supervisor forthe Courier.

I am looking for reliable

people to deliver the Courier

each Thursday in the Tinwald,

Hampstead and Allenton areas.

If you are keen to find out more

about this opportunity, please

send me an email or give me a

call and we can talk further.

Please email mary.summerfield@ashburtoncourier.co.nz

or phone Mary on 03 308 7664

forfurther details.

2425064

SITUATIONS VACANT

SITUATIONS VACANT

ASHBURTON COLLEGE

'IndividualExcellenceinaSupportive

Learning Environment'

Teacher of Reading

This is apart-time (0.4 FTE) permanent position to

commenceatthe startofthe 2022 school year.

We are seeking apassionate and future focused

teacher to join our staff. This role would suit an

educatorwith PrimaryorSecondarybackground.

The successful applicant will be tasked with the

implementation of the reading development

programme which includes working:

• with students in avariety ofcontexts –whole

class,small groupsand individuals; and

• inclass with avariety ofteachers to promote

wide reading.

Thenecessaryskills include:

• anunderstanding of howtoteach literacy skills to

teenagers;

• knowledge and passionfor children's literature;

• working collaboratively with other teachers;

• enthusiasm, flexibilityand adaptability; and

• a familiarity with the Literacy Learning Matrix

would be an advantage.

Applications close noon, Monday8November

2021

Information package enquiries andapplications

please contact

Jodee Ross,Principal's Secretary

Phone (03) 308 4193 ext809

Email: rj@ashcoll.school.nz

Application Reference: 1HAQgM

2430482

www.ashburtoncourier.co.nz

SITUATIONS VACANT

JobOpportunities

AlcoholLicensing Inspector

In this part-time role you will be the subject matter expert and carry out the

Council'sfunctions and responsibilities under theSale and Supply of Alcohol

Act 2012,the Building Actand the Gambling Act.

You'll need strong written and verbal communication skills, athorough

knowledge of the relevant legislation and the ability to form strong

relationships.

Applications close Sunday,31October 2021.

Front of House Assistant -Gallery/Museum

Be afirst point ofcontact for our visitors, providing exceptional customer

service so thatpeople canaccess our exhibition spaces safely andeasily.

Applications close Sunday,7November 2021.

Administration Officer -Water Metering

As our Technical Support Officer-Metering, You'llenjoyavaried role taking

responsibility formanaging our watermetering, from collecting data in the

field, to collating it in our database, analysing the results and providing the

informationtoother team membersfor billing -this is arolewith variety.

You'llbeanexperiencedadministrator with an eyefor detail, who canensure

our dataisaccurateand preferably has experiencesupervising contractors.

Applications close Wednesday,10November 2021.

To find out more about this vacancy

and what the Ashburton District

Council has to offer you -visit our

website.

SITUATIONS VACANT

Loyal Interior Plastering

Want anew start?

LoyalInterior Plastering is seeking an additional full

time interior plasterer.

As avalued staff member, you will have access to

the latest equipment and technology, plus the

opportunity to learn within our busy but friendly

team. While experience is preferred, it is not

essential as the rightperson will receivefull training.

Start date is negotiable and will bediscussed at

time of the interview. Competitive wages offered,

based on experience.

All applicants must have NZ residency or hold a

current NZ Visa.

If youare interested in this position,

pleasephoneBruceon027 3847118

TURN THE PAGE

TO VIEWMORE

CLASSIFIEDS

2375519

2430026

No experienceneeded,

just agoodattitude!

We've gotanumber

of jobs availablefor

agriculturallabourers.

Excellentworkhours

Part-time or full-time

hours available

Short-term roleswith

opportunity to longtermworkonoffer

Great rates

Great fit for semi

retired,day workers, or

working around school

hours

Email us your CV

jobs@agstaff.co.nz

or call us on

0800112211

to startASAP.

FIREWOOD

FIREWOOD

OFFCUTS

$140 PER CORD

FIREWOOD

SLABWOOD

3cordgreen

$330

1cordgreen

$110

1corddry

$140

C.O.D. in town

2365805

2375514

2426051

We'llhelpyour business stand out!

Over 15,950 copies everyweek

Call in and see us at 199 Burnett St, Ashburton, phone Jann or

Karen on (03) 308 7664 or email: office@ashburtoncourier.co.nz

www.ashburtondc.govt.nz/careers

MID CANTERBURY

Realty

Look out for

your copy

everyweek!

2375492

Adams Sawmill

Malcolm McDowell Rd

Phone

308-3595

2414491

SAVE $100. on next winters

firewood. Old Man Pine 6m 3

$495.00. Limited supply.

WINZ accredited. Free

delivery to most of Mid-

Canterbury. Phone 027 297

7563.
---
www.ashburtoncourier.co.nz

SITUATIONS VACANT SITUATIONS VACANT SITUATIONS VACANT

Job Vacancy

Position:

Location:

Hours of Work:

Date Issued:

Refugee SettlementSupportCaseworker

(registered Social Worker)

SaferMid CanterburyOffices,Ashburton

26hours perweek

October2021

The Refugee Settlement Support Service, Safer Mid Canterbury Ashburton, is

looking foranew team member.Weare seeking someone who has abackground

in Social Work and who islooking for achallenging and rewarding role as a

Settlement Support Caseworker. The Refugee Settlement Support Service is

contracted by MBIE to assist former refugees to participate fully and integrate

socially and economically in their new community during their first 12 months

in New Zealand.Ifyou like achallenge, enjoyengaging with people from diverse

cultures,like working in an environmentwherenoday is the same,and areateam

player, then this could be the perfect job for you. As caseworker you will be the

primary support person for newly arriving families, overseeing their settlement

process forthe first twelvemonths.This role also entails working alongside other

agencies and services involved with the families.Our serviceiscurrently assisting

in the settlementofformer refugees from Afghanistan.

The person applying for this job must be a registered Social Worker with

relevant experience and/or training in afield that furnishes them with the skills

and experienceneeded foraposition of this type.Weare looking forcandidates

with the following key attributes:

• Abilitytorelate with and supportpeople from differentcultural backgrounds.

• Agood understanding of relevantsocial services and agencies.

• Understanding of confidentialityand privacyact practices.

• Knowledge and/or experienceofrefugee or migrant settlementexperience.

• Computer skills,including Exceland Word

• Excellenttimemanagementand organisational skills

• Hold acurrent motor vehicle driver's licence and willing to travel tofulfil job

requirements

• Liveand work in the Ashburtonregion

• Empathy with humanitarian causes

• Enthusiasm and commitmenttoworkasateam member

• High degreeofcultural competency

To read the job description and download an application form go to:

www.safermidcanterbury.org.nz careers page.

Applications close Friday5th of November

Forfurther question's please contactAni Koperu on 03 308 1395

Front Of House –Job Vacancies

Areyou passionate about people and providing greatcustomer service?

We arehiring! Full and part me posions available

forexperienced staff to join ourteam.

If you

want to work in agreat team environment

have alovefor greatfood and coffee

canwork under pressure

have akeen eyefor detail

take prideinyour presentaon

areavailable weekends

we want to hear from you.

Coffee making experience isn't essenal but is agreat bonus.

FRUIT &PRODUCE

CHEESE: Local Artisan

farmstead cheddar style

cheese. Buy 2for free intown

delivery. www.

hipicheese.co.nz

DUCK EGGS

$10/dozen, $20 for atray of 30.

Ph.0224780305.

Applicants forthese posions should have

NZ residency or avalidNZworkvisa

To applyorfor moreinformaon

manager@somersetgrocer.co.nz

or to Nicky 027 544 9524

FRUIT &PRODUCE

POTATOES; Nadine, Red

Rascall and Agria $1.25kg,

or pre-ordered 10kg bags

$10. Phone 03 308 3195 or

027 531 9103. 81 Elizabeth

Street, Ashburton.

TRADE &SERVICES

BUILD work to do? Contact

Kiwi Building and Maintenance

Ltd. Alterations,

Renovations, New builds.

Qualified Tradesmen.

Phone Cawte 027 418

7955.

2430753

TRADE &SERVICES

2426815

CARPET 2YOU -for all your

flooring needs. Supplier

and installer of carpet and

vinyl, re-stretch and repair,

carpet cleaning. Phone

Mike Gill 027 491 4210.

CARPET Cleaning. Powerful

equipment and fast drying.

Upholstery, mats and rugs.

COMPUTER repairs, sales,

training, setup wirelessnetworks,

spyware

cleanup. On-site day or

evening. Low fees. Call

Robin Johnstone, Networks

Firewalls and PC's Ltd, 308

1440 or 027 768 4058

Experienced owner/operator.

Phone John Cameron

at Supersucker. 027 435

1042 or 308 1677

SITUATIONS VACANT

Scheme Operator

SITUATIONS VACANT

At MHV Water Limited (MHV) we are one of

the leading water delivery and environmental

management companies in NZ, servicing

approximately 58,000 hectares via open race and

pressurised pipe systems in the Mayfield, Hinds,

Valetta and Ruapunaareas of Mid Canterbury.

Our vision is todeliver solutions that are both

environmentally and economically sustainable

and continue to embrace ourinnovativeheritage.

We are seeking aScheme Operator tojoin our

Operations team and support the efficient

and equitable delivery ofwater to our farmer

shareholders, maintain accurate records, ensure

compliance is met, and undertake general

maintenance of assets. In addition, youwill need

to have solid computer skills with the ability to

learn, use and where necessary, implement new

software.

The successful applicantmusthave:

• Strong communication skills

• Solid levelofcomputerand numeracyskills

• Selfmotivation and be ateam player

• Agood standard of fitness and presentation

• A commitment to Health and Safety,

including being Covid-19 vaccinated due to

working closely in asmall group.

Ideally we arelookingfor apracticalperson with

computer literacy to enable operation of our

modern technology and infrastructure.

A competitive salary package, laptop, mobile

phone and work vehicle, along with training

are available for the successful candidate, so if

you are ateam player with initiative and enjoy

avaried work environment this role is perfect

for you. Accommodation may be available.

Aposition description is available on request.

Please apply with CV and coverletter to Melanie

Brooks, info@mhvwater.nz.

Applications close Monday8November 2021.

MHV WaterLtd,326 BurnettSt, Ashburton

03 307 8389 www.mhvwater.nz

TRADE &SERVICES

CARR'S Chimney Cleaning,

servicing Ashburton and

surrounding districts, $60

per chimney. Phone

Rodney on 03 324 2999

and leave amessage.

CHARLIES Blind Cleaning

Service -same day service

and repairs. Charlie can

supply new blinds and

tracks and will hang

drapes. Ph 03 307 1936 or

020 4169 0342

ALTERATIONS; Sewing,

mending and trouser hemming,

curtain alterations

and curtain making. Call

Michelle on 027 352 7248.

CONCRETE Services -

Driveways, paths, patios,

mowing edging. Decorative

Concrete Specialist operating

locally with 30 years

experience. No job too big

or small. Contactless service

offered. Phone Paul

021 152 1966.

DRIVEWAYS, Patios and

Paths, Plain Concrete, Coloured

Concrete or Exposed

Agregate

Paveco, 13 Robinson

Street. 100% local. Phone

307 6466 for aquote.

ENGINEERING repairs, fabrication,

farm equipment

service and maintenance,

WOF repairs, machining

and welding. Odd jobs a

speciality. Mobile workshop.

Can collect. Phone

Malcolm 0274 754 241.

TRADE &SERVICES

FIRE Extinquisher sales and

servicing. On farm/

contractors - trucks/tractors/balers/combines/cars/

boats/caravans etc. Phone

Mack at Doors and More on

027 396 0361

FLY control and spider

proofing. For all your

domestic and industrial

pest control needs phone

AJ Kerr at Ashburton Pest

Control on 03 308 8147 or

027 432 5447

FURNITURE Removals. For

all your household removal

needs - urban, rural lifestyle,

office relocations -

call Nudges Furniture

Removals, phone 027 224

0609.

GARDENING, mowing,

pruning, fertilising, projects

or general spruce ups? Call

Andrew at Spruce Gardens

to get the job done right.

027 765 2899 or 03 307

1693.

sprucegardens@xtra.co.nz

LAWN Mowing. No job too

small. Call Les Smith, From

The Ground Up, for acompetitive

quote. Ph 027 840

0201 or 03 308 1500.

LOCKSMITH/Door repairs.

Concrete. Keys/locks, sliding and bifold

door roller repairs.

Mobile service. Call Nigel at

Doors and More. Ph 027

516 7104

PAINTER for all your painting

needs. No job too small,

inside or outside. Professional

friendly service.

Phone Pete 03 308 1672 or

027 200 1619.

CLASSIFIEDS

Ashburton Courier, October 28, 2021

TRADE &SERVICES

NETTLETON Decorators,

qualified tradesman, is

available for interior and

exterior painting, plus plastering,

stopping, skimming

and wallpapering. Phone

James on 0274 865 283.

FACTORY SPRAY LACQUER

A NEW LOOK

that lasts!

Existing kitchens, doors,

furniture &appliances

The Finishing Company

03 307 8870 2416183

ashburtoncranes2015@gmail.com

HEALTH &BEAUTY

Expert and painless hair

removal using the latest

laser technology

Facial rejuvenation

and body contouring

with Ulfit

37

URGENT CARE CLINIC

WEEKEND DUTYDOCTORS

IN THE EVENT OF AN EMERGENCYPHONE 111

Forall othermedicalassistance outside of normal

hoursplease phone your generalpracticeteam,24/7,

to speak withahealth professional whowill giveyou

free health advice on what to do or wheretogoifyou

need urgentcare.

If youdon't have aregular generalpractice, call any

GP team 24/7 forfreetelephone health advice.

All non-residents and visa holders please bring your

passporttoyour surgeryappointment.

New Zealanders'tobringsome form of ID.

TheAshburton Duty Practice for...

Saturday6th November is

ThreeRivers Health, 7-11 Allens Road,Ashburton.

Consultations will be by appointmentonly.

To make an appointmentcall your regular GP 24/7.

Sunday7th November is

ThreeRivers Health, 7-11 Allens Road,Ashburton.

Consultations will be by appointmentonly.

To make an appointmentcall your regular GP 24/7.

Methven and Rakaia: Formedical attention on the

weekend and public holidays please telephone

MethvenMedical Centre on 03 302 8105

or Rakaia Medical Centre on 03 303 5002.

Details foraccessing the afterhoursservices will be

on the answer phone.

PHARMACIES

Wises Pharmacy,CountdownComplex,

East Street will be open on ...

Saturday from 9.00am until 1.00pm

Sunday from 10.00am until 1.00pm

At Geraldine: TheGeraldine Pharmacywill be open

normal trading hours during the week,and on

Saturdaymorning from 9.30am to 12.30pm.

Closed Sundays and Public Holidays

Forfree24hour Telephone Health Advice

Phone the healthline on 0800 611 116

Brought

toyouby

TRADE &SERVICES

SPIDER and fly treatment.

Inside or out. Moss, mould

or lichen treatment. For

either service, call Allan at

AA Performance Services

on 027 209 5026

SUN Control Window Tinting:

Privacy, UV, glare, heat

control for homes, offices

and cars. Phone Craig

Rogers 307 6347, www.

windowtinter.co.nz, member

of Master Tinters NZ.

TINT-A-WINDOW, fade, UV

block, glare, heat control,

safety, security, privacy,

frosting films, solar protective

window films. Free

quotes, 20 years local service.

Phone 0800 368 468

now, Bill Breukelaar, www.

tintawindow.co.nz

HEALTH &BEAUTY

LASER HAIRREMOVAL AND REJUVENATION

0270

550 8088 www.lightroom.co.nz

TheConsortium,

Unit 2, TheMall, Methven

CountdownComplex, East Street, Ashburton

Phone: 03 308 6733 Fax: 03 308 6755

2413265

2429852
---
CLASSIFIEDS

38 Ashburton Courier, October 28, 2021

www.ashburtoncourier.co.nz

MEETINGS

MEETINGS

PUBLIC NOTICE PUBLIC NOTICE PUBLIC NOTICE PUBLIC NOTICE

PUBLIC NOTICE

ASHBURTON SOCIETY OF ARTSINC.

TheAnnualGeneral Meeting of the Society

will be held in the ShortStreet Studio

on Monday, 8November 2021 at 7pm

Come along and view ArtWorks from our

Heritage Collection and hear moreabout

the artists

All Welcome –Supperprovided

AGM

AshburtonCeltic Rugby

Football Club

Tuesday16thNov 2021

8pmatthe

Celtic Clubrooms.

Allmembers and

intendingmembers

welcome

ASHBURTON

SOCIETY OF ARTS

2430508

MAYFIELD Scout Group,

AGM will be held on Wednesday,

17 November

2021, at 7.30pm, Mayfield

Scout Den. All families welcome,

we need your support!

BUSINESS FOR SALE

Clearwater

Aquatic Club

AGM

To be held at

Drummond &

Etheridge

832 East Street,

Ashburton

at 7pm on

Wednesday

November 10, 2021

All welcome

Sponsored by

HOME SERVICES

2428580

2430809

Garage Doors.

2430361

BUSINESS FOR SALE

Do youwanttocontrol your ownfuture?

My well established lawn and

garden business is forsale.

Genuine enquiries to 027 206 0503

FOR LEASE

RENT ME!

Ideal as an extra

bedroomoroffice.

Fully insulatedand

double glazed forwarmth.

Threeconvenientsizes:

Standard3.6m x2.4m,

Large 4.2m x2.4m

Xtra-large 4.8m x2.4m.

Visit our displaycabin

418WestStreet or callfor a

freebrochure.

www.justcabins.co.nz

2422687

0800 58 78 22

STORAGE: Secure self storage

units available, long or

short term. Ashburton Storage

Facilities. Contact us

on 0274 362 636 or www.

ashburtonstoragefacilities.

co.nz

FOR LEASE

2430589

AWESOME OFFICE space

for lease, rent or hire. Park

like setting. Indoor and outdoor

areas. North West

town boundary. Must view.

Phone 0274 754 241

STORAGE available, Ashburton.

Self storage, variety

of sizes. Phone Rainbow

Storage 03 307 0401 or

phone/text 021 554 570

WANTED TO RENT

URGENTLY needed -looking

for 3-4 bedrooms. Town

or country by retired farming

couple. Love gardens

and outside upkeep. Phone

027 387 7717.

WORKSPACE wanted. Suitable

for hobby woodworking

in weekends and

evenings, storage space

also required. Phone

Daniel 022 406 6075.

ROOF COATINGS: All roof

types, specializing in

Decramastic and Long Run

Iron, Coloursteel etc, steep

roofs not a problem. —

Spraymaster 027-433-7780.

Peter Blacklow

Call in atalk to the people who know ...

PETE'S

PICK

Full range of engineering supplies and accessories forall your repairs

&maintenance. Kerrick hot &cold waterblasters &industrial vacuumcleaners.

Esseti welders &accessories. Stockists and distributors of Trailer Equipment.

Locally owned &operated family business for 68 years

ASHBURTON

South Street, Ashburton PHONE (03) 308-3147

Email office@blacklows.co.nz FREEPHONE 0800 452 522

TERTIARY SCHOLARSHIP

The Ashburton Plains Rotary Club is

currently awarding $1000 Tertiary Education

Scholarships for students

in the Mid Canterbury area.

You must be under 25and be completing your

second year oftertiary education in 2022.

For further information and to apply, goto

www.plainsrotary.org.nz/tertiary-scholarship

EDUCATIONAL

EDUCATIONAL

L2D Driver Training

CAR–

Allstages. Beginner to full.

Block booking discount

MOTORCYCLE – Take your skills to the next level.

Individual lessons on anytopic,

including cornering,townriding,

braking and slowriding.

GARAGE SALES

RAKAIA Community Garage

Sales, Saturday 30 October.

Head along to: 63

Tancred St, 121 Elizabeth

Ave, 26 Michael St, 85

Bowen St, 95 Elizabeth

Ave, 15a Robinson St, 92

West Town Belt, 29 Elizabeth

Ave. From 9am.

SATURDAY 30th October.

9am -12pm. 10A Smithfield

Road, Ashburton.

Dave Campion

027 543 7632

2420806

2430810

2427967

WANTED Land Rover

Defender. Anything considered.

Phone 021 956 102

PETS

WANTED small dog, aged

two years plus. To be a

companion for a retired

lady. Phone 027 892 5987

POWERBUILT

219 PIECE TOOL CHEST

Everything youneed to get

started! Comprehensive&

professional set. CCT007F

$1277.40+GST

-Alarm Response and Patrols

-Alarm Monitoring

-Alarm and CCTV Installation

-Alarm and CCTV Servicing

BE INTO

WIN A

JET SKI!

E- info@talbotsecurity.co.nz 519 East Street,Ashburton

P-(03) 307 2409 Anytime 24/7

-Data and Networking

- Fire Extinguishers

- Key Cutting

- Locksmithing

Ashburton'sonly100%locally owned and operatedsecuritycompany

2404590

Dr Christopher McGrath

PhD(Otago), MSc, DO(UK)

Expert

musculoskeletal care for your pain

Consulting Osteopath, Ashburton

Appointments/contactthrough web site

021 0222 6378

www.countrypractice.nz

COLLECTING NOW

Good qualitysecondhand furniture,

household,garden and workshop items.

No TVsorcomputers please.

2427594

Phone John 307 6229, Dave 307 4349, Clarrie 308 9629

AshburtonPakeke Lions Club Charitable Trust

Serving our Community-Helping LocalCharities

CharityMarketGarage Sale January2022

THE JACKSON'SBISTRO

Thursdayand Saturday5.30pm -8pm

Wednesdaylunch from 12pm

OpenTuesdaytoSunday

ThursdayHappyHour

4.30pm -6pm

Membership Draw &Raffles

LintonLounge available to hirefor

Christmas and privatefunctions.

Ourclub andbistro operates responsibly

under the Covid Level2restrictions

Courtesy vanruns every

Thursday, Friday&Saturdayfrom4pm.

Join the RSA (the friendly Club)

12-14 Cox Street, Ashburton. Phone 308 7175

Members, guests and affiliates all welcome

2427201

2386391

Thurs 28th

10.00 Juniper

10.00 Rons Gone Wrong

11.50 Antlers

12.10 TheLast Duel

1.45 Halloween Kills

3.00 No Time to Die

3.50 Rons Gone Wrong

8.00 Halloween Kills

8.00 Antlers

Fri29th

10.00 TheLast Duel

10.00 No Time to Die

12.40 Juniper

1.00 Queen Bees

2.20 Halloween Kills

2.50 Juniper

4.20 Rons Gone Wrong

4.40 TheLast Duel

6.30 Halloween Kills

7.30 No Time to Die

8.30 Antlers

Sat30th &Sun 31st

10.00 Rons Gone Wrong

10.00 PawPatrolthe Movie

11.40 Juniper

12.00 TheBoss Baby2

1.20 Antlers

2.00 Rons Gone Wrong

3.10 Juniper

4.10 Halloween Kills

4.50 TheLast Duel

6.10 Antlers

7.30 No Time to Die

8.10 Halloween Kills

Mon1st,Tues 2nd

&Wed 3rd

11.00 Rons Gone Wrong

11.00 Juniper

12.40 TheLast Duel

1.00 Antlers

2.45 Halloween Kills

3.15 No Time to Die

4.40 Rons Gone Wrong

6.05 Juniper

6.40 Halloween Kills

7.45 No Time to Die

8.30 Antlers

NO COMPS

Halloween Kills,Juniper,

TheLast Duel,

Rons Gone Wrong

M

PG

R16

R16

R16

M

PG

R16

R16

R16

M

M

M

R16

M

PG

R16

R16

M

R16

PG

G

M

PG

R16

PG

M

R16

R16

R16

M

R16

PG

M

R16

R16

R16

M

PG

M

R16

M

R16

HOSPICE Mid-Canterbury -

Here when you need us. If

you or someone you care

about has a life limiting

illness, phone 307 8387 or

027 227 8387

Mr Kool icecreams is

available forbirthday

and Christmas parties,

school fairs,corporate

and social events.

Will also be carrying out

street sales,solisten

out forthe bells!

Pleasetextmeon

0210 467 467.

2423723

FARMING NOTICES

★★★

LAND AVAILABLE IN

ALLENTON Bareland for your

project.

Horticulture,

Gardening, Machinery, Pets,

Building, Park stuff. NOT FOR

LIVING. Parcels size from 1/2

acre ($49/week) to a few

hectares. Power and water is

available at cost. Txt (021) 856025

TRAVEL

WHITE Herons, November.

Whale Watch, December.

DBB Hotels. Special Offer;

Air Safaris Grande Traverse,

Southern Alps,

November. Booking now.

John and Kathleen Lawler,

Rakaia 03 302 7328
---
ASHBURTON

Out now ...

New Season Camping Flyer

Getready!

Summer's

coming!

SERIOUS

STOCK

SHORTAGES

Don't miss

out for

Christmas

PRE-ORDER NOW!

Phone 03 308 5117 l 393 West St,Ashburton

2413587
---
QUALITY USED VEHICLES

WARRANTIES AA APPRAISED FINANCE BIGGEST YARD BEST SELECTION TRADE-INS

2012 TOYOTA AQUA,1500cc, hybrid,auto, cam chain, ABS, 76,000 kms.............. $11,995

2013 TOYOTA SPADE, 1500cc, ABS, air con, cam chain, 53,100 kms....................... $10,995

2013 TOYOTA AQUA S,1500cc, auto, 2wheel drive, ABS, reverse camera,

106,173kms...............................................................................................................................SOLD

2008 TOYOTA MARK X, 2400cc, 7seater, ABS, air con, S/W,89,000kms....................$9,995

2013 TOYOTA RACTIS,1500cc, hatchback,ABS, air con, cam chain, 67,000 kms$11,995

2013 TOYOTA COROLLAAXIO, 1500cc, hybrid,reverse camera, cam chain,

52,000kms............................................................................................................................ $12,995

2010 TOYOTA PRIUS, 1800cc, auto, ABS, keyless entry, 10,995kms.......................... $10,995

2013 TOYOTA

COROLLAAXIO

• 1500cc, alternative

• Hybrid

• Auto

• Faceliftmodel

• 52,000kms

$12,995

6 stars

2008 HONDAFIT RS, 1500cc, auto, hatchback,alloys,53,000kms............................. $10,995

2007 HONDAINSPIRE, 3500cc, auto, cruise control, ABS, 56,000kms ....................... $10,995

2008 HONDA

INSPIRE 35TL

• 3500cc, petrol

• ABS

• Air con

• Cruisecontrol

• 56,000kms

2013 NISSAN SYLPHY, 1800cc, petrol sedan, cam chain, ABS, 18,984kms...........$11,995

2013 NISSAN SYLPHY, 1800cc, 4doorsedan, auto, ABS, aircon, 48,000kms......$10,995

2012 NISSAN BLUEBIRD –1800cc, AA appraised,ABS,cam chain,

43,000 kms........................................................................................................................ $10,995

2015 NISSAN NOTE XDIG-S, 1200cc, auto, ABS, air con, 58,000kms..................... $11,995

2012 NISSAN NOTE, 1200cc, hatchback,ABS,cam chain, 69,000kms .................. $10,995

2006 NISSAN SYLPHY, 79,000kms............................................................................................SOLD

2010 MAZDAPREMACY, 2000cc, 7seats,auto, timing chain, 126,000kms............$9,995

2013 MAZDADEMIO13-SKYACTIVE,1300cc, air con, ABS,

cam chain, 96,600 kms.........................................................................................................SOLD

2009 MAZDAAXELA SPORT20S,2000cc, auto, ABS, body kit, 81,000kms......... $12,995

2007 MAZDACX7, 2300cc, SUV,tiptronic,reverse camera, ABS, 67,000kms....... $12,995

2010 MAZDAAXELA, 2000cc, ABS, cam chain, AA Appraised,69,000kms........... $11,995

2004 MAZDAAXELA, 5doorauto..........................................................................................$5,495

2012 SUBARU LEGACY,2500cc,auto, cruise control, ABS, 96,000kms................$11,995

2013 SUBARUOUTBACK, 2500cc, 4X4, cruise control, reverse camera,

91,000km............................................................................................................................$13,995

$10,995

2012 NISSAN

NOTE MEDALIST

• 1200cc, petrol

• ABS

• Cam chain

• Reverse

camera

• 69,631kms

$10,995

2004 MAZDA

AXELA20E

• 2000ccpetrol

• ABS

• Air con

• Rearspoiler

• Highkms

$5,495

2012 SUBARU

LEGACY2.5i

• 2500ccpetrol

• Auto

• Cruisecontrol

• Cam chain

• 96,000kms

3 stars

5½ stars

$11,995

2001 MITSUBISHIDION, 1500cc, hatchback,auto, ABS, air con..............................$4,995

3081396

AUTOSLTD

&RENTALS

470 West Street, Ashburton

A/H Keith Drummond 0274 367 646

www.atob.co.nz

ENQUIRE NOW

-about our range of rental vehicles

Family,Sports, School or Social Trips

We have 8, 10 &12seaterminivans available.Cars and 3trucks forsmall or big

loads also available.

2425155