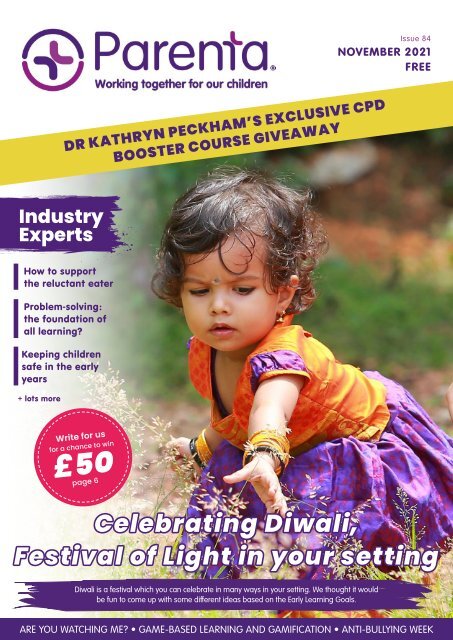 November 2021 Parenta Magazine
You also want an ePaper? Increase the reach of your titles
YUMPU automatically turns print PDFs into web optimized ePapers that Google loves.
Issue 84

NOVEMBER 2021

FREE

DR KATHRYN PECKHAM'S EXCLUSIVE CPD

BOOSTER COURSE GIVEAWAY

Industry

Experts

How to support

the reluctant eater

Problem-solving:

the foundation of

all learning?

Keeping children

safe in the early

years

+ lots more

Write for us

for a chance to win

£50

page 6

Celebrating Diwali,

Festival of Light in your setting

Diwali is a festival which you can celebrate in many ways in your setting. We thought it would

be fun to come up with some different ideas based on the Early Learning Goals.

ARE YOU WATCHING ME? • GAME-BASED LEARNING AND GAMIFICATION • ANTI-BULLYING WEEK
---
World Toilet Day

hello

welcome to our family

14

World Toilet Day is a United

Nation's awareness day

which seeks to raise

awareness across the globe

of this issue and to find

some strategies, funds and a

groundswell of support.

Hello and welcome to the November edition of the Parenta magazine!

The month of November may bring darker evenings, but it also brings wonderful light. From 2nd to 6th November,

over a million Hindus in the UK will celebrate Diwali - a bright, colourful festival celebrating the triumph of the light

over the darkness, and knowledge over ignorance. We take a look at how it can be celebrated in your setting

throughout the whole month, using the Early Learning Goals, and have a beautiful rangoli suncatcher for the children

to make too!

Don't miss Dr Kathryn Peckham's CPD booster course giveaway this month. Turn to page 26 to read her article about how important the

Department for Education's 'five standards for teachers' are - plus details on how you can enter this exclusive competition – good luck!

As always, we have such a fantastic selection of advice in the magazine from so many industry experts on topics that really resonate:

Katharine Tate helps us with something that we have all experienced at one time or another, in her article 'How to support the reluctant

eater' and treats us to her blueberry power punch smoothie recipe, and Joanna Grace gives us an insight into her world with her 'little

egg' – not to mention the benefit of her wealth of experience in working with people with profound disabilities and sensory differences.

Yvonne Sinclair recaps on her advice given at our last webinar and helps us with 'Keeping children safe in early years provision', Katie

White takes a closer look at anxiety, and asks 'Are you taking well-being too seriously?', Frances Turnbull uses her years of experience in

music for 'Building successful literacy skills' and Gina Bale gives some welcome advice for those practitioners who struggle with role play

in her article 'Are you watching me?' (PS. don't forget to watch the video too!)

All the advice, guidance, crafts and recipes you read in our magazine are written to help you with the efficient running of your setting and

to promote the health, happiness and well-being of the children in your care. We hope you love reading it as much as we enjoy making it!

Please feel free to share the magazine with friends, parents and colleagues – they can sign up to receive their own copy here!

Please continue to stay safe, everyone.

Allan

Road Safety

Week

20

Road Safety Week is the

UK's biggest road safety

campaign and each year

millions of us heed the call

and try to raise awareness

about the issues.

Keeping children safe

in early years

Safeguarding is not just about

protecting children from deliberate

harm and neglect.

22

NOVEMBER JUNE 20202021 ISSUE ISSUE 67 84

IN IN THIS EDITION EDITION

Regulars

6 Write for us for the chance to win £50!

6 Guest author winner announced

10 Blueberry power punch smoothie

11 Diwali rangoli suncatcher

News

4 Childcare news and views

5 Congratulations to our Parenta

learners!

Advice

14 World Toilet Day

20 Road Safety Week

24 Game-based learning and

gamification

34 Celebrating Diwali, Festival of Lights in

your setting

36 Anti-Bullying Week

Industry Experts

8 How to support the reluctant eater

12 Problem-solving: the foundation of all

learning?

16 Are you watching me?

18 Egg-cellent advice: Hand over hand

work

22 Keeping children safe in early years

provision

26 What should I look for when choosing

CPD courses that are worth investing

time and money in?

30 Are you taking well-being too seriously?

32 Building successful literacy skills in the

early years through music

38 How to help children to deal with big

emotions

What should I look for when choosing CPD courses

that are worth investing time and money in? 26

Are you taking well-being too seriously? 30

Building successful literacy skills in the early years

through music 32

Anti-Bullying Week 36
---
Childcare

news & views

Congratulations

to all our Parenta learners!

New report shows increasing

childcare funding rate would

give economic gains

A report by the Centre for Progressive

Policy, "Women in the Labour Market"

has revealed that lack of affordable

and accessible childcare is a barrier to

maternal employment, resulting in billions

in lost earnings.

Congratulations to all these Parenta learners who completed their apprenticeship

in August and September and have now gained their qualifications.

These range from Childcare Level 2, Childcare Level 3 and Team Leading

to Level 3 and Level 5 Management – that's a huge achievement in the

current climate.

All that hard work has paid off – well done from all of us here at Parenta Training!

Its research revealed that almost half (46%)

of mothers had struggled to find suitable

childcare - and concluded the system was

failing because of inadequate government

investment which ultimately led to the

sector struggling to meet demand.

Purnima Tanuku OBE, Chief Executive of

NDNA, and a member of The Women in

the Labour Market Advisory Board for the

Centre for Progressive Policy said: "This

important and detailed report stresses the

economic importance of affordable and

accessible childcare, not just for maternal

employment but for the wider economy.

Research has repeatedly shown the

enormous benefits to children of accessing

high quality early education. This study

lays bare that failings in this policy area

are robbing our economy of billions in lost

earnings.

Access to childcare should not be a

barrier to work and yet almost half our

working mothers struggle to find suitable

childcare. We support recommendations

in the report to increase the funding rate

for childcare places and expanding the

capacity for provision. This Spending

Review period represents a chance for the

Government to get this right for parents

and providers."

Read the full story on the Parenta website

here.

Sector returns to pre-pandemic

employment levels

A report by the Office for National Statistics

(ONS) released on 12 October shows the

numbers of employees in early years

returning to pre-pandemic levels, with

unemployment down and vacancies

growing. Its key points were:

• Number of payroll employees

returned to pre-pandemic levels of

29.2 million in September 2021

• Unemployment has decreased by 0.4

percentage points to 4.5%

• The number of job vacancies in July to

September 2021 was a record high of

1.1 million – this is 318,000 higher than

pre-pandemic levels

• Growth in average total pay was

7.2% - but this is compared to last

year when many more people were

furloughed and so on much lower

incomes

• The ONS has calculated - factoring in

the impact of furlough and depressed

earnings during COVID – that the uplift

in wages is between 3.2% and 4.4%

Read the full story on the Parenta website

here.

Petitions Committee calls for

independent review of childcare

funding

The Petitions Committee has asked for

an independent review to be carried out

into childcare funding and affordability,

as part of its review into support for new

parents and families 18 months after its

initial investigation into the impact of the

coronavirus pandemic.

As part of the report, the Committee

surveyed 8,700 parents about their

experiences, with 93% unable to access

baby and toddler groups in the last 12

months and three-quarters unable to find

affordable childcare. The Committee also

heard evidence from organisations, about

the continued impact of the pandemic on

the early years sector.

In its recommendations, the report calls on

the government to publish a new recovery

strategy for new parents and report on its

progress next summer. It says: "While not

a silver bullet, we hope this will go some

way to ensuring these issues receive the

profile and priority they deserve, but which

they have not received to date."

Read the full story on the Parenta website

here.

Did you know?... Parenta has trained over 20,000 apprentices within the early years sector!

Our Level 3 success rate overall is almost 10% higher than the national average.

That's down to great work from you, our lovely Parenta learners!

If you have a learner with us who has recently completed their apprenticeship, please send in

a picture to hello@parenta.com to be included in the magazine.

August and September's wall of fame!

B. Parsa

D. Zaviera

J. Mortin

L. Cridland

M. Bowden

M.Hau

N. Weheliye

R. Thorne

S. Smith

S. Akehurst

S. Pocock

4 November 2021 | parenta.com

parenta.com | November 2021 5
---
Write for us!

Support Parenta Trust

When you shop at smile.amazon.co.uk,

Amazon donates

Dr Kathryn Peckham's

exclusive CPD booster

course giveaway

We're always on the lookout

for new authors to contribute

insightful articles for our

monthly magazine.

If you've got a topic you'd like to write about, why

not send an article to us and be in with a chance of

winning? Each month, we'll be giving away Amazon

vouchers to our "Guest Author of the Month". You

can find all the details here:

https://www.parenta.com/sponsored-content/

AmazonSmile is a website operated by Amazon

with the same products, prices, and shopping

features as Amazon.com.

The difference is that when you shop on

AmazonSmile and select Parenta Trust as your

chosen charity, the AmazonSmile Foundation will

donate 0.5% of the purchase price of what you've

bought to Parenta Trust.

Click here!

Visit www.parentatrust.com for more information

To be in with a chance

of winning a CPD Booster

of your choice visit Kathryn's

website www.nurturing

childhoods.co.uk and click

here to enter the competition.

Don't miss out - the

competition will end on

Friday 26th November!

Congratulations

Youngest Chef

Award

to our guest author competition winner, Sonia Mainstone-Cotton!

Congratulations to Sonia Mainstone-Cotton our

guest author of the month! Her article "Supporting

children with social, emotional and mental health

needs" was packed full of important information

about signs to look out for and what we can do to

help children with SEMH needs. Well done Sonia!

Sign up and receive:

Videos and Lesson Plans

Stickers

Posters

Books

Medals

A massive thank you to all of our guest authors for

writing for us. You can find all of the past articles

from our guest authors on our website:

www.parenta.com/parentablog/guest-authors

A fun, practical, purposeful and engaging award that ensures curriculum

coverage and basic life skills to support long-term health and wellbeing for

children aged 3+. The award is a 'Mini Muncher Challenge', which includes

5 exciting stand-alone lessons and additional resources/activities.

Find out more at: youngchefoftheyear.com

info@thefoodteacher.co.uk 01582 620178

6 November 2021 | parenta.com

Winner need updating

parenta.com | November 2021 7
---
How to support the

reluctant eater

Many children experience a level of reluctance around certain

foods at some point in their development. The transition to solid

foods is not always straightforward and new colours, textures and

tastes can challenge familiarity. This uncertainty can also provide

an opportunity for toddlers and children to assert a level of

independence. This can often be accompanied by inconsistencies

around what children will eat and where, so by understanding

more about why a child may be a reluctant eater, and having

strategies to improve mealtimes, parents and childcare

professionals can be better equipped to support this transition.

Reluctant eating can be based around

both an uneasiness to try new and

unfamiliar foods and rejection of foods

that have previously been accepted and

eaten. The reason behind these is a

basic fear response, which is a normal

stage of a child's development. This

typically peaks around 2-3 years of age,

but for some, the behaviour can become

deep rooted. This initial fear around

food, known as neophobia, is believed

to be an evolutionary-rooted response.

It served as a protective mechanism to

ensure as hunters and gatherers, we

didn't eat something poisonous which

would make us sick. Our ancestors

developed their diet around safe colours,

smells and textures and as some foods,

specifically vegetables, have a naturally

bitter taste, acceptance of these foods

was challenged. This natural uncertainty is

evident in modern children as they develop

and expand their food palette.

By understanding that this reluctance is

based around a fear of the unfamiliar,

it can be better understood as an

expression of an innate trait all humans

share. A basic approach to reducing this

level of fear is to make the unfamiliar feel

a lot more familiar. Research has shown

that repeatedly offering a child a new

food increases their readiness to touch,

taste, eat and eventually like the food.

Persistence is certainly key with this stage

of development. If this reluctance is not

addressed, children can grow up with a

hugely restrictive diet that can reduce their

exposure to essential nutrients. Use the

top tips below as strategies to implement

in your setting and share with parents who

are also struggling at home.

Top tips to support the

reluctant eater:

• Relax

Remain positive and don't expect or

pressurise a child to eat as this can lead

to further problems. If a child will try a

small amount, praise and accept that as

progress.

• Exposure

To reduce the fear response you will need

to plan at least 15-20 exposures before

a child will willingly eat a particular food

and you may need to track progress from

happy to have on their plate, to touching,

tasting and eating and acknowledge small

steps.

• Playtime

Look for other opportunities to increase

exposure. Within childcare settings you

can also read stories about foods, sing

songs, visit a supermarket to look at the

fruit and vegetables, plant some seeds

and get children in the kitchen cutting and

preparing their own food.

• Be realistic

Consider portion size when encouraging

children to eat new foods. 2-3 strawberries

may be an ample portion size for a 2-3

year old.

• Home

Communicate with parents. If a child will

eat within your setting but is reluctant with

the same foods at home, talk to the parents

about your approach, how you serve it and

even share the recipe.

• Health

Use storytime, discussions and mealtimes

as an opportunity to talk about food as our

fuel to keep us growing to help children to

begin to establish a link.

• Support

If a child continues to be reluctant and has

developed a hugely restrictive diet, then

seeking additional support can sometimes

be necessary. This can be accessed

through a child's GP.

As with any developmental stage, it's

important to develop an approach and

remain consistent and if parents and

childcare professionals communicate

effectively, a child's fear response around

food can be reduced and they can widen

their food choices with minimal upheaval.

Perhaps try my delicious smoothie recipe in

your setting. It's packed full of nutrition and

bursting with colour and flavour.

For more food fun in your setting, sign up to

the Youngest Chef Award. This award is for

Early Years Foundation Stage pupils (ages

3-5) and is written by teachers for early

years practitioners/teachers. It is designed

around the popular children's book "The

Very Hungry Caterpillar" by Eric Carle

and has been developed and launched

by The Food Teacher. The award is a

'Mini Muncher Challenge', which can be

delivered across 5 sessions (every day over

a single week or once a week over a 5

week period) with 50 minutes of planned

teaching time each session. Find out more

at; https://youngest.youngchefoftheyear.

com/

Katharine Tate

The Food Teacher Founder and

Director, Katharine Tate, has worked

as a teacher and education consultant

internationally in primary and secondary

schools for over 20 years. Qualified as

an award-winning registered nutritional

therapist, Katharine, combines her unique

education and nutrition expertise to

offer schools, organisations and families

advice, education programmes, practical

workshops, and individual/family clinical

consultations. She has written and

published several books: "Heat-Free &

Healthy", the award-winning

"No Kitchen Cookery for Primary Schools"

a series of mini-books and has also

co-authored the award-winning "Now

We're Cooking!" Delivering the National

Curriculum through Food. She has also

launched a programme of Young Chef

awards for schools, which support delivery

of the curriculum and nutrition. In

2019, over 4,000 children completed the

awards across the UK.

LinkedIn | Twitter | Instagram

8 November 2021 | parenta.com

parenta.com | November 2021 9
---
Blueberry power

punch smoothie

By The Food Teacher

Diwali rangoli

suncatcher

Source and image credit: Maggy Woodley - Red Ted Art

A simple and delicious smoothie, packed full of spinach which is high in folate. This can be beneficial

for memory and concentration alongside the flavonoids in the blueberries, which may help to cleanse

the body, keeping the brain active and healthy.

Ingredients:

• Small handful of spinach

• 2 handfuls of frozen/fresh blueberries

What you will need:

• Black craft paper

• Coloured tissue paper (the more colours the better)

• Glue stick

• Pencil

• Scissors

• ½ banana

• ¼ avocado

• Cup of oat milk/coconut water

• Handful of ice cubes/water

depending on thickness

Method:

1. Put the ingredients into a blender/

Nutribullet and blend until smooth

and creamy

2. Pour into a glass

Method:

1. Cut out a large circular shape from the black craft paper -

the larger the circle, the bigger the suncatcher.

2. Fold the circle in half. Once folded, fold in half again. Repeat

this one more time so in total, you have folded the circle in

half three times.

3. Use a pencil to draw patterns on the black folded card, use

any shape you like! This is a great way for the children to

explore the different shapes.

4. Once you have finished drawing out the pattern, cut the

shapes out using your scissors.

5. Once you have cut out your pattern, open up your rangoli

suncatcher.

6. Use the glue stick to attach small square sections of

coloured tissue paper to the shapes on the rangoli.

7. Once you have filled the cut-out patterns with the tissue

paper you are done! You can then hang your rangolis to

make a lovely rangoli display to celebrate Diwali.

10 November 2021 | parenta.com

parenta.com | November 2021 11
---
Problem-solving : the

2. Highly appealing

collaborative projects

foundation of all learning?

Collaborative projects encourage possibility

thinking, making plans and solution

strategies.

From birth, children are wired to problem-solve. At every stage of their development we observe

them trying to find a way to solve a problem, whether it is by crossing the room or going down a slide,

building a tower out of bricks or building a friendship.

Problem-solving is as much a part of life as

breathing, and it is our job as practitioners

to a) co-regulate children so that they feel

ready to explore and problem-solve and b)

to encourage children to ever deeper levels

of possibility thinking and problem-solving.

Encouragement and support build up the

problem-solving part of the brain. Anxiety,

stress and fear will shut it down.

Problems can come thick and fast in life.

Recently I watched "Clarkson's Farm,"

where Jeremy Clarkson wanted to put up

owl boxes using telegraph poles. It was

not a success! The first pole smashed

down onto a nearby fence and crushed it.

Undaunted, Jeremy worked out a way to

make it happen. He found a man whose

job it was to put up telegraph poles. Up

went several owl boxes within the space of

a couple of hours. Problem solved!

It is imperative that we encourage children

to see challenges through a positive lens.

Everything changes for the child when they

identify a challenge, create a solution and

execute the plan successfully. It opens up

a world full of possibility and promise.

Existing knowledge in

'working theories'

When children come to pre-school, they

already have a profound knowledge

(working theories) of their world. Such

knowledge is accumulated as children

play, socialise, and gather information

about their world. It is only when we

fully understand children's current

understanding that we can offer them

activities that match/challenge that

understanding. Children experience

frustration when adults are insensitive to

their existing knowledge. Too often we

offer generic, broad activities that children

overlook because they already 'know' it!

Their expertise is not being acknowledged,

and crucial problem-solving potential is

being lost. Our planning and provision

must match each child's prior knowledge.

The problem-solving

environment

As children are wired for problem-solving,

then the environment we provide must

have plenty of problems to solve! A

problem-solving environment encourages

children to guess, speculate, consider,

go down 'dead ends', make mistakes

and adjust their thinking. A problemsolving

environment supports thinking,

rationalising, ideas and views. And the

earlier children start to face achievable

challenges, the more confident they get.

The problem-solving

environment needs to

provide:

1. Agency

Take time to sit back and let children work

things out for themselves. Too often we

leap in to help or assist a child facing a

problem. When we wait to see if a child

can solve the problem for themselves, we

give them agency, even during the first

year of life. Maybe they will ask for help

– this is also a solution to a problem. Our

role is to decide how much help we give,

always involving the child in the solution.

We want to build up their agency without

building up frustration - a fine line but an

important one to get right.

Support and extend the children's possibility

thinking and vocabulary. What if we try

this…? We could…? How about…?

Talk about projects and make plans

together, "You want to make a castle out

of these boxes. How can we make it really

big?" "What about windows? Do we want

those?" "What shall we do with the boxes

we don't use?"

Talk about solution strategies together. "We

need another chair to make this train fit four

people. Where shall we put it? "Shall we try

using another paint brush?" "Great idea,

how about putting the bridge here, away

from this table?"

3. Opportunities to

manipulate tools

Tools are clearly significant in developing

physical skills but they are also crucially

important for developing problem-solving

skills. Every time a child manipulates a tool,

'planning of sequential acts that lead to

a goal' are actively encouraged. Planning

and reaching goals are the central part of

problem-solving. And the good news is

that children's errors and successes are

equally valuable. The negative feedback

that children receive when they cannot

achieve a goal (gripping a spoon the wrong

way means that they cannot get the food

in their mouths) spurs them on to be more

efficient the next time. They will find another

solution.

Offer a range of fun, varied, challenging

and open-ended tools, such as

construction, mud kitchen, water/sand tray,

woodwork, garden tools, loose parts with

tools (stones, shells, logs, planks, crates,

tyres, tubes, etc., along with relevant tools,

such as a trowel with stones and shells)

musical instruments, etc.

4. Opportunities to revisit

favourite activities over

and over

Revisiting favourite activities enables

children to become experts! They become

keen to initiate and solve problems as they

become ever more familiar with the activity.

They can test out new ideas and solutions,

widening and deepening their expertise.

Conclusion

Children are wired to be curious and

resourceful. They love to explore, and the

more space and freedom they are given,

supported by powerful interventions from

adults, the more they can plan, consider,

think, and investigate.

Confident problem-solvers are more likely

to approach problems independently,

rather than relying on an adult for the

answers. We need to present challenge

as a welcome part of our everyday life,

rather than a separate compartment

named 'difficult'. When the environment is

inviting, engaging and supportive, we build

powerful problem-solvers for the future.

References

1. Keen R, The Development

of Problem Solving in

Young Children: A

Critical Cognitive

Skill Department of

Psychology, University

of Virginia 2011

2. Arc Pathway

Problem Solving

Strand of Learning

Helen Garnett

Helen Garnett is a mother of 4, and a

committed and experienced early years

consultant. She has a wealth of experience

in teaching, both in the primary and early

years sectors. She co-founded a preschool

in 2005 where she developed a

keen interest in early intervention, leading

her into international work for the early

years sector. Helen cares passionately

about young children and connection.

As a result, she wrote her first book,

"Developing Empathy in the Early Years:

a guide for practitioners" for which she

won the Professional Books category

at the 2018 Nursery World Awards, and

"Building a Resilient Workforce in the Early

Years", published by Early Years Alliance

in June 2019. She also writes articles for

early years magazines, such as Nursery

World, Early Years Teacher Organisation,

QA Education, Teach Early Years, and Early

Years Educator.

Helen is the co-founder and Education

Director at Arc Pathway, an early years

platform for teachers and parents.

Helen can be contacted via LinkedIn.

12 November 2021 | parenta.com

parenta.com | November 2021 13
---
World Toilet Day

And children are often the most at risk.

According to the World Toilet Day website,

at least 2 billion people worldwide use a

drinking water source that is contaminated

with faeces, and over 700 children under

5 die every day from diarrhoea linked to

unsafe water, sanitation and poor hygiene.

In places where there are no toilets, many

girls often do not attend schools whilst

menstruating, meaning that each month,

they miss out on their education, seriously

affecting their future life chances.

What is a sustainable sanitation

system?

Sustainable sanitation starts with having a

toilet in a private, accessible and dignified

setting which effectively captures human

waste. This is usually stored in a tank

which can later be emptied by a collection

service or transported away by pipes,

such as the sewer system. Then comes the

treatment, reuse and safe disposal of the

waste. By doing this, we can not only save

water, but we can reduce greenhouse gas

emissions needed for energy production,

and provide a reliable source of water and

nutrients to agriculture as well. And if you

factor in the jobs within the water treatment

industry too, you get all the economic and

employment benefits that those bring. It all

starts with a toilet!

How to celebrate World Toilet

Day in your setting

Here are some ideas to help you get

involved.

4. Raise some money for a charity related

to water and sanitation such as Toilet

Twinning, Water Aid or The Water

Project – think about having sponsored

events or community sales.

5. Teach the children about the

importance of hand washing and run

a training session on how to wash

hands effectively – you could use music

to help the children remember the

message and a quick YouTube search

reveals a lot of catchy rhymes that will

have you happily singing along all day.

6. Revisit your toilet-training procedures or

train new staff on your nappy changing

practices and protocols.

7. Clean up your own act! Promote a

better understanding in your setting of

what can safely be put down toilets,

and what can't. Many sewers become

unhygienic and blocked because of the

myriad of items that people try to flush

down the toilet every day. This includes

things like sanitary pads and tampons,

face or cleaning wipes, and disposable

nappies! Our sewage system is not

built to deal with these items, let alone

the U-bend(!) and they cause damage

by clogging the systems. The only

things that should be put down toilets

apart from our wee and poo, is toilet

paper. Even kitchen towel and tissues

can clog systems because they are

designed not to disintegrate on contact

with water, and so can cause havoc.

8. Look at your use of disposable

nappies. Whilst they may appear to

be a time-saving resource, think about

the impact that these nappies are

having on the planet. A disposable

nappy can take hundreds of years to

compost completely and dealing with

these items is problematic. An average

child will use 5,000 nappies before

being toilet trained, which is a lot of

non-biodegradable material. Why not

investigate or trial the use of reusable

nappies in your setting during World

Toilet Day?

Whatever you do on World Toilet Day,

remember to send us your stories and

pictures to hello@parenta.com.

For more information, see:

• https://www.worldtoiletday.info/

• https://www.who.int/news/item/01-

07-2021-billions-of-people-will-lackaccess-to-safe-water-sanitation-andhygiene-in-2030-unless-progressquadruples-warn-who-unicef

• https://www.teachearlyyears.com/

under-2s/view/toilet-training

• https://www.telegraph.co.uk/

recommended/kids/best-reusablenappies-tried-tested/

There are some statistics we read that

raise eyebrows, some that cause us to

look twice, and then there are the ones

that shock us into action – or they ought

to! At Parenta, we think that the following

fact is one of those statistics that we

should all sit up and take notice of, and it's

this:

3.6 billion people living on planet

earth in 2021, do not have access to a

safely managed sanitation service –

i.e. a clean and hygienic toilet!

(WHO/UNICEF, 2021)

If you really look and understand, it says

just under half of the world's population

cannot do what comes naturally, in a

secure, private and sanitary place. That

may be all very well if you are living in a

wilderness and need to answer nature's

call occasionally in the bush, but we are

talking about half the people on the earth,

on a daily basis. Instead of having what

we all take for granted, they are living

with open sewers in the streets, fatal

diseases which should be and could be

preventable, and contaminated drinking

water systems. As the organisers of World

Toilet Day say, "Life without a toilet is dirty,

dangerous and undignified." Somewhere,

something has gone very wrong.

World Toilet Day is a United Nation's

awareness day which seeks to raise

awareness across the globe of this issue

and to find some strategies, funds and

a groundswell of support from everyone

from ordinary people to international

consortiums, to change things. The day

is celebrated on 19th November each

year and we all need to sit up and take

notice of it if we are to achieve the UN

Sustainable Development Goal number

6 of clean water and sanitation for all by

2030.

Why are toilets important?

The health of the general public depends

on having toilets and safe sanitation. We

know this from history. When communities

gain access to clean water, proper

sanitation via private and public toilets

and a sustainable waste management

infrastructure, it improves their health,

environment, education, gender equality

and economics. Clean water and hand

washing facilities have been vital during

the pandemic to maintain our health

security and to prevent the spread of

COVID-19. But there are also other deadly

diseases such as cholera and typhoid

which are still affecting millions of people

each year due to lack of proper sanitation.

1. Give your own toilets some

appreciation – decorate them with

'thank you' cards or little hearts to

show you love and appreciate them.

2. Teach the children about the water

cycle and how human waste

is managed in the UK, and the

differences that exist around the world.

3. Raise awareness and show your

support on your social media sites by

using the hashtag #WorldToiletDay and

by using some of the downloadable

pictures, fact swheets and posters

from the official website (available at

https://www.worldtoiletday.info/.) You

can download a fact sheet in several

different languages including Arabic,

Chinese, Hindi, French, Portuguese,

Russian, Swahili and Spanish.

14 November 2021 | parenta.com

parenta.com | November 2021 15
---
Are you watching me?

If you answered YES to any of these

questions, then what are you worrying

about? This is a success, and you are

fabulous!

"Wave your hands in the air like you don't care, glide by the people as they start to look and stare." From

"Word up" by Cameo https://youtu.be/MZjAantupsA

Some strategies to help

Cameo said it like it is. Don't worry about

anyone watching, just glide by, as it's not

about them or you. All you are thinking

about is the children and what they are

asking you to do and be, at that moment

in time.

A couple of weeks ago, I had an

interesting conversation with Cathy (not

her real name), from a nursery in Wales,

and that conversation was the inspiration

for this article. We started to chat about

how new team members develop their

confidence with role-play and makebelieve

and how they initially respond to it

when they see it. Cathy then set the scene

for what had happened a few days before:

Cathy was lying on the floor snoring with

the children wandering around her going

"sshh" to each other.

Then the door opened and one of the new

team members popped their head around

the door to ask if she was OK and what

was happening.

Cathy's response to the question was "I

am being a panther".

That to me summed it up as she was

doing what the children wanted in their

make-believe world of fun and adventure

and the new team member was trying

to understand why she was on the floor.

To me and Cathy, it was the most normal

thing to do, lying on the floor being a

hungry panther snoring and growling

when the children came too close!

This started the conversation of how hard

it can be for some when they first start

working with young children.

When you are new to early years, playing

alongside the children using make-believe,

for the first time, don't think about the

other adults in the room. Honestly, they

aren't judging you or thinking about how

you look, they are worried about what they

need to do or wishing they could join in

and have fun as well!

Just focus on the children and their needs

and then you will be an amazing educator

and role model. Isn't that what it's all

about?

We all had to start

somewhere

Remember that everyone you think is

amazing at being creative and makes

it look so easy and fun, had to start

somewhere. They will have gone through

the same anxieties and insecurities as you.

It is so hard to do something outside your

comfort zone especially when you have

spent your teenage years trying to be an

adult suppressing your inner child.

The only critic is you!

You are your biggest critic, not the children

or any other adult in the room. This all

comes down to your negative 'self-talk'

telling you that you are not good at this or

that.

To help yourself, just focus on what went

well. Ask yourself some questions, when

you are on the ground crawling and rolling

around, with the children, being a very

hungry green turtle:

Are the children smiling and happy?

Are the children engaging in the role-play?

Are the children starting to lead the roleplay?

Imposter syndrome

Some of the most amazing and creative

people still have feelings of inadequacy

and that is known as "imposter syndrome"

definitely worth reading the article

"Overcoming Imposter Syndrome" by Gill

Corkindale in the Harvard Business Review.

Remember this doesn't equate to low selfesteem

or lack of confidence, it can in fact

be linked with perfectionism. I can relate

to this. I have run sessions and while I am

doing them, I feel they are awful, but the

children and team loved them. After the

session, I rack my brain with ways I could

have done it better. I haven't yet found the

solution to my inner narrative but am still

working on it and trying to do better!

No one is perfect

We all get it wrong sometimes but that's

how we learn. I have had some sessions

when I just wanted the ground to open

and swallow me up. We all go through

that at work, especially when working

with children. Remember that the most

successful people in the world make

mistakes and it is their failures that make

them who they are. It's all about getting up

and dusting yourself off to start again.

Making a mistake or getting something

wrong doesn't mean you are a failure as

everyone experiences this. It is about how

you overcome it and continue to learn.

Your take-away

Perfection is overrated. Accept that you

may not be able to achieve what you want

immediately, and it is totally OK. Don't dwell

on things, be proactive, ask for help and

guidance.

Remember you were given your job

because of your unique skills and abilities

– be proud of what you have already

achieved. Remember your worth to the

team and don't compare yourself to others.

If there is one message from this, it's "don't

worry about anyone else, just do it and

have fun" as we all bring something unique

to the setting and if we were all the same, it

would be really boring.

Yes, it can be hard forgetting about the

other adults in the room when your innernarrative

tells you they are judging you. It is

just you being your worst critic! Remember,

those who don't play are, according to

Cameo, trying to "act real cool. But you

got to realise that you're acting like fools.

If there's music we can use it, we need to

dance".

So, what do you say when you get the call

to role-play and dance?

"Ah, word up, everybody say when you

hear the call you got to get it underway".

https://youtu.be/MZjAantupsA

Bibliography

• Word Up! Songwriters: Jenkins Thomas

Michael /Black Lawrence Ernest

• Word Up! lyrics © Universal Music

Publishing Int. B.v., Rueckbank, Edition

Tromo

Gina Bale

Gina's background was originally

ballet, but she has spent the last 27

years teaching movement and dance

in mainstream, early years and SEND

settings as well as dance schools.

Whilst teaching, Gina found the time to

create the 'Hi-5' dance programme to

run alongside the Australian Children's

TV series and the Angelina Ballerina

Dance Academy for Hit Entertainment.

Her proudest achievement to date is her

baby Littlemagictrain. She created this

specifically to help children learn through

make-believe, music and movement.

One of the highlights has been seeing

Littlemagictrain delivered by Butlin's

famous Redcoats with the gorgeous

'Bonnie Bear' on the Skyline stage.

Gina has qualifications of teaching

movement and dance from the Royal

Ballet School, Trinity College and Royal

Academy of Dance.

Use the code 'PARENTA' for a 20%

discount on Littlemagictrain downloads

from 'Special Editions', 'Speech and

Language Activities', 'Games' and

'Certificates'.

• G. Corkindale, "Overcoming imposter

syndrome", Harvard Business Review,

2008, May

16 November 2021 | parenta.com

parenta.com | November 2021 17
---
Egg-cellent advice:

Hand over hand work

I do not know how he came to acquire the nick-name 'Egg' but ever since he came along, that's

what my youngest son has been called. I run The Sensory Projects www.TheSensoryProjects.co.uk

(which should now really be called The Sensory Projects and Sons!) My work focuses on people

with profound disabilities and sensory differences, but my son's advice will apply to your work too.

In this series of articles we are going to share his insights with you, if you are keen for

more, there is an ever growing collection on my Facebook profile: come and make friends.

www.Facebook.com/JoannaGraceTSP

This is article 1 out of a series of 10! The other articles will be released in the following

editions of the Parenta magazine.

When my first son went to nursery he

went to two different settings, one looked

like someone's disorganised living room,

staffed by Grandmas who loved and

adored the children in their care. The other

was top ranked, clinically clean, displays

updated weekly, staff were always avidly

writing notes and observations when you

went in.

Upon picking him up from the pristine

nursery one day, the staff member doing

the hand over with me suddenly realised

that he did not attend on Fridays (he only

did a day, a week at the fancy place) and

rushed to get his picture for me. He'd

worked so hard on it she told me. I watched

as she took it down from the beautifully

presented display. It was a cotton wool

sheep, with stuck on black card legs and

hand drawn eyes. It looked exactly like all

the other cotton wool sheep on that display.

Exactly.

Little Egg

I took it, and she looked a little concerned

that I didn't instantly gush over his work.

Holding it, felt ... eerie... the thought in my

head was "What did you do to my son

to make him do EXACTLY the same as

everyone else". I want my son to learn, to

grow, to be able to express himself. That's

what I expect from a nursery. I don't want

him enrolled in a tiny little factory mass

producing cute items from Pinterest.

Egg and I recreated the experience (just

once, and just briefly). Here's his wisdom:

My hands cannot perform the skills needed

to make these pictures. So my hands were

moved for me. The picture was made hand

over hand.

I did not like it.

I learned the skills I've worked so hard to

earn are not good enough.

I learned the hands "helping" me are better

than my hands.

Instead of being excited by the skills, my

hands have I learnt to be disappointed that

my hands cannot do more.

This happened because someone wanted

me to produce something that looked a

certain way. They valued that product more

than my self-esteem and well-being.

"My mummy only did this once and only to

show you. If she did this to me every day,

I would lose interest in my own hands. I

would stop thinking of them as things I use

and recognise them as other people's tools.

I would become passive, I would feel sad.

Diminished."

(These words first appeared on Jo's

Facebook profile you are welcome to

send her a friend request to watch out

for more insight www.Facebook.com/

JoannaGraceTSP)

I work with people who have profound and

multiple learning disabilities, often their

ability to move their own hands is limited,

their ability to grip and hold items can

be unreliable. There can occasionally be

justification for very sensitive manipulation

of their hands, but more often than not,

hand over hand work just happens to

them. Kind people unintentionally do harm

by "helping" them in this way. Hand over

hand can be useful to guide a movement

for a skill that can be swiftly learned, or that

needs to be felt to be understood, the way

you might show someone how to shoot

pool. If you are supporting people with

limited movement, try using hand under

hand, to guide their hand to something you

are inviting them to explore. Think of your

own hand as like a little moving platform for

their hand to ride upon, bring their hand to

the item and allow it to slide off your hand

and onto the item for exploration. Do not

grab their hand and do it for them. That

takes them out of the equation, they are not

doing anything, you are, and you're using

their body as a tool for doing it.

Egg starts nursery in a few weeks. (A

different nursery). I am hoping to be

bringing home a collection of paintings and

sculptures that are difficult to understand

and look nothing like any of the other

children's!

Joanna provides online and in person

training relating to sensory engagement

and sensory differences, look up www.

TheSensoryProjects.co.uk/online-college

for more information. To view a list of her

books visit www.TheSensoryProjects.co.uk/

books Follow Jo on social media to pick up

new sensory insights, you'll find her at:

@Jo3Grace on Twitter, Facebook and

LinkedIn.

Joanna Grace

Joanna Grace is an international

Sensory Engagement and Inclusion

Specialist, trainer, author, TEDx speaker

and founder of The Sensory Projects.

Consistently rated as "outstanding" by

Ofsted, Joanna has taught in

mainstream and special school settings,

connecting with pupils of all ages and

abilities. To inform her work, Joanna

draws on her own experience from her

private and professional life as well as

taking in all the information she can

from the research archives. Joanna's

private life includes family members

with disabilities and neurodiverse

conditions and time spent as a

registered foster carer for children with

profound disabilities.

Joanna has published four practitioner

books: "Multiple Multisensory Rooms:

Myth Busting the Magic", "Sensory

Stories for Children and Teens",

"Sensory-Being for Sensory Beings"

and "Sharing Sensory Stories and

Conversations with People with

Dementia". and two inclusive sensory

story children's books: "Voyage to

Arghan" and "Ernest and I". There is

new book coming out soon called '"The

Subtle Spectrum" and her son has

recently become the UK's youngest

published author with his book, "My

Mummy is Autistic".

Joanna is a big fan of social media and

is always happy to connect with people

via Facebook, Twitter and LinkedIn.

Website:

thesensoryprojects.co.uk

18 November 2021 | parenta.com

parenta.com | November 2021 19
---
Road Safety Week

"We want a world where everyone is free to move in a safe and healthy way, every day. We work

to stop road deaths and injuries, support people affected by road crashes and campaign for safe

and healthy mobility for all." - Brake website

This is a vision of the world from Brake, the

national charity who promote road safety,

campaign for safer roads, and look after

those who have been adversely affected

by accidents on the road.

Every 20 minutes, someone is killed or

seriously injured on UK roads. Alarmingly,

road crashes are the leading cause of

the death of children and young people

worldwide, and in the UK, more than six

children under the age of 15 are killed

or seriously injured on roads every day,

mainly while walking or cycling. These

events are preventable with proper

education and a change in our behaviour

and attitude towards road safety. (Statistics

from Brake website).

Road Safety Week is the UK's biggest

road safety campaign and each year,

millions of us heed the call and try

to raise awareness about the issues

and campaign for safer roads either

nationally or locally in our own areas. It is

coordinated annually by Brake, and this

year, the week runs from the 15th to the

21st November and actively encourages

schools, nurseries and childminders to get

involved in the events and educate our

children about road safety. The theme for

2021 is Road Safety Heroes, which aims to

celebrate the heroic work of all road safety

professionals, thanking them for their

efforts and acknowledging the important

part they play in keeping us all safe. There

are a lot of people involved in road safety

and it isn't just the obvious ones such as

the police, fire and ambulance crews who

attend accidents. There are many unsung

heroes up and down the country who help

too: from the crossing guards who assist

near school crossings, the people who

design our roads in the first place, to those

who keep watch over us from traffic control

observation centres, and the people who

clear up and fix the roads in the event

of an accident. Each one is doing their

bit to keep us safer and helping us take

responsibility for own safety and that of

other people.

Road safety for early years

It's never too early to start teaching

our children about road safety and the

organisers of Road Safety Week have

come up with some specific resources

and advice especially for early years

educators which help make the topic

fun and exciting. They are mindful that

when it comes to talking about road

safety for this age group, they need to

get the messages across without scaring

children, so the content has to be sensitive

and age-appropriate. To this end, they

have produced a short video about Road

Safety Heroes which is tailored towards

early years and KS1 children, and a

number of different resources which can

be downloaded from their website after

signing up. These include things like:

• A Road Safety Heroes card game with

simple matching and counting games

to introduce these heroes

• Fact sheets to help you talk about the

different people who are Road Safety

Heroes

• Lesson plans for English/PSHE/

Citizenship and Art

• An assembly presentation with

ideas of how to run a Road Safety

Heroes awards ceremony at your

school or setting (you can purchase

special stickers and certificates on the

website)

• Posters, colouring and activity sheets

• Postcards to colour and send home to

parents

• A recipe for traffic light biscuits

You can access these at a dedicated part

of the Brake website called Zebras so you

won't be stuck for ideas or resources.

Brake has identified the key messages to

get across to early years children, which

are:

1. Always hold hands with a grown-up

when walking near roads

2. Always cross roads at safe places and

hold a grown-up's hand

3. Always sit in a child seat when

travelling by car

The best way to teach these messages is

through play, modelling good behaviours

and using the 5 senses to help children

remember the messages, so using songs,

role-plays, rhymes, stories and actions

are all good kinaesthetic learning styles to

adopt at this age.

Remember to educate your staff

too

As early years practitioners, it is also vital

that you ensure your staff are fully aware of

their safeguarding responsibilities when it

comes to road safety and that you always

have adequate staff: children ratios when

walking outside of your setting. This is

where risk assessments come in and you

should make sure that you have conducted

robust risk assessments and planned your

routes carefully whenever you take children

out on the road. Being prepared and

leading by example is important and there

are a number of risk-reducing actions you

can take when walking or cycling including:

1. Wearing high visibility jackets

2. Wearing cycling helmets when on

scooters or bikes

3. Staying on footpaths and using the

safest routes even if they are longer

(e.g. underpasses and bridges)

4. Finding a safe place to cross (Pelican

crossing, zebra/pedestrian crossing)

5. Stopping and waiting until it is safe to

cross a road

6. Looking and listening out for traffic

each way before crossing

Other ways to get involved in

Road Safety Week

• Invite a road safety expert into your

setting to give a talk

• Hold a Road 'Safe-Tea' Day by inviting

people to your setting for tea and

cake or a coffee morning. You can

raise money for Brake or use it to raise

awareness of road safety issues in

your area

• Fundraise for Brake to help people

adversely affected by road traffic

accidents

• Hold a dressing up day encouraging

everyone to dress up as their favourite

Road Safety Superhero

• Campaign for better road safety in

your area by writing to your MP or local

councillor

Road safety matters, and by engaging

children and young people with key road

safety issues and working together in your

local communities to improve road safety,

we can create safer spaces and mobility

for all, be that walking, cycling, in a private

vehicle or a public bus; we can help create

safer, greener environments, encourage

active and healthier lifestyles, and prevent

road traffic tragedies to ultimately save lives.

https://www.brake.org.uk/road-safetyweek

20 November 2021 | parenta.com

parenta.com | November 2021 21
---
Keeping children safe in

early years provision

• Criminal record and barred list

(including volunteers)

• Checks on people from overseas

• Qualifications

• Identity checks

• Right to work

• Appropriate references

• Disqualification under Childcare Act

2006

• Knowing what they are required to

disclose when applying for a role

• Understanding their disclosure rights

and responsibilities

• Having access to publicly available

guidance and support from

professional advisors

Staff induction

Last month, we were privileged to welcome Yvonne Sinclair to the Parenta family when she gave

us the benefit of her incredible safeguarding knowledge and took us through crucial statutory

information during our monthly webinar. If you missed it, you can watch it here.

Safeguarding is not just about protecting

children from deliberate harm and

neglect. It encompasses broader aspects

of care and education to provide a safe

environment for children to learn and

develop. For this to happen, a culture

of vigilance, welfare and appropriate

safeguarding actions must be promoted,

along with the fulfilment of statutory

requirements and best practice, all the

while exercising professional judgement in

keeping children safe. Underpinning this

is the need for correct and appropriate

recruitment procedures and checks. We

must ensure that those given responsibility

to look after children within early years

settings are suitable to effectively carry out

their roles.

A whole-setting safe

culture approach

As outlined in Keeping children safe in

education 2021 (KCSIE): "It is vital that

governing bodies and proprietors create a

culture that safeguards and promotes the

welfare of children. As part of this culture,

it is important that they adopt robust

recruitment procedures that deter and

prevent people who are unsuitable to work

with children from applying for or securing

employment, or volunteering opportunities

in schools."

A whole-setting safe culture approach

is fundamental to ensure everyone

– regardless of their role and level –

understands what it means to keep

children safe. This includes ensuring

vigorous steps are consistently taken to

prevent, identify and reject unsuitable

individuals throughout each stage of the

recruitment process. Crucially, this also

extends to those recruited via third parties

and agencies.

To ensure a whole-setting safe culture

approach, early years settings must have

effective:

• Child protection arrangements

• Recruitment and selection

• Code of conduct

• Whistle blowing

• Safer working practices

• Induction and supervision

• Staff training to understand their

responsibilities towards keeping

children safe

Serious case review

failures and learnings

One example of serious failings, where

learnings around recruitment and a wholesetting

safe approach were developed, is

the review of 'Nursery Z' (2010). Exposed

failures included inadequate:

• Professional, reflective practice

• Whole-setting approach

• Professional code of conduct

• Assumptions in suitability and

competence

• Policies and procedures

• Recruitment and selection

• Training

As the nursery's management and staff

had not been appropriately trained in

safeguarding, robust recruitment practices

were not adhered to. This, combined with

the other failings listed, meant unsuitable

adults were allowed access to children

and a culture of abuse towards them was

made possible.

Recruitment checks for

early years settings

Employers should ensure that employees

understand that they are expected to

disclose convictions, cautions, court

orders, reprimands, and warnings which

may have happened before and/or

during employment. Furthermore, the

following checks should be carried out as

a minimum by early years settings and in

line with the Statutory framework for the

early years foundation stage (EYFS) and

KCSIE.

All schools are required to have regard

to the government's KCSIE statutory

guidance. However, other childcare

providers e.g. non-schools, may also

find it helpful to refer to part 3 of the

guidance, which details the recruitment

and selection process, pre-appointment

and vetting checks, and ongoing legal

reporting duties.

In addition, the following should be

recorded by early years settings. Ofsted

inspectors will check that the provider can

produce evidence of the suitability of all

relevant staff and adults.

• Staff qualifications

• Identity checks

• Vetting process has been completed

(including reference number, date a

check was obtained and details of

who obtained it)

• Safeguarding Vulnerable Groups Act

2006

• First aid

• Mandatory induction

• Effective supervision (including

support, coaching, and training)

Child protection is at the forefront of

ensuring settings are carrying out

their duties to safeguard and promote

the welfare of children. It underpins

relevant aspects of process and policy

development as identified in Ofsted's

Inspecting Safeguarding in Early Years,

Education and Skills to promote a safer

culture for children.

Rehabilitation of

Offenders Act 1974 (ROA)

This act was designed to give people with

a criminal history a clean slate, as once

an offence is spent, the offender is not

required to inform potential employers.

After a number of updates, with the

latest being on 28th November 2020, the

latest changes cover new responsibilities

and requirements towards potential

employees, along with changes to

recruitment documentation. This includes:

The daily experience of children in early

years settings and the overall quality of

provision depends on all practitioners

promoting the interest of the child

and fostering a culture of support and

teamwork. They must also have the

following:

• Appropriate qualifications

• Understanding of safeguarding and

child protection responsibilities

• Training, skills, and knowledge

• Emergency evacuation and health and

safety procedures

• Effective supervision and support

It is imperative that employers support staff

to undertake appropriate training and give

them access to professional development

opportunities. This goes a long way to

ensuring staff offer quality and continually

improving learning and development

exercises for children.

Providers must also put appropriate

arrangements in place for the supervision

of staff who have contact with children

and families. Effective supervision provides

support that encourages the confidential

discussion of sensitive issues.

Having read this article, you may wish to

consider your priorities and what needs to

change to ensure safe recruitment in your

early years setting to prevent children being

failed by those given responsibility to care

for them.

Key documents

• KCSIE (2021)

• EYFS (2021)

• Staffing and Employment Advice for

Schools (2021)

• Working Together to Safeguard

Children (2020)

• Ofsted Inspecting Safeguarding in Early

Years, Education and Skills (2021)

• DBS Filtering Guide 2020

Yvonne Sinclair

Yvonne Sinclair is an award-winning

Independent Safeguarding Consultant,

Trainer and Presenter specialising in the

education and early years sectors and the

founder of Safeguarding Support Limited.

Yvonne has a wealth of safeguarding

and child protection experience,

having developed the role of National

Safeguarding Officer for a national

children's charity. In that role she was

responsible for leading on and developing

safeguarding compliance, policy, and

training.

2015 saw Yvonne moving to an become

independent, supporting educational

providers and early years settings

with all aspects of their safeguarding

requirements to ensure organisational

confidence of safeguarding compliance.

Yvonne is AET qualified, trained in child

protection by the NSPCC, an accredited

trainer to deliver Safer Recruitment by the

Safer Recruitment Consortium, a member

of the Association of Child Protection

Professionals (formerly BASPCAN),

Child Protection in Education (CAPE) and

National Association of Designated

Safeguard Leads (NADSL).

Yvonne's aim is to ensure that

'safeguarding is simplified'. Find out

more about Yvonne, her team and the

support services they offer at www.

safeguardingsupport.com.

22 November 2021 | parenta.com

parenta.com | November 2021 23
---
Game-based learning

and gamification

What is game-based learning?

The clue here is in the title – it is a type of

active learning experience that happens

within a game framework. But it should

have very specific learning objectives with

measurable outcomes. Games often need

a high degree of child interaction within the

game, to access this content which is why

children find them engaging – there are

things to do, buttons to press and feedback

to get. The feedback that children get is key

because as they progress, they learn from

the experience and challenge themselves

to improve with greater complexity and/

or different levels. Games usually offer a

multi-sensory approach to learning, and

help children absorb the lesson through

visual, auditory and kinaesthetic systems.

An example might be a specific game or

app which helps children learn to spell or

a maths game that helps them recognise

numbers within the format of a car race or

shooting gallery.

What is gamification?

Gamification is related, but different. It is

the process of adding game elements

(such as competition or penalties/rewards)

to a learning experience with the aim of

increasing a person's engagement or

enjoyment. Therefore, gamification may

have game elements, but they tend to

be separate from the learning content

and gamification does not necessarily

have any specific learning outcomes,

although the player can often learn things

through playing the game. Examples in the

classroom might be using a reward system

in which children earn points and go on a

leader board, or a game such as bingo or

Blockbusters used simply to test a pupil's

knowledge.

Advantages of game-based

learning

Research has shown that playing video

games can lead to brain growth in the

pre-frontal cortex, the hippocampus and

the cerebellum as children try to beat

different levels and use problem-solving

skills. They shift into problem-solving ways

of thinking and are often more engaged

in their learning and video games can

help improve attention and spatial-motor

skills. Other research links game-based

learning to the development of a growth

mindset as there is often an initial 'trial and

error' approach which eventually leads to

success, and they begin to see 'failing' not

as an inevitable endpoint, but as something

that can be overcome with practice, skill

and effort.

Are there any disadvantages?

There are some cautionary tales around

gamification, especially if the games are

overly competitive and people do not deal

well with losing. Some students may be

reluctant even to try for fear of failing and

the games may demotivate children rather

that engage them. In addition, if students

are left alone in front of electronic devices

at the expense of quality adult or child

interactions, then problems can occur in

language and communication later on.

Does it have to involve

technology?

Game-based learning and gamification do

not have to be about technology. Chess has

been a way of teaching strategic thinking

for hundreds of years, and many teachers

remember playing board games such

as scrabble and ludo as children, which

can be just as helpful to teach spelling/

vocabulary and maths as the latest,

trending app.

What does this mean for early

years?

The market is full of games to help children

learn, and you have probably invested

in some electronic games to help your

students in different areas. There are plenty

of lists on the internet of the best games out

there for early years children, and you can

read reviews and recommendations from

other professionals too. Most children's TV

channels have online games to support

their children's programming which are

usually free and offer a degree of online

safety which it is important to consider. But

don't forget the simplicity and educational

value of a board game and dice too.

Research on game-based learning is still

being collated, but perhaps we, as early

years educators, should remember the

teaching of Lev Vygotsky and his zone

of proximal development, which states

that children can increase their skills and

knowledge better with the help of a "more

knowledgeable other", and he wasn't

talking about a tablet or computer – but a

caring and supportive adult!

Education is evolving, and over the years

it has changed a great deal. Gone are

the days where the teacher stands and

dictates from a book whilst students

write down the information word for

word, and learn it by rote. Things have

changed. Researchers found that children

had different ways of learning and that a

teacher-led 'chalk and talk' method was

only really useful for a limited number of

students. They began to understand the

importance of play in a child's education

(Froebel) and about different stages in

a child's development (Piaget) and how

a child's ability to learn and succeed

can be influenced by different factors

including social ones and the help of

others (Vygotsky). New buzzwords came

into education such as inclusion, crosscurricular

learning, fixed and growth

mindsets (Dweck) and all the time our

understanding of what works expanded

with each new theory. Straight lines of

front-facing desks were replaced with

smaller groups of children sat around

tables, encouraged to interact with one

another, to play and explore, and to ask

questions of themselves and the teacher.

We got playdough and messy play, Forest

Schools and digital classrooms, as passive

learning was replaced by child-led, active

learning.

Arguably, the biggest innovation in

education recently has been over the last

20 months or so, when many schools in

the UK and around the world were forced

to close their physical doors and take

lessons online into virtual classrooms

due to COVID-19. Forced to abandon

traditional routes, educationalists began

using technology more and more to help

facilitate the learning process. Teachers

learned Zoom, Teams and Google

Classroom, and suddenly, everyone was

trying to find innovative ways to engage a

class of students all studying at home!

This burgeoning of online and virtual

lessons and the ever-evolving technologies

we have in our arsenal, have brought with

it a greater interest in what we now call

"game-based learning" and "gamification".

Although related, these two concepts are

different but have recently become almost

synonymous with how computers, tablets,

apps and other devices are now being

used to educate our children. But are they

all they are cracked up to be, and how are

they helping?

Research and references

• Challenging games help students

learn: An empirical study on

engagement, flow and immersion

in game-based learning

• Video gaming can increase

brain size and connectivity

• Gaming Mindsets: Implicit Theories

in Serious Game Learning

24 November 2021 | parenta.com

parenta.com | November 2021 25
---
What should I look for

when choosing CPD

courses that are worth

investing time and

money in?

Research shows that one of the biggest concerns a setting has

when purchasing CPD is the practical realities of their staff being

The EYFS tells us that staff "must

undertake appropriate training and

professional development that continually

improves'' (2021; 3.21). To secure an

"outstanding" judgement, a setting needs

to demonstrate that focused and highly

effective professional development is in

place.

However, there is rarely the luxury of time

or money for all staff to do all the training

they would benefit from. And when you do

make that purchase, how can you be sure

that it is going to be advice you can trust

– or have any impact on practice going

forward?

I was a nursery manager for many years,

utilising various styles and approaches to

training.

• I was good at identifying the training

my staff needed, always sure to pick

CPD-certified providers

• I was great at selecting the staff that

would get the most out of it

• We met before hand, and spoke on

their return, identifying the support

they needed

• And most of the time I was pretty

good at organising numbers so that

they could even attend

But the same pattern would frequently

seem to emerge; tremendously

enthusiastic staff returning from their day

out, but weeks later I would see little in the

way of tangible change. While they had

able to do it.

been inspired and captivated, once back

in the realities of a busy nursery, it was like

they had never been. So, what was going

wrong?

It wasn't until I left practice and became a

consultant myself that I appreciated what it

means to be a CPD-certified provider. And

the little bearing this can have on realised

improvements.

If you want to affect real change, anything

you invest in needs to have direct and

continued impact on the experiences of

your children. And within a busy nursery,

this is rarely going to happen as a direct

result of sitting in a training room for a day.

• Training needs to be delivered by

people who really understand what

it means to work in a busy school

or setting, with the knowledge and

experience of what children need,

and how to go about offering it

• It needs to be realistic advice that you

can trust and believe in

• And there needs to be some

continuation, with ideas you can

reflect on, and revisit. Maybe even

weeks later

It is for these reasons that all the training

I write follows the Department for

Education's five standards for teachers'

CPD. Working in the early years, we are

less familiar with these standards – but no

less deserving of them. So, let us look at

what they are.

Standard One - professional

development should focus on

improving and evaluating pupil

outcomes

Training should be clear about its expected

impact. Reflecting on knowledge,

experience and goals, and with tools to

help change practice and evaluate impact.

Reflective practice is something we are

very familiar with in the early years. But

without a clear focus, reflections will

have little impact on the outcomes or

experiences of the children.

Standard Two - professional

development should be

underpinned by robust evidence

and expertise

Training should be explicit about the

evidence underpinning the practices it

advocates. Clearly explaining how and

why its messages are intended to work.

Without underpinning knowledge and

understanding, any advice you receive is

unlikely to gain much traction. How many

times have you asked someone to do

something? Without understanding why,

they are unlikely to continue when you are

not around.

Standard Three - professional

development should include

collaboration and expert challenge

Training should include opportunities to

discuss and ask questions. To consider

the impact of methods being trialled and

to challenge expectations.

Training that overlooks opportunities

to discuss current practice or desired

outcomes with colleagues is likely to

simply wash over you. It may sound

hugely inspirational in the moment, but

with little impact down the line.

Standard Four - professional

development should be sustained

over time

Sustained change takes commitment.

For any new practice to embed, the team

needs to be aware of this commitment

and supported in making the changes

required.

Training often feels deeply inspiring on

the day - even days after – but how many

ideas did you carry through? Unless

messages are revisited and supported

after the demands of the day return, they

will be soon forgotten.

Standard Five - professional

development must be prioritised

by school leadership

To support development, leadership teams

need to see its requirement and their role

within the process, along with tools and

resources to support it.

CPD needs to be a priority and supported

by those managing everyone's time and

budgets. But this can be tough, so anything

that can simplify the process is going to

help make it a reality.

The Nurturing Childhoods Ethos is to offer

the key adults within every child's life the

knowledge, understanding and support

required to nurture and develop every

child's full potential.

By embracing these standards, all CPD

is personalised by the teams within each

setting. Progress is driven by the reflections

it prompts, and precise strengths and

areas for improvement are used to target

what will be highly effective professional

development.

The longer Nurturing Childhoods

Accreditation continues to maintain these

standards by following a setting-based

action-research model, so you will be sure

to see deep and sustainable development

taking root throughout your setting.

And with accompanying courses and

materials available for your parents, you

are in a perfect position to work together in

establishing the knowledge, understanding

and support they need too.

Don't just take my word for it, visit www.

nurturingchildhoods.co.uk where you can

even take a free course.

Kathryn Peckham

As Founder of Nurturing Childhoods,

Dr Kathryn Peckham is a passionate

advocate for children's access to rich and

meaningful experiences throughout their

foundational early years. Delivering

online courses, training and seminars, she

works with families and settings to identify

and celebrate the impact of effective

childhood experiences as preparation for

all of life's learning. An active campaigner

for children, she consults on projects,

conducts research for government bodies

and contributes to papers launched in

parliament. Through her consultancy

and research she guides local councils,

practitioners, teachers and parents all

over the world in enhancing children's

experiences through the experiences

they offer. A highly acclaimed author and

member of parliamentary groups, Kathryn

also teaches a Masters at the Centre for

Research in Early Years.

Get in contact with Kathryn by emailing

info@kathrynpeckham.co.uk

Dr Kathryn Peckham's exclusive

CPD booster course giveaway

To be in with a chance of winning a CPD Booster

of your choice visit Kathryn's website

www.nurturing childhoods.co.uk and

click here to enter the competition.

Don't miss out - the competition will end on

Friday 26th November!

26 November 2021 | parenta.com

parenta.com | November 2021 27
---
ONLY £20

Per Month

Invest in the

development of

5%

NON-LEVY CONTRIBUTION

Compliant with EYFS 2021 Development Matters Framework

Attention Childcare Practitioners who want to

save time and make EYFS tracking easier!

EYFS software that allows you to blur faces of the

children, helping to ensure you are GDPR compliant!

Once you start using Footsteps 2, you will quickly see how

it can benefit your setting

Improve safeguarding

Comply with GDPR

No hidden costs

Unlimited support

Unlimited video, image &

document storage

Photo tagging, blurring &

editing technology

your team...

Let us help you with your training needs - call us today!

By providing training

for your staff, you will:

Improve morale

Support children's safety

Enhance your

setting's reputation

Reduce staff turnover

Easily review home

observations from parents

Footsteps 2 uses the recognised language and colour

coding of EYFS, making it simple to use.

Quickly capture detailed notes when observing

a child play or interact.

Instantly identify where each child is in their

development pathway.

When you join us at Parenta, you can

invest with confidence because you'll

always be covered by our 30-day

money-back guarantee.

CLICK HERE

TO BOOK YOUR

DEMO TODAY!

We have secured funding available and are

enrolling learners on to our courses every day!

Take advantage for you or your staff!

Payment plan available for your 5% contribution

Did you know...

You can now access government funding for up to 10 staff members - instead of 3

- to help get your staff qualified and keep them motivated!

0800 002 9242 hello@parenta.com

0800 002 9242 hello@parenta.com
---
Are you taking

well-being too

seriously?

Yes you probably are, and for good reason! With the effects

of the pandemic still ringing in our ears, teachers, carers and

parents have a big job on their hands. Not only do we have a

responsibility to support children through the chaos, but we're

also witnessing poor mental health in our friends, family and

colleagues. Anxiety levels have increased, attendance has

dropped, workload has intensified, the pressures have become

insurmountable.

Anxiety breeds anxiety; If we're running

around like headless chickens, worrying

or ruminating, it's likely that the children

we're supporting will also feel uneasy.

As the old phrase goes 'you can't pour

from an empty cup'; when it comes to

supporting anxious children, we ourselves

need to feel well.

If we feel calm, our children will feel calm,

it's not rocket science! Yet sometimes

this piece of the puzzle is overlooked.

Maybe you work in a school and have

been tasked with supporting a nurture

group, you feel under-qualified, have no

idea where to start and enter the space

flustered and unsure. Maybe you bombard

the children with activities, but are met

with disengagement or resistance. Maybe

you're so concerned over a child's

well-being that you lay awake at night

worrying about them.

Of course some children do require

specialist support from counsellors,

psychologists or social workers, but

I believe that for children who are

experiencing low levels of anxiety, play

may be the answer.

That's why I decided to develop a

well-being program where play is at

the foundation of the learning. The

Superpower Boot Camp Well-being

Program is a series of pre-recorded

lessons that can be used directly with

groups of primary aged children. Using

interactive group games and playful

exercises; Superpower Boot Camp

introduces six natural inbuilt superpowers

to the children. These are breath, noticing

the senses, movement, kindness, laughter

and gratitude.

The superpowers are explored and

strengthened in the lessons, with

challenges set in between classes to help

solidify the learning. Below I have listed

three activities which introduce some of

the well-being techniques I cover on the

program.

Balance game

This game explains the difference between

our natural breath and our superpower

breath. The aim is to get the children to

play the game, then after a couple of

rounds instigate a pause, where you

all take three deep breaths into your

belly. Encourage the children to lengthen

their breath, focus on their feet and play

the game again using their Breathing

Superpower. They should find that they

feel stronger and more grounded when

instigating their Breathing Superpower in

comparison to their natural breath.

Instructions

• In pairs, stand facing your partner

• Placing both your feet together and

bringing your palms up to meet your

partners palms in the gap between

you

• The aim of the game is to try and

gently push your partner so they step

off their perch

• If you or your partner step off of your

perch you have lost that round

Elbow link

This game harnesses the children's

Gratitude Superpower by focusing on the

things that make them smile. I find that

this activity unites a group as they each

respond and connect to their experiences.

Instructions

• Have one person stand up and share

something that makes them smile,

this could be "Going to the beach"

• If this statement resonates with

another child in the group, and they

agree it makes them smile too, have

them stand up and link elbows with

that person

• Then they share something else

that makes them smile, for example

"Playing tag with my friends"

• Whoever agrees that this also makes

them smile, links elbows with that

child, until everyone in the group is

standing with their elbows connected

Secret mission

Challenge the children to do a random

act of kindness for someone without them

noticing! This could be over the course of a

few hours, a day or a whole week. Using

their Kindness Superpower, the aim of this

challenge is to secretly spread kindness

to the people around them. They could

give someone a gift, send an anonymous

Katie White

Katie Rose White is a Laughter Facilitator

and founder of The Best Medicine.

She works predominantly with carers,

teachers and healthcare professionals -

teaching playful strategies for boosting

mood, strengthening resilience and

improving well-being. She provides

practical workshops, interactive talks

and training days - fusing therapeutic

laughter techniques, playful games

and activities, and mindfulness-based

practices. The techniques are not only

designed to equip participants with tools

for managing their stress, but can also

be used and adapted to the needs of the

people that they are supporting.

Email: thebestmedicine@outlook.com

Twitter: www.twitter.com/bestmedicine1

Facebook: http://www.facebook.com/

thebestmedicinecornwall

letter or even do a task like the washing up

without getting caught.

Taking a playful spin on well-being doesn't

water down the learning. Yes supporting

a child's well-being should be taken

seriously, but don't forget the fun!

For more information checkout https://

the-best-medicine.teachable.com/p/

superpower-bootcamp-intermediate

30 November 2021 | parenta.com

parenta.com | November 2021 31
---
Building successful literacy skills

in the early years through music

Literacy skills are fundamental to higher level skills like planning, critical thinking, problemsolving

and socio-emotional development. It all begins with fine motor skills like holding a

pencil effectively, listening to stories and being able to retell them while anticipating events and

consequences, recognising sounds and word shapes, and finally, forming letters and/or words

that can be recognised by others. Music can be used in all of these, whether introducing shapes by

walking in lines and circles, playing instruments accurately to the beat like drumming, or singing

songs with developing storylines.

Research shows that the best environment for developing these skills is a positive one, where adults read together with children (Wirth

et al., 2021), and where children can express joy in the books and stories that they share (Nordström et al., 2021). Role-models are

important in childhood (Herrmann et al., 2021), whether inside or outside of the home, and have the potential to influence future mindsets

and behaviours. We hope that by using these songs, adults will feel empowered to play these games, knowing the thinking and

developmental planning behind them.

Fine motor: Aiken Drum

There was a man lived in the moon

Lived in the moon, lived in the moon

There was a man lived in the moon

And his name was Aiken Drum

And he played upon a ladle

A ladle, a ladle

And he played upon a ladle

And his name was Aiken Drum

And his coat was made of smelly cheese

Smelly cheese, smelly cheese

And his coat was made of smelly cheese

And his name was Aiken Drum

And his shoes were made of pineapples

This song can be used with children taking

turns to sit in a group and play drums or

triangles (instruments with beaters) while

the rest walk around them in a circle, like

the moon going around the earth. Use

children's suggestions to develop the story.

Literacy: Green Grass

Adult:

There was a hole

Down in the ground

The prettiest hole

That you ever did see

Children:

There was a hole

Down in the ground

The prettiest hole

That you ever did see

Altogether:

And the hole in the ground

And the green grass grew all around and

around

And the green grass grew all around

Adult:

Now in that hole

There was a tree

The prettiest tree

That you ever did see

Children:

Now in that hole

There was a tree

The prettiest tree

That you ever did see

Altogether:

And the tree in the hole

And the hole in the ground

And the green grass grew all around and

around

And the green grass grew all around

Adult:

Now in that tree

There was a nest

The prettiest nest

That you ever did see

Children:

Now in that tree

There was a nest

The prettiest nest

That you ever did see

Altogether:

And the nest in the tree

And the tree in the hole

And the hole in the ground

And the green grass grew all around and

around

And the green grass grew all around

Adult:

Now in that nest

There was a egg

The prettiest egg

That you ever did see

Children:

Now in that nest

There was a egg

The prettiest egg

That you ever did see

Altogether:

And the egg in the nest

And the nest in the tree

And the tree in the hole

And the hole in the ground

And the green grass grew all around and

around

And the green grass grew all around

Adult:

Now in that egg

There was a bird

The prettiest bird

That you ever did see

Children:

Now in that egg

There was a bird

The prettiest bird

That you ever did see

Altogether:

And the bird in the egg

And the egg in the nest

And the nest in the tree

And the tree in the hole

And the hole in the ground

And the green grass grew all around and

around

And the green grass grew all around

This song introduces sequencing,

vocabulary and anticipation. The call-andresponse

format supports the children in

retelling the story within the song – pictures

can be helpful!

Writing: Mulberry Bush

(circle)

Here we go 'round the mulberry bush

The Mulberry Bush, the mulberry bush

Here we go 'round the mulberry bush

So early in the morning

This is the way we brush our teeth

Brush our teeth, brush our teeth

This is the way we brush our teeth

So early in the morning

This is the way we put on our shoes

Put on our shoes, put on our shoes

This is the way we put on our shoes

So early in the morning

These songs help the experience of

creating shapes. Lines and circles are used

so often that we introduce them first.

Writing: How many

miles? (line)

How many miles to Babylon?

Three score and ten

Will I get back before you do?

Yes, and back again

Open the gates and let us through!

Not without a beck and bow!

Here's the beck, here's the bow

Open the gates and let us through

This fun call-and-response song has

children standing in two lines across from

and facing each other. The first group asks

the question, and the second group replies

until in the end, the second group holds

hands and raises them ('gates') for the

other group to walk under – and the groups

swap places. Then the second group has

a turn to ask the questions and go through

the 'gates'.

These non-competitive games are

fantastic learning tools because they are

self-correcting and rely on participants

concentrating in order for the game to work.

They are improving their literacy without

realising it, until or unless the adult reminds

them of the shapes they were making

during the song/game. And whether

children catch on immediately or learn from

each other makes no difference – they all

get to play, all together.

Frances Turnbull

Musician, researcher and author,

Frances Turnbull, is a self-taught guitarist

who has played contemporary and

community music from the age of 12. She

delivers music sessions to the early years

and KS1. Trained in the music education

techniques of Kodály (specialist singing),

Dalcroze (specialist movement) and Orff

(specialist percussion instruments), she

has a Bachelor's degree in Psychology

(Open University) and a Master's degree

in Education (University of Cambridge).

She runs a local community choir, the

Bolton Warblers, and delivers the Sound

Sense initiative "A choir in every care

home" within local care and residential

homes, supporting health and wellbeing

through her community interest

company.

She has represented the early years

music community at the House of

Commons, advocating for recognition

for early years music educators, and her

table of progressive music skills for under

7s features in her curriculum books.

Frances is the author of "Learning with

Music: Games and activities for the early

years", published by Routledge, August

2017.

www.musicaliti.co.uk

32 November 2021 | parenta.com

parenta.com | November 2021 33
---
Celebrating Diwali, Festival

of Lights in your setting

The Hindu Festival of Lights, known as Diwali or "Deepavali", meaning 'rows of lighted lamps', is a

bright, colourful festival celebrating the triumph of the light over the darkness, and knowledge over

ignorance. Hindu is the third most practiced religion in the world behind Christianity and Islam, and

is considered to be the world's oldest religion, dating back more than 4,000 years. It is celebrated

by Hindus, Jains, Sikhs and some Muslims and Buddhists around the world, and this year, lands on

2nd - 6th November.

Hinduism is an eclectic religion which

does not claim to have any one Prophet

or worship any one God, nor does it have

a single central belief, making it difficult to

describe to lay people. It is perhaps best

described as a 'way of life' which can

include many different spiritual and secular

practices including meditation, yoga,

worship, duties, respect for nature, the

seeking and giving of wealth/security and

pleasure, and honour of the family.

How is Diwali celebrated?

Diwali is a 5-day festival in which Hindus

traditionally do certain things on certain

days. Like Easter, its exact days are based

on a lunar calendar, so the dates change

each year.

Day one – people often clean their homes

and clear out old things in preparation for

the main festival.

Day two – houses are decorated with

small, clay oil lamps known as diyas. It is

traditional to draw or use coloured sand

or rice to decorate the floor outside the

front door with a bright, colourful pattern

(rangolis).

Day three – this is the main Diwali festival

and people go to the temples to worship

and honour the Goddess Lakshmi. They

can share food in the temple, decorate

them with rows of diyas and end the day

with feasts and fireworks.

Day four – this is the new year for many

Hindus, and it is celebrated by exchanging

presents with family and friends.

Day five – this day is traditionally a day to

celebrate the sibling relationship and so

people see family, and share traditional

foods such as laddoos and gulab jamun,

celebrating with music and dance.

Celebrating Diwali using the

Early Learning Goals

Diwali is a festival which you can celebrate

in many ways in your setting. We thought

it would be fun to come up with different

ideas based on the Early Learning Goals.

Communication and language

Hindi is one of India's official languages

along with Urdu, and over 60% of Indians

speak Hindi. It stems from Sanskrit but has

also been greatly influenced by Persian

and Arabic. You could teach the children

a few Hindu words related to Diwali and

here are a few easy ones to get you

started:

• Namaste – Hello – I bow to you

• Haan – Yes

• Nahin - Noहीं

• Alavida – Goodbye

• Yoga - The path of achieving union

with the Divineयोग

• Diya - The traditional oil lamp used in

Diwali

• Sanskrit – The ancient language used

in Hindu religious texts

Physical development

Teach your children some classical Indian

dance, one form of which is known as

Bharatnatyam. It was originally a temple

dance for women and is often used to

tell religious stories. The movements are

characterised by bent legs and turnedout

feet with symbolic hand and arm

gestures called mudras. You can find some

basic steps at https://www.bbc.co.uk/

newsround/54833725 or you could try

some easy Bollywood dancing.

Personal, social and emotional

development

One of the teachings in Hinduism is about

the connectedness of all things and the

idea that we should live a kind life, which

is in balance with nature to create good

karma. You could explore what kindness/

karma mean in your circle time to see what

your children think being kind to others

means. You could have a 'kindness day'

where the aim is to be kind to everyone you

see, by a kind word or a kind deed such as

sharing toys, or swapping small gifts.

Literacy

There are books that you can use in

storytime about Diwali that explain what

the festival is about and how people

celebrate it. Twinkl has recently released

"Dipal's Diwali" which explains how the

protagonist, Dipal, celebrates Diwali with

his family, but there are others such as

"Let's Celebrate 5 Days of Diwali!" by Ajanta

Chakraborty and "The Diwali Gift" by

Shweta Chopra.

Mathematics

Since there are 5 days in Diwali, you

can base your number work around the

number 5. This is a good number for early

years children because it is the number

of digits on each hand. Make some hand

prints using paint and then label the

numbers 1 to 5 and get the children to

practice writing their numbers. You can

also cut out paper images of diyas and

arrange them in different patterns, or cut

out different sized circles and petal shapes

and get the children to make their own

rangoli patters with the different shapes.

Explore symmetry too by making folding

paintings. Draw a line down the centre of a

piece of paper and get the children to paint

on only one half of the paper. Then fold it

in half so that the image is transferred onto

the opposite half. When you open it up,

you should have a matching, symmetrical

image on both halves of the paper.

Understanding the world

Teach the children some facts about

India – you could show where it is on the

globe, look at some examples of traditional

Indian dress and talk about some of the

differences that exist between the two

countries. Why not consider things like?

• Climate and weather

• Population

• Diet

• National dress

• Music and dance

• Animals

Expressive arts and design

There are many arts and crafts ideas

that you can use to celebrate Diwali such

as making paper lanterns, pictures of

fireworks or rangoli patterns. You could

decorate the floor outside your setting

with chalk rangolis. Remember to make

them bold and colourful to welcome in the

Goddess Lakshmi into your setting. Another

idea is to make some Indian sweet treats

and there are some simple, no-cooking

recipes which are suitable for toddlers.

Diwali is all about light defeating darkness,

so you could encourage your children to

interpret this themselves and give them free

reign over what to draw to show this.

Remember to send us in your images and

stories to hello@parenta.com to let us know

what you get up to. Happy Diwali!

34 November 2021 | parenta.com

parenta.com | November 2021 35
---
Anti-Bullying

Week

Wouldn't it be nice if our children could grow up in a safe, secure

and nurturing environment, free from any form or abuse or

the influence of people who do not have their best interests at

heart? Yet sadly, despite a myriad of safeguarding laws and

interventions, many of our children are still suffering at the

hands or bullies, either in person, or increasingly online, as they

have access to technology and the internet.

According to the latest ONS report on

Bullying in Schools, approximately 17%

of children report being bullied, with the

proportion being higher in younger age

groups: 22% of 10-year-olds and 8% of

15-year-olds. Compared to other OECD

nations, England saw the second highest

proportion of school principals reporting

bullying activity (29%) compared to an

OECD average of only 14%. A poll carried

out for the charity, Anti-Bullying Alliance

(ABA), found that in 2019, 11% of surveyed

children said they missed school due to

bullying, and 19% had avoided friends or

online media because of bullying. One in

four children experience online bullying in

some form or another.

What is bullying?

The ABA define bullying as:

"… the repetitive, intentional hurting of

one person or group by another person or

group, where the relationship involves an

imbalance of power."

It can be physical, emotional, verbal,

sexual and it can happen face to face

or online, or even indirectly via types of

coercion and exploitation.

Occasionally, there is confusion as to

whether an incident should be classed

as bullying, or a one-off peer-to-peer

disagreement, but there are 4 key

elements that have been identified which

clarify the definition of bullying.

These state that in bullying, the actions are:

• Hurtful

• Repetitive

• Intentional

• And that a power imbalance exists

The power imbalance and repeated

intention are often key to understanding if

an incident is classed as bullying. Power

imbalance can be associated with age,

gender, social status, numbers involved

amongst other things, and our traditional

view of there being a bully and victim

is now evolving as we understand that

bullying often has a much more complex,

social structure. Research is starting to

identify different roles within and around a

bullying situation such as the:

• 'Target' – the victim of bullying

• 'Ringleader' – the main bully

• 'Reinforcer' – people who give the

ringleader power and reinforce their

status

• 'Assistant' – people who assist in the

bullying, verbally or physically

• 'Defender' – people who defend or

stick up for the target either in person

or by telling an adult

• 'Outsider' – bystanders who may

witness and ignore the situation or

who are unaware of the bullying

taking place

Having a greater understanding of

all these roles can help teachers and

practitioners tackle bullying from all

angles. By encouraging more 'defenders',

or 'outsiders' to report bullying, and by

discouraging 'assistants' and 'reinforcers',

it becomes less easy for the 'ringleaders'

to gain access to, and intimidate their

'targets'. Clearly these are simplifications

but they can help tackle bullying when

everyone's role is taken into account. Left

unchallenged, bullying can grow and may,

in extreme cases, even eventually lead to

radicalisation, which we all have a duty to

tackle under The Prevent Duty.

Who is at risk?

Bullying can happen to anyone, in any

walk of life, and is not confined to children.

Many adults are the victims of bullying

in their workplace, or by virtue of their

gender, ethnicity, social status or sexuality.

There are several groups that have been

shown to suffer bullying disproportionately,

including:

• Looked after children and ex-looked

after children

• People with SEN and disabilities

• Young carers

• Ethnic or religious minorities

• LGTBQIA+

Bullying and early years

Bullying is wrong and needs to be taken

seriously at all levels. Even children aged

as young as 3 have been observed

displaying bullying behaviour, so it

everyone's responsibility to promote

tolerance, celebrate rather than ridicule

difference, and tackle bullying head-on

with a whole-school or whole-setting

approach. Early years settings are wellplaced

to challenge prejudices that may

exist in a child's wider social network, and

to educate and influence them in more

positive ways.

Anti-Bullying Week

Anti-Bullying Week, which runs this year

from 15th to the 19th of November is a

great way to open the discussions and

improve staff training on this issue. It is

organised annually by the ABA whose

objective are to:

• Raise the profile of bullying and the

effect it has on the lives of children

and young people

• Create a climate in which everyone

agrees that bullying is unacceptable

• Make sure that teachers, youth

practitioners, parents, carers, children

and young people have the skills

and knowledge to address bullying

effectively

The ABA website is full of information,

videos and advice on how to tackle

bullying and even has a free,

downloadable advice sheet especially

for early years settings which gives

some tips on how to promote positive

communication, empathy and

understanding to tackle the issues early

on, rather than falling into some of the

old traps of dismissing the behaviour as

'banter', telling the victims to 'stand up

for themselves', and equally-damaging,

labelling people as 'bullies' rather than

understanding their behaviour and

communication.

The ABA is a unique coalition of

organisations and individuals, working

together to stop bullying and create safer

environments in which children and young

people can live, grow, play and learn. It

was established by the NSPCC and the

National Children's Bureau in 2002 and is

hosted by the National Children's Bureau.

They provide expertise in relation to all

forms of bullying between children and

young people.

This year, the theme is 'One Kind Word'

and they are promoting the positive use of

kindness as a way to encourage a kinder

society overall, in which empathy and

understanding replace conflict, bullying

and coercion. The week is supported by

CBeebies star, Andy Day, and his band,

Andy and the Odd Socks, and everyone

is encouraged to start the week with Odd

Socks Day by wearing different socks to

school or nursery. Last year, over 80% of

schools and nurseries took part in the

event in some way, and you can download

and an advice sheet on ways to celebrate

anti-bullying week.

ABA covers England and Wales, but

Scotland has their own anti-bullying

agency called Respectme, and in Northern

Ireland, there is the Northern Ireland Anti-

Bullying Forum.

Each organisation has developed their

own resources and activity to support the

week.

Remember too, that staff training can

help practitioners spot bullying behaviour

and the ABA run several free, online CPD

lessons too.

References

• https://researchbriefings.files.

parliament.uk/documents/CBP-8812/

CBP-8812.pdf

• https://www.ons.gov.uk/

peoplepopulationandcommunity/

crimeandjustice/bulletins/

onlinebullyinginenglandandwales/

yearendingmarch2020

36 November 2021 | parenta.com

parenta.com | November 2021 37
---
How to help children to

deal with big emotions

Children can struggle with big emotions and often when going into a meltdown can find it hard

to self-regulate. Developmentally, young children don't have the capacity to calm down, so it's

important that we acknowledge this and take steps to support and nurture them back into a safe

and calm state.

During a tantrum, it's almost impossible

for a child to see reason because the part

of their brain that is active is closed off to

these things and isn't capable of applying

a logical perspective. Once we realise that

their reaction is often instinctive and out of

their conscious control, we can make more

effective decisions when responding to the

situation.

Tantrums can be very frustrating, however

in these moments, children need us to

respond with connection and calmness

rather than chaos. The best thing that we

can do for our children is to firstly regulate

ourselves and our own emotions. If we are

adding frustration and anger to the mix, it

won't help anyone.

Connection and space

The greatest gift we can give anyone is

connection. When people feel connected

and heard they are far more likely to calm

down and listen. During a meltdown, a

child won't hear your words. However,

they will feel your energy. By just extending

love and care in this moment, you will give

them the time and space to calm down.

Think about when you yourself have lost it.

In that moment you are raging and can't

think clearly. It's only once you've calmed

down that you can reason and look at a

different perspective. The same applies

to children. Calm always comes before

clarity.

Acknowledge feelings

Quite often tantrums seem irrational.

However, if you look at the situation

through the eyes of a child (with their

limited life experience), you will most

probably gain a better understanding

of why they are feeling and reacting this

way. I remember once giving my little boy

a red felt tip pen instead of the blue one,

he wanted. It all descended into chaos

and he ended up on the floor screaming

and crying. From my adult perspective

this seemed like a massive over reaction.

However, the minute I looked at this

through the lens of a 2-year-old, it made

so much more sense. He was frustrated

that I got it wrong and on top of that, he

didn't have the ability to talk to me in a

way that could articulate this frustration.

The only way he could express himself

was through a meltdown and because of

his age, he wasn't able to rationalise and

control himself. He wasn't being 'naughty'

or defiant, he was struggling to manage

his feelings and needed my help. I hugged

him through his meltdown and then once

he was calm, I told him that I understood

he was frustrated with mummy getting it

wrong and that I was going to fix it. I then

gave him the blue pen, wiped away his

tears and peace was quickly restored.

Manage expectations

When I am expecting something from my

children, I always ask myself how I would

personally react if I was being treated in the

same way. This helps me to make sure that

my expectations are fair and respectful.

Quite often without meaning to, we

ask things of children that

we wouldn't ourselves

be okay with.

For example:

If we were engrossed in a project and

someone just came up to us, turned off our

computer and told us it was lunch time, we

would be annoyed. We'd expect to have

some time to round things up and to finish

off what we were doing, and for people to

allow us to manage our own time. Children

are no different. By asking them if they can

be done in 5 minutes, you allow them to

feel in control. Like my own children, they

might negotiate and ask for 10, which is

perfectly okay.

By managing our own time and

expectations we can allow for this and give

children the feeling of autonomy, which

helps them to feel more empowered. If they

then go into a meltdown anyway when

the time comes to pack up, you can gently

remind them that they agreed to this.

This then teaches children about

responsibility and boundaries too.

Children are always going to have

meltdowns and will often struggle to

regulate their own feelings. However, with

our help and compassion they can return

to a state of calm and learn the lessons

necessary to move forward in a better way.

People are more likely to step into their

greatness when they feel understood, loved

and respected. If we can view a meltdown

as a signpost that a child is struggling and

needs our help, rather than viewing it as

'bad behaviour', we will not only manage

the situation in a more effective way but

will also teach children the art of kindness,

empathy and care.

?

?

?

Stacey Kelly

Stacey Kelly is a former French and

Spanish teacher, a parent to 2 beautiful

babies and the founder of Early Years

Story Box. After becoming a mum, Stacey

left her teaching career and started

writing and illustrating storybooks to help

support her children through different

transitional stages like leaving nursery

and starting school. Seeing the positive

impact of her books on her children's

emotional well-being led to Early Years

Story Box being born. Stacey has now

created 35 storybooks, all inspired by

her own children, to help teach different

life lessons and to prepare children for

their next steps. She has an exclusive

collection for childcare settings that are

gifted on special occasions like first/

last days, birthdays, Christmas and/or

Easter and has recently launched a new

collection for parents too. Her mission is

to support as many children as she can

through story-time and to give childcare

settings an affordable and special gifting

solution that truly makes a difference.

Email: stacey@earlyyearsstorybox.com or

Telephone: 07765785595

Website: www.earlyyearsstorybox.com

Facebook: https://www.facebook.com/

earlyyearsstorybox

Twitter: https://www.twitter.com/

eystorybox

Instagram: https://www.instagram.com/

earlyyearsstorybox

LinkedIn: https://www.linkedin.com/in/

stacey-kelly-a84534b2/

38 November 2021 | parenta.com

parenta.com | November 2021 39
---
CPD courses…

Whether you're a manager looking to support your staff by enhancing

their knowledge, or looking at developing your own career, when you

study one of Parenta's online CPD courses, you study in your own time

and at your own pace – all from the comfort of your own home!

Improve staff morale

and motivation

Maximise individual

potential and promote

development

Allows you and your

team to gain brand new

qualifications in many

different policies,

procedures and

practices

Enables you to keep

abreast of industry

changes by constantly

updating skill sets

By ensuring your team undergoes relevant, regular refresher training, they'll always be up-todate

with the latest policies, procedures and practices – and it doesn't need to be expensive!

With CPD courses from Parenta costing as little as £7,

what are you waiting for?

Log on and learn today!

0800 002 9242 hello@parenta.com