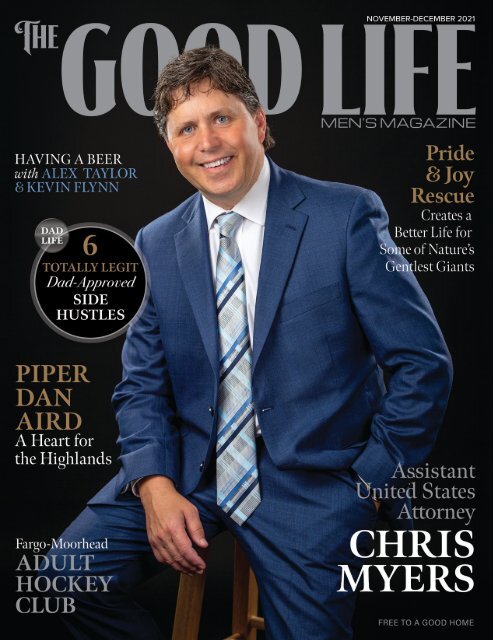 The Good Life – November-December 2021
On the cover – Assistant United States Attorney, Chris Myers. In the magazine – Local Hero and Veteran, Tom Krabbenhoft, Fargo-Moorhead Adult Hockey, Professional Bagpiper and Instructor, Dan Aird, Dad Life and more!
On the cover – Assistant United States Attorney, Chris Myers. In the magazine – Local Hero and Veteran, Tom Krabbenhoft, Fargo-Moorhead Adult Hockey, Professional Bagpiper and Instructor, Dan Aird, Dad Life and more!
SHOW MORE
SHOW LESS
You also want an ePaper? Increase the reach of your titles
YUMPU automatically turns print PDFs into web optimized ePapers that Google loves.
FATHERS | DAD LIFE

Six Totally Legit

Dad-Approved

Side Hustles

WRITTEN BY: PAUL HANKEL

As the holidays approach many

families find themselves tight

on funds. While this situation is

stressful, it has never been quicker

or easier to pick up a side gig or

side hustle to help supplement your

main income streams.

Below are six seasonal options that

could add some quick holiday cash

to your coffers.

Snag a local seasonal or temporary

position.

There are lots of great temporary

or seasonal gigs available during

the holidays. Many large retailers

and businesses are looking to

supplement their staffing in order

to deal with the increase in business

during the holiday months.

• Retailers such as Target, Scheel's,

and Hobby Lobby are extremely

busy during the holidays and are

always looking to hire for retail,

stocking, and overnight positions.

2 / THE GOOD LIFE / urbantoadmedia.com

• The recently opened Amazon

distribution center is another

great option for those looking for

temporary work. They offer training,

and flexible scheduling.

• UPS/FedEx

These two shipping giants, along

with Amazon, reported shipping

close to 3 billion parcels during the

2021 holiday season. To accomplish

this feat, they hire thousands of

seasonal workers to help sort,

process, and ship those parcels.

While physically demanding, these

temporary positions pay well and

have a lot of different hours and

shifts available.

Consider starting an e-commerce

site and selling products online.

It has never been quicker or easier

to start an online business. Will you

become an overnight millionaire?

Probably not. However, there are

millions of online entrepreneurs

who make or supplement their living

by operating an online business.

Of all of the suggested side hustles

in this list, an e-commerce store

will undoubtedly be the most timeintensive.

However, if done properly,

it could become a permanent

revenue stream for you and your

family.

While I want to tell you the process

is as simple as finding a product or

service you like and then selling it

online, the real process does take

some research and time to bring

to fruition. That being said, online
---
sales spike 45% during the holidays, meaning billions of

people are online and spending money. Why not be one

of the online retailers selling them a product?

To find out more about this very viable potential side

hustle, I would recommend beginning by going to

YouTube and watching some general informational

videos on how to best get your e-commerce store going.

I'm not going to lie to you – there are a lot of scammy

YouTube videos that are trying to get you to sign up for

their e-commerce training packages that they promise

will lead to millions in sales for your business. Meh,

highly unlikely.

Instead, look for general informational videos that offer

a free overview of dropshipping, e-commerce, and selling

online.

• Uber Eats

If being a standard Uber driver and driving people to their

holiday parties sounds a little too..."COVID-y" for you,

consider delivering Uber Eats as your safer less people-y

option. Drivers report earning up to $12 on average after

gas expenses. While that hourly rate isn't particularly

high, the flexibility of being able to work however much

or little you want and being able to pick when you work

makes food delivery seem like a great option for those

looking to make some quick holiday cash.

• Concert and Event Staff

The holidays are prime concert and event season and

those events need staff! Local promoters and event

venues such as Jade Presents and the Fargodome are

always looking to hire motivated staff to help work their

various holiday conc erts and events. You can check with

any local events company or venue to apply.

• Snow Removal

Are you a night owl with a valid driver's license? If so

then an overnight snow removal job may be right up your

alley!

Snow removal jobs are seasonal and typically highpaying

and duties are performed in the early mornings

or late at night. This is especially ideal for those who

work a regular day job.

A quick web search will list all the seasonal snow

removal jobs in your local area.

The holidays are filled with lots of potentially stressful

situations. Travel, getting time off, planning or hosting for

family or work parties…it's a lot. The last thing you want

on your mind is not having the funds to make ends meet.

While everyone's situation is different, the advancement

of the internet and the gig economy has made it so that

anyone with a pulse, a little bit of motivation, and even

just a few free hours per week can make some serious

supplemental income. Look into it! •

urbantoadmedia.com / THE GOOD LIFE / 3
---
Contents

VOLUME 9 | ISSUE 3

NOVEMBER-DECEMBER 2021

Dad Life. 02

Six Totally Legit Dad-Approved Side Hustles

Strapped for cash this holiday season? It's never been quicker or easier to snag a seasonal or temporary

position to support your holiday spending.

A Heart for the Highlands. 06

Professional bagpiper and instructor, Dan Aird, shares about his love for piping and his unconventional path

in life.

Fargo-Moorhead Adult Hockey. 10

A Club for Everyone

No matter your skill level or gender, the Fargo-Moorhead Adult Hockey Club is the perfect fit for you.

Helping Hands Save Lives. 14

Fargo Rescue Works with Nature's Gentlest Giants

Pride and Joy Rescue, a Fargo nonprofit, is working to create a better life for some of nature's gentlest giants.

On the Cover . 18

Coaching Justice: From the Rink to the Courtroom

Assistant United States Attorney Chris Myers shares his personal story and the lessons he's learned in life as a

hockey coach and prosecutor.

Having a Beer with Alex and Kevin . 24

Alex Taylor and Kevin Flynn of "The Need to Know Morning Show" sit down for a beer with Meghan Feir to

discuss important topics, such as whether dolls or clowns are creepier.

Salute to Blue. 28

D-S Beverages held a "Salute to Blue" event to say "thank you" to our local law enforcement. Area businesses

were happy to sponsor the event and show their appreciation and respect.

Local Hero 30

Tom Krabbenhoft

From Minnesota to Alaska to the Middle East and back again,

Local Hero Tom Krabbenhoft attracts adventure and strives

to serve meaningfully.

4 / THE GOOD LIFE / urbantoadmedia.com
---
PUBLISHED BY

Urban Toad Media LLP

www.urbantoadmedia.com

OWNER / GRAPHIC DESIGNER

Dawn Siewert

dawn@urbantoadmedia.com

OWNER / PHOTOGRAPHER

Darren Losee

darren@urbantoadmedia.com

CONTRIBUTING WRITERS

Meghan Feir

Paul Hankel

Krissy Ness

Alexis Swenson

Emma Vatnsdal

ADVERTISING INQUIRIES

Dawn Siewert

dawn@urbantoadmedia.com

READ A PAST ISSUE

yumpu.com/user/thegoodlife

FOLLOW US ON FACEBOOK

facebook.com/urbantoadmedia

FOLLOW US ON TWITTER

@urbantoadmedia

FOLLOW US ON INSTAGRAM

@urbantoadmedia

The Good Life Men's Magazine is distributed six times a year by

Urban Toad Media LLP. Material may not be reproduced without

permission. The Good Life Men's Magazine accepts no liability for

reader dissatisfaction arising from content in this publication. The

opinions expressed, or advice given, are the views of individual

writers or advertisers and do not necessarily represent the views or

policies of The Good Life Men's Magazine.

urbantoadmedia.com / THE GOOD LIFE / 5
---
hen you meet Dan Aird, the

W

first thing you might notice is

his calm demeanor. But behind

those dark blue eyes and softspoken

voice lies a treasure trove of

unexpected stories.

Aird's life has been anything but average.

From choosing to play the bagpipes as

his instrument of choice to teaching

students in Scotland how to play their

national instrument, he has made many

captivating choices. He was a member

of the Air Force, studied archeology, and

has been a teacher in various capacities.

Throughout his childhood and teenage

years, Aird and his family moved around

the state of North Dakota. Born in Devils

Lake, Aird moved as a child to Lawton,

where his native Scottish grandfather

built and managed a grain elevator in

1903 after finding gold in the Yukon.

6 / THE GOOD LIFE

WRITTEN BY: MEGHAN FEIR

PHOTOS BY: URBAN TOAD MEDIA
---
Aird and his family also lived in

Dickinson for a short stint before

moving to Medora in 1957. He went

to high school in neighboring Montana

before coming to Fargo to attend North

Dakota State University for a degree

in zoology and a minor in physical

science. Aird eventually joined the Air

Force in 1969.

While serving in the Air Force,

Aird had both of his desired station

requests granted.

"When I was in the service, they had

a wish sheet for where you'd like

to be stationed," Aird said. "I put in

Spokane, Wash., because it was near

where there was a pipe band, and I

knew some of the people who played."

After spending two and a half years in

Spokane, Aird had a second request

granted and was next stationed at the

only Air Force base in England at RAF

Lakenheath for over a year.

"When I was leaving the service, they

had a program where if you were

stationed in some other country when

you got out, you could stay there for

awhile and they'd fly you back," Aird

said, "so I then went up to Scotland

and went to The College of Piping in

Glasgow. I taught beginners and gave

lessons there at the college, one year

at Glasgow High School, and one year

at Kelvinside Academy. I got a half-hour

lesson from the head instructor in the

morning and another half hour in the

afternoon."

Before his feet ever tread on Scottish

soil, Aird was already hooked on the

pipes. Prior to his Fargo and Air Force

days, one of Aird's friends got him into

piping after high school.

Piper ~ Dan Aird

When i was leaving the service, they

had a program where if you were

stationed in some other country when

you got out, you could stay there for

awhile and they'd fly you back. so i

then went up to scotland and went to

the college of piping in glasgow.

urbantoadmedia.com / THE GOOD LIFE / 7
---
It is an instrument steeped in history,

embodying a strong vein of Aird's heritage.

"I had a friend my age who helped

me get started. I had been doing

exercises on the practice chanter

before Doug really got me going and

on to the bagpipe itself. Then I went

to his teacher," Aird said. "There

were no other pipers around, so I

would go up to Canada where my

friend's teacher was, and sometimes

I'd play in parades with him and his

son."

A Strong Set of Pipes

With two Gaelic-speaking

grandfathers who had emigrated

from Scotland with wild stories of

their own, it is no wonder Aird's

rich Scottish heritage is a source

of immense fascination and pride.

Clearly, the independent spirit of

the Scots flows through his veins as

he's carved out his unconventional

path through life.

Aird's bagpipes also have a tale

to tell. Decades ago, his friend,

Douglas Bremner, the same man

who got him into piping, ordered

a $28 bagpipe from a shop in

Pakistan.

The order didn't arrive.

Years later, the instrument was

delivered with an extra set of

bagpipes and a note. In the letter,

the sender of the package explained

how his shop had been bombed in

the Indo-Pakistani War. It took him a

few years to start his life's work over

again.

To honor his word and show remorse

for the delayed order, he'd sent two

instruments. The quality of both sets

of pipes was impeccable and has

since been the envy of other pipers.

Aird bought that extra set of pipes

from his friend for only $14, and it's

proven to be the most worthwhile

$14 he's ever spent in his life.

The Plaid Piper

Years after he serendipitously

acquired his bagpipes, the two

instruments from that little music

shop in Pakistan have been reunited

in song. Aird and his friend Doug's

daughter play together in the

Heather and Thistle Pipes and

Drums band in Fargo.

He's been a part of the musical

group since its inception in 1992,

using his passion for the pipes to

teach students, direct and play

for the many events they perform

every year. They most often play for

parades, such as the St. Patrick's

Day Parade in Fargo, but some of

the events they play for are far less

joyful and lighthearted.

One of the experiences that stand

out the most for Aird was when they

played for a 9-11 memorial service,

along with playing at a service for a

man who had died in that national

tragedy.

Whether for joyful or solemn events,

Aird and other skilled bagpipers

have a distinct way of evoking pride,

excitement and tears from those

who listen to the moving drone and

skirl of the pipes.

It is an instrument steeped in

history, embodying a strong vein

of Aird's heritage. Thanks to

his interest, dedication and

tutelage, the skills needed to

play the bagpipes have been

passed down to younger

generations, keeping the

traditions alive. •
---
agpipes 101

Good Life: Does rain hurt bagpipes?

Dan Aird: Not really. In Scotland

it rains all the time. The problem

is you can get water run down the

drones and stop the reed, so they

don't sound. If you hold it at an angle

it doesn't go in as easily.

GL: How many people in this area

play?

DA: There are around 20 pipers in

our band.

GL: What are five of your favorite

songs to play?

DA: I like "Calum Campbell's

Caprice," "Crossing the Minch,"

and "The Carnival Reel," and "Big

John O'Neill's Hornpipe," and "The

Highland Wedding," but there are so

many other good ones too.

GL: How can someone know they're

buying a good set of bagpipes?

DA: Usually people order them on

the internet now. Any pipe made in

Scotland is a good pipe, no matter

which maker it is. The average

spend is around $1,200, but you can

get them for any price. If you want a

$1 million bagpipe, you can get one.

They'll encrust it with diamonds if

you want and make it out of solid

gold, if you like.

GL: If you treat pipes well, how long

can your instrument last?

DA: Forever. The only thing to

happen is if you're a really wet

blower, the blowpipe sometimes

cracks, but that can be replaced. All

the good pipes are made of wood. •

urbantoadmedia.com / THE GOOD LIFE / 9
---
FARGO-MOORHEAD ADULT HOCKEY

A CLUB FOR EVERYONE

WRITTEN BY: KRISSY NESS

PHOTOS BY: URBAN TOAD MEDIA

When it comes to hockey in

the Fargo-Moorhead area,

there are a few different

options. Still, nothing can compare

to the Fargo-Moorhead Adult Hockey

Club (FMAHC).

Founder and player, Skyler Severns,

moved to Fargo from Seattle,

Washington and wasn't sure what

he would find when he arrived

here. Having no previous skating

experience before his move, where

he needed to start looking was a

challenge. Of course, there are

bar leagues and the Fargo Parks

district leagues, but he was looking

for something more, something

different, so he created it.

The FMAHC more closely resembles

a minor league team with all skill

levels instead of a bar league. "We

try not to call it a bar league, largely

because we don't let bars advertise

on an individual team," said Severns.

However, "we do allow bars to

advertise for the whole league."

What is unique about this club is

they run three drop-ins, which are

not officiated games, per week

year-round. Additionally, they have

development sessions for new

players and this is all open to the

public. "We have some players who

have played in the junior leagues

and then some players, like me, who

haven't played very much hockey at

all," stated Severns.

In addition to drop-ins, the perks

of this league include personalized

team jerseys, playing cards with

your picture and stats on them,

pre and post-season gatherings,

and the ability to hit the ice during

any reserved practice times at the

Scheels Arena – where the games

take place.

10 / THE GOOD LIFE / urbantoadmedia.com
---
All games, including playoff

and championship games, are

streamed online via Facebook

live, Vimeo, and YouTube. This

isn't your average run-of-the-mill,

fish-eyed lens camera; FMAHC

really got into production with live

commentary, a score bug, and onair

advertising.

For this club, there are six teams,

10 skaters per team, and one

goalie. Each team plays 15 games,

and if you advance, there are also

playoffs and a championship game.

The season goes from January to

April, and you must be 18 years

old to join the drop-in games and

development sessions, but at least

21 to be in the league.

When the roster fills up, or you

are not sure you can commit to an

entire season, you can also jump

on the substitutions and waitlist.

"If we get enough active players on

the reserve list, then we will open

up the reserve line and have 15

skaters and one goalie per team,"

mentioned Severns.

Another bonus of this league is

that it is co-ed. It is exciting to see a

club strictly for adults and not just

for men or women. "There isn't a

lot of opportunities for women to

play hockey once they get out of

college," said Severns. "We have

been trying to reach more of the

women in the community, and with

this club, we have the ability to."

WE HAVE SOME PLAYERS WHO HAVE

PLAYED IN THE JUNIOR LEAGUES AND THEN

SOME PLAYERS, LIKE ME, WHO HAVEN'T

PLAYED VERY MUCH HOCKEY AT ALL."

– SKYLER SEVERNS

urbantoadmedia.com / THE GOOD LIFE / 11
---
Severns' passion for this club goes

much farther than playing the

game and having good production

value for viewing the games. The

sense of community he has created

within this club is incredible.

"We had a few visitors from

Switzerland join our drop-in and

skated with us three times a week

for the three months they were

visiting family in town. A father

and son playing hockey together

when they normally wouldn't get

to," said Severns.

As I mentioned earlier, Severns

hails from the west coast, and he

brought a little of his home life to

the club. You might notice the team

names are not ones commonly

used in this part of the country,

with names like Mountaineers,

Sea Kraits, and Albatross, to name

a few. These small touches and the

12 / THE GOOD LIFE / urbantoadmedia.com
---
ambition to create a club that makes

you feel more a part of the community

prove Severns is unique and driven.

I have watched a few of the previously

streamed games on Facebook, and

it was fun and exciting to watch.

Watching sporting events when they

can really have fun and get the crowd

invested is always a treat. Not only

does it make the environment in the

arena more fun, but it also makes

viewing it from home that much more

enjoyable. "It's fun to sit back and

think; I get to be involved in a league

that has hats thrown on the rink

when there is a hat trick," exclaimed

Severns.

The FMAHC is an excellent example

of what you can do within your

community. Being passionate about

something doesn't have an expiration

date, and it is never too late to make

it happen. This club is a beautiful

addition to the Fargo-Moorhead area,

and I can't wait to catch a couple of

games when the season starts up in a

couple of months.

Finally, I asked Severns what the

good life means to him. "To me, the

good life is having an opportunity to

play hockey with friends and family.

The good life is being able to be a part

of a franchise and experience hockey

as we observe it in the stands or on

television, and to meet my exercise

and health goals without the mundane

life of a gym membership." •

urbantoadmedia.com / THE GOOD LIFE / 13
---
Helping Hands

Save Lives i

X

It started with a little girl, a question and a ton of morals

— and grew into a nonprofit operating on its own ranch

just a few miles northwest of Fargo.

"(Our daughter) asked what a kill truck was," said

Robert Faulkner, owner, operator and director of Pride

and Joy Rescue. "She didn't want them to do it. She

wanted to help as many horses as we possibly could."

Pride and Joy Rescue is a 501c3 nonprofit in Fargo,

N.D., that works to connect the community and horse

rescues.

"Horses have such a healing power to them," said

Connie Faulkner, co-owner, operator and director of

Pride and Joy. "If you save them, they'll save you."

And save them they do.

Connie and Robert have saved more than 10 horses

since their inception in 2021. Roughly 1-2 percent

of the U.S. equine population is slaughtered

each year, according to the American Veterinary

Medical Association, with their bodies being sold

at livestock auctions for human consumption in

places like Mexico, Japan, China, Germany and

Indonesia, to name a few.

The Faulkners, like many other equine rescues,

attend these auctions with the intention of buying

the creatures and providing them a loving home

until they're deemed ready for adoption.

WRITTEN BY: EMMA VATNSDAL

PHOTOS BY: URBAN TOAD MEDIA

14 / THE GOOD LIFE / urbantoadmedia.com
---
urbantoadmedia.com / THE GOOD LIFE / 15
---
"It's usually about five of us

against six, seven, eight of the kill

buyers (those who attend livestock

auctions with the intention of

purchasing horses to ship to

countries who will pay for their

meat)," said Connie. "It's legit a

complete bidding war. And if the

kill buyers win (the bid) you'll see

the rescue group following them to

their trucks to buy the horses off

them."

After these gentle giants are taken

off the truck, they're brought to the

rescue to begin their new lives —

with food, medical care and love

waiting for them.

"I grew up around horses, they kept

me out of trouble," said Connie.

"This is me paying them back. So

we're saving them, they're saving

(our daughter Rainey)."

It's a family affair, too. Everyone

has their role within Pride and Joy

— some work as ranch hands, some

help with the business side of the

nonprofit, and Rainey, a spitfire of

an 8-year-old, runs to the beat of

her own drum as a ranch hand in

training.

Pride and Joy currently has 11

horses — 10 of which are at their

ranch, with the other at training in

preparation for her adoption — and

every single one has a story.

Lil' Horse and Corky's, the two that

started it all, original owner was

unable to provide the attention they

needed and they were getting ready

to be sent to the unknown. The stars

aligned and the Faulkners were able

to take them in, creating a bond

between the horses and their owners

that is completely unbreakable.

Two more came from an Amish

farm, while a couple of others were

saved from the kill truck, just like

their brothers Corky and Lil' Horse.

But the most incredible story started

just five weeks ago, with a very

underweight guy named Forty. His

original owners tried to keep weight

on him, but ultimately did what they

thought was best: sending him to

Pride and Joy. But the rescue had

their work cut out for them from the

get-go.

"He was extremely, extremely,

extremely underweight when we got

him," Connie said. "He was like 900

pounds."

For context, a healthy horse

generally weighs between 1,800 and

2,000 pounds.

"When we got him he couldn't pick

his feet up," Connie said. "His entire

hips were sticking out and you could

see his ribs and spine. When we got

him, he had absolutely no energy

whatsoever."

However, through a strict diet of

feed, along with many, many other

caloric-rich foods, Forty has started

to gain — weighing in at over 1,100

pounds on the day of this interview.

The Faulkners aren't the only ones

getting the chance to love on these

creatures, though.

Pride and Joy hosts groups out to

the ranch to learn from and about

the horses, as well as help out with

the chores and feeding.

16 / THE GOOD LIFE / urbantoadmedia.com
---
"We've had Project RAI out," Connie said. "That was kind

of fun, we got to tie in the educational part of horse rescue

with that."

Project RAI is a Fargo nonprofit with a mission to reduce

suicide statistics among LGBTQ+ youth by helping them

feel comfortable in their own skin.

"I basically set things up for them to do ahead of timebased

on their ages," she said. "We had them washing

feed buckets, we had them wash a water pail and clean

stalls. And I showed them what the horses looked like

when they come in and what they look like now, and when

they're all done, we do a training demo."

They're hoping to open their rescue to more groups, too.

"My end goal would be to find some way to help sheriffs,

veterans, any type of that entity, work through their

PTSD," Connie said. "That means a lot to us. We've talked

to a couple of sheriff groups already and they know they

have an open invitation out here, but there's such a stigma

around it. We want to break that. I know what (the horses)

can do for PTSD, I know what they can do for depression,

I know what they can do for anxiety. I know what grooming

them can do for people, I've seen it, I've experienced it — if

people need to do that, they just need to reach out."

And through all their work, all the long hours and money

spent, the Faulkners say it's all worth it.

"I think we're living the Good Life," Connie said. "We're

giving Rainey a place to play, she has responsibilities, she

has compassion, she's learning something that kids her

age don't get to learn, she gets to take care of these guys.

For us, that's the Good Life."

The Faulkners are always welcoming volunteers to

help around the rescue. "The biggest thing for us is the

community support," Connie said. "We want to support

Fargo with this place. We're trying to do things that help

the community, but we can't do that without the community

helping us." •

urbantoadmedia.com / THE GOOD LIFE / 17
---
ON THE COVER | CHRIS MYERS

Coaching Justice:

From the Rink to the Courtroom

Chris Myers, assistant United States attorney for

the District of North Dakota, has a job that often

involves high-profile, high-stakes cases. Yet even

with the difficult scenarios he encounters every day,

his high-stress job still feels like the perfect fit.

As a little boy living in Wahpeton, N.D., in the '70s,

Myers knew he wanted to go into law enforcement.

He'd been inspired by his father, Earle "Bud" Myers,

who fought for justice as a prosecuting attorney.

Once his college years came around the bend, the

choice was clear; he'd study sociology and criminal

justice at North Dakota State University, followed

up by two degrees in public administration and law

at Drake University in Iowa.

With his fiancée (now wife) still living in the Fargo-

Moorhead area, Myers knew he wanted to move

back home. It was a community he loved and

wanted to be a part of once more.

After moving back to Fargo, he quickly started a

position with the North Dakota Bureau of Criminal

Investigation as a special agent before becoming

an assistant state's attorney for the Cass County

State's Attorney's Office the following year.

"It was another opportunity to do what I wanted to

do and be where I wanted to be," Myers said.

Since those posts in the mid-1990s, Myers has

gone on to hold numerous positions in the North

Dakota, Minnesota and United States' justice

systems, including his most recent roles for the

United States Department of Justice for the District

of North Dakota as a United States attorney and

his current title as assistant United States attorney.

Whether he's speaking at a conference in Spain,

taking on larger cases in foreign countries and

around the United States, or keeping it local by

cracking down on crime in the Fargo area, Myers

stressed the importance of remembering your

roots.

"Don't ever forget where you came from," Myers

said. "I've had cases that span across the United

States and other countries, but I kind of smile

because I'm from Fargo."

Even with all the traveling he has done for his career,

Myers never doubted where he wanted to live and

grow a family. His roots were already established;

his love for the community already planted.

"To me 'the good life' means raising a family in this

community and having excellent schools for your

kids. The overall quality of life here doesn't get

any better, if you ask me," Myers said. "I've been

fortunate to be blessed working with top-notch law

enforcement and staff in our office to make this

community a little bit safer. That sums it up for me.

Fargo is a great place with great people."

18 / THE GOOD LIFE / urbantoadmedia.com
---
WRITTEN BY: MEGHAN FEIR

PHOTOS BY: URBAN TOAD MEDIA

urbantoadmedia.com / THE GOOD LIFE / 19
---
ON THE COVER | CHRIS MYERS

FRoM THE RiNK TO THE COURTROOM

Myers' three constants in life have always been his

love for family, work and hockey.

As a teenager, he and his family packed their bags

and moved from Wahpeton to Fargo. The Myers

wanted their son to be able to play hockey at Fargo

North High School. The move proved to be worth

it. Myers basked in the joy of playing hockey and

made lifelong memories when he and his team

went on to win a state hockey title in 1986. After

a year of playing junior hockey for the Dubuque

Fighting Saints, Myers returned home for school

and hockey at North Dakota State University.

Thirty years later, Myers is still enthralled with

hockey.

For the past 15 years, Myers has been coaching

girls and boys hockey and has even coached all

three of his children in their favorite sport. It's

taken a lot of time, dedication and commitment

from their family, and Myers has enjoyed every

minute of it. Winter for their family remains

consumed with the game they love, cheering on

daughters who play Division 1 hockey and a son

who plays high school hockey.

PHOTO SUBMITTED BY: CHRIS MYERS

Myers with his dad, Earle "Bud" Myers.

Myers' father went to all of his

hockey games and would watch his

trials. "This summer was the first big

trial where he wasn't there," Myers said.

20 / THE GOOD LIFE / urbantoadmedia.com
---
Myers coaching his two

daughters in hockey.

On his own, Myers still takes time to hit the rink every

week to keep his skating skills sharp, providing a brisk

mental break from the occasional heaviness of his job.

Whether Myers is giving a pep talk in a locker room, being

a minister of justice in a courtroom, or teaching lessons

to his kids in their living room, the experiences he's had

as a coach, prosecutor and father have shaped how he

handles every area of his life.

For most of his career as a prosecutor, Myers has worked

to identify, target and dismantle criminal organizations,

prosecuting hundreds of drug trafficking cases and

associated violent crimes. It takes the work of Myers and

a team of law enforcement agents working together to

serve justice for long-term investigations.

In those cases, Myers is the supervisor and manager of

the teams, often using the lessons he's learned as a coach

to effectively lead the investigations.

"They compliment each other," Myers said. "You want to

be a good leader, teacher and mentor. As a coach and as

a supervisor in the investigations, I want to put people in

the best roles for the team to allow them to succeed and

flourish. It's a team endeavor."

The phrase Myers and local law enforcement try to live

by in their daily work is "One team, one voice, one fight."

"It ties back to the hockey thing with teamwork," Myers

said. "The concept in sports that I've heard used is

'The name on the back of the jersey isn't as important

as the name on the front of the jersey.' It's the idea that

we need to put the team first. If you comprise your team

with people who have that mindset and are hardworking,

ethical people, you'll succeed."

Over the years, Myers has won innumerable awards

for his work, including the 2020 Attorney General's

Distinguished Service Award, the 2019 Leadership in

the Prevention of Transnational Crime Award, and the

2018 National High Intensity Drug Trafficking Area's

Prosecutor of the Year Award. Myers was also inducted

into the Fargo North Hall of Fame in 2017. But when

Myers working undercover as a

delivery driver in the mid-'90s.

PHOTO SUBMITTED BY: CHRIS MYERS PHOTO SUBMITTED BY: CHRIS MYERS

urbantoadmedia.com / THE GOOD LIFE / 21
---
ON THE COVER | CHRIS MYERS

these accolades are mentioned, Myers immediately gives

equal credit to his teammates, saying these are team

awards.

"All of those represent a team award because in all those

cases, it's not just one person, it's a whole team of people

doing the work," Myers said. "We have some of the best

law enforcement in the country, and I've worked with law

enforcement all over the country and in foreign countries. I

feel very fortunate to work with the people I do, not only with

law enforcement, but our staff and my support staff as well.

I've basically had the same support staff my whole career

in the US Attorney's Office. Lori Daly and Deb Wilson have

been there since I started in '02, and they're a huge part of

the success."

Words Matter

In every role Myers plays, his knowledge, people skills and

speaking abilities are the strengths and tools he uses to

do his jobs effectively. He knows the power words have on

influencing the world around him.

"As a coach, I try to talk to my players during practice.

You might not know what's going on at school for them or

what's going on at home, but make your contact with them a

positive one. You might change their whole day, their whole

week or their whole year," Myers said. "When you think

"The overall quality of life here

doesn't get any better, if you

ask me. I've been fortunate to be

blessed working with top-notch

law enforcement and staff

in our office to make this

community a little bit safer."

- Chris Myers

22 / THE GOOD LIFE / urbantoadmedia.com
---
about it, that's true not only in coaching but in regular dayto-day

life. Be kind."

Many principles Myers tries to follow in life have been

collected from observing the lives of his mentors and other

coaches, his father, "Bud," being his greatest influencer of

all.

Myers always looked up to his dad in more ways than his

career path. Bud was gregarious and would talk to everyone,

generous with his time, treating people with dignity and

respect.

A year ago, Myers' father passed away, but the way in which

he touched the lives of others carries on through his son's

life and work.

PHOTO SUBMITTED BY: CHRIS MYERS

"I don't know if he said it or if I just learned it from watching

him, but one thing he imparted on me is how important it is

to treat everybody the same, whether they're the janitor or

the judge," Myers said. "You don't know how much impact

you can have in your contact with people, whether it's a brief

or long-standing relationship. You can be an influence on

them, either positive or negative. What you say matters." •

Myers talking with Former

United States Attorney General

Jeff Sessions in 2018.

urbantoadmedia.com / THE GOOD LIFE / 23
---
HAVING A BEER WITH | ALEX & KEVIN

WRITTEN BY: MEGHAN FEIR

PHOTOS BY: URBAN TOAD MEDIA

Alex Taylor and Kevin Flynn, the hosts of

"The Need to Know Morning Show" on AM

1100 The Flag, are two peas in a pod. Flynn

even says Taylor is his "sister from another

mister," and they often think of what the

other person will say before it's spoken.

On a rainy autumn day, the two seasoned

radio hosts joined me at Drekker for a beer

or two as we chatted about dolls vs. clowns,

risky life choices and other hot topics.

Good Life: How do you handle your

unusual working hours?

Kevin Flynn: I get up at 3:20 every

morning, drive about an hour to work, we

do our thing, and then I drive an hour back

to the lake. I'm just loving life in the north

country.

Alex Taylor: I can beat that. I get up at

about 2-2:30 a.m. I get to work at 4 a.m.,

hit the computers and see what I missed

when I was sleeping. I get a nap every day

at 2 o'clock, so that's a bonus. I've been

working at The Flag for probably 5 or 6

years, and I love morning radio. I'm done

by 9:30 most days. After that it's like I

didn't even work.

KF: I, on the other hand, started morning

radio so I could make a 1 o'clock tee

time. That's pretty much my motivation. I

started exclusively doing mornings in '85

in Arizona. Last fall was my 40th year of

24 / THE GOOD LIFE
---
eing on radio. Talk radio is even better for me

because I don't have to shut up.

GL: Are dolls or clowns creepier?

AT: Dolls. I've seen some scary dolls. Chucky is

probably scarier than Pennywise. I think I could

reason with Pennywise. I don't think I'd have a

chance with Chucky.

KF: Clowns, no doubt. They're living and

breathing. They could be anything.

GL: What's the worst gift you've ever been given?

KF: Probably a bottle of liqueur that was the

most rancid, nasty stuff I've ever tried in my life.

It was like toxic, rotten licorice.

AT: I'm not a big fan of surprises. I'm the one

who picks out my gift and says, "This is what

you got me!" Then he doesn't have to think and

everybody's happy. You don't waste your money

on junk I don't like, and I get what I want.

GL: When you were a kid, what did you think

would be a bigger problem as you grew up?

I—and every other child of the '80s and '90s—

thought hot lava was going to be a way bigger

issue in life than it has been.

KF: Authority.

GL: How did that turn out?

KF: Okay, thank goodness. For a lot of reasons,

I had a certain disdain when I was younger for

authority, but I came out of that. The good Lord

said I wouldn't be that guy.

AT: I was never really scared of anything, but my

dad tried to make me water ski once. He was like,

"Get up. You have a life jacket and you're going

to waterski." We must have been out there all

afternoon before he gave up on me. I just didn't

want to. I didn't know how to swim, and I didn't

urbantoadmedia.com / THE GOOD LIFE / 25
---
HAVING A BEER WITH | ALEX & KEVIN

want to be in water over my head. I don't like my

hair wet, and I just want to float—nowadays with

a beverage.

GL: What's one current cultural thing you'd be

happy to see go?

KF: For me, it's some of the language. "To be

honest," "Honestly," "Right?"—it drives me crazy.

I could go down the list.

AT: All this politically incorrect stuff.

KF: Too much freakin' wokeness.

AT: You can't say what you think anymore. I'm

sick of people being sensitive and offended. I

think it was better when we could all just say

what we wanted and you got over it. You don't

have to agree with me, and I don't have to agree

with you, but we're all entitled to our opinion.

GL: What's the riskiest or weirdest thing you've

done in life that actually ended up turning out

well?

AT: I went to college as an older student. I was

a hairstylist for a few years. Then I had my son

and decided that once he was in 1st grade I'd go

back to school. It was a different experience as

an older student, but I knew why I was there.

KF: Mine was buying a lake lot 25 years ago with

money we didn't have. It worked out.

GL: What does living the good life mean to you?

AT: Having fun. Making every day the best day

because every day is a gift. If you're not having

fun, don't do it. Why waste the time? Just have

fun.

KF: I worked for a guy whose mantra was, "Dare

to be great." He ended up being the VP of FOX

Sports Radio. I always liked his mantra, but

it seemed long to me. So I just started saying,

"Be great," and tagged it on everything. Being

anything else is shortchanging yourself. •

26 / THE GOOD LIFE / urbantoadmedia.com
---
urbantoadmedia.com / THE GOOD LIFE / 27
---
"Law enforcement personnel put themselves

in harm's way every day protecting the City of

Moorhead and its citizens. Preserving public

safety isn't an easy job, and in today's world

it can be a thankless, stressful task.

Officers make great personal sacrifices –

often working long hours away from families

and friends – to ensure our communities are

safe.

As the Mayor of Moorhead, it was a privilege

and an honor to be part of the Salute to Blue

and to thank officers everywhere for their

service." – Shelly Carlson, Moorhead Mayor

"We are fortunate to live in the Fargo Moorhead Community as

law enforcement officers because of the support we get from our

citizens and businesses. The D-S Beverages "Salute to Blue" is

just another great example of one of our local businesses thinking

of ways they can recognize the efforts of local law enforcement.

The Cass County Sheriff's Office appreciates the partnership

and support of D-S Beverages and wants to thank them for their

hospitality."– Jesse Jahner, Cass County Sheriff

28 / THE GOOD LIFE / urbantoadmedia.com

"This was a great event to be part of and I

would like to thank D-S Beverages for their

continued support of law enforcement in our

communities. The members of the Sheriff's

Office that attended the appreciation were

grateful that D-S Beverages hosted such an

awesome event and went all out to show their

support to law enforcement. We appreciate

the support that our community continues

to show to law enforcement and we are very

lucky to live and work in the area that we

do. Thank you!" – Mark Empting, Clay County

Sheriff
---
The "Salute to Blue" event in August was simply D-S Beverages saying "Thank You" to

all our great people in local law enforcement. In light of all that is going on across the

country, we wanted to let law enforcement here know that in this community you are

appreciated and respected. The Fargo Air Museum provided the perfect venue to have

up close and personal interaction with the Budweiser Clydesdales while sampling some

great Anheuser-Busch beers. We really appreciate the food provided by Hornbachers, the

ice cream from Cass Clay, games from Games Galore and the photos from Urban Toad

Media. – Doug Restemayer, President D-S Beverages

"D-S Beverages of Moorhead hosted an

appreciation event for law enforcement in

August. It was a family event held at the

Fargo Air Museum with food, beverages,

games for the kids, with an appearance

of the Budweiser Clydesdales Hitch Team.

Doug Restemayer and his team went above

and beyond in letting the law enforcement

community know they are supported and

appreciated.

The event was well-attended, beautifully

done and our staff thoroughly enjoyed it.

Thank you D-S Beverages for your support!"

– Shannon Monroe, Moorhead Police Chief

"It is always great to see our community showing support for its law

enforcement officers. I know the men and women of the Fargo Police

Department never expect it, but still greatly appreciate the gesture.

Careers in law enforcement are difficult but important work, and events

like "Salute to Blue" which display the community's backing of its

guardians help show the impact each of them has on those they protect."

– Tim Mahoney, Fargo Mayor

"The Fargo Police Department was honored to be a part of the Salute to

Law Enforcement event, and appreciate the support and collaboration of

members of our community and service providers who help enable us to

carry out the vision and mission of the department each and every day."

– Jessica Shindeldecker, Fargo Police Dept.
---
LOCAL HERO | TOM KRABBENHOFT

WRITTEN BY: ALEXIS SWENSON

PHOTOS BY: URBAN TOAD MEDIA

At age 17, Tom Krabbenhoft joined the Minnesota

Army National Guard on a part-time basis.

Krabbenhoft was interested in joining in part due

to coming from a military family. Beyond that, the

year was 1984—when teachers were on strike.

Krabbenhoft asked for a challenging role and was

placed in Infantry where he experienced significant

culture shock from the rigid discipline and routine.

"I wasn't going to be the teenager that mapped the

human genome. Sometimes you just gotta be honest

with yourself," said Krabbenhoft. "You're going from

teachers on strike and not really succeeding in

academia to doing things that you read about and

see on TV."

Service Life

Upon finishing Basic and Advanced Individual

Training, Krabbenhoft returned to Moorhead, MN

where he often volunteered to accompany Army

key personnel utilization program (KPUP) tours.

In 1987, Krabbenhoft became a Forward Observer,

controlling artillery and mortar fire along with

calling in air strikes. Two and half years later, he

pursued Stinger Missile training and became one

of the chief instructors for the weapon in the United

States. Krabbenhoft also joined a newly developed

Air Defense Artillery unit in Grand Forks, ND.

"I was the third enlisted person to join and the

lowest-ranked. It was ground floor of something

unique and different. I was there for the opportunity

and adventure," said Krabbenhoft. "It was an

incredible thing at the time to get in on a fairly new,

proven weapon system."

30 / THE GOOD LIFE / urbantoadmedia.com
---
Krabbenhoft's unit provided air defense for

the 6th Infantry Division in Alaska, affording

him many trips north. With each trip,

Krabbenhoft's exposure to danger elevated.

First, he and another military member

became stranded in a shack for several

days while protecting air missiles due to

dangerous ice fog. Ice fog occurs when the

temperature is so cold that condensation is

pulled out of the ground resulting in small

ice crystals suspended in the air. The pair

rifled through the garbage looking for Meal,

Ready-To-Eat (MRE) scraps during the day

while the wolves sifted through it at night

until the ice fog cleared up.

Another time included enduring a 14-hour

bus ride from Anchorage to Fairbanks where

the external temperature was -50 F and the

temperature on the bus was -30 F. While

the heat was on inside the bus, the heating

system simply could not compete. On

another occasion, a tent fire erupted due to

a combination of Yukon Stoves fired up with

gas and highly flammable old canvas tents.

Most notable for Krabbenhoft was a helicopter

crash in 1992 due to a hydraulic actuator failure.

"Everything you do there is completely

different. You need to eat more calories

because your body generates so many

more calories to keep warm in an

arctic environment. We were given an

extra 2500 calories a day. It was brutal

to do that for extended periods," said

Krabbenhoft.

Most notable for Krabbenhoft was

a helicopter crash in 1992 due to a

hydraulic actuator failure. His mission

in Alaska concluded and he was looking

for a ride back to Anchorage, 160 miles

away. When he had the unexpected

opportunity to tag along on a flight to

Anchorage on a Boeing CH-47 Chinook,

he graciously moved forward with it.

"All of a sudden, it started to rotate really

slowly. I looked behind and the guy

behind me hit the floor. I reached up and

urbantoadmedia.com / THE GOOD LIFE / 31
---
LOCAL HERO | TOM KRABBENHOFT

The only thought

I had was I was going

to get sucked out of

the helicopter. I was

completely sold on the

idea that I was doomed.

grabbed a nylon harness; I was not strapped

into the helicopter," said Krabbenhoft. "I

was thrown forward a couple of feet and hit

a door lined up with a firewall closet where

it's open on the bottom. It was absolutely

terrifying; I could feel the wind rushing and

the helicopter beneath me. It sounded like

I was in the middle of 20 trains. The only

thought I had was I was going to get sucked

out of the helicopter. I was completely sold

on the idea that I was doomed."

Of the 19 individuals on the helicopter, all

survived, but sustained injuries ranging

from mild to serious. Krabbenhoft didn't

realize how bad his injuries were until

several weeks later when issues with his

legs and spine showed up. He was unable to

do the things he loved to do in Infantry and

transferred to the Air Guard to serve in a

Logistics role. Despite the fact that none of

his leadership education credits transferred

and the sense of loss for losing the combat

aspect of his work, Krabbenhoft enjoyed the

brotherhood of his new unit.

Serving Post 9/11

Following the events of 9/11 in 2001,

Krabbenhoft took a full-time job at the

Air Guard, managing weapons and war

readiness materials. "Like most people, my

life was forever changed when the second

plane hit. I realized things were never

going to be the way they had been," said

Krabbenhoft.

It was absolutely terrifying;

I could feel the wind rushing and the

helicopter beneath me. It sounded like

I was in the middle of 20 trains.

32 / THE GOOD LIFE / urbantoadmedia.com

In 2009, he was deployed to the Middle

East. Although Krabbenhoft's deployment

was intended to last six months, a lifethreatening

infection cut his time short in

the most poignant experience of his life. He

was given a verdict of less than 24 hours to

live in a location where advanced medical

care was not available. Krabbenhoft had the

option of either being sent in his uniform

to a high-risk area known for American

kidnappings or to take his chances at the

base. He chose to try his luck on base where

doctors promised to give him all the knockout

punches they had.
---
With no way of diagnosing the infection,

Krabbenhoft was hooked up to multiple

IVs where several dozen bags of antibiotics

were dispersed over several days. Those

medications, although ultimately saving his

life, left him with major long-term effects

including serious hip, back, shoulder, and

neck issues.

Impact of Serving

A few months after Krabbenhoft was sent

home, he found himself prescribed and

sometimes taking over 20 pills a day to

manage the debilitating pain throughout

his body. He gained 100 lbs, was diagnosed

with heart disease and diabetes, and

experienced intense anxiety.

"It felt like watching yourself from the

outside. I didn't believe in anxiety before

that happened to me. Now, I was having

trouble leaving the house which was mindboggling

for me. I kept taking those pills and

it got so out of hand it was unbelievable,"

said Krabbenhoft. "Within a two-week time

frame, I found out I was getting kicked out

of the military, losing my job, and getting

a divorce. It felt like I was in an unfaithful

world. When you're taking that many pills, it

distorts your reality."

It felt like I was in

an unfaithful world.

When you're taking that

many pills, it distorts

your reality."

Krabbenhoft struggled for three years with

his new reality of pills, distorted reality, and

lost relationships. "When I came back, I

was salvageable, but I didn't have anybody

reach out to me from my unit or help me

through," said Krabbenhoft. "Therefore,

it was easier to discard me than salvage

me. My situational awareness has always

been above average, so it was easy for me

to know something was wrong, but it wasn't

being fixed. My kids lost their dad."

Turning a Corner

Today, Krabbenhoft's life looks vastly

different and part of that is due to his

motivation to learn how to ride a motorcycle.

To do so, he knew he needed to lose

weight, reduce the number of pills he was

prescribed, and do a lot of physical therapy.

Krabbenhoft hired a personal trainer,

urbantoadmedia.com / THE GOOD LIFE / 33
---
LOCAL HERO | TOM KRABBENHOFT

began a workout program, and tried various alternative pain

relief methods including chiropractic care, massage, and dry

needling. Over four years, he lost a substantial amount of weight

to walk away pill-free with the exception of over-the-counter pain

medication like ibuprofen. Krabbenhoft credits much of this to his

girlfriend, Shannon, an orthopedic nurse for many years.

"Shannon enlightened me to alternative pain relief which has been

a huge blessing. Her guidance has been immeasurable to me; I am

pretty much indebted to her," said Krabbenhoft.

Current Life

Currently, Krabbenhoft works as a realtor referral agent for

Coldwell Banker-Element and serves as Director of the FM

Legion Riders, an organization of motorcycle enthusiasts who

are dedicated to supporting veterans and children's charities.

Krabbenhoft is passionate about his work with the group and their

biggest event held in the winter. Every February, the group spends

the night in a tent, outside the Moorhead American Legion to

bring awareness to veteran suicide prevention and homelessness.

He is also abundantly grateful for his children, striving to build

34 / THE GOOD LIFE / urbantoadmedia.com
---
ack was lost when he first returned from the Middle

East. "I have a couple of wonderful daughters who

are very creative culinary and musically. I also have

a 15-year-old boy who is very physically fit and

athletically oriented. He's a talented football player

and wrestler. Their lives got affected as well with

everything that happened—losing them was hardest"

said Krabbenhoft.

The Good Life

For Krabbenhoft, the good life is one filled with

meaning and balance. "Being around for tomorrow

and being able to make a positive difference. It's even

better when you can do that with a good group of

people. Also, a motorcycle ride on a hot day with a

cold beer waiting at the end," said Krabbenhoft. •

Being around for tomorrow

and being able to make a

positive difference. It's even

better when you can do that

with a good group of people.

Also, a motorcycle ride on

a hot day with a cold beer

waiting at the end.

urbantoadmedia.com / THE GOOD LIFE / 35