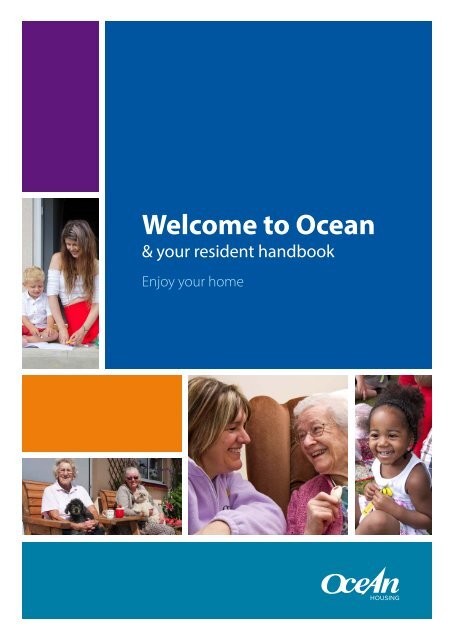 You also want an ePaper? Increase the reach of your titles
YUMPU automatically turns print PDFs into web optimized ePapers that Google loves.
Welcome to Ocean

& your resident handbook

Enjoy your home
---
Getting in touch

is easy

Our Customer Experience Team are trained to handle your enquiries

Telephone 01726 874450

Livechat

Email

Website

Write

Text

www.oceanhousing.com

help@oceanhousing.com

www.oceanhousing.com

Ocean Housing, Stennack House, Stennack Road,

St Austell PL25 3SW

Start your text with a word to describe why you are contacting us,

for example: Repair. Don't forget to include your name and

address. Send to: 07520 632741.

Automated Allpay 24hr automated rent payment service 0844 5578321

Rent Payment

Our office

Stennack House

Stennack Road

St Austell PL25 3SW

BETHEL RDTRENOWAH ROAD

BUCKLERS LANE

Opening Hours

Monday to Friday

8.30am to 5pm

by appointment only.

HOLMBUSH ROAD

STENNACK RD

DANIELS LANE

TESCO

A390

BUCKLERS LANE

HOLMBUSH ROAD

Closed bank holidays and

between Christmas and New Year

Outside our opening hours please call

01726 874450 for an emergency repair

0800 0886699 to report anti-social behaviour

2
---
Welcome

to your handbook

We want you to feel comfortable and secure in your home and

to enjoy living in your neighbourhood. This handbook is a short

guide to our services and your rights and responsibilities

as an Ocean resident.

Friendly help when you need it Page 4

Our promise as your landlord Page 5

Your responsibilities as an Ocean resident Page 6/7

Your rights as an Ocean resident Page 8

Safeguarding vulnerable adults and children Page 9

Dealing with anti-social behaviour and domestic abuse Page 9

Treating everyone fairly Page 10

Getting involved Page 11

Information leaflets

Back cover

For a large print, audio CD or alternative

language version of this handbook please call

our Customer Experience Team on

01726 874450

3
---
Friendly help

when you need it

Reporting a repair?

Our Customer Experience Team are trained to

handle the majority of enquiries and repair

requests.

help@oceanhousing.com

Looking to move or need advice

about your home?

Our Neighbourhood Services Team offer

advice and support to help you enjoy your

home and the area you live in. They can

also help if you are thinking of moving. Your

Neighborhood Officer can visit you at home

if required.

help@oceanhousing.com

Having problems

paying your rent?

Our Customer Accounts Team are here to

help with money matters. They give advice

if you are struggling to pay your rent, check

whether you are receiving all the benefits

you are entitled to and help you to manage

any debts.

help@oceanhousing.com

Experiencing

anti-social behaviour?

Our Neighbourhood Services Team adopt a

harm-centred probem solving approach to

reports of Anti-Social Behaviour (ASB). Please

see page 9 for more information.

Need support to continue

living in your home?

Our Ocean Extra Service provides a flexible

and tailor-made service for residents who

need support due to a health problem,

disability or age-related need. Call the team

for more information and a home visit.

help@oceanhousing.com

Interested in buying a home?

Our shared ownership homes are advertised

advertised on our website and through Help

to Buy South. Our Home Ownership team

can be contacted for further information on

any of our homes that are

for sale.

01726 874450

help@oceanhousing.com

For more information email help@oceanhousing.com

or call our Customer Experience Team on

01726 874450

4
---
Our promise

as your landlord

Maintaining and

repairing your home

We realise how important it is for you that

your home is well maintained. We keep

it structurally sound and weather tight,

maintaining windows, gutters, roofs, outside

doors and drains. Your safety is equally

important and we inspect the electrics in

your home every 10 years and annually

service gas heating systems.

Repairs are necessary from time to time in

even the best maintained homes and we

provide residents with a flexible and efficient

repair appointment service.

Maintaining the areas you

share with neighbours

We maintain the communal grounds around

your home, including grass cutting, hedge

trimming and the upkeep of shrubberies

and unadopted pathways. We are also

responsible for cleaning the communal

areas in and around our blocks of flats and

keeping them in a safe condition. Residents

who receive these services pay for them as a

weekly service charge.

Keeping or service standard

commitments

We've worked with our residents to align

our service standards to the Together With

Tenants commitments from the National

Housing Federation. You can find out about

the commitments, the level of service you

can expect and how to challenge Ocean if we

don't meet that standard at

www.oceanhousing.com

Responding to your

compliments or complaints

We welcome your feedback whether it is

positive or negative. You can find out how to

make a compliment or register a complaint on

our website at

www.oceanhousing.com

or

help@oceanhousing.com

To request a repair

01726 874450

help@oceanhousing.com

www.oceanhousing.com

Livechat www.oceanhousing.com

5
---
Your responsibilities

as an Ocean resident

Paying your rent

One of your main responsibilities is to pay

your rent in advance and on time. If you

experience problems with your rent please

contact us immediately so that we can

advise and assist you.

You can pay your rent

n at any Post Office or PayPoint outlet

n by Standing Order or Direct Debit

n at www.oceanhousing.com

n by credit or debit card over the

telephone

Paying your service charge

You may have to pay a service charge

as well as your rent. This usually covers the

cost of maintaining communal areas, such

as cleaning the shared hallway, electricity for

hallway lighting and grass cutting in areas you

share with your neighbours.

Insurance

Ocean covers the structure of your home but

you are responsible for insuring your furniture

and contents.

Keeping us informed

It is important that you keep us informed of

any changes in your circumstances at home

such as when someone moves in or out or you

change your surname.

Looking after your home

Please keep your home in good condition

and decorative order and promptly report any

repairs that are Ocean's responsibility. If you

have a garden please ensure it is tidy and clear

of rubbish.

Being a responsible neighbour

You are responsible for the behaviour of

members of your household and any visitors

to your home.

We have arranged contents insurance at a special affordable rate for residents.

For details and an application pack call our Customer Experience Team on

help@oceanhousing.com

6
---
Living in flats and maisonettes

Please keep the areas you share with

your neighbours clean and tidy. In case of

emergencies, communal hallways and stairs

must be kept free of rubbish and belongings,

such as bicycles and prams.

Removal of refuse

You are responsible for removing all other

rubbish that refuse collectors do not take.

This must not build up in your home or

garden. If it becomes a health hazard we

will charge you for the cost of cleaning and/

or removing it.

Car parking and

garages

Please do not park any vehicle

or trailer on your property

except in a garage or other marked parking

space that you rent from Ocean.

Running a business

You need our permission to run a business

from your home or garage.

Pets

If you are allowed a pet in your home, you

are responsible for its behaviour and for

ensuring it does not foul communal areas,

cause a nuisance to neighbours or damage

your home.

Moving out

Please give four weeks' notice in writing and

ensure that the property is left tidy, in good

decorative order and free from rubbish,

including any loft space. Otherwise you

will be charged for the cost of cleaning and

any removals.

More information about your rights and responsibilities can be found in

your Tenancy Agreement

www.oceanhousing.com

7
---
Your rights as an

Ocean resident

Keeping you informed and

consulted

We will seek your views before making major

changes to your tenancy or how we manage

or maintain your home. We will also consult

you before carrying out major improvements.

Staying in your home

You have the right to live in your home for

as long as your tenancy lasts provided you

do not break any of the conditions in your

tenancy agreement.

Making improvements

There are certain improvements you can

make to your home but you must always ask

our permission first. If you leave your home

you may be able to claim compensation for

the improvements you have made.

Passing on your tenancy

You may be able to pass on your tenancy to a

partner, family member or carer who is living

with you when you die, unless you have a

starter tenancy (normally the first 12 months

of tenancy.

Taking in a lodger

You can take in a lodger as long as it will not

cause overcrowding or result in more people

living in your home than is allowed. You can

not sub-let all or part of your home.

Swapping your home

You can exchange your home with another

housing association or council tenant

provided you are not a starter tenant and you

have not breached the terms and conditions

of your agreement.

Accessing personal information

We keep any information we hold about

you safe and secure. You can ask to see this

information if you wish.

Moving home? View properties for rent or sale at

www.cornwallhomechoice.org.uk

www.homeswapper.co.uk

8
---
Safeguarding vulnerable

adults and children

As individuals we all have a responsibility to ensure the safety of vulnerable adults and children

and to protect them from abuse. If you have any concerns please notify the appropriate

authorities on the telephone numbers listed at the bottom of this page.

Ocean Housing takes its responsibilities very seriously, safeguarding the independence, safety

and well-being of all its residents. We provide training for staff and work with other agencies

to ensure support is given to vulnerable adults and children who experience abuse or are in

potentially abusive situations.

Tackling

anti-social

behaviour

Dealing with

domestic abuse

Ocean Housing adopt a harm-centered,

problem solving approach to reports of ASB.

We will:

• Communicate clearly with our customers

to explain ASB and our approach. • Expect

customers, members of their household

and visitors to be considerate, tolerant

and understanding of others and behave

reasonably. • Encourage customers to resolve

their own matters with their neighbours

where it is safe and appropriate do so.

• Be clear what is considered ASB and what

is not. • Consider using a wide range of

options to tackle ASB. Work in partnership

with other agencies. • Expect customers to

report issues to the correct agency.

Any issues regarding ASB should be reported

to Ocean at the earliest opportunity.

If you experience or are affected by Domestic

Abuse:

• Call 999 if you are in immediate danger

• Contact

- Cornwall 24 hour helpline - 01872 225629

- Respect Mens Advice Line - 0808 8010327

or info@mensadviceline.org.uk

- Refuge - 0808 2000 247

- Galop (LGBTQ) - 0800 999 5428

- Ocean Housing for help, advice and

support on 01726 874450

Call the Police immediately

if you are a victim

of crime.

For a copy of our leaflets offering advice on

anti-social behaviour and domestic abuse

please go to www.oceanhousing.com

To report any concerns regarding vulnerable adults or children call

Adult Social Care 0300 1234 131 / out of hours 01208 251300

Children's Services 0300 1231 116 / out of hours 01208 251300

Ocean 01726 874450

9
---
Treating

everyone fairly

We want everyone who contacts us to have

a positive experience. We are dedicated

to providing equal access to our homes

and services and value the diversity of our

residents, staff and the wider community.

Promoting equality

We provide regular training for our staff

to raise awareness and understanding of

people's different requirements. We also use

your feedback to ensure our services meet

individual needs wherever possible.

Tackling hate crime

We will not tolerate those who harass,

attack or abuse any of our residents or staff

because of age, disability, gender, gender

identity, race, ethnicity, religion or sexual

orientation. If you are a victim of such crime,

please contact your Neighbourhood Services

Officer. We will give you support and

assistance and put you in touch with other

agencies who can also help.

Making

information and

services accessible

We can provide information in different

languages and alternative formats such

as Braille and audio CD and our offices are

wheelchair accessible.

Providing accessible homes

We design new homes and communal areas

to meet the needs of disabled people. If

you have a disability we may also be able

to change things in your home to make life

easier for you.

For a copy of our leaflets on dealing with harassment and accessing information and

services please visit our website

www.oceanhousing.com

10
---
Get Involved

with the Tenant

Partnership

We want all residents to have the opportunity

to get involved and have a say about how

their homes are managed.

By working together, we can make a real

difference, helping people to enjoy their

homes and the neighbourhood they live in.

There are many ways you can get involved to

suit your interests and to fit in with your life

by joining the Tenant Partnership.

The Tenant Partnership

The Tenant Partnership has three levels,

bronze, silver and gold with more

commitment and reward as you climb

the levels.

Bronze

n Virtual Internet Panel (VIP)

Silver

n

n

n

Editorial Panel

Grounds Maintenance and Communal

Cleaning Monitors

Scrutiny Bootcamp

Gold

n

Together With Ocean (TWO)

resident group

Supporting your involvement

If you want to get involved, we can offer

support including providing I.T. equipment,

paying travel expenses to attend meetings

and helping out with childcare costs. We also

offer education and training opportunities

if you want to improve your skills to take part.

If you want any more information on

the Tenant Partnership then please

get in contact.

If you want to join in contact The Tenant Involvement Team

01726 874450

help@oceanhousing.com

www.oceanhousing.com

11
---
Our Services

n How to access information and services

n How to prevent condensation and mould in your home

n Help for those at risk of domestic violence

n Tackling anti-social behaviour

n Dealing with harassment

n A guide to residents' associations

n Ocean Extra Service - tailored support for you at home

n Changes to housing benefit - bedroom tax

Ocean Housing Limited

Stennack House Stennack Road St Austell Cornwall PL25 3SW

telephone: 01726 874450

email: help@oceanhousing.com

www.oceanhousing.com

More information about our services is available

on our website at www.oceanhousing.com

or by calling our Customer Experience Team on

01726 874450.

Design: Karen Jackson Design 01326 373108 Photography: Frame by Frame 01503 262684