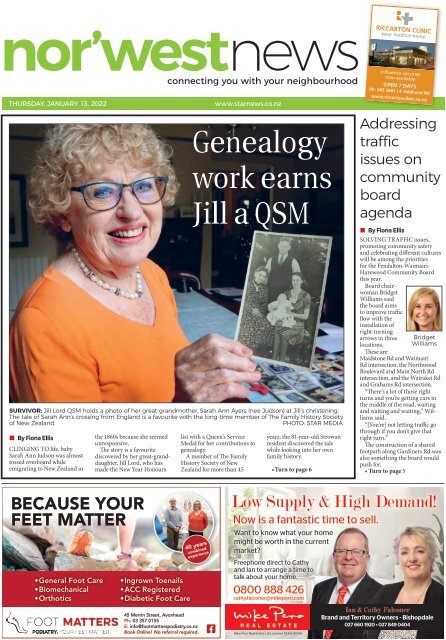 Nor'West News: January 13, 2022
You also want an ePaper? Increase the reach of your titles
YUMPU automatically turns print PDFs into web optimized ePapers that Google loves.
connecting you with your neighbourhood

Influenza vaccines

now available

OPEN 7 DAYS

Ph: 343 3661 | 4 Yaldhurst Rd

THURSDAY, JANUARY 13, 2022

• By Fiona Ellis

CLINGING TO life, baby

Sarah Ann Judson was almost

tossed overboard while

emigrating to New Zealand in

the 1860s because she seemed

unresponsive.

The story is a favourite

discovered by her great-granddaughter,

Jill Lord, who has

made the New Year Honours

www.starnews.co.nz

Genealogy

work earns

Jill a QSM

SURVIVOR: Jill Lord QSM holds a photo of her great-grandmother, Sarah Ann Ayers (nee Judson) at Jill's christening.

The tale of Sarah Ann's crossing from England is a favourite with the long-time member of The Family History Society

of New Zealand.

PHOTO: STAR MEDIA ​

list with a Queen's Service

Medal for her contributions to

genealogy.

A member of The Family

History Society of New

Zealand for more than 45

years, the 81-year-old Strowan

resident discovered the tale

while looking into her own

family history.

• Turn to page 6

www.riccartonclinic.co.nz

Addressing

traffic

issues on

community

board

agenda

• By Fiona Ellis

SOLVING TRAFFIC issues,

promoting community safety

and celebrating different cultures

will be among the priorities

for the Fendalton-Waimairi-

Harewood Community Board

this year.

Board chairwoman

Bridget

Williams said

the board aims

to improve traffic

flow with the

installation of

right-turning

arrows in three

locations.

These are

Maidstone Rd and Waimairi

Bridget

Williams

Rd intersection, the Northwood

Boulevard and Main North Rd

intersection, and the Wairakei Rd

and Grahams Rd intersection.

"There's a lot of those right

turns and you're getting cars in

the middle of the road, waiting

and waiting and waiting," Williams

said.

"[You're] not letting traffic go

through if you don't give that

right turn."

The construction of a shared

footpath along Gardiners Rd was

also something the board would

push for.

• Turn to page 5

BECAUSE YOUR

FEET MATTER

• General Foot Care

• Biomechanical

• Orthotics

• Ingrown Toenails

• ACC Registered

• Diabetic Foot Care

40 years

combined

experience

45 Merrin Street, Avonhead

Ph: 03 357 0155

E: info@footmatterspodiatry.co.nz

Book Online! No referral required.

Low Supply & High Demand!

Now is a fantastic time to sell.

Want to know what your home

might be worth in the current

market?

Freephone direct to Cathy

and Ian to arrange a time to

talk about your home.

0800 888 426

cathy.falconer@mikepero.com

Mike Pero Real Estate Ltd Licensed REAA (2008)

Ian & Cathy Falconer

Brand and Territory Owners - Bishopdale

027 660 1920 • 027 849 0404
---
2

Advertise locally and

target customers most

likely to shop with you!

Effective Ad packages start from just $99

(inclusive full colour ad, creative setting,

photography and proofing).

No contracts required.

Your local community newspaper connects

neighbours in the following suburbs

Harewood • Burnside • Bishopdale • Bryndwr

Fendalton • Merivale • St Albans • Mairehau

Papanui • Casebrook • Redwood • Styx Mill

Regents Park • Northwood • Belfast • Strowan

29,389 homes every week.

ADVERTISING

Monique Maynard

Ph: 021 372 481

monique.maynard@starmedia.kiwi

NEWS

Fiona Ellis

Ph: 021 914 407

fiona.ellis@starmedia.kiwi

GENERAL INQUIRIES Ph 379 7100

CLASSIFIED ADVERTISING Ph 379 1100

www.starmedia.kiwi

what's on

this week

Housie

Thursday, 12.30– 2.15pm

Mary Potter Community Centre, 442

Durham St North

To participate, take $2 per housie

card or take a prize to the value of

the card. Afternoon tea to follow. Go

along, meet new people, have some

fun. Gold coin donation for nonresidents

attending the community

centre. Inquiries, phone 372 9224.

How does your garden grow?

Thursday-Wednesday, all day

Bishopdale Library

Go along and collect a sunflower

seed from a librarian as part of a

sustainable living series for kids. Take

it home and plant it in a sunny spot.

Give your plant a name and look after

it over the summer holidays. Take

a photo of your flower or take your

stem into the library from February

28, to March 4. Go into the draw to

win a gardening surprise.

Handmade Bookmarks

Thursday, Friday, Saturday, all

day, at Redwood and Fendalton

Libraries, Monday, Tuesday,

Wednesday, all day, at Shirley and

Fendalton Libraries.

Redwood, Shirley and Fendalton

Libraries

Go along, make your mark and

mark your place with a personalised

bookmark. This holiday programme

for all ages is an unsupervised activity.

Free, no bookings required.

Summertime Stories

Thursday, 10.30-11.30am

Bishopdale Library

Go along and join Summertime

Stories as part of a summertime reading

programme for kids. Fun for the

whole family, no booking required.

Enter our summertime reading challenge

and be in to win.

JP Clinic

Saturday, 10am-noon, at

Fendalton, Tuesday, 10am-1pm, at

Shirley and Papanui, Wednesday,

10am-1pm, at Bishopdale

Fendalton, Bishopdale, Papanui and

Shirley libraries

A justice of the peace will be

available to witness signatures and

documents, certify document copies,

hear oaths, declarations, affidavits or

affirmations, as well as sign citizenship

or rates rebates applications.

Wā Kōrero: Storytimes

Tuesday, 10.30-11am

Shirley Library

Go along to an interactive programme

including books, songs,

rhymes and play. Recommended

Thursday January 13 2022

Under The Sea Diorama, Thursday, Tuesday 2.30-4pm at Bishopdale

Library, Tuesday 3.30-4.30pm at Redwood Library.

What can you see under the sea? Go along to this school holiday programme

for all ages and create your own under the sea scene. Free, no bookings

required

for children two-years-old and up.

No bookings required. All whānau

and caregivers welcome. Please note

guardians and children over 12 will

need to wear a face mask and show

their My Vaccine Pass on arrival at

our libraries. Room capacity is limited

and the number of attendees possible

at sessions will be influenced by the

number of users already in the space.

Scottish Country Dancing

Tuesday, 7.45-9.45pm

Heaton Intermediate School hall, 125

Heaton St

Go along if you want to take part in

the fun exercise. All you need to take

is some soft shoes. The first night is

free for beginners. Phone 021 480 802

for more information.

Elizabeth Bridge Club

Wednesday, 1-4pm

Christchurch Bridge Club Rooms, 21

Nova Pl

Go along and join others for a

game of bridge every Wednesday.

Arrive at 12.50pm for a 1pm start.

If you do not have a partner, phone

Maureen at 021 646 123.

If you're considering selling your

home in 2022 please give me a call…

Grenadier Real Estate Ltd MREINZ Licensed Agent REAA 2008

GRENADIER

Debbie Pettigrew

M 027 777 0411

Paul and the team at

Somerfield

Upholstery

before

AfTer

Want to thank all their customers for their

valued support and wish them

A very Happy Christmas & Prosperous 2022

Closing 23 rd December 2021 & Reopen on 20 th January 2022

Somerfield Upholstery Ltd

FURNITURE RECOVERY SPECIALIST

6/47 Sonter Road, Wigram | Ph 021 251 6200 | 349 0456
---
Thursday January 13 2022 3

Mami's loving life in the pool

LIFEGUARD AND swim

instructor Mami Mori has loved

the water all her life.

Mori grew up in Japan where

she attended swimming lessons

with her brother from the age of

nine.

They then caught the bus to

training three times a week and,

by junior high school, Mori

was a competitive freestyle and

breaststroke swimmer.

"My mother couldn't swim so

she wanted us to be able to," she

said.

"I wasn't as strong as my

brother, he was a national rep –

but I loved swimming."

Not only is Mori a Swimsmart

tutor at Pioneer Recreation

and Sport Centre, she's also

a lifeguard at Jellie Park and

Waltham Pool.

Mori started her job

as a lifeguard last summer

and just two weeks into the role

she found herself jumping in to

save a boy who was struggling

and at risk of drowning at Jellie

Park.

"What I had been taught to

look for was exactly what I saw

happening in the pool, making

the training very valuable," she

said.

"I didn't need to think about

what to do, I reacted to the

situation and jumped into the

water immediately.

"He was a bit shocked but he

was okay. I was a bit shocked

SPLASH: Mami Mori is a lifeguard at Jellie Park Recreation and Sport Centre.

too, but it gave me confidence

knowing I could make the right

decisions and help those in

trouble."

Mori said it's not just children

who can panic or get into trouble

at the swimming pool.

"If people haven't learned

to swim as children they

can sometimes lack skills or

confidence in the water," she

said. One of the reasons she

enjoys teaching swim classes is

to help people grow up feeling

happy and confident in the water,

especially as there's so many

beaches, rivers and lakes in New

Zealand.

Her students are primary-aged

children and pre-schoolers, who

are "very cute" and have a lot of

energy, she said.

"They're so enthusiastic,

though sometimes it's hard to get

them to listen."

When she's working as a

lifeguard, she keeps a watchful

eye on everyone, especially

children.

She said with the warm

weather bringing more people

to the pool, lifeguards have to

constantly monitor the area

and look out for any potential

hazards.

"What I love best about my

job is seeing the improvement of

the students in the swimming

classes and, as a lifeguard, I can

PHOTOS: NEWSLINE

help ensure people are safe and

having fun," she said.

When asked if she had

any advice for the public this

summer she said: "I would say

listen to the lifeguards at all

times and respect other pool

users and staff. And if you are a

parent or caregiver, help us out

by looking out for your children

too, actively supervise undereights

and keep under fives

within an arm's reach."

NUMBER ONE SUPPLIER

TO THE NZ JET BOATING

COMMUNITY FOR OVER

50 YEARS

'CEREC' & cosmetic dentistry

Wisdom tooth removal

Back to

School

ShoeS

FOR ALL YOUR

MECHANICAL

REPAIRS

Painless, high quality dentistry

Sedation dentistry

• Part Boats & Hulls

• Turn Key Packages

• New Jet Units

• Custom Fabrication

• Expert Advice

SERVICING

Peter Tonkin

03 962 0505

peter.tonkin@hamiltonjet.nz

• Spare Parts Retailer

• Jet Unit Refurbishment

• Engine Tune-Ups

• Insurance Repairs

• Impellor Reconditioning

Experienced, conscientious team

Experienced hygienists

OPEN SATURDAYS

355 9380

144 Cranford Street

www.stalbansdentalcentre.co.nz

Ascent &

McKinlays

from $79.95 - $149

47c Garlands Road, Woolston

Phone 389 3431

www.thefootwearfactory.co.nz

Open Monday – Friday 8am – 5pm

164 Kendal Ave. Ph 358 9399

We were so impressed with Cameron and his team, we knew we were in

great hands with their professionalism and amazing organisational skills.

Everything ran so smoothly and efficiently. Cameron certainly knows what

was happening with the market at the time we had our house listed and

this was a huge part of us selling our home with him and our successful sale.

A huge thank you to Cameron and his amazing team Sam and Lisa, I would

certainly recommend them to everyone thinking of selling their home.

- Jill & Ramon -

Phone or text 027 555 7079

REINZ Residential Salesperson of the Year across all brands in NZ

No.1 Harcourts Canterbury 2012-2021

cameron.bailey@harcourts.co.nz

No.1 Harcourts New Zealand 2017-2021

www.cameronbailey.harcourts.co.nz No.1 Harcourts International 2017-2021

Licensed Sales Consultant REAA 2008
---
4

Thursday January 13 2022

New Year, New Home?

IS 2022 YOUR YEAR TO MOVE?

If you see yourself in a new home this year, whether it's a bigger

home, a smaller home or maybe your first home, get in touch today

and let us make this year your greatest one yet!

RAY WHITE BISHOPDALE & STROWAN

0800 YELLOW

RECENTLY

BY RAY WHITE BISHOPDALE & STROWAN

32 Barnes Road

Redwood

16 James Caird Lane

Wigram

32 Webb Street

Merivale

29 Oldwood Street

Bishopdale

2/43 Vagues Road

Northcote

32B Reginald Street

Burwood

YOURS

COULD BE

HERE IN

2022

78 Cotswold Avenue

Bishopdale

95 Hoani Street

Papanui

4A Brickworks Lane

Huntsbury

193 Cashmere Road

Hoon Hay

28 Kimberley Street

Casebrook

Ray White Bishopdale and Strowan - 2021 Winners

REINZ and Ray White Community Service Awards

Ray White BS

Bishopdale & Strowan

0800 YELLOW (0800 935 569)

5/333 Harewood Road, Bishopdale | 55 Blighs Road, Strowan

rwbishopdale.co.nz | rwstrowan.co.nz

Inline Realty Limited (Licensed REAA 2008)

Proudly owned by

Karen Ellis

021 519 275

Barry Ellis

021 519 274
---
Thursday January 13 2022 5

ROOM TO GROW: Neighbourhood Trust general manager Dan Hyzl says

public input will help determine what the McFaddens Rd community

garden will look like.

PHOTO: STAR MEDIA

Survey to determine

what you want from

neighbourhood garden

• By Fiona Ellis

PREPARATIONS are

under way for a community

garden aiming to help

people grow together,

physically and mentally.

A survey is now open

for those in St Albans,

Mairehau, Shirley, or the

surrounding suburbs to

give input on the McFaddens

Rd garden.

Neighbourhood Trust

general manager Dan Hyzl

said opinions on the 130m2

garden will help shape the

final outcome.

"It's a survey of what you

would like in the gardens

and maybe what you don't

need in the gardens. We'll

take everything into consideration,"

Hyzl said.

Non-profit organisation

The Green Lab has partnered

with the trust to help

design the garden.

In addition to vegetable

• From page 1

"It's a long stretch of

road, there's a lot of residential

housing and that

sort of thing. There's demand

for providing a safe

walkway, for both cyclists

and walkers."

Controlling traffic speed

around neighbourhoods

and schools was another

priority, she said.

Last year the board

kick-started Avonhead and

Russley Community Safety

Initiative in collaboration

with the Christchurch

North Community Patrol,

police, Neighbourhood

Support Canterbury and

Ilam MP Sarah Pallett.

It carried out a survey

beds, options such as a play

area, composting facilities

and a polytunnel for yearround

growing are also

being considered.

The survey also

asks who is interested

in contributing to or

benefiting from the garden,

and how often they would

use the garden.

Those who the trust

particularly aimed to

help with the garden were

young families, people

isolated within the community,

and those with

mental health needs, Hyzl

said.

The outdoor space would

provide a place to "grow

together" and promote

healthy eating.

"There's a lot of people in

the community who might

not be eating as healthy as

they should, eating processed

food."

In the future, the trust

to identify safety concerns

of people who lived in the

area, which Williams said

would be followed up this

year.

"We'll see how we could

put together some kind of

community meeting or

workshop to help residents

and neighbourhoods look

after themselves."

The board was now looking

at expanding the safety

initiative to Bishopdale and

Strowan, although no date

had been set for this.

Improving community

facilitates such as the public

toilets at Bishopdale Mall

would be another focus.

Board priorities this

year were a balance of core

also hoped to offer cooking

courses incorporating the

produce grown in the community

garden.

"Lots of the ingredients

from the community

garden could be used for

these cooking courses for

different ethnic groups that

are in our community as

well."

Work towards clearing

the garden site was under

way, and Hyzl said he

hoped a grand opening

would take place sometime

in April.

He estimated the project

would have a final price tag

of between $8000-$12,000,

and was pleased with the

support it had received so

far, including help from

volunteers.

A link to the survey,

which closes on January

20, can be found on the

Neighbourhood Trust

facebook page.

Speed around schools a priority

services and social and environmental

components,

she said.

This included Culture

Galore, set to be held with

board support in Ilam's Ray

Blank Park on February 19.

"Organisations of the

community from all different

ethnicities come

together and it's a big

celebration of culture."

It was likely to be another

year of uncertainty owing

to the Covid-19 pandemic.

"The board would

love to thank everyone,

especially community

groups and active citizens,

for getting involved in their

community during these

difficult times."

'Give a man a fish and you

feed him for a day.

Teach him how to fish and

you feed him for a lifetime'

For over 40 years Shields

Pharmacy has been providing

quality health care in a caring

and professional manner.

With a full dispensary service,

a wide range of products and

expert advice for your health

needs, becoming a qualified

Heath Coach was the next

step for owner operator Steve

Thompson.

A health coach is a supportive

mentor who partners with you

to help guide and motivate

lifestyle changes by creating a

personalized wellness plans to

meet your individual needs.

If you, or someone you love,

has an ongoing health issue, a

Shields Pharmacy health coach

will work alongside you to

manage the condition well and

achieve set goals.

Assisting you in gaining

the knowledge to make

sustainable changes, leading

you to taking an active role in

your health care.

A Shields Pharmacy Health

Coach can assist with your

wellness goals, ongoing health

issues or complex health needs

and generally improve your

physical and mental health.

• Want to stop smoking,

lose weight and keep it off,

increase fitness, sleep better?

• Improve your physical and

mental health, diet and

lifestyle

• Reduce blood pressure,

bad cholesterol or improve

hormone imbalance

• Learn to better manage

diabetes, asthma, food

intolerances, Irritable Bowel

Syndrome

• Require assistance to

manage your appointments

or medication, answer

questions about your

condition or explain more

fully why the doctor

recommended you take

certain actions.

Gain the skills, tools,

motivation and confidence

working alongside your Shields

Pharmacy health coach. Phone

or pop in and have a chat to

Steve to see how together you

can achieve your health goals

and live your best life.

95 Main North Road, Papanui

Phone: 352 9210

Email: ask.us@shieldspharmacy.co.nz
---
6

Thursday January 13 2022

Receiving award 'absolutely amazing'

• From page 1

The ships on which colonists

sailed from England had "awful"

conditions, she said.

"One of my great-grandmothers

only just made it. Her sister

had died on the ship, and as they

usually did, they'd wrapped her

in a bit of sailcloth and chucked

her over the side."

The captain then turned to

her great-great-grandmother

and asked whether one-year-old

Sarah Ann was alive.

"At which point my greatgrandmother

apparently opened

her eyes and looked out."

She survived to have nine children

of her own.

However, her shipboard brush

with what was probably pneumonia

meant that for the rest of her

life had the use of only one lung.

"She liked to joke with doctors

who would say: 'I have to tell you

there's something wrong with

your lungs', and she'd say: 'Is

there really?' "

A trip to the cemetery as a

teenager made a striking impression

on Jill, which she credits

with sparking her interest in

genealogy.

"I said to my father: 'Who are

all these people, they've got the

same name as me'."

More questions followed:

Where were they from? What

had they done?

Older relatives were a good

source of information, revealing

information that was unrecorded,

she said.

"Once you start quizzing them,

funny little stories will come

out."

The "mad habit" of genealogy

was part of a wider interest in

history.

Most of her genealogy work

involved helping others, she said.

Society committee meetings

always brought with them new

emails and letters from people

researching their families.

The majority of them were

from New Zealand, but they also

came from Australia, the United

Kingdom and the United States.

Over the decades the society

had helped several hundred

people to delve into their family

history, which was always rewarding,

she said.

There were plenty of surprises.

For example, it was common

that people would discover their

forbears had spent time in prison.

Fraud and bookmaking were

recurring crimes, but one person

discovered they were related

to Minnie Dean, who in 1895

became the only woman to be

executed in New Zealand for killing

children left in her care.

For those with only names to

go by, official birth, deaths and

marriage certificates were useful

in providing extra details, such as

where the person was born.

Archives New Zealand was an

"amazing" source of information,

and nowadays the internet was

also a useful tool.

Delving into the past could be

difficult as records may not exist.

She was unable to trace her family

earlier than the 1700s.

Records often related to land

and so upper-class people were

relatively easy to trace, whereas

ordinary people were not, she

said.

When records did exist, she

did not always trust them to be

accurate.

They could be tweaked to suit

the interests of the record keepers

or people who wanted to twist

facts to make them neat and tidy,

she said.

For example, an unexplained

name change could be an attempt

to hide an illegitimate birth.

"They were good at that. I don't

think it's quite so easy to do

today."

The modern trend for DNA

testing could be helpful in

FAMILY TREE: New Year

Honours List Queen's

Service Medal recipient

Jillian Lord has used her

skills in genealogy to look

into her own family tree,

including the Grieve family

who she has traced to the

1700s.

PHOTO: STARMEDIA

finding relatives and unlocking

family trees others had already

complied.

For example, she would have

discovered an illegitimate branch

of her family if she did not already

know it existed, she said.

It could also show information

on what countries families originated

from.

"Most people use [DNA testing]

when they're completely

stuck. It's true, you can't alter it."

The classic method of recordsifting

would always be important,

she said.

Along with this hands-on approach,

Jill has also held all the

roles on the society's executive at

various times, including serving

as president in 1983 and 2006.

Since 2009 she has filled the

role of society librarian, and for

the past 25 years, the society has

also held meetings at her and her

Minnie Dean

husband's property.

She also runs courses on genealogy,

contributing to local and

regional University of the Third

Age Groups

Travelling overseas has also

been part of her role, as she has

enjoyed representing the society,

and New Zealand, at genealogy

conferences from Australia to the

United Kingdom.

In spite of her long-serving

contribution, news of her award

took her by surprise, she said.

"[My friends] They never said a

word so the email I got from the

honours committee at Government

House was the first thing I

knew.

"At first I thought: 'Oh what's

this junk mail', and I nearly

pressed the button and got rid of

it."

She was overwhelmed when

she realised what it was.

"It was absolutely amazing,

I'd love to have told people but I

didn't dare because they told you

not to."

In hindsight, the friends who

nominated her had been asking

strange questions, she

She now realised this was because

they were trying to gather

information to include in her

nomination.

Curiosity would drive her to

continue her work in genealogy,

as she said there were always

mysteries to solve.

20 March 2022

EntriE s now opE n! sEcurE yours at city2surf.co.nz
---
Thursday January 13 2022 7

Harcourts gold

TOP15 PERFORMERS

DECEMBER 2021

1

2

3

4

5

CAMERON BAILEY

PAPANUI

MARY TURNBULL

PAPANUI

MARK O'LOUGHLIN

REDWOOD

MICHELLE FU

PAPANUI

MARK WANG

PAPANUI

6

7

8

9

10

HARRISON JOSEPH

PAPANUI

DEB CROSBY

PAPANUI

PHIL JACK

PAPANUI

JACK MILLIGAN

PAPANUI

ASH SUTHERLAND TODD

PAPANUI

11

12

13

14

15

JACQ LAWLER

REDWOOD

DEBBIE SOPER

PAPANUI

CALEB GRIFFIOEN

PARKLANDS

CHANTALE JOHNSON

NEW BRIGHTON

ANTHONY DEYN

PAPANUI

When your brand includes the top Harcourts

office out of 900 around the world in addition

to the top franchise in the South Island for

income per sales consultant, it's clear that

you've got an extraordinary team.

So for these consultants to earn the position of one

of the top fifteen real estate sales consultants at

Harcourts gold is truly a remarkable achievement.

They are phenomenally good at what they do;

skilled, highly trained and dedicated to delivering

exceptional results for property owners. I am

extremely proud to work with these real estate

professionals.

JOHN MCFADDEN

Business Owner

JOHN MCFADDEN

BUSINESS OWNER

HARCOURTS GOLD

AREINZ

LYNETTE MCFADDEN

BUSINESS OWNER

HARCOURTS GOLD

AREINZ

CHRIS KENNEDY

BUSINESS OWNER/

MANAGING DIRECTOR

HARCOURTS GOLD

AREINZ

www.harcourtsgold.co.nz

PAPANUI 352 6166 | INTERNATIONAL DIVISION (+64) 3 662 9811

REDWOOD 352 0352 | PARKLANDS 383 0406 | NEW BRIGHTON 382 0043

GOLD PROPERTY MANAGEMENT 352 6454

LICENSED AGENT REAA 2008
---
8

Thursday January 13 2022

Up to

%

60off

on selected beds

Onslow Firm Queen bed

NoW $1,559

Raffles King Bed

NoW $6,999

Regal Queen bed

from $3,999

Sealy Posturepedic Tribute

Medium Queen bed

NoW $2619

Tempur Denmark Queen Mattress only

NoW $5,979

Sale Must End 31st January 2022. T & C's Apply, price are only for the bed, do not include headboard and other accessories.

100A moorhouse Ave

phone: 03 421 6997

moorhouse@bedpost.co.nz

WE ACCEPT THESE CARDS

12 Months Interest Free Available

In-store purchases $200 and over. Lending criteria, fees, terms and conditions apply.
---
Thursday January 13 2022 9

In 2022, parents and caregivers will

be able to get their 5 to 11-year-olds

immunised against COVID-19

Some tamariki get very ill from catching

COVID-19 and immunisation is one of

the best ways to protect them.

Immunisation is an important way we keep tamariki safe,

like being sun smart or wearing a seatbelt.

It protects your tamariki from many serious diseases

and stops disease spreading within your whānau and the

community. In Aotearoa, tamariki get free vaccinations

against 12 diseases, including whooping cough (pertussis),

measles and polio.

Safety of the COVID-19 vaccine

The child (paediatric) Pfizer vaccine has gone through

the same rigorous approval process as other routine

childhood immunisations. No clinical trials were skipped

and no corners were cut in the testing of its safety.

The Pfizer vaccine for 5 to 11-year-olds has been through

clinical trials with children in this age group. In general,

the side effects that were reported were mild, didn't last

long, and were similar to side effects from other routine

immunisations.

Take time this summer to get the information and advice you need to make the best

decision for your tamariki. Find out more at:

Unite Against COVID-19 – Covid19.govt.nz/tamariki

Ministry of Health – Health.govt.nz/CovidVaccineKids

Te Puni Kōkiri – Karawhiua.nz

Ministry for Pacific Peoples – mpp.govt.nz

Or call the COVID Vaccination

Healthline on 0800 28 29 26
---
10

Thursday January 13 2022

Hunt to uncover stunning gardens

BLOOM:

Certificates will

be presented

or posted to

the garden

award-winners

in March or

April.

PHOTO:

NEWSLINE

BEAUTIFUL: Community pride garden awards judge Ron

Andrew and his wife Glyn.

A NEAT garden that stands

out from the rest is a winning

formula when it comes to

the community pride garden

awards.

The awards, which are being

held for the 32nd year in a row,

aim to celebrate and recognise

beautiful gardens.

Christchurch Beautifying

Association president Ron

Andrew is one of 20 judges

who will be making the rounds

through neighbourhoods from

Saturday in search of the best

looking gardens visible from the

street.

Andrew said one of the main

things the judges look for is

community pride.

He said a lot of people get

involved in gardening each year,

particularly the elderly and the

effort they put in is amazing.

Andrew also said the benefits

of gardening make the hard

work worthwhile.

"It's healthy, it gets rid of

stress, it's enjoyable and the end

results are rewarding . . . it's

the most popular past time of

anything."

Partnering with the city

council, community boards and

the Christchurch Beautifying

Association, the awards aim

to encourage civic pride and

recognise people who help

maintain Christchurch's

reputation as the Garden City.

"Many people in our

communities put time and effort

into their gardens each week,

planting, mulching, weeding

and mowing," said city council

head of community support,

John Filsell.

"We also have commercial

property owners who go the

extra mile with their public

gardens.

"It really makes a difference

to how our streets look and

how people feel about their

community so we want to

recognise that hard work

through these awards."

Volunteer judges from the

association will be judging the

gardens from January 15 to

February 6.

Last year 682 awards were

given out for outstanding

gardens.

The gardens will be

judged on the amount of

effort put into creating and

maintaining it, overall tidiness

and the impact of the garden on

the street.

Gardeners that meet these

standards will receive a prize

card in their mailbox, with all

gardens visible from the street

being eligible, both residential

and commercial.

Six community boards

are involved in the awards:

Coastal-Burwood, Fendalton-

Waimairi-Harewood,

Halswell-Hornby-Riccarton,

Linwood-Central-Heathcote,

Papanui-Innes and Spreydon-

Cashmere.

Any garden within these areas

and visible from the street is

eligible for an award.

Before you

paint your

bargeboards

call us about

disconnecting

the power

03 363 9898 | 0800 363 9898

oriongroup.co.nz

Getting in there with that paintbrush around live power lines

is very dangerous. Call us about disconnecting the power,

it might cost a bit more, but it could well save your life.

You're our priority.

Orion operates, and maintains, the electricity distribution network

that provides power to central Canterbury. We are always here

to help if you have any questions or concerns about the network.
---
Thursday January 13 2022 11

Exclusive small

group tours

Join us for small group tours of Summerset

at Avonhead

If you've ever been curious about village life, now's the

time to get in touch as our wonderful village community

at Summerset at Avonhead is growing quickly and

homes are selling fast.

We have a stunning range of brand-new serviced apartments

available now. Offering light and spacious open plan living, a

kitchenette and separate double bedroom with a large ensuite.

We'd love to give you a taste of the Summerset life that

our residents love so much and show you around our stunning

village and show homes, so we're holding exclusive small group

tours, Thursday 20 January at 10am, 12pm, and 2pm.

Spaces are limited so you'll need to RSVP

Call our friendly sales team on 03 357 3202 to book your spot.

Exclusive small

group tours

Thursday 20 January

10am, 12pm, 2pm

RSVP essential

03 357 3202

Summerset at Avonhead

120 Hawthornden Road,

Avonhead

*Licence to occupy.

We're looking forward to seeing you!

For the latest information on visiting our villages please

call the sales manager or visit summerset.co.nz/covid-19

03 357 3202 | summerset.co.nz/avonhead

SUM3568_FP
---
12

Thursday January 13 2022

Bombs away

TOGETHER: Isobella, 8, Harlow Tauvale,

3, Seth Wybrow, 10, from Redwood, and

Leilia Ah-San, 7, Poseidon Smith, 14, and

Josiah McKay, 3, from Brookhaven take a

dip at Lake Rua in Roto Kohatu Reserve,

Harewood.

THUMBS UP: Soana Havea (left) from

St Albans jumps off one of the diving

platforms at Lake Rua.

DIP: Swimmers play on a float at Lake Rua, while Clarissa Jay, 10, of Hoon Hay, leaps

from the top platform as sisters Soana and Kaloaine Havea (St Albans) and Sam Jay, 12,

(Hoon Hay) wait for their turn.
---
Thursday January 13 2022 13

Ahh, the new year. It was made

for getting something new.

20% off

selected Belkin

Accessories #

Matte Black 488L French Door Fridge

9071339 SRF5500B

$1799

less than

$19

per week for

50 months on

interest free*

307L Bottom Mount Fridge Freezer

9059835 SRL325DMB

$1099

less than

$12

per week for

50 months on

interest free*

25% off

selected NZ Made

Furniture #

Matrix MKII Medium Queen Bed

9070936

less than

$2599 $5199

was

$14

per week for

50 months on

interest free*

Vogue 3 + 2 Seater in Esther Oatmeal

9061377

$2999

was

$6599

less than

$15

per week for

50 months on

interest free*

30% off

selected Dining

and Bedroom

Furniture #

Flexe Grill Medium

4in1 Air Fryer + Oven

Aspire 3 15.6" A315 N5030

8GB 128SSD Laptop 9064009

Apple AirPods

(3rd generation)

9071336 GFOG1000 9064416 AFP5000

9071217

$89 $199

was

$259 $499

was

$799 $329

less than

$10

per week for

24 months on

interest free*

40% off

Sunbllllll Alinea

and Russell Hobbs

Brooklyn Kettles

& Toasters #

50

months 24 months

INTEREST FREE

INTEREST FREE

on beds & furniture $999 & over* on purchases $499 & over*

Offer valid dates vary. Please see individual product pages online for details. Some products on display in selected stores only - please call 0800 764 847 to check availability. *Apple, selected computers, game consoles, gift cards,

clearance items and some promotional items are not available in conjunction with interest free offers. Flooring available on a maximum of 18 months interest free. Exclusions, fees, terms, conditions and credit criteria apply. Equal

instalment amounts include one-off establishment fee of $45.00, a maintenance fee of $3.75 per month and exclude any insurance premium financed. Current interest rate of 23.95% applies to any unpaid minimum payments during the

interest free period, and any balance after the expiry of (any) interest free period. See in-store or visit smithscity.co.nz/interest-free for details. #Discount is off our full retail price. Not available in conjunction with any other offer.
---
14

Thursday January 13 2022

CHRISTCHURCH

CREMATORIUM

FUNERAL SERVICES

SUDOKU

Every row, column and box should

contain the digits 1 to 9.

WORDBUILDER

WordBuilder

126

6

D N U

S D E

CROSSWORD

1 2 3 4 5 6 7

8 9

226

words of three or more letters,

How

including

many

plurals,

words

can you

of

make

three

from

or

the

more

six

letters, using including each letter plurals, only once? can No you foreign

words or words beginning with a capital are

make

allowed.

from

There's

the

at

six

least

letters,

one six-letter

using

word.

each only once? TODAY

No Good words 14 beginning Very Good 18 with Excellent a capital 22

Solution 125: aim, amen, amine, ani, anime, fain,

are allowed. There's at least one

fame, FAMINE, fan, fane, fen, fie, fin, fine, main,

man, mane, mean, men, mien, naif, name, nim.

six-letter word.

Good 12 Very Good 16 Excellent 21+

10 11

12 13 14 15

16

DEC

1

17 18

19

20 21 22 23 24

25 26

27 28

29 30

31 32

SOLUTION

No.126

14 15 16 17 18 19 20 21 22 23 24 25 26

D W S M C X R I U P V F K

33 34

1 2 3 4 5 6 7 8 9 10 11 12 13

Q G A T E L Y Z J B O N H

N Decoder O

Across

1. College grounds (6)

5. Trap (6)

10. In the current fashion or

style (Fr) (1,2,4)

1 2 3 4 5 6 7 8 9 10 11 12 13

I

14 15 16 17 18 19 20 21 22 23 24 25 26

A B C D E F G H I J K L M N O P Q R S T U V W X Y Z

11. Cure for all ills (7)

12. Harass (6)

15. Hold tightly (6)

16. Go back on a deal (7)

17. Care for (4)

18. Mid-month (4)

19. Small bowl for individual

dishes (7)

20. Pretence (4)

22. Smile broadly (4)

25. Nervous (7)

27. Shuns (6)

28. Relish (6)

31. Imposing building (7)

32. Decorate (food) (7)

33. Niche (6)

34. Saturated (6)

11 15 14 24 25 11

24 5 20 7 3 16 18 19 3 16 25 26

11 25 24 18 3 14 3

Down

2. Leave behind (7)

3. Appropriate (6)

4. Cast off (4)

5. Manage (4)

4 13 14 26 5 20 3 15 8 5 25 25

9 25 6 6 23 9

25 23 18 24 22 3 3 21 13 17

14 18 15 20 26 19 3 15 12 25

N

6. Cause resentment (6)

7. Thrilled (7)

8. Ploy (6)

9. Poignancy (6)

13. Residue (7)

14. Religious dissenter (7)

15. Inquisitive (7)

20. Afraid (6)

21. Worry excessively (7)

23. Causing strong feelings

(7)

24. Boggy (6)

25. Counsel (6)

26. Holy (6)

17 10 18 25 25

29. Charges (4)

30. Becomes older (4)

All puzzles copyright

www.thepuzzlecompany.co.nz

18 25 17 7 25 16

O

13 14 4 5 20 3 14 13 26 24 25 26

I

DECODER

Each number in our DECODER grid represents a different

letter - there is a number for all 26 letters of the alphabet.

Each Enter number the given represents letters into a different all squares letter with of the matching alphabet. numbers. Write the

given The challenge letters into now all squares is to work with out matching which letters numbers. are Now represented work out

which by the letters other are numbers. represented As you by the get other letters, numbers. enter As you them get into the

letters, the main write grid, them and into the reference main grid and grid. the To reference keep track grid. Decoder of the

uses letters all you 26 letters have of found, the alphabet. cross them off the alphabet provided.

25 23 11 3 17 22

3 10 20 22 23 4 11 25 25 5 20 16

O F F

6 5 5 15 25 14 21

16 5 24 5 12 4 13 20 5 21 2 12

21 21 16 11 11 3 2

25 20 5 5 23 6 3 12 26

14 9 13 18 24 7 5

7 15 8 5 4 14 14

9 5 17 17 7 18 5 14 5

10 25 16 5 5 18 12

11 24 5 20 4 3 12 19 21 11 22 16

22 20 25 6 3 20 21

2 5 12 21 22 16 3 18 1 22 21 4

13 16 6 4 17 7

A B C D E F G H I J K L M N O P Q R S T U V W X Y Z

1 2 3 4 5 6 7 8 9 10 11 12 13

O

14 15 16 17 18 19 20 21 22 23 24 25 26

F

SOLUTION

No.125

13 15 13 17 4 18 1 3 9 13 18 14

20 2 19 17 6 7

Each number in our DECODER grid represents a different

letter - there is a number for all 26 letters of the alphabet.

Enter the given letters into all squares with matching numbers.

The challenge now is to work out which letters are represented

by the other numbers. As you get the letters, enter them into

the main grid, and the reference grid. To keep track of the

letters you have found, cross them off the alphabet provided.

127

126

1 2 3 4 5 6 7 8 9 10 11 12 13

P X V K Z G N U T L H M O

B R W D A Q S F C E J Y I

14 15 16 17 18 19 20 21 22 23 24 25 26

Crossword

Across: 1. Campus, 5.

Corner, 10. A la mode, 11.

Panacea, 12. Badger, 15.

Clutch, 16. Renegue, 17.

Tend, 18. Ides, 19. Ramekin,

20. Sham, 22. Beam, 25.

Anxious, 27. Avoids, 28.

Savour, 31. Edifice, 32.

Garnish, 33. Recess, 34.

Sodden.

Down: 2. Abandon, 3. Proper,

4. Shed, 5. Cope, 6. Rankle,

7. Excited, 8. Gambit, 9.

Pathos, 13. Remains, 14.

Heretic, 15. Curious, 20.

Scared, 21. Agonise, 23.

Emotive, 24. Marshy, 25.

Advice, 26. Sacred, 29. Fees,

30. Ages.

WordBuilder

den, dens, dud, dude,

dudes, duds, due, dues,

dun, dune, dunes, duns,

end, ends, ens, nude,

nudes, sen, send, SUDDEN,

sue, sued, sun, use, used.

Sudoku

kick off 2022 with a rugby news

magazine subscription

get

one year for

© A.F.Shuker

$50

when you use

Supplied by KNIGHT FEATURES

20 Crescent Grove, London SW4 7AH

Tel: 020 7622 1467 Fax: 020 7622 1522

summer5

the promo coDe

DECODER

127

a 28cm Ironclad legacy

Pan and Santoku knIfe

saVe 55%

*Chance to win valid for NZ addresses only and runs between December 13, 2021 – February 11, 2022 across all subscription

periods, for both new and renewing subscribers. Discount code applicable to 10 issue subscriptions purchased online and

sent within NZ only. Savings based on purchase of total number of issues at retail price of $10.99.
---
Thursday January 13 2022 15

Classifieds Contact us today Phone our local team 03 379 1100

Trades & Services

landscaping

Landscape

Construction and

Garden Maintenance

You can have your gardens, trees,

shrubs, plants and lawns maintained to look their best

all year round, for a great price.

Residential & Commercial Landscaping

• Maintenance • Pruning • Reconstruction & Rejuvenation

• Rental Property and Commercial Maintenance

• Pre-Sale Tidy-Ups

New Home Landscaping

Lawns • Gardens • Decks • Paving • Water Features

• Quality • Value for money • Experienced • Punctual

• Professional • Flexible • Knowledgeable • Reliable

Call Ross Legg - 027 222 0388

Email ross@revivelandscaping.co.nz

www.revivelandscaping.co.nz

PLUMBER

NEED A PLUMBER?

• Father & son Plumbing Business with over

40 years experience.

• Bathroom alterations a specialty.

• Cylinder replacements.

• We do all small jobs.

Call us now for fast friendly service.

Get your problems sorted out

quick smart - on time!!

THOMSON PLUMBING

263 x 180

Phone 03 377 1280 | Mobile 021 898 380

Phone Eugene now

TREE SERVICES

CRAIGS

TREES

Our services include:

Tree felling

Branch chipping

Trimming and pruning

Crown reduction

Stump grinding

P: 027 2299 454

E: craigstrees@xtra.co.nz

www.craigstrees.co.nz

Fully insured

WINDOW TINTING

tintawindow

advanced film solutions

99% uv block

fade protection

heat control

reduce glare

25 Years Experience

Trades & Services

privacy films

frosting designs

non-darkening films

Workmanship Guaranteed

Lifetime Warranties on Most Films

UV

block

Free Quotes Canterbury and Districts

03 365 3653 0800 368 468

Trades & Services

ROOF

PAINTING 24/7

Rope & harness

a speciality,

no scaffolding

required,

30 years of

breathtaking

experience.

FREE QUOTES

20% OFF other

roof quotes

Exterior staining,

exterior painting,

water blasting.

Moss and mould

treatment $300.

Phone Kevin

027 561 4629

BETTER

LAWNMOWING

Better job. Better

Price. Better ring Grant

0277402508

BRICKLAYER.

George Lockyer. Over

40 years bricklaying

experience. UK trained.

Insurance work, EQC

repairs. Heritage

brickwork & stonework

a speciality. No job too

small. Governers Bay.

Home 329 9344. Cell

027 684 4046. E mail

georgelockyer@xtra.co.nz

BUILDER

New builds, alterations,

decks, fencing. 30 yrs in

the trade has given me

ability to build to a high

standard. Free quotes. Ph

Brent 027 241 7471

Trades & Services

CARPET LAYING

Exp. Repairs, uplifting,

relaying, restretching.

Phone John on 0800

003181, 027 240 7416

jflattery@xtra.co.nz

ELECTRICIAN (CERT)

Prompt, quality. Call Jack

027 206 0080

PAINTER,QUALIfIED

local professional, int/

Ext,roofs,wallpaper, call

or text Corban 027 846

5035

PAINTER,QUALIfIED

local professional, int/

Ext,roofs,wallpaper, call

or text Corban 027 846

5035

STUMP GRINDING

Best price guarantee Tony

0275 588 895

TILING

Flooring - Splashbacks -

Wall incl tile removal, reg

master tiler, ph Dave 027

334 4125

VHS VIDEO TAPES

& all camera tapes

converted to DVD or

USB. Video taping

special occasions, www.

grahamsvideo.co.nz ph 03

338-1655

Wanted To Buy

AAA Buying goods

quality furniture, beds,

stoves, washing machines,

fridge freezers. Same day

service. Selwyn Dealers.

Phone 980 5812 or 027

313 8156

TOOLS, Garden garage,

saw benches, Lathes. Cash

buyer Phone 355-2045

ADVERTISE YOUR BUSINESS HERE

Phone for further details

(03) 379 1100

Need To Get Fit Fast?

Tone Up or Body Build, Get A Total Body Workout

One Machine...

That Does it All

Easy Storage

Easily Folds Away

Effective Workout

Fun, low impact workouts.

For All Ages

Personalised Settings For

Beginners and Advanced

Includes

Pilates Kit

& DVDs

Up to

50 % Off

Off

*

*Call for Terms

& Conditions

Call Now! 0800 665 665
---
16

Thursday January 13 2022

RAY WHITE PAPANUI NEWS

Making a property decision

this year? Here is a 'selling your

home' checklist

Feature Properties

Selling a home can be a very

involved process. We grow

attached to our homes and

it can be hard to move on

from them, especially if we

have been in tenure for a long

time. We sell for any number

of reasons but no matter the

reason, the same things need

to be considered before you

start the process.

6A Hudson Street, Bryndwr

Vanessa Golightly & Maria Paterson

Vanessa Golightly

Licensee Agent &

Business Owner

027 664 9292

Claire Morris

Licensee Agent &

Business Owner

027 662 4822

• Preparing your home:

You will need to get the

property looking as attractive

as possible to prospective

buyers. For some, this will mean

finally finishing that half started DIY

project, working on outstanding

repairs and maintenance, decluttering

and cleaning. Speak to a property

expert if you are considering any

expensive alterations to make sure

it's worth the cost.

• Repair History:

If your property has had insurance or

EQC repairs then this documentation,

including evidence of completion of

works, needs to be compiled for the

sale. If you can't find this information

then you can call EQC (0800 326 243)

and ask for them to send you the file

for your property. Note this can take

up to 20 working days to arrive so it

can be a good idea to order this well

ahead of time.

• Find a salesperson (agent):

Contact a few experienced local real

estate salespeople (agents) and set

up interviews. Potential salespeople

will evaluate your property and give

you a comparative market analysis.

Once you find your salesperson,

you will sign a contract stating any

commissions due, length of the

agreement, marketing costs and the

estimated sale cost.

• Making important decisions

around the sale:

Next, work with your salesperson to

decide how you want to sell (auction,

deadline sale, price etc.), the digital

and/or print marketing that you will

use to advertise the property, open

home times and what price guide the

agent will use when people enquire

about your property.

• Contracts:

Your salesperson will draw up

the contract of sale which should

include all details of the owners,

title, conditions of the sale, what is

included in the chattels (for example,

oven) as well as settlement date, legal

description and any tenancy details if

relevant.

• Going to market:

The length of time your home will

be on the market depends on how

you choose to sell. For an auction it's

usually a four week campaign with an

unconditional sale under the hammer,

whereas a deadline sale can be a

two to three week campaign with a

further period of due diligence once it

is under offer.

• The final steps:

Your salesperson will be responsible

for negotiating with potential buyers

to get the best price for you. Once it

has been sold, the buyer usually pays

a deposit at this point. The last step

is settlement day. This is when you

give the keys over to the new owners

and vacate the property in exchange

for the full agreed upon amount.

Congratulations on your sale!

If you would like to discuss your

upcoming sale with any of the team

here at Ray White Papanui please

don't hesitate to get in touch. You can

contact our office on 03 352 0567.

We look forward to hearing from you.

Vanessa Golightly,

Business Owner

and Licensee Agent

Ray White Papanui

027 664 9292

72 Balrudry Street, Avonhead

Vanessa Golightly & Maria Paterson

Lot 107, 152 Dunns Crossing Road,

Rolleston

Vanessa Golightly & Maria Paterson

SOLD Properties

18 Aberdeen Street,

Christchurch Central

Vanessa Golightly & Maria Paterson

Stuart Morris

Licensee Agent

& Auctioneer

027 422 6395

Katrina Green

Operations Manager

Property Management

027 606 0030

Richie Eggelton

Licensee Salesperson

021 089 65594

Hasna Ngara

Licensee Salesperson

021 262 4943

Olivia Hendry

Executive Assistant

Ben McNab

Licensee Salesperson

& Auctioneer

027 427 7232

Tracy Thomson

Licensee Salesperson

027 440 3035

Maria Paterson

Licensee Salesperson

027 543 4689

Jana Schleehauf

Licensee Salesperson

022 090 1227

Georgia Tuuta

Executive Assistant

Ray White Papanui

is delighted to be

able to offer you

a 10% SuperGold

card discount

1/64 Ranfurly Street, St Albans

Tracy Thomson & Hasna Ngara

Estelle Schuurman

Property Manager

Joy Coughlan

Mortgage Broker

027 223 3572

Level 1, 7 Winston Avenue, Papanui

Phone (03) 352 0567 | rwpapanui.co.nz | /RayWhitePapanui Morris & Co Limited | Licenced REAA 2008