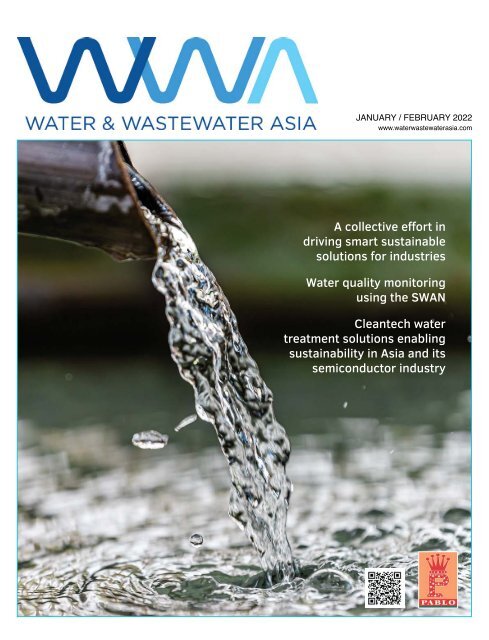 Water & Wastewater Asia January/February 2022
Water & Wastewater Asia is an expert source of industry information, cementing its position as an indispensable tool for trade professionals in the water and wastewater industry. As the most reliable publication in the region, industry experts turn this premium journal for credible journalism and exclusive insight provided by fellow industry professionals. Water & Wastewater Asia incorporates the official newsletter of the Singapore Water Association (SWA).
Water & Wastewater Asia is an expert source of industry information, cementing its position as an indispensable tool for trade professionals in the water and wastewater industry. As the most reliable publication in the region, industry experts turn this premium journal for credible journalism and exclusive insight provided by fellow industry professionals. Water & Wastewater Asia incorporates the official newsletter of the Singapore Water Association (SWA).
SHOW MORE
SHOW LESS
Do you know the secret to free website traffic?
Use this trick to increase the number of new potential customers.
JANUARY / FEBRUARY 2022

www.waterwastewaterasia.com

A collective effort in

driving smart sustainable

solutions for industries

Water quality monitoring

using the SWAN

Cleantech water

treatment solutions enabling

sustainability in Asia and its

semiconductor industry
---
LET US DEVELOP,

MARKET AND

MANAGE YOUR

NEXT WEBINAR

Webinar Series Development

• Content development

• Pre and post webinar email marketing

• Be supported by WWA print and digital

advertising

• Graphics and video support

• Hosting

• Hardware & software provision

• Professional moderation

• Turnkey management

• Speaker support

• Documentation support

• Audience interaction

• Feedback gathering & analysis

• Monitoring and reportage

Additional Support

Video content development

• Concept

• Scripting

• Story boarding

• Motion graphics

• Voice overs

• Editing and export into relevant formats

• News and Product video bites

• Product & service videos

• Video ads

• "Live" reportage

• Monitoring and reportage

For more informaon, contact us at

sales@pabloasia.com

Pablo Publishing & Exhibition Pte Ltd | www.waterwastewaterasia.com
---
Elektra

Connecting you to your chemical

dosing pumps, wherever you are

SekoWeb

Data on demand

• Unlock multiple benefits including

precise digital dosing, process

optimization and

cost control

• Make informed decisions swiftly

with quick interpretation and

comparison of data

• Identify faults early and minimize

costly unplanned downtime

• Achieve the delicate balance

between performance

and sustainability

• Local and remote access to your

equipment via smartphone

A world of data at your fingertips

The Elektra digital dosing pump controller from SEKO allows

you to monitor and manage your dosing equipment 24/7 via

smartphone for a new standard in operational efficiency and

accessibility in water-treatment applications.

www.seko.com

Scan me to find out more
---
CONTENTS

38

24

CONTENTS

04 Editor's Note

06 News

54 SWA Newsletter

63 What's Next?

64 Advertisers' Index

SINGAPORE FOCUS

16 Water Technology Roadshow:

A joint effort to bring science

to life

18 Automated micro-invertebrate

detector with image analytics

capabilities

IN CONVERSATION WITH

19 A collective effort in driving

smart sustainable solutions

for industries

ENVIRONMENTAL REPORT

22 New year brings resolution on

pollution

24 Advanced biological filtration:

A multi-barrier approach

to complex water and

wastewater contaminant

removal

IN THE FIELD

28 Water quality monitoring

using the SWAN

2 WATER & WASTEWATER ASIA | JANUARY/FEBRUARY 2022
---
CONTENTS

50

52

59

60

30 Protecting against water loss

32 Sustainable brine treatment

"down under"

34 Using AODD pumps to optimise

filter-press operation

37 Wastewater recycling plant

steps into the future

38 Mobile discharger addresses

pesticide overload at WTW

FOCUS

40 Cleantech water treatment

solutions enabling

sustainability in Asia and its

semiconductor industry

43 How F&B manufacturers can

benefit from going modular

44 Climate change drives new

focus on hygienic tank

protection

46 Technology in packaged water and

wastewater treatment plants

HOTSEAT

50 SEKO, a partner for dosing and

control systems

52 Why peristaltic pumps excel in

wastewater handling?

ON OUR RADAR

58 Grundfos brings efficient pumping

solutions to Nereda wastewater

customer

59 Aquaporin wins a pilot for an

energy efficiency solution to

China's leachate overflow

SNEAK PEEK & REVIEW

60 De Nora TETRA Filtration – Don't

Underestimate the Underdrain

62 Meet Imagine H2O Asia's third

cohort of water tech start-ups

WATER & WASTEWATER ASIA | JANUARY/FEBRUARY 2022 3
---
FROM THE EDITOR

ANOTHER START

Over the course of last year, the world

arguably experienced some of the most

immediate consequences it will encounter

in the face of climate change. For instance,

North America and Europe experienced

more intense heatwaves and wildfires

during summer. Particularly in Greenland,

rain, instead of snow, fell for the first time at

Greenland's 3,200m high summit in August.

The effect of higher temperature brought

forth by global warming is poised to set

Greenland melt faster, contributing to rise in

sea level.

Closer to Asia, Taiwan concluded its worst

drought in 56 years in June. And in Henan,

China, the Chinese city received a year's

worth of rain in just three days in what was

dubbed a "once in a thousand years' flood

in July. Most recently, our neighbouring

Malaysia experienced heavy rainfall which

was followed by widespread flooding in eight

states across the country in December.

The World Meteorological Organisation

(WMO) highlighted that extreme weather

events are now the "new norm", and some of

these actually bear the footprint of humaninduced

climate change, as WMO Secretary-

General Prof. Petteri Taalas, noted: "At the

current rate of increase in greenhouse gas

concentrations, we will see a temperature

increase by the end of this century far in

excess of the Paris Agreement targets of

1.5-2°C above pre-industrial levels."

In this issue, we spoke with Eric Lai, regional

managing director, industry – Asia-Pacific

and country director for Singapore,

Grundfos, who described the recently

concluded COP26 as "a big step forward"

with several announcements surrounding

the importance on strengthening water

resilience and efficiency. One example

is the Reducing Water Footprint

Coalition, launched and led by the UK

government, which calls for nations and

non-state actors to make commitment

on accelerating research and how water

consumption can be reduced. To find out

more, flip to page 16.

And on page 40, Prakash Govindan,

COO of Gradiant, discussed more on the

growing importance for the water-intensive

semiconductor industry to embrace

sustainability in the supply chain. He

explained: "Freshwater scarcity poses a

major threat to economic growth, water

security, and sustainability for our future

generations.

"The challenge of providing adequate and

safe drinking water is further complicated

by climate change and the pressures of

economic development. These stresses

drive the need to make the most out of our

limited water supplies."

A new year is just starting to unfold, and

plenty of opportunities and possibilities

awaits to be filled. And with the Lunar New

Year just around the corner, the Water

& Wastewater Asia team would like to

wish all our readers Gong Xi Fa Cai and a

progressive and prosperous 2022.

Cheers,

Josephine Tan

Published by

PABLO PUBLISHING & EXHIBITION PTE LTD

3 Ang Mo Kio Street 62,

#01-23 Link@AMK Singapore 569139

Tel: (65) 6266 5512

E-mail: info@pabloasia.com

Company Registration No: 200001473N

Singapore MICA (P) No: 102/12/2021

REGIONAL OFFICES (CHINA)

PABLO BEIJING

Tel: +86 10 6509 7728

Email: pablobeijing@163.com

PABLO SHANGHAI

Tel: +86 21 5238 9737

Email: pabloshanghai@163.net

All rights reserved. Views of writers do not necessarily reflect the views

of the Publisher and the Singapore Water Association. No part of this

publication may be reproduced in any form or by any means, without prior

permission in writing from the Publisher and copyright owner. Whilst every

care is taken to ensure accuracy of the information in this publication, the

Publisher accepts no liability for damages caused by misinterpretation

of information, expressed or implied, within the pages of the magazine.

All advertisements are accepted on the understanding that the Advertiser

is authorised to publish the contents of the advertisements, and in this

respect, the Advertiser shall indemnify the Publisher against all claims or

suits for libel, violation of right of privacy and copyright infringements.

Water & Wastewater Asia is a controlled-circulation bi-monthly magazine.

It is mailed free-of-charge to readers who meet a set of criteria. Paid

subscription is available to those who do not fit our terms of control. Please

refer to subscription form provided in the publication for more details.

Printed by Times Printers Pte Ltd

PABLO SINGAPORE

William Pang • Publisher

williampang@pabloasia.com

Josephine Tan • Editor

josephine@pabloasia.com

Pang YanJun • Business Development Manager

yanjun@pabloasia.com

let's connect!

Goh Meng Yong • Graphic Designer

mengyong@pabloasia.com

Shu Ai LIng • Circulation Manager

circulation@pabloasia.com

PABLO BEIJING

Ellen Gao • General Manager

pablobeijing@163.com

PABLO SHANGHAI

Daisy Wang • Editor

pabloshanghai@163.net

@waterwastewaterasia

Water & Wastewater Asia

incorporates the official newsletter

of Singapore Water Association

4 WATER & WASTEWATER ASIA | JANUARY/FEBRUARY 2022
---
NEWS

VEOLIA AND PARTNERS BUILD UP

EARLY WARNING SYSTEM FOR

IDENTIFYING COVID-19 VARIANTS

IN WASTEWATER

The Vigie Covid-19 solution now can track signs of

the Omicron variant in wastewater (Photo credit: Pixabay)

Veolia, the IPMC, start-up IAGE and the

Bataillon des Marins Pompiers de Marseille

(BMPM), continue their collaboration to

optimise Vigie Covid-19, their solution

to detect and quantify the presence of

SARS-CoV-2 in wastewater. Launched in

September 2020, this method has already

made it possible to detect and quantify

the Alpha, Beta and Gamma variants, then

the Delta variant last summer, and now the

Omicron variant.

Used experimentally as a complement

to existing clinical data, the presence

of SARS-CoV-2 in wastewater has the

potential to become a new indicator to

help manage the pandemic. In France,

the National Reference Laboratory

appointed by the Ministries for Health and

the Ecological Transition, has therefore

launched a process to harmonise and

consolidate such monitoring methods.

The Vigie Covid-19 solution is "the most

operational" in Europe for quantifying

SARS-CoV-2 in wastewater to date, Veolia

claimed. With the polymerase chain reaction

(PCR) screening techniques, the solution

allows to identify the presence of known

mutations originating from existing variants

and evaluate their concentration. Then, the

sequencing methods identify the mutations,

as well as the variants proportions.

Philippe Sébérac, technological and

scientific expertise director for Veolia,

commented: "With the success of our

third campaign that demonstrates the

effectiveness of Vigie Covid-19, we

are now ready, in agreement with our

partners, to make it available to a greater

number of stakeholders. A large-scale

rollout would make it possible, by

tightening up the territorial network, to

cross-reference these data with those of

local health authorities.

"Our method can thus constitute a

complement to clinical trials in the fight

against the spread of the pandemic,

by providing readable information and

dynamics consistent with the incidence

rates reported by health authorities in

Europe."

DUPONT AND WATER.ORG PARTNER TO

INCREASE GLOBAL ACCESS TO SAFE WATER

Both organisations agree to bring sustainable water

solutions for people living in poverty (Photo credit:

Unsplash.com/Liz Martin)

DuPont and Water.org have partnered to

increase global access to safe water, with

a focus on communities most vulnerable

to the consequences of water scarcity. The

partnership combines the former's technical

expertise in water filtration and purification

solutions with the latter's expertise in financial

solutions to the global water crisis.

Both organisations intend to collaborate on

ways to innovate and deploy climate-resilient,

sustainable water solutions that can scale to

people living in poverty.

HP Nanda, global vice-president for DuPont

Water Solutions, elaborated: "We believe the

pending water crisis can be avoided, and

water can become abundant, affordable and

accessible to everyone – no matter where they

live."

As a start, DuPont awarded Water.org an initial

grant to provide 100,000 people with one year

of access to safe water or improved sanitation,

in areas facing water scarcity and climate

challenges in the countries where Water.

org works. This includes India, Indonesia,

Bangladesh, the Philippines, Cambodia,

Kenya, Tanzania, Uganda, Mexico, Brazil,

and Peru. The funding supports Water.org's

solution, WaterCredit, that is designed to

break down the financial barriers between

people living in poverty and access to safe

water and sanitation.

Kimberly Kupiecki, sustainability leader at

DuPont Water Solutions, added: "Reliable

access to safe water is a game-changer for

those who spend hours walking miles each

day retrieving unsafe water for basic needs.

It allows young children to attend school,

families to create wealth, and improves

health and wellbeing overall. SDG 6 – while

itself a critically fundamental goal for human

prosperity – is essentially interconnected

with almost every other goal for sustainable

development."

6 WATER & WASTEWATER ASIA | JANUARY/FEBRUARY 2022
---
NEWS

DE NORA INSTALLS CLORTEC 2250 FOR

SINGAPORE'S WATER DISINFECTION PROJECT

De Nora has clinched one of the largest water

disinfection projects in Asia at the Johor

River Water Works, the largest water works

located in Malaysia. This project will see De

Nora's ClorTec 2250 on-site hypochlorite

generator replacing existing liquid chlorine

and ammonia systems at Johor River Water

Works.

In total, De Nora will provide 11 ClorTec 2250

units across all three plants on-site. Each unit

De Nora will provide on-site hypochlorite generation

systems for Singapore's Johor River Water Works

will be equipped with an electrolyser capacity

of 1,020kg per day, exceeding the tender

requirement of 900kg per day.

This win follows other successful projects

with the water utility company in Singapore

where De Nora ClorTec systems have been

installed at multiple locations, including

Chestnut Avenue Waterworks, located in the

west of Singapore.

De Nora ClorTec 2250 on-site hypochlorite

generation system uses three common

consumables – water, salt, and power – to

produce chlorine-based disinfectants by

passing a solution of sodium chloride through

an electrolytic cell and converting the chloride

ions into sodium hypochlorite. According to

De Nora, it provides a "safe, economical and

effective solution for drinking water treatment

without creating or transporting hazardous

chemicals", thus ensuring the safety of

personnel and the surrounding community.

As part of the tender process for the Johor

Water Works project, the ClorTec 2250

systems had to meet stringent performance

and efficiency targets in Factory Acceptance

Tests (FAT) across a period of six months.

Of particular concern to the end user

is the formation of by-products like

chlorate, perchlorate and bromate. These

by-products, the company added, are

emerging contaminants of concern in water

sources globally, and awareness of these

contaminants is increasing in Asia.

De Nora ClorTec on-site hypochlorite

generation systems are optimised to help

minimise production of these by-products,

especially chlorate. In tests performed at

Chestnut Avenue Waterworks, De Nora

demonstrated that on-site hypochlorite

generation systems produced by-products

such as chlorate and perchlorate at "4-6 times

lower" than the recommended value set out.

The ClorTec 2250 unit at Johor River Water

Works is expected to be operational by March

2023.

WAVIN PARTNERS VECTUS TO PROVIDE THE INDIAN MARKET WITH

ACCESS TO WATER AND SANITATION SOLUTIONS

Wavin, a solutions provider for the

building and infrastructure industry

and an Orbia business, has announced

it will be acquiring a majority stake in

Vectus Industries, a manufacturer of

plumbing and drainage pipes in India.

With this joint venture, Orbia's building

and infrastructure businesses will operate

at the forefront of India's growing water

management industry, supporting

customers in the residential, commercial,

industrial, infrastructure, and agricultural

sectors.

The deal is expected to close in Q1 2022

and represents an important strategic

investment. Wavin has been expanding its

product and regional footprint as Vectus

will continue to provide plastic pipes and

tanks to support the above- and belowground

building segments, complementing

Wavin's solutions for drinking water,

wastewater and rainwater management.

Applications range from sustainable urban

and semi-urban building environments to

efficient residential plumbing systems.

Said Ashish Baheti, managing director of

Vectus, commented: "The Indian pipes,

fittings and water tanks market has been

growing rapidly over the last decade.

By combining our strong distribution

network and deep understanding of the

Indian market with Wavin's technological

expertise and global footprint, we will

be positioned to capitalise on India's

huge growth potential and deliver for our

customers.

The complementary strengths of this

partnership will enable it to play a key role

in the real estate development of India's Tier

2 and 3 cities and continued government

investment in affordable housing.

Said Sameer Bharadwaj, CEO of Orbia,

added: "With national expenditures in

building and infrastructure ramping up,

India is positioned for a strong recovery

and increased demand for solutions

that enable the continued development

and resilience of rural and urban India.

This acquisition provides us with local

presence and know-how, expanded

capacity and a strong dealer and

customer base for our end-to-end water

management offerings that advance life

around the world."

WATER & WASTEWATER ASIA | JANUARY/FEBRUARY 2022 7
---
NEWS

EVOVE TO CO-DEVELOP INDUSTRIAL 3D PRINTING CAPABILITY

UK technology business Evove has sealed

a joint development agreement with Meta

Additive, part of the Desktop Metal family, to

produce an advanced additive manufacturing

solution for 3D printing its ceramic Separonic

membranes.

Part of Evove's development plan for the

Separonics product line is to create a

blueprint that will underpin the global rollout

and establishment of regional manufacturing

hubs.

Describing the collaboration agreement as an

important milestone in the commercialisation

of the Separonics product line, Chris

Wyres, CEO of Evove, explained that this

scalable and cost-effective manufacturing

capability will enable the company to deliver

ceramic membranes with "transformational

performance gains and enhanced utility at a

significantly lower carbon cost".

Simon Scott, CEO of Meta Additive,

continued: "We utilise binder jet technology

along with novel functional binders to

provide advanced additive manufacturing

(AM) solutions that will tackle current and

future challenges. We are confident that our

products will enable Evove to eliminate the

issues associated with traditional ceramic

manufacturing techniques, including

shrinkage, energy intensive thermal

processing and slow production speeds."

The project will commence with the

production of ceramic membranes. They

have distinct advantages, especially in harsh

environment with hot and acidic fluids, but

up to now have been fragile in operation and

costly to manufacture.

"3D printing ceramic Separonics with

Meta's AM technologies using the latest in

material science means we can effectively

eliminate the challenges, high cost and

carbon footprint associated with traditional

ceramic manufacturing processes," Wyres

explained. "Furthermore, 3D printing allows

us to produce novel precision engineered

Milestone in commercialisation of additive manufacturing of

membranes (Photo credit: Unsplash.com/Minkus)

architectures that optimise the fluid dynamics

and integrity of the membrane, delivering

game-changing performance, reducing

energy usage for filtration and separation, and

extending membrane lifetime."

Evove aims to establish the first full-scale

manufacturing process in the northwest of

England before the end of 2022, to facilitate

industrial testing of ceramic Separonics at a

customer's site shortly thereafter.

THE WATER COUNCIL AND SCS GLOBAL

SERVICES PARTNER ON WATER STEWARDSHIP

As businesses across the world confront

increasing water challenges and growing

calls for tangible accomplishments on

sustainability, The Water Council has

partnered with SCS Global Services to meet

this challenge by improving corporate water

stewardship outcomes and reporting.

The new partnership will include development

and rollout of programmes to help companies

move beyond traditional water management

to "credible and verified" water stewardship

that addresses enterprise-wide challenges

and opportunities.

Dean Amhaus, president and CEO of The

Water Council, said: "As The Water Council

expands our water stewardship services, it is

exciting to start 2022 with the announcement

of this new collaboration with SCS Global

Services as they have a reputation as a

third-party verifier of environmental and

sustainability performance. We have

informally worked with SCS for several years

and see them as a critical partner as we roll

out a new water stewardship programme

early this year."

Multiple factors have been influencing

companies to address water-related

challenges in their value chains. These

challenges include supply disruptions,

climate impacts, and calls from stakeholders

to take action to achieve measurable water

stewardship outcomes. High on the list

is the expanding call for companies to

demonstrate tangible environment, social

and governance (ESG) results, including an

expectation to prioritise water-related actions

and commitments with the same vigour with

which companies have been addressing

greenhouse gas reduction and recycling

initiatives.

8 WATER & WASTEWATER ASIA | JANUARY/FEBRUARY 2022
---
NEWS

SENSAT, BRITISH LAND AND PARTNERS CREATE A "DIGITAL TWIN"

IN MAJOR STEP TOWARDS CANADA WATER MASTERPLAN

Sensat has mapped and brought

together all past, present and

future data of Canada Water's

53-acre site in one digital replica,

working with partners British Land,

a UK property development and

investment company, and Amodal,

an information management firm

for the built environment. Providing

an up-to-date visual resource,

Sensat has ensured British Land

and their delivery partners to

better understand the site and its

constraints to expedite options

appraisal process, feasibility

reporting, and risk evaluations.

Embarking on a £4 billion (US$5.4

million) project to redevelop Canada

Water's 53-acre site, British Land, in

partnership with Southwark Council,

has been developing a new town

centre for Southwark and London

communities that complements

the local area, making an active,

positive, long-term contribution to

local life. As part of the Canada Water

Masterplan, British Land selected

Amodal and Sensat to provide a

complete overview of the entire site,

where multiple teams and project

stakeholders can easily visualise site

conditions without having to be on

site, supporting project decisionmaking,

contingency planning, and

frictionless collaboration.

David Walters, programme director

at British Land, commented: "The

ability to both accurately scan the

site and confidently pull together lots

of disparated data into one single

platform, is amazingly powerful. The

speed of iteration helps for quicker

options appraisal, more efficient

handover processes, and better clash

detection to reduce contingency

costs. It's been an invaluable

resource when thinking through

phasing.

"Adopting a Common Visualisation

Environment, such as Sensat's,

enhances our visualisation capability

and has proven instrumental when it

comes to data validation. By scanning

the site using drones, and displaying

this highly-accurate data in Sensat's

platform, we have been able to

establish disparities between the

actual locations of assets and their

previously documented locations.

Spotting problems early, ahead of

the design phase, means we can

significantly reduce the level of risk

contingency costs, which could easily

be into millions."

Thread of

information provides

the missing link

for overarching

site accessibility,

planning and

coordination for the

length of the scheme

WATER & WASTEWATER ASIA | JANUARY/FEBRUARY 2022 9
---
NEWS

GRADIANT SECURES FIVE NEW DBOOM PROJECTS

IN SE ASIA AND EXPANDS LEADERSHIP TEAM

Gradiant has announced the award of five

design-build-own-operate-maintain (DBOOM)

water treatment projects in Indonesia and

Vietnam. The company will provide water

treatment solutions through a customised

approach using its suite of technologies to

treat water and wastewater for industrial

and municipal clients. These projects have a

production capacity of 40,000m 3 per day.

Gradiant has further announced the hiring

of managing directors Thai Nam Nguyen

for Vietnam, and K Sadanand for Indonesia.

The new leadership appointments affirm

Gradiant's growth and investment priorities in

the rapidly industrialising Asia-Pacific region.

Sadanand brings over 35 years' experience

in the water industry, of which 10 years has

been in the Indonesian market, working

for companies of Solenis, Nalco Water, GE

Water, Fichtner, and Ion Exchange. Nam has

over 25 years' experience in the water and

wastewater treatment industry in various

roles as country representative, and projects

and business development director for

companies such as Veolia Water Solutions.

"Customers are adopting our customised

and complete solutions which they

acknowledge will significantly reduce cost

and simplify management of their water

and wastewater treatment operations," said

Sadanand. "With rapid industrialisation

pressures and increasingly strict

environmental regulations, our clients

will need to solve their water challenges

in performance- and cost-optimised

approaches. We are excited to help solve

water and wastewater problems in Indonesia

by providing sustainable end-to-end

solutions."

Since its inception in early 2020, the

Gradiant Vietnam team has achieved

substantial headway in the region

with a growing pipeline of projects

that are contracted, or in late-stage

negotiations. "Our technologies are an

apt fit for the value-driven Vietnamese

market. This coupled with our team's

ability to develop, deliver, own, and

operate as end-to-end solutions will

enable our clients to fully address their

water and wastewater challenges," Nam

added.

Sankar Natarajan, who heads the

company's project acquisition efforts

for South East Asia, concluded: "Asia-

Pacific serves a critical role in the

global supply chain with over 40% of

the world's manufacturing. Vietnam

and Indonesia require effective and

optimised water solutions to balance

rapid industrialisation with sustainable

growth."

SUEZ WATER TECHNOLOGIES &

SOLUTIONS ACQUIRES SENTINEL

MONITORING SYSTEMS

SUEZ – Water Technologies &

Solutions has completed the

acquisition of Sentinel Monitoring

Systems, a microbial monitoring

company headquartered in Tucson,

Arizona, the US. The latter develops

products that provide real-time and

near-real-time solutions to monitor

the effectiveness of microbial control

within life sciences ultrapure water

and manufacturing processes. Under

this purchase agreement, SUEZ has

acquired all of Sentinel Monitoring

Systems' business.

Microbial monitoring plays a critical

role in ensuring the safety of patients

from harmful bacteria viruses, and

other contaminants. Sentinel's

technology can detect individual

microorganisms "150 times faster

than convention methods", the

company claimed, reducing the

risk of microbial contamination and

allowing manufacturers to respond

quickly to control risk and minimise

impacts to downstream operations

before irreversible damage is created.

As a result, SUEZ will become a

supplier to offer the full range of

compendial water testing methods to

life science markets, including total

organic carbon, conductivity, bacterial

endotoxin testing, and bioburden,

increasing productivity, lowering

operating costs, and improving risk

management.

Yuvbir Singh, CEO of SUEZ Water

Technologies & Solutions, commented:

"Sentinel Monitoring Systems is a

company with a strong track record

of pioneering innovation since it

launched in 2014. As we continue to

grow our business, we believe that this

acquisition broadens our analytical

instruments portfolio and is an

opportunity for SUEZ, our customers,

employees, and partners around the

world."

Acquisition broadens

SUEZ's analytical

instruments portfolio,

and provides new

and existing market

opportunities for

microbial monitoring

(Photo credit:

Pixabay)

10 WATER & WASTEWATER ASIA | JANUARY/FEBRUARY 2022
---
NEWS

SÉCHÉ ENVIRONNEMENT

EXPANDS INTO WASTEWATER

SERVICES SECTOR IN THE

GREATER PARIS REGION

The Séché Environnement Group has opened its doors to eight

operations centres and their 233 employees offering expertise

in maintaining wastewater networks and servicing wastewater

facilities across the Greater Paris region. Harnessing a fleet of over

130 production and service vehicles – including high-pressure

cleaning trucks, tanker, trucks, pumps, and more – as well as

network video inspection technologies, the teams will continue

leveraging their expertise to service the needs of a wide range of

customers, including local authorities, manufacturers, real estate

and food service professionals, and private industries.

Séché Environnement has already carved a foothold in the region

through its presence in the decontamination market, especially at

certain project sites in Greater Paris, and also in the hazardous

waste sorting and treatment sector, but the organisation has now

consolidated its local footprint by integrating these wastewater

treatment activities. The company can now draw on these skills

in buoyant markets to create industrial and commercial synergies

by delivering an extensive array of services to a wider customer

portfolio.

Maxime Séché, CEO of Séché Environnement, commented: "As

we head into the New Year, we are delighted to welcome the new

teams of experts in wastewater treatment services among our

ranks. These activities broaden the range of high value-added

services for our customers and dovetail seamlessly with our

existing business activities in a key geographical sector, namely the

Greater Paris region."

NEW ALFA LAVAL CM CONNECT

LEVERAGES DIGITALISATION TO

OPTIMISE HYGIENIC PROCESSING

The new Alfa Laval CM Connect marks the next step in the digitalisation

journey to drive innovation and growth for customers in the hygienic

processing industries. The CM Connect is a subscription-based

condition monitor and cloud gateway, and enables plant operators to

access data of rotating equipment on processing lines from a remote

location.

With data on runtime, trend analysis, and time to next service close at

hand, plant operators can make informed maintenance decisions using

their personal computers and mobile devices. This protects process

continuity and critical assets, improves workplace safety, saves time

and money, and delivers competitive advantage.

As Industry 4.0 evolves, the CM Connect is a next step on the customer

digitalisation journey, expanding the Alfa Laval range of condition

monitoring solutions. With complete visibility of all connected assets,

plant operators can detect issues that impact future performance,

prevent unplanned downtime, and improve asset management.

Acting as a gateway communicating via Bluetooth, the CM Connect can

link up to 10 Alfa Laval CM wireless vibration monitors launched last

year. It then transmits the data over a 4G cellular network to the cloud

for review and analysis on an intuitive, user-friendly dashboard.

Advanced vibration analysis enables detection of any deviation from

pre-set equipment threshold values. Should deviations occur, an SMS

or e-mail notifies users who can take action in real time based on data

analysis.

"Focus on what matters. The CM Connect lets plant operators plan and

prioritise maintenance based on actionable data," said John Walker,

portfolio manager, pumps, Alfa Laval. "Rather than replacing wear parts

in advance of their useful service life, operators can spend time and

money when and where maintenance is required."

Séché Environnement incorporates eight centres specialising in maintenance

services for wastewater networks and facilities

Besides linking the CM wireless vibration monitors, the CM Connect can

also act as a sensor. It measures vibration, inboard temperature, and

total runtime when mounted on Alfa Laval LKH, SRU, SX and DuraCirc

pumps, or other rotating machines, such as agitators or mixers.

WATER & WASTEWATER ASIA | JANUARY/FEBRUARY 2022 11
---
NEWS

RUSCO EXPANDS PRODUCT LINE WITH THREE NEW FILTER CARTRIDGES

With an aim to improve water quality through

innovation, Rusco expanded its product

portfolio with the introduction of three new

filter cartridges, including a carbon block,

pleated and melt blown spun media. The new

cartridges are designed to enhance sediment

removal capabilities and widen applications

to address chemical contamination concerns.

Michael Klump, president of Rusco,

explained: "With our new cartridges,

customers can now count on us for

protection against everything from a grain

of sand during pre-treatment, which over

time damage costly appliances, to invisible

chemicals like arsenic and lead. We are

excited to now offer a complete line of

filtration products which can be combined to

filter any of the harshest water conditions."

Previously offering mesh filters limited to

a 15μm capacity, the latest instalment of

spun and pleated filter cartridges improves

sediment removal efficiency to as low as

1μm through advancements in composition,

surface area and pore size. The activated

carbon units, which operates at a rate of

10μm, address areas not covered by existing

products, including taste and odour, lead and

chlorine, and volatile organic compounds

(VOCs) and chemicals.

A line-up of six different types of filter

cartridges is now offered by Rusco. Each

is compatible with the company's existing

filters to include the Rusco Spin-Down and

Sediment Trapper filter units, known for

their clear housing that makes it easy to

identify when it's time to clean or replace.

Users can maximise efficiency by pairing

filters with the Rusco Smart Ball Valve, which

automatically flushes filtration systems with a

voice command using existing home

automation or simple

click of a button via

smart device.

Rusco's new

filter cartridges

features

improvements

targeted at

small sediment

and harmful

contaminants

like arsenic

and lead

WHY WATER SUSTAINABILITY IS CENTRAL TO THE SUCCESS OF THE SDG?

What are the strategies and practical

solutions that businesses and institutions

can implement the world over, to ensure that

water – the most precious resource on Earth –

is managed sustainably?

Global leaders in sustainable development

address this fundamental question and make

the case for concerted action to help ensure

availability and access for all to water and

sanitation services in a new episode of SDGs:

The Rising Tide. This podcast series from

Global Reporting Initiative (GRI) explores

corporate innovation in support of the

Sustainable Development Goals (SDGs).

The episode features two professionals in

water management – Dennis van Peppen,

international water programmes team lead at

the Netherlands Enterprise and Development

Agency, and Chong Mien Ling, CSO of

PUB, Singapore's national water agency.

They discuss the importance of a global

water agenda and the role of business in its

implementation.

Van Peppen framed the challenge facing the

global community, and why such as important

agenda is not receiving sufficient focus at the

moment: "In many places of the world, we are

reaching the limits of our water resources. We

urgently need a global water agenda, which

simply does not exist.

"Climate has become a matter of survival

for humanity and is being recognised as

such, but there is less of a sense of urgency

when it comes to water and the challenges

associated with water management. Only

those people who are working on the inside

can clearly comprehend the crisis on the

horizon."

Chong sets out how Singapore's historical

and geographical context, in which it relied

on water imports from Malaysia, has led to a

more innovative approach to securing water

supplies of their own. He said: "Singapore is

one of the most water-stressed countries in

the world. We quickly realised that we simply

could not continue with business as usual.

At the same time, we started to look into

innovative technologies out there to help us

reduce the amount of energy required in all

processes linked to water management. In the

end, we learned that small things can make a

big difference."

The first six episodes of The Rising Tide can

be accessed now on Spotify, Apple, and

Google podcast.

Latest GRI podcast explores role of business in water

management

12 WATER & WASTEWATER ASIA | JANUARY/FEBRUARY 2022
---
NEWS

US LARGEST ION EXCHANGE PFAS TREATMENT

FACILITY COMMENCES OPERATION IN

YORBA LINDA

The Orange County Water District (OCWD)

and the Yorba Linda Water District (YLWD)

has begun operating what is dubbed the US

largest ion exchange (IX) treatment plant to

remove per- and polyfluoroalkyl substances

(PFAS) from local well water.

PFAS are a group of thousands of manmade,

heat-resistant chemicals that are prevalent

in the environment and are commonly

used in consumer products to repel water,

grease, and oil. Due to their prolonged use,

PFAS are being detected in water sources

throughout the US, including the Orange

County Groundwater Basin, which supplies

77% of the water supply to 2.5 million people

in north and central Orange County. Despite

playing no role in releasing PFAS into the

environment, water providers must find ways

to remove it from their local water supplies.

Steve Sheldon, president of OCWD,

commented: "We worked closely with YLWD

to rapidly construct this treatment facility to

remove PFAS from groundwater and ensure

that they continue to meet all state and federal

drinking water standards."

YLWD, one of 19 water providers that pump

water from the groundwater basin, has

all 10 of its groundwater wells impacted

by perfluorooctanoic acid (PFOA) and

perfluorooctane sulfonate (PFOS), prompting

it to temporarily shut down wells and

transition to purchasing imported water

sourced from the Colorado River and

Northern California. These wells were among

dozens of wells throughout Orange County

that were removed from service in 2020 after

the state of compounds no longer produced

in the US.

Located at the existing YLWD headquarters

in Placentia, the PFAS Treatment Plant uses

an IX treatment system made of highly porous

resin that acts like magnets that adsorb and

hold onto contaminants. It consists of 11 IX

systems, a 25 MGD booster pump station

Yorba Linda Water District is a public agency serving

residents of Yorba Linda

and an upgraded onsite chlorine generation

system. During treatment, contaminants

such as PFAS are removed from the water

before it goes into the distribution system.

Construction began last March, and the

facility will be capable of treating up to 25

million gallons per day.

Phil Hawkins, president of YLWD, concluded:

"Bringing this treatment facility online is

very important for our customers. It means

YLWD can safely increase its use of local

groundwater, which is less expensive and

more reliable than imported water."

FIRST GLOBAL RIVER DATABASE DOCUMENTS 40 YEARS OF CHANGE

The database of four decades of changes in

the world's largest rivers could become an

important tool for urban planners seeking to

better understand river deltas and the large

portion of Earth's population that lives there.

The database, created by researchers at The

University of Texas at Austin, uses publicly

available remote sensing data to show how

river centrelines have moved over the past

40 years. The information can be used to

predict how rivers and their deltas will move

over time, and will help policymakers manage

population density and future development in

these areas.

"When we think about river management

system, we have very little to no information

about how rivers are moving over time," said

Paola Passalacqua, who leads the ongoing

analysis. The research is funded by the US

National Science Foundation (NSF), and is

published in Proceedings of the National

Academy of Sciences.

Laura Lautz, programme director in NSF's

division of earth sciences, added: "The

availability of abundant satellite data, coupled

with advances in machine learning, have

made it possible to map actual channel

migration rates, and how river deltas are

changing through time, at a global scale that

wasn't possible before."

The database includes three US rivers –

the Mississippi, the Colorado, and the Rio

Grande. Although some areas of these

rivers' deltas have experienced migration,

overall, they are mostly stable, the data

show. Aggressive containment strategies

to keep the rivers in their places, especially

near population centres, play a role in that,

Passalacqua said.

Average migration rates for each river delta

in the database help identify which areas

are stable and which are experiencing

major river shifts. The researchers also

published more extensive data online that

include information about how different

segments of these rivers have moved over

time. The information could help planners

see what's going on in rural areas against

urban areas.

WATER & WASTEWATER ASIA | JANUARY/FEBRUARY 2022 13
---
NEWS

SATERI AND

CONSERVATION

INTERNATIONAL

COLLABORATE TO

RESTORE HEALTH

AND BIODIVERSITY

OF CHINA'S LARGEST

FRESHWATER LAKE

Sateri and Conservation International has

announced their partnership on the wetland

conservation of Poyang Lake, China's largest

freshwater lake. This initiative aims to improve

the ecosystem's health, restore biodiversity

and provide sustainable livelihoods to local

people.

Located at Jiangxi Province, in the southeastern

part of the country, Poyang Lake

plays a critical role in regulating floods in

the Yangtze River, and is a vital ecosystem

for the environment, culture, and economy.

The lake supports the livelihoods of more

than 45 million people living in the province,

and contributes more than 15% of the

Yangtze River's annual runoff. It is also a

wetland of national and global importance –

providing a habitat for flora and fauna of high

conservation value, including the critically

endangered Siberian crane and finless

porpoise.

The five-year partnership, which began in

2019, evaluates the health of Poyang Lake

and develops strategies for managing

and protecting it, while also supporting

communities to live in harmony with nature.

To guide this work, a preliminary assessment

of the Poyang Lake was conducted using

Conservation International's Freshwater

Health Index. This scientific tool analyses

the health of the freshwater ecosystem, and

measures human uses, needs and impacts

providing decision makers with clear,

scientific guidance on how best to sustainably

manage these wetlands.

Richard Jeo, field division senior vicepresident,

Asia-Pacific, Conservation

International, explained: "Water security

and biodiversity loss are two of the most

pressing challenges facing humanity and

the environment. Our strategic partnership

with Jiangxi Provincial Forestry Bureau

and Sateri at the Poyang Lake, China's

largest freshwater lake, demonstrates how

government, corporate and communities

Tundra swan in Poyang Lake (Photo credit: YangFan)

can work together on conservation, and will

go a long way towards addressing these

challenges, and finding solutions that benefit

both people and nature."

This project also supports the United Nations'

(UN) Sustainable Development Goals and

China's commitment at the UN Biodiversity

Conference (CBD COP 15) by improving

protection and management of the Duchang

Nature Reserve and Poyang Protected Areas

Network for these important wetlands.

Allen Zhang, president of Sateri, concluded:

"The protection of biodiversity and the

sustainable use of resources in production

must go hand-in-hand. The Poyang

Lake initiative is a good example of how

manufacturers can support nature-based

solutions in parallel with community

development. It also aligns with our Vision

2030 aspiration to be net-positive, giving

more than we take."

SWA SEALS MOU WITH NTUC TO ACCELERATE

OPPORTUNITIES IN THE LOCAL WATER SECTOR

In an attempt to strengthen business

cooperation and spur workforce

transformation within the local water sector,

the Singapore Water Association (SWA)

and National Trades Union Congress

(NTUC) have signed a memorandum of

understanding (MoU) with an aim to foster

partnerships and build capabilities among

Singapore water companies to emerge

stronger through digitalisation, sustainability,

business transformation, training and

internationalisation.

Witnessing the MoU signing on 2 Dec 2021

were Ng Chee Meng, secretary-general

of NTUC, and Harry Seah, deputy chief

executive of PUB, Singapore's national

water agency. The ceremony was held

in conjunction with the Singapore Water

Industry Nite (SWIN), which returned in a

virtual edition after a two-year hiatus.

Representing about 300 companies, the SWA

will be engaging its members to participate

in the Group Operation and Technology

Roadmap (OTR) that will be introduced in

Q1 2022. This initiative brings together the

relevant agencies – including PUB, small and

medium-sized enterprises (SMEs), NTUC U

SME, and NTUC Training and Transformation

Group – to ultimately uplift the republic's

water industry and workforce.

The partnership between SWA and NTUC will

strengthen business corporation while supporting

local water businesses in their digital transition

Starting last December, the SWA has also

launched an online Digi Expo. The platform

features an international language interface

chatbot for global visitors, and offers visitors

to network and gain leads for their business

and stay up-to-date with industry events via

the Programme Feed and Resource Pages.

Businesses can also leverage on the platform

to hire new talents and keep track of visits

and updates via the activity log.

14 WATER & WASTEWATER ASIA | JANUARY/FEBRUARY 2022
---
NEWS

NX FILTRATION STARTS PILOT WITH DRINKING

WATER UTILITY WMD IN THE NETHERLANDS

WMD, the drinking water utility of the

province of Drenthe in the Netherlands, has

initiated a pilot project with NX Filtration. The

objective of the pilot project is to test director

nanofiltration (dNF) technology on the removal

of various micropollutants from WMD's

groundwater sources.

WMD services over 200,000 households and

companies across Drenthe with the supply of

drinking water. Amongst its key initiatives as

part of its 2023 vision, WMD seeks to invest in

new water treatment technologies to remove

an increasing amount of micropollutants from

water derived from groundwater sources.

These pollutions, which include nickel-iron

alloys (Ni/Fe) and ethylenediaminetetraacetic

acid (EDTA), are mostly a result of agricultural

and industrial activities in the second half of

the last century.

Initial lab-scale tests with NX Filtration's dNF

technology demonstrated "high removal

of Ni/Fe, EDTA and other micropollutants".

Therefore, WMD now decided to expand its

pilot programme to test dNF technology in

a full-scale setting, based on NX Filtration's

large scale Mexpert pilot system.

WMD works with NX Filtration on a pilot project

to test dNF technology on the removal of various

micropollutants from WMD's groundwater sources

Advantages of the dNF technology for WMD

include the one-step treatment setup that

can be applied directly to the source water,

the fact that desirable minerals remain part

of the produced water, and the energy-saving

and chemicals-avoiding characteristics of NX

Filtration's dNF technology.

The pilot programme is expected to run

from November 2021 to the summer

of 2022.

BLACK & VEATCH'S NUTRIENT REMOVAL

PROJECT STANDS UP TO RECORD CALIFORNIA

WET-WEATHER EVENT

ammonia and most nitrate from the effluent,

addressing concerns of both local and

downstream ecosystem impacts.

When the combination of two weather

phenomena – a bomb cyclone and

atmosphere river – inundated Northern

California with record-breaking rainfall last

October, Sacramento's biological nutrient

removal (BNR) facility did more than just

weather the storm; it flexed its muscle

in keeping the Sacramento River, and

subsequently the Sacrament-San Joaquin

Delta, clean.

With a maximum capacity of 330 MGD,

the Sacramento Regional Wastewater

Treatment Plant (SRWTP) is one of the largest

BNR projects ever designed by Black &

Veatch, and incorporates some of the latest

advancements in BNR technology.

The BNR facilities were placed fully into

service just before the newly equipped

SRWTP would face its first major test –

when the cyclone and atmospheric river

combined to dump a record 5.44 inches of

rain on the capital city. This was the most

rain Sacramento had been in one 24-hour

period in more than 141 years, and put the

strain on the region's critical infrastructure,

including wastewater conveyance and

treatment facilities owned and operated by

the Sacramento Regional County Sanitation

District (Regional San).

Willian Yu, senior civil engineer with Regional

San, commented: "This was a gigantic

storm, one that far exceed the '100-yearstorm'

event. At one point, there were more

than 500 MGD coming into the wastewater

treatment plant.

"We were able to run the maximum 330

MGD through the treatment plant while

storing the remainder in equalisation basins

for later treatment. The facilities performed

well, demonstrating the necessary flexibility

to handle such an extreme event while

continuing to discharge cleaner effluent into

local waterways."

Black & Veatch provided planning, design,

construction support and start-up and

commissioning services for the new

BNR facilities. The BNR system relies on

microbial populations within aerobic and

anoxic environments to remove nearly all

The BNR project is a cornerstone project in

the Regional San EchoWater programme,

initiated in 2010 to address stricter effluent

discharge mandates issued by the State

of California. The new BNR facility and

additional tertiary treatment facilities,

designed by others and currently in

construction, will help Regional San to

meet compliance and discharge cleaner

water into the Sacramento River, driving

enhanced environment water quality in the

Sacramento-San Joaquin Delta. Regional

San also provides recycled water for

potential non-potable reuse.

Sean Goris, project manager for Black &

Veatch, concluded: "Anticipating peak flows

is always a critical design consideration

when building these large-scale wastewater

treatment facilities. We designed the SRWTP

BNR facilities with significant flexibility that

allow operators to bring additional treatment

basins on-line rapidly. As illustrated by

this last event, this flexibility helped fortify

resilience for the utility, Regional San; the

Sacramento community; and the local and

downstream environment."

WATER & WASTEWATER ASIA | JANUARY/FEBRUARY 2022 15
---
SINGAPORE FOCUS

WATER TECHNOLOGY

ROADSHOW:

A joint effort to bring

science to life

PUB, Singapore's national water agency initiates the

Water Technology Roadshow to profile promising

water research projects happening in Singapore and

promote industry uptake for further development.

With small land size, limited natural resources

and increasing water demand in tandem with

the growth of our population and economy,

Singapore is consistently ranked as one of the

world's most water-stressed countries. And

in the face of climate change, the city-state is

also vulnerable to effects such as increasing

temperatures, rising sea levels and more

extreme weather events.

Centre of Innovation (EWTCOI) and

Separation Technologies Applied Research

and Translation Centre (START).

As the water agency's investment begin to

bear fruit and technologies mature, more

focus is placed on strengthening the nexus

between academia, research institutions

and the industry. Moreover, the agency

places high importance to ensure research

outcomes of the laboratory are translated and

commercialised into processes, products,

and services for the market, to ultimately

generate economic and societal payoffs for

Singapore.

However, this transition to real-life

applications can be a complex process. To

this end, PUB collaborates with academic

institutions such as NTU, NUS and SUTD,

translation infrastructure EWTCOI and

START, industry partners like IPI Singapore,

Singapore Membrane Consortium and

Singapore Water Association, by providing

a conducive environment to pursue the

development of innovative water technologies

in Singapore. The Singapore Water Exchange

(SgWX) is the physical hub where the

team strings efforts together, and where

collaborative projects for the development of

a vibrant water ecosystem are conducted.

To overcome these challenges, PUB,

Singapore's national water agency, has

invested greatly to push forth R&D in the

water domain to develop a water system that

is adequate, resilient, and sustainable. Over

the years, R&D efforts have helped PUB adapt

to the evolving needs of the industry and

the onset of climate change. The efforts will

continue to guide PUB in navigating through

emerging challenges, especially in its latest

role as the national Coastal Protection Agency.

Such R&D efforts not only foster water

research excellence within the Institutes of

Higher Learning (IHLs) such as Nanyang

Technological University, Singapore (NTU),

National University of Singapore (NUS), and

Singapore University of Technology and

Design (SUTD), they have also seeded the

growth of dedicated translation centres such

as the Environmental and Water Technology

The first edition of the Water Technology Roadshow was co-organised by PUB and NTU with an aim to provide

insights into promising water technology research

16 WATER & WASTEWATER ASIA | JANUARY/FEBRUARY 2022
---
SINGAPORE FOCUS

The Water Technology Roadshow is one

such initiative, established to provide

a dedicated platform to showcase

promising water technologies to the global

water industry, and promote uptake of

these technologies for translation and

commercialisation through licensing and

adoption. The roadshow enables enterprises

to tap on the science and technology

expertise within the IHLs and research

institutions to catalyse the industry's

development of innovative solutions, meeting

the evolving needs of customers worldwide.

The inaugural Water Technology Roadshow

was held last May and technologies

from NTU, NUS, SUTD and START were

presented to a global audience, including

water technology companies such as

DuPont, Kurita, SUEZ, and Xylem. The eight

presentations featured a range of water

technologies which include membranes, a

capacitive deionization technology, and an

algal proliferation and prediction system.

The guest speaker for the roadshow was

Christopher Gasson, owner and publisher of

Global Water Intelligence (GWI), who said:

"The technologies presented represent a

rich dividend from Singapore's extraordinary

investment in water over the past 15 years.

They are a combination of cutting-edge

innovation and practicality, and every single

technology presented was both immediately

relevant and represented a meaningful

advance in the state of the art."

The second edition of the Water Technology

Roadshow took place last November,

with a thematic approach to feature Next-

Generation Membrane Technologies. Three

membrane technologies were showcased

through presentations by EWTCOI, NUS

and NTU. IPI Singapore also shared insights

on the Membrane Technology Landscape.

The presentations were well received by the

audience who were able to receive first-hand

responses from the presenters through the

Q&A segments.

The second edition of

the Water Technology

Roadshow returned last

November with a focus

on Next Generation

Membrane Technologies

to encourage translation

and commercialisation

Moh Tiing Liang, deputy director of the

industry and technology collaboration

department at PUB, highlighted the

importance of having good teamwork from

the various stakeholders to bring about

successful editions of the Water Technology

Roadshow. He said: "Working with our

partners, we brought multiple stakeholders

together, curated technologies to be

showcased and developed an exciting

programme. It is fulfilling to see good

feedback from the participants, with many

saying they will attend future editions of the

roadshow."

The Water Technology Roadshow will

return for a third edition coming April,

to coincide with Singapore International

Water Week. PUB will continue to work

closely with important academic and

industry partners, to extend the outreach of

promising water technologies to the global

water industry to promote their translation

and commercialisation, and reinforce

Singapore's position as a global hydrohub

with innovative water solutions.

S/N Technology Showcases Presenter

1 Advanced Membrane System for High Recovery in Water

Reclamation

Associate Professor Chong

Tzyy Haur, NTU

2 System for Forecasting Algal Blooms in Singapore Associate Professor Vladan

3 High-yield Membrane for Efficient Desalination of

Brackish Water

4 Low-energy Water Desalination and Purification

Technology

Babovic, NUS

Professor Neal Chung, NUS

Associate Professor Yang

Hui Ying, SUTD

5 Low Pressure Nanofiltration Membrane Technology Stevie E, START

6 Low Energy Reinforced Flat Sheet Membranes Goh Li May, START

7 Tri-bore Hollow Fibre Membranes for Membrane

Distillation Application

8 Graphene Oxide-based Ultrafiltration and Nanofiltration

Membranes

9 Synthetic Water Channels with High Ion Rejection

Property

10 Synthetic Water Channel-based Biomimetic Membranes

for Desalination

Dr Sebastian Hernandez,

START

Dr Goh Shuwen, EWTCOI

Professor Prakash Kumar,

NUS

Please contact pub_sgwx@pub.gov.sg should you have interest in the above techologies.

Professor Wang Rong, NTU

WATER & WASTEWATER ASIA | JANUARY/FEBRUARY 2022 17
---
SINGAPORE FOCUS

AUTOMATED MICRO-

INVERTEBRATE

DETECTOR

with image analytics

capabilities

By Lei Lei, Du Yu, Melissa Tay and

Nicholas Ho

Figure 1: Schematic diagram of the micro-invertebrate

detector that consists of multifilter-based concentrator

and optical detector

BACKGROUND

Regular operational monitoring of chironomid,

commonly known as midges, larvae, at

the water treatment plants is necessary to

detect for early signs of chironomid larvae

infestation. The current monitoring method

for chironomid larvae is very laborious as it

relies on plant operators to manually collect

samples, and a trained analyst to manually

identify and count live and dead chironomid

larvae under a microscope.

To reduce the time and manpower needed

for sample collection and analysis, PUB

and the NM3 Tech team jointly proposed

a new system to automate the detection

of chironomid larvae in water. This system

can detect chironomid larvae in 1,000 litres

of water sample within an hour with quasicontinuous

detection mode and minimal

maintenance requirements.

This solution will be trialled at selected PUB

installation, starting this year.

METHODOLOGY

Figure 1 shows the system structure of the

micro-invertebrate detector. In the multifilter

concentrator subsystem, a stainless-steel

filter of pore size 40μm is fixed on the filter

holder to concentrate the larvae in 1,000

litres of water. Thereafter, the trapped larvae

will be flushed down into a small volume

of concentrated sample by spray nozzles

positioned around the filter. The sample is

then transferred into the optical detector for

image capturing using a scanning imaging

system. The morphology of the trapped

particles and their movement information will

be recorded and analysed with a computing

processor comparing with the derived image

database.

In the optical detector, an initial coarse

scanning of the whole filter area using

0.5X magnification will be done to identify

the regions of interest. Subsequently, a

camera with higher magnification of 2X will

be positioned at the individual particle of

interest to capture detailed images for the

final artificial intelligence (AI) identification.

Furthermore, the viability is analysed based

on their mobility using image similarity

comparison method over the observation

period. The whole working process is

programmable and controlled by the system

software.

CURRENT ACHIEVEMENTS

The working prototype was installed at a

PUB installation for a three-month site trial.

The system was operating continuously

under 24/7 operation mode, and the system's

No. of

Samples

Total

Spiked

Larvae

Results from blind spiked test samples

Manual Counts

(from captured

images)

Figure 2: The working procedures of the images

capturing, identification and viability analysis

stability and reliability were validated with

1,744 samples analysed on-site. The system's

detection accuracy was validated with

151 blind test samples spiked with varying

numbers of chironomid larvae. An accuracy

of more than 80% was achieved for the

detection of chironomid larvae.

FUTURE PLANS

Phase 2 study is planned to complete a lab

version detector with multiple water sample

loader, while further improving detection

accuracy. In addition, the mechanical design

of the system will be improved for both indoor

and outdoor applications.

ACKNOWLEDGEMENT

This project was funded by PUB, Singapore's

national water agency under R&D grant

(RND-Q4-43). We thank PUB for the financial

and technical support provided.

Lei Lei is CEO and Du Yu is scientific consultant at

NM3 Tech. Melissa Tay is senior biologist and Nicholas

Ho is biologist at PUB Water Quality Department.

Detector

Counts

% AI Accuracy

(Manual vs.

Detector

Counts)

% Accuracy

(Spiked vs.

Detector

Counts)

Blind test 151 292 265 235 88.7% 80.5%

18 WATER & WASTEWATER ASIA | JANUARY/FEBRUARY 2022
---
IN CONVERSATION WITH

A COLLECTIVE

EFFORT IN DRIVING

smart sustainable

solutions for industries

(from L-R) Representatives at the MoU signing are Eric Lai, regional managing director, industry – Asia-Pacific and country director for Singapore,

Grundfos; Humphrey Lau, group senior vice-president, global industry business, Grundfos; Georgina Phua, deputy principal, development,

Singapore Polytechnic; and Loh Yew Chiong, senior director, computing, chemical and life sciences clusters, Singapore Polytechnic

The digital age has great

potential for sustainability. Not only

does it support the economy

while embracing a greener

planet, it also increases resource

efficiency and reduces waste,

as Josephine Tan writes more.

Digitalisation opens the door to a more

sustainable business model, declared

Eric Lai, regional managing director,

industry – Asia-Pacific and country

director for Singapore, Grundfos.

He told Water & Wastewater Asia:

"For businesses, it is becoming

increasingly important to realise that

we are in a transition journey into the

digital era, especially when it comes

to operating sustainably. This trend

brings forth the opportunities for

partnerships to bring the extensions

beyond achieving sustainability goals.

Separately, there is also Industry 4.0

and the trend on smart factories,

where automation and data exchange

can help create productivity gain.

"At Grundfos, we have developed

digital and intelligent technologies that

has the capability to align productivity

and sustainability for the industry."

GETTING THE CIRCULATION

GOING

Last February, the Singapore

government unveiled the Singapore

Green Plan 2030, a whole-of-nation

WATER & WASTEWATER ASIA | JANUARY/FEBRUARY 2022 19
---
IN CONVERSATION WITH

movement to advance the republic's

national agenda on sustainable

development. The Green Plan charts

ambitious and concrete targets over

the next 10 years, strengthening

the country's commitments under

the United Nations' Sustainable

Development Goals (SDGs) Agenda

and Paris Agreement, and positioning

the republic to achieve its long-term

net-zero emissions aspirations as soon

as viable.

Lai said: "We reflect on the green

ambitions that the Singapore

government has put up in the

Singapore Green Plan 2030. This

is important, especially with water

conservation and resilience among

some of its top priorities.

"In terms of the next milestone, the

path towards a more sustainable planet

is to embed our solutions into a circular

economy globally. This is very crucial

especially when the world population

is growing rapidly towards 9.7 billion

by 2050, the demand for resources

will be even more, and therefore the

importance of producing less with more

is key going into the future."

The circular economy is a model which

Lai suggested would encourage to use

less, more wisely, and extending the

lifecycle of natural resources through

three core principles – design out

waste and pollution, keep products and

materials in use, and regenerate natural

systems. These three principles, he

stressed, will support the population

"better and stronger into the future".

Limiting wastage is another method

that can help industries to save

resources. Particularly for water, it is

one of the key resources in industrial

production; millions of gallons of water

are being used in various activities

across the production chain. He cited

an example whereby a cotton t-shirt

requires about 2,500 litres of water to

be produced. Hence, Grundfos aims

to utilise smart technology to ensure

that the industry processes, where

water and energy is being used, will

be used on an intuitive, on-demand

and effective manner, he added.

Further on climate change, while the

world is still not on track in terms of

limiting the impending temperature

increase of 1.5ºC, Lai described

the recently concluded COP26 as

"a big step forward" with several

announcements surrounding the

importance on strengthening water

resilience and efficiency being made.

One such highlight is the Reducing

Water Footprint Coalition. Launched

and led by the UK government,

the coalition calls for nations and

non-state actors – including cities,

regions, and states – to make

commitment on accelerating research

and how water consumption can be

reduced.

Beyond COP26, the Race To Zero

global campaign has mobilised

a coalition of net zero initiatives,

representing 733 cities, 31 regions,

3,067 businesses, 173 of some

of the biggest investors, and 622

higher education institutions, to rally

for a healthy, resilient, zero carbon

recovery that prevents future threats

and unlocks inclusive, sustainable

growth.

"More than 20% of the world's

water companies by revenue have

now signed up the Race To Zero

campaign. The campaign requires

signatories to halve emissions by

2030 and reach net-zero by 2050

at the latest," Lai revealed. "There's

still a lot of work to be done ahead

of us but these are some of the good

examples evolved out of COP26."

For Humphrey Lau, group senior vicepresident,

global industry business,

Grundfos, the biggest outcome of

COP26 was the agreement among all

countries to revisit and strengthen their

current emissions targets to 2030. He

elaborated: "Previously, it was every

second or third year or even five years,

but it's actually the first time where all

the countries have signed on to the fact

that they are going to revisit the targets

every year. I think the private, public and

academia collaboration are going to be

key to combat some of the big issues

discussed at the summit.

"It's important for companies who are

working on sustainable solutions to be

able to demonstrate that they are actually

committed and going forward by setting

their own sustainability goals. For us at

Grundfos, we have already set out our

sustainability goals more than 10 years

ago, where we state that we will not

emit more CO2 than in the year 2008,

regardless the volume we manufacture."

SUCCESS LIES IN PARTNERSHIPS

To accelerate the development of smart

sustainable solutions for industries,

Grundfos signed a memorandum

of understanding with Singapore

Polytechnic (SP), an educational

institution in Singapore, to co-develop

energy and water efficient smart

solutions that support industries

in the republic in their efforts to be

sustainable, through collaboration,

talent development, and sustainability

education.

In alignment with the Singapore Green

Plan 2030, the partnership will explore

and develop smart sustainability

solutions for industries, as well as drive

initiatives focused on the UN's SDGs

such as SDG 6 for Clean Water and

Sanitation and SDG 13 for Sustainable

Consumption and Production Patterns

for climate action.

20 WATER & WASTEWATER ASIA | JANUARY/FEBRUARY 2022
---
IN CONVERSATION WITH

Explaining the reasons behind

the partnership with SP, Lai said

Grundfos recognises that Singapore

is "on a promising trajectory",

and one of them is to become

a sustainable city-state to set

a benchmark for the region. He

continued: "As a global water solution

provider, Grundfos has focused on

sustainability and we believe that we

have a part to play in supporting this

ambition.

"SP is a natural choice for us as we've

been working together closely for

the last decade. Also an institute of

higher learning, SP is in the position

to take lead in driving sustainability

through innovations and growing

the youths to be job-ready. Youths

today also has a growing passion on

sustainability issues."

Both Grundfos and SP have kickstarted

this initiative with a pilot

project at the former's facility in

Singapore. This includes feasibility

studies followed by implementation of

a rainwater harvesting system, solar

power as alternative power source

at the facility, and applying digital

solutions in the production building.

The final outcomes of this pilot

project will help Grundfos' further

reduce its water and carbon footprint.

subsequently implemented with

industry manufacturers in Singapore

through pilot projects.

To achieve this, the three-year

partnership will focus on sustainability

education and talent development.

Grundfos and SP will look to roll out

a comprehensive range of solution

packages, projects, events, courses,

and trainings to proactively promote

sustainability and smart sustainability

to the industry, which includes webinar

sharing sessions, seminars, and

conferences.

Lai further highlighted three critical

skillsets that youths and professionals

need be equipped to ultimately

support businesses in achieving

sustainable operation. First is the

foundation knowledge which is a

basic understanding of environmental

science and climate change awareness

as well as the knowledge about the

social issues that are most prevailing

in the industry and community, and

learning how each of these issues will

have an impact on the business.

As businesses and the world are

changing and evolving fast, the

second skillset to be equipped with is

forward thinking. Here, it is to identify

opportunities for change and plan for

long-term success. In relation to this,

he added that talents should have a

strong knowledge of sustainability

practices, while keeping an eye on the

horizon for new situations when they

arise.

Finally, the third skillset is cultivating

creativity in problem solving, as he

explained: "Talents and professionals

need to find answers and develop

creative solutions to new and complex

challenges. With this mindset, there

will be a higher likelihood to succeed

in a world where sustainability is

increasingly getting important.

Although there will be challenges to

overcome, pivoting these thoughts

around sustainability practices that will

have innovative ideas allow us to be

open-minded to try things."

Acknowledging Lai's points, Lau

added that new candidates are to have

an understanding in applying their

knowledge in a real-world context.

"That's where we can play with the

industry or practices in an industrial

context. I think it's important to

combine the cutting-edge academic

theorists with actual, down-to-earth,

real-life cases," he said.

The partnership will also see both

parties contributing complementary

expertise, knowledge, and talent

that will advance sustainability

efforts for industries. SP will facilitate

the various touchpoints between

academia and industry, while

Grundfos will tap into its extensive

network and industry knowledge to

provide staff and students with the

necessary resources and industry

opportunities to successfully codevelop

innovative sustainable

solutions. These solutions will be

At Grundfos, we have

developed digital and

intelligent technologies

that has the capability

to align productivity and

sustainability for the

industry.

Eric Lai,

Regional Managing Director, Industry

– Asia-Pacific and Country Director for

Singapore, Grundfos

WATER & WASTEWATER ASIA | JANUARY/FEBRUARY 2022 21
---
ENVIRONMENTAL REPORT

NEW YEAR BRINGS

resolution on pollution

With sector-wide recognition that a step-change is required to

deliver the environmental improvements required by all stakeholders,

a new year brings fresh opportunities for supplier and water company

collaboration, writes David Frost, chief executive of Ovarro.

We can expect more scrutiny in the year

ahead – customer priorities are changing

and expectations will only increase, as

concluded by research published by the

Consumer Council for Water (CCW), in July

2021.

A smarter approach to network

management is now non-negotiable for

the water and wastewater industry, which

has historically been conservation in the

adoption of data-led solutions. The good

news is that at all levels, this is now clearly

recognised; commitments have been made

and mechanisms put in place to enable

innovation and collaboration in 2022.

During 2021, it became clear that

communities have ever-strengthening

connections with their local water

environment. Any detrimental impact this

industry, or any other, may have on the

quality of rivers and seas is no longer

acceptable in the eyes of customers.

This is reflected in the intense scrutiny from

regulators, politicians and the media we

have seen over the past 12 months, most

recently in the UK Parliamentary Committee

on Water Quality in Rivers, in measures

set out in the Environment Bill and the

government's Storm Overflow Evidence

report.

Ofwat's PR24 performance commitment

document PR24 and beyond, published

in November last year, recognises that

an outcomes-based approach to PR24

will include pollution incidents and

environmental performance.

The Environmental Agency's latest

environmental performance report also

made clear its expectation for a "trend to

zero serious pollutions". The agency says it

will always seek to hold those responsible

for environmental harm to account, with

the report noting fines for environmental

offences were starting to reach the same

level as the highest fines for crimes in

financial services.

Ovarro has worked collaboratively with

utilities to monitor their water and wastewater

networks for more than 30 years. It is these

close partnerships that allow our R&D teams

to respond to specific industry needs and

challenges, meaning we are able to support

utilities with their environmental protection

commitments.

One way in which we are doing this is through

BurstDetect, a cloud-based early-warning

system that detects rising main sewer

bursts. This new technology was developed

in collaboration with UK utilities, in direct

response to the urgent challenge to reduce

pollutions. Cost-effective and sustainable,

the technology transforms existing data into

actionable insight, while increasing real-time

and predictive capabilities.

Across all areas of business and operations,

having the correct technology and processes

in place will set the stage for the water sector

to regain customer and regulatory trust and,

most importantly, ensure greater protection of

treasured watercourses not only in 2022, but

for decades to come.

22 WATER & WASTEWATER ASIA | JANUARY/FEBRUARY 2022
---
SINGAPORE

INTERNATIONAL

SINGAPORE

WATER

INTERNATIONAL

WEEK 2022

WATER WEEK 2022

THE GLOBAL PLATFORM TO SHARE AND

CO-CREATE THE GLOBAL INNOVATIVE PLATFORM TO WATER SHARE SOLUTIONS AND

CO-CREATE INNOVATIVE WATER SOLUTIONS

Singapore International Water Week 2022 returns from 17 to

21 Singapore April 2022, International alongside Water the CleanEnviro Week 2022 Summit returns Singapore. from 17 to

21 April 2022, alongside the CleanEnviro Summit Singapore.

As one of the first international water shows to be held

As in-person one of in the Asia first since international the COVID-19 water pandemic, shows SIWW2022 to be held

will in-person bring stakeholders in Asia since from the COVID-19 government, pandemic, utilities, industry SIWW2022 and

academia will bring stakeholders together to share from best government, practices, utilities, policy development

industry and

in academia water, and together present to share the latest best practices, in technological policy development innovation.

in water, and to present the latest in technological innovation.

With the opening up of international travel lanes into

Singapore, With the SIWW2022 opening up is of expected international to attract travel close lanes to 15,000 into

Singapore, SIWW2022 is expected to attract close to 15,000

What sets SIWW apart?

What sets SIWW apart?

17 – 21 April 2022

17 – 21 April 2022

Sands Expo & Convention Centre

Marina Sands Expo Bay Sands, & Convention Singapore Centre

Marina Bay Sands, Singapore

ON-DEMAND PERIOD

ON-DEMAND PERIOD

17 April – 31 May 2022

17 April – 31 May 2022

international, regional and local attendees looking for solutions

to international, urban water regional challenges, and local and attendees to build and looking renew for solutions business

partnerships. to urban water And challenges, in advocating and to urgent build climate and renew action business for a

sustainable partnerships. water And future, in advocating SIWW2022 urgent will climate focus on action emerging for a

themes sustainable of climate water future, resilience, SIWW2022 net zero, will resource focus on circularity, emerging

sustainability themes of climate and digital resilience, water across net zero, its programme. resource circularity,

sustainability and digital water across its programme.

SIWW2022 is the place-to-be if you wish to build brand

exposure SIWW2022 for your is the products, place-to-be as well if as you establish wish to new build leads brand

business exposure opportunities.

for your products, as well as establish new leads and

business opportunities.

SOLUTIONS &

TECHNOLOGY

SOLUTIONS &

Innovation TECHNOLOGY and

solutions in urban

water Innovation management, and

for solutions municipal in urban and

industrial water management, users

for municipal and

industrial users

GLOBAL EVENT,

REGIONAL

FOOTPRINT

GLOBAL EVENT,

REGIONAL

A FOOTPRINT global water event

with strong relevance

and A global application water event

to with Asia strong relevance

and application

to Asia

BUSINESS &

NETWORKING

BUSINESS &

Gathering NETWORKING of

industry, utilities

and Gathering governments of

for industry, business utilities

collaboration and governments and

partnerships

for business

collaboration and

partnerships

URBAN

SUSTAINABILITY

URBAN

Co-located SUSTAINABILITY with

CleanEnviro Summit to

advance Co-located sustainability with

agenda CleanEnviro for built Summit urban to

environment

advance sustainability

agenda for built urban

environment

THOUGHT

LEADERSHIP

THOUGHT

Insights LEADERSHIP on latest

trends, solutions and

case Insights studies on latest in various

thematic trends, solutions areas and

case studies in various

thematic areas

Success of SIWW 2018:

Success of SIWW 2018:

Top Regions at SIWW 2018

(excluding Top Regions Singapore) at SIWW 2018

(excluding Singapore)

Over 500

Water Leaders

Over 500

Water Leaders

Over

24,000 Over

Participants

24,000

Participants

14%

14%

From 110

Regions and

From Countries 110

Regions and

Countries

EUROPE 61%

ASIA

EUROPE 61%

ASIA

S$23 Billon

S$23 Billon

In Total Value for Business

Announcements

In Total Value for Business

Announcements

Statistics reflected based on Singapore

International

Statistics reflected

Water

based

Week

on

2018

Singapore

International Water Week 2018

Organised by:

13%

AMERICAS

13%

AMERICAS

4%

MENA &

AFRICA 4% 8%

MENA &

OCEANIA

AFRICA 8%

OCEANIA

Stay connected with us:

Organised Singapore International by: Water Week Pte Ltd,

a company set up by Singapore's Ministry

Singapore of Sustainability International and the Water Environment Week Pte and Ltd,

a PUB, company Singapore's set National up by Singapore's Water Agency Ministry

of Sustainability and the Environment and

PUB, Singapore's National Water Agency

Stay connected

info@siww.com.sg

with us:

info@siww.com.sg

@waterweeksg

@waterweeksg

@siww.com.sg

@siww.com.sg

@siww

@siww
---
ENVIRONMENTAL REPORT

ADVANCED

BIOLOGICAL FILTRATION:

A multi-barrier approach to

complex water and wastewater

contaminant removal By Alex Betinardi and Stanley Shmia

Since Flint, Michigan, and other

communities brought the issue of water

safety to the headlines, even non-water

professionals are familiar with common

contaminants like lead and arsenic. But

there remains some ambiguity around

"emerging contaminants" that are now

appearing in water supplies, particularly

as regulations to mitigate them are

under development with no clear

guidelines yet available.

Emerging contaminants, or

contaminants of emerging concern

(CECs), include a variety of chemicals

– including pharmaceuticals and

personal care, and household

cleaning products. CECs enter the

environment constantly, a result of the

tens of thousands of chemical-based

products people use every day.

While the traditional mindset was

"dilution is the solution to pollution",

we now know that this is not true.

As CECs have made their way into

rivers and streams, tests show there

are measurable quantities of these

contaminants in the water and aquatic

ecosystem. These contaminants

can impact aquatic life and, as they

accumulate in the food web, they put

non-aquatic species at risk when

they eat contaminated fish. There

are serious concerns about the

health risks to terrestrial organisms,

including humans. The risk to human

health is still uncertain but include

endocrine-disrupting activity and other

toxic mechanisms, including some

recognised as carcinogens by the US

Environmental Protection Agency (EPA).

24 WATER & WASTEWATER ASIA | JANUARY/FEBRUARY 2022
---
ENVIRONMENTAL REPORT

Traditional treatment plants were not

designed to remove these modern

organic and synthetic contaminants.

Recognising this, many municipalities

are searching for new ways to

effectively meet the challenge. The first

step is understanding the nature of

these contaminants.

MICROPOLLUTANTS AND

ENDOCRINE-DISRUPTING

COMPOUNDS

With 70% of Americans taking

prescription drugs compared to 48%

just five years ago, pharmaceuticals

mainly reach the water supply

through the discharge of effluent from

urban wastewater treatment plants.

Wastewater from households, hospitals

and industries is discharged into the

sewer systems. Traditional wastewater

treatment plants collect the wastewater

and remove pollutants. However,

persistent micropollutants such as

pharmaceuticals remain in the water.

Studies have shown that the

contaminants present in water,

including endocrine-disrupting

chemicals (EDCs) can impair

development, fertility, and reproductive

function in non-human mammals,

humans, and aquatic wildlife.

Another chemical of particular

concern, 1,4-dioxane was popular as

a reagent, a stabiliser for chlorinated

solvents for metal degreasing, to

purify pharmaceutical ingredients and

make the small pores in membranes.

Now, the EPA has labelled the

synthetic chemical a likely carcinogen.

While 1,4-dioxane does not easily

biodegrade in the environment, it

dissolves completely in water, even at

high concentrations, making it difficult

to remove once it enters the water

system.

Micropollutants, including

pharmaceutical, EDCs and 1,4-dioxane

are not easily treated by traditional

methods. Treatment options for

pharmaceutical micropollutants, EDCs

and personal care products including

advanced oxidation process (AOP)

used in conjunction with UV disinfection,

ozonation, or peroxide. Other options,

such as granular active carbon (GAC)

filtration and membranes, can be less

effective or require heavy maintenance,

and membranes and other technologies

concentrate micropollutants but do not

actually destroy or oxidise them. These

processes are conducted downstream

during a wastewater polishing step.

CYANOBACTERIA AND TASTE-

AND-ODOUR COMPOUNDS

Cyanobacteria, commonly called bluegreen

algae, are naturally occurring in

aquatic ecosystems. They are also an

important part of the food web and are

eaten by simple organisms and some

fish. Some types of cyanobacteria can

produce toxics called cyanotoxins,

which can be harmful to humans and

animals. More typically, they produce

an unpleasant earthy or must tasteand-odour

compound such as geosmin

and methyl-isoborneol (MIB), in surface

water. While these are not toxic, they

can cause aesthetic issues in finished

drinking water.

WATER & WASTEWATER ASIA | JANUARY/FEBRUARY 2022 25
---
ENVIRONMENTAL REPORT

Treatment options include chorine

disinfection, and chlorine dioxide. In

wastewater, a flocculation or flotation

dissolved air flotation (DAF) unit

combined with chlorine for DAF can be

used downstream.

TOTAL ORGANIC COMPOUNDS

AND DISINFECTION BY-

PRODUCTS

While chlorine disinfection to treat

water for drinking was one of the most

meaningful public health successes

of the 1900s, the reaction between

chlorine elements and organic or

inorganic matter in source water can

form compounds called disinfection

by-products (DBPs). The organic

matter in source water that can react

with chlorine is measured as total

organic carbon (TOC). DBPs are a

serious human health concern because

of the associated increased risk of

cancer development and adverse

reproductive effects. For this reason,

some DBPs are regulated, including

trihalomethanes (THMs), haloacetic

acids (HAAs), chlorite, and bromate.

DBPs are the result of traditional

treatment and, thus, cannot be

treated away. To decrease the chance

of public exposure to dangerous

DBPs, water utilities may change

upstream treatment methods and

focus on identifying and reducing

organic carbon prior to disinfection.

Conventional treatments include

coagulation and sedimentation or

variations, such as dissolved aerated

filtration (DAF); adsorption clarification;

ozonation used in conjunction with

GAC in adsorption phase, where

suitable; and membrane filtration in the

ultrafiltration (UF) and nanofiltration

range. Using other oxidants, such

as peroxide, either before chorine

disinfection or as an alternative is

another way utilities address DBP

concerns.

OZONE FOR TACKING THE

MICROPOLLUTANT PROBLEM

Ozone has long been used to oxidise

a wide variety of pollutants in water,

wastewater and industrial applications.

An oxidant with fast reaction time,

no added chemicals, and reduced

DBPs, ozone is an appealing option

for water and wastewater treatment

and is used as part of an advanced

oxidation process to address emerging

contaminants.

For example, an Italian company

based near Rome produces a large

quantity of biodiesel primarily from

used frying oil sourced from Italy,

France, Spain and Holland. They also

make distilled fatty acids, glycerine,

and vegetable olein as a by-product

of the biodiesel process. Their organic

wastewater treatment system included

physical-chemical processes,

activated sludge, and GAC, but

their growing business was placing

stress on their wastewater treatment

facilities. They were faced with a

higher recalcitrant chemical oxygen

demand (COD) after the biological

stage with a significant increase in

GAC consumption. The discharge

COD target is 250ppm.

The company investigated multiple

technologies to reduce their GAC

consumption, including ultrafiltration,

but the high level of membrane

maintenance required to reduce

fouling made it a costly and labourintensive

option. They needed a more

economical solution to reduce GAC

consumption. De Nora was selected

to pilot a 30g/h ozone generator fed

with liquid oxygen (LOX). Experiments

were performed with ozone alone and

with ozone and peroxide (Ozone-AOP).

Results showed that Ozone-AOP was

a faster treatment option than ozone

alone – not surprising since molecular

ozone is a slower-reacting agent

than the hydroxyl radical formed in the

Ozone-AOP reaction.

The final design of the system

required a 17kg/h ozone generator in

a containerised package, with ozone

water mixing achieved with a doublestage,

side-stream pump injection

system. A small amount of the ozone,

about 0.5kg/h, is used for sludge

reduction. The system has been running

successfully since 2014, ensuring

COD level below the discharge limit

and improving biological process

performance through the partial sludge

oxidation process.

Due to the short water cycle, the

population density in specific areas,

and heavy presence of pharmaceutical

industries, some locations in

Switzerland have a micropollutant

issue. At a water treatment plant in St.

Blaise, Switzerland, where diclofenac,

oestrogens, antibiotics and other

compounds were found in the water

supply, the TOC averaged 8ppm. In

2011, De Nora installed a pilot ozone

generator unit with a capacity of 6ppd

and an ozone concentration of 10%wt.

26 WATER & WASTEWATER ASIA | JANUARY/FEBRUARY 2022
---
ENVIRONMENTAL REPORT

Contact was up to 10 minutes.

Ozone was effective against all the

micropollutants analysed, including

Atenolol, Atenololsaure, Benzotriazol,

Carbamazepine, Clarithomycin,

Diclophenac, Gebapentin,

Hydrochlorothiazid, Levetriazepam,

Mefenamisnaure, Methyl-benzotriazo,

Sulfamethoxazol, Trimetoprim,

Valsartan, and Venlafaxin. Doubling

the contact time made minimal

difference in effectiveness.

MULTI-BARRIER TREATMENT

APPROACH TO CEC

As seen in the examples above, we

know ozone alone can effectively

oxidise target pollutants. When ozone

is combined with a biologically active

filter (BAF), the result is a multi-barrier

advanced bioactive filter process that

provides several additional process

benefits.

Instead of the complete oxidation of

the targeted organic compounds with

ozone alone, the De Nora Tetra ABF

bioactive filter uses a lower dose of

ozone to partially oxidise and break

the long chain recalcitrant carbon

into smaller biodegradable organic

compounds. The smaller chain organic

compounds are then removed in the

downstream BAF. This process allows

for lower ozone doses, and lower

capacity ozone equipment versus

conventional ozone only treatment.

This, in turn, may reduce capital costs

and energy consumption. In addition,

the ABF process does not require

upstream reverse osmosis (RO) or UF

membranes commonly used with other

types of direct and indirect water reuse

schemes.

The synergy created by combining

ozone and BAF treatment has proven

effective in removing common DBPs

and provides a biologically stable

effluent by oxidising assimilable

organic carbon (AOC) generated by

ozonation alone. This may reduce the

risk of downstream biofilm growth in

the filter.

ABF USED FOR TOC REMOVAL

AND DBP REDUCTION

In the summer of 2019, a 9 MGD

water treatment plant in Pennsylvania

commissioned a De Nora pilot to

evaluate the use of ozone and BAF

to treat settled surface water. They

were hoping to improve their TOC

removal and achieve significant DBP

reduction without adversely impacting

current water quality performance.

The existing plant has six filters at

576sf/filter designed for 16 MGD.

Media is 4-inch anthracite on top

of 1-inch sand. A containerised

ABF pilot was deployed featuring a

20-foot-long, high-cube container with

ozone generation equipment having

a capacity of 20g/h, and two 8-inch

diameter BAF with capacity to handle

a total flow of 6gpm. The system is

operated automatically, with remote

control and monitoring capability

through cellular communication.

Specific objectives for the pilot were

to achieve close to a 50% reduction in

raw water TOC that could be reliably

and consistently achieved with the full

combined treatment train throughout

the year. In 2017, raw water TOC

reached 10mg/litre. With respect to

DBP reduction, the pilot goal was to

achieve a 25% reduction of the mean

TTHM value and a 25% reduction of

the mean HAA5 value. Additionally,

all other regulated parameters would

show no significant increase as

compared to the plant values of the

pilot testing period.

The pilot ran for six months and the

ABF effluent averaged 47% greater

TTHM removal than current plant

performance, exceeding pilot objective

of 25%. Pilot control anthracite had

2.2 times higher effluent TTHM than

ABF. The percentage of TOC removal

in the ABF pilot relative to raw water

decreased by 45%.

SUMMARY

As the chemical load in the waterborne

waste stream increases

in volume and diversity due to

contaminants of CECs, DBPs, and

other micropollutants, water utilities

are challenged to find solutions to

ensure water quality and safety.

New pollutants require new

approaches.

By combining two technologies, ozone

generation and BAF, the De Nora tetra

ABF bioactive filter offers a costeffective

approach to today's treatment

challenges. The De Nora Tetra ABF filter

is designed to target micropollutant

and DBP reduction for both direct

and indirect water reuse plants and

DBP reduction at drinking water

treatment plants, offering measurable

improvements in water quality and

operational efficiency.

Alex Bettinardi is global product manager, ozone, De Nora

Water Technologies; and Stanley Shmia is global product

manager, filtration, De Nora Water Technologies.

WATER & WASTEWATER ASIA | JANUARY/FEBRUARY 2022 27
---
IN THE FIELD

WATER QUALITY

MONITORING

using the SWAN

Figure 1: Subnero Water

Assessment Network's

robotic SwanBot

Water bodies such as lakes, reservoirs and

rivers are an integral part of population

centres. Communities depend on them for

multiple purposes, including food, agriculture,

and leisure activities; and more importantly,

they can be the primary sources of drinking

water. Any event that disrupts these water

bodies, such as pollution or an algae bloom,

can have a large impact on lives and the

ecosystem as a whole. Therefore, there is a

need to monitor the waters proactively on a

regular basis, so that issues can be detected

and addressed early.

CHALLENGES IN WATER QUALITY

MONITORING

Conventional methods used for water quality

monitoring can be time-consuming and

labour-intensive. These methods often require

personnel to travel to the site to measure

water quality parameters and collect samples

for laboratory analysis. In the event of bad

weather or site hazards, such methods may

pose risk to the personnel or cause delays in

acquiring data. The use of automated fixed

stations that measure water parameters at a

few selected locations may alleviate some of

these issues, but such stations lack mobility

and their measurements may not always be

representative of the entire water body.

New challenges such as climate change and

labour shortages have surfaced in recent

years. According to studies, observed

increases in harmful algal blooms (HAB) have

been linked to the effects of global warming.

HAB adversely impacts drinking water

systems and public health, if contaminated

water is consumed. Worldwide labour

shortages have been attributed to the ongoing

28 WATER & WASTEWATER ASIA | JANUARY/FEBRUARY 2022
---
IN THE FIELD

COVID-19 pandemic. This combination of

such factors puts a strain on resources that

can be dedicated to water quality monitoring.

As water plays a crucial role in our lives, there

is a growing need to face these challenges

by improving operational efficiency of water

quality management. Water utility companies

have been starting to leverage on artificial

intelligence (AI) and numerical simulations

to improve their operations planning and

decision-making. Such methods rely heavily

on data, and hence adoption of smart

monitoring solutions to provide high quality

data is essential. Smart monitoring solutions

tap on cloud technology to collect water

quality data remotely, increasing efficiency

of data collection, reducing the reliance on

manpower, and putting the data in the hands

of decision-makers in a timely manner.

SUBNERO WATER ASSESSMENT

NETWORK

The Subnero Water Assessment Network

(SWAN) is a smart solution that has been

used by PUB, Singapore's national water

agency, to monitor the water quality of

reservoirs in Singapore. The SWAN is a

cloud-based network of autonomous surface

robots (SwanBots) that collects water data

in reservoirs (see Fig. 1). The collected water

quality data is made available to the decisionmakers

in real-time through the SWAN's

intelligent SwanCloud software. The SWAN

leverages technology to tackle the challenges

associated with conventional water quality

monitoring.

are sent to the SwanCloud instantaneously,

and is available for visualisation in real-time

as charts and heatmaps. The probe can also

be lowered to measure water parameters at

varying depths. If further laboratory analysis

is required, SwanBots can autonomously

capture water samples at specified locations

in the water body, and bring them to the

shore.

Another key feature of SWAN lies in its

scalability. Multiple SwanBots can be

deployed together to efficiently monitor large

water bodies (see Fig. 2). SWAN also has a

modular software architecture and exposes

APIs which facilitate integration with diverse

assets, such as weather stations, smart

buoys, drones and more to provide a holistic

view on the water body. Should the user own

any existing sensors or assets that collects

water quality data, they can be connected to

the SWAN for the convenience in accessing

the water data on a centralised data platform.

LEARNINGS FROM THE SWAN

DEPLOYMENT IN SINGAPORE'S

RESERVOIRS

When the SWAN was first deployed,

known as NUSwan then, experiments were

conducted to compare the measurements

taken by the SWAN with those measured

through conventional manual measurements

and water sampling. These results were

published in the report Interactive monitoring

in reservoirs using NUSwan by a research

team from the National University of

Singapore (NUS). It was observed that the

probe measurements and samples taken by

the SWAN were consistent with the manual

measurements taken. The SWAN was also

found to increase chances of capturing spikes

or hotspots of water quality parameters in

highly dynamic environments, where such

events would otherwise be overlooked. This is

critical in ensuring that water problems can be

detected early and quickly treated before they

become difficult to manage.

Entering an age of unprecedented threats to

water resources, there is a need to embrace

autonomous technologies such as SWAN

to help monitor water quality smartly and

efficiently. The SWAN provides up-to-date

water quality data from the places that matter,

empowering water management agencies to

make fast and informed decisions. This is key

to safeguarding the previous water resources

in the long run.

Part of this project is supported by the

National Research Foundation, Singapore,

and PUB, Singapore's national water agency,

under its Competitive Research Programme

(CRP) (Water).

The SwanBots can either follow preprogrammed

paths under the direction of

reservoir managers, or adaptively determine

efficient data collection routes under the

guidance of machine-learning techniques that

are part of the intelligent SwanCloud software.

A multi-parameter probe onboard each

SwanBot measures water quality parameters

such as pH, temperature, conductivity and

blue-green algae, amongst many others,

providing critical information on the health of

the reservoir. The measured water quality data

Figure 2: Multiple SwanBots deployed in a single reservoir for faster and more efficiency water quality monitoring

WATER & WASTEWATER ASIA | JANUARY/FEBRUARY 2022 29
---
IN THE FIELD

PROTECTING

against water loss

Pedro Barbosa, product owner at Fotech, a bp

Launchpad company, looks at the current threats

to water pipelines and explores how advanced

distributed acoustic sensing technology is

supporting operators to monitor and maintain

their networks better.

Water is a precious resource, yet it is lost

worldwide on a vast scale. According to the

World Bank, non-revenue water loss costs

an estimated US$15 billion per year 1 . There

is enormous pressure for water operators to

minimise leakage and to reduce risk across

their networks while simultaneously making

cost savings. Minimising water loss can

ultimately be achieved through effectively

monitoring and maintaining the integrity of the

water pipeline networks.

CURRENT THREATS TO PIPELINES

Water loss is a major problem worldwide.

For example, Skopje, Croatia, lost 22% of its

water in 2020 2 . There are a few reasons that

typically cause loss – aging pipelines are more

susceptible to failure, and if made from steel,

could experience corrosion that results in

leaks; mechanical damage can cause ruptures;

or water can be stolen by being siphoned off.

Theft is also a significant threat to pipelines.

Indeed, an Australian study revealed that

up to half of the world's water supply is

stolen annually 3 . It is particularly prevalent

in agricultural settings where crops need

constant irrigation.

CHALLENGE WITH EXISTING

MONITORING TECHNOLOGIES

Internal-based monitoring systems, which

infer the presence of a leak, have traditionally

been used to check for leaks. These systems –

such as mass balance and real-time transient

modelling (RTTM) – use computational

pipeline monitoring (CPM) to calculate

different operational conditions. However, they

tend to have low sensitivity to small leaks and

long detectability times. As a result, leaks are

often missed or alarms are only raised after

large quantities of water have already been

lost.

In contrast, external-based systems, such as

fibre optic sensing, take direct measurements

of different response dynamics associated

with the leak, such as the noise produced by

the leak. This provides a quicker detection of

smaller amounts of water leakage.

There is a critical need for a continuous

monitoring solution that enables water

operators to detect leaks and theft attempts

not only quickly but also accurately. This is

where advanced sensing technologies comes

into play.

DAS SMART SOLUTION

One technology that can monitor pipelines

for both leak detection and disturbances

related to attempted theft is distributed

antenna system (DAS). For example, Fotech's

LivePIPE solution uses photonic sensing

DAS technology that turns a fibre optic cable

running alongside a water pipeline network to

thousands of vibration sensors, able to detect

disturbances along the length of the pipeline.

The technology has the ability to send

thousands of pulses of light along the fibre

optic cable every second and monitors the

fine pattern of light reflected back. When

acoustic or vibrational energy – such as that

created by a leak or by digging – creates a

strain on the optical fibre, this changes the

30 WATER & WASTEWATER ASIA | JANUARY/FEBRUARY 2022
---
IN THE FIELD

reflected light pattern. By using advanced

algorithms and processing techniques, DAS

analyses these changes to identify and to

categorise any disturbance. Each type of

disturbance has its own signature and the

technology can inform the operator, in real

time, what happen, where it happened, and

when it happened.

Combining information gathered from multiple

monitoring and maintenance sensors into an

overarching view, provides water companies

an understanding of what is happening on a

pipeline at any given moment. Only then can

operators maintain and respond to any events

before they become major incidents.

References

1. Reducing Water Loss in Developing Countries

Using Performance-Based Service Contracting

(worldbank.org)

2. Wasted Water: Leaking Pipelines Threaten to Let

Balkans Run Dry | Balkan Insight

3. Up to half of world's water supply stolen

annually, study finds | Murray-Darling Basin | The

Guardian

FINDING FAULTS FAST

LivePIPE technology provides a smart barrier

along the entire length of the pipeline, which

can detect and alarm leaks of different sizes

and their position along and around the water

pipeline in real time. DAS can detect vibrations

caused by water being forced through a

pipeline rupture, or by ground displacement

associated with small leaks in pipelines that

would otherwise remain undetected.

If the source of a leak is a tiny orifice, it could

remain undetected or it could take days for

the location of an incident to be identified

with existing CPM systems. DAS is able to

detect leaks as small as 20 litres per minute,

raising the alarm in just 90 seconds, by which

only 30 litres will have escaped. This speed

is an improvement by a significant order of

magnitude to existing technology. DAS can

identify water leaks from many different sized

orifices, even as small as 1mm,

MAINTAINING NETWORK INTEGRITY

Maintaining pipeline network integrity and

protecting against leaks and malicious theft

are some of the biggest priorities for water

companies due to the efficiency improvements

that can be made and resulting cost savings.

By gaining visibility of the integrity of their

entire network, water companies can protect

against water loss, and can safeguard their

assets and bottom-lines while reducing risk.

DAS provides a critical layer of additional

intelligence, with its continuous monitoring,

and can detect and pinpoint the location

of multiple threats simultaneously, such as

small leaks and third-party interferences. This

technology can also be integrated with existing

monitoring systems to complement them.

Energy Recovery

Making industrial wastewater

treatment affordable.

Energy Recovery's suite of energy recovery devices (ERDs), from the Ultra PX

to the PX Pressure Exchanger and Turbocharger, significantly reduces energy

waste in industrial wastewater treatment. Our ERDs decrease your energy

consumption by up to 60%, and allow you to reduce the load on thermal

equipment, helping you reach your ZLD/MLD goals. Energy Recovery has

brought our globally recognized, unparalleled reliability from desalination to

industrial wastewater.

energyrecovery.com

WATER & WASTEWATER ASIA | JANUARY/FEBRUARY 2022 31
---
IN THE FIELD

SUSTAINABLE BRINE

TREATMENT"down under"

Designed to reduce on wastewater and chemicals, Lanxess Lewatit MDS TP 208

ion exchangers were being used for efficient brine treatment in Coogee Chemicals'

chloralkali facility.

ion exchanger can be relied upon to

help meet stringent purity standards,

Lanxess said.

Chloralkai production at the Coogee

Chemicals site in Lytton, a suburb of

Brisbane, Australia, began when the first

resin was added to the system more than

five years ago, and has been delivering

performance. The ion exchange columns

are filled with Lewatit MDS TP 208 finelydispersed

resin, which protects the sensitive

electrolysis membranes by removing

impurities such as hardeners and barium

(Photo credit: Coogee Chemicals)

The Lewatit MDS TP 208

monodisperse ion exchanger

from Lanxess has unleashed a

new approach to a simplified and

sustainable sodium chloride brine

purification. In Australia, the system

has already been demonstrated

its capabilities for half a decade

at chloralkali producer Coogee

Chemicals, absorbing more impurities

than its MonoPlus equivalent.

With longer cycle times, the Lewatit

MDS TP 208 is able to reduce costs,

and the process is said to produce

less waste and rinse water, which

makes it easier to operate a system

for chloralkali production. Hence, the

TRACK RECORD IN BRINE

TREATMENT

Coogee Chemicals is one of Australia's

largest chloralkali producers and

operates three production facilities,

all of which work with ion exchange

resins from the Lewatit brand. The

company's Lytton site in a suburb of

Brisbane has gained an additional cell

room to cover demand for products

such as sodium hydroxide, sodium

hypochlorite and hydrochloric acid for

the chemical industry, water treatment,

mining and swimming pool industry.

The greenfield product was designed to

ensure that the regulatory requirements

regarding waste reduction could be met

reliably, ultimately leading to savings on

operational waste and sewage disposal

costs.

The amount of waste produced by

brine production per year in Lytton is a

total of 4,200m 3 lower than in a facility,

which uses ion exchange resins with

standard particle sizes. This translates

to conserving precious water resources

at the same time. The outcome is

based on the use of the Lewatit MDS

TP 208 finely-dispersed resin, which

protects the sensitive electrolysis

membranes by removing impurities

such as hardness and barium. Since the

32 WATER & WASTEWATER ASIA | JANUARY/FEBRUARY 2022
---
IN THE FIELD

Ion exchange resins can be used to replace the magnesium and calcium ions found in hard

water with sodium ions.

Average impurity level after secondary brine purification with Lewatit

MDS TP 208 over a period of five years (Photo credit: Lanxess AG)

facility was commissioned in July

2016, it has not only systematically

complied with all specifications for

brine purity required by membrane

manufacturers but also, in some

cases, even surpassed them, further

improving the efficiency of the

facility in the process, the company

reported.

With the revision of industry

standards, the original targets of

---
IN THE FIELD

USING AODD PUMPS TO

optimise filter-press operation

As the use of filter presses expands from strictly industrial applications to

consumables, air-operated double-diaphragm (AODD) pumps have become

an ideal solution for liquid-transfer applications. Paul McGarry, sales manager

for All-Flo and PSG, elaborates more.

Historically speaking, it was around

70 years ago that the filter press – which

was invented a century earlier in the

UK – gained a foothold as a first-choice

technology in industrial liquid-handling

applications in the US. By their design

and operation, filter presses are used as

a tool in separation processes, namely

where solids must be removed from a

liquid stream. The sludge that is separated

as the solid-laden liquid moves through

the filter press can be easily removed

and disposed of. The cleaned liquid can

then be moved to the next stage of the

production process, or recirculated back

into the filter press for further processing.

In this role, the filter press has performed

admirably in industrial applications, but in

recent times, enterprising manufacturers

of consumables, some of which must be

produced in hygienic or sanitary operating

conditions, have found that filter presses

can further optimise their operations.

This article will take a look at three

markets and applications where filter

presses can shine – one traditional, a

second that has seen a reimaging of

its production processes, and one that

requires reliable operation in extreme

conditions. Additionally, the pump

technology – positive displacement (PD)

air-operated double diaphragm (AODD) –

that is ideal to perform with filter presses,

will be explained.

34 WATER & WASTEWATER ASIA | JANUARY/FEBRUARY 2022
---
IN THE FIELD

WASTE NOT, WANT NOT

Industrial water and wastewater

applications are ones where filter

presses have proven their worth

from day one. This is an application

where large volumes of solids and

liquids need to be separated on

a daily basis. The filter press is

ideal for this application because

of its method of operation. As the

solid-laden slurry is pumped into

the press, two chambers are filled,

which facilitates the formation

of thick slurry "cakes". While the

chambers fill, the pressure inside the

system increases to the point that

when the chambers reach capacity,

the liquid is filtered out with the aid

of streams of compressed air or

water. This dewatering leaves behind

solid slurry or sludge cakes that are

ready for disposal.

An advantage in this cake-creation

process for the operators of water

and wastewater plants is that instead

of having to dispose large amounts

of wet slurry, the outcome is a flow of

neutralised water and a comparatively

small amount of cake, which reduces

disposal costs.

To operate properly, filter presses

require good filtration and constant

system pressure so that the flakes

that form the slurry cakes are not

destroyed. This means that pressures

of up to 100psi is generally required.

The filter-press process in water and

wastewater treatment also requires

that various types of ancillary liquids

be used. In many cases, these

liquids – including things like milk

of lime, which is very abrasive, and

a variety of alkaline – cannot be

released into the environment. This

necessitates the need for a reliably

leak-free pumping technology that is

compatible with a wide range of liquid

types.

All-Flo production line

CREATING A LESS-STICKY

SITUATION

Everyone has at least seen a depiction

of the manufacturing process for maple

syrup – a series of buckets connected

by plastic tubes are hung from maple

trees, which are trapped, allowing their

sap to flow into the buckets. When

enough is collected, the sap is boiled

until it reaches the point that can be

called pancake-ready maple syrup.

This is a time- and labour-intensive

process, but one that was performed in

that manner for hundreds of years.

That is until recently. It has only been

in the last two to three decades that

maple syrup production has become

fully mechanised and modernised,

with many producers now utilising a

reverse osmosis production process

that reduces the time and cost to

manufacture maple syrup. Enter the

filter press – or as syrup manufacturers

have begun calling it the "syrup press".

Instead of repeatedly boiling the sap

to create syrup, today's process sees

the sap passed through the filter

press in what is called the evaporation

stage. As evaporation occurs, the sap

is separated into the sticky, syrupy

solution widely recognised with a

water-like by-product that is removed.

To get the production process started,

pumps are used to transfer the raw sap

into the filter press at the beginning of

the production process.

SURVIVING THE DEEP FREEZE

There are some industrial production

processes that require the finished

products to be manufactured with the

aid of components that need to be

separated in extremely cold operating

conditions. In fact, in some cases this

requires the use of a liquid like ethanol

that has been cooled to a temperature

that can be as low as -40°C. It is at the

beginning of these types of processes

that pumps are used to push a mixture

of the raw material and the supercooled

ethanol through the filter press.

Because many of these types of

processes are also used in the

production of goods made for human

consumption, they must be produced

under the strict auspices of hygienic

or sanitary manufacturing regulations.

This means that the pumps must not

only be able to manage extremely low

temperatures, but also be compliant

with US Food & Drug Administration

edicts, as well as those of Europe's

Restriction of Hazardous Substances

(RoHS) directive. Specifically, the RoHS

3 regulation lists the maximum levels –

less than 1,000 parts per million – that

can be present of such substances as

lead, mercury and cadmium in finished

consumable products.

Additionally, since ethanol is classified

as an explosive substance, the pumps

used in the production of goods that

WATER & WASTEWATER ASIA | JANUARY/FEBRUARY 2022 35
---
IN THE FIELD

require it during the manufacturing

process must be certified for use

according to the ATEX Category

II guideline that governs use in

atmospheres that feature gases,

vapours or air and dust mixtures that

could explode.

THE AODD SOLUTION

For those looking to optimise

their filter-press operations, no

matter the industry or product,

AODD pumps offer a number of

operational advantages, including

dry-run capability, compatibility with

liquids of varying viscosities and

pressures, good controllability, and

an inherently leak-free design that

features no gaskets or seals. AODD

pumps also have no drives, rotating

parts and rotary shaft seals.

Other PD pump technologies have

been used in conjunction with

filter presses, but each of the more

popular ones have shortcomings

that can prevent them from being the

best choice:

• Piston diaphragm: Can be

prohibitively expensive to

operate since they require both

electricity and air to function.

• Progressive cavity: Cannot dry

run or handle large abrasives,

and also require electricity to

operate.

• Hose piston: Liquid transfer

occurs through the use of

hoses, which wear out faster

than diaphragms and, at

some point, will be at risk of a

catastrophic failure.

To this end, AODD pumps are able

to outperform their PD cousins in

filter-press applications because

of their simple design and method

of operation. A pair of diaphragms

that are connected via a diaphragm

rod work in unison to move the

liquid through the pump. While one

side of the pump is in suction mode,

the other is in discharge mode. As a

diaphragm moves inwards, it creates

suction. This suction causes the balls

that are located on the check valves

to move towards each other. As this

happens, the ball on the top closes

the valve while the ball on the bottom

moves away from the valve, opening a

path that allows the liquid to enter the

pumping chamber.

As the diaphragm moves outwards,

the discharge motion causes the

balls to move away from each other.

As this happens, the top valve opens

and the bottom valve closes. This

allows liquid to exit the chambers

and discharge through the top port.

This process constantly alternates

between the two chambers to create

a continuous cycle. The pump

diaphragms are driven by pressurised

air that is directed left and right by the

movement of the main air valve.

The result is a pumping process that

remains volumetrically consistent at

flow rates of 200gpm or higher, even

with varying liquid viscosities and

transfer pressures. Start-up is also as

simple as attaching a compressedair

hose to the pump's air distribution

system (ADS) and turning it on. AODD

All-Flo maple syrup

pumps also require a smaller footprint

than piston diaphragm or progressive

cavity pumps, which allow them to be

used in tighter operating areas.

Many manufacturers of AODD pumps

are now also producing hygienic and

sanitary models that can be used

in the production of consumable

products, or in operating atmospheres

that require a pump with an ATEX

rating. This further expands the

operational range for AODD pumps

that can be used in conjunction with

filter presses.

CONCLUSION

The filter press has been proven

to perform reliably in a number of

industrial applications that require

the separation of solids and liquids,

but its application range, it has been

found, does not end there. The

producers of consumer goods, some

of which are manufactured in extreme

atmospheres, are finding that filter

presses can be indispensable parts

of their manufacturing operations, but

only if partnered with the proper pump

technology. More and more, the best

technology for use with filter presses

is proving to be the AODD pump, the

operational characteristics of which

can help optimise operations in a

number of critical industries.

36 WATER & WASTEWATER ASIA | JANUARY/FEBRUARY 2022
---
IN THE FIELD

WASTEWATER

RECYCLING

PLANT STEPS

into the future

One of the world's largest dairy companies will be

installing a wastewater treatment and water reuse

facility at its new dairy plant in Jakarta to achieve

99% organic content removal to meet recycling

and sustainability standards.

The facility will also benefit from minimal

waste disposal costs, brought forth by

application of the anaerobic process and

sludge dewatering units.

"The GW&E technology employed

here is a huge step into the future of

sustainability and recycling for livestock

industries and agribusiness producing

waste with high organic content," said

Michael Bambridge, managing director

of CST Wastewater Solutions. He

added that the technology being used

in Indonesia is widely applicable to

dairy and meat applications, throughout

major livestock processor nations

such as New Zealand, Australia and

increasingly, South East Asian nations

striving for clean, green production

facilities.

Major components of the GW&E process

employed at PT Frisian Flag include:

• Primary treatment by SUPERFLOT-

AIR dissolved air flotation

• Secondary treatment by COHRAL and

AEROFIX moving bed biofilm reactor

secondary treatment

• Water reuse system including

PURAQUA disc filtration, ultrafiltration

and sanitary reverse osmosis

The gas balloon (left) and the lagoon cover (right) under which anaerobic bacteria convert waste to biogas,

which is then stored in the balloon at the Oakey COHRAL installation

The new facility of PT Frisian

Flag, a subsidiary of the Royal

FrieslandCampina, is scheduled for

startup in 2022, and will be using

technologies to produce potable recycled

water from the plant wastewater.

The Global Water & Energy (GW&E)

technologies employed include a Covered

High Rate Anaerobic Lagoon (COHRAL)

system of a type already implemented in

one of Australia's largest meat processing

facilities, at Oakey in Queensland, where

it improved water quality, reduced odour,

while producing biogas to reduce fossil fuel

demands.

The Jakarta facility will not only achieve

quality potable water outputs for recycling,

but also the biogas generated there during

treatment can later be used in the factory to

decrease fossil fuel dependency. The plant

is engineered to produce up to 6,000Nm 3 of

biogas per day.

The compact GW&E COHRAL plant

involved in the Jakarta project occupies

just half the footprint of comparable

covered anaerobic lagoons. Bambridge

added that it is also more efficient in

breaking down organic content than

general energy-hungry and odours open

aeration lagoons in service globally.

Pre-treatment that is part of the GW&E

COHRAL process also leads to better

recoveries of valuable protein and fats

which would normally end up in the

wastewater. This provides a further gain

to the bottom line as well as increasing

reliability by isolating clogging waste

from the high performance wastewater

treatment plant, he concluded.

WATER & WASTEWATER ASIA | JANUARY/FEBRUARY 2022 37
---
IN THE FIELD

MOBILE DISCHARGER

addresses pesticide

overload at WTW

The TransPAC mobile powder handling and carbon

dosing system houses a split-frame bulk bag

discharger, two flexible screw conveyors, a control

panel and the Transvac ejector to mix and inject a slurry

of powdered activated carbon (PAC) into the municipal

water stream.

The mobile unit requires only

connections to an electric power

supply, the municipal water stream,

and an external water supply.

Environmental impact and site

preparation are minimised, as well

as the need for maintenance and

planning permission. Flexicon added

that the system is safe to operate,

and simple to control.

The water treatment works was

restored to compliance as the

dosed carbon successfully removed

pesticide traces from the main

water stream. Dosing is "accurate

and steady" without over-dosing or

wastage.

From the BFF-C-X Bulk-Out splitframe

bulk bag discharger, PAC is

automatically transferred from a half

tonne bulk bag through a flexible

screw conveyor to a surge hopper

from which a second flexible screw

conveyor meters the powder into the

Transvac ejector.

Bulk bag and lifting

frame of the BFF-C-X

Bulk Out split-frame

bulk bag discharger

are forklifted onto

the stationary

discharger frame

inside the container

When a water treatment works in

northern England faced a spike in

pesticide concentration exceeding the

allowable concentration limit for the

incoming water, the site was forced

to shut down. The company then had

to divert water from a regional water

treatment works to provide clean

drinking water to its customers until

the issues is addressed.

The solution arrived in the form of a

mobile, lorry-mounted carbon dosing

system, housed in a 6m long steel

shipping container that was delivered

and activated within one day.

Supplied by Transvac Systems, the

TransPAC mobile powder handling

and carbon dosing system includes a

bulk bag discharger and two flexible

screw conveyors from Flexicon and

Transvac's ejector system for mixing

and injecting a slurry of powdered

activated carbon (PAC) into the

municipal water stream.

SPLIT-FRAME DISCHARGER

FITS INSIDE CONTAINER

A forklift loads the 1.8m high

bag-loading frame and 500kg bulk

bag onto the 0.9m high stationary

discharger frame inside the shipping

container. Once the bag spout is

untied, the powder flows into a 5m

long, 80mm diameter flexible screw

conveyor leading to the 930 litres

capacity surge hopper. A second

3.5m long, 67mm diameter flexible

screw conveyor moves the carbon

powder from the hopper outlet to

the intake of the ejector that doses

the PAC into the municipal water

stream.

38 WATER & WASTEWATER ASIA | JANUARY/FEBRUARY 2022
---
IN THE FIELD

The 5m long flexible screw conveyor (left) from the bulk bag discharger moves the carbon powder to the surge hopper, from which the second 3.5m long flexible screw

conveyor moves the powder to the intake of the Transvac ejector (right)

The conveyors are curved to fit

the tight space within the shipping

PAC POSES HANDLING

PROBLEMS

through a transition adapter located

forward of the drive at the discharge

container.

PAC adsorbs the pesticide on its

end, thereby preventing powder from

surface, and the carbon and adsorbed

contacting bearings or seals.

From the control panel, the

material are subsequently removed

operator sets the speeds of the

as sludge in the flocculation process.

Transvac has deployed its mobile

conveyor drives to automatically

However, the extremely fine powder,

TransPAC dosing systems in a number

dose the proper amount of PAC

according to the site water flow.

Low- and high-level sensors in the

surge hopper signal the controller

to start or stop flow through the

first flexible screw conveyor when

the hopper contents reach low or

high level.

with an average particle size of only

20 microns and a bulk density of

230kg/m 3 , is prone to dusting.

Both the bulk bag discharger and

flexible screw conveyors prevent

dusting. The bag outlet spout is

connected to the feeder by a Spout-

of UK water treatment works for similar

emergencies for pesticide, or taste or

odour problems and as an alternative

to traditional PAC batch dosing

systems, which are large, complex and

costly, and require long lead times by

comparison.

Extra fine PAC is

prone to dusting,

but is contained by

the flexible screw

conveyors and dusttight

connection at

the discharger's bag

spout interface

Lock clamp ring, which creates a

The carbon dosing portion of

"secure, dust-tight" connection

the TransPAC system includes a

between the clean side of the bag

header tank for incoming water,

spout and clean side of the bag spout

a booster pump and the ejector.

interface.

The velocity of the water flowing

through a venturi creates a low-

Each flexible screw conveyor consists

pressure zone in the ejector that

of a stainless-steel screw rotating

entrains the carbon powder into the

inside a durable polymer tube that

treated water stream at a rate set at

contains the fine powder as it is

the control panel. The unit operates

conveyed. The conveyor discharge is

with no moving parts.

likewise dust-free, as powder exists

WATER & WASTEWATER ASIA | JANUARY/FEBRUARY 2022 39
---
FOCUS

CLEANTECH WATER

TREATMENT SOLUTIONS

enabling sustainability in Asia

and its semiconductor industry

The water-intensive semiconductor industry has been experiencing a surge

in demand for chips as nations and businesses accelerate their digitalisation

strategies. This, in turn, will require increased water recycling and even greater

quantities of ultra-pure water. Prakash Govindan, COO of Gradiant, elaborates

on the growing importance for the water-intensive semiconductor industry to

embrace sustainability in the supply chain.

Asia-Pacific plays a critical role in the

global supply chain as it hosts over

40% of the world's manufacturing.

Given the importance of the

region, the effects of environmental

impacts are heightened – as are the

economic and social benefits that

can be recognised with the adoption

of sustainable practices. This is

compounded by the region's rapid

industrialisation and large population

base, where responsible management

practices are even more essential to

balance economic growth and quality

of life.

In early 2021, the Singapore

government unveiled the Singapore

Green Plan 2030, aimed at moving the

city-state towards fulfilling its green

aspirations. An important aspect of

the Green Plan is the use of circular

economy models to maximise the

lifecycle of natural resources, allowing

them to be used many times over to

reduce the overall volume of waste

produced.

Key beneficiaries of circular

economy models are water-intensive

industries, which consume valuable

freshwater from an already waterstressed

regions. By 2025, half

of the world's population will be

living in water-stressed areas.

Freshwater scarcity poses a major

threat to economic growth, water

security, and sustainability for our

future generations. The challenge of

providing adequate and safe drinking

water is further complicated by climate

change and the pressures of economic

development. These stresses drive the

need to make the most out of our limited

water supplies.

WATER AS A CRITICAL RESOURCE

The recovery and reuse of wastewater

with advanced treatment technologies

have become a growing trend to

achieve water sustainability. Essential

industries such as semiconductors,

pharmaceuticals, chemicals, and food

and beverage rank among the world's

most water-intensive sectors. A large

semiconductor manufacturing facility

may require up to 5 million gallons of

municipal water per day, using water to

Figure 1: Overview of

the ZLD wastewater

treatment process

(Photo credit:

Gradiant)

40 WATER & WASTEWATER ASIA | JANUARY/FEBRUARY 2022
---
FOCUS

produce silicon wafers or cool down

equipment – this is equivalent to the

daily domestic water consumption of a

city with a population of 136,000. The

manufacture of one 300mm integrated

circuit, alone, will require 2,200 gallons

of water. Recent droughts in Taiwan

and Arizona, two major areas for

semiconductor manufacturing, have

threatened global supply chains,

operational continuity, and expansion

plans.

The World Bank estimates that 80% of

all wastewater is disposed of without

treatment. Without proper treatment

and disposal, industrial wastewater can

pollute our freshwater resources. This

not only renders them unfit for reuse

and consumption but also disrupts the

delicate marine ecosystems that can

have far-reaching impacts on the natural

environment and the communities

that rely on these ecosystems for the

livelihoods.

REDUCING WASTEWATER AND

TRANSFORMING IT INTO A

RESOURCE STREAM

Technological advancements in

water treatment now allow industries

to recover and reuse wastewater,

remove contaminants, and even

reclaim valuable products from waste

streams. In recent years, the industry

has developed advanced treatment

processes capable of delivering

cost-effective results at lower energy

and chemical requirements. Zero

Liquid Discharge (ZLD) is a rapidly

growing approach where almost

all water is recovered and reused,

thereby minimising discharge to

the environment and freshwater

withdrawals. Valuable minerals that

would have otherwise been disposed

of as waste are recovered for beneficial

reuse. This produces purified recycled

water and recovered minerals that could

be used for other industrial or economic

benefits – which creates a continuous

resource loop, or a circular economy.

As freshwater resources become

scarce, economies worldwide

are becoming more stringent on

wastewater quality and quantity,

leading to industries' increased

adoption of ZLD solutions. Reaffirming

the growing importance of wastewater

management amid the COVID-19

pandemic, industry research has

forecasted the global water reuse

market to grow at a CAGR of 12.2%

from 2022-2027, reaching

US$38 billion by 2027. Asia-Pacific

will lead this growth, mainly due

to population growth, social and

economic development, and

increasingly stringent environmental

regulations.

ENABLING THE

SEMICONDUCTOR SECTOR TO

MEET SUSTAINABILITY GOALS

Brand owners and manufacturers

increasingly face operational

continuity, financial and social

pressures to drive sustainability in

the supply chain. New technologies

are helping us to find better ways to

use our limited resources through the

product lifecycle – from the mining of

raw materials through manufacturing

and disposal. Some examples of

sustainable solutions in the cleantech

water sector are water reuse, ZLD,

targeted treatment of contaminants,

and resource recovery. Wastes

can be reduced or engineered out

from the manufacturing process –

water consumption and wastes are

minimised, and whenever possible,

recovered and reused for other

beneficial purposes.

There is an urgent need today for

improved sustainability in the supply

chain of wafer fabrication and

semiconductor manufacturing. We

Figure 2: Ultrapure water system for semiconductor manufacturing

(Photo credit: Gradiant)

Figure 3: Water recycling potential in a semiconductor manufacturing

plant (Photo credit: Gradiant, adapted from Singapore PUB)

Figure 4: Separating waste streams for optimised treatment and

reuse (Photo credit: Global Water Intelligence)

are experiencing a global shortage

of the semiconductors required to

control everything from automobiles

to smartphones to appliances. The

semiconductor market is forecasted

WATER & WASTEWATER ASIA | JANUARY/FEBRUARY 2022 41
---
FOCUS

to grow by 17.3% in 2021, on top of the 10.8%

growth in 202. Global sales reached $439

billion in 2020 – fuelled by the spike in demand

for computers and electronics devices. At

this same time of unprecedented demand,

severe droughts in major semiconductor

manufacturing areas are threatening the

operational continuity and expansion plans of

brand owners and foundries.

In water recycling applications, the

wastewater that would have been

otherwise discharged is reduced in

volume and recycled to the beginning

of the semiconductor manufacturing

process – facilities can achieve

overall recoveries of up to 98%

using the latest membrane

desalination technologies.

Prakash Govindan

COO at Gradiant

Eleven of the top 14 semiconductor

manufacturing plants in the world are in

Asia-Pacific, accounting for more than 75%

of globally industry sales. Semiconductors

are now considered a strategic asset in

global trade policy and self-sufficiency. In

2015, China published its "Made in China

Plan", which established goals of 70%

self-sufficiency in semiconductors by 2025.

Countries with access to sufficient supplies

of semiconductors will be able to meet

the massive amounts of processing power

required to advance their artificial intelligence

(AI) and machine learning innovation – those

without, will not.

Water is fundamental to the manufacture

of semiconductors. The semiconductors

sector is one of the largest water-consuming

industrial users in Singapore – requiring

about 11% of Singapore's total non-domestic

water demand. Much of this water is ultrapure

water that is thousands of times purer than

drinking water – so clean, that it's regarded

as an industrial solvent. Figure 2 shows a

typical ultrapure water system process used

in semiconductor manufacturing.

Semiconductor manufacturers are continuously

seeking opportunities to minimise water

footprint and treat-down wastewater through

sustainable water management practices,

such as water reuse, ZLD, targeted treatment,

and resource recovery. These manufacturers

adopt sustainable operations by minimising

the amount of freshwater consumed in the

production process, reducing the volume

of wastewater discharge or disposed to the

environment, and even segregating effluent

streams for optimised treatment and reuse.

Figure 3 shows the water recycling potential

in a wafer fabrication and semiconductor

plant as separated by waste streams.

In water recycling applications, the

wastewater that would have been

otherwise discharged is reduced in volume

and recycled to the beginning of the

semiconductor manufacturing process

– facilities can achieve overall recoveries

of up to 98% using the latest membrane

desalination technologies. Furthermore,

wastewater streams in the manufacturing

process are being strategically separated and

treated (see Fig. 4) to only the required levels

and not beyond, and beneficially reused

in the upstream manufacturing processes,

resulting in an overall net positive reduction in

the facility's freshwater withdrawals.

A SUSTAINABLE FUTURE

Asia-Pacific has realised significant growth

in environmental, social, and governance

(ESG) investments, with the pandemic having

highlighted how catastrophic events such

as climate change could impact investment

returns. According to MSCI, around 79%

of investors in Asia-Pacific increased ESG

investment in response to COVID-19, while

57% of the region's investors expect to have

incorporated ESG issues into their investment

analysis and decision-making processes by

the end of 2021.

Governments around the world have set

ambitious goals and outlined steps to

achieve a zero-waste, sustainable future. The

regulatory environment around wastewater

management has also evolved in major

Asian markets to keep pace with changing

public sentiments, evidenced by Singapore's

Green Plan 2030. Moving ahead, more

can still be done to raise awareness on

the untapped potential of wastewater as a

resource stream, and on the capabilities of

advanced treatment technologies to minimise

environmental impact and deliver economic

and social value.

An effective approach to accelerate

this change is stronger public-private

collaborations to enable governments to

leverage expertise from the private sector

and help guide the development of industry

regulations for sustainable growth. On the

technology front, government recognition and

support will also help to access and leverage

the entrepreneurial innovation potential of the

private sector.

ABOUT GRADIANT

Gradiant is a global solutions provider and

developer of cleantech water projects for

advanced water and wastewater treatment,

with focus on water reuse, industrial

wastewater, resource recovery, and zero

liquid discharge. Gradiant's end-toend

solutions and technology expertise

enable sustainable and cost-effective

treatment of the world's most important

water challenges. With a full-suite of

robust technologies, powered by the top

minds in water, Gradiant serves its clients'

mission-critical operations in the world's

essential industries. Today, with more than

400 employees, Gradiant serves its clients

around the world from its headquarters

in Boston and Singapore, and offices

across 10 countries. Gradiant creates new

possibilities for water.

42 WATER & WASTEWATER ASIA | JANUARY/FEBRUARY 2022
---
FOCUS

HOW F&B MANUFACTURERS

can benefit from going modular

There is no doubt that water and wastewater management is a critical part of the

food and beverage manufacturing process. Moreover, they also need to consider

issues like compliance with effluent discharge regulations and limited avaiability of

space. Remi Thelisson, head of department – modular offer, Asia-Pacific,

Veolia Water Technologies, elaborates more.

Food manufacturing facilities typically

consume high volumes of water and generate

wastewater with high organic concentration.

Furthermore, wastewater treatment at food

and beverage manufacturing facilities can

also be difficult to manage due to changes

to the influent – often caused by factors like

fluctuations in production volume or changes

in manufacturing operations.

Technologies can help overcome wastewater

management challenges that already exist.

One approach that simplifies the search is to

look at pre-engineered modular solutions that

feature packaged technologies – pre-selected

to address various needs.

Here are some ways that modular solutions

can address the challenges that food and

beverage manufacturers face:

• Compact technologies

Physical limitations make it challenging for

businesses to acquire suitable wastewater

treatment systems that meet the required

output. As for manufacturers looking

to integrate new solutions to existing

set-ups, space can also be an issue as the

original facility designs would not have

accounted for these additional systems.

For these reasons, compact solutions with

small footprint can enable manufacturers

to better optimise processes and find a

balance between space and efficiency.

• Shorter project execution time

With either ready-to-install modules or

ready-to-build solutions that feature preengineered

solutions and pre-selected

equipment, manufacturers looking to build

a new plant or update an existing plant

can expect a much shorter runway from

planning to delivery.

• Flexibility

In some cases, wastewater treatment plant

may reach their capacity limit and become

overloaded, resulting in non-compliance

to effluent discharge targets. One way

to get around such uncertainties is to

acquire module wastewater treatment

systems, which allows manufacturers to

adapt existing plant designs to address

both current and forecasted needs,

and to efficiently manage subsequent

peaks in load or concentration. Modular

technologies also offer the advantage of

being easily replicated, which can facilitate

any expansion plans such as future

production line or new plant in another

site.

• Solutions with process assurance

Veolia offers technologies that help

manufacturers find a balance between

upfront investments and long-term

operation costs. These solutions has

the ability to support manufacturers in

overcoming challenges posed by variations

in influent conditions while meeting

regulatory requirement for effluent

discharge.

Veolia has expertise in water and wastewater

treatment as well as a comprehensive range

of modular technologies that can address

water and wastewater treatment need.

Depending on the type of wastewater effluent,

we can offer an effective aerobic modular

wastewater treatment solution, or even a

combination of both, to help manufacturers

overcome their wastewater treatment

challenges.

WATER & WASTEWATER ASIA | JANUARY/FEBRUARY 2022 43
---
FOCUS

CLIMATE CHANGE

DRIVES NEW FOCUS

on hygienic tank protection

Protection of process solutions and particularly water storage is more important

than ever, through increasing wet and dry cycles. In Australia, this summer is

forecast to produce more rain in many areas.

water wastage and product purity, but also

they are expected to do it for longer and

in more challenging and generally warmer

environments. Steel, concrete and fiberglass

tanks need secure roofs that can withstand

expansion and contraction caused by

factors such as increasing climatic and load

variations," said Green, whose subsidiary

company, complements Cut To Size's

tank construction with sliding roof bearing

to account for thermal expansion and

contraction and structural load variations.

As Australia looks forward to the prospect of

a wetter-than-usual summer in many parts of

the country, many public utilities and private

industries have been preparing to harvest and

safeguard water to safeguard against drier

times in the future.

Laurie Green, managing director of Cut To

Size Plastics, said: "Open storage tanks

are obviously one area of concern, inviting

evaporation and airborne pollution of both a

chemical nature and from flourishing birdlife.

With climate change, water is becoming too

valuable to waste."

Green, who has seen tank design evolved

over decades as a leader in tough engineered

non-polluting and also food grade plastics,

both manufactures long-life tanks and,

through his subsidiary Hercules Engineering,

helps develop tank top bearings to help

protect their contents.

He highlighted that storage tanks today can

hold upwards of 10, 20 or even 30,000 tons

of liquid that must be protected from the

elements and from pollution to safeguard

it for use in water, wastewater, emergency

fire protection and high purity industrial

processing applications.

"Not only are tanks being built to hold their

contents more safely and securely than

ever before, as awareness rises about

Cut To Size manufacturers light and strong

long-life high-density polyethylene (HDPE)

tanks, available in capacities of more than

25,000 litres for potable water and a wide

variety of chemical solutions used in food,

beverage and industrial process applications.

HDPE plastic is one of the most

environmentally stable plastic, Cut To Size

claimed, giving off no harmful fumes into the

environment, nor will it absorb disease, odour

or moisture. The tough, lightweight product

is easy to transport and position, swift

and safe to erect, and has good lifespans,

being identical in formulation to PE100

piping material that has proven its durability

over many decades in inside, outside and

underground uses.

Green continued: "Over the years, many

larger chemical process tanks have been

constructed from fiberglass supported by

steel frames. PE100 tanks don't require

44 WATER & WASTEWATER ASIA | JANUARY/FEBRUARY 2022
---
FOCUS

roofs. These low-friction easy-slip

stainless steel studs flash welded to

bearings are particularly useful where

the upper face. The lower face is highly

loads are relatively small but both

polished, and the plate is provided with

lateral and uplift forces need to be

two slotted holes for uplift through-

accommodated, said David Booty,

bolts. This plate slides against a

manager of Hercules Engineering.

PTFE-coated Hercupad, which has two

clearance holes drilled into it.

"Light but strong and flexible tank tops

are now widely employed to protect

Some features include:

tanks and their contents from external

• Five stock sizes in working loads

pollution ranging from flora, fauna,

from 50-70kN. Larger capacities

dust and droppings and waterborne

and different dimensions can be

HDPE tanks from

Cut To Size are

manufactured

from the most

environmentally

stable of all

engineering plastics

framework of any kind, and need

liners only for the most aggressive

chemicals, such as sodium

hypochlorite."

HERCULES SLIDING BEARINGS

FOR TANKS

impurity. The bearings used under

these tops must not only support the

structure, but also prevent it from

cracking and breaking, and becoming

part of the pollution problem."

HLD/TT bearings are part of a range

of Hercules composite slip joints and

custom engineered.

• Co-efficient of friction 0.05-0.08,

depending on stress.

• Expansion capacity up to ±20mm,

and can be custom designed for

larger movements.

• Maximum rotation up to 0.01

radians.

Hercules Engineering, meanwhile,

structural bearings for a wide variety of

• Maximum temperature of 80ᵒC.

produces sliding bearings that

structures and weights incorporating

address challenges facing developers

engineered high-performance

Green added his company's move

and operators of buildings and

combinations of engineered composite

into water storage and protection

processing plants for industrial and

polymer materials and metal facing

has been promoted by expanding

municipal uses. These purpose-

surfaces. Complementary Type

long-term demand about ways to most

designed tank bearings ensure their

D Herculon Bearings HLD/SG are

efficiently conserve water and liquids.

top structures can flexibly cope with

designed to accept a lateral load of

"Australasia is still relatively early in its

internal movement from climatically

30% of the vertical rated load, which

water conservation journey, but this

induced expansion, contraction and

can be up to 600kN per bearing in

will be an issue of rising importance

wind and rain forces, while also coping

stock sizes, with higher capacity

over the years ahead. Water harvest

with production stresses caused by

available custom-engineered for

and water conservation will quickly

heavy and changing loads, vibration

particular applications.

become not only a national priority,

and other factors encountered within

but also a big issue for individual,

diverse industries. Relevant industries

HLD/TT bearings consist of a thin

private and public entities," he

can include mining and energy, oil and

stainless-steel slide plate with two

concluded.

gas, ports and infrastructure, food

and beverage, primary processing,

manufacturing, materials handling,

water and wastewater utility, and

emergency services.

The solution to many such issues

offered by Hercules Engineering

through its range of Herculon Type

D Tank Top Bearings (HLD/TT)

Bearings, which are engineered

for easy installation under roof

beams of tank tops and other lighter

structures including some building

Construction and performance characteristics

WATER & WASTEWATER ASIA | JANUARY/FEBRUARY 2022 45
---
FOCUS

Ten years ago, there were dozens of

companies around the world that offered

portable packaged water treatment and

wastewater treatment plants. These were

and are being used in remote oil and forestry

camps, dam building sites, mining sites, large

chemical sites and camp sites for highway

building crews too far away to use regular city

hotel lodging.

TECHNOLOGY IN

packaged water and

wastewater treatment plants

By Orest Protch and Larissa Hogg

Many of these companies may have had

patents for equipment that they development

in-house for their proprietary systems.

But over the last several years, many have

been bought out by larger multinational

corporations. Although the smaller companies

may retain their original names under the

larger corporate umbrellas, the benefit

to customers is that a larger selection of

treatment equipment can be offered to a

wider variety of customers in one custommade

package.

No longer are the packaged plants strictly

used in industrial settings. They can now

be found servicing the needs of smaller

communities that are unable to afford the

water and wastewater facilities that large

towns and cities can have with a larger

taxation base to pay for it.

Table 1 lists some of the options available with

packaged water treatment and wastewater

Packaged water treatment plants being lifted

off a transport truck at a remote oil camp

treatment plants. The benefits and options

are many, as packages system providers

can meet any challenge and manage any

circumstance.

Environmental and health laws are changing

everywhere. It is no longer acceptable to

dump untreated human generated wastewater

Water Treatment Chemicals Potable Water Treatment Wastewater Treatment Benefits of Packaged Systems

Aluminium sulphate Chemical dosing systems Clarification Brackish water systems

Chlorine granules Electrodedionization systems Denitrification Cartidge filters

Citric acid Glass bead filtration Dissolved ait flotation Durable

Hydrochloric acid Ion exchange Grease separation Electrodedionization systems

Organic diphosphonic acid Membrane bioreactor system Mechanical pretreatment Flexible design

Polyaluminum chloride Multimedia filtration Ozonation Options of multiseason use

Potassium permanganate Nanofiltration Phosphorous reduction Seawater reverse osmosis systems

Sodium hypochlorite Reverse osmosis Rotary screen Solar powered options

Sodium metabisulfite Ultrafiltration Sand removal Treat water from any source

Sulfamic acid Ultraviolet sterilizers Sequencing batch reactors Water deionization systems

Phosphoric acid granules Skimmer clarifiers Water softerners systems

Table 1: Packaged water systems can be used anywhere, modified for any

treatment needs and delivered right to the sites that need them

Sludge treatment

46 WATER & WASTEWATER ASIA | JANUARY/FEBRUARY 2022
---
FOCUS

into the environment. Likewise,

more stringent requirements are

being placed on potable waters

used by communities of all sizes

to ensure safe, healthy and good

tasting water.

I have worked as a water and

wastewater treatment plant

operator in various cities and

industries, and as a contractor

operator and supervisor of

package treatment plants at

a variety of different remote

oil camps. At these camps,

the sites ranged in size from

a few hundred workers to

10,000. Their needs can all be

considered to be identical to

those required by villages and

towns with similar sizes. When

water taps are turned on, fresh,

clean and healthy potable

water is expected. Likewise,

when toilets are flushed, the

wastewater is expected to be

treated to government regulated

environmental specifications

before being discharged onto the

land or into waterways.

Packaged water treatment plants

Packaged plants can be moved into any location using a variety of ways

are assembled inside controlled dragged into place by bulldozers

environment buildings. For the or other available equipment.

most part they can be considered

cookie-cutter assemblies. Potable water treatment plants

What this means is that just like may fit on one or more skids,

with automobiles coming off depending on the population that

an assembly line, these plants needs servicing, and wastewater

reduce costs by basically being treatment plants may fit on as

made the same in fairly large little as one skid to service 100

numbers. The main frames, people or on 4-6 skids to meet

electrical components and valve the requirements of 10,000

systems are the same although

some of the actual treatment

equipment may vary according to

the customer's needs.

Once assembled, they can be

sent around the world by ship

or transport plane and once

delivered to the host country,

they can reach their final

destination by flat-bed truck, by

train cars, air-lifted by helicopter

and dropped into position, or

people. Both plants can come

inside seacans as well.

All quality potable water treatment

plants will come with systems

to backwash filters, acid wash

filters such as reverse osmosis

(RO) filters or regenerate filters

such as greensand media. For

instance, an acid wash system

uses granular citric acid that is

Packaged water treatment equipment may vary depending on the source water.

They can be designed for well water, stream and river water and for lake water. Each

will have its own filtering and chemical treatment needs

WATER & WASTEWATER ASIA | JANUARY/FEBRUARY 2022 47
---
FOCUS

Most quality

wastewater

treatment

packaged plants

are made from

stainless-steel

components

then dissolved in water and pumped

through RO filters. Granular sulfamic

acid is also a popular acid.

To ensure packaged water treatment

plants run as designed, they need

some safeguards put into place.

Those being fed water from rivers and

lakes will need to have pre-filtering

equipment to remove debris, algae

and other suspended particles.

This is also true if seasonal weather

changes cause mud sediment to

enter the water systems. These

pre-filtering systems will need to be

closely monitored for clogging and

differential pressure changes. Another

risk to be avoided is to run filters

beyond their recommended run times

before backwashing or acid washing.

Operators and supervisors may

always want to get those extra litres of

potable water out but this can lead to

costly filter repairs or replacements.

Packaged wastewater treatment

plants have one major issue that must

be avoided if at all possible. These

systems do not like oil and grease

entering with the normal wastewater.

This oil and grease can come from

kitchens and vehicle garages using

water drains to dispose of these

contaminants. Another chemical to

be avoided is pesticides – packaged

wastewater plants need living bacteria

to breakdown the wastewater, the

same as regular municipal plants.

Another issue that packaged water

treatment plants face is an irregular

feed rate.

During the day or late at night when

people are at work, or sleeping the

amounts of wastewater entering the

plant may be less than in the evenings

when people are home. I have

successfully used ordinary fertiliser,

without added pesticides, to feed the

bacteria when the incoming flow is low

in human waste. As shown in Figure

2, operators will soon learn that the

main clarifiers have a certain colour

and odour when the bacteria is healthy

and a simple TSS settling test using

an ordinary graduated cylinder will

show when the bacteria numbers are

too low for efficient digestion. This is

when the return activated sludge (RAS)

rate needs to be increased to maintain

sufficient bacteria numbers in the

aeration tanks.

To try and maintain a constant flow

to the system, a holding tank can be

used before the wastewater enters

Citric acid is a

popular chemical to

use for backwashing

and regenerating

various water

purification systems

48 WATER & WASTEWATER ASIA | JANUARY/FEBRUARY 2022
---
FOCUS

Percent (%)

(from bag

label)

mg/L or ppm

Aeration

Tank

Volume

(cubes)

EQ Tank

Liquid

Volume

(cubes)

Nutrient

Concentration

mg/L

Desired

Concentration

mg/L

Cups to

Add (1 cup

= 200mls) 3

times a day

Nitrogen 20 200,000 100 0.23 0.23 0.30 1.3

Phosphorous 27 270,000 0.31 0.31

Potassium 6 60,000 0.07

Aeration tank is where highcapacity

aeration occurs to give

the beneficial bacteria the needed

oxygen for their metabolism. If the

bacteria foam it is sickly greyish, it

is probably dead or dying. Add more

add and increase the RAS. The

clarifier is where solids and liquid

separation occurs. Some bacteria

amounts are always recirculated

to the EQ tank to ensure that their

populations are healthy.

Figure 2: Protch used ordinary bags of

fertiliser, those with no pesticides added, to

feed the wastewater bacteria during times of

low nutrient loading

Below from left:

Pumper trucks can

be used to constantly

collect wastewater

from a variety of

sources and pump

the wastewater into

holding tanks at the

frontend of packaged

plants. This ensures

a constant feed into

the plant

Discharge from

packaged wastewater

plants can go into

above ground

leachate fields, septic

fields or be pumped

to tanker trucks to be

discharged elsewhere

such as treatment

lagoons

the plant. This can be fed by pumper

trucks collecting wastewater from

various areas or by direct feed from the

collection system. The tank contents

are then pumped into the plant at an

even flow throughout the day and night.

It is critical to maintain even a reduced

flow through the plants. The discharge

from packaged wastewater plants can

go directly into fields or to a holding

tank that is pumped out into tanker

trucks to dispose of elsewhere.

EQ tank

volume (%)

EQ feed

M3/day

RAS M3/

day

Aeration

tank volume

The retention time and volumes

of individual tanks of a packaged

wastewater plant is important

to know to be able to run it

efficiently. Figure 3 is an example

that could be instantly modified

for any of the different packaged

plants that I operated. The

equalisation (EQ) tank is where

the wastewater first enters to

ensure good mixing before it goes

to the next stage.

Clarifier volume

(cubes)

Total

M3/day

Total

L/min

Retention time

in EQ tank hours

SUMMARY

Packaged plants can be used

anywhere and anytime in any

circumstance to provide safe and

healthy potable water to any sized

community, and also to safely treat

and dispose human wastes of the

same community.

There are dozens of companies to

Retention time in

aeration tank hours

Retention time in

clarifier hours

34 140 150 130 27 290 201 13.1 10.8 2.2

Table 3: A spreadsheet by Protch that could be modified for any packaged wastewater plant to ensure efficient treatments

choose from and many of these are

under the umbrella of multinationals.

This empowers plant operators

to have access to high-quality

packaged water and wastewater

treatment plants.

Orest Protch is a retiree and is now a freelance writer.

Larissa Hogg is daughter of Protch who is also a

freelance writer and currently works as a purchasing

agent in the agricultural field.

WATER & WASTEWATER ASIA | JANUARY/FEBRUARY 2022 49
---
HOTSEAT

SEKO, A PARTNER FOR

dosing and control systems

within the South East Asian market and in

1999 arrived in the region. With more than

20 years of experience operating in the

area has allowed SEKO to grow with the

market, understand the cultural and market

differences, and adapt its solutions to meet

local requirements.

SEKO headquarters in Rieti, Italy

Established in 1976, SEKO designs,

manufactures and supplies chemical dosing

pumps, dispensing systems and control

units for the cleaning and hygiene, water

treatment and industrial processes markets.

The company is headquartered in Rieti, Italy

– known as the navel of Italy due to its central

position.

In 2003, SEKO China opened near Beijing,

investing in a 7,000sqm plant and R&D

labs that work alongside the headquarter

operations. Its Asian presence was

strengthened further with the opening of

offices in Hong Kong and Japan in 2015 and

2016 respectively, with a focus on cleaning

and hygiene systems such as coin-operated

laundry solutions.

For many years, SEKO has operated in

accordance with the Kaizen principle of

continuous improvement, which sees the

company refine its systems by integrating

cutting-edge technology to adapt to the latest

market needs.

SEKO's Elektra digital controller uses

the latest IoT technology to connect

operators to their dosing pumps 24/7

from any location via smartphone

Conveniently situated less than 80km northeast

of Rome in an area of manufacturing

known as "Pump Valley", SEKO's main office

is a vibrant hub of design, manufacturing and

administration. This site is supported by 23

fully-owned subsidiaries worldwide, ensuring

customers in any location can have access to

SEKO products.

Meanwhile, the presence of these

national offices enables SEKO to

supply region-specific solutions to help

operators meet legislation such as local

water-quality regulations.

Upon being taken over in the mid-1990s,

SEKO recognised the demand for effective

and reliable water treatment solutions

As well as enhancing product quality, the

Kaizen approach enables SEKO to minimise

waste and streamline production and pass on

the resulting savings to customers, who enjoy

high-quality cost-effective solutions to their

requirements.

SEKO products are at the heart of the business

and are known for their reliability, dosing

precision and ease of use, while the company

is also becoming increasingly known for its

integration of remote connectivity technology

as the Internet of Things (IoT) becomes more

prevalent in water treatment applications.

These include SekoWeb and SekoLink

dedicated apps for swimming pool technicians

and users respectively that enable 24/7 access

to equipment from any location.

50 WATER & WASTEWATER ASIA | JANUARY/FEBRUARY 2022
---
HOTSEAT

Before the outbreak of COVID-19, SEKO is an active participant in global trade events and will continue doing so as these events resume in the post-COVID era

SekoWeb is also compatible with SEKO's

Wash Series laundry dosing systems and

the Elektra pump controller, which allows

programmes to be monitored and managed

from any location via smartphone and

maintenance to be properly planned for

reduced downtime during operational hours.

SEKO's products have a vast range of

application users, from food production

to car wash, transport hubs, factories,

water treatment plants, power generation,

swimming pools and many more. Providing

such a broad array of applications,

SEKO maintains an equally vast client

base consisting of building and facilities

managers, maintenance personnel and

chemical companies, from whom their

clients often purchase chemicals and dosing

equipment as a package.

One of SEKO's projects has been the

rebranding of its industrial processes

division as Exakta, which was accompanied

by a new website launch. This is in line with

SEKO's constant evolution, progressing

each year through product innovation,

strategic acquisitions and the opening

of new branches around the world. This

rebranding will help align the Exakta

business with the changing demands of the

market going forward.

Based in Milan, Italy, Exakta is a provider of

process and metering pumps solutions for

the industrial processes markets. Since its

inception in 1963, Exakta has designed and

developed API 674 process pumps and API

675 metering pumps for chemical metering

and water treatment processes in the oil,

gas and heavy industrial sectors. Exakta has

accumulated experience of almost 60 years,

which has established the company as a

partner of major players, with a reputation of

delivering high-quality solutions across the

globe.

Providing the highest standard of customer

service, Exakta's team works with each

of its customers to deliver a bespoke

advisory service at every stage. By offering

a comprehensive service, from early project

development to on-site installation, Exakta

can assist its customers in selecting the most

suitable accessories, drafting ad-hoc reports,

providing technical analysis and issuing

predictive maintenance guidance as part of a

turnkey service.

Exakta customers are assured that no matter

their requirements, they will receive a full

committed service and with its growing global

presence. Exakta is well equipped to assist

its clients wherever they are located.

As with so many organisations worldwide, in

the early part of 2020 SEKO began facing the

significant challenges posed by the outbreak

of the COVID-19 pandemic. As a global

business, this challenge was complicated by

the pandemic restrictions of each country

and the need to ensure compliance in every

territory.

However, the business has been able

to maintain its operations despite these

difficult economic and logistical conditions,

with many staff working from home and

manufacturing continuing with appropriate

COVID-safe procedures in place.

Recognising the global surge in demand for

hand hygiene systems during this time, SEKO

developed DispenserONE, a sanitiser system

that utilises motor-powered dosing, high

capacity and remote connectivity to enable

operators of every building type to upgrade

from light-duty units to a reliable solution.

With restrictions now eased in many areas,

SEKO has used the legacy of COVID-19 in a

positive way, as enhanced hand hygiene and

surface cleaning equipment introduced during

the pandemic remains in place to ensure

staff and visitors are protected and can feel

comfortable and safe on SEKO sites.

Last year also marked the opening of

SEKO's latest global subsidiary in Colombia,

complementing the company's broad

and ever-expanding presence across six

continents.

A regular fixture at prominent water industry

trade events worldwide, SEKO has been

looking forward to resuming appearances

at exhibitions post-COVID, with last year's

Aquatech conference a big date in the diary

for the company to showcase its latest

developments in water treatment technology.

SEKO believes in fostering and maintaining

strong customer relationships, with a regular

presence at conferences being a key part of

this. Therefore, with most events cancelled

last year, SEKO is delighted to return to

exhibitions in 2021 and beyond.

WATER & WASTEWATER ASIA | JANUARY/FEBRUARY 2022 51
---
HOTSEAT

WHY PERISTALTIC PUMPS

excel in wastewater handling?

For more than two decades, peristaltic hose pump technology has offered

the performance and reliability that can make it an ideal pumping option for

wastewater treaters who crave highly reliable, environmentally friendly, lowmaintenance

pump operation.

By Sebastien Brosse

A municipal water

treatment facility

No life form, whether it be human,

animal or plant, can survive without

water. That makes the reliable supply

of clean water to homes, businesses,

hospitals and industrial-manufacturing

facilities, among many others, of

paramount importance. It also

elevates the importance of a properly

functioning municipal water treatment

facility.

These facilities have a twofold purpose

– provide clean water to the masses,

and treat the fouled wastewater

that they receive in return. Pumps

play a significant role in wastewater

treatment operations, and over the

years, many different styles and types

have been used to handle impure,

particulate-laden water, along with the

various abrasive, corrosive and toxic

chemicals that are used to clean it.

There is one type of pump technology

– the peristaltic hose pump – that

often outshines the others, especially

when addressing the plant operator's

concerns regarding whether or not the

pump is robust enough to handle the

demands of a wastewater treatment

operation.

For more than 20 years, peristaltic hose

pumps from Abaque, a product brand

of PSG, Oakbrook Terrace, Illinois, the

US, a Dover company, have set the

standard in transferring difficult-tohandle

chemicals and fluids.

The key to the success of the Abaque

pumps in handling these diverse

fluid characteristics and operating

conditions is the peristaltic pumping

principle:

• High performance: The pump's

seal-less design eliminates leaks

and the possibility of product

contamination, while providing

the ability for continuous dryrun

operation without adversely

affecting the pump's performance,

pressure and dosing accuracy.

• Reliability: Peristaltic hose pump

design requires none of the seats,

valves and mechanical seals that

can fail on other pump styles; the

pump hose is its only replacement

part.

• Versatility: The peristaltic pump

can successfully manage extremely

abrasive and aggressive fluids,

52 WATER & WASTEWATER ASIA | JANUARY/FEBRUARY 2022
---
HOTSEAT

if needed. To successfully manage the

The reinforced construction of the

challenges of wastewater treatment,

peristaltic hose and its use of rubber

the pump's hose and inserts need

compositions – such as natural rubber,

to offer the highest level of material

ethylene propylene diene monomer

compatibility, while also being able to

(EPDM), Buna-N, and more – that

reliably deliver the millions of pumping

have been specially designed for the

cycles that are required during their

stresses within the peristaltic hose

lifetimes.

allow for the optimum lifecycle and

performance.

A critical consideration when

selecting the hose material

For more than two decades,

is its "fatigue resistance".

peristaltic hose pump technology

This trait defines how resistant to

– as epitomised by the standard-

failure the hose material is as it runs

setting operation of the Abaque

through its millions of pumping cycles.

Peristaltic Hose Pump family – has

solid-laden slurries, and waterthin,

shear-sensitive and viscous

Above: HD65

peristaltic hose

pump from Abaque

A hose material that is susceptible

to developing cracks and holes

early in its operational life is not as

offered the performance and reliability

that can make it an ideal pumping

option for wastewater treaters who

materials.

desirable as a material that can reliably

crave highly reliable, environmentally

MAKING THE CASE

Peristaltic hose pumps stand out

because their operation is based

on the alternating contraction and

Below: Construction

of a peristaltic hose

pump

handle the demands of the repeated

contraction and relaxation of the

hose, especially when particulateladen

liquids are being pumped.

friendly, low-maintenance pump

operation.

Sebastien Brosse is team leader at Abaque.

relaxation of the hose, which forces

the contents to move through

the pump and into the discharge

piping. The smooth-wall, flexible

hose is squeezed between shoes

on the rotor and the inside of the

pump casing. This rotation moves

the product through the hose at a

constant displacement rate. The hose

restitution after the squeeze produces

an almost full vacuum that draws

more product into the hose from the

intake piping. The pumped product

only contacts the hose and inserts,

making this pumping technology

suitable for abrasive and corrosive

applications.

Peristaltic hose pumps also maintain

volumetric consistency, making them

ideal for the strict dosing and 24/7

operating cycles that can be required

in wastewater treatment applications.

They are also easy to operate and

maintain, and their reversible operation

allows for pumping in both directions,

WATER & WASTEWATER ASIA | JANUARY/FEBRUARY 2022 53
---
SWA/SgWX Water Utilities Series: Air

Selangor Story – The New Radical

26 Oct 2021, Exclusive for SWA and SgWX tenants only, Webex

NEWSLETTER

OF THE

SINGAPORE

WATER

ASSOCIATION

BRINGING

A NEW VIBRANCY

TO SINGAPORE'S

GROWING

WATER INDUSTRY

Air Selangor is one of the largest water operators and more progressive

water utilities in Malaysia, distributing clean and safe treated water to

8.4 million consumers in Selangor, Kuala Lumpur and Putrajaya.

Speaking at this session was Ir. Abas Abdullah, director and head of

operations at Air Selangor, who gave an overview on Air Selangor,

challenges and opportunities, and upcoming mega projects and ongoing

projects. He also presented their challenges and demonstrated how they

worked with its stakeholders in managing water supply system in the

state of Selangor.

This webinar was attended by more than 100 participants.

SWA/SgWX Water Utilities Series: Cape

Town – Surviving a one in 590-year drought

9 Nov 2021, Complimentary, Webex

Guest speaker, Michael John Webster, executive director of Water

and Wastewater, Cape Town City, South Africa, shared on Cape Town's

experience of a one in 590-year drought in 2014-2018 that nearly

resulted in Day Zero, an inability for the municipality to provide water to

its 4 million people.

The municipality avoided this crisis through unprecedented demand

management measures and has used this crisis to create resilience to

future droughts. He also shared more on ongoing projects, opportunities

and future plans in this webinar. There was a Q&A session after the

presentation, and more than 100 participants joined in this webinar.
---
SWA/SgWX Water Utility Series: Watercare New Zealand

– Emerging challenges and their gifts of opportunity

16 Nov 2021, Complimentary, Webex

Guest speaker Dr Apra Boyle-Gotla,

head of innovation for Watercare, New

Zealand, presented the challenges faced by

Watercare, the water utility of Auckland,

in the face of multifaceted drivers such as

climate change, growth and development,

policy reforms, and the diverse needs of

their customers.

She also shared some of its recent

achievements and highlighted the myriad

of future opportunities presented by

these emergent challenges. Almost 80

participants joined this webinar which

followed by a Q&A session.

Technical Visit: Sembcorp Tengeh Floating Solar Farm

22, 29 Oct & 26 Nov 2021, Exclusive for SWA members only

A total of 21 participants toured the site

for a half-day visit, which included a boat

ride to view the solar panels, followed by

a briefing and understanding session in

the control room on the operations. The

floating solar farm was officially opened

on 14 Jul 2021. With 122,000 solar panels

spanning across 45 hectares, the 60MWp

solar photovoltaic (PV) farm is one of the

world's largest inland floating solar PV

systems.

A total of 21 participants visited the site

for a half day which included a boat ride to

view the solar panels, followed by a briefing

and understanding in the control room on

the operations. Officially opened on 14 Jul

2021, this 60MWp solar photovoltaic (PV)

farm houses 122,000 solar panels that

spans across 45 hectares and is one of

the world's largest inland floating solar PV

systems.

This floating solar farm was officially

opened on 14 Jul 2021 with 122,000 solar

panels spanning across 45 hectares the

60MWp solar photovoltaic (PV) farm.
---
[e-Roadshow] World Water-Tech

Innovation Summit (WWTIS) 2022

22 Nov 2021, Complimentary, Webex

With the support of the British Water and ReThink Events,

SWA and British High Commission Singapore co-organised the

e-Roadshow on World Water-Tech Innovation Summit 2022.

HE Kara Owen delivered the welcome speech while Mike Collin

moderated an insight sharing session together with Eddie

Malone, Charles Shacinda, and Jennie Moss. They gave an

overview on the UK water sector and on WWTIS' conference

which is UK's flagship water forum for international stakeholders

focused on advancing the commercialisation of advanced water

and wastewater solutions.

In conjunction with WWTIS, SWA is organising a Technology

Mission from 21-25 Feb 2022 at a subsidised rate. Please

download the registration form at the SWA website, or contact

kenny@swa.org.sg for more details.

[Hybrid] Singapore Water Industry Nite (Special Edition)

– MoU Signing with NTUC

Jointly organised with ProMinent Fluid Controls (F.E.) Pte Ltd

2 Dec 2021, Complimentary, Hybrid format @ NTUC Centre

It was an eventful evening where 95 attendees – both onsite and

online – joined in the inaugural special edition of virtual Singapore

Water Industry Nite (SWIN) with Ng Chee Meng, secretary-general of

NTUC, as guest-of-honour and sponsored by ProMinent Singapore.

The event started with the welcome speech by SWA president and

the announcement of the launch of the SWA Digi Expo for the trade

professionals to explore the world of water 24/7, all year round.

Speaking to SWA and its members, Ng, who witnessed the MoU

signing, said he hoped that with it, NTUC could work with SWA to

identify operational areas that SWA's businesses could benefit from.

Other key representatives are Gilbert Tan from NTUC, Allen Mak

from ProMinent, Ryan Yuan from SIWW, and Fabia Lim from PUB's

catchment and waterways department.
---
UPCOMING SWA

ACTIVITIES

SWA/SgWX Water Utilities Series:

Funding and Project Opportunities by

Asian Development Bank (ADB)

13 Jan 2022 (tentative)

[Roadshow] Sharing session with

Singaporean-German Trade Chamber

and MMI Asia on IFAT 2022 Technology

Mission (30 May-3 Jun 2022)

20 Jan 2022 (tentative)

SWA Water Utilities Series Webinar

with Maynilad Water Services, Inc.

25 Jan 2022 (tentative)

Training Course: Fundamentals

and Recent Trends in Membrane

Technology for Water and Wastewater

Treatment

17-19 Feb 2022 (tentative)

SWA/SgWX Water Utilities Series:

Investment and Project Opportunities

by Sami Saad Group

24 Feb 2022 (tentative)

World Water-Tech Innovation Summit 2022 Technology Mission

21-25 Feb 2022

In conjunction with World Water-Tech Innovation Summit

(WWTIS) 2022, SWA is organising a five-day mission to London

from 21-25 Feb 2022 as part of our continuous effort to enhance

its members' competitiveness through exploring new markets and

technology adoption.

WWTIS is UK's flagship water forum for international

stakeholders focused on advancing the commercialisation of

advanced water and wastewater solutions. Utilities, regulators,

engineering firms, technology giants, start-ups, and investors

come together to exchange insights, be inspired, and identify

future partners. It is one of the largest gatherings of water

industry professionals – an opportunity to meet and share

2022 EVENTS CALENDAR

Last year was certainly not the best as SWA and its members miss

the essence of group missions and activities.

This year will be bustling with water shows, technology and

business missions, networking events and webinars. SWA

has an exciting line-up of water series with PUB, Singapore's

national water agency. Download from https://www.swa.org.

sg/wp-content/uploads/2019/11/Events-Calendar-2022.V2.pdf.

Looking forward to meet again, join us in the upcoming events

for 2022!

To stay connected on the latest updates on SWA, visit

https://www.swa.org.sg, follow us on LinkedIn or Telegram.

ideas with professionals from all over the world. Last year, the

event saw participation from delegates from 46 countries. Visit

https://worldwatertechinnovation.com/ for more details.

Thematic Knowledge Exchanges:

Net Zero Strategy | Sustainability-linked Business Transformation |

Digital Transformation | Resource Recovery (Energy and Nutrients)

| Smart Sewers and Robotics | Forecasting | Desalination | Waste

Recovery | Tunnel Monitoring

Download the registration form at the SWA website, or contact

kenny@swa.org.sg for more details.

SWA WELCOMES NEW MEMBERS

(joined from Oct-Nov 2021)

ASSOCIATE

1. Ashcroft Instruments Singapore Pte Ltd

ORDINARY

1. Sysmex Asia Pacific Pte Ltd

2. Tracwater Pty Ltd

INTERESTED TO JOIN SWA?

We welcome all organisations who are actively involved

and interested in the water and wastewater industry to join

Singapore Water Association as either Ordinary, Associate or

Institutional member.

Sign up at https://www.swa.org.sg/membership/sign-up-online.
---
ON OUR RADAR

GRUNDFOS BRINGS

EFFICIENT PUMPING

SOLUTIONS

to Nereda wastewater

customers

completed or being delivered across

the world, Nereda is an established

technology for both municipal

and industrial use. Through this

partnership, Grundfos and Royal

HaskoningDHV will be working closely

together in bringing the highest quality

and the newest innovation to the

wastewater industry.

Commenting on this strategic alliance,

Henrik Sonesson, global key account

director – water utility, Grundfos, said:

"Reliability is key when it comes to

collecting, transporting and treating

wastewater. Our products and

solutions for wastewater transport

and the wastewater treatment plant

build on reliability, modularity and

energy-efficiency from optimised

pump systems and fully integrated

solutions. Based on the successful

implementation of Grundfos' solutions

across various Nereda Wastewater

Technology plants across South Africa,

the UK and the Netherlands, we are

happy to be selected as their Preferred

Supplier for their projects globally."

Nereda plant in

Dodewaard, the

Netherlands with

Grundfos solutions

Formal signing

with Royal

HaskoningDHV

and Grundfos

Grundfos has been selected by Royal

HaskoningDHV as "Preferred Supplier"

to its Nereda wastewater treatment

technology. This agreement will allow

the former to be listed as the Preferred

Supplier of pumping solutions for

Royal HaskoningDHV's Nereda

Wastewater Technology offerings.

Nereda is the sustainable and

cost-effective wastewater treatment

technology that purifies water using

the features of aerobic granular

biomass. With over 90 projects

Adding to this, René Noppeney,

global director of water technology

projects at Royal HaskoningDHV,

said: "Our goal is to continually

improve the technology and services

that Nereda Wastewater Technology

provides to our customers. This is

made possible through our Preferred

Supplier programme that establishes

collaborations with industry leaders,

such as Grundfos.

"By adding Grundfos to our Preferred

Supplier programme, we are not only

providing our customers with the

option of reliable and efficient pumping

solutions, but aim to promote intertechnology

research and development,

to enhance our joint offerings on

Nereda projects."

58 WATER & WASTEWATER ASIA | JANUARY/FEBRUARY 2022
---
ON OUR RADAR

AQUAPORIN WINS A PILOT FOR

an energy efficiency solution

to China's leachate overflow

Aquaporin's containerised system

uses FO to further reduce the leachate

volume as compared to what is

possible with current technologies

and methods. With lower volumes,

smaller evaporators are required,

meaning landfills will use less energy

to eliminate the leachate. In parallel,

clean water will be generated for

discharge or reuse, contributing to a

more sustainable future in wastewater

treatment and lower carbon footprint.

Jason Yu, managing director of

Gradiant China, added: "The demand

for leachate minimization or zero liquid

discharge (ZLD) is a very big market in

China. With the system developed by

Aquaporin and Gradiant, the leachate

industry has an innovative solution to

meet local regulations. We believe this

solution will help our customers treat

leachate with lower costs and stable

operation."

Aquaporin will

provide an advanced

containerised pilot

system to treat

leachate in a landfill

in China

The Danish water company

Aquaporin has won an order in China

to help a landfill meet the country's

strict discharge limits by treating

leachate more efficiently.

In H1 2022, the landfill will receive

an advanced containerised pilot

system developed by Aquaporin

in collaboration with Gradiant

Environmental Technology to provide

a sustainable and economical

solution or treating landfill leachate.

Aquaporin is currently involved in

similar pilot projects in Southern

China and Europe with the purpose

of testing the technology to gain

insights that will enable developing

a final solution for the global

leachate treatment market.

Suggesting that this could be a

technology breakthrough that

has the potential to provide new

economic solution for leachate

treatment, Matt Boczkowski, CCO

and deputy CEO of Aquaporin,

explained that the company will

have a key reference showcasing

its forward osmosis (FO)-based

leachate treatment solution not only

to the Chinese market, but globally,

when the pilot project is completed

this summer.

Leachate management is a global

challenge as it is one of the most

complex and difficult wastewaters to

treat. The subject is getting increased

attention, not only in China, but on

a global scale, where landfills are

witnessing growing regulations for

discharge limits for water pollutants

that were previously discharged to

water bodies untreated. This traction

has given Aquaporin the opportunity

to demonstrate how its innovative FO

technology can help landfills live up

to national policies on environmental

protection by meeting water

discharge regulations in leachate

applications.

WATER & WASTEWATER ASIA | JANUARY/FEBRUARY 2022 59
---
SHOW REVIEW

DE NORA TETRA

FILTRATION –

Don't Underestimate

the Underdrain

solids. Moreover, drinking water

regulations are now more stringent,

driving municipalities to install reliable

filtration that is high-performing, low

maintenance, while lasting a long time.

As such, De Nora Water Technologies

developed the De Nora TETRA LP

Block dual parallel lateral underdrain,

which provides an improved

distribution of backwash water to the

filter media through the use of dual

compensating laterals. The De Nora

TETRA Filtration system comprises six

main components – clean effluent and

backwash inlet; air header; De Nora

Underdrain Blocks; De Nora TETRA

media retention plates; filtration media

such as sand and anthracite; and

water troughs.

At the core of the LP Block is the

dual laterals – the primary lateral is

designed with one row of orifices for

water and three rows of orifices for air;

and the secondary lateral for recessed

distribution orifices on the top of the

underdrain.

De Nora Water

Technologies, in

collaboration with

Water & Wastewater

Asia, hosted the

De Nora TETRA

Filtration – Don't

Underestimate the

Underdrain webinar

last December

In an attempt to share its expertise

in water filtration, De Nora Water

Technologies, in collaboration with

Water & Wastewater Asia, hosted

a webinar entitled De Nora TETRA

Filtration – Don't Underestimate the

Underdrain last December.

Speaking at the webinar was Stanley

Shmia, global product manager

for De Nora Water Technologies,

who shared with attendees on the

different underdrain options, and

explained how choosing the right

filter underdrain solution and improve

efficiency and bring peace of mind for

water treatment facilities. In municipal

drinking water application or pretreatment

for desalination plants using

gravity filters, the filter underdrain is

one of the most important components

contributing to overall system

performance and operation – whether

a new filter design or retrofitting an

existing filter.

Also a member of the Water

Environment Federation himself,

Shmia explained that filtration is the

process to remove total suspend

solids (TSS) from both water and

wastewater treatment plants. It can

be used in any facility, whether is a

water or wastewater plant, to remove

Stanley Shmia, global product manager for

De Nora Water Technologies and a member of

the Water Environment Federation, shared with

webinar attendees different underdrain options

60 WATER & WASTEWATER ASIA | JANUARY/FEBRUARY 2022
---
SHOW REVIEW

De Nora Water

Technologies, in

collaboration with

Water & Wastewater

Asia, hosted the

De Nora TETRA

Filtration – Don't

Underestimate the

Underdrain webinar

last December

Explaining the uniform backwash flow

from the top of block, Shmia said:

"Unbalanced flow in the primary lateral

creates an opposing flow that form

a compensating velocity pressure

gradient, which puts the secondary

lateral into a uniform hydraulic pressure

condition." Hence, the dual parallel

design ensures "even air and water

distribution, efficient bed cleaning, and

no dead zones is left out".

When in operation, the backwash

water enters the primary laterals

and then passes through the control

orifices into the secondary laterals.

Backwash air is then distributed

by the design of the upper control

orifices between the primary and

secondary laterals, providing even air

distribution. Constructed of HDPE,

the LP Block is also equipped with

media retention plates to maximise

the available filter tank depth. Careful

quality control and testing during

the plate manufacturing process

is used to ensure that the media

retention plates prohibit media pass

through, and provide proper flow

characteristics.

The De Nora TETRA LP Block also

features two optional designs –

GroutGrip and Anchor-Rite. The

former, which Shmia described

"integral to the block", increases

resistance to uplift from the filter floor.

Besides offering increased adhesion to

filter floor, The LP Block with GroutGrip

includes six rows of integrally moulded

dovetail wedges that become

embedded to the floor grout, offering

1.75 times the pull-out strength of a

conventional underdrain block, De

Designed to retrofit any air and water backwash scheme, the De Nora TETRA features

improved distribution of backwash air and water while providing better filter performance

and longer filter runs

Nora claimed. As for Anchor-Rite, it

fastens the block to the filter floor to

prevent buoyancy.

"Overall, the LP Block is a lower

profile design as it requires fewer

parts and less grout, meaning it's

easier to install, less concrete, and

lower costs. Low profile reduces the

filter box depth for added savings on

new construction," he said.

SUCCESSFUL STORIES

Besides the highlight of the De

Nora TETRA LP Block, Shmia also

shared some successful installations

of the solution around the region.

In the Middle East, Toshiba Water

Solutions Sohar Industrial Port

located in Oman was faced with

the issue where existing seawater

reverse osmosis experienced high

silt density index (SDI), turbidity,

and fouling from seasonal harmful

algae blooms (HAB). To resolve this

problem, a rapid gravity filtration

system using six dual-filter De Nora

TETRA LP Block underdrains was

installed between fine screens and

ultrafiltration steps.

Closer to South East Asia, De

Nora worked with the Manila Water

Company (MWC) in the Philippines

to meet the needs of the region's

population growth and increasing

water quality regulations. To

accommodate operation at higher

flow rates, the company supplied

19 TETRA LP Block with GroutGrip

to MWC's Balara 1 Plant and Balara

2 Plant to provide a more effective

backwash and allow for more efficient

use of the available filter depth.

And over at a drinking water plant in

South Vietnam, De Nora TETRA LP

underdrain was deployed to treat

the water plant with the capacity of

100,000m 3 /day. Besides meeting

the local discharge regulatory

compliance, this also marks one

of the largest De Nora TETRA

installation in the country.

WATER & WASTEWATER ASIA | JANUARY/FEBRUARY 2022 61
---
SNEAK PEEK

MEET IMAGINE H2O ASIA'S

third cohort of water tech start-ups

A total of 12 innovators from six countries will partner with the Singapore-based

accelerator programme to address South and South East Asia's water and

wastewater crisis.

Asia is one of the world's most

water-stressed continents. While

home to more than half of the world's

inhabitants, Asia has less freshwater

available per capita than anywhere

else. Population growth, particularly

in low-lying coastal cities, threatens

already vulnerable supplies. At the

same time, too much water poses

new risks. Since 2000, flood-related

disasters have more than doubled

globally with over 80% of people

affected living in Asia, Imagine H2O

Asia revealed.

Following the COP26 global climate

summit, the region's decision makers

have acknowledged that its water

resource challenges are inextricably

linked to climate disruption.

Solutions are not only needed to help

mitigate today's water-related climate

impacts. They are also required to

position the water and wastewater

solutions of tomorrow on a new

path towards decarbonisation and

resource recovery. Selected from a

field of over 100 applicants from 23

countries, the 12 water tech startups

in Imagine H2O Asia Cohort

3 demonstrate the possibilities by

challenging the water management

status quo.

The 12 companies are namely

WI.Plat, WEGoT Utility Solutions,

Typhon Treatment Systems,

TracWater, PureActive Water, Indra,

Hydroquo+, Hydroleap, Evove,

EF Polymer, DigitalPaani, and

Cleanedge Water.

From environmentally-friendly

drinking water disinfection to

energy-efficient wastewater

treatment and reuse to

biodegradable polymers for watersaving

irrigation, each company

represents an innovative and

sustainable approach to reusing

and recycling more, wasting less,

mitigating pollution, and improving

access and equity. As a bridge

for global solutions to the region,

Imagine H2O Asia's mission aims

to also foster entrepreneurship

locally across South and South

East Asia. Cohort 3 is Imagine H2O

Asia's most geographically diverse

cohort yet, with 10 out of 12

companies based in five countries

in the Asia-Pacific.

By partnering with Imagine

H2O Asia and key supporters

Enterprise Singapore, SUEZ,

Kurita, Xylem, and PUB,

Singapore's national water agency,

Cohort 3 companies will receive

support to pilot and deploy these

solutions across the Asia-Pacific

region. This includes an expanded

programme with new utility and

industrial partners, additional

pilot funding and wider regional

connectivity including Demo Day

at Singapore International Water

Week 2022.

WI.Plat, Evove and Indra are among three of the 12 companies

participating in Imagine H2O Asia's Cohort 3

62 WATER & WASTEWATER ASIA | JANUARY/FEBRUARY 2022
---
WHAT'S NEXT

EVENT CALENDAR 2022

JANUARY

17 – 19 Jan

Water Future Energy Summit (WFES)

Water 2022

Abu Dhabi, UAE

26 – 28 Jan

InterAqua 2022

Tokyo, Japan

FEBRUARY

22 – 23 Feb

World Water –

Tech Innovation Summit 2022

London, UK

APRIL

17 – 21 Apr

Singapore International Water Week 2022

Singapore

20 – 22 Apr

IE expo China

Shanghai, China

JUNE

8 – 10 Jun

Aquatech China

Shanghai, China

AUGUST

4 – 6 Aug

LankaWater

Colombo, Sri Lanka

SEPTEMBER

6 – 8 Sep

CamWater 2022

Phnom Penh, Cambodia

8 – 10 Sep

DanangWater

Da Nang, Vietnam

14 – 16 Sep

ThaiWater

Bangkok, Thailand

14 – 16 Sep

Pumps & Valves Asia

Bangkok, Thailand

14 - 17 Sep

Water Indonesia

Jakarta, Indonesia

OCTOBER

20 – 22 Oct

LaoWater

Vientiane, Laos

NOVEMBER

3 – 5 Nov

MyanWater 2022

Yangon, Myanmar

3 – 5 Nov

Pump+Valve Myanmar

Yangon, Myanmar

DECEMBER

7 – 9 Dec

Asia Water 2022

Kuala Lumpur, Malaysia

*Due to the COVID-19 pandemic which has resulted in closed

borders and travel restrictions, please check the events'

websites for the latest updates and changes.

WATER & WASTEWATER ASIA | JANUARY/FEBRUARY 2022 63
---
ADVERTISERS' INDEX

INDEX OF

ADVERTISERS

ADVERTISER

PAGE

CLA-VAL 9

ENERGY RECOVERY 31

GUANGDONG LIANSU TECHNOLOGY INDUSTRIAL CO., LTD

HARBIN FIRSTLINE ENVIRONMENT TECHNOLOGY CO., LTD 33

IE EXPO 47

SEKO UK LTD 1

SINGAPORE INTERNATIONAL WATER WEEK 23

VAUGHAN CO., INC.

WATER & WASTEWATER ASIA IFC, 5, 64

IBC

OBC

FOLLOW US

@waterwastewaterasia

64 WATER & WASTEWATER ASIA | JANUARY/FEBRUARY 2022
---
For hydraulic mixing without headaches, choose the reliable Vaughan

Rotamix System. Blend lower operating and maintenance costs with

a more efficient breakdown of solids. Your digesters, sludge storage

tanks, and equalization basins won't know what hit them.

Choose the unmatched reliability of Vaughan. Free sample CFD's

upon request.

888-249-CHOP | ChopperPumps.com

GUARANTEED PERFORMANCE | NO MOVING PARTS IN THE TANK | FOCUSED MIXING