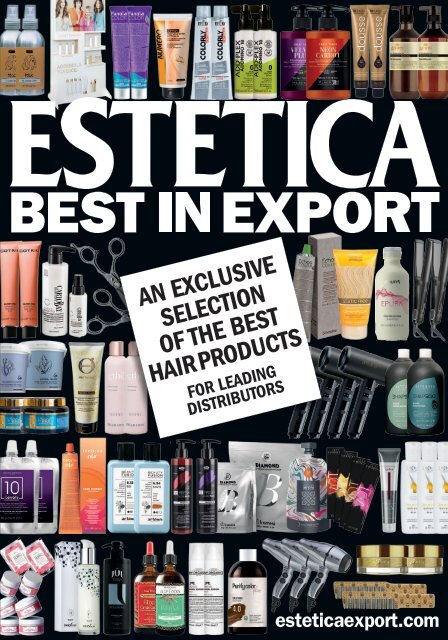 Create successful ePaper yourself
Turn your PDF publications into a flip-book with our unique Google optimized e-Paper software.
AN EXCLUSIVE

SELECTION

OF THE BEST

HAIR PRODUCTS

FOR LEADING

DISTRIBUTORS

esteticaexport.com
---
HAIR & BEAUTY INDUSTRY

EXCEEDS PRE-PANDEMIC LEVELS

This new issue of Best in Export comes at the beginning of an Autumn

that is full of optimism - for our industry at least. We are seeing a rich

menu of activities, proposals and product launches. These are running

alongside hugely positive interactions between brands and distributors,

as well as all the successful exhibitions and trade fairs which have

attracted professionals from all over the world. Our industry is enjoying

an atmosphere of hope and goodwill in which to embrace any business

challenges that may come our way.

Paolo Maggi

Editor in Chief

EsteticaExport.com

According to a report by Cosmetica Italia, the Italian cosmetics sector

is now exceeding 2019 pre-pandemic levels by 8.3%. The same upward

trend is being shared by many other major manufacturing countries,

especially in Europe and North America. This also bodes well for the second semester of 2022 and into 2023,

when, despite inflationary and geopolitical uncertainties, a significant increase is also expected, even compared

to this year.

But our troubles are not over. Although the forecast for manufacturing growth is forecast to grow by around 3 - 4%

in 2022 and 2023, inflation is projected to reach 8%. The only way to counterbalance the impact of inflation is

to maintain steady and strong growth. Fortunately, hair & beauty industry numbers are expected to be very good

across most of the main manufacturing countries, closing the year with two-digit growth when compared to 2021.

The most significant contribution to this perplexing yet very welcome growth is thanks to exports. These are

also seeing double-digit growth in 2022 and are expected to continue into 2023 at a similar rate. The best

market for exports of hair & beauty products have proven to be the mature markets in Europe and North America.

It's also worth mentioning the quite surprisingly strong rebound of China this year, where imports have almost

doubled. Good performance has also been experienced in the Middle East, while in 2023 we can expect great

export performances in other areas of the world such as the Far East, Central Asia and Africa.

This encouraging scenario is even more valuable given the impact of the increase in energy costs. It has

already reached 330%, with the industry being forced to absorb much increase and very little of it being loaded

onto the bills of the end consumer. The unshakeable resilience of our industry is confirmed by its ability to

maintain a stable number of employees in the supply chain, as well as in its determination to keep on investing

in the future.

Make no mistake, the fight is not over – it has probably only just begun. Many more challenges are appearing on

the horizon, such as the possible excess of monetary restrictions, an increasing risk of falling into recession, the

escalation of the conflict in Ukraine and political tensions which exist in some countries. Nevertheless, we can

feel confident that our industry will be able to apply all the correct countermeasures to survive and thrive.

i

PUBLISHER AND MANAGING DIRECTOR: Roberto Pissimiglia

EDITOR IN CHIEF ESTETICA EXPORT: Paolo Maggi

EXPORT BUSINESS DEVELOPMENT MANAGER:

Pier Giorgio Scrimaglio - pg.scrimaglio@estetica.it

CIRCULATION MANAGER: Elena Flaugnatti - e.flaugnatti@estetica.it

EDITORIAL STAFF: Glorianna Vaschetto, Marie Scarano, Gary Kelly

DIGITAL: Alessandro Zanetti

Advertising Head Office: Via Cavour, 50, 10123 Torino (Italy)

Tel.: +39 011 83921111 - Fax: +39 011 812 56 61

ONLINE

business@esteticaexport.com - pec@pec.estetica.it - www.esteticaexport.com

PRINTED IN ITALY. Registration n. 435 of

7.4.49, Turin Law Court. All rights reserved.

Reproduction in whole or in part of texts or

photography is prohibited. Manuscripts,

photographs and art are selected at the

discretion of the publi sher free of charge

(advertising exclu ded). Whether published

or not, no material will be returned and

remains the property of the publishing house,

which may make use of it as seen fit. This may

include the withdrawal of publication rights

to other publishing houses. Estetica requires

exclusive publication rights in the hairdressing

sector for all photography submitted which

must not therefore be offered for publication

to other magazines in the hairdressing trade

or industry.

Updated version October 2022
---
ALTER EGO

ITALY

BEAUTY AND

KINDNESS

OUR HISTORY

With 33 years under the leadership of

Pegorin's Family, 1988 sees sons Gianni

and Federico bring to life, Alter Ego Italy,

what is today recognized as one of the

most important brand of the AGF88 Group.

Distributed in more than 60 countries all over

the world, in these past three decades, the

brand has earned a reputation for innovation

and product excellence. A passion for quality

and attention to detail, "down to the last

drop", along with values continually passed

through the generations for work, classic

beauty and family! Our mission is to develop

ABOUT US

Company Name:

Pettenon Cosmetics

S.p.A SB

A group company of

Agf88 Holding

Company Address:

via del Palù 7/d

35018 San Martino

di Lupari (PD) - Italy

Website:

www.alteregoitaly.com

Founded in:

1946

Main Brands:

Shapego, Shewonder,

Blondego, Egobod, Urban

Proof, Technofruit Color,

MyColor, Fast Color 10

Main Export Destinations:

North and South America,

All European Countries, North

Africa, Middle East, Australia

high quality cosmetic products for the

professional haircare world that blend together

effectiveness and kindness, performance and

sustainability. For a contemporary target that

demands top performance in protecting the

environment, hair and skin.

THE BRAND ESSENCE

One of the Latin translations for the words

'Alter Ego' is 'your trusted friend' and Alter

Ego Italy has been the trusted friend of salon

professionals for over 30 years worldwide.

Another translation is 'the other you' or

"your best soul mate" and this duality is

represented by the brand payoff that is

"Beauty and Kindness": on one hand the

brand talks about Beauty as its core business,

on the other hand about Kindness as respect

for what is precious for us. Alter Ego Italy has

a clear commitment in being a sustainable

brand in everything it does and, indeed,

joined the AGF88 Group in its "Water Save

Campaign" knowing the importance of water

saving, looking for a better future.

ALTER EGO ITALY EDUCATIONAL PROGRAM:

it offers a complete range of workshops

designed to build a core foundation of

knowledge and technical skills. The in-salon

program brings custom-made classes adapted

to the needs of each team. The Alter Ego

Italy education team is built on established

industry leaders in coloring, cutting and

styling. Thanks to our SALON EXPANSION

program, Alter Ego Italy offers each salon the

opportunity to choose the marketing program

best suited to their specific needs.
---
REASONS WHY

Family owned company since 1988

Made in Italy

Innovation in products

Beauty and Kindness

as brand philosophy

Salon exclusive

Complete portfolio of

professional products

Perfect balance between

science and nature

Ongoing inspiration and Education

International distribution

Customized marketing solutions

STAR

PRODUCTS

Around the concept of

beauty, Alter Ego Italy has

developed a complete

portfolio of professional

products dedicated to

hair color, shape, care

and styling.

TECHNICAL PRODUCTS:

TECHNOFRUIT COLOR, MY

COLOR, BLONDEGO, JUST

COLOR, PASSION COLOR

MASK, FAST COLOR 10,

SHAPEGO, EGOBOND

A wide technical portfolio

covering all hairdressing

needs: next generation

formulae (PPD FREE),

reduced use of

packaging (no plastic

film), incredible lasting

brilliance, an infinite

palette of "creative

nuances, high

performance delivery

systems and new

techno-logies to reduce

the consumption of

water.

CARE PRODUCTS:

SHEWONDER, URBAN

PROOF

Products with natural

derived ingredients,

without sulfates,

parabens, petrolatum,

highly biodegradable

formulas, tested for

nichel, chrome, cobalt

and dermatologist,

recycled PET packaging

(conformed with food

contact – FDA approved),

FSC paper.
---
ARTAV

AUSTRALIAN MADE HAIR &

BEAUTY FOR OVER 65 YEARS

THE LEGACY CONTINUES

From its inception as Arturo Taverna's

market leading salons in Adelaide SA, to

the established manufacturer and supplier

of quality professional haircare and beauty

products that it is known for today, Artav

Australia continues to honour Arturo Taverna's

mission, manufacturing professional haircare

and beauty products, to a consistently high

standard, while following a natural approach,

with a strong sustainability commitment.

Natural Look Australia is Artav Australia's

most influential brand and represents the

best of its mission; to deliver the purest, highquality

products, to be environmentally safe

and cruelty free, at competitive prices, globally.

The comprehensive Natural Look Brand

encompasses, Haircare, Styling, Spray Tanning,

Skincare, Body Care, Depilatory Waxing and Pre

& Post Depilatory Lotions, Manicure, Pedicure,

Paraffin Treatments and Massage Oils.

Artav Australia's passion and dedication

is to create product ranges with naturally

derived bases, that deliver quality hair care

ABOUT US

Company Name: Artav Australia

Company Address:

575 South Road, Regency Park,

SA 5010

Website:

www.naturallook.com.au

E-mail: andrew@artav.com.au

Founded in:

1960

Our founder:

Arturo Taverna

Directors:

Andrew Taverna

Anthony Taverna

Main Brands:

Natural Look, Luminart

Main Export Destinations:

New Zealand, Korea, Hong Kong,

Singapore, Taiwan, Indonesia, Philippines

Future Export Destinations:

Asia, Middle East, Russia, UK, Germany

Above, the Artav Australia production plant and offices. Below: three generations

of Taverna men, L-R Andrew with son, founder Arturo, and Anthony
---
and beauty solutions, while providing the

best service and support for salons, clients

and businesses. An integral component of

this process includes a global network of

distributors based over 20 countries.

Artav Australia is committed to being aware

of their effect on the environment and is

constantly seeking options for reducing

potential impact. As members of the Australian

Packaging Covenant (APC) they have joined

forces with Governments and industry to

further advance the sustainable design, use

and recovery of packaging. Moreover, Artav

Australia uses natural, organic, plant based

and Certified Organic ingredients, that are

sustainably farmed and sourced.

Artav Australia has continued to remain

a proudly Australian, Family Owned and

Run Company and continues to expand its

Adelaide-based business. Over 1,000 Hair &

Beauty Products are developed and tested on

South Australian shores by an interdisciplinary

team of professionals, including in-house and

associated Hairdressers, Beauty Therapists

and Chemists, proudly supporting Australian

employment and local economy.

REASONS WHY

Australian Made

Family-owned and run

Over 60 years of knowledge and

experience in the hair industry

Products formulated by

hairdressers for hairdressers

Committed to sustainability

Natural, organic, plant based

and Certified Organic ingredients

Australian Packaging Covenant

(APC) Member

Private Label Services

Distributors in over 20 countries

Vegan-friendly, cruelty-free

Australian high quality standard
---
ARTAV

LUMINART

Over 65 Years of Hair and Beauty industry

knowledge and experience have culminated

in the creation that is Luminart Professional

Colour Cream. Rich, long-lasting, dependable

colours formulated using a unique illuminating

cream with Micro-Pigment Technology to

provide maximum colour-pigment absorbency,

resulting in flawless coverage and vibrant

intensity. Modern technology combined with

protective and conditioning, Natural, Organic,

Vegan Friendly ingredients, to create longlasting

colours, while also maintaining and

building healthy strong hair.

COLOURART

ColourArt locks in professional colour for

brilliant long-lasting results.

The ColourArt range is specially designed

with biodegradable formulas and naturally

derived ingredients; including Papaya Extract,

Coconut Oil and Kakadu Plum- to help

maintain the vibrancy of professional hair

colour and reduce colour fade from the sun,

thermal styling and environmental influences.

STAR PRODUCTS

ColourArt

Maximum Colour Life

Specially designed with

biodegradable formulas

and naturally derived

ingredients - including

Papaya Extract, Coconut

Oil and Kakadu Plummaintains

the vibrancy

of your professional

colour and reduces

colour fade from the

sun, thermal styling

and environmental

influences.

NaturalSpa

Australian Nature Inspired

Body Treatments

A complete body

care range of natural

products: formulated with

AUSTRALIAN BLEND 5

NATIVES, an exclusive

selection of our five

favourite vitamin rich and

antioxidant Australian

Native Ingredients:

Quandong, Kakadu Plum,

Desert Lime, Lilly Pilly &

Wattleseed, containing a

high content of Vitamin C

& fruit acids making it an

excellent promoter of the

production of collagen &

elastin in the skin.

Silver Screen

Ice Blonde Repair Serum

Exclusively formulated

with Organic Argan Oil

and Australian Lilly

Pilly Extract, rich in

Antioxidants, Essential

Fatty Acids and Vitamins

A, C & E to lock in

moisture and repair

damaged hair, while

protecting it from future

damage. Formulated with

the same Violet/Blue

Pigments showcased

in all Silver Screen

products, when used

in conjunction with the

complete range, will help

correct brassy, yellow

tones in Blonde, Grey

or Bleached hair. Colour

Safe Formulation with UV

Protection.
---
MADE IN AUSTRALIA | NATURALLOOK.COM.AU | INFO@NATURALLOOK.COM.AU | +61 8 8300 1999 |

NATURAL LOOK AUSTRALIA
---
ARTÉGO

MAKE THE DIFFERENCE,

WITH CARE. ALWAYS

A PEOPLE STORY THAT HAS BEEN GROWING

SINCE 1998

Solid, fresh, dynamic, passionate: our growth

is fertilized by the love for our clients, since

Artègo has always meant quality, formulative

innovation and the highest performance of

products and services and our customers

have rewarded us. An endless Passion for our

journey through Beauty.

THE BEAUTY JOURNEY

We will not talk about our products, but

about our attitude and perspective, about our

commitment to make the salon grow healthy

and dynamic in an increasingly competitive

environment and we focus on our clients and

their salons. We would like to share our beauty

journey taking you into the golden rectangle

ABOUT US

Company Name:

Unicompany S.p.A

Company Address:

Via Pontina Vecchia km 33,600

00040 Ardea (RM) - Italy

Website:

www.myartego.com

Founded in:

1998

CEO | Founder:

Mr. Francesco Bandiera

Main Brands:

Artègo

Main Export Destinations:

Europa, North America, Middle East,

North Africa, Oceania

of our logo – our world in a nutshell that with

its simplicity and cheerfulfineness, represents

and encompasses all our values, for our

customers.

CARE FOR BEAUTY IS OUR ANSWER

Think about the best things in life: art,

nature, music, haute couture, books, movies,

theatres... Beautiful things reveal the Care, the

talent and the passion of who created them.

Care is our pivotal value, quality and beauty

revolve around it. It is the expression of a

desire and a vision of the world that we put

into our products and services, in the salon

as a place of hospitality and professionalism.

We think that without care, love, passion and

knowledge it is not possible to create beauty.

We think that Care, respect and health are

the fundamental conditions to make the hair

beautiful and achieve the best performances.

Our mission is: wellbeing, life, self-esteem,

beauty enhancement through Care.
---
OUR MARKETS

We sell thoughout importers and distributors

in more than 40 foreign markets: EU, North

America, Australia, Turkey, South Africa and

Marocco, alongside the best middle-east

markets. We have a strong interest in the North

American market and we look at emerging

markets such as Central and Southern

American ones as well. We are travelers:

beauty is our journey, and the journey itself is

our destination. We're moved by the yearn for

constantly exploring and interpreting its mood

with ideas, products, styles and places. With

Care, passion and professionalism.

OUR DRIVERS

• REASEARCH AND INNOVATION are a constant

for us, not only in the formulations, but in

shapes, colors, materials.

• TRAINING GUARANTEES THAT KNOWLEDGE

is shared, thus contributing to the professional

and business growth of the salon.

• EXCELLENT PARTNERSHIP Since we choose

the best, in every area of our activity.

We develop our "modus operandi" with research

institutes, best suppliers, professionals, high

level consultants that best interpret our needs

and those of our Customers.

• SOCIAL RESPONSABILITY Because the

company is not a machine, but has a leading

role in society.

It creates job opportunities, social growth

and has a positive impact on the surrounding

community and environment.

It is a stimulus and a commitment to protect

Beauty in all its expressions, from natural

places to ancient residences, to the arts

and the artifacts which mark the history and

spirit of our beautiful country. Actions that

express our belief: companies can go further,

supporting projects and community initiatives.

One of our important initiative is supporting

FAI "Fondo Ambiente italiano" (Environmental

Italian Fund). As a Golden Membership Donor,

it fulfills our spirit, our vision, our Care For

Beauty belief. It represents an incentive for

REASONS WHY

CARE FOR BEAUTY, ALWAYS

FOR ALL OF US at Artègo, taking

care is a profound beauty gesture,

and every form of beauty reveal

PASSION, TALENT and GRATITUDE

towards the world of those who

shaped it. Our claim, 'CARE FOR

BEAUTY' is the expression of

a desire and of a vision of the

world we want to bring back up

in our ideas and in our projects

FOR THE SALON because it is a

place of hospitality and professional

growth. And outside, in people's

imaginations. We like the idea

of you sharing it with us, feeling

like a part of this journey

us, a commitment to safeguard beauty in all

its shapes; we do not only ideally share this

belief, but we support it with projects and

concrete actions.
---
ARTÉGO

STAR PRODUCTS

Beauty Fusion

Phyto-tech color, up to

99% organic natural

ingredients. One line

for many services.

Extraordinary, modern,

ground-breaking

collection made of 63

oil color shades mixable

among them. All the line

is completely FREE of

COCAMIDE DEA, MEA

and ADDED ALCOHOLS,

replaced in the

formulation by natural

components, among

which 100% Organic

Zemea®, for a silky and

soft final hair texture.

No PPD or RESORCINOL

added to the formula.

Lola

your Beauty Color Mask.

It is simple, quick,

pleasantly scented,

nourishing and

illuminating. With LOLA

the hair will shine of a

new light, for a sparkling

beneficial from both a

visual and a tactile point

of view. For shiny and

silky hair. 8 Wonderful

Shades with: Vegetable

Collagen (strengthening

and restructuring effect),

Hemp Oil (it revitalizes

the hair and makes it

radiant), Jojoba Esters

(to improve the quality

of the hair, replumping

it) and Vegetable

Glycerol (to hydrate and

seal the hair).

Touch Beauty

Movement

Touch is a line of

products designed

to combine creativity,

innovation and beauty.

Thermo Shimmer

(care and protection)

Two-phase spray, with

medium strong hold

and Brazilian Clay. It

gives the hair texture

and volume. For matt

textures and a mediumstrong

hold, for flexible

styles.

New Good Society

Metropolitan Greenery

A complete, dynamic,

lifestyle line that

makes you smile with

results, wellbeing, hair

beauty and captivating

fragrances, to transform

the hair instantly making

it wonderful. A new way

to live Beauty, through

6 families, inside and

outside the salon, with

people: they are their

beauty accomplice,

they smile with them

and spread wellbeing

all over. A line of

metropolitan wellbeing

with: micellar base for

all shampoos, contrast

to urban pollution and

'WOW EFFECT'. LOLA is

perfect to: boost your

color and make it shine;

refresh your color and

make it uniform; correct

or reduce undesired

effects. LOLA has a

natural reviving and

illuminating effect on

the hair color, and its

action will prove to be

thermal protective and

sealing action, with

Veneto Green Walnuts.

Extra thin spray, for

shiny and protected hair,

without adding weight.

For an illuminating,

sealing and glitter effect

Be Matt (beauty

enhancer): professional

matt effect wax with

blue light, 27 natural

and botanical active

ingredients and advanced

formulative technologies,

biodegradable up to

93.5%.

Discover more about

the families on

www.myartego.com

and on Artègo official

social media channels.
---
MAKE THE DIFFERENCE, WITH CARE.

Always.

MAKE THE DIFFERENCE,

with Care. Always.
---
ASTRI

BIOBOTANIC CARE

PROGRESS AND

WELLNESS

IFounded out of a new professional standard

based on trust, quality, sustainability and

ethics, Astri, was created in 2019 and

specialises in certified organic professional

hair products. The company responds to the

ever-increasing demand for products with a

strong natural imprint.

THE ASTRI PHILOSOPHY

Astri was founded as a start-up in Turin in

2019 with the aim of revolutionising the

world of cosmetics. Performance marketing

and customer relationship management are

fundamental to the brand, as well as having a

Salon Expert Team to assist the sales network

in the delicate process of selling to the

hairdresser. Astri has called this evolutionary

process "Progress and Wellness".

BIOBOTANIC CARE is quite simply the natural

answer for all those looking for consistency

and quality in hair products through the use

ABOUT US

Company Name:

Astri Italia

Company Address:

Biobotanic Care

Via Magellano,21 - 10090 Bruino (TO) - Italy

Phone: + 39 011 19039878

Email: info@astri-italia.com

info@biobotanic-care.com

Website:

www.biobotanic-care.com

Founded in:

2019

Number of employees:

10

Ceo:

Mr Stefano Rizzo

Export Manager:

Mr Franco Portelli

Head Marketing & Corporate Communication:

Ms Zaira Leone

Main Brands:

Biobotanic Care, Purify Color, Hairstore Organic Salon

Main Export Destinations:

France, Germany, Northern Europe, United States

BOARD OF DIRECTORS

Top right: CEO Stefano Rizzo,

President of BIOBOTANIC

CARE; bottom: Export

Manager Franco Portelli, next

to Marketing Communication

Manager Zaira Leone.
---
REASONS WHY

Casual but not too much,

careful but never fussy: this is

Nouvelle Vague Hair Collection

by BIOBOTANIC CARE, inspired

by French coiffure, with colour

effects that are easy to wear,

but never left to chance.

100% Italian products; natural &

cruelty free

Sustainable, certified production

processes

Biologically certified formulas

INCI recognised ingredients

Tailormade Training

Eco-sustainable packaging

Recycled packaging

High efficiency and tolerability

of certified raw materials, 100% Italian with

recyclable packaging, the range combines the

three fundamental aspects of sustainability,

effectiveness and commitment. As well as for

its environmental credentials, BIOBOTANIC

CARE is also distinguished from other Italian

and foreign competitors by the fact that

it is not distributed online but directly to

the customer through its highly skilled and

knowledgeable sales team.

Astri is currently working on the consolidation

of a new franchising concept that expresses

all-round corporate coherence, while Hair

Store Organic Salon represents a totally

organic idea in salon furnishings.

Astri constantly makes use of a research

and development laboratory that works in

synergy with both professionals and the

most advanced institutes of cosmetology and

trichology. This is to develop products that

respect the skin and the structural integrity

of the hair; allowing the hairdresser to obtain

a winning balance between beauty, optimal

performance and guaranteed results.
---
BIOBOTANIC CARE

STAR

PRODUCTS

Natural and certified ingredients. Recyclable

packaging. BIOBOTANIC CARE product are

synonymous with 100% Made in Italy ecosustainability;

they do not contain parabens,

silicones or artificial colours and derivatives.

They do not cause sensitivity; they are designed

to be used in synergy with each other in order

to create a wide range of Mindfulness Rituals

for well-being in your salon.

POMODORO

An anti-aging, luxury

beauty ritual for skin

and hair; completely

organic with targeted

active ingredients.

The feel-good solution

to give new life to hair;

regenerating cells to

prevent ageing, while

restoring the skin's

water balance thanks

to the presence of

Hydropom. This is a

substance with a high

antioxidant potency,

capable of providing

immediate protection

through an exclusive

hair lifting treatment.

PURIFY COLOR Plus

This is a permanent

and demi-permanent

oil colouring system,

free from ammonia and

paraphenylenediamine.

It allows for a pleasant

and odourless

application process,

combining both

technology and ecology.

Innovative and delicate

thanks to the presence

of precious protective

organic ingredients:

Mosqueta Rose oil,

Argan oil, Thermal

water, Macadamia oil

and Aloe Vera. Purify

Color represents a new

concept for experiencing

salon colour; designed

and formulated to

guarantee total coverage

and perfect lightening.

BIOHEALTH | BEAUTY

SHAMPOO

A highly personalised

prevention system that

gently helps to create

an optimal condition

of well-being for the

skin by responding to

the specific needs of

individual customers.

This shampoo contains

organic ingredients:

horse chestnut,

hypericum, lemon balm,

sage, wheat and grape

extract. These are

adapted to the to the

needs of each by adding

1 or more Essential

Mixes: alcohol-based

solutions containing

pure essential oils with

specific functions that

are activated during the

cleansing process, thus

providing a bespoke

shampoo for that sensory

experience both at home

and in the salon.
---
BAREX

ITALIANA

PASSION

FOR BEAUTY

Established in 1967, Barex is a brand created

by experts who fully understand the needs

of consumers and professionals in the hair

industry, as well as the requirements of exclusive

retailers and distributors around the world.

Barex Italiana offers 6 complete and

comprehensive ranges of haircare products,

each designed and produced in Italy. Featuring

the finest natural ingredients available,

exquisite packaging, stunning marketing, and

merchandising material.

OUR HAIRCARE PRODUCTS

JOC

Acronym of "Joy of Care", JOC is a 100%

Vegan professional treatment program for

scalp care, hair care, colouring, permanent

products, as well as styling. A smart and

complete brand with the ability to combine

products of various lines to create customized

services with endless opportunities.

OLIOSETA ORO DEL MAROCCO

Olioseta Oro del Marocco is the professional

haircare line designed with two incredible

beauty oils that create a real nectar for the

beauty and health of hair. A complete range of

treatments, styling and coloring products that

care for the hair day after day and support

the hairdresser by providing sophisticated insalon

services.

ABOUT US

Company Name:

Barex Italiana

Company Address:

Via Grazia 11, 40069

Zola Predosa (BO) - Italy

Tel. +39 051 751554

Email: exportmanager@barex.it

exportaccount@barex.it

Website:

www.barex.it

Founded in:

1967

CEO:

Carlo Baiesi

Number of employees:

25

Main brands:

JOC, Olioseta, Superplex,

Permesse, Contempora

Main Export Destinations:

Japan, Eastern Europe, USA
---
Performance,

quality and

creativity have

always been the

guiding light of

our research.

REASONS WHY

A complete range of

exquisitely packaged,

world-class haircare

products "Made in Italy"

and developed in our own

laboratories with 55

years of experience

A creative team of

international stylists

and educators to provide

technical support

Our ranges include

professional sizes for salon

and sizes tailored to the

needs of consumers

Full support of a highlysuccessful

company with

an unquestionable reputation

for loyalty and integrity

OLIOSETA ORO DI LUCE

Ideal for extremely smooth, sleek and shiny

hair, the line includes treatments and styling

products that nourish, replump and illuminate

hair efficaciously. More "classic" products

are interchangable with innovative treatments

that create a "hair filler system". With an ultraconcentrated

effect, this system is capable

of regenerating and restructuring damaged

strands for a real "filler" effect.

SUPERPLEX

Bonding, bleaching, care and toning products

to achieve the desired blonde without

compromising the hair fiber. Superplex's

success is in its technology and in its multiaction:

restructuring the hair fiber from within,

leaving hair stronger and color brighter, also

with an anti-breakage effect, resulting in longlasting

healthy strands.

PERMESSE

The art of creating beauty using coloring cream

with an evolved chromatic technology and
---
BAREX ITALIANA

advanced treatment system. The pleasure of

performing a ritual which is pure bliss for the

senses in terms of vibrant color, velvety textures

and an enveloping signature fragrance, 100%

Vegan and Gluten Free.

CONTEMPORA

The combination of food, beauty and efficacy

to guarantee professional hair sublimating

treatments: a haircare line which uses the

nutraceutical properties of food to ensure

instant and surprising results. Formulated

with a Superfood Technology, Contempora

includes 5 natural nutrient recipes for a longlasting

complete hair wellbeing.

Our clients love the texture and feel of the

products, the immediate results they deliver,

their price-point, together with the simplicity

and functionality of our product ranges. We

believe that for Barex users our scientificallydriven

ranges of products have become

an everyday part of their lives, a means to

express themselves, and in a certain way – a

means to make their lives better.

STAR

PRODUCTS

Joc Cure Exfoliating

Shampoo

Inspired by skin care

and the increasing

number of alternatives

to mechanical exfoliation,

the product allows the

combination of the

exfoliating action of a

scrub with the cleansing

action of a shampoo.

The AHAs liberate the

scalp from substances

that can compromise its

proper functioning: dead

cells are eliminated by

re-oxygenating the scalp,

providing new vital

nourishment to capillary

bulbs and promoting

better absorption of

subsequent treatments.

will be. Extraordinary

for replumping and

regenerating any hair

type thanks to its

intensive formula with

immediately visible

and lasting results.

Hair like new, repaired

from the inside out and

immediately smoothed

with zero frizz.

Superplex Bonding

Potion

It is an evolutionary

treatment in the

protection of the

disulphide bonds and

repairing of the hair.

It acts deeply and

structurally on the

inner keratin bonds,

to reconnect the

matter that is broken

apart during chemical

Barex Italiana presents

high quality products for

hairdressers designed

and produced in Italy.

Olioseta Oro Di Luce

Magic Filler Shampoo

and Protein Filler

Restructuring Pak

«Hair filler treatments»

that bring hair back

to its former glory,

giving life to every

single strand. The

more the hair is

damaged, the more

surprising the effect

services. Protects

and strengthens the

hair fiber, significantly

improves its resistance

to breakage and allows

the coloring pigments

to firmly anchor

themselves in the hair

fiber, maximizing color

brilliance, intensity and

longevity.
---
BRELIL

PROFESSIONAL

FOR THE BEST

HAIRSTYLISTS

Brelil Professional was founded in 1973 and

was the first brand name in the Sodalis Group.

Brelil creates and distributes a complete range

of professional hair care products exclusively

aimed at hairstylists. The brand has always

been synonymous with creativity, beauty,

passion for fashion and guaranteed quality,

worldwide. It has always responded to market

demand by anticipating evolving trends and

needs in the world of hairdressing by developing

iconic products. 100% 'Made in Italy', Brelil

products have become salon must-haves and

are known for their high-performance and the

quality of their formulations. Brelil is becoming

increasingly international, exporting to over 40

countries as of today.

OUR HISTORY

Brelil Professional was founded in 1973 in

Varese, Italy and its name is the acronym

for a female muse. In 1990, Sodalis Group

bought Brelil and its first brand and the

one which began its path of entrepreneurial

expansion. Brelil today creates and distributes

a complete range of professional hair care

products exclusively aimed at hairstylists.

Brelil products, recognized for their high level

of innovation and for their 100% 'Made in

Italy' quality, are present in over 40 countries

with a strong focus on exports, particularly

in Eastern European countries. Brelil's

production is within the Holding Sodalis Group,

in order to benefit from economies of scale

ABOUT US

Company Name:

Brelil Professional

Company Address:

Viale Europa 12/14

26855 Lodi Vecchio - Italy

Website:

www.brelil.it/en/

Founded in:

1973

Marketing Manager:

Mr Andrea Piaggese, Group Export Director

Mr Carlo Ravelli, Commercial Director

Main Brands:

Brelil Professional

Main Export Destinations:

Eastern Europe, Middle East,

North America

Number of employees:

13
---
REASONS WHY

Excellence in products

Innovation

Professional Quality

Training for professionals

Agile and dynamic organization

A light and flexible structure

and all the advantages associated with being

part of a large expanding group. In particular,

Brelil has a laboratory team that, on a daily

basis, develops cutting-edge formulations

to respond and anticipate market trends.

Furthermore, the production plant, located in

Lodi Vecchio (Lo), boasts very high standards

in quality control.

Brelil not only creates the very best products

for hairstylists, but also provides expert

training in the hair industry. It organises

various courses and training programs

through specialised trainers, as well as the

marketing and organisation of dedicated

events and shows in association with fashion

and lifestyle experts. Over the years, this

has enabled Brelil to become a small but

authoritative jewel in the hairdressing crown.

INNOVATION

The values of creativity, curiosity, anticipation

of trends and visionary spirit are strong

components in the Brelil brand.

TRAINING

Brelil's goal is the continuous skill building,

knowledge of the sector, the market and the

competition.

AGILE AND DYNAMIC ORGANIZATION

The Group continuously invests to expand its

portfolio, boost research and develop new

products and improve the way it operates. A

light and flexible structure enables maximum

speed in anticipating market trends and

implementing the right strategic moves.

MISSION AND VISION

Brelil's mission focuses on allowing everyone to

reflect their most intimate identity through their

own beauty. Its Vision is to inspire any salons

that wish to be recognised as trend creators

and advocates of well-being by their customers.

EXCELLENCE

Brelil is always looking for the best, with

a strong desire to perform to the highest

standards so that clients may live a truly

unique experience.
---
BRELIL PROFESSIONAL

ENTREPRENEURIAL MENTALITY

Entrepreneurship is in Brelil's DNA. In fact,

an entrepreneurial approach is preferable in

all employees, so giving them the opportunity

to broaden their horizons and make a real

difference.

DREAMERS...BUT WITH YOUR FEET ON THE

GROUND

Brelil sets ambitious goals to build the future

of the Group with a pragmatic and concrete

attitude in order to focus on the key factors to

achieve excellence.

STAR

PRODUCTS

Numero Oats

Restructuring Mask

Its specific formulation

deeply nourishes weak

and sensitized hair,

adding volume and

shine without weight. It

helps to make the hair

structure more toned

and elastic, restoring its

natural beauty.

nourishes, tames,

perfumes and gives

shine and texture to

the hair, embracing

it in a sweet scented

aroma. The Mousse

contains MILK

PROTEINS with Vitamin

A, Group B Vitamins

and minerals such

as Phosphorus, Zinc,

Calcium, Magnesium,

an extraordinary antifrizz

effect.

Prestige Colour in

Cream

Prestige is Brelil's

flagship colour, the

result of more than 30

years' experimentation

and the most advanced

research. Thanks to its

formulation, it repairs

Vitamin E, nourishes the

hair and strengthens

the hair fibre; it also

contains oleic acid

which helps regenerate

damaged hair, making it

appear soft and shiny.

LUMINESCINA, an active

ingredient extracted

from mullein flowers and

capable of absorbing

UV radiation, then

BB Mousse Gourmand

Milky Sensation

An ultra-nourishing

restorative and

conditioning mousse,

which illuminates,

repairs, detangles,

ALMOND OIL rich in

Omega-3 fatty acids,

Phospholipids, Vitamin

E and Magnesium,

and CERAMIDES. The

mousse keeps the hair

hydrated and shiny with

and improves the

structure of the hair,

keeping it soft, silky and

extraordinarily shiny.

The main active

ingredients are:

CAMELIA OIL, rich in

transforming it into

a new light source

generated directly on

the hair, increasing its

luminosity.
---
Permanent cream coloring treatment that, thanks to the Colour Amplifier Technology,

and the formula enriched with Luminescin and Camellia Oil, is able to offer a fl awless

color quality and ensure shine and respect of the hair.

100% Made in Italy, the result of more than 30 years of the most advanced

experimentation and research in cosmetics.

Not only a professional coloring but also in line with the fashion trends of the

moment, thanks to the range of over 90 shades, the result of continuous

technical-scientifi c research.
---
CARLOBAY

EXPERIENCE, EXPERTISE

AND PASSION MADE IN ITALY

Carlo Bay is a renowned Italian hairstylist with

a long career behind him and a succession of

triumphant and positive experiences and he was

elected Hairstylist of the Year in 2014 in Rome.

His career started in 1985 and today he has

more than 30 Salons in Italy and all over the

world (Moscow, Damasco, France and the last

one in Almaty).

In 1990, Carlo Bay opened the Florence

Academy: a school to give all hairstylists an

opportunity to train at every level. In 2002

started the creation of the Carlo Bay Club: more

than 80 salons in the whole Italy. Over the years,

Carlo Bay has created the official brands: Carlo

Bay Hair Diffusion and Carlo Bay Make-Up

Since many years Carlo Bay Salons serve a lot

of very important names from the Italian Fashion

Brands as Roberto Cavalli, Gucci, Ferragamo,

Ermanno Scervino and many others.

FIRST OF ALL, WE ARE HAIRDRESSERS

In our salons we work intimately with our

customers and we know exactly what their

needs are. This is why our products are

constantly evolving according to the local market

requirements.

A large collection of products for both

professionals and the final consumer is the

result of regular investments in research in

order to create exclusive formulas, mixing quality

ABOUT US

Company Name: Carlo Bay

Company Address:

Via Giambologna 11/13,

50132 Florence - Italy

Website:

www.carlobay.com

E-mail: carlo@carlobay.it;

accademia@carlobay.it

Founded in:

1985

Marketing Manager / Export Manager:

Mr Carlo Bay, CEO

Main Brands:

Luxury Hair Diffusion, Carlo Bay

Cosmetics

Main Export Destinations:

Europe and Japan

Number of employees:

90

The aim of the

Academy is to

provide unique

learning experiences

and ensure the

students success.
---
New trends and new techniques

to improve salon business and

customers' experience.

natural ingredients, vitamins and advanced

technologies.

REASONS WHY

CARLO BAY ACADEMY

For over 30 years we have been working to

provide unique learning experiences and ensure

our students success. Our goal is to prepare our

students for professional licensing and initate

them for a fulfilling career in hair and beauty

industry by teaching technical, artistic and

managerial skills. We offer a comprehensive

portfolio of hairdressing courses designed to

meet a wide variety of learning requirements in

both cut and colour.

Carlo Bay Academy will ensure you and your

team to be updated about new trends and new

techniques that are going to improve your salon

business and your customers' experience.

Made in Italy

More than 30 years

of experience in the

hair industry

Professional Quality

100% control of the whole

value chain from formulation

to distribution

Renowned name in the

sector including hairdressing,

beauty and cosmetics

top brand
---
CARLOBAY

STAR

PRODUCTS

Argan Kit

The Kit includes: Shampoo

with Argan oil and

Macadamia, for colortreated

hair, dry, treated.

Gently cleanses, leaving

hair hydrated, soft, shiny.

How to use: apply to wet

hair, gently massage to

make Act the foam. Rinse

thoroughly and proceed

with a second application.

Hydrating mask,

nourishing. Its special

combination with Argan oil,

Macadamia oil, almond oil,

coconut oil, moisturizes

and nourishes, for dry hair,

colored, damaged, dull.

Makes hair soft, light and

flexible. How to use: apply

to wet hair, distribute with

a comb lengths, leave

For added shine and

softness, you can add

into the mixture of color.

Keratin Kit

The kit consists of:

Shampoo with alkaline

PH, promotes the opening

of hair scales. Purifying

Shampoo removes deep

chemical or environmental

debris, deposited within

the structure of the hair.

Nourishes hydrates any

hair type, in particular

dried and processed.

The combination

of keratin and collagen

creates within the

structure of the hair the

optimum conditions

for the subsequent

stages of treatment.

Intensive restructuring

Mask with keratin and

collagen. Added with

provitamin B5, vitamin

B6 and vitamin e.

releases the proteins

scales close retaining

the active ingredients.

Keratin Spray Lotion,

repairs and rebuilds the

external structure of the

hair damaged by chemical

treatments, as the protein

molecules of keratin and

collagen are fixed to the

structure, making the hair

stronger and more elastic.

The union of keratin and

collagen, gives body to

thin or thinning hair.

Mousse Foundation

The mousse foundation

is a high performance

product because it was

created by a studied

blend of oils and waxes

without water added. It

keeps the skin's hydro

pressure perfectly

balanced thanks to its

"anidra" (non waterbased)

nature. It is

suitable to every skin

type and guarantees an

a few minutes. Rinse

thoroughly and proceed

with styling.

Oil with Argan oil

and Macadamia, for

color-treated hair, dry,

damaged, frizzy. Protects,

nourishes and protects

your hair from the

elements. Anti-Frizz and

Untangling. Makes hair

smooth, docile and bright.

necessary to reinforce

the internal structure

of the hair. Leaves hair

hydrated, chunky, morbili

and manageable hair.

Its action penetrates

inside the previously

open scales with the

step1 Keratin Shampoo,

reinforcing the internal

structure of the hair.

During the posale time

excellent coverage. Tips:

apply mousse foundation

on clean and hydrated

skin with a sponge in

light, upward strokes.

For a more natural effect,

when choosing the

foundation colour, we

suggest the same shade

or a shade lighter than

your complexion.
---
CB PRODUCTION s.r.l.

Via Giambologna,11/13 - FIRENZE - ITALY - Tel. +39 055 571289

accademia@carlobay.it - www.carlobay.com
---
COMPAGNIA

DELLA BELLEZZA

MADE IN ITALY FOR

THE HAIRDRESSERS

Compagnia della Bellezza was founded in 1993

by Hair Designer Salvo Filetti. Today, the

company is constantly expanding and has 180

affiliated stores in Italy and 20 in Europe. Its

aim is to export the concept of Made in Italy

across the hairdressing sector, based on a style

of craftsmanship and able to highlight the

natural beauty of every woman, with tailored

care. Furthermore, franchising guarantees

complete training for all hairdressers in the

group, which has two academies - one in Catania

and one in Milan - with a total area of 2,100

square metres and 425 work places. Choosing

Compagnia della Bellezza s.r.l. means having

the assurance of real industry experts, who

have been operating for over 25 years and who

endorse the concept of craftsmanship and

refinement, typical of Made in Italy, with high

quality branded services and products. To date,

there are 180 salons affiliated with the

Compagnia della Bellezza brand in Italy alone,

as well as 20 more in Europe and a further 500

independent shops that rely on the

professionalism of the brand's hairstyling

training.

HAIRSTYLING TRAINING AND BRAND SERVICES

Compagnia della Bellezza offers its affiliates

complete hairstyling training, focusing on the

various aspects of the sector, from both a

creative and managerial perspective. This is

delivered by top trainers at both national and

ABOUT US

Company Name:

COMPAGNIA DELLA

BELLEZZA s.r.l

Company Address:

Via Scuto Costarelli, 47

95129 Catania - Italy

Phone: +39 095 7477788

+39 349 4045788

info@compagniadellabellezza.it

Website:

www.compagniadellabellezza.com

Founded in:

1993

Export Manager:

Paolo Amantia

Main Brands:

Compagnia della Bellezza; Urban
---
REASONS WHY

Over 20 years'

experience in the

hair sector

Complete training

package

Web education

Business coaching

Branded services

and products

Online and offline

advertising

Coaching and support

for future affiliates

Tailored concept salon

international level. The two academies in

Catania and Milan therefore become places for

inspiration as well as personal and professional

growth. The training is also in an e-learning

format, delivered through an interactive

platform. Each affiliate will also have two annual

hair fashion collections (Spring/Summer &

Autumn/Winter) available to draw on from an

album with exclusive photos and images. In

addition, you can always count on branded

products and services, designed to guarantee

every woman the excellence she desires when

visiting a Compagnia della Bellezza salon.

CONCEPT SALONS

All concept salons are adored by women

because they offer a 360 ° sensory experience.

Each space is divided into thematic areas with

attention to every detail, thus ensuring complete
---
COMPAGNIA

DELLA BELLEZZA

relaxation and pampering for every customer,

starting with the Welcome Area. In addition,

there is a Retail Area dedicated to top quality

haircare products, such as Kérastase, Matrix,

Shu Uemura, L'Oréal Professionnel, Redken, as

well as those in the Compagnia della Bellezza

own-brand.

COMMUNICATION

This is one of the strengths of the brand.

Communication which cover both offline and

online, nationally and internationally, with

advertising campaigns in the most important

newspapers. In addition, all affiliates are

followed in their social activities, creating a

professional image consistent with that of the

brand. This is achieved through a digital plan

with a dedicated Web App in order to help attract

female audiences more easily, thanks to

regularly updated content.

STAR

PRODUCTS

Lucetherapy

Lucetherapy: the first

haircare range by

Compagnia della

Bellezza - a tailor-made

beauty regime for every

woman's hair. March

2022 was an exciting

news month at

Compagnia della

Bellezza, as the brand

enriched its portfolio of

exclusive services with

the addition of a

professional hair

product range. This is

the result of thirty years'

study into the desires

and needs of women in

conjunction with the

group's creative

hairstylists. Every

woman has a beautiful

glow inside of her which

just needs to find its

way to the surface.

Working with this

philosophy – on which

professional service

between salon visits.

There are eight

products, including one

which is reserved for

the exclusive use of

the hairstylist. They

are designed to

provide a hair beauty

routine in 3 simple and

effective steps,

enhancing the natural

brightness of the hair

through the use of

naturally sourced

ingredients. They offer

a moment of well-being

and relaxation carried

on refined notes of

their fragrances.

Thanks to their

dermatologically tested

formulations to ensure

maximum tolerability,

Lucetherapy products

work in synergy with

each other, in order to

build a complete hair

beauty routine. This is

designed to respect

scalp and hair by

responding to the

specific needs of each.

has always guided

Compagnia della

Bellezza – the

Lucetherapy range was

created. This is the

group's first haircare

product range, one

which also opens up the

opportunity for women

to enjoy the well-being

and benefits of a

Volume Shampoo

Hydra Shampoo

Silk Shampoo

Kera Water

Hydra Balm

Silk Mask

10+

Gold Oil
---
COTRIL

OUR PHILOSOPHY:

WORK BETTER, EARN MORE

Cotril is an Italian company based in Milan,

operating in the Professional Hair Care market

for hairdressers. Specialized in the development,

manufacturing and marketing of highquality

professional haircare products, Cotril's

business is split into two sectors: Business

Unit Cotril Professional, dedicated to the retail

market, and Business Unit CTL Private Label,

working under contract for the private label

market.

PAST MEETS FUTURE

In over forty years since its establishment, Cotril

has written an important chapter in the history of

professional hair products, in the name of competence,

integrity, professionalism and reliability.

Today it represents an international benchmark

for the world of coloring, styling and treatments.

The product range is extremely wide and able to

satisfy every need: it is made locally and independently

– 100% made in Italy – thanks to the company's

own research laboratories and manufacturing

plant, 24,000 square metres near Milan.

Today, the B.U. CTL Private Label stands out in

the world of professional haircare for its proven

experience, constantly demonstrated in the field

through its successful brand Cotril Professional.

The company exports to Russia, Spain, Portugal,

Czech Republic, Germany, Switzerland, Holland,

Greece, Belgium, Poland, Singapore, France, Vietnam,

Usa, Malta, Tunisia, Morocco, Iraq, Turkey,

Ukraine, Latvia, South Corea and Serbia.

ABOUT US

Company Name:

Cotril SpA

Company Address:

Via Trento 59,

20021 Ospiate di Bollate (MI) - Italy

Tel. +39 02 3834321

Email: info@cotril.it - export@cotril.it

Website:

www.cotril.it - www.ctlspa.it - www.cotril.shop

General Manager:

Mr. Giuliano Reas

Main Brands:

Cotril - CTL

Main Export Destinations:

Russia, Spain, Portugal, Czech Republic,

Germany, Switzerland, Holland, Greece,

Belgium, Poland, Singapore, France,

Vietnam, Usa, Malta, Tunisia, Morocco,

Iraq, Turkey, Ukraine, Latvia, South Corea

and Serbia

COTRIL PROFESSIONAL

Over the last few years, thanks to its strong

connection with the world of cinema, fashion,

showbiz and sports, Cotril Professional has

seen its brand awareness and presence in

the best hairstyling salons grow exponentially,

both in the Italian and international markets.

This is the result of two concurrent factors:

firstly, the fame of the company's celebrity
---
Hair Cotril for

Aurora Giovinazzo

at the Rome Film

Festival.

endorsers and, secondly, the extraordinary

quality of the products. These features make

Cotril Professional one of the most loved and

popular brands to be found and used in stars'

dressing rooms, on movie sets and backstage

at the catwalks.

THE STRATEGY

The marketing strategy aims at positioning

the Brand Cotril Professional as luxury products

for high-end salons, and promotes it

through strong marketing and sponsorship activities

using the modern tools of web marketing

and social platforms, engaging celebrities

from the fashion/showbusiness worlds as testimonials,

and investing in mass advertising in

women's/trade magazines. Regarding the

media strategy, according to Audipress data

the last Italian campaign (mainly concentrated

in woman's magazines) reached 15 million

potential clients.

COTRIL ACADEMY, COTRIL SALONS AND

COTRIL CENTER

Thanks to the Academy in Milan (covering

around 700 sq. metres of floorspace), Cotril

is able to give hairdressers the most advanced

educational programs in line with current

trends. Since 2015, Cotril has been developing

a franchising network called Cotril

Salons and also a light membership program

named Cotril Center. Cotril Salons

results so far include four successful

openings: salons with very high turnover,

supported by excellent quality products and

effective communication strategies.

REASONS WHY

Wide range of products

Exclusively professional products

and services

The color factory

100% made in Italy

More than 40 years of

experience

Hi-tech factory

High profile R&D department

Private label services

Hair Cotril for Autora Ruffico

(Above) and Beatrice Vendramin

(Right) at the Venice Film

Festival.
---
COTRIL

PRIVATE LABEL

B.U. CTL Private Label aims to be the ideal

partner through the study, development and

production of hair products (with particular focus

on coloring solutions). The top products

are Permanent Colors, Tone-on-tone Colors,

and Sensitive Dye, with revolutionary technology

using ammonia-free or PPD-free formulas.

Cotril offers three different types of service:

Full Service (comprising all steps of the

process, from research and purchase of

materials to manufacturing and packaging);

Bulk+Packaging (a filling and packaging service,

with packaging supplied by the client);

Bulk (manufacturing and delivery of finished

bulk product, packaged directly by the client).

STAR

PRODUCTS

GLOW ONE

Glow One is the high-performance permanent hair

color, offering 88 nuances capable of satisfying the

needs and requests of even the most demanding

clients.

Glow One guarantees 100% grey coverage and

facilitates detangling, for glossy hair full of body

and drenched in a fruity perfume.

Its innovative formulation features the complex Oil

Transport System, consisting of two molecules that

act in synergy with each other: one for the uniform

distribution of the colour along lengths and tips,

while second is needed to obtain richly saturated,

long-lasting colour.
---
DANCOLY

COSMETICS

AIMING FOR PERFECTION:

QUALITY AND INNOVATION

Back in 1958, Gilles le Bret, an enlightened

chemist and botanist from Aix-en-Provence in

southern France, the home of natural beauty

known for landscapes burgeoning with flowers

and grass, set up a technical laboratory

for the purpose of researching the benefits

that botanic extracts may offer the human

body and, more specifically, hair cells. Then

in 1965, with a view to applying the results of

his research to the products themselves, Gilles

le Bret formally found Dancoly Cosmetique,

specialised in manufacturing a series of

cosmetics formulated with botanical extracts.

Four years later, the Dancoly Spa series was

initially launched as the first brand formulated

with botanical extracts and oils able to

meet the specific needs of different hair types,

contributing to the success of these products

with end users.

After continued research and investments, in the

year 1980, Gilles le Bret discovered that the essence

extracted from deep-sea seaweeds and

ABOUT US

Company Name:

Dancoly

Cosmetique,

France

Espace Le Beauvalle

Bat B, 4 RUE Mahatma

Gandhi 13090 Aix-EN

Provence, France

Website:

www.dancoly.fr

www.vieso.fr

Founded in:

1990

Factory Area:

10,000 sq. feet

Production Capacity:

Professional

Hair Care Products:

2.5 ml bottles/month

Skin Care and Body

Products:

1.6 ml bottles/month

Gift Set Assembly:

1.2 ml sets/month

Soap Production:

120 tonnes/month

Main Brands:

Dancoly Angel Provence

Hair Care Line/

Dancoly Angel

Professional

Hair Care Line/Dancoly

SPA Hair Care Line/

Argan Oil Line/ Vieso

Hair Care Line

Main Export

Destinations:

UK, USA, Russia,

Mainland China,

Italy, Japan,

New Zealand, Austalia,

Canada, Sweden,

Indonesia, Demark,

Hungary,

Ukraine, Taiwan,

Singapore, Malta,

Malaysia, Dubia,

Saudi Arabi, Kuwait,

Yemen, Iraq,

Hong Kong, Latvia,

Cyprus, Greece,

Poland, Finland,

South Africa
---
Dancoly is present at leading

trade fairs around the world:

left, the fair in Paris, France

and below, Cosmoprof

in Bologna, Italy.

REASONS WHY

Environmental Protection:

all packaging materials

can be recycled

Cruelty-free: product

testing only on human hair,

never on animals

European and FDA GMPC

(Good Manufacturing Practice

Cosmetics) Certification

Safe & Natural Ingredients:

No parabens, SLS, paraffin

oil, vaseline, propylene glycol,

cocamide DEA

various biological active ingredients had amazing

repairing effect on aged and yellow hair. He

immediately invited his friend George Girartin - a

top hair stylist in France, to join his team. Based

on their concerted efforts, Dancoly Cosmetique

released the Angel line two years later.

With the development of Dancoly Cosmetique

and its plans for international expansion, since

1998, Dancoly has taken steps for building a

global brand. Today the brand has successfully

penetrated markets in more than 60 countries

in Europe, the Middle East, and Asia – earning

the overwhelming approval of hairdressers all

around the world.
---
DANCOLY COSMETICS

DIVERSIFICATION AND COMMITMENT

Dancoly Cosmetique France now owns more

than one thousand cosmetic formulas for products

in a variety of fields, including haircare,

skin care, beauty and personal care. Their mission

is to meet the demands of both the wholesaler

and end client with quality products in

all these fields at affordable prices

With a view to guaranteeing optimal service

worldwide, Dancoly France has recently invested

heavily in constructing a modern GMP

production base in China. This plant was designed

and engineered to provide all the production

services necessary to this end, including

the moulding of packaging materials, product

design ,research and testing of filling and manufacturing

processes, to meet all the needs

of OEM/ODM customers and provide the most

competitive products for their brands

It is common knowledge that manufacturing

luxury cosmetics at a high price range is easy.

But Dancoly is committed to a self-imposed

challenge of making high-quality cosmetics

available to a much wider market while relentlessly

striving for perfection. Indeed, the

brand portfolio continues to grow, with the addition

of cutting-edge and innovative products

that meet the most demanding standards of

both quality and safety, making no compromises.

Nothing less than the best will do.

STAR

PRODUCTS

HAIR VITAMINS & INCA

INCHI OIL RANGE

Inca Inchi seed oil is

rich in natural linolenic

acid and omega-3-6-9

unsaturated fatty

acids, tocopherols

and polyphenols.It has

antioxidant properties

that helps to protect

against damage cause

by free radicals.

The aging of human

cells is closely related

to damage made by free

radicals. It's rich blend

of natural ingredients

is known as the king

of longevity oil.

HAIR VITAMIN & INCA

INCHI OIL SHAMPOO

(Suitable for all hair)

This shampoo contains

Inca Inchi vegetable

oil, rich in omega 3,6

and 9, alpha-linolenic

and linoleic acids,

essential fatty acids. Its

antioxidant properties

and its benefits to

eliminate free radicals

and all small impurities

in order to improve

the health of the

scalp and regulate the

excessive production

of sebum. In addition,

by adding vitamins A,

C, E and Pro-V, this

shampoo recovers and

nourishes the fibers of

the hair. Your hair will

be left silky, shiny and

beautiful.

HAIR VITAMIN &

INCA INCHI OIL

CONDITIONER

(Suitable for all hair)

This conditioner

contains Inca Inchi

vegetable oil which

is rich in omega 3,6

and 9, alpha-linolenic

and linoleic acids,

essential fatty acids. Its

antioxidant properties

and benefits eliminate

free radicals and all

small impurities in

order to improve the

health of the scalp and

regulate the excessive

production of sebum.

In addition, adding

vitamins A, C, E and

Pro-V, it deeply hydrates

and nourishes the fibers

of the hair. Your hair

will be left supple and

hydrated.

HAIR VITAMIN & INCA

INCHI OIL (leave-in)

Benefits of Inca Inchi

vegetable oil:

Rich in omega 3,6

and 9, alpha-linolenic

and linoleic acids,

essential fatty acids. Its

antioxidant properties

and its properties

eliminat free radicals

and all small impurities

in order to improve

the health of the scalp

and to regulate the

excessive production of

sebum. This treatment

also contains vitamins

A, C, E and Pro-V, it

hydrates and nourishes

the hair from root to tip.

It is a powerful ritual for

having shiny hair.
---
DCM

LOOKING FOR A PERFECT

COLOUR SHADE

Diapason Cosmetics Milano comes to life in

2018, as a start-up of the Lisap group, which

includes not only Lisap - Laboratori Cosmetici

S.p.A, a long-established manufacturer of

professional hair cosmetics, but also branches

in Spain, USA, Malaysia and Australia.

The project aims to expand the group's market

share by launching a new brand with a different

positioning from the established Lisap brand,

while making use of its experience and

production capacity. Lisap is internationally

recognised as a producer of high-quality hair

colouring – therefore it is natural for the new

brand to identify this product category as its

focus. The name of the brand, Diapason, finds

its origin in a colouring line from the Lisap

ABOUT US

Company Name:

DCM - Diapason

Company Address:

Piazza Emilia, 1 - Milano - Italy

Email: info@diapasoncomestics.com

Website:

www.diapasoncosmetics.com

Founded in:

2017

Number of employees:

10

Managing Director:

Mr Giorgio Milani

Business Develpment:

Ms Ida De Blasio

Main Brands:

DCM

catalogue, as well as in music. In fact,

"Diapason" is the tool used by artists to tune

all instruments, allowing them to achieve the

perfect tone. In the hair world Diapason

Cosmetics Milano wants to be exactly the

same thing: a tool to achieve the perfect colour

shade!The name "Diapason", which recalls an

important heritage, is matched with the name

of the city of Milan, referring both to the location

of the production site and as a tribute to the

cosmopolitan city, the Italian capital of fashion

and especially of design. Milan is the place

where Italian fashion, design and also the

industrial culture specialized in coloring and

trichological cosmetic treatments have grown.

Today we bring this important legacy into the

future with a young and dynamic team of hair

professionals. While the association of

personal beauty and fashion is almost taken

for granted in the cosmetics industry, the

combination with design is unprecedented.

OUR PHILOSOPHY

Diapason Cosmetics is inspired by Italian

design, which is why it is a contemporary brand

that speaks to people. Thanks to the ongoing

and constant research of new shapes,

materials and colours Diapason is always able

to interpret the spirit of the moment. For the

brand, design is an inalienable value. This

intuition has become a cornerstone of the

project: Diapason Cosmetics Milano aims to

distribute high quality cosmetics, with attractive

packaging, inspired by museums and

exhibitions about design, above all the
---
the needs of a market that is still disrupted by

closures and lockdowns and tailors the brand

to meet them. The idea of offering a compact

range of products, which until a few months

ago was considered a liability, has become a

major plus, as it allows partners to have a

complete line with limited investment.

Competitive and straightforward products

boasting modern, high-performance claims

and formulas are launched, even if this means

raising the price positioning of the products,

an operation apparently at odds with the

demands of a market in crisis. This leads to

the creation of the Perfect No Yellow and

Perfect Moisture treatments and 10 Levels

bleaches line.

THE COMMUNITY

Last but not least, DCM stylists in the different

countries where the brand is distributed

formed a community and the brand's Education

Triennale. The abbreviation DCM has become

its signature, flaunted in bold, brightly coloured

letters. Unfortunately, the excellent premises

have to deal almost immediately with the

impact of the pandemic on the market. What

could have been a fatal moment for the newly

founded Diapason Cosmetics, becomes

instead a great opportunity. Sponsored by

Lisap's new CEO, the baton of the start-up was

handed over to Giorgio Milani (General

Manager) who put together a new team of

young hair stylists and creative graphic

designers to redefine the project and its

values. Stylists eagerly welcome the

opportunity to create and develop products

that are a must in their salon: products that

allow them to "play" with hair, offering the

latest fashionable services. The designers put

all their energy into expressing their inspirations

in the products. The working group identifies

REASONS WHY

QUALITY: quality is a must. In

the darkest nights, it is the

lighthouse that guides you to the

right place

DESIGN: Our story is deeplyrooted

in Milan, the cradle of

Italian fashion and design

ESSENTIALITY: it's no frills time.

So we studied our range to be

essential

SERVICE: when you need it! We

aim to prepare your shipment in

one working week

COMPETITIVITY: we studied our

prices to be competitive withour

sacrifice quality
---
DCM

formats. DCM places great value on training

and preparation and believes that the

improvement of its partners is essential. From

this vision came the decision to launch

technical and stylistic training seminars at its

own headquarter. In short, a "SMART BRAND"

is created: cheerful, dynamic, simple and

straightforward, without frills or complicated

philosophies, but still meeting all the needs of

the hair care business. Diapason Cosmetics

Milano thereby becomes an important part of

the Lisap group, which in the meantime has

been transformed into HQ Holding, which also

includes the recently acquired companies

Parisienne Italia S.p.A. and Schulze GMBH.

Diapason world is full of passion, energy and

expertise. Above all, the brand is constantly

growing and does not intend to stop. In fact in

2022 the team was further expanded to

develop the new projects that will be presented

STAR

PRODUCTS

Perfect No Yellow

A complete range of

anti-yellow treatments

(shampoo, mask and

mousse)to neutralize

undesired highlights on

bleached and colored

hair. Result | maintains

silver highlights and

eliminates the yellow

ones. Professional

innovative treatment

formulated with a

special purple pigment

that gives to bleached

hair beautiful silver

highlights and at the

same time maintains

its beauty and health,

from roots to tips.

Perfect Moisture

A complete range of

nourishing hair products,

for a soft, silky result.

the new Perfect

Moisture line with this

incredible ingredient

born to boost beauty.

Result | nourishes and

protects the hair, leaving

it splendidly shiny.

Deco Lightening Power

DCM presents its

complete new line

of safe, versatile

professional bleaches,

to satisfy every blonde

requirement, both in

the salon and at home.

A wide range of newgeneration,

topperformance

BLEACHES,

that allow you to choose

the one best suited to

the desired technical

result, depending on the

structure of the hair.

Rich in active substances

which moisturise, repair

the hair fibre, and

increase the colour's

duration and stability.

The hair is left wellmoisturised,

manageable

and regenerated.

The 98% pure Essential

Micro-pigments

at Cosmprof Bologna. The brand's mission is

to offer exclusive and quality solutions and

services to hairdressers around the world,

meeting their needs with the utmost

professionalism. To achieve its goals, Diapason

is inspired by fundamental values that are

always taken into consideration when it comes

to creating new products and projects.

Marula Oil has been

considered the secret of

African women's beauty

for thousands of years.

Its impressive hydrating

and restorative properties

have earned it the

status of a luxury

cosmetic. DCM, with

unique, high-performance

formulas, has created

penetrate even deeper,

bonding to the hair's

internal structure to

guarantee lasting,

vibrant colours.
---
PERFECT

NO YELLOW

WORLD

A complete range

of antiyellow treatments

to neutralize undesired highlights

on bleached and colored hair.

PERFECT

NO YELLOW

SHAMPOO

PERFECT

NO YELLOW

MASK

PERFECT

NO YELLOW

MOUSSE

LIGHTENING WORLD

The formula with DiaPlex allows you to obtain high levels of lightening, while keeping

hair in excellent cosmetic condition and leaving it soft to the touch.

7 LEVELS

LIGHTENING POWDER

DUST FREE WITH

WHEAT PROTEIN

10 LEVELS

LIGHTENING POWDER

DUST FREE WITH DIAPLEX

Piazza Emilia, 1 - 20129 Milano (Italy)

www.diapasoncosmetics.com

10 LEVELS

LIGHTENING CREAM

WITH ACTIVE CARBON

Concept: www.deesign.it
---
DIVA

INNOVATE: UNLEASH

YOUR CREATIVE ENERGY

OUR HISTORY

Established in 2007, Diva Pro Styling has

grown quickly to become the UK's leading

salon-exclusive electrical brand. With highly

successful products in every drying and styling

category, it has become respected as the

salon professional's go-to brand for high-quality

innovation at trade-friendly prices.

The brand is stocked in most UK wholesalers,

with it's reputation spreading throughout

Europe, where the brand is represented by one

of France's leading hairdressers, Christophe

Gaillet, whose enviable star-studded client-list

includes Gucci, Nina Ricci, and L'Oréal

Professionnel, among others.

ABOUT US

Company Name:

Diva Pro Styling

Company Full Name

Salon Europe Ltd.

CompanyAddress:

223 Linen Hall

162-168 Regent Street

London W1B 5TE

Tel. +44 7823 889055

+44 7591 455651

Email: helpdesk@

saloneurope.com

Website (s):

www.divapro.co.uk

Founded in: 2006

Manager Director:

Mr. Neil Robson

Intl. Sales Manager:

Ms. Francesca Donati

francesca.donati@

saloneurope.com

Sr. Account Manager:

Mr. Kevin De Cruz

kevindecruz@

saloneurope.com

Main Brands:

Diva Pro Styling

Desired Export Destinations:

North America, South

America, Australia, Asia
---
REASONS WHY

Diva Pro creates innovative

styling tools with stylists mind!

Powerful yet lightweight digitally

controlled, brushless DC motor

uses less energy and can last

10x longer

3-metre long, swivel, heat-proof

cord

Christophe Gaillet is a brand ambassador for

Diva Pro Styling.

Christophe is a multi-award winning Hairstylist

based in Paris and member of the Haute

Coiffure Française artistic team.

He is also considered as one of the most

academic of French hairdressers who promotes

French hairstyling throughout the globe.
---
DIVA

STAR

PRODUCTS

Atmos Atom

Hair Dryer

Get both style and

substance with the ultra

compact Atmos Atom

Dryer weighing one

quarter the weight of

a typical professional

AC Motor, without

compromising on

strength or power. The

2000W, 100,000 RPM

motor has been expertly

designed for ultra-fast

drying with significantly

less motor noise,

allowing for a stressfree

salon environment.

Make it your own with

replacement sleeves

available for purchase

separately.

Atmos Dry

Hair Dryer

Introducing the new

Atmos Dry weighing one

quarter the weight of

a typical professional

AC Motor, without

compromising on

strength or power. The

2000W. 100,000 RPM

motor has been expertly

designed for ultra-fast

drying with significantly

less motor noise,

allowing for a stressfree

salon environment.

Includes powerful Atmos

PLUS conditioning

system to help combat

frizz leaving hair sleek

and shiny. Make it your

own with replacement

sleeves available for

purchase separately.

Air Curl

Styling Wand

Diva Pro Styling

introduces an entirely

new concept in

hairstyling technology

with the introduction of

the Air Curl. This brandnew

curling system

provides heat and wave

fixing technology in one

lightweight, easy to use

tool, to give quick, longlasting

curls for all hair

types. This curl system

requires less, and lower,

heat to fix curls and

waves, making it gentler,

kinder hairstyling and

fixing in one elegant tool.
---
With replaceable customisable colour sleeves

Scan the QR code

for loads more info

divapro.co.uk
---
ECHOSLINE

FOLLOW THE VEGAN WAY

OF ECHOSLINE

A NEW SMART HAIR BEAUTY

PHILOSOPHY IS HERE!

Created in Italy in 1998, Echosline is a

professional haircare brand that has

embraced the «Smart Beauty» philosophy.

Over the years, it has evolved and embarked on

«The Vegan Way», formulating products based

on high % of natural origin ingredients

and developing environmentally-friendly

packaging and materials, while respecting

professionals and consumers. A

sustainable and "smart" beauty is the

vision that drives Echosline towards a

«less is more» concept.

«LESS» is the way to achieve a vegan and

sustainable beauty, removing all that is not

essential.

«MORE» is what nature gives us when we

learn to take the best out of it, while fully

respecting it.

Echosline's Smart Beauty aims at reducing its

impact on the environment and consumers,

making beauty ethical and sustainable with

100% vegan haircare products & Echosline

aims at offering salons all over the world

professional treatments, promoting essential

beauty and simplicity as the best expression of

authenticity.

ABOUT US

Company Name:

Pettenon

Cosmetics

S.p.A. SB

A group company of

Agf88 Holding

Company Address:

Via del Palù, 7/d

35018 San Martino

di Lupari (PD) - Italy

Brand:

Echosline

Website:

www.echosline.it

Founded in:

1998

Main Brands:

Echos Color,

Karbon 9, B.Pur,

Seliàr, Synergy Color

Main Export

Destinations:

More than

60 countries

in the world
---
STAR

PRODUCTS

REASONS WHY

Smart" beauty with reduced

environmental impact and innovative

vegan products

Research in innovation with high

% of natural origin ingredients,

biodegradable formulas and

sustainable packaging

Respect for the professionals,

the people and the planet

The new Echos Color

with 83 nuances

100% VEGAN HAIR

COLOURING CREAM

Echos Color is the new

Echosline hair coloring

cream, without PPD

and without resorcinol,

enriched with green

Tea extract, Tsubaki oil

and Date oil.

Claims & Benefits

Completely vegan, the

new color line fully

reflects the "Less is

more" philosophy that

the brand has been

pursuing since 2018.

Not only the formula,

but also the pack is

sustainable and

environmentally friendly,

thanks to a compostable

case, an infinitely

recyclable aluminum tube

and a cap that is 50%

less in plastic than the

previous one.

Technical details

The green tea extract

protects the hair from

oxidation and increases

the duration of the color.

The tsubaki oil

increases the brightness

of the color making the

hair soft and shiny.

The date oil protects

and moisturizes the

hair during coloring,

leaving it healthy with

each color service

performed in the salon.

VeganOK certified.

What does it make the

product special?

Completely vegan

formula, free of PPD and

resorcinol, it has a less

sensitizing formula for

the clients in the salon

and for the hairdresser.

With high coverage of

grey hair in a sustainable

and compostable pack,

there are 83 nuances to

try and mix with each

other to give space

to creativity and to

create taylor-made color

service, among them

the new innovative

shades and color

families such as .7

Cold and .0 Ice.

The new Echos Color

guarantees to the

modern colorist a

coloring system adapted

to the complex needs

of salon clients, offering

contemporary shades,

with excellent long

lasting color of each

tone.
---
EMSIBETH

EMSIBETH TURNS 20:

2001 – 2021

When everything is at the beginning, when

enthusiasm overcomes every obstacle, when

vision is infinite, passion does not see any limits.

When evolution is always at your finger tips,

dreams are made to come true, fatigue is a nonfactor.

This is how we have been living our twenty

years, because twenty years are so full of

marvellous things and are the prelude to one

thousand more goals to come.

IDA FUGA INTERVIEW: "I have always been

interested in the world of hair. And this is thanks

to my mum, who was a hairdresser and had a

ABOUT US

Company Name:

Emsibeth SpA

Company Address:

Via Murari Brà 35G - 37136

Verona – Italy

Tel. +39 045 503044

Email: export@emsibeth.it

Website:

www.emsibeth.it

Founded in:

2001

CEO:

Ida Fuga

Main Export Destinations:

Europe, Far East, Australia,

North America

hair salon: as a child I would spend hours upon

hours with her, observing how the women would

be transformed under the touch of her hands.

She was very good, she was able to bring out

the best of every hair type. And here was much

more to it: her salon had the cosy atmosphere

of a living room, where the women exchanged

advices and recipes, while enjoying the

marvellous cakes that my mum would bake for

them. The energy there, was harmonious, made

exciting by my mum's passion for her work. It is

also thanks to her that Emsibeth Company was

built on solid foundations, as solid as the values

that she conveyed to me: I wanted to create a

family-like and respectful environment, where

people can work with dedication and in the

name of authentic beauty."

The company

is founded on

teamwork,

connection and

accessibility.

Having gained years

of experience in

major multinational

cosmetics companies,

Ida Fuga decided to

blaze her own trail.
---
company mission. To work while recognising

individual diversities and the environment that

surrounds us, because this means respect. To

remember that being concrete is the best way to

achieve any goal. To never forget that performance

does not require constant research and that one

can only achieve excellence through continuous

improvement. Today we represent 4 brands that

together stand out for professionalism, global

wellbeing and the highest quality, making our

proposal unique and absolutely qualified.

The Emsibeth project began in 2001, in Verona,

from an idea shared by a group of friendsentrepreneurs

and from the innovative and

genius formulas and ideas of Giancarlo Frigeri,

which are hat made and still make the difference

in quality and significantly determine the fine

properties and innovation of our products, also

allowing us the privilege of using Juno Thermal

Water. And this is how the first thermal line was

developed, dedicated to the precios work of

beauty salons, that can turn into bona fide

wellness centres for scalp and hair. This group

of men and women had a strong desire to find

a company where values were the inspiring

common thread: respect, reliability, loyalty,

honesty, care to the needs of the consumers

and the market, to offer solutions through high

level training, the most advanced technologies

to support the growth of the salon. Our values

are defined by the choices that we make every

day. To be reliable, guaranteeing effective

solutions and answers. To always keep the

passion alive, that allows us to attain our

100% MADE IN ITALY. ZERO COMPROMISES.

WITH INFINITE LOVE. OUR 4 BRANDS:

Emsibeth comes from the great experience of

industry and hair professionals. We have always

been synonymous with technique and

professionalism at the service of hair dressers

who intend to pursue the highest performance

in their work: an important assortment of

cosmetic solutions at the disposal of the most

challenging requests. Thermal is a professional

philosophy with a holistic approach to the beauty

of hair, that depends on the health of the scalp

and especially on the overall wellbeing of the

person as a whole. Thermal's strong points are

represented by the treatment lines through the

extraordinary properties of the water from the

ancient Roman baths of Juno and in the rituals

of the AQVACEREMONY method, together with

sounds, fragrances and routines that nurture

personal wellbeing. Ethè is the haircare Brand

dedicated to length. It offers products with high

performing ingredients for extreme efficacy:

sophisticated fragrances and antipollution,

ethical and plant-based formulas. Ethè is the

luxury of authentic beauty to restructure, nourish

and illuminate every day with elegance,

sensoriality and efficacy. Arpège Opera is an

actual revolution of the world of colour. Inspired

by the magic of music and the observation of

the purest of hair, that of children, where plays
---
EMSIBETH

on colour, shades, radiance and freshness reign.

To recreate this vivacity, very high quality products

have been formulated, thanks to which it is

possible to créate colour expressions that are

always different and unique.

EMSIBETH BECOMES A BENEFIT COMPANY

An evolution of the very concept of company,

because our corporate purpose, in addition to

the aims of profit and the division of profits, also

considers having a positive impact on society

and the biosphere, and we work responsibly,

sustainably and transparently towards people,

communities, areas, the environment, property,

cultural and social activities, agencies,

associations and other stakeholders.

STAR

PRODUCTS

Whim Color Mask

Is a toning, conditioning,

nourishing, revitalising

mask that gives added

brightness and intensity to

the shades of natural and

coloured hair.

Its innovative formula

leaves the hair shiny and

soft, moisturising it and

restoring the vibrancy and

glow of its colour. Whim, is

as easy to use as a

lipgloss that immediately

illuminates and gives a

touch of color.

Water contained in the

Thermal formula is

certified by the Ministry of

Health. It transforms insalon

service into a

ceremony to cleanse

yourself from stress,

impurities, negative

thoughts and recharge

your batteries. The

material used to make the

Thermal bottles is GREEN

BIO-BASED PE, a material

made from sugar cane

and which helps to reduce

the amount of CO2 in the

atmosphere. Because we

love this planet and we

want to take care of it.

Ethè

si the luxury of authentic

beauty. Rediscover the

Thermal

Was created in 2003 and

is the first range to bring

the effectiveness of

thermal water and clay to

professional haircare. It

combines the wisdom of

the water from the ancient

Terme di Giunone, the

properties of which have

been known since Roman

times, with modern

science providing SLES

and paraben-free

formulas. Thermal is made

even more valuable by two

active ingredients: Anti-

Pollution Shield and

Photoprotection Extract,

which protect skin and hair

from atmospheric pollution

and the harmful effects of

Blue-Ray. The Thermal

beauty of hair: powerful,

authentic, vibrant. like you,

staying true to yourself

and your choices every

day. High-performance

plant-based formulas for

four ranges capable of

meeting varying haircare

needs. to effectively repair,

nourish and brighten with

elegance and sensoriality.

BK STAGE Flash Star

Is the Lamellar Treatment

for instant smoothing

specific for lengths.

Enriched with Hyaluronic

Acid and Black Pearl

Extract. In a few seconds it

makes the hair perfectly

shiny, disciplined and

manageable. Mirror effect

in a flash.
---
NEXT GENERATION.COLOR.TREATMENT.

emsibeth.it

For all hair types. For all of you.
---
EVEREST

COSMETIC - SHANDRANI PARIS

THE FRENCH SPECIALIST

IN HAIR GROWTH

COMPANY OVERVIEW

Shandrani Paris has two ranges : Easy

Pouss and Aloe Locks. Tue first one is for

all kind of hair, the second one is dedicated

to protective hairstyles, locks, twists. Both

ranges were created to prevent from hair loss

and accelerate its growth. Tue hair grows

faster, it is silky and nourished, hair loss is

stopped. Tue Easy Pouss and Aloe Locks

hair care collections are che mically clean

and ensure exceptional hair growth and allow

healthy hair. Tested by our consumers and

proven to be effective, hair comes out shinier

and stronger. Present in more than 1,000

prestige retail stores worldwide, the brand

continues to expand.

Shandrani Paris has developed its laboratory

in France to control each stage of production,

from formulation to packaging, including

the ingre dients of the range, everything is

rigorously controlled to bring you the best hair

growth care. Born out of a real need for women

with tex tured hair, whether curly or frizzy. The

Easy Pouss range has now a range of pro

ABOUT US

Company Name: EVEREST COSMETIC

Company Address:

102 Av. des Champs-Elysées

75008 Paris FRANCE

Tel.: +33 1.75.36.19.94

E-mail: contact@everestcosmetique.com

Website: www.shandraniparis.fr

Founded in:

2011

Number of Employees:

10

CEO:

Mr.Yoann Rauf

Main Brands:

Easy Pouss, Aloe Locks

Main Export Destinations:

Worldwide
---
ducts that can be used in a variety of ways.

The DNA of the brand: to create daily privile

ged moments for oneself, transformed into a

true sensory experience thanks to the texture

and scents of the developed care products.

Very committed to sustainable development,

Shan drani Paris joined Reforest'Action. We

act efficiently by financing beautiful human

projects that are eco logically and socially

adapted. We have started to plant 100 trees

in 4 areas (France, La Reunion, Hai ti and

Ivory Coast) in the way to care for our Planet.

MARKET INTEREST

Shandrani Paris is a French cosmetic brand

pre sent in 21 countries, and an expert in

requiring hair. We continue to develop more

products for everyone, as all beauties should

be celebrated. Research and development

in hair regrowth and hair loss prevention are

our strong points, with im pressive results for

users. This market is constantly growing and

effective proposals are becoming rare. Being

a partner of our brand is the guarantee to

offer an effective range, with very high natural

formulas.

REASONS WHY

100% made in France

French specialist in hair loss

preven tion and hair growth

Strong focus on R&D and

innova tion

Tue products are formulated and

manufactured in our la boratory in

based in Paris are

Our formulas are developed

with the maximum of natural

active ingre dients to ensure the

expected results

Shandrani Paris is committed

to a responsible and ethical

approach to the environment

Our products respect European

regulations which forbid animal

testing
---
EVEREST COSMETIC

STAR PRODUCTS

Easy Pouss Range

In 2016, we launched

our first range «Easy

Pouss». We found the

perfect hair loss

treatment and hair

regrowth formula based

on ingredients of natu

ral origin. This formula

is concentrated in our

Elixirs which have been

a real success for the

last 5 years. Thanks

to this success we

were able to ex pand

our range of Shandrani

Easy Pouss products

to 20 products for hair

loss treatment and hair

re growth. Based on

plants, minerals, and

vitamins for strength and

growth of your hair, it

activates a combination

of vitamins from root to

tip of hair to nourish the

hair fiber and make it

less sensitive to external

aggressions (sun, cold,

pollution, etc.). Since

then, we have created

20 products:

1) Products dedicated to

anti-hair loss & regrowth

treatments (growth elixir,

gummies, cactus cream)

2) Masks, shampoos &

conditioners

3) Styling products

(edge, styling foam, hair

milk)

4) 100% virgin organic

oils

After 18 months of

research in our French

labora tory, this special

line for locks, braids,

twists and vanilla was

created with natural

ingredients, such as aloe

vera, tea tree, honey,

black soap and biotin.

We have created 10

products:

1) Our best seller is the

serum repair & stimu

lating

2) Purifying shampoo

with tea tree

3) Hair styling products

(hydrating - refreshing

mist & mango cream)

4) Jellies

5) Owala oil

As every year, we exhibit

at trade shows such

as PharmagoraPlus,

the number one French

trade show for the

pharmaceutical industry

and MCB (haircare

show). Por two days,

thousands of people

come to discover our

new products and to

follow the best trainings.
---
@EASYPOUSS SHANDRANI

@SHANDRANIPARIS

@EVERESTCOSMETIC

www.shandraniparis.fr

@EASYPOUSS
---
EVORIVE

IDEAS AND SOLUTIONS

FOR YOUR BUSINESS

(above): Juna, Elena and Andrea Colombatto

with their father, "Sandrin".

ABOUT US

Company Name:

Evorive

Company Address:

Via Grange Palmero 35 –

Alpignano (TO) - ITALY

Website:

www.evorive.com

www.cutterfly.com

Founded in:

2016

Number of employees:

9

EXECUTIVE DIRECTOR:

Juna Colombatto

Main Brands:

Cutterfly

Main Export

Destinations:

France, Spain, Switzerand,

Eastern Europe

CREATING A NEW COMPANY

This means getting back into the game - and

it's what Juna, Elena and Andrea Colombatto

did along with their their father, "Sandrin",

after deciding to leave the family business

founded in 1969. It was in 2016 that they

created EVORIVE, whose logo - the phoenix

- represents their journey of professional and

personal rebirth.

They had acquired a high level of professionalism

in tungsten carbide processing, as

well as in the design and creation of cutting

systems and anti-wear for the industrial

market, where tungsten carbide blades can

replace steel blades with significantly higher

performance in terms of durability and cut.

This allowed Evorive to formulate a consulting

service to help companies understand which

steel components if any could be qualitatively

improved or made more efficient in terms of

performance and cost.

Today the company is able to produce

tungsten carbide cutting tools as a project, or

in partnership in terms of co-design, by which

their R&D department works hand in hand

with the customer's R&D in the development

of innovative solutions.

"For us, it is important to work together with

our clients by presenting ideas and solutions,"

explains Juna Colombatto, Executive Director

of Evorive. "Our goal is to create performance

tools for all those sectors involving the cutting

process - improving production processes and

lowering and subsequent maintenance costs.
---
We have projects currently in progress, both

internally and in partnership with companies

in the industrial sector. One of the most

important the creation of the first hairdressing

scissors in the world with tungsten carbide

blades: the CUTTERFLY. It's a project whose

'Made in Italy' innovation was able to guide

the development of a unique product. It is

receiving the approval of a craft which, until

now, has been used to handling Japanesemade

steel scissors.

FOR THE HAIRSTYLIST

The top range of Cutterfly scissors is of

PREMIUM quality. It is created for the true

virtuoso in haircutting, as well as including

a personalised assistance service and a

maintenance package. The blades and the

patented cut make it perfect for anyone who

loves creativity, asthe CUTTERFLY PREMIUM

line has been specifically created for those

who are confident enough to question their

own choice of tool. This range revolutionises

the classic cut, enabling you to acquire

extroardinary manual skills; you'll end up

wondering how you ever managed without them!

REASONS WHY

Innovative materials and a

patented cutting system

Revolutionary customer service

and after-care

Configurable and customisable

to meet every need

100% Italian
---
EVORIVE

STAR

PRODUCTS

•Premiun Range

A range created for

those who arelooking for

high cutting performance

and personalised

assistance.

There are five models,

all with an integrated

titanium handle and

designed with blades

of different lengths and

with a specific cutting

technique.

•Poly Model

Tips designed for

precision cutting - for

lovers of experimentation.

Suitable for pixie cuts

and for details. Ideal

for those working on

both women and men.

•Smooth Model

Designed for soft

cuts, stroke cuts and

slicing cuts.

•Barber Model

Created for barbers

and ideal for the scissor

over comb technique.

A clean cut with

geometric precision

to bring barbering and

beard shaping to a

higher level.

•EvoModel

For high precision

performance on

both dry and damp

hair. Ideal for bobs and

fringes cutting. The

patented design allows

the blades to lock on

without slipping away.

and make blunt cut.

•Maxx Model

These high-performance

innovative scissors have

a two-thireds serrated

blade, for clean cutting

and hold at the tip for

point cutting

Particularly suitable

in dry cutting and on

curly hair.

PLUS

•Configuration

The modular structure

allows you to configure

the scissors, matching

the blades and grip to

your personal needs.

•Personalisation

To enhance creativity,

transforming the

product into a unique

and exclusive object.

Enjoy

Made with handles

in coloured steel and

blades in tungsten

carbide, the ENJOY

model has been

designed for anyone

who wants get closer to

the world of Cutterfly.

A single 5.5-inch model

that can handle any

professional cut. Ideal

for anyone starting out

on their hairdressing

career or simply wants

to experiment with

unique, innovative and

high performance

scissors.
---
NOT

JUST DIFFERENT,

ONE OF A KIND.

Cutterfly, the cutting evolution.

With a patented system,

Cutterfly, the unparalleled scissors

with tungsten carbide blades.

Completely designed and produced in Italy.

credits tothink.it

WWW.CUTTERFLY.COM

INFO@CUTTERFLY.COM

Cutterfly is a brand belonging to EVORIVE

Via Grange Palmero 135, Alpignano (TORINO)

Tel +39 011 42 49 793

E-mail info@evorive.com
---
FANOLA

A NEW EMOTIONAL

DIMENSION

FANOLA was born in 2005 from an intuition of

a group of entrepreneurs, becoming

immediately leader in the manufacture and

sale of professional hair products in Italy and

worldwide. Fanola is the Made in Italy brand

of professional hair products, designed to

follow the latest trends and to meet the needs

of all the hairstylists in the world who want to

share their creations in the social media.

We are focused on creating a strong relationship

between the brand and its followers, both

hairstylists and end consumers but also on

creating an international community with all

distributors to communicate the brand

uniquely, strengthening its values.

Fanola is focused on a behavioral and

emotional dimension. It's a young person,

sparkling, dynamic, unconventional, who loves

playing with colors, interpreting them as a

fashion accessory.

FANOLA, IT'S MY BLOND!

Fanola is known worldwide thanks to No Yellow

shampoo; the quality and effectiveness of the

No Yellow Shampoo are the basis of the

product's success and they had generated a

worldwide awareness for the brand. The No

Yellow line has gradually expanded to offer a

complete service dedicated to blonde hair, with

products dedicated not only to the care but also

to coloring and bleaching, always characterized

by the presence of specific pigments that

counteract unwanted yellow reflections.

ABOUT US

Company Name:

Pettenon

Cosmetics

S.p.A. S.B.

A group company of

Agf88 Holding

Company Address:

via del Palù 7/d

35018 San Martino

di Lupari (PD) - Italy

Brand:

Fanola

Founded in:

2005

Website:

www.fanola.it

Main Brands:

Fanola; No Yellow;

Orotherapy

Main Export

Destinations:

Europe, North America,

Australia; United Arab

Emirates; New Zeland,

Canada
---
REASONS WHY

Colourful/Creative/Community

addicted

Democratic & Inclusive

Unconventional

Frequent innovation

Brand focused on social media

Extreme performing products

100% Made In Italy

Professional Quality

Hairstylist's community

International Distribution

Fanola offers freedom of expression and

experimentation. Everyone can find their ideal

shade thanks to the original, unorthodox colour

selection, which conveys boundless love for life.

STAR

PRODUCTS

No Yellow Shampoo

& Mask

The professional

treatments range

with the Extra Violet

Pigment to neutralize

undesired yellow

effects on bleached,

blonde, streaked

or gray hair. The

formulation is enriched

with Grape extract for

an antioxidant action

and Silk Proteins for

shine. The Shampoo

neutralizes the yellow

undertones with an

immediate toning action

and the mask neutralizes

the yellow undertones

leaving the hair soft

and shiny.

No Orange Treatments

It is a professional

treatment including

Shampoo, Mask and

Conditioning Foam,

featuring a highlyconcentrated

BLUE

pigment in their

formulation to neutralize

copper-red-orange tones

while giving hair a cold,

shiny and even tone.

In particular, Blue Foam

is ideal on white hair

for icy effect result,

leaving hair nourished

and disetangled without

weighing down.

Nourishing Treatments

A complete restructuring

range for dry and frizzy

hair. All the products

are formulated to

give hydration and

nourishment to dry,

stressed and damaged

hair thanks to the Milk

Proteins and Linseed Oil.

Fanola Color

Permanent coloring

cream with ammonia,

enriched with Ginkgo

Biloba. Available in

119 shades, which

can be mixed together

to obtain infinite shades

of color. Formulated

to respect the skin

and hair, it leaves hair

bright and healthy and

guarantees a long-lasting

result. It allows to realize

uniform and bright

colors with rich, deep

and natural reflections

with 100% coverage of

white hair.
---
FARMEN

A HISTORY OF SUCCESS

AND VALUES

Farmen International Cosmetics Distribution

was born in 1964, in a small three-room laboratory

in Turin, Italy. A genuine firm, fruit of the

labour of two generations, offering effective, reliable

and cutting-edge products to beauty

treatment and hairstyle professionals. A firm

that is recognised and appreciated in more than

80 countries, across the five continents. Right

from the first product, Farmesil silicon spray, a

brainchild of founders Mariarosa Ceccon and

Piero Manzetti, it stood out for its innovative

and modern business approach. This is how

the first gas-free Italian hair spray, Natural, was

born, and all the other products that enrich its

three brands: Vitality's, Neà-Spa and Fascinelle.

Below, Farmen's Management

and headquarters.

ABOUT US

Company Name:

Farmen International

Cosmetics

Distribution SpA

Company Address:

Via Leinì, 150

10036 Settimo Torinese (TO)

Italy

Website:

www.farmenspa.com

Founded in:

1964

Main Brands:

Vitality's, Neà-Spa,

Fascinelle

Main Export Destinations:

The World

A COMPLETE PRODUCTION CHAIN

One of their strong points is the ability to

manage the entire production chain within the

company: from the initial concept to the selection

of raw materials and active ingredients,

right up to production, delivery and education

of the end user. Only in this way, by meticulously

checking each and every step, can

Farmen truly guarantee the quality and reliability

of their products. These tests are so stringent

that no more than around 100 of the approximately

600 formulas evaluated every year

are actually manufactured on an industrial

level. Since its establishment, Farmen has

always pursued a single objective: offering beauty

and style professionals effective, reliable

and innovative products to meet all their working

needs. The result of this commitment

is reflected today in three production lines:

Vitality's, Neà-Spa and Fascinelle. Vitality's

is the line dedicated to hair stylists, offering

a complete high-quality range designed to

enhance clients' style and improve their wellbeing.

These specific colouring, shaping and

styling solutions offer added value: the creativity

and experience of Italian-made products.

Neà-Spa is the brand dedicated to the professional

beauty sector. This complete range of

treatments for the face and body uses natural

and exclusive active ingredients derived from

Farmen's research. Fascinelle, the brand created

to satisfy the needs of clients who purchase

through the selective perfumery channel, is a

complete line of high-end products for the wellbeing

and styling of hair.
---
Left, some images of

the production chain.

REASONS WHY

A Modern Company

Strong Research and

Development Department

A complete production

chain

Local and glocal at

the same time

Made in Italy

Strong values

50 years of experience

THE CHARTER OF VALUES

Farmen has always believed in values such as

respect for the environment, safety at work,

customer care and commitment to the local

environment, with the awareness that profit

and responsibility cannot be separated. Today

Farmen has decided to go beyond this mission

statement, formalising their values and objectives

with the project "The Sustainable Colours

of Beauty", a social responsibility strategy that

aims at promoting a new kind of beauty, closer

to the Environment and to People. The first result

of this commitment was the formalisation

of the "Charter of Values and Commitments"

which was born as an evolving document and

becomes richer through dialogue with all the

firm's stakeholders. One of Farmen's strong

points is the internal management of most

of the supply chain, which ensures the maximum

quality, transparency and reliability of

their products. Raw materials: Farmen is developing

a sustainable supply policy based on

environmental and human rights protection.

The aim is to guarantee that even suppliers

of their main ingredients respect this policy by

the end of 2018. Packaging: Farmen is at work

to eliminate overpackaging, reduce the weight

of packages by 15%, and reach 100% recycled

paper and cardboard, partly certified as sustainable

by the end of 2018. Finally, the company

provides support, assistance and training before

and after sale to professional clients, ensuring

that products are 100% safe both for

humans and for the environment, thanks to

thousands of analyses carried out each year

by quality control at R&D laboratories.

FROM GLOBAL TO LOCAL

Farmen is a traditional Italian firm, strongly

linked to the local environment and at the

same time present in more than 80 countries

across the 5 continents. It is a spokesperson for
---
FARMEN

Italian quality in the World. Reconciling this twofold

nature has always been one of the essential

points in its corporate mission: for this reason,

70% of personnel lives in Settimo Torinese and

90% of first level suppliers can be considered

local. Always in this perspective, Farmen offers

continuous and practical support to the local

social fabric, sponsoring sport activities, NPOs,

students, hospitals and other organisations. But

international markets are also an integral part of

the soul of Farmen: future goals include penetrating

markets in ex-Yugoslavia, Argentina, Perù,

Chile, Turckey, Singapore, Mongolia, Norway, Sweden,

UK, Ireland, Iceland, Mexico, South Africa.

What type of partners are we looking for? Professional

importers, corporations, and retail chains.

PEOPLE: THE ADDED VALUE

Farmen's employees are their greatest asset:

for this reason, the firm guarantees health protection

and safety at work, transparent recruitment

policies, equal opportunities and equitable

remuneration, special terms for maternity

and agreements with nurseries, freedom of

trade union representation and continuous

professional development. In parallel, we share

the will to commit to a strategy of tangible and

transparent external communication, to make

Farmen's commitment visible and involve the

entire supply chain. Additionally, we support

the local environment and the local community,

with the creation of virtuous economic and

social systems.

STAR

PRODUCTS

Zero/Vitality's

Zero is renewing itself,

with a more ecological

conscience, shifting

the emphasis onto

the sustainability of

consumption.

Vitality's has chosen

to embrace the Vegan

philosophy with 3 green

pillars:

- for Us Vegan is: No

sumbstances of anial

origin or derivation and

no GMOs are used.

- 80-83% natural

index: A tangible

sign of Zero Colour's

daily commitment to

respecting the planet

and the well-being of

women.

- Formulation with

Organic extracts:

of green tea, aloe,

marshmallow,

equisetum, and thyme.

With anti-oxidant and

emollient properties,

they help protect colour

and leave hair softer

and silkier.

Deco/Vitality's

The new Deco line is

the professional choice

to play freely with light

and look after hair at

the same time. Deco

contains Complex oil, a

precious blend of Cotton

oil and Illipe butter

that by nourishing the

hair helps reduce the

depleting effects of the

bleaching process. The

keratin in the formula

works synergistically with

the Complex oil to protect

hair and condition it

superbly. Deco comprises

a complete range for all

lightening needs, looking

after both scalp and hair.

Epurà /Vitality's

From the heart of nature,

to the heart of beauty.

From the unspoilt nature

of the Alps to the

advanced technology

of Vitality's labs comes

Epurá. Pura Complex:

Gentian, Mountain arnica,

Scots pine, Lemon balm,

Juniper,

St. John's Wort.

A multifunctional

botanical complex

carefully selected in

collaboration with

expert botanists to

guarantee a safe

and organic product, from

seed to extract.

Specific properties for

each type of problem and

intense fragrances.

Tone/Vitality's

Delicate tone-on-tone

colouring with no

ammonia. It works

gradually over time

and doesn't lighten

the base, for an

extremely natural colour.

Thanks to Switch-on

Technology, every nuance

was broken down

into all its tones to

scientifically balance

the percentages of

coloured pigments

and thereby obtain

pure nuances.
---
THE VEGAN* COLOUR

HIGH NATURAL INDEX

Equisetum

Marshmallow

Thyme

Green tea

Aloe

THE VEGAN HAIR DYE WITH A HIGH NATURAL INDEX

Our commitment to respecting the planet and the beauty of women

Diamond

Skin Protection

Shine

Complex

Sweet

protection

Ammonia

free

With

PTD

Organic

extracts

We love

pets

*Contains no animal-derived ingredients

vitalitys.it
---
FRAMESI

FASHION, STYLE AND

UNIQUENESS

Made in Italy since 1945, Framesi has been

working for the professional hairdresser

success providing salons with innovative,

professional products that deliver in salon

precision, predictability and performance.

In Framesi beauty and fashion blend with

individual artistry and creativity, boosted by a

cutting-edge training program.

AN IDEA. A DREAM.

The courage to believe in it and make it

come true. With the mere support of family

and friends, an Italian story of passion and

determination began. And an exclusive

alliance with hairdressers, which will never

fail, was born as well.

Mr Fabio Franchina, President. Ms Patrizia Caldera,

Marketing&Corporate Communication Director and

Mr Andrea Pace, International Director.

ABOUT US

Company Name:

Framesi SPA

Company Address:

Strada Statale dei Giovi 135

20037 Paderno Dugnano (MI)

Italy

Website:

framesi.it

Founded in:

1945

Main Brands:

Framcolor, Morphosis,

FOR-ME, Framesi Barber Gen

Main Export Destinations:

USA, Tunisia, Pakistan, Czech

Republic, UK, Switzerland,

Argentina

RESEARCH AND QUALITY PRODUCTS

•Major investments in research and in the

development of cutting-edge formulations

•The highest standards, thanks to carefully

selected raw materials and a field-proven

series of checks and controls

•State-of-the-art production technology

•Consultancy from prestigious Italian

universities and US scientific institutes

•Framesi Accessories: safety, ergonomics

and top quality applied to implements for

professional use.

LEARNING BY DOING: THE ULTIMATE

EDUCATIONAL PROJECT

A training program designed to bring Italian

fashion all over the world and turn all of

Framesi's hairstylists into 360-degree beauty

consultants and successful designers, as well

as improving their technical skills. Learning by

doing places emphasis on the importance of

high-level lifelong training, a comprehensive

program of technical and style courses in

classroom and web sessions, to please even

the most demanding professionals. The project

will be led by two extremely knowledgeable

teams: The International Technical Masters,

for tailored one-to-one consultancy, and the

Framesi International Ambassadors, locallyselected

specialist trainers.
---
REASONS WHY

ITALIAN STYLE FRAMESI AND ITALIAN

STYLE ENERGY STYLISTIC TEAMS

• The collection: a yearly research project

into colors, volumes and styling designed

to propose the latest trends and satisfy the

public's expectations

• A unique and original cutting method that

optimizes the quality/time ratio and ensures

economic advantages for the salon

• Fashion, technique and style in a series

of seminars, the contents of which can

immediately be implemented in the salon.

A family business

Our mission: To work

exclusively for the success

of the hairdresser

• 100% made in Italy

Creativity, good taste and

style: the very essence of

Italy, highly valued all over

the world

Attention to people

• A unique project based

on common goals to be

shared with staff and

customers alike
---
FRAMESI

STAR

PRODUCTS

Famcolor 2001

This line gives the

stylist an infinite range

of possibilities, all

brilliant and unalterable.

The protective antiage

formula and high

quality pigments, made

even more stable by a

special technology, make

FRAMCOLOR 2001 the

permanent color loved

most by professionals

from all over the world.

Morphosis Restructure

ritual - Salon Treatment

The Morphosis

Restructure treatment

uses plant-derived

Peptides, Fermented

Rice extract, Hyaluronic

acid and Vegan

Collagen to target

specific areas of the

hair, reconstructing

and strengthening the

structure of the shaft.

The most effective

remedy for hair with

structural damage and

loss of tone and body,

that looks dry, dull and

dehydrated, is this shaftrestructuring

ritual. In

three steps (Revitalising

Shampoo, Express Filler

and Precious Fluid),

Morphosis Restructure

restores collagen and

proteins; the hair is

instantly plumped and

reinforced in its most

damaged parts, so it is

perfectly regenerated.

The effectiveness of

Morphosis Restructure

has been jointly tested

by the cosmetics

Research and

Development Laboratory

of the Department of

Chemistry, University

of Naples Federico II,

using highly accurate

instruments.

These tests have shown

that, after using the

Morphosis Restructure

treatment, the hair is

64% stronger, 37% more

manageable and 8%

bouncier.

Decolor B Diamond

A highly performing

bleach with diamond

powder. With ultra-fast

and dust-free formula,

hair gets extra shine

and hair surface

gets smoother, more

luminous and solid.

• Fast action

• Lightening power:

over 9 LEVELS

• Very hydrating

• Brilliance effect

• Smoothed, silky,

shiny hair
---
G. COSMETICS

THE BEST SOLUTION

FOR OUR CLIENT

G. Cosmetics (Gidon Cosmetics Group) is

one of the oldest companies in Israel who

operate in the professional beauty industry

since 1974. Our products can be found in

the top location of the market: exclusive hair

salons, exclusive Hotels and SPA resorts,

beauty salons as well as professional outlets

supplying electric appliances. Using the vast

experience in R&D and knowledge of the local

and global markets, the company developed

in the last few years new line of professional

products which can provide a comprehensive

solution to world wide distributors to the

professional market who seeks to offer their

clients highest quality products with fair

prices. We own the following brands: Jul Pro

(comprehensive professional hair products),

NG-PRO – electric tools for beauty salon,

Ng Beauty – beauty salon accessories and

BALSTER – patent pending hair dryer and hair

brushes.

OUR VISION

Provide our clients with a distinct portfolio

of solutions that make the daily moments

into unique experiences. We seek to always

supply the best to our clients.

OUR VALUES

Family atmosphere: we believe that working

in a family-like ambience instills confidence

and trust, providing our employees with the

support they need to grow and perform even

better, thus maximizing our business results.

ABOUT US

Company Name:

G. Cosmetics - Gidon Cosmetics Ltd.

Company Address:

5th Shidlovsky Street, Yavne Israel

Website:

https://www.gidoncosmetics.co.il/en/

Contacts:

+972-8-9523777

ofer@gidoncosmetics.co.il

Founded in:

1974

Main Brands:

JUL, NG-PRO, NG-BEAUTY, BLASTER

Main Export Destinations:

Greece, Cyprus, USA, Central Europe, Far East

In the photo:

Reuven Shaban, President,

Ofer Mor, CEO,

Sharon Shaban, Business

Development Manager
---
REASONS WHY

Total solution for Importers

("one stop shop")

Innovative products

Flexible prices range

Focus only in the professional

beauty salon market for almost

50 years

High Global reputation

Provides fast solutions

Client orientation: we focus on our clients

and lead an ongoing dialogue with them to

gain the deepest understanding of their

needs.

Excellence: we strive to excel and to carry

out each task in the best way possible. We

don't know a better way for achieving optimal

results.

Innovation: we challenge ourselves constantly

to generate added value for our clients and

protect our position as the leaders in hair and

beauty care.

The company is private owned company

who build it's reputation through the years

by working with the global players of the

professional beauty industry. The main

focus of the company is the beauty salons

market. We are the exclusive distributors of

international brands as well as the owners of

our own brands. Our products can be found in

the top location of the market: exclusive hair

salons, exclusive Hotels and SPA resorts,

beauty salons as well as professional outlets

supplying electric appliances.
---
G. COSMETICS

WE ARE CURRENTLY REPRESENTING THE

FOLLOWING BRANDS:

Hair Professional Products

OLAPLEX - USA

JUL PRO - P.L

MATRIX - USA

Beauty Salon, Hair Salon Machines and

Furniture

MALETTI GROUP - ITALY

NILO GROUP - ITALY

TAKARA BELMONT - JAPAN

NG BEAUTY - P.L

MEGASUN - GERMANY

Tools and Accessories

NG PRO - P.L

BLASTER - UK

Framer - USA

In order to support this wide range of products

the company owns the following facilities:

- Head Quarter Offices

- Logistic Center

- The biggest show room in Israel

- Exclusive training center

- Licensed Cosmetic Factory facility
---
STAR

PRODUCTS

Occupying 1,000 Sq.

m., Gidon Cosmetics'

showroom is the

largest of its kind in

Israel, housing a broad

range of high-quality

professional brands,

including prestigious

international brands

that allow professionals

to personalize their

studios and salons

with the best furniture

and accessories with

the utmost confidence

that they bought the

best technology with

uncompromising finish.

We believe that the

beautiful and extensive

range in our showroom

will allow you to choose

the best for your

business needs and

expertise at different

price points, from

classic to trendy design.

Among others, our onestop-shop

showroom

displays treatment and

beauty beds in various

sizes and impressive

technical specification,

elegant pedicure

couches, therapist

chairs, manicure

workstations, electric

appliances, various

Lupa lamp models,

nail dryers, sterilization

equipment, massage

stones heaters, service

trolleys, massage

chairs, electric beds,

and more.
---
GA.MA

HAIR AND BEAUTY

TECHNOLOGY SPECIALISTS

GAMA Italy Professional was founded by Mario

Gardini in 1969, in the industrial outskirts of

Bologna. Since its origin, the company has

been synonymous with research and innovation,

launching the first-ever professional hair

straightener in the world. It has continued to

be a trusted brand in the Hair and Beauty

Technology sector, thanks to its innovative

approach to product design and development.

All GAMA products are designed and

manufactured based on profound market

knowledge, based on 50 years of experience,

and ongoing and continuous dialogue with

world experts. GAMA's mission has always

been to satisfy even the most demanding

professionals, while also catering to the

everyday consumer. Its main goal is to make

professional salon stylists' life easier, creating

products with a main focus on performance

and innovation, but also always keeping in

mind the latest industry trends and hair-health.

Developing a product together with the stylists

means understanding, satisfying, and going

beyond all the needs of day-to-day salon

ABOUT US

Company Name:

GA.MA SRL

Company Address:

Via Sant'Alberto, 1714

40018 San Pietro in Casale

Bologna - Italy

Tel. +39 051 666 8811

Email: info@gama.eu

Website:

www.gamaitaly.com

General Manager:

Mr. Pasquale Barillà

Export Director:

Mr. Ivan Luppi

Collections:

Professional: gama.professional,

GAMA Barber Series, Gama Salon

Exclusive. Consumer

Main Export Destinations:

North America, Europe,

Middle East, Asia
---
activities. The task is tackled using a holistic

approach: the staff immerses itself in the

professional world to unlock all its needs and

secrets, every aspect is important. We then

take the know how learnt in salon's to the

consumer, to ensure they get the most

professional experience possible, from the

comfort of their own home.

HISTORY

Since its founding, GAMA was conceived to be

an innovative game-changer that aimed to

revolutionize the industry and market. It all

started in 1969 when the creative wizardry of

a number of beauty salons inspired Mario

Gardini to seek a new way of interpreting hair

care and new tools to encourage creative

expression through hair". The end-result was

GAMA - which stands for Gardini, Mario - with

none other than the birth of the first-ever massproduced

professional hair straightener. The

launch of Quick-Heat Technology in the late

90s made the impossible possible; the

introduction of hair straighteners that heated

up and were ready to use in less than a minute,

not only changed the way professional stylists

worked but also had a massive influence in

popularizing consumer straighteners and

helping them become the staple they are

today. Quick Heat Technology was followed by

the introduction of Instant Heat Technology

(IHT), which was patented and launched in the

professional market in 2010. This innovative

technology revolutionized the world of styling,

thanks to a state-of-the-art heating element

that reaches working temperature in just 14.3

seconds, with a constant and extremely

homogeneous distribution of heat over the

entire surface of the heating plates & tubes as

long as the devices are turned on. This makes

GAMA Professional hair straighteners & curling

irons the fastest in the world to reach working

temperature, being extra- efficient while still

REASONS WHY

Focus on innovation and creativity,

putting out state-of-the art,

game-changing products with

a focus on the professional world

Italian Design

Always at the forefront

of industry trends

Over 50 years of experience

in the hair-styling industry

Versatile and complete range of

products, conceptualized to satisfy

the most demanding stylists

as well as mass consumers

protecting the hair from unnecessary heat

stress caused by changes in temperature.

Pass after pass, the end result will be always

the same: healthy, sleek, shiny hair. Another

milestone in GAMA's ongoing pursuit for

technical innovation and quality was the

introduction of the new ranges of entirely

"Made in Italy" professional hair dryers.

However, the next big industry gamechanger

would arrive with the introduction of the iQ

Perfetto at the 2019 COSMOPROF Bologna

trade fair: a groundbreaking ultralight, compact,

minimalist and disruptive professional hair

dryer that promises to start a new era in the

hairdryer market, for professionals and

consumers alike.

PROFESSIONAL WORLD

GAMA's Professional world is formed by three

main collections: gama.professional, GBS &

GAMA SALON EXCLUSIVE. They are GAMA's

top-of-the-range of professional hair dryers,

straighteners, irons, trimmers and clippers,

built with the most demanding stylists' needs

in mind. All these products blend innovative

design and the latest technology with pure

"Italian Design" and "Made in Italy" quality.

GAMA has its own Lab & Engineering facilities
---
GA.MA

in Italy dedicated to research and innovation

where each professional product is carefully

studied, developed and tested before

distribution. The motors and inner components

of the hairdryers, irons, clippers and trimmers

are thoroughly designed and built in order to

guarantee the best performance and top

reliability of each and every product.

CONSUMER WORLD

GAMA's Consumer lines were created with one

clear objective in mind: to provide a professional

experience from the comfort of your own home.

The range consists on a wide and complete

selection of professional-inspired, premium

hair-technology products put together to satisfy

the needs of every consumer, inspired by

the latest trends and technologies in the

professional industry, and the latest

developments in hair health.

STAR

PRODUCTS

IQ2

iQ2

iQ2 is the lightest hair

dryer in the professional

market, weighing only

294g / 10.3oz,

combining ultra power

and performance thanks

to an intelligent

brushless motor, it is

30% faster than any

other professional hair

dryers and has an extra

long lasting motor.

G-Style Oxy Active

G-Style Oxy Active

Compared to the first

version, iQ2 is featured

by new technologies:

TURBO function that

powers the air flow,

taking the engine to a

super speed of

120,000rpm for 30

seconds and STAND-BY

function that

automatically turns iQ2

to stand-by mode when

you place it on the Smart

Pad. The hair dryer iQ line

is the only one in the

market equipped with

Auto-Clean Reminder

technology that allows

you to remove in a few

seconds all hair residues

or dust and all dirt

trapped in filters.

iQ2 is the result of the

company's continuous

investment in Research

and Development and a

hairdryer with unique

characteristics and

performance.

G-Style Oxy Active

Hairstraighteners

The G-Style Oxy Active

IHT and the G-Style Oxy

Active IHT Classic are two

innovative professional

straighteners fitted with

Oxy-Active Technology.

Thanks to the emission

of active oxygen with

antibacterial properties,

this technology guarantees

shiny, elastic hair and

deep-cleansing of the

scalp. They are also

especially designed to

Series GBS

enhance the health of

permanently colored hair,

by neutralizing the

negative effect of the

coloring treatment's

chemicals, closing the

hair cuticles and

protecting the hair's

surface from the damage

produced by free radicals.

This generates the Color

Lock effect, brighter and

greater lasting color.

Pro Power 10

Pro Power 10 is the hair

clipper equipped with an

ultra-powerful high

performing professional

motor that reaches 9000

rpm. It is also equipped

with a fast-charging

lithium-ion battery: just

1.5 hours is enough to

get 90 minutes of

autonomy. Its ultra-sharp

stainless-steel blade

ensures a delicate and

precise cut. By using the

side lever, it's possible to

get 5 different

adjustments of the height

of the blade from 0.3

mm to 3.3 mm and with

the 4 guide combs

included, it can adjust

the length of the cut from

3 to 12 mm. The cordcordless

function allows

to work both with and

without the cable.

Series GBS

Our passion for styling

led GAMA researchers

back to their roots, to the

Barber Shop, the place

that has historically been

every true gentleman's

special place to relax and

take care of himself.

GBS, or GAMA BARBER

SERIES was inspired by

the world's best Barber

Shops and the latest

global grooming trends. It

is an extremely versatile

and elegant barber line

composed by magnetic

clippers, a clipper,

trimmer, shaver and a

straightener; all designed

for cutting, trimming,

shaving and finishing

styles with maximum

precision. Thanks to

state-of-the-art

technology and highquality

materials, the line

offers exceptional results

and meets the demands

of the toughest

customers.
---
HSA

COSMETICS

A GREAT EXPERTISE IN THE

HAIR CARE INDUSTRIES

HSA is the Italian company specialised in

the production and marketing of cutting-edge

products in trichologic and cosmetic sectors

for private label and own brands. With a

strong expertise in hair dyes, today HSA has

expanded its range of hair care and skin

products, creating successful brands thanks

to pioneering concepts and formulas. Partner

of more than 200 brands in 90 countries,

it offers 1000 formulas Made in Italy and

5 brands: Eslabondexx, Nouvelle, Silky,

Guudcure, Addplex.

created in 1982 in Varese in the heart of

Europe, HSA Cosmetics is an Italian private

label cosmetics manufacturer specialising in

the production and marketing of cutting-edge

cosmetic products. Everything started with a

dream: founded by the Zanzi family with the

aim of developing an important expertise in

hair color, HSA has now expanded its range of

hair care, face and body products. Nowadays,

HSA has become the ideal marketing partner

for companies that intend adopting a 360

degree beauty approach to their brands and

ABOUT US

Company Name: H.S.A. COSMETICS

Company Address:

via Ugo Foscolo 27

21050 Bisuschio (Varese) - Italy

Website:

www.hsacosmetics.com

E-mail: hsa@hsacosmetics.com

Phone: +390332474654

Founded in:

1982

CEO:

Mr Stefano Zanzi

General Manager:

Mr Davide Zanzi

Marketing Manager:

Mr Paolo Delle Piane

Main Brands:

Nouvelle, Silky, Eslabondexx, Addplex, Guudcure

Main Export Destinations:

India, China, Asia Pacific, Central America

Above Stefano and

Davide Zanzi, founders of

HSA in 1982. Left, Paolo

Delle Piane, marketing

manager.
---
HSA works to reduce the

impact of packaging,

eliminating overly heavy or

bulky secondary and primary

packaging. HSA decided not to

use any more cellophane film

in the packaging of hair dyes,

resulting in a saving of about

15 tons of plastic per year.

want to rock the cosmetic market by creating

something unique. HSA is the private label

cosmetics manufacturer that creates and

manufactures in Italy to protect an originality

recognised the world over. It is present in 90

countries on the 5 continents, helping beauty

brands with their private label skin care and

hair care lines.

OUR VISION, OUR FUTURE

HSA is reaching for the sky. We want to be the

most sought after and desired private label

cosmetic manufacturer in the beauty industry

thanks to our ability to connect customers with

their dreams. We offer unexpected pioneering

product concepts, formulas, design and fullservice

to make your brand shine like the

brightest of the stars. As a private label

cosmetics manufacturer, we always work hard

to reach the highest standards and discover

new solutions to offer to our customers.

We can transform your cosmetic lines into

beloved and successful beauty brands.

OUR MISSION 4 YOU

We design concepts and product lines for

haircare and skincare dedicated to brands

with a high level of personalisation, enabling

each customer company to be unique and

distinctive in its own reference market with

steady growth. With a consolidated thirty-year

international experience, we are the private

label cosmetics manufacturer delivering

quality, creativity and security in customer

projects and inspiring them to spread

innovative and profitable beauty concepts.

REASONS WHY

High level of product customization

for every single client

More than 40 years of expertise

in the hair care industry

One of the worldwide leader in

hair dyes

Private label marketing approach

with yearly trend book and

cosmetic innovation book

From bulk production to full

service production

International presence in more

than 90 countries
---
HSA COSMETICS

The soul of Nouvelle is contemporary,

colorful. The exuberance and originality

of the brand find solid foundations in the

critical interpretation of different artistic

periods, cultural movements, painters

and creatives who have expressed their

concept of color and beauty.

STAR PRODUCTS

Addmino-18 Hair

Reborn Elixir

Rebirth spray is a

vegan friendly spray

that preserves and

protects the hair

structure, by preventing

it from damages

caused by chemical and

mechanical treatments.

It is based on a "3

power technology",

resulting from a blend

of fruit acids, mineral

salts and fermented

green coffee. To be

applied before the

chemical treatment, in

salons services. If part

of a hair care routine,

to be applied after

shampooing.

Eslabondexx Color

Hair Mask

Demi-permanent

coloring mask with fruit

acids and blueberry

extract. Revives the

color of bleached

hair, moisturising and

restructuring it. 4

splendid toning and

reviving colors for hair

that is always radiant

and nourished.

Guudcure Age Balance

Gravity Day Cream

Firming elasticizing face

cream that helps to slow

sagging skin on the face

and neck. Encourages

correct elastic fibre

architecture, maintaining

tissue structure.

With pre and probiotics.
---
We fulfill Hair & Skin dreams

bringing your brand to life

Connect yourself with the most

innovative company for private

label production of personalized

cosmetics.

Find out how to become one of our

"customer partners". Thanks to an

expertise of over 30 years in hair color,

hair care and skin care products and with

a portfolio of more than 1000 formulas,

we offer made in italy full services to

more than 200 brands in 90 countries

around the world.

connect yourself with your dreams : hsacosmetics.com - shop.hsacosmetics.com - hsa@hsacosmetics.com
---
INDUSTRIAS

ORIOL

80 YEARS IN THE SERVICE

SECTOR

Founded in 1942 by Narcís Oriol Quintana,

Industrias Oriol has devoted their efforts to

the manufacture of items for the hairdressing

sector. They are pioneers in both the design

and manufacture of these items in Spain.

Their wide range of products include more

than 3,000 references; clips, rollers, combs,

brushes, capes, neck wrap paper, hair

straighteners… The quality of their products

is endorsed by 80 years of experience. This,

together with the full dedication and the

constant efforts of a solid team, has led them

to become leaders in the hairdressing and

beauty sector in Spain since the 80's, and

their prestige has now crossed borders. They

currently export to more than 70 countries

and own a wide distribution network not only

in the domestic market but also overseas.

ABOUT US

Company Name:

Industrias Oriol

1942 S.L.U.

Company Address:

Ciudad de Asunción, 56

Barcelona - Spain

Tel. +34 932740784

Website:

www.eurostil.com

Started in:

1942

President:

Mr Miquel Oriol and Mr

Narcís Oriol (son)

Founder:

Mr Narcís Oriol

Export Manager:

Mr Alessandro Labate

For info write to:

Export3@eurostil.com

Number of employees:

48

Turnover 2020:

18,5 million euros

Main Brands:

Eurostil l, Pollié, Tassel

Cosmetics and Ragnar

Their core idea has always been to supply

quality products. This effort has been

successfully rewarded by a huge growth which

led them to enlarge and modernize their

facilities. Today, they have a modern factory

and offices in Barcelona housed in a total

area of 16,000 m 2 .

FROM BARCELONA TO

THE FIVE CONTINENTS

In the 80's they started supplying clients

in France and Italy, and step by step, the

export business has been growing until

the present day. This field is so important

that Industrias Oriol, in addition to the

headquarters in Barcelona, owns a subsidiary

with a manufacturing area in Buenos Aires

which was started up in 2013. Starting

from the origin with these hand-made hair

clips, now the company has three business

lines: Eurostil (hairdressing supplies),

Pollié (aesthetics) and Tassel Cosmetics,

(professional cosmetics) and Barber Line

(Barber Products) with over 3,500 references.

From the very beginning, Industrias Oriol

has only sold their products to distributors

and wholesalers. Currently they have over

2,000 clients in Spain and more than 1,000

worldwide. The relationship is based in their

trust in the brand and the shared goal of

"market protection".
---
REASONS WHY

Founded in 1942 by

Narcís Oriol Quintana

A family company

with headquarters in

Barcelona and subsidiary

in Buenos Aires

Manufacturers and

importers in the sector.

Renowned names in

the sector including

hairdressing, beauty and

cosmetics top brands

Leaders in the Spanish

market, with presence in

in more than 70 countries

worldwide

Committed to their

distributors Worldwide

STAR

PRODUCTS

DYE COLOUR DOUSSE

103 colours

manufactured by us

and with and without

ammonia 100%

coberture with 12 oils

to moisture the hair

at the same time we

colour it.

NECK WRAP PAPER

This highly prestigious

reference is essential

for barbers and

one of the products

Industrias Oriols has

been producing for

a long time and is a

bestselling export.

Each roll serves 100

services.

DETANGLE BRUSH

Three pin sizes and fully

injected plastic. Available

in different colours and

combinations.

ROLLER

Our reference 0000 is

one of the first products

we start manufacturing

and one of the

emblematic products

of the company in pink

colour.

PROFESSIONAL COMBS

For hairdressers and

barbers, manufacture by

us in different materials

and colours.
---
INEBRYA

WELCOME TO A NEW

SENSORIAL EXPERIENCE

Inebrya is the professional haircare brand

created in Italy for the hair artists of the world.

The brand name comes from the Italian verb

"inebriare" which means to exhilarate, to

stimulate, to excite. The Inebrya products

"inebriano" because they move the senses

through the colors (packaging and fluids)

and the fragrances that fulfill the air since

the first born in 1999. These features are

rooted in the brand's DNA which stands for

high sensorial experiences. In the Italian

laboratories every new product is conceived,

developed and produced selecting with great

accuracy cosmetic and delicate fragrances,

innovative transforming textures and sensorial

packagings. Being a professional haircare

brand means offering products covering all

the needs the end consumers want to solve

when approaching their hairdressers. For this

reason Inebrya offers a wide product range

covering the following 3 areas: technical,

treatment & care, styling & finishing. Today

Inebrya is distributed in more than 60 different

countries of the world, and aims at reaching,

empowering and helping more professionals

and customers around the globe.

ABOUT US

Company Name:

Pettenon

Cosmetics

S.p.A. SB

A group company of

Agf88 Holding

Company Address:

via del Palù 7/d

35018 San Martino

di Lupari (PD) - Italy

Brand:

Inebrya

Founded in:

1999

Website:

www.inebrya.it

Main Brands:

Blondesse, Ice Cream,

Inebrya Color & Bionic

Main Export

Destinations:

more than 60

countries

in the world

REASONS WHY

Sensorial experience as a point

of differentiation

Ultra femininity and elegant

maximalism

Complete professional range

The reference brand for technical

performance

Constant research and innovation

International education programs

(training and events)

100% made in Italy

Worldwide distribution

More than 20 years of expertise
---
STAR

PRODUCTS

INEBRYA COLOR AND

TREATMENT

INEBRYA has always

targeted hairstylists to

enhance their creativity.

The new INEBRYA

COLOR range has added

two new colour lines

in five shades as well

as an innovative

treatment range

targeting coloured hair.

NEW INEBRYA COLOR

SHADES

Inebrya Color includes

118 vibrant shades in a

totally new ultrafeminin

packaging; the pack is

also innovative:

• Tubes are made

from 100% recycled

aluminium (PCR);

• The secondary packaging

dissolves at 90%

in 6 months* and it's

PFC and PFSC certified;

• Free from heavy

metals and fluorine in

% above standard.

The 2 new colour

ranges are Royal Blue

and Cherry Violet.

Royal Blue colours are

concentrated creative

blue shades that lift

and dye natural light

brown hair and enhance

the dark blue reflection

on bleached hair, thus

resulting in cool, intense

and long-lasting hair.

They draw inspiration

from a quintessential

element: water. Cherry

Violets are creative

colours with blue

and iris cool shades,

designed for medium

brown and lightened

hair, aiming at achieving

a deeper and refined

shade.

INEBRYA COLOR

TREATMENT

The Inebrya Color

treatment is specific

for rinsing cosmetic

colour in the salon

and maintaining its

brightness and

durability at home.

The active ingredients

of Inebrya Color are

Sodium Gluconate, with

anti-pollution action; a

special molecule used

to neutralise unpleasant

odours in the colouring

service; Algae Extract,

derived from 3

moisturising, protective

and toning algae.

The line includes 4

product, and only one

is to be used in salon

only - in the first step

of the treatment:

Color Perfect Locker.

COLOR PERFECT

LOCKER - STEP 1

Colour-protecting spray,

formulated with Red

Algae and Sodium

Gluconate. It stabilizes

cosmetic colour,

improves durability

and depth over time.

It is enriched with

a special molecule

that captures and

neutralises unpleasant

odours in technical

services. It leaves the

hair protected and with

a pleasant fragrance.

COLOR PERFECT

SHAMPOO - STEP 2

Its balanced formula

gently cleanses hair and

scalp, leaving it instantly

soft and shiny, without

weighing it down.

The exclusive synergy of

Red Algae and Sodium

Gluconate prevents

colour fading over time

and has an effective

anti-pollution action,

protecting the hair from

external agents.

COLOR PERFECT MASK

- STEP 3

Its formula enriched

with Red Algae and

Sodium Gluconate

detangles and deeply

nourishes the hair

without weighing it

down, it seals colour

and protects the hair

fibre from external

pollutants.

The hair is silky, bright

and easy to comb.

COLOR PERFECT

SHINE OIL - STEP 4 -

FINISHING

It makes hair instantly

radiant and luminous

to the eye, soft and silky

to the touch.
---
INNOLUXE

UNLEASH YOUR

OUTRAGEOUS

OVERVIEW

Meet INNOluxe, we think it's pretty impressive…

This British bond-builder brand's game-changing

protein technology has been rewriting haircare

ever since 2015. In fact, world-famous colourist

Sophia HIlton credits INNOluxe with allowing

her to create all the show-stopping looks she's

renowned for - and that's why we invited her to

be our Brand Ambassador and she graciously

accepted!

A BOND-BUILDER WITH A DIFFERENCE

INNOluxe's signature in-salon treatment makes

insanely vibrant, healthy colour possible by

repairing hair and protecting it while you work.

Managing Director

Jez Barnett

Operations Director

John Hubbard

PR Manager

Katie Braden

ABOUT US

Company Name:

INNOluxe Ltd..

Company Address:

Unit 8G, Old Hall Farmyard,

Priory Lane, Little

Wymondley, SG4 7BL, GB.

Website:

www.innoluxe.com

Founded in:

2014

Number of Employees:

10

Main Brands:

INNOluxe

Moreover, this treatment can also be adapted

into an intensely luxurious Stand-Alone

treatment, or used to protect and repair hair

during all technical services.

No matter how you decide to use it, the results

will always speak for themselves. Clients and

salons absolutely LOVE it, especially because

– unlike other bond builders – it leaves the

hair feeling luxuriously soft and with an

unbelievable shine. Your clients can see and

feel the difference from the very first time they

try it, so it pretty much sells itself! This means

they will be eager to request INNOluxe at their

next appointment!

"QUITE FRANKLY, IT'S THE BEST"

Simple and concise. This comment by Sophia

Hilton is why INNOluxe is super-excited and

proud that the founder of London's Not Another

Salon, multiple award winner and all-round

'Queen of Colour', is the INNOluxe brand

ambassador.

"INNOluxe V2 takes it further than I thought

would ever be possible," she says. "V2 works

both inside and out. It rebuilds the hair like

never before, but equally important, the client's

going to feel it and ask for it again and again

and again."

TAKE THE LUXURY HOME

In addition to in-salon treatments, INNOluxe also

offers an excellent retail opportunity for salons.

Our PLATINUM and #SAVED ranges let clients

take INNOluxe luxury home with them, as does

our much-loved leave-in treatment, Elixir V2.
---
Not only does INNOluxe strengthen hair, it also leaves is soft to

the touch and shiny. After just one application, customers will

request it at every visit.

REASONS WHY

Strengthens hair while adding

shine and softness

Huge return on investment

Zero waste thanks to a syringe

measuring system

No minimum order

Fantastic retail opportunities

with in-salon sales

CREATED BY JEZ BARNETT

Jez Barnett has an overwhelming passion for

the science behind healthy hair. He grew up

around his family's hair salons and has over 30

years' experience in hairdressing with some of

the biggest names in the business.

It was an inevitable evolution that Jez would

being focussing on developing treatments

of his own with a view to helping colourists

everywhere push the creativity of their work

further than ever before.

Co-founder John Hubbard is a highly pragmatic

and talented businessman who perfectly

complements Jez's creativity and vision.

Together they are a dream team for delivering

INNOluxe to markets in every corner of the

globe.

INNOluxe also makes a big difference in a

salon's bottom line with a huge return on

investments. Indeed, salons that choose

INNOluxe report charging 20% extra on their

colour bills. And the super accurate INNOluxe

syringe measuring system also means zero

wastage.

Another enormous advantage is that there is

no minimum order. Just order what you need,

when you need it. You can buy as few or as

many professional products at a time as you

like – it's up to you. Then boost retail sales by

making available luxurious INNOluxe products

to use at home. A win for everyone involved!

GLOBAL AMBITIONS

INNOluxe is currently available in India,

Pakistan, Cyprus, the United Arab Emirates,

Kuwait, and Ireland. They are entertaining

potential expansion in the USA, Canada, other

EU member nations, South America, Russia,

and Turkey.
---
INNOLUXE

STAR

PRODUCTS

INNOluxe V2

A ground-breaking bondbuilder

treatment that

can be used with colour,

technical services or as

a Stand-Alone pampering

in-salon treatment. It

uses our world-leading

AminoBond protein

technology to rebuild

hair and prevent damage

as you work, and salons

and clients alike rave

about it! As well as V2's

salon-only products, the

range also includes our

much-loved Elixir V2,

a highly-concentrated

leave-in treatment that

clients can use at home.

#SAVED

Deiivering the power

of INNOluxe to shower

cubicles around the

globe. This range of

luxurious Shampoo,

Conditioner and Mask

is designed to enhance

colour and make it last

longer, but are also

brilliant for all hair,

even hair that's never

been coloured. They're

rich in sumptuous

ingredients that nourish

and condition hair so

that it looks and feels

fabulous, as well as

helping colour last longer

Platinum

A gorgeous range of

toning shampoos,

designed with supercool

blondes in mind.

Platinum Shampoo,

Conditioner and Mask

use deep purple and

blue pigments to

neutralise pesky warm

tones. And unlike

many similar ranges,

they leave hair feeling

fantastically soft,

luxurious and shiny.

Clients and salons love

it for keeping platinum

blondes and grey hues

cool, as well as for the

amazingly healthy look

and feel you're left with

after each use.
---
Do you know

INNOluxe?

"We've worked with many of the other

competing brands, and quite frankly they

don't compare. Not even close!"

@house_hairandbeauty

FIND OUT

MORE

"INNOluxe V2 takes it further than I

thought was possible."

·

SOPHIA HILTON

FOUNDER AND DIRECTOR OF NOT ANOTHER SALON

@innoluxe

@innoluxe

@innoluxeuk
---
FINELGA

HOLDING

RESEARCH AND

INNOVATION

ITELY HAIRFASHION is proudly part of FINELGA

HOLDING, the holding company of Fusaro's

Family. The main activity of FINELGA HOLDING

is in the Cosmetic and Beauty Business offering

also private label manufacturing services.

FINELGA HOLDING owns many brands

including: Itely Hairfashion, Revivre, PatriciaMI,

Flosé, Ysothea, Bi&lita, Glazette and many

more.

ITELY HAIRFASHION

"Over 40 years trying to make people feel and

look better and…" says Lucio Fusaro, founder

and President of ITELY HAIRFASHION, smiling

– …and it seems yesterday when that young

entrepreneur decided to leave a sport career

to create a new future. What a journey!".

Yes, with good achievements: turnover of

80 Mio euro, 80 countries involved and

more than 3.000 people (including about

400 in Italy), where still the Family is involved

in first line, leading the way in Italy and in

the several subsidiaries around the Globe.

"We look for a holistic approach where the

professionals and the consumers may find all

their needs in terms of beauty, health and

From left to right: Lucio Fusaro,

Chiara Fusaro and Francesco Ioppolo.

ABOUT US

Company Name:

G.V.F. GIVIEFFE Spa

Company Address:

Via Giovanni Falcone, 8

20080 Vernate (MI) - Italy

Phone: +390290093743

Email: info@itelyhairfashion.it

Website:

www.itelyhairfashion.com

Founded in:

1987

Founder and President:

Mr Lucio Fusaro

Marketing Manager:

Ms Chiara Fusaro

International Business Manager:

Mr Francesco Ioppolo

Main Brands:

Itely Hairfashion

Number of employees:

3.000
---
wellbeing" – says Chiara Fusaro, shareholder

and Marketing Manager of ITELY HAIRFASHION

– "our uniqueness stand exactly in this. Our

group is a pioneer in developing a 360° approach

to Beauty". "Thanks to the synergies in our

productions we may offer hair care and color,

skincare and food supplements at the same

time, becoming the first and only "one-stop

partner" for any project in Beauty and Wellbeing,

obviously all MADE IN ITALY" says Francesco

Ioppolo, International business manager.

INNOVATION AND EDUCATION

ITELY HAIRFASHION is the family of products

dedicated to the professional hair coloring and

REASONS WHY

More than 35 years in the beauty

business

Strong commitment in training

and education

Constant innovation and

development

Multi-sector specialization

Customizable cooperation

Strong international network

Certified quality and customer

service
---
ITELY HAIRFASHION

all technical services. Within its range all

professional stylists are able to find solutions

and inspirations for their work. The company,

besides a continue research of new formulations

and a constant upgrade of its operations, offers

a consistent support in marketing and education

to its customers and partners all around the

World with its internal staff and a well-developed

network of trainers. "Easy to use and easy to

sell" – says Lucio Fusaro – "this was the first

statement we used when we landed in the

United States, back in the 80's. Today we also

proudly say easy to import, thanks to our ISO

certifications (ISO 9001 and 22716) that offer

an additional guarantee of service and safety".

STAR

PRODUCTS

Aquarely

Permanent hair color

formulated with

innovative microemulsified

nanopigments

able to deeply

penetrate into the

keratin cavity, bind to

the fibers of the hair

and the color will be

more uniform, bright

and durable. The low

content of ammonia

and Hydrolyzed Wheat

Proteins provide

protection, hydration

and healthy hair.

100 ml tubo – mix: 1:1,5

Iconic Blonde

Extra performance hair

decolorizer. Innovative,

ultra-performance

decolorizer enriched

with the exclusive &-Plex

Bond Repair, which

eliminates yellow

Colorly Optimus

Permanent hair color

cream, with reduced

ammonia content in

a 60 ml tube.

Color adhesion, longevity,

flawless results, gray

hair coverage (even the

most refractory ones)

are guaranteed and

tested thanks to the

Mediterranean blend

and the patented &-plex

Bond Repair. Mix 1:1

residue when lightening.

Ideal for lightening

techniques using foil

or thermal strips to

achieve higher lightening

results of up to 9

shades. ICONIC

BLONDE is a compact,

microgranular,

decolorant powder.

Does not swell and is

easy to mix and apply.
---
JEAN PAUL

MYNE'

LOVE FOR LIFE:

JEAN PAUL MYNÈ

OUR MISSION

In three words: Hair, Health, Innovation. It is a

story of daily commitment to find innovative

solutions that guarantee results. Our focus is

the hair beauty and health respecting the hair

dressers professional skills.

CONCEPT AND ORIGINS

Our starting point was the synergy of an

excellent scientific department linked with

commercial and strategic skills and the

desire to give the hairdressers a new vision

that put in the middle their guests will. We

found a perfect balance between natural

active ingredients that are safe and effective

to develop formulas that truly work on hair.

INNOVATION AND MORE

Jean Paul Mynè produces and sales cosmetic

products for hair, using natural raw materials.

We never stop studying new solutions different

from those already present on the market

to go beyond traditional limits. Available

exclusively in the professional channels in

Italy and in more than 40 Countries all over

the World. Jean Paul Mynè products are loved

ABOUT US

Company Name:

Jean Paul Mynè

Company Address:

Via Galileo Galilei, 80

Sant'Elpidio a Mare (FM) - Italy

Website:

www.jeanpaulmyne.com

Founded in:

2010

Ceo and Co-Founder:

Mr. Mauro Di Claudio

Marketing Manager:

Ms. Eliana Savino

Export Managers:

Ms. Emanuela Cavalieri, Ms. Marta Rossi

Main Brands:

Keratin Plus, Oxilock Plasma, Doc Color, Color

Juice, Ocrys, Organic Touch, Thermo Repair

Main Export Destinations:

Holland, Spain, Russia, Belgium, Israel, UAE,

Egypt, Poland, Denmark, France

Attention to the needs of salon professionals

with dedicated courses and events for a comprehensive

professional approach to training.
---
Events, shows, fairs, and hair

fashion: Jean Paul Mynè offers

their hairdressing partners

complete and highly effective

professional training as well as

high-quality products.

for the innovative formulas, for the design

and for the extraordinary results.

CORPORATE STRUCTURE

Marketing & Design Division, Education

Division, Export Division, Administrative

Offices and Logistics Department are located

at company headquarters in Sant'Elpidio a

Mare, while the R&D Centre and production

site are in Ascoli Piceno. We have been

working in Italy since 2011 and today we

cover about 40 Countries in the World from

Northern Europe to Egypt. We have also

successfully penetrated the Russian market.

Growth has been significant, especially during

the last three years, thanks to new markets

openings and the introduction of important

innovations in this sector.

EXCELLING IN EXPORT

Our strategy for the international markets

is to support new distribution partners with

a solid education during technical training

on the products and on the brand, after

that we think marketing and communication

strategies based on the specific needs of the

Country where our partners operate. Export

Department grew rapidly with dedicated

resources that are focused on opening new

markets. They also develop and take care

of clients with their needs in terms of sales,

marketing, and training. Among the Countries

to be developed, commercial partnerships are

being planned in England and in the United

States, where the market expressed great

interest in our Company.

REASONS WHY

INNOVATION

RESEARCH

NATURAL INGREDIENTS

HAIR COLOR GOURMET EXPERIENCE

SAFETY
---
JEAN PAUL MYNÈ'

STAR

PRODUCTS

FAIRS AND EVENTS

In the hairdressing sector, events are

important to communicate our Brand and

to have visibility. Jean Paul Mynè attends

regularly Cosmoprof Bologna, which is one

of the most prestigious international trade

fairs, as well as many other fairs worldwide,

in collaboration with our foreign partners.

We organize exclusive training courses at

Jacademy, an academy dedicated to the

education of hairdressers where they learn

how to use Jean Paul Mynè products.

A SYSTEM OF PRODUCTS

There is no hero product or line. The

hairdressers who discover Jean Paul Mynè

choose this brand for the reliability and

innovation that differentiated the entire

system. The brand was born with Keratin Plus

Gold and it was the first to propose a safe,

healthy, no-formaldehyde formula to provide

the market with a reliable solution for longerlasting

smooth, manageable hair. Ever since,

each launch has been driven by the desire

to create an alternative and unconventional

solution to meet the needs of professional

hairdressers and find a balance between

health, natural active ingredients, and respect

for the environment.

Keratin Plus Infinity

This product represents

the perfect convergence

of smoothing and

the development

of high-performance

methods and

technologies to facilitate

and optimise the

hairdresser's work.

In its new liquid version

and spray application,

Keratin Plus Infinity

is a 3rd-generation

smoothing treatment

that is simplified and

improves results by

reconstructing and

restoring damaged hair.

Kyklos

Kyklos is the new Jean

Paul Mynè integrated

hair loss system,

consisting of valuable

cosmetic synergies

and liquid shampoos

that are combined with

food supplements.

The formulation

of cosmeceutical

products and of food

supplements are

specifically developed to

prevent and counteract

the imperfections of

the scalp and hair

loss for specific needs

of different person,

functional and flexible.

Doc Color

An ammoniafree

approach to

unconventional color,

with no water and an

aloe vera base.

Doc Color is a Gourmet

color experience with

gentle active ingredients,

offers high coverage and

intense highlights.

Color Juice

Transforms the

conventional cream

color experience in

terms of packaging,

ingredients and results.

It is ammonia-smart, with

no water and contains up

to 75% aloe vera.

Keratin Plus Color

Is the first professional,

Italian wine-inspired

color enhanced with

grapeseed oil, red grape

extract and Oxilamine®.

The high concentration of

polyphenols results in an

unprecedented formula

that strengthens and

restores the hair shaft,

brightening dull hair

with unique colors. The

world-renowned power of

Oxilamine®technology by

Keratin Plus reaches its

full potential in Keratin

Plus Color, rebuilding,

restoring, and illuminating

the hair during the color

processing time.

Oxilock Plasma

This exclusive complex

of substances of organic

origins, guarantees the

possibility to revitalise

damaged keratin fibres.

With any chemical

treatment, it restores hair

health with surprising

results.
---
LE VIE

DELLA TERRA

FOR PROFESSIONAL

HAIRDRESSERS

It was 2010 when the De Col family, owner of

the Italian company Poker s.r.l, decided to

acquire another Italian brand: Le Vie Della

Terra. Both Poker and Le Vie Della Terra were

born at the end of the last century: the first in

1978, the second in 1990. Managed by two

brothers - Gianluca and Andrea De Col - in a

few years Poker has become a leader in the

distribution and sale of products in Italy. The

company is now located in 17 different cities

and has 6 locations dedicated to training.

Today Italian customers can count on the

experience of 60 sales managers who cover

almost all of Italy. 100% Made in Italy products,

research for innovation and continuous training

dedicated to its customers are the strengths

that characterize Le Vie Della Terra. There are

many products that the LVDT brand can offer:

from the Triskell trichological line, whose

ingredients include certified organic extracts,

to hair dyes and styling products. In 2021 was

launched the MAC line, dedicated to styling

products. With MAC, LVDT underlines and

renews its commitment to the environment by

paying particular attention to the choice of

packaging and labels for its products. The

labels are in FSC paper, certification already

introduced in the highly performing line

K-Hemp, the straightening line based on

vegetable keratin and Indian Hemp oil, that

gives the hair a long-lasting smoothness.The

brand gives great importance to marketing

strategy and planning, two concepts included

in the "Quality Partner" project: it provides

monthly support to salons with promotions,

innovative services and marketing materials.

ABOUT US

Company Name:

Poker s.r.l.

Company Address:

Via Austria, 28

41122 Modena - Italy

Tel. +39 059 311655

Email: info@pokersrl.it

Website:

www.leviedellaterra.it

Founded in:

1978

Marketing Manager:

Mr. Gianluca De Col

Export Manager:

Mr. Andrea De Col

Export Manager

Mr. Marco Gadda

Number

of employees:

65

Main Brands:

Le Vie della Terra,

Hair Potion,

Tricobotanica
---
REASONS WHY

Excellence 100% Made in Italy

Technical and stylistic seminars

held throughout Italy

Support in communication and

marketing strategies for partner

salon business development

40+ years of experience in the

professional trichology sector

Hair trend collections

Shows and training organizations

STAR

PRODUCTS

Communication through social media and

courses aimed at customer education are also

part of the plan. Last but not least, for all

lovers of new trends, LVDT offers its SS / AW

fashion collections, in collaboration with

international hair stylists: a collection on the

new cut and color trends that inspire all

fashion-loving people.

K-Hemp

LVFrom the professional

experience of LVDT

comes K-HEMP, the line

of treatments based on

vegetable keratin and

Indian hemp oil. Safe

(free of toxic aldehydes),

performing, flexible, able

to satisfy all smoothing

needs, guaranteeing

extraordinary results

even on the most

difficult hair. K-HEMP

gives straight, healthy,

shiny and soft hair.

Color Life

Nourishing Color Mask

is LVDT's nourishing

coloring mask enriched

with Indian hemp oil and

grapefruit water from

organic farming. It

revives, intensifies and

totalizes the color of

natural, colored or

streaked hair. There are

7 colors available: ice

silver, blueberry purple,

vanilla gold, orange red,

cherry red and

chocolate brown.

MAC

The 100% Made in Italy

LVDT styling range has

12 exclusive

formulations that

support the

hairdresser's inspiration

to express their style in

a unique way. A line

based on minimalism

and creativity with

essential packaging that

is 98% recyclable.

Innovative in graphics,

colors, scents and

infinite combinations of

use of the products.
---
LISAP

WE DO BEAUTIFUL

HAIR

Lisap is an Italian company with a history of 70

years of production and sale of products for

haircare made for the professionals of the

sector, the hairstylists. Lisap has always been

a reliable partner for them, a guarantee of

products with unmistakable quality and high

performances. However, in such a competitive

sector as the hair sector, this was no longer

enough to aim for excellence.

OUR PHILOPHY

Lisap believes in a non-Utopian concept of

beauty and totally free of stereotypes, where

the uniqueness of each client is exalted and the

best is brought out, but never turned upsidedown.

Its values are its story, technological and

formula innovation, Italian production combined

with an international approach that can take

product and service into a professional and

international beauty network.

With 5 lines of colour, 1 line of aerosol and 2

lines of liquid fillings, Lisap is proud of being

one of the few Italian manufacturing companies

and of being present on 5 continents.

In Italy, the distribution network made up

of 80 commercial agents guarantees the

completeness of distribution in professional

salons nationwide. Abroad, distribution is in

ABOUT US

Company Name:

Lisap Laboratori Cosmetici

Company Address:

Via Monte Lungo, 59 Rescaldina (Mi) - Italy

Website:

lisapitalia.com

Marketing manager:

Mr Luca Papetti, Ceo

Mr Alessandro Locatelli, export manager

Ms Silvia Chiari, Subsidiaries

and customer service export manager

Main Brands:

Lisap portfolio

Main Export Destinations: Asia, America,

Australia, Spain, Germany, Europe

Desidered Export Destination:

South America

Number of employees:

120

The Lisap Garden contains a total of 500 plants, with organic growing methods.

Natural methods were chosen to care for the plants, such as organic fertilizers, a drip

irrigation system and weather control stations to monitor soil humidity.
---
REASONS WHY

High quality of its products

High professionalism

of the services

The consolidated experience

of its collaborators, trainers

and mentors.

Almost 70 years of history,

the best is yet to come

LIGHT SCALE CARE SPRAY. No Yellow Spray

No yellow purple spray for blonde, lightened, bleached or natural grey

hair. Harmonises the hair's shine, depositing a special purple pigment

that helps neutralise unwanted yellow tones if used regularly.

Doesn't weigh the hair down, gently conditions and untangles the hair.

The Diamond Dust and Hydrolyzed Pearl contained within respect

the hair structure, offering exceptional shine, strengthening the hair

shaft and making it visibly healthier.

the care of 5 commercial branches and 4

country managers who work on developing the

brand in the market of reference.

The portfolio of Lisap products is also continuously

evolving and every reference is the result of the

work of a team of people, involving the laboratory,

quality control, production, marketing and

technical departments.

A story of commercial success in Italy and

abroad: since 2000, Lisap has also made a
---
LISAP

STAR PRODUCTS

light scale Up-to-10

Light Scale Charcoal

Bleach lifts up to 10

levels that creates

perfect blonde and

leaves hair healthy

and hydrated. The

charcoal not only gives

the bleaching paste

its characteristic black

color, it also neutralizes

unwanted yellow/

orange undertones

whilst purifying the hair.

Charcoal Sugar

Complex, a dual-action

complex of sugars and

charcoal. The sugars

work on the surface,

in the cuticle, protecting

and hydrating the

hair throughout the

lightening process.

The combination

of the Charcoal Sugar

Complex and the blend

of natural oils makes

the formula gentler,

leaving the hair visibly

healthier.

Vegan formulas and

totally Made in Italy to

guarantee the highest

quality and performance

standards. In addition

to all this, inside

we find special

ingredients that protect

the hair and improve

the final result in terms

of cosmetic effect.

Re.Fresh Color Mask

Pigmented mask to

revive and tone the color

of natural, colored

and bleached hair.

Ideal for maintaining,

retouching and reviving

color at home.pigmented

mask to revive

and tone the color

of natural, colored and

bleached hair.

Ideal for maintaining,

retouching and reviving

color at home.

Keep Control

Natural Waves

Keep Control Perfect

Waves is the ideal

treatment for creating

soft, supple and natural

curls. A unique formula

with different exposure

times to achieve the

desired result on all hair

types.The system uses

name for itself at worldwide level, with the

opening of numerous commercial branches: in

2015 it opened the branch in Spain, in 2016 in

Malaysia, in 2018 in the USA and in 2019 in

Australia.

In July 2021, Lisap finalized the acquisition of

the main German distributor, occupying one of

the most important markets at European level.
---
RE find your hair

perfection with

Lisap RE.TOUCH:

instant-effect

temporary hair

color for retouching

regrowth.
---
MY.ORGANICS

100% ORGANIC BODY

AND HAIRCARE PRODUCTS

MY.ORGANICS was created in 2012, with its

founder boasting a decade of experience

in the field of haircare. Advanced research,

innovative scientific technologies and a

deep understanding of the properties of

our ingredients allowed us to create 100%

organic body and haircare products, which act

respecting both our body and our environment.

"Our history starts in 1972, with our first

family salon. Sadly our father passed away

when he was only 52 because of leukemia.

This experience changed the way we look

at cosmetic products. In fact, we became

interested in some American studies on

leukemia that highlighted how dangerous

some petrochemical ingredients employed

in cosmetics are. From here the idea of an

organic and natural line was born. But we

wanted to make it different from the others:

we wanted to make it chic. We chose certified

organic ingredients and the fragrances in

order to obtain the best products". Said

Alessandro and Alberto Lievore, founders of

MY.ORGANICS.

ABOUT US

Company Name:

MY.ORGANICS-Sma srl

CompanyAddress:

Via Bianche,3 - 36010 Carré (VI) - Italy

Website:

www.myorganics.com

Founded in: 2012

Marketing Manager / Export Manager:

Mr Alessandro Lievore, Ceo & Founder

sma.srl1967@gmail.com

Mr Alberto Lievore, COO & Founder

lievore.alberto@gmail.com

Ms Sara Palmerini, Export Manager

export@myorganics.com

Main Export Destinations: Australia,

Spain, Portugal, Lithuania, Denmark,

Czech Republic, Malta, Hungary, Austria,

Germany, Romania, Ukraine, Poland,

Slovenia, Iceland, UK, USA, Russia,

Macau, Thailand, Philippines, UAE,

Pakistan, Singapore

Number of employees:

9

From left to right: Alessandro and Alberto Lievore, founders

of MY.ORGANICS and Sara Palmerini, Export Manager.

DREAMS COME TRUE

At MY.ORGANICS we want to spread the

philosophy of possibility, an example of how

dreams should not remain secret wishes, but

must become the chance to turn obstacles

into new goals. Our adventure began in 2012,

boasting a decade of experience in the field of

hair care. We chose to combine ethics with the

highest quality standards, in order to fulfil our
---
REASONS WHY

Certified Organic Ingredients

Family Company

Global Network

in over 25 countries

Combination of ethics with

the highest quality standards

goal: using nature's power to yield important

benefits for our wellbeing, without taking the

planet's health for granted.

The result is a range of 100% natural, organic

body and hair care products. Thanks to a global

network of official distributors present in over

25 countries, more than 4.000 MY.ORGANICS

salons in the world give their customers an

unforgettable wellness experience.
---
MY.ORGANICS

STAR

PRODUCTS

Angel Potion

A leave-in hair cream

that is silky and

light-weight. It detangles

the hair, improves

its manageability,

hydrates it deeply

and doesn't weigh it

down. This cream helps

protect the hair from

hairdryers, straighteners

and curling irons and

prevents split ends.

Thickening Conditioner

A conditioner rich in

natural ingredients,

formulated to detangle

and protect dry,

chemically coloured

and treated hair. Its

concentration of highly

nutritious, revitalising

elements leaves the

hair soft, protected and

perfectly moisturised.

Mango is the ideal

ingredient for the

health of the hair. It

moisturises, nourishes

and regenerates the

cuticle, the protective

barrier of the hair.

Soothing, smoothing and

antioxidant gives shine

to the cuticle. It also

prevents split tips.

Rose essential oil

is used as a treatment

for fragile and damaged

hair or against scalp's

peeling. It instantly

enhances the hair's

solidity and contributes to

make the hair healthier.

Hydrating Shampoo

Gentle shampoo

formulated for dry,

stressed hair, damaged

by chemical treatments

and coloring. It cleanses

and moisturizes gently,

restoring body and

volume thanks to the

nourishing properties

of the essential oils

of fennel, lavender and

geranium. It leaves

the hair soft and

manageable.

Sweet fennel is used

in cosmetics to increase

skin's firmness,

making it brighter

and more scented.

We use fennel essential

oil for its soothing

and softening action

on the hair and scalp.

Aloe The extracts

of Aloe have nourishing

and antioxidant

properties that help

invigorate the scalp

and prevent hair loss.

Lavender essential

oil is well known for

its relaxing and soothing

properties, that are

very useful to give relief

to the scalp in case

of minor skin's

discomforts caused

by external agents.

Geranium is ideal

on dry hair. Geranium

essential oil makes

them soft and silky.
---
MY.ORGANICS ACADEMY

WWW.MYORGANICS.COM

Organic and professional products for hair, skin

and body, formulated with high concentrations

of pure essential oils, extracted from certified

plants and flowers. The MY.TRAINING course

program by a team of highly qualified

technicians and hairstylists includes courses

active all year round, customizable on request,

and guarantees constant updating to the staff

of affiliated salons all over the world.
---
MYOSOTIS

NATURE FAVOURS

YOUR BEAUTY

Myosotis Srl was founded in 1998, borning

from the previous experience of more than

30 years in the trichological field of the

Mattiello's family. Their constant attention

to nature brings them to launch the brand

Orising, an hair curative line with natural

phytoessences and essential oils with many

biological components. Since the very beginning,

Orising obtains a great success and

spreads rapidly, first in Europe and immediately

after in the Middle East, Russia, Eastern

and central Europe and recently in the USA

and Canada. Today Orising is considered a

landmark on the market for the treatment of

the different scalp and lengths anomalies.

The constant research of innovative products

brings the brand always at the forefront for

quality and specialty of its products. As a

company we strongly believe in mutual trust

with our partners and in collaboration with

them for the reach of mutual tangible objectives.

Seriousness in the relationship with

our partners and their enthusiasm gives us

the urge to always aim higher.

STAR

PRODUCTS

Above Maria

Grazia Zanini and

Mario Mattiello.

ABOUT US

Company Name:

Myosotis SRL

Company Address:

Via XX Settembre, 9

37129 Verona (VR) - Italy

Tel. +39 045502641

Email: orising@orising.it

Website:

www.orising.it

Founded in:

1998

CEO:

Ms. Maria Grazia Zanini

General Manager:

Mr. Mario Mattiello

Main Brands:

Orising, Orising Skin Care

Main Export Destinations:

Europe, Russia, Ukraine, South

America, Usa, Singapore, Middle East

Exfoliating

Regenerating

Mask

2022 EXHIBITIONS -

COME AND VISIT US:

Cosmoprof Bologna |

10th – 14th March 2022

Beauty World Middle East | Dubai |

31st October – 2nd November 2022

Beauty Istanbul |

13th – 15th October 2022

Cosmoprof Asia Hong Kong |

16th – 18th November 2022
---
MYOSOTIS

A GOLDEN

DREAM

Four years ago, after various requests of our

best clients, we launched a special collection for

the skin, addressed to high-end clients, Orising

Skin Care. This luxury line contains the newest

generation ingredients of high quality, natural

phytoextracts and many biological components,

the main characteristic of the brand Orising.

Orising Skin Care helps our skin contrasting

the signs of aging and maintaining a luminous,

young, and moisturized skin. The line is gaining

great success thanks also to the unique and refined

packaging, other than the evident attention

to details, essential in the launch of each new

STAR PRODUCTS

My Golden Secret Gold Cream and Gold Mask, Gold Water

Tonic, Framboise Water Tonic, Like a Dream with Gold 24K

REASONS WHY

100% Made in Italy

High Quality Products

Strong Focus on Natural

Ingredients

30 Years' Experience

COMPANY GEOGRAPHIC BUSINESS

According to company statements,

the currently developed business geographic

areas are: Europe, Russia, Ukraine, Usa,

Canada, Singapore, Middle East

NEW DISTRIBUTION TARGETS

According to the company's statements,

the brand's distribution strategy could

consider new opportunities in countries

such as: Asia, Australia, Western Europe,

Latin America.

product. 24K Gold products complete the brand

of excellence in efficacy of results, other than

surely being a reason of interest and attention

of the best distributors. Orising Skin Care is

sold with all the marketing materials needed for

the promotion of the line to all the best distributors.

The quality 'Made in Italy' is a guarantee of

efficacy, that together with the unique packaging

pledge a great success of the line. For company

policy, the products and Cruelty Free. In addition,

during the international fairs where we will

enjoy in 2022, we will present our new completely

green line, certificated VEGAN OK, eco-friendly

and produced in the respect of environment.
---
PARISIENNE

ITALIA

ALL-ITALIAN

EXCELLENCE

It all started during the 1950s: Italy was Being

overwhelmed by the enthusiasm and frenetic

pace of the economic boom and the "dolce

vita". An Italy brimming with new proposals, in

fibrillation over suggestions and ambitious

goals to be reached. It was 1955 in Italy, when

Fape was founded and launched its innovative

pomade for hair that revolutionised the Italian

cosmetics market. The company took its place

on the national scene. It wasn't long before

Fape became Parisienne Italia and started, in

Italy, the production of hair sprays for the Italian

market. More then sixty years have passed

since then, and the Parisienne Italia group

continues to drive the evolution of cosmetics

excellence strictly Made in Italy.

authentic beauty, giving rise to high-quality

professional and consumer products for

wellness and body and hair care. A quality that

reflects innovation, but also the preservation of

the flourishing Italian cosmetics tradition that is

envied worldwide.

MADE IN ITALY, MADE OF ITALY

Through the study of unprecedented

formulations developed in our research centre,

we pursue the objective of combining scientific

research with the gentle vigour of nature, and

founding our work on the traditional Italian

attributes of good taste, excellent performance,

and creativity. All this can be found in the brands

and product lines of the Parisienne Italia group.

A STORY ABOUT A LOVE FOR BEAUTY

Experimentation and technique are linked to

new creative impulses that breathe life into

PRESENT, PAST, AND FUTURE

Yesterday we were the first to start up the

production of hair sprays for the Italian market.

ABOUT US

Company Name:

Parisienne Italia Spa

Company Address:

Headquarters:

Via di Corticella 190 – 190/2,

40128, Bologna (BO), Italy

Production Site:

Via del lavoro 16/a -18,

4005, Altedo (BO), Italy

Website:

www.parisienneitalia.com

www.blackprofessional.it

www.niamh-hairconcept.it

www.rebeel.it

Founded in:

1955

Export Sales Director:

Mr. Giorgio Milani

CEO:

Mr. Luca Papetti

Main Brands:

Black Professional, Niamh

Hair Concept, Rebeel,

Allwaves, Evelon pro

Main Export Destinations:

Europe, Middle East, Cis

Countries, Latin America,

North Africa, USA
---
Today we continue to anticipate trends and

meet the needs of specialists, earning an

international profile. Tomorrow, we will continue

to do so by always doing our best day in and

day out. We never make compromises when it

comes to selecting raw materials. We only

select the best: every individual product is

carefully perfected to attain the ultimate

synergy between quality, performance, and

naturalness. Guaranteed quality: because we

test them one by one, and we market them

only after having verified their efficacy. Carefully

selected active ingredients, strict control of

production processes and analysis methods:

thanks to the professional teamwork of our

staff, our laboratories have become productive

ecosystems, where research, culture, and

specialisation co-exist, giving rise to new ideas.

BRAND NAMES DEDICATED TO SPECIALISTS

•BLACK PROFESSIONAL: products for hair

boasting modern, hi-tech formulas. Black

Professional is the brand developed by

specialists for specialists.

•NIAMH HAIR CONCEPT: advanced

technologies and top-quality active ingredients

give rise to Niamh rituals, introducing

professionals to a new era in trichological

excellence.

•REBEEL: performance that raises the

benchmark of perfection. Rebeel is new

designs, urban style and hair trends for

hairstylist 3.0.

•PARISIENNE PROFESSIONAL: exclusive

treatments and products for the world of

beauty. Quality and innovation for hair care

that respects its natural structure.

•ALLWAVES: professional products and

treatments to fulfil the desires of the

hairdresser who thinks out of the box.

•EVELON PRO: is a range of professional

products that can offer instant solutions for

all types of hair.

THE ACADEMY

Our innate vocation toward the world of beauty

and the growing need of hairdressers for

specialised courses as highlighted by

hairdressers has given rise to the Parisienne

Italia Academy. The vast selection of training

programs provided by our academy is aimed

at professionals and students from all over

the world who wish to learn new techniques

and update themselves in the world or

hairstyling and hair care: theory and practice

come together in a complete educational

program, taught by international teachers and

designed to analyse new aspects, products,

and methods to be applied in your own salon.

STRENGTHS

•3 plants in northern Italy

•12,000 sq.m of production areas

•+ 2 million products produced in one year

•Present in 75+ countries around the world

•A company belonging to HQ HOLDING, a new

industrial hub specialized in professional hair

care products

REASONS WHY

100 % Excellence Made in Italy

Hair care specialist since 1955

Private Label services: Tailor

made & customized projects

Three production sites in

northern Italy

Family company with a long

history in the market
---
PARISIENNE ITALIA

STAR

PRODUCTS

Crazy Toner | Black

Professional

A semi-permanent

formulated to

temporarily colour hair

or individual strands

with ultra- glamorous

hues and trends in

just 10 - 20 minutes

of development.

The formula has no

ammonia or hydrogen

peroxide, making it

possible to respect the

hair's integrity without

damaging the primary

colour, awhile obtaining

intense colour. The 8

nuances available

can be mixed with

the Pastelizer colour

diluter to obtain

personalised pastel

hues and create infinite

colour combinations.

hold that lasts all day

and total protection from

humidity: light and with a

silky finish, the Ultra-

Strong protects hair with

a lightweight film that

prevents frizz. This

product combines longlasting

strong hold

without compromising a

silky soft finish. In the

ecological no-gas version,

it protects locks by

managing textures that

tend to frizz.

Miracle Water - lamellar

conditioner | Allwaves

The first Allwaves

professional treatment

with advanced lamellar

technology able to

penetrate the hair cuticle

to instantly detangle the

hair in just 9 seconds.

It eliminates frizz and

prevents hair breakage

due to the mechanical

combing action. Its

instant action guarantees

tangle-free and beautifully

manageable, styled hair.

The rice proteins deliver

soft, light and incredibly

shiny hair.

the scalp; indeed, it is

enriched with Shield

P17, which makes it

possible to reduce

by more than 40% the

scalp permeation of

aromatic amines without

compromising the

coverage of grey hair,

thereby obtaining a

significant reduction in

irritation, sensitization,

and allergies. Protection

as well as nourishment

and moisturising thanks

to Shea Butter and

Hyaluronic Acid, precious

ingredients that help

to repair damaged and

lifeless hair.

Detox Treatment |

Niamh Hair Concept

Detox treatment restores

the scalp and hair

health, counteracting

dullness and that

weighed-down feeling.

The active ingredients in

the formulation

treatment includes the

Detox Scrub to deeply

purify the scalp by

eliminating the polluting

micro-particles that

penetrate the fiber and

pores of the scalp; the

Detox Clay Mask for both

scalp and hair which

regulates the hydro-lipid

balances thanks to the

sebumbalancing and

remineralising properties

of the white clay; and the

Shampoo & Detox Mask,

which rebalances the

skin and scalp thanks to

the active synergy of

organic Aloe and Carrot

Extracts.

quadrotto_prodotti.indd 1 31/01/22 08:53

Ultra-Strong Anti-

Humidity Hair Spray

Formula | Black

Professional

Ultra-strong hair spray for

extraordinary hold,

conceived for youthful

looks and for extreme

and bold styles.

Extremely structured

styling for impeccable

Protective Colour

Cream | Rebeel

Is an absolutely

revolutionary cosmetic

hair colour that

guarantees highperformance

technical

results and at the same

time a high protection of

effectively neutralise the

greasy deposits

connected to

endogenous factors

such as excess

seborrhoea, or external

agents such as pollution,

smog and fine dust

particles, purifying and

deeply eliminating toxins

and waste. The Detox
---
PIDIELLE

EXALT THE BEAUTY

OF EVERY INDIVIDUAL

Pidielle S.p.A, an international company based

in Milan, drawing on its founder's talent and

experience in the field of professional

cosmetics. A modern business, is always on

the cutting edge, to ensure innovative hair care

solutions. Pidielle S.p.A. is committed to

ensuring the highest possible levels of safety

while reducing impact on the environment

through carefully selecting its suppliers of

ingredients, packaging and components. For

50 years we have worked with professional

hairdressers from all over the world to help

them deliver uniqueness to their clients. This

translates into a profound understanding of

color and the professional sector, as a

guarantee of the quality and service that our

company is able to provide. Our approach

matches high performing Made in Italy products

with concrete business development projects

for our partners through support, collaboration,

inspiration, international education and

bespoke services.

INDEPENDENT BEAUTY LAB

Pidielle puts individuality and uniqueness at its

core, offering products, services and interactive

education to support the hairdresser's business.

Our objective is to empower stylists and colorists

all over the world with expert knowledge and

know-how, so they can focus on creativity and

offer a truly personalised service to the client in

the chair. Pidielle boasts an internal laboratory

in which our products are formulated and

developed, as well as proprietary manufacturing

units. As certified manufacturers and color

experts since 1970, our production principles

are founded on a continuous quality and control

system, which has always distinguished the

brand. A company with a conscience, devoted to

reducing social injustice and helping shape a

better future. Since 2010 we have been working

with COOPI an independent, secular humanitarian

organization committed to the development of

women and local communities. After the project

in Sierra Leone, teaching local women how to

ABOUT US

Company Name:

Pidielle S.p.A

Company Address:

Via Bergamina, 7

20014 Nerviano

Milan - Italy

Tel. +39 0331 580166

Email: elgon@

elgoncosmetic.it

Website:

www.elgoncosmetic.com

www.ibicosmetics.it

www.moodme.it

Founded in:

1970

CEO:

Ms. Serena Caimano

Main Brands:

Elgon, Elgon Green,

Mood, Link-D, IBI
---
REASONS WHY

cultivate their own farming business, Elgon

has supported the project WATER FOR LIFE,

WATER FOR PEOPLE in Ethiopia, and has

already identified new further projects to be

involved in over the coming years.

MARKET INTEREST

Distributed in 91 countries, Pidielle is looking to

expand its family. We are looking for distributors

with a solid experience in the cosmetic industry,

who hold a structured and widespread

commercial network in their territory. If you, just

like us, strive for increased sales development

and believe in providing excellent education

programs, please get in touch.

BRANDS

Elgon the premium and international brand of

hair cosmetics that has been supporting the

passion and creativity of hairstylists around the

world. Offers inspiration and innovation with

Italian-made quality products and personalised

professional services. The brand's mission is to

accompany its partners as they grow, offering

tailor-made training experiences and valuing the

uniqueness of each individual: professionals and

customers alike. Mood is a simple and functional

range of products to kick-start any beauty

program. A dynamic and alternative approach to

professional products for the treatment, styling

and hair color, expressed in high-impact

packaging. Mood provides quality through

advanced formulas that are 100% made in Italy.

100% made in Italy

Worldwide presence

Strong focus on R&D and

Innovation

Halal and eco-friendly product line

Highly engaged in CSR activities

International education program

ISO 9001 certification to ensure

first-class products

GMP certification

Our goal: to offer top-quality

professional products and services

Our mission: to make a

personalized and premium quality

professional hairdressing service

available to everyone

IBI an independent Italian project born within the

group, specializing in the design and production

of innovative and sustainable hair cosmetics.

Specific expertise lies in the ability to create

customized formulas based on customer needs

and perfectly adhering to the identity of their

brand. Maximum sustainability and respect for

the planet at the heart of everything IBI does.

BIO-TECHNOLOGIES

With the term 'bio-technology', we mean the

study and industrial application of processes

such as fermentation, enzymatic action,

liposomes and cell cultures - all processes

occurring in nature - which allow for the

production of highly performing cosmetic

ingredients with a high index of naturalness.

A dynamic and flexible use of products derived

from bio-technologies allows for the

development of innovative products and offers

the opportunity to customise the end product,

with a focus on sustainability. This is why

Pidielle will include bio-technological ingredients

in all of its 2022 launches.
---
ELGON

STAR

PRODUCTS

I|BLONDE RANGE

PRODUCTS

New generation of dustfree

bleaching powders

that perform, whilst

boasting a compact,

creamy, silky and lumpfee

texture to facilitate

application and improve

adherence to the hair.

All formulas are enriched

with AC OIL COMPLEX, a

blend of oils that protects

hair from the stresses

caused by bleaching, and

marine phyto-extracts with

antioxidant and revitalizing

properties.

I|BLONDE WHITE PLUS

High-performing, dust-free

white bleaching powder for

all lightening techniques.

Classic and reliable. Lifts

up to 7 levels.

I|BLONDE EXTRA BLUE

High performing, dust-free

blue bleaching powder that

counteracts underlying

orange tones. Lifts up to 7

levels.

I|BLONDE ULTRAVIOLET

High performing dust-free

violet bleaching powder that

counteracts underlying yellow

tones. Lifts up to 7 levels.

I|BLONDE FREEHAND

Ultra-compact clay bleaching

powder ideal for freehand

bleaching techniques.

Lifts up to 7 levels.

I|BLONDE SUPER 9

Extra powerful bleach

designed to achieve the

highest lift in the shortest

time. Lightens hair up to 9

levels. TIME-SPEED effect:

up to 5 levels in 30 minutes.

I|BLONDE CREAM BLEACH

Lightening cream ideal for

full-head bleaching and regrowth

touch-up. Enriched

with acai oil and argan oil

for added moisture and

protection. Lifts up to 6

levels. Ideal also for all

other lightening services.

THE NEW DEMI-

PERMANENT COLOR

Tonalight is the new demipermanent

colouring

cream free from PPD

and ammonia, a 100%

vegan formula enriched

with the Biotech Olive

Complex, for exceptionally

bright and brilliant toneon-tone

color. Thanks to

the formula enriched with

olive leaf extract, obtained

through biotechnological

fermentation - an innovative

method within the cosmetic

sector - it allows us to

achieve bright and vibrant

multi-faceted color.

The Tonalight range consists

of 35 shades divided into:

the Natural Series specially

developed for natural shades,

the Rich Series for warm

and balanced tones, and

the Cool Series specific for

cool tones.

MODA&STYLING

Moda&Styling: the cosmetic

line of permanent cream

colourants that meets the

most diverse of requests

owing to the vast selection

of shades available.

Moreover, thanks to Silker

Complex 3® Plus, the color

is fuller, more intense and

longer lasting and the hair

is healthier and stronger,

thanks to its protective

effect. 100% coverage of

white hair. 101 Shades.

SUBLIMIA

Dynamic Do-All:

10 benefits in 1 product

Hair beauty maintenance

for all hair types.

Provides: hair manageability,

shine, moisture, detangling,

anti-fading, easy styling,

heat protection, UV filter,

longer lasting style and

time-control effect.

HAIR DD SHAMPOO

Shampoo with 10 real

benefits: gentle cleansing

with Sulfate-free formula,

hair manageability, timecontrol

effect, easy styling,

heat protection, moisture,

shine, UV filters, detangling,

anti-fading.

HAIR DD MASK

10 IN 1 mask: hair

manageability, time-control

effect, easy styling, heat

protection, shine, moisture,

UV filter, longer lasting style,

detangling, anti-fading.

HAIR DD CREAM

Dynamic do-all, 10 IN 1

cream for all hair types.

Leave-in treatment.

REFIBRA

Repairs and protects dry

or damaged hair. Restoring,

repairing and rebuilding

treatments for thick, frizzy

or damaged hair.

RESTORING SHAMPOO

Rich, creamy restoring

shampoo for coarse,

frizzy, fragile or damaged

hair. Gently cleanses and

nourishes the hair without

weighing it down.

RESTORING MASK

Restoring mask for dry,

damaged hair. Nourishes,

hydrates and improves

combability. Perfect for all

hair types.

RESTORING COSMETIC

LOTION

With Keratin seaweed

extract and hydrolyzed

wheat proteins, it provides

body and strength for the

fibers and maintains hair

beauty over time.

7 OILS BLEND

Hair oil enriched with oils

of: olive, wheat germ,

macadamia, peach kernel,

rose hip, rice and jojoba,

to hair silkiness and shine,

leaving it manageable.
---
I|BLONDE

DECO&BALAYAGE

FOR SIGNATURE BLONDES

Do bleached hair appear dried and prone to breakage?

From now on your hair is totally bright, strong and nourished

thanks to Total Low Shampoo and Total Mask.

Enriched with Biotech Lemon Complex, biotechnological

and fermented lemon extract, rich in vitamin C.

@elgonofficial

www.elgoncosmetic.com
---
PRESTO

INDUSTRIES

RESEARCH & CRAFTSMANSHIP

THE FUTURE OF COMBS

Established in 1961, Presto Industries is a

pioneer in premium hair tools as well as

leading manufacturers and global suppliers

of professional hair combs and brushes

worldwide. Over the years, the company has

grown its portfolio from combs and brushes

to hair tools for hairdressing businesses and

retail trade. Driven by a strong belief in

technology and innovation, personal and

professional product lines are being

expanded to match and surpass the highest

international standards.

Today, the Presto brand and products stand

for the finest in quality, technology and style,

earning an unmatched reputation as

professional, luxury combs. Backed by years

of R&D, stringent product evaluation and

technology. Pegasus combs are handcrafted

ABOUT US

Company Name:

Presto Industries

Company Address:

215/216 ,Vasan Udyog Bhavan, Second Floor,

Off SB Marg, Lower Parel (West), Mumbai -13

Maharashtra, India

Tel. +91 22 43151400

Email: info@pegasushairtools.com

Website:

www.pegasushairtools.com

Founded in:

1961

CEO & Founder:

Shahzad Qadir

Factories:

2 state-of-the-art facilities of over 25,000

square feet

Production Capacity:

350,000 pieces per month

Main Brands:

PEGASUS combs

Main Export Destinations:

Eastern Europe, Western Europe,

North America, South America, Asia,

Australia

Shahzad Qadir, Managing Director of Presto

Industries proudly practices a hands-on

approach to his family's business and is

backed by a carefully vetted team of experts.
---
REASONS WHY

Driven by R&D and technology

Two state-of-the-art facilities and

a dedicated team

Wide range of acetate, FSC wood

and hard rubber Combs

FLEXINITE and GLAM LOCK

technologies

Marketing support

100% Transparent Company

Policy

with 100% hard rubber - ebonite using Flexinite

technology for infinite styling ease. The

company is SA8000-2014 compliant and ISO

9001-2015 certified.

DESTINED FOR GROWTH

1961

Lookman Qadir founded Presto Industries

1977

Embarked on the journey of manufacturing of

combs and sold to European customer under

exclusive OEM agreement

1995

Started producing combs and selling it under

their own brand in the Indian domestic market

2012

Started producing high quality hard rubber

combs under the brand Pegasus

From

the MD's desk

I feel privileged to personally introduce you

to my company Presto Industries and my star

brand PEGASUS combs using Flexinite technology.

We are a family run business with over 100

years of know-how in hair and styling, yet with

the energy and passion of a start-up. Driven by

R&D and technology. our ideas and ambitions

are limitless, and we are committed to adding

value and profits to your business, both through

PEGASUS and as a private label manufacturer.

You can rest assured that I am directly involved

in every decision, every research study, every

business negotiation, and am ably supported by

a team of handpicked experts. I am excited about

the future and 100% committed to my growing

network of partners in OEM and in distribution.

Shahzad Qadir

MD, Presto Industries
---
PRESTO INDUSTRIES

STAR

PRODUCTS

PEGASUS 100% Hard Rubber – Ebonite

combs with FLEXINITE technology are backed

by a strong marketing and communication

support team, created to empower distributors

and to power the brand ahead in both B2B

and B2C. The brand is supported by

educational and value added videos on

YouTube, as well as, impactful and targeted

BloStyler

Innovative styling

combs with curved

claw shaped teeth.

For blast drying

or styling. It works

amazingly

to open up curls.

Skulleto range

For never before

precision in male

barbering and beard

grooming. In edgy,

bad-ass designs.

MiColor range

Launched during the Pride

month, this range is

targeted to stylists to

celebrate their identity

with colored combs.

BioStyler

MiColor

Skulleto

social media campaigns on Facebook and

Instagram. PEGASUS comes with world class

packaging and innovative and easy to

transport display units. Designed for easy

pull and pick up, the display units are

lightweight and attractive.

EXPANSION PLANS

In 2023, Pegasus will produce handmade

brushes in the luxury & professional

segment.
---
PRIME PRO

EXTREME

INNOVATIVE PROFESSIONAL

HAIR PRODUCTS

Prime Pro Extreme, a Brazilian company of

hair cosmetics present in over 50 countries.

With a complete portfolio of over 20 lines of

high technology and innovation products, it is

a worldwide highlight in organic-based

smoothing, coloring line and has a nourishing

mask with gold nanoparticles in its

composition. One of its pillars is professional

education, so it has Academies in Portugal,

Spain, Dubai and Brazil. Its Logistic Centre in

Oporto guarantees fast and qualified delivery

of products throughout Europe, Asia and

Oceania.

OUR HISTORY

Prime Pro Extreme is a company with

headquarters in Brazil and branches in

Portugal, Spain and Dubai, acting for over a

decade in the international market of

professional hair cosmetics.

In the last year alone, its global turnover

moved around 5 million euros around the

world.

In the first half of 2022, it presented itself in

its own stands and parades on the main

stages of the renowned Expocosmética in

Portugal and Cosmobeauty in Barcelona.

ABOUT US

Company Name:

Prime Pro Extreme

Company Address:

Carrer de Zamora,

95 PL 05, PT 03, 08018

Barcelona – Spain

Website:

www.primeproextreme.es

Founded in:

2011

Main Brands:

Bio Tanix, Profit of Color,

Impact Mask

Main Export Destinations:

America, Europe, Asia and

Oceania

Number of employees:

120

International Administrative Manager

Luis Flores

International Commercial Manager Europe

Elaine Colnago

Ceo & Founder

Vitor Visat

Administrative Spain

Jamille Rabello
---
The brand was created by Vitor Visat, a

hairdresser with more than 02 decades of

experience in the beauty sector, with the

purpose of meeting the hair needs of clients

and also to facilitate the work of professionals.

With international certifications such as FDA,

INFARMED, ANVISA, HALLAL, ISO, it has a

complete portfolio of more than 20 product

lines, among them the straightening line of

organic base Bio Tanix, the coloring

and discoloring - Profit of Color and the

regeneration and reconstruction mask with

gold nanoparticles - Impact Gold. To

differentiate itself in the industry, Prime Pro

Extreme has education as one of its pillars,

so it has Academies of Hairdresser Training in

Portugal, Spain, Dubai and Brazil. With a

Logistic Center in the region of Matosinhos,

Portugal, the fast and qualified delivery of the

products is guaranteed also in the European

and Asian continents.

REASONS WHY

High-tech and innovative

professional hair products

with the main international

certifications

Professional training

Own offices in Brazil, Portugal,

Spain and Dubai

Company recognized by the main

European media

Logistic centre in Europe

Own Marketing and Media team

Distributors in more than 50

countries
---
PRIME PRO EXTREME

STAR

PRODUCTS

Bio Tanix Extreme

With an exclusive

formula FORCE-PLASTIA,

BIO TANIX EXTREME line

softens even the most

rebellious hair, reduces

the volume as frizz free

in just one application

without getting yellowing

on light hair color as

bleaching procedures.

The formula has

essential ingredients

that fully repair hair

strands providing

softening and

straightening abilities a

total nutrition to the hair

safety. Say Goodbye for

harsh chemicals and

preservatives. With BIO

TANIX EXTREME, gets a

natural look with intense

shine keeping your hair

health and away from

daily aggressions.

Profit of Color

Prime Pro Extreme:

innovates once again

and expands its

possibilities to create a

universe full of colors

and effects in the beauty

industry. Prime

developed an exclusive

Premium Color on its

portfolio called Profit Of

Color®? that introduces

two different versions of

hair color: Permanent

and Demi-Permanent

Color. With Italian

technology, noble

ingredients and Chroma

Fusion dyes, we

achieved exclusive

natural results with

vibrant and intense

shades of color and

unique coverage as

longer-lasting results.

Each ingredient has

been thoroughly

researched to deliver a

unique experience during

the coloring process,

without unwanted tones,

due to the self-adjusting

tones system. Among all

of the components used

in its formulation, three

of them were exclusively

blended to develop the

innovative Force Field

Technology®?, which

works by synergy as a

true hair fiber protective

shield that guarantees

vibrant colors such as

durability.

Impact Mask Gold

More Hydration, Nutrition

and Luminosity to your

hair! Luminosity is the

word that defines the

IMPACT MASK GOLD®

concept! The launch

Prime Pro Extreme®

arrives on the market to

offer hydrolipidic action

with radiant shine.

Formulated with Colloidal

Gold micro.
---
FINELGA

HOLDING

360° BEAUTY

AND WELLBEING

REVIVRE is proudly part of the FINELGA

HOLDING, the holding company of Fusaro's

Family. The main activity of FINELGA HOLDING

is in the Cosmetic and Beauty Business

offering also private label manufacturing

Lucio Fusaro

The brand meets

the needs of

the professional

hair care sector

with high quality

products.

services. FINELGA HOLDING owns many

brands including: Revivre, Itely Hairfashion,

PatriciaMI, Flosé, Ysothea, Bi&lita, Glazette

and many more.

REVIVRE… is ESSENTIAL!

Since 1973, Revivre is a point of reference

for all Italian professionals committed to the

health of skin and hair. We develop all sort of

treatment for the recovery and well-being of

hair and scalp as well as a complete range of

products and technologies for the treatment

of facial and body skin imperfections. Skin

detox before treatment, this is the basis

of the Revivre philosophy that deeps its

roots in the use of essential oils, for great

performances and an authentic sensorial

experience, combined with latest generation

innovative ingredients for outstanding and

unparalleled results.

ABOUT US

Company Name:

Revivre Italia Spa

Company Address:

Via Giovanni Falcone, 35

20080 Vernate (MI) - Italy

Phone: +390290093743

Email: info@revivre.it

Website:

www.revivre.it

Founded in:

1973

Chairman and President:

Mr Lucio Fusaro

R&D Director:

Mr Luigi Grassato

International Business

Manager:

Mr Francesco Ioppolo

Number of Employees:

180 worldwide

Main Brands:

Revivre

Main Export Destinations:

Taiwan, Korea

Luigi Grassato

Francesco Ioppolo
---
RESEARCH AND INNOVATION

Observe nature, listen to it, transform its

secrets into innovative formulas for beauty

and well-being: this is the Research and

Development department's philosophy.

Revivre has one of the most advanced inhouse

Research and Development Laboratory

in the world that partners with the University

of Pavia's Department of Physiological

and Pharmacological Sciences and other

universities in Pennsylvania (USA), home to

one of the most important medical centers in

the United States.

IN TOTAL HARMONY WITH NATURE

Revivre is engaged in the global "Green

Initiative – for a better world", initiative in favor

of an environmentally friendly development.

It uses, in fact, innovative technologies and

renewable energies that help to conduct

the producing processes while protecting

the environment, reducing waste. In 2012

in Milan, was inaugurated the BioLife

Medical&Beauty Village, a space of 22.000

sm, built according to the most modern and

advanced energy-saving criteria and respect

for the environment and provided with a high

vocational training center, clinic of wellness,

Quality Control, Research Laboratories and

demonstration spaces.

REASONS WHY

Advanced in-house R&D

Laboratory

Partnership with Italian and

International Universities

Use of natural active

ingredients, essencial oils and

plant extracts

Proudly Made in Italy

Environemental Consciousness

Certified quality and customer

service
---
REVIVRE

STAR

PRODUCTS

Exence

Balm ph 3 Relax

From the extraordinary

wisdom of Nature

and from Revivre

research comes

EXENCE AROMATH

RAPY. Professional

products, apt in solving

scalp imperfections,

will take you through

a sensory path made

of aromas and interior

peacefulness. All the

formulations are natural,

creatted with great care,

and dermatologically

tested.

SLES-free mild shampoo

to prevent hair loss.

The precious synergy

of essential oils micro

dispersed, together

with the AlgaSer

Complex, provides the

right nourishment to

the hair bulb, helping

stemming from the

expert combination of

selected ingredients,

mixed with advanced

technology to offer

instant professional

solutions, targeting a

variety problems related

to the hair shaft.

The Restructuring

Treatment for damaged

and brittle hair stems is

based on micro-proteins

of milk and cysteine.

Ceraplex repairs even

severely damaged

hair from the inside,

with instant results,

leaving it shinier, softer,

lighter, more resistant

and easier to comb.

Effective from the first

application, it nourishes

deeply and repairs the

weakened hair fiber,

• Skin over the age of 40

• 40 thousand stem

cells per gram of product

• 4 specific anti-ageing

effects on every reference

An anti-ageing cream

specifically designed

for face and neck with a

lifting effect. Extremely

effective, it fights the

appearance of blemishes

delaying the onset of

fine lines and wrinkles,

increasing levels of

hydration.

It minimizes dark spots,

blemishes and sagging

skin. The most advanced

modelling technologies

are combined with

Tsubaki oil for an

extraordinary result.

The skin is more toned,

compact, nourished and

visibly younger. It shines

with new light.

to reduce significantly

hair loss, restoring the

right functionality of the

cutaneous annexes.

Alta Structa

Restructuring Treatment

AltaStructa

HairCareTherapy is

the innovative range

of Revivre treatments

leaving hair repaired, soft

and shiny.

Forty+

The CONCEPT of FORTY+

is anchored on the

number 40

• More than 40 years of

experience
---
AltaStructa HairCareTherapy is the innovative range of Revivre treatments stemming from the expert

combination of selected ingredients, mixed with advanced technology to offer instant professional

solutions, targeting a variety problems related to the hair shaft. It is not just a capillary treatment, but also

a moment for personal relaxation and well-being by following specific rituals.

www.revivre.it
---
SINESIA

FOR AN AUTHENTIC AND

CONSCIOUS BEAUTY TIME

Today' society, with its hectic pace, leads us to

disconnect from ourselves and our needs, and

more than ever we feel the need to rediscover

our own centre and rebalance our essence

harmoniously with the surrounding, marking

out the time available to the best of our

ability, because it is our most precious asset.

From this assumption has been formulated

- in the various laboratories of the AGF88

group - SINESIA (from the Greek synesis) an

innovative line that acts from the "neck up",

working on hair, face and scalp as a single

interconnected ecosystem, focusing on head,

the most important part since it houses the

brain. The brainchild of Afsoon Neginy, cofounder

of the brand and COO Business &

Sustainability Director of Agf88 Holding, the

Premium line Sinesia benefits her long-term

experience and has a holistic system made

up of multi-functional and effective products

that through specific rituals act on the skin

biosystem, scalp and hair in order to obtain

an interconnection between head and mind

and regain their wellness. Sinesia products

are designed for professional salons but can

also be used for self-beauty rituals as they

take consumers on new sensory journeys

that stimulate the senses and create new

connections to achieve deep and authentic

beauty. Sinesia introduces a new concept of

integrated beauty into professional salons: a

holistic approach that allows to regain balance

thanks to the product synergy, application

gestures and energetic massages.

ABOUT US

Company Name:

Luxebe s.r.l.

a group company of

AGF88 Holding Spa

Company Address:

via Mascheroni, 27

20145 Milano - Italy

Website:

www.sinesia.com

Main brands:

Take a Nap, Beauty

Cuddles, Biotic Formulas,

Super Drops, Waterless

Beauty, Cool Beauty

Main Export Destinations:

All European Countries,

North America, Canada
---
REASONS WHY

Formulated with up to 99% naturalorigin

ingredients

Products 98% biodegradable

100% Vegan friendly

Vegan OK certification

Lifegate ZeroImpact certification

Pack 100% recycled PP plastic

Pack FSC Shiro Echo Paper

Greenrich formulas

Water saving, easy to rinse formulas

Holistic approach

STAR

PRODUCTS

Sinesia consists of six

specific lines, dedicated

to neck, face, hair and

scalp. Every line draws

inspiration from a

cosmetic benefit and/or

is based on the action

mechanism; they can

be combined in a mix &

match, thus optimizing

cosmetic results.

Take A Nap

It is a line drawing

inspiration from the

trend of chrono beauty

and follows circadian

rhythms to obtain the

best possible benefits

from the cosmetic

products used.

These products are

designed for moments

of relaxation and are

characterised by a detox

action that is boosted

with night use.

Beauty Cuddles

This line is inspired

by the boom of home

beauty routine and by a

growing number of people

that prefers dedicating

time to the care of

themselves at home.

Beauty Cuddles becomes

a line of "cuddling"

products for home, as

well as for salon use

with an intensive action

performed during the

processing time. In salon,

the product efficacy is

strengthened by the

skilful gestures and

irreplaceable touch of

professionals.

Biotic Formulas

The line dedicated to the

protection of microbioma.

These products offer

a full range of pre and

postbiotic treatments for

the wellbeing of the scalp,

face and hair microbiota.It

is a line designed to take

care of sensitive, impure,

excessively dry skin.

Super Drops

The range consists of 3

specific boosters, able to

maximise the treatment.

These super concentrated

products, hence in drops,

are designed to be used

on their own, either on the

face as beauty serums or

on the hair as perfecting

fluids, or blended with

creams or masks to

strengthen their specific

action.

Waterless Beauty

These 2 products have

been developed with

anhydrous powder

formulas that do not only

reduce volume and weight

in the transport phase,

but they also ensure a

concentrated action and

thus a higher number of

applications.

Cool Beauty

Clean formulations,

ultra-green ingredients,

respect for raw materials,

waterless approach:

thanks to Disruptive

Cleanser, Hydra Sorbet,

5 Prodigious Essence,

Freshlift Eye Treatment,

the brand has developed

effective solutions to face

the current challenges and

help us save our planet.
---
TECNO ELETTRA

YOUR HAIR-DRYING

TECHNOLOGY

OUR HISTORY:

THE TRADITION OF HANDMADE PRODUCTS

Tecno Elettra was founded in 1982, as an

Italian manufacturer with the purpose of

combining the tradition of hand-made products

with large scale industrial production.

This ambitious objective was achieved over

time, with the drive for constant growth and

development found in the determination

and desire for continuous improvement, in

a right mix of tradition, local culture, innovation

research and quality.

ABOUT US

Company Name:

Tecno Elettra Srl

Company Address:

Via Puglie, 10/12

60030 Monsano (AN)

Italy

Tel. +39 0731 60 54 35

Email: info@tecnoelettra.com

/export@tecnoelettra.com

Website:

www.tecnoelettra.com

Founded in:

1982

CEO:

Mr. Gilberto Fava

In the image above,

Gilberto Fava,

Tecno Elettra CEO.

Main Export

Destinations:

Europe, Middle East

and Central America

OUR PRESENT:

HANDMADE QUALITY FOR A GLOBAL MARKET

Over time, new models were created with the

help of an increasing amount of technology

combined with the attention to the details

characteristic of Italian workmanship and

investments in Research and Development

as well as Quality Control, together with numerous

international certifications. All of

this allowed Tecno Elettra to grow and consolidate

its presence in several countries.

Today, Tecno Elettra makes available a wide

range of excellence products that have become

renowned in the field of professional

hairdryers, and with its 5 Product Lines and

a comprehensive customer satisfaction policy,

the company is able to meet the different

needs of the market.
---
Tecno Elettra

headquarters in

Monsano, Italy.

OUR APPROACH TO WORK:

THE TRUST WE CREATE

The purpose of Tecno Elettra is to strengthen

and expand its distribution network, focusing

on exclusive distributors/importers.

Over the years, we chose to walk side by

side with our clients and we selected companies

interested in long-term relationships

with exclusive agreements. These policies

allowed Tecno Elettra to grow together with

its customers and to make the TE brand a

solid and reliable trademark.

REASONS WHY

More than 35 years of

Italian manufacturing

experience

Exclusively professional

products

Complete production

chain and internal R&D

International profile

together with innovation

and tradition

International quality

certificates

Worldwide presence

Private label services

STAR

PRODUCTS

Boss

A powerhouse of styling

performance. Its 2400-

2500W for lightning-fast

drying allow unmatched

power and heat.

Advanced features and

premium components

technology prevent any

danger of overheating.

All the products of the

6000 line are the most

powerful and bestselling.

Celero

Celero, latin word

indicating speed/

rapidity, it's an

hairdryer focused

on the professional

sector and is equipped

with a PATENTED

ACCESSORY that makes

it possible to improve

performance. Its 2200W

of power unleash an

ENERGY THAT CAN BE

CHANNELLED

TO THE CENTRE of the

product, thanks to the

patented application in

the nozzle.
---
TECNO ELETTRA

Malice New Product

2022

Tecno Elettra continues

with their innovations to

benefit the hairdresser,

always with the

utmost respect for

the environment, by

presenting "MALICE"

at Cosmoprof 2022.

Malice is a new

professional appliance

with ionic emission

device, available in three

very elegant colors:

black soft touch, rose

gold and champagne

gold. The fashion colors

2022. "We are proud

to have created a hair

dryer that is an ally of

both the hairdresser and

the environment" says

the project manager.

Its ac energy saving

motor within the ionic

generator ensure low

consumption and top

performance.

"Malice" is a shrewd,

graceful and smart hair

dryer. He knows the

tricks and secrets of the

job and works side by

side with the hairstylist

to guarantee a perfect

and fast coiffure.

Its 2200W of ionic

power unleash an

energy that provide

an intense blast of

air, so the hairdresser

spends less time drying

hair, which adds up to

savings in terms time

and consumptions:

another reward for

both your wallet and

for the environment.

Furthermore, the central

position of the buttons

and the lightweight

make it easy to use for

right and left - handed

users.

OUR FOCUS:

CUSTOMIZATION

All Tecno Elettra products can be customized

according to the customer's needs; it is

therefore possible to design and create a

specially made product focusing the attention

on a personalized marketing, with the aim

to target the market segment identified by

the Customer. Customization can refer just

to graphics and aesthetics by adding the

customer's logo on the product, but it can

also involve inner components, in order

to satisfy the end user requests. During

the customization process, it is of utmost

importance to remember that the specific

needs of the Customers are the basis on

which a new product is shaped out of an

already existing one from Tecno Elettra's

range. This generates a constant interaction

among Tecno Elettra, Customer, market

demands and development of a new brand.
---
TRINITY

QUALITY AND A

PASSION FOR PEOPLE

Trinity haircare finds its origin in Switzerland.

The company is proud to be Swiss and to be

able to show some of the typical features

Switzerland is known for across the world,

such as superior quality products, clean, modern

and functional design and strong focus

on environment, nature and people. With an

international team of professionals with their

own specialist skills and experience, the

company tries to incorporate its Swiss roots

and Swiss characteristics into every project,

product and activity, from Research and Development

to packaging, through the quality

and functionality of all their products. One of

the main endeavours of the company is to

represent a complete and consistent Swiss

identity, by being loyal to its values and principles.

However, it shows the same great respect

for its suppliers', distributors', partner

salons' and customers' identity, because the

main focus of this brand is on people.

SWISS IDENTITY

The brand was established in 2007 and immediately

achieved resounding success in

Germany, Austria and Switzerland. Thanks

to the outstanding quality of the product line

and the company attendance at international

conventions and shows, European markets

soon noticed the young and creative haircare

brand.

Started as a Swiss based R&D laboratory, the

company established a 40,000 sqm logistic

location at the latest standard managed with

SAP software in the south of Germany. Additionally,

the Marketing Department teamed

up with international colleagues from Germany

and Holland. This skilful and creative

crew focused on one mission: positioning Trinity

haircare broadly in medium and high-end

salons in Europe and worldwide. In order to

achieve this, the brand chose a communication

strategy in modern social media, but also

ABOUT US

Company Name:

Trinity haircare AG

Company Address:

Rorschacher Str. 150

9000 St. Gallen

Switzerland

Tel.+41 (0) 71 351 74 - 66

Fax +41 (0) 71 351 74 - 68

Website:

www.trinity-haircare.com

www.tailorsgrooming.com

President:

Robin Schenke

Main Brands:

Trinity haircare – Tailor's

Grooming

Main Export Destinations:

Germany, Holland, Belgium,

Greece, France, Russia,

Portugal, Czech Republic,

Slovakia, Slovenia, Serbia

and Austria

Left, President

Robin Schenke.
---
In this page, Trinity hairstyling images and

some events attended by the Company.

REASONS WHY

in traditional channels, by sponsoring some

television formats and a number of sports

events and teams. A great achievement for

the development of the brand was the recruitment

of Robin Schenke. At the beginning the

experienced sales professional took on the

position of Export Manager but quickly moved

to a higher level. He took on the company management,

successfully introduced it in more

than 20 countries and made it a well-known

and respected brand in the professional haircare

market worldwide. Charity is an utmost

concern for Trinity, which supports a variety of

projects in the fight against cancer. The company

is also concerned with environmental

protection, sustainability of all materials and

production processes and the continual professional

development of the haircare professionals.

The Trinity's European Artistic team

has enhanced the educational expertise of

the brand. This group of hair artists who come

from different European countries is responsible

for the development of trend-setting collections,

techniques and products, but most

of all the perfect training for clients in all the

markets where the brand is active.

Passionate, individual,

friendly service

Swiss Quality Products

100% salon exclusive – more

than an empty promise

The colour experts

High profile Research and

Development

Full range of products –

everything a salon needs

Appealing Trend Collections

twice a year

Trinity Trophy – Challenge for

your creativity
---
TRINITY

VISION, MISSION & STRATEGY

Trinity vision is to become one of the leading

brands in today's professional haircare market,

not in terms of size or turnover, but in terms

of brand recognition, brand awareness, and

most importantly brand value. The company's

greatest ambition is to be one of the most wellknown

and respected brands in the professional

haircare market worldwide. Trinity's mission is

to sell and promote 100% Swiss salon exclusive

premium quality products in today's professional

haircare market, with a personal touch and

with a clear focus on education, training and

support, to foster partner salons' success

and constant growth. Trinity strategy is to

create a strong and cooperative network of

suppliers and distributors who understand, live

and foster the Trinity vision and mission and are

in line with the company policy and values. This

Trinity global network should promote the Trinity

brand and distribute its products by supporting

partner salons.

STAR

PRODUCTS

VDT Cream Hair Colour

140 shades for intense,

brilliant and long-lasting

results with the key

ingredient Vibrant Care

Complex with Jojoba oil,

beeswax, pomegranate

core oil, linoleic acid

and the pigment-booster

Pyrazol for perfect

coverage while protecting

hair and scalp.

Tailor's Clay

Strong hold and matte

finish for every type of

hair. This unique styling

tool with bamboo extract

and silica is the one

and only real clay. Its

stunning creamy texture

gives firm hold, form and

texture. Perfect for short

cuts and for everybody

who likes a natural and

strong look.

One12 multi-action

spray

12 benefits in only one

product: nourishes,

detangles, eliminates

frizz, acts anti-static,

protects the colour,

adds volume, seals

cuticles, protects from

environmental stress,

seals ends, reduces

blow-drying time, hinders

cellular ageing and

leaves hair brilliant and

shiny. Contains a blend

of precious natural Argan

oil, Macadamia oil and

Nyamplung oil.
---
RAWMANTIC

The latest Trend Collection of TRINITY haircare Fall & Winter 2017/18

TRINITY haircare AG

Rorschacherstrasse 150-152

CH-9000 St. Gallen

Tel. +41 (0) 71 351 74 - 66

office@trinity-haircare.com

www.trinity-haircare.com
---
102

COUNTRIES WE DO

BUSINESS WITH

DOMESTIC SALES

33+ MANAGERS

THE WORLD'S LARGEST

OUR HAIRCARE PORTFOLIO

THE KIRSCHNER GROUP

28328 Constellation Road

Valencia, CA CA 91355, USA

intlsupport@kirschnergroup.com

www.kirschnergroup.com

+1-661-257-6260
---
INTERNATIONAL SALES

YEARS OF

25+ REPRESENTATIVES

EXPERIENCE

35+

BEAUTY SALES ORGANIZATION

WHO WE ARE

The Kirschner Group, Inc. is is a a professional

sales organization with over 35 35 years of of

experience growing America's leading,

professional beauty brands.

We We are are the the only sales organization in in the the

professional beauty industry to to service

all all 50 50 states, Canada, and the the entire

international marketplace with strategically

placed Reps covering all all continents.

WHAT WE DO

The Kirschner Group, Inc. connects our brands to to the the right

international distributor and retailer, then manages the the business

relationship on on a a day-to-day basis, to to ensure our customers

are are getting the the right support they need for for brand growth.

WHERE WE SELL

Hair / / Nail / / Esthetic Professional Distributors I Ethnic I Distributors

Barber Distributors I Chain I Salons I Prestige I / / Department Stores

Beauty Retailers I E-Commerce I I TV I TV Shopping Network

OUR SKIN AND BEAUTY PORTFOLIO

The Kirschner Group, Inc.

tkg.beauty
---
THE LEADING B2B EVENT IN

ASIA-PACIFIC FOR ALL SECTORS

OF THE BEAUTY INDUSTRY

COSMOPROF-ASIA.COM

SINGAPORE

SINGAPORE EXPO

16 – 18 NOVEMBER 2022

SALES OFFICE ASIA PACIFIC

Informa Markets, Hong Kong

P +852 3709 4988

cosmoprofasia-hk@informa.com

SALES OFFICE EUROPE, AFRICA,

MIDDLE EAST, THE AMERICAS

BolognaFiere Cosmoprof S.p.a.

Milan, Italy

P +39 02 796 420

F +39 02 795 036

international@cosmoprof.it

MARKETING AND PROMOTION

BolognaFiere Cosmoprof S.p.a.

Milan, Italy

P +39 02 796 420

F +39 02 795 036

info@cosmoprof.it

ORGANISER – COSMOPROF ASIA LTD

HELD IN

SUPPORTED BY

A NEW WORLD FOR BEAUTY BOLOGNA, HONG KONG, LAS VEGAS, MUMBAI, BANGKOK