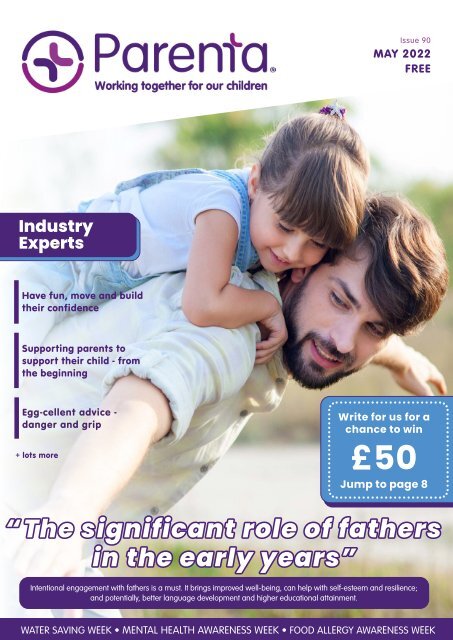 May 2022 Parenta magazine
Create successful ePaper yourself
Turn your PDF publications into a flip-book with our unique Google optimized e-Paper software.
Issue 90

MAY 2022

FREE

Industry

Experts

Have fun, move and build

their confidence

Supporting parents to

support their child - from

the beginning

Egg-cellent advice -

danger and grip

+ lots more

Write for us for a

chance to win

£50

Jump to page 8

"The significant role of fathers

in the early years"

Intentional engagement with fathers is a must. It brings improved well-being, can help with self-esteem and resilience;

and potentially, better language development and higher educational attainment.

WATER SAVING WEEK • MENTAL HEALTH AWARENESS WEEK • FOOD ALLERGY AWARENESS WEEK
---
Danger and

grip

Using simple items such

as plastic bottles to enable

children to handle things

we wouldn't want them to

directly.

hello

welcome to our family

Hello and welcome to the May edition of the Parenta magazine!

With the evenings, and now also the mornings, much lighter, we are getting ever closer to the longest day of the

year which occurs next month. This new found freedom of having extra light hours in the day can have a huge

positive impact on people's mental health, encouraging them to venture out - and even meet up with people

that they've not seen a while.

We tend to cover the topics of mental health and well-being regularly in the Parenta magazine, since they have a

profound effect on how we live our lives. We feel that it's important to raise awareness (in ourselves and others)

of mental health issues and the theme of this year's Mental Health Awareness Week looks at a topic which is a growing problem and

often not talked about: loneliness. Turn to page 28 for help on understanding and recognising the different types of loneliness and how

you can help yourself and others.

On the subject of well-being, we welcome Pamela McFarlane, new guest author and industry expert to the Parenta family. Her insightful

article, "How well is your being?" gives some wonderful examples of real-life scenarios in early years settings and her many years of

experience guides us through some self-coaching techniques.

Also in this month's issue…Mona Sakr and June O'Sullivan discuss their eagerly awaited jointly-written book "Social Leadership in Early

Childhood Education: an Introduction". Turn to page 6 to find out how you can win a copy!

Joanna Grace discusses 'danger and grip' as she continues her 'egg-cellent' advice series; Helen Garnett explores the significant role

fathers have in early childhood; "laughter facilitator" Katie White and music and movement expert Gina Bale show us how to connect

through rhythm and repetition and have fun, move and build children's confidence. Kathryn Peckham gives some fantastic advice on how

to support parents to support their child from the very beginning and early years safeguarding expert Yvonne Sinclair guides us through

some new legislation on safety and safeguarding.

As always, everything you read in the magazine is all written to help you with the efficient running of your setting and to promote the

health, happiness and well-being of the children in your care.

Please feel free to share the magazine with friends, parents and colleagues – they can sign up to receive their own copy here!

Allan

Connecting

through rhythm

and repetition

Repetition is crucial to

learning and retaining

information. How can you

bring these tools into your

interactions with children?

10

20

Supporting parents to

support their child - from

the beginning

24

From the beginning, there are many things

that can be introduced to support a child's

ongoing development.

MAY 2022 ISSUE 90

IN THIS EDITION

Regulars

8 Write for us for the chance to win £50!

34 Painting bug rocks

35 Blueberry muffins

News

4 Short stories

39 Congratulations to our Parenta

learners!

Advice

18 Fundraising for your setting

22 Water Saving Week

26 Food Allergy Awareness Week

28 Mental Health Awareness Week

32 How to make the most of your outdoor

space

36 Have fun, move and build their

confidence

Industry Experts

6 Social leadership in early childhood

care: an introduction

10 Egg-cellent advice: danger and grip

12 How well is your being?

16 The significant role of fathers in the

early years

20 Connecting through rhythm and

repetition

24 Supporting parents to support their

child from the beginning

30 Safety and safeguarding new legislation

Fundraising for your setting 18

Food Allergy Awareness Week 26

Mental Health Awareness Week 28

How to make the most of your outdoor space 32
---
A round up of some news

stories that have caught

our eye over the month

Story source and image credits to:

Day Nurseries, Nursery World, The Guardian and Gov.uk

Thousands of families can receive

help with Easter childcare costs

Working parents could get up to £2,000

a year to pay for regulated childcare,

including out-of-school activities in the

Easter holidays.

Childcare costs have spiralled

for two-thirds of UK families

according to survey

Parents have reported high levels of

anxiety as 'unaffordable' fees exacerbate

cost of living crisis.

Labour pledges action on early

years

Shadow education secretary reiterated

Labour's commitment to 'drive up' the

quality, affordability and availability of

childcare.

Children 'cannot wait to come into

the nursery' rated outstanding by

Ofsted

Rosemary Lane Nursery School has

been rated 'outstanding' by Ofsted, with

inspectors calling it a 'delightful place for

children to come and learn'.

Tea & Talk sessions create mental

health 'safe space' for nursery

staff

Fennies Day Nurseries in London, Kent

and Surrey began hosting the sessions in

the hope it would lead to 'a harmonious

working environment'.

Kids Planet 'accelerating growth'

with 110th nursery purchase

The childcare provider has recently

purchased two more nurseries based in

Birmingham, bringing their total number

of settings to 110.

Investigations underway into

'higher than normal' cases of

childhood hepatitis

Councils urged to create more

inclusive and accessible play

areas

Baby's life saved from deadly

allergic reaction by quickthinking

nursery

Click here to send in

your stories to

hello@parenta.com

Parents are being advised to look out for

symptoms of hepatitis after a spike in the

number of cases among children under

the age of 10.

Children's charities and industry bodies

are calling on UK councils to create more

facilities for children with disabilities.

A one-year-old's life has been saved by

his nursery after he suffered an allergic

reaction to medicine prescribed by a

doctor.

4 May 2022 | parenta.com

parenta.com | May 2022 5
---
Social leadership in early

childhood education and care:

an introduction

The work we do in Early Childhood

Education and Care (ECEC) is driven by a

social purpose – by the desire to make a

genuine difference. We want to make the

world a better place by giving children

the best possible start in life. That means

we need a model of leadership that puts

social purpose at the heart of leading.

This is what the social leadership model

is all about. In this article we're going to

explain why we developed the model, how

it emerged through global research and

conversations, what the model involves

and how it looks and feels on the ground.

Why do we need the

social leadership model?

While we can all agree that ECEC is first

and foremost about achieving a social

purpose, we also all know that there has

been lots of under-investment in the sector

in most parts of the world. This has made

it hard, if not impossible, to come up with a

clear and unified vision for ECEC and what

it means to lead an ECEC organisation.

The pressure to make ECEC into a viable

business proposition means that many

leaders are having to juggle pedagogical

leadership, community leadership,

organisational leadership and financial

leadership. Leadership starts to look

like quite a thankless task of making

everything balance: balancing the

demands of pedagogical quality with the

financial demands, balancing staff wellbeing

against the realities of struggling

to pay a living wage. What gets lost in

this balancing act is the focus on social

purpose.

We've developed the social leadership

model as a way to respond to this

conundrum. We've based the model on

the practices of global leaders in ECEC who

are managing to have a significant social

impact. This is not about us inventing a

brand new way of leading, but instead,

we have aimed to capture and document

some of the amazing leadership that is out

there at the moment. By finding it, naming

it and understanding it, we can strengthen

social leadership across the sector.

How did we develop the

social leadership model?

The social leadership model came about

in two halves. First, we looked within

the London Early Years Foundation

(LEYF), where June is CEO, to see how

leadership is discussed and practiced

in this renowned ECEC social enterprise.

Second, we interviewed 14 global leaders

in ECEC renowned for their contributions

to the sector and their emphasis on social

purpose. We wanted to find out what

these leaders do in order to prioritise the

social impact of ECEC. Through these

conversations, we came up with the sixelement

model of what social leaders do

in order to fulfil their social purpose day to

day.

What does the social

leadership model look

like?

Sowing the

seeds of

sustainability

Facilitating

powerful

conversations

Leading with a

social purpose

Investing

in others'

leadership

The model is made up of six elements,

shown below. By applying pressure to

these 'levers', social leaders have the

maximum social impact. Let us look at

each one of these in turn.

Leading with social

purpose

This is where social leadership starts and

ends. Social leaders must have a clear

understanding of how ECEC and their

organisation contributes to a better society.

Not everyone has to have the same social

purpose articulated in the same language,

but social leaders do need to know how

and what they do every day makes the

world a fairer place.

Implementing a social

pedagogy

In ECEC, social purpose can only be

realised if the social pedagogy is aligned.

A social pedagogy is a vision of how

learning happens in the ECEC organisation

to support the fulfilment of the social

Implementing

a social

pedagogy

Creating a

culture of

collaborative

innovation

purpose. For example, in LEYF, the social

purpose centres on increasing the social

capital of children and families so that they

are well connected socially, feel belonging

and know how to access social services

and opportunities. The social pedagogy at

LEYF is deeply aligned with this purpose.

On a practical level, there is a clear focus

on children getting out and about in their

local community through regular outings,

whether to the market or the dentist or

a trip into the centre of London on public

transport. If social purpose is the heart of

social leadership, a social pedagogy is the

heartbeat.

Creating a culture of

collaborative innovation

Social leaders know that if you really want

to make a difference within the resource

constraints of ECEC, then working with

others is absolutely essential. Social

leaders prioritise partnerships and

connections that break down traditional

barriers. For example, Jacqueline Lamb,

CEO of Indigo Childcare Group in Glasgow,

has pioneered the integration of speech

and language therapy in ECEC settings

as a way to radically improve the early

support and intervention offered to the

families most in need. She recognised

that within current working models, where

health and ECEC are held apart from one

another, it is pretty much impossible for

children to get the early support they

need. Innovating together, whether within

the setting, with other settings or other

services, is the only way that we can truly

get support to all children and families.

Investing in others'

leadership

We have a copy of June and Mona's book to give away!

Simply email marketing@parenta.com with the subject line: 'Social Leadership in Early

Childhood Education and Care',and ask to be entered into this prize draw. The prize

draw closes on 26th May and we will notify the winner on that day. Or get 20% off

the paperback and both eBook editions of the book when ordered on Bloomsbury.

com between now and 31/07/2022 at midnight BST using code 'PARENTA20'.

Social leaders love to give others the

opportunity to lead, recognising that

this is the best way to improve day to

day practice and create a much-needed

leadership pipeline within the sector. Social

leaders overturn cultures of permissionseeking

by prompting everyone in the

organisation, whether an apprentice, room

leader or manager, to engage in problemsolving

and continuous improvement. In

the Learning Enrichment Foundation in

Toronto for example, supervisors avoid

giving direct advice and guidance and

are instead trained to coach and mentor

staff to build problem-solving skills among

more junior staff, using the question: 'What

do you think we could do?'.

Facilitating powerful

conversations

Powerful conversations need to happen

at all levels of an ECEC leader's activity.

There are pedagogical conversations with

staff and parents, coaching conversations

to improve practice in the organisation

and also advocacy conversations that

need to happen right across the sector.

Social leaders know how to take a typical

conversation and turn it into a powerful

one, changing hearts and minds and

prompting positive action.

Sowing the seeds of

sustainability

ECEC has to be part of the solution to

the huge global issues we face: poverty,

lack of education, climate change,

environmental degradation and so on.

Social leaders commit to integrating

sustainability into every element of their

leadership – from articulating the social

purpose to living the social pedagogy

and organisational culture. In our model,

we use the UN Sustainable Development

Goals as a way that social leaders can get

a handle on sustainability.

Mona Sakr

Dr Mona Sakr is a Senior Lecturer in

Education and Early Childhood. As a

researcher in Early Years (EY) provision,

she has published extensively on

creative, digital and playful pedagogies

including the books "Digital Play in

Early Childhood: What's the Problem?"

(Sage) and "Creativity and Making in

Early Childhood: Challenging Practitioner

Perspectives" (Bloomsbury).

Email: m.sakr@mdx.ac.uk

Twitter: @DrMonaSakr

June O'Sullivan

June O'Sullivan MBE is Chief Executive

of the London Early Years Foundation

(LEYF), one of the UK's largest charitable

childcare social enterprises which

currently runs 39 nurseries across twelve

London boroughs.

An inspiring speaker, author and regular

media commentator on Early Years,

Social Business and Child Poverty, June

has been instrumental in achieving a

major strategic, pedagogical and cultural

shift for the award-winning London

Early Years Foundation, resulting in

increased profile, new childcare model

and stronger social impact over the past

ten years.

Twitter: @juneosullivan

6 May 2022 | parenta.com

parenta.com | May 2022 7
---
Write for us!

NEW

We're always on the lookout

for new authors to contribute

insightful articles for our

monthly magazine.

If you've got a topic you'd like to write about,

why not send an article to us and be in with a

chance of winning? Each month, we'll be giving

away Amazon vouchers to our "Guest Author of

the Month". You can find all the details here:

https://www.parenta.com/sponsored-content/

By June O'Sullivan and Mona Sakr

Find out more at Bloomsbury.com

Nurturing Childhoods Advert - Parenta April 22 v2 PRINT.pdf 1 26/04/2022 08:13

EnRich offers bespoke

coaching according to

your need. Programmes

are designed to:

Equip individual educators for

success in and out of the setting

Equip leaders in educational

settings to coach their teams

effectively

Empower individuals to

overcome challenges and achieve

their goals

info@EnRich4Educators.com

07393 712 442

www.enrich4educators.com

Congratulations

Online Courses and

Accreditations Nurturing

Children in their Early Years

Social Leadership_Parenta_advert_1.0.indd 1 12/04/2022 12:55

20% off

using the code: PARENTA

to our guest author competition winner, Gina Bale!

Congratulations to Gina Bale, our guest author of

the month! Her article "Empower your team to feel

the beat of the tambourine like a dancing queen"

discussed how movement and music are key areas

for children's learning. Well done Gina!

A massive thank you to all of our guest authors for

writing for us. You can find all of the past articles

from our guest authors on our website:

www.parenta.com/parentablog/guest-authors

C

M

Y

CM

MY

CY

CMY

K

Courses, talks and guides: Written for

parents and professionals. Allowing us to

work together, with the child at the centre

of all we do.

Online access: Available any time, any

where. Scheduled to meet your needs

and your time frame. Never miss a

training session again.

Designed and delivered by experts:

Both in the field of child development and

practice. Understanding the challenges

you face and how to meet them.

Supporting you: Recognising the

foundational experiences children need

and celebrating the work you are doing to

offer them.

For more information and free samples of the course

go to: www.NurturingChildhoods.co.uk/parenta

Pssst... Let the

LittlemagictrainTM

take your setting on a magical

journey to success

Join in with over 200,000 children

across the UK who take part in

Littlemagictrain learning adventures

in early years settings.

"The staff always join in and I can

honestly say it's one of the best

products we've ever invested in!"

Nicky Sanford, Early Years Teacher Marcham

Pre-school

Scan Me!

"

Nurturing

Childhoods

www.littlemagictrain.com

Or email: Hello@littlemagictrain.com

8 May 2022 | parenta.com

parenta.com | May 2022 9
---
Egg-cellent advice:

danger and grip

I do not know how he came to acquire the nickname Egg but ever since he came along that's what my youngest son has been called.

I run The Sensory Projects www.TheSensoryProjects.co.uk (which should now really be called The Sensory Projects and Sons!) My work

focuses on people with profound disabilities and sensory differences, but my son's advice will apply to your work too.

In this series of articles we are going to share his insights with you, if you are keen for more there is an ever growing collection on my

Facebook profile: come and make friends. www.Facebook.com/JoannaGraceTSP

Joanna Grace

This is article 7 out of a series of 10! To view the others click here.

I keep a stash of small plastic bottles at

home, I've been known (in pre-pandemic

times) to swipe left over ones discarded by

their owners from café tables. I use them

to enable Egg to get a closer look at things

I wouldn't want him handling directly. He

has a finely attuned sense of danger: if it is

dangerous, he wants it! Consequently our

toy boxes are well stocked with items like

this that I've swiftly made him. We have

one with the pencil sharpener in, that he

wanted to bite. Ones with my hair grips in,

poking them in his eyes didn't seem the

way to go. Ones with his brother's marbles

and dice in. It is something we have

always done.

It is limited of course, he can see the items,

inspect them up close, and shake them to

make a noise, but he cannot smell them,

taste them or touch them - so much is

missing, but it is a good botch and fuels

curiosity.

When he was small, gripping the bottles

was tricky for him. I attached round

wooden curtain rings to some, with

Sellotape, the curtain rings were easier to

grab for him than the larger smooth bottle.

Pipe cleaners work well – as Egg explains.

Some of our bottles just have some

knotted string or fabric around the neck,

something to grab onto.

I wouldn't normally be allowed to touch

these things, but they are very interesting

and I want to.

They rattle, move and make noise.

Their brightness attracts my vision.

Mummy put them into a bottle for me.

I want to hold them. I make several

attempts to grab them.

Mummy added a pipe cleaner handle for

me.

I do not get my grip right at first but I

persist.

Mummy looped the pipe cleaner around

my wrist and then the bottle stopped

suddenly vanishing and I was able to get a

closer look at these little things.

Of course I want to see what they taste

like.

(These words first appeared on Jo's

Facebook profile you are welcome to

send her a friend request to watch out

for more insight www.Facebook.com/

JoannaGraceTSP)

Joanna provides online and in person

training relating to sensory engagement

and sensory differences, look up www.

TheSensoryProjects.co.uk/online-college

for more information.

To view a list of her books visit www.

TheSensoryProjects.co.uk/books.

Follow Jo on social media to pick up

new sensory insights, you'll find her

at: Twitter , www.Facebook.com/

JoannaGraceTSP and www.Linkedin/In/

JoannaGraceTheSensoryProjects

Joanna Grace is an international

Sensory Engagement and Inclusion

Specialist, trainer, author, TEDx speaker

and founder of The Sensory Projects.

Consistently rated as "outstanding" by

Ofsted, Joanna has taught in

mainstream and special school settings,

connecting with pupils of all ages and

abilities. To inform her work, Joanna

draws on her own experience from her

private and professional life as well as

taking in all the information she can

from the research archives. Joanna's

private life includes family members

with disabilities and neurodiverse

conditions and time spent as a

registered foster carer for children with

profound disabilities.

Joanna has published four practitioner

books: "Multiple Multisensory Rooms:

Myth Busting the Magic", "Sensory

Stories for Children and Teens",

"Sensory-Being for Sensory Beings"

and "Sharing Sensory Stories and

Conversations with People with

Dementia". and two inclusive sensory

story children's books: "Voyage to

Arghan" and "Ernest and I". There is

new book coming out soon called

"The Subtle Spectrum" and her

son has recently become the UK's

youngest published author with his

book, "My Mummy is Autistic" which

was foreworded by Chris Packham.

Joanna followed with her own book

"The Subtle Spectrum" which explores

the landscape of post diagnosis adult

identified autism.

Joanna is a big fan of social media and

is always happy to connect with people

via Facebook, Twitter and LinkedIn.

10 May 2022 | parenta.com

parenta.com | May 2022 11
---
How well is your being?

Everyone is talking about well-being. It's

a lovely, floaty word that hovers around

settings, wafts its way through earnest

leadership meetings and flutters its

fairy wings on the cheeks of dishevelled

childcare workers who are mired kneedeep

in sensory play, whilst swimming

upstream through the fog of expectations.

What does well-being even mean? Does

it come down to mixed metaphors and

tick-boxes?

Tchiki Davis, a well-being expert, says,

"Well-being is the experience of health,

happiness, and prosperity. It includes

having good mental health, high life

satisfaction, a sense of meaning or

purpose, and ability to manage stress."

This article is not going to be a deep

discourse on well-being. There are plenty

of articles one can Google that explain all

about well-being. Nope. We are going to

get real. Two scenarios are painted below

and you will most likely identify with one

of them.

Sally - Manager

The alarm wakes Sally up; before she

can even focus she picks up her phone to

check who is notifying her of their absence

today. Either they have tested positive

for COVID, or feel it may be COVID and

are giving it a few days to make sure or

they simply have COVID-itis, a condition

whereby the sufferer is simply exhausted

by all aspects of the pandemic and feels

the need to lie down in a dark room for a

day.

Whilst simultaneously cleaning her teeth

and making coffee, Sally calls cover

practitioners to fill the staffing gap. As

usual, only Jenny can come but she has to

leave to pick her children up from school at

3:00pm. That's okay, Sally thinks, through

bubbles of Colgate MaxWhite, I can cover

lunches during my own lunch hour which

will help. She lists today's tasks in her

head:

• Answer backlog of emails - be polite

• Check seventy-five reports - if one

more person spells 'independently'

wrong there will be consequences

• Plan staff meeting

• Have a professional discussion with

Helen, who sidles into work late every

day, Starbucks coffee cup in hand

and fails to read the room – her peers

are oozing resentment; they are not

happy

• Speak to Ben; explain once more that

to make and record an observation,

one actually has to observe and not

chat to fellow educators about his

vaccine theories

• Sit with a teary parent, who is unable

to manage little Louis' behaviour and

chat until they feel confident enough

to face pick-up time with a smidgen of

hope that home life will improve

• Do a walk around, encourage staff,

have magical conversations with

children while navigating through a

very muddy mud kitchen

• Do a gentle hour-long induction for a

new apprentice – this is their first job

ever and their abject fear is noticeable

And so the day goes on. Sally waves

goodbye to staff at the end of the day and

retires to her Lazy-Boy to drink a large

glass of wine. Oh, if only. Sally rushes

home to peel the vegetables for tonight's

meal at the same time as answering her

own child's homework queries, throwing

in a load of washing and hearing all about

the rough day her partner had working

from home with a slow internet speed. If

someone were to ask Sally how her wellbeing

was, she'd probably burst into tears.

Emma - Practitioner

Emma has an early start as she has to

perform a risk assessment of the premises

before others arrive. She skips breakfast

and runs for the bus. A new key child

arrives for a settle so she plays dinosaurs

with Reggie while chatting to his parents.

Emma takes a mental note of all their

concerns, including Reggie's distaste

for pumpkin and his possible allergy to

cheese. Emma clocks the fact that Reggie

has 'a strong will' and ducks when he

throws the wooden bricks in the direction

of her head.

Nappy changing is next; she has to

change five children within the next ten

minutes, an impossible task but she gives

it her best shot. She makes the experience

a happy one for each child even though

her back aches. She ponders on the

thought processes of parents who delight

in feeding their children beetroot and

sweetcorn. The changing room resembles

a CSI crime site and she spends a good

deal of time cleaning up, ensuring the

area is hygienic once more.

Group time next, so Emma assembles her

children into a squircle as a circle is simply

not sustainable. She combines exciting

learning with impressive behaviour

management skills. Lunch time follows;

she helps children use cutlery safely, looks

out for choking hazards and chats about

the need for healthy food. She invariably

has to pick pasta out of her hair at some

point.

During her lunch break, Emma relaxes on

the fluffy cushions the setting brought to

address staff well-being needs and makes

notes for the children's observation records

she has to write next week.

I think the picture is clear. The astonishing

thing is that with all that happens during

a nursery day, educators pour themselves

into the well-being of their children, extend

their learning and create a culture of

curiosity every single day.

How then, do we start to address staff

well-being? Yes, a comfy space for

lunches and breaks is lovely; one can

cuddle or cry into a soft cushion and

feel better. Good coffee and a pack of

Hobnobs tend to cheer a tired soul up.

Whiteboard affirmations are warming and

encouraging.

None of these, however, equip educators

and teach them strategies that will

consistently improve their well-being. It's

like mopping up the paint spill in the art

area that happens every day because the

table is unsteady. So, just how do we fix

this wobbly table of well-being woe?

Self-coaching principles can help. A technique that works well is

the 'I can' principle.

Ask yourself, what CAN I do to make a difference today?

Choose three achievable 'I can' actions, for example;

• I can take a walk during my break

• I can read a few chapters in my book before I sleep

• I can make a date to catch up with a friend

It's a start. Knowing that you have accomplished these three things at the end of the day will

give you a sense of control and achievement. Cultivate an 'I can' attitude. Who knows, you

may even have time for breakfast tomorrow.

Pamela McFarlane

Born in Zimbabwe and raised in South

Africa, Pam settled in England in 2002.

As an educator of 40 years' experience,

she has the privilege of teaching children

from 2-18 years old. For the past 14

years, she has successfully managed

early years settings within Brighton &

Hove. Noting and understanding the

unmet well-being needs of educators

within the context of enormous

challenges, she founded her EnRich

Coaching for Educators business to offer

a solution to the industry.

Her passion is coaching, and training

early years educators wherever needed

in the world, from The Philippines to

Ethiopia.

She is a lover of beauty. Exploring new

places thrills her soul, from strolling

through quintessential British meadows

to walking on the Great Wall of China –

she sees splendour and intrigue around

every corner.

Although she is not inclined to enormous

outbursts of energy, she has nonetheless

climbed Mt Snowdon and completed

a very challenging hiking marathon on

the South Downs. She has also indulged

in Mongolian wrestling in Ulan Bator

but that is another story entirely! Her

memoirs have been published and

available on Amazon here.

www.enrich4educators.com

12 May 2022 | parenta.com

parenta.com | May 2022 13
---
The cheapest all-in-one,

easy-to-use, cloud-based

early years software

package you can buy!

No setup fee – save a massive £2395! | No hidden costs!

All inclusive | Limited time offer | Unlimited support

For only

£3.25 per day

(paid annually)

with a MASSIVE

saving of £2395

(No setup fee)

Let us help you with your training needs - call us today

By providing training

for your staff, you will:

Improve morale

Support

children's safety

Enhance your

setting's reputation

NON-LEVY CONTRIBUTION

5%

What's included?

Cloud-based Nursery Management

Software for easy and quick invoicing,

reporting & ratios - NEW features for

2022!

User-friendly EYFS development

tracking software

Daily Diary to record activities, naps,

meals and nappies

Easy set up and user friendly parent

engagement app – maintaining social

distancing when needed•

Monthly direct debit option available on request

Book a Demo Today!

Go paperless and limit the spread of

germs

Accurately record baseline

observations

Photo Editing, Tagging & Blurring

Technology (GDPR compliant)

Easy Ofsted reporting

Unlimited phone & email support

plus videos and help files

Reduce staff

turnover

Did you know...

We have secured funding available and

are enrolling learners on to our courses

every day!

Take advantage for you or your staff!

Payment plan available for your 5%

contribution

You can now access government funding for up to 10 staff members - instead of 3

- to help get your staff qualified and keep them motivated

0800 002 9242 hello@parenta.com

0800 002 9242 hello@parenta.com
---
The significant role of

fathers in the early years

Historically, fathers have been side-lined in

bringing up children, with mothers seen as

the 'gatekeeper'. Indeed, back in the mid-

1970s, a father's involvement was typically

around 15 minutes a day. Thankfully,

this outdated mindset has changed

significantly, and dads and father figures

are becoming more involved than ever.

Unexpectedly, COVID has facilitated father/

child relationships. During lockdown in

2020, 78% of dads were spending more

time with their children, 68% spent more

time than usual on home schooling/

homework, and more than half felt better

equipped to support their children's

learning and education. 1

And yet 44% of fathers in a recent report 2

confessed to lying or bending the truth

to their employer about leave for familyrelated

responsibilities.

This is shocking! Even in the 21st century,

there are barriers to fathers sharing

childcare. Children with involved fathers

are more likely to have better well-being,

higher self-esteem, be more resilient, have

better language development and higher

educational attainment! 3 Dads, then, are

key. Our role as early years practitioners

is to reverse negative societal views

regarding fathers' involvement. Where do

we start?

Science and facts of

fatherhood

Science demonstrates that fathers are

designed to be equal partners in parenting

from the beginning. Expectant fathers

influence child development. Here's how:

• Fathers' mental health during the

pregnancy is linked with their child's

well-being later in life

• During pregnancy, there are changes

to areas of fathers' brains linked

with nurturing, attachment and

responsiveness. The brain literally

'bulks up' for these skills ready for the

birth of the child. One key change is a

testosterone level dip 4 just before and

after the birth of the child. As a result,

dads have more of a natural urge to

care for their new-born baby

• Fathers pass on 50% of their genetic

material to their child's development.

However, they pass on epigenetic

contributions too. This is where their

environment and behaviours can

cause changes to be made in the way

their genes work and this modifies

the genes they pass on. Such

epigenetic modifications will not just

affect the next generation but can be

transmitted across future generations

Should fathers get all the

fun?

Dads are often labelled as the 'fun' parent

and yet this 'fun' is crucial for both child

and father. When dads and children

engage in boisterous, happy play, their

brains release higher levels of oxytocin.

Oxytocin, the 'love hormone', triggers

loving, protective feelings and positive

emotional responses. Play stimulates

the production of this hormone, whilst

caretaking for dads generally releases

less. Consequently, dads will enjoy the

more physical aspect of play, the rough

and tumble. Good news all round!

Adverse Childhood

Experiences Score (ACES)

When men experience any ACES (traumatic

or stressful experiences before the age

of 18) it may have an impact on future

relationships, including how they view

their own children. The higher the ACES

score, the greater the negative impact.

For instance, their perception of a child's

'behaviour' at 6 and 12 months may

become more negative due to stress they

experienced as a child. 5 This negative

perception may continue as the child gets

older. Robust and effective support for all

fathers, regardless of very young children,

is key.

Are we being intentional

about including and

engaging fathers?

Early years settings are keen to involve

dads. But we must go much further than

this! We must ensure that all fathers feel

and remain fully engaged. To do this, we

need to be aware of any barriers that may

prevent dads from becoming involved.

What are these barriers?

1. How much does the 'female'

atmosphere of pre-school put

fathers off? A group of early years

practitioners in Milton Keynes picked

out a different park each month to

set up a 'toddler friendly trail.' Out of

roughly 50 adult participants, a third

were men. Men were not targeted but

clearly felt more comfortable being in

the park, rather than the femaleness

of the early years setting. What might

put fathers off from coming into your

setting? How comfortable do dads

feel around the female atmosphere or

environment in general?

2. What are the attitudes towards dads?

Is there an assumption that mums

will come to nursery events more than

dads?

3. Fathers' work and geographical

proximity impacts their involvement.

Does your setting know where dads

live and work?

4. Research demonstrates that fathers

appreciate humour, non-judgement

and fun. Does your nursery reflect

this?

ACTIONS FOR DADS'

ENGAGEMENT

Connect with all fathers:

• Ask how fathers are and keep asking

• Invite them by name into the

setting

• Make sure events are

geared for dads as well

as mums

• Reflect dads' interests in

newsletters and other literature

• Find out dads' interests – sports,

maths, cooking?

• Find out what dads enjoyed/didn't like

about school

• Invite fathers in to play football or

other physical activities

• Offer 'Dad and kid' activities, e.g.,

running clubs

• Have a named person, a 'Dad's

Champion', who leads the staff team

on father engagement in the setting

• Train practitioners in engaging with

fathers 6

Conclusion

Intentional engagement with fathers is

a must. After all, research confirms a

positive, strong and direct link between the

active involvement of father figures and

children's cognitive skills development,

their ability to deal with stress and being

better prepared for school.

Successful father involvement takes place

where the whole team understand how

the engagement of fathers is everyone's

responsibility, where staff do not by default

always engage with mothers.

Start today by ensuring that the

involvement of father figures becomes

entrenched in your settings' values. Dads

and father figures come in all shapes and

sizes, from stepdads and grandfathers

to uncles and family friends. We need

them all. They are, indeed, crucial to every

child's development. Bring them into the

setting and ensure they feel welcomed

and needed.

What are we waiting for? Get the invites

out today!

Helen Garnett

Helen Garnett is a mother of 4, and a

committed and experienced early years

consultant. She has a wealth of experience

in teaching, both in the primary and early

years sectors. She co-founded a preschool

in 2005 where she developed a

keen interest in early intervention, leading

her into international work for the early

years sector. Helen cares passionately

about young children and connection.

As a result, she wrote her first book,

"Developing Empathy in the Early Years:

a guide for practitioners" for which she

won the Professional Books category

at the 2018 Nursery World Awards, and

"Building a Resilient Workforce in the Early

Years", published by Early Years Alliance

in June 2019. She also writes articles for

early years magazines, such as Nursery

World, Early Years Teacher Organisation,

QA Education, Teach Early Years, and Early

Years Educator.

Helen is the co-founder and Education

Director at Arc Pathway, an early years

platform for teachers and parents.

Helen can be contacted via LinkedIn.

16 May 2022 | parenta.com

parenta.com | May 2022 17
---
Fundraising for your

Let's face it, who doesn't need some extra

money for their setting? Fundraising is an

option that many nurseries use, and there

are tried and tested ways to do this. We've

put together a list of some old favourites

as well as some new ideas to help you

expand your fundraising options.

Fundraising favourites

1. Cake and bake sales – a great way to

raise a few pounds for small projects

since a lot of people like baking and

are usually willing to invest some time

and pennies to bake some delicious

treats.

2. Seasonal fetes and fayres – these

usually attract a lot of people and

it gives you a chance to run some

simple stalls, competitions and fun

events that everyone can get involved

with. Make the activities affordable

so that people can enter a number

of events. Some settings run a ticket

system, where for a suggested

donation of say £5, each child gets

10 raffle tickets to spend on activities.

Some of the stalls you could run

include:

a. Guess the weight of a cake/

object

b. Guess the number of sweets/

counters/water in a jar

c. 'Bash a rat' – obviously this

doesn't involve harming a real

rat(!), but it's a game where you

drop a stuffed sock or similar

through a tube and the person

playing has to hit or catch the 'rat'

at the bottom.

d. 'Spin the wheel' – create a

spinning arrow and land of a

prize to win

e. Competitions to see who can

do things for the longest, e.g.

hold their breath, stand on one

leg, hold a heavy object at arms

stretch. You can offer age

setting

categories to make it fairer

f. Find the treasure – each person

buys a square on a grid and

there is a predetermined winning

square which is revealed at the

end

g. Tombola or lucky dip – for

example, tickets ending in 0 or 5

win a small prize

h. Hoopla or a coconut shy

3. Coffee mornings or afternoon teas –

you can make these a way to engage

more with parents too, such as

running a short educational session

on behavioural issues, helping

children read, or ways to encourage

mark-making.

4. Bring and buy/nearly new/jumble

sales – these usually work well for

all involved as people don't mind

donating things if they feel they can

come along and get a bargain.

5. Sponsored events – these are useful

ways as long as you don't ask too

often. It's better to be selective and

choose one event such as a sing-along,

dance-a-thon, walk, run, swim,

litter pick etc.

6. Mufti days or dress-up days – good

ways to encourage dressing up for

events such as World Book Day and

raise some money at the same time.

7. Raffles – running a seasonal or event

raffle can raise extra cash – ask for

donations and create some hampers

to increase the value of prizes on offer.

Check with any regulations you may

need to follow depending on the legal

status of your setting.

Ways to maximise your

fundraising

• Whatever events you run, think

about other ways to maximise your

fundraising. In business, they call it

'upselling' and it's akin to ordering a

burger in a restaurant and have the

waitress say: "would you like fries with

that?" Simple ways to upsell things

are:

• Ask your staff to offer additional items

– e.g. if they order a cup of tea, ask

them if they'd like a cake too

• Offer 2-for-1 or 3-for-2 deals or other

multibuy offers

• Have donation tins on the stalls/entry/

exit points

• Set up an online fundraising page

such as gofundme.com where you

can set up a fundraising account for

yourself, someone else or a charity

And some new ideas ...

1. Get creative and sell things that your

children have made. You could get

all the children to draw a picture of

themselves and have them printed

on a setting tea towel or apron, or

individually on a mug, coasters or

cushions. A lot of online printers now

let you upload individual designs

to raise money. You could sell

individually framed photos or pieces

of artwork which also make good

presents.

2. Put on a show – these take a

lot of work but can be very

rewarding and you

can increase your

audience by

selling tickets

to people's

wider

families

and the

local

community too.

3. Sell a recipe book/Christmas cards

– collect some favourite recipes to

publish and sell – ensure you have

the copyright first though.

4. Work in partnership with others

– joining together with another

organisation and splitting the profits

is another good way to widen your

audience. Consider local schools,

retirement homes or sports clubs. You

might consider taking on a part-time

freelance fundraiser to apply for

grants. This may be more feasible if

you are a charity or a larger setting as

it will involve a cost, but may be worth

looking into.

5. Consider setting up a crowdfunding

site for specific projects –

crowdfunding may be a way to

raise money for special projects

such as running a holiday scheme

or community project. See https://

www.crowdfunder.co.uk/ for more

information.

6. Lotteries – to run a lottery for

cash prizes, you need

to obtain a licence

and there

are strict

rules to

follow. However, they can be worth

it as long as you stay within the

law. They are usually banned for

commercial purposes but may be

allowed for community groups and

charities. You can find out more on the

gambling commission website.

Some pitfalls to avoid

No one likes to be tapped constantly for

extra money, so be discerning with your

fundraising events, and don't run too

many for the same people, otherwise you

will risk losing your audience.

Make sure you keep very clear records

of all the money you take in and any

expenses you incur running your event.

This is good financial practice to avoid

loses and maximise income, but it is also a

legal requirement for charities as keeping

good financial records is a statutory duty.

A word about fundraising for charities

If your setting is set up as a charity, then

it will need to follow certain fundraising

conditions set out by the charities

fundraising regulator or the Scottish

charities regulator. Charities receive tax

advantages from the government when

it comes to their income, so every penny

needs to be accounted for in order to stay

within the law.

And finally, make sure you are claiming all

the allowances your setting is entitled to –

see early years funding at Gov.uk here.

Useful sites and

information

• https://www.earlyyearscareers.com/

eyc/latest-news/top-10-ways-tofundraise-in-the-early-years/

• https://www.teachwire.net/news/

make-the-most-of-your-schoolsfundraising

18 April 2022 | parenta.com

parenta.com | May 2022 19
---
Connecting through

rhythm and repetition

Keep it simple

I suggest you start small. Copy movement

and noises, throw or roll a ball to one

another, tap a rhythm on your body and

have them copy you or play follow the

leader. Then see where that takes you,

be open to the possibilities. Just like the

tapping of a pillow, the 'little game' doesn't

need to be complicated, just take the

child's invitation to play and roll with it!

Look foolish

Immersing yourself fully in the nonsensical

nature of play, requires an element

of foolishness. Welcome failure and

embarrassment! Give yourself permission

to look silly! Allow yourself to delight in the

simplest of things. Laugh at yourself!

Stay present

Playing with little ones requires oodles

of patience and attention, but this is no

bad thing. Place your phone to one side,

temporarily forget your to-do list and

bring your full awareness to the moment.

A great way to do this is by using your

'beginners mind'; look at what's in front

of you as if it's the first time you've ever

seen it. Delight in the textures, colours and

sounds around you, this will connect you to

the simplicity of the child's experience and

have you full of wonder and joy!

Katie White

Katie Rose White is a Laughter Facilitator

and founder of The Best Medicine.

She works predominantly with carers,

teachers and healthcare professionals -

teaching playful strategies for boosting

mood, strengthening resilience and

improving well-being. She provides

practical workshops, interactive talks

and training days - fusing therapeutic

laughter techniques, playful games

and activities, and mindfulness-based

practices.

The techniques are not only designed

to equip participants with tools for

managing their stress, but can also be

used and adapted to the needs of the

people that they are supporting.

Tap tap, he hits the cushion with the palm

of his hand, tap tap, I copy his rhythm

hitting a cushion near me. His eyes light

up and a grin widens on his face. We

go on tapping the cushions, laughing

and grinning at each other, and then as

toddlers do, his attention moves on to

something else.

These moments come in abundance when

caring for children. I like to see them as

little games; games with very few rules,

which if played well, can end in fits of

laughter or amusement. Along with the

many developmental benefits of play.

These types of non-verbal conversations

help a child feel heard and understood

and build on their ability to socialise and

connect with others.

Yet often these types of games can feel so

tiresome for us! A game of peek a boo or

chase can go on for hours and the novelty

for us can quickly wear off. Yet when we

are able to accept these invitations to play,

the benefits for both us and the child we're

supporting are invaluable.

The majority of my work with The Best

Medicine involves teaching adults how to

be more playful. What's fascinating is I find

that games with repetition, mirroring and

sound (like the cushion tapping game) can

be just as fascinating and enjoyable when

played by two adults. In a game where

I instruct pairs of adults to communicate

using pots and pans, I often witness the

same joy and connection as I see from

little ones. There is a satisfaction in the

simplicity of the task, the cause and effect,

the rhythm and pace, the imaginative

ways we can respond to each other, just

using sound.

Rhythm and repetition work for a reason.

The first sound we hear in the womb is the

steady rhythm of our mother's heartbeat.

We find comfort in rhythm as it holds

reassurance and predictability.

If you work with children, you'll be very

familiar with using rhythm and repetition.

Whether it is through clapping games,

nursery rhymes, warm ups or physical

movement. Repetition is crucial to learning

and retaining information and works so

well. Yet how can you bring these tools

into your interactions with the children?

And more importantly, how can you allow

yourself to play in these moments?

thebestmedicine@outlook.com

www.twitter.com/bestmedicine1

http://www.facebook.com/

thebestmedicinecornwall

20 May 2022 | parenta.com

parenta.com | May 2022 21
---
Water Saving

Week

Earth – not the 'final frontier' but seen

from space, we call it the 'blue planet' as

seventy-one percent of the earth's surface

is covered by water. The oceans hold

about 96.5% of all the water on the planet

but this is salt water and humans cannot

drink it. We need fresh water to survive,

but just 3.5% of the water on the earth is

fresh water, and about two-thirds of that is

currently trapped in the glaciers and polar

ice caps. Most of the rest of the fresh water

is in the ground known as ground water,

which leaves less than 1% of the world's

fresh water in our streams, rivers and

lakes, accessible to humans.

Even with all this water around us, fresh

water that we can drink and use, is in

scarce supply in some parts of the world

and there are still people living in the 21st

century who do not have access to fresh

water supplies as a matter of course.

Fortunately, the UK is a place in the

world where fresh tap water is currently

available, literally 'on tap' and few of us

have any issues with finding fresh water

to drink. We probably even take if for

granted. But it has not always been this

way. Centuries ago, we had to draw water

from a well, collecting the water each

day for our daily washing, cooking and

drinking needs. Perhaps we had more

understanding then of the precious nature

of this live-giving fluid.

According to one website, three billion

litres of perfectly good drinking water is

wasted in the UK every day – "enough to

make 15 billion cups of tea or hydrate the

entire population of Africa".

To be fair, a lot of it is wasted in the pipes

before it gets to our houses as some of

the pipes delivering water to urban areas

are leaky and it is not always cost effective

to repair them. Even more reason to be

careful with the water we do get as it only

takes a few weeks of reduced rainfall, and

the reservoirs start to dry up, the water

companies issue hosepipe bans, and we

all start thinking about saving water again.

But why not save water as a matter of

course? It can reduce our water bills and

make a positive environmental difference.

In a speech known as the 'jaws of death

speech', Sir James Bevan laid out the

situation regarding water in the UK saying:

"With population growth, changing

weather patterns including hotter

summers and drier winters, water is

becoming increasingly vulnerable to

scarcity, even in the UK. By 2040, we

expect more than half of our summers

to exceed 2003 temperatures. That will

mean more water shortages: by 2050,

the amount of water available could be

reduced by 10-15%, with some rivers

seeing 50%-80% less water during the

summer months. It will mean higher

drought risk, caused by the hotter drier

summers and less predictable rainfall. On

the present projections, many parts of our

country will face significant water deficits

by 2050, particularly in the southeast

where much of the UK population lives. "

Sir James Bevan, CEO of the Environment

Agency.

Water Saving Week

Each year in May, waterwise.org.uk

organise Water Saving Week, aimed

at raising awareness of the issues

surrounding modern water use, and

finding solutions to problems of supply to

help keep our water supply efficient and

sustainable. Everyone can become more

aware of the water they use and how

to save it, and if we start teaching our

children young enough, maybe we'll still

have time to make a difference before it's

too late.

Water Saving Week is happening this year

from 16 - 23rd May and there are lots of

websites with lots of activities for younger

and older children alike that you can join

in with. We've listed some of our favourite

ones from around the web below. These

include factsheets, word searches, ways to

make a water-powered rocket and home

made water filters:

How to be a leak detective

Wordsearch

The Diary of a Water Superhero

(English) and (Welsh)

Super Splash Heroes resources online

Water Superhero Challenge

Eco Schools

Flow Zone

How to reduce your water

usage in your setting

Bathrooms: we use about 68% of our

water usage in the bathroom, but there

are ways in which you can make your

water usage more efficient. These include

having showers instead of baths, using

aerated shower heads or low flow shower

heads and making sure you have efficient,

dual flush toilet systems which can save

approximately 50 – 75% water compared

to older cisterns. If you can't change your

toilet, you can get cistern displacement

devices (CDDs) which can save around 1

litre of water per flush and are available

free from most water companies.

Leaky taps: most leaky taps can be fixed

simply by replacing a washer so get all

taps fixed if they have a leak.

Cleaning teeth: turn the tap off when

cleaning teeth and rinse your toothbrush in

a cup of water instead or only turn the tap

on when you need it.

Dishes: using a dishwasher on eco setting

can save water compared to washing and

rinsing dishes by hand. Make sure you

only run your dishwasher when it is full.

You can add aerating taps to dishwashers

too.

Laundry: use water efficient programs

on washing machines and run them

fully loaded to make them more efficient.

Running on cooler temperatures will also

help you to use less electricity too.

Gardens: invest in some water butts to

collect rainwater to water your plants.

There are some decorative ones available,

or you could get the children to decorate

them as well. Think about planting plants

that are drought tolerant and use a

watering can instead of a hose pipe. The

RHS have some great watering advice

here.

Lawns: the advice here is not to water

lawns but to let them go brown in drier

spells, as they will recover when it does

rain. Water companies also advise against

artificial grass as it takes a lot of water to

make, so do your research before buying

artificial grass thinking it is a water-saving

option.

Recycle water: if you really want to make

some changes to your setting, there are

ways that you can recycle water more

such as using 'grey water' for use in toilets.

Companies such as https://www.aquaco.

co.uk/ can help with rainwater harvesting

and water recycling too.

More information and

references

https://www.waterwise.org.uk/event/

water-saving-week/

https://www.waterwise.org.uk/kids-pack/

https://spaceplace.nasa.gov/water/en/

https://maintaindrains.co.uk/the-uk-iswasting-billions-of-litres-of-clean-drinkingwater-every-day

22 May 2022 | parenta.com

parenta.com | May 2022 23
---
Supporting parents to

support their child -

from the beginning

From the beginning, there are many things

that can be introduced to support a child's

ongoing development. But parenting is a

complex business, with so much to think

about and be concerned over. Some may

be meaningless worry, doing little more

than keeping social media pages busy

– and you up at night! So how do you

support parents to do the simple things

that really will make a huge difference

to their developing child as they prepare

them for life?

As you consider the phrase, "preparing a

child for life," many different things may

come to mind.

You may think about personal qualities

and life skills that you would wish to

bestow upon them, reminiscent of good

fairies over the crib of Sleeping Beauty.

You may consider professional skills such

as financial independence, while being

able to set and achieve their goals and

remain motivated and engaged with

all the world has to offer. You may think

leading a happy and healthy life should

be the "gifts" that appear top of your

wish list, maintaining a positive attitude

and bouncing back when life throws

adversity their way. Or the strength of

their relationships, alongside their ability

to engage well in social situations, while

taking care of themselves as they actively

make healthy choices.

In some instances, the differences we can

make to our children take root very early

on. What may seem only a slight or barely

considered change in our behaviours can

have a staggering impact when you view

them over the long-term. But are your

parents aware of just how far back you

must go to see the impact of the choices

made? And just how early positive choices

will start to have a positive effect?

• For example, how well a child can

manage to sit at a school desk

without fidgeting and with enough

comfort to concentrate on the lesson

began with the "tummy time" they

received as a baby

• Their vocabulary on starting school

will depend heavily on how well they

are communicated with from birth.

Hearing tens of millions more words

in a communication rich home than

one where this is not a feature

• And the ease with which they take

to reading and spelling will depend

on the moments of quietness in their

early years when they were given the

opportunity to hear subtle differences

in sound?

So, let's look at some of the small yet

significant differences you can introduce,

both to your own routines and practices

and those of your families. So that from

day one you can make significant longterm

impacts on the children in your care.

Impacts that will continue to take effect for

generations to come!

Supporting a child's language

Firstly - talk to children - a lot. From day

one. Surrounding children with language

makes a huge difference to the number of

words hear, that they begin to recognise

– and in time – use. By the time they start

school, this difference will impact their

social skills, their vocabulary, and their

ability to communicate. Meaning they will

not only be better able to understand the

lesson, but they can also get involved in it,

contributing ideas and asking for the help

they need.

Supporting a child's

communication

To support children's communication,

you also need to actively hear them. So,

listen as they discover their thoughts and

feelings, and show them that they are

worthy of being heard. Even when all they

are communicating with is babble. You

can teach your children some Baby Sign

Language, even a few

words will offer them

a different way to communicate from a

very young age, with benefits being seen

in many areas of brain development. And

please help your parents to understand

how important it is to avoid using screens

until their child is at least two years old.

Sensory stimulation is hugely important to

a developing child, but this needs to be a

two-way exchange in ways that screens

cannot offer - but do detract away from.

Supporting a child's physical

development

It is so important that children are not

secured in a chair for any longer than

necessary. Give them opportunities to

feel what their growing bodies can do as

they strengthen their muscles and bones.

As they explore their environment, they

are even developing muscles deep within

their eyes, in ways that sat looking at one

distance cannot do. So, offer them "tummy

time" from the first months of life as they

develop their core systems in ways that

are essential for sitting comfortably when

they are older. And offer them lots of

experiences to investigate, to touch and

manipulate.

Supporting a child socially and

emotionally

Offer children opportunities to develop

their social and emotional skills, with

frequent opportunities to interact and play

with others as they see others engaging

and sharing. Children at any age are

very good at letting us know when an

experience has become too much and

their emotions are becoming triggered –

so talk to your parents about the subtle

signs as their baby turns their cheek, or

their mobile child moves away, avoiding

more tricky encounters.

And most of all, give them

time to just be…

Children need opportunities to experience

stillness, connectedness and moments

of centred well-being. Social media

would have many parents believe that

they should be filling every moment of

their young child's lives. So, take this

pressure off and allow time for magic and

imagination, spending time in nature,

singing nursery rhymes and playing silly

games. Encourage them to read to their

child from the time they are born. Picture

books with bright images will keep a baby

entranced while books that their toddler

can touch and manipulate will keep them

enthralled.

As children grow, they are perfecting their

abilities, learning how to think, to process

information and behave appropriately.

This takes their whole childhood, so

avoid rushing this vital development,

or accelerating to the next stage. Help

parents to marvel in these early years as

they lay the foundations that will have

such great impact through all the years to

come.

Support your parents with their own suite

of talks at Nurturing Childhoods; written

to complement the reflective practice you

can embed as you gain the Nurturing

Childhoods Accreditation. Underpinned by

the DfE professional standards, this action

research accreditation will help you realise

positive change, tailored to the needs of

your setting from day one. So, join me

as we surround our children with adults

who understand the importance of early

childhood. As together, we realise the

potential of every child.

Kathryn Peckham

As Founder of Nurturing Childhoods,

Dr Kathryn Peckham is a passionate

advocate for children's access to rich and

meaningful experiences throughout their

foundational early years. Delivering online

courses, training and seminars she

works with families and settings to identify

and celebrate the impact of effective

childhood experiences as preparation for

all of life's learning. An active campaigner

for children she consults on projects,

conducts research for government bodies

and contributes to papers launched in

parliament. Through her consultancy

and research she guides local councils,

practitioners, teachers and parents all

over the world in enhancing children's

experiences through the experiences

they offer. A highly acclaimed author and

member of parliamentary groups, Kathryn

also teaches a Masters at the Centre for

Research in Early Years.

For more information and practical

guidance on developing the features of

lifelong learning, Kathryn has published

a book: "Developing School Readiness,

Creating Lifelong Learners".

Get in contact at www.kathrynpeckham.

co.uk or email info@kathrynpeckham.

co.uk.

24 May 2022 | parenta.com

parenta.com | May 2022 25
---
Food Allergy Awareness

What is a food allergy?

A food allergy is when "the body's immune

system reacts unusually to specific foods."

Usually, it occurs when a person has eaten

the food they are allergic too, but in some

cases, it can occur if the food is merely

touched or smelled. Allergic reactions can

be mild and are quite common in children,

who may grow out of them as they get

older. However, in some cases, allergies

can be very serious and life-threatening

causing a condition called anaphylaxis

which requires an immediate emergency

response.

What's the difference

between a food allergy

and food intolerance?

Food intolerance occurs when the body

has a chemical (but not immune) reaction

to eating a particular food or drink and is

usually mild or moderate. A food allergy

occurs when the body's immune system

reacts to a harmless food and can cause

severe reactions such as anaphylaxis.

What are the symptoms?

Symptoms of a food allergy can affect

different areas of the body at the same

Week

time and common symptoms include:

• a tingling or itchy sensation inside the

mouth, throat or ears

• a raised itchy red rash (urticaria, or

hives)

• swelling of the face, around the eyes,

lips, tongue and roof of the mouth

(angioedema), or swelling around

other areas of the body

• wheezing or shortness of breath

• abdominal pain

• diarrhoea

• difficulty swallowing

• feeling sick or vomiting

• hay fever symptoms such as itchy/

runny eyes and sneezing

What causes food

allergies?

The reason that people have food allergies

is not yet completely understood and

more research is needed to establish the

causes. What is known is that allergies are

common in children but can occur in any

age, and that they often run in families,

suggesting a genetic link.

Some of the most common food allergens

are:

• cows' milk (around 2 – 3% of children

are allergic)

• eggs

• foods that contain gluten, including

wheat, barley and rye

• nuts and peanuts

• seeds

• soya

• fish and shellfish

• cocoa or cocoa products

How many people have

food allergies?

It is difficult to estimate with total accuracy

the number of people in the UK who

have allergies due to their diverse nature

and wide variation in the severity of

symptoms, however, allergic disease

has been described by the World Health

Organisation as a "modern epidemic" and

it is the most common chronic disease in

Europe. Estimates suggest allergies affect

up to 21 million people in the UK, one of

the highest prevalences in the world, but

these are not all food allergies since many

millions of people suffer from seasonal hay

fever and asthma. Approximately 5 – 8%

of children in the UK have a food allergy

and the incidence is rising with a 615%

increase in the rate of hospital admissions

for anaphylaxis in the UK between 1992

and 2012.

What's the law?

The law regarding allergen labelling

changed last October after a review of

labelling laws following the tragic death of

teenager Natasha Ednan-Laperouse who

died from an allergic reaction caused by

an ingredient in a baguette bought at a

food outlet at Heathrow Airport in 2016.

The new law, known as 'Natasha's Law'

requires all pre-packed foods, including

those which are prepared and packed on

the same premises where they are sold,

to have full ingredients listed on the label

with the 14 major allergens emphasised

for easy identification. Following the

law change, many food serveries have

stepped up their allergen awareness by

asking more questions from customers

and displaying more warning notices.

Food Allergy Awareness

Week

This is organised by FARE and FAACT

which are American charities dedicated

to raising awareness of food allergies,

but it is also supported by other charities

such as Allergy UK. This year it occurs from

8 – 14th May 2022 and is a great time

to raise awareness of food allergies and

anaphylaxis with your staff, parents and

children. You can run education sessions,

read and discuss stories about children

with allergies and promote safer ways to

deal with allergies in your setting. All three

sites have lots of information and advice

on how to get involved including resources

for educators and parents.

Ways to mark Food

Allergy Awareness Week

Educate your staff

Knowledge is power so they say, and

it is vital that you and ALL your staff are

aware of ALL the children in your setting

who have food allergies. This information

should be collected on sign-up and before

any trial days, and should be disseminated

to staff so that they are aware and do not

inadvertently offer a child something that

could cause a reaction. Staff sometimes

use food as treats for children, which is

fine, as long as these are not going to

cause reactions. Many settings also ban

common food allergens such as nuts

in packed lunches, and children should

be supervised so that they do not share

inappropriate food with others who may

have allergies.

Learn to recognise and

treat symptoms

Staff should also be trained in how to

recognise an allergic reaction and how

to administer first aid. Seventeen percent

of fatal food-anaphylaxis reactions in

school-age children happen while they

are at school and worryingly, 20% of

anaphylactic reactions in schools are

in children with no prior history of food

allergy.

Some children with severe allergies may

carry emergency medicine (such as an

epi-pen) but staff will need to be well

trained in the procedures and protocols

for administering medicines if required.

All medicines need to be correctly labelled

and have photo identification and contact

information attached, including dates for

regular checking to make sure they are still

in date. If anaphylaxis is suspected, then

you should always call 999.

Join a recognised scheme

Allergy UK offer support and advice

including an Allergy Awareness Scheme

(AAS) for industries which serve food, and

a schools programme (SAAG) and you can

find details of both on their website here.

Other initiatives include the "Stop, look, ask

and go" campaign to help toddlers learn

about food and what is safe/not safe to

eat.

Download and display

information

Download the Allergy UK Early Years

Factsheet here. This factsheet gives lots of

useful advice and information on how to

deal with allergies in your setting and can

be printed out and pinned on the walls to

increase awareness.

More information and

advice

Free allergy place mat templates: https://

www.parenta.com/free-allergy-placemattemplates/

Allergy UK helpline: 01322 619898

Allergy UK schools and early years specific

webpages

https://www.foodallergy.org/resources

NHS – food allergies

NHS food allergies in babies and young

children

Statistics - https://www.allergyuk.org/

about-allergy/statistics-and-figures

26 May 2022 | parenta.com

parenta.com | May 2022 27
---
Mental Health

Awareness Week

We cover mental health a lot in the Parenta

magazine, since it is something that has

a profound effect on how we live our lives.

Good mental health is needed to maintain

health, hold down a job, make ends meet,

and ultimately, give us a reason for living.

Poor mental health can have the totally

opposite effect, making us question our

sanity, our self-worth and in some severe

cases, whether our life is worth living at all.

In recent years, mental health has moved

from a taboo subject to a mainstream

one, and more and more people are

opening up about their own struggles with

mental health, to help themselves, and

ultimately to try to help others in a similar

position. All manner of people, from sports

stars, celebrities and royalty have been

willing over the last few years to share

their mental health stories to help start

conversations around the subject and find

solutions which work.

Mental Health Awareness Week runs each

year as an annual event aimed at getting

the whole of the UK to focus on achieving

good mental health. It was started by

the Mental Health Foundation (MHF) 21

years ago and is now one of the largest

awareness weeks across the UK and

internationally too. This year it runs from

9 – 15 May and the theme looks at a topic

which is still not often on many people's

agendas and yet it is a growing problem in

the UK and around the world: loneliness.

Ah, look at all the lonely people

Where do they all come from?

Ah, look at all the lonely people

Where do they all belong?

"Eleanor Rigby" by John Lennon and Paul

McCartney. Written in 1966.

According to the official website:

"Loneliness is affecting more and more of

us in the UK and has had a huge impact

on our physical and mental health during

the pandemic. Our connection to other

people and our community is fundamental

to protecting our mental health and we

need to find better ways of tackling the

epidemic of loneliness."

The coronavirus pandemic pushed us

all into isolation in one way or another.

People found themselves unable to meet

up with friends and families for months

on end; single people, whether young

or old found it difficult to exist without the

help and support of others; and even

those people isolating in houses with

members of their own family, discovered

that you can still feel lonely even if you are

surrounded by other people.

So this Mental Health Awareness Week,

the Mental Health Foundation is asking

everyone to raise awareness of loneliness

and find ways to tackle it in ourselves and

in our communities. As they say: "Reducing

loneliness is a major step towards a

mentally healthy society."

As usual, there are plenty of ways to get

involved in your setting, but perhaps the

first thing to do is ask yourself what, if

anything, you know about loneliness? For

many of us, it is something we don't even

like to consider, let alone admit to feeling.

Loneliness is when we feel that we do

not connect with others or have any

meaningful relationships in our life. It

can affect people of all ages, although

older people may be more vulnerable to

loneliness because they are more likely

to live alone. Statistics show that over 2

million people aged over 75 in England,

live alone, and half a million older people

can go 5 or 6 days a week without

speaking to anyone at all.

According to the website marmaladetrust.

org, whose aim is to raise awareness of

loneliness and identify and help those at

risk, there are several different types of

loneliness, including:
---
Safety and safeguarding

Introduction

All adults who come into contact with

pupils in their work have a duty to

safeguard and promote their welfare.

The Children Act 2004, places a duty

on organisations to safeguard and

promote the well-being of children and

young people. This includes the need to

ensure that all adults who work with, or

on behalf of children and young people

in these organisations are competent,

confident and safe to do so. In doing this,

organisations must understand which

behaviours constitute safe practice and

which behaviours staff should avoid.

The "Guidance for safer working practice

for those working with children and

young people in education settings" was

updated and published in February 2022.

As per the previous versions (2019 and the

2020 addendum), the document is NOT

statutory guidance, it is for employers to

decide whether to use the document as

the basis for their staff code of conduct

guidelines.

The guidance strives to ensure that the

responsibilities of leaders towards children

and staff, within educational settings,

are discharged by raising awareness of

illegal, unsafe, unprofessional, and unwise

behaviour. Its aim is to help staff to monitor

their own standards and practice and

reduce the risk of allegations being made

against them and supports employers in

giving a clear message that unacceptable

behaviour will not be tolerated and that,

where appropriate, legal, or disciplinary

action is likely to follow.

We recommend that the guidance be

embedded as part of early years settings

Child Protection policy, Staff Code of

Conduct and included in your staff's

induction and regular safeguarding

training sessions.

new legislation

What is an allegation and

a low-level concern?

Creating a culture in which all concerns

about adults are shared responsibly, with

the right person, recorded and dealt with

appropriately, is critical. This relates to all

concerns, including allegations and those

that do not meet the harms threshold. If

setting arrangements are implemented

correctly, this should encourage an open

and transparent culture; enable settings

to identify concerning, problematic or

inappropriate behaviour early; minimise

the risk of abuse; ensure that adults

working in or on behalf of the setting are

clear about professional boundaries,

act within these boundaries, and in

accordance with the ethos and values of

the organisation.

The term 'allegation' means where it is

alleged that a person working with

children has:

» Behaved in a way that has or may

have harmed a child;

» Possibly committed a criminal offence

against a child or related to a child;

» Behaved towards a child or children in

a way that indicates they may pose a

risk of harm to children; or

» Behaved or may have behaved in a

way that indicates they may not be

suitable to work with children

The term 'low-level concern' does not

mean that it is insignificant, it means

that an adult's behaviour towards

a child does not meet the above

threshold.

A low-level concern is any concern – no

matter how small, even if it causes a sense

of unease or a 'nagging doubt' – that the

adult may have acted in a way that:

» Is inconsistent with the settings code

of conduct, including inappropriate

conduct outside of work

» Does not meet the allegations

threshold or is otherwise not

considered serious enough to

consider a referral to the LADO

Examples of such behaviour could include:

» Being over friendly with children

» Having favourites

» Taking photographs of children on

their mobile phone

» Engaging with a child on a one-to-one

basis in a secluded area or behind a

closed door

» Using inappropriate sexualised,

intimidating, or offensive language

It is critical that allegations and concerns

are dealt with effectively and should also

protect those working in or on behalf of

the setting from potential false allegations

or misunderstandings.

What does this mean for

early years?

Staff should understand their

responsibilities to safeguard and promote

the welfare of pupils, including being

responsible for their own actions and

behaviour, avoid any conduct which would

lead any reasonable person to question

their motivations and intentions and work

and be seen to work, in an open and

transparent way including self-reporting

if their conduct or behaviour falls short

of the principle guidelines. Staff should

always consider whether their actions

are warranted, proportionate, safe and

applied equitably – failure to do so may be

regarded as professional misconduct.

Settings should have clear reporting

systems in place, ensuring whistleblowing

procedures are understood and promoted

to all staff so they feel confident to report

concerns.

Where staff feel unable to raise an issue

within the setting, or there are genuine

concerns that their concerns are not being

addressed, settings should make staff

aware of other whistleblowing channels

open to them, as detailed in KCSiE.

Managing children's

inappropriate behaviour

Early years staff should understand the

importance of challenging inappropriate

behaviours between children, including

peer on peer sexual violence and sexual

harassment.

Downplaying certain behaviours, for

example dismissing sexual harassment as

"part of growing up" or "boys being boys"

can lead to a culture of unacceptable

behaviours, an unsafe environment for

children and in worst case scenarios a

culture that normalises abuse leading to

staff and children accepting it as normal.

What does this mean for

early years?

Staff should be clear as to their settings

policy with regards child on child

inappropriate behaviour. Where pupils

display difficult or challenging behaviour,

staff should understand and follow their

setting's behaviour policy using strategies

appropriate to the circumstance and

situation.

Standards of behaviour

KCSiE states that settings should make

clear their expectation that staff should

disclose any relationship or association (in

the real world or online) that may impact

on the setting's ability to safeguard pupils

– this includes informing their manager/

proprietor of any name changes that they

have not previously declared.

Settings should have clear nappy or pad

changing and intimate/personal care

policies which ensure that a child's dignity

and privacy are respected, arrangements

should be open and transparent, carried

out by staff known to the child, undertaken

by one member of staff, unless the pupils

intimate care plan specifies otherwise and

ensuring another appropriate adult is in

the vicinity and are visible and/or audible.

Arrangements should be accompanied by

robust recording systems.

What does this for early

years?

Early years settings should ensure they

reflect the above expectations in their staff

code of conduct and relevant safeguarding

policies.

Full details of these and all the other 2022

updates can be found in Guidance for

safer working practice for those working

with children and young people in

education settings 2022

Statutory framework for the early years

foundation stage 2021

Keeping children safe in education 2021

Yvonne Sinclair

Yvonne Sinclair is an award-winning

Independent Safeguarding Consultant,

Trainer and Presenter specialising in the

education and early years sectors and the

founder of Safeguarding Support Limited.

Yvonne has a wealth of safeguarding

and child protection experience,

having developed the role of National

Safeguarding Officer for a national

children's charity. In that role she was

responsible for leading on and developing

safeguarding compliance, policy, and

training.

2015 saw Yvonne moving to an become

independent, supporting educational

providers and early years settings

with all aspects of their safeguarding

requirements to ensure organisational

confidence of safeguarding compliance.

Yvonne is AET qualified, trained in child

protection by the NSPCC, an accredited

trainer to deliver Safer Recruitment by the

Safer Recruitment Consortium, a member

of the Association of Child Protection

Professionals (formerly BASPCAN),

Child Protection in Education (CAPE) and

National Association of Designated

Safeguard Leads (NADSL).

As all early years safeguarding leads

are more than aware, there are constant

changes of safeguarding statutory

legislation and best practice and

sometimes the understanding and clarity

of those changes and our roles within

them may become a little confused - none

more so than within all the recent updates

in EYFS, safer recruitment, early years

online safety…. just to name a few.

Yvonne's aim is to ensure that

'safeguarding is simplified'. Find out

more about Yvonne, her team and the

support services they offer at www.

safeguardingsupport.com.

30 May 2022 | parenta.com

parenta.com | May 2022 31
---
How to make the most of

your outdoor space

Spring is here and it's time to shake off

the winter woollies and explore the great

outdoors! Not everyone has some outside

space in their setting, but if you are lucky

enough to have even the smallest space,

make sure you are making the most of it

and inviting the children to use it to have

fun and advance their learning. Here are

some ideas on how you can create some

meaningful areas, even in a small space.

Outdoor play areas

Many nurseries have a traditional play

area which may have some swings,

climbing equipment and slides in it which

are great for developing children's gross

motor skills such a running, jumping,

climbing etc. However, if you can't afford or

don't have the space for these items, think

about other things you can create such as

hopscotch pads, snaking number lines or

basketball hoops. Getting the children to

play catch will also help with fine motor

skills and hand-eye coordination too

and you can use ball, bats/racquets and

bean bags (homemade!) to add to the

excitement. A tray with some sand on and

a hosepipe to make muddy puddles are

also great fun.

Obstacle courses and

games

You can make a homemade obstacle

course with virtually anything and they are

a great way to reuse and recycle items

from your setting. For example, you can

use old cycle or car tyres (clean them first)

for children to run in and out of, wooden

stepping stones, or plastic tub and buckets

turned upside down with an old broom

on make great improvised horse jumps/

hurdles. You could create a large snakes

and ladders board by painting or marking

out a square board. Make it different

each time by using lengths of rope and

wooden poles or sticks as the 'snakes' and

the 'ladders'. You could also make some

outdoor counters using old pan lids or jam

jar lids.

Sensory space

Outdoor areas can be used to create

some wonderful sensory spaces with

different textures, smells and sounds, and

most of these can be created simply and

cheaply in a small area. Remember to use

vertical height to maximise space. You can

buy vertical planters and put in different

smelling/texture plants, filling some of the

pockets with other items such as feathers

or stones.

You can create different sounds in the

garden by using home made drums, and

windchimes using bottle tops, old metal

cutlery or tin cans. Half filling some old

soda bottles with small stones, water,

sand or other objects will allow children to

shake them to make different sounds too.

Grow your own

Over the last year, we have run quite a

few articles of the benefits of allowing

children to grow their own plants as it

taps into a lot of the Understanding the

World parts of the EYFS. You can use lots

of different objects to grow things in, from

inexpensive seed trays to old buckets, cut

down plastic bottles and yoghurt pots.

Most plants need water to drain freely so

make sure the water can escape from the

bottom of the container to aid drainage.

After that, there are a whole host of things

that children can grow, from quick growing

plants like cress and mustard, to larger,

slower growing things like bulbs, flowers,

tomatoes and pumpkins. Vertical planters

are useful here too if you have limited

space and you can create your own living

wall.

Creative play

Being outside sparks lots of creativity in

children so make sure you have an area

where your children can create things.

How about encouraging some wild art

by using sticks, leaves, stones, feathers,

moss or anything else you can find to

create some interesting pictures? You can

paint stones with colourful pictures too.

Clay soils are good for creating mud pies

and sculptures and flower petals can be

used to create some interesting perfumes

or why not create a fairy house/garden?

Remember to get children to wash their

hands thoroughly and make sure they are

well supervised too. All children love to

create dens so make sure you have some

long sticks and old blankets available too.

You can also create an area for making

music by setting up some homemade

drums and beaters,or by using different

objects which make different noises when

struck. Using jam jars and filling them with

different amounts of water will change the

pitch of the note they make.

Graffiti corner

If you have a boring wall or fence, why

not change it into a graffiti corner and

let the children experiment with their

imaginations. If you don't want to paint or

mark the fence or building, then you could

pin up some cardboard boxes, or wooden

panels and let the children draw on those.

Have different media available for the

children to use such as chalk, paints and

washable pens so that they can markmake

and create whatever they want. Also

think about giving them different things

to use as well as paintbrushes, as grass,

feathers and leaves can create interesting

prints and effects.

Wildlife

Any outdoor space however small, will

also be home to lots of creatures even if

you can't see them, so make sure you are

sharing your space well with your local

wildlife. Think about how you can help

encourage wildlife into your outdoor space

by setting up some bird feeders and bird

houses, and remember that birds and

animals needs a watering station too.

It could be as simple as placing an old

tray or frying pan in a corner and filling it

with water as a bird bath. You can build

a minibeast or bug hotel using old sticks,

twigs, bamboo, straw, fallen leaves and

rotting bark and there are plenty of sites of

the internet to give you ideas of how to do

this. Wormeries are relatively easy to make

and will teach the children a lot about

the world around them and the creatures

living underneath their feet.

Ponds are exciting but you need to be

very careful with children around water,

although there's lots to be learned from

pond dipping. You can make a simple

small pond using an old washing up

bowl which can attract things like small

tadpoles, water boatmen and pond

skaters. You can even make simple nets

using old wire coat hangers and some old

tights!

Whatever you do with your outdoor space,

respect it and enjoy it.

Useful sites and

inspiration

15 ideas for children's outdoor spaces

Wildlife watch activities

How to pond dip – Woodland Trust

Sensory gardens for schools

20 sensory activities for toddlers

32 May 2022 | parenta.com

parenta.com | May 2022 33
---
Painting Rock

Blueberry muffins

Bugs

What do you need?

• Rocks

• Acrylic paint

Instructions

1. Wash your rocks

with water and let

them dry.

2. Think about what

bugs/insects you

would like to paint

e.g. ladybird, bee,

snail etc.

• Paint brushes

• Googly eyes

3. When the rocks

are dry, start

painting your

bugs.

4. Let the paint dry.

5. You can now

place your bugs

in the garden or

on a windowsill.

The full

instructions for

this craft can

be found on

the 'Children's

Gardening Week'

website here

You will need:

• 100g unsalted butter softened +

1 tbsp for greasing

• 140g golden caster sugar

• 2 large eggs

• 140g natural yogurt

• 1 tsp vanilla extract

• 2 tbsp milk

• 250g plain flour

• 2 tsp baking powder

• 1 tsp bicarbonate of soda

• 125g blueberries

Instructions:

1. Preheat the oven to 200°C/180°C fan/

gas 6.

2. Line a 12-hole muffin tin with paper

cases.

3. Beat the butter and caster sugar

together until pale and fluffy.

4. Add the eggs and beat in for 1 min

then mix in the yogurt, vanilla extract

and milk.

5. Combine the flour, baking powder and

bicarbonate of soda in a bowl with ¼

tsp fine salt, then tip this into the wet

ingredients and stir in.

6. Fold in the blueberries and divide the

mixture between the muffin cases.

7. Bake for 5 mins, then reduce oven

to 180°C/160°C fan/gas 4 and bake

for 15-18 mins more until risen and

golden, and a cocktail stick inserted

into the centre comes out clean.

8. Cool in the tin for 10 mins, then

carefully lift out onto a wire rack to

finish cooling.

This recipe can be found on

the 'BBC Food' website here

parenta.com | April 2022 35
---
Have fun, move and

build their confidence

NUMBER 2: ACTIVE PROBLEM

SOLVING

Utilise their enthusiasm for a story or an

activity by planning a problem-solving

adventure.

Source a selection of classical music that

you think will help your children express

their feelings. The music will allow you to

talk about how the music makes everyone

feel and it allows you to talk about

emotions in a gentle way.

Having fun whilst moving is the best way

to develop your little one's self-confidence.

The cornerstone of building self-confidence

is to make activities fun. Remember

the pleasure of being able to achieve

something you really enjoyed for the first

time and then again and again? This

enjoyment will give them the confidence

to try something new and believe in their

own abilities.

"From the earliest days, a child will grow in

confidence and self-esteem by mastering

new abilities through play." Dr Richard

Woolfson

There is so much evidence about the

developmental benefits of movement for

children and their long-term health. This

is such a wonderful thing but, only when

they are engaged and joining the fun. The

difficulty can be engaging them.

We know active physical and social play

helps everyone, including adults, build

confidence.

"Active kids are healthy kids, inside and

out." Professor Charlie Foster

The key to reaching these goals is to find

a way to engage them in the activity and

movement. As you build their confidence

it will make it easier each time for them

to join in. This newly found confidence of

theirs makes it easier for them to find new

friends, build resilience and try new things.

THE KEY TO SUCCESS IS

PLEASURE

The more children play, the more pleasure

they have. More play equals more

pleasure. More pleasure builds their

confidence and belief in what they can do.

Pleasure enables children to conquer more

challenging activities and successful play

boosts confidence.

Think back to your own childhood. What

activities did you enjoy and keep going

back to and why?

THE WHY?

It is so important to encourage and create

opportunities for your little ones to move in

their surroundings and play together.

Movement is vital for children as it

significantly improves their brain plasticity

and cognitive function. Alongside the

benefits of physical activity, they are

improving their communication skills.

A child who can't convey their feelings

or ideas can become withdrawn and

isolated.

"Researchers observed thicker and denser

white matter among those children

exhibiting greater degrees of physical

fitness in turn linked with significantly

superior attention span, memory,

and cognitive facilities." The Effect of

Movement on Cognitive Performance

2018

THE HOW IN 3

NUMBER 1: GROUP ACTIVITIES

The wake-up and goodbye to the day

Create a morning wake-up and goodbye

for the end of the day as part of the daily

routine, for the children and team. Build

the activity over several weeks.

MORNING WAKE-UP

To make this fun, work together creating

the warm-up with the children. This will

give them ownership of the activity and

make it exciting as you are letting them

take ownership.

Your warm-up sequence should be very

simple, only consisting of jumps, runs

on the spot and claps. Once they have

mastered the sequence you can develop

it further and extend the warm-up time

as they progress. Don't forget this is also

good for adults!

GOODBYE TO THE DAY

Put on some relaxing music and reach

for the sky, your toes, and a few sideway

stretches. You can introduce some yoga

moves: The butterfly, downward dog or

the cobra followed by a well-deserved nap

listening to some calming music.

As part of your day read "We're going on

a bear hunt". Take the children on their

very own 'bear hunt' around the setting,

garden, or park. This is a great opportunity

to work on their positional language in the

search for bears under, inside, or next to

the trees?

Why not follow this up by making their very

own bear or build a den for the bears to

play in or have a teddy bears picnic?

Throughout the fun, their confidence will

build as they interact and work together.

I have a perfect example from the

wonderfully creative Munchkinos

childminding setting in Swansea. Claire

and Toni extended the children's learning

about water when they went on a trip to

the "North Pole" with their Littlemagictrain

who got stuck in the ice!

The children had to problem solve by

discovering the best way of melting the ice

so they could all get back home safely.

Take a peek and watch their adventure

here.

https://www.facebook.

com/551994074864497/

posts/3897186980345173/

This fabulous activity, created by Claire

and Toni, helped the children discover that

they can overcome challenges. This will

build their confidence in their own abilities.

NUMBER 3: EMOTION AND

MOVEMENT

Allow everyone to express feelings through

the movements. For example, revisit your

'bear hunt' and meet and become grumpy

bears stomping around the room, garden

park etc., and join in. Movement and

music are truly the universal languages of

emotion.

MUSIC FOR YOUR KEY

EMOTIONS

Sad: Gymnopédie No. 1 (Erik Satie)

https://www.youtube.com/watch?v=S-

Xm7s9eGxU

Happy: The Nutcracker, Op. 71:1. Overture

(Allegro giusto) (Pyotr Ilyich Tchaikovsky)

https://www.youtube.com/

watch?v=2tJvfUrLXBE

Angry: Le Sacre du Printemps: Ritual of the

Rival Tribes (Igor Stravinsky)

https://www.youtube.com/

watch?v=05lNhHVdsBM

Tired/Exhausted: Enigma Variations:

Nimrod (Sir Edward Elgar)

https://www.youtube.com/

watch?v=sUgoBb8m1eE

Talking about, feeling, and moving to

the emotions in the music, helps your

little ones develop self-regulation and

confidence.

Well-being and confidence are

the most important things

you can give your little ones.

Gina Bale

Gina's background was originally

ballet, but she has spent the last 27

years teaching movement and dance

in mainstream, early years and SEND

settings as well as dance schools.

Whilst teaching, Gina found the time to

create the 'Hi-5' dance programme to

run alongside the Australian Children's

TV series and the Angelina Ballerina

Dance Academy for Hit Entertainment.

Her proudest achievement to date is her

baby Littlemagictrain. She created this

specifically to help children learn through

make-believe, music and movement.

One of the highlights has been seeing

Littlemagictrain delivered by Butlin's

famous Redcoats with the gorgeous

'Bonnie Bear' on the Skyline stage.

Gina has qualifications of teaching

movement and dance from the Royal

Ballet School, Trinity College and Royal

Academy of Dance.

Use the code 'PARENTA' for a 20%

discount on Littlemagictrain downloads

from 'Special Editions', 'Speech and

Language Activities', 'Games' and

'Certificates'.

36 April 2022 | parenta.com

parenta.com | April 2022 37
---
Testimonials

"I am just emailing you today to make you aware of the support & help that I have

received from my assessor, Gemma Hares.

Gemma took over at the start of the year after a multitude of assessors coming,

going & delaying my studies.

She has always emailed, text and phoned me back immediately, uploads work when

she says she will, marks it off quickly & moves through outstanding projects quickly.

She has gone above & beyond to get me through my studies which thanks to her, I

am now almost finished.

I thought it would be nice for you to hear the positive feedback about the excellent

level of care she is giving to her students!"

Celia Burton

"Lovely company. Used the software for years at our Nursery. Attentive and

supportive at all times when we needed any help.

We had to close sadly due to government infrastructure and Parenta kept our

website accessible so we can work on it ready should we re open.

Congratulations

to all our Parenta learners!

Congratulations to all our Parenta learners who completed their apprenticeship

and have now gained their qualifications.

These range from Childcare Level 2, Childcare Level 3 and Team Leading

to Level 3 and Level 5 Management – that's a huge achievement in the

current climate.

All that hard work has paid off – well done from all of us here at Parenta Training!

Did you know?... Parenta has trained over 20,000 apprentices within the early years sector!

Our Level 3 success rate overall is almost 10% higher than the national average.

That's down to great work from you, our lovely Parenta learners!

If you have a learner with us who has recently completed their apprenticeship, please send in

a picture to hello@parenta.com to be included in the magazine.

Always someone friendly & cheerful at the end of the phone or e mails. Thank you

Parenta!"

Kelly Sansway

House Day Nursery Bristol

38 May 2022 | parenta.com

parenta.com | May 2022 39
---
PARENT

PORTAL

Interested? Visit

www.parenta.com

to find out how

we can help you!

Gives your parents:

A newsfeed of their child's day

including photos and videos

Their account balance and

invoice breakdown

The ability to download invoice

and payment receipts

A calendar view of past,

present and future sessions

booked

+ much more

Our

FREE

app works hand-inhand

with our

other software

solutions!

0800 002 9242 hello@parenta.com