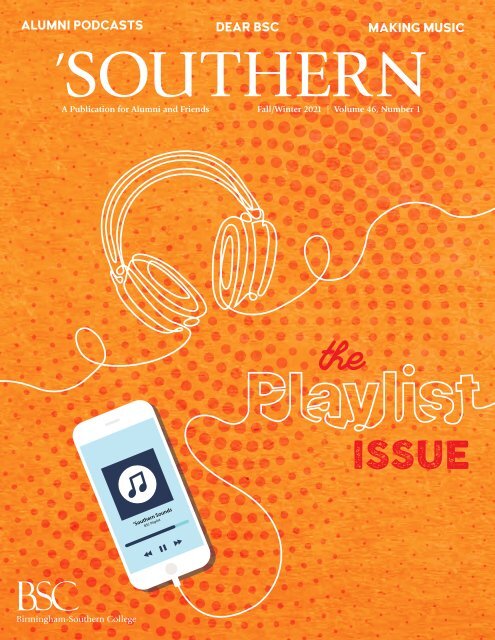 You also want an ePaper? Increase the reach of your titles
YUMPU automatically turns print PDFs into web optimized ePapers that Google loves.
ALUMNI PODCASTS

DEAR BSC

MAKING MUSIC

'SOUTHERN

A Publication for Alumni and Friends Fall/Winter 2021 | Volume 46, Number 1

the

ISSUE

'Southern Sounds

BSC Playlist

BSC

Birmingham-Southern College
---
SNOW DAY

On February 16, 2021, Birmingham-Southern College experienced

a rare snow day. Winter Storm Uri brought snow, ice, and freezing

temperatures to Alabama, with north and north-central areas of

the state receiving a light coating of snow and flurries lingering into

the early afternoon. The snow was gone by the next day, but the

memories — and photographs — remain.
---
sc snapshots

Conceptual, cerebral, and cooler than a snow day in Alabama, People Years features lead

singer/guitarist Chris Rowell '95, keyboardist Tony Oliver, bassist Greg Slamen, and drummer

Wes McDonald. The band's second album, XIV, is "full of dreamy, distorted guitars, haunting

keyboards and propulsive bass and drums," says Chris Davidson, Magic City Bands. "The record

unfolds as chapters of a sonic novel … slowly building an exhilarating musical catharsis."

People

Years
---
CURRENTLY LISTENING TO: A playlist that I am working

on is hit songs with the Muscle Shoals Rhythm Section,

"The Swampers," as the supporting studio band. These

songs include "When a Man Loves Woman" by Percy Sledge,

"Respect" by Aretha Franklin, "I'll Take You There" by the

Staple Singers, "Wild Horses" by the Rolling Stones, and

"Kodachrome" by Paul Simon, among others.

Muscle

Shoals

Sound

Letter from the

PRESIDENT

In the summer of 1980, three of my best friends

and I drove to Atlanta to see The Who in concert.

It was their first U.S. tour since the death of their

outlandish drummer, Keith Moon. We adored The

Who. We had all their albums, and we had seen

each of their movies several times each. We dissected

the symbolic meaning of "Tommy." We felt the

energy and euphoria of Jimmy's rebellious and

tragic life in "Quadrophenia." We came to "know"

Pete, Roger, John, and Keith from "The Kids Are

Alright." And now, we were traveling to see all of

them in person (except for Keith) at the Omni in

Atlanta. At the age of 15, it was one of the greatest

concerts of my life, though not because it was the

greatest concert. Rather, something about The Who

spoke to me as a 15-year-old boy.

To memorialize the concert, my friends and I

decided to make a cassette tape with every song in

the concert in the exact order played. Our resources

were limited, but our creativity was not. We had

one tape deck, one turntable, a receiver, and two

speakers. For some reason, our tape deck would not

record directly from the turntable via the receiver.

So, to make this recording, we put two speakers

facing each other, standing about three feet apart.

Then we hung a microphone between the speakers

and plugged it into our tape deck. We did this four

times to create four copies of our The Who concert,

which we played over and over for our final two

years of high school.

One of the great benefits of technological

developments over the last 40 years is the access

to music. In the early 2000s, I remember the

excitement of paying $1 a song to line up music

on my iPod. It was so much better than the Sony

Walkman. Little did I know, Napster would launch

in 1999 and change the model of music distribution

for the next generation. I was just happy to have

access to the music I wanted to listen to at any time

or any place.

As a young executive who traveled internationally

twice a month, turning on my iPod and reclining

in my seat gave me a needed sense of comfort, a

feeling of being at home at 40,000 feet over the

Atlantic. The downside to the iPod was that it was

another device I had to carry around with me at

all times. I had no room in my pockets. I had to

resort to wearing a Blackberry holster, the sign of

the business cowboy in the 2000s. In retrospect, the

Blackberry on the belt was the fashion equivalent of

a pocket protector.

If the delivery of music was transformed over a

15-year period from 1995 through 2010, we are

currently experiencing a similar transformational

time with video. Growing up in Alabama, I have
---
Like all new technology, streaming is a powerful

tool. One can use it to limit oneself, to isolate

oneself. One can also use it to expand oneself.

always loved college football (Go Panthers!).

When I lived in Japan in 1993, I had no access to

game scores. On Sunday mornings (late Saturday

night back in the U.S.), I would walk about 10

blocks to my office. I would go inside, sit down

at my trading desk, log in to my Bloomberg

terminal, and pull up all the scores and written

highlights. My parents saved the Sunday

"Birmingham News" sports pages so I could read

them all when I came home for Christmas. Today,

I would be able to pull out my phone at 3:30

a.m. in a bar in Roppongi and watch any game on

television that was kicking off at 2:30 p.m. Central

Time. Anyone can watch almost anything now on

television or any streaming service on their phone.

Access to sports, television, and movies is no

longer constrained by location (if there is internet

connectivity) or time.

Is all this good? On the one hand, there is a

social loss. We don't have the opportunities to be

creative to access them. More significantly, when

everyone watches what they want to watch, we

separate into our own worlds. How many times

do we walk into rooms where people are watching

something different on their phones? Their heads

are down; they don't acknowledge each other

much less relate to each other.

On the other hand, we all have been empowered

to listen to and watch what we want. We are not

dependent on playlists or TV shows by executives

we don't know who are being paid by advertisers.

Because access has become easier, we have more

content: more TV shows, more movies, and more

music. Our social fragmentation may well cause

us to lose certain social skills. It is not like I have

the same social skills as my grandparents. What we

don't often realize is that those faces who are in

phones are also communicating with friends, many

of whom they would not be able to be close to

without iPhones and social platforms. New social

skills are forming.

With respect to increasing access to music and

video, I believe the benefits are huge. Growing

up idolizing the British Invasion, I wasn't

interested in country music. I associated it with

overproduction ("The Nashville Sound") and

saccharine and slick performances on "Hee Haw"

(if you have never heard of "Hee Haw," you can

look it up on YouTube). I made a playlist a few

years ago on my iPhone, and my kids called me

an idiot and showed me Spotify. Brave new world!

Playlists on Spotify introduced me to music I did

not know existed. Now, if I hear an artist I like,

I go to Spotify and play not just their songs, but

also their "playlists."

Not long ago, I listened to an Elvis Costello

playlist. It had 1980s music I liked: The Style

Council, Squeeze (managed at one time by

BSC graduate Miles Copeland III '66, who

you can read more about on pg. 40), The Jam,

The Replacements. It also had music I was not

expecting. In the late 1980s, Costello spent time

in Nashville, a time that had a huge influence on

him. His list also includes Lucinda Williams, The

Flying Burrito Brothers, The Jayhawks, and John

Hiatt. I listened to country music that I found

culturally accessible. I pulled up playlists from two

artists I had liked for years, Lyle Lovett and John

Prine – their playlists introduced me to Townes

Van Zandt, Iris Dement, and my new favorite,

Alabama's own Jason Isbell.

Like all new technology, streaming is a powerful

tool. One can use it to limit oneself, to isolate

oneself. One can also use it to expand oneself.

For me, Spotify is a little of each. I find new music

and then I create my own lists. By and large, it is

expansive. Without it, I would have fewer playlists;

I would know less music and listen to less music.

Who knows what is next? Gaming and virtual

reality? Whatever it is, we can be sure that it will be

powerful, which means it can enrich our lives or

isolate us. That will be up to us. As for me, the one

thing for sure is that I will take up whatever new

technology is invented 10 years after everyone else.

Forward, Ever!

Daniel B. Coleman

President
---
'SOUTHERN MAGAZINE

VOLUME 46, NUMBER 1

Daniel B. Coleman, President

DeLynn M. Zell '86, Chair,

Board of Trustees

'Southern magazine is published

by the Office of Communications

at Birmingham-Southern College,

Birmingham, Alabama 35254.

Non-profit postage paid at B'ham.,

AL Permit No. 2575. ©2021

Birmingham-Southern College

2021-2022 ALUMNI BOARD

Thomas Waters '86, President

Rodney Barganier '94

Danzey Burnham '78

Devan Byrd '13

Paul Fancher '97

Jeris Burns Gaston '05

Betty Gunn '60

2021-2022 YOUNG ALUMNI COUNCIL

Jennifer Commander '12, President

Denzel Okinedo '16, President-Elect

Kandace Hamilton '06

Christopher Byard '07

Glorious Bates '10

Ansley Emmet '10

John Gunnells '10

Kathleen Hillen '10

Julie Paul '10

Tyler Marsh '11

Holly Laine NeSmith '11

Charlsie Wigley '11

LaDarius Woods '11

LJ Campbell '12

Lauren Miles Kelley '12

Sarah McCune '12

Alex Miller '12

Katie Stewart '12

Brittany Arias Sturdivant '13

Brooke Warren Rebarchak '13

Chelsea Smith '13

Chelsea Vance Velez '13

Stephen Wilson '13

Ana Lejava '14

M'Kayl Lewis '14

Terria Punturo Steele '14

Susan Tuberville '14

Clayton Humphries '15

Gabby Joiner '15

4 / 'southern

George Lane '95

Byron Mathews '70

Jeb Pittard '98

Leanna Bankester Pittard '98

Greer Real Tirrill '79

Reba Simmons MPPM '00

Michael Flynn '16

Patrick Fox '16

Katie Waters-McCormack '16

John White '16

Emily Ballew '17

Emily Eidson '17

Jalon Hollie '17

Bethany Kuerten '17

Samantha Laflin '17

Jay Williams '17

Lauren Brasher '18

Sam Campbell '18

Shiv Desai '18

Katie Kassis '18

Damian Mitchell '18

Kelsey Peake '18

Justin Woolfolk '18

Vindhya Basetty '19

Jackson Massey '19

Kyler Jackson '19

Andrew Triplett '19

Leah White '19

Aaron Beane '20

Olivia Jones '20

Diamond Spears '20

Leah Thomas '20

Christopher McClintock '21

Olivia Seckinger '21

Zac Venos '21

1856 TOUR

Editorial Offices

10 Stockham Building

900 Arkadelphia Road

Box 549004

Birmingham, AL 35254

Phone: (205) 226-4922

E-mail: communications@bsc.edu

Virginia Gilbert Loftin

Vice President for Advancement

and Communications

Executive Editor

Amy Bickers Abeyta

Assistant Vice President

of Communications

Art Directors

Patrick Bradford

Assistant Director of

Visual Content

Traci Edwards

Assistant Director of

Visual Content

Contributing Writers

Alexis Barton

Nicholas Mathey

Sports Information Director

Jesse Roberson

Elizabeth Sturgeon

Communications Coordinator

Jordan Taylor

Marketing and Digital Media

Coordinator-Athletics

Photography

Cameron Carnes

Photographer and Videographer

Dustin Massey '12

Courtney Wild '23

Office of Alumni Engagement

Jennifer Howard Waters '86

Director

Dana McArthur Porter '03

Assistant Director

www.bsc.edu
---
CONTENTS

DEPARTMENTS

2

Letter from the President

6

Campus Life

12

Panther Pride

16

Office Hours

17

Off Hours

18

A Day in the Life

20

The Next Chapter

60

Giving to BSC

64

Lifelong Learning

FEATURES

21

Remembering GALA

When stars fell on Alabama: A

look back at the biennial event

that honored distinguished

women and supported students

from 1977-2004

23

Special Section:

Dear BSC

Alumni pen tributes to the many

ways Birmingham-Southern

prepared them for their lives

beyond the Hilltop

20

37

The

Playlist Issue

'SOUTHERN MAGAZINE // VOLUME 46, NUMBER 1

48

37

Alumni Features

BSC highlights a few grads and a student

in the music business: I.R.S Records cofounder

Miles Copeland III '66, country

hitmaker Walker Hayes '02, singer/

songwriter Jada Cato '17, and Moxie

Hotel guitarist Price Pewitt

44

BSC Virtual Book Clubs

Alumni, faculty, staff, and community

members connect online for BSC's Fall

2021 Virtual Book Clubs

46

Alumni Podcasts

Find out which BSC grads are sharing

insight, expertise, and more in podcasts

55

Distinguished Alumni

Awards

Photos from the Homecomingweekend

tribute to the 2020

Alumni Awards honorees and 2021

Posthumous Honorees

63

Hilltop Tribute

Joelle Phillips '89 remembers mentor

and friend Clay C. Long '58

SCAN AND TAP

Throughout this issue, you will see QR

codes that link to songs, playlists, and

videos related to each story. To access

a QR code, open the camera app on

your smartphone, point it at the code,

and hold it steady for a few seconds.

When the notification appears, tap it to

go to the link.

If you prefer to visit links via your

computer, you can find every link in this

issue on the BSC Blog at blog.bsc.edu.

FALL/WINTER 2021 / 5
---
Campus Life

Panther Partnerships

Learning New Skills

Professor of Biology Dr. Pete VanZandt celebrated 15 years at the College by

becoming a BSC student himself. Returning to the other side of the classroom –

and making time to formally study outside of his research expertise – is something

VanZandt has been wanting to do for a long time, and BSC's Accelerated Data

Science Program presented the perfect opportunity to do so.

"As faculty, we all love the process of learning more," VanZandt says. "If we have

the time, I know that lots of us would like to take more classes. This was one of the

most humbling, difficult experiences I've ever had, but, if it wasn't that difficult, I

would not have valued it as I do."

Last summer, VanZandt was part of the very first data science cohort through

the College's collaborative program with Flatiron School. He adds his time in

the program to the list of strenuous, and at times grueling, challenges that have

become some of his proudest achievements, like earning his doctorate degree,

finishing several ultramarathons, and biking for 24 hours straight.

"I've always believed that computing should be a part of every major," he says.

"There's not a discipline, department, or aspect of our lives that's not touched

by data. I saw this program as an opportunity to increase my skills and better

understand the possible connections between computing and what our students

can do and what I can teach."

After completing pre-work assignments, and bringing his 25 years in

statistics and some experience in programming languages, VanZandt joined

undergraduate students, recent graduates, and professionals to learn a

completely new skillset at a rapid pace.

He consistently found ways to apply the knowledge to his work as a faculty

member and administrator. VanZandt's two final projects focused on moths, his

research expertise, and on BSC graduation predictors.

"I never would have known how to apply these different and novel data science

approaches if I hadn't taken this class," Van Zandt says. "As chair of the biology

department, I'm interested in how students progress through their first-year

sequence. I have the tools now to do an analysis on what factors are leading

students to be successful through those first four courses."

Though many students in the data science program are looking to change their

career or break into Birmingham's growing data science companies, VanZandt

brought a different but nonetheless important goal – to gain a new expertise on

data science that he will find numerous ways to bring into his current position.

"And having a student's perspective again is something that's going to make my

teaching better."

SGA LEADERSHIP

Elections for 2021-2022 Student Government

Association positions concluded on Thursday,

Sept 16. The executive board, led by SGA President

Laura Alice Hillhouse, is another all-female team

– last year's SGA executive board was the first allfemale

team since 2012.

Laura Alice Hillhouse is a senior business

administration major from Florence, Ala. She

was the 2020-2021 SGA Treasurer, is involved in

Greek Life, and is a 'Southern Ambassador. She

is also Vice President of We the Neighbors, an

organization dedicated to breaking down stigma

surrounding homelessness through education and

service-learning opportunities.

The other elected executives are:

Vice President Anna Withers Wellingham, a

sophomore political science major from Mountain

Brook, Ala. She is involved in Greek Life, Quest II,

Orientation Team, Active Minds, Concert Choir,

Cheerleading, and is a volunteer for Religious

Life. She also works as the supervisor for the BSC

Bookstore.

64

// 'southern
---
BRINGING THE WORLD TO BSC

Birmingham-Southern College will serve as one of the more than 25 competition sites around

Birmingham for The World Games 2022. The multi-sport event will be held from July 7- 17, 2022.

An anticipated 3,600 athletes from more than 100 countries will participate in 34 unique, multidisciplinary

sports throughout The Games.

Goldfarb Field at Berylson Soccer Park, the home of Birmingham-Southern Soccer, will play host to

Fistball. Bill Battle Coliseum, the home of Birmingham-Southern Basketball and Volleyball, will host a

variety of competitions including Orienteering, Karate, Wushu, and Ju-Jitsu. Birmingham-Southern residence

halls will also be the accommodation for several athletes competing at The Games in their dormitories.

The World Games 2022 Birmingham marks the 40th anniversary of the event and will generate an

estimated $256 million in economic impact. The World Games was established by the International

World Games Association, an organization recognized by the International Olympic Committee.

Wondering what Fistball is? Learn about The World Games sports at twg2022.com/sports/.

David Benck '90, senior vice president and general counsel at Hibbett

Sporting Goods Inc., is secretary of the World Games 2022 board of directors.

ALL-FEMALE AGAIN FOR 2021-2022

Secretary Madison Blair, a junior English major from

Hoover, Ala. She was also the 2020-2021 secretary. She

is involved in Greek Life, the Orientation Team, and

'Southern Ambassadors, and is a writing center tutor.

Treasurer Lauren Barnett, a junior double majoring

in history and economics with a Distinction in Poverty

Studies. She is involved in the Orientation Team, the

Bonner Leader program, the Harrison Honors program,

'Southern Ambassadors, Quest II, Religious Life, Greek

Life, and ARC tutoring.

ELECTED REPRESENTATIVES ARE:

Senior Representatives

Mayci Hartley

Paige Williamson

Junior Representatives

Paige Washington

Martha Louise Waters

Sophomore Representatives

Jamie Archer

Honey Green

Freshmen

Representatives

Xuan Huynh

Daniel Johnson

Lauren Overton

Commuter

Representatives

Lilia Lopez

Magali Valdez

Lakeview Residence Hall

Representative

Malcolm Hogan

Pierce Residence Hall

Representative

Constance Hodges

Bruno Residence Hall

Representative

Sara Beth Hill

Bill & Lyndra Daniel Residence Hall

Representative

Kenyé Underwood

Hilltop Village Apartment Representatives

Jannah Moede | Wheeler Coleman

Fraternity Row Representative

Jake Ogle

Sorority Row Representative

Greta Kyburz

FALL/WINTER 2021 / 7
---
Campus Life

CELEBRATING

50 YEARS

When Janice Poplau came to interview at Birmingham-Southern in

the summer of 1971, she took her very first plane ride from Minnesota

to Alabama. Fifty years later, she's made Birmingham and the N.E. Miles

Library her home and is still helping the campus community with research

and reading of all kinds.

Over the years, Poplau's position has shifted from overseeing the card

catalog – which she eventually helped digitize – to managing the College's

interlibrary loan program. In both areas, she loves helping students and

professors complete their research and discover books and materials that are

essential to their work.

One of the first big projects Poplau took on at the College was

reclassifying the library collection from the Dewey Decimal System to

the Library of Congress Classification. As she completed this project, the

library began to outgrow its space in what is now the M. Paul Phillips

Administration Building.

In 1976, the library moved from the Phillips Building to the brand-new

Rush Learning Center and N.E. Miles Library at the heart of the campus.

Poplau remembers getting students' help to carefully move catalog cards

from the old filing cabinets in her car because "I didn't trust the movers with

the card catalogue," she says.

Now, 75 percent of her role is focused on interlibrary loans. Poplau gets to

meet professors and students from all areas of campus.

"It's a great service for students to take advantage of for help with

research and papers," she says.

Between different roles, buildings, and changes in her 50 years, a library

director once told Poplau that there wasn't a book in the library that hasn't

gone across her desk. She says that's probably true.

Read about other BSC employees celebrating service milestones in the

2021 Service Awards post at blog.bsc.edu.

Fulbright Scholar Maria Augusta Zhunio

In fall 2021, Birmingham-Southern was

one of 40 schools in the country to host

a Fulbright Scholar-in-Residence, and one

of the few selected schools to welcome an

instructor who has already worked with its

students and faculty.

Fulbright Scholar Maria Augusta Zhunio,

professor at the University of Cuenca in

her hometown of Cuenca, Ecuador, spent

the fall term on the Hilltop to teach in the

Department of Modern Foreign Languages,

engage with students and faculty across

campus, and serve as a visiting scholar to the

greater Birmingham area.

Along with her business courses at the

University of Cuenca, Zhunio teaches English

language at the university and teaches Spanish

to international students at the CEDEI

Foundation, where BSC students studied

during E-Term in 2017 and 2019.

Professor of Spanish Dr. Barbara

Domcekova and Professor of Chemistry Dr.

Laura Stultz – who served as the codirectors

of the Fulbright project – first met Zhunio

through the CEDEI classes that were part

of their Cuenca E-Term project, a threeweek

immersion in Spanish language and

Ecuadorian culture.

8

/ 'southern
---
2021 OUTSTANDING EDUCATOR

At our 2021 Commencement ceremony

held in mid-May, Dr. Duane H. Pontius, Jr.,

T. Morris Hackney Professor of Physics, was

named the 2021 Outstanding Educator of

the Year. A 1981 alumnus of Birmingham-

Southern and a member of the faculty since

1999, Pontius earned his Ph. D. in Space

Physics and Astronomy from Rice University

in 1988. As the 2021 Outstanding Educator,

Pontius will serve as the 2022 Commencement

speaker at the May 20, 2022, ceremony.

During his career as a research scientist

in space physics, an early success was his

prediction of small, depleted magnetic flux

tubes in the Earth's magnetosphere, which

has been firmly established by subsequent

satellite observations. His ongoing research

has made fundamental contributions to

our understanding of Jupiter and Saturn

by exploring electromagnetic coupling

between the planets' atmospheres and their

magnetospheres. He developed a theoretical

model that played a role in the Cassini

spacecraft's discovery of geysers on Saturn's

moon Enceladus. His work with two BSC

physics majors resolved a long-standing

puzzle about Saturn, that its rotation rate

appears to vary with time. At BSC, he has

concentrated on overhauling the pedagogy

for introductory physics in line with advances

from educational research.

Exploring and Connecting at Harvard

"This experience increases their

proficiency and raises their confidence

because they are communicating entirely

in Spanish, whether it is with their host

families, teachers at CEDEI, or people

they interact with outside the class

while they explore Cuenca and the local

community," Domcekova says.

In Zhunio's fall course, "Introduction

to Economic Development in Latin

America," she combined her background

in finance and economics with her

experience teaching Spanish and English

as second languages.

Two BSC students were selected

to attend the Harvard Divinity

School Diversity and Explorations

Program. Rachel Mixon, senior

studio art major, and Thornton

Muncher, senior literature, religion,

and mythology major visited

Harvard Oct. 26-28 to learn

about possible areas of study and

make connections with other high

achieving, committed students

who are interested in social justice,

inclusion, and theology.

FALL/WINTER 2021 / 9
---
Campus Life

From Campus

to Cannes

Senior Natalie Justus spent part of summer

2021 in France working at one of the most

esteemed and influential film events – the

Cannes International Film Festival.

Justus arrived one day before the festival

began on July 5 and spent two weeks working

with ticket distribution for The American

Pavilion, the hospitality and communications

hub for the thousands of Americans attending

the Cannes Film Festival. In her role, she

managed tickets at the Pavilion for industry

insiders, student programs, and raffles for the

most sought-after premieres.

"I have always wanted to attend the

Cannes Film Festival," Justus says. "I was

already planning on studying abroad in

France during spring 2020, so applying was

an easy decision."

Before the 2020 event was canceled

during the pandemic, Justus had already

applied to be a part of The American

Pavilion student program, an opportunity

she learned about from Assistant Professor

of Media and Film Studies Robert Corna.

Her position was then honored for the

next three years, and she made her way to

Cannes this summer, despite knowing it

would be so different from years past.

"My favorite part of the experience –

aside from walking the red carpet in black

tie attire – was meeting all the different film

industry professionals and hearing about

what they do and how they got there,"

Justus says. "The highlight was when Haley

Lu Richardson came to the Pavilion to talk

about her newest film at the festival and her

career as an actress."

Richardson starred in "After Yang," which

showed on July 8 among the other world

premieres that make the Cannes Film

Festival the largest film festival in the world.

Over the two-week festival, screenings took

place across multiple theatres, plus two

Red Carpet Premieres at the Grand Theatre

Lumiere every night.

Justus had the opportunity to attend the

premiere of "Stillwater," starring Matt Damon,

and it was one of her favorite films she saw

during her time in Cannes. She also attended

the Q&A following the next day and heard

Damon speak about the film.

"I got to see Matt Damon's reaction to the

film's standing ovation – definitely a memory

I will never forget," Justus says.

Along with the magic behind the festival

and the red-carpet experience, Justus brought

back knowledge that she will carry into her

major in media and film studies and her

future career goals. Through her program

with The American Pavilion, she got to

hear from actors and producers, publicists,

entertainment lawyers, and other experts in

the industry. Justus also got to work alongside

other students with similar goals.

"I got a much closer look inside what

my future career may look like and made

multiple connections that I will be able to

reach out to after graduation," she says. "I

am still unsure which route I will choose,

but It is nice to hear that there are so many

different possibilities and career paths

within the film industry."

NATIONAL

COLLEGIATE RANKINGS

U.S. News & World Report included Birmingham-Southern College

on the list of top National Liberal Arts Colleges in "Best Colleges"

for 2022, moving the College two spots higher than its 2021 ranking.

BSC also is one of 52 colleges included on the 2022 U.S. News & World

Report — A+ Schools for B Students (National Liberal Arts Colleges) list.

The rankings were released Sept. 13.

"We are pleased that U.S. News & World Report has once again moved

us up in the rankings," said BSC President Daniel B. Coleman. "In a time

that has presented unprecedented challenges for our campus, our country,

and the world, BSC has remained focused on providing an excellent

education and a meaningful campus experience. We are especially proud

of our students who have worked hard to excel academically while

striving to keep our campus safe for in-person learning."

The guide lists BSC at #128 — tied with seven other liberal arts

colleges: Albion, Eckerd, Massachusetts College of Liberal Arts,

Morehouse, Presbyterian, Ripon, and Roanoke. U.S. News & World Report

included 167 institutions in its prestigious "national liberal arts college"

rankings. There are about 500 liberal arts colleges in the United States.

The U.S. News & World Report Best Colleges rankings, now in their

37th year, are considered the "gold standard" of higher education

rankings, examined 1,452 degree-granting institutions in the United

States on 17 measures of academic quality.

Birmingham-Southern College also is featured in the "Fiske Guide

to Colleges 2022." As the best-selling college guide on the market,

Fiske offers profiles of more than 300 of the "best and most interesting"

colleges in the country. The guide describes BSC as a college "striving

to prepare students for all aspects of the modern world, with high-tech

facilities and a curriculum that prioritizes critical thinking, teamwork,

and global awareness."

10 / 'southern

6 / 'southern
---
PANTHER

PARTNERSHIPS

In November, Birmingham-Southern College announced 33 students

– selected through a competitive process – and 33 Birmingham-area

professionals, including 20 BSC alumni, who make up the 2021-2022 class

of the Panther Partnerships Mentoring Program. Through this intensive,

structured program, volunteer mentors help students achieve individualized

goals in pursuit of their educational and career ambitions.

THE 2021-2022 PANTHER PARTNERS ARE:

• Khalil Almansoob, a sophomore

business finance major, mentored by

Tom Carruthers, principal at Red Rock

Realty Group, Inc.

• Jamie Archer, a sophomore urban

environmental studies major, mentored

by Katie Adams '12, program manager at

UAB Sparkman Center for Global Health

• Sharee Davenport, a sophomore

psychology major, mentored by Cassandra

Winston-Griffin, DNP, adult nurse

practitioner at WorkDOC1st

• Casey Gilreath, a senior history major,

mentored by Jackson Stewart '08,

Executive Vice President & General Counsel

at Sanders Capital Partners, LLC

• Amanda Goolsby, a senior political

science major, mentored by Nic Palmer

'15, program analyst at United States State

Department Bureau of Diplomatic Security

• Aaliyah Hammond, a senior sociology

major, mentored by Ava Young '02,

entrepreneur at Metropolitan Day School

• Shayla Hill, a senior psychology major,

mentored by Steve Milliron, PT, ATC,

Clinic Director at Encore Rehabilitation

• Lindsey Hitchcock, a sophomore religion

major, mentored by Elizabeth Peters, MD

'94, pediatrician for Children's of Alabama,

Mayfair Medical Group

• Hannah Jackson, a sophomore musical

theatre major, mentored by Morgan Smith

'03, Actor/Writer with SAG/AFTRA

• Jasleen Judge, a senior political science

major, mentored by Devan Byrd '13, trial

lawyer at Hare Wynn Newell & Newton, LLP

• Anna Kanter, a junior business finance

major, mentored by Chandler Grace

Peltier '15, treasury solutions consultant at

Truist

• Joseph Kilcoyne, a senior business

administration major, mentored by

Arndt Haddenbrock '95, national account

executive at The Goodyear Tire & Rubber Co

• Nikki Lee, a sophomore biology

major, mentored by La'Tanya Scott,

environmental science educator at The

Cahaba River Society

• Alex Lewis, a junior biology major,

mentored by Ann Marie Arciniegas

Bernal, MD, pediatric ophthalmology

and strabismus at UAB Department of

Ophthalmology

• Lilia Lopez, a junior health sciences major,

mentored by Howard Day, OD, '83,

optometrist at Day Eye Care

• Anna Blake Lowe, a senior psychology

and English major, mentored by

Caroline King '13, physician assistant at

Massachusetts General Hospital

• Amayrany Martinez, a sophomore

architectural studies major, mentored

by Taylor Davis '01, principal at TPD

Architect

• Zionne McCrear, a junior biology major,

mentored by Lauren Nassetta, MD '01,

Pediatric Hospitalist, Associate Director

of Peds Residency Program and Chief

Wellness Officer at UAB Department of

Pediatrics

• Ally Mildenberger, a junior business

management and marketing major,

mentored by Kristen McGee, realtor at

RealtySouth

• Sara Morales, a senior business marketing

major, mentored by Adelaide Matte, CEO

of AMD Creative + Set Me Up

• Sabrina Morgavi, a junior political science

major, mentored by Ellise Washington

'11, founder and principal attorney at EMW

LAW LLC

• Jake Ogle, a sophomore urban

environmental studies major, mentored

by Eric Francher, a real estate acquisitions

manager at Navigate Affordable Housing

Partners

• Sarah Rushing, a senior health sciences

major, mentored by Carol Ann Nicrosi,

DMD '90, DMD, Children and Teen

Dental Group

• Elijah Schwartzkopf, a junior psychology

major, mentored by Michael Falligant,

Director of Mental Health Services

at Crisis Center

• Caroline Seale, a junior psychology major,

mentored by Brian Bellenger, PhD, I-O

Psychologist and Division Manager of

Employment Testing at Personnel Board of

Jefferson County

• Emily Sills, a junior health sciences major,

mentored by Rachel Jones '10, registered

nurse at Destination Travelcare

• Lucy Thompson, a sophomore business

major, mentored by Wilson Nash '07,

Legal Director at Brasfield & Gorrie

• Magali Valdez, a junior Spanish for the

workplace major, mentored by Daniel

Lopez Rubio, attorney at Lopez Rubio

Abogados

• Johanna Villvicenzio, a junior biology

major, mentored by David Hall, MD '12,

physician at Southview Medical Group

• Abi Waller, a senior fine arts major,

mentored by John Lytle Wilson '99, artist

at John Lytle Wilson

• Ming White, a senior accounting major,

mentored by Dennise Armas '17, senior

auditor at Ernst & Young

• Paige Williamson, a senior psychology

major, mentored by Elizabeth

Richardson, PhD '00, assistant professor/

clinical psychologist at University of

Montevallo and

• Mallory Wilson, a junior business

management major, mentored by Jamie

Dabal '03, Vice President of Operations at

Children's of Alabama

FALL/WINTER 2021 / 11
---
Panther Pride

A SOFTBALL SEASON FOR THE BOOKS

The Panthers were looking to take home

another SAA Conference Tournament

Championship, making it back-to-back wins

since the tournament was cancelled in 2020.

After coming off a great season in 2019, it

was heartbreaking for their season to be cut

short and the chance at defending their title

to be taken away.

After starting off their 2021 season with 12

straight wins, Birmingham-Southern softball

amassed only eight losses in their season

to end with an impressive 33-8 overall

record. BSC won 13 of its 15 conference

games, earning them the Southern Athletic

Association regular season title. They went

on to face Rhodes in their first game of the

conference tournament and won that game

with an impressive 11-7 score. Birmingham-

Southern went on to sweep Berry, even run

ruling them 8-0 in their final game, to take

home their back-to-back and third overall

Southern Athletic Association Tournament

Championship, earning them an automatic

bid into the NCAA Championship.

The No. 5 seeded Panthers went on

to face the University of Redlands in the

first round before facing No. 9 Salisbury

University in the semi-finals. BSC made an

impressive run to sweep the host No.7 East

Texas Baptist University and went undefeated

throughout the regional tournament in

Marshall, coming home with the first ever

regional championship and trip to the NCAA

National Tournament.

Battling to stay alive in the tournament,

BSC faced No. 14 University of Rochester in

the first round on May 27, going into extra

innings, the Panthers came out victorious in

the 9th inning, winning 3-2. The Panthers

sadly fell in the second round to No. 2

Virginia Wesleyan but were able to bounce

back and beat University of Wisconsin-

Oshkosh 2-1 to advance to the semi-finals.

BSC Ultimately fell to the reigning national

champions, No. 2 Texas Lutheran, the

Panthers finished their historic season ranked

fifth in the nation and took home third place

in the National Tournament.

New Leadership

Looking to make a repeat of last

year, Birmingham-Southern brought in

Amanda Locke as the new head coach.

Locke comes to BSC from Northwestern

State University (NSU) in Natchitoches,

La. She graduated from the University

of Alabama with a Bachelor of Science

in 2011, where she was a member of the

softball team from 2008-2012. In 2012,

the team won the NCAA Softball National

Championship. As a player, Locke was

named to the 2012 All SEC Team and the

2012 Academic All SEC, among numerous

other honors. With 54 career home runs, she

ranks third in Alabama history.

"I am beyond excited to join the

Birmingham-Southern family and am

extremely grateful to President Daniel

Coleman, Athletic Director Kyndall Waters,

and the rest of the hiring committee," Locke

said. "I have so much respect for this softball

program and all of the incredible women

who have built it. This is something that I

have looked forward to since my coaching

career began. I am honored to represent this

program as their head coach."

12 / 'southern
---
CURRENTLY LISTENING TO:

Songs for motivation. Find all the songs BSC Athletics teams are

listening to now in the 'Southern Sound playlist.

BSC Football Has

Best-Ever Season

A season that will go down as one of the

best in program history came to an end

Nov. 27 when Birmingham-Southern fell to

#2 University of Mary Hardin-Baylor in the

second round of the NCAA Football Playoffs.

Led by Coach Tony Joe White, this was the

first 10-win season in program history, and for

the first time ever, the Panthers won a NCAA

Division III National Football Championship

Playoff game. Plus, a record 21 student-athletes

were named to All-Conference Honors on

Nov. 23. BSC was awarded six first team

honors, nine second team honors, and five

were voted honorable mention.

Receiving All-Conference Honors were:

DJ Albright; Jimmy Anderson; Brandon

Armstrong; Court Coley; Cameron DeArman;

Tavion Fleming; Zach Ford; Trey Gory;

Michael Gray; Wes Guilford; Aidan Hood;

Derrick Maddox; Byron Millsap; Chris Moore;

Gage Motes; Gentry Neese; Brandon Rew;

Gibbs Sherrell; Robert Shufford; Garrett

Smith; and Carson Walter. Senior Robert

Shufford ranked in the top 20 in Division III

in rushing touchdowns, rushing yards, and

rushing yards per game.

The 21 All-Conference Honors studentathletes

set a new single-season record for

the BSC football program. There were also

numerous team records, and individual season

records broken throughout the season.

HISTORY IN OVERTIME

Facing a shortened season due to COVID-19, the Birmingham-Southern men's

soccer team's goal and chances at winning the conference title got even more difficult.

In March 2020, the Panthers started their conference journey, ending with a 5-1

conference record. They opened it up with a win at home against Hendrix, before

facing their first loss of the conference season against Rhodes.

The Panthers went on to win the rest of their conference games. Birmingham-

Southern played an incredible overtime game against Berry for their final game of the

regular season, so close to achieving their goal. Facing the team who was going after

the same opportunity and battling for the title, the Panthers knew it would be a fight.

After a scoreless first half, the game was still up for anyone to take. Goalkeeper

Jack Hunt faced four shots and made one save to keep Berry off the scoreboard. The

second half began with physicality, but a foul on Birmingham-Southern brought

Berry a penalty kick in the 64th minute of play. The Vikings were able to capitalize

on the penalty and scored the first goal of the game. Not long after, Berry received a

yellow card that gave Birmingham-Southern a chance to tie up the game. Sophomore

Coleman Jennings netted the penalty shot to tie the game. Jack Hunt would face

six more shots, saving three, in the second half to keep the Panthers in the fight.

Regulation ended with the game tied 1-1, making this an overtime battle for the title.

At the 94:12-mark, first-year student Pirmin Blattmann booted a free kick into

the box, but the Berry goalkeeper punched it out. Making quick moves, the punched

ball was collected by sophomore Bryan Arteaga Cruz at the corner of the box. Arteaga

Cruz made his way to the end line, cut back to his left foot, and served a cross to the

middle of the box where junior Christian Hernandez finished it with a bicycle kick

to make history for Birmingham-Southern. The bicycle kick from Hernandez won

the game for Birmingham-Southern and gave them the Southern Athletic Association

Regular Season Championship, making them the first team in the men's soccer

program to gain the title.

FALL/WINTER 2021 / 13
---
Panther Pride

HALL OF FAME

Birmingham-Southern Athletics celebrated its 2021 Hall of Fame inductions

Oct. 21 during the Hall of Fame dinner ceremony. The five athletes inducted

were Allison Popp White (women's Soccer, 2000), Taylor Bassett (softball,

2015), Larry Thomas (men's basketball, 2015), Blake Stevens (baseball, 2015),

and Tiarra Goode (women's track & field, 2016).

Allison Popp White '00 was part of the women's soccer team from 1996-1999.

Popp White earned three All-TranSouth selections in 1996, 1997 and 1998. She

was also selected to the All-Tournament team twice in her career. Popp White

holds several records at Birmingham-Southern: She is first in program history in

saves (467) and shutouts (22), and second in program history in wins (32), save

percentage (.837), single season saves (202) and wins (13). Popp White holds the

single-game record for most saves in a match with 23.

Taylor Bassett '15 was a member of the Panther softball team from 2012-

2015. Bassett earned two All-Region honors in 2013 and 2015. She earned

Southern Athletic Association Player of the Year in 2013, as well as All-

Southern Athletic Association selections in 2013, 2014 and 2015. Her legacy

as Birmingham-Southern includes ranking first in program history for on-base

percentage (.475) and home runs (29). Bassett also ranks second in program

history in RBIs (132). In 2013, she was announced as the BSC Female Athlete of

the Year.

Larry Thomas '15 joined the men's basketball team from 2011-2015.

Thomas earned three All-Southern Athletic Association selections in the 2012-

13, 2013-14 and 2014-15 seasons, as well as Southern Athletic Association

Player of the Year for 2013-14 and 2014-15. Thomas was also selected for

the D3Hoops.com All-Region team in the 2013-14 and 2014-15 seasons. His

accolades do not end there, Thomas was also a two-time NABC All-American

in 2013-14 and 2014-15. His legacy at Birmingham-Southern includes being

awarded BSC Male Athlete of the Year in 2014 and being the all-time leading

scorer in program history with 1,666 points.

Blake Stevens '15 was a part of the Panther baseball team from 2012-2015.

Stevens earned Southern Athletic Association Pitcher of the Year in 2014 and

2015, as well as Southern Collegiate Athletic Conference Newcomer of the

Year in 2012. Stevens also received South Region Pitcher of the Year in 2014

and 2015, All-South Region team in 2012, 2014 and 2015. He was a twotime

CoSIDA Academic All-American in 2014 and 2015, a two-time ABCA

All-American in 2014 and 2015, and D3baseball.com All-American in 2015.

D3baseball.com also recognized him as Pitcher of the Year in 2015. His legacy at

Birmingham-Southern includes being awarded BSC Male Athlete of the Year in

2014 and 2015, as well as being the program leader in career strikeouts with 340

and innings pitched with 336.1.

Tiarra Goode '16 was on the women's track and field team from 2011-2015.

Goode earned USTFCCCA South/Southeast Region Women's Track Athlete of

the Year in 2012 and 2013, 10 conference titles and 13 All-American honors. She

was a two-time national champion in the 100m hurdles and 60m dash in 2012

and a two-time national runner-up in 100m hurdles and 60m dash in 2013. Her

legacy at Birmingham-Southern includes being BSC's first individual national

champion and first in Division III era, as well as being named BSC Newcomer of

the Year in 2011 and BSC Female Athlete of the Year in 2012, 2013 and 2015.

14 / 'southern
---
Athlete Awards

During the shortened 2020-21 athletic

year, Birmingham-Southern student-athletes

received 114 all-conference honors, 15 allregion

selections, nine conference Player of

the Year awards, seven team championships,

two Coach of the Year awards, six All-

America honors, and a trip to the softball

world series.

With an impressive showing not only in

conference but nationally, Birmingham-

Southern also presented awards to the

following teams and individuals.

Sigma Alpha Alpha

BSC inducted 13 new members into

Sigma Alpha Alpha, the Southern Athletic

Association honors society for graduating

seniors. Inductees must earn above a 3.5

cumulative grade point average over the

course of their time at BSC and represent

their programs on either the first or second

all-conference teams. This year's inductees

were from baseball, Will Evans and Robbie

Lively; from football, Trevor Oakes and

Wells Smith; from women's golf, Alexis

Chambers; from women's soccer, Sydney

Barrow and Abby Kay Choate; from softball,

Saydee Keith; from men's swimming and

diving, Sam Arnold, Driscoll Crabbe, and

Max Stoneking; from women's swimming

and diving, Kasey Godwin, and from

women's tennis, Alyssa Yager.

Male and Female Newcomers of the Year

Hallet Green of men's tennis and Hailee

Bryan of softball were named male and

female newcomer of the year. Green was

named SAA Player of the Year. He went 16-1

overall in singles, 8-0 against conference

opponents, playing mostly out of the No.

1 position. In doubles, Green went 14-4

competing with three different partners,

going undefeated in the No. 1 spot. Bryan

was named both SAA Pitcher of the Year

and Newcomer of the Year. Named to the

National Fastpitch Coaches Association

All-Region Third Team, she helped lead

the Panthers to their first NCAA Regional

championship and appearance in the

World Series. Bryan ranked nationally in

10 different categories, including ninth in

saves. She also led the conference in seven

categories including shutouts and strikeouts.

Ben Sinclair Teammate of the Year

This is the fifth year of the Sinclair Award,

given annually to a student-athlete who

enriches their program through attitude,

positivity, and by being their teammates'

biggest fan and supporter every single day.

They serve as a role model by the way they

live their life and are considered the hardest

working member of any team. This year's

recipients are Alyssa Yager of women's tennis

and David Minton of baseball.

Johnny Johnson Most Inspirational Senior

Johnny Johnson was one of the most

beloved and dedicated administrators

at Birmingham-Southern. Johnson was

instrumental in helping the college develop

a plan for moving its athletic program

to the NCAA Division I level. In honor

of his behind-the-scenes work for two

decades at Birmingham-Southern, the

athletic department created an annual

award honoring senior student-athletes

who exemplify the qualities of scholarship,

leadership, citizenship, and the selfless

attitude in and out of the athletic arena, who

inspires teammates, coaches, and fans. This

year's recipients were Leah Middleton of

women's basketball and Zac Venos of men's

lacrosse.

Ann Dielen Female Athlete of the Year

The Female Athlete of the Year was named

for long-time tennis coach Ann Dielen, who

coached for over 40 years on the Hilltop.

Dielen was instrumental in the advancement

of women's sports at Birmingham-Southern.

This year's winner was Mary Katherine

Stewart from women's swimming and

diving. Named SAA Swimmer of the Year,

Stewart collected six titles at the conference

championships. She was also selected as an

All-American by the College Swimming and

Diving Coaches Association of America for

the 200 backstroke.

Larry D. Striplin Male Athlete of the Year

The Male Athlete of the Year award was

named in honor of late benefactor Larry

D. Striplin, who passed away in 2012 at

the age of 82. He was a 1952 graduate of

Birmingham-Southern and is a member

of the BSC Sports Hall of Fame. This year's

award recipient is sophomore Coleman

Jennings of men's soccer. Named SAA Player

of the Year, Jennings led the country in

game winning goals and penalty kick, and

finished the year ranked No. 2 nationally in

total goals and total points. Jennings, a team

captain, helped lead the Panthers their first

SAA championship in program history and

the top seed in the conference tournament.

Man and Woman of the Year

The Man and Woman of the Year awards

were created by the Southern Athletic

Association in 2013 to be the league's biggest

and most prestigious awards. Nominees

must be seniors with no remaining eligibility.

BSC's selections will go on to be in the

running for 2021 SAA Man and Woman

of the Year. The 2021 Man and Woman of

the Year are Andy Hammond of baseball

and Abby Kay Choate of women's soccer.

A fifth-year senior, Hammond has helped

BSC baseball win three SAA championships,

regional and super regional titles, and a

trip to the World Series Championship.

The first-team all-conference pitcher was

named second-team all-region by both

ABCA/Rawlings and D3baseball.com.

Choate, a team captain, is a three-time All-

SAA selection. She was named conference

newcomer of the year her freshman season

and has been voted United Soccer Coaches

All-South Region twice in her career.

Team of the Year

After making a historic run to the NCAA

Division III Women's College World

Series, BSC softball was named the 2021

Team of the Year. The Panthers repeated

as Southern Athletic Association regular

season and tournament champions. They

went undefeated in the Marshall regional

and saw five earn all-tournament nods

including most outstanding player and most

outstanding pitcher. The Panthers opened

their first World Series appearance with a

3-2 nine inning walk off win over Rochester.

When they fell to Virginia Wesleyan in the

second round, BSC battled to a 2-1 win over

Wisconsin-Oshkosh to play in the semifinals

against reigning national champion Texas

Lutheran. Despite not making it to the

championship series, BSC softball was

ranked as high as No. 3 in the country.

FALL/WINTER 2021 / 15
---
Roald Hazelhoff

office hours

Jay

McShann

Roald Hazelhoff has a proper office in the Southern Environmental

Center – right above the center's award-winning interactive museum –

but we consider the Hugh Kaul EcoScape his real office.

If you walk or drive toward the west end of campus, passing the

residence halls, the lake, and then the intermural fields, you'll find the

four-acre oasis of native plants and recycled art. The EcoScape garden

and outdoor classroom celebrated its 25th anniversary in 2021 and is

one example of Hazelhoff's work to make BSC a more sustainable and

beautiful place.

A Holland native and past resident of Japan and Hong Kong,

Hazelhoff has lived in Birmingham since 1988, when he joined BSC

as an assistant professor of political science. It didn't take long to push

students outdoors.

"I became feared on campus because there was no chance of passing

if you didn't help plant trees," he says.

As quickly as Hazelhoff spearheaded environmental efforts on

campus, his work was recognized at the national level. The College

received the Point of Light Award on Earth Day in 1990 from President

George H.W. Bush, who visited campus to honor students, faculty,

and staff for their work to beautify surrounding neighborhoods and

educate young students in the community.

Hazelhoff formally transitioned to his current role in 1992 as

founder and director of the Southern Environmental Center, and

he's made the entire campus greener. Alongside the Hess Center and

the Department of Biology, he helped found the major and minor

in environmental science; he made campus buildings more energy

efficient; with the help of BSC students, he planted more than 1,000

trees; and he beautified areas across campus, including the corner

that is now the EcoScape and the landscaping around Clay C. Long

Alumni Plaza.

"Now, you have a pedestrian-friendly campus and a reason to be

outside," Hazelhoff says. "The Residence Quad is connected to the

Academic Quad. And by virtue of the lake, we are connected to the

recreational components."

In the EcoScape, you'll find lush greens, native plants, edible plants

– like figs and different herbs, depending on the time of year – and

maybe a few critters. Hazelhoff recently spotted a red-tailed hawk

surrounded by crows.

"There's always something to see and color throughout the year,"

he says. "For fall, you can look for asters that come out, and the crepe

myrtles are always beautiful in early fall. As some of the vegetation

dies back, you discover and appreciate the things that were once

obscured. You can see owls, hawks, rabbits, and our fox family."

Hazelhoff welcomes everyone to the EcoScape – students, faculty

and their classes, and the Birmingham community. All Southern

Environmental Center programs are designed for visitors to learn about

and enjoy the environment.

"We've been given space on campus to do some creative things that

benefited the campus as well as the community," he says.

CURRENTLY LISTENING TO: Jay McShann

16 / 'southern
---
off hours

Queenie Hawkins

Jekalyn

Carr

LOVE Ms. Queenie! The best

campus mama, and yet she

hasn't aged a single day since I

was there nearly 20 years ago!

What's your secret, Queenie?!

Abbott Jones Downs '05

To know Ms. Queenie Hawkins is to love her. She is a Hilltop living

legend – and our longtime campus queen – whose compassion has

been unmatched during her 43 years at the College.

To most people on campus, Hawkins says, her life outside of campus

coffee shop Panther Perk is no surprise.

"You know I love to talk," she says, "and I lay it all out. It's just

conversations all day long."

Those who know Hawkins know one of her favorite places is New

Hope Baptist Church in the West End, where quite a few students have

gone to church with her over the years. They know that when Hawkins

isn't on campus, she loves to walk, and looks closely at all the flowers

and plants along her regular walking trails.

They know she likes things that are happy and funny, like her

favorite TV shows and movies, including "The Andy Griffith Show,"

"Leave it to Beaver," and anything Tyler Perry. And she's always

laughing, whether it's with her family around the kitchen table or with

students, faculty, and staff on campus.

For Hawkins, the BSC community has the same impact on her

personal life that it has on her workday. Family is important to

Hawkins, and BSC students become a part of her family, exchanging

cards and replacing April Fools' Day with celebrations for Hawkins'

birthday on April 1.

"I have the chance to meet parents, grandmas, nanas, the whole nine

yards," she says. "I get to see them graduate and then have children,

and their children come here."

Ever since Hawkins was a child, friends and family have always

confided in her. She is one of nine children in her family – the oldest

girl with five brothers and three sisters – and always knows how to

make them laugh. She was the peacemaker between her friends during

her school days in Greenville, Alabama, and she can always turn to

someone with her wisdom.

She's been the same welcoming, comforting, and joyful presence in

her different roles at BSC – she began working in the cafeteria in 1979,

spent 14 or so years in residential quad dining, and now handcrafts

caramel macchiatos as the Panther Perk barista. And her positivity

extends far outside of class and past graduation.

"They come in and call me their sunshine," Hawkins says. "People

say, 'Do you always have a good day?' And I say I try to have a good

day no matter what. It doesn't take much to make me happy — if

somebody's having a bad day, and I can say one sentence to that person

that changes their day, then I'm happy."

CURRENTLY LISTENING TO: Jekalyn Carr

FALL/WINTER 2021 / 17

FALL/WINTER 2021 / 17
---
a day in the life

Remi Wolf

Hillary Beard '12

Hillary Beard is approaching year 10 in U.S. Rep. Terri A. Sewell's (D-AL) office. Before becoming Sewell's chief of staff in December 2020,

Beard joined the team as an intern right after graduating from BSC and rose through the ranks in different press and legislative roles over the

years. At this point in her career, she sees the District 7 Congresswoman as one of her most valued guides.

"Every day, I learn new things about her, our district, and our government," Beard says. "I've learned a lot about her way of thinking, her

voice, and how she will respond to various issues and scenarios."

As chief of staff, Beard manages a team of about 25 individuals – including fellow BSC alumni Robyn Gulley '20, legislative correspondent,

and Trammell McCullough '21, congressional intern – with a diverse range of skills and backgrounds. She also keeps up with the

Congresswoman's relationships with the White House and Cabinet, other members of Congress, and outside stakeholders.

We asked her to break down a day in her life on Capitol Hill.

18 / 'southern
---
8 a.m.: Beard gets into her office in the Rayburn House Office

Building, one of the Congressional buildings on the southern

side of the Capitol. First, she has a call with Sewell's team, and

then she prepares for committee and stakeholder meetings. The

Congresswoman is assigned to the House Committee on Ways

and Means, which will influence many of Beard's activities and

discussions throughout the day.

9 a.m.: Mornings call for meetings, all of which build and maintain

the relationships that are crucial to Sewell's goals and how the team

serves her constituents. "On the policy front, we're always looking

at and drafting legislation and working with other congressional

offices, committees, federal agencies, and stakeholders," Beard says.

"You need input from all of those entities, and your relationships can

make or break your ability to get a bill or policy change across the

finish line."

Beard meets with the other chiefs of staff from the Ways

and Means Committee, then with the chiefs of staff from the

Democratic Caucus and New Democratic Coalition, a faction of

moderate democrats.

11 a.m.: Beard joins Sewell for other meetings with committee

and caucus members. They both go to a meeting on voting rights

legislation with House leadership, including Speaker of the

House Nancy Pelosi (D-CA) and House Majority Leader Steny

Hoyer (D-MD), the House Judiciary Committee, and voting rights

stakeholders, like representatives from the Brennan Center for

Justice. In the room, Beard sits on the periphery and takes notes as

she listens to the conversation.

12 p.m.: They walk to their next meeting – they take the Capitol's

underground tunnels, excluding when meetings took place on Zoom

during the pandemic – with the Ways and Means Committee Chair

U.S. Rep. Richard Neal (D-MA) and other members to discuss health

care and tax policies.

1:30 p.m.: Once she returns to her office, Beard gets a chance to sit

down and answer emails – emails are always filling up her inbox. She

reconnects with other members of Sewell's staff and answers their

questions. Then, she touches base with District Director Melinda

Williams or Deputy District Director Ollie Davison, who are both

based in Alabama, to hear about what's going on in the district.

3 p.m.: Beard and the rest of the team spend the afternoon

meeting with stakeholders to talk about their concerns and the

Congresswoman's insight on legislation. She hears from various

companies and organizations, ranging from Alabama Power to UAB

to Alabama Arise, about how upcoming legislation will impact them

and the district.

5 p.m.: Sometimes, Beard will head to an evening event, like a dinner,

fundraiser, or reception, often with organizations that are visiting

from Alabama. If she doesn't have an event, she stays in the office

and works until she feels like her day's work is complete. Prior to

the last two years, she would often work late into the evening, but

the pandemic has taught her that there is only so much we can

accomplish in one day and that personal time is precious.

She'll take a bus, catch a ride with a friend, or walk since she lives

close, and she wraps up another day on the Hill.

CURRENTLY LISTENING TO: Remi Wolf

Your relationships

can make or break

your ability to get a

bill or policy change

across the finish line.

POLITICAL

PLAYERS

There are several other BSC alumni with

a wide range of government positions in the

nation's capital.

U.S. Rep. Robert Aderholt '87 (R-AL) has

represented Alabama District 4 for more than

20 years and serves on the House Committee

on Appropriations. Prior to running for federal

office in 1997, Aderholt served as a municipal

judge in Haleyville, Alabama, following the

footsteps of his father, the late Hon. Bobby R.

Aderholt '57, attorney and judge who served

on Alabama's 25th Judicial Circuit for 31

years. Aderholt's mother, Mary Frances Brown

Aderholt '58, and wife, Caroline McDonald

Aderholt '90, also attended BSC.

Watson Donald '01 was named U.S. Sen.

Richard Shelby (R-AL)'s chief of staff in July

2021. This new role marks Donald's return

to Shelby's staff after serving as his national

security advisor from 2007-2009. He also

worked with former U.S. Rep. Jo Bonner (R-AL)

and former U.S. Sen. Jeff Sessions (R-AL),

which launched his legislative experience.

Morgan Murphy '94 and Bradley Hayes

'99 both hold senior roles on U.S. Sen. Tommy

Tuberville's (R-AL) staff – Murphy as senior

advisor and Hayes as legislative director.

Murphy serves as an advisor on national

security, foreign affairs, intelligence, and space

and brings a wide background as a U.S. Navy

Captain, bestselling author, and former press

secretary to the U.S. Secretary of Defense.

Hayes oversees the legislative agenda, and he

has previously served in executive positions at

the U.S. International Development Finance

Corporation, the U.S. Office of Management

and Budget, and U.S. Customs and Border

Protection.

FALL/WINTER 2021 / 19
---
the next chapter

Damian Mitchell '18

Every morning, Damian Mitchell sets his alarm for

4:27 a.m.

"A lot of people would just round up and set their

alarm to 4:30," Mitchell says, "but I want to be somewhere

between good and great. Good people wake up at 4:30,

and great people wake up at 4:25. I'm not great just yet,

but I'll try to get somewhere in the middle."

As a producer and radio host at WJOX 94.5 in

Birmingham, Mitchell begins the day by lining up

commercials and reviewing game-day cuts and press

conferences for his 6 a.m. radio shows – Jox Morning

every weekday, and Jox Game Day every Saturday. To

Mitchell, the early mornings never feel like work because

he's talking about the sports news on air that he's always

watched, discussed, and argued over with friends.

Mitchell joined the station in 2019, focusing on

production. He soon gained his first on-air opportunity in

20-second traffic updates for the Birmingham area, which

led to bigger roles in front of the microphone.

Mitchell is involved in almost every aspect of several

WJOX shows – collecting daily scores and stats, managing

sound, and starring as the on-air personality. Every day,

he combines his degree in media and film studies with

his love for sports and his past as a BSC football player

– and he brings BSC into the Jox Morning conversation

whenever possible.

"I got the chance to put my personality out there,"

he says. "People often want my perspective because

I'm the youngest person in the building, and I have

playing experience."

Just as he did as a football player, he analyzes his

performance, listening to each show after it airs to study

what he did right and how he can improve.

"You can't focus on just one thing in radio, and I want

to be the most prepared person in the room," Mitchell

says. "I look at every show I do as a game. I want to get

better with every show."

He follows advice from Head Football Coach Tony

Joe White – to balance seeking perfection and knowing

that you can't be perfect – and from Associate Lecturer

of English Melinda Rainey Thompson – to find a clear

and genuine voice with his own humor and personality

at the core.

"I always knew I wanted to stick around the game,

and sports radio has given me that chance," Mitchell

says. "It's just me speaking my mind because I know

what these guys are going through. I'm living my dream

– I'm getting paid to talk about sports."

Currently listening to:

Florida Georgia Line

Are you a graduate of the last decade? Tell us what you're

doing next! Email communications@bsc.edu.

20 / 'southern
---
emembering

gala

when

Stars

fell on

birmingham

c

You had to be there.

No, really: You had to be there in person to experience the splendor and star power

of Birmingham-Southern's biennial GALA.

From 1977 through 2004, under then President Dr. Neal Berte's direction, GALA

recognized 208 of the world's most accomplished and well-known women. The spotlight

wasn't limited to the living legends, as they engaged with students and faculty, and

mixed and mingled with the College's supporters at large. It shone brightly on Birmingham-Southern's

students and highlighted the city of Birmingham, too.

Best of all, Birmingham's leading social event benefited fine and performing arts

students in the form of scholarships and priceless professional contacts.

Imagine: Orchids flown in from Singapore (GALA 5) and Bette Davis, a member of

Hollywood royalty, holding court a few tables away. Or, at GALA 6: Carolina Herrera

arrives at the elegant Ireland house for cocktails, and you get close enough for her to

compliment your ensemble.

Well, it could have happened.

FALL/WINTER 2021 / 21
---
GALA

What definitely did happen is that after a threeday

whirl of lunches, dinners, showcases, and

seminars, guests took their positive impressions

back home and further expanded Birmingham-

Southern's reputation. The support lasted

long after the festivities ended, as some made

generous donations to the school. Others

returned as lecturers, commencement speakers,

or for the next GALA, serving as Chairs,

suggesting additional honorees for consideration.

Still others connected with students and fostered

friendships with guests.

This salute to legendary women of the world

was originated by George Delfavero as a benefit

for St. Vincent's Hospital. Early honorees included

First Ladies Lady Bird Johnson and Nancy

Reagan. It transitioned to Birmingham-Southern

in 1977; over the next 27 years 208 women

spanning almost every profession were honored.

A deep dive into BSC's archives reveals

dossiers, resumes, articles, photos, and even

handwritten correspondence from the recipients

themselves. Their ranks include Estée Lauder,

Gwen Ifill, Lee Radziwill, Princess Marcella

Borghese, Mother Clara Hale, Olivia de

Havilland, Helen Gurley Brown, Faye Wattleton,

Marilyn Quayle, Lindy Boggs, Diane von

Furstenberg, Paloma Picasso, Barbara Walters,

Heather Whitestone, Fannie Flagg, Elaine Chao,

and even "Wonder Woman" Lynda Carter.

GALA brought the school the type of

publicity many would pay for, Dr. Berte said

in his memoirs, "Servant Leader" — publicity

well-documented by "Women's Wear Daily,"

Liz Smith, the "New York Post," and even Dick

Coffee's "Birmingham Doins." The commentary

marveled at the celebrities headed South,

complimented Birmingham's charm, and praised

the local hospitality. Fittingly, a 1987 "Atlanta

Constitution" headline credited Dr. Berte for

"breathing life" into the campus by initiating

an event that brought Birmingham-Southern

both glowing national attention and increased

financial support.

An event of this scale required extensive

planning and collaboration, and records reveal

how many people, businesses and organizations

worked to make it a success both on campus

and off. From arrivals and departures to the

awards ceremony and dinner, to the fine arts

showcase and receptions, to luncheons and

breakfasts, to marketing, research, security,

decor and transportation, no detail was spared.

Numerous florists, chefs, hotels, stores, and other

vendors participated behind the scenes. Across

Birmingham, people contributed expertise and

donations and served on committees, boards

and as advisors for the occasion.

Students participated as performers, ushers,

hostesses, and drivers. During his senior year,

Josh Vasa '03 chaperoned CNN anchor

and GALA honoree Frederica Whitfield. He

recalled being starstruck.

"I wore my best suit, which was something

that my dad probably bought me," Vasa

remembered. "The conversation was

fascinating. I was blown away by how much

experience she had. She'd reported from

several war zones, and I believe she was in her

early 30s then. To have done that at that age

was really impressive."

Vasa believes GALA was ahead of its time in

honoring powerful women, particularly women

of color. He noted that for decades the College

offered programming and engagement around

leadership issues, now common diversity and

inclusion activities today.

"That's a testimony to Dr. Berte's values,

focus and big mindedness," Vasa said. "He's

always been on the front lines of bringing

together the community at large, and doing so

in a way that provides insight," he continued.

Tyrenda Williams-Reed '01 and Scarlett

Singleton '01 agreed.

"That it was at Birmingham-Southern

seems a natural fit for how Dr. Berte felt about

excellence. Don't hide it; showcase it and put

it on a stage so the world can aspire to it. We

need more of that now," Williams-Reed said.

Reminiscing gave Singleton a chance

to remember the ambitious young woman

she'd been in college. She recognized that

Birmingham-Southern gave students the

tools to reach their aspirations both in the

classroom and through GALA, which offered

what she called "up close and personal access

to amazing women."

Now, GALA lives on in the memories

of those who were fortunate enough to

experience it firsthand.

"To have something where around 15

national figures come to the city at once, every

two years — boy, I don't know that we have

many activities like that here now," Vasa said.

"It would be wonderful to bring something like

that back to Birmingham."

22 4 // 'southern
---
Dear BSC,

Throughout 2021, special editions of From the Hilltop – our alumni

newsletter – highlighted students, faculty, and alumni in specific disciplines

and career paths. Each featured an essay by a guest editor about their time

on the Hilltop and how it shaped their lives. We've collected them here.

FALL/WINTER 2021 / 23
---
Dear BSC,

Fine and Performing Arts

Dana McArthur Porter '03

Humanities

Gin Phillips '97

Letter from A New Graduate

Sutton Smith '21

Education

Dr. Amelia Gunn Spencer '85

Business and Accounting

Terry L. Smiley '94

Health Sciences

Dr. J. Kevin Tucker '86

Religious Life

Keith Thompson '83

Social Sciences

Bill Smith '96

Law

Matthew Penfield '92

Mathematics and Computer Science

Dr. Renee Brown Harmon '83

25

26

28

29

30

31

32

33

34

35

624/

/ 'southern
---
One of my first classes at Birmingham-Southern was Beginning Acting, a class

required of all theatre and musical theatre majors. The course reflected a "learning

by doing" approach and was an introduction to the craft of acting, with focus

on clarity and creativity in communication and performance skills, and the

development of character analysis skills. Students learned basic acting principles, presented

scene work with partners, and journaled progress throughout the semester. At the end of the

course, we were given an assignment to write a final paper, titled: "My Growth as an Actor."

As most new, naïve students do, I waited until the last minute and joined the other

procrastinators in the computer lab to put my thoughts together in hopes that my professor

would see past a last-minute, hammered-out composition and praise my efforts with a

moderate score that would satisfy both my ego and my professor's lesson plans. When my

work was returned to me, there was a clear

message from my professor written across

the top of my paper: "Nice attempt at an

essay."

I don't remember the letter grade I made

on that disastrous essay. But to this day, I can

still see the handwritten words written across

the top of my three-page paper. At the time

I was embarrassed, and a bit shocked that

he even cared enough to call me out on my

lackluster efforts. What I didn't know at the

time is that he was sending me a message as

I began my journey at BSC. A message about

rising to the challenge, doing better.

Two years later, I found myself back

in Beginning Acting class – this time as

his Teaching Assistant. Little did I know,

Theatre 120 wasn't finite. This course didn't

particularly have a start and an end for me.

It was just one lesson in a long series of

lessons, and ultimately nudged and pushed

me into a trajectory that I'm still growing

into today. Over the past twenty years, I've

had a successful career teaching theatre to

young actors locally, all while honing my skills as a performer on stages from Carnegie Hall to

Hong Kong.

And you know what? That professor has been there for me the whole time. Because what

started as a student/teacher relationship, evolved into a mentorship. And not only has this

professor helped me grow as actor; more importantly, he has guided my growth as a person.

Which appears to be a regular theme on the Hilltop.

Two months ago, I started a new role as a staff member at Birmingham-Southern. And in my

first few weeks I sat down in the cafeteria and enjoyed coffee and conversation with my friend

and colleague – my former professor – Alan Litsey. We talked about theatre. We talked about

work. We talked about life. I wanted to follow him to the classroom and soak up discussion

about Theatre as Human Rights Activism with his current students. But instead, I returned to

my office. Where I find myself once again reflecting on my growth.

• • •

Dana McArthur Porter '03 (MPPM '11) returned to the Hilltop in June 2021 as the

assistant director of alumni engagement, following her years working in the Office of Admission

from 2007 to 2012. Porter has taught and performed nationally and internationally with her

biggest theatre accomplishment being cast in "The Sound of Music" Asia Tour. She has also

performed and taught with numerous Birmingham-based groups, including Alabama Symphony

Orchestra, Birmingham Children's Theatre, and the Virginia Samford Theatre.

FALL/WINTER 2021 / 25
---
I

write stories for a living. This still seems slightly crazy to me: people actually pay me

money to make things up. It's a job I was afraid to even hope for back when I graduated

from Birmingham-Southern.

I think of BSC as a crucial part of my path to becoming a novelist, although not in the

ways you might think. I never took a single creative writing class, for instance. But I tend to think of

a liberal arts education in terms of story. So many of us – and I am definitely talking about myself

here – come to college knowing only our own limited world. We know one story, our own, and we

barely understand that one. But in those four years at college, every class discussion, every novel read

and underlined, every chat in a professor's office or late-night conversation in a Waffle House offers

up another story to add to our collection.

I left college with so many more stories than I started with. And – even better – I left with the

sense that there were endless stories out there, and I wanted to learn them.

So. My story. I came to BSC knowing what it was like to be a girl growing up in Montgomery,

Alabama, raised in a very traditional fashion by a family full of schoolteachers. I wanted to go far

away for college. I would have gone across the country if my family had let me. Instead, I wound up

an hour and a half away from home.

But as I look back, it strikes me that I travelled

an incredible distance. I had a contracted major of

political journalism, which was a blend of English

and political science. (Speaking of expanding your

perspective, I'd never even heard of political science

before I came to BSC.) I had entirely new worlds

opened to me early on in Dr. Ed LaMonte's Civil

Rights and Justice. That class was a revelation. I was

from Montgomery, for goodness' sake, and I'd never

heard a teacher say a single word about the Civil

Rights Movement. It was one of the best lessons I ever

learned – that not only were there other viewpoints

out there different from my own, but they could be

playing out right next to me and I'd never have any

clue if I didn't bother to pay attention. I think of Fred

Ashe's interim on Voices of Homelessness, where

I read plenty and listened plenty and spent nights

in homeless shelters and realized, once again, the

power of trying to see through someone else's eyes. I

think of Sandra Sprayberry and Bill Nicholas' Plural

America, Abe Fawal's Arabic Literature and Culture,

Bob Wingard's Religion and Society, Natalie Davis'

Contemporary Southern Politics and Comparative Politics. I think of interims spent in Guatemala

for language study and in Washington, D.C., for an internship with the St. Louis Post-Dispatch.

The world was so much bigger than I'd realized.

I haven't even touched on the literature. To be a writer, sure, you have to write. But you also have

to read. It's the BSC English department that introduced me to Virginia Woolf and Don DeLillo and

Thomas Pynchon and Charlotte Bronte and James Joyce and Toni Morrison, oh, Toni Morrison,

who showed me how a sentence could make you lose your breath and how a novel could change

you. Those books were all the more powerful because the classes were small enough that you could

really get a good argument – sorry, discussion – going and it could stretch out down the hallway

and back to the dorms and maybe even to the coffee shop later that night. I love the magic of those

BSC overlaps: the classroom spilling into late nights, textbooks connecting with airplane tickets,

professors who knew my parents' names.

I love how all the stories came together, and, years later, they're still coming together.

• • •

Gin Phillips '97 has written six novels, and her work has been published in 29 countries. Her latest

novel, "Family Law," was released in May 2021. You can read more about her work at ginphillips.com or

follow her on Instagram or Twitter.

We know

we barely

those four

discussion,

chat in a

conversation

up another

26 / 'southern
---
one story, our own, and

understand that one. But in

years at college, every class

every novel read and underlined, every

professor's office or late-night

in a Waffle House offers

story to add to our collection.

–Gin Phillips '97

FALL/WINTER 2021 / 27
---
As soon as I stepped foot on campus, my

was over....I canceled my other tours and

I was going to be a part of the Birmingham

College class of 2021.

–Sutton Smith '21

Icome from a family of

Birmingham-Southern College

graduates, including my mother

and father – who met at BSC – and

maternal grandfather, aunts and uncles on

both sides of my family, and several cousins.

My paternal grandfather served on the BSC

Board of Trustees for some time. So naturally,

as a junior in high school beginning her

college search, I was vehemently opposed to

falling into the family tradition and going to

BSC. After some not-so-gentle nudging from

my parents, I begrudgingly agreed to tour the

Hilltop – but only to tour.

As soon as I stepped foot on campus, my

college search was over.

I visited BSC on a Friday afternoon with

plans to drive to Tuscaloosa and Nashville that

weekend to tour other schools, but after leaving

BSC I canceled my other tours and drove home.

I was going to be a part of the Birmingham-Southern College class of

2021. My parents, grandparents, and other extended family were thrilled,

and I was fully confident in my decision in a way that not many of my

other high school friends were about their

own choices to attend other schools.

As I began my freshman year in fall

2017, my decision was affirmed over

and over again. I took classes that

challenged my previous understanding

of the world and prompted me to think

critically about things I had never before

considered. I like to credit my two

academic advisors – Dr. Mark Schantz

of the history department and Dr. Amy

Cottrill of the religion department – for

wrecking everything I thought I knew in

those first few months on campus. Dr.

Schantz's freshman honors class on W.E.B.

Du Bois and American History in the

20th Century sparked deep thought and

compelling conversations about my racial

and socioeconomic privilege and shed

new light on current issues in society such

as police brutality against people of color. In Dr. Cottrill's Abrahamic

Religions class, my shallow understanding of the Christian faith of my

childhood broadened as she introduced me to the faiths of Islam and

28 / 'southern
---
college search

drove home.

-Southern

Judaism. I owe a great deal of credit to Dr. Cottrill for setting me on the

path to divinity school early in my college career. Through the rest of

my time at BSC, Dr. Cottrill and Dr. Schantz remained mentors, helping

me navigate everything from my senior research papers to graduate

school applications.

Life outside of the classroom on the Hilltop provided opportunities

for community building and leadership development, and I made it

my mission to take advantage of as many of those as I could. Early on,

I became involved in the Student Government Association, the Quest II

Student Programing Board, Religious Life, and Greek life. I served as the

Director of Concerts for Quest II, planning our campus-wide concerts

in the fall and spring with the help of a committee. Some highlights

of that time included long, fun days setting up hospitality rooms for

our musicians with my committee members and getting starstruck

when meeting artists such as The Band Camino, Bryce Vine, and Drew

Holcomb.

My student involvement continued as I relaunched and served

as president of the BSC chapter of the Alabama College Democrats

leading up to the 2020 elections and worked to encourage all students,

regardless of political affiliation, to use their voice and vote. Additionally,

I channeled my passion for mental health awareness and established

a chapter of a national organization called Active Minds that works to

educate college students on mental health to reduce stigma surrounding

mental illness. Both the College Democrats and Active Minds remain

thriving groups on BSC's campus that are creating positive change and

getting students involved in the things they care about.

During my first two years at BSC, I served as an SGA class

representative. As a nervous freshman, I walked into my very first SGA

meeting and saw then-president Toby White, class of 2018. In that

moment, I decided that I wanted to be the SGA president and create

significant, positive change at BSC. Four years later, Toby and I have

now reconnected in New Haven, Conn., where we are both attending

graduate programs at Yale University. My time as SGA president was

an honor and a privilege, and I loved every minute of it. Through

working with a phenomenal group of women on the executive board

and then the broader body of representatives, we established new

mental health initiatives and programming, funded projects to make

campus more accessible to those with differing abilities, and wrote and

passed a resolution supporting of students of color and committing to

anti-racism efforts. I am immensely proud of the work accomplished

that year and humbled and grateful for the opportunity to serve the

Birmingham-Southern community.

As I began thinking about options for graduate school, my

aforementioned history advisor, Dr. Mark Schantz, began talking to

me about applying to Yale Divinity School, his alma mater. I would

scoff and tell Dr. Schantz that applying to Yale would be a waste of

time and resources. For one thing, it's Yale, but more importantly, it's in

Connecticut! As a born and raised Alabamian, I was fairly certain that

I would freeze to death in a New England winter. Finally, Dr. Schantz

succeeded in convincing me to apply, and he guided me through the

process of personal statements, recommendation letters, and scholarship

applications. I spent most of my senior year in anticipation of either

rejections or acceptances from the handful of schools to which I applied.

On March 15, 2021, I opened an email and received word that I

had been admitted to Yale Divinity School and awarded a full-tuition

scholarship. I was floored. Today, almost exactly six months later, I am

writing this essay in the beautiful Sterling Divinity Library surrounded

by seemingly millions of books and the some of the world's finest

theologians.

As I begin a new chapter of my life in a place I never imagined I

would be, I am homesick for the Hilltop and all of the people who

make it such a special place. I am nervous as fall begins to creep in,

knowing that before long it will be very, very cold here in Connecticut

and that I am not built to sustain temperatures below 30 degrees. I am

also filled with excitement at the possibilities in front of me – so many

things to learn, books to read, people to meet, and new places to explore.

More than anything, however, I am filled with gratitude. I am

immensely, overwhelmingly, and exponentially grateful for my time at

Birmingham-Southern College and its faculty and staff for cultivating

in me the intellectual tools and leadership abilities needed to thrive in

a new place. Though up here at Yale the slogan is "Go Bulldogs," I will

always hold this truth above all else – Forward, Ever.

• • •

Sutton Smith '21 graduated summa cum laude with majors

in history and religion and is now a student at Yale University School of

Divinity. She served as SGA president during her senior year and received

the President's Service Award on Honors Day 2021. She was a 2020

finalist for the prestigious Harry S. Truman Scholarship, established by

Congress to recognize students seeking careers in public service.

FALL/WINTER 2021 / 29
---
I

am a rebellious person. I believe

it is in my DNA, but it didn't hurt

that I was a preacher's kid; we are

known for our rebellion. Almost

every good decision I have made in my life has

been walking backwards through the open door.

When thinking about where to attend college,

I swore I would not go to BSC. Why? Because

everyone expected me to, like the rest of my

family! Both of my parents attended, as did my

uncle, aunt, and great-uncle.

But I came to campus as a youth

representative to the United Methodist

Conference. One night I sat by the old fountain,

brightly lit on the beautiful campus, and

knew that I would come to BSC.

Another choice I made reluctantly

was to become a teacher. I come from

a family of teachers – my mother, my

sister, both maternal grandparents, aunts,

uncles. Everyone expected me to study

to become a teacher. Instead, I chose an

interdisciplinary major in biology and

psychology.

One of my first classes was Biology 101

with Dr. Paul Bailey. He was so passionate

and knowledgeable about the information

he taught! I fell in love with learning,

developing a curiosity within me that I

never knew existed.

Dr. Jeanette Runquist was another giant

in my studies. She challenged my mind

more than I had ever experienced. The

academic content in her classes, Anatomy &

Physiology and Embryology, was challenging,

but Dr. Runquist made it all make sense.

At BSC, I learned so much academically. I

took religion classes with Dr. Robert Wingard,

history classes with Dr. Henry Randall,

education classes with Dr. Bob Whetstone,

and art classes with Dr. Bob Shelton. These

professors didn't just teach me about their

academic content. They taught me that I was

capable of doing hard things. Looking back,

I am unsure that I had a natural inclination

to understand the sciences. Still, because I

connected with the faculty at BSC, they ignited

a desire to learn that I had not yet experienced.

It is difficult to say whether I learned more

through the academic or social side of college

at BSC. Preachers move from place to place, in

my case all across North Alabama. My family

never lived anywhere for more than four years.

As a result, I never quite found my tribe in high

school. Oh, I tried and did everything I could to

fit in with my peers. My father recounts when

he saw me as a tall, skinny 15-year-old, walking

with my friends at a football game, leaning

forward, my shoulders hunched, so I would not

be taller than the other girls. Always the new

girl. But at BSC, I found real friends who, after

almost 40 years, have proven to be life-long

friends, like Maria Alexander '86, Kathy

Leos '85, Judy Pittman '87, and Leigh Ann

Sisson '87. Through these friends, I learned

about fierce love and loyalty. I also met my

husband, Brad Spencer '86, while on the

Hilltop, and three of our children, Graham

'16, Liza '16, and Isa '24 have attended BSC.

To say that my experience at BSC changed

my life would be an understatement. Because

of the faculty, staff, and peers at BSC, I

became a life-long learner and recognized

the importance of teachers in the lives of

their students. Not long after I graduated

from BSC, I finally followed my call to be an

educator. The amazing thing is that when

I decided to go into education, I pointed

to Dr. Wingard, Dr. Randall, Dr. Runquist,

and others as my guides. Because of the

In 2008, I returned to the Hilltop, this time to be a

education. I am honored to be a part of the mission of

people for lives of significance.

–Dr, Amelia Gunn Spenceer '21

30 / 'southern
---
connections I made with my professors at

BSC, I was committed to connecting with my

students. It is my hope that while I taught my

students the academic content they needed

to learn, I also encouraged them, supported

them, and loved them so they too could

become confident learners.

In 2008, I returned to the Hilltop, this

time to be a professor of education. I

am honored to be a part of the mission

of preparing young people for lives of

significance. Don't tell anyone, but I have

long said that I would do this job without

pay! My colleagues and students remind me

every day why this is the case.

I recently read a novel called "The Midnight

Library" by Matt Haig. The main character,

Nora, gets the opportunity to look back

and relive any of the choices in her life. As I

look back on my choices, one of the best is

choosing 'Southern – both times.

• • •

Dr. Amelia Gunn Spencer '85

serves as associate professor of education and

the chair for the department. She holds master's

degrees in early childhood special education and

counseling from the University of Alabama and

her Ph.D. in special education from the University

of North Carolina at Chapel Hill. On the Hilltop,

Spencer teaches courses human development,

special education, collaborative education, and

education psychology.

professor of

preparing young

Over 30 years ago, I was a senior

at Talladega High School in the

process of making one of the most

important decisions in my life:

selecting a college. I was a student-athlete, and

was fortunate to have scholarship offers from

academic institutions throughout the Southeast.

I wanted to attend an institution where I

could balance my pursuit of academics and

athletics without sacrificing the opportunity

for spiritual and social growth. My trusted high

school coach felt that BSC would be well-suited

to my goals. BSC had just won a national

championship in basketball and was known

as one of the top academic institutions in the

State. Needless to say, my coach was right.

However, it did take some time for me to

appreciate the full value of my educational experience. I must admit that I was slightly

intimidated upon arriving on the beautiful campus, being surrounded by the nation's top

academic achievers. The transition to college life was made easier by access to welcoming

groups which made social interaction simple. A Bible study led by Ralph Watson included

diverse students from across BSC and allowed me to grow while making me feel like I

was at home. Groups like this one were open to anyone on campus to foster connections

within the BSC family.

The liberal arts experience at Birmingham-Southern is an excellent fit for someone

wishing to gain a quality education while getting prepared to meet real-world challenges.

The liberal arts focus allowed me to explore a variety of academic areas from theology

to science, literature, and the arts. While I majored in Business, many of the concepts

learned from other disciplines enhanced my understanding and experience in my core

business courses. I gained transferable skills that have been beneficial to my career,

having worked in marketing, operations, customer service, economic and community

development, and external affairs. Small classes created an intimate culture which

afforded the privilege to be instructed by experienced faculty members who were always

willing to provide guidance outside of the classroom. These instructors demanded hard

work which they paired with enough attention to help us excel. Many of the relationships

with faculty members such as Dr. Byron Chew and Dr. Jack Taylor have gone far beyond

my years at BSC.

Athletically, I was fortunate to play on teams that won 100 games over four years. I

learned the importance of preparation, teamwork, and a strong work ethic. Above all, I

cherish the memories of playing with individuals of high character and integrity.

Working on community service projects and engaging with youth reinforced my desire

to be part of a team that serves people. Since BSC, I have enjoyed the pleasure of working

in the energy industry for nearly 27 years, teaming up with others who are elevating the

state of Alabama by providing solutions that make a positive difference.

I took a chance by accepting the admission to BSC in that I had no prior connection to

the school, and none of my friends from high school were joining me on the adventure.

Yet I graduated from college with a well-rounded education that continues to serve me to

this day, an experience that helped me find purpose and relationships that will last for the

rest of my life. I am grateful for my time on the Hilltop.

• • •

Terry L. Smiley '94 (MPPM '07) serves as vice president of the Eastern Division

of Alabama Power Company, where he is oversees the company's operations, sales, economic

and community development and external affairs activities. He serves on the boards of the

A.G. Gaston Boys & Girls Clubs, the Birmingham Education Foundation, and the Central Six

Development Council.

FALL/WINTER 2021 / 31
---
I

stumbled into medicine as a career. Like many students

entering Birmingham-Southern in fall 1982, I thought

that medicine might be in my future, so I made sure

to take general chemistry, organic chemistry, and

physics, which were required for admission to most

medical schools, while at the same time availing myself of the full

smorgasbord of a liberal arts curriculum: Professor Grace Marquez's

advanced Spanish literature course, Professor Bill Ramsey's Senior

Seminar for English majors (which he allowed me to take as a nonmajor),

Southern Chorale under Professor William Baxter, piano with

Professor Jane Gibbs, Introduction to

Christianity with Professor Earl Gossett,

Philosophy 101 with Professor O.C.

Weaver, and several political science

courses with Professor Natalie Davis.

My certainty about medicine as a

career was shaken in my sophomore

year when my father was diagnosed

with colon cancer and died within

four months of his diagnosis. Our

family's first experience with the world

of medicine in the context of a lifethreatening

illness was not a positive

one. While we knew that my father's

prognosis was not good, the way in

which the news was delivered seemed

callous and cold. In a last-ditch effort at

finding some possibility of treatment,

my father was admitted to UAB Hospital,

where our family experienced kindness,

love, and grace from the physicians, nurses, social workers, nurses'

assistants and all the members of the staff. The interns, residents, and

fellows displayed empathy and compassion in a way that made me

want to emulate them and re-committed me to a career in medicine.

And when my father died in the spring of my sophomore year, my

Birmingham-Southern family rallied around me in a way that I never

expected and probably would not have experienced at a large university.

Empathy is the characteristic most desirable in a physician that my

liberal arts education at Birmingham-Southern helped me to develop

both inside and outside the classroom. Whether learning in the

classroom under Professor J. David Fraley about the underlying causes

of the French revolution, or discussing the domestic violence that

Celie suffered in Alice Walker's The Color Purple in Professor Ramsey's

senior seminar, we were encouraged to think honestly and deeply about

historical movements and characters, and to put ourselves in their

shoes, i.e., to empathize. That same learning was reinforced outside the

classroom. Chaplain Stewart Jackson was one of the first ministers I can

recall to preach about "social justice," and he practiced it and led by

example with students. Our group, Christians for Social Justice, under

Stewart's leadership, volunteered at the Birmingham Firehouse Shelter.

Again, we were called to serve and empathize with those who had been

dealt the devastating hand of homelessness. Finally, I must recognize

the wonderful example of servant leadership provided by President

and Mrs. Neal Berte, who selflessly served the BSC community and the

greater Birmingham community in too many ways to enumerate.

In the wake of the devastation of COVID-19 and the death of George

Floyd at the hands of law enforcement, physicians and healthcare

leaders have been encouraged to think more deeply about the

underlying causes of the vast disparities in health and disease outcomes

in the United States. When we practice medicine with empathy, we are

forced to think not just about the fact that the patient is not adhering

to the treatment plan but also about the systemic and structural barriers

that led to the patient's non-adherence with the treatment plan. I am

forever grateful that the foundation provided at Birmingham-Southern

has allowed me to not only become a

physician but also to strive to practice

with empathy and compassion.

While I have focused in this reflection

on the non-science aspect of my BSC

education, I would be remiss if I did not

acknowledge the outstanding science

faculty who helped me and so many of

my fellow students to become health

professionals through their gifts as

teachers. I had the fortune of being taught

by Professors Paul Bailey, Dan Holliman,

and Doug Waits in biology; Professor

Tom Moore in chemistry; Professor

Hoyt Kaylor in physics; and Professors

Lola Kiser and Natarwlal Bosmia in

mathematics. I learned in the classroom

from my professors, but we also learned

as students from each other. Those nights

spent huddled together with friends

studying chemistry and biology in our dorm rooms or in Phillips

Science are precious memories indelibly imprinted on my brain and

which forged friendships that have lasted to this day. Let us keep these

"Forward, Ever" traditions alive.

• • •

Dr. J. Kevin Tucker '86 is vice president of Education, Mass

General Brigham, and Master in Clinical Service Operations Program

director, former director of the BWH/MGH Joint Nephrology Fellowship

Program, and an assistant professor of medicine at Harvard Medical School.

He earned his medical degree at Cornell University. He is a member of the

BSC Board of Trustees.

Birmingham-Southern

quality education while

32 / 'southern
---
It would not be hyperbole to say that Birmingham-

Southern changed my life. It would be fact.

When I began looking at colleges, BSC wasn't even

on my list. When time came for me to choose a college,

I was originally going to Emory University in Atlanta. I had recently

received a roommate preference form from Emory when two friends

I highly respected, Jim Pool and Jayne Collins, invited me to attend a

BSC basketball game. That night, I met people who would become my

friends and remain my friends for the rest of my life. I realize this might

sound like a romanticized remembrance, but really, it is a fact. I still

enjoy substantive friendships with many

of these same people today.

My wife, Linda, who did attend

Emory, describes it this way: "I went to

Emory and got a world-class education.

Keith went to BSC and got a world-class

education and made lifelong friends."

That's also why two of our sons went to

BSC. None of them went to Emory.

Imagine what it is like as a parent

listening to your college-age children

talk with enthusiasm and excitement

about what they are learning in a

class with professors like Mark Lester,

Amy Cottrill, Alan Litsey, Randy Law,

or Michael Flowers. Again, this is not

romanticized reminiscing; this is what

happened. I will confess that each time

I heard their passion for what they were

experiencing from their professors, it

was initially hard to speak, which is true anytime a dream comes true.

There were times I thought I could hear their brains expanding over the

phone. (OK, that might be a little hyperbole). Still, what an amazing

experience!

About 25 years after I had graduated from BSC, I was given the

opportunity to work at the College. I was hesitant about working at

my alma mater, because sometimes when you see behind the curtain

it is easy to become disillusioned and lose respect for people you

once thought of as heroes. While I certainly saw the more human and

sometimes exasperated side of some of the faculty and staff, what I

really discovered behind the curtain was how incredibly dedicated they

all are. While working at BSC, I found campus police who were feeding

student's goldfish while they are on Spring Break. I found professors

who were going the extra mile to try and help a struggling student learn

to open their mind to new concepts regarding complex problems.

I saw coaches who were great at coaching sports, and even better at

developing the players into quality people. I watched productions and

performances that not only moved the heart but planted important

questions in the mind. I once more experienced the unending

hospitality from people like Miss Johnnie and Queenie, who always

served you an ample portion of grace with the food they provided

for you. I met alumni from all over the

world and from all generations who

were unusually thoughtful, intelligent,

compassionate, and engaged in their

community. What I found at BSC 25 years

after I graduated was a more in-depth

exposure to the same transformative

knowledge and relationships I experienced

as a student.

What I find at the College now is

a dedicated, insightful, hardworking

president, faculty, and staff who are

making the sacrifices necessary to continue

transforming students into adults who

are unusually thoughtful, intelligent,

compassionate, and engaged in their

community.

As a trustee, I occasionally get to listen

to students who seem so much smarter

than I was as a student, and every time I

hear them, I shake my head and wonder "How I was allowed entrance

into this place?" Every time I reflect on this question, I am filled with

gratitude, because this College changed my life and the lives of people I

love. And that's a fact.

Forward Ever. Always.

• • •

Rev. Keith D. Thompson '83 is senior pastor at Canterbury

United Methodist Church in Birmingham. He holds a master of divinity

degree from Emory University's Candler School of Theology and a master's

degree in community counseling from the University of Alabama.

Thompson is vice chair of the BSC Board of Trustees.

is an excellent fit for someone wishing to gain a

getting prepared to meet real-world challenges.

–Terry Smiley '94

FALL/WINTER 2021 / 33
---
What I learned on the Hilltop continues to

shape my personal and professional relationships,

my understanding of my community and the

world, and how I am called to make a difference

where I am planted.

Matthew Penfield '92

I

remember when Dr.

Neal Berte came to

my hometown for a

recruiting event for

the College. I was in junior high,

and my parents had invited him

to dinner at our house afterwards,

and unbeknownst to me, he

took note of my collection of

college pennants. The following

week, I got a personal note from

him that said he couldn't help

but notice the absence of a BSC

pennant on my wall and sent one

along for good measure. It got my

attention.

Several years later, as a high school senior interested in politics

and government, I participated in 'Southern's Model Senate program

with 99 other students from around the Southeast. I was impressed

that the College's political science department had created such

an interesting event that brought government to life for my fellow

senators and me. (I was Missouri Senator John Danforth, by the way.)

When it came time to choose a college, Birmingham-Southern was

one of several other well-regarded southern liberal arts schools on

my list. I was truly up in the air until late in the spring of my senior

year. In the final analysis, it was the people of BSC that tipped the

scales for me to the Hilltop. My brother was a junior history major

with an amazing group of friends, President Berte made a personal

impression on me, and for someone interested in politics, the

first-class faculty members in the political science department both

excited and intimidated me.

In retrospect, it was one of the best decisions I ever made.

Once on campus, I found my crowd and quickly made what have

become lifelong friends. On the academic front, I was able to focus

on my passion for politics while also exploring other areas of interest

like the theatre. The variety of a liberal arts curriculum suited me

and, as I've learned through the years, prepared me well for rich and

diverse experiences in life.

Ed LaMonte, through his Civil Rights & Justice class, taught me

things about my home state and its role in our country's continuing

struggle with civil rights that opened my eyes to the past all around

me. Bob Slagter taught me research methods and statistical analysis

that I still use to this day in my career in politics and public affairs.

And the great Natalie Davis taught me not only how to think

critically, but how to turn theory into practice in the political realm—

all the while asking all the right questions to challenge me along the

way. When I railed about the cynical nature of many in the political

arena, she countered with optimism as the other side of the same

coin, and about the power to positively impact people's lives through

the public policy process.

To be sure, it is easy to get cynical in today's broken and divided

public discourse. But the academic, moral, and personal lessons

instilled in me at BSC equipped me well for my time in the political

arena. I consider myself lucky to fight for things that I care about like

access to better mental health care for all, preserving our planet for

future generations, advancing equality for LGBTQ people, and much

more. Like most professions, there are good days and bad days, and

it can be unnervingly unpredictable. But with gratitude for my time

on the Hilltop, I'm always ready for the coin toss.

• • •

Bill Smith '96 serves as the co-founder of Inseparable, a coalition

organization advocating for better mental health policy through improving

access to health care, increasing research, and investing in prevention

and early intervention. Smith is also a founding partner of Civitas Public

Affairs Group, a values-based firm working on some of the most pressing

societal challenges of our day. He has more than two decades of experience

34 / 'southern
---
in campaign management, messaging research and communications, and

movement building. His brother, the late Jack Smith '93, and niece,

Sutton Smith '21, both graduated from BSC, and his father, the late

Joel P. Smith, served on the Board of Trustees.

One of my favorite

authors is Frederic

Buechner. In his

book "The Longing

for Home," Buechner reflects on

the importance of home in our

lives. One meaning of home is

our place of origin. For me, that is

Birmingham-Southern College. It

was the joy of my childhood – a

land of adventure for a group

of faculty kids that grew up on

Greensboro Road. And it is also my

alma mater – the place that formed

me and prepared me for a life

beyond the Hilltop.

BSC runs deep in my family. It was my aunt, Betty Jo Harmon,

who first made the decision to attend BSC. She sang with Dr. Hugh

Thomas, traveled to Town Hall in New York, and then taught voice in

the conservatory. She was also my first voice teacher. My mom, Elise

McWilliams Penfield, followed in her sister's footsteps and graduated

from BSC. But in just a few short years she returned with my dad, Dr.

H. Irvin Penfield, and they made a home for us on that short street we

called faculty row.

Growing up on campus shaped me in ways I did not fully realize

until much later in life. I was surrounded by great minds, but they were

more than that, they were great people. I would walk next door to take

piano lessons from Barbara Thomas. Years later, I continued my piano

lessons up the street with Nancy Wingard. Richard and Dorothy Ward

helped me prepare for college auditions and made me work on my

German until it met their approval. The street provided dinner parties,

trick or treating, caroling and sing-alongs, and a whole host of faculty

and staff (including campus security) that looked after me. I learned

to appreciate good music not only by attending performances in the

music building, but also by opening my window on weekend nights

and listening to the sound of bands rise up from fraternity row (when

it was on that side of campus). I had many parents on campus, but it

was my mom and dad who grounded me – literally and figuratively –

and were my role models of a life well lived.

Amazingly, the care and comfort I experienced as a child carried over

into my days as a student. I soon learned that it was not because I grew

up on campus, but because I was a BSC student. The BSC community

was and is special. It is a place where students are challenged to

question freely, think critically, serve abundantly, and discover the

meaning of community. And my time at BSC prepared me for a career

of lifelong learning.

Some of my most impactful experiences came each January. My

first Interim term (now known as E-Term) gave me the opportunity to

perform the role of the Count in "The Marriage of Figaro." Surrounded

my incredible talent and commitment taught me the value of working

hard to reach a common goal. As a service-learning team member

my second and third years, I traveled to Zimbabwe and Brazil and

experienced the gift that comes from serving and being served by

others. My Senior Interim was an in-depth examination of the Vietnam

War with Dr. Slaughter. In that class we heard directly from veterans

and how that war shaped our country. Each experience was incredibly

different, but equally as life changing.

When I finally left the Hilltop, I carried BSC with me to Candler

School of Theology, to Saint Paul School of Theology, and to

Cumberland School of Law. And what I learned on the Hilltop

continues to shape my personal and professional relationships, my

understanding of my community and the world, and how I am called

to make a difference where I am planted.

My family laughs at me because I am always talking about what

degree I will get next. Maybe it will be a Ph.D. in Political Science like

my dad, or a M.A. in Speech Arts like my mom. In reality, my time in

school is done and I have now passed that on to my daughters. But

my curiosity and hunger for learning, most of which was placed in

me during my years on the Hilltop, has not gone away. For those of us

who call BSC home, it is has forever shaped who we are and how we

encounter the world. And for that, I am thankful.

• • •

Matthew Penfield '92 has been recognized in various

publications such as the Best Lawyers in America®, Chambers USA

Guide to 'America's Leading Lawyers for Business,' and Mid-South Super

Lawyers. Penfield sits on the board of directors of Opera Birmingham,

Workshops Empowerment, Inc. and the Norton Board at BSC. Penfield

received a Master of Divinity from Emory University in 1997, a Doctor of

Ministry from Saint Paul School of Theology in 2007, and a Juris Doctor,

summa cum laude, from Cumberland School of Law in 2009.

FALL/WINTER 2021 / 35
---
I

was 17 the summer after my junior year in high

school when I first became a student at Birmingham-

Southern College. Along with about 30 other high

school students from across Alabama and west Florida,

I lived in a dormitory, ate in the cafeteria, and took two classes as

a Summer Scholar with regularly enrolled

students. I loved it! I took Art History and

Human Growth and Development, taught

by legends of BSC, Prof. Lloyd Sloan and

Dr. Bob Whetstone '55, respectively.

It was an easy decision to choose

'Southern as my college after that. Initially,

I had planned on dental school after

college, but changed my mind to medical

school my junior year. Because the

prerequisite classes were the same, it was

an easy switch.

Deciding on a major was a little more

complicated. Most pre-med students

chose to major in chemistry or biology

because we already were required to take

so many of them for medical school.

Because I so enjoyed Biology 101, taught

by another BSC legend, Dr. Paul Bailey, I chose biology.

My schedules for the first two years were pretty typical for a prehealth

career student: a biology, a chemistry, a mathematics, and

an English class. But we were only required to take Calculus I and

II, and I had completed those my freshman year. I kept enrolling

in a mathematics class semester after semester because it was

fun—a game, a puzzle. And there was that other BSC legend who

made it all so beautifully clear, Dr. Lola Kiser. I wasn't one of those

premier math majors who were assigned the especially difficult

proofs by Dr. Kiser, but I held my own in the upper-level classes.

Because I had enough credits for both biology and mathematics,

I ended up with an interdisciplinary major in both. Interviewing

for medical schools with an interesting major like that made for

unique conversations. Throwing in my love of art history and

literature didn't hurt either.

But scholarly pursuits weren't necessarily the best parts of my time

at Birmingham-Southern. I have frequently told high school and

college mentees that while medical school

certainly teaches you how to be a physician,

college teaches you how to be a human being.

Focusing on where to go to medical school

may not be as important as focusing on where

to go to college. Living on campus taught me

important life skills and gave me a safe and

secure place to succeed, and sometimes fail. I

had many opportunities to lead, as well as to

volunteer, tutor, and mentor. (And to cheer on

the Panthers as a cheerleader!)

I made lifelong friends, and I even met

my future husband, Dr. Harvey Harmon

'82, at BSC. I can't say when we actually

met, because when you go to a small liberal

arts college, you just know everyone there,

especially if you are enrolled in the same

pre-med classes. We started dating my

senior year, and when we were accepted into the same medical

school in the same year, that clinched it for us as a couple, and we

married after completing our first year of med school.

And 35 years after I graduated from Birmingham-Southern

College, our youngest daughter, Christina Harmon '18, graduated,

having experienced her share of legends, and loving every minute

of her time on the Hilltop.

• • •

Dr. Renee Brown Harmon '83 has retired from

her medical practice and is the author of "Surfing the Waves of

Alzheimer's: Principles of Caregiving That Kept Me Upright" (Many

Hats Publishing, 2020). Follow her blog at reneeharmon.com.

Living on campus taught me important life

skills and gave me a safe and secure place to

succeed, and sometimes fail.

–Renee Brown Harmon '83

36 / 'southern
---
alumni stories

MAKING music

Whether they're behind the scenes or in the spotlight (or creating the viral TikTok dance of summer 2021),

Birmingham-Southern graduates and students are hard at work in every area of the music industry. They can be

found at the top of the charts, on tour across the South, or even in a business class on campus in between shows.

Download a playlist and listen while you read about a few BSC names behind the music.

FALL/WINTER 2021 / 37
---
FANCY LIKE

WALKER HAYES '02

Walker Hayes

Playlist

You might know Walker Hayes as the Applebee's guy,

or the Nashville-based country artist and family man, but

we remember him as a piano major at BSC. Hayes always

channeled the music kid you only see in movies. He would

instantly find the piano in the room – he could play almost

anything – and he would make up songs on the fly.

Hayes' summer track, "Fancy Like," took 2021 by storm,

and it's bringing his favorite low-key date spots with his

wife, Laney Beville Hayes '01, into the limelight. He saw

the track hit No. 1 on Billboard's Country Digital Song

Sales chart and spend consecutive weeks on the Hot

Country Songs chart.

The ode to the Wendy's Frosty and Applebee's Bourbon

Street Steak has also inspired the viral TikTok dance started

by Hayes and his daughter, Lela. Since its

release, the song and dance have swept the

Internet, leading to Hayes' appearances

on "Late Night with Seth Meyers," "CBS

Sunday Morning," and "The Tonight Show

Starring Jimmy Fallon," plus a Grammy nomination for Best

Country Song. Hayes also toured throughout the fall and

released his single "U Gurl" on Oct. 14.

Some alumni – especially those who were in the

choir with Hayes – might remember him for his musical

moments, or for his goofier moments. Any time the choir

got on the bus for a trip or performance, Hayes booked

his way to the front, grabbed

the microphone, and sang

"Rappers Delight."

We'll have to

grab a Natty Light

sometime soon and

hear more of Hayes'

best BSC stories.

Laney Beville Hayes '01

and Walker Hayes '02

THE FANCY LIKE TOUR

If you're in Alabama, you can catch Walker Hayes live at the

Saenger Theatre in Mobile on Thursday, Feb. 17 — purchase

tickets at Ticketmaster.com – or at Iron City in Birmingham

on Saturday, Feb. 19 – purchase tickets at ironcitybham.

com. Find more tour dates on walkerhayes.com.

38 / 'southern
---
Moxie Hotel

Playlist

Moxie Hotel

At 12 years old, BSC business major Price Pewitt began to form

his first few bands. He watched them grow, eventually partnering up

with rival musicians, and has seen the music evolve into the modern

rock/pop hybrid that is Moxie Hotel.

Pewitt is the vocalist and bassist for Moxie Hotel, along with

guitarists and vocalists Stanton Langley and Anderson Gore and

drummer Sims Ruffino. They're bringing pop music "without losing

that element of explosive, energetic rock" to Birmingham and venues

all over the east coast.

"Moxie Hotel has a couple regions to its style, but it largely centers

around this ironic notion to take what we do very seriously, but

not ourselves," Pewitt says. "Hence why some of the content may

sound or look so dramatic, but if you come see us live, it's a lot of us

laughing and interacting with the crowd."

At Crestline Elementary and Mountain Brook Junior High, Pewitt

and Langley crossed paths and began a few groups, leading to what

Pewitt sees as their first real band, Riverbend.

"I introduced the band to Sims when we were 15, after rivaling his

bands for years," Pewitt says. "We buried the hatchet and got busy

quickly. After high school, it came time to decide how far we would

be willing to take it."

Pewitt, Langley, and Ruffino got a production deal in Nashville,

which led them to find Gore, another local musician-turned

bandmate. Together, the four members all bring a love for pop and

rock and collectively channel that energy, while still bringing their

own preferences and varying commitments to the rock roots –

creating the equilibrium Pewitt likes about their style, which was set

in stone once they added Gore.

"That's really when we rebranded to Moxie Hotel and found our

new sound, our vibe, and essentially started over with this lineup and

our producers who stuck with us all the way through the madness of

the pandemic and internal changes."

Moxie has performed at several campus events, like E-Fest and

Spring Bash, and has multiple ties to BSC: Pewitt transferred to the

Hilltop in 2020, Ruffino attended BSC in 2018 and 2019, and his

brother, Max Ruffino, is a current first-year student.

Last summer, Moxie traveled to venues in Texas, Virginia, Georgia,

and Washington, D.C. The musicians also played the Sloss Music and

Arts Festival and with Cage the Elephant at the 1065 Music Festival

in Mobile. They plan to keep traveling, and Pewitt is developing a

marketing focus within his business major to help manage the band.

"It is my friends, my career, my income, my passion – all tied into

one project with a purpose to meet people of all kinds and include

people in what we do," Pewitt says. "It's very cathartic to me knowing

that whether I'm in a business mood, a creative mood, or a social

mood, I have an outlet through the band."

FALL/WINTER 2021 / 39
---
Before Miles Axe Copeland III

produced some of the biggest names

of the new wave scene – The Police,

The Bangles, The Go-Go's, and

R.E.M. – he was a political science

student at Birmingham-Southern, a

world away from where he grew up.

The son of CIA officer Miles Axe Copeland, Jr.,'41,

and Lorraine Adie, a British secret intelligence agent

and archaeologist, Copeland and his younger siblings

spent their childhood in Damascus, Cairo, and Beirut.

But when the time came to choose a college, he

traveled across the world to his father's alma mater and

hometown, where many family members still lived.

"My father wanted me to know what real America

was," Copeland says.

He covers the Birmingham years near the beginning

of his memoir, "Two Steps Forward, One Step Back: My

Life in the Music Business," released in July 2021. The

book chronicles his failures and successes as the music

and entertainment executive who managed The Police,

guided Sting's music and acting career, and co-founded

I.R.S. Records, the label for some of the most popular

bands of the 1980s.

AN AMERICAN EDUCATION

Arriving in the American South during the Civil Rights

Movement, Copeland says he was shocked to witness

discrimination he thought he had left in Beirut – only

this was fueled by race rather than religion. Copeland

says his experience in Birmingham both disrupted and

informed his identity.

Having seen so much of the world through his family's

moves around the Middle East and his father's role

in covert operations, including coups d'etat in Syria,

Egypt, and Iran, he remembers being shocked to meet

Alabamians who had rarely or never left the South. Most,

he recalls, were unfamiliar with the places he called home.

BSC prepared Copeland for graduate work at the

American University of Beirut and was an important

timeline

40 / 'southern

1975 - Startruckin' 75

Copeland's European festival tour featured

bands from his very first record label, British

Talent Managers, as well as Soft Machine,

Mahavishnu Orchestra, Lou Reed, and Tina

Turner. Startruckin' 75 was the first of its

kind and showcased Copeland's innovative

promotional ideas, though its shortcomings

led to the end of the label and pushed him

towards other pursuits.

1978 – Outlandos d'Amour

Shortly after forming The Police, Sting,

Steward Copeland, and Andy Summers

recorded and released their first album,

"Outlandos d'Amour." With confidence in

the album – ever since hearing "Roxanne" –

Copeland made an undeniable offer to the

U.K. label A&M Records, who signed The

Police, and he independently financed their

U.S. tour.

1979 - I.R.S. Is Born

The Police became one of the hottest bands

in the world, and A&M Records recognized

Copeland's successful strategy and fresh

perspective on the industry. Copeland worked

with A&M executives to launch a U.S. division

– the International Record Syndicate, or I.R.S.

Records. R.E.M., The Go-Go's, The Bangles,

Buzzcocks, and The Cramps soon produced some

of the label's biggest hits.
---
The Best of Sting

and The Police

Playlist

MILES AXE

Copeland III '66

Copeland and Adriana Corajoria after knighting musicians Sir

Dominic Miller and Sir Mark Hudson at Chateau Marouatte.

1984 – Solo Careers

The Police went on a hiatus, leading the members

to each pursue other projects. Copeland

continued to managed Sting's seven solo albums

and emerging film career, and he followed his

brother's other band collaborations and launched

Stewart's career as a film soundtrack composer.

1987 – The Film Division

Copeland expanded I.R.S. Records and

founded I.R.S. Media, which acted as the label's

film division until 1996. During these years,

Copeland executive produced more than 25

films, including "One False Move," "Tom and

Viv," and "Bank Robber."

1992 – Original Songwriters Conference

Inviting musicians to the Chateau Marouatte,

his 14th century castle in Perigord Vert,

France, Copeland hosted his very first annual

songwriter's retreat. Notable attendees of

the Marouatte "camps" are Celine Dion,

Aerosmith, Carole King, Keith Urban, and Jon

Bon Jovi.

FALL/WINTER 2021 / 41
---
introduction to the United States, the place

where punk and new wave music would later

be embraced with open arms, and which

helped shape his career.

THE FAMILY BUSINESS

In 1967, Copeland "fell into music." At

the time, his brother, Stewart – who would

eventually rise to fame as the drummer for

The Police – was playing with Wichita Vortex

Sutra, a local band in Beirut. Miles was known

for throwing parties, so Stewart brought him

on to create a psychedelic atmosphere for one

of their shows, completed with black lights

and fluorescent paint that covered everyone in

the crowd.

"I'd always been a big fan of music, but I

never imagined anyone in my family being

in music," Copeland says. "Then I saw

my brother up there drumming. My brain

opened up to the idea."

Eventually, his work in the music business

snowballed: He relocated to London with his

family, connected with musicians at clubs,

soon managed his first group (Wishbone

Ash), made record deals, and partnered with

agencies. This work led to Startruckin' 75, the

festival that Copeland calls, "an unmitigated,

pull-the-rug-from-under-you, clean-out-thebank-account

disaster."

But as Copeland makes clear throughout

his memoir, the low points and frequent

crises shaped him into a manager willing

to take risks, especially as new wave music

began to take form.

"I found myself befriending the punks

because they didn't care if I had any money,"

he says. "It was in a time when the mainstream

business figured this whole new wave punk

thing was a fad that would disappear, yet it was

really a new generation perking up saying, 'We

want our heroes, and we want to do it our way.'

I recognized that and was one of the first to

actually pay attention."

When he brought The Police to New York,

he saw "people begin to wake up" to their

music. The group recorded their first album in

1978 and together – the Copelands, Sting, and

guitarist Andy Summers – offered something

no one had ever experienced before, in sound

and in presence. The Police brought a fusion of

punk, jazz, and reggae, and Copeland booked

tours to places no one else was going and

developed their iconic mystique.

"The show that did change our lives was to

four people in northern New York," Copeland

says, "because one of the four happened to

be a DJ, who fell in love with the group and

started banging the single on the radio."

In the world of music and business,

Copeland says instinct and gut feeling work.

"You can have an idea and do it on your

own," he says. "Some of the strangest stuff I

did was some of the most successful."

RETURNING TO THE HILLTOP

With his success, Birmingham was never

completely forgotten. He still has family

in the area, including his cousin, Diane

Copeland North '65, and has visited since

his graduation from BSC.

During a trip to Alabama in the '80s,

Copeland visited his uncle Hunter Copeland

and his wife, whose daughter from a previous

marriage was a Mountain Brook High School

graduate named Courteney Cox. Copeland

connected Cox with his brother Ian – also

a music promoter, booking agent, and the

third Copeland on the new wave scene – who

hired her as his secretary in New York. Cox

went on to sign with Ford Modeling Agency

and eventually rose to stardom on the hit

sitcom "Friends."

Another time on tour, Copeland swung

by campus to visit his old fraternity. "When

The Police were really big, we did a show in

Birmingham, and I went to the SAE house

and gave out free tickets," he says. "It was my

opportunity to go back home and show how

I made it."

LESSONS LEARNED

Between the music industry and his

proximity to huge international events

during his childhood, Copeland had a rich

bank of colorful stories to pull from for his

book, which is part personal history and part

motivational lessons.

He writes that people are the same

everywhere, that risk-taking pays off, and that

you can never be too proud. The most central

and universal lesson is that you'll always have

successes and failures, but those failures could

set you up for something greater and even

more innovative – "Roxanne"-level great.

"My real story starts with a disaster,"

Copeland writes in the preface, referencing

the aforementioned Startruckin' 75 festivalturned-fiasco.

"But had it not happened, The

Police would never have risen to become

the biggest rock band in the world; Jools

Holland would not have ended up on TV;

The Bangles, The Go-Go's, R.E.M., and many

other music stars might never have made it

either. It's strange how a fluke, a disaster, an

unlikely event can lead to incredible results.

But that is in essence what happened to me."

HEAD OVER HEELS

In November, the College had a subtle Miles Copeland shout-out through BSC Theatre's fall production of "Head Over Heels." The pastoral romp serves

as an adaptation of Sir Phillip Sydney's "The Countess of Pembroke's Arcadia" through the music of The Go-Go's.

Copeland immediately saw the potential of the Los Angeles rockers when I.R.S. Records signed them in 1981. With some leftover funds after a Police

video shoot came in under budget, Copeland produced the "Our Lips Are Sealed" music video. The all-female group became hugely successful, selling

more than seven million records worldwide.

1999 – Brand New Day

Sting's album "Brand New Day" and its twoyear

world tour align closely with Copeland's

growing interest in Algerian and French Ra

music. Performances of worldwide superhit

"Desert Rose" – the album's duet with Cheb

Mami – at the 2003 Super Bowl and 42nd

annual Grammy Awards broke ground as the

first time a song in Arabic was performed at

both of those events.

42 / 'southern

2002 – World Music

The late 1990s/early 2000s marked

Copeland's shift into world music, the

bellydance business, and his presence as a

spokesperson on events in the Middle East. His

label Ark 21 released 2002 compilation album

"Voices of Hope" in support of the Sabera

Foundation in Calcutta, featuring songs from

Sting, Elton John, Cher, Bob Dylan, and others.

The Best of

I.R.S Records
---
Make Me

Wanna (2019)

Rising

STAR

"My experience at BSC taught me that no matter what room you get

into, you can be successful," says Jada Cato '17.

Only four years out of college and the Birmingham-based country

music singer/songwriter has already been in some impressive rooms.

In 2020, Cato made her Country Music Television debut on a "Concert

for Love & Acceptance" – Grammy nominee and Dove Award winning

country star Ty Herndon created the annual concert with GLAAD in 2015

– and past performers have included Reba McEntire, Jake Owen, Mickey

Guyton, and Tanya Tucker. Cato was also the 2019 recipient of GLAAD's

National Rising Star award for her commitment to enhancing LGBTQ

representation.

Cato's range of talents is impressive – she plays the guitar, piano, and

ukulele. She has been seen across the country in "Legally Blonde," "Into

the Woods," and "Sing Out!" She has also appeared in commercials

for companies like State Farm and Adopt-A-Highway, and skits for "It's

A Southern Thing." Her songwriting sessions with Nashville producer,

songwriter, and musician Erik Halbig, who has written songs for Sara

Evans, Collin Raye, and more, led to her recording her first EP with

Halbig at the helm.

A Georgia native, Cato was a theatre major and religion minor and

says her Hilltop experience prepared her well for taking the stage, in

venues around Birmingham and across the country.

"In country music, performance-wise, having a good awareness of

yourself and of others on stage and knowing how to navigate the stage is

huge," she says. "Dance was a huge part of my training, and something

that I like to incorporate into my shows now as well."

She says BSC prepared her for the business side of country music, too.

"They teach you to stay one step ahead of the game. And that's

what you have to do in this business. The hardest class that I took was

probably my theatre literature class. I learned so much. The professors

really care, so they push you. They also give you a lot of grace."

Learn more about Jada Cato at jadacatomusic.com.

FALL/WINTER 2021 / 43
---
FALL VIRTUAL BOOK CLUBS ENGAGE

HILLTOP ALUMNI AND COMMUNITY

The last time I participated in a book club was

during Junior Great Books in middle school.

Each week, a motley crew of students gathered

with our leader, Mrs. Loveless, for snacks

and to discuss condensed versions of classic

literature. As an adult, I've often missed the

chance to rant and rave about the printed

word with friends and strangers.

That's why I jumped at the invitation to volunteer as a guest facilitator

for Birmingham-Southern's Virtual Fall Book Clubs. While there'd be no fun

Book It personal pan pizza prize for reading, and certainly less middle school

awkwardness, losing myself in the pages of "If I Were the Boss of You" would

be both a welcome escape and an opportunity to connect with others during a

decidedly disconnected time.

Reader and three-time book club participant Rachel Barron Keeler '19 agreed.

"I love the ways that Birmingham-Southern has tried to keep the community

together, especially during COVID," she said. "This was something fun to look forward

to." She pointed out that in our modern society, it takes effort to visit a bookstore or

library and select a book, but it's worth it.

Keeler has long found reading to be meaningful. And through the diverse

experience and perspectives presented, book clubs offer something more.

"It's hard to have more academic conversations once you're out of school," she said.

"[Birmingham-Southern's book clubs] give me a chance to stretch my legs again and

remember how to have those difficult conversations and share my opinions."

Beyond that, the virtual book clubs promote lifelong learning and safe and effective

discourse, and actively support alumni by offering a space where they can share their

work and engage with readers.

A few weeks before the book clubs met, I spoke with "Shopping Bagged" author, call

center manager, and drummer Maury Levine '91. (Full disclosure: We once worked

together at a call center offering Southern-themed cookbooks.) A self-described

"retail nerd," he grew up spending time in his father's office at Eastwood Mall and

wanting to be a mall manager.

"I got this really cool behind-the-scenes look at Eastwood's stores and the people

who ran them," Levine said. "I thought, wouldn't it be funny if there was a body buried

under a mall?"

Levine said he was heavily influenced by humor columnist Dave Barry and by comic

crime fiction writer Donald E. Westlake. When Westlake's death coincided with the

demolition of Eastlake Mall, he felt the two developments were a sign that he should

write his book.

Now that "Shopping Bagged" is published and up for discussion, Levine appreciates

the support from his alma mater.

"It's nice to have your art read by somebody," he said. "The audience might not be

millions like John Grisham or Stephen King have, but I made some people laugh and

that's kind of what we all need, you know?"

Birmingham-Southern's Fall Virtual Book Club

included the following selections:

• "Bay Boy" by Watt Key '92

• "The Newspaper Boy" by Chervis Isom '62

• "Surfing the Waves of Alzheimer's" by Dr. Renee Brown

Harmon '83

• "Family Law" by Gin Phillips '97

• "A Family Place" by Charles Gaines '64

• "Two Steps Forward, One Step Back" by Miles A.

Copeland III '66

• "Shopping Bagged" by Maury Levine '91

• "If I Were the Boss of You" by Associate

Lecturer of English Melinda Rainey Thompson

44 / 'southern
---
Additionally, most of the fall sessions included facilitators

who are members of the Birmingham-Southern community,

such as Kyle Bass '86, Mike Chappell '82, Rev. Evan Garner

'02, Sue Dill Grogan '73, Lars Porter '04, (MPPM '11),

Dr. Fred Ashe, professor emeritus of English, and Kenneth

Cox, BSC's head cross country and track and field coach and

associate athletic director for student-athlete mentorship.

Alexis Barton is a Birmingham-based journalist and vice

president of internal business communications at PNC.

Her work has appeared online at shondaland.com and in

The Daily Beast, on stage with The Moth, in print and on TV

statewide, and on radio across the United States through

NPR. Barton was the facilitator of the "If I Were the Boss Of

You" Virtual Book Club.

I love the ways that Birmingham-Southern

has tried to keep the community together,

especially during COVID.

Rachel Barron Keeler '19

For announcements related to future book club dates and opportunities

to sign up, follow The BSC Blog online.

FALL/WINTER 2021 / 45
---
alumni

PODCASTS

The sky's the limit when it comes to the podcast world. Alumni near and

far have started podcasts that allow them to share their expertise, explore

their interests, and have honest discussions about life. Take a listen to one of

these shows created, recorded, produced, and hosted by BSC graduates.

Do you know more alumni with their own podcasts? Let us know at

communications@bsc.edu.

Armchair

Theology

Armchair

Theology

Ross Furio '16 helped launch the "Armchair Theology"

podcast in 2020 as an extension of the Twitter account

@armchairtheo and blog that Clay Farrington dedicated

to reading scripture daily as a community. As hosts,

Furio and Farrington read through the Bible and provide

commentary, sometimes with special guests like Denson

N. Franklin Professor of Religion Dr. Amy Cottrill.

Check Your

Aesthetic

Beyond

Our

Lips

Beyond

Our Lips

Dentist Dr. Lora Pacha Gaxiola '04 and

gynecologist Dr. Ginny Nicholson Winston

'04 explore connections between their fields

and share unique perspectives on life as

working moms. In "Beyond Our Lips," the

longtime friends and BSC classmates talk

through aspects of women's health, ranging

from pregnancy to routine screening to

mental health.

46 / 'southern

Check

Your

Aesthetic

Hosts Katie Campbell '21 and Alexis Adams are

here to help you grow your business, search for

inspiration, and connect with other powerhouse

female creatives. Their conversations about

entrepreneurship, social media, design, self-care,

and the creative industry are best suited for the

self-starting creative twenty-something or anyone

interested in the industry.
---
StellaFit

Portola Valley, California-based fitness StellaFit

and lifestyle consultant Stella Taylor

Bergan '89 dives into wellness and living

your best life, tackling topics like nutrition,

exercise, sleep, and stress. The podcast is just one

extension of StellaFit, Bergan's hub for workout videos,

recipes, lifestyle coaching, and more.

Jane Talks

to a Wall

Jane Talks

to a Wall

Jane Torbert '14 is a self-proclaimed

millennial expat with a lot to say, all stemming

from well-informed curiosity. "Jane Talks to a

Wall" is her place to fall down rabbit holes and

talk about environmentalism, consumption,

and living responsibly.

Wrapped

Two Idiots

Reading

Comics

Two Idiots

Reading

Comics

Comic book readers of all kinds are

welcome in the book club that is

"Two Idiots Reading Comics," hosted

by Davis Crocker '17 and Ryan

Tallmage '17. Each week, Crocker

and Tallmage read one graphic novel –

perfect for anyone new to comics or in

need of a place to start.

Music connoisseurs

Colton Hinderliter '18,

Ryan Key '18, and Adam

Stansell '17 count down

their favorite singles and

Wrapped

albums and share why they

make the top tier. The hosts

cover all kinds of genres – new and old – and

make Spotify playlists with their countdowns.

Every Dollar

Counts

Every Dollar

Counts

Hosts Jay Stubbs '99 and Josh Null discuss the various

investment and insurance services that are available for consumers,

plus the lifestyle interests of dedicated investors. They often invite

the "best and brightest guests" from the industry for listeners who are

serious about their financial plan.

My Gothic

Dissertation

My Gothic

Dissertation

While completing her Ph.D. at the University of Iowa, Anna Williams

'08 did what no other doctoral student has done before: She created

a dissertation about writing a dissertation, through the lens of Gothic

literature, and did so in a seven-episode podcast series. "My Gothic

Dissertation" explores several novels and how the trapped, mysterious

Gothic protagonist compares to the striving grad student.

FALL/WINTER 2021 / 47
---
BSC

HOMECOMING

Return to the Hilltop

On the weekend of Oct. 23, we welcomed alumni, family, and friends to campus for the first

Homecoming since 2019. Thanks to beautiful fall weather, almost all events were outdoors, allowing

the BSC family to gather safely. The weekend included reunions, open houses, a BSC author booksigning

event, an alumni choir sing-along, "the Big Tailgate," athletic events, a Hilltop market, a

Provost's Forum, and more. See if you spot any familiar faces in the crowd. Forward, Ever!

48 / 'southern
---
48 / 'southern FALL/WINTER 2021 / 49
---
50 / 'southern
---
FALL/WINTER 2021 / 51
---
52 / 'southern
---
FALL/WINTER 2021 / 53
---
54 / 'southern
---
Homecoming 2021 included a special event honoring accomplished alumni. The Distinguished

Alumni Awards brunch was held Saturday, Oct. 23, in Bruno Great Hall in Norton Campus Center.

FALL/WINTER 2021 / 55
---
Daniel Coleman, BSC President

Byron Mathews '70

Rev. Dr. Russell J. Levenson, Jr. '84

At table: Bernard Mays '04, his wife

Stephanie Mays '04, their daughter Savannah

and his parents, Bernard and Belinda Mays.

Barbie Lesch '71 and Bill Eiland '70

Dr. Tondra Loder-Jackson '89

56 / 'southern
---
Since the 2020 event canceled due to the COVID-19

pandemic, the 2021 event honored 2020 recipients Dr. Michael

Callahan '67, Dr. Lawrence Durham '63, and Tondra Loder-

Jackson '89, and 2019 recipient Rev. Dr. Russell Levenson, Jr. '84,

who was unable to attend the 2019 event.

Also honored at the Oct. 23 brunch were 2020 Outstanding

Young Alumna Casey Daniel '07, Outstanding Young Alumnus

Bernard Mays, Jr. '04, and Rising Star Hannah Byrne '16.

These honorees were featured in the Winter 2020/2021 issue

of 'Southern. Read their stories on the BSC Blog at blog.bsc.edu.

For the first time, the Distinguished Alumni Awards

recognized posthumous honorees.

The 2021 Posthumous Honorees are Bernard Lockhart '83, Dr.

James Donald Patrick '57, and Pamela Payton-Wright '63.

Patrick Finnerty, husband of

Dr. Casey Daniel, and their son,

Daniel Finnerty.

Laura Levenson, wife of Rev.

Dr. Russ Levenson, and their

god-daughter, Mollie Shuster.

bernard

lockhart '83

Bernard Lockhart founded Magic City Smooth Jazz, a nonprofit

dedicated to exposing residents to great jazz, and launched its Jazz in

the Park series in 2010 with five concerts around the city. He and wife,

Jacqueline Lockhart, applied for grants and wrote letters seeking support

from local and national arts foundations. The series also presented jazz

concerts at parks in other Alabama cities, including Bessemer, Helena,

Huntsville, and Tuscaloosa. Lockhart's career also included stints in

event planner at Southern Progress, as director and event organizer for

Boutwell Auditorium in Birmingham, and as event manager at Trussville

Civic Center. Lockhart died in December 2020 at UAB Hospital from

complications related to COVID-19. He is survived by his wife, his

daughters, Bernadette and Rachel, and his son, John.

FALL/WINTER 2021 / 57
---
Bernard Mays Jr. '04

Adelia Patrick Thompson '86,

daughter of Dr. Donald Patrick

dr. james

donald patrick '57

A man with multiple groundbreaking roles, Dr. James

Donald Patrick was the first person in the state of Alabama

to receive a Ph.D. in vocational rehabilitation and the first

vocational rehab counselor at the newly created Spain

Rehabilitation Center at UAB. From there, he went on to

help found Lakeshore Rehab Center and Foundation, which

is well-known in the community as a highly successful

rehabilitation facility. Patrick was an active member of

Canterbury United Methodist Church for 45 years. He is

survived by his wife of 59 years, Margaret Hines Patrick;

daughter Adelia Patrick Thompson and her husband, J. Lynn

Thompson; son Bentley Hines Patrick and his wife, Melissa

Self Patrick, and their daughters, Mary Rose Patrick and

Sarah Elizabeth Patrick; his brother, Billy Wayne Patrick, and

his wife, Sarah Goodlett Patrick, and their children, Bryan

Patrick and Amanda Patrick Booher.

Barbara Quackenbush '65,

sister of posthumous honoree

Pamela Payton-Wright '63

Dr. Lawrence Durham '63

Lynda Daniel, mother of Casey Daniel, and Amanda Daniel

Pendergrass '03, sister

58 / 'southern
---
Dr. Michael Callahan '67

Pamela

Payton-wright '63

Dr. Neal Berte, President Emeritus

Dr. Casey Daniel '07

Dr. Stewart Jackson,

former BSC Chaplain

Pamela Payton-Wright was a graduate of both

Birmingham-Southern College and the Royal Academy of

Dramatic Art, where she received the Special Medal and

the Edmund Gray Prize for High Comedy. She was crowned

Miss Tuscaloosa in 1961 and was also a finalist in the Miss

Alabama contest. She began her television career in 1972

as Rhonda on "Corky." In 1979, she joined the cast of

"Another World" as Hazel Parker. Payton-Wright appeared in

numerous Broadway and off-Broadway productions. She won

a Drama Desk Award for her performance as Lavinia Mannon

in the 1972 Broadway revival of "Mourning Becomes

Electra." Her television credits included PBS productions

of "The Prodigal," "Brother to Dragons," and "The Adams

Chronicles." She earned an Emmy nomination for her work

in "The Adams Chronicles." In 1991, Payton-Wright joined

the cast of the ABC soap opera "One Life to Live" in the

recurring role of sweet-natured Agatha "Addie" Cramer. She

died on December 14, 2019. Payton-Wright is survived by

her son, Oliver Dickon Hedley Butler, and his wife, Cynthia

Flowers, brother Gordon Trafford Payton Wright, and sisters

Brenda Payton-Wright Davies and Barbara Payton-Wright

Quackenbush '65.

FALL/WINTER 2021 / 59
---
Giving to BSC

Honoring Loved Ones

Through Student Support

Weezer

When you think about what a liberal arts education looks like, turn to

Andre Yu Tiamco.

A senior at Birmingham-Southern, Yu Tiamco is finishing up his physics major,

along with minors in math, music, and data science. He is also active on campus

as the president of Spectrum and the secretary of Identity – both of which are

LGBTQ+ student organizations that lead inclusive events and offer support – and

as the vice president of Theta Chi Fraternity.

With on-campus leadership and classes across several departments, Yu Tiamco

is involved in multiple fields. That's one of the reasons he was first drawn to BSC

after hearing about it from his brother, Nino Yu Tiamco '13, and sister-in-law,

Catherine Gilliland Yu Tiamco '14.

"Smaller schools have much more interconnected communities, and BSC is no

exception," Yu Tiamco says. "I enjoy being able to walk around campus and see

faces ranging from familiar to friendly daily. My brother and his wife both spoke

very highly of the school, specifically praising the value of a liberal arts education,

even for STEM majors such as myself."

Yu Tiamco will graduate 70 years after Dr. H. Newton Malony '52, but both

share the same academic dedication, campus involvement, and pursuit of

multiple subjects across disciplines. It's no mistake that they share an appreciation

of their education – Yu Tiamco is a recipient of the Amy Malony Samuels

Endowed Scholarship.

The scholarship was established and named after Dr. Malony's mother,

Amy Malony Samuels, a schoolteacher who worked hard to support her son's

education. She carefully saved up her money and, in 1969, left a bequest of

$10,000 to the College to support more hardworking and deserving BSC students.

Malony was an active student at BSC, where he met his wife, Suzanna Davis

Malony '54. After receiving his bachelor's degree in history, he went on to pursue

several graduate degrees, earning his Master of Divinity from Yale University and

his Master of Science and Ph.D. in psychology from Vanderbilt University.

Much like Yu Tiamco, Malony studied seemingly disconnected disciplines,

but each subject played an important role in his career at Fuller Theological

Seminary in Pasadena, California, where he served as a professor with

distinction from 1969 to 2015.

After Samuels established the scholarship, the Malony family also committed

to supporting the endowment and, in 2009, decided to fund a new scholarship

honoring Suzanna Davis Malony's parents, educators Grace Davis and Harold

Davis. The Davis family showed a commitment to education and generosity, and

they are now honored through an additional award for BSC students.

Endowed scholarships like those from the Malony and Davis families support

BSC students throughout their time on the Hilltop and support whatever goals

and dreams they pursue. For Yu Tiamco, he hopes to begin Ph.D. work in physics

and see where that takes him – maybe back into the classroom as a professor.

"The scholarships I have received during my time at BSC have provided the

monetary leeway to not only succeed in my academics, but to do so comfortably

such that I can more freely enjoy my time here as well," he says.

If you want to learn more about planned giving and other scholarships at the

College, please email advancement@bsc.edu.

CURRENTLY LISTENING TO: Weezer

60 / 'southern
---
Help students recharge

at the Fountain

In its fall 2021 campaign, the Hilltop Parent & Family

Fund focused on making the Clay Long Alumni Fountain

Plaza in front of Norton Campus Center even more useful

for our campus community. While there are plenty of chairs

and tables at this popular gathering spot thanks to the 2019

Hilltop Parent & Family Fund project and support from the

Student Government Association, now there will be a way

to charge laptops, tablets, phones, and other devices in the

outdoor space.

To meet this need, the Hilltop Parent & Family Fund is

raising funds to purchase solar-powered outdoor charging

stations. These energy-smart solar stations will benefit

residential and commuter students as well as the entire campus

community. To make your gift, visit bsc.edu/give/parents.

For more information about the Hilltop Parent & Family

Fund or BSC's annual giving programs, contact Danielle Ivey

Buchanan, director of annual giving, at (205) 226-4979 or

mdbucha1@bsc.edu.

The fall 2020 Hilltop Parent & Family

Fund project provided more than 80

weatherproof Adirondack chairs for

outdoor spaces across campus.

Each of the 87 Adirondack chairs

includes a named plaque honoring an

alumnus or member of the BSC family.

The chairs have created comfortable

outdoor spaces for students to gather,

study, and socialize.

INVESTED IN OUR STUDENTS ADIRONDACK CHAIRS PROVIDED GIFTS FROM BSC FAMILIES

FALL/WINTER 2021 / 61
---
Giving to BSC

Mark Your Calendar For Forward Ever Day 2022

On April 7, the Birmingham-Southern community will celebrate our sixth annual Forward

Ever Day, the College's 24-hour day of giving that supports all areas of campus.

The Forward Ever Fund, through the support of alumni, faculty, staff, families, and

other donors, raises money for scholarships, research opportunities, departmental needs,

student development and organizations events, renovations, equipment, and more.

Donors can designate their gifts to support a specific office, academic department, or

student organization.

Forward Ever Day 2021 set records for total dollars raised and number of gifts, with

$477,213 raised from 1,966 donors.

Every Forward Ever Day, alumni and other donors participate in competitions to help

departments or organizations win additional funds. Academic departments, student

organizations, and Greek chapters compete to win Forward Ever Day "titles": most dollars

raised, most donors, and best social media presence.

In 2021, the business and accounting program won the $5,000 Grand Prize for highest

total dollar amount raised by a department. The department's award money was used

to update the common spaces in Harbert where students and faculty meet for tutoring,

studying, and to participate in collaborative projects.

One of the easiest ways to get involved in Forward Ever Day is by spreading the word. Share

posts on social media or connect with your BSC friends, professors, and colleagues about what

you want to support. You can even win one of our contests – Ansley Collins Browns '01 won

the 2021 Ambassador contest for bringing in the highest overall number of gifts.

Sign up to serve as an ambassador and help us promote the day.

Sign up at bsc.edu/FEDambassador.

TWO EASY WAYS TO GIVE TO BSC

BSC 2021

IF YOU LIVE IN ALABAMA, BUY A BSC CAR TAG.

BSC gets about $45 from each affinity tag sold and uses that money to fund Driven to

Succeed Scholarships for Alabama residents. Ask for a BSC tag at your local DMV. Send us

your receipt and we'll send you a tax receipt for the deductible portion.

DESIGNATE BSC AS YOUR NON-PROFIT OF CHOICE WHEN YOU

SHOP ON AMAZON SMILE.

Visit smile.amazon.com to do your Amazon shopping, and 0.5% of eligible

purchases will be donated directly to BSC. Once signed into smile.amazon.com,

you will be prompted to pick a charity. You can choose one from the provided list

or type in another of your choosing. Type "Birmingham-Southern College," and our

organization will appear.

There is no cost to us or you – 100% of the donation generated from eligible purchases

goes to BSC. For frequent Amazon users, this additional perk is a great way to give back to

BSC effortlessly. Note: Amazon does not share customer information with us, so we are

unable to credit individual donors when we receive contributions from Amazon.

62 / 'southern
---
Remembering Clay Long

A Hilltop Tribute

At Birmingham-Southern, I

discovered so many of the most

important people in my life. I still

treasure the connection to friends,

sorority sisters, theatre cast mates

and professors. I even met my

husband at BSC, but it wasn't

until later, when I gave him my

torts outline in law school, that I

think I won his heart. (It was an

excellent outline.)

While I was a student on the

Hilltop, I didn't realize that one

of the most important school

connections I would ever make

was with a BSC student who

arrived at BSC before I was

born. In fact, by the time I was

a freshman, Clay Long had

graduated from Harvard law

school, clerked for Supreme

Court Justice Hugo Black and

co-founded a law firm in Atlanta

that would go on to become one

of the nation's finest.

I met Clay when I interviewed

for a summer clerkship with

Long, Aldridge & Norman. I remember that he took me to dinner

in a car that had been converted to run on natural gas because he

was concerned about the environment. He was the first person

I can remember talking about climate change. Clay didn't just

talk; he devoted his talents to conservation, chairing the Georgia

Conservancy Board and working with policy makers to protect

Georgia's environment.

Joelle James Phillips '89 is president

of AT&T Tennessee in Nashville and a

member of the Birmingham-Southern

College Board of Trustees.

In my first year at the firm, I was

lucky to work on a case with Clay. My

most vivid memory of that experience

was a meeting during which Clay

rejected an option presented because

it was morally wrong. He didn't make

a production of it, and he didn't

entertain any discussion about whether

the client agreed. He was a fierce

competitor, but he would no more

consider an unethical move than he

would have cheated at tennis – and

I would never have bet against him

winning in – or on – the court.

Clay was so comfortable in his own

skin. He knew who he was and what

he cared about. In a profession where

outsized egos are common, Clay didn't

seem to need any affirmation from the

crowd. He was funny but didn't need

the whole room to hear the punch

line.

I was heartbroken that the BSC

family lost such an important and

dear friend. Clay's example will forever

inspire me.

CLAY C. LONG '58

Lawyer and conservationist Clay C. Long

passed away May 29, 2021, at 85 after

battling a neurological illness. He graduated

summa cum laude from Birmingham-Southern

College and magna cum laude from Harvard

Law School. As a law clerk for Justice Hugo

Black of the U.S. Supreme Court, he drafted

the ruling in Gideon v. Wainwright, the

landmark case establishing that poor people

charged with crimes have a right to an attorney.

1974, Long co-founded Long, Aldridge,

Stevens & Sumner, a corporate and commercial

real estate practice, which 28 years later

merged with a Washington-based firm to

become McKenna Long & Aldridge. During his

life, Long received many awards and accolades,

including the Atlanta Bar Association's

Leadership Award – of which he was the first

recipient – an honorary Doctor of Laws degree

from BSC, and the Lifetime Achievement

Award from the Anti-Defamation League.

Long gave back to his community in many

ways – by serving as Chairman of the Board

of MARTA, as Chairman of the Georgia

Conservancy, and by working on environmental

issues with the Nature Conservancy, the

Jekyll Island Authority, and the Jekyll Island

Foundation. He was chair of the Georgia

Greenspace Commission and served as

President of the Atlanta United Way. He was a

member of the boards of directors of Research

Atlanta, the Atlanta Urban League, the Atlanta-

Fulton County Public Library, the Metropolitan

Atlanta Community Foundation, Birmingham-

Southern College, and many others.

Long is survived by his wife of 61 years,

Elizabeth E. Long, his daughter and sonin-law,

Katie Long and Adam Gelb, and his

grandchildren, Max Gelb and Kate Denton. He

was preceded in death in 2003 by his beloved

daughter, Polly Long Denton.

FALL/WINTER 2021 / 63
---
lifelong learner

Christian Strevy '10

Christian Strevy, who earned a BFA in art at Birmingham-

Southern College in 2010, strongly exemplifies the school's value of

lifelong learning.

He has a wide, ever-growing range of interests, including plants,

animals, insects, and geology.

And Strevy – now a Philadelphia-based filmmaker – is also hosting

a series of YouTube videos to explore these interests and share them

with the world.

The series, "Old Scout," began in 2018 by depicting Strevy's quest to

earn all the merit badges from Cub Scout to Eagle Scout in one year.

That quest stemmed from Strevy's regrets about dropping out of Cub

Scouts when he was 10 years old. He quit before he had a chance to

enjoy the outdoor scouting activities, such as camping, he had come to

love as an adult.

Strevy successfully completed that initial one-year stage of the "Old

Scout" series in 2019.

And Strevy – along with series co-creator and fellow BSC graduate

Julie St. John '11 – resumed "Old Scout" in 2020 after a pandemicinduced

hiatus.

The project began with Strevy wondering if he could complete all

the merit badges in one year.

"It was a little bit of a stunt," he said.

But "Old Scout" became something more.

Strevy and St. John, who earned a BFA in 2011, have continued the

series because it's an entertaining way to explore subjects they have

"strong curiosity" about, Strevy said.

A Vestavia Hills native, Strevy earned an MFA in film in 2015

from Temple University in Philadelphia. At Temple, he made a web

series, "Gunner Jackson," that was shown at numerous film festivals,

including Sidewalk Film Festival in Birmingham.

Strevy began "Old Scout" on his 30th birthday, June 14, 2018, and

a year later, he filmed an episode that was based on an Eagle Scout

graduation. For that episode, Strevy, St. John, and friends staged a

pinewood derby, the wood-car racing event popular in scouting.

Strevy said he and St. John like the old Boy Scouts curriculum from

the 1950s and before.

"It was more experiment-based or adventure-based," he said.

In the newer curriculum, the rocks and minerals merit badge book,

for example, "is more like a book report," Strevy said. In the old

curriculum, scouts were told to collect 25 rocks and minerals in the field.

Making the episodes "is a great way to start hobbies and learn about

science." For example, he started collecting insects and is making an

episode about them. He even became interested in stamp collecting.

"We did that episode, and I realized they're tiny, beautiful, little

engraved works of art that you put on mail," Strevy said.

Since restarting "Old Scout," Strevy and St. John have made two

more episodes.

St. John does "the tedious, hard work of producing the episodes,"

Strevy said, while he directs and does most of the editing.

"We're just doing them at our own pace and taking our time doing

them, which is really fun," Strevy said.

OLD SCOUT

Follow along as Christian Strevy completes the entire

curriculum of Scouts from Cub to Eagle in one year.

From knot-tying to safe hiking to a pinewood derby

finale, find out if an old scout can learn new tricks in

this 45-episode series.

Old

Scout

64 / 'southern
---
Stay in

TOUCH!

Rowdy's

Playlist

Keep up with news from the Hilltop – and let

us know what's happening with you.

THE BSC BLOG

At blog.bsc.edu, you'll find stories about

alumni, athletics, student life, faculty

achievements, and upcoming events.

CLASS NOTES

Monthly updates about BSC alumni and

friends of the College are now online at

blog.bsc.edu.

FOLLOW US ON SOCIAL MEDIA!

@birminghamsouthern

@bscalums

@birminghamsouthern

@bsc_alumni

@fromthehilltop

FIVE EASY WAYS TO ENGAGE

1. Update your contact information.

Visit bsc.edu/alumni to provide a current

address, phone, or email, share your current

employment information, or notify us of a name

change. That will help ensure you are on the list

for regional and career-focused alumni events.

2. Submit a Class Note. Share news of career

updates, weddings, births, and other life events

at bsc.edu/alumni.

3. Honor a classmate. Nominate a fellow

graduate for the Distinguished Alumni Award

or the Outstanding Young Alumni Award.

Nominations are made online beginning in

January at bsc.edu/alumni.

4. Send us a future BSC student. Email our

Admissions staff at admissions@bsc.edu

with the names of the best students you know

so we can give them the warmest welcome

on campus visits and at recruiting events. We

especially want to know about legacy students.

5. Help us tell the BSC story. Share the

names of alumni who have interesting jobs or

are making a big impact in their community so

we can feature them online and in print. Email

us at alumni@bsc.edu.
---
900 Arkadelphia Road

Box 549003

Birmingham, Alabama 35254

Non-Profit Org.

U.S. Postage

PAID

Permit No. 2575

Birmingham, AL

CHANGE SERVICE REQUESTED

www.bsc.edu

As we continue to deal with the COVID-19 pandemic, most events you see in this issue took place outdoors. The College remains vigilant and follows

testing and masking protocols based on advice from public health experts. In fall 2021, our students achieved an 85 percent vaccination rate.