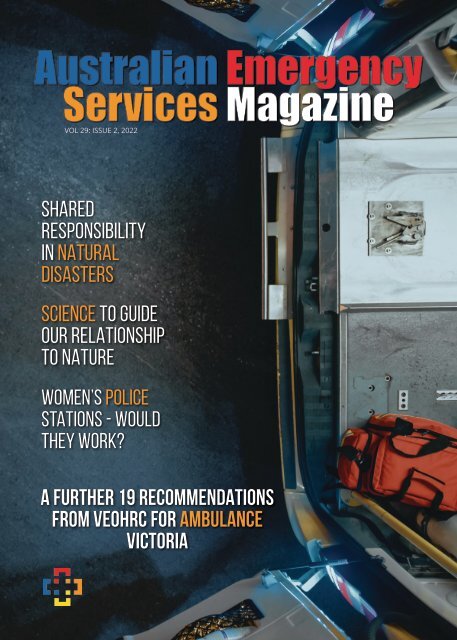 AESM Vol 29, ISSUE 2 2022
The latest Australian Emergency Services Magazine Vol 29:Issue 2, 2022. The latest in emergency services news and events. In this edition we take a closer look at the recent flooding events and how we can improve response time and recovery efforts. You can read about the latest recommendations from the VEOHRC in regards to the independent review of Ambulance Victoria. Dr Lisa Holmes discusses how we cope with change in the 'Let's Talk Mental Health' column. Plus so much more, latest events, "In the Spotlight" and Emergency Breaks and our book review column. Free to subscribe through the website www.ausemergencyservices.com.au
The latest Australian Emergency Services Magazine Vol 29:Issue 2, 2022. The latest in emergency services news and events. In this edition we take a closer look at the recent flooding events and how we can improve response time and recovery efforts. You can read about the latest recommendations from the VEOHRC in regards to the independent review of Ambulance Victoria. Dr Lisa Holmes discusses how we cope with change in the 'Let's Talk Mental Health' column. Plus so much more, latest events, "In the Spotlight" and Emergency Breaks and our book review column. Free to subscribe through the website www.ausemergencyservices.com.au
SHOW MORE
SHOW LESS
You also want an ePaper? Increase the reach of your titles
YUMPU automatically turns print PDFs into web optimized ePapers that Google loves.
VOL 29: ISSUE 2, 2022

SHARED

RESPONSIBILITY

IN NATURAL

DISASTERS

SCIENCE TO GUIDE

OUR RELATIONSHIP

TO NATURE

WOMEN'S POLICE

STATIONS - WOULD

THEY WORK?

A FURTHER 19 RECOMMENDATIONS

FROM VEOHRC FOR AMBULANCE

VICTORIA
---
Violence and aggression

are never OK.

Report it to help create

a safer workplace.

There's no excuse for violence or aggression.

No matter the situation, it's never OK.

How to report aggressive and violent behaviour in your workplace:

worksafe.vic.gov.au/itsneverok
---
Fixed or Portable

Internet for

Emergency Services

Activ8me Business Services offers remote

communications solutions for Emergency

Services' Crews & Facilities in regional and

remote Australia.

Solutions Available:

Unlimited data plans

Low contention rates

Ground or Vehicle-mounted hardware

Bespoke Design Options

Optional P2P, Extended Wi-Fi or Community Wi-Fi

Installation & Field Support Australia-wide

Our solutions overcome the limitations of

integrating data-hungry platforms, large

upload requirements and immediate, unplanned

deployment requirements of emergency services'

crews operating in isolated locations.

Our services facilitate fixed or portable businessgrade

internet connections anywhere in Australia.

For enquiries contact our Corporate Sales team

or visit: business.activ8me.net.au

Business Services

Contact Us

13 22 88

Major Partner
---
FEATURE

CONTENTS

Coming Of Age:

Old forests are 3 times

less flammable than

those just burned

FEATURE

Science to Guide

our Relationship to

Nature

CEO of Natural Hazards

Research Australia,

Dr Richard Thornton,

reflects on the floods in

Queensland and NSW

21

23

Flood-affected members of the Lismore, New South Wales community. Image: www.defence.gov.au

FEATURE

Sleep Loss and

Paramedics &

Health Care Workers

13

Women's Police

Stations in Australia

Shared

Responsibility in a

Natural Disaster

First responders and

health-care workers are

especially vulnerable to

emotional fatigue due

to shift work, long hours

and the overall stressful

nature of their jobs.

33

Keeping Veterans Out

of Jail

The proposal to establish

women's police stations

has received a strong

platform in mainstream

media and academic

journals in regards to

combating domestic

violence.

Governments love

to talk about 'shared

responsibility' in a natural

disaster, but what does it

really mean?

27

The royal commission

investigates the risk factors

around veterans' mental

health, it is missing a key

part of the puzzle: contact

with the criminal justice

system

www.ausemergencyservices.com.au

9
---
THE REGULARS

• Editor's Note

3

• Recent Events

Beyond the Uniform

National Resource Sharing Capability

Volunteer Week 2022

CFA Remembers the Fallen

• Emergency Law with Dr Michael Eburn

• A Review of Disaster Funding

• Let's Talk Mental Health with Dr Lisa Holmes

• "What Address Do You Need Police? - A Poem

• On the Frontline - Vol II Recommendations VEOHRC

• In the Spotlight - Kieran Loughlan

• AESM Book Reviews

• Emergency Breaks - Perisher

4

5

6

6

7

13

15

21

31

39

41

43

DOWNLOAD THE

AESM APP

Stay connected and up

to date on all the latest

emergency services news

on the website PLUS have

access to the magazine via

our dedicated App on both

Apple IOS and Google

Android platforms

LET'S TALK MENTAL HEALTH

Dr Lisa Holmes - Unit Coordinator and

Lecturer Paramedical Science. Edith Cowan

University. Course Coordinator Master,

Graduate Diploma and Certificate of

Disaster & Emergency Response.

MAGAZINE CONTACTS

EMERGENCY LAW

Dr Michael Eburn - PHD, leading expert in

law relating to emergency management &

emergency services.

Editorial Content

editor@ausemergencyservices.com.au

Advertising Enquiries

advertise@ausemergencyservices.com.au

Distribution Enquiries

distribution@ausemergencyservices.com.au

POSTAL ADDRESS:

Suite 112, Locked Bag 1

ROBINA TC, QLD 4230

IN THE SPOTLIGHT

EMERGENCY BREAKS

Each edition features a

profile on a person, team,

partnership, squad or unit

to showcase their unique

contribution to the Emergency

Services industry.

Explore local surrounds, or

new places that are only a

short plane trip or drive away,

so you can maximise every

minute of those days when

your name doesn't appear

next to a call sign on the roster

Scan Me

to download the AESM App

www.ausemergencyservices.com.au
---
www.ausemergencyservices.com.au

DISCLAIMER

The Australian Emergency Services Magazine

is a community educational resource

publication and does not promote itself

as a charity or fund raising institution, nor

solicit on behalf of charities and is no way

financially supported by or associated

with any government, union or similar

institution. The Australian Emergency Services

Magazine is an independent publication that

is not associated with any services or similar

entities.

Distribution of the publication is Bi-Monthly

and is circulated via a database of interested

parties, including business, subscribers,

advertisers, volunteer organisations,

emergency service sectors, emergency

and disaster management, government,

universities, TAFE and council libraries. A

print and digital magazine is distributed to a

targeted database in each State & Territory.

Every effort is made to ensure that material

presented in the Australian Emergency

Services Magazine was correct at the time of

printing and is published in good faith, no

responsibility or liability will be accepted by

Boothbook Media.

The views and opinions expressed are

not necessarily those of Boothbook

Media and its employees. The content of

any advertising or promotional material

contained within the Australian Emergency

Services Magazine is not necessarily an

endorsement by Boothbook Media.

Published by Boothbook Media

ABN:72 605 987 031

BOOTHBOOK MEDIA

DIGITAL MEDIA & MARKETING

WANT TO CONTRIBUTE?

We are always looking for new

and relevant content that

our readers will enjoy. If you

would like to be featured in

the magazine there are many

options. You may have a story

you would like to share, or

perhaps be featured in our "In

the Spotlight" regular column.

Please submit all articles or

expressions of interest to the

Editor for consideration at:

editor@ausemergencyservices.

com.au

Articles should be no more than

1000 words and be relevant

to the content within the

Australian Emergency Services

Magazine.

3

www.ausemergencyservices.com.au
---
RECENT EVENTS

R U OK? has shared a

powerful story highlighting

the importance of peer and

social support for police

and emergency services

workers and volunteers.

It's a difficult time for

many Australians. The

east coast is dealing with

the deluge of record

rainfall and flooding, while

bushfires and heat wave

conditions recently affected

communities in the west of

the country.

ARE

THEY

TRIPLE

OK?

ARE

THEY

TRIPLE

OK?

While the physical damage

is obvious, it's sometimes

harder to recognise

the emotional toll of

a natural disaster and

this is especially true for

those in the emergency

services who are working

in challenging conditions to

help others.

Husband and wife, Carlee

and Mark, are serving

police officers and have

shared their personal

stories for 'Are They

Triple OK?'; an R U OK?

initiative that provides free

practical resources to build

confidence in supporting

colleagues and family/

friends both at home and

in the workplace.

"When a crisis arises, the

first people to respond are

our emergency services

workers and volunteers,"

said Katherine Newton,

R U OK? CEO. "While

the job can be incredibly

rewarding, working in a

high-pressure environment

with exposure to traumatic

incidents can take its toll.

"'Are They Triple OK?'

provides tools and tips to

help us look beyond the

uniforms so we can provide

meaningful connection and

support."

Carlee and Mark have

shared their experience of

the challenges, how they

navigate these as a couple

and as parents, what they

do to support their mental

Look beyond the uniform of your peers and

family and friends in the emergecy services

and ask "are you OK?"

Learn more ruok.org.au

wellbeing, and how family

and friends can check in

on police and emergency

services workers and

volunteers.

"Our jobs centre on

controlling and managing

incidents, emergencies,

and critical situations," said

Carlee. "This means we

also need to control certain

feelings and emotions to

get the job done. When you

need help yourself, it's hard

to ask.

"For that reason, it can

be a lot easier to talk

when someone checks in,

because it's an invitation to

open up," she said.

Friends, family, and peers

are in a unique position

to recognise when an

emergency services worker

may be going through a

tough time.

BEYOND THE UNIFORM

How to check in with family and friends

in the emergency services

"When you know someone

well, you can usually tell

when they're a bit 'off'

or not themselves," said

Mark. "They might be

more withdrawn, shorttempered,

or experiencing

strains in relationships,

which are usually signs

there is more going on."

"A conversation has the

power to break the cycle

and change (and in some

cases save) someone's life.

If you're wondering when

the 'perfect time' is to ask,

it's anytime. The important

thing is that you ask."

R U OK? resources

include a conversation

guide and personal

stories from police and

emergency services

workers and volunteers

that demonstrate the life

changing impact of an R U

OK? conversation.

Look beyond the uniform of your peers and

family and friends in the emergecy services

and ask "are you OK?"

Learn more ruok.org.au

If you notice the signs

that someone might be

struggling with life's ups

and downs, it's important

to trust your gut, reach out

and ask "are you OK?"

Carlee and Mark's stories

can be found at ruok.org.

au along with the free 'Are

They Triple OK?' resources.

'Are They Triple OK?' was

developed in response to

Beyond Blue's nationwide

'Answering the call'

survey[1] which found

more than half of all police

and emergency services

employees indicated

they had experienced a

traumatic event that had

deeply affected them

during the course of their

work.

R U OK

www.ruok.org.au

www.ausemergencyservices.com.au 4
---
RECENT EVENTS

NATIONAL RESOURCE SHARING CAPABILITY FOR

EMERGENCY SERVICES TO BE BOOSTED FOLLOWING

BUDGET ANNOUNCEMENT

AFAC, the National Council

for fire and emergency

services, welcomes the

Budget announcement

committing $1.7m to the

National Resource Sharing

Centre (NRSC), made by

Minister for Emergency

Management and National

Recovery and Resilience

Senator the Hon Bridget

McKenzie.

The NRSC, operated

by AFAC with state

and territory fire and

emergency services,

facilitates the sharing of

resources in Australia and

internationally in response

to a disaster event.

AFAC President and

NSW State Emergency

Service Commissioner

Carlene York APM said:

"The NRSC allows states

and territories to come

together in a coordinated

way and ensure that

when times are tough,

our dedicated emergency

services personnel can

be supplemented by

our partners across the

country."

"The NRSC was vital in

helping NSW respond to

both the February floods

and the current flooding

situation."

"The investment continues

the important partnership

that AFAC has built with

the Australian Government

through such things as the

National Aerial Firefighting

Centre and the Australian

Institute for Disaster

Resilience," she said.

AFAC CEO Rob Webb

said: "Fire and emergency

services across the

country are united in their

commitment to help keep

Australians safe. Disasters

know no borders, and this

additional funding will allow

the states and territories

to collectively respond

to escalating disasters,

whenever and wherever

they occur."

"The funding will allow

us to provide even more

services to support the

sector in times of need. We

look forward to working

with Department of

Home Affairs, Emergency

Management Australia to

deliver these important

services," he said.

The NRSC was responsible

for moving hundreds of

specialised personnel

from across the country

to Queensland and NSW

in February including

swift water rescue

technicians and flood

boat crews, incident

management specialists,

field crews, command and

administration staff, storm

crews and community

liaison officers. The

NRSC has recently reactivated,

with more than

20 personnel currently

in NSW, including fleet

technicians, in-water

teams, jurisdictional liaison

officers and deployment

managers.

The new investment will

be used to better plan,

prepare and deploy

resources in Australia and

overseas, while keeping

in close contact with the

Australian Government's

National Situation Room.

AFAC: The National Council

for Fire and Emergency

Services

5

www.ausemergencyservices.com.au
---
RECENT EVENTS

NATIONAL VOLUNTEER WEEK

2022

16-22 MAY 2022

Better Together

National Volunteer Week 2022 Sponsors

Better Together

Volunteering brings people together; it

builds communities and creates a better

society for everyone.

National Volunteer Week is a chance for all

of us to celebrate and recognise the vital

work of volunteers and to say thank you.

Together, through volunteering, we are

changing communities for the better.

We are, Better Together.

volunteeringaustralia.org

There's only two weeks to

go until Australia's premier

annual celebration of

volunteering, National

Volunteer Week. Join us

this 16-22 May 2022 as

we celebrate the power

of volunteering to bring

people together, build

communities and create a

better society for everyone.

National Volunteer Week is

a chance to recognise the

vital work of volunteers and

to say thank you. Together,

through volunteering, we

are changing communities

for the better. We are,

Better Together.

Resources are available for

everyone to use and we

encourage all volunteer

involving organisations

to proudly promote the

upcoming celebrations

and use the resources

widely to help increase the

awareness of the vital role

volunteers play in our lives.

Thank your volunteers this

National Volunteer Week

by sending a free Online

Certificate of Appreciation

directly to your volunteer's

email.

Share photos of your

National Volunteer Week

celebrations and join

in the conversation on

social media using the

hashtags #NVW2022 and

#BetterTogether.

CFA Chief Officer Jason Heffernan placing flowers at this years memorial service. CFA Media

CFA REMEMBERS FALLEN

MEMBERS AT

STATE MEMORIAL EVENT

CFA members have come

together with the families

of fallen firefighters to

remember those who have

been lost while protecting

their communities.

The annual memorial service

was held as part of CFA's

recognition of International

Firefighters' Day on 4 May; a

global event started by CFA

members to honour those

who have made the ultimate

sacrifice and to thank those

who continue to serve.

This years' service was held

on Sunday at Federation

University's Churchill Campus

in Gippsland, and marked the

40th anniversary since the

loss of Churchill firefighter

Darren McLean.

The passing of John Mynard

in 1990 and Doug Henry

in 2005 from the nearby

brigades of Trafalgar and

Glengarry West respectively

were also recognised.

CFA Chief Officer Jason

Heffernan said the annual

memorial service was a fitting

tribute to all firefighters.

"The CFA Roll of Honour

contains the names of 80

firefighters who we will never

forget," CO Heffernan said.

"This includes 11 Country Fire

Brigades Board and Bush Fire

Brigade Committee firefighters

prior to CFA's inception, and

69 CFA members all who gave

their lives in service.

"This year we endured another

tragedy in the firefighting

community, with South

Australia's Country Fire Service

losing volunteer firefighter

Louise Hincks in January.

"Our deepest condolences go

out to her family and friends,

as well as her brigade and

firefighting colleagues."

International Firefighters' Day

has been recognised since

1999 and was started by CFA

volunteers following the tragic

loss of five firefighters in Linton

the previous year.

The date coincides with

St Florian's Day, who is

recognised as the patron saint

of firefighters.

CO Heffernan encouraged all

Victorians to take a moment to

reflect this Wednesday, 4 May.

"International Firefighters Day

allows the world to remember

those who have fallen, and

acknowledge today's

firefighters who honour that

sacrifice with a continued

commitment and dedication to

protecting their communities."

www.ausemergencyservices.com.au 6
---
AUSTRALIAN EMERGENCY LAW

A DISCUSSION

ON THE LAW

THAT APPLIES

TO OR AFFECTS

AUSTRALIA'S

EMERGENCY

SERVICES AND

EMERGENCY

MANAGEMENT

The Australian Emergency Law Blog is back! The online blog is made possible thanks

to the generous financial support from the Australasian College of Paramedicine, the

Australian Paramedics Association (NSW), Natural Hazards Research Australia, NSW

Rural Fire Service Association and NSW SES Volunteers Association.

You can access Dr Michael Eburn's blog at www.australianemergencylaw.com

Commission cannot order

reinstatement of health

workers dismissed over

COVID vaccination refusal

April 26, 2022

DR MICHAEL EBURN

PhD

Honorary Associate

Professor,

ANU College of Law

Adjunct Associate

Professor,

UNE School of Law

Leading Expert in Law

Relating to Emergency

Management &

Emergency Services

www.australianemergencylaw.com

Griffin v Health Secretary;

Thorncraft v Secretary of the

Department of Education

[2022] NSWIRComm

1027 (22 April 2022)

(Commissioner Murphy)

is another case on covid

vaccines. In this case

the Industrial Relations

Commission had to consider

whether Public Health

Orders, and determinations

made by the Secretaries

of the Ministries of

Education and Health

requiring employees to be

double vaccinated against

COVID-19, affected the

Commission's capacity to

make orders in cases of

alleged unfair dismissal.

The applicants were 10

health workers, and 2

education workers. All

of 'the applicants were

dismissed for failing to

comply with a directive from

their employer to become

double vaccinated against

the COVID-19 virus by a

certain date last year [2021]

or to provide evidence of a

medical exemption' ([8]).

Those who hope the courts

will rule on issues such

as whether there really is

a pandemic or whether

the orders made are

reasonable will continue to

be disappointed. That is not

the function of courts and

certainly not the Industrial

Relations Commission. At

[37] Commissioner Murphy

said:

"… a considerable bulk of the

submissions by some parties

went to the validity and/or

legality and/or enforceability

of the Public Health Orders

and Determinations set out

… above, this Commission

is not the forum in which

to agitate such matters.

These instruments will be

accepted in this jurisdiction

as valid and enforceable

pieces of delegated legislation

unless and until found to be

otherwise in another place."

The Public Health Orders,

and the departmental

determinations were

in place. The question

before the Commission

was how they affected the

Commission's jurisdiction,

not whether the Minister or

Departmental Secretaries

either could, or should

have made those orders or

directions.

Education workers

The case for those

employed by the

Department of education

turned on issues of their

employment status as

'temporary' employees.

Those cases are not relevant

to the subject matter of this

blog.

Health workers

The Public Health Orders

applied to workers in several

health fields including

paramedicine. The direction

from the Departmental

secretary was more limited,

applying only to employees

of the NSW Health Service.

Both the applicants,

and the Department

agreed that there was

a distinction between

the Minister's Orders

and the Department's

determination. The Public

Health Orders required

workers to be vaccinated,

if they were not, they could

not work in the health

field. The determination

from the Department

went further and said that
---
with Dr Michael Eburn

unvaccinated workers could

not be employed by the

Department. The applicants'

argued that the Commission

could find that dismissing

the employees was 'harsh,

unjust or unreasonable' and

could order that they be

reinstated to their jobs even

if they could not, presently,

work. They argued that they

could be employed, but

stood down, until the need

for vaccination was removed

([41] and [42]).

At [48]-[49] Commissioner

Murphy said:

"Each of the applicants in

the public health matters

… would be, if reinstated

to their former position,

classified as a stage 1

health care worker for the

purposes of the … Health

Orders … As such, pursuant

to clause 5 of the Fourth

Health Order, they "must

not do work as a health care

worker unless the worker

has had at least 2 doses of

a COVID-19 vaccine"… In

effect, the Fourth Health

Order, which is currently

in force, would prevent

any of the applicants from

doing the job into which

they may be reinstated or

re-employed by order or

the Commission. This would

render impracticable any

order by this Commission

for reinstatement or reemployment

of any of the

applicants in the public

health matters.

Further, the Health

Determination … has made

it a condition of employment

that all employees of

local health districts, such

as the applicants were

prior to their dismissals,

be double vaccinated

against COVID-19 or hold

a medical contraindication

certificate. It is not open

to the Commission, in this

proceeding, to go behind

the Health Determination

and look at issues such

as the medical and/or

scientific basis or rationale

for the making of the

Health Determination by

the Health Secretary. The

Commission accepts that

the Health Determination

has been validly made and

is now part of the industrial

landscape for workers in

the public health sector.

It would be impracticable

for the Commission to

make orders which purport

to restore the applicants

to employment as NSW

Health Service Employees

… in circumstances where

they do not satisfy an

essential condition of

that employment whilst

they remain unvaccinated

against COVID-19 or without

a medical contraindication

certificate."

And at [55]:

… no order can be made

in favour of any of the

applicants for reinstatement

or re-employment whilst

they remain unvaccinated

against COVID-19 or without

a medical contraindication

certificate.

Discussion

In an earlier post Requiring

COVID vaccines for emergency

workers(April 1, 2022) I said

'where the Minister or Chief

Health Officer has exercised

a power under relevant

Public Health or emergency

management legislation to

issue an order or direction

requiring certain workers

to be vaccinated then the

employer has no choice

but to comply'. This case

continues that line of

jurisprudence. The public

health orders have been

made – unless they are

set aside by a court of

competent jurisdiction (eg

the High Court of Australia)

employers, and in this case

the Industrial Relations

Commission have no choice

but to comply. This case

went further and held that

where an employer (in this

case the Departments) had

set out that it is a necessary

condition of employment

that a person is vaccinated

then the Commission could

not order that the person

be reinstated.

In should be noted that

the Commission did not

decide that it could not

hear an application for

unfair dismissal. There are

other remedies, including

the payment of damages.

The Commission, in this

case, was not entering into

the question of whether

dismissal was unfair, rather

it was considering what it

could do about. Given the

public health orders and

the determination made

by the Secretary (noting

that the power to make

this determination was a

statutory power – Health

Services Act 1997 (NSW) s

116A(1) – not simply matter

This article originally appeared on the

blog Australian Emergency Law (https://

emergencylaw.wordpress.com/) and is

reproduced with the permission of the

author.

As a blog post it represents the author's

opinion based on the law at the time it was

written. The blog, or this article, is not

legal advice and cannot be relied upon to

determine any person's legal position. How

the law applies to any specific situation or

of a unilateral alteration to a

contract of employment) the

Commission could not order

that the staff be reinstated

to jobs that they cannot

perform.

As Commissioner Murphy

said (at [57]-[58]):

"This determination …

leaves open the possibility

of orders being made for

compensation… The parties

have not been asked to

address this aspect of the

applications.

Further, the applicants, or

some of them, may wish to

reconsider their position

with respect to vaccination

and become vaccinated

which would potentially

remove the existing barrier

to being employed in the

NSW Health Service."

event depends on all the circumstances.

If you need to determine legal rights and

obligations with respect to any event

that has happened, or some action that

is proposed, you must consult a lawyer

for advice based on the particular

circumstances. Trade unions, professional

indemnity insurers and community legal

centres can all be a source for initial legal

advice.

www.ausemergencyservices.com.au 8
---
Author:

Dr Richard Thornton

CEO, Natural Hazards

Research Australia
---
Science to guide our relationship with

NATURE

CEO of Natural Hazards Research Australia,

Dr Richard Thornton, reflects on the floods in

Queensland and NSW, and how we can improve

our mitigation, response and recovery.
---
The full force of nature has again

been felt on the east coast, leaving

a trail of death and destruction.

The recent devastating floods in

Queensland and New South Wales

have left many Australians with a

mix of frustration, grief and anger.

Tragically, people lost their lives.

Homes, businesses, infrastructure,

natural environments and

agricultural land have all been

impacted. The recovery process

will be long and difficult and

communities will need tailored

support.

The time has come to cease using the

word 'unprecedented'. It is unhelpful.

These floods have precedents and

it is inevitable they will occur again,

along with devastating bushfires

and cyclones. Just like the 2019–20

bushfires, these floods should

force us – again – to rethink our

relationship with nature.

Living in some parts of Australia has

always been fraught with danger.

Calls to permanently move people

out of harm's way sound logical, but

it is just not practical to move every

home or community that could be

threatened. Buybacks of at-risk areas

have been tried in the past at a small

scale, with mixed success. We all love

where we live.

The manifestation of our risk today

has been created by decisions made

in the past. Our decisions today are

creating the risks of the future – we

must make wise ones. We need to

understand the possibilities as well

as the limits to what we can do to

reduce risk in different places.

Climate change creates conditions

that cause severe weather systems to

occur more regularly and intensely,

across a wider area. We can't keep

repeating response, clean up and

recovery, in an attempt to get things

back to how they were. Business-asusual

is not an option.

FIRSTLY, WE MUST BUILD ON WHAT

WE KNOW.

Our collective knowledge on fire,

flood and storm is large, and we have

hundreds of recommendations from

inquiries and scientific expertise in

weather, engineering and community

behaviour that must guide us. The

Inquiries and Reviews Database,

accessible at tools.bnhcrc.com.au/

ddr/home and created through

Bushfire and Natural Hazards CRC

research, is a fantastic starting point.

This database will be updated by

Natural Hazards Research Australia

as new inquiries report.

Ballina, NSW - March 2022: devastating scenes in the clean up following the February floods.

Mitigation is the key to doing things

better today. If I were to tell you

that your house will be inundated

with water tomorrow, you would

immediately think of things to do with

a very reactionary approach. What

if I were to tell you that the same

house would flood a year from today?

Would you act?

Our use of land is critical to reducing

future risk. Hard questions need to

be answered about where and how

to rebuild, that may take longer to get

right. This should take place before,

not during the disaster or in the

immediate aftermath. Research into

the long-term sustainability of our

communities can ensure we are not

repeating mistakes but building on

what works.

SECONDLY, WE MUST FOCUS ON

WHAT WE DON'T KNOW.

Either our knowledge is falling short

or we are unable to act on what

we have learnt. We must do better.

We need to better understand

where most of the impacts were

felt. Past research, including

CRC research from Prof Mehmet

Ulubasoglu, has shown that disasters

disproportionally affect the most

marginalised and vulnerable groups

and can increase the gaps between

the haves and have nots.

We need to be better at predicting

and tracking severe events, managing

landscapes for fire and flood safety,

building smarter houses and other

infrastructure, and preparing our

workforces, both volunteer and paid,

for a future with natural hazards on

increasingly larger scales.

We need to continually improve how

we warn communities, so they can

take action. A warning may be urgent

in the next five minutes. It may be

the weekly weather forecast. It may

be in the historical records that show

an area floods often and with force.

Awareness of risk is built up over the

long-term.

We must base our emergency

management policies and planning

on research and evidence that better

includes a multi-agency and multigovernment

response across large

areas. We must look to Indigenous

knowledge and historical analysis for

new insights.

11

www.ausemergencyservices.com.au
---
Queensland floods in February 2022 Image Credit: Queensland Fire and Emergency Services

At the community level, we need to

find affordable and sustainable ways

of funding our mitigation, response

and recovery. Insurance must be

accessible and affordable, as part of

risk management. If the risk is so high

that properties are uninsurable, that is

of no benefit to the homeowner or the

insurance industry and risks a market

failure.

These areas are part of the focus of

Natural Hazards Research Australia.

We have been asking the question

– what knowledge is needed to

get Australia ready for the next big

disaster, and the next?

This is the research the country needs

to focus on now, to make us safer

and to reduce the economic, social

and environmental impacts of natural

hazards.

Author:

Dr Richard Thornton

CEO

Natural Hazards Research Australia

www.ausemergencyservices.com.au 12
---
Review of disaster

funding and progress

on the National Risk

Reduction Framework
---
The Minister for

Emergency Management

and National Recovery

and Resilience, Senator

the Hon Bridget McKenzie

has initiated a review

into the national Disaster

Recovery Funding

Arrangements (DRFA).

Minister McKenzie said

it was important for

transparency, consistency

and accountability to

review the current

arrangements whereby

the Federal Government

provides money to state

governments following a

disaster.

"The joint disaster

funding arrangements are

inherently complex. But

we need to ensure that

taxpayers have confidence

that the current

arrangements ensure that

those Australians in need

are being assisted in a

timely way.

"They also need to

know how requests

are made and for what

purpose, with increased

transparency. Most

importantly, taxpayers

need to know that the

system works for people,

not politicians." Minister

McKenzie said.

"Over the past decade the

Federal Government has

allocated more than $12

billion following disasters

to the states – but often

it takes years for us to

understand from states

how that money was

spent."

Minister McKenzie said

the review will consider

reporting requirements

by the states about the

money they spend and

what support has been

provided. It will also

examine whether the

Commonwealth should

withhold funding to states

that fail to report.

"The Australian

Government is committed

to protecting Australians

from natural disasters

and over recent years has

shifted its responsibilities

into resilience and

mitigation.

"But we need to

make it clear what

the Commonwealth's

responsibilities for

funding are and what are

the states' responsibilities

– and what costs should

be shared."

"This review will also

ensure we are more

consistent in how

recovery is delivered,

so that whether you

live in Queensland or

South Australia, the help

you get after a disaster

that is funded by the

Commonwealth is similar.

The review into DRFA

complements work

underway on the second

National Action Plan

under the National

Disaster Risk Reduction

Framework.

The National Disaster Risk

Reduction Framework's

central premise is that

by changing how we

think about disasters

and working together,

we can take action to be

better prepared and more

resilient for whatever

comes our way.

Progressing the priority

areas of the Framework is

currently driven through

National Action Plans, and

negotiations are already

underway with the states

on the second Plan.

"We will use these

negotiations to

ensure there are clear

obligations, not just on

the Commonwealth,

but on the states and

territories, to building in

resilience and consistency

in all we do to respond to

natural disasters.

"Managing and reducing

risk is key to limiting the

impacts of disasters. Risk

reduction was also a focus

of the Royal Commission

into National Natural

Disaster Arrangements,"

Minister McKenzie said.

Any future National Action

Plan under a Coalition

Government will tie future

funding for the states and

territories to concrete

action on resilience and

mitigation. This includes

action on implementing

the Royal Commission's

recommendations and

reporting on progress;

better data sharing

for the benefit of all

Australians; adoption

of proven mitigation

strategies such as hazard

reduction burning; and

more focus on resilience

and mitigation in state

and territory planning

systems.

Originally published under CC Licence - Australian Government: Department of the Prime Minister & Cabinet

- Senator the Hon Bridget McKenzie
---
Lets

'

Talk

Mental Health

with Dr Lisa Holmes

Dr Lisa Holmes

PhD

Unit Coordinator and Lecturer Paramedical Science

Course Coordinator Master, Graduate Diploma and

Certificate of Disaster & Emergency Response

APPROACHING AND COPING WITH CHANGE

We have collectively gone through a time of endings and

new beginnings over the last two years. It has been a time

of change in our personal lives, professional lives, in our

communities and across the globe. Change has been the

inevitable outcome, however it is how we approach this

change that can make the difference.

A phrase I often heard when growing up 'All good things

must come to an end'. It always struck me as having a

negative tone, like the movie or book you don't want to

finish despite desperately wanting to know what happens,

the playdate you don't want to end, the visitors you don't

want to leave ……….

But really is it negative or is it something to do with our

approach to life? Is your cup half empty or half full?

Now I think about it, the 'good things' are what our fond

memories are made of, the things we have learnt and the

times that help us through life's challenges and indeed

mental strain and illness, though they can be hard to reach

at times, they are always there.

Endings can be sad and at times traumatic and we may

deeply miss what has gone but perhaps it would help if we

focused on embraced what is to come. We tend to want

to forget bad times, but do we need to forget them or is

it an opportunity to take strength and wisdom from the

experience and learn how to cope in the future?

Perhaps a more positive saying could be;

'All good things never really come to an end' as they live

on in our hearts and minds forever to help us through

sad, bad and mad times. Things evolve because they

exist or have happened, leaving us to make room for new

experiences and learnings even if that means having the

strength for more challenging times.

So I ask, is it all a state of mind? How do we maintain a

positive outlook to endings and loss, whatever that looks

like, with the acceptance of associated emotion and the

need to recover? I guess that's different for all of us and is

dependant on the situation but having the conversation,

sharing rather than pushing those feelings away has been

proven to help us keep going.

15

www.ausemergencyservices.com.au
---
When looking through the magazine

in preparation for taking over this

column I was reminded of the many

topics that have been discussed, all

of which have given examples of our

strength, ability to support ourselves

and each other, showing that positivity

and acceptance can rise from adversity,

deep sadness and pain. Here are a

few that particularly resonated with

me and echo the importance of these

conversations from acknowledgement

and action on a broad scale to more

personal wellness tips:

VETERANS HAVE POORER MENTAL

HEALTH THAN THE AUSTRALIAN

AVERAGE

'Ultimately we need to continue to

focus on innovations in the prevention

of and early interventions for mental

health problems among veterans,

including suicidality. In doing so we

must maintain a focus on well-being

outcomes more broadly and not just

on symptoms and conditions, ensuring

our goal remains assisting veterans in

living a meaningful and satisfying life in

all its domains.'

ARE YOU OK? – THE BUSHFIRE CRISIS

AND OUR MENTAL HEALTH

'So the best thing to do is try to limit

disruptions as much as we can, get

"back to normal" (which can obviously

be difficult when communities have

physically been destroyed). Re-establish

routines as quickly as possibly and reconnect

with familiar support networks,

particularly for children who will benefit

from familiarity and consistency. '

STUCK SOMEWHERE BETWEEN

SURVIVING AND THRIVING?

'One meaningful goal can be as easy as

trying to being honest when someone

asks, "How are you?" Instead of going

straight to our default reply of saying

"Great!" try answering honestly.

"Actually, I'm languishing at the

moment." '

WHY DOES EVERYTHING FEEL WORSE

AT 3:00AM?

'You are not alone – those gremlins

can be persistent. It is all about how

you talk to yourself. If you are feeling

anxious about the problems you have

journaled about earlier in the day,

remind yourself that you have already

thought about this problem, it is safely

tucked away in your worry journal with

some concrete action items already

planned.

If it is a "new" worry, or an irrational

gremlin that has crept in, the way we

talk to ourselves is still important.

Try to cut back on the negative inner

chatter that tends to go on at 3:00

a.m. and instead, have some positive

affirmations that you can throw back at

the anxiety monster. Yes – I AM a pretty

good person.'

Maybe another iteration of the

saying could be 'All good things can

continue but may look different' this

is because we have grown as a result

of the experiences. Endings can be

opportunities for new beginnings which

may be unwanted and uncomfortable

at the start but it is what we do with

them that gives us the real growth.

Our conversations about mental health

and illness have continued to change.

The key here is we are still talking

about it, still sharing, supporting and

accepting. This subject was taboo in

years gone by and to coin another

phrase 'the cat is out of the bag', we

know it exists and is very very real.

In recent years I have been encouraged

when reading the terms mental health

and wellbeing used together, which

is a hugely positive step forward from

where we were, with the term 'mental

health' often seen as a negative,

conjuring up thoughts and images of

mentally ill people regardless of the

definition being focused on what being

mentally well is.

"a state of well-being in which the

individual realizes his or her own

abilities, can cope with the normal

stresses of life, can work productively

and fruitfully, and is able to make a

contribution to his or her community"

The World Health Organization (WHO)

The struggle of mental health

awareness and the battle to reduce

the stigma has come far but we must

acknowledge we still have a way to go.

So, I leave you with the words from

someone who learnt to live with his

black dog.

'Now this is not the end. It is not even

the beginning of the end. But it is,

perhaps, the end of the beginning.'

Winston Churchill

www.ausemergencyservices.com.au 16
---
Governments love to talk about

'shared responsibility' in a disaster –

but does anyone know what it means?

The devastating floods in

Queensland and New South Wales

have taken everyone by surprise.

People have been left to fend

for themselves while bickering

governments scrambled to provide

a coordinated and adequate

disaster response.

The intensity of the rainfall

may not have been possible to

predict, but having a clear roles

for governments, emergency

services, the military, the charity

sector, volunteers and individuals

is possible – and absolutely

necessary.

Our research

In upcoming research, we look at

disaster risk reduction policies at

the international, federal, state,

regional and local government

levels. We found all these

policies refer to the principle of

"shared responsibility" – yet none

adequately defines what this

means.

The research involved a detailed

analysis across 12 disaster polices

and pieces of legislation to identify

how vulnerable populations were

protected.
---
These included the National Disaster

Risk Reduction Framework, the

Australian Disaster Preparedness

Framework and the Australian

Emergency Management

Arrangements.

We found these documents repeat

terms such as "resilience" and

"shared responsibility" without clearly

defining the meaning or process

for implementation. And they fail

to specify who is responsible for

increasing "resilience".

A move towards individual

responsibility

During the 1990s, there was a

growing sense the public had

become too reliant upon emergency

services and needed to develop their

own disaster management capacity.

A 2004 Council of Australian

Governments report on bushfire

management emphasised the idea

of "shared responsiblity". From 2011,

the principle of shared responsibly

was embedded across federal and

state disaster policies to signal

individuals and households were

expected to develop their own

disaster resilience.

Academics understand "shared

responsibility" to be about

distributing obligations among

different groups or sectors. But

what sounds reasonable in theory

becomes messy and unworkable in

the midst of a crisis.

Studies have shown shared

responsibility actually means

"diffused responsibility," making

it more difficult to determine

responsibility – and accountability.

Indeed, our research was unable

to determine who was actually

responsible for helping vulnerable

flood communities prepare for and

respond to disasters. There seemed

to be an assumption that volunteers

and the charity sector would mobilise

as needed.

Emergency Management

Arrangements

For example, the federal

government's Australian Emergency

Management Arrangements aim

to establish "disaster resilient"

communities.

These guidelines explain the roles of

federal, state and local governments

and households. But the largest

portion of responsibility lies with

individuals. For example,

"It is the role and responsibility of

families and individuals to attain

the highest degree of physical and

financial self-reliance – before, during

and after an emergency."

These arrangements suggest

government and the volunteer/

charity sector do not have the ability

or the responsibility to fully offset the

economic, social, cultural and human

losses incurred during a disaster.

They also assume the individuals are

responsible for adequate property

and personal insurance. This of

course is highly problematic as

insurance premiums escalate and

become unaffordable and some

regions become uninsurable.

Volunteers, charities and resources

All the legislation we examined

says managing and coordinating

volunteers is a local government job.

But this assumes volunteers

and charities will have adequate

resourcing, skills and capacity to

19

www.ausemergencyservices.com.au
---
handle disaster recovery. The recent

floods have shown much volunteer

activities is are largely unregulated,

with people having to take matters

into their own hands.

This is becoming more common

as structured programs like those

run through charities and state

emergency services struggle to retain

volunteers.

Some of these unregulated

volunteers have literally saved lives.

But some were in need of help

themselves or took advantage of the

situation to loot resources from flood

victims.

Blame games

Shared responsibility is also highly

susceptible to politicisation. We

have seen this play out since the

flood disaster hit, with continued

arguments between state and federal

governments.

Following criticism over the speed

and scale of federal assistance, Prime

Minister Scott Morrison argued

"States obviously respond to

emergencies. They run the SES [State

Emergency Service], they run the

police, they run the hospitals."

Assistant Treasurer Michael Sukkar

also claimed the federal government

had to wait for state premiers to

declare an emergency and request

federal help before it could send the

military.

This is despite legislation which gives

the federal government power to

declare an emergency unilaterally.

(Incidentally, this law was introduced

following a recommendation from the

bush fire royal commission, following

confusion over responsibility for

emergency declarations).

At the local level, disagreements

have also erupted between opposing

members of local government

as to the adequacy of drainage

infrastructure, emergency alerts and

volunteer coordination.

These politically driven disagreements

are enabled by the ambiguity of

shared responsibility, and ultimately

undermine the effectiveness of

disaster response.

What needs to happen instead

Clearly we need a better

understanding of what "shared

responsibility" actually means.

Questions we need to answer

include:

• Who makes the decision over the

allocation of tasks at each stage

of the disaster?

• Have all relevant groups and

people been included in agreeing

upon this allocation?

• Have duties been communicated

and understood?

• Have allowances been made for

unexpected situations?

Until we have these answers, the

trauma of natural disasters will be

compounded by confusion, inaction,

political blame games and a lack of

resources. And it will be individuals

and vulnerable communities left to

pick up the pieces.

First Published on The Conversation

Authors:

Rowena Maguire

Associate professor, Law School,

Queensland University of Technology

Amanda Kennedy

Professor of Law,

Queensland University of Technology

Annastasia Bousgas

Researcher with the Centre for Justice and

Centre for Waste Free World,

Queensland University of Technology

Bridget Lewis

Associate Professor,

Queensland University of Technology

Melissa Bull

Director, QUT Centre for Justice,

Queensland University of Technology

www.ausemergencyservices.com.au 20
---
"What address do you need police?"

Poem by ESTA Police Call-Taker,

Marissa (Mujde) Ibrahim at Tally Ho

I prepare myself for the 12 hour shift,

It's a Saturday night so I'm hoping it's swift.

"What address do you need police?" I ask

Caller yells "I have a stalker…"

I take a breath and ask again.

"What address do you need police?"

"Victoria," she replies, and "…he has a mask"

"What's the address in Victoria?" I ask,

This is not an easy task.

"Oh my god!" she yells, "he's coming in!"

I hear her yell, this is not fun

I need the address really quick

and now she picks up a stick.

"Don't put yourself in any danger,

But it's too late she's confronted the stranger.

Next call is a domestic, three kids and a mother,

Arguing with a brother.

"What's the address?" I ask,

The caller ignores my plea and yells "listen to me".

Caller hangs up but I can't give up.

Now a neighbour with a knife, this caller is in strife.

Next one is a noise complaint - loud music from next

door.

This caller has a go, says he called five minutes ago.

I tell him police will be there as soon as they can.

What he doesn't know,

Is that they are at a stabbing again.

Next caller is no stranger,

It's a police member

Calling to say there's two in custody

And I breathe a sigh.

Now a nuisance caller full of abuse and laughter,

Holding up the emergency line is no laughing matter.

Next caller yells her partner is in a brawl,

With fists, weapons, and all.

You think of the caller stuck in this,

And the police members going out to this.

And now a mother yells out in anguish,

saying she's lost her little boy.
---
Next caller says she is broke,

And wants police to get her smokes.

Says she's feeling sorrow,

And can pay police back tomorrow.

And now cows on the road have gathered,

Causing a traffic hazard.

Next caller says she's missed her train,

And demanding a lift home.

Now the caller is screaming,

Says her mum is not breathing.

This caller says her washing machine has flooded

And wants police to help her clean.

I tell her "it's not a police matter"

And she thinks I'm really mean.

Next one is a cancellation, what a sigh of relief.

The ex-partner has left to her disbelief.

It's time for my break

So, I breathe as I head out for air.

Hearing the call taker next to me

Asking, "What is your address?"

And I hear her despair.

Now it's a cat that's been run over,

I think of my own cat back at home.

I need to stay strong

To focus on what's going on.

And now an elderly man whose lost his way

Caller says she'll stay with him

To make sure he doesn't stray.

Next caller says an offender has just left his house

And gives the address straight away

So, police are on the way.

I ask, "for a description and direction of travel?"

"Useless question" caller replies

And hangs up, despite my tries.

Oh I want to yell, police are on the way

But now they don't know who to stop

If they pass him along the way.

We try our best to keep you on the phone

And when you get angry

We hear it in your tone.

Now we need a sergeant to bail a few drunks

Next caller is suicidal and says he wants to die.

Tells me "Not to bother, there's nothing more to try"

Now it's starting to rain and SES calls are pouring in

again.

Next caller sounds a mess

Saying she's involved in an assault.

And says "It's not my fault"

"What's the address?" I ask,

"I don't know," she yells,

"Just get police fast!"

I hear her anger, tears, and fear

But I need the location to get police near.

"Just send the police!" she yells, "before he hits me

again."

I know she's distressed so I try again

In the meantime hearing the person hit her again.

Finally, I get the address,

I really did try.

I send it to the dispatch screen

As I breathe and sigh.

I hear the job go out on air,

Thank god, police are nearly there.

I ask some more questions to keep updating police.

I hear her panic as she thinks

I'm delaying police.

Everything we ask is so important, so let us ask

To complete the task.

We're not holding up the police in any way,

They're already heading out to help you in every way.

And sometimes we hear the sirens

as they come out to you,

And we give a sigh as we get off the phone from you.

And the police members that come to you,

are very good at what they do.

They've probably just come out of a brawl,

and you'd never even know it.

Maybe they've just delivered a death message,

and watched a father crumble to his knees.

They've probably caught a few crooks along the way,

or talked your best friend out of suicide.

Maybe they've just cleared from an armed hold up

Or just left a crash site

and fought with all their might to resuscitate.

You may not believe this but it's true,

we have our share of sorrows too.

But when you call, it's all about you

because that's what we are here to do.

We go through a thousand emotions in a single day

but that's ok, we're trained to be that way.

We may not cry with you or act like your best friend

because it's the police we are here to send.

We actually wonder what happened to you,

and look at the job to check on you.

"The little boy's been found," we say,

with the first smile on our faces for the day.

We never know what we are going to hear,

but just remember police are near.

You haven't called by choice

We can hear it in your voice.

We can't ask if you've had a nice day

Clearly, your day has not turned out that way.

We can't small talk about the sunny weather,

for when you call none of that is a matter.

We are the Police Call-takers at 000.

We hope you never have to call, but if you do…

We are here and ready to take your call.

"What address do you need police?"
---
COMING OF AGE: RESEARCH SHOWS

OLD FORESTS ARE 3 TIMES LESS

FLAMMABLE THAN THOSE JUST

BURNED
---
As coal-fired climate change makes bushfires

in Australia worse, governments are

ramping up hazard-reduction burning.

But our new research shows the practice

can actually make forests more flammable.

We found over time, some forests "thin"

themselves and become less likely to

burn – and hazard-reduction burning

disrupts this process.

What does that mean as Australians face

a more fiery future? Is there a smarter

and more sensitive way to manage the

bushfire risk?

To find out, we looked at the forests of

south-western Australia, where hazard-reduction

burns are very frequent.

Lessons from Black Summer

Hazard reduction burning, also known as

prescribed or controlled burning, is the

practice of deliberately burning off flammable

material in a forest, such as leaf

litter, grasses and shrubs. It aims to slow

the spread of any subsequent bushfires

by reducing the amount of fuel available.

In the summer of 2019-20, the Black

Summer bushfires ravaged Australia's

south-east. In the decade before the

fires, the New South Wales National

Parks and Wildlife Service doubled the

area of prescribed burns compared to

the previous decade.

In fact, the area of national park burned

that decade was the largest in the state's

history. But as we now know, it had little

effect.

Where prescribed burns had very recently

been carried out, the bushfires were

marginally less severe, about half of the

time. But the bushfires ultimately burned

ten times more forest than any other

Australian forest fires on record.

Forests control their own flammability

We wanted to measure how past fires –

planned and unplanned – affected the

bushfire risk in the forests of Australia's

south-west.

This 530,000 hectares of forest spans the

dry jarrah and tuart near Perth, down to

Margaret River and east, through tall wet

karri and tingle forest, to Denmark and

Albany.
---
We examined official records showing

where fires had burned over 65 years

in national parks. The results were

stark.

Forests were unlikely to burn for five

to seven years after a prescribed

burn. This finding supported earlier

work in the same region. But there's

more to the story.

Other studies have shown fires

cause a massive flush of understorey

growth in WA's karri and jarrah

forests.

During bushfires, the understorey is

the main driver of large flames which

cause destructive crown fires.

Our research corroborated these

earlier findings. We found as the understorey

grew back, becoming taller

and denser, fire risk greatly increased

for the next 37 to 49 years.

The trend did not change as the

climate warmed from the 1980s

onward, although the burned area

grew larger.

What about older forests?

Ecologists have long known shrub layers

often "self-thin" as a forest grows.

Past studies in WA have shown 25

years after fire, there were 13 times

fewer shrub stems in karri forests. In

jarrah forests, only a quarter of the

previous understorey fuel remained

50 years after fire.

Since the 1800s in Australia, there

have been concerns that fire, including

prescribed burning, converts

self-thinned understoreys into dense

thickets.

But we didn't know how self-thinning

affected the flammability of older

forests in Australia's southwest. Our

research set out to find the answer.

As the below graph shows, 43 to 56

years after a fire, the forests had

thinned their shrub layers. We found

this meant they were, on average,

seven times less likely to carry a

bushfire than forests burned more

recently.

In other words, burning made forests

on average seven times more flammable

for 43 to 56 years.

Graph showing the mass of fine shrubs in a forest in the years following fire, taken from figure 5-7 at

https://openresearch-repository.anu.edu.au/handle/1885/10037. Philip Zylstra

In the hottest and driest climate conditions,

old, self-thinned forests even

out-competed recent prescribed

burns – those up to seven years

old. Bushfires were three times less

likely in old forests than they were in

recent prescribed burns.

Our previous work in the Australian

Alps found similar trends; mature

forests there are dramatically less

likely to burn.

Cooperating with country

Early Australian colonists recorded

many Australian forests as park-like

with open understoreys.

This reflected First Nations' care

for country. In southwest Australia,

as in many parts of the continent,

Indigenous fire use was precise and

focused. Unlike prescribed burns,

Indigenous practitioners did not

attempt to burn vast areas at once.

Instead, they cooperated with natural

processes such as self-thinning, so

country was allowed to age.

Australia's forests have controlled

their own fire risk since they were

part of the Gondwana super-continent.

We should respect, rather

than disrupt, these ancient natural

processes.

Cooperating with country today

means moving away from prescribed

burning across large areas. Frequent

burns may be useful only close to

homes, or in other locations where

we know with confidence they can

achieve an ecological goal or help

firefighters stop a burning edge.

Elsewhere, we should work with

forest landscapes and allow them to

become open again. We can support

this process by refocusing fire

management to quickly suppress fire

when it does break out.

First published on The Conversation

Authors:

Philip Zylstra

Adjunct Associate Professor at Curtin University,

Research Associate at University of

New South Wales, Curtin University

David Lindenmayer

Professor, The Fenner School of Environment

and Society, Australian National

University

Don Bradshaw

Emeritus professor, The University of

Western Australia

25

www.ausemergencyservices.com.au
---
ARE

THEY

TRIPLE

OK?

Look beyond the uniform of your peers and

family and friends in the emergecy services

and ask "are you OK?"

Learn more ruok.org.au
---
Sleep loss affects how paramedics

and health-care workers respond

to patients' feelings
---
A lack of sleep affects people's ability to feel for others. Sleep

deprivation and emotional fatigue can hit anyone, but first

responders and health-care workers are especially vulnerable

due to shift work, long hours and the overall stressful nature

of their jobs.

This is relevant during a pandemic when the health-care

systems of many countries have been overwhelmed by the

increasing number of people in hospitals.
---
Our research found that sleepdeprived

paramedics are less able

to understand how their patients

feel.

Impact of sleep loss on mood and

emotions

I am a cognitive neuroscientist

studying how the brain thinks and

solves problems. My research

focuses on how when you don't

sleep, you can't react as quickly,

remember information, solve

problems, make plans, multi-task or

regulate and understand emotions

as well as you could if you were well

rested.

It's well known that not getting

enough sleep alters mood and

emotions — think how grumpy you

feel the next day if you stay up all

night studying. But we know less

about how lack of sleep impacts

more complex emotional processes.

Moods and emotions are often

thought of as the same thing. In

reality, they are very different.

Moods are short-lived, are not

linked to a particular event and

are either positive or negative.

Remember the last time you had

Our findings were clear:

Sleep-deprived students felt less

empathy for people in negative

situations than students who

had had a good night's sleep.

a "mood swing?" You felt great and

then terrible, but may not have been

able to pinpoint the cause.

Emotions are learned responses

to situations or people. They come

in different shades and intensities.

For example, the emotion of fear

may come at the sight of a bear

in the woods. It's hard enough to

understand our own emotions, but

what about understanding other

people's emotions?

Impact of sleep loss on empathy

Empathy is the ability to understand

someone else's emotions — to put

yourself in someone else's shoes.

In 2014, in collaboration with

Neurolab, which is directed by

cognitive neuroscience professor

Giuseppe Iaria, we designed a study

to understand how a single night

without sleep would impact people's

ability to understand the emotions

of others.

To do this, we developed a

computer test that shows

participants images of people

in negative, positive and neutral

situations. For example, we showed

people in pain, people laughing and

dancing or people just sitting at a

table. We then asked participants to

first describe what the people in the

photo were feeling, and then how

strong their own emotions were

while looking at the pictures.

We used this test to measure

empathy in a group of university

students. First we tested everyone

to understand how empathetic they

were normally. Then we had a group

spend the night in the lab where we

kept them awake by playing board

games, socializing and watching

movies. After they had been awake

all night, we re-tested them and

compared their results to students

who were sent home to have a good

night of sleep.

Our findings were clear: Sleepdeprived

students felt less empathy

for people in negative situations

than students who had had a good

night's sleep.

But is it only extreme sleep

deprivation, like staying up all night,

that triggers this change?

We found that chronic poor sleep

quality was also linked with lower

empathy for others. One group of

people that experiences chronic

sleep loss due to job schedule is

paramedics.
---
Research shows overworked health-care professionals are less empathetic to their patient's needs as compared to when they are well-rested

Paramedics have poor sleep quality

Following a shift work schedule for

many years affects paramedics'

sleep quality. Paramedics are also

the first to respond to patients in

stressful and traumatic situations,

so having empathy is an important

part of their job.

Using the same computer task that

we previously used with students,

we tested paramedics with more

than five years of experience, and

trainees who were studying to

become paramedics. We found

that the experienced paramedics

reported poor quality of sleep and

low empathy compared to trainees.

They also told us about their years

of sleep issues and how they felt

numb to other people's pain.

Emotional numbing, lack of empathy

and sleep disturbances are some

of the symptoms experienced

by people who suffer from posttraumatic

stress disorder (PTSD).

These symptoms increase the risk

of suicide. According to Canadian

statistics from the Centre for Suicide

Prevention, first responders are

twice as likely to experience PTSD

than the general population. About

22 per cent of paramedics will

develop PTSD at some point in their

life.

We found that the experienced

paramedics reported poor quality of

sleep and low empathy compared to

trainees. They also told us about their

years of sleep issues and how they felt

numb to other people's pain.

During the coronavirus pandemic

frontline workers worldwide are

experiencing more symptoms of

insomnia, anxiety, depression and

PTSD. Recent media coverage has

helped bring this to the public's

attention, reporting on a dramatic

shortage of staff and poor working

conditions in many provinces in

Canada during the third and fourth

waves. However, the policy-makers

tend to fall behind.

Our research shows that

overworked health-care

professionals are less empathetic

to their patients' needs compared

to when they are well-rested. This

finding should guide policy to

ensure our health-care workers

get the rest they need to help their

patients to the best of their abilities.

We are currently conducting

a survey investigating links

between sleep and emotions

during the COVID-19 pandemic.

We are especially interested in

understanding these relationships

in paramedics and health-care

workers, and are recruiting

participants.

Veronica Guadagni

Postdoctoral Fellow, Cognitive Neuroscience,

University of Calgary

First published on The Conversation

www.ausemergencyservices.com.au 30
---
ON THE FRONTLINE

Vol ii - Final Report of the Independent

Review into Workplace Equality in

Ambulance Victoria

In October 2020 Ambulance Victoria requested the Victorian Equal Opportunity and Human Rights

Commission (VEOHRC) to conduct an independent review into workplace inequality within the organisation.

This review was requested after multiple reports from within the organisation of alleged discrimination,

sexual harassment, victimisation and bullying.
---
FURTHER 19 RECOMMENDATIONS FROM VOL II OF THE INDEPENDENT REVIEW

• Increasing diversity on the Ambulance Victoria

Board

• Disrupting harmful stereotypes

• Prioritising conscious inclusion throughout the

recruitment lifecycle

• Removing structural barriers to career

advancement

• Advancing equal pay

• Removing structural barriers and embedding

flexibility into immediate and long-term

workforce planning and the employment lifecycle

• Implementing and tailoring the Think Flex First

Framework

• Monitoring the legal compliance and continual

improvement of flexible work practices

• Building knowledge, capability and accountability

• Creating reasonable adjustment policies,

expertise and strategy

• Improving long-term planning for transition to

retirement

• Strengthening workplace equality education and

training

• Embedding sustained learning and development

• Creating an operating environment where

capabilities can be realised

• Fully embedding workplace safety and equality in

risk management and health and safety systems

• Updating and strengthening governance

documents

• Board learning through reflective practice

• Organisational healing and culture change

through reflective practice

• A holistic and evidence-based information and

data plan and communications strategy

TO READ ALL RECOMMENDATIONS YOU CAN VISIT THE

VEOHRC WEBSITE AND DOWNLOAD THE REPORT

The review welcomed personal

statements and listened to the

experiences from within the

organisation of both past and current

employees. A confidential online

survey, confidential interviews,

focus groups, site visits and written

submissions were all part of the

collection of data that informed the

final report and recommendations.

Volume 1 was delivered at the end of

November 2021. This first part of the

final report focused on safety, respect

and trust. 24 recommendations

were made and all of these 24 were

accepted by Ambulance Victoria.

Since Volume 1 was released,

Ambulance Victoria has implemented

the following measures.

• consultations to hear and

understand staff feedback on

the report and senior leadership

reflective practice workshops on

learnings from the report

• appointing an interim Director

to plan and co-design the

new complaints and reporting

approaches

• advertising for an Executive

Director of the new Equality and

Workplace Reform Division and

scoping further roles for the

division

• convening a meeting of experts

to scope the restorative justice

scheme

• establishing governance and

oversights committees, including

a staff reference group, to

oversee implementation of the

reforms. (VEOHRC)

Volume II of the report was delivered

on 31 March 2022 along with a

further 19 recommendations. This

second part of the report focused in

on equality, fairness and inclusion.

Representation, pay gaps, flexible

working arrangements, retirement and

leadership development were the key

issues that this report and the next

recommendations from the VEOHRC

are based around.

A key finding from the review found

that women and workers from

diverse backgrounds have barriers to

promotion and career progression.

In addition to this, it was found the

organisation was lacking in diversity

within the workplace and this

representation should be reflected in

senior operational roles.

In regards to work flexibility and

parental support there was still

some foundational work to be done.

From the confidential interviews and

statements made, it was expressed

that there was a negative attitude and

approach toward flexible work with

many feeling unsupported in both

parental care and transitioning to

retirement.

Overall it has been remarked upon

by the commission that there has

been an erosion of trust within the

organisation as the experiences of

employees did not reflect the stated

values and priorities of Ambulance

Victoria.

In total there have been 43

recommendations made to

Ambulance Victoria as a result

of the independent review.

Ambulance Victoria has accepted all

recommendations and have begun

the implementation process.

The commission remains connected

to Ambulance Victoria for support

and guidance throughout the

implementation process and

will conduct a public audit in

2023 to garner how effective the

implementation strategies have been.

You can read the full report here and

the following 19 recommendations

from Volume II.
---
Authors:

Amanda Porter

Senior Fellow (Indigenous Programs),

The University of Melbourne

Ann Louise Deslandes

Independent journalist, writer and researcher,

University of Sydney

Crystal McKinnon

Indigenous Research Fellow,

RMIT University

Marlene Longbottom

Aboriginal Postdoctoral Research Fellow,

University of Wollongong

Women's police

stations in

Australia: would

they work for

'all' women?

Proposals to expand police powers, to criminalise

coercive control and to establish specialist women's

police stations have all occupied a prominent place in

Australia's recent debate about responses to violence

against women.

The proposal to establish women's police stations has

received a strong platform in mainstream media and

academic journals. It has also featured in debates

on policy development, such as in the Women's

Safety and Justice Taskforce currently underway in

Queensland.

In the local and global movement for Black and

Indigenous lives where associated campaigns are

asking the public to scrutinise police powers and to

discuss defunding police, many Australian feminists

have been advocating for punitive solutions to

domestic violence.

But there is currently no credible evidence to support

the implementation of women's police stations, and

the research underpinning the proposal in Australia is

problematic in several ways.

What are women's police stations?

Specialist women's police stations are designed to

respond specifically to violence against women. They

have been a feature of policing in Argentina, Brazil

and other Latin American countries since the late

1980s, as well as parts of Africa and Asia.

Some women's police stations adopt a

"multidisciplinary" approach to policing domestic

violence. They are staffed with teams of police who

work alongside social workers, psychologists and

lawyers. However, women's police stations are still

police stations.

They vary in appearance, with some colourfully

designed with play rooms for children and welcome

rooms that are decorated with flowers and murals.

Their mandate is to provide services for women. It's

unclear whether the stations provide support for

people who identify as women outside of the cisgender

binary.
---
What does the research say?

To date, Australian news reporting on women's police stations

has relied almost exclusively on research led by Australian

criminologist Kerry Carrington.

Journalists and commentators have frequently used this research

to report on and advocate for the establishment of women's

police stations in Australia. Investigative journalist Jess Hill states:

We don't get cops to fight fires or drive ambulances, because

that's considered specialist work. So why don't we just take the

police who love responding to family violence […] and create a

parallel force? […] It's a proven model that's existed across Latin

America (and various other countries) for 35 years.

The evidence presented in favour of women's police stations is

largely drawn from two original studies. Both studies were led by

Professor Carrington at the Queensland University of Technology.

The first was a study undertaken in Argentina over a three-month

period.

This research included interviews with 100 employees from

ten women's police stations in the Buenos Aires province of

Argentina. The research participants represented were selected

by the province's Ministry of Security - who the police station

reports to.

The second study drew on the findings of 2 surveys conducted

in Australia on attitudes towards the proposal of women's police

stations.

These two surveys were: one "workforce" survey, which was

distributed to Australian police officers, non-governmental

organisations and case workers; the second "community" survey,

with recruitment of Australian adults via Facebook advertising.

The second study found people thought women's police stations

could improve the policing of gender violence in Indigenous

communities in Australia if staffed by appropriately trained teams

working from both gender and culturally sensitive perspectives.

The authors of the study concluded:

" adapted to an Australian context where Indigenous women are

many times more likely to experience domestic family violence,

these specialist police stations will need to be appropriately

staffed by Indigenous and non-Indigenous officers trained to

work from both gender and culturally sensitive perspectives."

Issues with the studies

There are several concerns with both studies.

In relation to the study in Argentina - all 100 of the participants

were paid employees of the two police stations being researched.

Police officers made up 79%, and 21% were lawyers, social

workers or psychologists employed by or otherwise engaged with

the two police stations selected for the study.

The study doesn't consider how the research participants'

statuses as employees of the police stations may have influenced

their views.

A second concern is the study didn't include interviews with

survivors or their families or support networks. It also didn't

include interviews with the communities where the stations were

located.

A third limitation (which the authors acknowledge), is the study

does not examine whether these police stations reduced crime

rates, statistics of domestic violence or apprehended violence

orders.

In addition, no data is supplied about important factors to assess

the claims of the benefit of women's police stations in other

matters related to domestic violence. Such as whether women's

police stations increase access to legal supports or whether they

improve a person's ability to report violence.

Finally, neither study examines whether there was a reduction

in crime rates or statistics of domestic violence, femicide or

apprehended violence orders.

It is difficult to assess the effectiveness of women's police stations

without this data.

Evidence to suggest women's police stations don't work

Evaluations of women's police stations have had mixed results.

For example, one recent evidence summary in India found

"all-women police stations did not improve services for gender

violence victims". It found no improvement in reporting or

accountability with respect to women's police stations in India.

And there is evidence to suggest women's police stations are

not free from discrimination and violence, such as reports of

transphobia.

This paper from Spanish-language journal Delito y Sociedad

in 2020, reported female officers associated with La Plata

women's police station apprehended and publicly searched ten

transgender women. The women said they were threatened

with being shot if they moved). They stated four of them were

detained for no reason other than their visibility as trans women.

All Women Police Station Tiruvannamalai, India. Wikimedia

The event led to widespread condemnation of the La Plata

women's police station by transgender advocacy groups,

particularly as station staff at that time included a trans woman.

There is also the death of Úrsula Bahillo that indicates these

police stations aren't always effective with protecting people who

35

www.ausemergencyservices.com.au
---
Indigenous women are more likely to report violence or seek support from staff within Indigenous organisations, not police nor non-Indigenous services.

experience domestic violence.

Bahillo reported violence from her policeman boyfriend to a

woman's police station on at least 18 separate occasions. She

died three days after reporting her case to a women's police

station in Buenos Aires province in February this year.

La Capital reported Bahillo's family stated the women's police

station "did nothing."

BBC Mundo notes that:

"Úrsula Bahillo's case became notorious for the repeated times

she asked for help, denounced her aggressor [to police] and was

not listened to."

Policing studies conducted in Australia and the UK suggest simply

increasing the number of female police officers will never be

enough to improve discriminatory policing.

Despite female leadership in policing in Queensland, there have

still been reports of sexism and racism among police, including

police posting on social media that women lie about domestic

violence.

What about Black and Indigenous women?

We found very little research on the experiences of Black and

Indigenous women with women's police stations, besides one

2010 report, looking at Latin America, which observed:

Indigenous and Afro-descendent women have limited access [to

women's police stations] because few operators come from or

understand those cultures and few speak their languages.

Indigenous advocates have repeatedly drawn attention to the

police failure to protect Indigenous women and families.

An example of this involves the case of Tiffany Paterson, an

Aboriginal woman from the Northern Territory who was violently

assaulted after the Northern Territory Police failed to protect her.

Tiffany, who survived the attack, later sued the Northern Territory

Police on the grounds of negligence and settled on confidential

terms.

It is broadly understood in Indigenous communities that police

stations are not safe places for Indigenous people. They are also

not safe for Indigenous people to call upon for assistance, with

domestic or state-sanctioned violence.

We know Indigenous families and communities are often

frontline responders to domestic violence. Indigenous women

are more likely to report violence or seek support from staff

within Indigenous organisations, not police nor non-Indigenous

services.

We know policing of domestic violence plays a significant role

in the removal of Indigenous children from their families. The

deep mistrust of police within Indigenous communities is

acknowledged by police themselves.

Why women's police stations are not the answer

Literature produced with Indigenous communities by Indigenous

and non-Indigenous scholars in Australia points to concrete

alternatives for Indigenous women and families experiencing

violence.

This includes community-based services and culturally safe legal

support services.

White feminists must listen to Indigenous peoples and

organisations who are at the frontline delivering evidence-based

early intervention and prevention services, as well as Indigenous

researchers with lived experience.

All those who have previously supported women's police stations

should read this important work and reconsider their position.

Now is a crucial time for these discussions, on the 30 year

anniversary of the Royal Commission into Aboriginal Deaths in

Custody, and with Indigenous incarceration rates increasing

and the preparation of a new ten year National Plan to address

violence against women and children.

Article first published on The Conversation

www.ausemergencyservices.com.au 36
---
The royal commission into

veteran suicide returned for

its second session of hearings

in February.

With one veteran dying by

suicide every two weeks

in Australia and evidence

veterans have poorer mental

health than Australians

overall, this work is urgent

and important.

But as the royal commission

investigates the risk factors

around veterans' mental

health, it is missing a key part

of the puzzle: contact with the

criminal justice system.

Prison, veterans and mental

health

The royal

commission must

find ways to keep

veterans out of

jail

A key part of minimising the

risk of veteran suicide is

keeping veterans out of jail.

Time in prison is itself

associated with a higher risk

of suicide. There is also some

evidence veterans are overrepresented

in Australia's jail

system compared to other

occupations.

Nationally, it has been

estimated nearly 3% of

defence force personnel are

arrested within a few years

of finishing their military

service. About 5% of those

who have left full-time military

service are reported as being

arrested or imprisoned.

We know many veterans

have complex mental health

disorders - such as PTSD -

as a result of their military

service, and this can lead to

criminal conduct and time in

prison.

In Australia, the mental health

of veterans who have been in

prison is not well understood.

Prison and military service

separately increase the

chance of suicide, and

this tends to indicate that

veterans who have been

in jail have a significantly

increased risk of suicide.

Recognition is not enough

on its own

Military service - including

training and deployment -

can of course be traumatic

and dangerous. It is also

done on behalf of Australia.

Because of this, veterans are

owed a particular debt by

government and society.

In 2019, new federal

legislation recognised the

need to support veterans and

their families. But this was

largely a symbolic act. We

need proper investigations

into the complex, continuing,

and uncomfortable

consequences of military

service on veterans' health

and welfare.

The key issue is how society

can best support veterans

returning to civilian life. This

includes strategies to prevent

veterans ending up in the

criminal justice system, but

also offer specialised support

to those who do.

Specialist veterans courts

This sort of support already

exists in the United Kingdom

and United States. In the US,

for example, eligible veteran

defendants have a specialist

pathway out of the criminal

justice system through

veterans' treatment courts.

In general, these courts

provide treatment to veterans

who have committed

nonviolent crimes and are

suffering mental health

disorders related to military

service. A growing body of

evidence suggests these

courts are more successful at

preventing re-offending than

jail time, and also improve

the health and well-being of

participants.

Could this work in Australia?

There are several similar

models in operation in

Australia, including the

NSW drug court and mental

health courts for other at-risk

groups such as those with

drug addictions and serious

mental illnesses.

A veterans' court would

be a problem-solving

court, with an emphasis

on rehabilitation, allowing

service providers and veteran

peers to work with veterans

to move away from criminal

conduct.

Individuals participating in

veterans' court processes

may have their sentence

suspended or their

sentencing hearing deferred

while they complete a drug

treatment program or

other treatment option. On

successful completion of the

program, the individual may

even avoid a prison term.

What next for the royal

commission

The royal commission will

provide an interim report

by August 11 2022 and a

final report by June 15 2023

– so there is still time for a

thorough consideration of

veterans' contact with the

criminal justice system.

This is relevant under the

terms of reference. While

they do not specifically

mention

the courts

or criminal

justice system,

they do include "systemic

issues and any common

themes among defence and

veteran deaths by suicide".

Further work with veterans'

bodies in Australia will be

necessary to determine

the feasibility of and

demand for veterans'

courts. But once

this work is done,

such courts could

provide a practical,

evidenced-based

way to help those

who have served

our country.
---
Authors:

Arlie Loughnan

Professor of Criminal Law,

University of Sydney

Clare Davidson

Research fellow,

The University of Western Australia

Sarah Murray

Professor specialising in public law and

less-adversarial justice,

The University of Western Australia

Article first published on The Conversation
---
IN THE SPOTLIGHT

In each edition of the Australian Emergency Services Magazine

we feature a profile on a person, team, partnership, squad or

unit to showcase their unique contribution to the emergency

services industry. If you would like to be featured or know

someone who deserves some recognition get in touch with our

team.

a member of the Horsham

Unit since 2008, Kieran has

undertaken more than 50

rescues.

Kieran said he's "always had

a passion for rock climbing,

which started when I was

17".

He has been climbing for

almost 50 years. Kieran

has extensive rock climbing

experience across the world,

including in Europe, America

and New Zealand. One of

the reasons why his family

decided to move to Natimuk

was to be closer to Mt

Arapiles and the Grampians

due to his passion for rock

climbing.

Kieran was inspired to

get involved with VICSES

when he saw a series of

bad accidents in the 80's

and 90's which resulted in

several fatalities.

While he also responds to

road crash accidents, more

than 75% of rescue jobs

he's involved with are high

angle rescues either in the

Grampians or Mt Arapiles.

Every year Kieran may

respond to several high

angle rescues within the

Mid West Region as well

as assisting Ambulance

Victoria with other climbing

accidents.

Kieran said that "… accidents

we respond to encompass

the full range of climber skill

level from novice to expert

climbers".

Mt Arapiles is world

renowned for having climbs

that cater to a very broad

range of skill levels. When

climbers push themselves

beyond their capability they

sometimes get into trouble.

Kieran said "we are lucky

to have 12 high angle

accredited responders

within SES and CFA in the

Natimuk and Horsham area.

We regularly undertake multi

agency high angle training

with our local high angle

operators to maintain our

skills and continue to build

relationships with CFA.

Thanks to VICSES for article

and images.

Kieran Loughran assisting with repairing roof damage to buildings in Horsham

as a result of the December 2020 Tornado.

Kieran Loughran

HORSHAM UNIT: VICSES

Kieran Loughran, Horsham Unit Officer and

Technical Rescue Instructor at VICSES, has had a

passion for climbing since he was 17. He utilises

his very specific skills and understanding when

responding to rescues at the very dangerous Mt

Arapiles and the Grampians.

Kieran Loughran's extensive

rock climbing skills and

experience is evident when

he responds to rescues

at Mt Arapiles or the

Grampians.

VICSES are very lucky to

have such a highly skilled

high angle operator and

technical rescue instructor

to assist with responding

to rescues that regularly

occur at Mt Arapiles and the

Grampians.

Outside of VICSES Kieran's

high angle rescue skills are

renowned across Victoria

within the Victoria Police

Rescue Coordination Centre

and the CFA. While being

A VICSES member undertaking high angle training at Mt Arapiles.

VICSES and CFA member undertaking high angle training at Mt Arapiles.

39

www.ausemergencyservices.com.au
---
Thank you

SES volunteers

Wednesday

18 th May 2022

#ThankyouSES
---
Book Review

There are some incredible books out there about the trials and tribulations,

heartbreak and satisfaction of working within the emergency services sector.

We aim to bring you some great recommendations within each issue. If you

have a book to recommend for our reviews, get in touch.

THE GOOD, THE BAD & THE UGLY

PARAMEDIC - STUDENT HANDBOOK

Author: Tammie Bullard

Follow Tammie Bullard on socials @gbuparamedic

Tammie Bullard is an Australian

author with a passion for prehospital

professionalism and patient care. Her

experience includes a range of hands-on

and educational roles. From emergency

ambulance paramedic, preceptor and

clinical trainer to university lecturer and

co-ordinator. Through all of which she

has been fortunate enough to teach,

and continue to learn from, countless

colleagues worldwide.

For the duration of her academic

journey from undergraduate to

postgraduate qualifications in intensive

care paramedicine, and a master's

degree in critical care, her enthusiasm

has steadily increased. Along with a

fascination for the cultural chatter

around human-centred approaches and

attitudes within EMS.

Over a decade's worth of scribbled notes

from conversations with medics and

students have been gathered together

in a series of books. Written to provide

effortless tools for self-reflection in every

paramedic with a desire to excel in this

rewarding role.

Are you mentally ready for the

reality of making an ambulance your

everyday office?

Is it your hope to end every shift

without second guessing your

actions or inactions?

Do you want to follow the crowd,

or create your own professional

approach with intent?

Becoming a newly qualified

paramedic or EMT is like a juggling

act. With hands and minds full of

ambition, fresh ideas, hard earned

expertise and newly acquired

knowledge, it can be challenging to

maintain the high standards that

you're desperate to deliver. Even

the best of intentions will be difficult

to deploy, without recognising

what's important, or why. This

book is your guide to growing good

habits, so that little of the bad and

even less of the ugly can creep in

along the way.

While training and education deal

with the standalone skills, minimal

time remains to devote to the

biggest learning curve of all. Putting

everything together into one

professional, compassionate and

satisfying package. If you're looking

for checklists to tick, flick and forget,

this is not the book for you. But

if you prefer to craft an individual

brand of outstanding emergency

care with intent, everything you

need is right here.

Nothing clinical will be covered. No

tips or tricks on specific techniques.

It's all about attitude to the humancentered

skills that will set you up

for success, ready to hit the ground

running. A self-development style

handbook, for students at any stage

of preparation for a prehospital

career.

• Work on ways to bring out your

best, so you provide nothing

less than you would expect for

your loved ones.

• Think through the things that

may prove inwardly challenging,

before they arise in reality.

• Fine tune your focus and

create proactive plans to avoid

unnecessary incidents or

unwanted events.

• Design a mindset that matches

your moral compass, and

satisfies those who depend on

your dedication.

Through its friendly, conversational

and easy to follow format, The Good,

The Bad & The Ugly Paramedic

Student Handbook puts you firmly in

the driving seat of your own destiny

toward the job of your dreams.

As an author with over a decade of

experience in paramedic practice,

precepting and teaching, Tammie

Bullard is passionate about

supporting newcomers, on their

path toward prehospital care. Book

#1 in the GBU Paramedic series, this

handbook is designed to give every

reader the insight and incentive to

bring out their best in every aspect

of EMS.

Imagse & Synopsis - Amazon.com.au

41

www.ausemergencyservices.com.au
---
Book Review

'From the day of its invention

the ambulance has attracted a

magnetic curiosity from humans

around the world. This vehicle

racing to the scene of accidents

and illness demands attention.

When you hear one coming, you

turn. When you watch it pass

you wonder, if only for a moment,

where it might be going, who is

inside and what horrific mishap

the patient has suffered. After

fifteen years spent in the back of

ambulances I've come to realise

that medics and paramedics are

endlessly fascinating to the public.

But despite our appeal, the truth

about us is largely hidden from

view. It is hidden because, in the

instant we drive past we have

carried our secrets away, leaving

nothing more than the wail of a

siren. We are hidden because

the usual depiction of paramedics

on film and television is mostly a

fantasy. The title of hero is forced

upon us, and what is lost is who

we really are.

As you read this, more than a

hundred thousand ambulance

medics across the planet are

responding to emergencies. They

are scrambling under crashed

cars, carrying the sick down flights

of stairs, resuscitating near-dead

husbands at the feet of hysterical

wives, and stemming the bloodflow

of gunshot victims in seedy

back alleys. A good number too

are just as likely to be raising

an eyebrow at some ridiculous,

trivial complaint their patient

has considered life threatening

enough to call them for.'

PARAMEDICO:

AROUND THE

WORLD BY

AMBULANCE

Author: Benjamin Gilmour

Images & Synopsis - Amazon.com.au

Find more books by Benjamin Gilmour at

www.benjamingilmour.com

Paramedico is a heart-stopping,

white-knuckle ride about a paramedic

at work in an ambulance, attending

emergencies in far-flung places such

as England, Iceland, Macedonia,

Mexico, Pakistan, The Philippines,

South Africa and Thailand - at the

time of the 2004 tsunami.

This is also a brilliantly written

collection of wild tales of wild people

whose lives are so different from

our own that it's hard to believe they

really exist. Gilmour is able to make

us stop and think not only of how to

live a life, but how precious life is and

how important it is to protect it.

Benjamin Gilmour is the

filmmaker behind the acclaimed

feature film 'Son of a Lion' (2008)

selected for the Berlinale, feature

documentary 'Paramedico' (2012)

and Afghan drama 'Jirga' (2018).

He has also written two

bestselling books, 'Warrior Poets'

(2008) about his time living

among the clans on the Pak/

Afghan border and 'Paramedico'

(2012) about his work on

ambulances around the world.

TEN FEET TALL

AND NOT QUITE

BULLETPROOF

Author: Cameron Hardiman

Images & Synopsis - Amazon.com.au

Cameron Hardiman lived a life

most young boys could only

dream of. Every morning he put

on a navy blue police flight suit,

grabbed his flight helmet, and

prepared to work on the police

helicopter. He could be called to

anything during a shift, to search

for a missing child, to pull an

injured driver from a wrecked car,

or a dangerous sea rescue.

He saw his fair share of trauma

and dealt with it like most coppers

would: he quickly put each

dangerous job out of his mind

as soon as it was over. But one

particular rescue in Bass Strait

brought about a reckoning - and

Cameron was never the same

again.

This is the brilliantly told,

white-knuckle story of one cop

learning every lesson the hard

way - and coming to find out

that being not quite bulletproof

doesn't mean that you're not a

good cop.

www.ausemergencyservices.com.au 42
---
TRAVEL

EMERGENCY

Breaks

Words: Brooke Turnbull
---
Now we're coming into the colder months,

let's get ready for all things winter. Hot

chocolates, marshmallows toasted on fire pits,

warm, knitted jumpers and, of course, winter

holidays! Australia is a lucky country indeed

to be able to, in the same season, head north

to the tropics and enjoy a beach holiday,

or head south to the ski fields and spend a

week or two hitting the slopes by day and

getting rugged up by the fire at night. There

are a number of ski fields to choose from in

Australia, from Thredbo, Mount Buller and

Falls Creek among others. This issue we're

focusing on Mount Perisher, because we did

the comparison of things like number of slopes,

affordability and nightlife, so you didn't have

to (you're welcome) and this one came out

overwhelmingly on top.

Location:

Mount Perisher is located in the New South Wales side

of the Australian Snowy Mountains, Perisher Valley ski

resort is an amalgamation of four separate villages that

sit at the base of the mountain: Perisher Valley, Smiggin

Holes, Guthega and Blue Cow. Perisher came out on top

when it comes to accessibility, as it has its own regional

airport.

The quickest and easiest way to get into Perisher is

by regional airlines like Rex and Qantas-link, however

there is a helicopter option that will meet your plane

at Sydney airport. If you're originally from Sydney or

are planning to hire a car from the airport it's a 5-6

hour drive in good weather. Hot tip: make sure your

insurance cover is specifically for snow and includes

snow chains. The weather can get gnarly pretty quickly

and the last thing you want in a hire car, or your own

car, is to be stuck without snow chains and staring

down the barrel of a blizzard or some black ice. Also,

if you're driving, remember to purchase your National

Park Pass prior to entering the national park!
---
Things to Do:

Obviously, given the fact that Perisher is the largest ski resort

in Australia, the main thing to do there, or any of the snow

fields, when visiting in peak season is make use of the slopes.

Whether you're a skier or a snowboarder, this will probably

take up a good chunk of your time. If you're a novice and

have never visited snow before, let alone put on some skis,

the Perisher resort has access to both group and private

lessons that will get you on at least some beginner, if not

intermediate, runs in no time.

There is something for everyone at Perisher - kids lessons are a must

In the summertime, Perisher offers a wide array of hiking and

mountain biking trails that are perfect for the adventuring

soul to take advantage of, and in the winter these same

trails make for perfect cross country ski adventures! Perisher

resort boasts over 100kms of incredible cross-country trails,

perfect for a big day out. Perisher also offers an exciting

opportunity to ski or snowboard under the stars, with their

night skiing trails. Weather permitting, these night skiing

opportunities are available on Tuesday and Saturday nights.

The cost of a daily lift pass in Perisher for 2022 is released

closer to the snow season beginning, around end of May

or early June, but get in quickly as these passes sell out.

Depending on the time you go day tickets range from $140-

180 per day, with daily prices lowering the longer you stay.

Alternatively, you can take advantage of the Epic Australia

pass for $999 per person. This pass gives you lift access

for the whole season across all Australian snow fields. An

unbelievable deal to really enjoy all that the ski resorts across

Australia have to offer.

One of our top recommendations is Tube Town. A perfect

activity for all snow abilities and great fun for the whole

family, especially if you've got young kids. Pick up a toboggan

and get carried up the hill by the cable, before riding swiftly

back down on your tube, screaming the whole way down,

no doubt. Tobogganing is an included activity with your lift

passes, so take advantage of your time and the ability to push

the kids down a hill for fun!

Tube Town at Perisher - fun for the whole family

In addition to the epic snow adventure that comes with

heading to Perisher, skiing, snowboarding, tobogganing and

everything else that comes with it, the Perisher resort is

also famous for its nightlife and tantalizing restaurants. Our

recommendations for a place to hang out, listen to some

great acoustic acts (or even a DJ or two!) and enjoy a wine by

an open fireplace, is The Overflow Bar. One of Perisher's best

hang outs with one of the most epic views of the fields that

any bar can boast. Our top recommendation for an excellent

meal is the Base 1720 Bar & Restaurant. Atmospheric, cosy

and offering up delicious meals at a buffet breakfast, or a la

carte lunch and dinner, Base 1720 is located at the Perisher

Manor and is the perfect place to recharge after a big day on

the slopes.

Places to Stay:

Our usual offerings of three separate hotels for your budget

is a bit different this time around. Give that snow season

is peak season, your budget is going to be looking a bit

different. Expect to pay a little (or a lot) extra per night over

the ski season, but with the blue bird days and wintery, cosy

nights, it's 100% worth it. However, we've worked long and

hard to bring you the best options with the best prices, as

always. So, let's hop to it and get to the good part.

Perisher offers night time skiing and snowboarding

Our first option is the Lake Crackenback Resort and Spa. We

could absolutely not go past this option. First off, sitting on

45

www.ausemergencyservices.com.au
---
the banks of Lake Crackenback and offering picture perfect

views and a warm and inviting atmosphere, this place is

stunning. The hotel also offers a variety of different types of

accommodation, from suites to self-contained apartments,

there's something here for everyone. Within 15 minutes of

both Perisher and Thredbo resorts, Lake Crackenback Resort

is a great place to stay to access all the snow play you could

ask for. They also have a conveniently located snow sports

and ski hire store and the ability to book group and private

lessons through their friendly team. So even if you're a novice,

you've got a good jumping off point at Lake Crackenback.

Our favourite facility at this beautiful property is going to

have to be the spa. After a big day skiing, snowboarding or

generally just getting a little bit bruised and battered on the

slopes, there cannot be anything better than booking yourself

a spa day. The spa offers massages, facials and rejuvenating

treatments that will have you floating on air when you leave.

Lake Crackenback Resort and Spa is our top price option with

the Mountain View rooms starting at $445 per person per

night for two people.

The next option is Barina Milpara. Offering several options for

travelling groups, this is a great option if you're travelling as a

couple or with friends, as it means you get to stay somewhere

warm and cosy but with excellent access to the ski lifts for

those early morning starts. Barina's location means it has the

ability to offer complimentary over-snow transport on arrival,

departure and at the end of each day's skiing. Barina also

includes a hot breakfast and hearty dinners prepared by their

in-house chef. As the rooms aren't self-contained, this is a

great price effective inclusion if you're not wanting to explore

the restaurant and nightlife around the Perisher Valley. The

Barina Milpara lodge operates on the idea that all their guests

are family, and they treat them as such. Which means you

have full access to the large, dining and lounge areas that

offer a cosy place to have a glass of wine around the fire,

read a book in a comfortable and private nook or play a

boardgame with your family and theirs. Starting at $250 per

adult per night, this is one of the best places to bunker down

for the night in preparation for the best snow trip you could

imagine.

Finally, our budget option is the Matterhorn Lodge. A very

popular option with families and groups because of the

great feel of the lodge, as well as its proximity to the slopes

and excellent bang for buck. Within minutes to the Perisher

Express Quad Chair, as well as the Perisher ski hire and

ticket offices, it's a great place to put down your stuff and get

straight out onto the slopes. Featuring a large games room

with a TV, a number of games and a pool table to occupy

kids and adults alike. For those who just want to unwind, you

can do so in the adjacent lounge with a stunning log fire and

fully licensed bar offering delicious local schnapps as well

as local and international wines and beers. The Matterhorn

also includes a hot breakfast each morning and a delicious

3 course, set menu dinner each night, which will revive you

after a big day out on the snow. With prices starting from

$136 per person per night in shoulder season and with prices

lowering the bigger the group and the more nights your

stay, the Matterhorn is an excellent value for money option if

you're heading to the snow this year.

Whether you're a skier, snowboarder or just really enjoy cold

weather, the Perisher Valley ski season should be included in

any Australian travel bucket list. Enjoy the wintery, blue days

out on the snow and the cosy, chilly nights back in your hotel

with a glass of wine to congratulate yourself on mastering

your skills on the slopes.

Lake Crackenback Resort & Spa - make sure to check out the spa after a long day on

the slopes.

Barina Milpara Lodge - includes a hot breakfast and hearty dinners

Matterhorn Lodge - an excellent option for larger groups and families

www.ausemergencyservices.com.au 46
---
Ready. Set.

Give!

Emergency Services

Blood Challenge 2022

1 June - 31 August

Give life. Give blood.

blood challenge
---
16-22 MAY 2022

Better Together

National Volunteer Week 2022 Sponsors

Better Together

Volunteering brings people together; it

builds communities and creates a better

society for everyone.

National Volunteer Week is a chance for all

of us to celebrate and recognise the vital

work of volunteers and to say thank you.

Together, through volunteering, we are

changing communities for the better.

We are, Better Together.

volunteeringaustralia.org
---
ARE THEY

TRIPLE OK?

We're always there to help.

Let's make sure we help each other and ask R U OK?

ruok.org.au/triple-ok