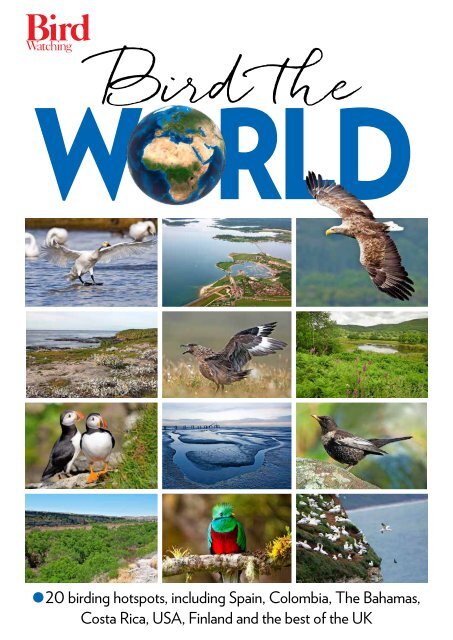 You also want an ePaper? Increase the reach of your titles
YUMPU automatically turns print PDFs into web optimized ePapers that Google loves.
Bird the

W RLD

l 20 birding hotspots, including Spain, Colombia, The Bahamas,

Costa Rica, USA, Finland and the best of the UK
---
FP_BIRDSPA4_4628321id4752730.pdf 04.10.2021 09:01

adRocket

Welcome to

NOW BOOKING 2021 - 2025

heatherlea

birding and wildlife holidays

An employee-owned company

Heatherlea are your natural choice in Scotland!

Our small hotel is run BY birders FOR birders, and

is open every week of the year. We show you all the

birds of the Highlands and Islands, with a wealth of

seasonal choice and unbeatable prices.

See our 'Scotland' Brochure online!

Birding every week here at Mountview Hotel in

Nethy Bridge. Capercaillie, Crested Tit, Scottish

Crossbill, Black Grouse, Golden Eagle, White-tailed

Eagle, Ptarmigan, Dotterel, Osprey, divers and

grebes, spring and autumn migrants, wintering

geese, ducks and gulls - Scotland and Heatherlea

have everything you need!

Have you got what it takes ...

to be a Heatherlea Guide?

We are recruiting in Scotland and around the world.

With all the benefits of an employee-owned

Company on offer, come and

'Do it the Heatherlea Way'!

All tours now booking, strictly limited availability.

WORLDWIDE

Reserve your places for 2022 - 2025 without

obligation or deposit for most tours. Use our

Holiday Planner to make any changes you wish.

Heatherlea - outstanding value from your complete holiday provider!

See our website or call our office for full details.

Heatherlea, The Mountview Hotel, www.heatherlea.co.uk Tel: 01479 821248

Nethy Bridge, Inverness-shire

Email: info@heatherlea.co.uk

PH25 3EB.

@heatherleabirds F/book: heatherleabirdwatching
---
Are you thinking about your next birding trip? Albania offers

excellent opportunities for birding and biodiversity tourism!

Having remained closed to the world for half a century, our

doors and hearts are open again. One of the richest

countries in southeastern Europe when it comes to

landscape and habitat diversity per surface unit,

Albania lies along the Adriatic and Ionian

Seas, and in a mere half-hour you can go

from soaking up a Mediterranean

climate to enduring a high

mountain continental climate.

The aptly-named "Land of the Eagles" has 362 noted bird species and new species have been reported every year for the last

seven years. If you want to see the Dalmatian Pelican, the Greater Flamingo, the Golden Eagle, the

Egyptian Vulture, the Rock Partridge, the Collared Pratincole, the Bee-Eater, the Greater Spotted

Cuckoo, the Horned Lark or the Alpine Accentor, just to name a few, definitely consider Albania for

your next birding trip!

We passionately and professionally organize knowledgeable and

entertaining tailor-made birding tours with the help of the

most skilled ornithologists in the country.

We are waiting for you - please message us here: contact@albaniantrip.com

albaniantrip.com

ALBANIAN TRIP

@albanian_trip

HUNGARIAN BIRD TOURS

7 day flight inclusive (BA) birdwatching holidays in

Hungary for only £1,185 staying at the outstanding Hotel

Villa Volgy in Eger famous for its fine wines and historic

buildings. This hotel has just upgraded all its rooms to 4 star

standard! Hungarian Bird Tours offers that mix of outstanding

birdwatching with plenty to see, drink and eat in your spare

time.

Eger is a hugely popular destination and offers many different

attractions. It is also ideally placed on the southern slopes

of the Bukk National Park with its four species of Eagle and

eight species of Woodpecker to see Hungary's spectacular

birds. Hungarian Bird Tours is run by Roy Adams who lives in

a village close to Eger.

He is mostly known for his work on Hawfinches and

Woodpeckers.

BLACK WOODPECKER

TOURS TO RE-START MARCH 1 ST 2022

Holidays start from £490 (4 days)

Telephone: 07774574204 or For full information visit

www.hungarianbirdtours.com
---
Sculthorpe Moor Nature Reserve.

Now with added wetlands.

Sculthorpe Moor Nature Reserve in

North Norfolk constantly evolves

to provide a rich and varied habitat

for wildlife. The 200-acre reserve

has a rich mosaic of different habitats

ranging from fen to riverbank,

wildflower meadows to woodland.

You might see an Otter family playing

on the riverbank, Red Kites and Hobbies

soaring overhead or tiny invertebrates

scuttling along the ground.

Visiting Sculthorpe Moor

■

■

■

■

■

■

Entrance is by donation, under 16's free

Open daily 8am - 4.30pm (last entry 3pm)

Sorry, no pets are allowed on site

Ample free parking

EV charging points

Visitor centre, gift shop

and refreshments

New wetland brings new species

The team at Sculthorpe has created

a wonderful 13-acre area of wetland

along the River Wensum, a rare and

beautiful chalk stream.

Even as the excavations were still

underway, new species moved in,

Little Egrets were early arrivals, a

Great Egret and Heron can often

be spotted with them. Little Ringed

Plovers, Teal, Lapwing, Oystercatchers,

and Curlews have also staked their

claim on this lovely area. A wild Crane

has called in during the summer

months of 2021.

Our volunteer team is hard at work

building a spectacular new wetland

hide. As with the rest of the reserve,

the hide will be fully accessible to all,

including visitors in wheelchairs

and buggies.

Come and see for yourself

Next time you're in Norfolk, venture

inland, away from the usual coastal

spots for a day at Sculthorpe Moor. A

warm welcome is guaranteed.

Hawk and

Owl Trust

www.hawkandowltrust.org

Turf Moor Road, Sculthorpe, Fakenham, NR21 9GN

01328 856788. Registered charity no. 1058565

haot birdwatching wtg aw.indd 1 01/10/2021 13:32
---
Birdfinders

Worldwide Birdwatching Tours

t

L t's G t B

A a

Central and South America

15 tours from £2,995

including flights

NEW - CHILE

125

www.birdfinders.co.uk birdfinders@aol.co.uk

SPEYSIDE WILDLIFE

HOLIDAYS I DAY TRIPS I HIDES I TAILORMADE TOURS

Est. 1991

Fully inclusive wildlife watching holidays

throughout Scotland, the UK and Overseas

WILDLIFE

EXPERIENCE

enquiries@speysidewildlife.co.uk I 01479 812498

WWW.SPEYSIDEWILDLIFE.CO.UK
---
Bed and

breakfast

and self

catering

Close to

ham l Pensthorpe

and the many nature and wildlife reserves erves of West Norfolk

l RSPB Titchwell l RSPB Snettisham

Group rates available.

Early breakfast and packed lunches available on request.

Buffy Helmetcrest

Tailor-made, small

groups, and private

tours at your own pace

Over a decade of

experience in sustainable

birding and wildlife tours

Safety and health protocols in

place throughout the whole trip

www.jaguarunditravel.com

info@jaguarunditravel.com

Phone +57 312 5859630

Tel:

OLD HUNSTANTON

E: reception@lestrangearms.co.uk

www.lestrangearms.co.uk

BIRDING AND NATURE TOURS IN COLOMBIA
---
Port Askaig Hotel, Port Askaig, Isle of Islay PA46 7RD

A traditional 16th century Drove Inn standing in its own grounds on the

harbour side in the picturesque hamlet and ferry port of Port Askaig.

Islay is a Bird Watchers paradise due to the abundance of bird life

with a large population of over wintering geese a particular draw. Port

Askaig, Mull of Oa and Isle of Jura are locations where rarer sea eagles

and golden eagles may be spotted while choughs can also be found in

certain locations.

13 en suite rooms /2 Bars/ Bistro style restaurant

www.portaskaig.co.uk

Email: hotel@portaskaig.co.uk Tel: 01496 840 245

The Secret Courtyard B&B

in the heart of Bempton Village

on the Yorkshire Heritage Coast

Your own private cottage from where

you can plan your day ahead, or relax

after a pleasant day sightseeing or

walking. With local attractions such

as Bempton Cliffs the RSPB Nature

Reserve and Flamborough Head.

E-mail - Stablesbempton42@gmail.com

01262 850438 / 07563135840

www.secretcourtyard.co.uk

Everything for wildlife,

ecology and conservation

Field guides

Binoculars & spotting scopes

Travel essentials

Bird & bat boxes

Bat detectors

1000s of natural history books

And more..

Huge product range

Over 140,000 books & equipment products

Rapid shipping

UK & Worldwide

Exceptional customer service

Specialist help and advice

www.nhbs.com | Serving conservation since 1985 | +44 1803 865913
---
BIRD THE WORLD ADVERTORIAL

Take your birdwatching

off-road!

Visitors enjoy a tour in

Andros' dense woodlands

Case study 2: Bahama Warbler

By tracking Bahama warblers, local

conservationists and bird

enthusiasts alike can learn more

about their recovery

ELIJAH SANDS

TAMBOURINE AND BAHAMAS MINISTRY OF TOURISIM

FOUND

For birds and birdwatchers alike, The Bahamas

are unique, and conservation efforts mean

things keep getting better

Pristine white sand beaches,

crystal-clear seas, palm trees

waving in a gentle breeze –

you probably already have your

own idea of The Bahamas as

an island paradise.

What you may not have known before

now is that this archipelago off the

south-eastern corner of North America is a

paradise for birds, and for birdwatchers too.

It boasts an impressively high level of

biodiversity, with the official bird list total

The wild flamingos of Inagua

coming to 380 species, including seven

endemics.

The islands' position on a major

migration flyway means that surprises are

there to be discovered whenever you visit,

and there are 39 Important Bird Areas

(IBAs), more than 10 per cent of the

total for the whole of the Caribbean.

Like anywhere else, its wildlife has

faced threats and problems, but ongoing

conservation efforts are ensuring the

islands' preservation as a paradise for

THE BAHAMAS MINISTRY OF TOURISM & AVIATION

birds and birders.

These efforts are led by organisations

such as the Bahamas National Trust (BNT),

who have set up programmes that aim to

conserve both birds and vital habitats.

But it isn't merely a case of NGOs

carrying out their own schemes. By

training islanders as bird guides, with the

help of the Audubon Society, in partnership

with the Bahamas National Trust and the

Inter-American Development Bank, many

of the islands' communities are now being

Case study 1: Abaco Parrot

When Christopher Columbus made landfall

on The Bahamas in 1492, he is said to have

noted that "flocks of parrots darken the

sun", but numbers declined drastically over

the centuries.

By 1986, it was decided to create

a national park in Abaco, to protect the

remaining 1,500 or so Abaco Parrots,

but alongside that The Bahama Parrot

Conservation Committee launched a

major effort to engage locals with the

made stakeholders in both the conservation

efforts, and their own development.

This means a huge step forward for the

protection and promotion of biodiversity

in The Bahamas, creating a virtuous circle

– local communities value the biodiversity,

and help promote it to visitors, visitors

bring new money into the communities

and conservation projects, and everyone

benefits.

Two case studies illustrate the scale

of the work that has been done.

So, The Bahamas offer a truly unique

experience. With 16 major islands, boasting

habitats that range from the dense Andros

woodlands to the rolling salt flats of Great

Inagua, it's an unmatched destination for

birdwatching.

A sample itinerary illustrated here

conservation programme – 8,000 Bahama

Parrot Posters were distributed, 27,750

schoolchildren learned about the importance

of the species, and 6,000 people pledged

support for the conservation effort. By 1994,

the national park was a reality.

The number of parrots rose to 8,900 in

2009, and although Hurricane Dorian had an

impact, this species may have survived it better

than most, because uniquely among parrots,

they nest on the ground.

On tour with a local

birding guide

(bit.ly/3hMmHnn) shows how to make the

most of your Bahamas birding experience,

taking in all the key habitats, from dense

coppice to sandy shores.

There are now eight non-stop flights to

Nassau from London Heathrow per week,

The symbol of a resilient

Bahamas, Bahama Parrot

numbers are slowly increasing

ELIJAH SANDS

THE BAHAMAS MINISTRY OF TOURISM & AVIATION

THE BAHAMAS MINISTRY OF TOURISM & AVIATION

The endemic Bahama Warbler was recently

listed as endangered – for nearly two years,

nobody had seen one in Grand Bahama,

one of two islands the species is endemic to.

It had seemingly disappeared in the wake

of the devastating Hurricane Dorian in

2019, and in 2020, the BNT began

banding Bahama Warblers on Abaco to

track their movements and inform

conservation efforts.

The BNT conducted comprehensive

surveys on both Abaco and Grand

Bahama Island, and launched the

Empowering Communities for

Conservation programme to engage

Abaco residents for conservation efforts.

And so, hope remains for the Bahama

Warbler, not least because previous

conservation efforts have succeeded.

Research published earlier this year showed

that there are 10 times as many Bahama

Orioles as previously thought, meaning the

future is brighter for that particular species.

Thanks to the work done with the species,

future conservation efforts can be targeted

more effectively.

with British Airways flying six of them

starting from 2nd November, and Virgin

Atlantic starting two per week from 20th

November.

There's never been a better time to step

out of the cold and rain and discover the

warm, sunny embrace of The Islands of

The Bahamas. Visit our website or give us

a call to discuss what's on, what's new,

and what's there to look forward to in

paradise. Welcome to your next tropical

getaway. Welcome to The Islands of The

Bahamas.

More info:

l https://www.bahamas.com/plan-yourtrip/ecotourism

l https://bnt.bs/

BW

14 Bird the World 2021

birdwatching.co.uk 15
---
FP_BIRDSPA4_BIRDWATCHIid4720307.pdf 09.07.2021 14:34

adRocket

Concerned about

climate change?

Measure, Reduce and Offset

with Carbon Balanced

Measure your impact with our Carbon Calculator,

find out how to reduce your carbon footprint, and

see how little it can cost to offset.

Take a balanced approach to offsetting your

carbon emissions on our website:

worldlandtrust.org/carbon-calculator

or by phone 01986 874422.

Image © David Bebber

Charity no 1001291