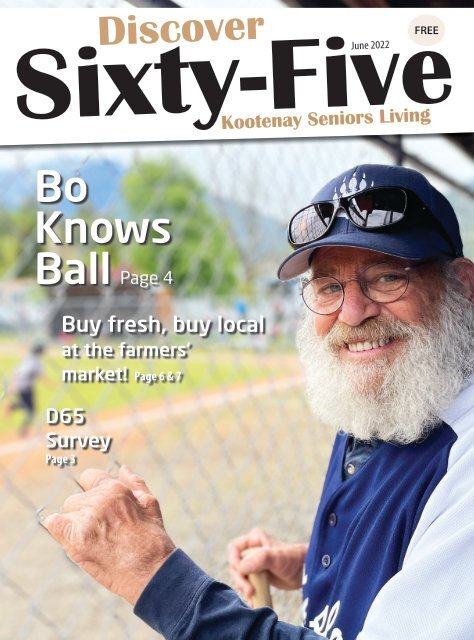 Discover Sixty-Five: June 2022
Kootenay Seniors Living - Seniors News, Articles, Discounts & Sales in the West Kootenay area.
Kootenay Seniors Living - Seniors News, Articles, Discounts & Sales in the West Kootenay area.
SHOW MORE
SHOW LESS
Create successful ePaper yourself
Turn your PDF publications into a flip-book with our unique Google optimized e-Paper software.
Discover

Sixty-Five

June 2022

FREE

Kootenay Seniors Living

Bo

Knows

Ball Page 4

Buy fresh, buy local

at the farmers'

market! Page 6 & 7

D65

Survey

Page 3
---
WK Senior Citizens Association Directory

Check with your branch or organization for local updates on programs.

Everyone welcome - the more members the better!

Balfour Branch 120

8435 Busk Rd, Balfour

email enquiries to:

bsca120@hotmail.com

Monday:

11am to 1pm Cribbage

Wednesday:

7pm to 9pm Carpet

bowling

Castlegar Branch 46

2101 6th Ave, Castlegar

Pres Dan Shields

danshields.ca@gmail.com

Monday:

9:30am Darts

1pm Whist

Tuesday:

9:30am Carpet Bowling

1pm Crafts

Wednesday:

9:30am Floor Curling

1pm Rummoli

Thursday: CLOSED

Kaslo Branch 81

304 4th St, Kaslo

email enquiries to:

lmdepape@gmail.com

1st Tuesday of the

month, lunch at 12noon,

meeting at 1pm

Every Friday meet &

greet drop-in coffee

9:30am – 11:30am

year round

Passmore

Branch 116

Passmore Hall

3656 Old Passmore Rd.

MONTHLY ACTIVITIES:

Alternating Fridays:

1pm Card games.

Whist and Cribbage

Wednesdays:

1pm Carpet Bowling

2nd Sundays:

12 noon monthly business

meetings followed

by a potluck and

Tiki card game

Nelson Branch 51

717 Vernon St, Nelson

email nelsonseniorscentre

@gmail.com

Monday: 1pm Bridge

Tuesday: 9am Tai Chi;

10:30am Chair Yoga;

1pm Duplicate Bridge

Wednesday: 1pm Crib;

1pm Snooker;

6:30pm Duplicate Bridge

3rd Wednesday:

10am Book Club

Thursday: 1pm Bridge

1st & 3rd Thursday:

1pm Hookers & Makers

Friday: 9am Tai Chi;

10:30am Chair Yoga;

6pm Novice Snooker

Saturdays:

9am Knitters

Sundays: 1pm Crib

https://nelsonseniors.ca/

services/other-resources/

Don't peek!

Procter-Harrop

Branch 118

7906 Woodside Rd,

Procter

email: Sharon

rsboldt@telus.net

WEEKLY ACTIVITIES:

Monday:

10am Carpet Bowling

all year

Monday:

10am Shuffle Board

winter

Wednesday:

1:30pm Cribbage

all year

If we missed your

association or would like

to update your events,

please call toll free

1-800-663-4619

Sunday, June 19

Friday:

9:30am Darts

1pm Crib

Special meetings on

issues of general interest

Puzzles on

pages 16 & 17

Greater Trail Life Long Learners,

is working with Selkirk College to provide monthly

learning presentations. The intention is to grow to

provide increased learning and social opportunities.

https://selkirk.ca/ce/courses/greater-trail-life-long-learners

The word

Queue

is just a Q

followed by

four silent

letters.

When you

transport

something by car,

it's called shipment.

But when you

transport something

by ship it's

called cargo.

Jail and

Prison are

synonyms.

But Jailer

and Prisoner

are

antonyms.

2

June 2022 Discover Sixty-Five email: seniors@pennywiseads.com
---
Brass Tacks

Cannabis Corner.......... 12-13

Social Media..................... 8-9

7 Tips to a Successful

Retirement..................... 13

Health:

Acetaminophen for Self-

Management of Pain.... 15

Exercise can help you

enjoy living longer ....... 22

Education:

Libraries......................... 19

World Elder Abuse

Awareness Day................. 24

Ginkgo Biloba Club :)

Summer Market Tour........ 6-7

Gallery Showings and Live

Music................................. 14

Care to Share.................... 18

Kitchen Kapers

with Annette ...................10-11

Puzzles......................... 16-17

June Horoscopes......... 20-21

A Father's Day Tradition... 23

Puzzle Solutions................. 2

Personals/Classifieds......... 9

Seniors' Associations.......... 2

Scratch the Surface

Bo Knows Baseball.......... 4-5

Please thank the

advertisers in these pages

for supporting your

Discover Sixty-Five.❤

Your opinion is important!

This is our 6th edition of

the Discover Sixty-Five,

Kootenay Seniors Living

magazine.

We have had great feedback,

and thank you all

for welcoming us into

your monthly routine.

1) Is this magazine best at providing

(Rate in order 1-3, best to least)

Entertainment_________________

Information___________________

Education____________________

2) Does it provide what you are looking

for? Yes_____ No_____

What is missing?__________________

_______________________________

_______________________________

(list everything you would like to see)

3) Do we have too much of something?

_______________________________

_______________________________

_______________________________

4) Should we have more of something?

_______________________________

_______________________________

_______________________________

Please, continue to let

us know if you cannot

find a copy near you.

Our distribution continues

to grow…we will

do our best to find an

outlet near you so you

can pick up the latest

edition.

CONTACT US

Email: seniors@pennywiseads.com, Phone 250-353-2602 or toll-free 1-800-663-4619

Mail: Discover 65, Box 430, Kaslo, B.C. V0G 1M0, or drop submissions

at our office #209-312 Fourth St., Kaslo.

All content © Discover Sixty-Five 2022, a KS Perry Publications product.

We'd like to ask you a

few questions, and get

some insight into the

direction you would like

to see the magazine

go. Please mail your

responses to:

Discover Sixty-Five,

Box 430, Kaslo BC

5) Our first personal ad is running in

this edition Is this something that you

would like to see more of?

Yes_____ No_____

6) Please choose what interests

you the most. Choose as many as you like,

then one, be specific if you wish.

Travel ________________________

Recreation_____________________

Exercise_______________________

Health_________________________

Recipes________________________

Puzzles________________________

Gardening______________________

Reading________________________

Live Theatre & Music______________

Learning_______________________

Crafting________________________

Other__________________________

_______________________________

Our contributers and advertisers are an integral part of the magazine's success.

Please thank them personally whenever you can.

Karma

Halleran

Publisher

Larissa

Scott

Sales

Erika

Bird

Editor

Julie Wilson

Care to

Share/Sales

Jeremy

Taylor

Designer

Adam

Prisciak

Sales

Zeb

Hansell

Webmaster

Gary

Schnieder

Designer

Discover Sixty-Five - Want to distribute these magazines? Call 1-800-663-4619 June 2022 A

Call 1-800-663-4619 Discover Sixty-Five June 2022 3
---
Bo knows

baseball. ~ Karma Halleran

D65: Where were you born?

Bo: I was born in Brooklyn, New York

in '46. I was the oldest of three.

D65: How old were you when you

started playing ball?

Bo: I was 8, and we had just moved

to Dellmore. My parents thought it

would be a great way to make friends,

and they were right.

D65: Do you remember the moment

you fell in love with the game?

Bo: Actually yes, I loved it from day

one. I was already a New York Yankee's

fan, but hadn't had a chance to play

organized baseball until we moved.

Mickey Mantle was tearing up all the

old records – he was my hero. Still is.

D65: What position did you play and

was it your favourite position?

Bo: My favourite position was catcher

– I loved working with my pitchers to

control the batters, being in on every

play. Unfortunately I was not our best

back catcher. The team needed me to

play right field or 1st base to keep my

4 June 2022 Discover Sixty-Five

BR: Bonnie Laird, Karen Semenoff, Elaine Rutherglen, Lorna Surina, Bo Bennett, Ivy Anderson

FR: Debbie Reimer, Vickie Laird, (?), Lil Olsen, Robin Thomas, Shauna Gibney

bat in the lineup, so I went where I was

needed, though my heart was behind

the plate. I am thankful for the opportunity

to have learned those positions

though.

D65: What was your most memorable

moment or season as a player?

Bo: My 9th grade school team went

undefeated through regular season

and the playoffs. On the bus ride home

our team was drinking vodka and orange

juice…we think the coach knew,

but he pretended he didn't, giving us

freedom to enjoy

our great season.

D65: Was there one

coach who really

stood out for you?

Bo: I had a couple of

really great coaches

from whom I

learned the intricacies of baseball. The

one who impacted me the most was

Mouseheart. He expected great things

of us, was tough, but fair. Hunt was

another; he was both the meanest

AND kindest coach I ever had. He

would berate you when you did not

meet expectations, and bear hug you

when you did. He held your attention.

D65: How did you find Kaslo BC from

Long Island?

Bo: It was a phone call from an old

buddy. He had found 32 acres of heaven

in a rural mountain setting with

Bo was a great coach, intense

for sure, but you could feel his

respect for you and his love of

the game, all the time. He was

great at passing along a competitive

passion for baseball.

a giant lake, and

fresh running water.

All the things I

had come to appreciate

going to University in Vermont.

I wanted to leave Brooklyn, and he

convinced me to do so. I have never

regretted that decision.

D65: Did you play any kind of ball

when you got to Kaslo?

Bo: As a matter of fact, yes. We

scratched together a local baseball

team and played against New Denver

and Revelstoke – maybe Nelson.

Someone donated orange t-shirts to

us. It was fun for a couple years.

D65: When did your coaching career

begin?

Bo: In 1977 I started

coaching the

Kaslo 'True Blues'

ladies fast-pitch

team. What a

great group of

~ Colin Anderson

athletes they were.

In the 3 years I

was with them we won back-to-back

championships…then they fired

me. My coaching style was a little

unpolished, perhaps a little abrasive.

I went back to playing slo-pitch with

the Screeners, a well known Kaslo

team. I met my life partner on the

field. Sherry was playing for the Green

Socks at the time. She joined the

Screeners too, where we played until

our daughter was born and we purchased

the Kaslo Mohawk.

"Coach Bo brings a passion

and desire for the game that

is absolutely unrivaled."

D65: What year did you start coaching

kids' teams?

~ Cody Halleran

Bo: In 1988 my

childhood buddy,

Richard, had started
---
BR: Bo Bennett, Kory Van de Graff, Dan Butler, Jason Wood, Matt Webber, Mike Blaise

FR: Peter Kremler, Caleb Pompu, Cody Halleran, Colin Anderson, Ryan Benn, Matt Hewat

a kids' team in Nelson. He called me up

to see if Kaslo might field a team they

could play against. My stepson Heath

helped round up a team. We developed

quickly, having a very strong core of

players, and took the championship

in 1993. Over the years the program

in Kaslo would ebb and flow. Some

keen parents would get the little guys

going and keep it going until they had

out-coached themselves. Then I was

asked to take them through their older

years, when they were ready to learn a

more intricate level of play. This worked

pretty well.

D65: I realize you are still making

memories coaching, but what might

be your best to date?

Bo: Over the years I believe we have

won two league titles. 1993 and 2000.

We created a major upset one year

when our 8th place team knocked

off the first place Trail team. All those

are great memories, but the one that

stands out the most was a game we

played in Northport Washington.

We'd been on a 4 game swing and it

was the last game. We were winning

by quite a bit when the wheels fell off.

We'd used all our pitchers and they

were done like toast.

We started walking

runs in. All I had left

on the bench was

Mike Blaise. He was

in uniform and on

the roster, but was

sporting a broken

leg. He figured he

could do it, so we

"Bo preached CARE.

He CAREd about baseball

more then anyone. He not only

preached CARE in baseball,

but it was in capital letters on

our daily to-do list at Mohawk

every morning in the right

hand corner.

Whatever you do in life, CARE"

called time, he crutched out to the

mound – threw a couple warm up

pitches and then faced the batter. I

held his crutches in the dugout... and

to a few boos and hisses, he ground

out the batter to hang on to the win for

the team. Moral of this story? ALWAYS

put everyone on the roster!

D65: Anyone who has watched any

of your teams play will be familiar

with the intensity that you bring to

the game. What drives that?

Bo: That is a big question. I would have

to say my delivery and intensity are

products of being raised in Brooklyn.

It comes from being a Yankee fan at a

time when they could not lose if they

tried. It almost felt like it was our right

to win, and I expect I have carried that

attitude my whole life. My mentors,

Mouseheart and Hunt, contributed

to that doggedness. My mouth

sometimes gets me in trouble. But

the amazing thing to me is, my players

understand me. My players know

they are working towards something

greater then themselves. When they

buy in, we all win. They feel proud of

themselves when they should, and

learn from their mistakes. My teams

are really important

to me.

~ Kory Van De Graaf

D65: How do you

define your coaching

technique?

Bo: I am a perfectionist,

perhaps

a little OCD, very

organized – I call

myself a "conservative Hippie."

How this relates to my

approach to baseball is very

simple:

I explain the game. You

listen carefully and then try to

execute the right play at the

right time. As we know, many

things can interfere with this

happening smoothly :) There

is nothing more rewarding in

my life then watching a player

evolve, to become strong and

confident in their new-found

knowledge and skill. To see them

form a team that supports each

other, that cares to do their best for

one another. That fills my heart. This

is how you win. They learn it is okay

to want to win. And that winning is

done without bragging. When these

players grow up, and take their skills

into their new communities, and

contribute by coaching themselves, I

feel great joy.

D65: Bo, I was watching the Kaslo

Cubs play this past weekend, and

noted to myself that you have a number

of coaching years ahead of you

to bring this current set through the

system. I expect it will keep you out of

trouble… or get you into it :)

Thanks for the interview, and thank

you for all you've contributed!

Discover Sixty-Five June 2022

Bo and

grandchildren

Maisy and

Theo.

5
---
These West Kootenay Summer

Castlegar Craft & Farmers' Market

400 13th Ave

Saturdays 9am – 1pm

Creston Valley Farmers' Market

Beside the Visitors Centre, 111 Northwest Blvd

Year-round

Saturdays 9am – 1pm

Fruitvale Farmers' Market

Pole Yard Lane

June 14, 28; July 12, 26; August 9, 23;

September 6, 20; October 4,18

Tuesdays 3pm – 7pm

Kaslo Saturday Market

Front Street Park

June 11 - October 8

Saturdays 9am – 1pm

Lardeau Valley Sunday Market

New Location TBA

Mid June - September

Sundays 10am – 2pm

Nakusp Markets

Farmer's Market

608 Broadway St

May 21 - October 8

Saturdays 9am – 1pm

In the Old Firehall 5th Street

Fringe Market

Fridays 12pm – 4pm,

Farmers' Market

Saturdays 9am – 1pm

Get it fresh

and local when

you can!

Please thank these businesses for

sponsoring these market pages!

Sunnyside Naturals

Natural Health • • Organic Groceries Groceries

Juice

Juice

&

&

Snack

Snack

Bar

Bar

Proud to support

Columbia Basin

farmers' markets and

food producers.

ourtrust.org/

localfood

Did you miss the

farmers' market?

You'll always find fresh

locally grown organic

goodness in our store!

Supporting local farmers

since 2000

Solid Health. Happy Heart.

Come, rest your feet

404 Front St., Kaslo 250-353-9667

6 June 2022 Discover Sixty-Five email: seniors@pennywiseads.com
---
Markets are worth a road trip!

Nelson Markets

Baker Street Farmers' Market

June 1 - September 28

Wednesdays 10am – 2pm

Cottonwood Falls Park Market

May 14 - October 29

Saturdays 9am – 2pm

Baker Street Night Market

Friday July 29, 6pm – 10pm

New Denver Friday Market

317 6th Ave

June 10-September 30

Fridays 9:30am – 1pm

Rossland Community Farmers' Market

Columbia Ave

May 25 - October 5

Wednesdays 1pm – 4pm

Salmo Valley Farmers Market

KP Park, beside the

Salmo Village Campground.

Thursdays 4pm – 7pm

No market June 30

July 1 Market 12 – 3pm

Slocan Saturday Market

Expo Park

June, July & August

Saturdays 10am – 2pm

Trail's IncrEDIBLE Farmers' Market

Entrance on Helena St and Bay Ave

June 4,18; July 2, 16, 30;

August 13, 27; September 10, 24;

October 8, 22.

Saturdays 10am – 2pm

Call Kaslo,1-800-663-4619 Discover Sixty-Five June 2022 7
---
Social media:

It's not just for

kids anymore

Perhaps due to the popularity of

social media among a generation

of young people who grew up with

it, platforms such as Instagram and

Facebook are often associated with

people born in the 21st century.

However, a 2018 study from the

Pew Institute found that 65 percent

of adults between the ages of 50

and 64 used Facebook and 68 percent

used YouTube.

Social media is often on the receiving

end of negative attention, but

it's also a potentially valuable tool

that can help men and women

over 50 stay connected with their

communities. That's not always so

easy for adults who no longer have

children at home. And as its name

suggests, social media can help users

connect with others who share

their interests. Such connections

also can be hard to make for adults

over 50.

Adults over 50 may be more comfortable

with social media now

than they were a decade ago, but

it's still a good idea to brush up on

basic security measures that can

help men and women protect their

privacy as they utilize platforms like

Facebook, Twitter and Instagram.

• Protect your personal information.

Make sure your privacy and security

settings are appropriate for how

you use the app.

No social media user has the right

to access your personal information,

including your address, date

of birth or other data unique to

you. Avoid interacting with anyone

who requests personal information

– use the function that blocks such

users from connecting with you.

It's also important to keep information

about travel plans private. For

example, sharing details of an upcoming

vacation can serve notice

to potential criminals that no one

will be in your house, making it a

potential target for burglars.

• Aim for quality, not quantity,

when building social media

networks. Avoid accepting

friend requests from individuals

you don't know. Cyber

criminals often gain access to

victims via social media, so

limit your social media network

to people you know and

trust.

• Turn off location information.

The technology behind

social media is impressive

and even makes it possible

to determine where users

are when they tweet or post

to other platforms. But many

users, especially those concerned

about their privacy,

don't want to share location information

with anyone, much less

strangers. Turn off location informa-

Stay in touch with your family and friends!

The Trust is helping communities and non-profit

organizations increase the quality and availability

of technology. Having equipment, however,

doesn't necessarily mean knowing how to operate

it. That's why Columbia Basin Alliance for Literacy

(CBAL) is focusing on supporting users, thanks to

a grant from the Trust.

Find more on

Basin Stories

ourtrust.org/stories

Whether in a CBAL office, lending library or food

bank—a CBAL staff member will be available to

answer questions about navigating the internet,

and using iPads, computers, printers, and the

software that comes along with them. Learn

more about these new resources at cbal.org.

8 June 2022 Discover Sixty-Five email: seniors@pennywiseads.com
---
Social media helps

families stay connected -

and that is a huge benefit

for everyone.

tion and routinely double check to

make sure it's still turned off.

• Discuss others' privacy concerns

before posting to social media. Social

media isn't for everyone, and

some people may not want photos

of themselves or their children

posted to platforms like Facebook

or Instagram. Prior to posting pictures

or information about other

people, confirm that they're OK

News

NORTH KOOTENAY LAKE COMMUNITY

SERVICES SOCIETY (NKLCSS), with the support

of the United Way and the Province of

BC, offers a FREE Senior's Meal Program for

Kaslo and area residents. Once per week a

meal will be delivered to the senior's door

by a NKLCSS staff person. If you or someone

you know is 55+ and would benefit from this

program or would like more information,

please call Kathy @ 250 353-7691 ext. 204 or

email kathyallaire@nklcss.org

Personals

OLDER GENTLEMAN LOOKING for female

companion. I have a great sense of humour,

love gardening, woodworking and going for

walks. Erich, 250-352-3293.

To place your NEWS or

PERSONAL ad, contact Julie

1-800-663-4619 or email

info@pennywiseads.com

with you doing so. They'll appreciate

your thoughtfulness!

Adults over 50 are engaging with

social media. But no matter how

comfortable users become, it's still

best to keep various social media

safety protocols in mind. By brushing

up on basic security measures

that can help protect your privacy

you will keep the fun in the social

aspect.

Seniors' Discounts

ALL SENIORS RECEIVE 10% OFF supplement

purchases at Sunnyside Naturals everyday.

404 Front St, Kaslo. 250-353-9667.

CORNUCOPIA SENIORS DAY: 10% off your

purchase EVERY Friday, 9am-5:30pm. 422

Front St, Kaslo. 250-353-2594.

EVERY DAY IS SENIORS DAY at Nelson

Remedy's RX 737 Baker St. Mention you are

a Senior and receive 10% off your purchase.

Some exclusion apply. 250-352-0022.

EVERY FRIDAY IS SENIORS DAY at Salmo

Valley Pharmacy. Receive 10% off your purchase.

107 4th St, 250-357-9444.

EVERY THURSDAY SENIORS RECEIVE 20%

OFF regular priced items. Some exclusion

apply. Shoppers Drug Mart, 1965 Columbia

Ave, Castlegar. 250-365-5888.

FIRST TUESDAY OF EVERY MONTH Seniors

receive 10% off regular priced items at Shop

Easy, 303 Main St in Salmo. 250-357-2316.

Some exclusions apply.

NOTE: Consumers Reports has

good articles on how to ensure

your privacy on Facebook and Instagram.

Visit www.consumerreports.org

and in the search bar at the middle

of the top of the home page, type

in Security and Privacy, Facebook

(or Instagram.)

~ D65

Seniors' Discounts

L'BEAR'S NATURAL FOODS in Trail offers

10% off all vitamins everyday for shoppers

60+. 1339 Cedar Ave, 250-368-8318.

SENIORS DAY 2/1 ELECTRIC BIKE RENTALS

EVERY MONDAY, please book by Saturday

so we can have a bike ready to go. Call

Neil at 250-300-7923 or book online at kaslo

E-Kruise.

SENIORS WHO SHOP PHARMASAVE,

CASTLEGAR every Tuesday, receive 20% off

regular priced items. Some exclusion apply.

1128 3rd St, 250-365-7813.

SENIORS! SHOP THE FIRST WEDNES-

DAY OF EVERY MONTH and receive 10%

off your purchase. Some exclusions apply.

Kaslo Front Street Market, 411 Front St,

250-353-2331.

SHOPPERS SIMPLY PHARMACY offers Seniors

20% regular priced items every Thursday.

Some exclusion apply. #117 1983 Columbia

Ave, Castlegar, 250-365-3400.

Call Kaslo,1-800-663-4619 Discover Sixty-Five June 2022

9
---
KITCHEN

KAPERS

#6

by Annette

Gallatin

Summer is the time for get-togethers

These recipes will be the hit at your p

1 lb noodles, cooked and

drained

1 C (or 1.5 C) cream style

cottage cheese

1 C (or 1.5 C) sour cream

1/2 tsp salt

1/8 tsp pepper

SUPER CREAMY NOODLE SUPPER

1/3 C chive snipped or creamed cottage cheese

finely snipped green onion and sour cream – add the

2 tbls butter or more extra ½ cup if you think it

Preheat oven to 350°F. needs it), salt, pepper and

chives. Pour into buttered

Combine noodles, cottage

2 quart casserole and dot

cheese, sour cream (taste it

with the butter. Bake about

after using 1 cup each of

30 minutes, until noodles

begin to brown and

casserole is hot and bubbly.

Serve immediately.

Leftovers can be

refrigerated for 3-4 days.

Reheat in microwave until

hot.

SOUR CREAM RICE

2 C chicken broth

1 C uncooked rice - Jasmine is nice

1 C sour cream

4 oz diced green chilies (optional)

1 C shredded Monterey Jack cheese

2 C corn (fresh cooked or canned)

1/4 C cilantro, chopped (optional)

1/4 tsp salt

Preheat oven to 350*F

In a large pot, bring the rice and chicken

broth to a boil. (If you're making

this dish without the chicken broth,

use the same amount of water instead

and add a half tsp or so of salt to the

water before boiling.

Once rice begins to boil, cover and

reduce heat to low. Simmer for 20

minutes. When rice is done, all chicken

broth or water will be absorbed.

Spray an 8x8 square casserole dish

with non-stick spray and set aside.

NOTE: Yes, you can use Minute rice!

Your dish may lack a little bit of "depth

of flavour" that regular rice would give

you but hey, we do what we can with

what we've got: Got less time? Use the

Minute rice with chicken broth and

serve it with a smile – it'll taste great!

Add to the rice: sour cream, green chiles,

1/2 cup cheese, corn, and cilantro.

Mix well.

Season with salt and mix again. Add

more salt if it tastes a little bland.

Pour rice mixture into prepared casserole

dish, and top with remaining 1/2

cup of cheese.

Bake uncovered 30 minutes. Cheese

will be bubbly and lightly browned.

Serve immediately! Serves 4.

A tossed salad would round out this

dish perfectly! This does not freeze

well – the rice falls apart.

OMIGOSH GOOD POTATOES

6 C frozen hash brown potatoes

2 C cheddar grated cheese

1 (1 lb pkg) bacon, cooked and

crumbled

1 tsp garlic salt

black pepper to taste

1 C mayonnaise (or a bit more)

1/2 C green onions, thinly sliced

Preheat oven to 350°F. Butter or

grease a 9x13-inch baking dish.

Note: you can use 6 C of thawed

store-bought frozen hash browns!

Mix together the potatoes, cheddar

cheese, garlic salt, black pepper, bacon,

and green onions. Add mayonnaise

(and more mayo to taste) and

stir until everything is well coated.

Bake until potatoes are tender and

top is golden brown, about 45 minutes

or so. Serves 8 for sure. Enjoy!

LOADED RED POTATO CASSEROLE

16 small red potatoes

(about 1-3/4 lbs)

½ cup 2% milk

¼ cup butter, cubed

½ tsp pepper

¼ tsp salt

1-1/2 cups shredded cheddar

cheese, divided

½ cup crumbled cooked

bacon

1 cup sour cream

2 tbsp minced fresh chives

Preheat oven to 350°.

Place potatoes in a 6-qt.

stockpot; add water to

cover and ¼ tsp salt. Bring

to a boil. Reduce heat; cook,

uncovered, until tender,

15-20 minutes. Drain; return

to pot.

Mash potatoes, gradually

adding milk, butter, pepper

and taste: add a ¼ tsp salt

if it needs it. Spread into

a greased 3-quart baking

dish; sprinkle with 1 cup

shredded cheese and

bacon. Dollop with sour

cream; sprinkle with chives

and remaining cheese.

Bake, uncovered, until

heated through and cheese

is melted, 20-25 minutes.

Serves 6-8.

10 June 2022 Discover Sixty-Five email: seniors@pennywiseads.com
---
and/or eating outdoors.

ot luck!

YOUR NEW FAVOURITE POTATO CASSEROLE

3 1/2 lbs potatoes, (about 7 medium),

peeled and cut into ¾ inch cubes

1 can (10-1/2 oz) condensed cream of potato soup,

undiluted

1 C French onion dip

3/4 cup 2% milk

2/3 cup sour cream

1 tsp minced fresh parsley

¼ tsp salt

1/4 tsp pepper

1 pkg (16 oz) process cheese (Velveeta), cubed

Additional minced fresh parsley

Preheat oven to 350°. Place potatoes in a Dutch oven;

add water to cover. Bring to a boil. Reduce heat; cook,

uncovered, until tender, 8-12 minutes. Drain. Cool

slightly.

In a large bowl, mix soup, onion dip, milk, sour cream,

parsley, salt and pepper; gently fold in potatoes and

cheese. Transfer to a greased 13x9-in. baking dish.

Bake, covered, 30 minutes. Uncover; bake until heated

through and cheese is melted, 15-20 minutes longer.

Just before serving, stir to combine; sprinkle with additional

parsley. (Potatoes will thicken upon standing.)

Serves 12.

You can make this casserole up to one day ahead of

time and bake it when you're ready for it. Or, you can

cover and freeze the unbaked casserole. To use, partially

thaw in refrigerator overnight. Remove from refrigerator

30 minutes before baking. Preheat oven to 350°.

Cover casserole with foil; bake as directed until heated

through and a thermometer inserted in center reads

165°, increasing covered time to 1-1/4 to 1-1/2 hours.

Uncover; bake until lightly browned, 15-20 minutes

longer. Just before serving, stir to combine. If desired,

sprinkle with additional parsley. Remember: serves 12.

CHEESY GARLIC SCALLOPED POTATOES

5 lbs Russet potatoes sliced Gently pour vegetable broth

" thick

into pan and stir, add salt

2 cups onions chopped and pepper, seasoning and

small

heavy cream. Stir until thickened,

remove from heat just

6 cloves garlic minced

1/4 cup butter (½ stick) prior to boiling and then add

1/4 cup flour

2 cups of cheddar cheese.

Stir.

1.5 cups vegetable broth

1.5 cups heavy cream

1 Tbsp salt

2 tsp pepper

2 tsp Cajun-style seasoning

8 oz sour cream

3 C cheddar cheese grated,

divided

1 C pepper jack cheese grated

1 C freshly grated Parmesan

cheese

Preheat oven to 400° and

spray a 14 x 11.5 x 2.25

baking dish with a non stick

spray. Set aside.

Peel and thinly slice potatoes,

approximately 1/8"

thick. Place in a large bowl

until ready to use.

In a large frying pan, melt

butter over low flame then

add onions and garlic. Sauté

for about 4-5 minutes.

Sprinkle flour over onion

mixture, stir and cook for a

couple minutes.

Layer 1/3 of the potato

slices in baking dish then

add 1/3 of the sour cream

and 1/3 of the cheese sauce

over the potatoes.

Top with 1/3 of the Parmesan,

1/3 pepper jack cheese

and 1/3 of cheddar cheese.

Repeat layering 2 more

times ending with cheddar

cheese.

Cover with foil and place in

oven. Cook for 1½ – 2 hours.

About 15 – 20 minutes prior

to potatoes being done,

remove foil to brown the

cheese a bit.

Remove from oven, let sit

for about 15 minutes, then

enjoy. Serves 10 generously.

Cooking time may vary

depending on how thin the

potatoes are sliced.

Call Kaslo,1-800-663-4619 Discover Sixty-Five June 2022

A 11
---
Cannabis Corner

Cannabis for Chronic Pain

Terese Bowors

Cannabis effectiveness for chronic

pain management is gaining validity

with more clinical data showing

the analgesic effects of cannabis in

chronic pain cases. Cannabinoids are

uniquely capable of modulating various

types of pain, since cannabinoid

receptors are widespread on a wide

range of pain-regulatory pathways in

the body.

Studies, as well as a host of anecdotal

evidence, are finding that regular

microdosing with cannabis with a

balanced THC:CBD ratio can help

reduce chronic pain, make flare-ups

less frequent or even eliminate pain

completely. Pain types that respond

well to cannabis include: arthritis,

fibromyalgia, neuropathic pain and

spasticity associated with multiple

sclerosis, lower back pain, joint pain,

headaches and migraines.

We are all unique in how we respond

to cannabis and we may need to

experiment with the ratio of cannabinoids

to discover what is most effective.

The go-to cannabinoids that

are most effective for pain are THC,

CBD, CBG and CBN. THC and CBD

are abundant and relatively easy to

access in our area; CBG and CBN can

be more challenging. Your cannabis

coach can help you source products

that are best for you.

Will cannabis take my pain away?

That's the question we all want an

answer to! How cannabis – specifically

THC – impacts a person' s pain

seems to fall into two main categories.

Some people report that cannabis

quickly decreases their pain with the

right combination of THC, CBD, CBG

or other cannabinoids.

Others say (as shared by Dr. Rav Iver,

in his book Cannabis for Chronic

Pain), that they weren't entirely sure

if THC was doing anything to relieve

their pain, but it sure took their mind

off of it!

I have experienced both of these

responses in my cannabis experience.

Pain occupies so much mental

space that attempting to think of

anything else is a challenge. There is

an immediate feeling of relief when

pain thoughts subside. You begin to

feel spacious in your mind and are

able to go about your day as usual -

sometimes pain-free and sometimes

without any thoughts about pain.

When beginning any cannabis

routine it's important to start with

a low dose and increase your dose

slowly to reach your desired effect.

Your preferred method of intake

has an impact on when you start to

feel the effects and how long they

last. Inhalation onset is the shortest

with almost immediate onset and

lasting the shortest length of time,

1-4 hrs. When you take oil orally

the onset is between 15-40 min,

lasting 2-4 hours. The onset with

oral ingestion of an edible is 1-3 hrs,

lasting 6-8+ hours. If you experience

mild, unpleasant side effects, this

is an indication that you may need

to reduce your dose and increase

your dose more slowly over time.

Mild side effects will diminish as our

bodies acclimate to cannabis. If you

do not experience the pain relieving

effects that you desire, you may need

to switch to a different method of

intake or a different ratio of THC:CBD.

Terese Bowors,

Certified Cannabis Wellness Coach

www.terese.ca info@terese.ca

References:

Medical Marijuana Efficacy: A Survey

https://www.scirp.org/journal/paperinformation.aspx?paperid=115717

The Efficacy of Cannabis in Reducing

Back Pain: A Systematic Review

https://www.ncbi.nlm.nih.gov/pmc/articles/PMC8907633/

The information shared is for educational

purposes and should not be seen as

medical, nursing, nutrition or legal advice

and is in no way meant to take the

place of your health professionals.

12

June 2022 Discover Sixty-Five email: seniors@pennywiseads.com
---
Cannabis Corner

THC

Misconceptions

There are potentially 200 terpene compounds

expressed by the cannabis plant and over 20

flavonoids. The specific effect on a person from

a strain of cannabis is determined less by the

THC concentration and more by the synergies

between all of these compounds that are

found in the plant. Your body's own endogenous

cannabinoid system plays an important

part too.

Cannabinoids like THC and the terpenes and

flavonoids are all produced and contained primarily

inside resin glands that sit perched atop

stalks that mostly grow up from the surface of

the plant.

These resin glands are finite spaces. When you

increase the concentration of one compound

like THC, it leaves less room for the other

entourage compounds. The result may well be

that the strain's potential terpene profile and

overall effects have been compromised.

I have always enjoyed cannabis that had THC

at or around 18%, with terpenes 3% or higher.

Best advice when selecting high THC strains

of cannabis to vape or smoke, is to go for a

terpene content of at least 3-4% or higher. That

will ensure you are not sacrificing the total

entourage effect just to obtain the most THC

per gram, and will give you an overall better

experience with the cannabis you are buying.

Jim Leslie, Kootenays Cannabis Tree

Suite 106 – 601 Front St. Nelson

250 352 0961 (Store)

www.kootenayscannabistree.ca

info@kootenayscannabistree.ca

7 Tips to a Successful

Retirement

Ask yourself some questions.

Do I have all my ducks in a

row?

…Financials, vision for retirement,

travel plans, downsizing

to a smaller place…

Ask yourself – am I done with

work? What lifestyle do I want

to transition into?

1. Retirement is freedom – freedom

to choose what kind of

activities you want (recreational

activities, part-time work,

a new business, mentoring

others, start a passion career, or

volunteering.)

2. You are responsible to fill

your day. After you leave the

full time work world you now

need to fill your day. What will

that look like?

3. Common signs of a failed

retirement are depression, lack

of sleep, grief, and loss of your

identity.

4. Learn from those who have

gone before. Ask your friends,

your colleagues: What did they

do? Put the same amount of

energy that you put into your

work into something outside

of work that gives you a greater

satisfaction. Pick a purpose, a

cause.

5. Keep your spouse in mind.

Plan your week calendars, plan

for time alone and time to be

together, and volunteering

time.

6. Have fun! Try new things –

camping cycling, kayaking, art

classes, gardening, woodworking,

or even join a book club.

7. Write your own 10 commandments

– things that you

are going to live by: take care

of your body, exercise, stay

flexible, cherish family time,

pursue your passions…

Wendy LeCroix

Registered Retirement Coach

at Your Retirement Path

250-505-7704

https://yourretirementpath.

ca

Peace of Mind for

You and Yours

Spectrum Home and Family Care

Since 2004 we've been offering

comprehensive, friendly, and

professional home support services.

Serving the East & West Kootenay

250-265-3842

www.spectrumcares.ca

Call Kaslo,1-800-663-4619 Discover Sixty-Five June 2022 13
---
Showing in the Langham Art Galleries

from May 16th until July 17th

GEAR - by Bettina Matzkuhn

Textile artist Bettina Matzkuhn examines

the human presence in the backcountry

by deconstructing outdoor

gear and reconstructing it with the

addition of embroidered imagery. Gear

features interactive pieces revealing the

artist's response to the role of outdoor

gear in the consumption, promotion

and diminishment of natural spaces.

VIOLENT FEMME

by Branda Christoffersen

In her new body of work Violent Femme,

Nelson artist Branda Christoffersen

explores her path through womanhood.

Using line and color she investigates

love, rejection, and becoming a mother.

Kaslo Summer Music Series

All shows free to the public - donations welcome!

Saturday June 4

Front Street Stage - 4-6pm

Mostly Marley -

Classic Reggae band from Vancouver

Saturday June 11

Vimy Park Gazebo - 4-6pm

Blackout Summer -

Youth power trio from Castlegar

Saturday June 18

Front Street Stage - 4-6pm

Rumour Mill -

Indie-folk duo from Nelson

Saturday June 25 Vimy Park Gazebo - 4-6pm

The Hillties - Funk, reggae, hip-hop band from Nelson

Gallery Showings

and Live Music

"Experiences, much more

than instruction,

are a seeing with the

inner eye, finding a channel to our

essential inner life,

a door to our deepest

understanding wherein we have

the capacity for

universal response."

Lawren Harris, Canadian painter

Warm weather is finally coming and the

roads are good to drive.

Get out and explore the West Kootenay,

adventure is required to thrive ~ D65

Music in the Park

Thursdays at 6:15 pm to 8 pm

Gyro Park, Trail

Bring a lawn chair. Admission is by donation -

$3 minimum suggested. Or buy a pass for the whole

season for just $50. More info at trail-arts.com

June 16: Boomer / Trail Pipe Band

with Scottie School of Highland Dance

Rock meets Scottish piping for an evening of dancing!

June 23: Diamond Willow / Maple

Leaf Band Classic country rock meets concert

band pieces, show tunes and marches.

June 30: Sly Violet / Heavyweights

Brass Band Energetic, folk-rock meets

New Orleans - inspired brass.

July 7: The Night Market: Judy Brown

Band / Petunia and the Vipers Roots music

meets hillbilly-flavoured-swing inflected-ragtime.

14

June 2022 Discover Sixty-Five email: seniors@pennywiseads.com
---
Acetaminophen for

Self-Management of Pain

Pain is an indication that something

is wrong with our bodies and thus

pain should not be ignored. There

are many causes and types of pain.

Some causes of pain can be managed

at home, whereas other causes

of pain cannot be managed with

self-care and are in fact a medical

emergency. When in doubt, or if

pain occurs suddenly, if it changes,

do get it checked out by a healthcare

professional.

There are several medications available

to treat minor, short-term pain

that can be obtained from a pharmacy.

Acetaminophen is a commonly

used agent for treatment of pain and

fever. How acetaminophen reduces

pain is not clearly understood. Persons

with severe liver disease should

discuss acetaminophen use with

their health care provider. Those who

use alcohol (more than 2 drinks a day

for men and more than 1 drink/day

for women), or those who require

acetaminophen for more than 5-7

days should also consult with their

healthcare provider.

Although acetaminophen is generally

considered safe at usual doses,

there are some medications and

supplements that can interact with

acetaminophen. Some products

that affect acetaminophen include,

but are not limited to the following:

alcohol, echinacea, fenofibrate (used

to treat cholesterol), phenytoin (an

anti-seizure medication) and carbamazepine

(used for nerve pain, and

seizures). Talk to your pharmacist if

you start taking acetaminophen to

check if you are on medication that

can interact.

Everyone should try to use the lowest

effective dose to treat their pain

without going over the maximum

dose for any one dose, or within a 24-

hour period. A healthy average sized

adult can use 4000mg of acetaminophen,

spaced out as indicated on the

package directions. However, lower

doses of 2400 to 3000mg may be

recommended for some individuals,

including but not limited to smaller

individuals, the elderly, or those

who use acetaminophen long-term.

Many products sold for not only

pain but cough and cold, fever, and

muscle pain contain acetaminophen.

Acetaminophen is a common cause

of unintentional poisoning. Thus, it

is essential that people ensure they

are not taking more acetaminophen

than recommended. It is important

to know how to check if a product

contains acetaminophen, how many

milligrams (mg) are in each tablet,

and how to calculate what you are

taking. If this seems complicated

check with your pharmacist. Also,

store medications in a secure location,

where children and pets cannot

get at them. Most commercial acetaminophen

products are best stored

at room temperature, away from heat

and moisture, but check the product

for specific directions on storage

requirements.

If you believe someone has taken

more acetaminophen than recommended

it is important to seek

medical help immediately. In BC you

can call poison control toll free at

1-800-567-8911.

Other medications used to treat

minor pain that can be used without

a prescription include topical

medications and anti-inflammatory

oral medications (such as ibuprofen,

naproxen, or acetylsalicylic acid).

These medications will be discussed

in a future article and have their own

risks and benefits.

Bonne M. BSc(Pharm), RPh

Catherine M. BSc(Pharm), RPG

***Please note the information given in

the article is not a substitute for professional

medical advice, diagnosis, or treatment.

If you have or suspect you have

a health problem, consult your family

physician, or healthcare provider.***

Questions about wealth

management, insurance

or estate planning? Call us

today at 1.800.665.5728.

Call Kaslo,1-800-663-4619 Discover Sixty-Five June 2022 15
---
(Not so) Classic Come-ons

ACROSS

1 Ardent supporter

7 Halloween hangings

11 Reagan's "Star Wars" prog.

14 Atwood book "The ___

Woman"

15 Successful music producer

17 Pick-up line to a hockey

player?

19 AM frequency meas.

20 Expression of good taste?

21 Blows off steam, in a way

22 Pick-up line to a doily

maker?

27 Isle of Skye neighbour

28 ___ Carte, operetta company

29 Clod on a golf course

32 Veggie on a vine or a tine

33 Yeltsin's yeses

36 Pick-up line to an architect?

41 Holiday or Days

42 Spoon cargo in a race

43 Land of many sherpas

44 Sorceress daughter of Helios

47 Night before, perhaps, to a

drunk

49 Pick-up line to a hitman?

54 Roofing frame

55 Port for a thumb drive

56 Suffix with two or go

57 Pick-up line to a gambler?

62 Slapshot off a pass

63 Develop over time

64 Kiev's ctry.

65 Sticks up

66 Transferred, as property

DOWN

1 Tom Sawyer's crush

2 A neighbour to B.C.'s south

3 "Captain Commando" ninja, or

a cutlery brand

4 Org. once led by James Comey

5 Country NW of Greece: Abbr.

6 "Mad" man Alfred E. ___

7 Cry of the hard done by

8 Kids' farm song finale

9 Heater stat

10 Overly flattering

11 Take off for the lake?

12 Al ___ (spaghetti spec)

13 Nettles

16 Thin as ___

18 Where "it's fun to stay," in a

'70s tune

23 Real hoot

24 Chunks of realty

25 Germany/Poland border river

26 Abbey on an Beatles album

29 Failed Breathalyzer charge:

Abbr.

30 Him, in Heidelberg

31 City dubbed "Lotus Land"

32 Wrinkly-faced pooch

34 Big Turk

35 90-min. sketch show

37 Kid's response to broccoli,

maybe

38 Double-curve moulding

39 Adequate, in texts

40 Medieval toiler

45 "No more for me"

46 Try the freestyle relay again

47 Better than better

48 Thrown, as insults or grenades

49 Kind of call from Bart to Moe

50 Ones with regrets

51 Words from one throwing in

the cards

52 Daredevil's asset

53 Deadly Sin #3

54 Holier-than-___

58 Patio furniture brand

59 Request a Milk-Bone, maybe

60 Joanne's split personality role,

1957

61 Enemy

16

June 2022 Discover Sixty-Five email: seniors@pennywiseads.com
---
Sudoku Here's How It Works:

Sudoku puzzles are formatted as a 9x9 grid, broken

down into nine 3x3 boxes. To solve a sudoku, the

numbers 1 through 9 must fill each row, column

and box. Each number can appear only once in each

row, column and box. You can figure out the order

in which the numbers will appear by using the numeric

clues already provided in the boxes. The more

numbers you name, the easier it gets to solve!

Knock, knock.

Who's there?

A little old lady.

A little old lady who?

I had no idea you could yodel!

—@KnockKnockJokes

Knock, knock.

Who's there?

Ida.

Ida who?

Surely it's pronounced Idaho?

—@haileyhargreeve

Puzzles - solutions pg 2

For information or to volunteer,

contact Joanne at 778.463.5247 or

seniorstransportation@nelsoncares.ca

For information, or to book a ride

Contact Joanne at 778.463.5247 or

seniorstransportation@nelsoncares.ca

Call Kaslo,1-800-663-4619 Discover Sixty-Five June 2022

17
---
Care to Share

Hide and Go Seek!

Prettiest fence in the West Kootenay.

Who knows where it is?

email seniors@pennywiseads.com

My Superhero

Dad you know that I like Batman,

And Superman's cool too,

But I don't really need them,

As long as I have you!

Happy Father's Day

Official spring sidewalk

greeters in Kaslo!

Send us your photos, short stories (100-200 words), poems, best jokes, etc., for Care to Share

by email: seniors@pennywiseads.com, or by snail-mail: Care to Share, Box 430 Kaslo BC V0G 1M0,

or drop off at Pennywise, #209-312 Fourth Street Kaslo. Phone 250-353-2602, 1-800-663-4619

18

June 2022 Discover Sixty-Five email: seniors@pennywiseads.com
---
CASTLEGAR LIBRARY

• The library offers Outreach

services to seniors at Castlewood,

Castleview and Talarico

Place. A librarian visits these

facilities on a monthly basis

to bring and pick up materials

and will also drop off and pick

up books to individuals who

are home bound.

• We also have an online book

club in partnership with the

Kootenay Library Federation.

The books for these clubs can

be picked up at our library

once the person registers.

• Other services include our

subscription to the Centre

for Equitable Library Access.

A collection for those with

print disabilities. We also have

a wide selection of large print

books and audio books on CD

here in the library.

Kimberly Partanen, MLIS

Library Director 250-365-6611

info@castlegarlibrary.com

Knock, knock.

Who's there?

A broken pencil.

A broken pencil who?

Never mind.

It's pointless.

PEN PAL CLUB

Libraries across the Kootenays

are bringing back the

lost art of correspondence.

Join the club and we will

match you up with someone

to correspond with

– either by email or the old

fashioned way – snail mail.

This is a great opportunity

to encourage one another

in a trying time!

Here is how it works:

Register by emailing Melodie

Rae at mstorey@nelson.

ca and answer these four

questions:

1) Are you a kid/teen/

adult?

2) Do you want a kid/teen/

adult pen pal?

3) What are your interests?

4) Do you want to correspond

by email or snail

mail?

Give us a few days, but

eventually the library will

match you with someone

in the Kootenays who is a

good fit for you.

Write a letter or create

some artwork for your new

pen pal and send it by

taking a picture of it and

emailing it to Melodie

Rae at

mstorey@nelson.ca

OR Canada Post it to the

library address:

NELSON PUBLIC LIBRARY:

602 Stanley Street

proofread

Nelson Public Library

c/o Melodie Rae Storey/

Pen Pal Club

602 Stanley Street

V1L 1N4

Whether by email or snail

mail, we will forward your

mail to your pen pal (your

privacy will be protected –

all mail will be forwarded

through the library).

Seniors & Outreach:

The Library has a wide

variety of materials

available for loan,

including:

• Large print books and

Reader's Digest large print

magazine

• Audiobooks on CD and

downloadable audiobooks

• E-readers/ e-books

are available for loan.

Feature films, TV shows and

documentaries on DVD

and streaming services

• Victor Readers

available to borrow for the

vision impaired.

Call 250-352-6333

Mon, Weds, Fri, Sat: 10-6

Tues & Thurs: 10-7

Libraries

TRAIL & DISTRICT

Public Library:

1505 Bay Ave., Trail

250-364-1731

CARD CLUB

Thursdays through

June 23. 1pm to 3pm

For ages 12 - 112

Let's play some cards!

Bridge, cribbage, euchre

and more! Drop in. No

registration required.

We Can Deliver!

THE HOME LIBRARY

SERVICE is a convenient

way for library

members who may have

difficulty leaving their

homes to borrow books

and other library items.

Our Friends of the Library

provide this free monthly

service to residents of

Trail and Warfield who

are homebound for at

least 60 days due to age,

illness or disability. For information

please visit our

website: https://www.

traillibrary.com/services/

home-library-service

or call 250-364-1731.

Book drop: 24/7

—@BiarianaCxH (at front window)

Sunday, June 19

Emily Tucker

RRC

Senior Financial Consultant

Office: 250-352-7777

Direct line: 250-551-7971

emily.tucker@ig.ca

515 Vernon St. Nelson

Deanne Monroe

Notary Public, trusted legal services

Wills

Powers of Attorney

Health Care Directives

Land Transfers

250-551-4711

www.nelsonnotary.com

Wheelchair Friendly

534 Josephine St, Nelson

Call Kaslo,1-800-663-4619 Discover Sixty-Five June 2022

19
---
June Horoscope

ARIES – Mar 21/Apr 20

1st Week: Owning real estate

has been a wise investment

lately, Aries. Your home may

have increased in value. Now

could be an opportunity to sell

and reap the profits.

2nd Week: Warm and fuzzy

feelings are the name of the

game this week, Aries. Real

world and online friends are

sending love and support your

way, and this helps you in any

endeavor.

3rd Week: If a difficult problem

arises in the days ahead, seek

the council of someone older

or with more experience, Aries.

He or she can guide you accordingly

and assuage doubts.

4th Week: Friendships are

worth their weight in gold,

Aries. That is good news considering

you could make an

important friend this week —

but only if you put yourself out

there.

TAURUS – Apr 21/May 21

1st Week: You want to advance

your relationship, Taurus,.

The best way to do that

is to have some serious conversations

with your romantic

partner. Discuss everything.

2nd Week: Taurus, try reaching

out to colleagues you admire

in the days to come. They can

be an important network of

people who help you make

smart decisions regarding your

career.

3rd Week: Realize that you

may have to tone down your

reactions and behaviours this

week, Taurus. This will earn the

respect of those around you.

Others are seeking calm and

stability.

4th Week: You just may be at

your best this week, Taurus.

Others will take notice of this

immediately. Work finally begins

to pay off, and it's a good

time to begin a project.

GEMINI – May 22/Jun 21

1st Week: Rework your budget,

Gemini. You likely have

some home renovations that

you want to tackle over the

next few weeks, and now is as

good a time as any to get started.

2nd Week: Don't be afraid to

speak your dreams to the universe,

Gemini. This week you

just may find out that the cosmic

climate is ready to provide

for you and make things happen.

3rd Week: Some of your to-do

items may need to be postponed

this week, Gemini. You

simply have too much going

on and no wiggle room if projects

or meetings run late.

4th Week: There is something

waiting for you in the great

outdoors, Gemini. You have to

gather the gumption to go out

there and find it. You will have

plenty of opportunities this

week.

CANCER – Jun 22/Jul 22

1st Week: Your mystique has

others interested in emulating

your style, Cancer. They can try,

but they won't be able to completely

replicate your special

nature.

2nd Week: Cancer, concerns

within your circle of friends that

you thought were over and

done with may resurface. Don't

let them adversely affect your

happiness.

3rd Week: It could be time to

focus on self-improvement,

Cancer. Spend a few days figuring

out where you can do

better. Maybe that's focusing

on spirituality or relationships.

4th Week: Cancer, something

impressive takes hold of your

attention, and then you can't

get it out of your mind. This

could be the inspiration you

need to start something new.

LEO – Jul 23/Aug 23

1st Week: Leo, you may be

thinking about starting a new

long-term project. Put your vision

on paper first so you can

map out your plans and see if

it is feasible with your current

budget.

2nd Week: Energy will be intense

this week, Leo. Use it

to your advantage to sail effortlessly

through your list of

chores or professional responsibilities.

You'll have extra fuel

for fun as well.

3rd Week: This is an ideal time

to spend with your family, Leo.

Plan a grand meal with extended

family members and host a

reunion of sorts. Catch up and

share memories.

4th Week: A particular person

may play a key role in your life

today, particularly as he or she

interacts with forces at work.

There is a chance for this relationship

to grow, Leo.

VIRGO – Aug 24/Sept 22

1st Week: Virgo, you will be

surrounded by plenty of people

interested in social engagement

in the days ahead. That is

fine news for you, as you enjoy

being out on the town.

2nd Week: Virgo, try to stay

the course as best as possible

even when others are throwing

distractions your way left

and right. Simply keep your

head down and plow through.

3rd Week: Virgo, change may

be a tad scary at first. But before

you know it, you will be an

old hand at what you are delving

into. Just stick with it until

reach your comfort level.

4th Week: You have made a

decision to get your life in order,

Virgo. This week marks the

first steps toward that goal. Accept

help when it is given for

an additional leg up.

20

June 2022 Discover Sixty-Five email: seniors@pennywiseads.com
---
These are the weekly Horoscopes for the month of May,

Week number 1, 2, 3 and 4...

LIBRA – Sept 23/Oct 2

1st Week: Efforts at work have

not gone unnoticed, Libra.

What you have worked toward

has impressed those who are

in position to move you further

along in the company.

2nd Week: Libra, you are not

one to rock the boat, but don't

be afraid to get a little loud and

rowdy in the name of a good

time this week. Self-expression

can be a good thing.

3rd Week: There may be misunderstandings

with others

unless you are very clear with

your words and intentions, Libra.

Watch your tone so things

are not misconstrued.

4th Week: Let your artistic

side out to play, Libra. It's not

something others play witness

to that often, but you can be

quite imaginative when you

set your mind to it.

SCORPIO – Oct 24/Nov 22

1st Week: Scorpio, they may

not be on the top of your

mind, but legal matters must

be worked out soon. This is a

good week to revisit your longterm

plans if it's been awhile.

2nd Week: Scorpio, lay some

ground rules at home, especially

for when you are working

out of your home office. Others

have to know there are limits

to interruptions.

3rd Week: Don't get too

caught up on your cash flow

right now, Scorpio. You have

certain projects on the horizon

that may bring in more money

that will tide you over for some

time.

4th Week: Scorpio, family matters

may not be cut and dried,

but that doesn't mean they

have to be challenging. Enjoy

things that are not run-of-themill,

especially with the family.

SAGITTARIUS – Nov 23/Dec 21

1st Week: Projects worked on

this week will have a significant

impact on your future, Sagittarius.

You have a magic touch of

sorts, so put it to good use in

the days to come.

2nd Week: Don't worry if you

feel disorganized or preoccupied

right now, Sagittarius.

By the end of the week,

you'll be back into the groove

and things will move along

smoothly.

3rd Week: Sagittarius, you may

discover you have been spending

a lot of time focused on the

job or another task that pulling

you away from loved ones. Reconsider

your priorities.

4th Week: An exchange that

takes place this week could

have long-lasting after effects,

Sagittarius. You won't know the

particular event in advance, so

enjoy the anticipation.

CAPRICORN – Dec 22/Jan 20

1st Week: Capricorn, relationships

in your life are strengthened

over the course of this

week. It is because you communicate

effectively and with

honesty and affection.

2nd Week: You don't need

permission to treat yourself to

a little luxury and indulgence,

Capricorn. This week you can

book a spa visit or maybe a

spending spree to spruce up

your wardrobe.

3rd Week: Inspiration and

imagination are soaring for

you this week, Capricorn. Now

is the time to put any creative

ideas in play and see how they

turn out.

4th Week: Sometimes change

only requires transforming the

way you look at things, Capricorn.

Try to see your daily life in

a new light and maybe you'll

be more satisfied with it.

AQUARIUS – Jan 21/Feb 18

1st Week: You are interested in

health and nutrition, including

certain nutrients, exercise programs

or other forms of alternative

therapy. Study up on the

subject.

2nd Week: Aquarius, try not

to grow impatient this week

and expect immediate results

on something you started. It

could take some time before

all of the pieces fall into place.

3rd Week: Aquarius, you may

be hoping to improve communication

with a loved one,

whether a child or even a sibling.

Engage in conversation

when you are distraction-free.

4th Week: Get in touch with

your desires and goals this

week, Aquarius. Your plan and

focus may have changed and

you might need to realign your

approach in this new direction.

PISCES – Feb 19/Mar 20

1st Week: Pisces, artistic pursuits

are piquing your interest,

so focus your efforts on practical

creative pursuits, like cooking

or interior design.

2nd Week: It's time to make

peace with any issues with

which you have been struggling,

Pisces. Friends can help if

you let them.

3rd Week: Someone who visits

you could bring interesting

news that ends up being the

focus of the conversation. You'll

get your say with time.

4th Week: Let go of some of

the patterns in your life that

simply aren't working, Pisces.

You'll free up plenty of time for

new pursuits.

June

HORESCOPE

SPONSORED BY

Call Kaslo,1-800-663-4619 Discover Sixty-Five June 2022

21
---
Exercise can help you enjoy living longer

There are many reasons to

get in shape. Weight loss

is a prime motivator, as is

reversing a negative health

effect, such as high cholesterol

or increased diabetes

risk. Routine exercise also

can improve life expectancy

AND bring more joy to the

act of living.

WebMD says exercise keeps

the body and brain healthy.

That's why exercise should be

an important component of

daily life no matter one's age.

Research published in the

journal Immune Aging found

that the way in which people

age is 75 percent lifestyle

and only 25 percent genetics,

which underscores the

importance of the lifestyle

choices people make.

July Long

Weekend

Sunday, July 3, 2022

Cardiorespiratory fitness

Many health experts say that

cardiorespiratory fitness may

be just as valuable a metric

to determine overall health

as blood pressure and lipid

levels. People with a high

aerobic capacity can deliver

oxygen to tissues and cells

efficiently to fuel exercise,

according to data published

in 2014 in the journal

Aging & Disease. In a study

involving 11,335 women,

researchers compared V02

max, also known as aerobic

capacity, in women with

mortality data. Women who

were fit from a cardiovascular

perspective had a lower

death rate from all causes,

irrespective of the women's

weight.

Manage stress and mood

Exercise has direct

stress-busting benefits that

can promote longevity. The

Mayo Clinic says physical

activity can increase the

production of endorphins,

which are the body's feelgood

neurotransmitters.

In addition, exercise can

imitate the effects of stress,

helping the body adjust its

flight or fight response accordingly,

and help people

cope with mildly stressful

situations. While engaged

in exercise, people may

forget about their problems

as they are focused on the

activity at hand.

Improve bone health

Strength training and physical

activity can stave off the

effects of frailty and osteoporosis,

which affects bone

strength. A study published

in the Journal of Internal

Medicine in 2017 found that

hip fractures are associated

with diminished quality of

life and survival among the

elderly. One in three adults

aged 50 and over dies within

12 months of suffering a

hip fracture, and older adults

have a five- to eight-times

greater risk of dying within

three months following a

hip fracture. Building muscle

strength, balance and bone

density through exercise can

reduce falls and frailty, helping

to prevent fracture-related

health risks.

Reduces Sarcopenia

The health and wellness

resource Healthline defines

sarcopenia as the loss of

muscle mass specifically related

to aging. Doctors once

considered this muscle loss

inevitable, and it can affect

stamina and lead to weakness.

However, new indications

suggest that exercise is

the main treatment regimen

for sarcopenia, particularly

resistance training. This is

designed to improve muscle

strength and help balance

hormone levels by turning

protein into energy for older

adults.

These are just some of the

ways exercise can help older

adults live longer, healthier

lives.

22

Kaslo

www.iDIDaRide.ca

Online Registration closes

Wednesday June 29.

Walkup Saturday July 2

Kaslo Arena

5-7pm

June 2022 Discover Sixty-Five email: seniors@pennywiseads.com

Where to begin? It is best to stay active your entire life. For

many of us our day-to-day duties fulfilled this health requirement.

When we retire we need to consciously create new

activity patterns.

Below is a list of common activities you may see advertised,

that are fun and will have great benefits for us all!

1) Water Aerobics

2) Chair Yoga

3) Resistance Band Workouts

4) Pilates

5) Walking - 10,000 steps a day

6) Body Weight Workouts

7) Dumbell Strength Training

Improves

strength,

flexibility and

balance while

placing minimal

stress on your

body
---
A Father's Day Tradition...

BC's Family Fishing

Weekend

The West Kootenay has so many

creeks, lakes and rivers flowing with

pure cold water. This is the world

of the fish, millions of little ones,

plenty of big ones and some truly

gargantuan swimmers like the longlived

sturgeon and the bull trout

that inhabit the depths of Kootenay

Lake and the Columbia River.

On the shore, in a boat, with your

rod in hand, the pastime of fishing

is (ironically) grounding. Periods of

intense observation of the water's

surface and its depths are interspersed

with intervals when your

mind just wanders where it will.

BC's Family Fishing Weekend is an

annual celebration of fishing that

coincides with Father's Day weekend

each year. This year it falls on

June 17 - 19. During the three-day

event, residents of Canada (individuals

who have lived in Canada for

the preceding 12 months) can go

fishing without a licence.

The BC provincial government

waives the requirement for residents

to buy or carry a non-tidal

(freshwater) basic licence on that

weekend. The federal Department

of Fisheries and Oceans Canada,

which manages tidal fishing, also

offers the opportunity to go saltwater

fishing for free. This is a great

opportunity to get together with

family and friends and try fishing!

Exceptions: If you plan to fish for

species that require a conservation

surcharge stamp (steelhead, Kootenay

Lake rainbow trout, white sturgeon,

and salmon in both tidal and

non-tidal waters); or angle Classified

Waters (highly productive trout

streams; listed as Class I or Class II

waters in the water-specific tables

of the fishing regulations) you are

still required to purchase the appropriate

licence(s) and conservation

surcharge stamps.

Anglers must still adhere to catch

quotas ( www.gofishbc.com/

How-to-Fish.aspx#fishing-licences-regulations)

and regulations.

Make sure you have read and

understood the Freshwater Fishing

Regulations Synopsis ( www2.gov.

bc.ca/gov/content/sports-culture/

recreation/fishing-hunting/fishing

fishing-regulations ) so that you

know where you can go fishing,

and which fish species you

can catch.

During BC's Family Fishing

Weekend free fishing

events for anglers and

families are held around the

province. Knowledgeable

volunteers are on-hand at

most events to teach you the

tricks of the trade.

Happy Father's Day to all men

role modelling fatherhood -

brothers, and uncles, grandpas

and step dads! We thank you

for your contributions!

~ D65

Call Kaslo,1-800-663-4619 Discover Sixty-Five June 2022 23
---
www.bccrns.ca

Imagine,

Joe has a single older woman

living next door, and every day

he sees her water her plants and

have tea on her immaculate deck.

One day Joe realizes he hasn't

seen her in many days but her

dirty teacup sits on the deck.

What would/can/should Joe do?

Some of us are comfortable just

knocking on her door. Some not.

Shirley goes to a local coffee

outlet every day. Over a couple

of weeks, coffee shop staff

noticed Shirley's appearance was

changing. She was becoming

unkempt, appeared cold, dirty,

and hungry. Staff decided to

approach her to see if there was

something they could help with.

She confided in them that her son

had taken over her house and she

was now living in the basement

without proper cooking or bathing

facilities.

Because Joe and the coffee shop

staff had learned what to do from

a CRN workshop, they were able

to get Joe's neighbour and Shirley

the help they needed.

Having some knowledge of elder

abuse and neglect will help you

deal with a potential situation and

make our communities safer for

all older adults.

Free trainings

are available to

everyone. No

matter your role or

activities in your

community, we interact

with seniors

every day. Having

the knowledge

to recognize and

respond appropriately

is everyone's

role in keeping our

older adults safe.

Presentations: It's Not Right,

See Something, Say Something,

Volunteering Is Good for YOU!

Let's talk about ageism, how to

recognize and respond to potential

elder abuse, creating healthy

boundaries for working with and

for seniors, and how to open the

door to difficult conversations

which can prevent/stop abuse.

What is elder abuse? What are

the signs, types and symptoms

of elder abuse? What should or

shouldn't you do? Who do you

call? How do you open the door

to conversations? Who is responsible

to investigate allegations of

elder abuse, neglect, self-neglect?

The pandemic has made our older

adults even more vulnerable

to abuse and neglect. This is your

invitation to do your part in creating

communities where all adults

are safe, included and respected.

Sandi McCreight has been working

with and for seniors for 15

years. Sharing her knowledge and

experience through free presentations/trainings.

She is the

Castlegar CRN Coordinator and

the creator and coordinator of the

IRIS program in Castlegar.

For more info or to book a presentation,

please contact Sandi

McCreight. Presentations can be

for your small or large group, or

for a collection of individuals.

Due to COVID, presentations are

via zoom only at this time.

Castlegar CRN Sandi McCreight

250.608.0706

castlegarcrn@hotmail.com

Beaver Valley CRN Jayme Fowler

Email: beavervalleycrn@gmail.com

Grand Forks CRN Rachel Warriner

Email: gradforkscrn@gmail.com

Kaslo CRN Elaine Smith

250.353.7666

Email: kaslocrn@yahoo.ca

Nelson CRN Maxx von Ilberg

Email: nelsoncrn@hotmail.com

Salmo CRN Helen Oldershaw

Email: helen@scrs.ca

Regional Mentor, West Kootenay/

Boundary: Heather von Ilberg

250.777.2103

Email: heather.vonilberg@bccrns.ca

For more info on the BC

CRN or your local CRN

please contact Heather

von Ilberg or your local coordinator.

These CRNs are part of the BC Association

of Community Response Networks (BC

CRN), whose mandate is to work with

community, agencies, and government to

develop a coordinated response to abuse

and neglect of vulnerable adults.

A CRN provides information and support so the community can both prevent and respond effectively to abuse and neglect.

Visit www.bccrns.ca for more information.

24 June 2022 DISCOVER SIXTY-FIVE, Kootenay Seniors Living