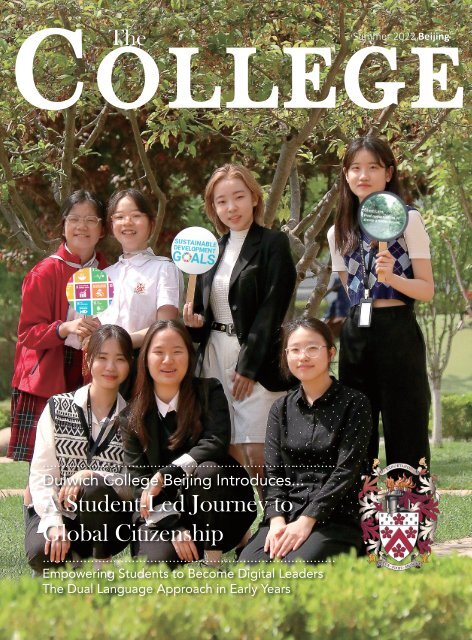 The College Magazine Summer 2022
We have the pleasure to announce that our Summer 2022 edition of The College Magazine is now available! Some of the students from DCB Senior School Global Goals Club will take you through a student-led journey to global citizenship and share some of the projects they successfully launched in the past school year. Student leadership is a broad concept that encourages every student to take ownership and responsibilities. You will read about programmes and activities that are provided in DCB Early Years to foster student agency from a younger age. Junior School Student Council share their creative initiatives, including 'No Carbon November'. The Dulwich Dudes Podcast and Magazine team from Junior School reflect their first year of journalism activities. Check out their thoughts and ideas! Some of the 2022 graduates share insights that they have gained through the university application journey.
We have the pleasure to announce that our Summer 2022 edition of The College Magazine is now available!

Some of the students from DCB Senior School Global Goals Club will take you through a student-led journey to global citizenship and share some of the projects they successfully launched in the past school year.

Student leadership is a broad concept that encourages every student to take ownership and responsibilities. You will read about programmes and activities that are provided in DCB Early Years to foster student agency from a younger age.

Junior School Student Council share their creative initiatives, including 'No Carbon November'. The Dulwich Dudes Podcast and Magazine team from Junior School reflect their first year of journalism activities. Check out their thoughts and ideas!

Some of the 2022 graduates share insights that they have gained through the university application journey.
SHOW MORE
SHOW LESS
You also want an ePaper? Increase the reach of your titles
YUMPU automatically turns print PDFs into web optimized ePapers that Google loves.
C The

OLLEGE

Summer 2022 Beijing

...............................................................................

Dulwich College Beijing Introduces...

A Student-Led Journey to

Global Citizenship

...............................................................................

Empowering Students to Become Digital Leaders

The Dual Language Approach in Early Years
---
Friends of Dulwich

Building the Community Culture Around You

Welcome to Friends of Dulwich! As the parent association

at Dulwich College Beijing, we aim to build bridges between

families, the school, and our wider community and by doing

so, enhance the school experience for our children. All parents

automatically become Friends of Dulwich (FoD) members once

their child(ren) joins Dulwich College Beijing (DCB).

The Friends of Dulwich Committee consists of more than 20

volunteers working for our community. Everybody is welcome

to join our FoD committee to build a warm, friendly, smart

community! Feel free to contact us at fodchair.beijing@dulwich.

org

Julie Hong

Chair of Friends of Dulwich

As parents, we are proud that our children are receiving the best

international education at Dulwich College Beijing. But more

than that, as part of the DCB community member, you should

also know that Friends of Dulwich is a link to connect you and

your family with our school.

Strengthening the connection between DCB families and the

school is FoD's most important mission. To achieve this mission,

FoD volunteers create opportunities for parents to connect with

the College by organising regular events and enabling everyone

to find something enjoyable among a large choice of activities

and clubs:

• New Family Orientation Day and Friends Welcome Tea

• A Cappella Club

• Culture Club & Connection Lunch

• Parents Representatives

• Teachers' appreciation lunches

• Third-party staff Chinese New Year appreciation

and many more...

C O N T E N T S

Head of College Message

Live Worldwise

Our Global Citizenship Statement

DIMUN XII: A Perpetual Pendulum

A Student-Led Journey to Global Citizenship

Dulwich College Beijing Takes Staff Wellbeing at Heart

Student Agency

Student Leadership in Early Years

Student Initiatives in Junior School

Meet the 2022 Student Prefect Team!

Graduate Worldwise

Class of 2022 Receives Worldwide Prestigious University Offers!

A Reflection on the University Applications Journey

Education and Technology

Empowering Students to Become Digital Leaders

Sustaining Educational Innovation in a Changing World

Learning Pathways

We Never Lose, We Either Win, or We Learn...

The Dual Language Approach in Early Years

"Staying in Your Own Lane" in a Learning Setting and Beyond

Visual and Performing Arts

MADD Festival

Sustainable Artworks in Early Years

Story Light Boxes by Year 6

Congratulations to All Our GCSE Art Students!

2022 IB Visual Arts Exhibition

Senior School Drama Production: Romeo and Juliet

Junior School Welcomes Spring in Music

Spotlights

House Events

Hear from the DCB Alumni

DCI News

Cover: Betty H, Victoria H, Lily L, Lina M, Ariel Y, Julie Z, Agatha Z

Editor, Design & Layout: Kalyana Marechal, Sophie Zhu, Yadi Zhou, Edelmann Group

Editorial Support: Cecilia Liang

Contributors: Jett Brunet, Becky Bush, William Chen, Bryan Chiew, Anthony

Coles, Sally Corben, Jacob Dong, Rachel Edwards, Victoria H, Jeffrey Harmon,

Dr Tabitha Healey, Melody Hsu, Stephen Hurworth, Yosef Karasik, Brian L, Lina

M, Kevin Meng, Shauna McFaul, Elena Reid, Jason Ryu, Yvette Stride, Cecilia

T, Alexander Tew, Jenna Yeh, Senior School Global Goals Club, our colleagues

across the DCI network and many of our wonderful students and alumni

Photography: Kidsphoto Studio, Global Vision Studio, Dulwich College Beijing

students and teachers

04

06

06

07

08

12

14

14

16

18

20

20

22

28

28

30

32

32

34

36

39

39

40

42

44

48

52

54

57

60

65

72

beijing.dulwich.org

The College Magazine (Beijing)

3
---
Head of College Message

Dear DCB Community,

It is my pleasure and privilege to introduce a new edition of The College magazine

as another dynamic and rewarding academic year is about to close. The plethora

of news and events covered in this release will allow everyone to find articles and

photos of interest. However, allow me to highlight a few highly relevant topics for

the whole college.

Re-accreditation

In December, Dulwich College Beijing was fully re-accredited

by the Council of International Schools (CIS) and the

Western Association of Schools and Colleges (WASC). The

CIS/WASC evaluation team was very complimentary about

Dulwich College Beijing. The evaluation team's report

identified many commended areas, including our revised

guiding statements, high levels of student engagement, our

dedicated staff, ongoing curriculum development, our focus

on student wellbeing, the work being done around English

as an additional language provision, staff's professional

learning and the community support our parents show

the College. In addition, the report identifies a few areas

for continuing growth that focus on digital citizenship and

curriculum review processes, along with finding more

collaborative time for Staff. The whole Report confirms that

the College continues to deliver a world-class, well-rounded

and challenging programme for our students. We have all

the ingredients: great teachers, a robust, rich curriculum,

and third-party accreditation agencies like CIS/WASC and

the IBO to hold us all accountable for improving student

learning.

Global Citizenship

Our mission is to Live Worldwise, and a lot of work has gone

into developing a new Global Citizenship definition.

Connect / Care / Act

We are on a journey to connect with, care about, and act for

people and our world.

At DCB, we strive to encourage our students to become

global citizens. We are continually enhancing our curriculum

so that our students learn about global issues and

sustainability and other people, their cultures, and their

perspectives.

We wish to see our students having:

• A strong self-esteem and identity

• A deep understanding of global issues.

• An open mind with the ability to see the world from

multiple perspectives.

• A positive impact on others through service

• A concern for the environment and sustainable

development

• Empathy and an understanding of other cultures and

a sense of shared humanity

• A commitment to social justice

To support our mission of Live Worldwise, a new position

has been created for the next school year. This role will direct

and shape the student experience at Dulwich College Beijing

in the area of Global Citizenship that encompasses, but is

not limited to, sustainability, service and global citizenship.

The role will provide students, teachers and staff access to

world-class learning opportunities via curriculum design,

enrichment and global networks in the area of Global

Citizenship. Mr Samson Swanick has been appointed to be

our first Director of Global Citizenship. Mr Swanick will work

closely with both the school and local community (parent,

schools, outreach groups) to provide opportunities for

developing global citizenship attributes with students and

raising awareness and the connectedness of the Sustainable

Development Goals.

Our EdTech Team has been constructing a new curriculum to

empower our students to be effective and responsible digital

citizens during this academic year. As part of this work, a

new definition was created.

Digital Citizens are responsible, confident users of

technology that connect with, care about, and act

positively within our community and beyond.

Our newly formed EdTech team has supported teachers in

integrating authentic use of technology within the learning

programmes. Behind the scenes, a lot of work has also taken

place to take our systems to another level, improving the

user experience for students, teachers and parents.

This academic year has again tested us in so many ways. I am

proud of the resilience shown by all community members

when coping with COVID-19 related challenges. It has been

a tough couple of years for many individuals, and the care

shown by peers has been tremendous. Our efforts to equip

staff with coping strategies and the knowledge of maintaining

a healthy lifestyle has been well received. However, these

ongoing challenges have meant a higher number of our

teachers than usual have decided to leave DCB in June.

We know that this has been a tough decision for them, but

many felt the need for change with the ongoing restrictions.

Although we are sad to see our colleagues depart, we are

excited to meet the new cohort of teachers who will join

our community from August this year. We have carefully

selected these educators to teach our students and move our

programmes forward. We anticipate an easing of restrictions,

and hopefully, our parents and community events will return

to the campus as they once did.

Awards

DCB continues to look at ways in which to deliver a worldclass

education. Our students come first, and all of the

programmes are designed with their needs in mind. We

were delighted to have the College recognised by the British

Schools Awards in two categories: Holistic Education and

Science and Technology.

Winning the Holistic Education Award shows that DCB is

far more than just an academic school with outstanding

performance. This award celebrates the exceptional

collective effort from all our staff and students in building

a well-rounded, balanced set of offerings both within and

beyond the classroom walls. From academics, sports, and

the arts to students taking action in the local community,

this award recognises the four DCB pillars well and truly.

The Science and Technology Award acknowledges initiatives

within the curriculum and across the extracurricular

activities programme. It is a recognition of the staff who

brings Science & Technology to life for students and students

leading clubs and activities in this area. The judges very

much saw the broad involvement of all students as an

outstanding differentiator!

DCB was also awarded the winning school for the

International Schools Award category "Pathways to

continued and university education". This is great recognition

for everyone involved in our WorldWise Academy, which

enriches the career pathways of our students by creating

connections between DCB and the world of work. The

WorldWise Academy is a true collaboration between

students, parents and staff, and we are honoured to receive

this prestigious award.

University offers

Our seventy graduates will be soon spreading their wings

to study at universities all across the globe. We are proud of

their achievements and the people they have become. We

look forward to hearing about their impact on the world in

the years to come. Meanwhile, we wish them all the best in

their transition to a new chapter of their life.

Anthony Coles

Head of College

Head of College Message

Award Category

Pathways to Continued and University Education

Presented to

Dulwich College Beijing

In recognition of achievement at the

International School Awards in January 2022

4 beijing.dulwich.org

The College Magazine (Beijing)

5
---
Live Worldwise

Live Worldwise

Dulwich College Beijing Unveils its Global

Citizenship Definition

DIMUN XII: A Perpetual Pendulum

By Brian L and Victoria H

Secretaries-General of DIMUN XII

CONNECT / CARE / ACT

We are on a journey to connect with, care about, and act for people and our world.

This definition is underpinned by our mission to Live

Worldwise. It reflects our commitment to educate

our students as the next generation of global citizens

and enable them to make a positive difference to people,

society and the planet.

A dedicated Global Goals definition wall was created by the

Dulwich College Beijing Sustainability leads to provide a live

communication space for the whole college to showcase

news, student actions, links to resources… related to the

different global goals.

With sustainability as one of our strategic priorities this

academic year, we aim to foster our students' awareness

and understanding of global topics and build up their

global literacy through age-appropriate and real-life-based

education.

Andrew Walton, Senior School Sustainability lead, shares

that "the goal of this wall is to connect our community

of students, parents and teachers, and decentralise our

student-led Global Goals Club. This way, our true collective

efforts will result from the whole community doing 10%

more rather than relying solely upon the club members.

We need everybody to contribute a little bit in each of the

fields, starting with the things they are already passionate

about."

Over 130 delegates from 11 schools, including around 20

DCB delegates, met virtually and attended the annual DCBinspired

debating event of Dulwich International Model

United Nations, DIMUN XII, between 18 and 20 March 2022.

Throughout the weekend, a

total of over 50 students from

our College were involved in

participating in or facilitating

the conference, expanding

their outreach to a myriad

of pressing and eye-opening

issues ranging from the

situation in Afghanistan, the

global energy shortage as

well as assessing how artificial intelligence could potentially

become an unsafe tool.

This year, the conference was themed by the statement: A

Perpetual Pendulum. Ranging from global humanitarian

crises and long-term military conflicts to even recent

contentions induced by the COVID-19 outbreak, there exists

an unending trend by which pressing concerns are habitually

overlooked because of a misleading impression of nonviolence.

A strong force or provocation lingers on either side

of the global pendulum, and it is only when the aftermath

is visualised on the farther end that we begin to pledge our

least amount of accountability for a world we have already

devastated.

With the hope to understand and address this phenomenon,

this theme was devised and launched by the executive

team comprising Brian L, Eva C, Victoria H, and Zion K,

under the guidance and support of Mr Royters and Ms

Tomaszun. Throughout the conference and all procedures

in preparation for it, despite the imminent challenges of

working between an online and hybrid possibility, the event,

on the whole, was executed smoothly and successfully,

once again bringing together our entire DCB Senior School

community in an event that trained students to reaffirm

their knowledge of current affairs, and thereby enhance

their outlook as prospering global citizens.

Special congratulations to Sissi S (USA, GA1), Lian C (USA,

ENV) and Olivia K (USA, SC), who were awarded the most

improved, passionate and diplomatic delegate awards,

respectively.

6 beijing.dulwich.org

The College Magazine (Beijing)

7
---
Live Worldwise

A Student-Led Journey to Global Citizenship

By the DCB Senior School Global Goals Club

Who are we?

The Senior School Global Goals Club has morphed and

changed over time, adapting to student needs and changes

in the international socio-political climate –– and, of course,

to the actual climate –– to strive towards not a single but

17 Sustainable Development Goals (SDGs), or Global Goals,

promoted by the United Nations.

Sustainability and Global Citizenship have always been part

of DCB's priorities. As a club, we aim to guide students,

teachers and parents towards these goals in a way that is

tailored to the demands of our school context. We hope to

inspire pivotal conversations amongst members of the DCB

community on sustainability and the Global Goals. During

the past few years, we have hosted numerous assemblies

on climate change, helped to introduce plant-based meat

meals, and worked closely with the school's leadership team

to discuss ideas and student opinions at our regular whole-

College Sustainability Committee meetings.

Like so many student-led initiatives, our student leadership team

makes everything possible. We are, in many ways, idealistic

people that came together with a shared understanding of

what the what is and vision of what the world ought to be.

Here, our student leadership team would like to share short

introductions to ourselves and our visions for the future.

Without further ado, here is a short message from each of

our student leaders.

Tiffany L –– Head of the Global Goals Club, Year 12

I joined the Global Goals Club almost

three years ago, but in the beginning,

like many students, I was vaguely aware

of global issues like climate change,

poverty, and inequality. Due to the

sheer size of the problems the world is

facing today, it's easy to turn a blind eye

toward the larger world and instead

focus on our small spheres of influence.

However, the Global Goals Club's

emphasis on making incremental change and sparking the

much-needed conversation ignited genuine interest and

compassion in me towards caring –– and just by caring, we

can make a difference.

As the Head of the Global Goals Club, my role is to guide

the club's path and work closely on sustainability-related

projects in the College.

Betty H –– Sustainability Prefect, Year 12

Hello! My name is Betty, and I am

currently privileged with the opportunity

to serve as the Sustainability Prefect

alongside Lily for the Dulwich community.

I have been actively engaged in the

Global Goals Club since Year 9, and my

(then) mere interest in sustainability

has grown into a genuine passion.

I think that it is imperative that we

learn to break our goals into basic

rudimentary steps and reach a feasible solution to address

global issues.

Lily L –– Sustainability Prefect, Year 12

I'm Lily, a Sustainability Prefect along

with Betty and part of the Global Goals

Club leadership team. I joined Global

Goals Club in Year 9 and previously

held the role of Public Relations Officer

in Year 10 and Project Manager in

Year 11. My goal as prefect this year

is to make every student within DCB

interested in sustainable development

and environmental protection! I am

particularly passionate about the impact that global issues

such as climate change, pollution and overutilisation of

natural resources have on nature and society. This year, not

only do we want to simply discuss such issues within Global

Goals Club ECA sessions and raise awareness, but we aim

to actively involve more students to participate through

interactive events, including the Key Stage 3 Assembly, Earth

Day and No Carbon November!

Matthew W –– Public Relations Officer (PRO), Year 11

Hello! My name is Matthew, and I am

one of the Public Relations Officers for

the Global Goals Club. Our team aims

to spread awareness and raise empathy

within the school. Throughout this year,

we have spread as much information

within the Dulwich community as

possible so that they are well informed

of the projects being carried out. I have

been writing the bi-weekly Global Goals

Club newsletter, and aim to continue informing students,

teachers and parents of our projects and progress.

Michelle W –– Public Relations Officer (PRO), Year 11

Hello, my name is Michelle; our vision is

to identify problems related to the UN's

Sustainable Development Goals in our

school community, raise awareness, and

then implement action together. I am

especially interested in Goal #5: Gender

equality and Goal #12: Responsible

Consumption and Production. I plan to

write about how women are portrayed

from different points of view (such as

Confucius) and through different times, and publish that

in the school's newsletters. I have conducted surveys on

different people's opinions on controversial gender equity

issues, attended feminism lectures, and joined feminism

groups to prepare for the project. I am also planning to

place bins for plastic around the school and separate types

2 and 5 plastics so they get recycled in Project (ZERO). I

will be first experimenting with this separation method

within my household to see the best way of promotion and

organisation.

Vivianne N –– Head of Admin, Year 10

Hi, I'm Vivianne, and I am one of the

admins of the Global Goals club. As part

of the club, I wish to spread awareness

of the SDGs, especially on Goal #16:

Peace, Justice and Strong Institutions

and Goal #10: Reduced Inequalities. One

of the projects that I have worked on is

the SDG wall. The SDG wall addresses

all of the goals, and through this wall,

we aim to raise more awareness of the

SDGs in the Dulwich community; the SDG wall is designed to

allow students to attach and share ideas or articles that they

find interesting. For this project, we have also collaborated

with the Senior School Library so that students could easily

access articles related to each SDG by scanning a QR code

next to them.

Victoria H –– Head of Admin, Year 12

Hello! My name is Victoria H, and I

am positioned as the Head of Admin

alongside Vivianne. Together, we are

primarily tasked with maintaining the

logistics and organisation of the club,

looking over the team's communication

and meeting agenda, whilst actively

being involved with executive team

duties of leading, encouraging,

and supporting projects related to

sustainability.

Personally, I am incredibly fond of the individual scale of

actions regarding sustainability which ultimately – as I

believe – bolsters the collective spirit of our DCB community.

Particularly, I lay my personal priorities in aiming to inspire an

environment of empathy towards our causes and the world

around us, which will essentially become the future society

of all current students at DCB.

Student-led projects and events

Our team's main vision and goals stand in raising awareness

and ingraining ideas of the United Nations Sustainable

Development/Global Goals in the everyday lives of the DCB

community. Under this umbrella, we aim to set specific

targets per term branched under one or two specific goals,

planning and launching projects or events in which students

can participate on an increasingly larger scale. Through

these efforts, we further hope to advocate the concept

of Global Citizenship and our school's key mission to Live

Worldwise, training students to enhance their individual

open-mindedness toward the world around us.

One of the features that truly stands out about the Global

Goals Club at DCB is our vibrant student involvement,

engagement and initiatives. Currently, we are pushing

exciting student-led projects such as Forestcast, Ocean

Pandas and Project (ZERO). To this end, our club has

launched numerous events, projects and initiatives. Here is

just a glimpse of the work we've been doing.

Key Stage 3 Assembly

Live Worldwise

Since sustainability is a concept that runs through Dulwich,

8 beijing.dulwich.org

The College Magazine (Beijing)

9
---
Live Worldwise

Live Worldwise

we want to educate younger generations about sustainability

as early as possible. Therefore, the Key Stage 3 assembly

was an introduction to our efforts toward sustainability in

the Senior School, specifically emphasising Goal #14: Life

Below Water and Goal #2: Zero Hunger. We also enabled

students to be involved in other sustainable development

goals related ECAs, such as Project (ZERO) and Ocean

Pandas, to introduce their individual projects. We wish to

promote these issues to lower year groups, raise awareness,

and provide them with the chance to make "teaspoons of

change" in their daily lives.

Project (ZERO)

aims that underlie the Global Goals.

We would like to thank Jimin B, Iris S, Amy Z, Matthew W,

Elpis C, Vivian L, Michelle W, Angel W and Mr Zhao for being

heavily involved in turning Project (ZERO) into a concrete

project that is beginning to make a tangible difference in the

school community. Through producing products, we aim to

raise awareness of how much plastic is being wasted and

eventually approach our goal of a "zero-plastic campus."

Global Goals Wall

Around mid-February this year, the Global Goals Wall –

which had been planned and designed for a long time by

members of the DCB Global Goals Club – was installed in

the school in the corridor next to Mr Coles' office. With

one puzzle piece dedicated to each of the 17 Global Goals,

an invitation to collaborate on this wall was expanded to

all members of the DCB community. Ever since, the Global

Goals Wall has been (and is still being) furnished with

colourful posters and infographics, symbolising the entire

College's cooperation, dedication, and affiliation towards the

central goals.

Earth Day 2022

To celebrate Earth Day (April 2022) and Earth Week this year,

the club arranged a week full of activities aiming to mobilise

Key Stage 3 students, a sustainable bake-off, plant adoption

activities, and the bring-back of DCB's traditional alternative

proteins 'Chef's Table', a diverse and comprehensive range

of events was launched to celebrate and accentuate the

importance of our world and the surrounding environment.

Universally, this year's Earth Day was themed under the

statement: Invest In Our Planet. Whilst spreading the idea

and awareness of this topic, the crucial targets that we as a

team set was not only to limit our impact and influence on

the time frame of a single week but to advocate for Earth

(every) Day, calling for small changes and action in the daily

lives of all.

Project (ZERO) collects used up types 2 and 5 plastics from

students and teachers and recycles them into new products.

During the production, we undergo multiple phases. After

an initial rinse, we cut and grind the plastic into small pieces

to ease the washing process. We then soak these pieces in

a water bath and soap to ensure they are clean. After this,

we can heat the plastic in simple moulds or run it through

our locally built extruder. When the plastic is cooled under

pressure, we remove it to then be able to make a wide range

of products or building materials. Ultimately, we want to

produce items that are both practical and aesthetic.

International Women's Day showcase

On Tuesday 8 March, the Global Goals Club invited members

of the Dulwich community to gather together for a

showcase of projects and ideas surrounding the 2022 theme

of International Women's Day –– #Breakthebias. This is a

part of the worldwide effort to draw attention to Global Goal

#5: Gender Equality, combining efforts and approaching this

complex, urgent and ubiquitous problem in modern society

from different perspectives.

the entire student body and school community to get

involved with a sustainable cause and mindset. Ranging from

activities such as a friendly infographic competition between

In summary...

As can be seen, a fundamental advantage (and strength) of

the Global Goals Club is that it advocates for comprehensive

change, targeting and inspiring all groups of the school

community. Whilst adhering to the past legacy of the club at

DCB, we optimistically pledge to bring about more positive

change while remaining inclusive, innovative, and creative.

Our project addresses multiple Global Goals: Goal #12:

Responsible Consumption and Production, Goal #13: Climate

Action, Goal #14: Life below Water, and Goal #15: Life on

Land. As such, reducing the use of plastic will promote zeroplastic

to the nearby communities and take a great leap

toward environmental sustainability, which is one of the final

10 beijing.dulwich.org

The College Magazine (Beijing)

11
---
Live Worldwise

Live Worldwise

Dulwich College Beijing Takes Staff Wellbeing at Heart

By Dr Tabitha Healey

When the world became aware

of COVID-19, the feeling was

this was going to be a short-lived

inconvenience. Little did any of us

predict the extraordinary marathon

of uncertainty that this would

become. A sector particularly hard

hit has been education, as schools

grapple with constantly changing circumstances, fear, isolation

from friends, family and the familiar all whilst trying to ensure

a consistent schooling experience for their students.

My background is 20 years as a Medical Oncologist,

specialising in the care of young women with breast and

ovarian cancers. Caring for the terminally ill provides

extraordinary insights into how people respond to incredible

challenges. This led to my passion for wellbeing and a career

shift to Executive and Personal Coaching, assisting people in

living their best lives, whatever is thrown at them.

Dulwich School Beijing has been acutely aware of the

importance of prioritising and supporting staff wellbeing,

recognising that the positive reverberations of this would

be felt throughout the broader school community.

Wellbeing is defined as not merely the absence of disease

but optimisation of a person's physical, mental, emotional

and social health. It is undeniable that stress levels have

soared in recent years: time pressure, pressure to compete

and perform, erosion of work/life boundaries and now,

the addition of a pandemic. We are seeing soaring rates of

burnout and compassion fatigue in the caring professions.

Whilst some stressors can be addressed by reviewing

priorities and adjusting expectations, many are fixed.

The response in this setting needs to be an investment in

wellbeing, which then resets how an individual responds to

the stressors they are exposed to.

The body of research for boosting wellbeing and enhancing

stress resilience is vast. To streamline this for Dulwich College

Beijing, we created the S.P.A.C.E program based on the five

pillars of:

• Sleep

• Pause (mindfulness meditation and digital

detoxification)

• Appreciation

• Compassion and Connection

• Energy (Exercise and Eat)

A series of lectures on each of these pillars allows staff

to learn the science behind why the investment in each

of these simple strategies is achievable and worthwhile.

Behavioural change is then encouraged by participation

in follow-up activities, all whilst strengthening community

through group participation.

Each of these pillars has been demonstrated to

downregulate stress hormones, improve the way our brain

functions and reduce long term wear and tear on our DNA,

thus reducing ageing and illness. They are all free, simple

and readily accessible: it simply comes down to whether we

make them a priority or not.

So, what are the shifts that you can make to overhaul your

wellbeing and strengthen your ability to tolerate stress and

uncertainty? Sleep is vital and a routine essential. Where

possible going to sleep and getting up at the same time

each day, aiming for 7-9 hours and exposing yourself to 10

minutes of natural light in the morning will transform the

quality of your sleep and set you up for the day.

Pausing to take 10-15 minutes to sit quietly with your

thoughts, allowing them to pass and then return to

focussing on your breath, has been demonstrated to reduce

stress, anxiety and depression, increase concentration

and creativity and remarkably improve immune function

and reduce pain. The greatest barrier to achieving quiet

is our relationship with technology, and I implore you to

review how you interact with your devices. Are you actively

engaged online or simply mindlessly scrolling? Research

reports that we check our phones every 12 minutes. We

spend 5 minutes sorting a task, it then takes 23 minutes to

return to our previous level of productivity. So, in fact, we

are never actually achieving optimal performance.

Appreciation of what we have rather than what we don't,

and expressing gratitude for this, increases life satisfaction,

improves relationships and reduces toxic emotions and

stress. Write down three things for which you are grateful

before bed, share gratitude with family and friends or take a

photo each day that allows you to savour the simple things

for which we are all grateful. As you practice gratitude, you

will find that, like exercising a muscle, it becomes easier,

stronger and your natural state.

We are all hardwired for connection, love and belonging.

Shockingly, loneliness (a lack of meaningful relationships)

has been estimated to shorten life span by 15 years and

has higher mortality than smoking, diabetes or obesity

due to the release of the stress hormone cortisol and the

impact this has on the body. When we are overwhelmed

and stressed, the first thing we do is often to withdraw

from human interaction, which sadly only exacerbates

our distress. Rewarding human connections requires

a foundation of compassion: understanding another's

experience and providing assistance. Compassion makes

the unbearable bearable, so look at your week and

build in opportunities to be kind to yourself and connect

compassionately with others.

Finally, we turn to energy. We all know what it feels like to

let our batteries run low, and yet I am reasonably confident

that you would not allow that to happen to your phone.

In order to thrive, we need to replenish our energy, which

requires regular exercise and appropriate fuel. Schedule

moderate-intensity exercise at least three times per week

for 45 minutes or 3 x 15-minute sessions of high intensity,

interval training. If you can, take your exercise outdoors as

connecting with nature amplifies the benefits. Fuel your

body with real food, preferably whole grain and plant-based,

full of colour and variety.

Congratulations must be given to the Dulwich College Beijing

Wellbeing Committee, which has embraced the program

and has already provided extraordinary opportunities for the

staff to expand their minds, connect with others and invest

in themselves.

12 beijing.dulwich.org

The College Magazine (Beijing)

13
---
Student Agency

Student Agency

Student Leadership in Early Years

The Dulwich College educational philosophy emphasises the balanced development of a student's intellectual

and personal development. To that end, we focus on four core areas throughout the school: academic

excellence, participation in sport, involvement in a wide range of music and drama opportunities, and a

commitment to service and community. Each core area offers opportunities to develop student agency even from a

young age. See for yourself!

Taking ownership of the DCB Values

Resilience, Confidence, Respect, Integrity, Responsibility, Openmindedness,

and Kindness are the DCB values, each of which

has been designed as a fun animal character for Early Years

students. This project was the brainchild of teacher Emma

Kiely with the artwork created by Junior School Art teacher

Sally Corben. The characters representing DCB Values include

Resilient Ren, Confident Cong, Respectful Rui, Isabelle Integrity,

Responsible Ryan, Open-Minded Oli, and Kind Katie. The

children have latched onto the behaviours that are appropriate

for each character value. Our new school value song, I belong

to DCB, vividly helped them understand the College values by

embedding these fun characters.

Becoming House Leaders

Dulwich College Beijing House System was introduced to Early

Years last October. It enabled Key Stage One students to mingle,

compete, build a sense of belonging within their House Team,

and discuss sportsmanship and teamwork through a series of

House events. It is an invaluable chance to bond with their new

community of friends and teachers!

In March of this year, a new House points behaviour system

was introduced to Early Years. Instead of the previously used

marble reward system, students are now given a counter that is

the same colour as their House team when they demonstrate

excellent behaviour and our Dulwich values. As class jars fill with

counters, class teachers will reward the class for their collective

positive behaviour. Every Wednesday afternoon, the newly

appointed Early Years House Captains are tasked with collecting

the counters from each class. They count their own House

counters, record them, and place them into the EY House point

container, which will be on display in the Atrium.

Each Thursday, during Key Stage One Assembly, the children

are updated on which House team has collected the most

points for that week. The winning House team is announced

and rewarded. And the team members celebrate together.

Participating in these activities helps Early Years students be

more engaged in the overall community at the school and find

their sense of belonging.

Being young leaders allows them to speak not only for

themselves but also for the whole team. As part of the wholechild

development, children's leadership skills and teamwork

spirit start to build at a young age, which enhances their

interpersonal skills and helps them discover their passion in

specific areas, thus leading to a clearer future learning.

Growing along the Early Years learning

pathways

Learning pathways were identified as a key area of focus for

the College over recent years, and it has further developed

this year and features in our College development plan. The

significance of the vertical alignment of our educational

offer curriculum mapping to improve our students' learning

journey, is vital. Consequently, the Early Years school prioritized

further development of a progressive teaching and learning

provision that facilitates character development and academic

achievement as a key goal for this year on our school

development plan.

The Headteacher Awards are introduced to Early Years students

as part of the learning pathway. Students per year group are

acknowledged for their outstanding efforts and achievements

each week and celebrate their achievements. Students are

given the opportunity to stand out and showcase their strengths

among their peers which helps build confidence to facilitate

character development and holistic learning.

14 beijing.dulwich.org

The College Magazine (Beijing)

15
---
Student Agency

Student Agency

Student Initiatives in Junior School

Leadership takes all sorts of forms. Students in Junior

School chose to seize opportunities that suit them best

and by doing so, gradually grow up as global citizens

in many areas. Many of the student leaders have been

voted for by their peers because they display the leadership

qualities necessary to do the jobs they have applied for, but

others shine and lead in different ways.

The Student Council members lead by sharing ideas and

making decisions for, and on behalf of, their year groups.

The House Captains lead by example for their Houses in the

different House events and competitions throughout the

year. Each of these leaders does an amazing job taking an

active role in the life of the Junior School.

Other students create opportunities for themselves as

leaders. Take the group who are creating our weekly

podcasts, for example. They took the initiative and went to

Mr Brunett with an idea that they had to make a difference.

They are passionate about what they are doing and at the

same time, develop different skills and values that help them

to engage with the community.

Other students are quiet leaders whose actions demonstrate

the values they hold dear. They have integrity and lead by

example to help make the community more peaceful and

fairer. When others around them are doing something that

they think is not right or that may be hurtful, they stand up

for what they believe in and take action to help stop the

wrong. This sort of leadership often takes guts!

Student Council acting on No Carbon

November

In No Carbon November, Junior School students have

completed a survey of the classes and a leader board has

gone up showing which class has the highest and lowest

carbon footprint. The challenge is to see which class can

make the most changes to their everyday routine by the end

of the month.

Sustainability is always a hot topic at Student Council

meetings, the group has discussed issues in the cafeteria

such as alternative protein to meat, food waste and

healthy lunches. Student Council supported Ms Clark with

a 'Christmas Kindness' project and worked on their own

ideas to bring some more fun and kindness to Christmas in

Junior School. Hearing about the discussions that take place

at Student Council, it really is very inspiring to see Student

Leadership in action and the students really exemplify what

it means to be a global citizen.

Reflecting on our year as budding journalists

The Dulwich Dudes Podcast and Magazine team showed

resilience and developed skills of leadership throughout their

first year of journalism activities. Check out their thoughts

and ideas!

Ella: I cannot believe how fast this year

has been! There are only 9 more weeks

until we go to Year 7! This year has been

extremely remarkable to me since we

(EMOH) have made so much progress

and accomplished so many things. The

event that stood out to me was the

recording of the A Day of Life in Junior

School video. It was the first time for us

to record a formal video and there were

a lot of behind-the-scenes actions. We went through a series

of steps to get it done. We wrote down what we would say

during the filming and memorized it after our lines were

approved by the teachers. Also, we discussed where to film

and who should be in the scene. This was all planned out

by our wonderful team of teachers and the only thing we

needed to do then was to act it out.

Our scenes were filmed in different areas across the campus.

When filming our parts, we made sure that we looked

smart in our uniforms. We smiled and spoke out our lines

confidently. After filming, we recorded the voiceovers as

well. At the beginning of the filming, we were all extremely

nervous and it took us a while to adjust our emotions and be

more relaxed. It soon became quite fun and exciting for us

as it was brand new experience.

Overall, it was unique, meaningful, and unforgettable!

Olivia: During the school year, we

made a lot of changes to help with

the sustainability in our school. In

class, I learned that eating meat could

be unsustainable. For example, just

one piece of pork can produce a big

amount of carbon dioxide. It came to

my mind that making one school meal

vegetarian could improve the campus

sustainability. The problem was that a

lot of people cannot accept vegetables to be the complete

replacement of protein. I then thought about introducing

plant-based meat (which is basically something tastes and

looks like meat but is made of beans, tofu, etc) to the school.

It is not only delicious but also environment-friendly. The

podcast team was very supportive of this project. We asked

people who supported the idea to sign the signature sheet.

The data we collected showed how positive people viewed

the idea.

We talked with Ms Clark, Mr Brunet and Mr Elliot and

carried out 2 tasting sessions in Senior School canteen.

Finally, the plant-based meat was successfully introduced in

the Junior School canteen. It is now part of our menu.

Heloise: This year has been amazing.

Everyone in the Magazine team worked

so hard to achieve our goals! Great

efforts were made in improving the

magazine. We are all very proud of our

work and contribution to the school.

We wrote about things like gaming,

interviews, etc. We are now recruiting

interns from Years 4 and 5 because

we (EMOH) are leaving for Year 7. The

magazine team meets every Tuesday at 1 pm in CETI for our

magazine ECA. If you are interested in joining the magazine

ECA, please ask Mr Brunet for further information as it is

invite-only. This year, we have published two editions of

the magazine and we are planning the third one. We have

shown great resilience by overcoming difficulties like online

learning. I really enjoyed attending the Magazine sessions

this year because it was very fun. Everyone tries their best to

contribute, and we will carry it on in Senior School.

Martin: This year's podcast was

a success. Our podcast achieved

awareness and got positive feedback.

As approaching the Senior School term,

we called in a few interns to help with

the podcast. The Interns were very

dedicated and hard-working, which

made us feel that we had chosen the

right people.

Even though we encountered difficulties like online learning,

the podcasts were produced successfully. During the podcast

months, we interviewed many important people in the

school and asked about their specific work. As the podcasts

became more popular, our workload increased. We checked

each line to make the interview questions easier for the

interviewer to read out.

We have faced many problems and overcome a lot of

difficulties. We hope the new podcast team can find their

own way out when meeting the hardship.

16 beijing.dulwich.org

The College Magazine (Beijing)

17
---
Student Agency

Student Agency

Global Citizenship (Carla S)

"Connect, Care, Act"

Sustainability (Betty H, Lily L)

"Is it wrong that I use plastic bottles too…?"

Media (Rylie L, Sofia S)

"Leaders of the one and only media team, have you

joined yet?"

STEAM (Sean L, Owen A)

"Yes, we do build rockets in our backyard."

Meet the 2022 Student Prefect Team!

By Lina M

Communication and Language Prefect

The Prefect Team of 2022 has an overarching vision to Unify

Yet Diversify, an aim through which we envision uniting the

entire College, especially amid the uncertainties of the post-

COVID-19 era, whilst also respecting the diversity of cultures

and individualities of each member of the DCB community.

The team comprises 4 Head Prefects and 34 members of

the General Team, further differentiated into the four pillar

groups:

• Local to Global

• Service to Others

• Curriculum and Learning

• Enrichment

All are aspiring leaders and Year 12 students representing

a portfolio or aspect of student life within the campus,

standing at a high and prestigious tier of student leadership

within DCB. In general, the team aims to maintain, inspire

and launch a multitude of unique and original projects – in

collaboration with the existing student and staff leadership

frameworks at school – to enhance the learning experience

at DCB in accordance with the school's fundamental learning

principles and guiding statements

.

Head Prefects

Their aspiration: further unify the entire prefect team,

striving towards efficient collaboration and stronger ties

among team members and the whole student body.

Head Girl and Head Boy (Victoria H, Joe W)

"We're the glue between all Prefects!"

Deputy Head Girl and Deputy Head Boy (Audrey W,

Zion K)

"Nobody warned us that kids would systematically

outweigh us during lunch duty…"

Local to Global

Their aspiration: contribute to the enhancement of the

school community with a strong belief that the local changes

they make within their close community may positively

impact the world that awaits them.

Alumni, Careers & University (Cecilia T)

"Application process? Future careers? Ask me!"

Diversity, Equity & Inclusion (Diana T)

"My preferred pronoun is DEI, not DIE, please…"

Service to Others

Their aspiration: connect and serve the school community

across the whole college through their unique means and

skills.

College Links (Alice F, Danny Z, Hugh S)

"LiNkEd with each other"

Communication & Language (Lina M)

"Huh? Google Translate?"

Community Service (Selina Z, Simon P, Shienna B)

"Who still hasn't volunteered for Interact?"

Health & Wellbeing (Audrey W, Tracy L)

"We just want you to take care of yourself "

Student Support Services (Hanlei W, Daniel S)

"Support service. Tutoring. All for students."

Curriculum & Learning

Their aspiration: enhance and promote the DCB experience

within the school community.

Approaches to Learning (Joyce C, Benjamine Z)

"Let's all be lifelong learners!"

Art (Emma Y, Kylee C)

"Every child is an artist. The problem is how to remain

an artist once we grow up." – Pablo Picasso.

ICT/MIT (Pei Jen C)

"No, I will not make you a website."

Enrichment

Their aspiration: dedicate their energy and creativity to

enhancing school life for all Senior School students.

Johnson House (Zion K)

"Everyone in Johnson now knows how bad my singing

is after House Singing…"

Soong House (Harry K)

"I control 20% of the entire Senior School."

Alleyn House (Apple L)

"Alleyn is not just the founder of Dulwich but also the

title of a group of ambitious students!"

Wodehouse House (Mylene R)

"The number of people who have walked past me with

an empty lunch bag to get into the canteen..."

Owens House (Andrew M)

"Owens bolt to the finish line first!"

Performing Arts (Daniel Z, Helena Z)

"To perform is to enjoy."

MUN/Debating (Brian L)

"All for the black lanyard."

Sport (Emily Z, Neli H)

"Don't run away from the ball like Cinderella…"

18 beijing.dulwich.org

The College Magazine (Beijing)

19
---
Graduate Worldwise

Graduate Worldwise

DCB Class of 2022 Receives Worldwide

Prestigious University Offers!

By Jeffrey Harmon

Director of University Counselling

All 70 students of the Dulwich College Beijing

Class of 2022 have completed their final IB exams

with commendable adaptability and resilience while

navigating the uncertainty of a pandemic context over

the past three years. This cohort switched to online

learning shortly before their IGCSE exams were initially

scheduled, and they had to continue to navigate

constant uncertainty and change during their twoyear

IB Diploma programme. These experiences have

undoubtedly given this class the determination and

confidence to start a new chapter of their life. They

have already tasted many aspects of their upcoming

independent life so they can dive headfirst into their

chosen field of study at university or their gap year

experiences.

The Class of 2022 has received offers from prestigious

universities for some of the most selective programmes

worldwide, including Architecture, Law, Physics, PPE

(Politics, Philosophy, and Economics), and the Biological

Sciences.

It is worth noting that this class marked a rise in the

level of interest in fields of study related to human

society and culture as well as scientific approaches to

address issues of sustainability and climate change.

Many students specifically sought interdisciplinary

university programmes, a testament to their

commitment to learning and intellectual curiosity.

Other areas of interest span the full range of studies:

philosophy, modern languages, mathematics, and

human sciences. Our students will head off to

Princeton University, Columbia University, University

of Pennsylvania, UC Berkeley, Imperial College London,

and University College London to further their physical

and life sciences studies. Business-related fields

also remain popular, with offers from Georgetown

University, Duke University, Durham University,

University of Manchester, University of Toronto and

Babson College. A significant number of students

are also pursuing a future in the creative industries,

such as visual arts, theatre, music, architecture and

communication, at universities such as Rhode Island

School of Design, Parsons School of Design, University

of the Arts London and Northumbria University,

Newcastle.

Final university placements will continue to settle

during the summer with potential moves in the

waitlists, especially at American universities, and

review of final IB results for conditional offers in the

United Kingdom, Canada, and Hong Kong. A few

students must wait even longer for applications to

Singapore, South Korea, Australia and continental

Europe, and we commend them on their patience.

We are incredibly proud of our students for their

effort, dedication, and growth! They have become

even more equipped to succeed in their future,

wherever they choose to go.

Here is the list of offers (as of 22 June 2022).

USA University of Manchester (4)

DULWICH COLLEGE BEIJING CLASS OF 2022

UNIVERSITY OFFERS

GRADUATE

Offers as of 22 June 2022

20 beijing.dulwich.org

The College Magazine (Beijing)

21

UK

Birkbeck, University of London (2)

Brunel University London

City, University of London

Durham University (7)

Goldsmiths, University of London (2)

Imperial College London (8)

King's College London (16)

Lancaster University

Leeds Beckett University

Liverpool John Moores University

London School of Economics and Political

Science, University of London (4)

Loughborough University

Manchester Metropolitan University

Newcastle University

Northumbria University, Newcastle

Oxford Brookes University

Queen Mary University of London (4)

Royal Holloway, University of London

SOAS University of London (3)

UCL (University College London) (18)

University For the Creative Arts

University of Bath (2)

University of Bristol (5)

University of Cambridge

University of Central Lancashire

University of Edinburgh (8)

University of Exeter (2)

University of Glasgow

University of Hertfordshire

University of Kent

University of Leeds (4)

University of Portsmouth

University of Sheffield (3)

University of St Andrews (3)

University of Sussex

University of the Arts London (2)

University of Warwick (6)

York St John University

USA

Art Center College of Design

Babson College (2)

Berklee College of Music

Boston College

Boston University (4)

Brandeis University

Brown University

Carnegie Mellon University

Clark University

Colgate University

Columbia University

Dartmouth College

Duke University (2)

Fordham University

George Washington University (2)

Georgetown University (2)

Johns Hopkins University

Mount Holyoke College

Musicians Institute

New York University (5)

Northeastern University (2)

Northwestern University

Pennsylvania State University

Princeton University

Rensselaer Polytechnic Institute (2)

Rhode Island School of Design

Rice University

Smith College

Syracuse University

The New School - Parsons School of Design

Tulane University

University of Arizona

University of California, Berkeley (3)

University of California, Davis (10)

University of California, Irvine (4)

University of California, Los Angeles (2)

University of California, Riverside (2)

University of California, San Diego (9)

University of California, Santa Cruz (11)

University of Chicago (2)

University of Houston

University of Illinois at Urbana-Champaign (3)

University of Massachusetts, Amherst

University of Michigan, Ann Arbor

University of North Carolina at Chapel Hill

University of Pennsylvania (2)

University of Southern California

University of Washington, Seattle

University of Wisconsin, Madison

Washington University in St Louis

Wellesley College

CANADA

McGill University (2)

McMaster University (2)

Queen's University

University of British Columbia, Okanagan

University of Toronto (8)

University of Toronto, Mississauga

University of Waterloo (2)

Western University

ASIA

Seoul National University

The Chinese University of Hong Kong

The Hong Kong University of Science and

Technology

The University of Hong Kong (5)

Yonsei University

EUROPE

Amsterdam University of Applied Sciences

Leiden University College the Hague
---
Graduate Worldwise

Graduate Worldwise

A Reflection on the University

Applications Journey

As this academic year comes to a close, our Class of

2022 students have completed another university

application cycle. While some of our students will

apply for university only after graduation, many of the

Class of 2022 have selected where they will matriculate

next autumn. With their destination settled, students

have reflected on their journey over the past few years.

Beyond the obvious selection of universities and majors,

applicants also have to consider more strategic elements

such as application round or identifying their relevant set of

differentiating skills or experiences. To do so requires some

honest soul-searching about their interests, values, and

goals in life. A handful of students share their insight and

advice for determining their own pathway and preparing for

university applications.

What does best-fit look like for me?

Students listed location, reputation in a given field, and

campus culture as critical criteria for determining which

universities to apply to. While some students clearly focused

on academic and research opportunities in their chosen

subject, others prioritised their new home's geographical

location and environment. However, it is reassuring that

they balance these criteria with a whole range of other

considerations before finalising their university list, which is

a sign of maturity about this big decision for their future.

Yiming S

"I considered two main factors: academics

and music. I wanted a school with a mix of

academic rigour and opportunities to learn

and perform music. Columbia University in New York City

stood out specifically with its strong physics department,

ground-breaking research, and jazz studies programme."

Jeffrey W

"I primarily considered the quality of

academics, prestige, location, quality of life,

and internship opportunities."

Angelina D

"I focused on the content of the course and

the quality of teaching. I wanted my studies

to combine physics with philosophy or

psychology, so I looked into schools that offered courses in

physics and philosophy or were more flexible with course

options. Then, I looked at the subject rankings and overall

rankings."

Pia M

"Sport and social life were the most important

factors to me. I researched a lot about

student reviews and the culture on campus.

The environment was also important, including support for

international students, climate, and access to airports."

Justin W

"The most important factor for me was the

geographical location. Since I only wanted to

study in a big city, nearly all of the universities

I chose were in London."

Rino F

"Location played a big part in selecting my

final school list. I narrowed down the general

geographical area I wanted to go to and then

conducted more in-depth research to shortlist the schools I

wanted to apply for."

Helena Z

"I found out that I prefer schools with tons

of opportunities and diverse interdisciplinary

programmes; this was especially important

when I was considering universities in the UK. I also looked

at the courses and clubs offered, dining and accommodation

options, and professors."

Should I apply early or regular?

Many universities offer both an early round and a regular

round of applications, and this is often a big decision for

students applying to the United States. Many students apply

in an early round in the hopes of receiving decisions earlier

to alleviate stress. Does this mean that all students should

apply early? Let's hear what our Class of 2022 have to say

about this!

Yiming S

"I chose to apply both Early Decision and

Early Action in the USA to receive some of my

decisions earlier, which I thought would have

been more stress-relieving. All my application materials were

ready by the November deadline, and I wasn't waiting on

any significant update to my grades, testing or ECAs, so I felt

confident applying early. With universities in the USA, there's

a belief that applying early boosts one's chances of getting

in slightly; I'm still not sure if it is true or not, but I guess it

didn't hurt to try. With the University of Toronto, applying

early gave me priority consideration for both my major and

scholarships."

Jeffrey W

"I believe that my academics and

extracurricular activities reflected my strengths

by the Early Decision round deadline. Hence,

I thought that applying in the Early Decision rounds was an

excellent way to demonstrate commitment to my dream

universities, which would bolster my chances of acceptance.

Although I was not admitted in ED1, I was able to reflect

on my options in December and then submit a strong ED2

application."

Natalie W

"I decided to apply to the USA and the UK in

the early round because I thought hearing

back from the universities early would be

stress-relieving and offer guidance for my later applications.

Most of my UK decisions weren't released until March,

however. To me, the UK and USA applications, especially

their application essays, were very different, so I had to work

on them separately, but I balanced this extra workload by

starting early in the summer."

Helena Z

"I wasn't sure I wanted to apply during the

early round, mainly because I had to get

everything ready early. But I decided to give

it a try to help me see where I could improve for the regular

round. It didn't change much for my USA applications, but I'm

very grateful that I submitted to the UK early because I heard

back from schools earlier, which boosted my confidence."

Angelina D

"I wanted more time in Year 13 to improve my

predicted grades and research my university

options, so I waited until after my Term 1

grades came out to submit my applications to the UK."

Rino F

"I didn't have a strong interest in applying to

schools in the USA, so I was not pressured

to apply in their early round. And I knew I

didn't want to study medicine or law or apply to Oxford or

Cambridge, so I didn't feel any pressure to submit earlier for

my UK applications. I applied for arts courses, so I used a lot

of Year 13 to work on my portfolio."

22 beijing.dulwich.org

The College Magazine (Beijing)

23
---
Graduate Worldwise

Graduate Worldwise

How should I plan my time to plan to prepare

for applications?

Year 13 is often dedicated to finalising the list of universities

and related application essays, portfolios, and other

submission requirements; in short, submitting applications.

Therefore, active university research occurs during Year 12,

culminating in initial drafts of application essays during the

summer after Year 12. Some students strategically dedicated

their time to exploring potential fields of interest and

building up their skills and experiences, but others merely

pursued their genuine interests through internships, service

activities, or summer programmes and still had ample

experiences from which to draw.

Yiming S

"The most time-consuming part of my

application was writing and polishing the

essays. I did most of my university research

over Year 12, so by the summer before Year 13, I had a list of

targeted universities and could get onto the essay writing.

The beginning of Year 13 consisted of finalising my essays

and submitting all my applications. In my opinion, Year 11

is too early to worry about anything college-related; the

most important thing is to pursue rewarding hobbies and

activities and continue them throughout high school."

Angelina D

"I looked into different areas of physics and

took a course on special relativity out of

interest rather than intentionally preparing

for applications. I did some of my university research during

the summer holiday of Year 12 but mainly over the winter

break in Year 13. Most of my personal statement was written

during and after the Year 13 winter break. It was close to the

final deadline, but I needed the extra time to make sure I was

making the right decision."

Pia M

"I always follow my interests when

participating in activities and leadership

opportunities, so I already knew what I

wanted. For me, building up achievements each year

was essential. Each summer, I committed to a challenging

internship to explore different work environments and gather

experience. Year 13 should primarily focus on keeping up

with your studies and making more memories with your

friends, not a frantic scramble to do even more just for an

application."

Rino F

"I did numerous internships before and

throughout Year 12, which I thought was the

best way to enrich my CV and gain first-hand

experience. I also enrolled in an online course

about the Management of Fashion and Luxury Companies,

which enabled me to further increase my knowledge in

these areas. I wrote the bulk of my personal statement

during the summer before Year 13, which helped with time

management in Year 13 when the IA and EE deadlines hit.

The courses I was applying for required specific portfolios

that seemed like never-ending tasks. I worked on the portfolio

whenever I could whilst juggling school coursework and

deadlines. Finally, the Year 13 winter break was dedicated to

perfecting all the components needed for my application and

meetings with my Crimson counsellors."

Natalie W

"College preparation is sometimes a

subconscious process. Standardised testing

is something that we do explicitly for college

preparation, but we also do a lot of activities for interest,

enjoyment, and even relaxation. Being passionate about

chemistry, I spent my Year 12 summer working on a research

project. Throughout high school, I enjoyed connecting with

community members, so I participated in ECAs that I found

meaningful or interesting. In Year 13, I organised my time by

starting college applications early and prioritising specific

applications."

What differentiates my application

from others?

University applications require students to reflect on their

unique combination of background, interests, strengths, and

experiences. When asked about what they believed made a

difference in their applications, students almost unanimously

emphasised how their extracurricular activities (ECAs)

helped them become more well-rounded people and make

a difference in others' lives. By exploring areas beyond the

classroom, they could develop new skills, contribute more

to their community, learn more about an existing subject of

interest, or even discover a new passion!

Jeffrey W

"I believe that my commitment to service and

my contributions to the migrant community

in Beijing distinguished me from many other

qualified applicants. Besides my commitment to service,

which has unveiled me to various social inequalities and

phenomena, I have also sought to engage in social discourse

through debate in different debating formats, domestically

and internationally. I aimed to make debating more

accessible to those around me by serving as the DCB MUN

and Debate Prefect."

Angelina D

"For UK applications, the most important

factor is your academic preparation. But I

think ECAs mattered to me. I could talk quite

in-depth about the philosophy ECA I ran, because it was

related to the area I wanted to apply for."

Pia M

"My personal statement and interviews

allowed me to clearly express my interests

and experiences, thus defining me as an

individual. I believe my character helped me secure my

offers, and my ECAs were all related to my area of interest,

which demonstrated consistency and commitment."

Rino F

"Leadership positions in school and out of

school, including my role as an Art Prefect,

leading House events, ECAs... Internship

experience related to the courses I applied to. Niche interest

and deeper knowledge surrounding the courses I applied for

and in general, just showing my desire to further my studies

in the future."

Natalie W

"Since I applied for an intended major in

chemistry, my major-related activities like

research and competitions demonstrated my

interest and capability as a chemistry applicant. I also believe

that my extracurriculars related to leadership, community

service, and the visual arts provided a more holistic portrait

of who I am as a person beyond academics."

Helena Z

"Probably my academic and extracurricular

interests and activities, and maybe also my

leadership. Probably an amalgam of all

those."

What advice do I have for younger students

and their parents?

Reflecting on the entire process, our Year 13 students share

a few words of wisdom. While they highlight the importance

of strategic time management, choice of IB options, and

university research, they also point out fundamentals such as

keeping an open mind and prioritising their own endeavours

over parents or peer pressure.

24 beijing.dulwich.org

The College Magazine (Beijing)

25
---
Graduate Worldwise

Graduate Worldwise

Yiming S

"My main advice for other students is to

allocate their time well. Essays take a lot

of work and time, so make sure you start as

early as possible. It's never a good idea to submit one minute

before the deadline because you were tweaking your essay

up until then. To parents, I would say be supportive. It is a

highly stressful time for your kids, and any pressures and

expectations you place upon them will make it worse. Let

your kids choose where they want to apply and what they

want to study, and put your resources into helping them

achieve what they want rather than what you've decided for

them."

Jeffrey W

"When selecting universities to apply to, it is

essential to get current students' or alumni's

input about the university's environment

and its academics. Additionally, since the abundance

of universities worldwide offers a wide range of unique

specialities, it is crucial first to understand the experience

you wish to gain from college and then identify suitable

choices."

Pia M

"Don't let your peers and parents influence

your decision too much. You need to be

happy with where you will live and study for

the next 3-4 years."

Justin W

"My best advice is to figure out a major before

IB to strategically choose your IB HL courses

and SL courses and make IB much easier. And

also, to positively contact your university."

Rino F

"Start early! For students who have no clue

what they want to do in the future, my advice

would be to talk to as many experienced

adults as possible and listen to their stories. Another thing (to

both students and parents) is to be open-minded. Don't limit

yourself to one specific area or career option because your

interests might change over time."

Natalie W

"For students who intend to study in countries

like the UK, IB subject choices matter a lot

because many majors require specific subjects

at a higher level."

Helena Z

"Highlight and establish your 'spike'. A 'spike'

is something distinct about your profile,

like a very clear interest or deep levels of

engagement in a particular area. At first, I was told that it's

important to be well-rounded (to try to be good at everything

equally), but if everyone is well-rounded… then 'spikes' are

what set you apart."

Who played an essential role

in supporting me?

Although high school graduates all seem to know what they

want to do, students come into IB with different maturity

levels and motivation for their future endeavours. And this is

perfectly fine! In their school environment, subject teachers

and university counsellors are there to inspire and guide

them throughout the process.

Yiming S

"I'm most thankful for my music teachers,

who have guided me both in and outside

the classroom. Performing and leading

groups has been one of the most rewarding experiences

at DCB and has undoubtedly helped me boost my

confidence and creative expression."

Jeffrey W

"All of my subject teachers were incredibly

supportive of my application during app

season. My teachers pushed me to attain

the best I could and offered me immense support when I

stumbled upon setbacks.

My university counsellor also offered me tremendous

support before and during app season. He helped me

narrow down my university list and identify suitable

universities based on fit. When it came to application

season, he gave me detailed feedback on each of my

main and supplemental essays to ensure that they

accurately reflected my strengths and personality and

were on par for submission."

Pia M

"We are fortunate to have access to

university counsellors. Meet with them as

much as possible, and always come with

questions!"

Rino F

"Throughout my IB years, I established a

closer relationship with my subject teachers,

university counsellor, and Crimson mentors.

They mainly gave me essential information such as dates

and deadlines for my application process and feedback on

my personal statement and portfolio."

Natalie W

"I have been meeting regularly with my

DCB university counsellor throughout IB

and received a ton of guidance and advice,

ranging from IB subject choices and activities to college

essays, for which I am very thankful!"

Helena Z

"I mainly received support from my university

counsellor in school and Crimson to help

me narrow down my list and finalise my

UK personal statement. Crimson was really helpful with

finding my narrative and interview preparation. I talked

about my potential major and plans with my teachers,

which helped consolidate my plans and goals. They also

gave great advice in terms of reading materials!"

Angelina D

"My university counsellor was really helpful

in helping me through the UK application

process. I also knew that I wanted to take

a gap year before beginning my university studies, to

explore some areas of study by myself outside of physics,

such as chemistry, biology and history, to learn a bit

more without the pressure of exams/getting a grade. I

also want to spend more time with family. So it was nice

to have people at school understand that priority and

support my plans for a gap year."

University applications result from a long and personal journey in which students patiently put together

the building blocks of their knowledge, experience, and own aspirations. While they receive guidance and

support from their subject teachers and university counsellors at school, discussions at home and family

alignment enhance students' peace of mind by enabling them to focus on their aspirations and optimise

their time and energy before and during the application season.

26 beijing.dulwich.org

The College Magazine (Beijing)

27
---
Education and Technology

Education and Technology

Empowering Students to Become Digital Leaders

By Yosef Karasik and Jett Brunet

Center of Educational Technology and Innovation

Introduction

At Dulwich College Beijing, we aspire to educate students

who connect, care and act for their community and beyond.

Stemming from our core values, every aspect of college

life takes on a student-centred approach with the goal of

educating our students to become global citizens and Live

WorldWise. Global citizens are aware of and understand

their place and the role each individual plays in the wider

world. This idea of understanding the interconnectedness

of principles across cultures is further amplified with the

increased use of technology in everyday life and specifically

in schools.

In recent years, we witnessed a significant increase in the

use of educational technology in schools. Schools now have

more smart devices, use a larger variety of online platforms

and put in place processes to transition between offline,

hybrid and online learning more effectively. Inevitably, this

results in teachers and students spending more time using

technology.

The change in the role technology plays in our lives has

brought with it the realization that we need to support our

teachers and students to develop the skills they need to be

global citizens with technology, or simply put, Digital Citizens

(DC). Making this a priority for our team at the Centre

of EdTech and Innovation (CETI), we spent the past year

developing a whole college definition for DC, created a new

role for a whole college lead on digital safety, embedded

DC in the existing curriculum and established a student-led

digital citizenship team.

Our Digital Citizenship definition

We have recently unveiled our new Digital Citizenship

definition which we would like our DCB Community to use

to guide our interactions with technology:

"Digital Citizens are

responsible, confident users of

technology that connect with,

care about, and act positively

within our community and

beyond."

This definition was agreed following cross-college student

consultations. We shared our initial version with a range

of young people who made suggestions which were

incorporated into the iteration you see above. We hope

that this Digital Citizenship definition is representative of the

ambitions, motivations, and aspirations of our community

as they engage with and for our community, and beyond.

Having the definition in place allows us to act upon it when

embedding the existing curriculum with the skills students

need to be digital citizens.

Curriculum alignment

To ensure a vertical alignment, we chose six main

themes that follow our students as they go through

their educational journey at DCB and link it to the

existing curriculum and approaches to teaching and

learning in each of our three schools. Our Early Years

team personified the College values to make them more

relatable to our youngest learners. For instance, Kindness

became 'Kind Kate', a kind koala and Responsibility

translated into 'Responsible Ryan', a sensible rhinoceros

that always acts with maturity. We build upon this idea

to develop DC fundamentals. When our young students

learn about or with technology, we relate it to our

Values' characters and consider, for example, how would

Kate be kind online? Or in another instance, how can we

be as responsible as Ryan when using digital devices?

Building upon existing approaches was important for us to

ensure that students understand that DC is not a standalone

concept, but rather embedded in our everyday life. Junior

School is a great example where embedding DC has had

the most impact so far. As EdTech coaches, we support

teachers in the planning and delivery of ICT, Computer

Science and DC principles. However, instead of having these

as standalone lessons, we embed the skills into the existing

curriculum to make this interdisciplinary learning more

meaningful. For instance, when students in Year 4 had to

find information about a certain continent to practice writing

non-chronological reports, we infused lessons with just-intime

online research and information literacy skills that the

students, in turn, applied to their writing task.

Student leadership

DCB's Vision says, "we have the knowledge, skills and

motivation to make a positive difference to people, society

and the planet". This statement can only be fulfilled if it

is the students that take ownership of their journey, and

if teachers empower them to become change agents for

their community, in-person and online. Fostering a culture

which enables transformational student leadership to take

hold is essential if we want to see our guiding statements

and college values reflected in our young people whilst they

study with us, and beyond.

We believe that peer teaching can be an effective and

engaging approach to educating our students about the

risks and rewards of online behaviour and that by using this

method, peer teachers can also improve their own mastery

of digital citizenship knowledge and skills (Bene & Bergus,

2014).

Our Key Stage 4 Masters in Technology student leaders

facilitate weekly Digital Leaders sessions with our Key Stage 2

Junior Masters in Technology. Participants learn by following

a clearly mapped out, internationally accredited digital

citizenship curriculum in which each completed milestone

is rewarded with an appropriate micro-credential badge

to celebrate their achievement and provide instrumental

motivation.

Our Key Stage 2 students then transfer their learning by

leading their own Digital Citizenship sessions with their

peers as part of our daily wellbeing lessons called Mindful

Mornings. This virtuous circle enables all participants to

develop both their digital citizenship and leadership skills.

Summary

Learning with and through technology has the potential to

enhance learning and transform schools for the better. For

this to happen, we must prepare our young people for an

uncertain world and to embody our values wherever they

are in the (digital) world. By enabling and challenging them

to lead, we hope to foster responsible, confident tech users

that will connect with, care about, and act positively within

our community and beyond.

References

Bene, K. L., & Bergus, G. (2014). When learners become teachers. Family

medicine, 46(10), 783-787.

28 beijing.dulwich.org

The College Magazine (Beijing)

29
---
Education and Technology

Education and Technology

Sustaining Educational Innovation in a Changing World

By Yosef Karasik

Director of Educational Technology and Innovation

It is no secret that educational practices have seen many

changes in the past years. Teachers use self-reflective practices

to engage with the new ways students learn. Students, in turn,

adapt their self-regulatory skills to keep up with the changing

world around them. How often do we hear the phrase "We

need to prepare our students for jobs that have not yet been

created."? This need for change, a drive for constant innovation

in teaching and learning, can be attributed to two main factors:

the new industrial revolution and COVID-19.

We are in the midst of the fourth industrial revolution that

fundamentally transforms every aspect of our lives. The

continuing developments in educational technology and

devices provide students with more flexibility in access,

curation and creation of knowledge. This alignment of

educational approaches with the fourth industrial revolution

is known as Education 4.0. As a college, we adopted an

enterprise mindset to lead by example. We develop new

curriculums, adapt cutting-edge educational technology,

and put support systems for staff and students to practise

innovation sustainably.

The use of technology in education is not a new concept;

digital technologies have been transforming education long

before COVID-19. The pandemic, however, has accelerated the

integration of technology in education, starting with the forced

transition to online and hybrid learning. Educators, students,

companies, and policymakers are working actively to transform

the educational technology sector. The need to provide

teachers and students with a platform that facilitates teaching

and learning online has been a driving force for change in the

past three years.

As part of the Dulwich Digital Difference (D3) initiative by

Dulwich College International, Dulwich College Beijing has

implemented a whole-college team focusing on educational

technology and innovation. This team works across the three

schools to drive the integration of technology and digital

citizenship into the curriculum, align the student journey

throughout the college, and support students and teachers

with innovation in teaching and learning. Their ultimate aim

is to make student learning real through technology-rich

projects with real-life applications, thereby strengthening the

connection between school, academia and the industry.

With this in mind, the College invests substantial resources

into technology provisions. Students develop technological

and computational literacy through iPads and various STEM

kits starting from Early Years. We then elaborate upon it as

they progress to Junior School, where they develop their

computational thinking, and finally in Senior School, where

these skills are put into the Design Thinking framework.

The team supports our teachers to plan with technology in

mind and embed the skills our students will need when they

graduate from DCB.

In addition to the integration of EdTech, the team builds,

supports and sustains a culture of innovation in the College.

Pioneering Spirit is one of our pillars. As a leading

international school, we want to ensure that innovation

is put into practice and embedded in our curriculum.

Since the team was formed, we have been developing

relationships to collaborate on exciting, innovative ideas.

One of our focuses is enriching our curriculum with

Artificial Intelligence (AI).

The introduction of AI is a two-fold project. On the one hand,

we want to expose our students to AI, and develop their AI

literacy from a young age, along with their understanding

of complex concepts. This is achieved through hands-on AI

experiences in Early Years and Junior School and working

with AI in Senior School. On the other hand, we are designing

curriculum material to integrate AI projects across the College.

In addition to teaching AI, we are investigating AI-powered

EdTech tools and platforms that can enhance the teaching and

learning at the college.

Working with AI was once limited to university or high school

students equipped with advanced mathematical knowledge.

This is now accessible to all. As part of our new Computer

Science curriculum, students get hands-on experience with AI

and Machine Learning (ML) as early as Junior School. To make

learning meaningful and real, we've developed units of study

integrated with the United Nations Global Goals. For example,

our Year 3 students learn the principles of Computer Vision and

ML and apply them to call for action and reduce food waste.

Students trained AI models with pictures of lunch plates left

at the school cafeteria. These models were then deployed on

iPads and placed by the food bins to indicate whether a plate

was returned "clean" or "dirty". We believe in teaching through

empathy and empowering students to make real change.

A year ago, we formed a strategic partnership with AWS

China to embed AI technologies across the College. In the

past year alone, we founded a DeepRacer club, embedded

Alexa skills in our Computer Science curriculum and enriched

musical learning with DeepComposer. Velocity, our studentled

DeepRacer club, is one of the 13 founding members of

the China DeepRacer League. Students train Reinforcement

Learning models and deploy them on real autonomous cars to

compete against other schools. Since its creation, Velocity has

participated in many national and international competitions

and ultimately won China's first national championship,

earning a place in AWS Global Championship. Not only does

participation in these competitions help students develop

technical skills in emerging technologies, but it teaches them to

think on their feet and make real-time critical decisions to win

their races.

Pioneering spirit is not limited to our curriculum. Students

and educators receive annual grants to fund initiatives that

enhance the learning experience at DCB. This year alone, we

supported projects in Esports, student voice publications, a

group-wide gameathon and many others. Additionally, we

ensure that these projects are realised to their full potential

with a mentoring approach. Our efforts to cultivate innovation

did not go unnoticed. We were thrilled to be recognised by

the British Council and receive the Innovation in Science and

Technology award at the inaugural British Schools Awards

ceremony.

Our practice of innovation in teaching and learning has neither

final goals nor due dates. Instead, we use a reflective approach

framework to sustain innovation across the college. We

constantly challenge ourselves and encourage our students

to challenge us to ensure that their academic journey across

the college will equip them with the skills they need to live

worldwise.

30 beijing.dulwich.org

The College Magazine (Beijing)

31
---
Learning Pathways

Learning Pathways

We Never Lose, We Either Win or We Learn...

By Stephen Hurworth

Head of Student Wellbeing (Key Stage 4/5)

Recently, I have been engrossed, inspired and quite taken back

by The High Performance Podcast. The show explores the

mindset, lifestyles and life experiences of prolific athletes,

business leaders, educational gurus, and entrepreneurs, to

name a few. One major theme of the interviews that keeps

appearing, and I can't ignore due to its contextualisation

with our student body, is their relationship with the concept

of failure. Most of the podcasts I have listened to so far

would be incredible sources of motivation for our students.

we actively encourage our students to take risks and learn

from failure. When we as a school community learn to

normalise failure, embrace it, and ultimately perceive it as

learning opportunities, we will see a considerable increase in

our overall performance, happiness and wellbeing.

We all experience and react differently to falling short.

Some of us become more determined, and it adds fuel to

the motivational fire to ensure that success is attained in

the next part of the process. Others will spend a period

of mourning, feeling sorry for themselves and go through

a longer process to step back on the treadmill. A small

majority will take it in their stride and realise that it's all a

part of the journey. Nelson Mandela's approach was that of,

"I never lose, I either win, or I learn…". If only we could all

have this mindset, the potential for peak performance would

be limitless. This article will explore the science behind

falling short and how, as a school community, we could look

at our aligned approach with the concept of "failure" and

our relationship with it as a tool for learning.

What if we normalise failure?

Let's be honest; if we put things into perspective, our

students are already living high-performance lifestyles.

The pressure to perform is real, the competition can

be tough, and all feel the need to succeed. What if our

student's relationship with failure was different? What if it

was ultimately positive and seen solely as a learning tool

for future performances? In a school environment, failure

can often be perceived as something that is ridiculed and a

sign of poor performance. Failing at school should be a key

component to everyday learning and growing experiences. It

should be recognised by teachers, students, and parents.

The ability to learn from setbacks has been proven

astoundingly to enhance future performances. A study by

Haimovitz and Dweck (2016) found that when parents or

trusted adults see a student's failure as "enhancing", they

react with a growth mindset and see opportunities to learn

and grow. In turn, the process is seen as more important

than the outcome, and therefore there are higher levels of

motivation and determination to achieve success. At DCB,

Learning is the key to maintaining a positive

relationship with success and failure

Who hasn't jumped up with joy at achieving something we

have strived for, and who hasn't shed a tear if things have

not gone our way? Depending on how well you take success

and failure, you could be leaping from one giant extreme

to another. Going from the depths of despair to unknown

heights can't be overly healthy, can it? The key is educating

yourself through every process and learning through

reflective practices. If we perceive each achievement or

failure as an outcome or result, then the ability to improve

and learn from our actions reduces dramatically. The whole

process vs outcome combat comes into play here. If we

really break things down and look at the biggest picture

possible, the process never stops. Ex England Rugby star

Johnny Wilkinson refers to this as "creating an internal

environment for potential to blossom". He referred to

facing failure with "curiosity and intrigue" and learning from

the emotions and feelings that lead to every outcome.

In other words, there are no barriers or restrictions to

success or failure; it's a lifelong process of learning about

yourself. When we reflect on our actions and learn from

our shortcomings, ultimately, we possess a more positive,

powerful, and educated mindset.

• What have I learnt about myself as a result of

this process?

• How did I react when I fell short of my goals?

• What feelings and emotions were in the way of

achieving my full potential?

• What steps will I put in place to ensure I

improve?

• What will I change about my mindset when I am

faced with adversity moving forward?

The power of celebrating other people's success…

This can be a difficult concept to live out and action at times,

especially if you avidly engage in comparing yourself to

others. The science behind it all teaches us that when we

celebrate the success of others, we are reframing our notion

of failure and replacing it with a sense of optimism. This

sense of optimism and adopting praise to others can lead to

more of a positive outlook on life. It also allows for the ability

to put things into perspective when things don't quite work

out as you had planned. Finally, and importantly, it helps

to achieve a greater sense of inner balance. Mindfulness

teaches us that feeling and praising the happiness of others'

success helps to achieve a balance of the mind. Next time

you fall short out on the fields of play or don't perform as

well as your peers on the next class test, try and engage in

some active, meaningful praise and celebrate their success.

You will reap the benefits and forge a more significant

relationship with your perceived shortcomings.

As mentioned earlier, our students are already living highperformance

lifestyles and are going through their own ups

and downs. The ultimate message in this article is that failure

should be approached with an open mind, a growth mindset

and it should be a vital part of our love of lifelong learning.

To Live Worldwise, we must learn to fail worldwise, bounce

back and realise that the process never stops as long as we

grow from each experience. In the words of Mel Marshall,

Great Britain's most decorated Swim coach, "Go to bed an

expert and wake up a novice."

I have recommended three episodes of the High

Performance Podcast below. These are free to download

and are on Apple Podcasts (please note some episodes may

contain occasional swearing).

Johnny Wilkinson (Episode 23)

Process vs outcome and being curious with your emotions

during success and failure.

Mel Robbins (Episode 83)

Being kind and true to yourself helps with dealing with

setbacks.

Bear Grylls (Episode 100)

Don't let success go to your head or failure go to your heart.

32 beijing.dulwich.org

The College Magazine (Beijing)

33
---
Learning Pathways

The Dual Language Approach in Early Years

By Becky Bush

Assistant Head of Early Years, EAL Lead

It's August: the first few weeks

of Nursery and the very first

experience of being outside of the

home five days a week for many

of the young students who have

just joined DCB. "Hmmm, I wonder

what's in the box…" says Mr

Mowjoudi, holding a box in front

of the class and shaking it gently

from side to side. Miss Judy, one

of our talented and experienced

dual language teachers, asks the

question in Mandarin to ensure

that the students in this class of 20

children (all from Chinese-speaking

backgrounds) have understood the

question.

As the game continues, student interest levels are high, and

Miss Judy facilitates the learning experience through the

technique of translanguaging. Translanguaging, described

by Garcia (2009) as the act of multilinguals accessing various

linguistic features and modes to maximise communication,

is frequently used by not only our bilingual assistant teachers

and dual language teachers, but also by the children

themselves. Miss Judy moves seamlessly between Chinese

and English, helping students to make connections between

their home language and the language they are learning.

These connections will help them to retain their new

vocabulary and structures. Although both Mr Mowjoudi and

Miss Judy are very intentional in their use of language, the

students seem unconcerned with the incredible learning that

is already taking place… They really just want to know what's

in the box!

Let's jump to Mr Brookes' classroom: here, the students are

a little older (five, turning six), and most are able to speak in

English using sentences and demonstrating a greater range

of vocabulary. A group of children is on the floor with Mr

Brookes sorting materials into categories."Yes, it's rough,"says

Mr Brookes, "Not smooth. How do you say 'rough' in

Korean, Emma?" Emma shares her knowledge with the

group, appearing quite proud of herself, probably because

she now knows how to say that word in three languages.

Looking around the classroom environment, you will notice

that all the labels in Mr Brookes' classroom are trilingual

(Chinese, English and Korean), as these are the cultures

and languages currently represented by the students in his

class. There are also work samples in Korean, a Korean flag

on display, and a range of age-appropriate Korean books

in the book corner. During break time once a week, Emma

will have the opportunity to attend the Korean Club, where

she can speak with her peers in her home language and

take part in a range of activities that are familiar to her and

popular in her family's home country.

These are just some of the many examples of the dual

language model in practice. This approach, which is at the

core of language learning in the Early Years at Dulwich

College Beijing (DCB), is guided not only by current

international research related to best practice but also

by our college's strong commitment to internationalmindedness,

diversity, equity and inclusion. According to

the Center for Applied Linguistics (2022), the dual language

approach promotes bilingualism and biliteracy, academic

achievement and cross-cultural competence in students.

There are many ways that parents can support their child/

ren's language learning journey; however, research suggests

that the best way is to speak with their child/ren as often as

Learning Pathways

possible in the home language. Recognising the important

role of the home language not only supports further

language acquisition as students make strong connections

between their home language and new languages, but

furthermore fosters a sense of identity in students. It helps

them develop pride in their own culture and language,

and exposes them to the cultures and languages of their

classmates. These intercultural skills help prepare students

to Live Worldwise as per our college's mission (Dulwich

College Beijing, n.d.).

Given the strength of our research-based approach to

language acquisition, one may wonder how long it will

take until parents can expect to see their children speaking

fluently in English. Researchers believe that although children

may become conversationally fluent in two or three years,

it can take up to seven years- sometimes longer- to develop

full academic proficiency in a language. When a child's home

language is not utilised as a tool for learning during their

acquisition of an additional language, there's no doubt

that valuable opportunities are missed: opportunities for

fostering identity, for exploring culture, for sharing their ideas

in the way that's most comfortable for them, for exercising

high-level thinking skills… for becoming truly 'worldwise'.

Let's continue to work together to foster the home

languages of all our students in order to give them a firm

foundation in language learning that will benefit them in

their journey towards becoming worldwise!

References

Center for Applied Linguistics (2022). Bilingual and dual language education.

https://www.cal.org/areas-of-impact/english-learners/bilingual-and-dual-language-education

Dulwich College Beijing (n.d.) Guiding statements. https://beijing.dulwich.org/our-college/guiding-statements

Garcia, O. (2009). Education, multilingualism and translanguaging in the 21st century. In: Mohanty, A., Panda, M., Phillipson, R. and Skutnabb-Kangas, T. (eds).

Multilingual education for social justice: Globalising the local. New Delhi: Orient Blackswan, pp. 128-145.

34

beijing.dulwich.org

The College Magazine (Beijing)

35
---
Learning Pathways

Learning Pathways

"Staying in Your Own Lane" in a Learning

Setting and Beyond

By Stephen Hurworth

Head of Student Wellbeing (Key Stage 4/5)

The pressure that surrounds young people these days is

unquestionable. It's muted in nearly every conversation

that is related to education, wellbeing, and society. Social

media has 100% played the most integral role in adding to

the pressures and stressors of young people, be it about

their academics, universities they go to or their physical

appearance. Combine this with a pandemic, a strive for

elite academic status and a culture that looks more to the

outcome than the process goal, and we have ourselves

an environment where apparently only "the perfect" can

succeed. Is that really the reality, or have we, as a society,

created this perception?

2015 by Henniger and Harris found that over 75% of

people are envious of someone in their life. The issues of

comparing yourself arise when it has an adverse effect

on your ability to perform and displaces your social and

emotional balance. The study also found that comparing

yourself to others leaves one frustrated and anxious and

demotivates many. So why do we put ourselves through

it? Why is there such a need to compare our lives with

those around us or the people we scroll through on social

media? Instead of answering these questions, this article

will explore how to stay in your own lane to live a happier

and more productive learning experience…

got 89%..." Use these observations to learn about yourself. Then, make a list of who and what you frequently envy or

compare yourself to. Write how these feelings negatively impact you and why they waste your time. Resolve to become

more mindful so that you can catch yourself in the future.

the positive feedback

that close the loop.

REWARD

HABIT

LOOP

TRIGGER

ROUTINE

the habit itself, both good

or bad.

the reminder that signal

us into the routine.

Although the title of this article could be construed as being

slightly selfish to some, the concept is far from it. Wellbeing

gurus and health experts constantly use the "oxygen mask"

analogy when ensuring people look after themselves before

others. To some extent, it's the same with goals, targets,

and objectives. When trying to succeed in life, minimising

unhealthy comparison at all costs is a must. With learning

constantly evolving in a pandemic context, there has never

been a stronger message of "staying in your own lane"

when trying to achieve your goals and now more than ever,

it's time to start actioning it. After all, actions speak louder

than words.

The problem with comparing yourself…

"The reason why we struggle with insecurity is because

we compare our behind-the-scenes with everyone else's

highlight reel…" Steven Furtick

The most obvious point to make is that nearly everyone

does, and it's completely human nature. A study in

Here are some top tips with inspiration from Caroline

Castrillon on how to stay in your own lane during

online learning and reap the benefits of living free

from comparison. Disclaimer alert: with the title being

track and field related, it's important to note that these

tips need an endurance approach and results won't

happen overnight. So, stick with them and give them

time. According to science, it takes between 18 and 254

days for someone to form a new habit so sticking with

and enjoying the process is a must! The DCB values of

Resilience and Open-mindedness are imperative for

success…

Identify specific triggers

According to Castrillon, if you want to stop comparing

yourself to others, determine when envy rears its ugly

head. Is it when you're scrolling through WeChat or your

Instagram feed? Or maybe when you hear your best

friend subtly bragging about their test scores? We have

heard it time after time: "I did so badly on that test, I only

Commit yourself to gratitude

The physiological and psychological benefits of gratitude are unquestionable.

Improvement in sleep, life satisfaction, psychological health and happiness and

increased mental fortitude, to name a few. Research by Emmons and Shelton, 2002 also

found that gratitude helps in the quest to reduce the comparison of others. Castrillon

further explores this concept and goes on to say to stop comparing yourself to others

and consider starting a gratitude journal. Take a

few moments (preferably at the beginning of the

day) to write down 3-5 things you are grateful for.

With most of us working from home, why not try

this as a family? Find a jar, decorate it, and every

day, think of at least three things you're grateful

for. Write each down on a slip of paper and insert

them into the jar. Soon, you'll have a whole host

of reasons to be grateful. When you find yourself

slipping into those feelings of self-doubt, read a

few notes from the jar to remind yourself about

the positive things in your life. When consulting

social-emotional counsellor Ms Tyson about this article, she also suggested using the

GLAD technique. Pictured to the left is a breakdown of how it works.

36 beijing.dulwich.org

The College Magazine (Beijing)

37
---
Learning Pathways

Visual & Performing Arts

MADD FESTIVAL

Document your achievements and be your

own best friend.

When comparing yourself to others, you focus on their

strengths and ignore your own. So, why not make a list

of your achievements and conduct a bit of self-praise?

This could be carried out alongside your gratitude list.

Almost a double power move to start the day! It doesn't

matter what they are, big or small, as long as they are

something you're proud of. If you complete a project or

piece of work for school, record it. If you help out a friend

or your parents around the house, record it. If you get a

fitness workout in before online learning, write it down.

Continual reminders about your great work will help to

reinforce all the good work you are doing. Then reflect

on that list and post it somewhere where you can see it

every day. It is so easy to get wrapped up in a negative

inner narrative in a remote setting. Change the daily

script to be a more positive, praising and encouraging

discussion and relationship. I strongly recommend the

Mel Robbins episode on the High-Performance podcast:

Give yourself a high five in the morning to reap the

benefits (Mel Robbins (Episode 83 – High Performance

podcast).

As the DCB community goes through this period of

uncertainty, keep creating goals and targets, and strive

to better yourself and those around you. As alluded to

at the start of the article, the messaging is not meant to

come across as selfish or self-absorbing. We all want a

collaborative community that always looks out for each

other. When we start to compare one another and engage

in unhealthy competitive traits, we become unstuck and

lose sight of what it means to live a fulfilling life that focuses

on improving personal growth.

38 beijing.dulwich.org

The College Magazine (Beijing)

39
---
Visual & Performing Arts

Visual & Performing Arts

EARLY YEARS ART

Sustainable Artworks in Early Years

By Jacob Dong

Early Years Teacher of Art

Art and crafts are well-known for offering enjoyable learning experiences to develop children's creativity

and coordination skills while enhancing their connections with their environment. Enjoy a few examples

of our youngest students' sustainable artworks!

3D structure with recycled materials

Collaborative paintings

Nursery - Collaborative egg box painting

Nursery - Collaborative painting: elephant

Snow sculpting

Collage

Year 2 - Collaborative 3D structures

Flower arrangement

Reception - 3D structures

2D and 3D drawings and paintings

Nursery - Collaborative snow sculpture

Nursery - Collaborative Bing Dun Dun collage

Weaving

Reception - Painting

Reception - Painting

Year 1 – Flower arrangement

Year 2 - Painting

Nursery - Colourful paper weaving

40 beijing.dulwich.org

The College Magazine (Beijing)

41
---
Visual & Performing Arts

Visual & Performing Arts

JUNIOR SCHOOL ART

Story Light Boxes by Year 6

By Sally Corben

Junior School Head of Art and Design

Inspired by the paper cut work of Hari and Deepti, students

created these 4-layer papercuts depicting a scene from a

myth, legend, fable, or traditional tale from around the world.

Investigating visual space was important, learning about

foreground, middle-ground, and background to create each

of the individually hand-cut layers. Precise cutting was also

essential so the overall desired image could be achieved.

Once each piece of paper was completed, they were layered

into a frame, and LED lights were attached to the back to

allow the light the shine through the image.

William C Andy C Edward G Ann W Ashton W

Vicki L Elaine Y Sunny W Roger L Luna W

Andy Z

Louis L

42 beijing.dulwich.org

The College Magazine (Beijing)

43
---
Visual & Performing Arts

Visual & Performing Arts

GCSE ART

Cindy W

September

Acrylics, Canvas (50*60)

Ethan M

Reality

Oil Paint

Congratulations to All Our GCSE Art Students!

By Yvette Stride

Senior School Head of Art

Our Dulwich College Beijing GCSE Art students have

worked diligently through many different learning

situations brought on by the pandemic. Despite the

challenges, including working online from "take-home"

packs at various stages of the two-year course, they have

soared above adversity, creating these amazing artworks.

The GSCE Art programme challenged students to explore

the many facets of Reflection as a theme, delving deeper

Iris S - "?"

Acrylics, Canvas

"This work, inspired

by Magritte, embodies

Hyperrealism. Reflection is

incorporated in this artwork

by using 3 mirrors – two in the

hands, and the last mirror seen

from the viewer's perspective.

They act as a media to range

over problematic social media

use by implying the hollowness

of self-identity and give viewers

a rare opportunity to become

introspective about themselves

and question their true nature."

Claire W (HMA)

Domestic Reflection (2022)

Mixed Media Watercolour,

Charcoal, Colour Pencil

"Interoperate as you see, to

have resonance by all means.

You look into your own

reflections as if it was a

painting. A calm leaf can

be turned with the slightest

of breezes. A building of

reflection, looking more

realistic in its shadows."

into their personal responses and experiences. Some

ideas included physical reflections of water, mirrors and

shadows, and others depicted metaphysical notions

of time passing, growth, sustainability and childhood

memories.

Please enjoy this insightful, powerful and sensitive work

on Reflection, from our GCSE students.

Ellie K

Never Eternal Life

Watercolour

"When you look up to see

the cosmos and the galaxies,

the stars resemble life. When

you then look down on the

fields and the plains and see

beautiful, elegant roses, they

also resemble life. But a rose's

life is only a few days, while

a star's life is a billion years.

It's all life, the only difference

is the length of life. But in the

end, all life is never eternal."

Belinda Q

Transience

Acrylic, Canvas

"My idea of Reflection is

based on memories and my

entire final artwork is based

on memories and time.

Where the leaves would

represent time going past and

new things will come our way

and the shadows are a way of

representing memories."

"My final artwork portrays and

expresses my past experiences.

The theme of Reflection can be

interpreted on different levels.

The spacesuit was an implicit

expression of my state of mind

during that period of being selfenclosed.

The reflection on the

helmet conveys the details that

I want to express and enriches

the story of the painting. The use of very saturated/bright colours

also contradicts the theme, which represents me as being a

discordant existence."

Elise C

Cracking

Acrylic, Canvas

"My final work reflects reality

through the animal world.

Two types of reflection are

shown, implicit and explicit. To

which, the explicit reflection

is expressed by the lights,

showing light reflection. The

implicit reflection is shown

through the shark and the

crab. It reflects a modern

society where the poor feed the rich. The overall blue theme of

the painting suggests the crab's misery."

"My final piece was based on the theme of Reflection, physical and emotional. The mirror is smashed and

cracked into different pieces, reflecting in all different angles. The colours made the theme of the piece

saddening, matching the hollow eyes the organism showed on the reflection. This piece is my way of showing

escapism from reality, from the non-biological blue shade of the being to the white cracked lines that

normally be black, it was an artwork that I greatly enjoyed making."

Brendon Z

Reflecting Lake

Acrylic

Vivian M

Unknown

Watercolour, Colour pencil

"My artwork represents the

theme of Reflection through

the water ripples flowing

across the portrait. Not only

does this represent reflection in

the sense of the element water,

but also the feeling of 'washing'

away from the negative

thoughts about yourself when

you look into a mirror."

"This work is inspired by a picture I

saw. It reflects a lake with a forest

connecting to it. The cloud is reflected

in the lake which shows some amazing

contrast."

Jesse C

Looking in the Mirror

Elpis C

A Walkthrough Time

Gouache

"My final piece was

inspired by my love for

animals and my home

country. It is based around

the theme of Reflection, where everything and anything reflects

and grows throughout their lives, be it cats going back to the

people who fed them, or students at school learning from their

mistakes. The piece is based on the idea of growing and learning

through good and bad experiences. It helps us all reflect on our

lives, notice the small things, that build us as a person, and help

us to mature and develop into a better version of ourselves. There

are no mistakes, just lessons learned."

Acrylic, Gouache, Pencil

"My artwork revolves around a

blue nude man who is stared at by

a distorted and rough reflection of

himself through a gold-plated mirror."

44 beijing.dulwich.org

The College Magazine (Beijing)

45
---
Visual & Performing Arts

Visual & Performing Arts

Yolanda Z

A Blind Wish

Acrylics, Canvas

"Both the glass and eyes are

reflective objects: the glass

reflects a person's superficial

looks, and the eyes are usually

a representation of the heart's

window in traditional Chinese

culture. In my artwork, I use a

shard of glass to block my eyes

in defiance to express my heart

and emotions, to escape other

people's feelings toward me, and

to escape from responsibility. But with a heart that wishes the best for

others, my actions not only hurt myself but also others that love and

care for me, as represented by the eyes reflected in the glass shard."

Alice X

Looking Backwards, Thinking

Forwards

Acrylic

"My work illustrated the different views

on a certain event after the process of

reflection. The girl whispering prayers

symbolize a person in the time frame

before an event happening, and the

phantom-like figure of the girl looking back towards the dawn sky

symbolizes a person looking back at the road that they came from,

indicating the view of the event after it has already occurred and

how reflection upon the event brings a different perspective. I want

to communicate through my work that people may have a different

view on a certain event before and after the event has taken place,

and by reflecting on what is done, people would take a different

perspective and 'see a different scenery'."

Sherri L

Untitled

Colour Pencil, Gold Leaf, 50*50

Brown Paper

"My final work is based on the

idea of culture and thoughts

of the past time. The culture

is represented by the Ukiyo-e,

and my thoughts of the past

are represented by the flowers on her hair and the element of

water. My work is mainly inspired by Hokusia Katsushika's Ukiyo-e

'The Great Wave off Kanagawa' and Gustav Klimt's artwork (using

gold leaf). The artwork is a combination of traditional drawings

and my thoughts and observations from the past. The joining of

tradition and modernity is a representation of life now, how there

will always be people from different generations existing at the

same time."

Claire W (KLE)

The Knight's Move

Watercolour and Acrylics,

50*70 Canvas

"My final piece, strongly

influenced by Cubism and

'Maya with the Doll' (Picasso

Pablo), attempts to show the

transition from the naivety of

childhood (symbolized by the

carousel horse) into maturity

and the more intellectual

stages in life (insinuated by

the chess pieces). I reflect

upon the vestiges of my childhood, as I approach the end of my

teenage years and endure the inevitable process of maturation."

Doris D

Untitled

Oil Pastel

Si Kai F

City

Coloured Pencil, Brown paper

"Karl Marx once proclaimed it 'impossible to transcend the laws of nature.' Despite his

warning, we tried and failed. The institutions of capitalism have plundered and polluted our

planet, pushing humanity towards existential extinction. But the end is not here yet, and it

need not be. 'City' reflects upon old methods of imperialist production, seaports, rail and

factories, to envision a future where production co-exists with nature. As humanity casts her

decision, I reflect upon our failed past and pray for a better tomorrow."

"My final work is based on my

memories and past experiences.

The vase is a representation of

a storage box and the objects

inside represent my childhood

memories. This artwork is trying

to convey time past fast, and

new challenges are waiting for

us."

Annie R

A Distorted World in the Mirror

Pencil

"My final piece was inspired

by an artwork called Man in

the Mirror. People, in reality,

have always been considered

to be complete, while the

mirror presents an illusory and

incomplete self. In my artwork,

I distorted some objects in the

mirror, showing the difference

between dreamland and reality."

Lydia L

Secret Garden

Woodcut

"Whenever I reflect upon

myself, I will recall all those

precious memories in the

past that I cherish. Hence,

to me, memories are both

a secret and a treasure. I

decided to hide them in a

secret garden with a pigeon guard, my favourite bird."

Sophia X

Untitled

Acrylic Paint

"My final piece portrays the

given theme Reflection through

the cycle of life. The main focus

of the piece, the skeleton, is

reflecting upon its previous life. The artwork also presents the

connection between the living and the dead as the cigarette is an

object from the living. Lycoris radiatas, also known as red spider

lilies, symbolize rebirth or reincarnation. The flowers are added to

the painting to further emphasize the motif: the cycle of life."

Exton J

Out of Time

Gouache on Paper

"I interpreted Reflection as

looking back on the past. So, I

made connections with the moon

and the clouds to symbolize

the flow of time, vines that

represents all the connections

throughout time, and a man

looking out through a clock to represent myself looking back."

Mia H

Footbridge

Acrylic, Canvas

"My final piece illustrates a

natural reflection shown by

the waterscapes, representing

the purity of nature. The theme and style were inspired by Paul

Cézanne, highlighted by the rocks. The elements of impressionism

are included in my final piece, inspired by Claude Monet. Above

the reflection of natural beauty are also attempts to raise

awareness for environmental protection, calling for action from

the public."

Ethan Z

De-Extinction

Acrylics, Canvas

"My final piece satirizes the folly of men, and the turmoil between the exploitation of our

biosphere and conservation efforts that often follow, touching on modern men's nefarious

nature of 'playing God', the Pyrenean ibex (left) was a victim of genetic engineering, where

it had effectively gone extinct twice in a lab, The Columbian mammoths (right) are likely to

become the next subject of species revivalism, the heavenly scene enhances a sense of the two

resurrected species crossing paths and restoring the equilibrium within the Siberian plains. While

concurrently alluding to the sorrows of extinction and greatest remorse of men."

Popo L

Warmth

Oil Painting

"My final piece portrays the theme of Reflection through trauma and memory, revolving around

a predominant moment of the fireplace blurring into the scene of a celebrated family festival.

Prominent figures of the character and fireplace are highlighted with the bright and vibrant colours

contrasting with the dim backgrounds. The piece evolved from photography, rendering them life,

expressing those sentiments and a form of language to tell the stories behind."

46 beijing.dulwich.org

The College Magazine (Beijing)

47
---
Visual & Performing Arts

Visual & Performing Arts

IB VISUAL ARTS

2022 IB Visual Arts Exhibition

Alice Z

The Last Supper

Photography

20141 x 3820

As a new term is about to unfold, one of the school calendar's highlights took place on

Friday. Our talented IB Visual Arts students launched their IB Art exhibition, entitled

Fusion, concluding and celebrating a demanding two-year course of study among their

teachers and peers. As part of the course, these artists are challenged to explore a

wide range of artworks from different perspectives and contexts while experimenting

and developing multiple techniques and skills, pushing their creative boundaries and

expectations.

Fusion relates to the variety of ideas present in the show: from tradition and taboo,

introversion and extraversion, to philosophy and folklore, and everything in between.

The work is deeply introspective, cultivated from the artists' own experiences and in this

sense, it is a fusion of the hearts and minds of our young people.

This year's class curated a stunning exhibition with eleven individual artists showcasing their

talents and ideas across 82 pieces of art. Their impressive artworks include a range of media

from traditional approaches such as oil painting and ceramics to contemporary illustration

and digital drawing to express the students' artistic explorations of multicultural awareness,

interpersonal relationships, nature extinction and many more…

Emma Z

The Last Block of Ice

Installation (Acrylic & Water)

5cm x 5cm x 10cm

Emma Z

Parasite

Ceramic

11.5cm x 20cm

Congratulations to Alice Z, Ava L, Clara L, Emma Z, Esther K, Jessie Z, Katrina C, Lauren Z, Rino F, Sally L and Yukino S on displaying such a fantastic exhibition!

Lauren Z

1 in 8

Interactive Work

Digital Collage / Mixed Media

Jessie Z

Pulsate

Photography – Needles, glass, liquid water

1920 x 1080

48 beijing.dulwich.org

The College Magazine (Beijing)

49
---
Visual & Performing Arts

Visual & Performing Arts

Yukino S

I can't Hear You

Oil on Canvas

80cm x 80cm

Clara L

Dream Catcher

Fishnet, LED light, manipulated organza, nylon wire, acrylic,

various textiles, metal netting, yarn

50cm x 50cm x 100cm

Rino F

Memories for Sale

Resin, 3D masks

1000mm x 1250mm

Esther K

Ava L

Katrina C

Sally L

Memorial to our Future

Fantasia

Through the Window

Camouflage

Oil on canvas

Digital

Mixed media

Pencil

60cm x 41cm

100cm x 130cm

64cm x 64cm

59cm x 42cm

50 beijing.dulwich.org

The College Magazine (Beijing)

51
---
Visual & Performing Arts

Visual & Performing Arts

Senior School Drama Production: Romeo and Juliet

By Alexander Tew

Senior School Head of Drama

and performance was of the highest

standard, and the audience certainly

was treated to a spectacular show!

This year, the main characters were

double-cast to allow more students to

perform, with the first cast performing

for Years 8, 9 and 10 and the second

cast performing for Years 6 and 7. The

atmosphere during both performances

was fantastic.

The DCB parent community, who

unfortunately could not attend the

performances in person, were provided

with a high-quality live stream to be

enjoyed at their best convenience.

The cast and crew of Romeo and

Juliet should be incredibly proud of

themselves for creating such a beautiful

contemporary rendering of William

Shakespeare's famous play! See for

yourself!

Last week, the Senior School production

cast presented their performance of

Romeo and Juliet to Year 6 to Year

10 students. Considering the Senior

School production could not take three

years due to the pandemic, it was a

remarkable event!

The cast has encountered many

challenges with the online learning

period resulting in a three-week

interruption of the rehearsals. Upon

returning to campus, the dedication

of this cast has been incredible: cast

members voluntarily have given up

multiple lunch breaks to catch up, and

all of that work paid off with a set of

fantastic performances!

This project included a considerable

number of student leaders. The set

and design aspects of the performance

were entirely student-led, and they

were an invaluable contribution to a

beautifully aesthetic performance. A

special mention to Cathy M, Leon L and

Henry B, whose contribution to the

design aspects went entirely above and

beyond.

The performances took place over two

days. The audience was treated to a

vibrant and engaging adaptation of the

famous play, which included forbidden

love, violent bloodshed and a few light,

comedic moments! The quality of acting

52 beijing.dulwich.org

The College Magazine (Beijing)

53
---
Visual & Performing Arts

Visual & Performing Arts

Junior School Welcomes Spring in Music

By Shauna McFaul

Head of Primary Music

Dulwich College Beijing is full of extraordinary, passionate,

and dedicated students with incredible talents and skills in

many areas! In the Music Department, we are incredibly

fortunate in that regard!

First, we welcomed spring with the Key Stage 2 final round of

one of our much-loved traditions: the Young Musician of the

Year competition. During the auditions, many talented and

hard-working students shared their musical accomplishments

in the form of incredible solo performances, awing us with

their high level of musicianship and passion!

Our six finalists this year included three violinists:

• Emma W (Year 6) - Piano

• Freda L (Year 4) - Violin

• Melinda M (Year 6) - Guitar

• Hannah S (Year 5)- Violin

• Suri Y (Year 6) - Piano

• Carla Q (Year 5) - Violin

We were also treated to an encore performance by last year's

winner, Andy Z. from Year 6!

recorded their annual Sounds of Spring performance! The

recording session saw stellar performances from Junior Band,

Junior Choir, Honours Choir and Junior Strings.

The energy was high throughout the recording session,

where students shared an incredible variety of music. From

Everything is Awesome (from The Lego Movie) to the old hit

The Final Countdown, from music sung in Japanese to a piece

in Haitian Creole, our Junior School students really raised the

bar with their hard work and talents.

In the final round of the competition, finalists performed

their pieces in front of a panel of judges, peers and teachers

from Junior School. After much deliberation and some tough

decisions, 3rd place was awarded to Emma W, 2nd place to

Hannah S, and our 1st place winner was Carla Q.

Congratulations and thank you to all students who

auditioned, and families, classmates and teachers for

supporting our students on their musical journey.

Second, students in our Junior School music ensembles

Congratulations to all our Junior School musicians! The Music

Department is very proud of all the hard work they have put

in since January!

54 beijing.dulwich.org

The College Magazine (Beijing)

55
---
Visual & Performing Arts

EARLY YEARS SPORTS DAY

Spotlights

JUNIOR SCHOOL SPORTS DAY

TEDDY BEAR GYM

56 beijing.dulwich.org

The College Magazine (Beijing)

57
---
Spotlights

Spotlights

INTERSCHOOL COMPETITIONS

FESTIVE SPIRIT AT DCB

58 beijing.dulwich.org The College Magazine (Beijing) 59
---
House Events

House Events

EARTH DAY

WORLD BOOK DAY

60 beijing.dulwich.org

The College Magazine (Beijing)

61
---
House Events

EARLY YEARS HOUSE SPIRIT DAY

HOUSE GARBAGE

By Global Goals Club

House Events

House Garbage was a Senior School-wide activity hosted by the Global Goals Club corresponding to Sustainable Development

Goal #12: Responsible Consumption and Production. Working with the school cleaning staff, we collected discarded waste

from around the school from the previous day for each House to sort! We divided House members according to year groups

to perform separate tasks, garbage sorting, video reflection and systemic thinking review! During this process, we interviewed

participants. We were glad that students left the activity more willing to contribute "Teaspoons of Change" by putting waste in

the correct bins and reflecting on other unsustainable actions and solutions in their daily lives.

JUNIOR SCHOOL TOUR D' FOUR

Junior School Students held Tour d' Four House event in March 2022. The students engaged in dance,

swimming, and team games to earn points for their House. The students had great fun and built up their team

spirit from the day.

62 beijing.dulwich.org

The College Magazine (Beijing)

63
---
House Events

HOUSE ART: KNIT GRAFFITI

By Yvette Stride

Senior School Head of Art

Knit Graffiti- a new spin on an old Art form.

What an extraordinary effort made by

our students participating in House Art

this year! This silver status event saw

high competition among the houses,

especially between Alleyn and Soong

who both had excellent team spirit

and organisation from day one. The

students gathered in the Art rooms at

break times, lunches and after school,

knitting, weaving and knotting their

designs to life. Johnson emerged a

few days into the program with some

impressive coral like weaves, impressing

everyone and raising the stakes.

Wodehouse and Owens both had

wonderful links to their artist research

and all teams managed to meet the

task challenge and fill the space with

laughter and joyfully colourful yarns.

The yarn bombing can be found in the

Art room courtyard.

Well done to everyone who participated

and a huge congratulations to the

winning house, Alleyn!

Thank you to our Student leaders,

Judges and the Art staff for supervision.

SENIOR SCHOOL HOUSE SINGING

Hear from the Dulwich

College Beijing's Alumni

We are happy to introduce a new series of interviews highlighting our International Old

Alleynians, or IOA in short, namely, our Dulwich College Beijing alumni. Their childhood

and teenage years at DCB behind them, they were happy to share fond memories of

DCB and tell us about their journey since then.

Jenna Yeh

• DCB Class of 2015

• Graduated from the London School

of Economics

o Undergraduate in International

Relations

o Postgraduate in Management

• Currently Client Relationship

Manager at American Express in

London, UK

1. Tell us about a significant experience at DCB.

During my time at Dulwich College Beijing, I was a Student

Prefect and also held leadership positions as the KS4/5 Owens

House Captain and Director of Model United Nations.

Alumni

I'm excited that WAN

presents a new opportunity

and dedicated platform

for us to connect and reconnect

with our Dulwich

peers - our alumni have

gone on to build some

incredible lives and careers

after Dulwich, and the

current students now are

more adaptive, tech-savvy

and Worldwise than ever.

There is no better time

to leverage the extensive and established network we have

through WAN!

3. What have you gained from your DCB

journey and how has it helped with your life

beyond graduation?

Learning to approach others with an open mind to find

common ground and celebrate differences. Growing up in a

diverse environment like DCB has helped me build an easy

rapport with others and form strong working and social

relationships.

4. What would you like to tell our current DCB

students?

2. You've attended the inaugural Dulwich College

International Worldwise Alumni Network event

in London. How was your experience?

I had the pleasure of joining the speakers panel. Our

panellists explored topics ranging from third culture values,

transitioning to the workforce, to how we define leadership

behaviours.

Invest in yourself by building soft skills outside of your

academics. Whether this is through playing team sports,

travelling, learning a different language or completing a

training certificate, you can develop and demonstrate

your ambition, time management and leadership skills in a

plethora of ways. Not only will these experiences give you

valuable, concrete examples in the job application process,

they genuinely make you a more rounded and interesting

person in your professional life and beyond.

64 beijing.dulwich.org

The College Magazine (Beijing)

65
---
Alumni

Alumni

Bryan Chiew

• DCB Class of 2016

• Graduated from Nanyang Technological University (Singapore)

o Bachelor of Social Sciences

o Major in Public Policy and Global Affairs

• Concurrently interning at Grab, as a Regional Public Affairs (Strategy and Policy) intern

Elena Reid

• DCB Class of 2014

• Graduated from the University of Melbourne

o International Politics and Media Communications

o Master of Education

• Secondary School Teacher at Viewbank College in Melbourne, Victoria.

1. Please tell us more about your

role in the Worldwise Alumni

Advisory Board.

After returning to Singapore, I wanted

to stay connected with my Dulwich

peers. So I emailed DCB to enquire

about the potential existence of an

alumni network. I ended up meeting

senior members of the now EiM group

in their Singapore office. We agreed

there was a need to connect our

alumni.

I'm now working with fellow alumni to

create a structure and representation

that allows alumni to leverage our

Dulwich network to re-connect and

build new bridges across our worldwide

network.

Being part of the Worldwide Alumni

Network helps graduates, both on the

social and professional levels. It provides

opportunities to stay socially connected

with friends or make new ones,

adjusting to changes and understanding

one's own identity. On the professional

front, meeting new people with similar

experiences can open new doors and

even help to find mentors.

2.Would you like to share a

memorable moment from your

DCB years?

My favourite memory from DCB will

always be the camaraderie not just only

between students but also with the

larger school community like teachers

and parents. I always remember the

staff vs student football matches

that we used to have every year.

Having these more fun and personal

experiences outside of the classroom

always made Dulwich feel so much

more like a home away from home.

3.How has DCB prepared you

for your college, and then

adult life?

One thing I realized after graduation

was that I was never afraid to try some

new, eventually fail and try again, no

matter whether that was at work or

at school. I believe the focus that DCB

has always placed on applying what we

learnt and being global citizens is now

ingrained in my DNA.

Interviewing the President of NTU during my

term as Students' Union President.

4.What is the ONE thing you

would advise our current DCB

students?

Make the most of your time at DCB

by joining or starting ECAs. Whenever

I think back on my time in Dulwich,

not only did it help me grow so much

as a person, but doing projects and

going to competitions was always my

favourite memories with my friends.

Being a Prefect, leading the Interact

Club, playing football, swimming….

I've learned so much about

interacting and working with people

from different countries, cultures and

perspectives and that's something I

always believe is unique.

5. Which word in each pair

describes you best?

1. coffee/tea: Tea.

2. cat/dog: Dog! I have a pet dog!

She's a toy poodle, we got her

in Beijing and she's still with me

today J

3. steak/salad: Steak! Got to have

proteins.

4. 798/Great Wall: Great Wall! It

was the first thing I did when

I first got to Beijing. It was the

beginning of a new journey and

many new memories. Beijing will

always be part of my identity and

I believe it massively shaped the

way I think and view the world.

1.Please tell us more about your current job.

I work at a co-educational government state school in

the north-eastern suburbs of Melbourne where I teach

humanities and media arts. I am also a Student Wellbeing

Coordinator, acting as an advocate for students. This role

includes mentoring, developing a curriculum to build

resilience and knowledge in areas of health and wellbeing,

and helping staff and carers navigate student management

plans, critical incidents and welfare issues.

2.What do you like most about your current

professional life?

The aspect I like the most about my current job is the

relationships I have developed with my students. These

relationships are imbued with mutual respect, kindness, and

care. Most importantly, my classroom is open to differences

– whether it be ethnicity, sexuality, disability or others. These

are qualities that I feel are important for any person to

develop. As a Wellbeing Coordinator, I am able to work with

the community to ensure students have the language, skills

and resources to enable them to take agency and control

over their wellbeing and make positive choices in life. It is

great to spend my day working with young people!

3.Share a memorable experience or moment

from your DCB years

A memorable

experience during

my DCB years was

every sporting

practice, game

and competition

that I participated

in alongside my

talented peers. I

owe that memory

to my dedicated coaches (many of whom were my teachers

all throughout my time at Dulwich).

4. How has DCB prepared you for your adult life?

DCB has taught me to value my relationships with my friends,

teachers and community. Save their contact details – you

never know when or where you'll see them next!

5.One thing you would advise our current DCB

students

The pandemic has undoubtedly impacted us all in various

ways – take care of your mental health and wellbeing by

spending less time on social media and more time in the

presence of people who make you laugh.

6.Which word in each pair describes you best?

a. Coffee/Tea: Coffee

b. Cat/Dog: Dog

c. Steak/Salad: Steak

d. 798/Great Wall: Great Wall

66 beijing.dulwich.org

The College Magazine (Beijing)

67
---
Alumni

Alumni

William Chen

• DCB Class of 2020

o Currently at Brown University

o Bachelor of Science in Computer Science and Economics

Melody Hsu

• DCB Class of 2016

• Graduated from Emerson College

o BFA in Design/Technology - 2019

o MA Media Design - 2021

• Currently working as a Freelance Multidisciplinary Artist and Civic Designer, Los Angeles

• Previously: Creative Lead (remote), See You In The Future Community Project, Boston

Interview by Cecilia T, Dulwich College

Beijing 2022 Student Prefect for Alumni,

Careers and University.

1.Hi William! Please share

a memorable experience or

moment from your DCB years.

A memorable experience was when I

hosted the Sharks Football Tournament

in 2019. The school gave me the venue

of the entire South Pitch pro bono and

human resources to cover the event's

logistics (namely cleaning, security and

setup crews). The tournament involved

26 football teams across Beijing

over two days, with over 300 people

attending. We were fortunate to get

the help of more than 30 DCB logistics

team members.

2.What do you like most about

your current college life/learning?

Brown's Open Curriculum allows

for exploring any course you want

without worrying about core course

requirements. During my time here,

I have already taken courses in

Neurosciences, Psychology, Economics,

Mathematics, Philosophy, Computer

Science and Engineering. The best part

of college learning is the professors

we get to meet. It's great to have the

opportunity to study under people who

wrote textbooks deemed the "Bible" of

Computer Graphics, learn a computer

language from the person who made

it or analyse Kant's Critique of Pure

Reason with the leading scholar who

translated and edited it.

3.How has DCB prepared you for

your college life?

From an academic standpoint, the IB

curriculum allowed me to be in a very

good position. The quality of teaching

and standards set for students pushed

me to develop excellent learning skills.

Even with the academic rigour of an Ivy

League, DCB provided one of the best

preparations for all aspects of my courses

compared to many of my peers here.

4.What was your favourite class

back in high school, and why?

My favourite class in high school would

definitely be Economics. I was lucky

to have two great teachers teach me

throughout IB, and they didn't only

teach me the curriculum but helped

guide us as students to become better

independent thinkers and build our

framework for learning. It was the

course that I felt helped me the most

in life as a young stocks/options trader,

understanding the base logic of how

economies and businesses work, on

both the micro and macro levels.

5.One thing you would advise

our current DCB students.

Applying to colleges/universities may

be the pinnacle of stress for high

school. If you can't think of ideas

for extracurriculars, just try to do

something that will make you and your

fellow students' lives better. I thought

IB students didn't have enough food

or snack choices, so I got a partnership

with the nearby Legend Heights

Restaurant and put vending machines

in the IB Common Room and Student

Services Centre areas. It then developed

into the Ventures student business ECA.

Overall, the most important thing is to

try to overlook rankings and find the

school that you would be most happy

at, whether that be the school culture,

location or academic intensity.

6.Which word of each pair

describes you best?

a. Volleyball/Basketball: Volleyball

b. Chocolate/Vanilla: Vanilla

c. TV/Book: TV

d. Hutong/Sanlitun: Sanlitun

1. What have you been up to these days?

After living and studying in Boston for five years, I decided

to move to Los Angeles last December. During my year-long

master's program in media design, I found myself as a civic

designer who uses art and storytelling to set foundations in

community engagement and civic practices. After graduating

in September 2021, though, I recognised

that I did not want to commit to the

design and advocacy work that comes

with this title until I became a more

confident and experienced creative. So,

despite having just about ten months left

of OPT (F-1 student immigration status),

I chose to move to Los Angeles to start

over as a freelance artist and designer,

rebuilding both my life and network from

scratch. So far, so good, though :)

2. Share a memorable experience or moment

from your DCB years.

Honestly, I feel like I've taken a lot of my time at DCB for

granted. So, the most memorable moments for me actually

happened outside of DCB, when old friends got together to

reminisce. Like my first Thanksgiving in college in New York

(when homesickness hit the hardest) with everyone who

went to school on the East Coast or the spontaneous Zoom

call we had across time zones when quarantine first started.

3. What do you like most about your current

professional life?

I love that I am not committed to any profession but instead

to my purpose. I am proud of the ways my knowledge and

skills apply across industries. From being an exhibition artist

to a production designer for stage and screen, or from a civic

design fellow for the city government to a content producer

for an ad agency, my experiences humble me and guide

me to fulfil my purpose as a designer for the people. I feel

empowered being able to explore and define what being

a socially engaged creative means to me. I look forward to

delivering multimedia experiences that strive to express,

educate, and entertain no matter what I do and where I go.

4. How has DCB prepared you for your adult life?

If DCB has taught me anything, it's resilience. We always

joke that if we can get through IB, we can do anything, and

I wholeheartedly

believe in that to this

day.

5. One thing you

would advise

our current DCB

students.

Don't be afraid to care. This might be something that won't

resonate until you start your life after DCB. But remember,

our experience can teach us a lot, but it also makes us

complacent at times. We embody the privileges that are

embedded within our ability to assimilate into the countries

in which we reside as we curate our own global existence

by cherry-picking their culture and living experiences. Often,

we leave things we know are inappropriate go unchecked

because we feel it's not our place or that the issue does not

pertain to us. We've seen the world; now we have to make

it better. We cannot proudly rep our internationality without

claiming any baggage of injustice and systemic inequalities.

Our knowledge gives us

power–our perspective

as global citizens. So be

aggressive in taking up

space in those difficult

conversations, but at

the same time, be kind.

6. Which word of each pair describes you best?

a. Coffee / Tea: Tea

b. Cat / Dog: Cat

c. Movie / Book: Movie

d. Hutong / Sanlitun: Hutong!

68 beijing.dulwich.org

The College Magazine (Beijing)

69
---
Alumni

Alumni

Kevin Meng

• DCB Class of 2021

• Currently at Swarthmore College (USA)

o Undergraduate

o Double Major in Political Science and Economics

Jason Ryu

• DCB Class of 2020

• Undergraduate at Berklee College of Music - Boston, MA, USA

o Dual Major in Jazz Composition and Performance

Interview by Cecilia T, Dulwich College

Beijing 2022 Student Prefect for Alumni,

Careers and University.

1. Share a memorable experience

or moment from your DCB years.

My most memorable DCB experience

was when I travelled to MUN

conferences across the country with

my friends. Nothing beats debating

international anti-human trafficking

laws all day and then getting pizza and

ice cream with friends. MUN sparked

my interest in Politics, Economics,

History, and more and also gave me a

platform to goof around and have the

best time of my DCB years.

2. What do you like most about

your current college life/learning?

marathon against colleges all over the

East Coast. The sheer diversity and

dynamism of my college life make every

day something to look forward to.

3. How has DCB prepared you

for your college life?

DCB has always emphasised the

importance of work/life balance, which

takes you a long way in college. Dulwich

students are so academically successful

because of their extra-curricular

activities, not despite them. I think DCB

has taught me how to time manage

and organise myself so I can juggle a big

debate tournament on the one hand

and a history exam on the other.

to International Relations and Political

Science which ultimately led me to

choose my current major.

5. One thing you would advise

our current DCB students.

Be confident because DCB prepares

you VERY well. No matter where in

the world you plan to go, you will find

yourself one step ahead of most of your

peers because you would have already

been equipped with the skills to tackle

the incoming challenges, whether

academic or organisational. Don't worry

about how well you score on your next

exam. Take care of your mental health,

participate in extra-curricular activities,

and most importantly, have fun.

6. Which word of each pair

describes you best?

a. Volleyball /Badminton: Badminton—

Fun fact, I played both during my time

at DCB, but badminton was always my

primary sport. I'm continuing to enjoy

it in college and finding a super vibrant

community that shares my love for

badminton.

b. Summer / Winter: Winter—summers

are kind of hot

c. TV / Book: Book—Usually, the book is

better than the TV version

d. Hutong / Sanlitun: Hutong—I like to

get tanghulu in the Hutongs, particularly

Nanluoguxiang and the surrounding

areas

Interview by Cecilia T, Dulwich College

Beijing 2022 Student Prefect for Alumni,

Careers and University.

1. Please share a memorable

experience or moment from

your DCB years.

Every moment I shared with my own

jazz combo has been special to me. The

band and all the ensembles I was a part

of motivated me to pursue a career

in music. With the help of supportive

teachers and amazing people in other

departments, I was able to form my

own band and perform outside the

College. The band members were

heavily involved in organisations

outside the music department but

still committed to the band. Some are

considering applying to music colleges,

and I'm excited about all the great

musical journeys they will take.

2. What do you like most about

your current college life?

a performer and audio engineer at

Berklee. There are people here who

risked everything for their love for

music, and I'm grateful that I can

grow as a person alongside them.

Berklee made me realise that there is

something far greater than the small

world I was living in.

3. How has DCB prepared you

for your college life?

Dulwich and Berklee are two very

different environments requiring

the same workload and the level of

commitment. There will always be times

when you'll have to work alone on a

project or an essay, but what's more

important is simply being present. In

Dulwich, I would go to music rehearsals

every day after class, and committing

to them became more challenging

closer to finals or midterms. Still, I

chose to commit to everything I signed

up for because I loved doing it, and

more importantly, I was aware that my

presence impacted the other players. If

one person doesn't show up, the whole

band falls apart. In Berklee, there are

those who "disappeared" halfway into

a project. The mindset I had in Dulwich

carried over and kept me going even

when the workload was too much.

the workload, the teachers were very

understanding and encouraging.

5. One thing you would advise

our current DCB students.

Whatever you do in the future, think

about what you can contribute to

the world, or to the people around

you. That requires a lot of vulnerability,

honesty, and self-assessment. I'm still

figuring out who I am as a person and

a musician. Remember that whatever

worries you have about the future or

yourself, there will always be someone

you love who can help you out. In

college and beyond, you will be meeting

people who will be more talented than

you at certain things. Remember that

you will eventually find your true colour

if you dig deep into your passion.

I get to meet one of the most diverse

groups of people at Berklee. Everyone

Small class sizes, tight-knit communities,

comes from different cultural,

and professors who actually care are

social, and economic backgrounds.

6. What's your favourite quote?

just a few reasons I chose a liberal arts

Like me, some were international

college. And it hasn't let me down. My

school students who studied IB in

"Good artists borrow; great artists

biggest class so far had 35 students, and

Asian countries.

steal." Though there are disputes, it's

my smallest had 8.

4. What was your favourite class

Some are very

4. What was your favourite class widely known to be said by Picasso.

My favourite thing about college life is

back in high school, and why?

different. My

back in high school, and why?

that I have so much freedom over what

former roommate

7. Which word of each pair

I can do. I took a film class because I really enjoyed IB Global Politics

was a 30-yearold

Argentinian

It might seem a little obvious, but music describes you best:

I was interested in the French New because we were such a small and tightknit

community. Class discussions were

was my favourite class in school. The

Wave, and there I am, watching two

Trombone / Piano: Trombone

movies a week in a 500-seat theatre.

7. Summarise your life in one

guitarist who

materials we learned in class were

Introverted / Extroverted: I used to

always vibrant and fruitful, bringing

decided to quit

fascinating, but I loved the amount

I've picked up a new instrument in the in an immense diversity of ideas and

sentence.

be introverted, but now I'm both.

his job to follow

of support we got from the music

Chinese Music Ensemble, the erhu.

Movie / Book: Movie

perspectives. Global Politics definitely Amor Fati

his passion as

teachers. Especially during IB, when

And on weekends, it's a badminton

Hutong / Sanlitun: Sanlitun

played a huge part in introducing me

the students were struggling with

70 beijing.dulwich.org

The College Magazine (Beijing)

71
---
DCI News

Dulwich College Celebrates Sir Ernest Shackleton

By Dulwich College

Integrity and adventure were demonstrated most vividly by

Sir Ernest Shackleton, one of Dulwich College's most famous

Old Alleynians. January 5 2022 marked one hundred years

since Ernest Shackleton died aged just 47; at the time of

his death, he was on board his ship Quest, anchored off

Grytviken in South Georgia in the Southern Ocean.

Many events and activities at Dulwich College and around the

world have marked this special centenary: you can explore

Shackleton's Hut on the New Zealand Antarctic Heritage Trust

site; the South Georgia Museum has a virtual tour of their

'Shackleton's Last Quest' exhibition; a team of scientists

set off last December on The Antarctic Quest 2, a research

expedition in his memory; the British Film Institute (BFI) in

London screened South: Sir Ernest Shackleton's Glorious

Epic of the Antarctic (the original film was exquisitely

photographed by Frank Hurley on Shackleton's 1914-

16 expedition to Antarctica); and Dan Snow, a British TV

presenter and historian, joined Endurance 22, an expedition

that aimed to locate, survey and film the wreck of Sir Ernest

Shackleton's lost ship, The Endurance.

In February Dulwich College continued its celebration of

the centenary with three fascinating and insightful talks on

Shackleton's Life and Legacy.

Dr Jan Chojecki, the grandson of John Quilter Rowett who

donated The James Caird to Dulwich College and also

financed Shackleton's last Antarctic expedition, gave a brief

history of Antarctic exploration which began at the end

of the 19th century and ended after the First World War.

Indeed the 1921-22 Shackleton-Rowett 'Quest' expedition is

often referred to by historians as the dividing line between

the 'Heroic' and 'Mechanical' ages. Dr Chojecki spoke

about Shackleton's last expedition on The Quest, a journey

from which he was not to return. Dr Chojecki recounted

how Shackleton called on the services of a number of Old

Alleynians, evidence of a thriving alumni network long before

the days of social media.

Camilla Nichol, Chief Executive of the UK Antarctic

Heritage Trust, a charity responsible for the care and

conservation of British heritage in Antarctica, picked

up the story by looking at Shackleton's legacy as the

continent entered the 'Mechanical Age'.

We are all aware of how important planning is when

undertaking projects. However, few, if any of us, will have

to plan for a trip to the most inhospitable parts of our

planet, where our very survival depends on getting every

detail right. Clearly, Shackleton would have been able to list

'logistics expert' among his many extraordinary qualities,

and it was this skill that Dulwich College Archivist Freddie

Witts spoke about in our concluding presentation. Polar

planning is not cheap, yet Shackleton managed on more

than one occasion to raise the millions (in today's money)

of pounds sterling necessary to launch his expeditions. He

instinctively knew how to hire the right men, although some

might query whether asking 'can you sing?' is the most

important interview question for someone undertaking polar

exploration.

In March, the BBC and other news channels confirmed the

exciting news that Sir Ernest Shackleton's lost vessel, The

Endurance, had been found on the bottom of the Weddell

Sea. According to marine archaeologist Mensun Bound, who

was on the discovery expedition along with historian Dan

Snow, The Endurance is in a "brilliant state of preservation".

DCI News

With confirmation of this discovery, there was immediate

interest from local and national news crews asking permission

to interview Dulwich College Keeper of the Archives, Calista

Lucy, and Archivist, Freddie Witts, and to film The James Caird in

its centre-stage location in The Laboratory at Dulwich College.

Enquiries and interest from members of the public to

visit The James Caird have increased during Shackleton's

centenary year, and the College has recently welcomed the

Chilean Ambassador, and historian Dan Snow ahead of his

#Endurance22 expedition, as well as visitors from the local

area and further afield.

For all things Shackleton, you might like to read more https://

www.dulwich.org.uk/about/whats-on/shackleton-100 or

watch a film produced by Dulwich College, that celebrates

the extraordinary life of Sir Ernest Shackleton and his exploits

with The James Caird https://vimeo.com/542016204.

Perhaps you would like to visit The James Caird when

you're next in London? Please contact the Reception team

reception@dulwich.org.uk who can arrange this for you (visits

are offered at 11.30am on Fridays).

72 beijing.dulwich.org

The College Magazine (Beijing)

73
---
DCI News

DCI News

Alice in WDL: Reflections on the Senior School Musical

By Dulwich College Shanghai Pudong

On March 10 and 11, we were thrilled by the Senior School

production of Alice in WDL. This spectacular adventure, full

of great songs, incredible dance numbers, brilliant costumes

and a colourful set, put our students' talents on full display.

Even though we were unable to have parents on campus due

to epidemic prevention protocols, staff and students filled the

Mei Lan Fang Theatre on both nights giving our cast and crew

the essential experience of a live audience whilst our families

were able to watch the live stream from home.

If you're thinking of the Disney version of Alice in Wonderland,

think again. Working from an original script co-written by

Senior School Head of Drama Helen Bamford and Year 9

student Coll McF, our students addressed the question: "What

would happen if you took Alice in Wonderland and set it

against the backdrop of the pandemic?"

In our version, Alice is a student mired in online learning who

sees a white rabbit hop across her computer screen. She

absent-mindedly clicks on it, thus kicking off a journey to a

world where nothing is as it seems.

Meanwhile, an energetic soundtrack of pop songs from the

1970s and brilliant choreography revved up stunning dance

numbers that had the entire audience up and dancing in the

aisles.

Dulwich College Shanghai Puxi Wins the British Schools

Awards 2021 for Diversity and Inclusion

By Dulwich College Shanghai Puxi

Dulwich College Shanghai Puxi is immensely proud and

honoured to have been named winner of the Diversity and

Inclusion Award in the inaugural British Schools Awards.

At Dulwich College Shanghai Puxi, we believe that diversity

and inclusion start with a strong sense of belonging. Here,

students and staff flourish as individuals within a caring and

connected community. We have worked hard to develop our

curriculum and our learning and work environments to create

an inclusive culture that fosters respect and intercultural

understanding.

In addition to winning the Diversity and Inclusion Award,

Dulwich College Shanghai Puxi was also named as a finalist

for the Science and Technology Award, and the Staff

Development Award. We extend our congratulations to

Dulwich College Beijing, who went on to win the Holistic

Education Award and the Science and Technology Award.

Brilliant set design and incredible costumes took us into

Wonderland, where Alice meets a familiar set of characters:

the Cheshire Cat, the caterpillar, the Mad Hatter, Tweedledee

and Tweedledum, and of course, the Queen of Hearts.

"Every production is a community effort," says Ms Bamford.

"This year's, in particular, was a large undertaking with over

130 students and 60 members of staff involved. It was truly

inspiring to see everyone come together."

This year was even more challenging as the recent outbreak

resulted in several cast members being held out of the

production at the last minute due to mandated quarantine.

"I would like to single out the resilience that our staff and

students displayed," says Head of Senior School Alison

Derbyshire. "They had so many unforeseen challenges

thrown at them, and they took them all so calmly. They are

brilliant role models for all of us."

74 beijing.dulwich.org

The College Magazine (Beijing)

75