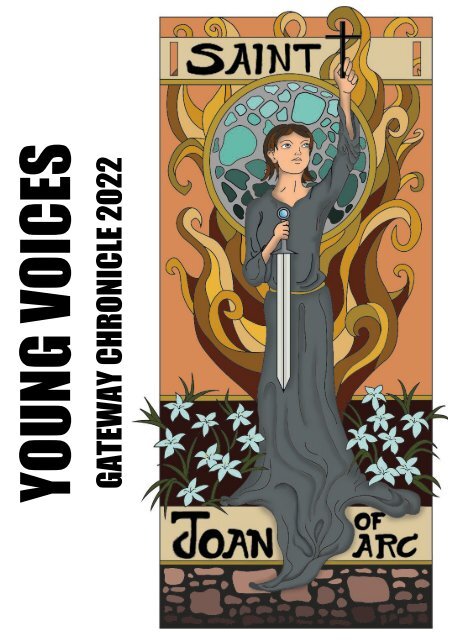 You also want an ePaper? Increase the reach of your titles
YUMPU automatically turns print PDFs into web optimized ePapers that Google loves.
YOUNG VOICES

GATEWAY CHRONICLE 2022
---
2 | G ateway Chronicle
---
CONTENTS

FROM THE EDITORS 5

MEDIEVAL PERIOD

Were medieval children really seen as miniature adults? 7

How far do you agree that Richard II lost his throne due to

his cousin Henry's ambition? 12

The maid of Orleans 17

Arthur Tudor's untimely death in childhood 20

EARLY MODERN PERIOD

'The prettiest and dearest child' – what does the death of John Evelyn's son

in 1658 tell us about childhood in 17 th century England? 24

Phillis Wheatley 27

The forced assimilation of Native American children 30

How significant was the 1870 education act? 33

MODERN PERIOD

Dismantling the rabbit-proof fence 38

Youth and the Easter Rising 41

Childhood in the early Soviet Union 43

The impact of the Nazi regime on the youth of Germany 46

A tale of two viruses 50

'Masters of the new society': how childhood was redefined in 20 th century China 52

A pioneer of American education: the story of Ruby Bridges 57

Victims and protagonists: children and the troubles 59

The historical significance of Lego 63

The history of childhood 65

3 | G ateway Chronicle
---
4 | G ateway Chronicle
---
FROM THE

EDITORS

Jonathan B

Ben H

Hannah P

Arthur R

This year, after the huge changes that

have affected children's lives and

education around the world, we thought it

fitting to give a voice to some incredible

young people who have achieved so much

despite their youth. What makes this

edition so interesting is the plethora of

ways that pupils and teachers throughout

the School have interpreted 'Young

Voices'.

It is also appropriate that considering

recent humanitarian crises perhaps, the

Chronicle examines the suffering of young

people, as well as celebrates the rise in

youth popular protest and young leaders.

With such a broad range of articles, from

youth movements to child rulers and Lego,

there truly is something to whet everyone's

historical appetite.

We would like to extend our thanks to all

the teachers and pupils who contributed to

our Chronicle and enriched us with their

knowledge of children throughout history.

We are indebted to Mrs Gregory for her

tireless work in rallying us, keeping up

morale and proofreading the whole

Chronicle, and to Oli, whose fantastic

cover hides our lack of artistic prowess.

We hope you find these articles thoughtprovoking

and, ultimately, engaging as well

as serving as a reminder that no voice is

ever too small to be heard.

5 | G ateway Chronicle
---
6 | G ateway Chronicle
---
MEDIEVAL PERIOD

7 | G ateway Chronicle
---
WERE

MEDIEVAL

CHILDREN

REALLY SEEN

AS MINIATURE

ADULTS?

Ben H, U6VLS

In Centuries of Childhood (1962), Philippe

Ariѐs asserts that 'in medieval society the

idea of childhood did not exist', arguing that

children were seen as 'miniature adults', on

the basis that children tended to be

depicted in adult dress by artists. 1 The

view that childhood did not exist in the

medieval period has since become

ingrained into the popular imagination, yet

this is perhaps a misconception. Ariѐs

argues that during the medieval period,

people were not aware of their exact age,

there didn't exist a culture of childhood and

education was limited; essentially,

childhood was not distinct from adulthood.

The first statement is of little significance,

as people would have been roughly aware

of their age and when their birthday was.

Moreover, the evidence suggests that there

did exist a culture of childhood and, whilst

education was limited, this was a result of

the social hierarchy and not because

children were not seen as intellectually

indistinct from adults. Another commonly

held view is that children were not loved by

their parents due to high rates of infant

mortality, but the evidence suggests

otherwise. The medieval period can be

defined as lasting from the fifth to midsixteenth

centuries, but due to the

availability of evidence, this examination of

childhood will focus on the twelfth century

onwards. The balance of evidence from

this period indicates that childhood was

recognised as distinct from adulthood and

that children were not seen as miniature

adults.

There is little to suggest that there did not

exist a unique childhood culture, as toys

from the period have been recovered. The

Museum of London displays a toy knight,

dating from c.1300, which is described as

1

Anastasis Ulanowicz, 'Philippe Ariѐs',

https://www.representingchildhood.pitt.edu/pdf/

aries.pdf [accessed 21/11/21], p. 2

8 | Gateway Chronicle
---
'one of the earliest examples of a massproduced

medieval metal toy.' 2 Another toy

knight, dating back to the thirteenth

century, can be found on display at the

Walters Art Museum. The existence of

mass-produced toys indicates that it was

common for children to play, which detracts

from the argument that children were seen

as miniature adults. A mechanical bird from

the late medieval period, 'capable of

pivoting on a frame so that the tongue

moved in and out', has also been

recovered, as have toy utensils. 3 Similarly,

children played games and doodled, with

'Handy-dandy' being referenced by the

poet Langland in the 1360s, and the

childhood drawings of Onfim Wuz, dating

back to the twelfth or thirteenth century,

having been recovered in Novgorod. 4, 5

Moreover, the crown levied a tax on

imported 'puppets or babies for children' in

1582, reflecting the money generated by

the toy industry. 6 In addition, the account

of Bartholomeus Anglicus, translated into

English by John Trevisa in 1398, indicates

that children preferred the company of

those their own age:

they love talkynges and counsailles of

suche children as they bene, and forsaken

and voyden companye of olde men 7

As such, there is a wealth of evidence

suggesting that a distinct childhood culture

existed, even paralleling the experiences of

children today. Children had toys, played

games, drew, and preferred the company

of those their own age. In fairness,

contemporary artwork depicting this is

limited, but this in itself shows the limit of

using art as the basis of a conclusion about

childhood. Paintings of children dressed in

adult clothes do not represent the

childhood culture that existed in the

medieval period. Rather, evidence of toys,

doodles and games demonstrate the

existence of a distinct childhood culture.

Ariés' conclusions about education are

similarly unsubstantiated. Whilst education

was limited to the upper classes, the fact

that children were seen as intellectually

distinct from adults indicates a recognition

of childhood. It is to be expected that

educational opportunities were limited, as

working-class children continued to be

employed late into the nineteenth century,

with the framework for the schooling of all

children between the ages of five and

twelve only being set out in 1870. As such,

it would be unfair to claim childhood did not

exist in medieval times on the basis that

few children attended school. Despite the

2

Museum of London, 'Miniature knight on

horseback',

https://collections.museumoflondon.org.uk/onlin

e/object/145021.html [accessed 21/11/21]

3

Nicholas Orme, 'The Culture of Children in

Medieval England', Past & Present, No. 148

(Oxford University Press, 1995) pp. 57-59

4

The Vision of William concerning Piers the

Plowman, ed. W. W. Skeat (Oxford, 1886), p.

106

5

Paul Wickenden, 'The Art of Onfim: Medieval

Novgorod Through the Eyes of a Child',

http://www.goldschp.net/SIG/onfim/onfim.html

[accessed 21/11/21]

6

Hugh Cunningham, 'Histories of Childhood',

The American Historical Review, Vol. 103, No.

4 (Oxford University Press, 1998), p. 1200

7

Nicholas Orme, 'The Culture of Children in

Medieval England', Past & Present, No. 148

(Oxford University Press, 1995) p. 48

9 | Gateway Chronicle
---
majority of children being in work, the

evidence suggests that children were seen

as intellectually distinct from adults.

Schoolbooks are indicative of this, with

several dozen, dating back to the fifteenth

and early sixteenth centuries, having

survived. Orme comments that 'Masters

composed [Latin] exercises […] with

reference to the kinds of things that would

interest their pupils and keep them

attached to their work', such as topics

'related to the schoolroom, the pupils and

the everyday world'. 8 In these Latin

translations, there are references to games

such as 'cherry-stones' and 'sayings,

riddles and poems or songs current among

the young', providing further evidence that

there existed a distinct childhood culture. 9

Whilst schooling was also limited based on

gender, girls born into the nobility were

trained to perform domestic roles, which

still reflects their being seen as

intellectually distinct from women.

However, students attended the

universities of Oxford and Cambridge from

as young as thirteen, suggesting that

people were seen as children for a shorter

period of time than we would expect today.

This is a common theme throughout the

period, however, with people getting

married and having children in their midteens,

and average life expectancy being

47-48 during the fifteenth and sixteenth

centuries. Yet despite the end of childhood

potentially occurring at a younger age, and

the majority of children being in work,

children were seen as intellectually distinct

from adults during the period, indicating

that the concept of childhood existed.

8

Nicholas Orme, 'The Culture of Children in

Medieval England', Past & Present, No. 148

(Oxford University Press, 1995) p. 76

9

Ibid.

10

'Plague, famine and sudden death: 10

dangers of the medieval period',

10 | Gateway Chronicle

Another popular view is that due to high

infant mortality rates, parents did not love

their children, using them only as tools to

either help with work or to advance their

family's interests. It is true that the death

rate among medieval children was high by

modern standards, with estimates that 20-

30% of children died before the age of

seven. 10 Moreover, parents could later lose

their children to disease, battle, or

childbirth. Yet applying modern perspective

to the past achieves little. Whilst infant

mortality was an ordinary part of life, it is a

misconception that medieval parents

closed themselves off from their children,

as the biography of William Marshal, born

in 1147, suggests. The consensus among

scholars is that the biography was written

by someone who knew William personally,

and it depicts William as having had a

loving relationship with his mother Sybil. 11

According to the biography, every time

William left home Sybil wept, which the

biographer describes as 'only natural'. 12

https://www.historyextra.com/period/medieval/w

hy-did-people-die-danger-medieval-period-lifeexpectancy/

11

Rebecca Slitt, 'Medieval Childhood in

England: The Case of William Marshal

12

Ibid.
---
The fact that the biographer saw this as

'natural' indicates that medieval children

had loving relationships with their parents.

However, this is an account of a noble

child, which may not reflect the nature of all

relationships between children and their

parents. In particular, a noble child would

have been less likely to die an infant.

Nonetheless, it does dispel arguments that

parents distanced themselves from their

children, using them solely as political tools

or in the service of their family, rather than

caring for them. Moreover, John Evelyn's

diary account of his child's death from 1658

directly addresses the argument about high

rates of infant mortality. Whilst it is about a

century out from what can be considered

'medieval', it nonetheless demonstrates

that parents loved their children despite

high rates of infant mortality. Evelyn

describes his child as 'deare' and his

'griefe & affliction' as 'unexpressable',

having lost a son aged five. 13 He shows

other signs of grief in his blame of others,

accusing the 'woman & maide that tended

[his child]' of suffocating him by covering

him 'too hott with blankets […] neere an

excessive hot fire'. 14 Evelyn even states

'Here ends the joy of my life', reflecting the

significance of children to their parents. 15

As such, it is likely that despite the risk of

infant mortality, parents loved their

children. Both the biography of William

Marshal and John Evelyn's diary account

support this idea.

In conclusion, children were not seen as

miniature adults in the medieval period.

The balance of evidence suggests that

childhood was recognised as a separate

phase of development. Children were

viewed as intellectually distinct from adults,

and there is clear evidence that there

existed a culture of childhood. It also

seems highly likely that parents loved their

children, despite the popular view that, due

to high rates of infant mortality, this was not

the case.

13

John Evelyn's diary, January 1658

14

Ibid.

15

Ibid.

11 | G ateway Chronicle
---
HOW FAR DO YOU

AGREE THAT

RICHARD II LOST

HIS THRONE DUE

TO HIS COUSIN

HENRY'S

AMBITION?

Every year students in the Sixth Form

about to study Medieval History research a

key topic for an Essay Competition. This

year's winner was Milly CH, who

considered the reasons why Richard II was

deposed in 1399. Richard had become

King at the age of just ten and negotiated

successfully with the rebels in 1381 at the

age of fourteen. Yet his reign was marred

by rivalry with his cousin who was a similar

age and their teenage conflict resulted in

deposition and death…

12 | G ateway Chronicle
---
Bolingbroke's ambition, both driven by his

personal goals and Richard's treatment of

him, were a key factor in Richard's

deposition but it would be inaccurate to call

it the most important factor. Instead,

Richard's own arbitrary actions led to a

tyrannical reign and his losing his throne,

although the declining authority and

prestige of the crown is another factor to

consider.

Bolingbroke's ambition, aptly captured in

Shakespeare's presentation of him in

'Richard II', was a crucial factor in

determining the fate of the throne in 1399.

This ambition can perhaps be most clearly

seen in the formation of his alliance with

the Percy family in the North, a family

continually slighted by Richard in his

'persistent efforts to break the independent

power of the Percies'. As an incredibly

powerful political and military force, this

alliance was invaluable in the actuality of

removing Richard II from the throne, the

combined strength of Bolingbroke's

Lancastrians and the Percies proving

undefeatable to the absent king.

Bolingbroke's ambition is thus evident as

his political prowess aided his ambition to

make a bid for the throne. By capitalising

off the harm Richard himself had caused in

the earlier days of his tyranny, Bolingbroke

not only furthered his own goals but also

united a fearful English nation behind, what

initially appeared to be, a strong candidate

for the throne. However, despite

Bolingbroke's ambition, it is key to note 'the

Percies opposed Henry's design on the

throne up to the very last.' The

weaknesses of Bolingbroke's ambition are

thus able to be seen as even his strongest

allies could not be said to be fully

committed to his desire for the crown.

Continuing in this manner, Bolingbroke had

proved himself to be capable of betraying

others in order to get what he wanted,

highlighting the ambition present within him

which eventually allowed him to seize the

throne of England. During the Lord's

Appellants' uprising of 1388, Bolingbroke

had brought the great masses of

Lancastrian soldiers who weren't abroad

with his father to help stop the royal retinue

in December 1387. Here, not only the

beginnings Bolingbroke's desire for a

different monarch on the throne evident but

also how his drive enabled his goal to be

achieved. Although it was only temporary,

the events of 1388 definitively set the

scene for Bolingbroke's own successful bid

for the crown eleven years later,

underlining the extent of his ambition and

how it was crucial in later events.

Furthermore, despite the possibility of it

being fiction (although this has somewhat

been dismissed thanks to Professor Given-

Wilson), Bolingbroke sold out Mowbray to

the king, claiming of treasonous

advantages. It is thus key to note although

Henry Lancaster clearly disapproved of

Richard on the throne, as evidenced by his

actions in 1388, he was not above going

against these beliefs for his own personal

gain – in this case, to obtain the trust of the

king. Hence, even when his ambition was

not being shown in actions and events

directly relating to Richard II's deposition in

1399, Bolingbroke's desire to achieve his

goals can be seen to greatly influence the

political climate of the Middle Ages, setting

precedent for later years. However, it

would not be fully accurate to say

Bolingbroke's ambition was the main

reason for deposing Richard II as he

publicly stated he was simply arriving back

from exile to get his inheritance. There is

no evidence until Henry was sure he would

win a bid for the crown that he was

attempting to do so, undermining the

overall argument. Without a display of

13 | G ateway Chronicle
---
ambition for the crown, it would be

inappropriate for a historian to deem this

ambition the primary reason for Richard II

losing his throne as it appears Bolingbroke

was hiding behind the guise of his

inheritance, out of disinterest for the crown

and possibly fear until a successful

outcome was guaranteed. Hence, ambition

could be said to be a key factor but not the

most important one.

Yet, further evidence of Bolingbroke's

ambition is aided by the many slights

Richard had delivered to his person and

family, without them it would not have been

fuelled in the way it was. Hence, a historian

is able to see Richard's treatment of his

cousin powered the ambition which helped

in throwing him off the throne. Following

the quarrel between Bolingbroke and

Mowbray, Henry was exiled to France in

1398 which, after the death of his father,

allowing Richard to take over the

Lancastrian estates and bar Bolingbroke

from his inheritance. Not only did this

greatly insult Bolingbroke but also the

Lancastrians as a family, by confiscating

their lands Richard took away their source

of income and pride. This proved to have

deadly ramifications for

Richard, Henry seized the opportunity to

return from exile in order to claim his

inheritance, as he repeatedly stated upon

arrival in Ravenspur in Yorkshire. This

quickly transpired into a bid for the crown

as previous strong supporters of the king

abandoned their positions in order to

support the usurper – largely down to

Bolingbroke's personality and belief in

chivalry, ambitious to bring it back to

Richard's England. As Saul notes,

'Bolingbroke envisaged a personal and

moral solution to the essentially political

problem of his cousin's misrule',

underlining the extent of Bolingbroke's

goals firing his desire for the crown. The

most prominent slight against Henry is

undoubtedly the most famous as well;

Richard went too far, fuelling Bolingbroke's

ambition to the point of no return. On the

other hand, despite this treatment which

certainly led to the rise of Bolingbroke's

resentment, thus ambition, the remaining

evidence present does not support this

argument. Without the presence of an

autocratic leader, as Richard was on his

second visitation to Ireland at the time of

Bolingbroke's arrival back in England, it

was only natural Bolingbroke gained

supporters – they rallied around the most

prevalent autocratic figure in their midst.

Furthermore, it is only recorded Henry

started to champion his right for the throne

after receiving a rapid increase in popular

support; it is also crucial to note no large

group of Richard's allies deserted him for

his cousin which weakens the argument

significantly in its own right. Hence, while it

is undeniable Richard's treatment of

14 | G ateway Chronicle
---
Bolingbroke fuelled his ambition which was

a contributing factor to why Richard II lost

his crown, it would be inaccurate for a

historian to deem his ambition the primary

reason for Bolingbroke's success seeing

there is so little record of his desire until

later on in events happening.

On the other hand, when considering the

consequences of Richard's own actions, it

is evident they were the main reason for

the loss of his throne. Arguably a key

reason why Bolingbroke was able to gain

supporters in so little time was due to

Richard's apathetic stance towards the

common man. Unlike other monarchs

before him, Richard did not try to woo the

average man in his kingdom; this

combined with his tyrannical rule towards

the end of his reign enabled Bolingbroke's

rapid growth of support. Richard's tyranny

can be evidenced by his dealing with the

Lords Appellant, with Arundel executed,

Warwick exiled to the Isle of Man and

Gloucester murdered, as well as the

arguably less serious but more impactful

tax issues: his promise of lightening them

from 1389 was never delivered upon, in

1393 a Common's faith was used to justify

a tax raise and in 1398 a grant of wool and

leather customs for life was given to

Richard. This autocratic rule was just one

of many of Richard's actions with

unintended consequences, and, in this

case, it was to drive not only the common

man but also the powerful families into

Bolingbroke's arms. Thus, it can be seen a

large degree of Bolingbroke's success of

his ambition was drawn from Richard's

own actions which would suggest them

being the primary reason why the throne

was lost. Furthermore, the king's tendency

to prefer his favourites over the impartiality

a monarch is meant to show, due partially

to the youth at which he ascended to the

throne. The appeal of the Lords Appellant

from February 1388 aptly shows this, with

it stating 'false traitors to and enemies of

the king and kingdom, perceiving the

tender age of our said lord the king and the

innocence of his royal person, so caused

him to believe many falsities devised and

plotted by them against loyalty and good

faith, that they caused him to devote his

affection, firm faith, and credence entirely

to them, and to hate his loyal lords and

lieges, by whom he ought rather to have

been governed.' Although the reliability of

this source is severely hindered by the

political motivations of the Lords, who

sought to rebel against the king, utilising

this appeal to legitimise their motivations to

Parliament, they do bring to light the issue

that Richard was young and easily led

astray in the early years of his reign. Thus,

as a result of the youthful counsel Richard

employed, a precedent for his tyranny was

set in the formative years of his reign which

led to his subjects turning against him,

towards Bolingbroke. Moreover, if one

considers Richard's treatment of

Bolingbroke an extension of his actions,

that too fuels the idea these actions led to

the loss of the crown. Hence, it is clear to a

historian it was Richard's own actions were

the primary reason for his deposition rather

than the ambition of Bolingbroke.

Finally, the declining authority and prestige

of the crown made some impact on the

deposition of Richard II. This decline is

evidenced not only by the Lords

Appellant's challenge but also by Richard's

own efforts to increase the standing of the

crown. Through imagery, such as the

general pardon issued in 1398, as well as

more practical means, such as claiming the

estates of Gloucester, Arundel and

Warwick in 1397, Richard displayed a keen

interest in bolstering the image of the

15 | G ateway Chronicle
---
crown to the masses – an interest which

could be interpreted as understanding the

current weakness of its authority. This

weakness can also be seen to manifest

itself in the various unrests during

Richard's rule: namely the Lords Appellant

Strike as well as the Peasant's Revolt in

1381. Despite the success of handling the

Revolt, this was arguably the peak of

Richard's rule, with nothing else quite

comparing to the authoritative stance he

took when dealing with Tyler, yet it still

underlines the continuing dissatisfaction

with the ruling elite and the ability to

express this against the authority of the

crown. Thomas Walsingham notes the

rebels 'set out for the residence of the duke

of Lancaster. They tore golden cloths and

silk hangings…' This tells of the lack of

authority both nobles and the crown held

during Richard's reign, to be disobeyed

and destroyed in such a manner highlights

the beginning of the end of Richard's rule.

While similar events were mirrored across

Europe, indicating how this factor alone

would not be enough to dethrone the king,

it is key to note the declining authority and

prestige of the crown severely undermined

Richard's reign, thus bolstering

Bolingbroke's take of the crown and aiding

in Richard's deposition.

Overall, while Bolingbroke's ambition was

certainly a key factor in Richard's

deposition, the primary cause was certainly

Richard's actions and the effect they had

on the nation, yet it is also important to

consider the already declining prestige and

authority of the crown.

16 | G ateway Chronicle
---
THE MAID OF

ORLEANS

Zaid J, 2.4

Joan of Arc is undeniably one of the most

prolific heroines in our history. A young

woman who used her faith and love for her

country to overcome stereotypes based on

her gender, age and social standing and

ultimately becoming one of France's most

renowned heroes. In her short 19 years,

Joan managed to support and lead men

into victories that ultimately helped to win

'The Hundred Year War'. How did a female

child of no social standing, manage to rise

through the ranks and become one of most

famous and idolized women in history?

This article will look at the impact she

played on the freedom of France, and how

she met her untimely and tragic end.

Jeanne D'Arc was born in approximately

1412, to a humble peasant family in the

Northeast Kingdom of France where she

spent the early years of her childhood

helping out on her family farm. A few years

after her birth, the ongoing war began to

move in towards her home and life soon

became more and more challenging for her

small and rural village. Around the age of

12, Joan claimed to be receiving vivid

visions from the Archangel Michael and St

Catherine, instructing her to free France

from England's control. Over the course of

the next few years, her visions increased

she began requesting an audience with the

French Dauphin (the French heir to the

throne). Believing it was her Divine

mission, Joan wanted to take the oldest

son of the King - Charles VII, and lead him

in battle to defend themselves against the

English occupation. After many several

failed attempts, support for Joan finally

started to grow after some predictions from

her visions seemed to miraculously come

true. To disguise herself and in order to

travel safely, Joan was advised by soldiers

17 | G ateway Chronicle
---
to cut her hair and wear their clothes.

It took some convincing, but eventually

Joan was granted an audience. Using

information from her 'visions' she was able

to convince the Dauphin that she could be

of use. He and his advisors found her to be

strange but charismatic and believed that

there was something about her that could

inspire and encourage the troops. She was

sent to the city of Orleans, where she rode

alongside French forces. Throughout the

span of the battle, Joan was seen

supporting her troops on horseback and

pushing forward her own battle strategies

to push the English back and reclaim the

city. Towards the end of the fighting, she

was injured when an arrow stuck her

shoulder, but she returned quickly to

encourage the soldiers to make one final

push. The following day the English

retreated from the city, and Joan was

recognised for her role in the victory,

earning her the title 'The Maid of Orleans".

From then on, Joan was seen as a symbol

among the French rebellion and rose

through the army ranks. Thanks to the

victory at Orleans and a new succession of

victories, the French Dauphin was finally in

the position to be crowned King of France.

Joan went on to inspire and lead troops

into other battles, and finally the war

started to make a positive turn in France's

favour.

On the 30th of May, while trying to push

back an English advance in Compiegne,

Joan was thrown from her horse and

captured by English allies who placed

under arrest. At her trial, she was

convicted of nearly seventy different

crimes, including witchcraft. The biggest

crime bought against her however, was

deemed to be dressing in men's clothes.

The very thing that Joan had done to keep

herself safe, helped lead to her demise.

She was also labelled as being a heretic, a

crime against religion, for being so vocal

and insistent on the visions she was

receiving from God. She was found guilty

by a biased judge who was a known

English sympathiser and was sentenced to

execution by burning. On the 30th of May

1431. at the young and tender age of just

19, Joan was burned alive at the stake in

front of a crowd of spectators. Before she

died, it is said she cried out 'Jesus!' and

looked for a crucifix that was being held up

in the crowd. Legend says it took three

18 | G ateway Chronicle
---
attempts to burn Joan before she

eventually turned to ash, shrouding her in

even more supernatural superstition.

Just over 20 years after her death, the

Pope ordered an investigation into Joan's

case. It was deemed that all charges were

false and she was pronounced innocent. It

makes us question why was it that Joan

was falsely convicted of so many crimes?

Historians believe that it probably had

something to do with the impact that Joan's

presence seemed to have on troops in

battle. She was seen as a figurehead, a

symbol of freedom and justice that the

French troops had used to spur them on.

By removing Joan from the picture, the

English hoped that they could damage and

impede the French army's moral. It is also

important to note that Joan of Arc was a

woman. Everything she had achieved up

until this point was completely out of

character, and it was unnerving to them

that a meagre woman of such a young age

was able to hold such standing and do

such damage to their campaign. It might be

fair to say that the English were even afraid

of Joan, and in retaliation labelled her a

witch and a heretic for not abiding to social

stereotypes and for seemingly turning the

war in the French favour. These allegations

would have also encouraged others to

disassociate themselves with Joan, and

serve as a warning to others who wanted

to follow in her footsteps.

remains a role model today, especially for

young women. Until that point, there had

perhaps only been a small handful of

notable women who had been able to

overcome such adversity and push through

the social norms. She had a deep

unfaltering loyalty to her country, and an

unfailing commitment to her belief in God.

Joan of Arc has always been portrayed as

being brave, clever and strong and

although we could never know for sure

exactly what she was like, we can be

certain that she was a woman of great

persistence who was not afraid of doing

what she thought was right. Even at the

end Joan was not scared of her fate, a

tragic demise to an unforgettable young girl

who stared adversity in the face and

overcame it, paving the way for young

women of the future.

Overall, without Joan there to play her key

part in the battles towards the end of The

Hundred Year War, we can only speculate

what the outcomes might have been. Was

it luck? Was it a coincidence? Did Joan

really have a presence about her that could

unite and inspire whole armies? Joan

19 | G ateway Chronicle
---
ARTHUR TUDOR'S

UNTIMELY DEATH IN

CHILDHOOD

Joseph S, U6IMS

On 2 nd April 1502, the fifteen-year-old

Prince of Wales and heir to the Tudor

throne succumbed to a mysterious illness.

He left behind a young wife, an unprepared

younger brother, and a mourning father.

But what was Prince Arthur's life like, and

what impact did his childhood have upon

the reign of younger sibling Henry VIII and

beyond?

Heritage

The Tudor dynasty had begun following

Henry Tudor's victory at the Battle of

Bosworth in 1485; the culmination of the

decades long 'War of the Roses'. The red

rose of the Lancastrian house had

defeated the white rose of York in what

was a defining moment in British history,

but newly-crowned Henry VII was astute

enough to realise his victory needed to be

bolstered, so there could be no dispute as

to the rightful owner of the English crown.

Thus, he married Elizabeth of York,

unifying the two houses in one family. It

was out of this marriage that Prince Arthur,

Prince Henry and his four other children

were born.

Childhood

As the eldest son, Arthur was the heir to

Henry VII's crown, meaning he was trained

for kingship from birth. Great hope was

placed on his shoulders, as a young and

healthy symbol of a new golden age

following decades of conflict. Arthur was

given the title of Prince of Cornwall

following his birth but took on the title of

Prince of Wales three years later. As a

teenager he was active in this role but had

little to do due to Wales' docile nature at

the time. Another key event in his

childhood was his marriage. Catherine of

Aragon was the younger daughter of the

Spanish monarch, who was chosen to wed

Arthur when he was just three years old.

The couple first met in 1501 once Arthur

had reached fifteen, the age of consent at

the time. Although they had a public

bedding, Catherine maintained that the

marriage was never consummated. Both

Arthur and Catherine became ill in 1502

and Arthur never recovered, dying to much

sorrow in April of that year.

Impact on marriage and religion

Arthur's brief marriage to Catherine of

Aragon was one of great significance.

Catherine later became Henry VIII's first

wife but was famously unable to provide

him with a living son. And with Catherine

now in the way of marriage with Anne

Boleyn, Henry sought a way out. Having

been a strong Catholic throughout his life,

20 | G ateway Chronicle
---
he turned to the Pope for a way out. His

protestations centered around his belief

that his marriage was against the Christian

faith, citing the book of Leviticus 20:21,

"'If a man marries his brother's wife, it is an

act of impurity; he has dishonoured his

brother. They will be childless".

Catherine consistently claimed her

marriage to Arthur had never been

consummated though and was a strong

Catholic. This ultimately led to Henry's

dismissal of his Catholic faith and the

emergence of the Church of England,

following Martin Luther's lead of Protestant

principles seventeen years prior. Had

Arthur's short marriage never have

happened, Henry would never have had to

abandon his faith that had stayed with him

through childhood. Moreover,

Protestantism may never have gained the

traction it sees today, as the majority of

Protestant countries are member of the

British Commonwealth, and the religion's

spread is clearly due to Britain's

colonisation following Henry VIII's

decisions. Henry's divorce set a precedent

that is increasingly followed to this day.

Impact on Henry VIII

Henry and Arthur did not see much of each

other during their childhood, because

Arthur was often taken to train in the art of

being a great king, educated by famous

noblemen in the art of battle and by

academics to study Latin, science, and

other disciplines. However, his untimely

death did spring Henry into a surprise role

for which he was largely unprepared, as he

spent the majority of his childhood with his

grandmother, Margaret Beaufort, with

whom he had an excellent relationship.

Had Arthur lived into adulthood Henry

would have never risen to the throne,

depriving Britain of one of its foremost

historical figures.

Impact on monarchy

Clearly, Arthur's death in childhood meant

the monarchy took a different path in the

500 years since, but this would have

greater implications than simply the names

on the family tree. Mary Queen of Scots,

Bloody Mary and Elizabeth I all ascended

to the throne in the century following

Arthur's death, the first instances of a true

female monarchy in England, not just

disputed claims such as Queen Matilda

and Boadicea, as remarkable as those two

women were. The late Tudor period set the

precedent for great success for female

rulers, especially Elizabeth's 44-year-long

reign, in which huge swathes of the British

Empire was gathered. The 'Golden Age' of

poetry, music, and literature (not to

mention piracy and colonization) could be

said to have stemmed from Elizabeth's

relative leniency towards freedom of

expression and her funding Francis Drake

and Sir Walter Raleigh's expeditions to

America and the Indies, as well as the East

India Company to establish 'British India'. It

was in this era that the seeds of the

Commonwealth were sown. Without

Arthur's childhood demise, female

leadership may never have been accepted

and the British Empire never built.

All in all, Prince Arthur may have only lived

for fifteen years, but he leaves behind an

extraordinary legacy that spans the globe,

impacting monarchies, religions, and even

everyday people. One childhood had

remarkable consequences.

21 | G ateway Chronicle
---
22 | G ateway Chronicle
---
MODERNPERIOD

23 | G ateway Chronicle

EARLY
---
'THE PRETTIEST

AND DEAREST

CHILD' – WHAT

DOES THE DEATH OF

JOHN EVELYN'S SON

IN 1658 TELL US

ABOUT CHILDHOOD

IN 17 TH CENTURY

ENGLAND?

Mrs Gregory

24 | G ateway Chronicle
---
of infant and child mortality; over 12% of all

children born would die in their first year. A

man or woman who reached the age of 30

could expect to live to 59. Historians

estimate that approximately 2% of all live

births in England at this time would die in

the first day of life. By the end of the first

week, a cumulative total of 5% would die.

Another 3 or 4% would die within the

month. A total of 12 or 13% would die

within their first year. With the hazards of

infancy behind them, the death rate for

children slowed but continued to occur. A

cumulative total of 36% of children died

before the age of six, and another 24%

between the ages of seven and sixteen. In

all, of 100 live births, 60 would die before

the age of 16.

When we think of child mortality in the

past, we often assume that, because the

mortality rate was high, parents must in

some way have become hardened to – that

it was an expected event or way of life.

Perhaps then parents did not love for their

children in the way modern parents do and

viewed them as dispensable. We might

even translate this into thinking that,

because life in the past was 'nasty, brutish

and short', violence, cruelty and death

were accepted in a way that we would not

recognise now – as L P Hartley said -' the

past is a foreign country; they do things

differently there'.

Child mortality rates in early modern

England were, without doubt, shockingly

high by today's standards. Average life

expectancy at birth for English people in

the late 16th and early 17th centuries was

just under 40 – 39.7 years. However, this

low figure was mostly due to the high rate

These are astonishing numbers. In the

16th and 17th centuries, 60 out of 100

children died before they reached

adulthood. There's nowhere in the world

today that has anything like that (the

current highest rates in infant mortality

rates are 121 deaths per 1000 live births

compared the UK's 4.5.) In those days, no

one was immune – it is well known that

Queen Anne (1702-1714) had 14 children,

none of which lived beyond infancy. And

the diarist John Evelyn (1620-1706) was

himself predeceased by 7 out of 8 children.

John Evelyn was a diarist who witnessed

many of the tumultuous events of the

seventeenth century – civil war, the

execution of the King, Oliver Cromwell's

protectorate, the Restoration, plague and

fire and the Glorious Revolution. His

diaries covering the years 1641-1706 were

found in an old clothes-basket in 1817 and

provide vivid portraits of the events of the

period as well as events in his personal

and family life. He was a wealthy

landowner with family estates in Wotton in

Surrey. He joined the Royalist army for a

25 | G ateway Chronicle
---
time but went to Italy and France to avoid

the conflict and in 1647 married the

daughter of the Royalist ambassador in

Paris. By the time of the execution of

Charles I Evelyn and his wife were back in

England, and he purchased a house from

his father-in-law at Sayes Court at Deptford

in the East end of London. In 1658, in the

depths of a harsh winter (during England's

mini ice age) a tragic event occurred – the

death of his 5 year old son Richard on

January 27 th . Evelyn describes it as the

'severest winter than man alive had known

in England' – bird's feet were frozen to

their prey, 'islands of ice' enclosed fish and

even trapped people in their boats.

The event is recorded in his diary and his

grief is recorded vividly and poignantly -

'his 'inexpressible griefe and affliction'.

What is striking is the deep affection he

had for his little boy – he describes him as

'the prettiest and dearest child, that parents

had ever seen'. He mourns the beloved

qualities the child possessed 'a prodigie for

Witt and understanding' and the 'beauty of

body a very Angel'. He represented

Evelyn's 'incredible and rare hopes'. It is

also striking to note that Evelyn records the

age of his child with exact precision '5

years, 5 months and 3 days' -

remembering this was a time before the

births of children were officially registered.

His grief seems never ending – 'here ends

the joy of my life & for which I go mourning

to the grave'.

and maide' who nursed him for

''suffocating' him – not deliberately but by

covering him 'too hot with blankets' and

having 'neere an excessive hot fire in a

close room'. In his grief, Evelyn asked the

two doctors from London – who had not

made it in time to save the little boy -to

'have him opened' - a post-mortem in

Evelyn's house to try and determine the

cause of death. This seems to have

revealed something wrong with his liver –

he was 'liver growne' and with an enlarged

spleen – perhaps, this rather than the care

of the maid, explains his 'fatal symptoms'.

Having identified the reasons for the tragic

loss, Evelyn buried his child in the local

church in Deptford, accompanied by 'divers

of my relations and friends'. He records his

intention to have his body moved once

Evelyn himself has died to Wotton Church

where he will 'lay his bones and mingle his

dust' with his Fathers and with his beloved

son. Sadly, this never happened – Richard

is still buried in Deptford.

One account of one father's grief cannot be

used to conclude that parents loved their

children or mourned their loss. There is

much that is exceptional about Evelyn – his

wealth and his intellectual background for

example. However, the diary entry is a

heart-breaking testament to one person's

loss and we can recognise much that lies

within it.

It is of course impossible to deduce what

the little boy died of but what is interesting

is the lengths to which Evelyn goes to try

and save the child and make sense of the

tragedy. He sent to London for a doctor but

sadly they never made it as the 'river was

frozen' and the carriage 'brake by the way

ere it got a mile from the house'. It seems

Evelyn's first instinct to blame the 'woman

26 | G ateway Chronicle
---
PHILLIS WHEATLEY

Matthew M, 2.3

Phillis Wheatley was born around 1753,

probably in Senegal or Gambia (the date

and place of her birth are not documented).

She was kidnapped from West Africa when

she was seven and was sold as a slave in

Boston. She was bought by John

Wheatley, who was a wealthy Boston

merchant, in August 1761, as a slave for

his wife, Susanna. Phillis was in a bad

state, and in fragile health. She was nearly

naked and just had some dirty carpet to

cover her. The captain of the slave ship

thought that she was about to die, so sold

her very cheaply to John Wheatley.

The Wheatley's taught her to read and

write, and she was soon absorbed in the

Bible, astronomy, geography, history,

literature and Greek and Latin classics.

She soon mastered English and caused a

stir among scholars after translating a tale

from Ovid, a Roman poet. She started to

publish poems, her first at the age of 13,

and began to receive international acclaim,

especially when she published the

Whitefield Elegy.

When she was 18, Wheatley made

advertisements in Boston newspapers for

her poems. However, the Americans did

not want to support literature by an African.

Instead, she turned to London, where she

gave one of her poems to Selina Hastings,

Countess of Huntingdon, who was a

supporter of the abolition of slavery. Selina

Hastings instructed a bookseller to begin

correspondence with Wheatley.

Phillis Wheatley left for London due to a

chronic asthma condition on the 8 th May

1771. Her works were being welcomed by

many notable people. She soon published

the first volume of poetry by an African

American in modern times, in London,

'Poems on Various Subjects, Religious and

Moral'. This included a preface which had

seventeen Boston men asserting that she

had written the poems in it, after she had to

defend her authorship as many colonists

did not believe that she had written such

outstanding poetry. After this was

published, the Wheatleys freed her from

slavery. She also sent one of her works to

the future President, George Washington,

which resulted in an invitation for her to

visit him in Massachusetts.

Sadly for her, Susanna Wheatley died in

1774, and John Wheatley died in 1778. On

1 April 1778, she married John Peters, who

eventually abandoned her. She had three

children, all dying in infancy. They were

constantly battling poverty. Eventually, she

began to fall sick. She was forced to work

as a maid and lived in horrifying conditions.

However, she continued to write poems,

but she was unsuccessful in an attempt to

find support for a second volume of poetry,

and even her first volume of poetry was not

published in America until two years after

her death. She died on the 5 th December

1784, in her early 30s, alone.

27 | G ateway Chronicle
---
28 | G ateway Chronicle
---
29 | G ateway Chronicle
---
THE FORCED

ASSIMILATION OF

NATIVE AMERICAN

CHILDREN

Charlotte M, L6ARD

Native Americans inhabited what is now

known as the US for thousands of years

before the first white settlers arrived in the

1600s. Their land was stolen, and they

were stripped of their culture. This was all

at the hands of the US government which

allowed and encouraged white settlers to

take increasing amounts of land from

natives, pushing them onto governmentassigned

reservations. The government did

everything it could to assimilate Native

Americans into mainstream European-

American culture, including taking their

children.

Starting in the late 1800s native American

children were ripped away from their

families and taken to government-run

boarding schools. This was a massive

federal project which separated thousands

of native children from their parents. At its

peak, there were over 350 of these schools

indoctrinating children with US patriotism.

The end goal was to completely eradicate

native culture and replace it with white,

Christian customs to achieve US

expansion and fulfil manifest destiny. The

boarding schools allowed the government

to control the next generation of native

people making it easier for them to be

integrated into white America. It was also a

way of separating native children from their

land whilst the army encroached further

onto tribal land through war.

Once a native child arrived at a boarding

school their cultural identity was taken from

them. The schools confiscated all signs of

tribal life, cut their braids, and gave each

child a new 'white' name. Students were

also forbidden from speaking their native

languages and practising any traditions.

Breaking any of these rules was cause for

punishment which could include

confinement, deprivation of food, or

corporal disciple. Another way in which the

schools tried to convert students was by

forcing them to celebrate 'white' American

holidays. For example, they had to

celebrate thanksgiving which they were

told was a celebration of 'good' native

Americans aiding the pilgrim fathers. In

addition to this, on Memorial Day students

had to decorate the graves of US soldiers

who had killed their ancestors and, in some

cases, had killed their own fathers.

The schools spent half the day teaching

academic subjects and the other half on

industrial training. Aside from the typical

lessons, the boarding schools taught the

importance of private property, material

wealth, democracy, and monogamous

nuclear families. This was in attempts of

instilling traditional white American values

into the children. Another aim of the

schools was to convert the children to

Christianity so there was heavy religious

training. This involved lessons on the bible,

emphasising the dangers of sin and

encouraging Christian values. It caused

30 | G ateway Chronicle
---
many schools to keep boys and girls apart

to allow them to have control over

relationships. In some schools, girls were

locked in their rooms at night, which put

them in severe danger as they were unable

to escape even in emergent situations.

When not attending lessons, children

received industrial training. Girls learnt to

cook, clean, and sew. Whilst boys learnt

the skills needed for blacksmithing,

shoemaking and farming. This was a way

of ensuring the schools were self-sufficient,

rather than being maintained by external

efforts. It also prepared the students for

outing programmes in which they were

sent away to white families to provide

cheap child labour. The treatment of

students in schools as well as the outing

programmes led to serious accounts of

neglect, abuse and even death.

Death rates in boarding schools were high.

This was a result of numerous factors

including disease, abuse, and suicide. The

unsanitary conditions and overcrowding

fuelled the spread of communicable

diseases such as influenza, trachoma,

smallpox, and measles. These diseases

massively affected students as they were

already weakened by trauma and limited

food rations. In 1899, there was a measles

outbreak in the Phoenix Indian school

which reached epidemic proportions with

325 cases of measles, 60 cases of

pneumonia and 9 deaths in ten days. A

significant number of children also died on

outing programmes as the strenuous

labour and abuse became too much. A lot

of these tragic deaths were ignored, and

parents were rarely notified. Schools had

their own cemeteries and students often

built their classmate's coffins.

The Carlisle Indian Industrial school was

the first and most well-known offreservation

boarding school. It was opened

in 1879 and became the blueprint for

native boarding schools across the US.

The school is now the US army war

college, and it has nearly 200 native

children buried at the entrance. In the

schools' early years more students died

than graduated, their bodies being buried

on site. Parents petitioned to have their

children's bodies sent home, but the school

refused. The school's disregard for the

dead children can be seen in the fact that

the death records are incomplete and all

files for boys with the last names 'l' through

'z' are missing. In addition, many of the

children's bodies are still missing. For

example, Ernest White Thunder, the 13-

year-old son of a Rosebud tribal leader

was severely sick while at Carlisle and

instead of being sent home he died there.

His father then asked for the return of his

body but was denied. He instead asked if

they could at least place a headstone over

his grave, but this request was also denied.

It is still not known where Ernest is buried.

This is just one example of parents who

were forced to send their children away,

only to never see them again. Now many

tribes are pursuing justice for the families

and are seeking the return of their children,

who currently remain prisoners even in

death. Arapaho reclaimed its first children

in 2017 and other tribes have begun to

follow suit.

As one can imagine there was significant

resistance from native Americans

31 | G ateway Chronicle
---
egarding off reservation boarding schools.

However, this became more difficult in

1891 when the government passed a lawmaking

attendance compulsory for native

children. Parents who refused to send their

children to the schools could be imprisoned

and deprived of resources such as food

and clothing, which were already scarce on

reservations. Officers were also sent to

forcibly take children from reservations. In

response, native children resisted by

running away, refusing to work, and

speaking their languages in secret. In 1893

pressure once again increased to keep

native children in boarding schools with

increasing penalties for resistance. For

example, a group of Hopi men refused to

send their children to a boarding school

and as a result 19 of them were taken to

Alcatraz Island, a thousand miles away

from their families and were imprisoned for

a year. This showed the extent to which

the government were willing to go, to

corrupt native children with their ideals.

Native communities continued to protest

for the right to educate their own children,

but it wasn't until 1978 that they won the

legal right to prevent family separation.

However, the government found a new

way to assimilate native Americans

through adoption. Children were funnelled

into the child welfare system and the Indian

Adoption Project intentionally placed them

with white families. The only real change

before this was in 1928 after the

government commissioned the Meriam

report to give an update on native

American affairs. It criticised the schools'

deteriorating conditions and the heavy

manual labour children had to endure. It

highlighted the fact the students were

hungry, sick, demoralised, and subject to

harsh physical punishments. Although this

only led to a minor change which included

better funding for food and clothing. The

report had urged the closure of boarding

schools, but they persisted as the

government was yet to fulfil its goal of

eradicating all native American culture.

Centuries after the conflict started

congress, in 2009, finally passed a

resolution of apology to Native Americans

directly addressing the cruelty of boarding

schools. However, this doesn't make up for

the suffering of Native American children,

many of whom are still buried beneath the

schools that abused them.

Native American boarding schools stripped

children of their language, customs, and

culture. The government allowed the

abuse, neglect, and death of innocent

children in the name of westward

expansion. They held native American

children, hostage, in exchange for land

cessions, breaking the bonds between

parents and their children. By 1900, threequarters

of all native children had been

enrolled in boarding schools making it

almost impossible for native culture to be

preserved. Native languages began to die

out by the 20th century as generations of

children had been forced to use English.

Although the government failed to

completely eradicate native American

cultures as they had hoped, the impacts

the boarding schools had are devastating

and continue to be seen today.

32 | G ateway Chronicle
---
HOW SIGNIFICANT

WAS THE 1870

EDUCATION ACT?

Joe Scragg (OA)

The granting of the vote to the working

class for the first time in 1867 led the

government to implement policy to ensure

that the working class were educated.

Therefore, following lobbying action from

the National Education league, this led to

the passage of the Education Act in 1870,

designed by William Forester. This was the

first time that the government had granted

legislation on education. This article will

assess the significance of the 1870

Education Act in the areas of compulsory

education, the secularisation of schools,

the accountability of schools and setting a

precedent for future Acts. Overall, the

Education Act was only of real significance

in the long term due to the fact it set a

precedent for future acts.

Despite the fact that the Education Act

introduced the idea of compulsory

education, this was not of great

significance. The Education Act did ensure

that free education was available for every

child from the ages of 5-12. This is

because the Act included a provision that

for parents that could not afford to pay

school fees this would be covered by the

state. However, before 1870 availability of

education was just one of the problems

that needed to be tackled. Of those at

school in 1861, before the passage of the

Act, most attended for less than 100 days

a year. This was due to the need for many

children to work in industrial factories.

Therefore, children missing school was a

major problem before the Act. However,

despite the Act aiming to tackle this, it

failed to do so as school attendance due to

children having to work was still a problem

due to children working. This can be shown

by the fact that in the 1890s attendance

was still only at 82% for children aged 5-10

and in 1901, 300,000 children aged 5-12

still held jobs. The biggest issue however

with the legislation was that it did not

actually make school attendance

compulsory, it only allowed for school

boards to introduce laws to make school

attendance compulsory. Only 40% of the

population lived in a school district that had

compulsory attendance, showing that

boards did not vote for compulsory

attendance. Indeed, the issue of

compulsory education was not solved by

the Act as is shown by the 1876 Royal

Commission on Factory Acts report, which

stated that child labour was still continuing

due to the lack of compulsory education. It

was not until the 1880 Act that compulsory

education was introduced for children

between the ages of 5-10. Therefore, due

to the fact that compulsory education was

not introduced till further Acts, the greatest

33 | G ateway Chronicle
---
significance of the Act came from setting a

precedent for future acts.

Furthermore, the 1870 Education Act had

limited significance in the area of the

secularisation of schools. This is because

the Act introduced non-denominational

religious teaching to schools and allowed

for parents to withdraw their children from

religious education in non-church schools.

Before the 1870 Act most children

attended schools set up by the church.

This was due to the fact that from 1833 the

government gave grants to these church

schools. Due to the passage of the 1870

Education Act this allowed schools to be

set up by school county boards, which

were to be free from the church and were

to teach religious education in a nondenominational

method. Moreover, the Act

gave provisional funding for schools to be

set up as it allowed school boards to use

local rate-payers to set up new schools.

However, the Act was not as significant as

it could have been in dealing with the

secularisation of schools due to the

Christian principles of then Prime Minister

William Gladstone. This meant that a

compromise instead had to be struck with

the Church of England. Church schools

were exempt from teaching religious

education in a non-denominational method.

Often to save funding school boards would

simply allocate additional government

funding to pre-existing church schools to

create new places for children. This was as

opposed to building new schools, which

would be exempt from religious teaching.

For example, between 1870-1885 the

number of Church of England schools rose

from around 6,300 to around 11,800 in

England. The number of Catholic schools

rose from 350 to 892. This meant that

many of the children who began attending

schools following the passage of the Act

went to schools run by the Church. This

meant that although there was some

secularisation of schools caused by the

1870 Education Act, the change was not

as significant as it could have been.

Therefore, the only real significance of the

1870 Education Act was in setting a

precedent for future acts.

Moreover, the 1870 Education Act had

some limited significance in making

schools more accountable to the

government. This is because the Act led to

school boards being set up in each council,

which were to be responsible for inspecting

each school and ensuring they met the

minimum government standards of the

time. The Act meant that the country was

divided into 2500 school districts and each

would have responsibility for schools in the

area. The boards themselves were

accountable as they were voted for by the

rate-payers in the area. However, for a

number of reasons the Act was limited in

its significance. The first reason was that a

high number of schools were exempt from

the Act. This was because school boards

had no oversight of church schools.

Additionally, school boards ranged in size

which affected their success in overseeing

schools. For example, some boards would

oversee only one school in their district,

whilst the biggest board, the London board

34 | G ateway Chronicle
---
was responsible for 400 schools.

Moreover, in the immediate aftermath of

the 1870 Act boards had no minimum

standards set by the government that they

had to enforce. Although, children had to

pass tests at the end of every year to move

up a grade, the requirements for the test

were set by teachers themselves. It was

not until 1872 that the government set a

loose requirement for the content of the

teaching. Furthermore, the Act gave school

boards no ability to enforce standards such

as compulsory attendance as this was not

given until the 1880 Education Act.

Therefore, although school boards were

created by the Act, this did not lead to a

significant change in the accountability of

schools. Indeed, this change was not

brought about until future acts, showing

that the significance of the 1870 Education

Act was in setting a precedent for future

acts.

The 1870 Education Act was of great

significance as it set a precedent for the

introduction of future acts that aimed to

deal with education. Although acts to do

with education had been passed before by

government, these were for private and

church schools such as the 1868 Public

Schools Act which aimed to regulate

standards at private schools. However,

following the passage of the 1870

education Act the government would look

to solve educational problems. For

example, problems highlighted in this

article such as the lack of enforced

compulsory education was solved by the

1880 Education Act. This act made it

mandatory for school boards to enforce bylaws

that made attendance at school

compulsory. The Act also aimed to solve

the problems of child labour as the Act

contained provisions that no child under

the age of 13 could be employed without

first completing the minimum education

requirements. This aimed to solve the

issue of children who only attended school

half the time. The Act set a precedent for

both parties to try to tackle issues of

education and made it a wider issue for

governing parties to be judged upon. In the

case of the Balfour Act in 1902 it was

deeply unpopular and so was partially

responsible for the Conservatives being

voted out of office in 1906. Therefore, due

to the fact the Act set a precedent for

government involvement in education, in

this aspect it was of great significance.

Overall, the evidence would suggest that in

the short term the Act had little impact on

compulsory education, the accountability of

schools and in the secularisation of

education. However, in the long term the

act was of great significance as it set a

future precedent for government

involvement in education, which can still be

seen to this day

35 | G ateway Chronicle
---
36 | G ateway Chronicle
---
MODERN PERIOD

37 | G ateway Chronicle
---
DISMANTLING THE

RABBIT-PROOF

FENCE

Arthur R, U6IMS

In March 2022, the Australian government

appealed against a landmark Supreme

Court ruling to try to reinstate their power

to deport Aboriginal non-citizens. This

decision comes in spite of the fact that the

ruling stated that aborigines were not

'aliens' and thus could enjoy relative

protection from the stringent immigration

policies of Parliament House. Even in the

21 st century, therefore, discrimination

toward Aboriginal Australians continues to

plague the Oceanic nations but it was the

arrival of Europeans in the 18 th century that

laid the foundations for these modern-day

prejudices which culminated in an

abhorrent assault on the cultural identity of

children in the 20 th century.

The HMS Sirius' landing on the East Coast

of Australia in 1788 ushered in new era of

white colonialism to an island that had

previously been governed by unique

Aboriginal clans. The rapid process of

British expansion saw land, referred to by

the Aborigines as 'The Country', being

cleared and borders drawn up which

divided up the traditional clans. It was this

artificial reinforcement led to the

destruction of families, sacred sites and

hunting grounds which begun the decline

of Aboriginal culture.

By the 20 th century, these policies of

controlling and stifling aborigine culture

had taken a different, but no less vicious,

turn. The government of the day had

adopted a strict policy of 'assimilation'. This

dictated that aboriginal children and mixedrace

children should be removed from the

'reserves' the government had granted

them and be forced to join white society,

thus granting them citizenship but also

suppressing their cultural identity. Statute

from as early as 1869 demonstrates a

desire by the government to remove

aboriginal children from their parents but

38 | G ateway Chronicle
---
the policy only really began in 1909 and

lasted until the late 1960s. By then, as

many as one in three Aborigine children

had been removed against their will from

their family and forced to assimilate into a

white family. These powers were granted

by the Aborigines Act of 1911 that made

the Chief Protector the legal guardian of

every indigenous Australian child thus

allowing them to assume 'the care, custody

or control of any Aboriginal or half caste (a

disparaging term for a mixed-race

Aboriginals) if in his opinion it is necessary

or desirable in the interests of the

Aboriginal or half caste for him to do so'.

This was administered under the

repressive thumb of the New South Wales

Aborigines Protection board, later the

Aborigines Welfare Board.

The suppression of Indigenous Australian

children was even more horrific than the

assimilation policy suggests. Children were

forbidden from speaking their own

languages and from referring to their

culture, the resulting in them being forced

to reinvent their identity and forget their

past. Not all children were able to be

adopted into white families and, those that

didn't, were sent to institutions that ran rife

with malnourishment and abuse. The

'White Australia' ideology that informed the

early 20 th century government focused on

white superiority which is reflected even in

the country's modern immigration policies.

This racism became institutionalised in

society, meaning the neglect that

Aboriginal children experienced was at the

hands of white citizens, who believed in

their own natural supremacy, as well as

governments.

Likewise, schools also facilitated the

rejection of aboriginal culture as they

precipitated indigenous indoctrination of

British history, beliefs and values. Under

the façade of good intentions, the

education institution was used to erase the

Aboriginal identity. This remains a problem

today with a study stating that Aboriginals

'appear only momentarily' in the school

curriculum and that more than half the

teachers at schools with more than 10% of

Aboriginal students in them said they had

no professional development in schooling

them.

The destruction of these clans across the

18 th , 19 th , 20 th and 21 st centuries has had

severe repercussions on Aboriginals in

2022. By violently separating clans and

families, a whole civilisation's history and

culture has been lost, in part due to the fact

that oral transfer of history was common

amongst indigenous groups. The trauma

felt by this 'Stolen Generation' and their

descendants extends to both mental and

physical abuse. The isolation and rejection

of their culture, as well as the physical

separation from their parents, has led to

high levels of PTSD, depression and

39 | G ateway Chronicle
---
anxiety in Aboriginals. This is coupled with

the fact that Aboriginals are 15 times more

likely to be imprisoned than nonindigenous

Australians and have a lower

average life expectancy by 10 years. Worst

of all, perhaps, is the societal shame that

accompanied the Aboriginal children who

grew up in white communities, such as the

permit system which was designed to limit

their movement in the 1940s. This is still

evinced today as Indigenous Australians in

Victoria are four times more likely to

experience racism than non-indigenous

people.

The policies that the government have

pursued over the 20 th century, in addition

to the outbreaks of disease that

accompanied the first invaders, have led to

a nearly 90% decline in the Aboriginal

population and, with it, the demolition of

indigenous Australian culture through the

indoctrination and abuse of their children.

Policies and attitudes have advanced

somewhat from heartless chauvinism as a

1967 referendum on the issue saw

Aboriginals included on the censuses for

the first time. This symbolic gesture led to

the abolition of the Aborigines Welfare

Board and alternatives to 'assimilation'

were began. In 1998, National Sorry day

was introduced as an attempt to try to

commemorate the mistreatment of

indigenous people and, in 2008, a formal

apology was issued by PM Kevin Rudd for

causing 'profound grief' to the Aboriginal

people.

mother were shopping. She was taken to

an institution, where she wasn't able to

understand anyone with her native

Aboriginal dialect. She dubbed the other

Aboriginals there 'inmates' kept 'like

bullocks in a paddock' as she trained to be

a domestic servant. Although she believed,

after thirty years, that her mother was

dead, the two were reunited. This happy

ending is far from the norm, with nearly

16,000 Aboriginal children still in care

homes in 2015 and only 35% of those

would go on to be reunited with their own

families.

The assimilation strategies of the

government have left a perpetual scar on

the Australian nation as, generations after

the formal action ended, the psychological

trauma of these horrific policies remains. It

contributed to the death of a culture which

saw tens of thousands of children

displaced, alienated and feeling worthless

without their beliefs, their language, their

traditions, their families and their identity.

Regardless, the abuse and trauma that

these schemes caused Aboriginal children

can never be reversed. One Aboriginal

woman, Netta, described her cruel

separation from her mother at age five.

She was tempted away by a policeman

with a tin of apricot jam while Netta and her

40 | G ateway Chronicle
---
YOUTH AND THE

EASTER RISING

Aiden C, L6ARD

The Irish War of Independence and the

fight for the free state had been going on

since the early 19 th century. However, at

the turn of the 20th century the frictions

between the Irish Republican Army and

Sinn Fein members, and the British had

escalated. Home rule had been introduced

in 1912 which gave Ireland some

autonomy. This was enacted by the

government of Ireland act in 1914 however

was linked to Ireland agreeing to introduce

military conscription. There was a huge

outcry amongst nationalists with many

believing it went directly against their calls

for, separation from the English

government and being not forced helping

with wars they had started. The easter

rising soon followed with the Irish

Republican Brotherhood (IRB) as well as a

small faction of the Irish Volunteers and

Irish Citizen Army opting for a violent

response.

The Easter rising was fought by many

young people hoping for an Ireland free

from British control and interference, and

an ability to run things the way they

wanted. Many of the members were

fighting for their beliefs at a young age.

The Easter rising which happened in

Dublin 24-29 April 1916 mainly focused on

buildings with significant symbolism and

major buildings around Dublin. The

General Post Office known as the GPO

was such a building. This is where the IRB

headquarters were set up with a barricade

around the centre of Dublin between the

two canals with the river Liffey through the

middle. Two republican flags were raised

above the GPO whilst the proclamation of

the Irish republic was read aloud and flyers

given out. A key member this was Edward

'Ned' Daly, aged 25. He was one of the

youngest members of the IRB yet oversaw

the 1 st battalion who occupied one of the

Four Courts and surrounding buildings. He

was declared a very good leader by his

battalion troops, and was at the centre of

the harsh 4 days of fighting throughout.

Another inspirational leader for the IRB

who was the same age as Daly was Sean

Heuston. He was responsible for the

holding of the Mendicity on the shore of the

Liffey for two days. The Mendicity was

seen as an instrumental tactical position for

either force, lying as it did between the

royal barracks and the Four Courts, I stood

in the way of troops being able to access

the south side of the river from the Royal

Barracks. The leadership of Heuston truly

showed in the 50 hours he was able to

hold this vital position. Yet more

remarkably he did it with only 25 troops in

comparison to the 350 troops the British

amassed to try and take back the position.

The ability of Heuston to lead his troops

under pressure and inspire them to truly

dig deep and fight for their lives, in the aid

of a seemingly impossible task at the time,

of overhauling the British. It shows the

influence the young can have on people

that they surround themselves with and the

41 | G ateway Chronicle
---
emarkable ability to fight for something

bigger than themselves. Perhaps naivety

comes in but nevertheless you cannot but

admire the bravery and courage of the

young men who took on such a thankless

task.

As the British gained more momentum

towards the end of the 4 days, the IRB

forces started to surrender one by one with

whole battalions forced to give up a dying

fight. The British forces had just been too

large and well-armed to be able to stop the

onslaught. The constant reinforcements

coming from England and the heavy

machinery as well as a gun boat meant the

IRB wouldn't stand a chance at prolonging

the war any further without a considerable

loss of life, of civilians and troops. Heavy

shelling had occurred over the GPO in the

later days forcing the leaders of the

rebellion to tunnel out and form

headquarters in nearby buildings. On

Saturday 29 th April the leader Patrick

Pearse issued an order for all companies

to surrender their fight. This surrender led

to the arrest of over 3000 national activists

by the British following the rising. These

activists were then court-martial and not

given a defence, and a total of 16 men

were sentenced to death by firing squad for

their actions in the Easter Rising. William

Pearse, Michael Mallin, Michael

O'Hanrahan, Éamonn Ceannt, Thomas

James Clarke, James Connolly, Seán

MacDiarmada, Thomas MacDonagh,

Patrick Pearse, Joseph Mary Plunkett,

Roger Casement, Con Colbert, Edward

Daly, Seán Heuston, Thomas Kent, John

MacBride. Amongst these names lies 4

men who were still in their twenties but

gave their lives for a cause they truly

believed in.

The executions of the 14 men took place

between 3-12 May 1916 and were a

significant turning point in the fight for Irish

Independence. The event proved to be

decisive in changing public opinion on the

Easter rising. The unsure reception of the

rising had been mixed with many

applauding the rebels and some against

such violence taking place in the centre of

a city affecting anyone and everyone.

However, the unnecessary violence and

cold-hearted killing by the British reversed

the tide of Irish opinion to led to calls, in

greater solidarity now, for an independent

Ireland. This call grew even louder during

the War of Independence a few years later

highlighting the important role of the Easter

Rising played as a springboard for future

Irish Nationalists.

42 | G ateway Chronicle
---
CHILDHOOD IN THE

EARLY SOVIET UNION

Conrad D, L6AMG

The birth of the Soviet Union was a bloody

one. Russia had been ravaged by the

consecutive disasters of the First World

War and the Russian Civil War – both of

which proved devastating for the country.

The major famine of 1921 and widespread

plagues during the war years further

compounded the troubles of the nation.

Although victorious in the Civil War, the

fledgling Bolshevik government had little

opportunity to enjoy their success over the

Whites. The losses sustained over the

period were horrifying: World War One had

seen some 2.5 million Russians killed; the

combined effect of famine, disease and

fighting during the civil war saw a further

13.5 million Russians die (chiefly civilians).

Approximately 10% of the Russian

population had been killed. The total output

of mines and factories in 1921 was only

20% of what it was before the war;

important industries had suffered

massively and were in great decline - iron

production had fallen to only 2% of what it

had been pre-war. Infrastructure, too, was

left in tatters: 7,000 bridges, 1,700km of

railway and 90,000km of telegraph wire

had all been destroyed. International

embargoes reduced Russia's imports from

967 million pounds in 1913 to 0.5 million in

1919, with Russian exports falling from

1,472 million pounds to practically nothing.

It was in this backdrop, with all major

opposition defeated, a desperate and

starving civilian population and the earlier

societal order of Tsarist Russia torn

asunder, that the Bolsheviks began their

program of rebuilding.

One of the chief areas which they

attempted to improve was education. They

had good reason for concern: the strife of

the war years had resulted in a rapid

decline in enrolled students: in 1914, 91%

of children received education in schools

(although this was very limited and was

chiefly driven by religious institutions - for

example, in 1914, only 41% of the Russian

population was literate, despite the

enrolment statistics); in 1920 this figure

had dropped to only 24.9%. Determined on

educating the population, Lenin introduced

the 'likbez' policy - the liquidation of

illiteracy. It introduced a new system of

compulsory universal education for

children (illiterate adults also gained the

opportunity to attend special schools).

Over this period of 1918-20, roughly oneseventh

of the Soviet budget was allocated

43 | G ateway Chronicle
---
to education – more than most Western

nations at the time. A new Soviet system of

school organisation was adopted in 1923:

with schools being separated into groups

depending on the years spent in education:

four, seven- and nine-year schools. Sevenyear

schools and nine-year schools were

much rarer, however, and since attending

them was often required to attend higher

education such as university – access to

higher education remained limited. The

change also abolished the prior subject

system of history/geography and the like,

in favour of more nuanced social themes in

an attempt to permeate the curriculum with

Marxist-Leninist aligned teachings, such as

"the scientific organisation of labour" - this

proved disastrous and was completely

abandoned in 1928, returning to the old

system of standard subjects. The Soviets

saw the younger generation as the

inevitable inheritor of the mantle of

revolutionary zeal and utilised education as

a means by which to ensure socialist

values would be retained and upheld.

"Give me four years to teach the

children and the seed I have sown will

never be uprooted." - Lenin

Three youth leagues were set up during

the early stages of the Soviet Union: the

Young Pioneers, the Little Octobrists and

Komsomol. By 1925 Komsomol, the final

stage of the three organisations, with

members aged 14-28, had 1 million

members. As in Soviet schools, which

were all mixed gender from 1918,

Komsomol actively encouraged women to

join, although it met with little success. In

order to encourage more people to join,

benefits were rewarded for active

participation. One of the main aims of the

program was to foster productive

behaviour, whilst simultaneously rallying

against the 'hooliganism' of Western

teenage culture.

Despite the increased opportunities

granted by youth organisations, and the

impetus placed on educating children by

the Soviets, the challenge of effectively

alleviating the effects on children of the

disaster of the civil war proved

insurmountable. By the end of 1922, it is

estimated that as many as 7.5 million

Soviet children were homeless and

abandoned. This led to the widespread

formation of youth gangs in urban areas,

engaging in petty crimes such as theft

across the country. In many instances,

petty crime gave way to worse – crimes

perpetrated by youths rose as a whole: by

1922 10% of all criminals apprehended by

Russian police were minors. Organised

distribution chains of drugs – as well as

drug usage – arose in significant numbers,

and sexual activity became common – both

rape and prostitution. A survey in 1922 of

5,300 girls of and below the age of 15

living on the streets in cities revealed that

88% of them had worked as prostitutes.

The harsh living conditions of homeless life

in cities, combined with the overstretched

Soviet government, only just beginning to

institute programs to combat this

widespread issue, resulted in high mortality

rates amongst these vulnerable children.

The response of the Soviet government to

these issues was equivocal. On the one

44 | G ateway Chronicle
---
hand, they did attempt to alleviate the

issue - after orphanages were

overwhelmed, the government attempted

to encourage widespread societal

contributions to end the problem, such as

foster care. Foreign aid, particularly by the

American Relief Administration, helped

support the Soviet government in providing

meals to nearly five million children -

nevertheless, many still went hungry.

Indeed, by the 1930s the Soviets had

declared an end to homelessness - citizens

were required to have a residency permit -

almost every available flat was occupied,

with unregistered flats being rented out by

the state at a token price to those in need.

However, given the vast extent of the

problem, the reality was, unsurprisingly,

different to what the Soviet government

had claimed - they were unable to

completely eradicate homelessness, with

many still left on the street, albeit far fewer

than previously. Furthermore, as Stalin

came into power, the attitude of the Soviet

Union towards the homeless changed -

those unable to find housing were rejected

as parasitic; homelessness was

categorised as a personal issue, in a

similar vein to alcoholism, and those on the

street were treated as social pariahs.

The overall picture throughout the early

period of the Soviet Union with regard to

childhood is therefore a varying one. On

the one hand, the Soviet Union attempted

and did indeed see some success in

improving the lives of children. Their

education programs led to a rise in literacy

rates – far greater than those of the prior

Russian Empire, and they also attempted

to reduce the influence of traditional

gender roles (initially – before Stalin),

encouraging cooperation and freedom in

the name of egalitarian socialism.

However, the Bolsheviks inherited a

broken country, and despite their attempts

to rebuild the country, hundreds of

thousands of children still remained stuck

in poverty, subject to horrific conditions,

with little improvement in sight: Stalin's

accession to power as sole dictator in the

30s resulted in little great improvement,

and the following Second World War saw

roughly 25,000,000 Soviets killed in the

face of German invasion and their

genocidal 'Generalplan Ost' strategy (the

systematic ethnic cleansing of the Slavic

race). Indeed, the life expectancy in the

USSR fell from 41.44 in 1940 to 23.6 in

1945. It was not until after the Second

World War that the wider Soviet population

- children included - saw a significant

increase in their quality of life: life

expectancy rapidly rose to its highest point

in Russian history. Later, following the

collapse of the Soviet Union, similar

desperate conditions arose for children as

those at its inception: the number of

homeless children rose once again into the

millions, with drug abuse and alcoholism

becoming prevalent issues amongst

children in post-Soviet Russia. Indeed, to

this day, Russia has not fully recovered,

with around 2% of children being

homeless, and the life expectancy of

Russia in 2019 being not much higher than

that of the USSR nearly six decades earlier

- standing at 73.1. To conclude, the early

attempts of the Soviet government to

improve the lives of children – although

guided in part through ideological selfinterest

– must be considered admirable,

particularly given the difficult context within

which they were operating. Despite their

considerable attempts, however, suffering

remained a daily concern for many children

within the newfound Soviet Union.

45 | G ateway Chronicle
---
THE IMPACT OF THE

NAZI REGIME ON THE

YOUTH OF GERMANY

Grace Brown, L6SC

The Nazi regime during the 1930s in

Germany had a significant impact on all

who were subject to its control, with the

youth being one of the most prolifically

targeted groups of them all. Whether it be

through propaganda or perpetuating the

Hitler Myth, the youth of Germany were

targeted for one key reason, they were

seen to be the ones who would shape the

future and continue the legacy of the

regime.

In terms of propaganda aimed at the youth

of Germany, it was ubiquitous, with aims to

promote the union of the Volkgemeinschaft

and embed the values that the Nazi regime

saw as desirable. Interestingly enough,

there were differing values for boys and

girls within the regime, designated roles

that were seen to be the "way things

should be", and the youth were moulded to

fit these roles and not stray from them. For

boys, they were encouraged to be strong

fighters and be trained to be the soldiers of

the future, being subject to military drills

including learning how to shoot on target

as well and hand to hand combat. In

contrast, girls were expected to be the

perfect wives and mothers, doting on their

husband's every beck and call. The way

these values were instilled into the youth

was through the various programmes the

Nazis set up, namely the Hitler Youth,

which proved to be incredibly successfully

received by children across Germany, with

82% of all children aged 10 to 18 being a

part of the youth movements by 1939. This

had a profound impact on many young

people, with some becoming more loyal to

the regime than to their own families,

resulting in conflicts within households and

children favouring the establishment to

their own families. This demonstrates that

for some, the effect of propaganda was

very significant, driving issues within their

46 | G ateway Chronicle
---
own families and testing the loyalty of the

youth to the Reich itself. However, the

Nazis went further with their authoritarian

stance on the youth's autonomy, making

the youth movement compulsory for

children after 1936, showing that the

regime was committed to influencing all

that they could under their control. The

influence of the Hitler Youth culminated in

the year 1938, when many of the

perpetrators of Kristallnacht – the attack on

7500 Jewish-owned businesses - were

members of the Hitler youth, showing that

the impact was not only widespread, with it

being compulsory to attend the youth

movements, it was also profound as it

meant they were coerced into believing

that destroying the livelihoods of Jewish

citizens was acceptable because they were

doing it in service of the Reich.

The youth were also impacted through the

school curriculum, meaning that no child

could escape the pervasive nature of the

Nazi message, even if they weren't a

member of the youth movements. This

manifested itself in a whole new

curriculum, removing many "traditional"

subjects and replacing them with

information, whether true or not, that would

perpetuate the messages that Hitler

wanted to be received. Subjects like

science were converted into the study of

eugenics, with anti-Semitic messages

being pedalled to the students daily,

depicting Jewish people as the inferior

race, and antisemitic caricatures featuring

heavily in school textbooks. Religious

studies were for the most part removed

from the general curriculum, with it being

banned by the 1930s due to Hitler's belief

that he himself should be the only

individual worshipped like a God. The

majority of the curriculum hours were

devoted to physical education, many

children having two hours per day and all

having a mandated five hours per week.

The aim of schools was to further

indoctrinate the youth into the myth of the

regime, and teachers were forced to

comply with this aim, with them all having

to join the Nazi Teachers' Association, as a

way of vetting them for suitability in terms

of political and also racial terms. Similar to

the youth movements, the curriculum was

separated for boys and girls further

emphasising the different roles that boys

and girls were expected to fulfil, with boys

studying history, eugenics, and PE

primarily and girls mostly studying home

economics. The emphasis on eugenics

helped the Nazis to influence antisemitic

ideas from a young age, as the youth were

easier to influence. Jewish children were

humiliated at school through the curriculum

and by 1938, they were banned from

47 | G ateway Chronicle
---
education – showing how significant the

idea of the Volksgemeinschaft was in

society, as it solidified the idea that if you

were deemed acceptable, you would have

a fulfilled future in the Reich but if you were

and community alien, you were ostracised.

Finally, boys who were perceived to have

the potential to become leaders were sent

to Adolf Hitler Schools, which were free

boarding schools on military lines, with

education catered to grooming the boys

into being future SS officers and servants

to the Reich.

Within Nazi Germany, the Minister of

Propaganda, Joseph Goebbels, was the

architect of the so-called "Hitler Myth". This

myth was utilised to present Hitler as a

chameleon character, a hero to Germany

while also being an ordinary man, which in

turn led to many of the youth feeling as

though he was someone they could relate

to, further influencing them into idolising

him and making the relationship between

Fuhrer and Volk more intimate. Goebbels

expertly crafted this image of Hitler in order

to ensure that every area of the population

was targeted by the various facades of

Hitler. The impact of this on the youth of

Germany manifested itself into the

significant turnouts of Hitler Youth who

attended the 1934 Nuremberg rally, with

700,000 supporters of the regime being

present. The omnipresent nature of the

propaganda supporting the "Hitler Myth"

helped to successfully separate the Nazi

wrongdoings from Hitler himself. This was

further exacerbated by the schooling and

education of young people, as history was

tailored to depict Hitler as the saviour of

Germany from the decadence and wrong

doings of the Weimar Republic, meaning

that many children revered Hitler.

However, this is not to say that there

wasn't opposition to the regime of Nazi

Germany from the youth, there most

certainly was. One major opposition to the

Nazi establishment were the Edelweiss

Pirates, who primarily opposed the way in

which the Hitler Youth had taken over the

lives of young people in Germany. In turn,

the Pirates were as far from the idealised

moulds that were expected from the Hitler

Youth as could be conceivably possible –

they were free to speak their mind

(something that would be frowned upon in

the Hitler Youth) and boys and girls were

allowed to work together (whereas they

were segregated in the youth movements).

Most cities across Germany had a faction

of the Pirates, even if they did not act

under the title. Despite not operating under

the same title, the groups shared a few

select traits, the main being the objection

to the way the Nazis tried to control the

lives of young people in Germany. Another

major group who opposed the Reich were

the swing youth. As a part of Hitler's attack

on the culture of the Weimar Republic,

broadcasting of jazz was banned by 1935,

as it was seen to reflect the "loose" morals

that the Republic stood for, and in the

following year, records of individual artists

were banned. This censorship of media led

48 | G ateway Chronicle
---
to the rebellion of circles of like-minded

teenagers. Unlike the Edelweiss Pirates,

the "Swing Kids" weren't organised in

cohesive organisations, they were

scattered across larger cities not only in

Germany but also other European

countries like Austria. Despite being

somewhat disorganised, their love for jazz

and American culture united them and

provided a stark contrast to the dictated

culture of German nationalism. Many of the

anti-jazz propaganda messages had the

opposite impact to their intended effect, as

it didn't only make the music more

attractive to the youth, it also provided

ways to access it. Due to the incessant

propaganda that people were subjected to,

the Swing Kids could watch anti-American

reels at the cinema with scenes of the

Lindy Hop, which enabled them to learn

the dance style. Touring exhibits of

"degenerate music" included jazz records,

which the youth stole frequently. The

simple existence of the swing kids proved

to be a big threat to the expected

conformity, as many of the youth were

more interested in swing than they were in

military drills or the Hitler Youth, which

showed the significance of any form of

opposition to the regime, possibly hinting to

the fragility of the Nazi system.

In conclusion, the Nazi regime, the

prescriptive nature of it, impacted everyone

significantly, but the youth of Germany

were most targeted due to their easily

manipulated nature and the ease in which

they could be targeted through not only

obligatory programmes like the Hitler Youth

but also through the school curriculum,

which means that even though not every

child joined the youth movement, they

were targeted in some way. If anything, the

opposition to the establishment further

exemplifies the impact the Reich had on

the youth as it shows that the dictated

nature of the Reich meant that the youth

needed an outlet to rebel and live freely

from their greatly controlled and conformist

lives.

49 | G ateway Chronicle
---
A TALE OF TWO

VIRUSES

Max T, 3.1

It was Lockdown, the first one, in May

2020, and I was on a Zoom call with my

Grandma and Grandad moaning about

missing my friends and being bored when

my Grandma told me to "stop whining" (she

does that a lot!) and that "I was not the only

kid to suffer being told to stay home". It

had happened to her, in 1948, when she

was only seven years old. I thought

Coronavirus was a new thing, I needed to

find out more…

My grandma is a Kiwi, she was born and

brought up on a farm in New Zealand in

Bay of Islands, in the very rural North of

the North Island. I love hearing stories of

her adventures on the farm; she had a pet

lamb, sometimes rode to school on her

horse and often didn't wear any shoes to

school! On a hot day the headmaster

would just stop school and everyone,

teachers and pupils, would go outside and

play cricket… doesn't that sound great?! It

was not all cricket and sunshine though, at

the end of every day all the school children

had to clean the school; sweep the floors,

wash the basins and scrub the toilets!

In the hot Summer of 1948, only a few

years after the end of World War Two, an

epidemic of Polio hit North New Zealand

and all children were told to stay at home,

and not return to school after the Summer

holidays (in December down under) and

not go out in public. Children didn't go back

to school until Easter.

Like Covid, Polio (or poliomyelitis) is an

infectious virus. Whilst Covid is caused by

the coronavirus, Polio is caused by

picornavirus which is a group of viruses

that live in the intestines. Unlike Covid,

which is spread through the air, Polio is

spread through the contaminated faeces

and saliva of an infectious person. A major

difference between Covid and Polio is that

Polio mainly affected children. Polio can

cause the muscles to waste away,

sometimes leaving the patient permanently

crippled and even paralysed. Similarly to

Covid, Polio can also affect the lungs and

the respiratory system. If the virus infected

your lungs, children would need to spend

time in an iron lung to aid their breathing.

The iron lung mechanically stimulated your

breathing and was an important precursor

to the ventilator units that played such an

important part in saving lives in the early

stages of Covid.

Grandma believes that, in hindsight, the

Polio lockdown may have been even more

stressful for parents than the coronavirus

lockdown. "There is nothing more

frightening for a parent than the thought of

any harm coming to your children, and this

is exactly what the Polio virus threatened

to do, thankfully throughout the Corona

lockdowns most parents were spared that

fear as Covid was of much less risk to

children". Of course, on top of that, children

stuck at home in 1948 didn't have the

benefits of the internet. Just imagine being

stuck at home for months without your

XBox or PS4. As Grandma explained, "the

weekly newspaper would print a few ideas

of what to do but in my house, we didn't do

much school work. I do remember learning

my times tables but there was lots of other

work to get on with around the farm".

50 | G ateway Chronicle
---
There was also a lesson broadcast on the

radio every few days that we were made to

listen to. Older children were sent lessons

in green envelopes, once returned they

were marked by teachers sitting all alone in

empty classrooms. The New Zealand

government reported that at the beginning

of the Polio lockdown there were 40 radio

correspondence lessons a month but by

the end there were 40 lessons broadcast

every week. The New Zealand

Government proclaimed that houses were

to become 'miniature schools', most of the

pressure to school the children fell on

mums. Back in 1948 most women were

housewives with the dads going off to

work.

Whilst there were major differences, it is

interesting to see that there were also

significant similarities in the strategies used

for containing the epidemic. The priority

was limiting the spread of the disease,

children were banned from crowded

spaces, public transport and anywhere with

crowds. I would be interested to find out if

any of these same strategies were

employed at other times too, during the

plague for example? What also seems true

is that both lockdowns caused

considerable stress, anxiety and

depression. I suppose this can only be

expected when there is real risk of harm to

you and the people that you love. My

Grandma thinks people were more resilient

in 1948 than they are today, "we had

survived the war and knew we could get

through anything."

In 1953 a man called Jonas Valk

announced that he had successfully

developed a vaccine for Polio after testing

it on monkeys and then on his own family.

By 1956 the vaccine reached New

Zealand. The polio vaccine took many

years to develop because scientists had to

start from scratch and did not have the

technologies available to them that we

have today. When a vaccine did finally

become available it was the only one and

because of the devastating effects of the

disease it was seen as a miracle cure and

was rolled out very quickly. Children were

rushed to the doctors, anxious to get

vaccinated as quickly as possible.

Thankfully, the near universal uptake of the

vaccine meant that the dreaded Polio

epidemics were eradicated in New Zealand

by the early 1960s.

The Covid vaccine in contrast was

developed in less than one year. This

amazing effort by the world's scientists,

building on what they had learned, meant

that there were three vaccines quickly

available for us to choose from. However, it

seems that there is much more resistance

by some people to the Covid vaccine than

there was to the Polio vaccine, I am not

sure why, perhaps it is because Corona

virus does not have such a terrible effect

on children?

The great news is that mass immunisation

of Polio has eradicated the disease from

many regions of the world. Smallpox, the

very first disease for which a vaccine was

developed by Edward Jenner in 1796 was,

in 1979, declared to have been completely

eradicated from the globe. What an

inspiring achievement. Hopefully as

scientist continually try to develop and

produce Covid vaccines maybe one day

Covid will also be eradicated.

So, my Grandma is right, we do need to

stop whining and realise that we are very

lucky. Whilst COVID is scary, us kids have

got off comparatively lightly. My grandma

has had to face two separate diseases that

affected her generation very directly. We

should be so thankful that the experiences

51 | G ateway Chronicle
---
of all the generations before us made the

development of the covid vaccine so much

quicker when we needed it. I think that is

what history really teaches us – that we are

not alone but that we are living on the

shoulders of all the suffering, learnings,

experiences and thoughts of everyone who

came before us.

'MASTERS OF THE

NEW SOCIETY': HOW

CHILDHOOD WAS

REDEFINED IN 20 th

CENTURY CHINA

Jonathan B, U6DMY

Few worldviews have had as much

influence as Confucianism. As it was

transformed and transferred with the rise

and fall of empires, it shaped Chinese

beliefs about childhood over millennia.

However, with the advent of the 20th

century, the values of Confucianism were

questioned, and the Chinese family saw an

unprecedented reconfiguration in which

childhood was redefined.

Confucianism developed during the

turbulent Spring and Autumn Period (770

to 746 BCE) when the authority of the

Zhou dynasty waned, and states once

bound to the Zhou developed greater

autonomy. Despite interstate conflicts and

internal clashes amongst nobles,

philosophy flourished as the Hundred

Schools of Thought emerged when officials

who lost posts became itinerant

intellectuals. Amongst these schools was

Confucianism, which built on the traditional

Shang and Zhou religion. Confucius

expounded a social and ethical code: on

the individual level one should strive to

become the jūnzǐ (ideal man) by exhibiting

52 | G ateway Chronicle
---
virtues such as rén (humaneness) and on

the social level, stability and unity is

obtained by following traditional lǐ (rituals)

which reveal the individual's place within a

social hierarchy. This hierarchical aspect of

Confucianism made it attractive to leaders

such as Wu Di, the Han emperor first to

embrace it as a state ideology.

Confucianism maintained dominance,

becoming Neo-Confucianism during the

Song Dynasty (960 to 1279 CE) with

Buddhist and Taoist influences. By the time

of the Qing dynasty (1644 to 1912 CE),

Confucianism reached its apogee.

Confucianism defined the landscape of

childhood during the Qing dynasty. Core to

its teachings was the concept of xiào (filial

piety), the idea children ought to respect,

obey and care for their parents. Rituals

determining the treatment of family

members are found in the Book of Rites

which specifies the language a child can

use towards their parents, the manner in

which they must greet them, the gifts they

can offer and the seating arrangements

they can use. Filial piety is significant in

Confucianism due to the belief the family is

a microcosm of the state. According to the

Confucian Classic of Filial Piety, 'as they

serve their fathers, so they serve their

rulers, and they reverence them equally'.

The Great Qing Legal Code formalised

these familial bonds, with harsher

punishments applied to crimes committed

against older relatives.

The implications of Qing Confucianism for

young girls were particularly severe. The

position of women in this patriarchal

society was outlined in the Book of

Etiquette and Ceremonial which describes

the 'three subordinations' a woman would

follow: as a girl she was obedient to her

father, as a wife to her husband and as a

mother to her sons. Even the female

scholar Ban Zhao living during the Han

period wrote in Lessons for Women, still

taught during the Ming and Qing dynasties,

that on the birth of a girl one should 'lay the

baby below the bed plainly' which

'indicated that she is lowly and weak, and

should regard it as her primary duty to

humble herself before others'. It is

unsurprising that in such a climate the

practice of foot binding was common; the

feet of young girls were bound tightly to

shape them and women with bound feet

wore lotus shoes which were only 5 inches

long and 2 inches wide in a process

intended to create a distinction between

male and female from youth.

Education is another area in the lives of

children that was determined by

Confucianism. During the Sui dynasty (581

to 619 CE), the imperial examination

system became a way to select

bureaucrats according to merit and

knowledge of Chinese (often Confucian)

classics, principal objects of education.

After the Ming dynasty (1368 to 1644 CE),

candidates needed to write what was

called an 'eight-legged essay', a

standardised essay to display logic and

literacy that required knowledge of

Confucian Classics. Women were

excluded from these examinations and

supporting a candidate for the exam would

be costly, excluding the poorest in society.

The decline of Confucian hegemony was

accelerated by the decline of the Qing

empire, transforming childhood. The

middle of the 19 th century represented the

start of the 'century of humiliation'. Defeats

in two Opium Wars, defeat in the First

Sino-Japanese War and the suppression of

the Boxer Rebellion signalled the growing

stagnation of the dynasty. With these

failures and the sluggish pace of reform,

the monarchy crumbled under the

pressures of the 1911 Revolution. After the

abdication of the 6-year-old emperor Puyi

in 1912, the public was forced to

reconsider the assumptions that

underpinned the old system.

53 | G ateway Chronicle
---
The New Culture Movement of the 1910s

and 1920s rejected and reimagined

traditional Chinese worldviews, turning

from Confucian assumptions. Key

principles of the movement were demands

for greater democracy, women's liberation

and use of vernacular language. This

culminated in the May Fourth Movement,

beginning with widespread student protests

from May 4 th , 1919, which signalled the

increased political influence of student

movements, the youth slowly becoming

'masters of the new society' in the words of

Mao Zedong.

China on 1 st October, introducing a

communist system inspired by Marxist-

Leninist principals. Under this new

direction, the lives of children were shaped

by a push to increase literacy, receive

training in work and remove worldviews

like Confucianism which were viewed as

holding the country back. Where an

American model heavily influenced the

Kuomintang's approach, a Soviet model

now shaped Chinese education. Soviet

advisers influenced the curriculum and the

Sino-Soviet Friendship Association

promoted Soviet culture and language to

the extent that in many schools 90% of

student's were members. The new

ideological education centred Marxist-

Leninist doctrine, school regulations stating

that 10% of the curriculum must be

directed towards political education.

However, the achievements of early

movements were limited. The May Fourth

Movement was strongly rejected by the

leading Kuomintang party and was largely

restricted to an educated few. The majority

of households still followed traditional

Confucian values and family structure,

particularly in the chaos of the 'Warlord

Era' when the country was divided

between regional factions, leaving no

centralised authority over education. After

the Kuomintang consolidated their control

over the country, the New Culture

Movement returned to neo-Confucian

ideals under the leadership of Chiang Kai-

Shek. Confucian influence over education

was maintained in the republic alongside a

new Western influence as the first Minister

of Education, Cai Yuanpei, proposed a

system influenced by the educational

theories of John Dewey.

This would all change in 1949. After years

of civil war, Mao Zedong announced the

foundation of the People's Republic of

After 1953 there was a push towards

expanding education by increasing

'people-run schools' and replacing familyled

child rearing with a more communal

approach. The nationalisation of private

schools and intense subsidisation of

education increased enrolment so that by

1959 illiteracy rates fell from the 1949 level

of 80% to 43%. However, progress would

falter with the Great Leap Forward starting

in 1958 when rapid industrialisation, often

at the expense of the population, meant

communal nurseries were formed so

women could participate in the workforce.

In the rush for development, education was

often neglected as childcare was left in the

hands of retired women and unmarried

girls with little training. Facilities were poor

54 | G ateway Chronicle
---
and inexperienced teachers resorted to

corporal punishment to control the

disorder. In this environment disease and

abuse were endemic with many children

suffering from measles, chickenpox and

diarrhoea. For older children in primary

schools, a work-study programme required

productive labour and hundreds of schools

operated factories with poor safety

measures. As famine kicked in, the

tradition of selling or abandoning children

who could not be supported intensified.

In the recovery from the famine and the

Great Leap Forward, the Socialist

Education Movement of 1962 to 1965

attempted to control divisions between

rural and urban populations and turned

away from the Soviet model following the

Sino-Soviet Split. Instead, a 'two-legged'

system was introduced with some

receiving an academic education while

others received vocational schooling. This

dual system mirrored the Confucian

approach in which there existed a division

between the scholar-bureaucrats and

working masses.

Despite this, the youth were soon involved

in the most violent reaction against

Confucianism. Worried that he was losing

control of the party, Mao initiated the

Cultural Revolution in 1966. The demand

for the people to 'bombard the

headquarters' and revolt against bourgeois

and counter-revolutionary elements was

soon answered by students when the first

group of Red Guards formed in Tsinghua

University Middle School. Although

denounced by the school administration as

counter-revolutionaries, they were

promoted by Mao who had their manifesto

broadcast nationally. The movement

spread and achieved legitimacy when Mao

held a rally in Tiananmen square, greeting

a crowd of 800,000 Red Guards. Having

mobilised these student groups in his

interest, Mao demanded that they attack

the 'Four Olds': Old Ideas, Old Culture, Old

Customs and Old Habits.

It was believed that the progress of the

revolution was held back by bourgeois and

feudal concepts that 'poisoned the minds

of the people', exemplified chiefly by the

Confucian worldview. Pre-revolutionary

books, art and museums were destroyed

before the Cemetery of Confucius was

attacked and the corpse of Duke Yansheng

was taken from the grave and slung from a

tree, naked before the Temple of

Confucius. Struggle sessions were held in

which intellectuals and teachers were

denounced and publicly humiliated in

classrooms and workplaces. As the Red

Guards factionalised, violent struggles

broke out between the groups and the

People's Liberation Army (PLA) was sent

to suppress the chaos. The Red Guards

had become a liability to Mao; instead of

eliminating his enemies to consolidate his

control of the country, they undermined his

leadership by creating disorder. Although

Mao issued the order for the PLA to control

the Red Guards in 1967 and announced

the end of the Cultural Revolution in 1969,

its remnants would persist until his death in

1976 despite attempts at control such as

the forced migration of ten million urban

children in the Down to the Countryside

Movement.

In the wake of the cultural revolution, the

entire structure of the education system

was uprooted. With the rise of Deng

Xiaoping after Mao's death, the Communist

party needed a new model for childhood

and education. The chosen path was to

support the aims of the Four

Modernisations: improving agriculture,

industry, defence and technology. As Deng

pursued a policy of reform moving from a

command economy to a socialist market

economy, education was essential

representing 16% of the budget by 1986.

This new path didn't immediately signal a

return to Confucianism and maintained the

55 | G ateway Chronicle
---
principals of Mao Zedong Thought. The

ties of filial piety weakened due to greater

economic independence of younger people

and kinship ties became increasingly equal

as the trend of increased gender equality

continued, foot binding mostly confined to

the past.

However, the policy of opening up has

sparked a revival of Confucianism. In 2004

the first Confucius School was founded in

Beijing while the Confucius Institute

promoted Chinese culture internationally.

The government formally embraced

Confucianism in 2007, supporting the

worship of Confucius on his birthday and

broadcasting the event. The return of

Confucian inspired education and a

growing emphasis on the formation of a

'Harmonious Society' means the

philosophy now playing a central role

under Xi Jinping, who called it 'the cultural

soil that nourishes the Chinese people'.

In this environment, the future of childhood

in China will be forged by conflicting forces

of Confucianism, communism and

increased economic liberalisation.

Although education is no longer the

privilege of a small elite, young 'princelings'

– descendants of communist officials –

have access to greater opportunities due to

nepotism; although young girls no longer

face foot binding, the one child policy and

the preference for sons resulted in the

abandonment of young girls; and although

expectations of filial piety remain,

increased economic independence, family

planning and state support of the elderly

have meant that these practices declined.

The resolution of these tensions between

the traditionally hierarchical impulses of

Confucianism and the egalitarian impulses

of more modern ideologies will decide the

future of childhood in China.

56 | G ateway Chronicle
---
A PIONEER OF

AMERICAN

EDUCATION: THE

STORY OF RUBY

BRIDGES

Hannah P, U6EJB

Following on from the groundbreaking

Supreme Court decision in 1954 of 'Brown

vs Board of Education', Ruby Bridges

became the first African American child to

integrate a Louisiana school at William

Frantz Elementary School.

Born in the same year as the passing of

the Act, Ruby joined the school at only 6

years old. She was one of five children to

pass the entrance exam created by the

school district after Louisiana was forced to

desegregate after a Federal Court

decision. The school continued to delay

her attendance until November that year

and following this she was escorted

alongside her mother by four federal

guards every day for a year. Barbara

Henry was the only teacher in agreement

with the decision regarding Ruby and

taught her alone, with Ruby eating alone

as well. Despite this she never missed a

day of school.

The impact of Ruby's admittance was

colossal for her family; there were protests

across Louisiana- with her father losing his

job and her mother being refused the

selling of food to her at shops. In addition

to this, both her mother and father lost their

jobs as a domestic worker and service

station attended respectively. Ruby stated

that her conviction in herself on her first

day was due to simply not understanding

the situation she was entering. She stated,

"I was really not aware that I was going into

a white school," she says. "My parents

never explained it to me. I stumbled into

crowds of people, and living here in New

57 | G ateway Chronicle
---
Orleans, being accustomed to Mardi Gras

[a celebration that takes place in the city

every year] I really thought that's what it

was that day. There was no need for me to

be afraid of that." After seeing footage and

images of the mob she faced throughout,

Ruby explained "It was just mind-blowing,

horrifying," she says. "I had feelings that

I'd never had before … And I thought to

myself: 'I cannot even fathom me now,

today, as a parent and grandparent,

sending my child into an environment like

that.'"

With time passing, the school environment

Ruby was in began to change and slowly

she was introduced into socializing with

other children, although still far from

normal. She described being told by a child

that she couldn't play with him because his

mother said so due to the colour of her skin

being, "her first insight into racism". She

develops on this saying, "And the minute

he said that, it was like everything came

together. All the little pieces that I'd been

collecting in my mind all fit, and I then

understood: the reason why there's no kids

here is because of me, and the colour of

my skin. That's why I can't go to recess.

And it's not Mardi Gras. It all sort of came

together: a very rude awakening".

However, Ruby's later commentary on this

was that she believed the child was not

knowingly racist and "that racism is learned

behaviour. We pass it on to our kids, and it

continues from one generation to the next.

That moment proved that to me."

encouraged Ruby in her career as an

adult. She has written two books about her

schooling experience and received the

'Carter G. Woodson' Book Award.

Moreover, Ruby established her

foundation, The Ruby Bridges Foundation,

in 1999 to promote change and teaching of

new behaviour through education. Finally,

in 2000 she was made an honorary deputy

marshal during a ceremony in Washington

DC.

The impact Ruby had as a child is simply

ground-breaking. Unknowingly, at such a

young age, she pioneered desegregation

in schools and has brought such light to

her experiences of racism and biased

education. She represents an incredible

strength faced by African American

children of her generation in the

breakdown of segregated schools, all

whilst facing inhumane backlash.

This belief of racism being a taught and

learnt behaviour is arguably what has

58 | G ateway Chronicle
---
VICTIMS AND

PROTAGONISTS:

CHILDREN AND THE

TROUBLES

Jonathan W, 5.5

children dressed in paramilitary uniforms

have continued to commemorate terrorist

incidents from the period, including the

failed attack on The Alban Arena in 1991

(see picture below). This ended with the

death of two IRA terrorists, killed in the

doorway of the old Barclays Bank when

their own bomb exploded prematurely. One

was only 18 years of age. This raises the

questions of how and why children became

embroiled in The Troubles.

"The Troubles" refer to 1969-1998 conflict

in Northern Ireland which, although on the

island of Ireland, is a province of the UK.

The conflict initially largely involved the UK

security forces on one side and the Irish

Republican Army (IRA) on the other. The

local security forces were the Royal Ulster

Constabulary (RUC), which was the local

(armed) police force, supported by the

Ulster Defence Regiment (UDR), a locally

recruited British Army Regiment, formed in

1970 in response to the crisis. Both

organisations were overwhelmingly

manned by Protestants, reflecting their

dominance of local politics. Protestant

politicians used this dominance to advance

their own interests within Northern Ireland

and to maintain the union with the rest of

the United Kingdom, hence the terms

"Unionists." Their loyalty to the British

Crown gives them their other popular title

of "Loyalists."

Of the 3,500 people killed in the Troubles,

186 were children. The focus of the media

and historians has (with some exceptions)

been on the innocent child victims, partly

because they were the overwhelming

majority. However, a minority were active

participants, killed either in training or in

clashes with the security forces. Moreover,

even since the end of The Troubles,

The local security forces were supported

by the regular British Army, which was sent

into the province in 1969. Ironically and

tragically given subsequent events, this

was initially in large part to protect the local

Catholic population from attacks by

Protestants, due to the failure of the local

police to do so. These attacks represented

an intensification of the longstanding

discrimination faced by local Catholics.

59 | G ateway Chronicle
---
Early support for the British Army from

many Catholics soon turned to resentment

as it came to be seen as reinforcing the

rule of the local Protestant authorities. This

resentment was stoked by the IRA, which

was dedicated to ending British rule in

Northern Ireland in favour of a united

Ireland, despite this being opposed by the

(Protestant) majority. An IRA terrorist

campaign followed, directed against the

security forces and the Protestant

community. Protestant terrorist

organisations such as the Ulster Volunteer

Force (UVF) and Ulster Freedom Fighters

(UFF) intensified their attacks against

Catholics, which had begun before the

start of the Troubles, in response.

It did not take long for the first child to die,

with Patrick Rooney (aged 9) being killed

by a stray bullet fired by the RUC, which

was (extraordinarily) using a Browning

heavy machine gun in a civilian area. Its

use was found by the British Police

Ombudsman to have been

"disproportionate and dangerous." Rooney

was in bed at home in Divis Tower,

notorious as an IRA stronghold during the

Troubles.

185 more children were killed over the

following three decades, largely the

innocent victims of terrorist attacks by the

IRA and Loyalist terrorist groups. However,

some of the children killed were

themselves active members of terrorist

organisations.

The Belfast Telegraph reported in 2015

that "Republicans have been accused of

trying to cover up the deaths of IRA chi ld

soldiers" during the Troubles, specifically

19 children between the ages of 12 and 16.

This has been "vigorously denied" by the

IRA. The article cites, as examples, three

members of IRA junior organisations, Sean

O'Riordan (14), Eileen Mackin (14) and

Cathleen McCartland (the youngest at only

12). Most were killed by accidental

discharges of weapons or premature bomb

explosions. However, according to the

article, O'Riordan was killed while

participating in an IRA attack on the

security forces.

The Troubles remain a contentious period

in the history of Northern Ireland, with the

ongoing religious and political divide

continuing to influence the views of many

commentators. It is therefore particularly

important to question the objectivity of any

source. The Belfast Telegraph has a large

Protestant readership but is also widely

read by Catholics. The Irish Times, a

politically moderate Irish newspaper,

describes it only as having "Unionist

leanings." It is owned by Irish News and

Media, an Irish media group based in

Dublin. Finally, it won best newspaper of

the year at the Society of Editors' Regional

Press Awards in London in 2012.

Therefore, whilst its Unionist perspective

suggests that it might be particularly

interested in reporting events that cast the

IRA in an unfavourable light, it nonetheless

appears to be a reliable source.

Moreover, other sources corroborate its

findings. In the BBC series "Spotlight on

The Troubles: A Secret History," former

IRA member Shane Paul O'Doherty states

on camera that he planted numerous

bombs in the centre of Londonderry when

aged only 16. His young age, and the fact

that he was sent on missions with girls,

presumably of a similarly young age,

helped to avoid suspicion from the security

forces.

Whilst denying their use in terrorist

operations, the Republican movement has

made no secret of the involvement in

60 | G ateway Chronicle
---
children in its cause. For example, Martin

McGuinness, a leading Republican and

member of the IRA Army Council, can be

seen in footage from the early 1970s (only

recently broadcast) showing off weapons

to young Catholic children. McGuinness

went on to be Deputy First Minister of

Northern Ireland between 2007 and 2017.

Young children continue to take part in

Republican marches, sometimes dressed

in paramilitary uniforms. The parade

pictured above was to commemorate the

death of two IRA members (Frankie Ryan,

25, and Patricia Black, 18) who were killed

when their own bomb detonated

prematurely in the doorway of the old

Barclays Bank in St. Albans in 1991. The

target was the neighbouring Alban Arena,

where the band of the Blues and Royals (a

British Army Regiment) was playing.

Although the UVF and other extremist

Loyalist groups had their own youth wings,

the active participation of children in

terrorist organisations appears to have

been largely confined to the Republican

side. In her article "The nationalisation and

militarisation of Children in Northern

Ireland", Helen Brocklehurst writes that

"the majority of actors at the flashpoints of

the troubles have been young male

Catholics" and that the IRA was "very

successful in attracting pre-adolescent

children into its youth groups." This is not

to say that Loyalists have been shy in

exposing their children to propaganda,

even since the end of The Troubles. For

example, in 1999 the 12 th July Parade,

celebrating the victory of Protestant King

William of Orange over King James II (of

England and Ireland) and VII (of Scotland)

at the Battle of the Boyne in 1690, saw

Protestant babies wearing bibs reading

"Born to walk the Garvaghy Road." This

referred to the most contentious section of

the Protestant march, through a Catholic

area. Brocklehurst's article notes that "The

closing of the Garvaghy Road prior to this

particular parade had led to 130 Loyalist

arson attacks, one of which killed three

Catholic children."

This example helps us to understand one

reason why children came to be actively

involved in the conflict; in some cases it

was a family tradition. Many Republican

families had long histories of opposition to

British rule, in some cases going back to

before the partition of the island of Ireland

in 1921. With the resentment of these

families kept alive by years of

discrimination from the Protestantdominated

local authorities in Northern

Ireland, and then reignited by the outbreak

of The Troubles, it is perhaps not

surprising that some of their children

became actively involved in terrorism.

With the families of Republicans being

seen by the 1980s as legitimate targets by

Loyalist terrorist groups, allegedly with the

help of members of the UK security forces,

some children were becoming combatants

whether they liked it or not. It was against

this backdrop that what we see as

extraordinary become normality for some.

As tensions rise again due to the disputes

over post-Brexit trading arrangements, it is

also a reminder (if any were needed) of

why it is so important to avoid any actions

that could undermine the fragile peace in

Northern Ireland.

61 | G ateway Chronicle
---
62 | G ateway Chronicle
---
THE HISTORICAL

SIGNIFICANCE OF

LEGO

Sufyan S, 5.6

Lego is an abbreviation of the Danish

words 'Leg Godt' or 'play well' in English,

and I am sure many of those who will come

to read this article will have played well

with Lego at some point. But exactly what

is it about this Danish invention that makes

it so revolutionary and significant that it

managed to win toy of the century twice.

To understand this first we must dive into

the history and the origin of Lego.

The company that became known as Lego

in 1936 started out as a wooden toy

company founded by carpenter Ole Kirk

Kristiansen in Billund, Denmark. The motto

of the company is "Det bedste er ikke for

godt" or only the best is good enough and

this is to signify that every toy that they

made would only be produced to the best

quality. 10 years later in 1946 Ole began to

see the potential of plastic and he ordered

his first injection moulding machine from

Britain and in 1949 the system of automatic

binding bricks is first released. In 1953 the

automatic binding bricks were changed to

Lego bricks and one of the first boxes from

1953 showed both a girl and a boy playing

with the bricks. In 1955 Ole's son Godtfred

launches the Lego system of play as a

structured product system and as a toy that

stimulates creativity in children. In 1957

Godfredt took over the day to day running

of the company and the next year in 1958

the Lego brick as we know it today was

patented with the tubes and studs. It was

also decided in 1960 after a fire had

destroyed much of the wooden toy stock

that wooden toys would be discontinued. In

1962 and 1963 the first Lego wheels and

instructions were made. In 1963 Godfredt

announced the 10 Lego characteristics

which were:

1. Unlimited play possibilities

2. For boys and girls

3. Enthusiasm at all ages

4. Play all year round

5. Stimulating and harmonious play

6. Endless hours of play

7. Imagination, creativity,

development

8. More Lego greater play value

9. Always topical

10. Safety and quality

From then on Lego became the system we

know today with many themes coming and

going over the years that each made their

own impact on the childhoods of certain

generations and a key invention that joined

this along the way was the invention of the

Lego Minifigure in 1978 to allow children to

have characters in their games and in 1979

Kjeld Kirk Kristiansen Godfredt's son

became head of the company.

Now what makes Lego so special

1978 launched the Lego Space and Lego

knights' theme, with two famous sets being

1978's Galaxy Explorer (set no 928) and

the Yellow Castle (set no 375). These

63 | G ateway Chronicle
---
themes continued throughout the 80s, with

advancements in plastic moulding allowing

for new pieces and accessories for

minifigures. Many classic sets which many

older people remember fondly were made

during this time period. In my opinion, what

makes Lego so historically significant was

that it was one of the first plastic toys, and

it was probably the first unified system of

play that had different sub themes within

this as well. Also, it was made for both girls

and boys and for the first time they could

build and be creative with what their games

were rather than just dolls in a dollhouse or

tin soldiers fake killing each other on the

carpet. This split from regimented toys

allowed children to be creative and create

their own little worlds and stories, which

now could be done on a whole new scale

as Lego now actively encouraged story

telling. Lego was also topical and moved

with the times as shown with the large

space theme from the 70s to 90s while

children were obsessed with the stars to

the creation of Lego Star Wars from 1999

onwards as the world fell in love with

George Lucas' galaxy far far away once

again and again when sets were made for

the release of 2012's Marvel Avengers

Assemble. What was also very special

about Lego was that if you wanted to, you

could also create whatever you wanted, or

you could mix and match different themes.

Back to Lego Star Wars, this was

especially special in the historical

significance of Lego, as it saved the

company. Back in 1999 low demand and

increased production costs were leading to

the company sailing into some bad

financial waters and the release of Lego

Star Wars helped to bring sales back up

again and with Lego Star Wars the

company became the giant that we know

today acquiring deals to make Batman

sets, Marvel sets, Harry Potter sets and

more. As an avid Lego Star Wars fan,

myself, I am thankful for Star Wars as

without it the toy we know and love today

might not have been around.

For this, the teachers I asked included: Mr

Rowley, Mrs Saunders, Dr Tanner, Dr

McCabe, Mr Taylor, Mr Spencer and Mrs

Ginsburg. Mr Rowley enjoyed the more

creative aspect of being able to build what

you want with the bricks. Mrs Saunders

stated that the problem-solving skills that it

teaches was the most important aspect for

her. Dr Tanner said that he liked the fact

that the Lego he had played with in his

youth was still compatible with the Lego

that his children played with and that

compatibility between all the different

pieces was what he believed was the most

important aspect. Mr Spencer and Mr

Taylor both said that the idea of the

modular system that everything can add on

to each other was the most important

aspect for them. Dr McCabe on the other

hand stated that the most important aspect

for her aside from encouraging creativity

was the pain that you can inflict upon

people by laying it out to be stepped on.

Mrs Ginsburg said that the most important

aspect for her was the idea that in theory

you could build whatever you wanted to

build and that it encouraged the

imagination.

In conclusion, I believe that Lego has had

a profound effect on children and childhood

since its conception as a brick system. I

believe that due to its ability to stimulate

imagination it has put itself as one of the

most influential inventions of the 20 th

Century full stop. I and many others grew

up with Lego and despite the rise of

technology I still do play with Lego as

nothing else can give me the imagination

and fun that it brings.

64 | G ateway Chronicle
---
THE HISTORY OF

CHILDHOOD

Daniel O, 4.5

Up until the Middle Ages, children in the

West were sometimes seen as miniature

versions of adults. When we look at

paintings as far back as the 15th-century,

children were not identified as children but

as shrunken versions of adults. It was

expected children act as adults by

participating in all areas of life. In society,

children had to follow adult behaviour, and

emotions of any kind were severely

punished with no allowance for childhood

emotions such as joy, excitement or anger.

The fact that children deserved special

treatment did not exist in these times.

Families of the 1600s and 1700s valued

their children for their role in inheritance

since fatal disease in the Middle Ages was

widespread. The infant mortality rates were

extremely high; between 20 to 50 per cent

of all infants died within the first year after

being born. People had many children and

did not get emotionally attached to any

child just in case they died. The infant was

referred to as "it" until they reached an age

when survival was likely. The death of a

child was not seen as a tragedy as it is

seen nowadays.

By the 18th century, perceptions of

childhood in the West were beginning to

change. Children began to be seen as

innocent and to be protected, similar to

how we see children nowadays. With the

concept of protection, so did the idea of

discipline. Children were severely beaten

in the name of discipline took place. In this

era, society decides when they are a child

and when they become adults.

We understand childhood is all the

experiences and behaviours gained in our

early lives on our road to adulthood.

However, the history of childhood is a very

complex topic. In my essay, I will explore

the views of childhood over the centuries

and their roles in our history.

For example, child labour was commonly

practised and accepted. Early 19th

century, many workers in northern factories

were children under eleven; they worked

as long and hard as adults, some had their

teeth pulled out to give to the rich, and

some were maimed to be beggars to gain

compassion. Unscrupulous adults

sometimes recruited abandoned children

65 | G ateway Chronicle
---
for use in robbery and prostitution. Similar

practices are still carried out in some third

world countries nowadays.

As time moved on and we reached the

middle 19th century, the first child

protection organisations were set up. The

House of Refuge in America was opened

in the early eighteen hundred; the idea was

for children to have somewhere to escape

the abuse and neglect of their home life

and society. Even these were not taking

the child's care and well-being into

account; they were used to stop children

from becoming an economic burden on

society; the children were abandoned and

neglected by being placed in these

institutions.

In the 19th century, the industrial revolution

was growing fast, and many people were

leaving the land to work in factories. Until

then, farm life bound families together not

by love but by economic necessity;

children were a crucial source of labour for

the family and provided for their parents

when they reached old age.

Childhood in the 20th century, and with the

surge in industrialisation, children were no

longer seen as an economic need. As a

result, children became economically

redundant, and people began to see them

as costly to raise.

The Russian Revolution and First world

war resulted in large numbers of orphans

in the Soviet Union. By the early 1920s,

Russia had millions of orphaned and

abandoned children. There was a loss of

16 million lives within the Soviet Union, and

millions of those were children, with an

estimated seven million homeless youth. In

the Russian famine of 1921, the children

suffered again and were abandoned, and

many died from starvation. After 1945

there were 2.5 million homeless children

placed in orphanages. Children were the

first to be left throughout history when a

crisis struck.

Childhood under Stalin 1930s was the

most educated generation of Russians, the

most literate and the healthiest. Stalin

believed that the youth were the future. He

provided educational and recreation

opportunities that improved their lives and

forged their socialist minds. They

responded with unquestioning loyalty to the

party, state, and leader. Here children were

conditioned to follow the Socialist beliefs.

The second world war, 1939 -1945, was a

time of significant upheaval for children in

Britain. Attempt to save the children, over a

million were evacuated from towns and

cities, and they had to cope with the

trauma of separating from their family and

friends. Many of those who stayed suffered

bombing raids, were injured, or were made

homeless. They had to deal with the threat

of gas attacks, air raids, rationing,

changing school, meeting their adopted

families and making new friends.

Disruption and shortages continued after

the war, and all this had a lasting impact on

children's lives. Boys aged 17 and over

had to join the Home Guards to help

defend towns and villages against enemy

invasion. The work, the children, had to do

was very dangerous. Evacuees who

stayed in the country did not see their

families for many years; many had lost

their fathers and family members, and

some were made homeless and would

never be the same again.

In the past, the world viewed children as

expendable and of less value, so we now

are taught our importance and given a

chance to be educated, learning from the

events of history

66 | G ateway Chronicle
---
67 | G ateway Chronicle
---
68 | G ateway Chronicle