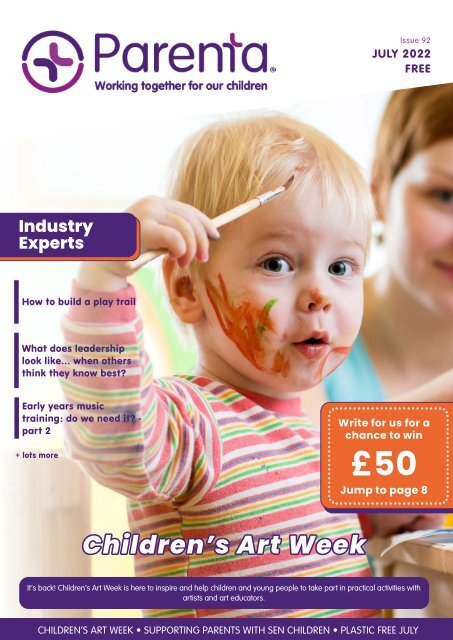 July 2022 Parenta magazine
You also want an ePaper? Increase the reach of your titles
YUMPU automatically turns print PDFs into web optimized ePapers that Google loves.
Issue 92

JULY 2022

FREE

Industry

Experts

How to build a play trail

What does leadership

look like... when others

think they know best?

Early years music

training: do we need it? -

part 2

+ lots more

Write for us for a

chance to win

£50

Jump to page 8

Children's Art Week

It's back! Children's Art Week is here to inspire and help children and young people to take part in practical activities with

artists and art educators.

CHILDREN'S ART WEEK • SUPPORTING PARENTS WITH SEN CHILDREN • PLASTIC FREE JULY
---
hello

welcome to our family

Hello and welcome to the July edition of the Parenta magazine!

Summer has eventually arrived …and long may it last!

As the summer holidays approach, we know that some parents feel a sense of dread at the thought of needing

to entertain their children, or at least keeping them occupied for a few weeks – so we have some articles this

month which parents will find particularly useful.

Industry expert, Katie White, comes to the rescue and has chosen one of her favourite holiday activities to show

us how we can keep the children amused for hours! Turn to page 10 to discover how to build a play trail from things not just outside, but

that can be found around the house too – you'll be surprised how many rooms and objects you can use!

Arts and crafts activities can be a lifesaver for parents, and inspiration can be found on page 20 as we draw inspiration from Children's

Art Week; getting our creative juices flowing and encouraging parents' participation in artistic endeavours.

The summer holidays can be especially difficult for parents of children with SEN as they could be spending more time than normal with

them and trying to understand them more fully. We have some great ideas and strategies to help them make small changes, but which

can have a big impact.

Another piece of advice which we think parents will really benefit from comes from early years expert, Helen Garnett, who has some

fantastic guidance for parents of sensory-seeking children who struggle to stay still for periods of time.

We have so many more insightful articles from our industry experts this month: Joanne Grace nears the end of her 'Egg-cellent Advice',

Chloe Webster talks to us about The three Ps, Mona Sark continues her leadership series, Kathryn Peckham explores children's emotions,

Frances Turnbull concludes her music education training article, and Gina Bale tackles the difficulty that some little ones have with

skipping.

As always, everything you read in the magazine is written to help you with the efficient running of your setting and to promote the health,

happiness and well-being of the children in your care.

Please feel free to share the magazine with friends, parents and colleagues – they can sign up to receive their own copy here.

Allan

Egg-cellent

advice: when

play becomes

work

12

Having lots of toys can be

stressful to a child and feel

like a chore...

The three Ps

14

We all know how important

our policies, procedures and

protocols are, but do we know

how important it is to get

these documents right, rather

than write them...

What does leadership

look like when...

18

In this article, we look at how to flip the

narrative in a situation like this and support

even the most resistant members of staff.

JULY 2022 ISSUE 92

IN THIS EDITION

Regulars

8 Write for us for the chance to win £50!

34 Carrot star bites

35 Finger painted trees

News

4 Childcare news and views

6 Small stories

39 Congratulations to our Parenta

learners!

Advice

20 Children's Art Week

22 Supporting parents with SEN children

30 Supporting apprentices with peer-onpeer

abuse issues

32 Plastic Free July

36 The nightmare of skipping

Industry Experts

10 How to build a play trail

12 Egg-cellent advice: when play becomes

work

14 The three Ps

18 What does leadership look like...

when others think they know best

24 Supporting sensory-seeking children in

your setting

28 Early years music education training: do

we need it? part 2

Supporting parents with SEN children 22

Understanding children's emotions 26

Plastic Free July 32

The nightmare of skipping 36
---
Thousands of babies to join study

of early childhood

Thousands of babies are set to join

a study of early childhood as part of

research into children of the 2020s.

The study, commissioned by the

Department for Education and led by

researchers from University College

London will follow children for the first

five years of their lives at least.

It hopes to inform decisions about

early years and childcare services,

exploring how both the pandemic and

the cost-of-living crisis have impacted

the children, the study's researchers

say.

The research, which is the first birth

cohort study to be launched since

the millennium, will be conducted in

partnership with Ipsos, the universities

of Oxford and Cambridge, and

Birkbeck, University of London.

Research Director Professor Pasco

Fearon, said he was "extremely

excited" to start meeting families and

their children, who are currently nine

months old.

"More than 75 years ago, the first

British birth cohort study, which is

housed at UCL, was launched to track

the lives of babies born just after the

war.

"And now, Children Of The 2020s will

provide vital evidence about the early

years as families navigate their way

out of the COVID-19 pandemic and

through the cost-of-living crisis."

Parents will be asked about

their child's development, their

Childcare news

and views

neighbourhood, their family, their

mental health and the home learning

environment.

They will also be asked about childcare

arrangements for their children and

pre-school education.

Between the surveys, they will be

invited to use a smartphone app

to log their baby's language and

development, as well as receiving

news and tips from the team of

experts.

Prof Fearon added: "Our first five years

are a crucial developmental period in

our lives, every new experience can

play a pivotal role in how we fare later

on.

"This new study will investigate

how children develop and the

circumstances and early years services

that can make a difference.

"By understanding how these factors

impact their development, we can

learn how to support them, so they are

able to make the best start at school

and flourish as they are growing up."

Children and Families Minister, Will

Quince, said: "This is an important

study that will provide an insight into

the crucial early years of a child's

life and a wealth of evidence about

their development and educational

outcomes.

"We know the pandemic has created

unique challenges for families and I'd

like to thank the thousands who will be

participating in this study over the next

five years.

"We are committed to supporting

families, including through a multimillion-pound

package to transform

services, which will create family hubs

in half of all local authorities and

provide important advice to parents

and carers through the Start-for-Life

offer."

Speaking ahead of a visit to UCL

last year focusing on the study, the

Duchess of Cambridge said: "Our early

childhoods shape our adult lives and

knowing more about what impacts

this critical time is fundamental to

understanding what we as a society

can do to improve our future health and

happiness.

"The landmark Children Of The 2020s

study will illustrate the importance of

the first five years and provide insights

into the most critical aspects of early

childhood, as well as the factors which

support or hinder positive lifelong

outcomes."

The full story can be found on the ITV

website here.

Childcare costs increase by nearly

50% for the under 2s

A report by the TUC has revealed that

childcare costs have increased by 44%

since 2010, for parents with children

under 2 years - and the union body

is calling for an urgent cash boost

for the childcare sector. It argues that

childcare is a vital part of our economic

recovery; and investing in good quality,

affordable childcare would support

working parents and help the sector

recover from the pandemic.

TUC General Secretary, Frances O'Grady

said: "Childcare should be affordable

for all. But parents are spending a

massive chunk of their pay packets

on childcare bills, while their wages

stagnate. This is putting huge pressure

on family budgets at the same time as

other living costs are shooting up. New

mums are caught in a catch 22. The

UK's miserly rate of statutory maternity

pay means many are under financial

pressure to return work early and are

then at the mercy of sky-high childcare

fees. We urgently need to get wages

rising to stop households drowning in

bills."

On the need to invest in the childcare

sector – not slash staffing requirements

– Frances added: "The government

has done little to support the childcare

sector – even when nurseries were

forced to close during the pandemic.

Cutting staffing ratios is the last

thing we need. It would just put

more pressure on underpaid and

undervalued childcare workers. We

need a proper funding settlement

for early-years childcare that delivers

decent pay and conditions for the

workforce and high-quality care."

Purnima Tanuku OBE, Chief Executive

of National Day Nurseries Association

(NDNA), said: "We absolutely agree

that the government must give the

childcare sector an urgent funding

boost to reduce the burden on both

parents and providers.

"For years we have been warning of

the spiralling costs of childcare and

Government underfunding of their

funded childcare places is a significant

factor. As the largest customer, the

Government must pay the actual

cost of delivering high quality early

years education and care, not keep

giving providers a shortfall. This leaves

nurseries struggling to make ends meet

and parents picking up that shortfall.

"We know parents are really grappling

with the rapidly rising costs of living

especially energy and food bills – this

is also true for providers who are

also facing increasing wage bills and

business rates.

"We need to see urgent support to the

early years sector with funding that

meets the cost of providing the high

quality care and education that all our

children need and deserve."

Read the full TUC press release here.

"We are not babysitters": Neil

Leitch, EYA

Chief executive of the Early Years

Alliance, Neil Leitch, has highlighted

the "disgraceful misconception" of what

a nursery job demands, referring to

an article in the Daily Telegraph which

reported that nursery workers 'watch'

children.

He told attendees at its annual national

conference on 9th June: "Now I have

met a lot of early years professionals

in my time, and I have seen them

educate children, I've seen them care

for them, support them and their

families, liaise with countless agencies,

act as therapists, health visitors, social

workers, you name it. Never have I

met a single one who simply 'watches'

children."

The early years leader has vowed to

fight the government's plan to change

nurseries' staff-to-child ratio which

would increase the number of twoyear-olds

each nursery worker cares

from four to five children.

He is doing this "because early years

professionals, no matter how well

experienced and how well-qualified,

only have two hands and two eyes.

"And so, the more children per adult

you have in a setting, the higher

the risk of something unthinkable

happening."

The Chief Executive said relaxing

early years ratios is not the solution

to problems caused by years of

underfunding.

Lamenting over the fact that nurseries

have the "same battles, over and over

again", he said newspaper headlines

report on high childcare costs but still

nothing changes.

The Organisation for Economic Cooperation

and Development (OECD)

has found the UK has the lowest early

years investment of any economicallydeveloped

country and some of the

highest childcare costs in the world

but still the government "pretends that

there's no link between investment and

cost!"

"I'd suggest if ministers want to take

lessons from other countries on early

years practice, how about looking

at how they value and respect their

staff…how about looking at how much

they choose to invest in early years

provision?"

The full story, as reported by

daynurseries, can be found here.

4 July 2022 | parenta.com

parenta.com | July 2022 5
---
A round-up of some news stories that

have caught our eye over the month

Source and image credits to:

Daynurseries.co.uk, Early Years Educator, Daily Record,

Nursery World and Pacey

New early years educator

coaching launched

May 25th, 2022, was an auspicious

moment for EnRich Coaching for

Educators who hosted their official launch

in the beautiful Cafe at City Coast Centre

in Brighton & Hove.

Pam McFarlane, founder of EnRich

Coaching for Educators, opened the

evening by introducing the team, all of

whom are educators and accredited

coaches.

Staff shortages force nurseries to

turn away new children and rely

on agency staff

A survey showed 77% of nursery staff are

dealing with workforce shortages in their

nursery.

Staff in 'outstanding' London

nursery greet children in their

home language to promote sense

of belonging

Ofsted inspectors have praised staff at

a London nursery for "skilfully greeting

children in their home language".

Childcare costs stop one third of

British under 25s having children

Almost a quarter of couples in London,

Liverpool and Birmingham say they can't

afford to start a family.

Queen's Birthday Honours

recognises childcare providers

The chief executive of Kids Planet and

founder of Hopscotch Day Nurseries have

been recognised in the Queen's Birthday

Honours for services to education and

childcare.

Most children are getting less

than the recommended amount of

physical activity

Survey shows only 19% of children

between one and five are getting the

recommended amount of exercise

needed to grow up healthy.

Click here to send in

your stories to

hello@parenta.com

Lanarkshire superheroes raise

money with sponsored walk

Children from Stonelaw Preschool

teamed up to support their nursery

with donations from a sponsored walk,

raising over £500.

Number of children eligible for

free school meals increases

amid rise in poverty

According to data from the DfE, the

percentage of children qualifying for free

school meals has risen from 20.8% to

22.5%.

Government to 'make it easier to

be a childminder'

The Prime Minister mentioned plans to

look into changes for the early years

and childcare sector, including 'making it

easier' to be a childminder.

6 July 2022 | parenta.com

parenta.com | July 2022 7
---
We're always on the lookout

for new authors to contribute

insightful articles for our

monthly magazine.

Write for us!

If you've got a topic you'd like to write about,

why not send an article to us and be in with a

chance of winning? Each month, we'll be giving

away Amazon vouchers to our "Guest Author of

the Month". You can find all the details here:

https://www.parenta.com/sponsored-content/

Pssst... Let the

LittlemagictrainTM

take your setting on a magical

journey to success

Join in with over 200,000 children

across the UK who take part in

Littlemagictrain learning adventures

in early years settings.

"The staff always join in and I can

honestly say it's one of the best

products we've ever invested in!"

Nicky Sanford, Early Years Teacher Marcham

Pre-school

Scan Me!

20% off

using the code: PARENTA

Or email: Hello@littlemagictrain.com

Nurturing Childhoods Advert - Parenta April 22 v2 PRINT.pdf 1 26/04/2022 08:13

"

www.littlemagictrain.com

Congratulations

to our guest author competition winner, Kathryn Peckham!

Congratulations to Kathryn Peckham, our guest

author of the month! Her article "Supporting

parents to support their child – from the beginning"

explores how to help parents marvel in the early

years as they lay the foundations that will have

such great impact through all the years to come.

Well done Kathryn!

A massive thank you to all of our guest authors for

writing for us. You can find all of the past articles

from our guest authors on our website:

www.parenta.com/parentablog/guest-authors

8 July 2022 | parenta.com

C

M

Y

CM

MY

CY

CMY

K

Online Courses and

Accreditations Nurturing

Children in their Early Years

Courses, talks and guides: Written for

parents and professionals. Allowing us to

work together, with the child at the centre

of all we do.

Online access: Available any time, any

where. Scheduled to meet your needs

and your time frame. Never miss a

training session again.

Designed and delivered by experts:

Both in the field of child development and

practice. Understanding the challenges

you face and how to meet them.

Supporting you: Recognising the

foundational experiences children need

and celebrating the work you are doing to

offer them.

For more information and free samples of the course

go to: www.NurturingChildhoods.co.uk/parenta

Nurturing

Childhoods

parenta.com | July 2022 9
---
How to build a play trail

As the summer holidays approach, we

might feel a sense of dread at the thought

of needing to entertain our children, or at

least keep them occupied. Whether you're

hands on and looking for inspiration or

overwhelmed and need to start simple,

a play trail might be just the ticket to a

summer of fun!

What's the incentive?

With nearly all play trails, children will

need an incentive, a common goal or

task. Children love searching for hidden

things, collecting clues or finding pieces to

a puzzle. You could even factor in a prize

at the end, or get them to design their own

winner's crown.

The trail doesn't necessarily need to have

much structure, the incentive could purely

be to connect with others! A friend who

lives in Australia showed me a picture

which she had taken mid lock-down. It

was a bunch of wooden spoon people,

all carefully decorated and gathered in

and around the park that she lived next to.

Everyday new wooden spoon people were

added as the children got involved and

included their 'person' to the crowd. I love

this concept, and what a wonderful way

of helping children feel connected to their

community.

For online courses, free resources or

information about my current playful

projects check out www.thebestmedicine.

co.uk

When I say 'play trail' you might think of a

playground or obstacle course, filled with

equipment that gets the children moving,

leaping, balancing and swinging. These

kind of play trails are brilliant, but may

not be easy to access or age-appropriate

for your child. In this article, I'll outline

ways to build a play trail from things you

can find around the house, and give you

some key pointers to think about to ensure

enjoyment for all!

Where to start

If you've ever taken your children to a

museum or gardens, you'll be familiar

with the preface of a play trail. Whether

its educational, imaginative or promotes

physical exercise, the play trail is a

fantastic way to engage and excite

children with their surroundings. So how

might you do this at home, in your setting

or community?

I suggest you start where you are; what

physical space do you have inside and

out? Is there a park or public space where

you could set up your trail? What resources

do you have in front of you? Could you use

something from the kitchen cupboard or

recycling?

Organising a play trail doesn't need to be

expensive or cost you too much time, if

you're caring for older children, get them

involved in the generation of ideas and

the construction. If they're younger, keep it

simple by confining the trail to one or two

rooms. The trail doesn't need to stretch for

miles, it could simply be around the house

or garden. Start small, leave the grander

plans for later.

Who's playing?

It's important to first assess the ability of

the children you're caring for, and tailor

it to their needs and learning. Children

will lose interest if the trail is overly

complicated or full of jargon, so keep it

simple. Adding sensory elements is a

great way of engaging younger children

and children with disabilities. Walking

barefoot or rolling on interesting textures

like cornflakes or bubble wrap, adding

tastes and smells, or using sound are all

brilliant ways of making the trail inclusive

and multi-faceted.

Choose a theme

Instead of rushing ahead with a theme,

find something you know the children will

enjoy. What are they interested in at the

moment? Dragons, magic, fairies, fish,

volcanoes, tractors, insects, mermaids,

time travel, space, dinosaurs? Build these

interests into the trail, that way you know

you'll have their attention.

I recently designed a play trail for a

local garden; with thousands of children

passing through their gates, they needed

something universal that every child

could engage with and enjoy. I chose

the theme of honey bees; assigning the

children as bees and giving them the

task of collecting pollen and nectar from

the flowers at points which were spread

around the garden. I then gave them tasks

that aligned to the theme, with worker bee

challenges, waggle dancing and queen

bee photo opportunities.

Another great way to find a theme is to

structure the trail around a book or story

that the child knows and loves. You can

also take characters or elements of the

story and build them into your trail.

Katie White

Katie Rose White is a Laughter Facilitator

and founder of The Best Medicine.

She works predominantly with carers,

teachers and healthcare professionals -

teaching playful strategies for boosting

mood, strengthening resilience and

improving well-being. She provides

practical workshops, interactive talks

and training days - fusing therapeutic

laughter techniques, playful games

and activities, and mindfulness-based

practices. The techniques are not only

designed to equip participants with tools

for managing their stress, but can also

be used and adapted to the needs of the

people that they are supporting.

thebestmedicine@outlook.com

www.twitter.com/bestmedicine1

http://www.facebook.com/

thebestmedicinecornwall

10 July 2022 | parenta.com

parenta.com | July 2022 11
---
Egg-cellent advice:

when play becomes work

I do not know how he came to acquire the nickname Egg but ever since he came along that's what my youngest son has been called.

I run The Sensory Projects www.TheSensoryProjects.co.uk (which should now really be called The Sensory Projects and Sons!) My work

focuses on people with profound disabilities and sensory differences, but my son's advice will apply to your work too.

In this series of articles we are going to share his insights with you, if you are keen for more there is an ever growing collection on my

Facebook profile: come and make friends. www.Facebook.com/JoannaGraceTSP

This is article 9 out of a series of 10! To view the others click here.

I cannot remember where I first heard

it but the phrase "Active toys make

passive children, passive toys make

active children" rang true with me. Until

recently the toys were all stored in six

boxes downstairs on a kind of bookshelf

arrangement, and the bedroom was kept

for clothes and bedding. Since Egg's arrival

we have shifted the rooms around and the

boys are sharing one big room. I swear

the toys are multiplying, I don't know how!

But we still have relatively few toys when

compared to our peers. This is not because

we cannot afford them (they're all finds

from charity shops anyway) or because we

are mean and do not want our children to

have fun. It's quite simply because we do

not play with them. Pop by, you're far more

likely to find us playing with a cardboard

box, or the two metres of guttering pipe

which was my older boy's first birthday

present (still as played with six years on as

it was the year he got it).

Having lots of toys can be stressful to a

child, it's like an adult in an office with too

much work to do in their in-tray, as Egg

explains:

(But before he does, allow me to get off

my chest, that we did not move house.

I packed the entirety of our house

into boxes with a baby on my hip in

anticipation of a move only weeks away. 7

months down the line it all fell through and

we are very much staying put!)

*Note this post mentions people becoming

overwhelmed by sensory experiences, if

you are struggling with behaviour in your

setting and think it might have a sensory

cause consider studying "Exploring the

Impact of the Senses on Behaviour" with

The Sensory Projects online college www.

TheSensoryProjects.co.uk/online-college

We might be moving house. Ordinarily my

toys are kept in different small boxes, each

with just a few toys in it. Mummy offers me

the toys from one box for a day, or a week.

Because we are moving she has dumped

them all into one box. It has no lid, so I can

get to all my toys. Great!

But often it ends up like this. I pick up the

toy, other toys pull on my attention, I pick

up another toy. Play becomes like work

and I have too much on my plate. I am

overwhelmed. I cannot pick them all up. I

cannot focus. Play is no longer fun.

When I only had six toys or even one, I

played more. Research shows the less

toys children have the more they play with

them.

My mummy grew up on a boat, where

there wasn't space for lots of toys, and my

grandma would bag up half her toys and

hide them for months, then take away the

toys that were out and swap them around.

She still remembers how exciting it was to

re-meet her toys.

In our new house, as I grow, my toys will

be back in their separate boxes and I will

be able to get to them myself. They will

not all be out. My favourites will stay all

the time but others will come and go in

a rotate-a-toy dance. Mummy is looking

forward to this!

(These words first appeared on Jo's

Facebook profile you are welcome to

send her a friend request to watch out

for more insight www.Facebook.com/

JoannaGraceTSP)

Joanna provides online and in person

training relating to sensory engagement

and sensory differences, look up www.

TheSensoryProjects.co.uk/online-college

for more information.

To view a list of her books visit www.

TheSensoryProjects.co.uk/books.

Follow Jo on social media to pick

up new sensory insights, you'll find

her at: Twitter, www.Facebook.com/

JoannaGraceTSP and www.Linkedin/In/

JoannaGraceTheSensoryProjects.

Joanna Grace

Joanna Grace is an international

Sensory Engagement and Inclusion

Specialist, trainer, author, TEDx speaker

and founder of The Sensory Projects.

Consistently rated as "outstanding" by

Ofsted, Joanna has taught in

mainstream and special school settings,

connecting with pupils of all ages and

abilities. To inform her work, Joanna

draws on her own experience from her

private and professional life as well as

taking in all the information she can

from the research archives. Joanna's

private life includes family members

with disabilities and neurodiverse

conditions and time spent as a

registered foster carer for children with

profound disabilities.

Joanna has published four practitioner

books: "Multiple Multisensory Rooms:

Myth Busting the Magic", "Sensory

Stories for Children and Teens",

"Sensory-Being for Sensory Beings"

and "Sharing Sensory Stories and

Conversations with People with

Dementia". and two inclusive sensory

story children's books: "Voyage to

Arghan" and "Ernest and I". There is

new book coming out soon called

"The Subtle Spectrum" and her

son has recently become the UK's

youngest published author with his

book, "My Mummy is Autistic" which

was foreworded by Chris Packham.

Joanna followed with her own book

"The Subtle Spectrum" which explores

the landscape of post diagnosis adult

identified autism.

Joanna is a big fan of social media and

is always happy to connect with people

via Facebook, Twitter and LinkedIn.

12 July 2022 | parenta.com

parenta.com | July 2022 13
---
We all know how important our policies,

procedures and protocols are, but do

we know how important it is to get these

documents right, rather than write them,

print them, display them and store them

just because we 'have to'?!

Policies, procedures and protocols

encompass everything our setting has to

offer, what we propose to do, our action

plans and the health and safety aspects of

our setting.

The importance of these documents is not

to be taken lightly by any stretch of the

imagination, but we must adopt the same

critical reflection of our policies etc. as

we do all other parts of our practice, and

ensure that we are writing these policies

for the right reasons, that they include

the right information and that they are

readable and relevant.

Policies and procedures are only as good

as the people writing, reading and putting

them into action – if you are a setting that

has umpteen policies for a whole host of

different areas of practice and provision

because you feel like you have to have

The three Ps

them, then you are likely to be making

considerably more work for yourself and

your staff team.

We all know that there are certain policies

and procedures you must ensure you

have within your setting as a legal

requirement of our registrations and

curriculum, but it's important that we

as practitioners have the confidence,

knowledge and experience to differentiate

between whether a policy is a necessity or

if it could just be a professional discussion

cascaded down throughout your staff

team.

We are very good at over-complicating,

over-analysing and making more work for

ourselves than is necessary for us to run

effective and efficient settings.

The policies and procedures we put in

place provide a roadmap for the day-today

running of the setting and provide

materials to support decision-making.

They are vital components of an

efficient, well-informed and co-operative

workplace atmosphere and work towards

developing, building and maintaining the

ethos of the setting.

With this in mind, we must not overwhelm

ourselves and our staff teams with

hundreds upon hundreds of policies and

procedures for every tiny aspect of the

setting, this is totally unnecessary and

often causes more stress for everyone

involved.

In an ever-changing sector, with new

guidance, legislation and sector changes

commonplace, this can sometimes require

us to amend or create new policies

to summarise new information and

implement new procedures – times like

these are the perfect times to reflect upon

our current policies and how well they are

working in practice and if they are even

necessary to keep if they are no longer

serving a purpose.

We should be critical and regularly review

our policies and when new documents

or amendments are required and ask

ourselves whether the new information

or procedures can be condensed into an

existing policy? Can it be cross-referenced

through another policy for ease and to

avoid duplicating complex information?

The aim of these documents is to make the

running of the setting easier to understand

for everyone involved, and so even the

way the documents are presented, written

and ordered are important to consider.

For example, there have been countless

updates to the coronavirus guidance,

legislation and advice in recent months

and so this is a policy that will have been

frequently reviewed and amended, but ask

yourselves is it necessary for this to now

be a stand-alone document or is there

an opportunity for it be cross-referenced

and inseminated into your illness/sickness

policy for ease?

During the review process it is essential

that you completely re-read and critically

reflect upon not only the quantity and

necessity of each of your policies, but

also critically reflect upon the content to

ensure that the purpose of the policy and

the content is still relevant to your setting,

your current actions and procedures and

current legislation and guidance.

Similarly, if these documents only

make sense to the leader/manager or

whomever is writing them, then they are

not fit for purpose.

These documents should be readable and

easy to understand for everyone whose

actions they affect, this includes the entire

staff team and the parent/carers who

access the setting and provision for their

children.

Whilst these documents are professional,

legal and essential documents, they

should still aim to be concise, readable

and avoid using jargon or language that

is difficult to understand – if it is essential

to use specific wording and terms and

phrases relevant to the sector or setting,

these should always be supported by a

clear definition or explanation to ensure

that they are readable for all.

Most importantly, when reviewing

or writing new policies, we must ask

ourselves what the purpose of the policy

is and if it is entirely necessary to have in

place as a full policy.

Policies and procedures are essentially

methods of communicating the day

to day operational plan of the setting

and expectations in specific scenarios/

situations, and so we must not insist

that these be the only ways in which

we communicate new information to

practitioners and parents alike – let's be

confident in our knowledge of our setting

and the people that work within it. Let's be

confident that we can also communicate

such information through a range of

different media, rather than re-write,

amend or create a brand new policy to

explain and outline a simple concept and

consider other ways we can communicate

this information to all involved.

As long as we have the policies and

procedures in place that we are legally

required to and allow us to operate

safely, keep the children safe and that

these are shared and understood by both

the staff team and the parents/carers

of the setting alike, then we are already

on our way to creating a concise, yet

informative and efficient policy system and

this will ensure a smooth and effortless

day to day running and management

of the setting, with everyone fully aware

and understanding of the policies and

procedures in practice.

Chloe Webster

Chloe Webster is an OFSTED Outstanding

childminder at Pebbles Childcare,

Worthing West Sussex. With over 10

years experience in the sector, Chloe

has written for a number of Early Years

magazines and journals.

Chloe works for Bridgit Brown at Pebbles

Childcare and together they were

awarded Nursery World's 'Childminding

Business of The Year' in 2018 and pride

themselves on their child-led, natural,

outdoor pedagogy and are advocates

of the home-based childcare profession

and work tirelessly to champion HBC

across the sector.

chloelouisewebster@hotmail.com

14 July 2022 | parenta.com

parenta.com | July 2022 15
---
The cheapest all-in-one,

easy-to-use, cloud-based

early years software

package you can buy!

No setup fee – save a massive £2395! | No hidden costs!

All inclusive | Limited time offer | Unlimited support

For only

£3.25 per day

(paid annually)

with a MASSIVE

saving of £2395

(No setup fee)

Let us help you with your training needs - call us today

By providing training

for your staff, you will:

Improve morale

Support

children's safety

Enhance your

setting's reputation

NON-LEVY CONTRIBUTION

5%

What's included?

Cloud-based Nursery Management

Software for easy and quick invoicing,

reporting & ratios - NEW features for

2022!

User-friendly EYFS development

tracking software

Daily Diary to record activities, naps,

meals and nappies

Easy set up and user friendly parent

engagement app – maintaining social

distancing when needed•

Monthly direct debit option available on request

Book a Demo Today!

Go paperless and limit the spread of

germs

Accurately record baseline

observations

Photo Editing, Tagging & Blurring

Technology (GDPR compliant)

Easy Ofsted reporting

Unlimited phone & email support

plus videos and help files

Reduce staff

turnover

Did you know...

We have secured funding available and

are enrolling learners on to our courses

every day!

Take advantage for you or your staff!

Payment plan available for your 5%

contribution

You can now access government funding for up to 10 staff members - instead of 3

- to help get your staff qualified and keep them motivated

0800 002 9242 hello@parenta.com

0800 002 9242 hello@parenta.com
---
What does

leadership look

like… when

others think

Mona Sakr

they know best?

A few months ago, I had a great time

presenting at the Parenta webinar on

leading effective professional development

across teams. There were some fantastic

questions at the end of the presentation

and one in particular that really stayed

with me: What do you do when, as a

settings, you come into contact with an

experienced member of staff who always

thinks that they know better than you?

This is such a familiar situation to so many

leaders. It can particularly resonate with

younger leaders who may have fewer

years in the job but find themselves

leading others with many more years of

experience.

In this article, we look at how to flip

the narrative in a situation like this and

support even the most resistant members

of staff. The article looks at three principles

to apply in a situation like this:

• A culture of curiosity: 'Let's try it and

see'

• Demonstrate respect for others'

experiences

• Grow your leadership by giving it

away

A culture of curiosity:

'Let's try it and see'

Imagine you are a baby room leader

deeply committed to creating a rich

pedagogical environment in the baby

room, including through extending the

language that is used in the environment.

In a team meeting at the beginning of

the week, you suggest that staff in the

baby room try to use more adventurous

language with the babies day to day.

You suggest swapping the words 'nice'

or 'good' with more exciting choices like

'fabulous', 'wonderful' and 'magnificent'.

Now let's imagine that an experienced

member of the team on hearing about

this idea shows resistance. They scoff at

the idea saying it is silly and unnecessary.

They might say: "babies don't need this;

they just need us to care for them". They

might even fall back on their years of

experience with babies to make the point:

"I've worked with babies for years and this

is just not something we need to worry

about."

When we encounter someone's resistance

about learning new things, sometimes

we wrongly assume that they are simply

not interested in learning anything

new. But research on motivation within

organisations suggests that this is rarely

the case. Edgar Schein's important work on

organisational leadership demonstrates

that most employees are motivated by a

range of needs including intellectual needs

– the desire to learn and innate curiosity.

Leaders need to tap into this intellectual

curiosity even when it seems to be hiding.

The simplest thing we can do in a moment

like the one described above, is try to

tap into our shared innate curiosity. We

might say something like: "you might

be right, but can we try and see what

happens?" Through the phrase "let's try it

and see what happens", we are showing

a commitment to a culture of curiosity and

learning. It's a perfect go-to phrase when

you encounter resistance to new ideas.

Demonstrate respect

for others' experiences

You will have noticed that in the

example above, the response starts

with a validation of the staff member's

experience: "you might be right". This

is a simple way of acknowledging that

experience does count for something.

Often resistance can come about when

staff feel that their investment in the job

has gone ignored or under-valued. It is

challenging as an individual to feel that

no one cares about your years of hard

work. By going out of your way to show

that experience is appreciated and valued,

some of the resistance can begin to shift.

Here are some ways to show that you care

about others' experiences and that you

want to learn from them day-to-day:

• "Linda, I bet you've got some amazing

ideas about X. Based on all your

experiences, what do you think we

should do?"

• "Saira, have you come across

anything that might help us with Y?"

• "Antonio, I'm struggling a bit with Z

and I'd really like to get your help with

this. Do you have any thoughts or

ideas?"

Resistance can be a coping mechanism

among more experienced staff. But

similarly, younger or less experienced

leaders can feel under pressure to

dominate. The more resistance we

experience from others, the more likely

we are to want to push through with a

strong, assertive leadership style where

ideas can't be questioned. This actually

then exacerbates the resistance of other

members of staff.

The phrases above are powerful because

they push us away from a traditional

hierarchy where there is one leader and

everyone else needs to follow and instead,

they create a sharing culture, where

everyone's experiences and expertise can

emerge. This will prompt a more relaxed

and comfortable culture, where everyone

feels valued and respected, and the

resistance of more experienced members

of the team may start to lift.

Grow your leadership

by giving it away

You can take the point above one

step further by pro-actively looking for

opportunities to put the resistant member

of staff in the driving seat. This isn't

about relinquishing your leadership but

about developing a more collaborative,

distributed leadership style where

everyone can flourish.

You could ask the staff member to lead

on a particular initiative, so that they have

a chance to bring their expertise and

experience into the spotlight and see what

happens as a result: "Stacey, I bet you've

got so many ideas about how to make the

outdoor space more appealing and more

accessible – do you think this is something

you could lead on?"

By opening up these opportunities to lead,

you are reconnecting with the intellectual

needs of staff members – the need to

grow and learn as professionals. They

might not always take you up on the offer

to lead on something new, but just having

the offer out there can help to break down

a culture of resistance and replace it with

something more playful, curious and

collaborative.

References

Schein, E. H. (2015) Organizational Culture

and Leadership. 5th Edition. Hoboken, NJ:

Wiley.

Dr Mona Sakr is a Senior Lecturer in

Education and Early Childhood. As a

researcher in Early Years (EY) provision,

she has published extensively on

creative, digital and playful pedagogies

including the books "Digital Play in

Early Childhood: What's the Problem?"

(Sage) and "Creativity and Making in

Early Childhood: Challenging Practitioner

Perspectives" (Bloomsbury).

Mona's current research is an

exploration of pedagogical,

organisational and community

leadership in EY and how leadership can

be more effectively developed across

EY. Current funded research includes a

Nuffield Foundation project looking at

online leadership development across

the EY sector, a BELMAS project looking

at leadership in the baby room of

nurseries and a BERA project examining

ethnicity in the early years workforce.

Forthcoming books (include an

introduction to social leadership in early

childhood education and care (written

with June O'Sullivan, CEO of London Early

Years Foundation), and an edited volume

on EY pedagogical leadership around

the globe.

Email: m.sakr@mdx.ac.uk

Twitter: @DrMonaSakr

18 July 2022 | parenta.com

parenta.com | July 2022 19
---
Children's Art Week

It's back! Children's Art Week is here

to inspire and help children and young

people to take part in practical activities

with artists and art educators. The week

is organised and run by Engage - the

National Association for Gallery Education,

although up and down the country,

everyone is encouraged to organise their

own artistic and creative activities, support

local art galleries and generally wonder at

the art around them. It is supported by the

Arts Council England and other national

arts organisations around the UK.

This year, the week runs from June 29 to

July 19 – so not one, but three weeks in

total, so plenty of time to get your creative

juices flowing and participate in some

fantastic artistic endeavours.

In recent years, Engage have set themes

such as:

The natural world

Connecting across the generations

Literacy and creative writing

However, in 2022, Engage is focusing on

the health and well-being impact offered

by artists and galleries and the positive

effect on people's general health and

well-being that getting involved in, and/

or appreciating the visual arts can have.

Having been in lockdown in the last 2

years, many of us took up creative pursuits

such as baking, gardening or art, so this

is a great time to showcase some of your

work. And although it's called Children's

Art Week, there's no reason on earth

why you shouldn't involve all ages in your

creative plans.

Engage would also like everyone to share

their work by email or on their social

media channels which you can find on the

Engage website here.

Who can get involved?

The short answer to this is anyone!

Typically, it is schools, galleries, museums

and community groups who take part in

the week by putting together events and

experiences for children and families,

although there is no limit to anything

and age is not a barrier either. If you are

an artist, why not share your wealth of

experience with the younger generation,

and everyone will benefit.

What can you do?

If you can think of something creative,

informative or inspiring in the visual arts

field, then you can do it. Generally, there

are 3 main ways that people can get

involved in the arts, by either:

Creating art

Learning about art, or

Appreciating art

We've listed some different ideas below for

getting involved in all three.

Creating art

This is where you let your children, staff,

families and friends unleash their creative

side and get involved in practically making

some visual art. You can do it inside, on

the walls of your setting, outside on the

pavement, in the park or at the beach, and

probably a host of places in between too.

Obviously, there are hundreds of things

you could draw or paint in your setting and

thousands of arts and crafts sites on the

internet such as https://www.tate.org.uk/

kids/make to help with other ideas too,

but why not try to do something different

this year? Think about the different strands

there are of visual arts such as:

Painting and drawing

Sculpture and modelling

Printing (block printing, screen printing

and yes, of course, potato- and handprinting

count too!)

Film and video

Textiles

Fashion, costume design and masks

Now think about different media you could

use such as:

Paints (acrylic, enamel, watercolour,

oil)

Crayons and pastels

Charcoal

Pencil, pens, gel pens

Textiles, wool and ribbons

Wild art materials such as leaves/

twigs/stones

Paper and card e.g. origami

Collage or mixed media

Decoupage

Photography

Digital art

Recycled materials and upcycling

furniture

Face paints

Make sure you use things that are safe for

children and wear protective clothing, but

experimenting with new ideas is exciting

and the children will love it.

Learning about art

This is about expanding your knowledge

of art and art techniques. You could listen

to a lecture or watch a programme about

your favourite artist or a new art discovery.

You could invest in learning or teaching

your children a new skill such as knitting,

jewellery-making, embroidery or silkscreen

printing? How about sculpting or

making a cardboard box Totem pole?

And it doesn't have to be expensive. You

could use recycled bottle tops, paint them

different colours and thread them on string

or ribbon to make necklaces or bracelets.

If you'd like to know more about art,

https://artincontext.org/ is a wonderful

place to start although a little more grown

up.

Another idea for learning about art is

to invite a local artist into your setting to

discuss their work and ask them to share

their story with your children.

Appreciating art

Appreciating art is all about really noticing

the art around you, recognising its beauty

and creativity and discussing it with others.

When was the last time you visited a

gallery or a museum as a setting, and

really looked at the artworks and objects

in there? This is also a good way to help

children's vocabulary because you can

show them pictures and images of famous

art works and teach them words related

to colours, textures, emotions and feelings

to, showing children a picture of the Mona

Lisa and asking them whether they think

she looks happy or sad for example, will

give you some interesting responses,

whilst building cultural capital as well.

Appreciating art also means not only

looking at new (or new to you) artwork

and artists, but also considering the art in

everyday things. For example, have you

ever considered the map of the London

Tube network a piece of art? Maybe

not, but if you visit the London Transport

Museum website or building, and look at

the many different designs of maps they

have there, you might change your opinion

about this iconic but everyday item.

Or consider the design ideas that go into

designing our food and packaging labels.

Art is everywhere and we are surrounded

by visual images that have been created

by traditional artists, designers and

graphic artists every time we get on the

bus, open a magazine or browse the

shelves of our local shop. Encourage the

children to really 'open their eyes' and

appreciate the rich culture that surrounds

them.

If you want some more ideas, look here

to find a list of some of the best kids art

websites and there is a good toolkit here

from Somerset Artworks.

And of course, we'd love to see your final

pieces so remember to send us your

images and stories to hello@parenta.com.

20 July 2022 | parenta.com

parenta.com | July 2022 21
---
Supporting parents with

SEN children

Most settings will already be catering for

some children with special educational

needs (SEN) to help them access your

services and curriculum. However, are

you also finding ways to support their

parents? Being a parent of a child with SEN

can be lonely and confusing as they try to

understand their children more fully, and

then get them the help they need. Read on

to find how you can help them by making

some small changes, which can have a

big impact.

SEN children and their

parents are unique

Everyone is different, and children with

special needs cannot be grouped into one

homogenous group. Often, what works

well for one person - (such as having

a non-stimulating environment due to

sensory overload), - is the opposite of

what's needed for others, who may need

a more uplifting, colourful and visually

engaging environment. Some people need

a quiet space, others crave attention and

may have trouble regulating their volume

or energy. The phrase "one size fits all"

does definitely NOT apply when you are

discussing children with special needs.

The same is true of their parents. There

is not one 'type' of parent whose child

has special needs, and it is not down to

a 'parenting fault' or challenge either,

although this is often a misconception and

myth that many parents face.

Understand parents'

point of view

One of the first things you can do, is to

develop an empathy for parents. If you

have ever stood in a supermarket whilst

your toddler has a tantrum, and felt the

'judging eyes' upon you as you try to calm

them down, you will know what we mean.

Now imagine that you are standing in the

same supermarket, but your toddler is

now age 10 and having the same tantrum.

You know that it is because they have

become overwhelmed by something that

is out of their control, and this is their only

way of emotionally releasing their fears/

anxiety/stress. But for other observers, this

fact is 'hidden', and instead of getting the

sympathy and understanding you need,

you feel the weight of their judgement as

they silently (or not!) condemn you and

your parenting.

Listen to what parents

say

Listening to parents is key. They will

understand their situation and their child;

they have found what works for them, and

things that don't. Parents will hopefully

have tried numerous different approaches,

learning through trial and error, experience

and hopefully some professional input

too. So it is important to listen to what

they say, and try to accommodate things

if you can. If they say that their child is

upset by certain textures, sounds or tastes,

then disseminate this information to your

staff and make sure they are aware.

A lot of children with SEN find physical

contact difficult. They may find it difficult to

look people in the eye or they may have

sensory needs which mean they can't

bear certain materials close to their skin or

particular smells.

Many neurotypical people often find these

needs difficult to understand and instead,

think that the person is being deliberately

difficult or 'naughty'. However, almost all

of us visibly tense at the sound of nails

scraping down a blackboard. The noise

seems to go through us, vibrating our

very bones and we quickly cover our ears

and call for it to stop. This is how many

people with sensory needs feel about

some of the sounds, touch, tastes and

smells that many of us love. It is not a

question of one person being 'right' and

the other person be 'wrong' – it's just

that we are all different. If we approach

the situation with more understanding,

patience and tolerance, then we will go a

long way to helping support the parents of

SEN children, because they will feel more

validated and understood.

Meet the children's

individual needs and

share what works

It is the duty of settings to try to meet the

needs of SEN children. Depending on the

need, this is not always possible and so

specialist provisions for children with some

severe disabilities or learning difficulties

exist. However, many children with SEN

can cope in mainstream establishments

so long as their needs are considered, and

adaptations made.

Having a SENCo draw up a list of needs

and a provision map will mean that

you can document the provisions and

adaptations you are providing for that

child. Many SENCos will also draw up and

individual child profile and share it with

staff. These give details of what the child

needs and what works well. Remember

to update these as children grow and

develop and help parents and councils

maintain up-to-date EHCPs. In early years,

children are growing and developing at

an amazing rate, and what they need will

develop with them helping parents get the

provision their children need, especially as

children transition to school or between

school key stages.

Train your staff

Another simple way to help parents with

SEN children is to train your staff on how

best to deal with that child. You could do

this as part of your annual CPD work or

have key people undertake specific special

needs training. There are some free and/

or inexpensive CPD courses that staff can

take ranging from a short one- or twohour

online course, to more in-depth, Level

2 courses. Parenta offer a number of CPD

courses which may be of interest which

you can access here and include Asperger

Syndrome, Autism Awareness and

Disability Awareness to name but a few.

Offer support and be an

advocate

Many children in early years may only be

starting to show signs of having special

needs as they join your setting, so it may

be a shared journey of discovery for

both the setting and the parents as you

investigate some of the issues you witness

in the nursery. You can help parents by

offering information and advice about

different conditions, and point them in

the direction of support groups or other

advocacy organisations.

Other ways to help

Encourage children to get involved in

everything in your setting

Keep reviewing your own policies and

procedures

Consider if you can offer extended

hours or respite services

Supporting parents with SEN children

will not only help them, but it will help

the children too, as their home life is an

important aspect which will contribute to

their success in your setting.

Further information

https://www.kids.org.uk/

https://www.understood.org/

https://www.family-action.org.uk/whatwe-do/children-families/send/send-info/

22 July 2022 | parenta.com

parenta.com | July 2022 23
---
Supporting

sensoryseeking

children

in your setting

Do you have children in your setting who

come across as rough or a little wild? If

you do, these children could be showing

signs of sensory-seeking behaviour. Whilst

children generally enjoy physical activity,

some may have a great deal of excess

energy.

Sensory-seeking children will want to

move! Their need for sensory input means

that they may find it difficult being still for

long.

The following questionnaire may indicate a

child's sensory-seeking needs:

Does the child:

1 Wriggle, fidget or squirm a lot of the time?

2 Find it difficult being still whilst sitting down for an activity/meal?

3 Seek constant motion, sometimes colliding with other children/objects?

4 Often seek climbing activities that may be risky?

5

Often seek jumping/spinning activities regardless of other children

around them?

6 Enjoy/make loud noises or talk non-stop?

7 Touch everything/put non-edible things in their mouths?

8 Find it difficult to stand still whilst getting dressed?

Scoring 3 or 4 means a child will need a lot

of outlets for their energy.

When a child has sensory-seeking needs,

it is more challenging for them to keep

still without fidgeting and squirming. But

the good news is that if sensory-seeking

children are given plenty of opportunities

to get the sensory input they are craving,

this will help with their overall sensory

needs.

Never

1

What sensoryseeking

may look

like

Example A

James is 4 and finds it very difficult to

sit down and listen to stories with other

children. During story-time he is always

fidgety and sometimes gets up and

wanders off.

Sometimes

2

Usually

3

Always

4

muscles and joints with some heavy

work activities, such as pulling, pushing

or crawling. These are all tiring on the

muscles and joints and can help in

calming James down towards story time.

Date/

Time

28/06/22

Snack

time.

Example B

Sara is 3 and often puts non-edible items

in her mouth and on occasion will bite

other children.

How can Sara be

supported?

Again, Sara may be responding to an

unbearable 'itch', seeking oral feedback

to help 'scratch' that itch. Children who

are oral-seeking like the feel and texture

of things in their mouth. They may well

be biting because they are seeking that

sensory input through their jaw which

gives them a calming feeling.

Try the following:

Offer sensory chew toys such as a chew

noodle.

What was

going on

when it

happened?

Coming inside

after Forest

School.

Last word

What

triggered

the

response?

Child reluctant

to come

inside for

snack.

What did the

response look

like?

Wriggling away,

crying.

Offer crunchy food such as apple or

carrots. Crunchy snacks and having access

to a chew (e.g., having one on a necklace)

can be helpful preventative measures.

Redirect to these options when the child

bites or chews on inappropriate things

rather than disciplining and always praise

for using the appropriate item.

Triggers and

tracking for sensory

responses

It is always useful to know what triggers a

sensory response. Use the following chart

to keep an eye on triggers, responses

and what worked best for the child.

Observation is key. Stop and assess!

Ask questions. Is the response due to a

different environment or a new demand?

Is it a repetitive response? What are the

triggers to the response?

It is always good to get a professional

opinion if you are worried.

Triggers and

Tracking Chart (with

example)

What happened after/as a result

of the response?

Tracking food to see if there is a familiar

theme to textures etc. that the child

may be avoiding.

Use of schedule and timer countdowns

when going inside to manage child's

expectation.

Use of wobble cushion on the chair for

snack time.

It is important to realise that whole group sensory activities can be hugely beneficial to

help with low alert levels (a room full of sleepy looking or unfocused children with lots of

yawns, wriggles etc.) or with a sudden rise in the noise level that is difficult to contain. Low

alert levels can be raised with movement breaks, and high alert levels can be lowered

through other types of physical activity, e.g., heavy work activities or deep pressure.

Helen Garnett

Helen Garnett is a mother of 4, and a

committed and experienced early years

consultant. She has a wealth of experience

in teaching, both in the primary and early

years sectors. She co-founded a preschool

in 2005 where she developed a

keen interest in early intervention, leading

her into international work for the early

years sector. Helen cares passionately

about young children and connection.

As a result, she wrote her first book,

"Developing Empathy in the Early Years:

a guide for practitioners" for which she

won the Professional Books category

at the 2018 Nursery World Awards, and

"Building a Resilient Workforce in the Early

Years", published by Early Years Alliance

in June 2019. She also writes articles for

early years magazines, such as Nursery

World, Early Years Teacher Organisation,

QA Education, Teach Early Years, and Early

Years Educator.

Helen is the co-founder and Education

Director at Arc Pathway, an early years

platform for teachers and parents.

Helen can be contacted via LinkedIn.

How can James be

supported?

First, it is important to remember

that sensory needs are a form of

communication and have been likened to

an unbearable 'itch' that will only go when

it is 'scratched'. If James does not get the

movement he is seeking, he will seek it

out in other ways. Frustration can creep in

because James will have a strong feeling

that he needs to do something, but he

doesn't know what that is.

Try the following:

Give James time to enjoy some active

movement before story-time, such as

running, jumping, spinning and swinging.

Follow this up with some more calming

activities, where he can engage his

Observing and supporting individual or group alertness and physical activity in the room

can remove a lot of stress, both from a child's and adult's point of view. The key point to

remember is that sensory-seeking behaviour can often appear 'naughty' when in fact it

is an 'itch' that needs 'scratching'. When adults find out what is 'itching' the child, they can

then support the child in alternative and beneficial ways to relieve that itch. In this way, the

child can interact, take part and enjoy their learning alongside their peers.

It's a win-win situation!

24 July 2022 | parenta.com

parenta.com | July 2022 25
---
Understanding

children's

emotions

A child's emotions are a very real part of

everyday life, just like for all of us. They

will be experienced positively through

the happiness, love, and joy that they

feel. Through the negative emotions

of fear, anger or jealousy or through

neutral emotions of apathy, acceptance

or indifference. It is only with some

understanding of their emotions that

you will be able to support children to

understand and manage their emotions

for themselves. And only then can

you consider how this influences their

behaviours and what you can do to

support their healthy growth.

The way a child reacts to any given

situation is dependent on many different

things. Including the gene pool they have

been born into and the environment

they are in. It will depend on their

developmental stage and developing

character, whether they are naturally

anxious, prone to anger or susceptible to

hurt feelings. It will be affected by current

family stressors and life circumstances,

such as moving home, family break ups,

new jobs or the birth of a sibling. It can

also simply hinge on the fact that they are

feeling unwell, tired, frustrated or even

simply hungry.

Children are developing a complex set

of social and emotional skills that they

need to understand, influence and

communicate through the emotions

that they are experiencing. But to do

this they need to be allowed to feel their

emotions, unafraid of them. They need

to learn how to recognise emotions in

themselves and others and they need to

develop techniques to regulate their strong

emotions, to know how to cooperate and

socially interact. Trouble comes however,

when these emotions and skills are not

managed or when unrealistic expectations

are in place.

Simply said, emotions are a natural,

healthy and necessary part of growing up

that we want our children to experience,

at the right time and to the right extent.

Negative emotions are a very real part of

this and children also need to understand

how to deal with these; their own as well

as when their peers are experiencing them

too. However, when negative emotions

continue unchecked, they can become

more deeply ingrained and emotional

predispositions or personality traits can

establish. If this is happening in a child,

you might see an ingrained temperament

such as a tendency to whine, to be quick

to cry or quickly resorting to aggressive

responses.

These behaviours and the selfperpetuating

thinking and feeling cycles

that establish, may be confused by a

diagnosis of ADHD and the like, with

medications all too quickly prescribed. With

symptoms ranging from feeling fearful or

self-conscious, to experiencing nervous

anxiety or feeling worthless and unloved

unless they can attain a level of perfection,

we need to intervene. By understanding

how behavioural and emotional health

problems develop in our children, we can

better address the issue at a time when

we can actively help them to manage it.

Whenever we experience a particularly

emotional event, thought chemicals are

released into the body to inform us of

our response to it. As we experience the

world or even think about it, the neurons

in our brain release these chemicals to

trigger reactions in the body that we feel

as emotions, anything from a slight flutter

felt in the tummy, to a debilitating physical

reaction.

Happy and empowering thoughts produce

chemicals to make us feel happy and

empowered, whilst negative, sad or angry

thoughts produce chemicals that make

us feel sad, angry or depressed. When

in a healthy balance, these processes

inform our responses and empower our

reactions, however, trouble soon comes

when they are unmatched to our need for

them.

Take fear for example - that feeling of a

racing heart and rapid breathing as the

body is flooded with oxygen, preparing

its fight or flight response to the danger

it perceives. A healthy reaction when

that perception of fear is accurate, but

heightened levels of fear or anxiety long

before an active response is needed is not

a healthy state to be in. Think back to the

last time you had to wait weeks for a test

result. Or were eagerly awaiting a holiday

but needed to board a plane when you

are petrified of flying.

If a child is consistently experiencing the

world in a particularly emotional way,

pre-dispositions to those emotions can

develop. And to make matters worse,

children do not have a well-established

sense of time; they cannot understand

why the good times spent in the park need

to end and they struggle to imagine a time

when they will not feel this bad.

A predisposition to negative thoughts

does not develop because of one

negative emotional incident. However,

over time, processes in the body establish

a chemical continuity and an emotional

predisposition is created, intensifying over

the days, weeks, months or even years

that it is left to reinforce. These patterns

are laying down from their earliest

experiences and are informing all future

responses. Predisposed to tears, they

are likely to react to most situations with

an emotional response. To override this

takes a great deal of active mindfulness

and a huge effort of will to act differently,

however, unless patterns of behaviour are

consciously changed, these will continue

to intensify.

You can help your children to develop all

of these skills through guided support,

managed behavioural techniques and by

effectively modelling healthy responses.

You can teach them techniques such as

self-soothing and calming as you speak

to them in gentle tones, helping them to

remember happier times. And remember,

we all know how overwhelming emotions

can feel at times, so help your children

through this rather than letting your own

emotions join them for the ride.

This is the first of five articles from The

Secure Child. Next time we will look at

supporting children as they feel their

emotions. But in the meantime, bring

focus back to nurturing all of children's

growth and development with a Nurturing

Childhoods Accreditation. A new approach

to CPD that is tailored to the needs of

your setting and the children and families

you work with. With its complete set of

materials and guidance, it complements

the resources available for your parents

and is underpinned by professional

standards and industry leading research.

As together we surround children with a

unified understanding of who they are

and what they need. And really begin

developing the potential of all children in

their early years.

Kathryn Peckham

As Founder of Nurturing Childhoods,

Dr Kathryn Peckham is a passionate

advocate for children's access to rich and

meaningful experiences throughout their

foundational early years. Delivering online

courses, training and seminars she

works with families and settings to identify

and celebrate the impact of effective

childhood experiences as preparation for

all of life's learning. An active campaigner

for children she consults on projects,

conducts research for government bodies

and contributes to papers launched in

parliament. Through her consultancy

and research she guides local councils,

practitioners, teachers and parents all

over the world in enhancing children's

experiences through the experiences

they offer. A highly acclaimed author and

member of parliamentary groups, Kathryn

also teaches a Masters at the Centre for

Research in Early Years.

For more information and practical

guidance on developing the features of

lifelong learning, Kathryn has published

a book: "Developing School Readiness,

Creating Lifelong Learners".

Get in contact at www.kathrynpeckham.

co.uk or email info@kathrynpeckham.

co.uk.

26 July 2022 | parenta.com

parenta.com | July 2022 27
---
Early years music

education training: do

we need it? part 2

Bautista et al (2022) considered the ways

that settings currently use to meet their

music needs: paying outside specialists

to come in regularly; and, rarely, paying

to train staff in music provision. Teacher

training often only provided a few

compulsory hours music education

training or was offered as an option. Only

around half of the staff at any nursery

in the literature consulted had had any

experience in playing an instrument,

dancing or singing – and in settings with

lower qualifications, that fell to less than

half.

Researchers found that outside specialists

limited the quality of musical instruction

because it was not integrated into the

children's holistic learning experience, as

music specialists were not involved in the

day-to-day planning, so were not familiar

with the children. Although some settings

brought in skilled performing musicians,

they were not usually familiar with

teaching pedagogy.

As a result of these half-measures, this

poor training provision has ultimately

created a situation of unprepared and

self-conscious educators who are unable

to access the positive benefits of music for

their children.

Researchers consulted publications from

several countries including America,

England, China, South Africa, Japan,

Canada, Australia, Hong Kong, Ireland

and Namibia. Topics that early years

educators identified for deeper training

included: understanding music curriculum

design, developing instrumental and

singing skills, integrating music within the

curriculum, designing and implementing

music appreciation activities, learning

basic music theory, and developing

ways to foster children's creativity and

self-expression, as well as introducing

improvisation and composition in early

years.

Researchers then suggested a few ways

that this type of training could be achieved.

As highly motivated people, early years

specialists enjoyed practical microteaching

activities, whether live or video,

with opportunities to implement innovative

ideas. Mentoring was suggested, as

musical novices planning music education

curricula alongside accomplished

musicians exposed trainees to different

teaching methodologies.

Professional development was preferred

to be held during work hours, including

music seminars, workshops and

conferences, but were perceived to be

less effective as they were not early

years specific. Online music education

resources were valued because early

years specialists could access them at

their convenience, and an interest-based

community was valued for the opportunity

to discuss and compare experience.

Internationally, the lack of funding support

was noted to be the biggest barrier to

accessing most professional development.

To address these needs, change

needs to come from the top, which is

an opportunity for music councils and

unions to develop strategies together.

In terms of teacher training, universities

and colleges could facilitate change by

increasing their music education provision

more regularly. Partnerships with settings

could be used to practice these skills,

and partnerships with specialist music

training centres could offer online/video

training, demonstrating a variety of

methods. Setting managers could create

non-judgemental opportunities to develop

these skills and collaborate. With flexible

working schedules and protected time

for collaboration, these forms of informal

learning are more cost effective and

sustainable long-term.

Governments could facilitate change

through conferences and professional

development, either in person or online,

that could provide further information

on the latest field developments. By

developing online learning communities

with discussion forums and chats, this

knowledge-sharing platform would

reinforce personal development and peer

learning, again, in a sustainable way.

In the meantime, every day early years

specialists can improve their own musical

skills gradually and creatively with children

using materials currently available.

Below we continue with our of sample

songs from the free mini e-book Come

and Sing 1 (Turnbull, 2015) - https://

books.apple.com/gb/book/musicaliti/

id1057514353.

As a reminder, the book Learning with

Music (Turnbull, 2017) - https://www.

routledge.com/Learning-with-Music-

Games-and-Activities-for-the-Early-Years/

Turnbull/p/book/9781138192591 - includes

substantially more detail.

Level 4: Frosty Weather

Frosty weather

Snowy weather

When the wind blows we

All stick together

This song introduces a fifth pitch (la*) to

do*, re*, mi* and so*, this time from high

to low, and the original two rhythms, the

steady beat (crotchet/quarter note) and

twice as fast (quaver/eighth note).

Level 5: Love Somebody

Love somebody, yes I do

Love somebody, yes I do

Love somebody, yes I do

Love somebody, but I won't say who

Love somebody, yes I do

Love somebody, yes I do

Love somebody, yes I do

Love somebody, and it's you, you, you

This song uses five pitches, do*, re*, mi*,

so* and la*, and the three rhythms from

previous songs, the steady beat (crotchet/

quarter note), twice as fast (quaver/eighth

note) and twice as slow (minim/half note).

We'll all have tea

This well-known favourite introduces a

sixth pitch (fa*) to do*, re*, mi*, so* and

la*, and the three rhythms as before, the

steady beat (crotchet/quarter note), twice

as fast (quaver/eighth note) and twice as

slow (minim/half note).

Level 7: Skip To My Lou

Skip, skip, skip to my Lou

Skip, skip, skip to my Lou

Skip, skip, skip to my Lou

Skip to my Lou, my darling

Another well-known song, while it also

has six pitches do*, re*, mi*, fa*, so* and

la*,and three rhythms, it is a new rhythm:

the steady beat (crotchet/quarter note),

twice as fast (quaver/eighth note) and four

times as fast (semiquaver/sixteenth note).

Looking at all the songs chosen, wellknown

songs have more going on

musically than lesser-known songs,

which makes them more interesting.

It is entirely natural to prefer complex

songs, as the brain finds complexity more

interesting, but lesser-known songs are

just as valuable because of the things

they teach us. While it is true that some

children can sing a greater range than

the songs listed above, teaching notes

gradually gives people the ability to break

down complex tunes. This skill allows both

children and educators to understand the

songs musically, join in successfully, and

ultimately, access all the positive benefits

of music.

* Kodály pitch: do, re, mi, fa, so, la, ti.

(Rhythms in British and American terms.)

References:

Bautista, A., Yeung, J., Mclaren, M. L., &

Ilari, B. (2022). Music in early childhood

teacher education: Raising awareness of a

worrisome reality and proposing strategies

to move forward. Arts Education Policy

Review, 1–11. https://doi.org/10.1080/10632

913.2022.2043969

Frances Turnbull

Musician, researcher and author,

Frances Turnbull, is a self-taught guitarist

who has played contemporary and

community music from the age of 12. She

delivers music sessions to the early years

and KS1. Trained in the music education

techniques of Kodály (specialist singing),

Dalcroze (specialist movement) and Orff

(specialist percussion instruments), she

has a Bachelor's degree in Psychology

(Open University) and a Master's degree

in Education (University of Cambridge).

She runs a local community choir, the

Bolton Warblers, and delivers the Sound

Sense initiative "A choir in every care

home" within local care and residential

homes, supporting health and wellbeing

through her community interest

company.

She has represented the early years

music community at the House of

Commons, advocating for recognition

for early years music educators, and her

table of progressive music skills for under

7s features in her curriculum books.

Frances is the author of "Learning with

Music: Games and activities for the early

years", published by Routledge, August

2017.

Level 6: Polly Put The

Kettle On

Polly put the kettle on

Polly put the kettle on

Polly put the kettle on

Turnbull, F. (2015). Come and Sing 1 (1st

ed.). Musicaliti Publishers.

Turnbull, F. (2017). Learning with Music:

Games and Activities for the Early Years (1

edition). Routledge.

www.musicaliti.co.uk

28 July 2022 | parenta.com

parenta.com | July 2022 29
---
Supporting apprentices

with peer-on-peer

abuse issues

much less likely to think these things

happened, particularly contact forms of

harmful sexual behaviour and girls were

shown to be adversely disproportionately

affected.

So clearly there is a problem and many of

our young people (girls in particular) may

be suffering or have suffered from this kind

of abuse. So how can we support people

in our setting who may have suffered any

of these safeguarding issues?

The issue of safeguarding is fundamental

to everything we do in education, whether

for our early years children or our older

apprentices who may only be just out of

school, and still legally classed as children

themselves (under 18s). If you have been

reading the magazine for a while, you will

know that we regularly revisit safeguarding

issues and each year, when Keeping

Children Safe in Education is updated, we

advise settings to revisit their policies and

procedures to ensure they keep within

their statutory duty.

The proposed new changes for this

September have recently been published

and you can view them here and an

easy-to-read article from TES about them

here. This month we have also written a

Handy Guide about what settings need

to know about peer-on-peer abuse

(shortly to change to child-on-child abuse),

online abuse, and issues around healthy

relationships and consent that were

introduced last year. You an access this

detailed guide here.

Whilst understanding the changes that

affect settings in terms of policies and

procedures, we also need to be aware

of the impact that these safeguarding

issues can have on our employees and

young people in our setting, particularly

if they have been victims themselves or

have supported other people who have.

In these cases, we need to be aware of

the problems that our trainees and young

people can face, and the problems that

victims experience in coming forward.

The long-term consequences

of abuse

Abuse is a terrible thing, it can affect

someone's self-esteem, cause extreme

mental health issues and has a huge

impact on the life chances that people

have, if not treated with compassion,

patience and understanding. Adverse

Childhood Experiences (or ACEs) are

potentially traumatic adverse events that

occur in childhood. All the kinds of abuse

we are aware of in safeguarding training

count as ACEs but there are other things

too such as parental divorce, substance

misuse or having parents/care givers in

prison which can add to the burden of

toxic stress. Children who grow up with

this kind of toxic stress often have difficulty

forming healthy and stable relationships,

they may have attachment disorders

which can disrupt their relationships into

adulthood, and they may even pass this

on to their own children.

Peer-on-peer abuse can also lead to

traumatic experiences which can have

lasting consequences. People who

experience peer-on-peer abuse and

bullying may conclude that they cannot

trust other people, or they may crave

attention from relationships which are

unhealthy, controlling or abusive, purely

because they feel that negative attention is

better than no attention at all.

If people have suffered from unwanted

sexual contact or sexual harassment, then

this can affect their self-esteem, mental

health and their ability to form strong and

healthy intimate relationships.

According to a recent Ofsted report on

sexual harassment in schools, "Children

and young people told us that sexual

harassment occurs so frequently that it has

become 'commonplace".

In a survey of 900 girls at school and

college, the percentage of girls who said

they had experienced some kind of sexual

harassment and assault by peers was:

• sexual assault of any kind (79%)

• feeling pressured to do sexual things

that they did not want to (68%)

• unwanted touching (64%)

These findings are strongly supported

by existing research into harmful sexual

behaviour between peers which were

classed as happening "a lot" . Boys were

The problems of disclosure

Clearly, most people do not advertise

a traumatic history on their application

form and one of the main issues that

people face, is knowing where to get help

from. This is where settings can help by

having an open and supportive culture,

encouraging people to talk about any

issues that may affect their work, and

having policies in place that support

people if they do come forward with a

non-judgemental attitude. In the next

magazine, we will talk about the tricky

subject of disclosures in more detail.

Information, advice and an

empathetic culture

Nowadays, there is lot of support around

for people who have been victims of

abuse or ACEs, and it is no longer the

taboo subject it was. Campaigns such as

the "Me Too" campaign, which spread

originally through social media (the 'news'

channel of young people), have helped

young people not only speak up against

things like sexual harassment and abuse,

but they have also helped them rebuild

their lives and their confidence.

Employees and trainees should be made

aware that all disclosures will be taken

seriously, and employers have a duty to

safeguard young people if they are still

being affected by these issues. They will

have a statutory duty to have procedures

and protocols in place to offer immediate

help, support and referrals to outside

agencies or the police if needed. There are

Designated Safeguarding Leads (DSLs) in

each setting and employees and trainees

should know who they are.

Many employers are also able to offer

mental health first aid, and/or put young

people in touch with support organisations

for victims of abuse so there is help out

there for anyone who needs it.

If you have been affected by abuse,

then help is available on any of the

websites listed below or by calling the

police on 121 or in an emergency, on

999.

Childline number: 0800 1111

Further sources of

information and advice:

MeToomvmt.org/

www.childline.org.uk/

www.youngminds.org.uk/young-person/

coping-with-life/bullying/

safeline.org.uk/

www.mind.org.uk/information-support/

guides-to-support-and-services/abuse/

www.citizensadvice.org.uk/family/

children-and-young-people/protectingchildren/

www.womensaid.org.uk/informationsupport/

www.gov.uk/guidance/domestic-abusehow-to-get-help

www.nationalbullyinghelpline.co.uk/

cyberbullying.html

www.childrenssociety.org.uk/information/

young-people

rapecrisis.org.uk/

30 July 2022 | parenta.com

parenta.com | July 2022 31
---
Plastic Free

July

As you sit down reading this article, take

a moment to look around you and do a

quick visual and mental survey. How many

plastic items can you see?

Perhaps there are some drinks bottles

or some toys, carrier bags or take-away

coffee cups? Now take a moment to think

about other rooms too – what plastic

items would be in your bathroom? Or

the kitchen, the garden or your setting

generally?

When you come to think about it, our lives

have become almost dependent on plastic

in some form or another. We use plastic in

food packaging, toiletries, toothbrushes,

broom handles, drawers, storage boxes,

shelves, ornaments, decorations, money!

The list is endless. And what's more, we

use plastic in many items that we don't

even realise – like sanitary products,

disposable nappies and even tea bags!

In the 1950s, plastics were hailed as a

'saviour' because they were so cheap,

hard-wearing and long-lasting. But we

have come to realise that those attributes

are now not the golden lining we were

promised as we struggle to cope with the

ever-increasing mountain of waste plastic

we now produce.

The problem

Some plastics can be recycled and made

into other useful objects, but this does

not apply to all plastics, or we should say,

most plastics. Some cannot be recycled,

and they are not easily bio-degradable so

a plastic bottle can take up to 450 years to

break down. Much of the plastic we use

ends up in our oceans where wildlife can

mistake it for food and ingest it. Plastics

also break down into microplastics (pieces

less than 5mm small) and can find their

way into the human food chain too.

Have a look these 10 disturbing facts

from the Plastic Free July and Earth Day

websites about plastic waste:

1. Approximately 91% of plastic is not

recycled

2. Humans use about 1.2 million plastic

bottles per minute

3. Roughly half of our global annual

plastic production is for a single-use

products

4. Virtually every piece of plastic ever

made still exists in some shape or

form (with the exception of the small

amount that has been incinerated)

5. Five trillion plastic bags are produced

worldwide annually. It can take up to

1,000 years for a bag to disintegrate

completely

6. There is more microplastic in the

ocean than there are stars in the Milky

Way

7. At least 14 million tons of plastic end

up in our oceans every year

8. Many countries lack the infrastructure

to prevent plastic pollution such as:

sanitary landfills; incineration facilities;

recycling capacity and circular

economy infrastructure; proper

management and disposal of waste

systems

9. Over 1 million marine organisms

are killed each year due to plastic

pollution in the ocean

10. There are five massive patches of

plastic in the oceans around the

world. These huge concentrations of

plastic debris cover large swaths of

the ocean. One patch in particular,

known as the "Great Pacific Garbage

Patch" covers 20 million square

kilometres of water which is bigger

than the combined area of the United

States' five largest states

It's clear that something needs to be done.

What is Plastic Free

July?

Plastic Free July® is a key initiative of the

Plastic Free Foundation and was started

by Rebecca Prince-Ruiz and a small local

government team in Western Australia.

It's now a global movement that helps

millions of people begin to tackle plastic

pollution. One of the Foundation's core

beliefs is "small changes add up to a big

difference", because if everyone does one

small thing, we could have a massive

impact across the world.

The Plastic Free Foundation published

an impact study about the impact that

Plastic Free July was having and found that

participants had:

• reduced their household waste and

recycling by 15kg per person per year

• reduced 2.1 billion tonnes of waste

and recycling including 300 million

kgs of plastic consumption

• refused over 301 million everyday

plastic items

• reduced the overall use of plastics

in bottled water, fruit and vegetable

packaging, and plastic straws

So the campaign is working, but more still

needs to be done.

How you can get

involved in your

setting

The first thing to do if you want to join

in with Plastic Free July is to make a

commitment within your setting. You can

take the quiz on the Plastic Free Website

and make a pledge to reduce your own

plastic footprint, advertise this to parents

and carers, and encourage them to do the

same.

The second step is to audit the plastics you

are using and start with those.

The 5 Rs

We all know about the "Reduce, Reuse and

Recycle" Rs which are commonplace terms,

used nowadays to help us cut waste, but

when it comes to plastics, there are 2 more,

which stand for "Refuse" and "Remove".

Refuse is about consumer choice where

people refuse to buy products which are in

single use plastics, such as water bottles

and take-away coffee cups, using more

sustainable options instead such as glass,

or using reusable ones.

The big four

Whilst we rely on plastics for many things,

there are four main items that are the most

prolific single-use plastics which could

easily be reduced or removed altogether,

with a little more thought and deliberate

action on behalf of consumers. These are:

• plastic bags

• water bottles

• takeaway coffee cups

• plastic straws

Instead, think about ways to reduce them

by:

• using reusable shopping bags – make

sure you always have some in your car

or in your bag so you have them when

you need them

• using a metal or reusable bottle - just

refill it when you need to

• buying a reusable cup such as a

bamboo one and use this in coffee

shops – most cafes offer a discount to

people who do

• keeping some reusable straws with

you so next time you order a drink that

needs a straw, you have a sustainable

solution in your pocket

Say 'no' to

disposable nappies!

In early years, one of our biggest sources

of single use plastic, is disposable nappies

and disposable baby wipes. These are a

major source of pollution, although there

are now many sustainable alternatives

out there. The London Evening Standard

newspaper, published an article recently

(March 2022) on the "Best reusable and

eco-friendly baby nappies that are better

for the planet" which you can read here. So,

this year, why not set yourself a challenge

and use Plastic Free July to trial different,

more environmentally friendly options

for the month and become part of the

'pollution solution'?

More information,

resources and

toolkit

Plastic Free July

Earth Day Plastic Pollution Primer and

Action Toolkit

32 July 2022 | parenta.com

parenta.com | July 2022 33
---
What do you need?

Carrot star bites

Let's celebrate Children's Art

Week from 29th June to 19th July

Finger Painted Trees

• Grated carrots

• Grated cheese

• Oat flour

• Eggs

Instructions

You can find the full recipe

on 'Healthy Little Foodies'

here.

1. In a small mixing bowl,

mix the grated carrot with

some water, cover and

microwave for 3 mins.

2. Drain the carrots, place

them on a clean cloth/

absorbent paper and

squeeze out the excess

liquid.

3. Place the carrots back in

the bowl and mix with the

remaining ingredients.

4. Prepare a baking sheet

with parchment paper or a

silicon baking sheet.

5. Form star shapes (or any

shape you wish) of the

mixture using a cookie

cutter. The mixture should

be approximately 0.5cm

thick.

6. Bake for approx. 13-15

mins (until crispy on the

sides).

You will need:

• White card or paper

• Sharpie or marker pen

• Paints

You can find the full craft

instructions on 'My Bored

Toddler' here.

Instructions

1. Using the marker pen, draw a tree

trunk and branches on the paper.

2. Dip your fingertips into the paint and

press onto the paper around the

branches to create the leaves.

3. Tip – you can even use different

colour paints to represent the different

seasons of the year.
---
The nightmare of

skipping!

A duck that has to fly up (jump) to catch its

food.

A frog jumping to catch flies as its tongue

isn't long enough.

A dolphin jumping out of the sea to catch

fish.

Heads up!

Marching soldiers

Marching is wonderful preparation as this

is a skip without the hop and allows you

to bring in the arm movements in a new

way. Remember that the key to mastering

physical skills is repetition but in different

ways to keep children engaged.

Why is skipping so

hard!

Skipping is so hard for little ones to do

and impossible when they are not ready.

I have spent years working on skipping

with little ones and it is always a cause

of anxiety due to the expectation of the

parents not understanding that they

need to develop other skills first before

they can skip. Imagine the fun when I

used to prepare children for their ballet

exams when they had to skip in time to

the music and remember a sequence of

skips and claps. That was hard enough so

imagine the stress when you had to add in

directions such as going around in a circle

or diagonal – 'herding cats' used to come

to mind on occasions!

After all my years of teaching ballet and

movement I can, hand on heart, confirm

that skipping is something you can't teach

when they are not ready. My advice,

breathe, take a step back, and accept they

will be ready when they are ready.

Did you know skipping is just a transfer

of weight with a little hop and bilateral

coordination? A move that looks so simple

and naturally, takes a huge amount of

effort from your body. All the muscles and

senses in your body are working hard to

keep you upright while they engage to

move your limbs to hop and move in a

direction!

Over the years I have learnt that you need

to prepare the children to achieve this skill

and here are some of the things I do to

perfect the skill of skipping.

No.1: Preparation of

the body

You need to be able to jump before you

can skip. It sounds weird as you would

think skipping would be easier than

jumping.

Before you begin you will need to assess

their skills of walking, going up and down

stairs, moving on their toes, demonstrating

running pace and being able to stop.

These activities are developing their core

stability and muscle control. The muscles

they are developing help them stay upright

and not fall over, which is vital for jumping

skills. You really don't want them to try to

jump and just land flat on their face! In

fact, trying to jump without core strength is

impossible.

Try this: Let yourself go completely floppy

and try to jump – don't cheat!!!

No.2: Mastering the

skill of jumping

You need to go down before you can go

up!

Bend those knees at the beginning and

end of your jump. When you jump with

the children make sure you demonstrate

by bending your knees and landing on

the front of your foot (tiptoe) bending your

knees as you land. Your toes are the shock

absorber for the ankles, knees, and spine.

Feel the difference between landing on

your heels compared to the front part of

your foot. You will hear a difference in

when you land on your heels compared

to your toes. Landing on your heels can

sound like a thump!

In my sessions, I play a game of who can

jump the quietest as we do not want to

wake up the sleeping lions. The children

love this as you are letting them problemsolve

and discover the best way of landing

from jumps.

Did you know that jumping helps the

bones harden and grow strong due to the

downward forces?

Take a peek at these slow-motion videos

of dancers and watch how they land

through the front of the foot, not the heel

and look at the amount of control and

strength it takes to jump.

https://www.youtube.com/

watch?v=e4X5z8AQc3s

https://www.youtube.com/watch?v=KyL-

TfkVDjY

Some ideas to practice jumping

Jumping in or over puddles – get muddy!

Blow bubbles for the children to jump up

and pop.

With a little bit of imagination, you can

have even more fun and become……

Encourage children to look forwards or

upwards. If they look down when jumping

they could land face-first on the floor. This

is due to the weight of their heads pulling

them forwards – I have seen it happen!

Different types of jumps

2 to 2 = jumping from 2 feet and landing

on 2 feet.

2 to 1 = jumping from 2 feet and landing

on 1 foot.

1 to 2 = jumping from 1 foot and landing

on 2 feet.

1 to 1 = jumping from 1 foot and landing on

1 foot.

No.3: Get set go…..

When your little ones can demonstrate

some jumping skills, you are ready for the

fun of learning to skip.

Some ideas for building their skills

1. Practise balancing on one leg like a

flamingo, how long you can hold it

for?

2. Take the flamingo for a walk over an

obstacle course. I use hula hoops for

them to step in and out of.

3. Feeding time! Flamingos have to hop

as they step in and out of the hula

hoop to catch their fish.

Handy hint: Give the children scarves as

flamingo wings and see who could get

them the highest to catch their fish. This

starts to bring in the use of the arms to

propel them upwards and forwards.

Co-ordination of the arms and legs can

be tricky at first but over the years I have

learnt a neat trick. I use bands/scarves on

the children's opposite wrists and ankles.

Have fun using games of moving with

band/scarf and no band/scarf first or

inside a hula hoop – there are so many

different games you use with the children,

and it works as this is something real and

concrete for them to work with.

All the hard work has paid off and now we

can skip!

Remember every child reaches this stage

at their own pace and let them feel

successful in their abilities no matter what

they are able to achieve at that moment

in time.

Once they can skip, why not add some

extra challenges to perfect their skills and

have fun in the process.

Skipping challenges

Gina Bale

Gina's background was originally

ballet, but she has spent the last 27

years teaching movement and dance

in mainstream, early years and SEND

settings as well as dance schools.

Whilst teaching, Gina found the time to

has create the 'Hi-5' dance programme

to run alongside the Australian Children's

TV series and the Angelina Ballerina

Dance Academy for Hit Entertainment.

Her proudest achievement to date is her

baby Littlemagictrain. She created this

specifically to help children learn through

make-believe, music and movement.

One of the highlights has been seeing

Littlemagictrain delivered by Butlin's

famous Redcoats with the gorgeous

'Bonnie Bear' on the Skyline stage.

Gina has qualifications of teaching

movement and dance from the Royal

Ballet School, Trinity College and Royal

Academy of Dance.

1. How many skips does it take

to cross the room?

2. Skipping backwards

3. Skipping holding hands

4. Skipping around obstacles

5. Skipping in a circle, diagonal

6. Create a skipping sequence and add claps

7. Let them create their own skipping dance and show everyone

36 July 2022 | parenta.com

parenta.com | July 2022 37
---
Testimonials

"Very fast response from the team/people who have responded to me today. Jamie

Atkins and Aaron Hall have been more than helpful today and have passed the issue

on to the IT team. Aaron has notified me and said he will be in touch with updates. I

am very please."

"Excellent help and response."

"Fantastic service - as usual!! My query was dealt with professionally and promptly

as always. Many thanks for your help."

"Excellent customer service and gave options on how to solve my dilemma."

"We always get excellent support from Parenta and queries are answered promptly

or sorted out online quickly. Thank you to Rosie for her continued support."

"Quick and friendly responses to my query. All resolved with a couple of emails. Good

service"

"Fast response, friendly and helpful."

"Extremely helpful, supportive and efficient"

"Always reply promptly, thank you"

Congratulations

to all our Parenta learners!

Congratulations to all our Parenta learners who completed their apprenticeship

and have now gained their qualifications.

These range from Childcare Level 2, Childcare Level 3 and Team Leading

to Level 3 and Level 5 Management – that's a huge achievement in the

current climate.

All that hard work has paid off – well done from all of us here at Parenta Training!

Did you know?... Parenta has trained over 20,000 apprentices within the early years sector!

Our Level 3 success rate overall is almost 10% higher than the national average.

That's down to great work from you, our lovely Parenta learners!

If you have a learner with us who has recently completed their apprenticeship, please send in

a picture to hello@parenta.com to be included in the magazine.

38 July 2022 | parenta.com

parenta.com | July 2022 39
---
PARENT

PORTAL

Interested? Visit

www.parenta.com

to find out how

we can help you!

Gives your parents:

A newsfeed of their child's day

including photos and videos

Their account balance and

invoice breakdown

The ability to download invoice

and payment receipts

A calendar view of past,

present and future sessions

booked

+ much more

Our

FREE

app works hand-inhand

with our

other software

solutions!

0800 002 9242 hello@parenta.com