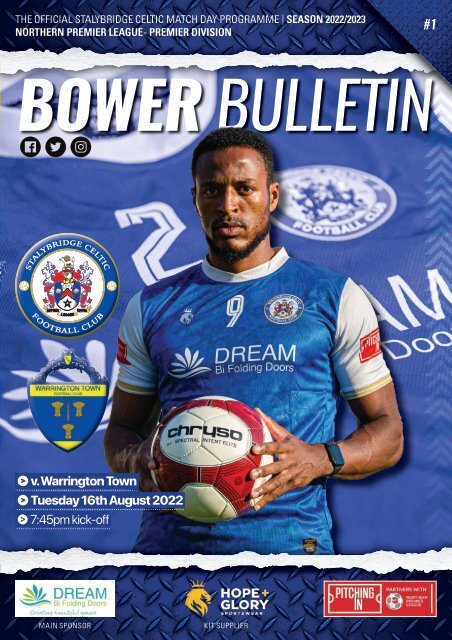 01 - Stalybridge Celtic vs Warrington Town
You also want an ePaper? Increase the reach of your titles
YUMPU automatically turns print PDFs into web optimized ePapers that Google loves.
THE OFFICIAL STALYBRIDGE CELTIC MATCH DAY PROGRAMME | SEASON 2022/2023

NORTHERN PREMIER LEAGUE - PREMIER DIVISION

#1

BOWER BULLETIN

>⃝● v. Warrington Town

>⃝● Tuesday 16th August 2022

>⃝● 7:45pm kick-off

MAIN SPONSOR

THE OFFICIAL STALYBRIDGE CELTIC MATCH DAY PROGRAMME

KIT SUPPLIER

1
---
HONOURS LIST

STALYBRIDGE CELTIC FOOTBALL CLUB

STALYBRIDGE CELTIC FOOTBALL CLUB

LIMITED COMPANY NUMBER 00292254

MEMBERS OF: THE FOOTBALL ASSOCIATION,

CHESHIRE COUNTY FOOTBALL ASSOCIATION,

PITCHING IN NORTHERN PREMIER LEAGUE

PRESIDENT: GERALD CROSSLEY

PATRON: LORD PENDRY OF STALYBRIDGE

LIFE VICE-PRESIDENTS: SUE BOWERS, KEVIN

BOWERS,

PETER DENNERLY, DOROTHY THORNLEY, ROY BARKER,

JOHN HALL, TOMMY WILLIAMS, JOHN MANDRYK,

DOROTHY NORTON, MARTYN TORR, NICK SHAW,

GERALD CROSSLEY

CHAIRMAN & MAJORITY SHAREHOLDER:

ROBERT GORSKI

DIRECTORS: GORDON GREENWOOD, KEITH SMART,

BILL MCCALLUM, ARTHUR BOSWELL, STEVE TATE,

KEITH TRUDGEON, ANDREW SEDDON, AFSHIN

MIRTORABI, STEVE LOCKEY & PHIL HALL

Northern Premier League - Premier Division

Champions 1992, 2001 Runners-Up 1991

Northern Premier League - Division One

Runners-Up 1988

North West Counties League -

Division One Champions 1984, 1987

North West Counties League -

Reserve Division

Runners-Up 1983

Cheshire County League Champions 1980

Runners-up 1978

Cheshire County League -

Reserve Division Runners-up 1982

Southern League - Division Two Runners-Up 1915

Lancashire Combination Runners-Up 1917

Lancashire Combination - Division Two

Champions 1912 Runners-Up 1913

Lancashire Combination -

Southern Division Champions 1916

Lancashire Combination -

Manchester Section Champions 1919

Lancashire & Cheshire Amateur League

Champions 1911 Runners-Up 1910

South East Lancashire League

Champions 1938 Runners-Up 1939

Manchester League Runners-Up 1963

Northern Premier League Challenge Cup Winners 1999

Northern Premier League President's Cup

Winners 2001, 2003

Northern Premier League Challenge Shield

Winners 1992 Finalists 1999

North West Counties League Challenge Cup

Finalists 1984

TEAM MANAGER: CHRIS WILLCOCK

ASSISTANT MANAGER: LINCOLN ADAMS

GOALKEEPER COACH: JOHN STEWART

HEAD PHYSIOTHERAPIST: DAVID POVER M.F.H.T

FIRST TEAM ANALYST: WARREN NOLAN

ACADEMY CHAIRMAN: IAN MILLIGAN

ACADEMY HEAD COACH: DEAN BRATHWAITE

CLUB SECRETARY: PHIL HALL

HEAD OF MEDIA AND COMMUNICATIONS:

TARAN DHAMRAIT

WEBMASTER: DEBORAH TAYLOR

CLUB PHOTOGRAPHER & GRAPHIC DESIGNER:

PHILL SMITH

PROGRAMME EDITOR: RICHARD GREENWOOD

GROUNDSMAN: PETE OWENS

COMMISSIONAIRE: JAY LUCAS

PA ANNOUNCER: CHRISTOPHER TIPPING

MATCHDAY / FINANCIAL OPERATIONS:

MICHAEL BRIERLEY & PAT BESWICK

North West Counties League Challenge Shield

Winners 1984 Finalists 1987

Cheshire County League Challenge Cup

Winners 1922 Finalists 1947, 1982

Cheshire County League Challenge Shield

Winners 1978 Finalists 1980

South East Lancashire League Challenge Cup

Winners 1938 Runners-Up 1939

Manchester League Open Trophy Winners 1963

Manchester League Gilcryst Cup Finalists 1949

Cheshire Senior Medal Competition Finalists 1920

Cheshire Senior Cup Winners 1953, 2001

Finalists 1912, 1955, 1981, 2006, 2012, 2013

Manchester Senior Cup Finalists 1923

Ashton Challenge Cup

Winners 1914, 1915, 1920, 1921, 1927, 1936, 1937, 1938,

1939, 1947, 1950, 1953, 1955

Finalists 1911, 1913, 1916, 1930, 1931, 1934, 1948, 1954,

1956, 1957, 1960

Manchester Challenge Shield Finalists 1955

Manchester Intermediate Cup

Winners 1958, 1969 Finalists 1957, 1968, 1970

Manchester Junior Cup Winners 1963

Altrincham Senior Cup Winners 1919

North West Floodlit Cup Finalists 1966

Lancashire Floodlit Cup Winners 1989

Finalists 1990

Reporter Floodlit Cup Finalists 1974, 1975

The Football League Founder Members Division Three

North 1920-1922

Football Conference 1992-98, 2001-02

GLS Cup Finalists 2005

Blue Square Conference Play-off Finalists 2008

2

THE OFFICIAL STALYBRIDGE CELTIC MATCH DAY PROGRAMME
---
WELCOME TO BOWER FOLD

FROM THE CHAIRMAN, ROB GORSKI

A very warm welcome back to Bower Fold for

our first home game of the 2022/23 season.

I would like to welcome all associated with

Warrington Town and we wish you a safe journey

home at the end of the evening.

Where do I start? I think that I have to start by

welcoming Chris, his backroom staff and the

entire playing staff to the club and we wish you

all a happy and successful time at our club.

Chris made an instant impact on the directors

and everyone who has met him. He has stamped

his own personality on the club, he is incredibly

professional and he has been a breath of fresh

air. Now, finances ultimately dictate, so however

professional our dressing room is, the bookies

will still have teams with much bigger budgets

as favourites to gain promotion. However, I

can say that in comparison with many other

managers we have had at Celtic, Chris has

stamped his authority on the club and his ethos

will be there for all to see as his squad evolves.

Chris has assembled a squad in a matter of

weeks and they have already developed a really

good chemistry. Alongside a great work ethic is

some fun and laughter and that dressing room

dynamic can carry us a long way. The gaffer

has worked very hard during the close season

and, in my opinion, is significantly "ahead of the

curve" in where I thought that we would be as

we start our new adventure.

The summer period is actually a very busy

period for the board too. The board has worked

tirelessly during the close season and I cannot

thank them enough. These guys give up untold

hours and I hope that some of the fans will

notice some of the differences. If you do, and

you see a director wandering around the

ground, please show your appreciation for the

time and effort that they have put in.

However, it was not

just the directors that

helped on the painting/

improvements aspect, a big

thanks goes out to the fans who gave up their

time too. Moreover, I would also like to thank

Chris's wife, Sam, who was supplying food as

well as "rolling up her sleeves". She has been a

wonderful supporter of Chris and the club and I

thank her too!

The atmosphere around the club seems to have

changed significantly. I spoke with a number of

fans at Mossley and I told them, genuinely and

sincerely, what a difference they have made

to the place. New fans have been very vocal

and they have made a MASSIVE difference to

the atmosphere. I cannot thank them enough.

The players feel like they have that proverbial

twelfth man playing when they start singing and

getting behind the lads. Some of the fans will

not read this, however, please let your mates

know that the players truly appreciate the

backing, and encourage them to back the lads

for the whole 90 minutes.

Tragically, not everything has been positive over

the summer. Richard Tipping, known to most

as 'The Voice', was diagnosed with pancreatic

cancer a few months ago; sadly, he died last

week aged just 57. Richard was our stadium

announcer for 20 years and he always had that

positive smile on his face. Even near the end,

he still remained optimistic. That epitomised the

classy and understated man that he was.

In his honour, I am delighted to announce that

the press box will forever be named the Richard

Tipping Press Box and our good friend will never

be forgotten. In what is a poignant, yet fitting,

move, I can reveal that the Tipping tradition

continues in that Chris is going to be the new

announcer, following in his father's footsteps.

Congratulations and many thanks Chris!

THE OFFICIAL STALYBRIDGE CELTIC MATCH DAY PROGRAMME

3
---
If you are reading this, you will be well aware

of our change of approach with regard to our

matchday programme now being an online

product. I fully acknowledge that there will be

'traditionalists' who may not approve, however,

we are moving with the times and this will help

improve the bottom line of the club on many

levels. I would like to give special thanks to

people like Taran, Richard Greenwood, Phill

Smith, Beechy and many others who have made

all of this possible. Like many others, they have

put in an awful lot of hard work over the summer

and Taran has an array of really good initiatives.

As for the season ahead, I think that the

old adage of 'give it ten games' holds true.

However, because Chris has pretty much

started with a blank piece of paper, we may all

need to be patient. I sincerely believe that his

professionalism, personality and positivity will

be clear from this evening; but, the productivity

may take a little while longer as the team fully

gel.

RARING TO GO:

Stuart Vallantine, Tuesday 16th August 2022

Bowercana Tuesdays, great to be home tonight,

A chance to give the Yellows a fright.

With the toughest of openers over

It's time to release the Bower Power,

We've an all-new side that aim to delight

An all-new side with height and might

The Yellows came close to reaching promotion

Like Saturday's side from County Durham.

Correia and Kyle will terrorise defences

Our defence will take no chances

The Yellows have familiar faces in their side

From us, there will be no easy ride.

With the Kerala flowing

And Correia pushing

Mottram End'll be wild tonight

As Wilcocks and Co get it right

The Bowercana is buzzing,

The Town End is rocking

On the pitch, let's make this possible

Together, we shall be unstoppable.

Let's get behind the new gaffer, squad and club

as a whole and see if we can all have some

really enjoyable memories in the season ahead.

Rob Gorski

4

THE OFFICIAL STALYBRIDGE CELTIC MATCH DAY PROGRAMME
---
MANAGER'S NOTES

WITH THE GAFFER CHRIS WILLCOCK

Good evening and Welcome to Bower Fold for

our first home game of the new season.

It's a special occasion for myself and my team

as we begin a new era with club.

I hope that together we can go on a good

journey and bring better times back to my home

town club.

Your support will give us a greater chance of

success this season and I hope that we will

repay your support with some good times on the

pitch.

If you can back us with your voices and push us

on, it'll give us a big lift every week. You will see

100% effort and commitment from myself, my

staff and my players in every game.

Whilst we didn't quite get the result we wanted

on Saturday, I

was pleased

with many

aspects of our

game. We will be

looking tonight to take

the positives and learn quickly and work even

harder on our areas of improvements . We will

look to bounce back with your support to help us

get a positive result.

Finally, I would like to thank those supporters

that travelled up to South Shields to support us.

Enjoy the game.

Gaffer

THE OFFICIAL STALYBRIDGE CELTIC MATCH DAY PROGRAMME

5
---
PHOTOGRAPHY WITHOUT THE FUSS

Call us on 07915 717003 or drop us an email info@phillsmithphotography.co.uk

BIRTHDAY PARTIES • CHRISTENINGS • BABY SHOWERS

SPORTING EVENTS • CORPORATE FUNCTIONS • PORTRAITS

FAMILY SHOOTS • WEDDINGS • PET SHOOTS
---
For people, clubs,

and businesses

like you

The official insurance provider to the

Pitching In Northern Premier League.

From insurance to risk management and

employee health and benefits*, it's our

passion to advise, protect and support you.

01756 655505

marshcommercial.co.uk

This is a marketing communication

*Employee health and benefits are provided by our sister company, Mercer.

Mercer Marsh Benefits is a trading name used by Mercer Limited who are authorised and regulated by the Financial Conduct Authority.

Mercer Limited is registered in England and Wales. No. 984275. Registered Office: 1 Tower Place West, Tower Place, London, EC3R 5BU.

Marsh Commercial is a trading name of Marsh Ltd. Marsh Ltd is authorised and regulated by the Financial Conduct Authority for General Insurance

Distribution and Credit Broking (Firm Reference No. 307511). Copyright © 2022 Marsh Ltd. Registered in England and Wales Number: 1507274,

Registered office: 1 Tower Place West, Tower Place, London EC3R 5BU. All rights reserved. MC220726019

A business of Marsh McLennan
---
MATCH REPORT

FROM SOUTH SHIELDS

A deflected goal at the end of the first half and a goal late in the second

undid a strong defensive performance from Celtic, as South Shields

recorded a 2-0 victory on the opening day of the 2022-23 season.

Gary Liddle and Joao Gomes were on target for the home side as they picked

up the three points.

Former Celt, Darius Osei was twice denied early on by great saves from Greg Hall, the second

a contender for save of the season. The ball was delivered across the face of goal by Jordan

Hunter for what looked to be a simple tap-in, but incredibly, Hall got across and made the

save to deny Osei.

As the Celtic back line settled, South Shields could only test Hall from range, with Blair

Adams and Will McGowan both off target and though Martin Smith got his effort on target,

he didn't trouble Celtic's keeper.

A great strike from twenty yards by Adams had to be superbly tipped over the bar, and though

Celtic defended the first corner, the second saw a routine that left McGovern in space to put

the ball in for Liddle. His low shot took a wicked deflection and Shields went in at half time a

goal up.

Celtic started the second half strongly, worrying the home defense and saw opportunities

through Raul Correia, Aarron Grewal and Osebi Abadaki but couldn't find the target.

Mid way through the half, a corner routine found Tom Miller free, he cut inside and fired a

shot that flew narrowly wide of the near post.

Six minutes from time, the home side made the game safe when Hall slipped on a clearance

allowing substitute João Gomes to race towards goal. Though the defence made it difficult,

he showed strength to fashion a drilled shot across the scrambling Hall and put a gloss on

the score line.

There was just enough time for Abadaki to take a strike just wide before time ran out.

VIEW THE MATCH CENTRE STATS

8

THE OFFICIAL STALYBRIDGE CELTIC MATCH DAY PROGRAMME
---
POST MATCH INTERVIEW

FROM SOUTH SHIELDS

WATCH CHRIS WILLCOCK'S POST MATCH INTERVIEW FROM

SATURDAY

THE OFFICIAL STALYBRIDGE CELTIC MATCH DAY PROGRAMME

9
---
IMAGE GALLERY

FROM SOUTH SHIELDS

10

THE OFFICIAL STALYBRIDGE CELTIC MATCH DAY PROGRAMME
---
THE OFFICIAL STALYBRIDGE CELTIC MATCH DAY PROGRAMME

11
---
STALYBRIDGE CELTIC'S

2022/2023 SQUAD

Greg HALL

Connor LEACH

Kyle HARRISON

Ben WOODS

Sponsored by

VIC YEARDLEY

Sponsored by

AVAILABLE

Sponsored by

AVAILABLE

Sponsored by

AVAILABLE

Dahrius WALDRON

Louis DANQUAH

Ciarán SUMMERS

Harli DEWHURST

Sponsored by

AVAILABLE

Sponsored by

AVAILABLE

Sponsored by

AVAILABLE

Sponsored by

AVAILABLE

David EDWARDS

Ethan PADDEN

Matty LIPTROTT

Aarron GREWAL

Sponsored by

AVAILABLE

Sponsored by

AVAILABLE

Sponsored by

AVAILABLE

Sponsored by

AVAILABLE

Please contact secretary@stalybridgeceltic.co.uk

if you would like to sponsor one of the above players.

12

THE OFFICIAL STALYBRIDGE CELTIC MATCH DAY PROGRAMME
---
STALYBRIDGE CELTIC'S

2022/2023 SQUAD

Osebi ABADAKI

Harry BENNS

Tom MILLER

Cameron DARKWAH

Sponsored by

AVAILABLE

Sponsored by

AVAILABLE

Sponsored by

AVAILABLE

Sponsored by

MG DOMESTIC

Please contact

secretary@

stalybridgeceltic.co.uk

if you would like to

sponsor one of our team.

Please contact

secretary@

stalybridgeceltic.co.uk

if you would like to

sponsor one of our team.

Godwin ABADAKI

Raul CORREIA

Sponsored by

STALYBRIDGE

CODERDOJO

Sponsored by

STEVE & BERYL TATE

Chris WILLCOCK

Manager

Lincoln ADAMS

Assistant Manager

Jon STEWART

Goalkeeper Coach

Dave POVER

Physio

Sponsored by

AVAILABLE

Sponsored by

AVAILABLE

Sponsored by

AVAILABLE

Sponsored by

CELTIC JUNIORS

THE OFFICIAL STALYBRIDGE CELTIC MATCH DAY PROGRAMME

13
---
Official Benchwear Partner to the

Pitching In Northern Premier League

Find the Macron Sports Hub

closest to you

These clubs have chosen Macron
---
LATEST LEAGUE TABLE

# Team Pl HW HD HL AW AD AL W D L F A Diff Pts

1 Gainsborough Trinity 1 0 0 0 1 0 0 1 0 0 3 0 3 3

2 Marine 1 0 0 0 1 0 0 1 0 0 3 0 3 3

3 Stafford Rangers 1 1 0 0 0 0 0 1 0 0 4 2 2 3

4 Marske United 1 1 0 0 0 0 0 1 0 0 3 1 2 3

5 South Shields 1 1 0 0 0 0 0 1 0 0 2 0 2 3

6 Warrington Town 1 1 0 0 0 0 0 1 0 0 2 0 2 3

7 Atherton Collieries 1 0 0 0 1 0 0 1 0 0 2 1 1 3

8 Ashton United 1 0 0 0 1 0 0 1 0 0 1 0 1 3

9 Matlock Town 1 1 0 0 0 0 0 1 0 0 1 0 1 3

10 Hyde United 1 0 1 0 0 0 0 0 1 0 1 1 0 1

11 Lancaster City 1 0 1 0 0 0 0 0 1 0 1 1 0 1

12 Nantwich Town 1 0 0 0 0 1 0 0 1 0 1 1 0 1

13 Radcliffe 1 0 0 0 0 1 0 0 1 0 1 1 0 1

14 FC United of Manchester 1 0 0 1 0 0 0 0 0 1 1 2 -1 0

15 Liversedge 1 0 0 1 0 0 0 0 0 1 0 1 -1 0

16 Whitby Town 1 0 0 0 0 0 1 0 0 1 0 1 -1 0

17 Bamber Bridge 1 0 0 0 0 0 1 0 0 1 2 4 -2 0

18 Belper Town 1 0 0 0 0 0 1 0 0 1 1 3 -2 0

19 Morpeth Town 1 0 0 0 0 0 1 0 0 1 0 2 -2 0

20 Stalybridge Celtic 1 0 0 0 0 0 1 0 0 1 0 2 -2 0

21 Guiseley 1 0 0 1 0 0 0 0 0 1 0 3 -3 0

22 Warrington Rylands 1 0 0 1 0 0 0 0 0 1 0 3 -3 0

THE OFFICIAL STALYBRIDGE CELTIC MATCH DAY PROGRAMME

15
---
RESULTS, FIXTURES & STATISTICS 2022/23

STALYBRIDGE CELTIC FOOTBALL CLUB

Date Opposition Att. Score Res Pts

Sat Aug 13, 2022 SOUTH SHIELDS 2,001 0-2 L 0

Tue Aug 16, 2022 WARRINGTON TOWN

Sat Aug 20, 2022 LANCASTER CITY

Tue Aug 23, 2022 MATLOCK TOWN

Sat Aug 27, 2022 GUISELEY

Mon Aug 29, 2022 LIVERSEDGE

Sat Sep 3, 2022

EMIRATES FA CUP 1Q

Tue Sept 6, 2022 RADCLIFFE

Sat Sept 10, 2022 NANTWICH TOWN

Tue Sept 13, 2022 BAMBER BRIDGE

Sat Sept 17, 2022 EMIRATES FA CUP 2Q

Sat Sept 24, 2022 GAINSBOROUGH TRINITY

Tue Sept 27, 2022 BELPER TOWN

Sat Oct 1, 2022

MORPETH TOWN

Sat Oct 8, 2022

ISUZU FA TROPHY 3Q

Tue Oct 11, 2022 MARSKE UNITED

Sat Oct 15, 2022 ASHTON UNITED

Tue Oct 18, 2022 MARINE

Sat Oct 22, 2022 WHITBY TOWN

Sat Oct 29, 2022 ISUZU FA TROPHY 1

Sat Nov 5, 2022

FC UNITED OF MANCHESTER

Sat Nov 12, 2022 STAFFORD RANGERS

Sat Nov 19, 2022 ATHERTON COLLIERIES

Sat Nov 26, 2022 WARRINGTON RYLANDS

Sat Dec 3, 2022

WARRINGTON TOWN

Sat Dec 10, 2022 SOUTH SHIELDS

Sat Dec 17, 2022 MATLOCK TOWN

Mon Dec 26, 2022 HYDE UNITED

Mon Jan 2, 2023 LIVERSEDGE

Sat Jan 7, 2022

LANCASTER CITY

Sat Jan 14, 2023 RADCLIFFE

Sat Jan 21, 2022 NANTWICH TOWN

Sat Jan 28, 2023 GAINSBOROUGH TRINITY

Sat Feb 4, 2022

BAMBER BRIDGE

Tue Feb 7, 2022

MARINE

Sat Feb 11, 2023 WHITBY TOWN

Sat Feb 18, 2022 FC UNITED OF MANCHESTER

Sat Feb 25, 2023 STAFFORD RANGERS

Wed Mar 1, 2022 EMIRATES FA CUP 5

Sat Mar 4, 2023 BELPER TOWN

Sat Mar 11, 2022 ISUZU FA TROPHY 6

Sat Mar 18, 2022 MORPETH TOWN

Sat Mar 25, 2023 ASHTON UNITED

Sat Apr 1, 2022

MARSKE UNITED

Sat Apr 8, 2022

GUISELEY

Mon Apr 10, 2023 HYDE UNITED

Sat Apr 15, 2022 WARRINGTON RYLANDS

Sat Apr 22, 2023 ATHERTON COLLIERIES

16

THE OFFICIAL STALYBRIDGE CELTIC MATCH DAY PROGRAMME
---
MATCH PREVIEW

WITH DEBORAH TAYLOR

Celtic's tough start to the campaign continues

as we welcome Warrington Town to Bower Fold

on Tuesday for a 7:45pm kick off. Tickets can be

purchased online or on the gate. This game is

dedicated to the memory of Richard Tipping and

there will be a minutes silence before kick off.

Warrington won their opening match, beating

Morpeth 2-0 in Warrington, carrying on from

where they left off last season. Last season saw

them finish in the play-off spots after being there

or there abouts for the entirety of the campaign.

Their opening eleven games last season were

a mixed bag, though they won the opening two,

beating FC at home and Stafford away, they lost

four, with Scarborough and South Shields beating

them on the road, whilst Matlock and Basford

beat them at home. They did win five in total from

those eleven, and draw two. In their next twenty

matches, they only lost three more times, with

seven draws, keeping them in the top five and in

contention for top spot. Four losses in their last

ten put paid to that dream, dropping them from

third to fifth and coming close to not making it all,

with Bamber Bridge only two points off them.

Last season's top scorer, Jordan Buckley is still

with the Yellows. Last season he scored 17 goals,

5 more than his nearest rival, Josh Amis. He has

already got his scoring boots on for this season,

having scored in their opening match, along with

the other Buckley, Isaac. On average, they scored

1.5 goals per game away from home (1.6 in total),

finding the net 31 times (67 in total) and failing

to score only 3 times from 7 in total. Defensively,

they conceded 47 goals in total, with 23 of those

on the road, at a rate of 1.1 per game and keeping

8 of their 15 clean sheets while traveling. They had

the fifth best away defence in the season, and the

fourth best away attack.

Our last meeting with

Warrington came towards the end of last season,

with Warrington visiting Bower Fold and walking

away 3-0 victors, to add to their 3-0 win at their

place (their only win over us in Warrington). They

did manage to visit us just before Lockdown in

2020, again winning, this time 2-0. Our last win

over them was in 2019, when we beat them 2-1 in

Warrington, with goals from Neil Kengni and Jon

Ustabasi, with a late, late goal ruining the clean

sheet for Alex Fojticek. With Warrington having

won on their last three visits to Bower Fold, the

last time Celtic beat them here was 2018, when we

won 2-0, with Liam Dickinson and Greg Wilkinson

getting our goals and Jack Walton finishing his

loan spell from Barnsley with a hard fought clean

sheet.

Warrington won their last match, beating

Morpeth 2-0 in Warrington. Warrington are

favourites to finish in the top five. In the last

match, the Celtic defence played exceedingly well

against full time opposition. At home, hopefully,

they can take that positivity and turn it into Chris

Willcock's first win.

THE OFFICIAL STALYBRIDGE CELTIC MATCH DAY PROGRAMME

17
---
A LOOK AT

WARRINGTON TOWN

Warrington Town are a team that need no

introduction having been battling it out with

Stalybridge for the last few years. Often seen

as play-off pushers, the side often arrives at

the Fold with a few ex-Celts in their ranks, and

this term is no different as we see the return of

Bohan Dixon in the yellow and blue.

The club, of course, dates back far further than

the last few years where we've found ourselves

locking horns in the Northern Premier League,

beginning life back in 1949 as Stockton Heath.

Competing in the Warrington and District

league until 1953, when a move to the Mid

Cheshire League coincided with the arrival

of manager Freddie Worrall, the club enjoyed

a sustained period of success under his

stewardship becoming one of the most feared

sides in the county. During that time the side

won the Mid Cheshire League Championship,

three League Cups and enjoyed more trips to

the Cheshire Amateur Cup Final than any other

club.

It was a side that went on to great things with

other clubs, not least the great Roger Hunt who

we all know, going down in history by lifting

England's only World Cup to date.

Four years prior to that historic day in 1966, the

club decided to rename themselves Warrington

Town, and by 1965 they had arrived at

Cantilever Park on the banks of the Manchester

Ship Canal. They have remained there to this

day, with the rather majestic Cantilever Bridge

looming down over the ground in one of nonleague's

more unique locations.

Following a period that saw little success,

Town joined the North West Counties League

in 1982, and during the mid-80s the side even

enjoyed a trip to Wembley in the FA Vase Final,

finishing runners-up to local rivals St Helens

Town.

Promotion to the Northern

Premier League was enjoyed

by the turn of the 1990s and during the decade

further cup finals were afoot, becoming the

first ever Northern Premier League Division

One side to reach the League Cup Final, while

there was also an impressive run to the FA

Trophy Quarter Final.

Towards the latter end of the decade, the club

endured a number of financial problems and

relegation to the North West Counties Division

One was followed by a demotion to Division

Two due to ground grading problems.

The rebuild saw Town work their way back

through the leagues, eventually reestablishing

themselves in the Northern Premier, finishing in

mid-table for a number of years and in the last

few years they've gone on to become one of the

strongest sides in the division.

A number of play-off pushes have yet to see

Town make their way into the National League

North, with a loss to Kings Lynn back in 2018/19,

while last season saw the club shock South

Shields in the play-off semi-finals before losing

to Scarborough in a tense penalty shootout.

The club will be keen to make it third time lucky

this season and they will certainly be among the

bookies favourites to be there or thereabouts

again come the end of the season.

18

THE OFFICIAL STALYBRIDGE CELTIC MATCH DAY PROGRAMME
---
LAST SEASON VS

WARRINGTON TOWN

Last time out - Celtic suffered a 3-0 loss on home soil as Town go on a play-off

march.

THE OFFICIAL STALYBRIDGE CELTIC MATCH DAY PROGRAMME

19
---
PLAYER PROFILES

WARRINGTON TOWN

Josh Amis

Position: Striker. Josh has

spent much of his career with

Stockport County in two spells

with a season at Northwich

Victoria sandwiched in

between. He has also played

for Altrincham and Preston

North End. Josh joined Town in the close season prior to

2018/19 and has gone on to appear in over 60 games

Mitchell Duggan

Position: Midfield. Another signing in November 2016

with a first appearance in the home win over Rushall

Olympic. Mitch started out as a youth team player with

Tranmere Rovers before progressing to the first team. He

was previously with Marine before coming to Warrington

but left again for a spell to return in summer 2018 and is to

date our longest serving player

Jordan Buckley

Position: Striker. Jordan joined Town from FC United

of Manchester in 2020/21. He has been a regular goal

scorer at both clubs and is a natural finisher. He was the

club's top scorer last season with 19 goals despite injury

lay-offs

Bohan Dixon

Position: Midfield. Bohan joined Town in late August 2018

and scored on his debut in the 5-0 win away to North

Ferriby United. Joining from Ashton United he has had

a wealth of experience, predominantly in non-league

football. Starting out at Accrington Stanley he soon

moved on to Lincoln City before spells at AFC Fylde, FC

Halifax Town and Stockport County. He will pass a 100

appearances for the Yellows this season

Evan Gumbs

Position: Defender. Evan, 23 when signing in August 2020

from Tranmere Rovers, is no stranger to Cantilever Park

having had three spells on loan at the club, making 34

appearances in the 2017/18 season.

He was released by the EFL League Two club, and the

management team were quick to make their move.

Luke Duffy

Position: Midfield. Town signed attacking midfielder Luke

Duffy ahead of the preseason friendly against Southport

on 1st September 2020.

Duffy, 21 when signing, was part of the Salford City

development squad in 2019/20 and has previously

had trials with Crystal Palace and

Brentford. Picked up from Lower

Breck the player has attracted

attention from clubs higher up the pyramid

Jack Mackreth

Position: Striker. Jack re-joined Town after playing for

Bala Town once our own season had been cancelled due

to the pandemic. He re-joined us in the summer of 2021.

Jack originally signed for Town from Wrexham and has

also spent time at Macclesfield Town and Grimsby Town.

His first start for Warrington Town was delayed while

international clearance came through. Currently under

rehabilitation for an ACL injury

Jay Harris

Position: Midfield. Jay has a wealth of experience in the

Football League and National League having previously

played for Wrexham FC. He started out as an Everton

trainee before moving on to play for Accrington Stanley.

He spent a couple of seasons with Chester before

moving down the road to fierce rival Wrexham where he

spent five seasons. He them moved a few miles north to

Tranmere Rovers. He had a spell at Macclesfield Town

and the returned to Wrexham.

Sean Williams

Position: Midfield. Sean originally signed in for Town

in November 2016 making his debut at home to Rushall

Olympic. Sean's former clubs include Stockport County,

FC Halifax Town, Altrincham, Hinckley Utd Hednesford

Town. He initially joined Warrington Town from AFC

Telford United. He later moved to Altrincham where he

spent a number of seasons before returning to Town in

2021, initially on loan and then signing up, has 100 apps in

total for the Town

Stefan Mols

Position: Midfield. Spanish

midfielder Stefan Mols joined

up with Paul Carden's squad in

mid-October 2021.

The 22-year-old was released

by Blackburn Rovers in the

summer having spent the

previous four seasons working

his way through the club's academy.

Isaac Buckley-Ricketts

Position: Striker. Isaac joined the club initially on loan

from Southport in February 2022. He was 23 years

20

THE OFFICIAL STALYBRIDGE CELTIC MATCH DAY PROGRAMME
---
PLAYER PROFILES

WARRINGTON TOWN

old when he joined Town and started his career at

Manchester City, and has been capped by England at

under-18, under-19 and under-20 level.

The forward also spent time in the Dutch Eredivisie,

where he scored twice in 12 appearances for FC Twente.

The initial loan deal was until April 3, and made his debut

in a 3-1 victory over Morpeth Town, notching a second

half assist for Josh Amis. That loan deal was extended to

the end of the season, and he signed for the club for the

start of the following season.

Michael Howard

Position: Striker. Michael signed from Skelmersdale

United on the final day of transfer in 2022. He has scored

twenty-seven goals for Skem. The former Preston

North End junior has played at this level before making

appearances for Morecambe, Hednesford Town,

Stalybridge Celtic and Marine.

Oliver Putnam

Position: Midfield/Striker. Oliver joined town in the

summer of 2022 having previously played for local rivals

Witton Albion. He scored in pre-season for Town. The

Biddulph born player started his senior football career

at Newcastle Town in 2020. He then went on to play at

Chorley, Leek Town and Glossop North End.

Andrew White

Position: Defender. Andrew was one of a number of

summer 2022 signings from National League side

Altrincham. He has had a distinguished career in football

in both The Football League and The National League.

Derby born he started out at Hucknall as a youth player

before signing for Mansfield Town. He also had two

spells at Crewe Alexandra either side of joining Boston

United, Kidderminster Harriers and Burton Albion. He

later played for Notts County, Kidderminster again and

Southport.

Chester and AFC Fylde

Tony Thompson

Position: Goalkeeper. Tony was

another ex-Altrincham player to

join Town in summer 2022. He

made over eighty appearances

for Alty. He started out at

Rotherham United before

making moves to Morecambe,

Tom Hannigan

Position:. Defender. Tom was also a

summer signing from Altrincham. Her

has also played for Vauxhall Motors and AFC Fylde.

Lewis Sinnot

Position: defender. Lewis signed for Town in the summer

of 2022 having previously played for Burscough FC. The

Liverpool born defender started his football career at

Tranmere Rovers.

Josh Seary

Position: Defender. Josh has joined the club on loan deal

from Preston North End and at only 17 they have high

hopes for him

MANAGEMENT

Mark Beesley

Manager. Former Yellows striker Beesley was manager

at Burscough in season 2015/16 following a lengthy

playing career, including spells at Chester, Forest

Green Rovers and Cambridge United. Mark took over as

manager following the departure of Paul Carden to AFC

Telford United and took Town to the NPL paly-off final.

David Raven

Assistant Manager. Was initially snapped up for Town

by then manager Paul Carden when he was released by

Wrexham in May 2018. Dave's previous clubs include

Liverpool, Carlisle United, Shrewsbury Town, Tranmere

Rovers, Inverness Caledonian Thistle, and Wrexham; he

also played for England's Under 18s 19s and 20s. Made

his Liverpool debut with a man of the match performance

against Tottenham Hotspurs in the 2004 ¼ final win at

White Hart Lane, played a couple of more games for

the Reds before moving to Tranmere Rovers (on loan),

Carlisle United, Shrewsbury Town, back to Tranmere

Rovers before trying his luck in the SPL with Inverness

Caledonian Thistle, in 2014-15 season Inverness won

the Scottish Cup at Hampden Park but unfortunately

Dave missed out on the game through injury, in Jan 2018

he signed for Wrexham and was released at the end of

that season. He left Town as a player to join Marine and

reached the FA Cup Third Round with then where they

played Tottenham Hotspur. He re-joined Town in 2021/22

as assistant manager to Mark Beesley.

VIEW WARRINGTON TOWN'S SQUAD

THE OFFICIAL STALYBRIDGE CELTIC MATCH DAY PROGRAMME

21
---
TODAY'S MATCHDAY PLAYLIST

DEDICATED TO RICHARD TIPPING

1. 99 Red Balloons - Nene

2. Hounds Of Love - The Futureheads

3. Roll With It - Oasis

4. Is This The Way To Amarillo - Tony Christie

5. Weather With You - Crowded House

6. Magic Of The Blue - Blue Magic

7. Brainbug - Nightmare (Sinister Strings Edit)

8. Some Might Say - Oasis

9. Boom Boom Boom - The Outhere Brothers

10. Ready To Go - Republica

11. Tubthumping - Chumbawamba

12. Hungry Like The Wolf - Duran Duran

13. Supersonic - Oasis

14. Stand And Deliver - Adam & The Ants

15. Blue - Eiffel 65

16. Kiss Me - Sixpence None The Richer

17. Nine Million Bicycles - Katie Melua

18. Thunderstruck - AC/DC

LISTEN TO TONIGHT'S PLAYLIST ON SPOTIFY

22

THE OFFICIAL STALYBRIDGE CELTIC MATCH DAY PROGRAMME
---
#ANDYSMANCLUB

ALL OUR GROUPS

MEET MONDAY 7PM

SUICIDE IS THE BIGGEST

KILLER OF MEN UNDER 45

1 MAN EVERY 2 HOURS

TO FIND YOUR NEAREST

GROUP VISIT OUR WEBSITE

WWW.ANDYSMANCLUB.CO.UK

JOIN THE CONVERSATION

info@andysmanclub.co.uk

andysmanclub

WWW.ANDYSMANCLUB.CO.UK

andysmanclubuk

@andysmanclubuk

We are a peer to peer support group for men.

Come have a brew and a chat!

#ITSOKAYTOTALK
---
STALYBRIDGE CELTIC 2022/2023

NEW HOME & AWAY SHIRTS

Celtic is excited to reveal its 2022-23 home and away shirts.

Made by Hope and Glory and sponsored by Dream Bi Folding Doors, Celtic's new home shirt

features a bold pattern in the clubs traditional blue and white colours and also features a newly

designed club crest.

Celtic's away shirt is a brightly coloured teal which includes a shade of blue towards the top.

Greg Hall will wear a green camouflaged style shirt alongside our home kit with a yellow and

grey variant completing the clubs away kit.

Both home and away shirts will be available to order later this week via Hope and Glory.

24

THE OFFICIAL STALYBRIDGE CELTIC MATCH DAY PROGRAMME
---
THE HALF TIME QUIZ:

FINGERS ON THE BUZZER…

Is it half time yet? Great. It's time to pop down your pie and give these football teasers a go. Each

week we'll be providing you with a few quizzes and brain teasers to have a go at while on the

terraces, with prizes on offer for those first past the post…

SPOT THE BALL:

Yes, we're offering free entry for a home game of your choice if you're the first to correctly guess

our spot the ball competition. All you need to do to enter is head over to our Twitter or Facebook

account at half time and drop your answer in the replies to the Spot the Ball thread…

BRAIN TEASER:

Can you name all 20 football club suffixes in the top five tiers of English football?

We'll get you started with City…

NAME THE XI:

Can you name the missing players from last season's Stalybridge fixture against Hyde United on

December 27…

1 Will Huffer

2 Josh Dawodu

3 Ashley Smith-Brown

4 Connor O'Grady

5 ????

6 Justin Johnson

7 Keenan Quansah

8 Scott Bakkor

9 ????

10 Callum Harris

11 ????

Answers can be found on

page 30.

THE OFFICIAL STALYBRIDGE CELTIC MATCH DAY PROGRAMME

25
---
MY CELTIC XI

WITH RICHARD GREENWOOD

Name:

Years Supporting Club:

First Game:

All-Time Favourite Player:

Richard Greenwood

26 years

28 December 96, Rushden &

Diamonds at home. Won 2-0.

Sammy Ayorinde

Favourite Memory: The treble winning bus parade. I was 11

and it came shortly after the Manchester United treble.

The town came alive and I didn't want to be Beckham or

Giggs. I wanted to be Tony Sullivan or Kevin Parr.

PADDY GAMBLE

DAVE GERMAN

MARTIN FILSON

KEENAN QUANSAH

ANDY SCOTT

BRENDAN BURKE

KEVIN PARR

GREG WILKINSON

CONNOR JENNINGS

DOMINIC CALVERT-LEWIN

IAN ARNOLD

SUBS: CRAIG DOOTSON, LEE ELLINGTON, SAMMY AYORINDE,

STEVE PICKFORD, TONY SULLIVAN, GARY BAURESS

26

THE OFFICIAL STALYBRIDGE CELTIC MATCH DAY PROGRAMME
---
The Daniel Wilkinson Foundation is a charity set up in memory of Daniel

Wilkinson who died in 2016 aged 24, while playing the game he loved, from

an underlying heart condition called Arrhythmogenic Right Ventricular

Cardiomyopathy (ARVC).

Dan played football from an early age and joined Hull City AFC when he

was 10, earning a professional contract aged 18. Loughborough

University followed where he completed a degree in Accounting and

Financial Management while playing non-league football. He was an

athlete who enjoyed the gym and took his health and nutrition very

seriously. He lived life to the full and had so much ahead of him.

Other than feeling light-headed on a few occasions in the month

before he died, he had no symptoms!

SUDDEN CARDIAC DEATH IN THE

YOUNG (SCD)

SCD is the leading cause of death in young

athletes during sport and the majority of deaths

occur with NO SYMPTOMS or family history.

ARVC can be found in one in every 1,000 to

5,000 young adults - IF IT IS LOOKED FOR.

Warning signs may include light-headedness,

fainting, palpitations, swollen legs,

breathlessness.

Every week in the UK, 12 apparently fit and

healthy young people (aged 35 and under) die

from previously undiagnosed heart conditions.

In Italy, where screening is mandatory for all

young people engaged in organised sport, they

have reduced the incidence of young sudden

cardiac death by 89%.

The Daniel Wilkinson Foundation has been

set up to raise awareness of SCD and to

provide funding towards heart screening,

defibrillators and CPR/defibrillator training

primarily for grass-roots sporting teams.

Tragedies can be prevented through cardiac

screening. It is vital that young people are

identified and treated.

Find out more

@dannywilks5

OUR MISSION

thedanielwilkinsonfoundation

dwfoundation5

contact@thedanielwilkinsonfoundation.org

thedanielwilkinsonfoundation.org

To donate: mydonate.bt.com/charities/thedanielwilkinsonfoundation
---
CATCHING UP

WITH PHIL MARSH

We've had many top quality strikers at

Bower Fold down the years, but few could

compete with Phil Marsh when it comes to

natural born finishers.

Spearheading the attack in one of the best

'Bridge squads since the turn of the millennium,

Marshy formed a fantastic relationship with the

likes of Connor Jennings and Greg Wilkinson

to guide the club up the division during the fulltime

experiment in the early 2010s.

Joining the club after impressing at FC United,

the former Manchester United youngster spent

two seasons at the club before moving up the

leagues to Forest Green Rovers. He returned

just over a year later, picking up where he left off

in front of goal, taking his overall tally with the

club to 50.

Now aged 36, Marshy is still lacing up his boots

at Pilkington FC in his hometown of St Helens

and is also coaching at the North West Counties

Division One North club. We caught up with the

potent goalscorer to see how he was getting on

and discuss a few of his memories from his time

at Bower Fold…

Hi Phil, it's good to speak to you. How are you

doing? Looking forward to getting back into the

season?

I'm not too bad. Had a bit of a stop start preseason

with holidays and few niggles but

looking forward to the start of the season.

It's been 12 years since you made your debut for

Stalybridge. How did the move come about?

Yeah I think my move to Stalybridge came about

after scoring the goal in the FA Cup for FC United

at Gigg Lane. It was a great game and I had a

good game. I think it was not long after I had

some interest and it was obviously a step up so

I was keen on

giving it a look.

During your

time at the club

you played with

some of the best Celtic

players of recent times, yourself included. Were

there any particular players that stood out for

you and you loved playing with?

Thank you, I appreciate that. I think I was very

lucky and played some of my best football in

my career at Stalybridge. Being full-time and

having a talented group was brilliant and all the

players would be worthy of a mention, but a few

stand outs were Connor Jennings, my strike

partner, and Greg Wilkinson, both fantastic

players.

Of course, you started your career at

Manchester United, who had a wealth of

experience and world-class strikers. As a

youngster, were there any first teamers who you

really learned from and received advice from?

I had a great upbringing and was very lucky to

be around some of the world's best strikers. We

used to do some finishing drills and to watch

and learn from the likes of Wayne Rooney,

Ruud van Nistlerooy, Cristiano Ronaldo and Ole

Gunnar Solskjaer was unbelievable. I learned

a lot from them all and they were all really nice

people too who would always try and help how

and when they could.

Naturally Sir Alex is well known for being a

tough task master. But from afar, Jim Harvey

felt very much the same. What was it like to

work under him? Especially as a full-timer…

Jim Harvey was a fantastic coach and his

sessions were brilliant. I really enjoyed working

with him and he definitely got the best out

28

THE OFFICIAL STALYBRIDGE CELTIC MATCH DAY PROGRAMME
---
of me. Certain occasions looking back we

didn't see eye-to-eye or we had fallouts over

certain situations but that's football. His man

management was questionable at times but I

don't hold any grudges or anything. That's part of

the game.

He certainly did seem to get the best out of you,

bagging plenty during his reign. Do you have

any stand out games or goals?

He got me playing in a system that really suited

me and it was a great style of football that

we all enjoyed. I think the four goals away at

Workington was the stand out. Everything

went in for me that night. It was a great night

personally after such a long drive on a Tuesday

night.

What are your fondest memories of your time at

the club? It seemed like there were some great

lads in the dressing room during your first spell.

My whole time at the club was brilliant from the

lads I played with, the great coaches and staff

who helped me, and the fans were always really

great with me and made me feel really welcome

and valued after games in the bar. I used to love

going in after a game win, lose or draw, having a

chat and mingling with the supporters.

What's next for Phil Marsh? Continue playing

until the goals stop going in?

I'm 36 this year but had a really good season last

year scoring 25 league goals so as long as I can

still offer something and feel fit enough I'll keep

going.

You're currently a player-coach at the club. Is

the coaching something you're going to look

to be progressing with over the coming years?

Next step management?

Yes, I have done my UEFA B Licence and am

looking to do my A in the coming years before

I retire. My aim is to try and stay in football in

some capacity once I retire, whether it's as

a coach or eventually go into management. I

currently do some one-on-one sessions and

group sessions locally with lots of kids and

teams around the St Helen's area as I love

sharing my knowledge and experience with the

next generation.

Good luck for the season Phil, we hope to see

you back at Bower Fold someday soon.

Thank you and I will hopefully come back and

catch a game very soon as I love coming back to

Bower Fold. It's a great venue for football and I

wish the club all the best.

This interview was conducted prior to the start

of the season. Unfortunately, Phil has picked up

a serious injury and the club sends their best

with his recovery.

LIFE AT BRIDGE:

PHIL MARSH

Position:

Striker

Debut: 14 August, 2010

v Redditch United

Last Appearance: 1 January, 2014

v Altrincham

Appearances: 99

Minutes Played: 7,515

Goals: 51

TO WATCH AND LEARN FROM THE

LIKES OF WAYNE ROONEY, RUUD VAN

NISTLEROOY, CRISTIANO RONALDO

AND OLE GUNNAR SOLSKJAER WAS

UNBELIEVABLE.

I THINK I WAS VERY LUCKY AND

PLAYED SOME OF MY BEST FOOTBALL IN

MY CAREER AT STALYBRIDGE.

THE OFFICIAL STALYBRIDGE CELTIC MATCH DAY PROGRAMME

29
---
QUIZ ANSWERS

BRAIN TEASER:

United, Town, City, Rovers, County, Athletic, Albion, Wanderers, Villa, Forest, Hotspur, North End,

Orient, Wednesday, Moors, Stanley, Argyle, Rangers, Alexandra, Dons.

NAME THE XI:

4. Stephen Brogan,

6. Shane Killock,

10. Charley Doyle

30

THE OFFICIAL STALYBRIDGE CELTIC MATCH DAY PROGRAMME
---
The Premier League,

The FA and Government

are together for football.

Unlocking the power of

pitches, strengthening

communities, transforming

lives, tackling inequalities

& improving accessibility

through the Football

Foundation.

Find out more about the

Football Foundation, its impact

and plans for your local area:

footballfoundation.org.uk

THE OFFICIAL STALYBRIDGE CELTIC MATCH DAY PROGRAMME

31
---
RICHARD TIPPING

RICHARD SPENT THE LAST 20 YEARS AS 'THE VOICE' AT BOWER FOLD AND WILL BE

MISSED BY US ALL. REST IN PEACE, RICHARD.

Picture Credit: Kev Wilson

THE OFFICIAL STALYBRIDGE CELTIC MATCH DAY PROGRAMME

32

AD-105x148-KIO-Take A Stand.indd 1 03/02/2021 08:48
---
A GUIDE TO MATLOCK:

YOUR AWAY DAY PLANNER

THE NEED TO KNOW:

Gameday:

Distance from Bower Fold:

Ground Address:

Entry Fee:

Tuesday 23 August, 2022 - 7.45pm

36.9 miles

Causeway Ln, Matlock DE4 3AR

£12 Adults, £5 16-18 Year Olds, £8 Concession,

£3 Child 10-15 FREE under-10

We head over to Matlock on next Tuesday evening to take on a familiar face in Paul Phillips, who has

spent plenty of time between the sticks at Bower Fold, alongside in the dugout - and of course teasing

fans on the terraces during his Droylsden days too.

It's all set to be a thrilling game at The Proctors Cars Stadium, and with a fan minibus running from

Bower Fold to the game, there will be plenty of Celts there in good voice. For those thinking of making

the journey over to the Derbyshire town, here are a few top tips for making the most of the 37 mile

journey…

Places To Eat:

Matlock's always been popular with tourists and when it comes to picking up a bit of grub, there are

plenty of options available. For a small town, you can go around the world pretty easily with decent

Indian at The Balti in nearby Matlock Bath, or The Spice a little closer to the ground, while Thailand

Number 1 will provide you with, well, a taste of Thailand.

For those wanting to go a bit classier before hopefully a classy display from Chris' side, The Stones is

one of the more revered restaurants in town, offering modern British. Let's face it, you also can't beat

a bit of pub grub, with The Remarkable Hare a solid option.

Places To Drink:

If getting in on the pub action pre-game is what you're looking for, then there's a fair bit of choice. In

terms of proximity to the ground, The Remarkable Hare is your best bet, just a five minute walk away,

while Monk Bar sits just across the road from the pub offering cocktails and beer, although we're not

entirely sure a pornstar Martini is what you're going to be looking for half an hour before kick off.

Ostello Lounge and The Tipsy Toad, which shows live sport, are also just a short walk from the ground.

A little further afield (although still only a 10 minute walk), you'll find Farmacy, a small real ale bar

which operates as Aldwark Ales' brewery tap, with a host of cask and keg beers that are well worth

sampling. Just be careful, it's only a Tuesday night!

The Sights & Sounds:

BUY YOUR TICKETS

Early arrivals into Matlock will have plenty to do. The town needs no introduction to many of us

Stalybridge folk, and Matlock Bath further down the road certainly doesn't. Perhaps one of the most

picturesque away trips of the season, there are some great walks, a number of museums and even the

chance to ride a cable car.

Then we'll see you all there at 7.45pm to hopefully enjoy the highlight of the day…three points on the

road!

THE OFFICIAL STALYBRIDGE CELTIC MATCH DAY PROGRAMME

33
---
34

ADVERTISE

IN THIS

PROGRAMME
---
FROM THE ARCHIVES

TUESDAY AUGUST 16TH, 2011

Stalybridge Celtic vs Harrogate Town (3-2)

League: National League North

A last gasp winner gave Celtic the three points

their performance deserved.

Celtic completely bossed the first half, and had

Harrogate on the ropes. Adam Kay's free kick

hit the woodwork, and Phil Marsh was denied

a seemingly valid goal with a dubious offside

flag before cutting a shot wide across the face

after some scintillating build up play. It wasn't

all Celtic's own way, with Harrogate making

dangerous forays, and Jan Budtz pulled off a great

low save to deny Ian Ross, but they were rare.

Phil Marsh forced Mark Cook into a great stop

at his near post and Kay's corner kick clipped

the crossbar with the Celtic man trying a cheeky

curling corner. A superb rising drive from Greg

Wilkinson was watched hopefully by Cook as it

sped past the post, and more one touch passing

set up Jack Rea for a rare Rae rasper that had

Cook again at full stretch to deny him. Cook was

the hero for Harrogate as he kept out Wilkinson's

lofted shot, and he got lucky when Craig Hobson

met Kay's fine cross but lifted the ball over the

bar. Lloyd Ellams showed some spectacular skill

to get into the box and retain the ball, but his shot

took a deflection off Jake Picton's back to make

the save comfortable for Cook. Marsh popped up

onto a Kay through ball, and curled his shot over

Cook, only for it to thump the woodwork, whilst

his twisting and turning in the box opened a small

gap, but Cook was well placed.

A goal was coming, Harrogate couldn't suppress

Celtic forever, and a goal came through the vision

of Marsh and the strength of Hobson. Marsh's

inch perfect through ball was powered onto by

Hobson who held off Picton long enough to draw

Cook and fire past the Harrogate keeper right on

the stroke of half time.

Celtic started the second half as they had finished

the first, with Kay winning a corner. This time

Lloyd Ellams took the corner, firing to the near

VIEW HIGHLIGHTS

post. Cook came to claim but landed awkwardly

and stepped back into his own net. He tried to

throw the ball out, but the linesman had seen the

ball cross the line and Celtic were two up.

Harrogate reorganised and packed the midfield,

stifling Celtic's dazzling football, and pushing

hard into the Celtic half. Callum Hassan headed

tamely into Budtz's arms, but took advantage of

some disorganised defending to fire low and hard

just beyond the finger tips of Jan Budtz, to pull one

back for the visitors.

So successful was this strategy that Harrogate

tried again, popping the ball around the box

putting pressure on the Celtic back line, forcing

them further back. Paul Brayson had a warm

up shot that Budtz stopped fairly easily, before

placing the perfect low drive through a crowd

that Budtz just couldn't reach and Harrogate were

level with twenty minutes left.

Celtic got to grips with Harrogate's new tactics,

and started building their football again. Callum

Warburton fired from the edge of the box an inch

wide, and Marsh cut his effort across the fface

after outpacing the Harrogate defence. Celtic

started to look as strong as they had in the first

half, and Harrogate were pushed back and back.

Right at the death, Arthur Gnahoua turned Matt

Bloomer inside out and fired low and hard back

from the touchline for Connor Jennings running in

from the edge of the box. Cook slid in to get the

ball, but Jennings was quicker and fired into the

back of the net before following the ball as he

went over Cook.

It was the final second of the match and

Harrogate didn't have time to breath never mind

mount an attack, and Celtic did to Harrogate what

Harrogate did to Altrincham last Saturday.

THE OFFICIAL STALYBRIDGE CELTIC MATCH DAY PROGRAMME

35
---
A TRIP DOWN MEMORY LANE

WITH MICHAEL BRIERLEY

Stalybridge Celtic FC, together with its home

of Bower Fold, was founded in 1909 by Herbert

Rhodes.

The Celtic name does begin to appear in records

from 1906 onwards but crucially appears to

have never been affiliated into any league and

seemingly played friendly matches only.

From formation and that very first game,

development was more than a fairly rapid affair

and the success from football played, via the

Lancashire & Cheshire League, Lancashire

Combination, Central League and Southern

League was immediate, testament to the level of

ambition that existed.

Following its decision to expand, the initial dream

of election to the Football League was achieved

and two seasons were spent in the Third Division

North. This brought more than acceptable

results and a highest ever finish in the footballing

pyramid, together with a best ever performance

in the FA Cup in front of a record gate of 9,753.

Voluntary resignation, due to financial concerns

and being the first to ever do so, saw the journey

start all over again. The Cheshire County League

was joined before further pyramid reorganisation

saw progress made through the North West

Counties League to the Northern Premier League.

Stalybridge Celtic FC and Bower Fold first entered

my life for a home game against Frickley Athletic,

in the Northern Premier League, on 2nd March

1991.

It's the same in all walks of life. Formula 1 is all

about teamwork, the challenge of man and

machine against rivals in a bid to be the fastest. A

cruise ship comes under the overall control of the

master of the vessel but it takes many crew from

all over the world to run a smooth operation.

In both cases, or in much the same way as

however we all came to watch that very first

match then it is, once witnessed, the magic of the

blue that can captivate you for life. All will have a

personal favourite race, trip, driver, player, match

or season that

they remember

best and each

one is, of course,

special but in the

context of history

then all are just as equally

important as each other.

The intervening years, since that Frickley game,

have given me many happy memories. Those

first two years in the Northern Premier League,

the runners up and title winning season, glorious

years spent in the Football Conference, long and

good FA Cup or Trophy runs together with other

trophies lifted and of course, the unprecedented

and unforgettable treble season of Northern

Premier League, Cheshire Senior and Presidents

Cup.

It is those many memories of numerous

outstanding results in terms of matches, players

and grounds that are best and most fondly

remembered. A TRIP DOWN MEMORY LANE

(PLAYERS & MANAGERS A-Z)

LEE ELLINGTON

The Duke was considered to be, perhaps, the

most prolific striker for a generation or so. Played

over four seasons in the Football Conference

North at the end of the 2000s.

NEIL ELLIS

Left hand sided player, equally at home in both

defence and midfield. Featured in two campaigns

of the Football Conference era during the mid

1990's.

NIGEL EVANS

Largely used as a substitute and back up player

during the unprecedented NPL treble season.

Striker, who possessed such an infectious, laid

back attitude and was very happy to just be a

valuable part of that success.

THE OFFICIAL STALYBRIDGE CELTIC MATCH DAY PROGRAMME

36
---
UPDATE FROM THE SECRETARY

WITH PHIL HALL

Good evening and welcome to our opening

home fixture for the 2022/23 season. Today we

welcome the players, officials, and fans of

Warrington Town. Warrington just missed out on

promotion through the playoffs last season, and

I'm sure they'll be desperate to go one better

this term.

Not only is this the start of a new season,

but also the start of a new era at Bower Fold

under new manager Chris Willcock. The new

Gaffer has been like a breath of fresh air, not

only rebuilding on the pitch, but also throwing

himself into work parties off it, revamping the

dressing room, and connecting with the fans.

Chris lives locally and his passion for the club

shines through.

Saturday's result wasn't the one we wanted,

but if we can build on the performance then

the results will come. I'm sure the fans who

made the long trip to the northeast appreciated

the efforts, and I know the staff and players

certainly appreciated the support.

Saturday's game also saw my competitive debut

as Secretary, but also meant I had to reprise

my previous role as kitman. The reason being,

of course, that Andy Hobson has moved on to

pastures new. Andy has been a great servant

to this club holding various roles and spending

a vast amount of his spare time at the ground

along with his wife Sarah, and daughter Chloe,

helping wherever he was needed.

Another familiar face missing today for an

altogether more tragic reason is Richard

Tipping, who sadly passed away last week.

Richard has been The Voice of Celtic for 20 years

and last season was voted club person of the

year.

His smile and cheerful demeanour will be

greatly

missed. I'm

sure he would

be proud that his

son, Chris, has decided

to step into the role he filled so well. We will

hold a minute's silence before kick off to honour

Richard's memory.

Volunteers like Richard and Andy are the

lifeblood of clubs at our level and we are always

in need of new ones, so please talk to any club

official, or email secretary@stalybridgeceltic.

co.uk if you would like to know more about

volunteering.

Finally, I hope you enjoy our new digital match

day publication. It's taken a lot of hard work by

Taran, Phill Smith, Michael Beech and our new

programme editor Richard Greenwood to get

everything in place, and I'm sure you'll agree

they've done a great job.

The games come thick and fast at this time

of the season, and we are at home again on

Saturday to Lancaster City. I hope to see you

all then and if you enjoy this evening why not

persuade a friend to come along.

All the best .

Phill

THE OFFICIAL STALYBRIDGE CELTIC MATCH DAY PROGRAMME

37
---
WHAT'S HAPPENING

AT BOWER FOLD

Stalybridge Celtic is delighted to welcome three new directors to the clubs board

Afshin Mirtorabi, Andrew Seddon and Steve Lockey have all joined the clubs board of directors and

will work with the existing board and club volunteers to continue with the clubs progression.

All three directors are local to Stalybridge and bring a wide range of skills and experience to the board.

Celtic Chairman Rob Gorski was delighted to welcome Afshin, Andrew and Steve to the club, he said:

"I am genuinely excited that the three of them have officially joined the club. Ash, Andy and Steve

came as a package and are exactly what we have needed for many years. They are intelligent, wellconnected,

dynamic businesspeople who can help change the culture of the club, bring in fresh ideas

and help us to attract new sponsorship.

"I welcome all four in to the boardroom."

On joining the Board of Directors, Ash said: "As a Stalybridge local and passionate football fan, I'm

delighted to get the opportunity to help navigate the club through the next phase of its evolution. There

are many exciting developments ahead which will transform the club, build a solid foundation for future

growth and leave a lasting legacy. I feel privileged to be a very small part of it."

Steve added: "I'm really excited to join the board at Celtic. As a Stalybridge local, it's a brilliant

opportunity to help my local club continue to improve as we move into next season and for many

seasons to come! The club has a great foundation and history and hopefully I can contribute to an even

greater future."

Finally, Andrew commented: "Having lived in Stalybridge for 20 years and followed the fortunes of

Stalybridge Celtic from afar, I am really delighted with the opportunity to join the board of the best nonleague

club in Tameside and help drive the club forward. The future of the club looks very promising

and I look forward to playing a small part in making it happen."

Welcome to Celtic, Ash, Steve and Andrew!

38

THE OFFICIAL STALYBRIDGE CELTIC MATCH DAY PROGRAMME
---
WHAT'S HAPPENING

AT BOWER FOLD

Stalybridge Celtic is extremely saddened to

report that club volunteer and Matchday PA

Announcer Richard Tipping passed away

last week.

Richard is well known as 'The Voice' at Bower

Fold and has spent the last 20 years on the

microphone at the club.

Richard was recently named as Celtic's Clubman

of the Year for the 2021-22 season and will be

sadly missed by everyone at the club.

Chairman Rob Gorski paid tribute to Richard's

dedication and service to Celtic, he said: "I am

sincerely saddened to hear of Richard's untimely

death. He was our match day announcer for 20

years, even when working in London during the

week, and was an outstanding Celtic stalwart.

"Richard oozed class, style and humility and he

will be terribly missed by all who knew him.

"Our thoughts are with Chris and the whole

Tipping family at this dreadfully sad time.

"RIP Richard."

Celtic will be holding a minute's silence before

tonight's fixture with Warrington Town.

Rest in peace, Richard.

We can also confirm that Celtic's press box will

be named The Richard Tipping Press Box in

memory of Richard.

We'd like to thank Andy for his time at the club

and wish him all the best in his new challenge.

We look forward to welcoming Andy, Sarah and

Chloe back to Bower Fold in the near future.

Player sponsorship for the 2022-23 season

is available to purchase!

For £120, you will have your name included in

our match-day programme, on the club website

with your sponsored player while also having

the opportunity to meet your sponsored player

during the season.

The following players are currently available for

sponsorship.

• Kyle Harrison

• Ben Woods

• Louis Danquah

• Tom Miller

• Harry Benns

• Ciaran Summers

• Dahrius Waldron

• Ethan Padden

• Aarron Grewal

• Osebi Abadaki

Please contact

secretary@stalybridgeceltic.co.uk if you would

like to sponsor one of the above players.

Celtic can confirm that Andy Hobson has

decided to step down from his role as Kit

Manager to move on to a new challenge

elsewhere.

Andy, his wife Sarah and daughter Chloe are

popular figures around the club and they have

all given so much time and put lots of hard work

into Celtic.

Andy's dedication to Stalybridge Celtic has been

tremendous over the years and he along with

Sarah and Chloe will be sadly missed.

ANDY HOBSON

THE OFFICIAL STALYBRIDGE CELTIC MATCH DAY PROGRAMME

39
---
40

THE OFFICIAL STALYBRIDGE CELTIC MATCH DAY PROGRAMME
---
IMAGE GALLERY

THE BEST OF PRE-SEASON

THE OFFICIAL STALYBRIDGE CELTIC MATCH DAY PROGRAMME

41
---
42

THE OFFICIAL STALYBRIDGE CELTIC MATCH DAY PROGRAMME
---
Ever thought of volunteering to

help your local football club?

There are many different volunteer roles in non-league football and

Northern Premier League football clubs need your help with them.

The Trident Leagues and Pitching In have recently launched a new

online Volunteer Hub where you can find opportunities and contact

your local football club.

Please visit

Pitchinginvolunteers.co.uk

to find out more
---
INFINITE ENERGY

Ofcial Partner to the

Pitching In NPL

Introducing the Spectral Intent Elite

Exclusive Northern Premier League Match Ball :

Ÿ

Ÿ

Ÿ

Ÿ

Microcoated PU casing equalizes airow

Engineered PU for increased response

& enhanced control

Optimal sphericity for straight ight

Modied latex bladder for improved balance &

accuracy

SPECTRAL INTENT ELITE sz 5

sales enquiries :

e: sales@chryso.co.uk

www.chryso.co.uk

44
---
THE OFFICIAL STALYBRIDGE CELTIC MATCH DAY PROGRAMME

45
---
TODAY'S TEAMS

AT BOWER FOLD

STALYBRIDGE CELTIC

Greg Hall

Connor Leach

Kyle Harrison

Ben Woods

Louis Danquah

Ciaran Summers

Dahrius Waldron

Ethan Padden

Matty Liptrott

Harry Benns

David Edwards

Osebi Abadaki

Aarron Grewal

Cameron Darkwah

Godwin Abadaki

Raul Correia

WARRINGTON TOWN

Tony Thompson

Lewis Sinnot

Andy White

Tom Hannigan

Evan Gumbs

Jay Harris

Mikey Howard

Sean Williams

Isaac Buckley-Ricketts

Bohan Dixon

Luke Duffy

Josh Amis

Stefan Mols

Matthew McDonald

Oliver Putnam

Jordan Buckley

Referee: Thomas Swift

Assistants: Kenneth Dowling & Elliott Holman

Supporters are warned that is an offence under the Ground Regulations and Club Code of Conduct to enter the field of play - AT ANY

TIME HOME AND AWAY Supporters who enter the field of play will be ejected from the stadium and may be subject of a banning

order. All people entering Bower Fold and its environs are reminded of their obligations with regard to foul and abusive language and

comments and remarks that could be construed as offensive, discriminatory and or racist to any group or creed. The directors have

asked that all fans, home and away, behave in a manner that does credit to this fine football club. By Order of Stalybridge Celtic FC.

STALYBRIDGE CELTIC FOOTBALL CLUB LIMITED(THE) Company number 00292254