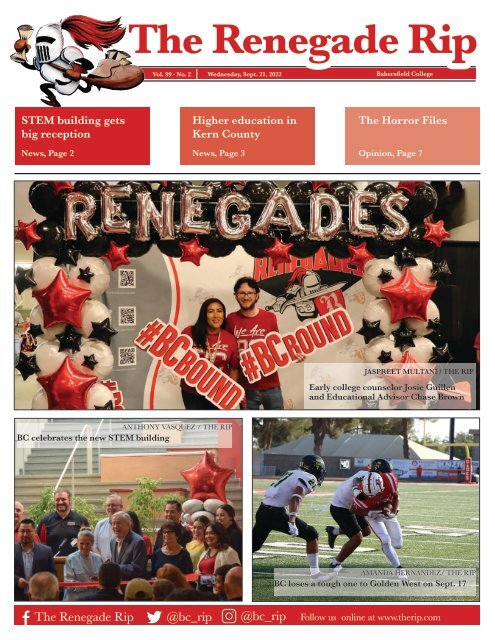 Renegade Rip, issue 2, Sept. 21, 2022
Bakersfield College campus news
Bakersfield College campus news
SHOW MORE
SHOW LESS
You also want an ePaper? Increase the reach of your titles
YUMPU automatically turns print PDFs into web optimized ePapers that Google loves.
The Renegade Rip

Vol. 99 ∙ No. 2 Wednesday, Sept. 21, 2022

Bakersfield College

STEM building gets

big reception

Higher education in

Kern County

The Horror Files

News, Page 2 News, Page 3 Opinion, Page 7

JASPREET MULTANI / THE RIP

Early college counselor Josie Guillen

and Educational Advisor Chase Brown

ANTHONY VASQUEZ / THE RIP

BC celebrates the new STEM building

AMANDA HERNANDEZ/ THE RIP

BC loses a tough one to Golden West on Sept. 17

The Renegade Rip @bc_rip @bc_rip Follow us online at www.therip.com
---
Page 2

News

The Renegade Rip www.therip.com

Wednesday, Sept. 21, 2022

BC celebrates STEM building

By Amanda Hernandez

Reporter

Bakersfield College held a public

ribbon cutting event Sept. 7 to celebrate

the new Science and Engineering

building.

The idea for the project began in

2016, and the entire process took over

six years to complete. The full cost of

the new structure was well over $40

million and paid for with bond funding

made possible with the passage of Measure

J.

Bakersfield College president Zav

Dadabhoy speaking on September 7

BC president Zav Dadabhoy speaks at

ribbon cutting ceremony for BC's new

STEM building on Sept. 7. (Amanda

Hernandez)

During the ribbon cutting event, BC

President Zav Dadabhoy stated that

former Congressman Bill Thomas was

really the one who pushed to make the

building idea become a reality.

The creation of the building was part

of an effort to give students more opportunities

to expand their knowledge,

increase essential career skills and graduate

from BC with hands-on experience.

The overall design of the building

has gained a lot of attention because of

its unique structure, filled with secrets.

There is a tree design that is made to

absorb sounds, and it follows a famous

math sequence found in nature.

It has bricks that look like all of the

other BC buildings, however, they are

different. To crack the code, you have

to learn about orbitals.

The windows that represent the blueprint

of life and how scientists decode

the blueprint. It also has a peg board

also known as a binary board that codes

words following the language of computers.

Christina from HMC architects said

of designing the project, "It wasn't hard

at all, it was actually really fun. The design

took us two years and then the construction

was an additional two years.

As the architects we stay throughout the

entire process and help the construction

team if they have questions or when

things need to be changed."

Professors who were on hand shared

their point of view, and how effective

the new building makes the process of

teaching students.

Timothy Plett, who teaches physics in

the new

building stated, "I have mostly been

using the new building for labs and conducting

office hours. The students have

more space to learn, are able to interact

with state-of-the-art equipment, and it

definitely makes a difference in them

being able to fully grasp what I am trying

to teach them."

AMANDA HERNANDEZ/ THE RIP

Stephen Waller, Executive Dean of

Instruction, Math, Science and Engineering,

speaks Sept. 7 at the ribbon cutting

ceremony for BC's new STEM building.

Ag webinar and water crisis

By Nicholas Watson

Reporter

Bakersfield College hosted the first

of a series of webinars on water policy

in the Central Valley on Sept. 13 as

part of their partnership with the National

Renewable Energy Laboratory

and Valley Strong Credit Union.

It featured three speakers representing

different organizations and institutions

that have partnered with the

Valley Strong Energy Institute, all of

whom touched on different aspects of

the ongoing water crisis that is gripping

the Central Valley.

Alivar Escriva-Bou, a senior fellow

from the Public Policy Institute of California

Water Policy Center, explained

the effectiveness, or lack thereof, of the

recent Sustainable Groundwater Management

Act, or SGMA.

He was then followed by Thomas

Ott, an assistant research hydrologist

with the Desert Research Institute,

who has been working on openET, a

public database for water management

data funded and worked in part by

organizations such as NASA, the Department

of Agriculture, the Desert

Research Institute, and Google, among

many others.

Following this, Josué Medellín-Azuara,

an associate professor

of environmental engineering at the

University of California Merced, gave

a general rundown of the severity of

the ongoing severe drought in the Central

Valley, with specifics on the data

behind the severity of the water crisis.

The webinar concluded with a Q&A

session, where members of the public

were able to ask the panelists questions

regarding the things they discussed or

just general questions regarding water

conservation and management in California.

The key takeaway from the webinar

as a whole was that, while the situation

is certainly dire, there is still action that

can be taken, along with the new tools

that are emerging through continued

dedicated research, that will allow the

Central Valley to mitigate and manage

this crisis. While the webinar's topic

was one of crisis, the main theme was

one of hope – something that all three

guest speakers wanted to drive home.
---
Page 3

News

The Renegade Rip www.therip.com

Wednesday, Sept. 21, 2022

BC hosts Transfer Day

By Jason Mena

Reporter

A crowd of BC students gathered for the Transfer Day

college fair, held in the College Center ballroom on Sept.

12. Representatives from UC, CSU, and other nonprofit, private

institutions dedicated to the student experience, helped

guide those who were interested through the admission and

application process while also providing key information on

FAFSA and the Co-op program. Co-op prepares students

for their field of study by balancing school curriculum with

hands-on experience, prior to graduation. A BC booth was

also present and provided pamphlets with information about

college and university representatives pertaining to admissions,

cost, programs, etc.

Many staff members and students expressed their excitement

at meeting in-person once again, as last year's event

was hosted online. It produced a personal environment for

students to ask many questions, and hosts said that they were

grateful to provide information that could help lead students

down their higher educational paths. Booth hosts came prepared

for any questions thrown their way, ready to test their

mettle against the upcoming storm of new transfers. " Pacific

has a $40,000 scholarship for those entering their first year

with a gpa of 3.7 or higher," said Matthias Lopez, Host of

the University of The Pacific booth when asked about the

schools financial opportunities. He added, "Including FAS-

FA and other financial aids available, the $60,000 average

graduation cost is minuscule compared to other institutions."

California institutions were not the only ones present at

the event, with universities such as Arizona State University

(ASU) and Drexel University making an appearance as well.

When asked the question, "What do you say to convince students

who are nervous to leave their home state to join your

school?" an ASU Representative replied," That's a Good

Question. We have a big community waiting in Phoenix to

welcome any out-of-state students and encourage them to

feel at home, and if you still don't feel comfortable leaving

the state, we also have a campus in LA."

Representatives made sure to leave students with their

questions answered, school pamphlets containing the steps

to apply, and school merchandise to remember them by.

Kern County College Night

By Jaspreet Multani

Reporter and designer

After two years of virtual events,

the Kern County Superintendent of

schools hosted the 23rd Annual Kern

County College Night at Mechanics

Bank Arena on Sept. 12.

Several colleges and universities participated

in the event, including Bakersfield

College, California State University

Bakersfield, Taft College, San Joaquin

Valley College, California Aeronautical

University, and state universities.

The annual event was a huge opportunity

for students to meet and discuss

their career goals with representatives

from public and private colleges and

universities. This event allows students

to be exposed to multiple colleges and

universities in one setting.

KCCD arranged breakout sessions

with college counselors on various topics,

including how to get financial aid

and scholarships to help students and

parents decide which college or university

best fits their needs.

Wendy Ward, the event organizer,

says, "this is the largest college night in

the state in which over 100 colleges and

universities present seminars and workshops."

Bakersfield College welcomed the students

by performing dance art from the

Folklorico club. BC also provided info

on two programs under the Bakersfield

College Kern Promise; Finish-In-4 and

Transfer-In-2. Each program is unique

in its requirements. Students are then

guaranteed admission to CSUB, with

a similar major, and will complete an

additional 60-semester units to earn a

bachelor's degree!

Information provided at college night

helps students determine which campus

lifestyle is best suited for them according

to their preferences and needs. They

have a chance to meet representatives

from universities of the east coast and

the west coast, and it opens students'

minds to possibilities they may not have

been aware of, according to Ward.

BY JASPREET MULTANI/THE RIP

A college mascot at Kern College

night on Sept. 12
---
Page 4

Sportss

The Renegade Rip www.therip.com

Wednesday, Sept. 21, 2022

BC loses to Golden West

By Amanda Hernandez

Reporter

The Bakersfield College Renegades fell short Saturday night after

they ended the game with a score of 14-24 against Golden West.

They started out pretty slow, and it remained that way throughout the

second half, making it difficult for the Renegades to put points on the

board.

In the first quarter, freshman Chris Thompson scored a touchdown

to even the score at 7-7.

However, shortly after, Golden West went in strong with another

touchdown in the second quarter.

Throughout the game, Bakersfield College had many opportunities

to drive the ball home.

However, at half time Golden West led by seven points, with the score

at 14-7. Making it possible for the Renegades to still make a comeback.

Although the game continued at a slow pace with a couple of errors,

Chris Thompson had a punt return play in the second half attempting

to keep his team in the game.

The game was finalized with the last points being scored in the 4th

quarter, still down by ten against Golden West. The Renegades are currently

1-2 for the season.

AMANDA HERNANDEZ/THE RIP

Anyale Velazquez runs with the ball vs. Golden West

AMANDA HERNANDEZ/THE RIP

CB Christoper Thompson drives the ball

home scoring the first touchdown of the

game.

To zoom in on the athletes perspective, and what

could have been done differently to change the outcome

of the game, wide receiver

Jihad Marks explained, "We just need to execute

better. Offensively, I thought the coaches put

together a great game plan prior to the game. We

missed out on a couple catches, throws, and blocks.

We got stuffed on 4th down, and the defense had

a couple of short fields. I think if we just limit mistakes

and stop shooting ourselves in the foot we'll

be good."
---
Page 6

Campus

The Renegade Rip www.therip.com

Wednesday, Sept. 21, 2022

Welcome to "Eden" at BC

By Jocelynn Landon

Reporter

Bakersfield College hosted a lecture

and open discussion for art students

followed by the grand opening

of the art exhibit "Eden" at the Bakersfield

College Mylie and May

Louise Jones Gallery.

The event started off with a lecture

in the fine arts building. Audia

Dixon started off by showcasing her

artwork for the series "Eden." The

artist spoke about their story of how

they started to become creative,

how they got their artistic style,

and gave tips to aspiring artists. It

was followed by an open discussion

where students and faculty could

ask questions. Multiple students

asked questions and participated in

learning about her and the artwork

that was showcased.

After the art lecture the artist went

over to the Bakersfield College Jones

Art Gallery, located in the library,

where the artwork was showcased

in the opening of "Eden" along

with an assortment of small snacks

to taste. The art gallery showcased

six gigantic art pieces, with a wide

range of colors and unexpected,

yet creatively placed, symbols. The

majority of attendees were Bakersfield

College Students, who were

art majors, and had the opportunity

to see the art work. They were

able to mingle with other students,

faculty, and Dixon herself. Student

Preet Kamal Kaur talked about

how "This is actually my first time,

but I'm definitely going to be looking

into her." One of the featured

pieces "Into Eden" was one of the

biggest art pieces showcased with a

variety of things to look at that all

are different depending on the person.

"It has a lot of different symbols,

it's the most surreal out of all

of them." said student Alejandro

Vava when talking about his favorite

piece, "Into Eden."

Dixion was inspired to create

pieces from "memories that I had…

also being curious about the childhood

experience and what children

go through today, and putting these

black figures and black youth in natural

spaces to give a sense of vulnerability…"

stated Dixon.

Dixon is now an art teacher at

Clovis Community College. During

a conversation with a professor, she

was talking about how she enjoys

teaching and helping kids be creative.

If you're interested in seeing

her art work and opening up your

imagination to what was created,

Dixons art work will be showcased

until Oct. 13 and is open Monday-Thursday

from 2sp.m.-5p.m.

JOCELYNN LANDON/THE RIP

BC student Preet Kamal Kaur looking at

Audia Yvonne Dixon's artwork at exhibit

opening on Sept. 8

JOCELYNN LANDON/THE RIP

One of Dixon's pieces of artwork currently

on display at BC

First place nationally for two year college Websites at

the Associated Collegiate Press 2020 midwinter conference.

Fifth place newspapers. First place for newspaper

in 2011, third place in 2013, 2014, 2015 for CNPA General

Excellence

Fourth place nationally in 2019 for website publication

by Associated Collegiate Press

The Renegade Rip is produced by Bakersfield College

journalism classes and is circulated on Thursdays

during the fall and spring semesters. The newspaper is

published under the auspices of the Kern Community

College District Board of Trustees, but sole responsibility

for its content rests with student editors. The Rip is

a member of the California Newspaper Publishers Association,

Associated Collegiate Press, and California

Colleges Media Association.

The Renegade Rip

EDITORIAL BOARD

Editor-in-Chief..............Anthony Vasquez

Jaspreet Multani........................Designer

Adviser.........................................Erin Auerbach

STAFF

Reporters/photographers:

Blake Burton

Amanda Hernandez

Jocelynn Landon

Eduardo Jr. "E.J." Martinez

Jason Mena

Jaspreet Multani

Nicholas Watson

Write The Rip

Letters should not exceed 300 words,

must be accompanied by a signature

and the letter writer's identity must be

verified.

The Rip reserves the right to edit

letters, however, writers will be given

the opportunity to revise lengthy or

unacceptable submissions.

If an organization submits a letter as a

group, it must be signed by only one person,

either the leader of the organization

or the letter writer. Anonymous letters

will not be published.

How to reach us

-Address: Bakersfield College,

1801 Panorama Drive, Bakersfield,

CA 93305

-Phone: (661) 395-4324

-Email: ripmail@bakersfieldcollege.edu

-Website: therip.com
---
Page 7

Opinion

The Renegade Rip www.therip.com

Wednesday, Sept. 21, 2022

Review: "The

Last Of Us"

By Jaspreet Multani

Designer and Reporter

The Last of Us is a 2013 action-adventure survival horror

video game developed by Naughty Dog and published

by Sony Computer entertainment. This story is about a

14-year-old girl, Ellie, and a brain infection survivor, Joel, in

a post-apocalyptic United States. They both work together

to survive on their journey across what remains of the country

to find a possible cure for the modern fungal plague that

has nearly decimated the entire human race.

The Last of Us Part I is released in native 4K at 60

FPS*and features on PS5. This series has a deep and complex

narrative that players should probably be aware of before

they start down Ellie's path to bloody retribution. The

first part was about Love, and the second one is all about

hate, as "Naughty Dog" says. The upcoming series will be a

darker continuation of the story, than the original.

Netflix show

is relatable

By Blake Burton

Reporter

The Netflix series "Never Have I Ever" began with an

Indian girl losing use her legs after sad death of her father

Mohan(Sendhil Ramamurthy). The girl, Devi( Maitreyi Ramakrishnan),

has to go through the first year of high school

in a wheelchair, which wasn't very fun for her.

She is eventually able to get out of her wheelchair and was

ready to mingle or have sex with none other than the most

popular boy in school Paxton(Darren Barnet).

Thought the characters are young, this is a show people of

many ages would love. It involves heartbreaks, love, drama

and more. Created by Mindy Kaling (writer, producer and

star of "The Office" and creator of "The Mindy Project"),

this show will have you watching it for hours just to see what

is happens next.

Anyone who has been through high school will relate to

these characters on some level.

It is so watchable, and audiences will want to find out what

happens next for all of these characters.

Horror prequels

The Horror Files

By Eduardo Jr. Martinez

Reporter

Eduardo, Jr. Martinez

A prequel to a horror

film was release this this

month as "Orphan: first

Kill" (2022) a prequel to

"Orphan" (2009) center

on the character Esther

as she attempts to survive

in a wealthy household

while impersonating their

lost daughter. This movie

is not the first but the

most recent introduction

of horror movies prequels

that seems to present a

possible future for horror

films and how horror prequels

can be done right.

Pervious horror movie

prequels often carried a

reputation of not being

as good as their original

counterpart, often missing

the point surrounding

why the movie is so horrifying,

how the mystery

plays a role within horror

or, the fundamental aspects

that made the original

film enjoyable in the

first place. Not only does

a prequel movie have to

deal with these factors,

but they have to worry

about building anticipation

in new scenes and

creating the fear of the

unknown for something

that the audience already

have information about

due to it being a prequel.

"Orphan: First Kill" is

a movie that I would consider

to be equal or greater

to the original with how

it deals with emulating the

plot twist of the original

that dramatically changes

the film, acknowledges

the information that the

audience already knows

before watching and, understand

why the audience

are here to watch the

film in the first place is for

Esther.

The movie really encapsulates

the perfect

horror prequel as it had

a set course of where the

movie is leading toward

while providing audience

with a new and entertaining

experience that

respects the original film.

The flick opens up a

door of opportunity for

possible horror prequels

that center around the

slasher and their backstory

such as "Pearl" a

prequel to the film "X"

(2022).

Hopefully, the success

of "Orphan: First Kill"

and "Pearl" will spark a

revival of horror prequel

surrounding slashers such

as, Freddy Krueger from

"A Nightmare on Elm

Street" series, Charles

Lee Ray from "Child's

play" series and Pamela

Voorhees from "Friday

the 13th" series.
---
Page 8

Opinions

The Renegade Rip www.therip.com

Wednesday, Sept. 21, 2022

"Me Time"

inconsistent

but entertaining

By Blake Burton

Reporter

One of Netflix's new films "Me time" represents the dedicated life of

single

dads. From brushing his daughter's hair to going to PTA meetings and

being the

president, father Sonny Fisher ( Kevin Hart) is the number one parent

in everything school related.

The mother, Maya Fisher (Regina Hall) is the hard-working breadwinner

of the family. She's focuses a little too much time on her work than

her children but wants to change that.

During a weekend away with the kids, Sonny has a wild and crazy

time with his best best bud, the sort of, kind of crazy best friend of Sonny,

Huck (Mark Wahlberg). He puts a twist on the whole story with his

birthday party.

In the beginning scene of the movie, it is Huck and Sonny jumping

from an airplane into a mountain area, driving home the point that

Huck is a person that loves to have fun in crazy ways.

While the movie has

high and low points, it is

overall an enjoyable flick.

It had its ups and downs,

but overall, it was an entertaining

movie.

Renegade Events

Campus Events

Sept. 28 & Oct. 5: Panorama Music Summit,

Edward Simonsen Indoor Theater, 7 p.m.

Sept. 30: Manufacturing Day, Bakersfield

College Outdoor Theater, 9:30 a.m. – 1:30 p.m

Oct. 2: Distinguished Speaker, Rev. James

Lawson, Renegade Ballroom Campus Center,

1 p.m.

Oct. 5 -15: Kern Shakespeare Festival featuring

performances of "Romeo and Juliet"

and "Love's Labour's Lost," Edward Simonsen's

Outdoor Theater

Oct. 11: Bad Deal for America: A Conversation

with Dr. David Schein, Levan Center, 6

- 7:30 p.m.

Through Oct. 13: "Eden," a solo exhbition

of Fresno-based artist Aduia Yvonne Dixon,

Jones Fines Gallery (located in the BC Library),

Monday - Thursdays, 2 - 5 p.m.

Oct. 15: Inaugural Renegade Promenade:

Alumni, Family, & Friends Day at BC! Admission

is FREE! Panorama Campus, 11 a.m. - 4

p.m.

Oct. 28: Fall Choir Concert, "Be the Water,"

Edward Simonsen Indoor Theater, 7:30 p.m.

Nov. 7: Jazz Ensemble, Big Band Favorites,

Edward Simonsen Indoor Theatre, 7:30 p.m.

Nov. 15: Distinguished Speaker Mark Rabbitt,

Renegade Ballroom, 3rd floor, Campus

Center, Panorama Campus, 2 p.m. and 7 p.m.

Nov. 17-19: "Celestials: The Chiness Question."

a play directed by Professor Kimberly

Chin, Edward Simonsen Indoor Theatre

Nov. 29: BC Concert Band, Classical, Contemporary

and Holiday Favorites, Edward Simonsen

Indoor Theatre, 7 p.m.

Nov. 30: BC/CSUB Orchestra, Classic and

Contemporary String Music, Edward Simonsen

Indoor Theatre, 7:30 p.m.

GOOGLE IMAGES