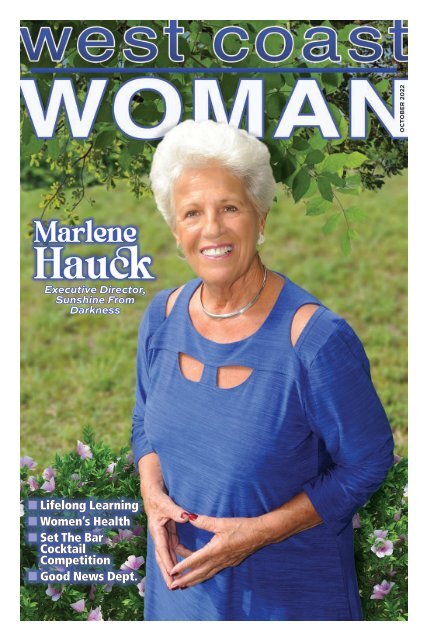 WCWOct2022
October is a bigger issue with not only our Lifelong Learning issue, but also our Women' Health issue. Learning centers have returned en masse with lots of new and always interesting and topical classes - learn something new, expand your mind and meet new friends. Plus a fun and spooky way to enjoy Halloween and a great Cocktail event. Plus we have our returning columns: Good News Dept., Arts News, Dining In (recipes), our calendars and lots more.
October is a bigger issue with not only our Lifelong Learning issue, but also our Women' Health issue. Learning centers have returned en masse with lots of new and always interesting and topical classes - learn something new, expand your mind and meet new friends. Plus a fun and spooky way to enjoy Halloween and a great Cocktail event. Plus we have our returning columns: Good News Dept., Arts News, Dining In (recipes), our calendars and lots more.
SHOW MORE
SHOW LESS
Create successful ePaper yourself
Turn your PDF publications into a flip-book with our unique Google optimized e-Paper software.
OCTOBER 2022

Marlene

Hauck

Executive Director,

Sunshine From

Darkness

■ Lifelong Learning

■ Women's Health

■ Set The Bar

Cocktail

Competition

■ Good News Dept.
---
TRY A THERAPY

THAT WORKS!

Ever Onward Season 27

Season

Opener!

Immediate Relief Beginning

with the First Session:

Chronic Pain: Sciatic, Back, Neck and TMJ

Migraines, Foggy Brain and

Lack of Concentration

Sight and Eye Problems

Asthma, Bronchitis, COPD, Shallow Breathing

MAGNIFICENT MARKOVS

October 2 • 4:00 pm • Sarasota Opera House

"Classically rocking violin ... straddles the line between

classical, rock and pop." ~Cincinnati Enquirer

A family-friendly concert experience!

Violin phenom Alexander Markov unites with his gifted

violinist parents Albert and Marina and the "first family

of violin" presents classical favorites. Alexander and

his electric gold violin are then joined by Key Chorale

and the Booker High School VPA Choir for his original

composition, Caesar, for electric violin, organ, choir,

percussion, rhythm section, and orchestral musicians.

Classical meets rock music - expect the unexpected!

Digestive and Constipation Issues

Leaky gut and Autoimmune problems

Chronic Fatigue, Fibromyalgia and Depression

Concussions, Brain and Spinal Cord Health

Mobility and Energy Issues for Seniors

T. Grywinski specializes in difficult issues with great success

How Craniosacral Therapy Can Be Life Changing

"Doctors, physical therapists, massage therapists and chiros

gave me little relief. Terry relieved my pain, after all these years!

He has also helped four of my other friends. The man is an angel,

with a gift from God....thank you Terry!!"

"After 3 sessions, I had more range of motion and mobility in my

neck, shoulders and hips. I was getting to the point where walking

and moving was difficult. It feels like a weight has been lifted off my

shoulders, my voice is stronger and my energy is greatly increased.

I feel much calmer and more grounded!!"

"I no longer feel physically sick each morning. No gastroenterologist

or physician has ever properly diagnosed my mucus build up until

now. As well as bringing about healing in my gut, he released an

incredible amount of tension in my upper body."

"The question is where has he been all my life? Terry is a true healer

and if you are serious about being well, you are in luck.

He is effective and lovely."

ANTHONY TRIONFO, flute

ALBERT CANO SMIT, piano

October 27 • Sarasota Yacht Club

11:00 am performance, 12:15 pm luncheon

"A breezily virtuosic flutist." ~New York Times

Praised as "a musician of prodigious talent and

scintillating personality," Anthony Trionfo won First

Prize at the 2016 Young Concert Artists International

Auditions. In 2018 he debuted in the YCA Series at New

York's Merkin Concert Hall and Washington DC's Kennedy

Center. He is joined by his frequent collaborator,

Spanish/Dutch pianist Albert Cano Smit, First Prize winner

of the 2017 Walter W. Naumburg Piano Competition.

View our complete concert schedule at

ArtistSeriesConcerts.org

Box office: (941) 306-1202

This project is supported in part by the Community Foundation of Sarasota County; Department of State, Division of Cultural Affairs, the Florida Council of Arts and Culture and the State of Florida

(Section 286.25 Florida Statutes); The Exchange; Gulf Coast Community Foundation; National Endowment for the Arts; and Sarasota County Tourist Development Tax Revenues.

advanced craniosacral therapy

Terrence B. Grywinski

B.A., B.Ed., LMT MA6049

25 Years of Experience

advcst.com

See full page explanation of Craniosacral Therapy and

how it can help you in another section of this issue

Downtown Sarasota • 941-321-8757

Google "Advanced Craniosacral Therapy Sarasota" for more info

2 WEST COAST WOMAN OCTOBER 2022
---
OCTOBER 2022

contents

Editor and Publisher

Louise M. Bruderle

Email: westcoastwoman@comcast.net

Contributing Writer

Carol Darling

Contributing Photographer

Evelyn England

Art Director/Graphic Designer

Kimberly Carmell

Assistant to the Publisher

Mimi Gato

West Coast Woman is published

monthly (12 times annually) by

LMB Media, Inc., Louise Bruderle,

President. All contents of this

publication are copyrighted and

may not be reproduced. No part

may be reproduced without the

written permission of the publisher.

Unsolicited manuscripts, photographs

and artwork are welcome, but return

cannot be guaranteed.

happening this month:

Halloween fun

During October, Haunted Sarasota, Discover

Sarasota Tours' Friday night tour returns for the

Halloween season for 13 nights starting Oct. 14

and running through Oct. 31. There's more on

p13

HOW TO REACH US:

Email: westcoastwoman@comcast.net

Here are our columns:

n Out & About: includes

fundraisers, concerts, art exhibits,

lectures, dance, poetry, shows &

performances, theatre, film,

seasonal events and more.

n You're News: job announcements,

appointments and promotions,

board news, business news and

real estate news.

FOLLOW US AT:

Facebook: https://www.facebook.com/

WCWmedia

lifelong learning

issue

A very good sign is when you

find that lifelong learning centers

have a full schedule of classes,

workshops and lectures, and

that students are again signing

up and back on campus. See

what we've got on….

p18

WCW

34

YEARS

WCW Mailing Address:

P.O. Box 819

Sarasota, FL 34230

email:

westcoastwoman@comcast.net

website:

www.westcoastwoman.com

women's health issue

Informative articles on a variety

of topics of interest to women:

breast cancer, skin care, smoking

cessation, sleep issues and more.

p24

west coast

WOMAN

departments

4 editor's letter

7 Out & About: listings for things to do

9 healthier you: the benefits of quitting

tobacco

11 happening this month:

"Set The Bar" Cocktail Competition

13 happening this month:

Haunted Halloween Trolley Tours

14 you're news

16 west coast woman:

Marlene Hauck, Executive Director,

Sunshine From Darkness

18 Lifelong Learning Issue: classes,

workshops and more

22 Lifelong Learning Issue:

ACE in Sarasota

23 Lifelong Learning Issue: The Education

Center at Temple Beth Israel

24 Women's Health Issue:

Breast Cancer Update

26 What is Craniosacral Therapy?

27 Women's Health Issue: Mental Health

28 Women's Health Issue: Get a good

night's sleep

30 Women's Health Issue: Why get facials?

31 good news depart.

33 dining in: eat your flowers

34 ode: Lido Beach

■ on the cover: West Coast Woman Marlene Hauck, Executive Director of Sunshine From Darkness.

■ Photo by Evelyn England

OCTOBER 2022 WEST COAST WOMAN 3
---
just some

thoughts

Louise Bruderle

Editor and Publisher

West Coast Woman Marlene Hauck

Marlene Hauck

Photo by Evelyn England

Marlene Hauck, our WCW for this month,

is the Executive Director at Sunshine From

Darkness, a nonprofit that each year offers

events and a gala both with the purpose of

informing the public on the issue of mental

health while raising funds to support several

area nonprofits as well as research into mental

health.

Speaking with Marlene, who is a warm and

very approachable person who has worked in

nonprofits for most of her career, I couldn't

help but think she'd be the kind of person

who, if you were having emotional challenges

in your life, you'd want to talk to.

When we met back in August our starting point was having a conversation

about mental health in general and why, after all these years, it is

so difficult for people to open up and discuss it.

And yet, Marlene believes that's where it can start — with a conversation.

Open up. Talk about what is bothering us. Share our concerns with

a professional. Engage and talk within our many different communities

and support those seeking help.

Read my profile on Marlene and find out what Sunshine From Darkness

has done and will be doing in January. In October, they collaborate

with Art Center Sarasota in a fundraiser called "Off the Wall" which will

be on Friday, October 7 at Art Center Sarasota from 6-8:30 p.m.

It's a fundraising

collaboration featuring

libations,

appetizers, and an

immersive and interactive

art event.

All guests can

participate in two

interactive installations

inspired

by famous artists;

select ticket holders

will participate

in "Off the Wall" to

choose one of the many locally-donated artworks. All proceeds support

Sunshine from Darkness and Art Center Sarasota. Tickets: https://www.

artsarasota.org/calendar/#offthewall.

These WCW are Making Changes

Anne-Marie Russell was the inaugural Executive Director of the Sarasota

Art Museum and most recently, she served as Executive Director for

Architecture Sarasota.

Her next position is at The Museum of Fine Arts,

St. Petersburg (MFA) as the new Interim Executive

Director. Anne-Marie brings more than 25 years of

expertise in cultural production leadership to the

MFA. According to the press release from the MFA,

"Anne-Marie will be responsible for continuing the

successful momentum of the MFA. She will provide

leadership and support to the accomplished

staff in the curation of new and upcoming exhibitions,

build out the MFA's encyclopedic collection,

and ensure that the museum maintains the

high-quality experience for which it's celebrated."

The MFA is a wonderful museum - one of my

Anne-Marie Russell favorites in fact, not just for its collection, but it's

beautiful space and grounds in downtown St.

Petersburg, and, it was founded by a woman, Margaret Acheson Stuart

(1896-1980). Congratulations, Anne-Marie!

Happy retirement, Carol Butera. She's retiring from the William G. and

Marie Selby Foundation in spring, 2023. Carol joined the Foundation in

July, 2017 as its Executive Director and was later promoted to President

and CEO. Prior to joining the Foundation, she served as Vice President of

Development at Children First for a decade and at the Sarasota YMCA for

a decade prior to that.

Her career in the nonprofit sector goes deep —

she came to Sarasota in 1996 after working in Haiti

for the Hôpital Albert Schweitzer. Carol's accomplishments

include moving the Selby Foundation

from a Trust to a Private Foundation in 2019 enabling

the Foundation to better manage its $70 million

dollars and to direct its programs in perpetuity.

During her tenure, Carol expanded the traditional

two-year grant cycle adding Small and

Mighty Grants (SAM) quarterly which enable

nonprofits with annual operating expenses of less

than $300,000 to apply for grants outside of the

traditional grant cycle. With the Board's leadership,

she recently commissioned two scholarship

Carol Butera

studies in the region which will lead to strengthening the Foundation's

current scholarship program, helping it to focus on critical gaps in the

four-county region. For more on the Selby Foundation, visit www.selbyfdn.org.

Enjoy your retirement, Carol!

It's Breast Cancer Awareness Month

Making Strides Against Breast Cancer takes

place on Oct. 22, 7:30 a.m. at Nathan Benderson

Park in Sarasota. This annual fundraiser

for the American Cancer Society brings

thousands of supporters for a 5K walk

around the park and related ceremonies and activities.

There's more info at www.secure.acsevents.org. To learn more about

the Making Strides of Sarasota Manatee or for other information, contact

Bethany Lynch at bethanyk.lynch@cancer.org or call 941-867-7427.

October is our Women's Health Issue and we have content on breast

health and other topics we think you'll find informative.

Lifelong Learning Issue

In addition to this being our Women's Health Issue, it's also our annual

Lifelong Learning issue. It appears most lifelong learning places are back

to near previous levels and some continue to offer online classes. Having

proofed and edited the Lifelong learning content, I can tell you it's packed

with great offerings and definitely something for everyone.

Had to Share Dept.

Here's a nice story about people

helping others in their community.

Friends of Osprey Junction Trailhead

has collected more than 200 bicycles

through its Recycle-A-Bicycle

Program. Donated bicycles are collected

by Friends of Osprey Junction

Trailhead volunteers, refurbished,

and restored by Turning Points volunteers

and given to people in need.

Turning Points is a non-profit organization

that provides hope and assistance to men, women, and children

who are at risk of being homeless or are homeless.

"The people of Sarasota County have supported our program in a

most positive way," said Chuck Butterfield, President, Friends of Osprey

Junction Trailhead. "We're thrilled with the enthusiastic response," said

Ralph Monti, Director of Bicycle Programs, Friends of Osprey Junction

Trailhead. "Our bicycle donors are genuinely happy and pleased to see

their used bicycles going to such a good cause."

Do you have a bicycle you wish to donate? Individual bicycles or bicycle

parts donations can be arranged to be picked up by contacting Ralph

Monti at 646-705-4148 or by email him at ralphmonti@gmail.com.

Friends of Osprey Junction Trailhead is a Chapter of Friends of Sarasota

County Parks and is a volunteer organization that supports, promotes,

and enhances Osprey Junction Trailhead, a Sarasota County Park adjacent

to The Legacy Trail. Visit ojtfriends.com for more info.

Louise Bruderle | Editor and Publisher |

westcoastwoman@comcast.net

We welcome your thoughts and comments on this column and on other columns and features in this issue.

You can reach us at westcoastwoman@comcast.net. We're on the web at www.WestCoastWoman.com.

4 WEST COAST WOMAN OCTOBER 2022
---
Giving Breast Cancer

The Knockout Punch

If you're stopped cold by an unexpected diagnosis, Sarasota Memorial's nationally recognized breast cancer team

has your back with a one-two punch of expert diagnostics and effective treatment to send cancer to the canvas.

Come out swinging with a combination of dedicated mammographers and certified diagnostic radiologists

who provide precision results with pinpoint accuracy.

Never down for the count, individualized care from our specialized oncologists will keep you throwing punches

while interventional radiologists and specialty-trained surgeons put you in position to deliver the knockout blow.

And if you're feeling on the ropes, nurse navigators will be there every step of the way to provide support and comfort.

Because we know it's the fight of your life.

And at SMH, the fight is personal.

For more information, visit smh.com/breasthealth

OCTOBER 2022 WEST COAST WOMAN 5
---
4420 South Tamiami Trail, Sarasota

941.260.8905

www.shellysgiftandchristmasboutique.com

Monday - Saturday 10am - 6pm

SAVE $2 W/CODE WCW

DAILY TROLLEY TOURS

ENTERTAINING • INFORMATIVE

Dermatology of Coastal Sarasota

For Your Skin.

For Your Well-Being.

"Peel AwAy" your

summer skin

FALL SIGHTSEEING TOURS

Explore Sarasota in Air-Conditioned Comfort

• Amish Experience

• Art Crawl

• Circus Secrets

• City Tour

• Haunted Sarasota

• Leading Ladies

• Murder Mystery

Who Killed The Circus Queen?

• Psychic Sundays

• Public Art

CHRISTMAS CAROL TROLLEY

Nightly Dec. 10-30 7:30PM

Tickets $44.99 - $49.99

Nighttime Tours Include FREE Beer/Wine

BOOK ONLINE

DiscoverSarasotaTours.com

941-260-9818

Visit The Trolley Cottage & Gift Shop | 1826 4th Street, Sarasota | FREE Parking!

start afresh with a customized

chemical peel to tone and treat.

Chemical peels can be used to improve skin tone, texture and clarity to regain

that youthful glow. Peels are also beneficial in treating conditions such as acne

and hyperpigmentation, as well as fine lines.

Dermatology of Coastal Sarasota

5310 Clark Rd., Suite 201, Sarasota

941.925.3627

DOCSofSarasota.com

6 WEST COAST WOMAN OCTOBER 2022
---
out &about

Marking Mental

Health Awareness

Sunshine From Darkness and Art

Center Sarasota wpresent "Off the

Wall," a fundraiser featuring libations,

appetizers, and an immersive and

interactive art event. Guests can participate

in two interactive installations

inspired by famous artists; select ticket

holders will participate in "Off the

Wall" on October 7, 6-8:30, to choose

one of the many locally-donated artworks

(all valued at more than $250).

As an added bonus, guests can

purchase tickets to enter a drawing

for a one-of-a-kind sculpture (valued

at $3,000) created by celebrated

architect/sculptor Carl Abbott. All

proceeds support the missions of

Sunshine from Darkness and Art

Center Sarasota.

Tickets are $75/individual, $25/students;

VIP tickets, which include an

"Off the Wall" ticket, are $150. Dress

is "artfully casual." Sunshine from

Darkness is a nonprofit organization

dedicated to raising funds for local

charities that provide health and addiction

disorder services in the Sarasota

community and funding mental

health research. Art Center Sarasota

is located at 707 N. Tamiami Tr, Sarasota.

Info: 941-504-6717.

t

Artist Series

Concerts of

Sarasota

Artist Series Concerts of Sarasota's

season opens October 2 with a concert

in the Virtuoso Violins Series presented

at Sarasota Opera House. The Magnificent

Markovs features Alexander,

Albert, and Marina Markov, the

"first family of the violin." The concert

features Alexander Markov playing

his original composition, Caesar, on

his gold electric violin, accompanied

by Key Chorale and Booker High

School VPA Choir. He will also be

joined by his renowned violinist parents

to perform classical favorites.

The Lunch & Listen Series moves to

the Sarasota Yacht Club this season.

This series spotlights gifted young artists

in concert at 11 a.m. followed by

lunch at 12:15 p.m. Prize winners Anthony

Trionfo, flute and Albert Cano

Smit, piano, present the first concert

in this series on October 27.

The Lighter Fare Series offers classic

jazz and musical theater favorites

outdoors at Marie Selby Botanical

Gardens Downtown Campus and

indoors at Plantation Golf & Country

Club in Venice. Bass to Bass: John

Miller and Michael Ross on November

9 offers jazz standards plus a little

rhythm and blues.

For more information, visit Artist-

SeriesConcerts.org or call 941-306-1202.

t

Choral Artists

t

The Choral Artists of Sarasota's

2022-2023 season begins on Say a Little

Prayer: Experience comfort, consolation,

and compassion as the Choral

Artist singers raise their voices to

heaven. Featuring "Amazing Grace"

and the Kaddish, along with Buddhist

and Native American chants, the universality

of prayer from faiths around

the world is celebrated in song.

Held on Sunday, October 30, 5 p.m.,

at Church of the Redeemer, 222 S.

Palm Avenue, Sarasota. Tickets: Tickets:

$35; students $5. For more information

and to purchase tickets, visit

www.ChoralArtistsSarasota.org or call

941-387-4900.

The Sarasota

Orchestra

The Masterworks series brings

stalwart masterpieces to life alongside

fresh new works by contemporary

composers. Guest appearances by distinguished

conductors and soloists.

• A Fantastic Beginning – November

4, 5, 6

Joyce Yang, piano. Includes Quinn

Mason – A Joyous Trilogy; Grieg –

Piano Concerto and Berlioz – Symphonie

fantastique

The Great Escapes series offers

a mix of light classics and popular

favorites in themed programs. Great

Escapes performances will take place

at Holley Hall.

• A Night at the Movies – October

12-15 with Lawrence Loh, conductor

The Chamber Soirées are a series

of musician-led, small-ensemble performances.

Chamber Soirées will take

place at Holley Hall.

Scheduled are: Sarasota String

Quartet – October 9; Shostakovich

– String Quartet No. 8 and Ravel –

String Quartet in F Major

For further information, visit www.

SarasotaOrchestra.org.

t

Special Events

The 17th Annual Sustainable

Communities Workshop presented

by UF/IFAS will take place both virtually

and in person on November

1. The theme of "Advancing Climate

Solutions," will bring the community

together to discuss sustainability priorities.

Expert speakers will provide

up-to-date information on several different

sustainability topics including

carbon sequestration, regenerative

agriculture, water quality, equity, climate

change, and more. Visit exhibitor

booths to network with businesses

and community groups.

To learn more, visit: scgov.net/

t

At The Ringling: Running through Feb 12, 2023 is Highlights from the Stanton B. and Nancy W. Kaplan Collection of

Photography that includes works by Berenice Abbott, Manuel Álvarez Bravo, Eugène Atget, Ruth Bernhard, Margaret

Bourke-White, Brassaï, Henri Cartier-Bresson, Lewis W. Hine, Robert Mapplethorpe, Edward Weston, and more.

SustainableCommunities. Registration

fee includes access to a full day

workshop a New College or virtually.

Questions? Call 941-861-9874 or email

sustainablesarasota@scgov.net. Held

on November 1, 9 a.m.-4 p.m. at Harry

Sudakoff Conference Center, Sarasota.

Enjoy live music, art and atmosphere

in the Museum of Art Courtyard

during Ringling Underground

8-11 p.m. This event features an

eclectic mix of local and regional live

music. Check out up-and-coming

artists displaying their work in the

Museum of Art Courtyard. October 6:

Ringling 6ft Underground; November

3: Foodways.

Tickets available 30 days prior to

each event. https://www.ringling.org/

events/ringling-underground-0

t

St. Armands Circle Park has their

Fall Boat Show on October 15-16.

Boats, shopping, and restaurants – all

together in one location. Cannon's

Marina will answer questions. Free

Fright Night is on October 31,

6-8:30 pm. Fright Night transforms St.

Armands Circle from island sophistication

to Halloween fun. Decorated

store fronts set the stage for wandering

spirits. Free.

t

My Warrior's Place and the World

Series Champions, Atlanta Braves,

announce the celebrity softball game

and concert to benefit veterans, first

responders and their families. Tickets

are on sale for the 2022 Celebrity

Softball Game and Concert featuring

Rodney Atkins on November 5.

Local first responders and military

veterans will take the field with

celebrities for a softball game and

country music concert to raise funds

for My Warrior's Place (MWP). MWP

and the Braves envision CoolToday

Park packed with fans to watch as

MLB, NFL, NHL; television, movie

and radio personalities; and music

stars play softball.

Following the game, Rodney

Atkins will perform a concert. His

career includes being named the

t

Top New Male Vocalist at the 2006

ACM awards. His single "Watching

You" became the Number One Song

of the Decade according to Country

Aircheck.

Funds raised will help expand

MWP's existing facilities adding 12

cottages, operational support, and

create a designated space for the newest

program My Service Dog's Place.

Gates open at 2:30pm; game begins at

4 pm at CoolToday Park, 18800 S. West

Villages Parkway, Venice.

To purchase tickets, go to: https://

www.celebritiesandheroes.com/.

Fun Raisers

New College of Florida has its

annual Clambake, hosted by the

New College Foundation, on November

3, at 6 p.m. The event will take

place on the New College bayfront

beside College Hall, 351 College

Drive in Sarasota.

All ticket proceeds benefit student

scholarships. Tickets start at

$275. For information, call 941-487-

4800 or email foundation@ncf.edu.

Enjoy New England fare catered by

Michaels On East.

t

Just for Girls' Annual Awards

Showcase Event returns on November

4 at IMG Academy Golf Club. Join

them as they celebrate Honorary Girl

(and JFG alum) Marianne Barnebey,

and give thanks to Gail Hannah

for her years of service as President

of the Manatee County Girls Club

Foundation, Inc.

Call Samantha Daggett at 941-777-

0707 x3204 or email Events@myjfg.org.

t

All Faiths Food Bank has a

brand-new event which will become

the organization's annual fundraiser

and signature event in South County.

The inaugural FriendsGiving is

on October 23 at 6 p.m. at Mattison's

Forty-One (7275 S. Tamiami Tr.,

Sarasota). Gather with fellow supporters,

friends and family to give

thanks and enjoy a Thanksgiving

t

dinner, catered by Chef Paul of Mattison's

Restaurants and Catering.

All proceeds benefit the ThankFULL

Tummies campaign, which provides

turkeys to our neighbors who may

be facing hunger during the holiday

season. https://allfaithsfoodbank.

org/friendsgiving/

Tickets for the 28th annual Brunch

on the Bay, the benefit event for the

University of South Florida Sarasota-Manatee

campus on November

6, are on sale. The campus needs to

expand, and plans are underway. The

Sarasota-Manatee campus along U.S.

41 near the Manatee-Sarasota county

line has outgrown the 130,000-squarefoot

Crosley Academic Center, its

home since 2006.

In addition to scholarships, this

year's Brunch on the Bay will support

the construction of a planned Nursing/STEM

building that will create

new academic and research opportunities

for students and faculty.

The $61.7 million, 75,000-squarefoot

Nursing/STEM building, currently

in the planning and design

stages, will double the size of the

campus's nursing program; increase

new majors in the health disciplines

and other programs; and fill the need

on campus for teaching and clinical

labs and research facilities.

Visit sarasotamanatee.usf.edu/

brunch for tickets.

t

Southwest Florida Honor Flight

presents their Fall Golf Tournament

on October 15 at Deep Creek Golf

Course, 1260 San Cristobal Avenue,

Punta Gorda. Registration begins at

7:30 am with "Honoring our Heroes"

followed by a Continental breakfast

at 8 am and tee-times at 8:30 am.

Individual registration is $90 and

includes golf, continental breakfast,

lunch and 2 drink tickets. Details and

registration are at www.swflhonorflight.org.

All proceeds are used to

transport Veterans to Washington

DC in an upcoming flight. Funding is

from donations from individuals and

businesses along with local, grassroots

fundraising efforts.

Know a Veteran who would like to

be on an upcoming flight? Veterans

Applications must be submitted either

online or by mail to be considered for

an upcoming flight. Seats are filled

on a first come, first served basis. Top

priority is given to WWII and Korean

Veterans and those with health conditions

that may not allow them the

ability to go on a future flight. Veterans

from all era are welcome to apply.

Applications for Veterans and

Guardians are available by emailing:

swflhonorflight@gmail.com. For

more information, visit www.swflhonorflight.org.

t

American Asian Women's Association

invites you to their 2022

Asian Ethnic Show and Luncheon.

Benefiting local charities Safe Place

& Rape Crisis Center (SPARCC),

Manatee County Food Bank and

State College of Florida Scholarship

Fund, the event is on October 29,

11am to 2pm at Palm Aire Country

Club, 5601 Country Club Way, Sarasota.

Cost: $60. Reservation deadline:

October 20.

Event includes: piano music, cash

bar, Asian ethnic dance, raffle baskets,

door prizes and silent auction.

Send checks (made out to AAWA:

American Asian Women's Association)

t

continued on page 8

OCTOBER 2022 WEST COAST WOMAN 7
---
out and about continued

to Sandy Wick, 15115 Linn Park Terrace

Lakewood Ranch, FL 34202. Visit

website AAWA-FL.org for more info.

Galleries

From October 1-28, Art Uptown

Gallery will feature "Connectivity

by Cecile Moran," a series of paintings

teeming with color, form, and

mystery. The work speaks to the

importance of our natural environmental

connections. The images

on the painting surface symbolize

the unseen energy that connects all

living things. This energy is symbolized

by the arboreal forms around us

which provide the air that we breathe

and the essence of our existence.

Meet the artist at the First Friday

public reception at the gallery on

October 7 from 6-9 p.m. at 1367 Main

Street. Visit www.artuptown.com for

hours and further information.

t

At Art Center Sarasota: The Figure

runs October 20-November 26.

Opening reception: Oct 22, 6-8 pm.

The Figure celebrates a passion for

the human form in all media including

painting, drawing, photography,

printmaking, mixed media, digital

arts, and sculpture in any medium.

Juror: Erin Wilson, Assistant Curator,

Museum of Fine Arts, St Pete. Info:

https://www.artsarasota.org/

onview/#upcoming.

t

At The Bishop

Join them in The Planetarium for

a monthly guide to the night skies

and the latest news from the world of

astronomy. Feel like an astronaut as

you experience our upgraded 50-foot

Planetarium system and dome.

They'll be continuing with presentations

featuring new James Webb

Space Telescope images, when available,

and sharing normal content

about the night sky and other astronomical

developments.

The evening begins at 6:30pm with

beverages and conversation; presentation

begins at 7pm inside The Planetarium.

$15 for members of the Discovery

Society; $20 for all others (registration

includes one free beverage

per person. Beer and wine cash bar

available.) Preregistration required.

The Bishop Museum of Science

and Nature, 201 10th St. West,

Bradenton. www.BishopScience.org.

t

Elling Eide Center

Arboretum Tours

and Lectures

Join docent Norman Burr on a

90-minute trek through their historic

grounds. Walk through the arboretum

and learn about rare, interesting,

and exotic plants. Norman will discuss

the geologic history of Florida

and how plant life evolved. He will

also share the history of the inhabitants

of the Elling Eide Center from

pre-history to today.

Then, venture inside and see Elling

Eide's personal collection of Asian art

and artifacts. Arboretum Tours are

held every Tuesday/Thursday of every

week. Register at www.ellingoeide.

org for the Arboretum Tour and their

other events.

Elling Eide Center, 8000 South Tamiami

Trail, Sarasota. Admission: $5. Tour

is 2 hours with 60 minutes of the tour is

outside and 30 minutes of the tour is of

the inside of the Eide Center.

t

At The

Ringling

The Ringling has

"The world is just so

small, now: Works on

paper from The Ringling's

Collection of

Modern and Contemporary

Art" on view

through October 23.

The exhibition's title,

The world is just

so small, now, is borrowed

from the first

stanza of a poem by

Brazilian artist Abraão

Batista. Bringing

together additional

prints, watercolors,

and drawings by artists

working on paper,

the exhibition highlights

the medium as

fundamental to the

artists' practice.

Assembled from The

Ringling's collection of

contemporary works

on paper, most of the

pieces are on display

for the first time since

their recent acquisition

through purchase

or donation. Shown

along with these are

several rarely seen

lithographs, woodblocks,

and a relief

print on glass acquired

between the early

1960s and late 1990s.

This exhibition features the work of

Abel Barroso, Abraão Batista, Romare

Bearden, Sandra Cinto, Francesco

Clemente, Elisabeth Condon, Mary

Beth Edelson, Leon Hicks, Corita

Kent, Hung Liu, Jason Middlebrook,

Ibrahim Miranda, Duke Riley, John

Scott, David Alfaro Siqueiros, Cauleen

Smith, Linda Stein, Howie Tsui, and

William Villalongo.

Running through Feb 12, 2023 is

Highlights from the Stanton B. and

Nancy W. Kaplan Collection of Photography—a

selection of works donated

to The Ringling in 2019, includes

over 1000 photographic objects and

images, representing some of the most

important photo-based artists of the

nineteenth and twentieth centuries.

The Kaplan Collection includes

works by Berenice Abbott, Manuel

Álvarez Bravo, Eugène Atget, Ruth

Bernhard, Margaret Bourke-White,

Brassaï, Henri Cartier-Bresson, Lewis

W. Hine, André Kertész, Robert

Mapplethorpe, Edward Weston, and

James Van Der Zee, to name but a few.

The John and Mable Ringling

Museum of Art, 5401 Bay Shore Rd.,

Sarasota. Info: www.ringling.org.

t

Theatre

Discover Sarasota Tours has their

Murder Mystery and Haunted Sarasota

theatrical shows on their trolley.

• Running every Friday at 8

p.m.: Haunted Sarasota, Mummies,

Murder & Mayhem. Explore Sarasota's

spooky side on this interactive

tour of haunted buildings, unsolved

crimes, and ghostly tales with ghost

hostess, Mary Whittaker and several

mystery spirits. $49.99 (includes free

beer/wine). 12 and over.

• Running every Saturday night:

Murder Mystery Trolley: Who Killed

The Circus Queen? Fun interactive

t

From October 1-28, Art Uptown Gallery will feature "Connectivity

by Cecile Moran," a series of paintings teeming with color, form, and

mystery. Meet the artist at the First Friday public reception at the gallery

on October 7 from 6-9 p.m. at 1367 Main Street. Visit www.artuptown.

com for hours and further information.

musical where you are part of the

show. Solve the mystery of Dahlia the

queen of the high wire while you drive

to various circus spots made famous

in Circus City USA. $49.99 (includes

free beer/wine). 12 and over.

They're located at 1826 4th Street.

Book online: DiscoverSarasotaTours.

com or call 941-260-9818.

Venice Theatre has Arabian

Nights October 7-16. Through a

mixture of song, dance, puppetry,

and illusion, these magical folk stories

of the Islamic Golden Age deliver

a message of acceptance, freedom

and forgiveness.

• They Have Kinky Boots October

21-November 20. Based on the

motion picture, this sweet, sexy, fiery

musical will blow your mind and

"raise you up!" Kinky Boots won six

Tony Awards in 2013 including Best

Score for Cyndi Lauper. The hilarious,

uplifting book by four-time Tony

winner, Harvey Fierstein, celebrates

diversity, acceptance, perseverance,

friendship, fashion, and success.

Venice Theatre is at 140 Tampa

Ave. W., Venice. Info: https://venicetheatre.org/events/

t

Sarasota Players has Little Shop

of Horrors Oct. 6-16. Feed the need

for musical hilarity with this delicious

sci-fi smash about a man who

seeks fame at the cost of his morals

with the help of a man-eating plant.

A deviously delicious Broadway and

Hollywood sci-fi smash musical, this

musical has devoured the hearts

of theatregoers for over 30 years.

Howard Ashman and Alan Menken

(Disney's The Little Mermaid, Beauty

and The Beast, and Aladdin) are

the creative geniuses behind what

has become one of the most popular

shows in the world.

https://www.theplayers.org.

t

Manatee Performing

Arts

Center has Gypsy

October 20-30. A

mother who wishes

for stardom,

and two daughters

who were dragged

into it because of

her. Considered to

be the best musical,

"GYPSY" tells

the story of how a

mother uses her two

daughters to achieve

the dream she has,

ignoring the strain

it puts on them.

Throughout the

story, one daughter

has all the attention,

while the other has

almost none. Will

both girls succeed

because of their

mother's efforts, or

will the dreams of

their mother crush

their relationship

with her? https://

www.manateeperformingartscenter.

com/.

t

CreArte Latino

Cultural Center

presents "MADENU-

SA" October 14 and

15 at 8 p.m. Written

by Claudia Soroka,

"MADENUSA" is an

amusing and fresh take on the immigrant

experience that delves into the

intricacies of adjusting to a different

culture. The comedy is directed by

Carolina Franco, president and artistic

director of CreArte Latino Cultural

Center.

The play will be performed in Spanish

with subtitles in English. Tickets

are $20. To purchase tickets,

visit www.creartelatino.org. CreArte

Latino Cultural Center is at 8251

15th Street East, Airport Mall Plaza,

Suite 1, Sarasota.

t

Halloween Fun

"Lights at Spooky Point" is on

from October 14-31 at the Historic

Spanish Point campus in Osprey. It

will feature an array of fantastic creatures

and creations designed with

lights along an eerily lit path through

the woods at the preserve and outdoor

museum. Visitors also will see

familiar historic sites like Mary's

Chapel and the Pioneer Graveyard in

a mysterious (but not too scary) new

light during this event for all ages.

Lights at Spooky Point will offer visitors

a one-way path from the Welcome

Center Gazebo through several popular

areas on the Historic Spanish Point

campus bathed in the glow of orange,

purple, and red lights. Along the way,

guests will encounter flying "ghost

orchids," webs with "spider orchids,"

giant "bat orchids," vine-twisted skeletons,

plenty of pumpkins, and other

surprises. This nighttime walk through

the woods will finish at a hay maze before

guests return to the gazebo to exit.

Food, snacks, and beverages will be

available for purchase near the Cottage,

about the halfway point of the

light-show path. In addition to grilled

burgers, hot dogs, and other fare from

the Michael's on East food truck,

there will be fall favorites like candy

t

apples, fresh popcorn, and hot chocolate

for sale.

Selby Gardens will offer two entry

times each evening for Lights at

Spooky Point: 6:30 to 7:30 p.m., and

7:45 to 8:45 p.m. A limited number of

tickets will be available for each entry

time and must be purchased in advance,

either through the Selby Gardens

website or at the Welcome Center

on either campus. To purchase tickets,

go to selby.org.

The 12th Annual Tour de North

Port "It's the Green Pumpkin!" is on

October 23. Registration is open for

this fun, organized, on-road scenic

bicycle ride with routes of 15, 35, or

65 miles that travel through some of

North Port's most beautiful, natural

settings featuring the Florida pine

flatwoods and the parks that border

the Myakkahatchee Creek with each

route having its own color-coded

road markings. The Tour de North

Port is not a race.

Breakfast, catered lunch, homemade

desserts and pies, fully stocked

rest stops with homemade snacks,

full mobile Support And Gear (SAG).

Pre-registration online by Oct. 21 is

$50; day-of, $55.

Doors open at 7a.m. for check-in and

breakfast, with group starts beginning

at 8a.m. from Imagine School, 2757

Sycamore St., North Port. Register online

at www.peoplefortrees.com.

t

Key Chorale

Perfect Pitch, their annual

luncheon supporting education

and community outreach, is on

Monday, November 7, at 11:30

a.m. Speaker will be Daniel Jordan,

2022 Perfect Pitch honoree. https://

keychorale.org/upcoming-event/

season-38-2022-2023/.

t

At The Van Wezel

Need some laughs? How about

"Mad About You" star Paul Reiser on

Nov. 20. Want a musical? "Buddy:

The Buddy Holly Story" is on Oct. 22

and the "Disney Princess: The Concert"

is on Nov. 2

Also coming up: Leanne Morgan,

with her "Big Panty Tour" is on Oct.

16; "Impractical Jokers" star Joe

Gatto is on Oct. 27.

Tickets: www.VanWezel.org. Preshow

dining is available through

Mattison's at the Van Wezel which is

located inside the theatre. Reservations

can be made on VanWezel.org

or through the box office.

t

Club Meetings

The Women's Interfaith Network

(WIN) is hosting its fall meeting

for the 2022-2023 program year on

October 8 at 11:30 a.m. Bring your

curiosity and a bag lunch to the

Oakhurst Clubhouse, 4255 Oakhurst

Circle East, Sarasota (access from

Bee Ridge Road). Guest speaker will

be Megha Vaid, President of the

Indian Association of Manatee. To

RSVP, email schalkhome95@gmail.

com. For information about WIN,

visit womensinterfaithnetwork.org.

t

Farmer's Markets

The Sarasota Farmers Market is

open on Saturdays, 7 am-1 pm, rain

or shine. www.sarasotafarmersmarket.org/

(941) 225-9256

t

continued on page 10

8 WEST COAST WOMAN OCTOBER 2022
---
healthier you

QUIT TOBACCO

with GROUP QUIT

There's never been a more important time to quit.

Free expert-led sessions to help you quit all forms of tobacco.

2 . 6 LO G O LOCKUP S

Breathe Easier -

October is Healthy

Lung Month!

1 .

2 .

X

TFF.COM / FDOH LOCKUP

Virtual Group Sessions -OR- In-Person Group Sessions

Develop your

personalized

quit plan.

FREE nicotine

replacement patches,

gum, or lozenges. *

The logo lockups were designed to contain both logos

separated by a bar that is the same thickness as our

of our logo. We will maintain the clear space

established on page 6 between the bar and both logos

Depending on the type of materials, we could use one

of the following lockups.

1. Full color Logo Lockup

More than

DOUBLES your

chances of success!

preferred, but it can ONLY be used in full color and

only against a white background. It cannot be placed

in a white box.

*(If medically 3 . appropriate for those 18 years of age or older)

Pre-registration is required.

CALL TODAY:

4 .

2. One-Color Logotype Lockup

The One-Color Logotype Lockup is the most commonl

used version. It can only be used against a white

background or as a Reverse White Logotype.

Sponsored by:

866-534-7909 AHEC

GULFCOAST SOUTH

AREA HEALTH

EDUCATION CENTER

3. Black and White Logotype Lockup

4. Reversed Logotype Lockup

The reversed logotype lockup can be used against a

black bacground or against the NEW TFF ADA BLUE

(HEX: #1074BB)

O

ur lungs are vital to our

health. They filter the air

we breathe, provide us

with the oxygen we need

to exist, and allow us to

speak to one another 2 . Quite simply,

without healthy, functioning lungs,

one's quality of life is substantially and

adversely impacted.

Healthy Lung month is an opportunity

to be more conscientious about your

lung health, to take steps to improve

your lung health and, ultimately, to improve

your quality of life!

Implementing the following steps is a

great way to prioritize your lung health:

1) Prevent illness. In the middle of

a worldwide pandemic, this is now

more important than ever. Lung illnesses

put a strain on your entire respiratory

system, not just your lungs.

Preventing infections that lead to

illnesses by washing your hands regularly,

practicing good hygiene, and

eating a healthy, nutrient-dense diet

are essential in protecting your lungs

from pathogens that can devastate

your immune system. 1

2) Exercise regularly. Physical exercise

doesn't just make your muscles

stronger, it makes your lungs stronger

too! Healthy adults should be

moderately exercising approximately

30 minutes a day, five days a week.

Moderate exercise can be enjoying

a brisk walk, playing with your

children or pets at the park, or even

cleaning your house! Improving your

lung strength doesn't need to be intense;

it just needs to be consistent. 1

3) Quit smoking. Smoking is a major

cause of heart disease and lung

disease. In fact, smoking and tobacco-related

illnesses are the leading

cause of preventable death in the

United States. 3, 4 While the stress of

the pandemic can make it difficult

to quit smoking, and even more difficult

to stay quit, it is the single-best

thing you can do to improve the

health of your lungs. 1, 3

Fortunately, help to quit smoking is

free! Gulfcoast South Area Health

Education Center (GSAHEC), as part

of the Tobacco Free Florida AHEC

Cessation Program—offers free tobacco

cessation sessions that are available

to help someone quit all forms of

tobacco. These group sessions, held

virtually and in-person, provide information

about the effects of tobacco

use, the benefits of quitting, and will

assist you with developing your own

customized quit plan. Free nicotine

replacement therapy in the form of

patches, gum or lozenges (if medically

appropriate and while supplies last)

are provided with the session. Contact

us today at 866-534-7909 or visit

www.tobaccofreeflorida.com/

groupquitcalendar to schedule a

class or learn more about the program!

4) Get screened. Early detection

is crucial in identifying lung cancer

and establishing a favorable prognosis.

In fact, screening for lung cancer

using low-dose CT scans can lower

the chance of dying from lung cancer

by 20 percent, according to the National

Lung Cancer Screening Trial. 1

If you are between the ages of 55 and 77,

have a 30 pack-year history of smoking

(smoking an average of a pack of cigarettes

a day for 30 years), are a current

smoker or have quit smoking in the last

15 years, you should be screened for

lung cancer. Contact your local hospitals

and lung care clinics to learn more about

screenings available to the community.

References:

1) https://www.inspirahealthnetwork.org/news/

national-healthy-lung-month

2) https://my.clevelandclinic.org/health/articles/21205-respiratory-system

3) Tools to Quit: Area Health Education Center (AHEC)

Cessation Program Participant Toolkit. Area Health

Education Centers. 2018.

4) U.S. Department of Health and Human Services.

The Health Consequences of Smoking: 50 Years

of Progress. A Report of the Surgeon General.

Atlanta, GA: U.S. Department of Health and Human

Services, Centers for Disease Control and

Prevention, National Center for Chronic Disease

Prevention and Health Promotion, Office on

Smoking and Health, 2014. Printed with corrections,

January 2014. Accessed April 3, 2020.

Learn more about all of Tobacco Free Florida's tools and services at

THE JEWISH FEDERATION OF SARASOTA-MANATEE

AND THE PERLMAN MUSIC PROGRAM SUNCOAST PRESENT

Violins AND

AND

AN EVENING

OF MUSIC AND INSPIRATION

Hope

Wednesday, November 16, 2022

6:15pm | Sponsor Reception

7:00pm | Event followed by Dessert Reception

Michael's On East | 1212 S East Ave., Sarasota

Daniel Levin, contemporary artist, photographer and author

of Violins and Hope, From the Holocaust to Symphony Hall,

will be joined by two Perlman Music Program alumni,

violinist Niv Ashkenazi performing with a surviving

Holocaust violin and pianist Matthew Graybil.

To purchase tickets

visit JFEDSRQ.org/events

Tickets go on sale

OCTOBER 13, 2022

QUESTIONS? Contact JeremyL@jfedsrq.org | 941.343.2113

ISRAEL

5

T F F

BRAND G U I D E

PAID ADVERTORIAL

OCTOBER 2022 WEST COAST WOMAN 9
---
out and about continued

Venice Farmers Market has more

than 40 vendors on Saturdays, many

based during the week in Venice,

Englewood and other areas of Sarasota

County. Held at Venice City Hall,

401 W. Venice Avenue, Venice. Call

(941) 445-9209 or visit https://www.

thevenicefarmersmarket.org/site/

t

The Newtown Farmer's Market is

open from 10 a.m. to 5 p.m. every Friday

and Saturday. The market is located

at Dr. Martin Luther King Jr. Park,

at the corner of Cocoanut Avenue and

Dr. Martin Luther King Jr. Way.

t

The Farmers Market at Lakewood

Ranch is now at Waterside Place.

Their Farmers Market currently has

about 60 vendors and went this past

summer from a seasonal market to a

year-round event.When the market

transfers to Waterside Place, taking

up space all along Lakefront Boulevard

and Kingfisher Lake, more than

80 vendors will line the street. The

Farmers Market will stick to a 10 a.m.

to 2 p.m. time slot on Sundays.

t

Art Around

the State

At The Baker Museum: Recent

Acquisitions: 2019 – Present. The

Baker Museum's permanent collection

has grown steadily over the past

two decades in both breadth and

quality within the museum's clearly

defined scope, which encompasses

American, Latin American and European

art from the 1880s to the present

day. This exhibition presents over 50

works that have been added to the

permanent collection since 2019.

Runs through January 8.

The Baker Museum: https://

artisnaples.org/baker-museum.

Artis—Naples is at 5833 Pelican Bay

Blvd, Naples, FL. artisnaples.org

t

At The Dali: Running through

October 30, 2022, is 'the visit,' by

yamandú canosa. The Visit presents

the work of Uruguayan-Spanish artist

Yamandú Canosa. Through the exhibition,

Canosa creates a contemplative

dialogue between Surrealism and

contemporary art.

The meditative installation explores

Salvador Dalí's environment in Port

Lligat, Spain, where Dalí lived and

worked throughout his lifetime. The

works relate the viewer to the horizon,

while alluding to the Bay of Port

Lligat: the beach, the Tramontana

wind, Dalí's house and the island of

Sa Farnera. Canosa's installation also

incorporates the Dibujos ciegos (Blind

Drawings), a series of performative

works on paper created through a

drawing process that elaborates on

surrealist practices.

The exhibit includes new and previous

notable works by the artist,

including paintings, drawings and

photographs, plus a small selection

of related Salvador Dalí works from

the Museum's renowned collection.

A portion of the Museum's Hough

Gallery will be transformed into a dramatic

installation designed by the artist

specifically for the Museum. Info:

https://thedali.org/exhibits/current/

t

Tampa Museum of Art has

Dawoud Bey & Carrie Mae Weems:

In Dialogue through October 23,

2022. Dawoud Bey & Carrie Mae

Weems: In Dialogue brings together

a focused selection of work from

t

a period of over

forty years by two

of today's most

important and

influential photo-based

artists.

Dawoud Bey

and Carrie Mae

Weems, both born

in 1953, came

of age during a

period of dramatic

change in the

American social

landscape. Since

meeting at the

Studio Museum

in Harlem in 1977,

the two artists

have been intellectual

colleagues

and companions.

Over the following

five decades,

Bey and Weems

have explored

and addressed

similar themes:

race, class, representation,

and

systems of power,

creating work that

is grounded in

specific African

American events

and realities while simultaneously

speaking to universal human conditions.

This exhibition, for the first time,

brings their work together to shed

light on their unique trajectories and

modes of presentation, and their

shared consciousness and principles.

The Museum of Fine Arts has

Multiple: Prince Twins Seven-Seven

through January 15, 2023. This

exhibition highlights the visionary

work of Prince Twins Seven-Seven,

who was the only surviving child out

of seven pairs of twins born to his

mother.

Because of this, and the associated

traditional religious beliefs of the

Yorùbá people of Nigeria, he held that

he possessed unique spiritual insight

and power. His perceptions in turn

had a profound impact on his artistic

expression as a printmaker, painter,

and sculptor. Blending abstracted

images of the physical world and evocations

of the spirit world, Prince Twins

Seven-Seven created a unique, powerful,

and international style that bridges

traditional and contemporary arts.

Multiple: Prince Twins Seven-Seven

features 14 total pieces, including 10

works on paper by Prince Twins Seven-Seven

and four other Yorùbá works

of art from the MFA's collection. The

MFA is at 255 Beach Dr NE, St. Petersburg.

Visit https://mfastpete.org/

t

The Sarasota Ballet

The Sarasota Ballet's Program 1

will include a World Premiere by Choreographer

Gemma Bond. Bond, an

internationally acclaimed Dancer and

Choreographer, has held leading roles

with The Royal Ballet in works such as

August Bourneville's La Sylphide and

Kenneth Macmillan's Anastasia

among others before joining American

Ballet Theatre in 2008.

Only electric boat motors are authorized;

gas motors must be raised

to indicate they aren't in use. (This is

in accordance with Sarasota County

ordinances.)

t

CreArte Latino Cultural Center presents "MADENUSA" October 14 and 15 at

8 p.m. Written by Claudia Soroka, "MADENUSA" is an amusing and fresh take

on the immigrant experience. Visit visit www.creartelatino.org. CreArte Latino

Cultural Center is at 8251 15th Street East, Airport Mall Plaza, Suite 1, Sarasota.

Since 2010, Bond has created three

ballets for ABT's Choreographic Institute,

as well as works for ABT Studio

Company, Atlanta Ballet, Ballet Sun

Valley, Intermezzo Ballet Company,

New York Theater Ballet, and the

Hartt School.

The Sarasota Ballet Program 1 runs

October 21-23 at the FSU Center for

the Performing Arts.

Sea Turtle Nesting

Season is Here

Sea turtle nesting season takes

place through Oct. 31 on Southwest

Florida beaches. Mote Marine coordinates

with county, state and federal

efforts to conserve sea turtles — particularly

loggerheads, since Sarasota

County hosts the highest density of

loggerhead nests in the Gulf of Mexico.

Data show that nesting by loggerhead

turtles declined and then rebounded in

recent years, while green turtle nesting

— although very low in numbers — has

increased.

On nesting beaches, light from

waterfront properties can disorient

nesting female turtles and their

young, which emerge at night and

use dim natural light to find the sea.

Also, beach furniture, trash and other

obstacles can impede sea turtles and

their young. While Mote documents

turtle nests, the best thing you can do

to help is to refrain from using artificial

light while on the beach.

t

Here are some tips to keep beaches

turtle-friendly:

• DO stay away from sea turtle nests

marked with yellow stakes and tape,

and seabird nesting zones that are

bounded by ropes.

• DO remain quiet and observe from

a distance if you encounter a nesting

sea turtle or hatchlings.

• DO shield or turn off outdoor lights

that are visible on the beach from

May through October.

• DO close drapes after dark and

stack beach furniture at the dune line

or, ideally, remove it from the beach

• DO fill in holes that may entrap

hatchlings on

their way to the

water.

• DON'T approach

nesting

turtles or hatchlings,

make noise,

or shine lights at

turtles.

• DON'T use

flashlights, head

lamps or fishing

lamps on the

beach.

• DON'T encourage

a turtle

to move while

nesting or pick up

hatchlings that

have emerged and

are heading for

the water.

• DON'T use

fireworks on the

beach.

• DON'T walk

dogs on any

Sarasota County

beach other than

Brohard Paw Park

in Venice. There,

dogs must be

leashed or under

voice control, according

to county

ordinances.

Report stranded sea turtles and

marine mammals. Mote Marine

Laboratory's Stranding Investigations

Program responds 24 hours a

day seven days a week to reports of

sick, injured and dead marine mammals

and sea turtles for animals

in Sarasota and Manatee County

waters. Live animals are brought

back to Mote's Dolphin and Whale

Hospital or Sea Turtle Rehabilitation

Hospital for treatment and the deceased

animals undergo a detailed

post-mortem examination so that

we may learn more about the natural

history of these animals and evaluate

long-term trends in mortality.

Within Sarasota or Manatee County

waters, if you see a stranded or

dead dolphin, whale or sea turtle,

call Mote's Stranding Investigations

Program, a 24-hour response service,

at 888-345-2335.

If you see a stranded or dead manatee

anywhere in state waters or a

stranded or dead dolphin, whale or

sea turtle outside of Sarasota or Manatee

counties, call the FWC Wildlife

Alert hotline at 1-(888) 404-3922.

Coming Up:

Atomic Holiday Bazaar returns

for season 15 after a two year hiatus

due to the Covid pandemic. Atomic

has moved to the Sarasota County

Fair located at 3000 Ringling Boulevard.

Atomic Misfit makers will be

found inside at Robarts Arena along

with other makers located at the street

fair outside of the arena on the fairgrounds

property.

Atomic's new dates and hours are:

Saturday, November 26, 12pm - 7pm

and Sunday, November 27, 11am - 6pm.

Admission is $6 for adults, kids 12 and

under get in free. Food trucks at the

street fair include Mouthole BBQ and

Big Blue Grilled Cheese and Robarts

indoor arena cantina will be open for

hungry shoppers. Atomic is family

friendly to PG-Rated adult content.

The Bradentucky Bombers roller

derby team will continue to work

t

as Atomic's greeters handing out

an Atomic swag bag to the first 100

adult'ish people who enter the arena

at the start of the Saturday and Sunday

shows. Bags are filled with vendor

swag, some gifted vendor merch

and coupons that may be used at the

Atomic show.

Atomic features a wide range of

items for all: screen printed t-shirts,

faux taxidermy, upcycled everything

ranging from home decor, clothing,

jewelry, (for example, think of "upcycled"

as copper pipe that has been

refitted into a desk lamp), vintage

clothing, kitsch, lowbrow to elegant

fine art, holiday cards, jams, jellies and

the best canned pickle selections ever,

one of a kind baby clothing, humorous

chatchkes, ornaments, knits, catnip

toys, doggie stuff, felted art, plants,

plushies (unusual and humorous creatures),

pop culture-graphic art posters,

dark sentiments, body products, candles,

beachy vibe stuff, ethnic Latin

textiles, rock n roll edgy clothing,

sweet little creations that make you

sigh, get the picture? Atomic has something

for all!

For information about Atomic Holiday

Bazaar contact Adrien Lucas at

941-539-9044 or email at atomicholidaybazaar@gmail.com.tomic

Wine Women & Shoes is back

November 17-19. Wine, Women features

an over-the-top signature luncheon

at the Ritz-Carlton including

fabulous wines, stunning stilettos,

shopping, and a not-to-be-missed

fashion show. Visit https://www.

winewomenandshoes.com/event/

fortycarrots/

t

In conjunction with their new

exhibition, MOD Weekend 2022,

November 10-13, is devoted to the

subject of tropical modernism. The

Sarasota School of Architecture practitioners,

led by visionary Phillip

Hiss, embodied the critical regional

modern ethos that we have come to

know as "tropical modernism".

MOD Weekend will explore examples

from Sarasota and around the

globe through a variety of tours, talks

and events. Tickets: There are three

MOD Passes available: VIP, Ultimate

and Essential.

https://architecturesarasota.org/

mod-2022.

t

Rotary's 20th annual Suncoast

Food & Wine Fest is on November

12, 1-4 p.m. at Premier Sports

Campus, 5895 Post Blvd., Lakewood

Ranch. The event offers an afternoon

of samplings and tastings from a

large selection of area restaurants as

well as a variety of wines and other

beverages in an outdoor setting. Your

ticket will support this event which

provides financial assistance to many

charitable organizations within Sarasota

and Manatee counties, and other

Rotary projects. To date, Rotary Club

of Lakewood Ranch has given more

than 2 million dollars from festival

proceeds to charity.

General admission is $95 and

includes all food & beverages and

free parking. Learn more at www.

SuncoastFoodAndWineFest.com.

t

Note ————————

Be sure to send season

schedules for 2022 to

westcoastwoman@comcast.net

t

10 WEST COAST WOMAN OCTOBER 2022
---
happening this month

SUNDAY OCT. 23, 2022

TICKETS ON SALE NOW!

Sarasota-Manatee Originals

"Set The Bar" Cocktail

Competition Is Back Oct. 23

Bartender's Face-Off is Kick-Off to Week of Spirited Events

Each year, the Sarasota-Manatee

Originals bring together the

area's best bartenders, distillers

and other bar and spirits profes-

sionals for the "Set The Bar" Cocktail

Competition. . Created as a playful plat-

form to highlight the creative beverage

talents behind the area's locally-owned,

independent restaurants, this year's Set

The Bar's cocktail contention will take

place Sunday, October 23, 1-4 p.m. at

Ed Smith Stadium.

Now in its 6th

year, the 2022

Set The Bar will

showcase 25

accomplished

mixologists, representing

establishments

from

the northern tip

of Anna Maria

Island to the southern shores of Venice

Beach. SMO has partnered with Children

First to host the 2022 Set the Bar Cocktail

Competition and tickets are now on sale.

During the Set the Bar Cocktail

Competition, "The Best" libations are

decided by an expert panel as well as

event attendees who will be tasked with

sampling and savoring each creation before

judging the competitors on Flavor,

Appearance, Bartender Presentation and

Imagination. The contenders will present

innovative concoctions in five spirit

categories featuring Papa's Pilar Rum,

Cathead Vodka, Dark Door Spirits Spirit

of Oak Bourbon Whiskey, Big Stowm Distillery

London Dry Gin and Jose Cuervo

Tradicional Tequila Cristalino.

This year, SMO will offer the winners

in each category a display plaque, and

gift basket valued at over $250, as well as

enviable bragging rights. The restaurant

awarded "Best Overall Cocktail" will also

have the opportunity to demo their signature

cocktail on ABC7 Sarasota's Suncoast

View television talk show.

In addition to exclusive access to beverage

innovators in Sarasota and Manatee

Counties, guests at the

Set the Bar Cocktail

Competition will enjoy

raffles, DJ entertainment

and delicious lite bites

presented by Sarasota-

Manatee Originals' Member

Restaurants. "The

Lounge" will offer beer,

sangria and nolo-alcohol beverages.

Tickets for Set the Bar Cocktail Competition

are available online at www.eatlikealocal.com/setthebar.

Tickets are $75 per

person plus a small ticketing fee. Space is

limited so there is no guarantee that tickets

will be available "at the door." Guests

must be 21 years of age or older to attend

this event.

The field of competitors is fierce, with

last year's top winners ALL returning

and determined to defend their coveted

designation.

■ This year's contenders include:

TEQUILA —————————————————————

Miguel's Restaurant (2021 Judges'

Choice Vodka Category)

Tsunami Sushi & Hibachi

Euphemia Haye Restaurant

Mi Pueblo

State Street Eating House + Cocktails

WHISKEY —————————————————————

Brick's Smoked Meats

Clasico Italian Chophouse

Fins at Sharky's

Michael's On East

Mattison's

GIN ——————————————————————————

Duval's Fresh. Local. Seafood. (2021

Judges' Choice Whiskey Category)

Sandbar Seafood and Spirits

Sage

Grove (People's Choice Award AND 2021

Judges' Choice Tequila Category)

Mar Vista Dockside Restaurant & Pub

RUM —————————————————————————

Cafe Gabbiano

JPAN

Pier 22

Pop's Sunset Grill

Jack Dusty

VODKA ———————————————————————

El Melvin Cocina Mexicana (2021

Judges' Choice Gin Category)

Made Restaurant

Harry's Continental Kitchen

Bijou Garden Cafe

Overture Restaurant/ Perspective

Rooftop Pool & Bar

The 2022 Set The Bar Cocktail Competition

is supported by its sponsors including

BMW of

Sarasota, Sarasota

Magazine,

Gold Coast

Eagle and The

Scout Guide

Sarasota, Anna

Maria to Boca

Grande.

Even More Events ———————————

The 2022 Cocktail Competition is the

Kick-Off to the week-long SMO Cocktail

Week. From Sunday, October 23 through

Sunday, October 30, natives, newcomers

and travelers to our area are encouraged

to 'Sip Like A Local' with featured drink

specials, cocktail events and limited-time

food and beverage pairings available at

Sarasota-Manatee Originals' Member

restaurants throughout the Suncoast.

Information on Cocktail Week can be

found at www.eatlikealocal.com/setthebar.

Back for another round

Shining a light on the most

skilled beverage innovators in

Sarasota & Manatee Counties!

Learn more about this

SMO signature event

SMO COCKTAIL WEEK

OCT. 23 - 30, 2022

We are just

getting started

A week-long celebration of the creative

beverage talents behind our area's

independent restaurants!

PAID ADVERTORIAL

OCTOBER 2022 WEST COAST WOMAN 11
---
Enjoy Service

with Stellar Results

Cosmetic • Regenerative

& Restorative Gynecology

Painless In-Office Labiaplasty

BioTe® Hormone Pellet Therapy

O-Shot® & Ouchless PRP

Laser Vaginal Rejuvenation®

Clitoral Hood Reduction

Majoraplasty | Mons Lipo

ThermiVa® (non-surgical rejuvenation)

Effective treatments for:

Low Libido

Menopause Symptoms

Lichen Sclerosus

Urinary Incontinence

Personalized GYN Care

Our patients. Our reviews.

"Well cared for" | "Positive experience" | "Warm & friendly staff " | "Exceeded expectations"

"Really felt cared for" | "I can wear anything now" | "Listens closely" | "Expert in her field"

"No more discomfort" | "Restored to brand new"| "Thank you for giving me our love life back"

"I feel like I'm on my second honeymoon" | "Gifted, perfectionist, confidence"

"Results better than I even imagined" | "I am ready to start dating again"

"No longer self-conscious" | "Wonderful experience"

"Your work is a work of art" | "I enjoy sex more"

See Our Before & After Gallery at VisionaryCentreForWomen.com

Dr. Jennifer S. Hayes, DO, FACOOG

Board Certified in Gynecology | Specializing in Cosmetic Gynecology

25+ years vaginal surgery experience

Beverly Hills trademarked techniques

727.403.0573

MMunro@drjenniferhayes.com

12 WEST COAST WOMAN OCTOBER 2022
---
happening this month

SAVE $2 W/CODE WCW

DAILY TROLLEY TOURS

ENTERTAINING • INFORMATIVE

Haunted Halloween

Trolley Tours

Start Oct. 14

Sarasota has

many ghosts

who are just

dying to tell

us their stories! Hop

aboard a Haunted

Sarasota Trolley Tour

to hear their side of the

story. During October,

Haunted Sarasota,

Discover Sarasota

Tours' beloved Friday

night tour returns

for the Halloween

season for 13 nights

starting Oct. 14 and

running through Oct.

31 at 8 p.m.

Kaylene McCaw and

Tamara Solum portray

the ghost hostesses and

actors Daniel Pelissier

and Ren Pearson take on

three mystery roles who

jump aboard as spirits to

tell their side of the

story. This 90-minute

tour includes

free beer/wine before

boarding.

In addition, this

year, Discover Sarasota

Tours will offer

their FIRST tour

for kids called The

BooMobile which

runs at 6:30 PM on

weekends starting

October 14. This 45-minute magical musical

adventure is perfect for kids 3+ and

features WitchyPOO and the wily Pumpkin.

This funny, family-friendly tour travels

around Sarasota as guests help look

for the wily pumpkin who does not want

to be caught.

Children and their parents will delight

in singing along to Halloween songs,

hearing spooky stories, and searching for

the sneaky pumpkin. Cider and cookies

offered before the tour, and prizes given

for best costumes. The show features

actresses Sarah Haun and Liz Pascoe.

"I just love Halloween and seeing all

the creative costumes guests show up

in," said Tammy Hauser, DST founder

and CEO. "We give prizes for best costume

on each tour and it's always a challenge

choosing our winners!"

The Halloween tours will join DST's

popular ongoing tour themes:

• Amish Experience led by Kendra

Cross, Thursdays at 10 AM, November-May.

• NEW Architecture Tours led by Tammy

Hauser Tuesdays at 10:30 AM.

• Art Crawl Gallery Tour led by local

artist Jerome Chesley, Tuesdays 6-8 PM.

November-April.

Haunted Sarasota cast members Daniel

Pelissier and Kaylene McCaw bring

spooky characters to life.

All aboard the Haunted Sarasota trolley — in costume!

• Boutiques & Bubbles

Shopping Tour, monthly

or as a custom tour.

• NEW Christmas Carol

Trolley Family fun with

sing-along music and

downtown holiday lights,

led by Kaylene McCaw,

7:30 PM daily from December

9-30.

• Circus Secrets led by

Bob Collins, Wednesdays

and Saturdays at 1PM.

• City Sightseeing led by

multiple guides, Tuesdays-Sundays

10AM, 1PM

and 3PM

• Leading Ladies of

Sarasota, led by Kathryn

Chesley, Wednesdays at

10 AM

• Murder Mystery Trolley:

Who Killed The Circus

Queen? Interactive

mystery musical.

Thursdays & Saturdays

7:30 PM.

• Psychic Sundays

exploring Sarasota's

psychic history,

led by Michael

Newton-Brown &

Kaylene McCaw.

Sundays at 1 PM.

• Public Art Tour

led by Jerome

Chesley, Thursdays

at 1:30 PM November-April.

About Us:

Discover Sarasota Tours is the only

local trolley tour company offering the

best daily entertaining and informative

air-conditioned sightseeing tours and

nighttime theatrical shows about interesting

people, intriguing places, and amazing

stories that have shaped Sarasota's

rich cultural past. In 2022, Discover Sarasota

Tours was recognized by Tripadvisor

with the 2022 Traveler's Choice Award.

The company was founded by Tammy

Hauser in 2018 and has a staff of 26 including

professional tour guides, drivers,

reservationists, and musical theater

actors. Michael Newton-Brown serves as

the Artistic Director.

Tours depart from the Trolley Cottage

Gift Shop, located at 1826 Fourth St.,

Sarasota in Gillespie Park. The gift shop

features souvenirs and Sarasota books,

gifts, and memorabilia for all ages. The

ChillMobile 1979 vintage ice cream truck

lives at the cottage when not out delivering

sweet ice cream treats in the community.

Tour tickets and information can be

booked at DiscoverSarasotaTours.com

or by calling 941-260-9818. For Groups

email Sue@DiscoverSarasotaTours.com.

NEW TOUR

For Kids!

A Magical Musical Halloween Adventure!

Apple Cider & Cookies Served On Porch Before You Board

*****

FABULOUS

MYSTERY GUESTS!

Mobil

BO

WitchyPOO

Witchy

with

& the Pumpkin

POO & the Pumpkin

Haunted

S A R A S O T A

Mummies, Murder & Mayhem!

Hop Onboard For An Historical Ghost Tour Of

Sarasota's Most Haunted Buildings, Unsolved

Murders & Mystery Guests! Perfect for Groups!

PRIZES FOR BEST COSTUMES ON EACH TOUR!

8 PM Nightly • October 14-31st

$49.99 (+tax/handling fee)

Includes Complimentary Beer/Wine

BOOK ONLINE

*****

SPOOKTACULARLY

FUN!!!

DiscoverSarasotaTours.com

941-260-9818

*****

WHAT A HOOT!

Children $19.99

Adults $24.99

Weekends

October 14-30

6:30-7:15PM

Prizes for Best

Costumes!

Visit The Trolley Cottage & Gift Shop | 1826 4th Street | FREE Parking!

PAID ADVERTORIAL

OCTOBER 2022 WEST COAST WOMAN 13
---
you're news

Accolades

■ Deputy Josh Snow earned the

Life Saving Award for rendering

aid to a motorist who lost control

of his motorcycle and struck a

curb and sign before being ejected

from the vehicle. Deputy Snow

remained with the injured victim

until EMS arrived and transported

him to the hospital. Thanks to

Deputy Snow's actions, the injured

motorcyclist survived.

Deputy Christopher McConnell

earned the Life Saving Award for

his efforts to save a 61-year-old

woman who choked. The victim

was eating when she choked

and stopped breathing. Deputy

McConnell was first to arrive at the

scene and performed two cycles

of CPR before paramedics arrived

and took over the victim's treatment.

Deputy McConnell's quick

response and proper lifesaving aid

was essential to the paramedics being

able to revive the patient.

Court Services Lieutenants

Michael Dumer and Jamesa

Tose and Sergeants Raymond

White, Donald Bennett, and

Eleni Koenig are presented the

Meritorious Achievement Award

for their contributions to the

planning and completion of the

south county courthouse.

In 2022, the new courthouse

was nearing completion, but was

plagued by supply chain and labor

issues. Lieutenants Dumer and

Tose and Sergeant Koenig worked

closely with the construction

workforce to identify and overcome

problems as they arose. On April

18, the courthouse officially opened

for business. It is with credit to

Lieutenants Dumer and Tose, as

well as Sergeants White, Bennett,

and Koenig, for their input in successfully

completing this project.

■ Neuro Challenge Foundation's

Dr. Sara Grivetti has been selected

for Leadership Sarasota, a program

of the Greater Sarasota Chamber

of Commerce. Leadership Sarasota

identifies current and future leaders

to participate in a 10-month

program focused on developing

awareness of the Sarasota community

and its needs.

Dr. Sara Grivetti, with more that

30 years of experience with neuro

challenges, has worked with an

array of issues related to disabilities

and chronic health conditions.

Sara holds a master's degree and

doctorate from Michigan State

University in

the field of

Rehabilitative

Counseling.

Her focus of

research has

been adjustment

to

disability and

health conditions

and

Dr. Sara Grivetti

the impact of

diagnosis on the family and care

partners.

Neuro Challenge Foundation for

Parkinson's is a 501(c)(3) nonprofit

organization created to improve

the quality of life of people with

Parkinson's disease and their caregivers

today. All Neuro Challenge

essential services and programs are

offered at no cost to people with

Parkinson's disease and their loved

ones. For information, visit www.

NeuroChallenge.org.

Appointments

■ Abbey Tyrna brings a record

of personal, educational and professional

dedication to protecting

the natural resource of water to

Suncoast Waterkeeper as its new

executive

director.

Tyrna has

a doctorate

in Geography

from the

Pennsylvania

State University,

where

her research

Abbey Tyrna

Koenig, Bennett, White, Tose, Dumer, and Hoffman

focused on

measuring

the effects of development on

wetlands. She worked with Sarasota

County government and the

University of Florida to help bring

scientific knowledge and expertise

to the public

as the Water

Resources

Agent for UF/

IFAS Extension

and

Sustainability.

Before

receiving her

doctorate in

2015, Tyrna

earned a

Master's in

Environmental

Science from LSU in 2008,

concentrating on wetland science

and management, and a Bachelor's

in Environmental Studies from Florida

State University in 2001.

Among many leadership roles in

her field, Dr. Tyrna served as Secretary

of the Association of Natural

Resources Extension Professionals;

co-created and chaired the Society

of Wetland Scientists' Wetlands

of Distinction initiative; was a

member of the UF/IFAS Extension

and Sarasota County Diversity,

Equity and Inclusion Committee;

and is a Technical Advisor for

the Natural Assets Advisory

Committee with the Palmer Ranch

CommunityAssociation in Sarasota.

She has taught at Penn State

and the State College of Florida

and written or co-written several

publications including fact sheets

to help guide local understanding

of our water resources.

Suncoast Waterkeeper, a 501(c)

(3) non-profit organization, is a

member of the Waterkeeper

Alliance,a network of over 350

organizations all over the world

dedicated to keeping our waterways

drinkable, fishable, and swimmable.

■ Asolo Repertory Theatre has

added Margot L. Curry as its

new Finance

and Human

Resources

Director.

Curry serves

as a member

of Asolo Rep's

senior management

team

and as Finance

Margot L. Curry

and Human

Resources Director,

she leads works in the areas

of finance, business planning and

budget, and human resources.

Curry earned her bachelor's degree

in accounting from Columbia

Union College in Maryland and

her MBA, with a major in accounting,

from Le Tourneau University

in Texas. She comes to Asolo Rep

from Big Brothers and Sisters of

America in Tampa, where she held

the role of director of finance.

Curry previously served as controller

with the Houston Ballet for

six years. She has also held finance

roles with Planned Parenthood Gulf

Coast, Inc., Amigos de las Americas

& St. Luke Episcopal Church, and

the University of Houston.

■ Ordained rabbi, local Jewish

community leader, and author

Rabbi Elaine Rose Glickman has

been named assistant executive

director of the Women's Rabbinic

Network (WRN). In this newly-created

role, Rabbi Glickman

- who began

at her post

in August -

will focus

on member

support and

engagement,

with her portfolio

evolving

to reflect

Rabbi Elaine Rose

WRN's needs.

Rabbi

Glickman

Glickman is the immediate past editor-in-chief

of the "CCAR Journal:

The Reform Jewish Quarterly"; the

author of six books, including the

National Jewish Book Award finalist

"Sacred Parenting"; and an Affiliated

Professor at the University of

Haifa. Her essays on gun violence,

sexual assault, and Florida's "Don't

Say Gay" law have been published

in local and national newspapers,

and she volunteers extensively for

organizations and political candidates

who are committed to equity

and justice.

Locally, Rabbi Glickman is a

board member of ALSO, a support

group and community center for

LGBTQ+ youth, and the Sarasota

chapter of Jewish National Fund,

as well as a past president of the

Sarasota-Manatee Rabbinic Association,

a past executive board

member of All Faiths Food Bank, a

past trustee of the pluralistic Community

Day School, and a member

of Sarasota County Schools' Superintendent

Advisory and Charter

Review Committees.

Serving Temple Emanu-El in

Sarasota, Rabbi Glickman - the wife

of Senior Rabbi Brenner Glickman

- has contributed tremendously to

the building of community among

the congregation, has presented

innumerable parent and adult education

offerings, greatly expanded

community service opportunities,

and provided skilled and effective

public relations services on behalf of

the congregation. She also leads the

occasional service and reads from

the Torah during the High Holidays.

Women's Rabbinic Network is

a nonprofit organization comprising

more than 800 Reform female-identified

rabbis throughout

the world, supporting and advocating

for its members and the values

they uphold to positively impact

women in the Jewish community.

WRN is part of the Reform Movement

but its work and influence extend

into the greater Jewish world.

The organization was born in the

1970s, when the first generation of

women rabbis was being ordained.

For more information, visit womensrabbinicnetwork.org.

Board News

■ The Education Foundation

of Sarasota County (Education

Foundation) announced that

Nelle Miller has been elected

as the new chair of the board of

directors and

will serve

a two-year

term. Miller

has extensive

experience

in nonprofit

leadership.

She

has served

Nelle Miller

as board

chair for

the Community Foundation of

Sarasota County, All Faith's Food

Bank, Glasser/Schoenbaum

Human Services Center, and the

Jewish Federation of Sarasota-

Manatee.

Currently Miller is the interim

President/CEO of Jewish Family &

Children's Services of the Suncoast

during the organization's search

for a permanent replacement.

Miller is a graduate of Brandeis

University and completed a

governance executive program at

Harvard Business School.

Other Education Foundation

board officers elected include:

Brock H. Leach, immediate past

chair; Kent Hayes, first vice chair;

Kara Saunders, second vice chair;

Dr. Lucie Lapovsky, treasurer; and

Anne Rollings, secretary.

In addition, five new members

were added to the board. Kari

Johnson, program specialist with

Sarasota County Schools and the

2021 Sarasota County Teacher of the

Year, was elected as teacher representative

for a three-year term.

Student representatives elected

to one-year terms are Aubrianna

Hobbs, North Port High School,

and Karolina Paulus, Riverview

High School. Both are seniors in

the Class of 2023.

Community members elected

to three-year terms are Heather

Kasten, Dona Scott and Rebecca

(Becky) van der Bogert. Kasten

is the president and CEO of the

Greater Sarasota Chamber of

Commerce. Additional community

involvement includes serving

on the boards of CareerSource

Suncoast and United Way Suncoast.

Kasten also is a community

partner in PLANit Sarasota, a

cross-sector group of education

and youth services organizations

and community partner focused

on increasing the rate of students

who pursue a purposeful postsecondary

pathway.

Scott has extensive education-related

nonprofit experience,

including having served on the

board of Providence-St. Mel School

in Chicago and After School Matters,

a Chicago program for teens.

Locally, she is on the board of

Westcoast Black Theatre Troupe.

Van der Bogert's varied educational

experience includes having

been a classroom teacher, guidance

counselor, principal, school superintendent,

and university instructor

at public and private institutions

in Massachusetts, Illinois, and

Florida. She earned her doctorate

in education from Harvard University,

where she also cofounded and

directed the International Network

of Principal's Centers.

Additional board members

include Beth Donofrio, Jennifer

Infanti, Steve Krause, Lisl Liang,

and Es Swihart. Jennifer Vigne is the

president and chief executive officer.

Send us your news!

Send to: westcoastwoman@

comcast.net. You will also

find more You're News on our

Facebook page West Coast

Woman. We also publish

this page on our website

(westcoastwoman.com) and in

our monthly e-blast.

Want to subscribe

to our e-blast?

Send us your email address.

Send to westcoastwoman@

comcast.net.

14 WEST COAST WOMAN OCTOBER 2022
---
Danielle Talamantes

Kerry Wilkerson

J. Warren Mitchell

Adelaide Boedecker

Laurel Semerdjian John Kaneklides William Socolof

Say a Little Prayer

Sun, Oct 30, 2022 • 5pm • Church of the Redeemer

Wed, Nov 9, 2022 • 6:30pm • Historic Spanish Point

performance sponsored by Selby Gardens

Experience comfort, consolation, and compassion as we

raise our voices to heaven featuring Amazing Grace and

the Kaddish along with Buddhist and Native American

chants. Celebrate in song the universality of prayer from

faiths around the world.

Peace on Earth

Sun, Dec 11, 2022 • 7pm • Church of the Redeemer

Danielle Talamantes, soprano

Kerry Wilkerson, baritone

Traditional holiday carols featuring themes of peace

are interspersed with In Terra Pax - a work of childlike

serenity that is both intimate and universal by British

composer Gerald Finzi. Peace on earth - the promise

of the Christmas season for all the peoples of Earth.

The Children's March - Florida Premiere

Sun, Mar 5, 2023 • 7pm • Church of the Palms

Sarasota Young Voices - Geneviève Beauchamp, artistic director

Voci di Lumina - Deah McReynolds, artistic director

J. Warren Mitchell, tenor; Jesse Martin, baritone

Maiya Stevenson, soprano; Baron Garriott, tenor

Amy Jo Connours, alto; John Whittlesey, baritone

Krista Laskowski, mezzo-soprano

Charlayne Hunter-Gault, narrator

The Children's March, a moving and dramatic oratorio by

Philadelphia composer Andrew Bleckner, takes us on a journey

to an historical event during the Civil Rights Era of the 1960s.

Incorporating traditional African-American styles and spirituals,

our eyes are opened to the

incivility of segregation through

the innocence and optimistic

spirit of children.

Charlayne Hunter-Gault

Bach Cantata BWV 104

Mozart Requiem K. 626

Sun, Apr 16, 2023 • 7pm • Church of the Redeemer

Adelaide Boedecker, soprano; Laurel Semerdjian, alto

John Kaneklides, tenor; William Socolof, bass

Passages of life expressed through the beauty of majestic

choral music: Bach's pastoral setting of the Twenty-third

Psalm paired with Mozart's Requiem, a poignant and

dramatic contemplation of eternity.

American Fanfare

Tue, Jul 4, 2023 • 4:30pm • Sarasota Opera House

Join Choral Artists of Sarasota and the Lakewood Ranch

Wind Ensemble as we celebrate who we are as Americans

and what Freedom means to us through beloved American

songs. Our National Day of Independence swells with patriotic

pride through choral fireworks and rousing Sousa marches.

Meetthe

Music

Thursdays • 5:30-7pm

Oct 20, Dec 1, Feb 23

Apr 13, June 22

Art to Walk On

16 South Palm Ave

• Pre-concert discussion with

wine and nibbles

• Free invitation with your

concert ticket

• Dr. Joseph Holt and guests

discuss the music

Gala

Sat, March 11, 2023 • 6pm

Casey Key Residence

Join us for a magical evening

at a very special Casey Key

residence. Enjoy cocktails

at sunset, musical

entertainment, and an inspired

feast in an enchanting setting!

Connect

Attend a rehearsal with

concert tickets.

Details:

ChoralArtistsSarasota.org

Buy a ticket bundle and save a bundle! • Students tickets always $ 5 • Group discounts • Give the gift of music with a gift certificate to any concert, available online.

OCTOBER 2022 WEST COAST WOMAN 15
---
Marlene

Hauck

Executive Director, Sunshine From Darkness

She wants us to start

having a conversation

about mental illness -

to learn more and not

be afraid or ashamed - all in

an effort to remove the

stigma that clouds understanding

and healing.

Marlene has been involved

with Sunshine from Darkness

(a subsidiary of the Lee and

Bob Peterson Foundation) as a

volunteer since 2019. In February,

she became the nonprofit's first

executive director.

Marlene's experience has

been in fundraising

and donor and

community relations,

having worked in

the nonprofit field

for more than 30

years, with 10 years

of leadership

experience for

two nonprofits,

Coastal Behavioral

Healthcare and

later First Step

of Sarasota when

they merged

in 2020.

16 WEST COAST WOMAN OCTOBER 2022
---
My conversation with

Marlene Hauck,

Sunshine from Darkness

Executive Director, is

taking place at her cozy

home in downtown

Sarasota. She has surrounded herself with

healing crystals, candles, fragrance, and

spiritual iconography as well as amazing

plants that are all - each and every one -

flourishing under her care.

The first question I ask this veteran professional

in the mental health field is, why are

we still struggling with having a conversation

about mental health? She agrees, "Some people

are still afraid of talking about it. Some are

afraid of losing their jobs," she notes, even in

this day and age.

"We need to normalize it," Marlene explains

and adds — thinking aloud — "maybe we

should call it 'mental health wellness.' Maybe

we should say that versus mental illness." Her

opinion is certainly worth noting since Marlene

has been in the nonprofit mental health

field for over 22 years and in the nonprofit field

in general for 30 years.

And yes, she's heard that, "Pull yourself up

by your own bootstraps" comment sometimes

said insensitively to those not feeling mentally

well. This spoken by someone who has seen

mental illness up front through her work in

the mental healthcare field. Marlene gives

non-clinical, compassionate advice for those

hesitant to seek help. "If the blahs continue,

you need to seek help. That person will see

your situation from a different perspective."

Nearly one in five U.S. adults live with a

mental illness (52.9 million in 2020) according

to the National Institute of Mental Health.

Florida ranks last in the country in spending

on treating mental health disorders and has

the third-highest percentage of mentally ill

individuals who are also uninsured. Marlene

admits to not having an answer to either statistic

except to offer that, "We [as people] are reactive,

not proactive," in terms of social needs

like mental health care —waiting until things

hit crisis levels before acting.

Closer to home, "The behavioral health

system in Sarasota County is in danger of

becoming a system in crisis if steps to shore

up and enhance the system are not taken.

Services have been significantly underfunded

for decades, with unmet needs now rapidly

increasing." This according to the Sarasota

County Mental Health Needs Assessment Task

Force in 2021.

The problems are clearly vast and deep,

according to those facts. For example, many

don't have health insurance. Marlene explains

that the uninsured are, "too busy paying rent,

they're working two jobs and can't afford care.

That's the last thing on their minds."

As for women, Marlene explains, "Women

are identified by what we did and we always

have to keep going, [thus] we don't have time

to look at our mental health." She mentions

Jennifer Holliday, the singing artist who will

perform at the Sunshine From Darkness event

in January 2023. "She talks about being a

women of color and when she had a baby she

was told 'it's just the blues, get over it.' But she

knew she had depression. It's not wrong to say,

'I don't feel well.'"

Marlene has gotten reports from professionals

in the field that children as young as 5-6

years old are in treatment for mental stress.

Children have been challenged by things like

COVID, parents who have lost jobs and more.

"We need to discus mental health with the

whole family," and obviously not forget that the

very young can suffer from it as well.

Marlene's experience has been in fundraising,

donor and community relations, client and

vendor relations. She's worked in the nonprofit

field for more than 30 years, with 10 years of

leadership experience for two nonprofits. She

served on the board of directors of Coastal

Behavioral Healthcare and made the transition

to director of marketing and development for

First Step of Sarasota when Coastal and First

Step merged in 2020. Those nonprofit agencies

provide addiction recovery programs and behavioral

health services in Sarasota, Manatee,

DeSoto, and Charlotte counties.

Marlene became involved with Sunshine

from Darkness as a volunteer, serving on the

planning committee/event coordinator since

2019, while also working at First Step. Sunshine

from Darkness is a subsidiary of the Lee and

Bob Peterson Foundation. Marlene became its

first, full-time executive director in February.

Last year, Sunshine From Darkness Gala

raised more than $170,000 during its sold-out

"Inspiring Hope Dinner." Proceeds from the

dinner benefited the local mental health and

addiction programs and services of First Step

of Sarasota, and research funded by The Brain

& Behavior Research Foundation.

Jeffrey Peterson, the son of Lee and Bob

Peterson and president of their namesake

foundation who also asked Marlene to come

on board, reinvigorated the Inspiring Hope

Dinner and Journey to Wellness Symposium,

events first conceived and presented by his

parents. Over the course of 13 years, through

Sunshine from Darkness, a nonprofit, volunteer-driven

organization, the Petersons raised

over $5 million going towards research, treatment,

education and efforts to erase the stigma

of living with mental illness.

In a press release, he commented that,

"Through Marlene's career service to the nonprofit

community and her previous work with

Sunshine from Darkness, I have seen firsthand

her commitment and dedication to those

whose lives have been impacted by mental illness,"

said Peterson. "We must stop the adverse

outcomes and the economic cost of untreated

mental illness, we must move brain research

to the forefront of funding, and we must fund

mental health and addiction services, right

here in our community."

Past symposiums had speakers like Patty

Duke, Dorothy Hamill and Steve Ford (son of

President Gerald Ford) and were free and open

to the public with the Gala following in January.

They're changing things a bit — keeping

the Gala in January, but rebooting the symposium.

For now, Sunshine From Darkness has

a unique collaboration on October 7 timed for

World Mental Health Day (see below) at Art-

Center Sarasota.

Marlene recalls speaking with Hamill, the

Olympic skating champion, who told Marlene

that when she had cancer she got lots of flowers.

When it was revealed she was hospitalized

for depression, she told Marlene she got none.

"What's that old expression? It's okay not to be

okay. We're all human and we're not going to

be okay all the time," Marlene states. "We're

talking about it, it's out there and there are

lots of places where you can read about it. The

more we talk about it the better."

STORY:

IMAGES:

Louise Bruderle

Evelyn England

Sunshine From Darkness Event:

Sunshine From Darkness and Art Center

Sarasota present "Off the Wall," a fundraiser

and interactive art event on October 7.

Purchase tickets at www.artsarasota.org

The Inspiring Hope Dinner is scheduled

for January 13 at the Ritz-Carlton. Keynote

speaker is Tony and two-time Grammy

Award-winning actress and singer, Jennifer

Holliday, who will not only share her story

of overcoming depression but will also perform.

For information, visit sunshinefromdarkness.org

or call 941-504-6717.

Fast Facts

• 1 in 5 U.S. adults experience mental illness

each year

• 1 in 20 U.S. adults experience serious

mental illness each year

• 1 in 6 U.S. youth aged 6-17 experience a

mental health disorder each year

• 46.2% of U.S. adults with mental illness

received treatment in 2020

SOURCE: NAMI National Alliance on Mental Illness

The market is very

difficult these days.

Call me to see how we can work together

to answer questions you may have at

941-914-1560.

Amanda E. Stiff, MBA, Financial Advisor

AccessAdvisorsLLC.com 941 914-1560 Astiff@AccessAdvisorsLLC.com

1800 Second Street Suite 895 Sarasota, FL 34236 1305 Langhorne Road Lynchburg, VA 24503

Securities are offered through Level Four Financial, LLC a registered broker dealer and member of FINRA/SIPC. Advisory Services are offered through Level

Four Advisory Services, LLC, an SEC-registered investment advisor. Level Four Financial, LLC, Level Four Advisory Services, LLC and Access Advisors,

LLC are independent entities. Neither Level Four Financial, LLC, Level Four Advisory Services, LLC nor Access Advisors, LLC offer tax or legal advice.

OCTOBER 2022 WEST COAST WOMAN 17
---
lifelong learning

Here's a sample of the many learning experiences

available in person and online

Assorted Creative Arts

◆ Led by Artistic Director, Leah Veri-

er-Dunn, Moving Ethos Dance will offer

six classes of movement exploration that

involves all the senses. This is series is a

safe and collaborative discovery space for

those interested in playfulness, deep work,

and delicious challenges. No movement

training required. All bodies, abilities, and

ages 15 and over are welcome. Participants

should wear something they can move in.

Bring a notebook, pen/pencil, and water.

Offered: October 2, 9, 16, 23, 30 and Novem-

ber 6, 10:30a.m.-12:30 p.m.

Location: Historic Asolo Theater at The

Ringling Museum of Art. https://www.ringling.org/events

◆ Ring Sarasota has its inaugural Fall

Handbell Workshop on October 22 at Pine

Shores Presbyterian Church, Sarasota. Attendees

will join members of Ring Sarasota

Ring

Sarasota

Moving

Ethos

Dance

for three different class sessions, brushing

up on handbell techniques and learning

ways to improve their skills. Directors are

encouraged to take part in a roundtable

discussion, focusing on best practices for

bell choirs, how to expand your choir membership,

and more.

Ring Sarasota encourages full choirs to

participate, but welcomes all ringers interested

in honing their skills. The Ring

Sarasota Fall Workshop is on October 22, 9

a.m-12:30 p.m. Registration/check-in starts

at 8:30 a.m. Light snacks provided. Ringers

should bring their own gloves, but no other

equipment is necessary.

For information, or to register, https://

www.ringsarasota.org .

◆ October 26—Write Here! Creative Writing

Workshop hosted by Dr. Emily Carr in Geldbart

Auditorium in Selby Library, 4 - 6pm.

These workshops are open to the public,

are designed for writers of all levels and

18 WEST COAST WOMAN OCTOBER 2022

genres, and provide an opportunity for

writers to practice their craft. Workshops

offer participants an opportunity to explore

a new genre, to practice a specific writing

skill, to develop a sustainable writing practice,

and to connect with other writers.

Participants will leave with tools they can

use in their everyday lives to nourish their

endeavors, whether those endeavors happen

on or off the page.

Write Here! meets monthly for two

hours on a drop-in basis; participants are

not required to commit to coming to every

workshop. The next one is on November 30

also in the Geldbart Auditorium at Selby

Library 4- 6 pm.

Dr. Emily Carr is the Assistant Professor

of Creating Writing at New College of Florida.

Selby Library, 1331 First St., Sarasota.

https://scgovlibrary

◆ November 14—Novel Writing: Setting.

Offered 3-5 p.m. at Selby Public Library in

the Geldbart Auditorium. From planning to

publishing, this series will take you through

all the essentials you need to help turn your

book idea into a reality. Local authors Brian

Petkash and Cooper Levey-Baker will

explore the fundamentals of storytelling

from crafting your setting, characters, and

plot, to revising your work and submitting

your manuscript for publication. Open to

all ages, levels, and genres of writers, as well

as those interested in learning more about

the craft of novel writing. Drop-in to one, or

all parts of this dynamic series.

Brian Petkash is the author

of Mistakes by the Lake, a collection

of stories centered

around Cleveland, Ohio. His

award-winning stories have

appeared in Midwestern Gothic

and Southword, among other

publications.

Cooper Levey-Baker is a

writer and journalist. His first

novel, Dead Fish Wind, was

released in 2022, and his journalism

has won multiple awards from the

Florida Magazine Association and the Florida

Society for Professional Journalism.

◆ The Players (Sarasota):

• Scene Study: Mondays, 6-7 p.m. Instructor:

Amanda Heisey. The scene study class

will focus on intermediate acting styles

and techniques to combine multi-character

or partnered work as we explore dialogue

in what's not only said, but unsaid,

discover character-partner relationships,

and learn to connect our mind/bodies to

the text in truthful, mindful scopes.

• Tap w/ Mike: Tuesdays, 4-5 p.m. Instructor:

Mike McManus.

• Adult Musical Theatre Dance: Wednesday

4-5pm Instructor: Logan Junkins

• Intermediate Tap: Wednesday 6-7 p.m. Instructor:

Logan Junkins.

• Actor Lab: Thursday, 5-6 p.m. Instructor:

Brenna Wickstrom. Through exercises

based on the work of Stanislavski and Uta

Hagen, explore the facets of the craft that

allow an actor to immerse themselves and

take ownership of the given circumstances

of the script in a truthful way. Learn tools of

the imagination such as endowment, emotional

memory, sense memory, object work

and creating the moment "before." This

class culminates to a performance in the

2023 Spring FRINGE Festival.

• Players Follies present "Dirty Work on

the Trail (Or…Slow Goes the Pony Express)"

The Player's Follies is a 50+ free

performance troupe. This troupe is an

outlet for performers to gain camaraderie,

support, and express themselves theatrically.

This theatrical troupe studies all

forms of performing arts from improvisation

to vocal, dance, and musical theatre.

Under the direction of trained professionals,

The Players Follies will present a

full-length BBQ dinner show on March 31,

2023. New members welcome.

Classes are held at The Players Studio,

1400 Blvd .of the Arts, Suite 200, Sarasota,

in the Rosemary District on the second

floor. People can learn more at theplayers.

org or by calling 941.365.2494.

◆ The Players (Manatee)

DraMature is a performing troupe of actors

ages 55 and over. Troupe members present

live theatrical programs that will entertain,

inspire, and educate audiences while showcasing

its members' talents and promoting

a more positive image of older adults. They

perform in two bi-annually cabaret style

productions and provide numerous community

outreach programs in a variety of

venues. Sign up/more info: https://www.

manateeperformingartscenter.com

◆ ArtCenter Manatee

ArtCenter Manatee caters to ages 4-99 with

over 400 classes a year in drawing, painting,

ceramics, silversmithing, mixed media,

paper mache, pastels, glass and more in

all skill levels. They have day, evening and

weekend options. Classes affordable so art

is accessible to all.

They have an Arts and Healing program

for those afflicted with mild to moderate

dementia. This program has had a positive

impact on many and is free of charge for

participants. They also have a children's

program that is diverse, offering classes after

school and in the summer with camps.

Another popular program is Nights or

Days Out. These are 2-3 hour classes that

you create a piece of art to take home that

day. The evening Nights Out includes wine

and light snacks (for those over 21 years old).

Visit: www.ArtCenterManatee.org or call

941-746-2862

Sarasota Art Museum

Education Programs

◆ Sarasota Art Museum has education

programs, including studio arts courses

and drop-in studio programs. Fall studio

classes are offered for kids and adults of

all abilities. Classes on drawing, painting,

printmaking, ceramics, creative writing,

and more are offered after school, evenings,

or weekends.

Courses are held in the Paul Rudolph Vocational

Shops building, which includes the

Peggy A. Hall painting and drawing studio,

the Sarah F. Huisking tabletop studio, and

the Linda & Dick Dickinson ceramics studio

with eight wheels and three kilns. For a full

list of courses and registration details, visit

sarasotaartmuseum.org/studios-at-sam.

Sarasota Art Museum is located at 1001

South Tamiami Tr., Sarasota. Visit SarasotaArtMuseum.org.

◆ Art Center Sarasota:

They have workshops from nationally and

internationally acclaimed artists who are

masters in their medium.

• Richard Stephens: Watercolor Fresh &

Loose. Jan. 16-18, 10 am-4 pm. Internationally

renowned artist Richard Stephens'

workshops are know for being informative,

challenging and fun.

• Robert Burridge Times Two: Contemporary

Abstract Figure Painting & Collage.

Feb 6-8 | M-W, 10 am-4 pm

• Abstract Painting & Collage. Feb 9-11, 10

am-4 pm. Popular around the world for his

art and workshops, he will also present a

Zoom Demo on Jan 18.

• Ron Stocke: Creating Magic in Watercolors.

March 20-22, 10 am-4 pm. Ron

Stocke teaches internationally and is

an award-winning watercolor artist and

published author. He will present a Zoom

Demo on March 1.

• Jane Slivka: Freedom of Acrylics. April 3-5,

10 am-4 pm. Slivka is known for her inspiring

work, layered color technique, and

gifted instruction.

Art Center Sarasota, 707 N. Tamiami

Trail, Sarasota. 941-365-2032 or https://

www.artsarasota.org/

continued on next page
---
lifelong learning

lifelong learning continued

Fitness

◆ Nathan Benderson Park (NBP) offers

several options for adults (18 and older).

• Dragon Boat Paddling— Learn the fundamentals

of paddling in their Dragon Boat

101 course. Participants get the basics of

the stroke as well as on-the-water experience

in the boat. Cost: $99 covers first

month of paddling. Dragon Boat 101 graduates

and experienced paddlers are all invited

to join.

Participants started with an on-land briefing

about basic technique, then stepped

into boats to try paddling on the water. The

session culminated with a few friendly races.

Paddlers can train and practice at their

choice of several sessions every week.

• Rec Days are on Oct. 5 and 19, 10 a.m.-2

p.m. It's a great way to experience NBP,

family-style. Participants will have the

opportunity to try stand-up paddleboarding,

kayaking, canoes, fishing and rides

in a 15-foot sailboat with captain, all for a

small fee. Rec Days! are held at the base of

the finish tower on Regatta Island. More

info at https://nathanbendersonpark.

org/recday

• November 2 and 16, 11 am - 2 pm. Try standup

paddleboarding, kayaking, canoeing,

fishing and even sailing with a captain.

$10/person; $5/person with accompanying

child 7+; children up to 6 free. nathanbendersonpark.org/events/list/

• Learn to Row 101: Introduction to Sculling:

No experience necessary! Learn to

Row 101 focuses on fundamentals of sculling,

or rowing with two oars. Individuals

will be taken step by step through nomenclature,

safety maneuvers, and independent

boat handling skills. This eight-hour

course will provide you with the skill set to

safely row a single scull. Check for dates.

For information, visit nathanbendersonpark.org.

Lectures

◆ Elling Eide Fall Lecture Series

• October 6, 11 a.m.: Dr. Ann Waltner, University

of Minnesota. "When Your Daughter

Is Your Teacher: The Family of Tanyangzi"

(attend in person or online via ZOOM)

Tanyangzi (1557-1580) was a girl born

into a proper Confucian family in Ming

dynasty China, but from a very young

age, she began a strict religious practice,

drawing on both Daoist and Buddhist traditions.

This talk will focus on her childhood—her

religious practice (including

visions) and the ways in which her family

became her disciples.

• October 20, 11 am: Dreaming in Premodern

China with Dr. Robert Campany, Gertrude

Conway Vanderbilt Chair in the Humanities,

Professor of Asian Studies, Vanderbilt

University. This lecture will provide an

accessible overview of how Chinese people

in ancient and medieval times thought

about and responded to dreams. Examples

will be introduced to illustrate these various

cultural logics at play and what difference

they made in people's lives. Attend in

person or online via ZOOM)

• October 27, 11 am : Dr. Hans van Ess, Chair

in Sinology, LMU Munich: The Meaning of

Wen in the "Analects of Confucius." Attend

in person or online via ZOOM).

On first glance,

the classic Chinese

text, Analects

of Confucius,

looks like a rather

haphazard collection

of the sayings

of Confucius (551-

479 BCE) and his

disciples that are

only very loosely

connected to each

other. However,

by taking the fifth

chapter of this

text as an example

and looking more closely at the use of the

word wen, usually translated into English

as "writing," "formation," or "culture," this

presentation will attempt to clarify what

this word actually meant in this chapter.

• November 10, 11am: Dr. Keith

Knapp, Professor of Chinese

History, The Citadel, will discuss

"The Meaning(s) of Birds on Spirit

Jars (Hunping): The Religious

Imagination of Second to Fourth

Century Southeastern China"

This lecture will discuss the

more than 200 heavily decorated

jars with five mouths that have

been excavated from tombs in

Southeastern China. One of their

most notable features is that they

are adorned with figurines of many birds.

This lecture will

discuss these

Spirit Jars and

explain the presence

of these

birds in terms of

the local legend

that sparrows

stole rice from

Heaven and introduced

its cultivation

to humans

(attend in

person or online

via ZOOM)

For a complete schedule or to sign up, visit

www.EllingOEide.org

Nature and

The Environment

◆ UF/IFAS Extension Sarasota County:

• October12: EcoWalk: Unique Preserves of

Sarasota County - Manasota Scrub. Join in

to learn more about Florida ecosystems.

Take a stroll through beautiful and environmentally

sensitive lands that have

been preserved in Sarasota County and

learn more about what makes these areas

so unique and important, the plants and

animals that inhabit them, how to be watershed

wise, and the management issues

faced when trying to preserve these lands.

Register for this event at ufsarasotaext.

eventbrite.com.

• October 13, 3-4 p.m. Online event. Florida's

sea turtles. Sea turtles are among the most

fascinating reptiles in the world. Ecologically

speaking, these air-breathing oceanic

creatures are extremely successful—virtually

unchanged for 120 million years—and

have colonized every ocean, outside the

poles. They'll walk you through some aspects

of their natural history, the importance,

threats these magnificent creatures face,

and local, state and federal regulations. Register

at ufsarasotaext.eventbrite.com.

For questions, contact Armando J. Ubeda,

Florida Sea Grant agent, UF/IFAS Extension

Sarasota County, by email to aubeda@

ufl.edu or phone at 941-861-9900.

• October 27, 5:45-7:15 p.m. All about bats

at Venice Audubon Society and Rookery,

4002 S. Tamiami Trail (turn on Annex

Road) Venice. Perfect for Halloween, join

in for a discussion of one of our most misunderstood

mammals: bats. Lecture starts

in the Venice Area Audubon classroom.

Learn the natural history, fun facts, and

beneficial aspects of bats. At sunset, you'll

take a stroll to see what nocturnal visitors

might be out and hopefully watch as the

bats exit the rookery bat houses. Register

through ufsarasotaext.eventbrite.com.

Instructor: Dr. Katherine Clements, UF/

IFAS Extension Sarasota County ecology

and natural resources educator. For information,

call 941-861-5000.

• November 3—Edible Gardening Series:

ABCs of Gardening in Southwest Florida

(webinar). Learn the basics of vegetable

gardening in southwest Florida. Join Extension

Agents Rod Greder and Mindy

Hanak for a three-part, hybrid series to

help you master vegetable gardening in

southwest Florida.

Watch pre-recorded videos in the UF/

IFAS Edible Gardening Series and then

meet three times online for discussion and

Q&A. Register at ufsarasotaext.eventbrite.

com. Meet on Zoom on Nov 3, 17 from 10 -

11:30. Meet in-person on Nov 30 from 10-

11:30 at Laurel Community Garden.

Learn about Florida's unique climate,

seasons, water and soil resources. Hear

about what plants work here and what

don't. Learn how to deal with diseases, insects

and weeds.

◆ The 17th Annual Sustainable Communities

Workshop on November 1 will bring

the community together to discuss sustainability

priorities. Speakers will provide upto-date

information on various sustainability

topics including carbon sequestration,

regenerative agriculture, water quality, equity,

climate change, and more. Visit exhibitor

booths to network with businesses and

community groups to help build a better future

for our community.

Registrants are welcome to attend

in-person at the New College Harry Sudakoff

Conference Center or participate virtually.

In-person registration and continental

breakfast begins at 8 am.

Residents, students, and community

members from all sectors and walks of life

will gather in-person and online to learn

from and network with knowledgeable

speakers, panel discussions and more. Topics

to be discussed include climate change,

carbon sequestration, regenerative agriculture,

water quality, social equity, youth and

sustainability and much more.

Registration fee includes access to a full

day workshop at New College or virtually

with expert speakers on relevant community

sustainability topics, exhibitor booths,

and opportunities to network and connect

with others. In-person registration also includes

breakfast, lunch and an afternoon

snack. Interactive workshop provides many

opportunities to engage with residents,

business leaders, institutions, government

agencies, students, and others. All in-person

ticket sales end on October 21.

Location: New College of Florida Harry

Sudakoff Conference Center, 5845 General

Dougher Place, Sarasota. To learn more, visit:

scgov.net/SustainableCommunities.

Personal Enrichment

◆ Manatee Literacy Council is seeking tutors

to participate in their Adult Volunteer

Literacy Tutoring Program. The program

is structured to train volunteers to become

one-on-one tutors for adults in need of basic

literacy skills.

Tutor training is an 18-hour program that

takes place over a two-month span, and

culminates with literacy training certification.

Once certified, tutors will continue

to receive support services through this

program by being matched with a "Tutor

Mentor". A certified tutor meets the adult

learner at a location near the learner's

neighborhood. Their tutoring schedule is

continued on next page

OCTOBER 2022 WEST COAST WOMAN 19
---
lifelong learning

lifelong learning continued

flexible and based upon the availability of

tutors, learners, and tutoring sites. Training

sessions are held monthly and may be

virtual or in-person at the Council location

on Cortez Road in Bradenton.

For information, visit www.manatee-literacy.org

or call (941) 746-8197.

◆ Live in Sarasota? Tutors are needed at the

Literacy Council of Sarasota (LCS). They

offer in person tutor training workshops

every month, for volunteers who want to

help other adults improve their basic English

communication and literacy skills.

Volunteers receive 18 hours of interactive

ProLiteracy-certified instruction and

support over the course of six weekday sessions,

which includes an initial orientation.

Sessions will focus on teaching adult

learners to read, write, comprehend and/or

speak better in English.

Space is limited; preregister by calling

LCS Program Director, Susan Bergstrom,

at (941) 955-0421 or emailing sbergstrom@sarasotaliteracy.org.

◆ The Holocaust was a devastating moment

in history. And as time goes on, the

number of survivors who bore witness to

those tragedies has diminished.

Temple Sinai will share that legacy with

attendees with a Holocaust survivor speaker

series. The series — put together in partnership

with the Holocaust Speakers Bureau

of The Jewish Federation of Sarasota-Manatee

— gathers

Holocaust survivors in

the Sarasota area who

will speak about their

experiences.

• November 13-Helga

Melmed: Born in

Berlin and witness to

Kristallnacht, Helga

will reveal what life

was like in the Lodz

ghetto where she lost

both her parents. She will speak about

surviving the horrors of Auschwitz and a

slave labor camp.

• December 11-Rifka Glatz: She will talk

about her father who was taken to a

slave labor camp and never returned and

will describe her imprisonment at Bergen-Belsen

and how she was saved along

with her mother and brother as part of a

rescue called Kastner's Train

Amanda Eiffert, director of communications

and programming for Temple Sinai,

began asking Holocaust survivors if they'd

be interested in participating in a speaker

program last year. She also contacted the

Jewish Federation of Sarasota-Manatee,

which often brings Holocaust survivors to

schools and events.

"Students (who have heard Holocaust

survivors) have said it's a life-changing experience

for them," Eiffert said. She notes

that many of the survivors' stories are harrowing

and not recommended for young

children. But Eiffert notes that the value it

can have for people to understand history

through firsthand accounts in the hopes

of making sure it never happens again.

https://www.jfedsrq.org/events

OLLI

◆ Fall classes run through November 18.

Classes are available during the week and

range from two to eight-session courses.

They are taught by volunteers, many of

whom have retired from successful careers

before relocating to Sarasota. Anyone

"aged 50 and better" is invited to register

for courses or participate in any of the

workshops, special lectures, and programs

held throughout the term.

Most courses are taught in person at the

Sarasota Art Museum on the Ringling College

Museum Campus, 1001 S. Tamiami

Trail, Sarasota. Classes are also available

virtually.

Students can enjoy a myriad of classes

including "Improv Brain Games" with Will

Luera, director of Improvisation at Florida

Studio Theatre or "Women of the American

Songbook" with actress and pianist Sandra

Moulin. Plus, there's CONNECTIONS, the

documentary film series, which features

two films this term, Lives Well Lived and

100 Days with Tata.

OLLI @ Sarasota

Art Museum

To view the course catalog and to register

for classes, visit https://olliringlingcollege.

org/course-catalog/. Register by phone at

941-309-5111 or in person at Sarasota Art

Museum, Mann Reception Area (room 105).

Temple Sinai

20 WEST COAST WOMAN OCTOBER 2022
---
MORE THAN A CIRCUS

FOR 25 YEARS!

25TH ANNUAL CIRCUS SARASOTA

FRI, FEB 10 – SUN, MAR 5

UNDER THE ULLA SEARING BIG TOP

(IN NATHAN BENDERSON PARK, ON THE ISLAND)

An awe-inspiring show that brings chills,

thrills and laughs aplenty for only 4 weeks.

Circus-goers will enjoy world class performers

including returning favorites and several

new artists never featured before!

SAILOR CIRCUS HOLIDAY SPECIAL

WED, DEC 28 – SAT, DEC 31, 2022

SAILOR CIRCUS ARENA

America's longest running youth circus

presents amazingly talented student

performers in this highly anticipated

annual holiday show.

TICKETS ON SALE IN NOVEMBER

CircusArts.org | 941.355.9805

The Circus Arts Conservatory is a 501(c)3 non-profit performing arts educational organization.

ART CENTER

SARASOTA

EXPERIENCE ART

Experience the transformative power of art.

Sign up for a course and learn new skills,

engage with artists, grow creatively, hone

your craft, and have fun!

2022-2023 ART EDUCATION

VISITING ARTISTS WORKSHOPS

Learn from nationally and internationally

recognized masters in immersive 3-day workshops.

LOCAL ARTISTS WORKSHOPS

Work with the best regional and local artists

who teach engaging 1-3 day workshops.

CLASSES

Commit to creative weekly learning for 3-6

weeks, taught by exceptional local instructors.

OPEN STUDIOS

Artists love the freedom of open studios,

surrounded by art and artists.

CREATIVE KIDS

Let your child explore their creativity at

Summer Art Camp or Youth Saturdays.

www.artsarasota.org

941-365-2032

M-F, 10 am-5 pm | Sat, 12-5 pm

707 N. Tamiami Trail

Admission is free

OCTOBER 2022 WEST COAST WOMAN 21
---
lifelong learning

So Much Newness

Coming Your Way at ACE

New instructors and a large selection of new

classes, both in-person and online

The mission of ACE is to provide

affordable and dynamic lifelong

learning opportunities for the

changing needs of our commu-

nity, and we are proud to say that

ACE stays true and dedicated to its mis-

sion. We have hired many new instructors

with diverse backgrounds and talents,

and assembled a large selection of new

class offerings, both in-person and online.

Just in time for the new term, the school

has built a brand-new kitchen to house

our expanded culinary program. We also

have new computer labs equipped with

the latest technology. Due to the popularity

of both tennis and pickleball, we

have added classes at two new Osprey and

Nokomis locations convenient for south

county residents. We're excited about these

new upgrades, new instructors, and many

new classes, and we know you will be too!

Kitchen Confidential

Do you like food? Cooking classes at ACE

have always

been fun,

and if you

loved our

"old favorites"

handson

cooking

classes,

such as

Chocolate

Candy 101,

Sushi Party,

and Fish, Fish, Fish, you'll love them even

more in our new kitchen! We're unveiling

a brand-new kitchen created for us in

building 3, convenient to the south parking

lot and ready for delicious culinary

adventures. We have too many exciting

courses planned to mention, but a choice

few are Sicilian Cooking, Keto Baking, and

Plant Based Asian Cooking.

Technology Corner

Not only do we have a new kitchen, but

we've been gifted with new computer

labs as well! We've also been able to bring

on board

many

talented

new instructors,

including

a Quick-

Books

instructor who can not only help you

streamline your small business, but also

help you with your personal finances

– check out her new course, Basic Accounting

for Non-Accountants! We're also

welcoming a teacher who's an expert in

all things Microsoft, as well as one who

is a whiz at the iPhone and iPad. If you've

been stumped by QuickBooks, Word, Excel,

or PowerPoint – or your new phone –

now is the time to take a class, because the

experts are at your fingertips!

Studio Space

If you've been languishing because your

favorite art class has been on hiatus, sit up

and take notice: Art at ACE is in full bloom

this fall! Our new Stained Glass instructor

PAID ADVERTORIAL

is ready to go,

AND she also

teaches Fused

Glass! You'll also

love the many

new Watercolor

classes, Palette

Knife Acrylic

Painting, Pet

Portraits, Drawing

& Painting

the Portrait with

Live Model, and

old favorites such as Alcohol Ink, Mosaics,

and Intro to Pottery. If fabric is your medium,

try your hand at Crochet, Sewing, or

Quilting – perfect for the Holidays!

The Holistic Way

More and more people are discovering

the value of holistic medicine. Learn

about Self-Acupressure, a method of

applying pressure to various body points

to reduce stress, improve sleep, increase

feelings of well-being, and even reduce

the effects of aging. Another important

aspect of holistic medicine is learning

about how to eat more consciously. Try

out some new courses such as Kick the

Sugar Habit, Transform Emotional Eating,

Food Energetics, and Fats That Heal,

Fats That Kill.

Where in the World?

Now that the world is starting to open

again, you might be thinking about travel,

and that means learning at least the

rudiments of another language. ACE is

ready to help you out! Whether it's French,

German, Italian, Japanese, or Spanish, our

instructors are standing by to help you

learn the fundamentals. In many cases,

advanced courses are also available. Look

for our new courses French, Italian, or

Spanish Conversation and Cuisine.

History Lessons

History is full of both sobering and celebratory

moments – sometimes both at

once! The History of Rock and Roll and

Woodstock: A Celebration for the Ages

probably delivers a lot of nostalgia for

many people. On the other hand, Cover-Up:

The Watergate Scandal most likely

recalls a shameful episode in the history

of our country. A stretch of America's early

history that likely elicits a similar emotional

reaction is explored in a new course

called Irreconcilable Conflict: The American

Indian Wars. These courses promise

lively discussions.

ACE enrichment classes may lead you on

a path that may surprise and delight you

and may also lead to new friendships and

opportunities. So why wait? Come join us,

be inspired, and find your new passion!

Adult & Community Enrichment

(ACE)

4748 Beneva Road,

Sarasota

Phone:

(941) 361-6590

Visit:

ace-sarasota.com

22 WEST COAST WOMAN OCTOBER 2022
---
lifelong learning

The Education Center at

Temple Beth Israel

Like College, Only Better!

The Education Center at Temple

Beth Israel will be presenting

its second season with a diverse

and stimulating array of

adult enrichment programs—

over 175 courses, lectures, workshops,

concerts, and special events.

The Longboat Key Education Center,

which enjoyed 35 successful years, was

dissolved in June 2021 due to financial

distress brought on by Covid. That

is when Susan Goldfarb, executive

director of the former LBK Education

Center and Isaac Azerad, executive

director of Temple Beth Israel, decided

to join forces for the continuance of

the LBK Education Center's legacy of

lifelong learning.

Isaac had a vision that solved two

challenges—the school disappearing

from the community forever, and the

Temple's need for a broader spectrum

for future growth. The Education

Center at Temple Beth Israel is secular

and welcomes all adults who have a

desire to continue learning new things

as well as enjoying wonderful entertainment.

The first season at TBI was

very encouraging. Many fans of the

Longboat Key Education Center were

eager to continue their lifelong learning

pursuits and first-time students

found their way to the revived lifelong

learning center at the temple.

The Fall Term begins Monday, November

7, and runs until the middle of

December. Fall programs include Gentle

Chair Yoga as well as Yoga Potpourri

and Slow Flow Yoga with certified

yoga teachers Emme Shapiro, Bianca

Clyburn and Tama Tasley; mixed beginners

and intermediate bridge with

longtime bridge teacher Larry Auerbach;

Monday Film Club with movie

maven Gus Mollasis; Qigong with Dr.

Brian Nell; movie discussion groups

with movie critics Kathie Moon and

Gus Mollasis; watercolor and other media

with award-winning artist Renee

DiNapoli; canasta and mah jongg with

Joyce Doran.

The annual fall movie festival will

be back with Gus Mollasis. This festival

tags on to the popular Burns Court

Cine-World Film Festival (which was

sorely missed last season due to Covid)

in November. Gus selects his best of

the best movies to see in the festival

Susan Goldfarb

and Isaac Azerad

The Education

Center at Temple

Beth Israel

and then leads discussions about the

movies at The Education Center at

Temple Israel.

A special workshop titled "Digest

Your Health" presented by Karol

Schuyler, RN, certified health professional

and wellness coach, herbalist,

and health educator for 35 years,

will talk about natural solutions for

eliminating gastrointestinal distress

as well as many other ways to achieve

optimal digestive health on Saturday,

November 12 from 1-3 p.m. This will be

timely information for those who will

be needing some good suggestions for

avoiding holiday indulgences.

The Winter Term begins Monday,

January 2 and promises a plethora

of offerings. History, world politics,

and Supreme Court; birding, music,

and dance appreciation; jazz nights,

Happy Hour bands, and concerts;

more yoga, qigong, painting, bridge,

canasta, mah jongg and movie discussion

classes; film festivals; a special

women's group; morning forums

and a financial roundtable; nature

walks and birding; writing workshops;

literature and poetry courses; meditation,

and one-time lectures on a wide

variety of subjects.

Not to be missed is the Special

Thursdays in January series which includes

a presentation on "Sex, Sexuality,

And Intimacy In The Senior Years,"

" How Not to Be Scammed," "The Art

of Criticism" with Sarasota's performing

arts critics Jay Handelman, Carrie

Seidman, Marty Fugate, and Gayle Williams,

and "Is America At Risk From

the Left Or The Right?—A Bi- Partisan

Discussion" — and so much more to

keep minds and bodies active and

spirits forever young.

For more information:

The Education Center at

Temple Beth Israel

567 Bay Isles Drive, Longboat Key

Visit www.tbieducationcenter.org.

Call (941)383-8222 or email

edcenter@longboatkeytemple.org

for more information or to request

a brochure.

Susan Goldfarb

PROGRAM DIRECTOR

2022-2023

LECTURE SERIES ✱ PAINTING

PHOTOGRAPHY ✱ QIGONG

YOGA ✱ MEDITATION ✱ BRIDGE

MAH JONGG ✱ CANASTA

SUPREME COURT ✱ THEOLOGY

WELLNESS ✱ AMERICAN HISTORY

LITERATURE & POETRY

MOVIE & BOOK GROUPS

MUSIC & DANCE APPRECIATION

MORNING FORUMS

WORLD POLITICS

FILM FESTIVALS ✱ JAZZ NIGHTS

WRITING WORKSHOPS

iPHONE & iPAD ✱ NATURE WALKS

BIRDING ✱ PERFORMING ARTS

SATURDAY WORKSHOPS

BROADWAY BIOS ✱ CONCERTS

SPECIAL ONE-TIME EVENTS

& MUCH MORE!

Programs Available In Person and on Zoom

567 Bay Isles Road, Longboat Key, FL

VISIT OUR WEBSITE AT

www.TBIeducationcenter.org

For a brochure call: (941) 383-8222

PAID ADVERTORIAL

OCTOBER 2022 WEST COAST WOMAN 23
---
Womenn's Health

Issue

Facts about Breast Cancer and more

How common is breast

cancer? Breast cancer is

the most common cancer

in women in the United

States, except for skin

cancers. It is about 30% (or 1 in 3) of all new

female cancers each year.

The American Cancer Society's estimates for

breast cancer in the United States for 2022 are:

• About 287,850 new cases of invasive breast

cancer will be diagnosed in women.

• About 51,400 new cases of ductal carcinoma

in situ (DCIS) will be diagnosed.

• About 43,250 women will die from breast

cancer.

Breast cancer mainly occurs in middle-aged

and older women. The median age

at the time of breast cancer diagnosis is 62.

This means half of the women who developed

breast cancer are 62 years of age or younger

when they are diagnosed. A very small number

of women diagnosed with breast cancer

are younger than 45.

Overall, the average risk of a woman in the

United States developing breast cancer sometime

in her life is about 13%. This means there

is a 1 in 8 chance she will develop breast cancer.

This also means there is a 7 in 8 chance

she will never have the disease.

Breast cancer is the second leading cause

of cancer death in women. (Only lung cancer

kills more women each year.) The chance that

a woman will die from breast cancer is about

1 in 39 (about 2.6%). Since 2007, breast cancer

death rates have been steady in women younger

than 50, but have continued to decrease in

older women. From 2013 to 2018, the death

rate went down by 1% per year. These decreases

are believed to be the result of finding breast

cancer earlier through screening and increased

awareness, as well as better treatments. Inheriting

BRCA-1 or other "cancer genes" does increase

risk, but these inherited genetic factors

are responsible for only about 5 to 10 percent

of all breast cancers.

Some variations in breast cancer can be

seen between racial and ethnic groups. For

example, The median age of diagnosis is slightly

younger for Black women (60 years old)

compared to white women 63 years old).

Black women have the highest death rate

from breast cancer. This is thought to be partially

because about 1 in 5 Black women with

breast cancer have triple-negative breast cancer

- more than any other racial/ethnic group.

Black women have a higher chance of developing

breast cancer before the age of 40 than

white women. At every age, Black women are

more likely to die from breast cancer than any

other race or ethnic group.

White and Asian/Pacific Islander women

are more likely to be diagnosed with localized

breast cancer than Black, Hispanic, and American

Indian/Alaska Native women. Asian/Pacific

Islanders have the lowest death rate from

breast cancer. American Indian/Alaska Natives

have the lowest rates of developing breast

cancer. Breast cancer occurs almost entirely in

women, but men can get breast cancer, too.

It's important to understand that most

breast lumps are benign and not cancer

(malignant). Non-cancer breast tumors are

abnormal growths, but they do not spread

outside of the breast. They are not life threatening,

but some types of benign breast lumps

can increase a woman's risk of getting breast

cancer. Any breast lump or change needs to be

checked by a health care professional to find

out if it is benign or malignant (cancer) and if

it might affect your future cancer risk.

Source: The American Cancer Society

Diet and Exercise:

• A plant-based

diet with a variety

of fruits, vegetables,

beans and whole

grains can help you

maintain a healthy

weight and therefore

lower your risk. Being

active decreases

risk for breast cancer.

Vigorous activity

decreases risk for

pre-menopausal

breast cancer. Carrying

excess body

fat increases risk for

post-menopausal

breast cancer.

• Fat tissue causes inflammation, which can

promote cancerous changes in healthy cells.

Being overweight and obese increases blood

levels of insulin and related hormones that

can encourage the growth of cancer.

• Drinking alcohol — in any form — raises

breast cancer risk.

• Alcohol influences blood levels of estrogen

and other hormones in ways that may make

cancer more likely.

• Alcohol is a recognized carcinogen. It can

cause cellular damage that can trigger

cancer development

Source: https://www.cancer.org/cancer/breastcancer/about/what-is-breast-cancer.html

Making Strides Against

Breast Cancer

Since 1993, the American Cancer Society's

Making Strides Against Breast Cancer

(MSABC) campaign has united communities,

companies, and individuals with a collective

goal to end breast cancer as we know it.

Over the past two decades, the noncompetitive

walks have collectively grown into

the nation's largest and most impactful breast

cancer movement providing a supportive

community for breast cancer survivors and

metastatic breast cancer thrivers, including

caregivers, and families alike.

This year, Making Strides Against Breast

Cancer celebrates its 30th anniversary and

will take place in more than 150 communities

nationwide. Making Strides of Sarasota

Manatee is on Saturday, October 22 at Nathan

Benderson Park, 5851 Nathan Benderson Circle,

Sarasota.

Parking for the walk will open at 7:30 am.

All parking will be on the island at Nathan

Benderson Park. Event festival area and registration

will open at 7:30 am on walk day. Only

those who are not yet registered need to

check in on walk day. All participants need

to be registered in order to participate in the

walk and activities.

The walk starts at 8:30 am. There will be

both a 1 mile and 3 mile option to accommodate

all abilities.

Water Stops will be located in the event festival

area as well as along the route.

Strollers are welcome. Register and bring

the entire family to celebrate. Food Trucks will

be on site providing delicious options for you

to purchase. Entertainment will be provided

along the route from various local musicians.

To learn more about the Making Strides of

Sarasota Manatee or for other information,

contact Bethany Lynch at bethanyk.lynch@

cancer.org or call 941-867-7427.

Breast Cancer Screening

& Diagnostics Services

at SMH

Sarasota Memorial's Brian D. Jellison Cancer

Institute offers comprehensive breast cancer

screening, diagnostic, treatment and support

services. Their bbreast health services include:

• 3D mammography (digital 2D mammography

is available for patients who prefer it)

• 3D mammography with SmartCurveTechnology

• Genetic counseling and testing for hereditary

cancers

• Breast Ultrasound and MRI

• Computer-aided Detection

• Breast biopsy (stereotactic, ultrasound and

MRI-guided biopsies)

• Breast biopsy with Hologic Affirm System

• Cyst aspiration

• Ductography /

galactography

• Lymphoscintigraphy

If you or someone you

know is uninsured or cannot

afford a mammogram,

breast ultrasound, breast

biopsy or other breast

health service, call their

Breast Health Grant

Support Program for

assistance: 941-917-7642.

Sarasota Memorial offers

mammography and

advanced breast imaging

services at eight locations

in Sarasota County. To

make an appointment,

call 941-917-7322.

Sarasota Memorial Breast Health Center

Waldemere Medical Plaza, 1921 Waldemere

St., Sarasota • 941-917-4101

Sarasota Memorial Health Care Center

at Heritage Harbour

1040 River Heritage Blvd., Bradenton

• 941-917-6440

Sarasota Memorial Health Care Center

at University Parkway

5350 University Parkway, Sarasota

• 941-917-4777

Sarasota Memorial Health Care Center

at Clark Road

5880 Rand Blvd., Sarasota • 941-917-5111

Sarasota Memorial Health Care Center

at Blackburn Point

929 S. Tamiami Trail Osprey, Sarasota

• 941-917-4900

Sarasota Memorial Hospital-Venice

2600 Laurel Road E., North Venice

• 941-261-9000

Sarasota Memorial Health Care Center

at Venice

997 N. US 41 Bypass, Venice • 941-952-4250

Sarasota Memorial Health Care Center &

ER at North Port

2345 Bobcat Village Center Rd., North Port

• 941-257-2800

The Sarasota Memorial breast cancer care

team recommends that all women ages 40 and

older have a screening mammogram and a clinical

breast exam every year and that women

ages 25 to 39 have a clinical breast exam every

1 to 3 years. These recommendations may vary

for women who have a history of breast cancer

or an increased risk of developing breast

cancer, so be sure to talk with your gynecologist

and primary care physician to develop a

screening schedule that's best for you.

The American College of Radiology designated

Sarasota Memorial a Gold Standard

Breast Imaging Center of Excellence. Sarasota

Memorial's Breast Health Center is a Certified

Quality Breast Center of Excellence, as designated

by the National Quality Measures for

Breast Centers (NQMBC) program, placing it

among an elite group of facilities recognized

for continued commitment to providing quality

breast care and reaching a level of national

excellence.

Sarasota Memorial is fully accredited by the

American College of Surgeons' Commission

on Cancer and has maintained continuous

Commission on Cancer (CoC) accreditation

since 1988.

24 WEST COAST WOMAN OCTOBER 2022
---
EMBRACE

THE NATURAL

YOU

(with a little help.)

Implant Removal — Breast Lift — Fat Grafting

Breast Augmentation

Tummy Tucks — Liposuction — Body Sculpting

Arm & Thigh Lifts — Coolsculpting

Sovereign Plastic Surgery

Alissa M. Shulman, M.D., F.A.C.S.

Board Certified Plastic Surgeon

1950 Arlington Street • Suite 112 • Sarasota

941- 366-LIPO (5476)

www.sovereignps.com

941-373-6300

Sarasota Downtown

1727 2nd Street, Suite 1,

Sarasota

941-739-2400

Lakewood Ranch

8614 St. Rd 70E, Suite 102,

Bradenton

TimeSaverFitness.com

Offering a super-slow high intensity

strength training program twice a week,

20 minutes, amazing results!

Schedule your Complimentary

Introduction Session TODAY!

KEEP YOUR BODY FIT & STRONG

Eunice Okun

"93 Years Young and Feeling My Best"

"Within a few months of starting my two weekly twenty-minute

workouts, I could feel the difference. Each session gave me

a sense of true accomplishment. And, my trainers are always

encouraging, answering my questions and addressing areas of

concern. After three years at Time Saver Fitness, I've regained

strength, increased my coordination and am more toned than

I have been in years. And, now, at the age of 93, I'm enjoying a

healthy, active, independent lifestyle!"

— Eunice Okun

OCTOBER 2022 WEST COAST WOMAN 25
---
your healthier health you

Craniosacral Therapy Can Be Life Changing

CST treats the whole body physically, physiologically, mentally, emotionally and energetically

Clients come to me because they are in physical

pain such as neck, back, pain and TMJ as well as

for chronic headaches and migraines.

Pain and stress caused by

shortened Fascia

Fascia (strong connective tissue) encases all

our muscles, organs, brain and spinal cord.

Whenever fascia shortens any place in the

body, the entire network of fascia creates an

increased tension affecting the functioning

of our physical body as well as our organs,

our brain and spinal cord.

Our body is the history of every major

trauma we have experienced physically and

emotionally beginning with birth issues, falls,

head trauma, car accidents, childhood abuse

issues, death, divorce and other emotional

issues. Our body tries to minimize each trauma

by shortening fascia to isolate the energy

coming into the body from that trauma.

Shortened fascia results in pain, loss of mobility

and range of motion, organs becoming

less efficient and with parts of the brain and

spinal cord becoming stressed.

To keep the brain functioning, the body

transfers some of your functional work play

energy (7:00 AM-10:00 PM) to the brain resulting

in less energy to make it through each

day. As we age, the accumulation of all the

tightened fascia, from every major trauma

in life, begins to restrict every aspect of our

body's functions resulting in pain, loss of mobility,

mis-functioning organs, loss of energy,

as well as our brain losing some its sharpness.

How Craniosacral

Therapy Works

The Craniosacral Therapist creates a safe

place, with gentle holding techniques, that

engages your body's ability to self correct,

reorganize and heal itself with the release

of some of that tightened fascia during

each session. As the Craniosacral Therapist

engages your body, you will feel fascia releasing.

As the fascia releases, pain begins to

decrease, range of motion and mobility improve,

organs begin functioning better and

with less stress on the brain feels, it returns

the energy it borrowed at the time of each

trauma resulting in an immediate increase in

your energy levels. Rarely does anyone leave

from my first session not feeling better.

Short Leg Syndrome

Eighty-five percent of my clients have one

of their legs pulled up 1/2 to 1 by shortened

fascia. The tension from short leg syndrome

on the sacrum (5 fused vertebrae at bottom

of the spine) is transferred up the dural tube

that encases the spinal cord into the lower

and upper back, the neck, the cranium and

The physical stress in bodies caused by shortened

fascia (connective tissue) shuts down

energy flows to certain organs. Short leg syndrome

by ½ to 1 in (where one leg is pulled up

by shortened fascia) shuts down energy flow to

the spleen (an important part of your immune

system) and the small and large intestine. With

the release of that shortened fascia, energy returns

to these organs.

the brain. Headaches, migraines, TMJ and

neck problems can originate from the fascial

stress in the sacrum.

Releasing this sacral stress increases energy

in the bladder, sex organs, kidneys and

the chakras as well as releasing major stress

in the upper part of the body.

Cause of Shallow Breathing

A great majority of the clients who come to

me for various problems are also shallow

breathers. Fascial stress in the diaphragm

restricts the depth of breathing by restricting

energy flow to the lungs, the pericardium

and the heart. With the release of fascial diaphragm

restriction, the client immediately

starts breathing deeply and energy is restored

to the pericardium and the heart.

Shoulder blades that are cemented to the

body also restricts how much the rib cage can

open and thereby also restricting depth of

breath. Without proper breathing, your cells

do not get enough oxygen. Everyone, especially

people suffering from bronchitis, asthma

and COPD as well as shallow breathing can

benefit when the fascial stress is released.

Specialized Training

to work with Brain

Dysfunctions

Just as the body physically gets stressed from

physical and emotional trauma, the functioning

of the brain is also affected by fascial stress. For

our brains to remain healthy, we need dynamic

production of craniosacral fluid which performs

the important function of bringing nourishment

to all the cells in the brain and spinal

cord as well as cleansing all the metabolic

wastes given off by those same cells.

Once the craniosacral fluid cleanses these

metabolic wastes, efficient drainage of these

metabolic wastes into the lymph system is

absolutely necessary. Research has shown,

that at night, craniosacral fluid cleanses amyloid

plaques from the brain. If the drainage

is inefficient, then the brain is being bathed

in a toxic slurry. How does 15 or 20 years of

your brain being bathed in a toxic slurry

affect you: senile dementia, Parkinson's,

Alzheimer's and other brain dysfunctions?

A Craniosacral Therapist, who has received

training in working with the brain, can reverse

that stress on the brain that eventually can

result in those brain dysfunctions. As we all

know, the proper functioning of the body is

dependent on a healthy functioning brain.

Babies and Children can benefit

■ Our little boy Leo, four years of age, had a

difficult birth and at 7 months was put on antibiotics

for an ear infection and as a result developed

c-diff. His development came to a stop.

At 3 years, with the help of an OT, he started

to walk and talk. In spite of the improvements,

he was unable to answer questions and his

communication skills were very poor. Leo

had very poor muscle tone, a lot of stress in

his body and physical activities such walking,

jumping and climbing were difficult for him.

Beginning with the first session with Terry,

he began showing improvement and with each

following session. Everyone from his teachers

to his grandparents noticed an increase in his

■ "I was in awful pain and the

MRI showed 2 pinched nerves

and stenosis. I scheduled surgery.

My daughter suggested Craniosacral therapy.

After only 2 visits the pain was reduced to

advanced craniosacral about 80% and therapy I canceled the surgery. I went

for a 3rd visit and I am about 90% better."

■ "Simply Amazing! One visit was all it took for

Terry to relieve 85% of my year long, nagging

(sometimes severe) neck/shoulder tightness/

pain!! My breathing improved tremendously."

physical strength, as well as improvements in

comprehension, speech and communication

skills. For the first time, he started participating

in class lessons and interacting with his

classmates. Terry has made a huge impact on

getting Leo to a place a little boy should be at

age four. We cannot thank Terry enough.

■ Terry's treatment helped our 6 week old

baby boy from recent hospitalization into

the first series of healthy bowel movements

when seemingly nothing could help. Our son

was able to latch onto the breast and for the

first time completed his feeding. He was much

calmer after working with Terry.

■ "He was able to relieve tension that I have

been carrying around for 15 years or more.

I left his office table with more energy than I

have had in years."

■ "I began working with him because I was

dealing with anxieties, depression and lots of

emotional pain inside and out. You don't realized

how much stress can cause damage to

your body, mind and soul. I can say Terry was

a big help."

Terrence Grywinski

of Advanced

Craniosacral Therapy,

B.A., B.ED., LMT #MA 6049

Testimonials from Clients

SOURCE:

■ Terrence Grywinski of Advanced Craniosacral Therapy,

B.A., B.ED., LMT #MA 6049. Terry has specialized in Craniosacral

Therapy since 1994 when he began his training at the Upledger

Institute. Described by his teachers, clients and colleagues

as a "gifted healer", Terry's intuitive sense and healing energy

provides immediate and lasting relief from injury, pain, mobility

issues as well as dysfunctions of the body and the brain. Part

of Terry's ongoing education, he has completed 4 craniosacral

brain and peripheral nervous system classes which enables him

to work at a cellular

level and with brain

dysfunctions.

Call 941-321-8757

for more information,

Google Advanced

Craniosacral

Therapy.

■ "On a recent vacation to Siesta Key, I re-injured

my back. I found Terry online. I can say

with complete joy that was the best decision

I made in the history of my back pain. I have

sought many modalities and visit a CST regularly

and never have I had such a healing in

my entire body.

After 3 sessions, I made a 16-hour drive

home with no pain or discomfort in my entire

body. Unbelievable. My body has a sense of

moving freely and that is completely new. I'm

advanced craniosacral therapy

so grateful to Terry for his knowledge, for his

sensitivity to my needs and his kind generosity

in healing my body. I will see him when I return

next year."

■ "I am a snowbird who spends 7 months

in Sarasota. I have had back problems for 25

years. Terry's techniques have led to a great

deal of release and relief in areas that have

been problematic. I have been seeing him over

the years when my body says "it's time". Usually

after a few sessions, I can tell a huge difference."

26 WEST COAST WOMAN OCTOBER 2022

PAID ADVERTORIAL
---
Womenn's Health

Issue

MENTAL HEALTH:

What's normal, what's not

What's considered

normal mental

health? Patterns

in thoughts,

feelings and

behaviors can

suggest when

to get help

for yourself or

someone you

care about.

W

hat's the difference between

normal mental health and mental

disorders? Sometimes the

answer is clear, but often the distinction

isn't so obvious. For example, if you're

afraid of giving a speech in public, does it mean

you have a mental health disorder or a run-ofthe-mill

case of nerves? Or, when does shyness

become a case of social phobia?

Here's help understanding how mental health

conditions are identified.

What is mental health?

Mental health is the overall wellness of how

you think, regulate your feelings and behave.

Sometimes people experience a significant disturbance

in this mental functioning. A mental disorder

may be present when patterns or changes

in thinking, feeling or behaving cause distress or

disrupt a person's ability to function.

A mental health disorder may affect how well you:

• Maintain personal or family relationships

• Function in social settings

• Perform at work or school

• Learn at a level expected for your age and

intelligence

• Participate in other important activities

Cultural norms and social expectations also

play a role in defining mental health disorders.

There is no standard measure across cultures to

determine whether a behavior is normal or when

it becomes disruptive. What might be normal in

one society may be a cause for concern in another.

How are mental health

disorders defined?

The Diagnostic and Statistical Manual of Mental

Disorders (DSM) is a guide published by the

American Psychiatric Association that explains

the signs and symptoms of several hundred

mental health conditions, including anxiety, depression,

eating disorders, post-traumatic stress

disorder and schizophrenia.

The DSM provides criteria for making a diagnosis

based on the nature, duration and impact of

signs and symptoms. It also describes the typical

course of the disorder, risk factors and common

co-existing conditions.

Another commonly used diagnostic guideline

is the International Classification of Diseases

(ICD) from the World Health Organization.

Health insurance companies use the diagnostic

coding system of the DSM and ICD in determining

coverage and benefits and to reimburse

mental health professionals.

How do mental health

professionals diagnose disorders?

A diagnosis of a mental health condition may be

made by a psychiatrist, psychologist, clinical social

worker or other mental health professional.

Your primary care doctor may also be involved in

a diagnostic assessment or make referrals to a

mental health specialist.

A diagnosis may be based on the following:

• A medical history of physical illness or mental

health disorders in you or in your family

• A complete physical to identify or rule out a

condition that may be causing symptoms

• Questions about your current concerns or why

you're seeking help

• Questions about how recent events or changes

in your life — trauma, relationships, work, death

of a friend or relative — have affected how you

think, feel or behave

• Questionnaires or other formal tests that ask

for your feedback on how you think, feel or behave

in typical situations

• Questions about past and current alcohol and

drug use

• A history of trauma, abuse, family crises or other

major life events

• Questions about past or current thoughts about

violence against yourself or others

• Questionnaires or interviews completed by

someone who knows you well, such as a parent

or spouse

When is an evaluation or

treatment needed?

Each mental health condition has its own signs

and symptoms. In general, however, professional

help might be needed if you experience:

• Marked changes in personality, eating or sleeping

patterns

• An inability to cope with problems or daily activities

• Feeling of disconnection or withdrawal from

normal activities

• Unusual or "magical" thinking

• Excessive anxiety

• Prolonged sadness, depression or apathy

• Thoughts or statements about suicide or harming

others

• Substance misuse

• Extreme mood swings

• Excessive anger, hostility or violent behavior

Many people who have mental health disorders

consider their signs and symptoms a normal

part of life or avoid treatment out of shame

or fear. If you're concerned about your mental

health, don't hesitate to seek advice.

Consult your primary care doctor or make an

appointment with a psychiatrist, psychologist or

other mental health professional.

It may be important for you to find a professional

who is familiar with your culture or who

demonstrates an understanding of the cultural

and social context that's relevant to your experiences

and life story.

With appropriate support, you can identify

mental health conditions and receive appropriate

treatment, such as medications or counseling.

SOURCE: Mayo Clinic

Get West Coast Woman delivered FREE!

Subscribe

to our monthly

e-magazine

Read, click,

turn pages

— all at the

convenience

of your

laptop, smart

phone or

tablet.

Send your email addy to: westcoastwoman@comcast.net

FREE LIVING WILL

WITH EVERY ESTATE PLAN

Simple Will ................................... $ 110

Revocable Living Trust:

Single ....................... $ 595

Married ................. $ 1,050

Power of Attorney ........................ $ 95

Health Care Surrogate .................. $ 85

No additional costs required other than filing fees if applicable.

www.gerlinglawgroup.com

Dana Laganella

Gerling, Esq.

Offices: Bradenton/

Lakewood Ranch

756-6600

The hiring of a lawyer is an important decision that should not be based solely upon advertisements. Before you decide,

ask us to send you free written information about our qualifications and experience.

OCTOBER 2022 WEST COAST WOMAN 27
---
Womenn's Health

Issue

How Sleep Changes

Throughout a Woman's Life

Biological differences explain

some of the sleep differences

between women and men.

Women tend to take longer to

fall asleep, and to spend more

time in restorative slow-wave deep sleep than

men. Older women are also more likely to report

higher levels of sleepiness, and to sleep

20 minutes less per night.

The gender differences in sleep emerge

in puberty. Among high school students, females

are significantly less likely to get their

recommended eight hours of sleep per night

than their male counterparts. They are also

more likely to have comorbid depression.

These sleep issues persist at other major hormonal

transitions in a woman's life, such as

menstruation, pregnancy, and menopause.

One-third of women experience cramps,

headaches, and bloating that cause sleep disturbances

during their menstrual cycle. And

even though total sleep time stays roughly the

same throughout the menstrual cycle, women

are most likely to report lower sleep quality in

the week before their period. It's also during

this time that women with severe PMS more

frequently report disturbing dreams, sleepiness,

fatigue, and trouble concentrating.

Women are more likely to have sleep troubles

during pregnancy, especially during their

third trimester when symptoms of RLS, OSA,

pain, and incontinence are more frequent.

Sleep disruptions continue into postpartum,

when hormone levels drop. This sudden

change in hormones, along with raising a

newborn, can worsen sleep quality and daytime

sleepiness.

Women perceive and report their sleep

problems differently than men. For example,

women who seek treatment for sleep apnea

are more likely to focus on symptoms like

fatigue and depression, whereas men will

describe snoring and gasping. This may lead

to fewer women being diagnosed, or to a

misdiagnosis of insomnia when sleep apnea

is the underlying condition.

Hope for Better Sleep

Sleep issues are common among women,

and may change or vary in intensity throughout

life, but there is hope for better sleep.

Start with better sleep hygiene. Avoid naps

during the day, and limit your caffeine,

alcohol, and nicotine intake. Engage in regular

exercise and follow a consistent sleep

schedule. Make your bedroom as cool, dark,

and quiet as possible (and remove the clutter

and electronics).

Why Good Sleep is

so Important

Good sleep is essential for our physical, mental,

and emotional wellbeing. The average

adult needs seven to nine hours of sleep each

night. Unfortunately, fewer than two-thirds of

women actually get that much sleep each

night according to the CDC.

Even one night of poor sleep causes daytime

sleepiness, trouble with memory and

concentration, and impaired performance

at school and work. Worse, chronic sleep

deprivation increases your risk for injury,

accidents, illness, and even death.

Getting good sleep is vital, but so is getting

good quality sleep. Biological conditions

unique to women, like the menstrual cycle,

pregnancy and menopause, all affect

how well a woman sleeps. Women experience

changing levels of hormones, like

estrogen and progesterone, throughout the

month and over her lifetime. Understanding

the effects of these hormones, environmental

factors, and lifestyle habits can help women

enjoy a good night's sleep.

How Much Sleep

Does a Woman Need?

The average adult woman sleeps eight hours

and 27 minutes per night. Studies show

that women tend to sleep approximately 11

minutes more than men, despite having less

time for sleep due to differences in paid and

unpaid work, increased caregiving responsibilities,

and family and social roles.

However, despite getting more sleep

overall, researchers found that women experience

lower-quality sleep than men. One

reason could be that women are more likely

to get up to take care of others, interrupting

their sleep. Women are also more likely to

nap during the day, which can further disrupt

their sleep quality at night.

Common Sleep Problems

for Women

70 million Americans suffer from sleep

problems, but men and women don't suffer

equally. Women are more likely to have

sleep problems than men. Women are also

more prone than men to develop certain

sleep disorders, including insomnia and

restless legs syndrome.

Most common sleep issues

that affect women

Insomnia—People with insomnia regularly

have difficulty falling or staying asleep. As a

result, they don't feel refreshed upon waking

up and have difficulty functioning during

the day. Insomnia is the most common sleep

disorder, but women are 40 percent more

likely to suffer from it than men. They are

also more likely to experience symptoms of

daytime sleepiness.

Hormonal changes associated with

menstruation, pregnancy, and menopause

can alter a woman's circadian rhythm, and

consequently contribute to sleeplessness.

The prevalence of insomnia among women

increases significantly in older age, as they

transition through menopause. Hot flashes

and night sweats disrupt sleep, and are experienced

by 75 to 85 percent of women with

menopause. Women are also nearly twice as

likely as men to report depression and anxiety

— two conditions which are closely connected

with insomnia.

Treatment for insomnia often begins with

better sleep habits, such as following a regular

sleep schedule, reducing one's caffeine

and alcohol intake, and improving the sleep

environment. If an underlying condition is

contributing to the insomnia — such as depression,

bladder problems, or pain — a doctor

may focus on treating that first through

medication, therapy, and lifestyle changes.

Pain and Sleep

Pain is strongly associated with insomnia13.

Pain makes it difficult to get comfortable

enough to fall asleep. It also makes it challenging

to stay asleep, as certain conditions

may force you to readjust during the night to

avoid waking up in pain.

Some conditions associated with chronic

pain are more common among women, including

migraine, tension headaches, heartburn,

arthritis, and fibromyalgia.

Treatment for pain-related sleep problems

may focus on the source of pain, the sleeping

difficulty, or both. A combination of relaxation

techniques, cognitive behavioral therapy,

lifestyle changes, and over-the-counter

and prescription medications may help.

Other Sleep Disorders

Nocturnal sleep-related eating disorder (NS-

RED) is a parasomnia where one eats food

during the night while asleep, yet have no

recollection of it upon waking up. Women

are significantly more likely to have NS-RED.

NS-RED can occur during sleepwalking and

may coexist with other sleep disorders that

trigger sleep eating.

NS-RED can be treated with medication,

therapy, stress management techniques, and

lifestyle changes, such as limiting caffeine

and alcohol.

Restless legs syndrome (RLS) causes unpleasant

crawling and tingling sensations in

the legs, which occur when lying down and

are accompanied by an uncontrollable urge

to move the legs. Because symptoms occur

when lying down and can only be relieved

through movement, many women with RLS

have difficulty sleeping. These sleep issues

can lead to daytime sleepiness, mood swings,

anxiety and depression — all of which can

worsen sleep problems in turn.

Women are twice as likely as men to have

RLS. The risk for RLS is higher among women

with multiple children, and increases twofold

from pregnancy to menopause. Iron deficiency,

which is more common in women,

may be a risk factor for RLS. Treatment may

include iron supplements, other medications,

and lifestyle changes to improve sleep.

About 80% of people with RLS also

have periodic limb movement disorder

(PLMD), a sleep disorder where the individual

experiences involuntary leg jerks or

twitches during sleep. These movements can

occur every 20 to 30 seconds, and like RLS,

can disrupt sleep quality.

Shift Work and Sleep

Nearly 15 million Americans work outside

of the normal 9 a.m. to 5 p.m. Shift workers,

especially those who work the night shift,

often have to sleep at non-traditional hours.

This causes disruptions to their natural sleepwake

cycle, with ramifications that can lead

to less restful sleep, less sleep overall, and

more sleep-related accidents and illnesses,

especially for those who work the night shift.

While further research is necessary, scientists

believe the changes in exposure to

light and lost sleep caused by shift work

may have biological or hormonal effects

that disrupt the sleep-wake cycle. Irregular

work schedules can also put strain on

family and social life, which can lead to

stress and other emotional problems that

worsen sleep. Light therapy, medication, and

lifestyle changes may be proposed as treatment.Sleep

apnea is a sleep disorder characterized

by temporary pauses in breathing

during sleep. These pauses cause loud

snoring, choking, and gasping sounds that

disrupt sleep and lead to excessive daytime

sleepiness. Sleep apnea is twice as common

in men, although it increases in women after

age 50. Women are also more likely to have

comorbid depression.

Obesity and older age are the two largest

risk factors for sleep apnea. During menopause,

women experience hormonal changes

that trigger an increase in abdominal fat, as

well as lower progesterone levels. Both of

these may explain their increased risk of

sleep apnea.

A number of effective treatment options

are available, including CPAP therapy. Hormonal

replacement therapy for menopause

may lower their risk, as can changing their

diet and exercise.

Finally, speak to a doctor about the sleep

issues you are experiencing. They can help.

28 WEST COAST WOMAN OCTOBER 2022
---
Is independence in your own home your goal?

Choose a trusted, professional nursing team to ensure the years ahead and your health

care path align with your wishes.

Take Care provides all levels of care—from

skilled nursing to helping with groceries

and companionship—for clients in any

home setting. We remain dedicated to

helping you and your loved ones.

Take Care is locally nurse and familyowned

with 27 years of experience meeting

your health care needs, from one hour of

care as needed up to around-the-clock

support, 24 hours a day, 7 days a week.

Personalized care in your own home has

never been more important.

Our Registered Nurse New Services team

is ready for your call.

Erika Wise Borland, MA, Vice President

Susanne S. Wise, RN, MBA, CEO & Owner

Courtney Wise Snyder, MSG, CMC, President

Celebrating Years of Caring

www.TakeCareHomeHealth.com

(941) 927-2292

info@takecarehomehealth.com

Lic. # HHA 21657096 | 299991405

27

Community Voted Best Home Health since 2012

OCTOBER 2022 WEST COAST WOMAN 29
---
Womenn's Health

Issue

Why Facials?

Prevention is a lot easier

than correction

• Group Exercise

• Indoor Pools

• Fitness Floor

• Personal Training

• Spa & Steam Room

• Child Watch

...and more!

NO CONTRACTS. NO HIDDEN FEES.

SARASOTA BRANCH

1075 S. Euclid Ave.

Sarasota, FL 34237

941-955-8194

CORESRQ, INC. IS A 501(C)(3)

NONPROFIT ORGANIZATION.

The mission of CoreSRQ is to

inspire a healthier community

through innovative wellness and

education programs for people

of all ages and backgrounds.

PALMER RANCH BRANCH

8301 Potter Park Dr.

Sarasota, FL 34238

941-922-9622

The

largest

organ

of our

bodies

is our skin! It protects,

nourishes,

and adapts to our

environment all

day and night. It is

extremely important

to protect and

nourish our skin

to prevent damage

from the sun, pollution,

and daily

stress.

In combination

with your yearly

skin check at DOCs

we also offer customized facials to

help keep your skin looking vibrant.

Facials are not only relaxing, but

they also help to soothe nerves, correct

minor skin problems, improve

circulation, and enhance the health

of the skin.

DOCs is excited to announce

two new facials with an exciting

plant-based line called Clarity. The

Cold Compress Soothing Cucumber

Facial, and the Probiotic + Pink

Himalayan Salt Facial. Here are the

benefits…

■ Cucumbers are hydrating, calming,

and cooling, bringing relief

to sensitive, stressed, or irritated

skin. Plant based extracts of

cucumber, chamomile, and aloe

blend together to soothe and hydrate.

This facial is excellent for

those that suffer from inflamed,

red, or rosacea-prone skin.

■ Himalayan Salt helps maintain

a healthy balance in the skin's microbiome

by influencing the types

of bacteria that live on your skin.

Studies have shown that probiotics

can help strengthen the skin's

natural defense system resulting in

optimal hydration and circulation,

increased antioxidant benefits as

well as brightening, reduction in

toxins, improved acne conditions,

and softening the appearance of

fine lines and wrinkles.

We also offer many other customized

facials at DOCs. Our Aesthetician's

will evaluate your skin

and decide which unique facial is

best for your skin type. Our goal is

to help you keep your skin looking

and feeling it's youthful best.

By the way, Facials are not just

for women! Men can enjoy the

benefits of better skin as well as

teens who are suffering from acne

and clogged pores. Schedule your

appointment today!

Dermatology

of Coastal Sarasota

5210 Clark Rd., Suite 210

Sarasota, FL 34233

941-925-3627

DOCSofSarasota.com

PAID ADVERTORIAL

30 WEST COAST WOMAN OCTOBER 2022
---
good news department

Charles & Margery Barancik

Foundation recently

approved grants

Charles & Margery Barancik Foundation

has recently approved grants for affordable

housing, human services and more. This funding

brings Barancik Foundation's total philanthropic

investment into the region to more

than $105 million since 2014. Here are a few

of their recent grants.

• A $1 million grant to Safe Children Coalition

to support the construction of a new

youth shelter aimed at helping to prevent

children from entering foster care. The current

shelter is 60 years old, and it's time for a

new facility. With more than 2,000 homeless

youth in our community, the new facility

will provide services, including a safe place

to sleep, meals, hygiene, and access to social

workers and case managers.

• A $800,000 grant to Harvest House to

support the organization as it expands its facilities

and services. By investing in housing

infrastructure over the last 30 years, Harvest

House has experienced steady growth in the

number of clients served and housed. With

rising inflation and housing costs, the need

for their services is at an all-time high.

• A $610,630 grant to support Girls Inc.

of Sarasota County's Family Strengthening

Program. The program eliminates

barriers and offers a continuum of services

designed to address the social-emotional

health of girls while strengthening a family's

communication through awareness, parenting

tools, behavioral interventions, and

referrals to community resources. Girls Inc.

is observing the effects the pandemic has

posed on youth. Girls experienced varying

levels of isolation, neglect, and limitless exposure

to uncensored media. This has led

to drastic increases in behavioral problems,

such as verbal/visual profanity, inability to

self-regulate, and lack of bodily autonomy.

• A $600,000 grant to Resilient Retreat to

expand mental health programs designed

for first responders and helping professionals

in the community. Compassion fatigue,

PTSD, burnout, and vicarious trauma experienced

by first responders and helping professionals

is on the rise, and the demand for

therapeutic services continues to increase.

• A $500,000 grant for Barancik Foundation

to establish a Recidivism Initiative to

support work to prevent criminal reoffending

in the 12th Judicial Circuit. Hundreds of

individuals leave Sarasota County Jail each

year with new problems that push them back

into the system, frequently involving a minor

yet recurring violation that could have been

avoided. Local philanthropy has created a

program where two navigators work with

inmates before their release to chart out hurdles.

The effort has reduced the incidence of

repeat offenders down to the 12% range.

For more information, visit www.barancikfoundation.org.

Education Foundation

Receives Grant to Support

Student Access

The Education Foundation of Sarasota

County received a $15,000 grant from

Bank of America to help fund programs

that provide Sarasota County students with

greater access to individualized resources

and opportunities that help them prepare a

plan for their lives after high school.

The Education Foundation's Student Success

Program vision is to provide students

with the expert college and career advising,

mentoring, and access to building relationships

that will help them identify and successfully

pursue education, career, and life

goals after high school.

Charles & Margery Barancik Foundation

recently approved a $1 million grant to Safe

Children Coalition to support the construction

of a new youth shelter aimed at helping to

prevent children from entering foster care.

Jennifer Vigne, Education Foundation president

and CEO, noted that the 1:378 ratio of

school counselors to high school students in

district schools makes it challenging for students,

especially underserved students, to

access the individualized advising that is vital

in helping young people formulate life plans.

"Our aim is to expand our active outreach

of low-income, minority, and first-generation

college students in order to create life-changing

educational opportunities and connections

that will help bridge the gap and equip

more students with the tools and resources

they need to succeed.

The expanded initiative will be based at

LaunchPad4U, the foundation's community

resource site that also offers college-career

advising, mentoring for at-risk students, and

other student support services.

For information, visit EdFoundationSRQ.org.

Circus Arts Conservatory

Receives Grants

The Circus Arts Conservatory (CAC)

has benefited from eight grants from area

foundations for CAC's youth education, circus

arts training, and overall performance

programs.

Three grants have been awarded in support

of the science curriculum developed by

the CAC that utilizes circus arts activities

to demonstrate Newtonian Laws of Motion.

This is the only such curriculum certified by

the Florida Department of Education and has

proven highly effective over eight years, with

circus science students scoring 96% passing

grades on state assessment science tests, as

compared to state average scores of 65%.

A $20,000 grant through the Eugene

F. and Elizabeth Hull Fund and Bishop-Parker

Foundations Fund of the Manatee

Community Foundation is supporting

the circus science program for K-5th grade

students at Myakka Elementary, Bayshore Elementary,

and Manatee Elementary schools.

A $3,000 grant from the Rotary Club

of Sarasota Bay Foundation is currently

funding the science curriculum for approximately

200 fifth-grade students at Brentwood

and Wilkinson Elementary schools, both of

which are Title I schools. Additionally, a

$5,000 recurring grant from the Venice

Golf & Country Club Foundation is producing

learning gains for South County middle

school science students.

The CAC's premiere youth circus arts

training program is delivered through its

Sailor Circus Academy at the Sailor Circus

Arena. Two sustaining scholarship grants

totaling $11,000 have been received

from The Island Foundation and The Kiwanis

Club of Siesta Key Foundation to

help Sailor Circus Academy students develop

both life and performance skills. Two

Wingspan Productions' new film, Bridge to

the Other Side is a powerful story about first

responders as they work to address the rising

crisis of mental health.

Children First has announced a $600,000

matching gift challenge led by its

Changemaker Collective.

additional grants from The William H.

Donner Foundation ($20,000) and The

Exchange ($10,000) are underwriting the

Sailor Circus holiday show as well as capital

improvements at the Sailor Circus Arena.

Gulf Coast Community Foundation has

awarded the CAC a $40,000 Arts Appreciation

Grant. This funding, which is made

possible through the Ina L. Donnan Field

of Interest Fund and the Venice Endowment

Fund, is intended to further CAC's

mission across all program and performance

areas. For information, visit circusarts.org.

Canandaigua National Trust

Company of Florida Supports

The Conservation Foundation

Canandaigua National Trust Company of

Florida (CNTF) is supporting the Conservation

Foundation of the Gulf Coast with

a $500 donation in 2022.

The Foundation partners with landowners,

donors and local governments to permanently

protect land, ensure wildlife habitat is preserved,

protect shoreline and water access,

and provide recreational access. Additionally,

the Foundation offers free educational

programming throughout the year. They serve

as the regional voice for conservation, helping

state and local decision-makers with strategies

that shape smart conservation decisions.

Wingspan Productions

Receives Here4Youth Mental

Health Grant

The Here4YOUth Initiative of Charles &

Margery Barancik Foundation and Gulf

Coast Community Foundation has awarded

Wingspan Productions, Inc. a $25,000

grant from the Here4YOUth Mental

Health Initiative. Wingspan Productions,

Inc. is a nonprofit educational film company

based in Sarasota. The grant will fund various

aspects of Wingspan's year-round educational

initiative, including community screenings,

discussions, and talkbacks, partnerships with

community organizations, social media, and

resource materials to accompany the new

film about mental health, Bridge to the Other

Side. "Since the pandemic, mental health

concerns of children and families in this community

have increased 200%," said KT Curran,

Executive Director of Wingspan Productions.

"Bridge to the Other Side is a powerful story

about first responders as they work to address

the rising crisis of mental health."

Bridge to the Other Side is a film about

resilience, mental health, and finding strength

in dark times and was created out of 150 interviews

in the community with youth, parents,

teachers, police officers, nurses, therapists,

firefighters, and agency leaders.

Filmed in Sarasota and Cape Coral, the movie

features professional and volunteer actors,

and was created by a crew of 55 film professionals,

interns, and volunteers. The film will

have its international premiere in Toronto at

Commffest Global Film Festival and its national

premiere in Los Angeles at Lady Filmmaker's

Film Festival in Beverly Hills. Local screenings

are planned in Sarasota and across Florida.

For information about Wingspan Productions

and Bridge to the Other Side, email KT

Curran (kt@wingspanproductions.org) or

call Wingspan at 323-422-0857.

Children First

Announces $ 600,000

matching gift challenge

As the exclusive provider of Head Start and

Early Head Start services for Sarasota

County, Children First has announced a

$600,000 matching gift challenge led by

its Changemaker Collective.

The Changemaker Collective is an initiative

for leaders who wish to make an investment

in the tools children and families need

to achieve their full potential. All collective

support will be matched 1:1 with an overall

goal to raise $1.2MM.

The key philanthropists comprising the

Collective include: Anonymous, Stephanie

& Allen Hochfelder, Joan & Dr. Bart

Levenson, Katherine & Frank Martucci,

Keith Monda & Veronica Brady, Gaye &

Jack Schwarz, Joe & Nora Stephan, Karen

Solem, and the Virginia B. Toulmin

Foundation.

At 15 sites across North Port, Sarasota,

and Venice, Children First provides comprehensive

services to economically vulnerable

children, ages birth to five, and their families

each year. Comprehensive services include

early childhood education, nutrition, emotional

and behavioral support, and family

strengthening services.

"As our children and families are beginning

the new school year, many of them

are experiencing a high level of insecurity,

whether it be related to food, housing, health

care or other needs," says CEO Philip Tavill.

For information, call (941) 953-3877 or go

to childrenfirst.net.

Key Chorale awarded $ 30,000

Strategic Partnership Grant

Key Chorale received a $30,000 grant from

the Community Foundation of Sarasota

County. It will allow Key Chorale to continue

to deliver its music and mission. The Community

Foundation will be the Presenting Sponsor

of Vaughan Williams' "A Sea Symphony"

Masterwork concerts, February 10-11, 2023,

and support the Student Scholar Program.

For information, visit www.keychorale.org.

OCTOBER 2022 WEST COAST WOMAN 31
---
C o r p o r a t e E v e n t s | P r i v a t e P a r t i e s | F a m i l y G a t h e r i n g s

B O O K Y O U R H O L I D A Y E V E N T T O D A Y !

H O S T A T Y O U R L O C A T I O N O R A T M A T T I S O N ' S F O R T Y - O N E

Thanksgiving

T U R K E Y F E A S T S T O G O

- M A T T I S O N ' S F O R T Y - O N E

- M A T T I S O N ' S R I V E R W A L K

9 4 1 . 9 2 1 . 3 4 0 0

Holidays

H O L I D A Y F E A S T S T O G O

- M A T T I S O N ' S F O R T Y - O N E

T H A N K S G I V I N G D I N N E R

A L A C A R T E M E N U

- M A T T I S O N ' S C I T Y G R I L L E

- M A T T I S O N ' S R I V E R W A L K

T H A N K S G I V I N G B U F F E T

- M A T T I S O N ' S F O R T Y - O N E

C H R I S T M A S E V E D I N N E R

F E A S T O F T H E S E V E N F I S H E S

A N D A L A C A R T E M E N U

- M A T T I S O N ' S F O R T Y O N E

N E W Y E A R S E V E D I N N E R

- A L L R E S T A U R A N T L O C A T I O N S

m a t t i s o n s . c o m

nancy's

Lakewood Ranch at Lorraine Corners

14475 SR 70 E at Lorraine Rd 34202

941-999-2390

BAR-B-QTM

#1 Local Genuine BBQ since 2004 SM

Voted BEST BBQ

10th Consecutive Year

I'm still asked: "Do you cater?"

That's how I started in 2004!

Today, we are the number one independent

BBQ caterer across the suncoast.

Whether you're planning an intimate

gathering or a corporate, nonprofit, school or community event, large or

small: We are the catering choice that needs no explanation.

And while our menu showcases fresh smoked meats and salmon. it ALSO

includes many vegetarian, vegan and gluten friendly choices.

Your order will get my personal attention, from first contact through

pick up or delivery. It would be my pleasure to talk with you about your

event. Reach me on my catering line: 941-955-3400, or email me at

NancysBarBQ@verizon.net.

Open 7 days 11aM • LIVe MUsIC FRI & saT nIGHTs • FULL BaR • Happy HOUR • 14475 sR 70 e at Lorraine Rd LWR 34202 4 mi east of I-75 exit 217

32 WEST COAST WOMAN OCTOBER 2022
---
dining in

Eat your flowers

Floral centerpieces on the dinner table are a classic and timeless tradition, but flowers

can sometimes show up on your dinner plate, too.

Edible flowers are used in many different styles of cuisine and can be found on

menus all over the world.

Not all flowers are safe to eat, but those that are can offer a unique burst of flavor and

color to many dishes, including salads, sauces, beverages and entrées. Some of them

may even offer health benefits.

Hibiscus plants produce large, ornate blossoms

that usually grow in tropical and subtropical

climates like Florida. Hundreds of

hibiscus species exist, not all hibiscus plants

and flowers are edible but the most popular

edible variety is known as roselle

or Hibiscus sabdariffa.

Hibiscus flowers can grow as

large as 6 inches in diameter and

are found in a wide array of colors

— including red, white, yellow and various

shades of pink. You can eat the flower

straight from the plant, but it is usually

used for tea, relishes, jam or salads. The tea

Dandelions are best known

as stubborn garden weeds.

Dandelions have small blossoms

— roughly 1–1.5 inches

in diameter — with many tiny, bright-yellow

petals. Just like other dark leafy greens,

Lavender, or Lavandula angustifolia, is one of

the most common flowers and essential oils

used in aromatherapy because of its relaxing

properties. It's often touted for its calming effects

on the mind, especially when used as a

sleeping aid. Some research has found it to be

Hibiscus

Lavender

Lavender is a woody, floral herb originally

grown in parts of northern Africa and the

Mediterranean. The violet flowers are very

small, but plentiful. Lavender is probably

best known for its distinctive fragrance,

which is acclaimed for its calming effects.

The combination of color and aroma make

lavender a particularly desirable addition to

a variety of foods, including baked goods, infused

syrups, liqueurs, herbal teas, dry spice

rubs and herb mixtures.

Its flavor pairs well with both sweet and savory

ingredients, including citrus, berries,

rosemary, sage, thyme and chocolate. When

Dandelion

Lavender Tea

is bright red and has a tart, somewhat sour

flavor. It may be served hot, but is refreshing

over ice on a hot summer day.

dandelions are rich in riboflavin (vitamin B2)

and vitamin A

Interestingly, the flowers are not the only

part of dandelion that can be eaten. In fact,

every part of this so-called weed can be enjoyed

— including its roots, stems and leaves.

There are endless options for eating dandelion.

The flowers can be eaten raw, either alone

or tossed into a salad. They may be breaded

and fried or used to make jelly and wine.

The roots are often steeped to make tea,

while the greens may be consumed raw as a

salad or a sandwich topping. They can also

be cooked in stews, casseroles or any other

dish that calls for hearty greens.

cooking with lavender, it's best to start with

a small amount and increase slowly until you

achieve the desired flavor, as it can quickly

become overpowering.

beneficial in aiding restless sleepers get much

needed sleep. Chefs often make use of lavender

honey, or use the petals to garnish salads.

The most common way lavender is consumed

is by brewing a tea from its buds.

Brewing lavender buds into a tea helps release

the oils and scents.

HOW TO MAKE IT

Making your own lavender tea is fairly easy:

Boil 8 oz. of water.

Place 4 tsp. of fresh lavender buds into a

tea ball or sachet.

Place the tea ball and water into a teacup.

Let steep for 10 minutes.

Note: Do not ever try to make lavender tea with

essential oil. This can be extremely dangerous.

they're good for you and also tasty

Almost 200 honeysuckle species

exist, but the most common

are the Japanese and woodbine

varieties. The fragrant

Nasturtium is a culinary favorite

because of its brightly

colored blossoms and unique,

savory flavor. Both the leaves

and flowers of nasturtium

are edible and may be enjoyed

cooked or raw. They feature a

peppery, slightly spicy flavor

profile, although the blossoms

themselves are milder

than the leaves.

The funnel-shaped flowers are typically

bright orange, red or yellow. They make a

beautiful garnish for cakes, pastries and

If you've ever grown

summer squash in

your garden, you're

probably aware of

their delicate flowers. However, you may

not know that these flowers are just as edible

as the squash itself.

Although these blossoms form on all types

of summer squash, the most popular

come from zucchini. Zucchini flowers are

Chamomile is a floral herb used in cooking

and traditional medicine for centuries.

The flowers closely resemble daisies,

albeit much smaller. They lend a

slightly sweet, earthy flavor to the foods

they're cooked with.

Most recipes call for heating the flowers

in a liquid to extract their flavors and

Honeysuckle

Nasturtium

Squash blossom

Chamomile

blossoms, typically light yellow or

white, hold nectar that can be eaten

straight from the flower.

In the culinary world, honeysuckle is

most often used to make tea or a fragrant,

flavorful syrup.

You can use the syrup to sweeten

iced tea, lemonade, yogurt and

sorbet or as a sugar replacement

in quick bread recipes.

While the honeysuckle flower

and its nectar are perfectly

safe to eat, note that the berries

of some varieties may be toxic if

ingested in large quantities.

salads. The leaves are round and resemble

small lily pads. They're tender enough to be

used as salad greens or blended into pesto.

bright yellow with a long, rounded

bell shape.

These flowers can be eaten raw as

a garnish or chopped and added to

salads. If you're feeling indulgent,

another delicious option is to stuff

the blossoms with herbed cheeses

and fry or bake them until the

delicate petals become crispy.

You don't have to sacrifice your

squash harvest to enjoy eating the flowers.

Only the female blossoms can turn into

squash, so stick to eating the male flowers

to ensure a full harvest. The male flowers

have a long, thin stem and typically grow

around the outer edges of the plant. Female

flowers tend to grow closer to the

plant's center and have a small, bulbous

fruit at the base of the blossom where it

meets the stem.

bioactive compounds. The leaves and

flowers are usually dried first, but can

be used fresh.While most often utilized

for chamomile tea, the blossoms can also

make syrups or other infusions for baked

goods, smoothies or desserts.

SOURCE: https://www.healthline.com/nutrition/edible-flowers

OCTOBER 2022 WEST COAST WOMAN 33
---
ode to the

Sarasota Celery Fields

Sarasota's Celery Field Park is

repurposed land. What was once

farmland has been reengineered as a

park, hiking trail and bird sanctuary.

Most prominent is the man-made

hill at its center. So, no, that's not an ancient

burial mound. It's repurposed land that used to

be - wait for it - celery fields. There are minimal

signs, trash cans or lights to spoil the solitude

as you scale your way to the top.

In the summer they're out there, glazed in

sweat, getting a fast-paced workout in the

evening and not all that interested in the view

or the environment. Others are casual walkers

and a few hearty types taking the challenge of

a steep limb to the top instead

of the meandering path most take.

▲ A man-made hill greets you.

The best part is reaching the summit and, on

a clear day, you can see Sarasota Memorial

Hospital and other landmarks to the west. To

the east is still undeveloped, so the contrast is

pretty dramatic. Nothing fancy just a nice walk

and a perch usually reserved for birds.

There's a bit of wildlife — rabbits, an occasional

snake and lots of scruffy green vegetation.

It's basic, makes you feel like you've left the

crowded world — if only for a while

The Celery Fields are located east of I-75 on

Palmer Boulevard in Sarasota.

▲

You can meander your way up or challenge

yourself with a steep climb like this.

▲ View from the top,

looking west.

▲

The climb is visually

quiet which allows for

some tranquility and

mind-clearing.

STORY and PHOTOS:

Louise Bruderle

34 WEST COAST WOMAN OCTOBER 2022
---
OCTOBER 2022 WEST COAST WOMAN 35
---
36 WEST COAST WOMAN OCTOBER 2022