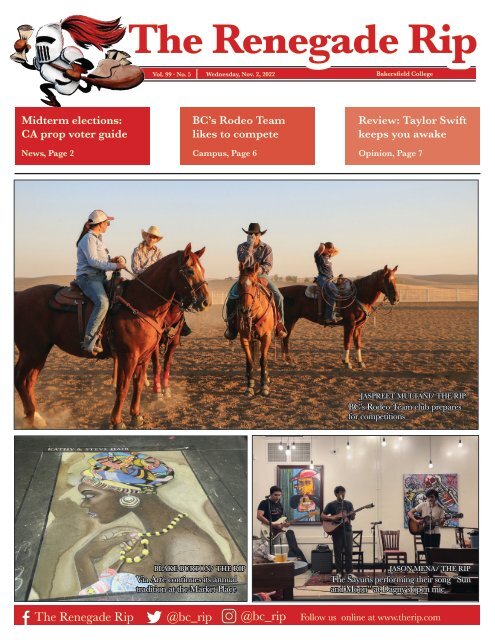 Renegade Rip, Issue 5, Nov. 2, 2022
The campus student news publication of Bakersfield College
The campus student news publication of Bakersfield College
SHOW MORE
SHOW LESS
You also want an ePaper? Increase the reach of your titles
YUMPU automatically turns print PDFs into web optimized ePapers that Google loves.
The Renegade Rip

Vol. 99 ∙ No. 5 Wednesday, Nov. 2, 2022

Bakersfield College

Midterm elections:

CA prop voter guide

BC's Rodeo Team

likes to compete

Review: Taylor Swift

keeps you awake

News, Page 2 Campus, Page 6 Opinion, Page 7

COURTESY OF DAVE SEY-

MOUR

Drone footage from BC's

first Light up the night on

JASPREET MULTANI/ THE RIPP

JASPREET MULTANI/THE RIP

BC's Rodeo Team club prepares

BC's for Rodeo competitions Team Club prepares

for competition

BLAKE BURTON/ THE RIP

Via Arté continues its annual

tradition at the Market Place

JASON MENA/ THE RIPP

The Sayuris performing their song "Sun

and Moon" at Dagny's open mic

The Renegade Rip @bc_rip @bc_rip Follow us online at www.therip.com
---
Page 2

News

The Renegade Rip www.therip.com

Wednesday, Nov. 2, 2022

CA propositions explained

By Nicolas Watson

Reporter

It's that time again. Everywhere you look, signs, posters,

door-to-door campaigners, TV ads, radio ads - it seems like

it starts earlier each election cycle. It can all be so confusing!

Here's what you need to know about all those propositions

that ads won't shut up about.

Proposition 1

Proposition 1 seeks to enshrine the right to an abortion in

the California State Constitution following the overturning

of Roe v. Wade by the U.S. Supreme Court. While the right

is already protected by state law, fears of legal intervention

by the courts or undermining by the State Legislature have

driven this proposition forward, to ensure that the right to an

abortion is absolutely enshrined in California's constitution.

Proposition 26

Proposition 26 seeks to legalize in-person sports betting

within the four horse-track casinos across the state. The proposition

would also permit tribal casinos to offer new games,

such as roulette and a wide variety of dice games. While it

doesn't directly tax tribes, due to the sovereignty, it requires

tribes to reimburse the state for the costs of enforcement of

regulation. The question is whether the measure will actually

generate revenue for the state, which could be redirected to

other departments and needs, such as education or healthcare,

bolstering the state's income.

Proposition 27

One you've probably heard a decent amount about, proposition

27 seeks to allow tribes and online sports betting

companies to offer online sports betting to people outside of

tribal lands. This would include well-known companies, such

as Draft Kings and FanDuel. The concern is that these massive

corporations could drive smaller companies and tribal

operations out of business through their sheer size and resources,

potentially starving tribes of a potential source of

income. Of course, the state would also make a considerable

amount of money in fees from the legalization of online

sports betting, where the money has been pledged to fight

homelessness, as well as 15% to go to tribes that aren't involved

directly in sports betting.

Proposition 28

Substantially less controversial than proposition 27, proposition

28 seeks to allocate more funds for arts and music

education across the state, sending 1% of the funds from

the prop. 98 minimum funding guarantee to arts and music

education programs. In real money terms, it's an estimated

billion dollars across the entire state.

Proposition 29

Yet another dialysis clinic proposition. It seems there's always

something to do with them on the ballot. Third time's

the charm for the combined union groups seeking to increase

transparency in the newly booming industry. The proposition

would require all dialysis clinics to have at least one

physician, nurse practitioner, or physician assistant on site or

available for immediate contact via telemedicine. It also requires

clinics to report patient infection data to the state, as

well as prohibits clinics from reducing or denying service to

anyone regardless of insurance status.

Proposition 30

Proposition 30 targets the ultra-rich of California, imposing

a 1.75% personal income tax increase on anyone with an

income above $2 million in order to generate revenue to fund

California's switch to zero-emission electric vehicles and fight

against increasingly damaging and deadly wildfires. The tax

is expected to generate between $3.5 billion to $5 billion annually

if put into place.

Proposition 31

Proposition 31 seeks to uphold a previous ban on certain

flavored tobacco products. The list includes flavored cigarettes,

e-cigarettes, pods for vape pens, tank-based systems,

and chewing tobacco. The law was originally intended to

keep flavored tobacco products out of the hands of kids and

teens, who have seen rising usage rates across the state. The

law, however, was unable to go into effect due to tobacco

companies calling this referendum, putting the enforcement

of the law on hiatus until this referendum is decided.

ANTHONY VASQUEZ/THE RIP
---
Page 3

News

The Renegade Rip www.therip.com

Wednesday, Nov. 2, 2022

Despite controversy, new

non-credit courses will go

By Anthony Vasquez

Editor-in-Chief

At the BC curriculum committee meeting Oct. 20, a new

non-credit certificate program was approved after weeks of

contentious discussion.

Two non-credit online courses, along with a certificate

were initially proposed at the Bakersfield College Curriculum

Committee meeting last month. On Oct. 6. Dr. Oliver

Rosales, a professor of history proposed the courses under

the program titled the "César E. Chávez Leadership Certificate

of Completion." The proposed courses were then

brought to a halt when participants of the Curriculum Committee

questioned the course's merits and the approval of

the courses was then removed from the committee's agenda.

Rosales stated in his proposal to the committee that these

courses involve the study of Cesar E. Chavez and others who

were involved in the farm worker movement. An emphasis

was placed on this course through the fact that this course

aimed to represent various historical landmarks that are located

throughout the Bakersfield College service region.

The courses were found to hold interest by Kern Community

College District Chancellor Sonya Christian, as Rosales

includes in his program an outline report for the committee

that states, "Chancellor Christian has an interest in seeing

this program offered in Delano for our dual enrollment

students. The program is a unique opportunity to provide

an engaging learning opportunity for our dual enrollment

students in Delano, as well as the potential to grow in enrollment

and become a model for innovation in place-based

education."

Although its proposal shows interest, the Renegade Institute

for Liberty at BC shared an online statement on its social

media platform that stated its perspective on the proposal,

"As California moves forward directing college districts to institute

a political litmus test, KCCD Chancellor Sonya Christian

is demanding new courses and a certificate program to

learn about the virtues of the local left wing UFW political

machine. Should BC spend tax dollars to provide UFW activist

training classes?"

The people have spoken

By Eduardo Martinez

Reporter

A packed Curriculum committee meeting at the Levan

Center on Oct. 20 resulted in the passage of the César E.

Chávez Leadership Certificate of Completion, which includes

two noncredit courses.

The room was filled with committee members, concerned

citizens and police officers. Because so many people wanted

to comment on the proposed courses, they were only allotted

one minute to speak. Public comments took nearly an hour

to complete.

The vast majority of speakers came out to support the

courses. A local history teacher said that these classes should

not be considered controversial as they would explore the

rich history of farming in Kern County. She believed the resistance

to teaching these courses is due to the potential negative

exposure of people in power. History professor at BC

Olivia Garcia, who helped co-author the following courses,

said to have in faith in that the courses will be taught in way

that is fair. Maria Romero, an educator over 25 years, said

she feels a sense of identity, community and pride in these

proposed courses. "There's nothing partisan about that…

Culture should not be suffocated. I urge committee to approve

these courses."

Rudy Salas and Dolores Huerta both sent speakers on

their behalf to voice their support for the courses.

One public speaker did not approve the courses. Local radio

talk show host Terry Maxwell said BC should be a place

of learning and he considers these courses indoctrination.

Maxwell hopes that the courses will give all positions of

César E. Chávez, especially his stance against immigration.

Most of the 20 speakers who provided public comments

supported the courses and certificate in history and culture.

The curriculum committee voted pass them through with a

few no votes and abstentions.

Now these courses will go to the KCCD for final approval.
---
Page 4

Sportss

The Renegade Rip www.therip.com

Wednesday, Nov. 2, 2022

BC beats Ventura 31-21 in

homecoming victory Oct. 22

By Amanda Hernandez

Reporter

The BC Renegades beat Ventura

College 31-21 at the homecoming

game on Oct. 22.

The team strategized well and

worked together to keep the score in

their favor.

In the first half, Joe Campbell

laid down two touchdowns and

put points on the board early in the

game.

Although it started off well, Ventura

attempted to fight back. They

tried to intercept the ball against the

renegades twice within the first half.

However, the refs called them back

and this resulted in zero technical interceptions.

As halftime approached the Renegades

were up by a touchdown at

14-7 and still needed to put up a

fight to keep the win.

Interestingly, they came back even

stronger after half time.

As the third quarter began, Campbell

led his team once again by scoring

a touchdown from five yards out.

Ventura attempted to stay in the

game by intercepting the ball and

scoring a touchdown on the renegades

in the fourth quarter.

However, BC continued to add

numbers to the board.

In the fourth quarter, Tristin Skinner

contributed with a field goal and

his team also stepped up.

Jordan Norwood put down the

last touchdown and they ended the

fourth quarter 31-21 against Santa

Barbara and celebrated their win

amongst themselves.

Considering the fact that this was

Bakersfield College's homecoming

game, many wondered whether the

team felt more pressure.

To gain insight into the player

perspective, Freshman and wide receiver,

Jamaal Thompson explained,

"Yeah, I feel like it had more hype to

it because we knew the stands would

be packed, but overall, it was just another

game that we had to win, our

motto is to be 1-0 every week. Also, I

don't think it was more pressure because

we have had pressure on us all

season."

AMANDA HERNANDEZ/THE RIP

Xavier Ramirez and Nicholas Harris

strategizing on how to keep the game in

their favor.

AMANDA HERNANDEZ/THE RIP

(Above): Craig Royal prepares to help defend

his team as the ball is put into play.

(Left): Malik Brown and Jayden Smith put

up a fight against Ventura Community College

during homecoming game Oct. 22
---
Page 5

Features

The Renegade Rip www.therip.com

Wednesday, Nov. 2, 2022

Dagny's hosts Open Mic Night

By Jason Mena

Reporter

Dagny's delivers coffee and

soul to downtown patrons as

it hosts Open Mic Night for

musicians and poets alike to

express themselves in a communal

atmosphere.

For the last few years, Dagny's

has provided an open

space for artists to share their

thoughts and experiences in

the company of other creators

and locals every first

Thursday of the month.

Now, in collaboration with

Wasteland Zine, a free community

magazine showcasing

Kern County artists, and

The Plan B Company, a production

company in charge

of putting on local concerts

in Bakersfield, Dagnys will

host the Open Mic Night every

Thursday at 6 p.m.

Dagnys is located in downtown

Bakersfield on the corner

of 20th and Eye Streets,

and encourages anyone to

come perform or enjoy a

show with freshly brewed

coffee.

The Event is held in a

smaller and cozy room separated

from the rest of the

cafe, housing many of the

shops art pieces, collections

of literature, and their very

own stage.

They had a collage of personalities

during the october

13th junction, with local favorites

such as the Sayuris,

a small band of three young

guys who have been making

the rounds through downtown

and have made quite a

name for themselves. They

played two of their songs

"Nothing Good Ends Well"

and "Sun and Moon" from

their album, "For Those of

Rejection" which is available

on Spotify and Apple Music.

Another musician who

went simply as Ben, narrated

his harrowing 2200 mile journey

from Georgia to Maine

on the Appalachian Trail

which took him 6 months to

complete. The journey was

a huge undertaking and inspired

him to write the music

he played for everyone that

day.

The night came to a close

and the musicians were

brushed out of the cafe, and

gathered under the waning

light of the street lamp to

discuss what they plan to perform

for next week's event.

JASON MENA/THE RIP

Worst Things By Better

People perform "Ghost"

2022 Via Arté at

the Marketplace

By Blake Burton

Reporter

Via Arté, the annual street painting festival in which artist chalk their

creations, was held in The Marketplace on Oct 22 & 23.

The asphalt parking lot was filled with artwork, contributed by artists

from all over town.

Visitors from all over the state went to this event to see the work being

showcase.

All of the artists worked diligently, often crouching on the ground for

hours at a time, to make sure their pieces of art looked great.

The majority of them told the Rip that they love coming to this event

every year, and they were here for the music and vibes.

The reason they do this every year is to help fund the Bakersfield Art

Museum to continue to showcase Bakersfield's artists and their work and

bring awareness to the community.

BLAKE BURTON/THE RIP

Colorful Picture of girl flying on records on

display at Via Arté
---
Page 6

Campus

The Renegade Rip www.therip.com

Wednesday, Nov. 2, 2022

Spotlight: BC's Rodeo Team

By Jaspreet Multani

Reporter

BC's Rodeo Team Club is a current organization that participates

in the farm and ranch lifestyle. Established in 2021,

rodeo club is competing for the second year in the West Coast

Region of the International Rodeo Organization.

Bakersfield College can offer students more ways to participate

in the farm and ranch lifestyle that helped bring the

rodeo culture to life on campus. In 2021, BC's Rodeo Team

Club students were honored as the organization of the year

at Bakersfield College.

The club practices on Wednesdays and Fridays at local

people's houses as they don't have their own practice space,

according to team member Cloey Griffiths.

The Rodeo Team club's mission is to continue the rich

history of cowboy and rodeo culture in every small-town.

It is common to meet someone for the first time at a rodeo

or horse show one week and see them again with a mutual

friend the next. It is hardly a surprise anymore because "It's

Bakersfield!"

With a growing number of students and members of BC,

Rodeo Team has competed at Feather River College in

Quincy, Lassen College in Susanville, Fresno State in Clovis,

West Hills College in Coalinga, Cuesta College, and Cal Poly

University in San Luis Obispo.

With such a strong background in Western Heritage, it

is only natural that Bakersfield College should provide students

with the opportunity to participate in a college rodeo

while continuing their college education in their hometown.

While allowing students who may not have the Western

background, the club provides the opportunity to learn more

about rodeo and the cowboy way of life.

Griffiths explained, "To be part of the team students should

own their horses and equipment. But to be a part of the club,

it's completely free, and as a supporter you can travel along

the Rodeo tournaments. Rodeo provides transportation only

to members of the club and BC students."

Jaiden Melton, Vice President of Rodeo Team club, started

riding and competing in Rodeo at 2 years of age. She

wanted to continue her experience in riding horses. Melton

and her mother decided to establish a Rodeo team club for

future tournaments. Bakersfield College hopes to grow its

Rodeo Club in the coming years and has already received

great feedback and support from the community.

JASPREET MULTANI/THE RIP

(Left) Rodeo team members Jaiden Melton and Cloey

Griffiths riding their horses across the fields of Delano

Calif.

First place nationally for two year college Websites at

the Associated Collegiate Press 2020 midwinter conference.

Fifth place newspapers. First place for newspaper

in 2011, third place in 2013, 2014, 2015 for CNPA General

Excellence

Fourth place nationally in 2019 for website publication

by Associated Collegiate Press

The Renegade Rip is produced by Bakersfield College

journalism classes and is circulated on Thursdays

during the fall and spring semesters. The newspaper is

published under the auspices of the Kern Community

College District Board of Trustees, but sole responsibility

for its content rests with student editors. The Rip is

a member of the California Newspaper Publishers Association,

Associated Collegiate Press, and California

Colleges Media Association.

The Renegade Rip

EDITORIAL BOARD

Editor-in-Chief..............Anthony Vasquez

Jaspreet Multani........................Designer

Adviser.........................................Erin Auerbach

STAFF

Reporters/photographers:

Blake Burton

Amanda Hernandez

Jocelynn Landon

Eduardo "E.J." Martinez

Jason Mena

Jaspreet Multani

Nicolas Watson

Write The Rip

Letters should not exceed 300 words,

must be accompanied by a signature

and the letter writer's identity must be

verified.

The Rip reserves the right to edit

letters, however, writers will be given

the opportunity to revise lengthy or

unacceptable submissions.

If an organization submits a letter as a

group, it must be signed by only one person,

either the leader of the organization

or the letter writer. Anonymous letters

will not be published.

How to reach us

-Address: Bakersfield College,

1801 Panorama Drive, Bakersfield,

CA 93305

-Phone: (661) 395-4324

-Email: ripmail@bakersfieldcollege.edu

-Website: therip.com
---
Page 7

Opinion

The Renegade Rip www.therip.com

Wednesday, Nov. 2, 2022

"Midnights"

swiftly becomes

a hit

By Anthony Vasquez

Editor-in-chief

Taylor Swift rises back into

the world of music with her

brand new album "Midnights."

The album represents

a collection of songs

she has created throughout

her sleepless nights, starting

with 13 brand new tracks

and a surprise "3 am Edition"

of the album on Friday,

October 21.

The album was produced

by Swift herself, and her

long-time collaborator Jack

Antonoff. The two of them

worked together on writing

most of the tracks within

the album, aside from a few

which were written by Swift

alone, or with the help of

Lana Del Rey.

Swift had swiftly announced

the "Midnights" album

earlier this year back on

Aug. 28 at the VMAs when

she presented her acceptance

speech for the Video of the

Year award for her 10-minute

short film "All Too Well:

The Short Film."

Her new album stands out

to many people as the majority

of her fans were expecting

her to continue along

with her series of re-recordings

of her first six albums.

It has only been a year since

her release of "Red (Taylor's

Version)," and she still is set

to release the remaining

re-recordings of her 4 past

albums eventually.

The album opens up with

the first track titled "Lavender

Haze," and by the first

verse, listeners can already

find that Swift is jumping

back into the upbeat pop

music genre for the first time

after releasing a more alternative-driven

form of music.

The album has an overall

upbeat theme with songs

such as "Karma," which

seems to be an anthem for

Swift's appreciation of the

karma she's had in life as she

compares it to her love for

cats, "Karma is a cat purring

on my lap 'cause it loves me."

"Midnights" also continues

along the tradition Swift

has held for her albums in

the past. Every fifth track of

her albums has included an

emotionally vulnerable song

and her song "You're On

Your Own, Kid" is no exception

as the new fifth track

tells listeners about Swift's

experiences on her fame and

the scrutiny she's faced.

Overall the album has

been a smashing success for

many listeners. The album

could also be considered a

potential door for people

to explore her music if they

have not yet as it has so far

reached a higher success rate

than any of her albums before.

White Woman Nightmare-land

Our love for horror scares

us white, but sometimes it

neglects others that do not

have the same skin tone. The

relationship of horror and

women have existed for centuries;

however, oftentimes

the relationship had only

existed with that of white

women and neglected other

women of color.

In the past, horror has often

only focused on white

women and their fears of

surrounding dangers. Horror

films such as "Psycho,"

"Texas Chainsaw Massacre,"

"Halloween" and

"The Silence of the Lambs"

hones in on the fears of

white women. Specially

what they define as danger

to their society such as poor

disgruntled workers, fears towards

dangers in suburbia,

non-hetero and non-cis individuals.

Although, their fears

deserve to be acknowledged,

the intense focus on their issues

often neglect women of

color and other women who

lack privilege.

This is problematic as

most violence perpetrated

on women is often focused

on women of color in the

real world as in a Special

Report "Characteristics of

Suspected Human Trafficking

Incidents, 2008-2010"

by the U.S. Department of

Justice Office of Justice Programs

Bureau of Justice Statistic.

It states, "Confirmed

sex trafficking victims were

more likely to be white (26%)

or black (40%), compared

to labor trafficking victims,

who were more likely to be

Hispanic (63%) or Asian

(17%)."

The Horror Files

By Eduardo Jr. Martinez

Reporter

Eduardo, Jr. Martinez

The fears and experiences

of women of color deserve

to acknowledged and represented

on the big screen.

Another issue is the lack

of Black women villains in

horror as most villainesses

in horror are often solely

portrayed as white in flicks

such as "Carrie", "Jennifer's

Body" and "Pearl." This is

important as the female villainess

serve as a point of

catharsis for audiences, especially

women, as their story

often centers on revenge plotlines

with women seeking

vengeance due the grievances

that society, and to a wider

extent men, has committed

against them. And none are

more fitting to this feeling

than women of color and

other minorities who are often

victims of misogyny, racism

and sexism.

Although, horror movies

such as "Us," "Nope,"

"Barbarian," and "Ma" are

confronting this trope of

white women in peril within

horror and as villainess there

is still a long way to go for

equal representation within

horror.
---
Page 8

Opinion

The Renegade Rip www.therip.com

Wednesday, Nov. 2, 2022

Meghan Trainor

widens artistic

horizons with

fourth album

"Takin' it Back"

By Jocelynn Landon

Reporter

Singer songwriter Meghan

Trainer released her fourth studio

album "Takin' it Back" on Oct. 21,

and let me just say that it will for

sure have you dancing to the music.

I'm "Takin It Back" to some history

of Meghan Trainor and the

inspiration of the album, which is

all about loving yourself. In an interview

with Rolling Stones earlier

this year, Trainor told the publication

that this album was going to

be all about her reflections on being

a mother, marriage and how

she navigated her confidence over

these past years.

It started off with a "Sensitive"

vibey song that has you listening to

every hook, and next it leads into

"Made You Look" that became a

TikTok dance trend.

In this album you get her traditional

doo-wop style, music that is

rhythm and blues, yet this time you

also get very raw and emotional

music.

For example, in "Don't I Make

It Look Easy" Trainor opened up

about her relationship with social

media. Stating in the song "You

won't ever see me cry…I got a filter

for every single lie." In this song

she exposed how the media made

her feel and the things that she

does in order to cope.

Trainor "Shook" it up with the

songs in this album. From explicitly

talking about sex, to really captivating

how she felt, and may still

feel, at different parts in her life.

Over the 16 songs that were

placed in the album, they are all

so different and evoke a different

feeling from what we have heard in

previous albums of hers. I like that

she added back in her famous style

of music, while also adding in new

styles that are a lot softer.

One of the most shocking songs

to me was "Mama Wanna Mambo"

as she added a major twist in

the middle with the Hispanic style

music.

It isn't a favorite of mine, but

I think it's quite interesting and

unique. You can tell that she is exploring

her music style and adding

in other styles that aren't traditional

when you think of her.

This album was "Bad For Me"

because it's all I can listen to. Overall,

the style and the words meshed

really well together. Everything

flowed well together, and I never

knew what to expect.

Get ready to dance, and cry, this

album is filled with songs that will

bring a smile to your face and tears

in your eyes.

Renegade Events

Campus Events

Nov. 2: Early registration begins for spring

2023 semester.

Nov. 2: Cal Fresh outreach, main campus library,

10 a.m. to 1 p.m.

Nov 2: Rethink Your Drink workshop, Delano

Campus DST109 , 12:30 p.m. to 1:30 p.m.

Nov. 5: The Scars You Can't See: Breaking

the Stigma, Bakersfield College Indoor Theatre,

10 a.m. to 2 p.m.

Nov. 7: Jazz Ensemble, Big Band Favorites,

Edward Simonsen Indoor Theatre, 7:30 p.m.

Nov. 11: Veteran's Day Holiday (Campus

Closed)

Nov. 15: Distinguished Speaker Mark Rabbitt,

Renegade Ballroom, 3rd floor, Campus

Center, Panorama Campus, 2 p.m. and 7 p.m.

Nov. 16: Open web registration for spring

2023 semester begins.

Nov. 17-19: "Celestials: The Chiness Question."

a play directed by Professor Kimberly

Chin, Edward Simonsen Indoor Theatre

Nov. 24-24: Thanksgiving Holiday (Campus

Closed"

Nov. 29: BC Concert Band, Classical, Contemporary

and Holiday Favorites, Edward Simonsen

Indoor Theatre, 7 p.m.

Nov. 30: BC/CSUB Orchestra, Classic and

Contemporary String Music, Edward Simonsen

Indoor Theatre, 7:30 p.m.

This album was "Bad

For Me" because it's all

I can listen to.