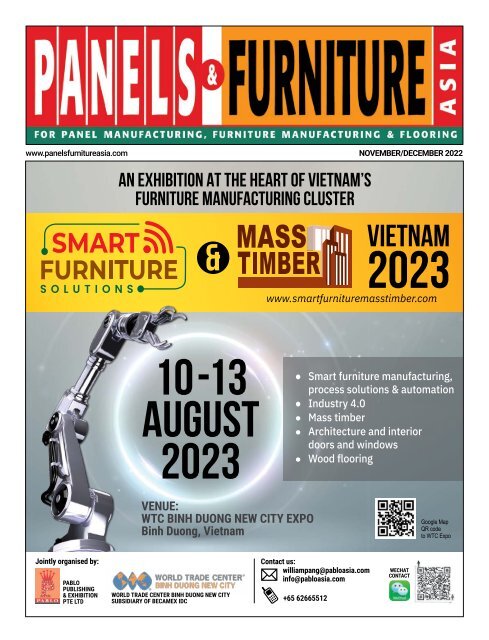 Panels & Furniture Asia November/December 2022
Panels & Furniture Asia (PFA) is a leading regional trade magazine dedicated to the woodbased panel, furniture and flooring processing industry. Published bi-monthly since 2000, PFA delivers authentic journalism to cover the latest news, technology, machinery, projects, products and trade events throughout the sector. With a hardcopy and digital readership comprising manufacturers, designers and specifiers, among others, PFA is the platform of choice for connecting brands across the global woodworking landscape.
Panels & Furniture Asia (PFA) is a leading regional trade magazine dedicated to the woodbased panel, furniture and flooring processing industry. Published bi-monthly since 2000, PFA delivers authentic journalism to cover the latest news, technology, machinery, projects, products and trade events throughout the sector. With a hardcopy and digital readership comprising manufacturers, designers and specifiers, among others, PFA is the platform of choice for connecting brands across the global woodworking landscape.
SHOW MORE
SHOW LESS
You also want an ePaper? Increase the reach of your titles
YUMPU automatically turns print PDFs into web optimized ePapers that Google loves.
www.panelsfurnitureasia.com

AN EXHIBITION AT THE HEART OF VIETNAM'S

FURNITURE MANUFACTURING CLUSTER

NOVEMBER/DECEMBER 2022

VIETNAM

2023

www.smartfurnituremasstimber.com

10-13

AUGUST

2023

● Smart furniture manufacturing,

process solutions & automation

● Industry 4.0

● Mass timber

● Architecture and interior

doors and windows

● Wood flooring

VENUE:

WTC BINH DUONG NEW CITY EXPO

Binh Duong, Vietnam

Google Map

QR code

to WTC Expo

Jointly organised by:

PABLO

PUBLISHING

& EXHIBITION

PTE LTD

WORLD TRADE CENTER BINH DUONG NEW CITY

SUBSIDIARY OF BECAMEX IDC

Contact us:

williampang@pabloasia.com

info@pabloasia.com

+65 62665512

WECHAT

CONTACT
---
Simple – we handle all the complexities that go into hardwoods to make

life easier for you. Natural – we manufacture and supply only sustainable, high-quality

products that breathe life into your work. Hardwoods – from harvest to delivery,

we set the standard for what the hardwoods experience should be.

nwh.com
---
Find your supplier here!

These companies can supply you with exceptional

hardwoods from Canada

cambiumex.com

canamlumber.com

buchandel.com

caspencer.com

commonwealthplywood.info

boisdv.ca dzdhardwood.com champeau.com bjvoyer.com

pfmes.ca nordamhardwoods.com primewood.com rlumber.ca

simonlussier.com

vexco.com

To know more about East Canadian Hardwood

species, you are invited to visit our website.

quebecwoodexport.com/en/products/hardwood-lumber/

@QuebecWoodExport @QuebecWoodExport Quebec Wood Export Bureau
---
CANADIAN HARDMAPLE
---
CONTENTS

CONTENTS

PANELS & FURNITURE ASIA (ISSUE 6)

November / December 2022

08

Editor's Note

10

News

Market Report

16

Global economic slowdown overshadows near-term

market outlook

Environmental Report

18

The role of an independent auditor in forest

management

20

Innovative recycling and upcycling for furniture and

furnishings: Giving plastic waste a new life

In Person

24

"Delivering added value to our customers": Teknos

expands to Vietnam

Product Highlight

27

Greater sustainability with Dieffenbacher's CPS+

continuous press system

28

Automated spray coating

30

woodCommander 5: Simpler, faster and

more cost-efficient production

Panel Manufacturing

32

2022: A year rich in achievements

Furniture Manufacturing

34

Defect detection in batch-size-one production

37

Ways to improve the quality of edgebanding

40

The role of Malaysian Furniture Council in improving

sustainability

42

Advanced woodworking solutions pay off

with Jager and HOMAG

Materials

44

On market diversification and educating new

markets: A conversation with AHEC

Flooring

48

New herringbone technology:

One panel type for simpler production

Recycling

50

From wood to resource: Market updates in

times of challenges

16

42

Structural Elements

53

Little Finlandia

Columnists

56

Reasons for solid wood doors prone to warping and

loosening

60

How sustainable is palm wood?

Show Review

64

IFMAC & WOODMAC 2022

66

VietnamWood 2022

67

Calendar of Events

68

List of Advertisers

6 Panels & Furniture Asia | November / December 2022
---
ALL KINDS OF WOOD

Whether you are looking for American, European, or

Tropical wood species, we have something for you. With

our new catalogues, we have made an easy overview

for you to explore the many species in our range.

Check out our website to browse the newest catalogues

from Global Timber and see for yourself.

Global Timber is an international company with more than 40 years of experience in the hardwood industry. The

company consists of the head office in Denmark and a sales office in Malaysia with a total of about 35 employees.

Our employees all have extensive experience from the wood industry.

Per Friis Knudsen

pfk@globaltimber.dk +60 111 429 7073

www.asia.globaltimber.net
---
FROM THE EDITOR

Standing together

in solidarity

Times are bad. This seems to be the

consensus not only in the industry, but across

the world. Amid inflation and rising interest

rates, factories are not seeing as much orders

as before, unlike earlier this year. Everybody

is a little cautious and hesitant at doing

business. Michael Snow, executive director

of the American Hardwood Export Council

(AHEC), predicts we are looking at least "six

months of difficult trading conditions" (p.44).

With less than two months left in the year,

it is a bit of a downer to end things so

bleakly. One can make the case that the

global economy is definitely getting better.

Trade exhibitions are back in full run, and

many companies got to reconnect with

old customers or meet new customers in

Vietnam (p.66) or Indonesia (p.64). Likewise,

CMC Texpan got to unveil new products and

showcase their portfolio at the recent Xylexpo

exhibition in October (p.32). A slow economy

also does not stop businesses from growing.

Teknos has opened a new commercial and

competence centre in Vietnam (p.24), and

both HOMAG and Unilin have released new

technologies this year, in machinery software

(p.30) and flooring (p.48) respectively.

But for every little achievement we

celebrate, something pulls us back. The

market slowdown is one, but other global

events continue to haunt us — be it the

Russia-Ukraine conflict, the aftereffects of

COVID-19, or climate change. With COP27

in the horizon, it is time to think about

sustainability measures, especially as a

forestry-related industry that has huge

impact in net-zero emissions. Furniture and

panel manufacturers can consider applying

to forest certification schemes (p.40), or try

alternative wood-based materials, such as

palm wood (p.60).

There is no quick solution to solve market

woes or climate change, and it is near

impossible to sit back leisurely, knowing

we still have to salvage the business in such

tough times. But if everybody is mired

in the same situation, perhaps we can

stand together in solidarity and comfort

each other. And hopefully, a new year

brings new prospects: When there are new

opportunities, the wood and woodworking

industry will rise up again.

YAP SHI QUAN | EDITOR

PANELS &

FURNITURE ASIA

PABLO SINGAPORE

Publisher

William Pang • williampang@pabloasia.com

Editor

Yap Shi Quan • shiquan@pabloasia.com

Business Development Manager

Pang YanJun • yanjun@pabloasia.com

Graphic Designer

Goh Meng Yong • mengyong@pabloasia.com

Circulation Manager

Shu Ai Ling • circulation@pabloasia.com

PABLO BEIJING

General Manager

Ellen Gao • pablobeijing@163.com

PABLO SHANGHAI

Editor

Kresly Shen • pabloshanghai@163.net

HEAD OFFICE

PABLO PUBLISHING &

EXHIBITION PTE LTD

3 Ang Mo Kio Street 62, #01-23, Link@AMK,

Singapore 569139

Tel : +65 6266 5512

Email: info@pabloasia.com

www.panelsfurnitureasia.com

Company Registration No: 200001473N

Singapore MICA (P) No: 105/12/2021

REGIONAL OFFICES (CHINA)

PABLO BEIJING

Tel : +86 10 6509 7728

Email : pablobeijing@163.com

PABLO SHANGHAI

Tel : +86 21 5238 9737 / 36

Email : pabloshanghai@163.net

let's connect!

@panelsfurnitureasia

All rights reserved. Views of writers do not necessarily reflect the views of the

Publisher. No part of this publication may be reproduced in any form or by any

means, without prior permission in writing from the Publisher and copyright

owner. Whilst every care is taken to ensure accuracy of the information in

this publication, the Publisher accepts no liability for damages caused by

misinterpretation of information, expressed or implied, within the pages of

the magazine. All advertisements are accepted on the understanding that the

Advertiser is authorised to publish the contents of the advertisements, and in

this respect, the Advertiser shall indemnify the Publisher against all claims

or suits for libel, violation of right of privacy and copyright infringements.

Panels & Furniture Asia is a controlled-circulation magazine with two issues

a year. It is mailed free-of-charge to readers who meet a set of criteria. Paid

subscription is available to those who do not fit our terms of control. Please

refer to subscription form provided in the publication for more details.

Printed by Times Printers Pte Ltd

Scan to subscribe

to PFA's enewsletter

8 Panels & Furniture Asia | November / December 2022
---
Steel Belts for the Wood and Laminate industry

Our endless Steel Belts offer highest quality, optimum strength

and a long lifetime. Additionally, our worldwide service

network supports you 24/7 - especially when it is urgent.

Exceptional operating

characteristics

Global technical

support and service

Berndorf Band GmbH

T: +43 2672 800 0

E: band@berndorf.co.at

www.berndorfband-group.com

Ultimate strength

and durability

Steel Belts | Belt Systems | Worldwide Service
---
NEWS

TEKNOS EXPANDS

TO VIETNAM WITH

NEW COMMERCIAL

AND COMPETENCE

CENTRE

The opening ceremony of Teknos's new centre in Dong Nai, Vietnam

Teknos has announced the opening of its new

commercial and competence centre with a

technical application laboratory, training and

warehouse facilities in Dong Nai province,

Vietnam.

According to the company, Vietnam is an

important growth market for them, and to be

close to their customer, they have invested

in and are committed to the region and their

existing and future customers. The new office

opened on 13 Sep 2022.

The local staff will now be able to provide

local services, from sampling and pre-line

trial testing, to training, colour matching and

optimised logistical services, thus reducing lead

times and offering the ability to provide fit-forpurpose

logistical support.

Customers in Vietnam will also have access to

Teknos's range of products. The waterborne

and UV products will be imported from

Malaysia, the nearest Teknos production

site in the region. Accessibility to additional

products is also ensured and can come from

the company's factories in Finland, Germany,

Denmark or China.

"The decision to establish the new service

centre in Asia-Pacific supports our growth

plans. Vietnam was a logical choice for us as our

Vietnamese export business has grown steadily

over the past years," said Paula Salastie, CEO of

Teknos and owner of Teknos Group.

"We want to meet customers where they are

located to be able to enhance our collaboration

and support them with faster response time

and tailored solutions and services.

"This will also enhance our sustainability

as it reduces the emissions from logistics.

Our team in Vietnam plays a crucial role in

broadening our global development and

service network. Our model will always

be working in close cooperation with our

customers, building a stronger relationship,

by providing them with sustainable coating

solutions."

Wanda Smith, managing director of Teknos

Malaysia, who is also taking care of the South

East Asia region, leads the new Teknos Vietnam

set-up, looking after the sales, customer

support, technical service and warehouse

functions.

"It is an exciting time to mark this milestone

and start a new chapter in this region to be

closer to our Vietnamese customers," said

Smith.

The new office is located at Nhon Trach

Industrial Zone III – Phase 2, Hiep Phuoc

town, Nhon Trach district, Dong Nai province.

It has a total area of about 650m 2 , branded

with the blue and green Teknos corporate

colour scheme, and consists of an office space,

meeting room, technical application laboratory

and warehouse.

Teknos will continue to invest and grow in

Vietnam, with a mid-term of three to five

years expansion plan to become a secondary

production site and gain better control over

lead time and reduce the dependence on

imports to meet the growing local demand.

As such, the Vietnamese expansion will be able

to support the export to other South East Asian

or Asia-Pacific countries, complementary to

Teknos's Malaysia plant.

For more information about Teknos's new

centre, flip to page 24. P

SIEMPELKAMP AND SMARTECH TO COLLABORATE

ON AI TECHNOLOGY FOR WOOD-BASED PANEL INDUSTRY

Siempelkamp and Smartech have

announced a partnership to work on artificial

intelligence (AI) for the wood-based panel

industry, particularly for manufacturers of

engineered wood products.

"We believe our collaboration with Smartech

will drive the next generation of wood-based

panel manufacturing. We look forward to

working together to bring to the market

the most cutting-edge technology with a

massive impact for our customers," said

Gregor Bernardy, head of Manufacturing

Executive System (MES) and Industrial IT

Solutions from Siempelkamp Logistics &

Service.

"Siempelkamp is a global leader in

supplying press lines to the wood-based

panel industry and we are excited to be

working together. Technology is the key to

better growth and a better future. The synergy

between Siempelkamp and Smartech will drive

the market with a game-changing solution,"

said Hanoch Magid, CEO of Smartech.

Smartech is a specialist in smart factories, with

experience in transforming existing production

lines into autonomous, data-driven and

sustainable assets. P

10 Panels & Furniture Asia | November / December 2022
---
NEWS

EUMABOIS APPOINTS NEW PRESIDENT

Luigi De Vito, the president of Acimall and

division director of SCM, has become the

president of Eumabois recently, succeeding

past president Jürgen Köppel.

Eumabois is a European association

dedicated to promoting European

woodworking machinery industry regionally

and internationally. De Vito was the previous

vice-president of the association since 2016.

The board of director was also renewed, with

new members being Wolfgang Rohner from

IMA Schelling, Daniel Bucher from Striebig,

and Ismet Toktas from AES Group. Outgoing

members include Samuel Hänni from

Lamello, and Mustafa Sabri Erol from Törk

Makine. P

Handover between Juergen Koeppel (left)

and Luigi De Vito (right)

De Vito commented in his inaugural

speech as the new president: "I want to

express my best wishes to the new board

of directors that will be in office for the

next three-year term. My heartfelt thanks

go to all the outgoing board members I

have worked with and who, in recent years,

have contributed to bringing Eumabois to

its current levels of quality and influence

worldwide.

"Finally, a very special thanks goes to Jürgen

Köppel, the years spent together have been

fuelled by a strong spirit of collaboration and

mutual esteem, and I can say that I am very

proud of the work done together and of the

results achieved."

Köppel, in his farewell speech, said: "I

am very pleased that such top-class

representatives of our industry are

supporting at European level and are

thus driving our common European ideas

worldwide.

"European woodworking machines and

tools are setting trends worldwide and

this leading position needs to be secured

and expanded with the support of our

federation.

"I would like to thank everyone who has

supported me in my work, especially I want

to thank Luigi De Vito, because in the past

six years of working together, he, as a former

competitor, has become a strong comradein-arms

and friend."

Besides the change in presidency, the new

vice-president was also appointed, with

Frederik Meyer from HOMAG group taking

charge.

Panels & Furniture Asia | November / December 2022 11
---
NEWS

HOMAG UNVEILS

DRILLTEQ H-308

FOR ASIAN MARKETS

HOMAG has launched DRILLTEQ H-308,

which features the latest in drilling

technology in terms of efficiency and speed,

designed and developed for Asia.

According to HOMAG, DRILLTEQ H-308 is

distributed exclusively in Asia, since the

region requires a flexible machine to deliver

diverse orders.

Previously, manufacturing firms had to

manually adjust their machines with each

change in the cut, drilling and pattern. The

DRILLTEQ H-308 does away with these timeconsuming

steps.

In summary, the machine offers flexibility

for high variant diversity as well as

efficiency when series production is

needed. Work interruptions are also

lessened, resulting in faster processes and

greater efficiency.

The DRILLTEQ H-308 is suitable for firms that

produce 200-300 pieces a day.

The high-speed

processing unit of

DRILLTEQ H-308

(Image: HOMAG)

"TWO-IN-ONE" DRILLING MACHINE

The DRILLTEQ H-308 includes six-sided

processing, enabling the machine to drill six

sides of the working piece simultaneously.

The machine also operates on two working

fields that can be fed by an operator at the

same time, offering a two-in-one machine. As

one field is working on one panel, the other

field can prepare for further processing of the

workpiece.

Meanwhile, its upgraded variant, the

DRILLTEQ H-310, provides the same functions

but can be connected in a fully automatic line

and can be controlled by a computer or robot.

As such, the processing time is reduced, and

there is greater availability and flexibility in

production.

"The possibility of using two working fields

at the same time, thus doubling loading the

machine, is fully in line with the wishes and

needs of the Asian market," said Gordon Wu,

product development head of HOMAG.

The DRILLTEQ H-308 also possesses a spindle

clamp that can perform precise depth in

drilling, ensuring reliable quality due to high

repeat accuracy. It is equipped with four

computer numerical controlled (CNC) clamps

to hold the workpieces firmly and precisely.

It can handle workpieces with dimensions of

250-2,500mm in length and 60-1,250mm in

width.

HOMAG reported that the woodWOP software

is also included in the machine, enabling

fast and intuitive operation and the ability to

create individual sub-programmes. It also has

greater programming security by providing

3D images of the workpieces as well as the

processing and clamping equipment. P

ARAUCO APPROVES

NEW MDF LINE AT MEXICO

Arauco's board of director has approved

the construction of a new medium-density

fibreboard (MDF) line in the city of Zitácuaro,

Mexico.

According to Arauco, this construction project

will be an investment of US$235m and

incorporates operational, environmental and

safety technology. The project is expected to

begin operating during Q2 2025.

Arauco is a producer of wooden boards in

Mexico. This project is expected to add about

300,000m 3 of MDF production per year, half

of which would be melamine coated to meet

the growing demand of Mexico's furniture,

construction, and interior decorating industries.

The plant will create jobs for 220 new

employees. Additionally, it strives to

promote a circular economy model,

driving small local forestry producers

and protecting the surrounding

ecosystem.

Back in May, Arauco also announced an

investment to expand their thermally

fused lamination (TFL) operations at their

particleboard plant in Grayling, Michigan, US.

The new lamination line will be Arauco's third

TFL line at Grayling and will increase the mill's

lamination capacity more than 50% in support

of Arauco's Prism TFL decorative surface

product offering. P

The new MDF line at

Mexico (Image: Arauco)

12 Panels & Furniture Asia | November / December 2022
---
NEWS

ZIEGLER GROUP STARTS WOOD FIBRE

INSULATION BOARD PRODUCTION

WITH NEW DIEFFENBACHER PLANT

A complete wood fibre insulation board (WFIB)

plant provided by Dieffenbacher for Ziegler

Group's site in Grafenwöhr, Bavaria, Germany,

is up and running less than one year after

construction began.

Dieffenbacher's scope of supply for the complete

plant included a fibre dryer, a EVOjet M 2.0

gluing system, the forming station and

forming line with pre-press, a CSS continuous

steam press system, the raw board handling

system, electrics, automation, and the

MyDIEFFENBACHER digital service platform.

"We are very pleased that our new

Dieffenbacher WFIB plant had such a rapid

and successful start," said Andreas Sandner,

commercial managing director at Ziegler

Group.

According to Dieffenbacher, the line for

rigid WFIB began production on 30 Aug

2022. Ziegler Group placed its order with

Dieffenbacher on 1 Apr 2021, but the

construction only began five months later in

September due to a change of location from

the town of Bärnau, 50km west to Grafenwöhr,

on a short notice.

"We never would have been able to achieve

this record-breaking construction and

completion time without the full cooperation

of our partners. In this case, especially

Dieffenbacher," said Sandner.

"The change of location and the procurement

crisis during the pandemic made this feat all

the more remarkable. Our thanks go to the

entire Dieffenbacher team, who overcame

Production of the first board in Ziegler Group's new

Dieffenbacher WFIB plant in Grafenwöhr,

Bavaria, Germany

huge challenges to meet our requirements for

product quality and energy efficiency."

In addition to the WFIB plant just completed,

Ziegler Group commissioned Dieffenbacher to

supply another fibre dryer for flexible insulation

mat production at the Grafenwöhr site.

Construction began in June, and the 10-tonne/h

capacity dryer should have started operations

in October. P

Panels & Furniture Asia | November / December 2022 13
---
NEWS

FUTURE HEIRLOOMS:

NEW DESIGN COLLABORATION

IN AMERICAN RED OAK

NOW OPEN

All seven pieces of

Future Heirlooms

(Image: Sarah de Pina)

Future Heirlooms, a design collaboration by

South African cooperative Always Welcome and

the American Hardwood Export Council (AHEC),

is now open at Always Welcome Viewing Rooms

in Sandton, Johannesburg, South Africa.

The project, which was initially announced in

July 2022, will remain at its current location until

November 2022, and will then move to the new

Always Welcome Heritage House in Cape Town in

January 2023.

For this project, a group of seven South African

designers from three provinces across the

country have created a series of works that not

only anticipates the future of sustainable design,

but also explores their own heritage and the

story of South Africa's design legacy.

Created in American red oak by hardwood

furniture designer-manufacturers Houtlander

and timber importers BOS Timbers, the seven

pieces are a celebration of material and memory,

and ask questions about current approaches to

the environment.

The seven pieces were crafted by various design

studios and designers, such as Dokter and Misses,

MashT Design Studio, TheUrbanative, Kumsuka,

Kalki Ceramics, Joe Paine in partnership with

Nathan Gates, and Nøde Studio.

Under the mentorship of the Always Welcome

team, the designers were asked to create an

object or a piece of furniture that encapsulates

the themes of sustainability, longevity and

quality.

"We need to end our current throwaway culture

and we need to use materials that have a low

environmental impact. These issues should

affect all our day-to-day decision-making," said

Roderick Wiles, regional director of AHEC.

"Designers, especially, have a huge influence

on how products are planned and with what

materials. This project was the perfect platform

for us to work with accomplished South African

designers and makers, while also helping

them to work with an abundant, versatile and

beautiful, yet lesser-known American hardwood

species."

For the designers, the project has offered

an opportunity to explore alternative

manufacturing methods and American red oak

itself.

Commenting on her participation in the project,

Thabisa Mjo, founder of Johannesburg-based

product and furniture design group MashT

Design Studio, said: "The material intrigued

me from the outset of Future Heirlooms. I

became fascinated by the seemingly endless

possibilities of American red oak itself that,

coupled with Houtlander's special ability to

work with timber, set my imagination alight and

I just had to see what could be made."

The American red oak arrived for the project

at the South African port of Durban was also

carbon negative. AHEC reported that just

about 1.3m 3 of American red oak were used

to make all seven pieces, with the finished

pieces being made up just under 1m 3 of wood

after manufacturing.

For their lifetime, these seven furniture pieces

will keep around 1,069kg of CO2e out of the

atmosphere.

Wiles concluded: "Such is the size of the US

hardwood forest resource and so dominant

in the forest is red oak at roughly 18% of the

total resource, that all the red oak lumber

used to make the seven designs would have

been replaced in the US hardwood forest

through natural regeneration in just 1.35

seconds.

"With the world facing the ever-increasing

impacts of climate change and of overconsumption

of high-impact materials, the

emphasis needs to shift to the environmental

merits of making more use of what nature is

growing.

"Through this collaboration, we hope the

designers and manufacturer learnt a lot

about a beautiful and sustainable material

while also demonstrating the beauty of a

widely available, yet under-utilised American

hardwood species." P

14 Panels & Furniture Asia | November / December 2022
---
NEWS

MTC INKS MOU WITH THAILAND'S

TIMBER ASSOCIATIONS

In a move to enhance ASEAN member countries' competitiveness as a

region, the Malaysian Timber Council (MTC) has signed a Memorandum

of Understanding (MoU) with the Thai Hevea Wood Association (THA)

and the Wood Processing Industry Club at The Federation of Thai

Industries (FTI) in Songkhla, Thailand.

The MoU, which was signed by Muhtar Suhaili, CEO of MTC, Nikorn

Likhitwangphanit, president of THA, and Akarin Vongapirat, chairman

of FTI Wood Processing Industry Club, will help to promote the

development of the Malaysian and Thailand timber trade as well as

establish timber trade standardisation between the two countries.

The MoU also included promotional activities for MTC's upcoming

Malaysian Wood Expo (MWE) to encourage participation from Thai

timber industry players in the fair.

In 2021, Malaysia was one of the top five major timber export

destinations for Thailand's major timber products, especially for

sawntimber. According to MTC, Malaysia was the largest export country

for Thailand's sawntimber which amounted to US$44.3m. Thailand also

exported $7.8m worth of wooden furniture and $10m worth of plywood

to Malaysia in 2021.

MAT MOISTENING

INNOVATION MAT MOISTENING

AT WORK

INNOVATION AT WORK

Bottom moistening

on forming belt

Bottom moistening

on forming belt

WEKO-FLUID-APPLICATION-SYSTEM

WEKO-FLUID-APPLICATION-SYSTEM

Top moistening

on mat surface

Top moistening

on mat surface

The MoU signing was followed by a B2B matching session between 19

timber companies from Malaysia and 15 companies from Thailand.

"We need to strengthen our business ties and help escalate each other's

imports and exports in international markets," Muhtar said, adding that

the MoU was prompted during an earlier market visit to Bangkok in April

this year.

"Both MTC and FTI came up with the idea of organising a Rubberwood

Sourcing Mission from Malaysia to the Songkhla province which is the

second-largest rubber producer in Thailand with 330,240 hectares of

planted area."

Sourcing and augmenting raw material supply for local timber-based

manufacturers is one of MTC's top priorities, and Thailand's rubberwood

is sought after. MTC has started reaching out to its trade partners within

ASEAN to revive business and trade relationships that were halted due

to the COVID-19 pandemic.

According to MTC, this year alone the council has visited Singapore

in March, Thailand in April, Vietnam in June, Indonesia in July and is

scheduled for a visit to the Philippines in November. P

IMPROVE YOUR BOARDS QUALITY

IMPROVE YOUR BOARDS QUALITY

YOUR BENEFITS

• Increase your press speed

YOUR BENEFITS

• Higher surface density

• Improved Increase your bending press strength speed

• Less Higher or no surface sanding density

• Longer Improved sanding bending tool strength lifetime

• Smoother Less or no surface sanding for

• easy Longer laquering sanding tool lifetime

• Smoother surface for

easy laquering

Productivity

and Quality

Productivity

and Quality

www.weko.net

www.weko.net

Panels & Furniture Asia | November / December 2022 15
---
MARKET REPORT

Global economic slowdown

overshadows near-term

market outlook

By Judd Johnson, editor,

Hardwood Market Report Publications

Most countries in the world are

experiencing slower economic growth or

economic contraction. Certainly, those

with global influence are performing at

less-than-optimal rates.

For instance, the US is contending with

a 40-year high rate of inflation and a

tightened monetary policy by the federal

government. Included are significantly

higher interest rates to commercial

and consumer borrowers. Also, the

US GDP has marked two consecutive

quarters of contraction, which is one

measure of recession. In contrast, the US

manufacturing sector is still expanding,

according to its Purchasing Managers'

Index (PMI) readings of over 50, which

is another barometer that indicates

the US economy is not in recession.

But recession or no recession, the US

economy is waning.

Europe's economy is also suffering from

tightened oil and gas supplies extending

from Russia's war on Ukraine. This is

affecting both business and consumer

activity, and the impacts will become

more severe during winter.

China has earned recognition as

the world's manufacturing hub. But

the manufacturing sector of China's

economy has contracted five of the

past seven months, based on the

government's manufacturing PMI

report. Also, China's economic growth

in 2022 has relied heavily on increased

exports of goods and services, which

climbed from 21% of the overall

economy in 2021 to 36% of China's

economy midway through this year.

China's domestic consumerism created

a great deal of economic growth prior to

COVID-19, but has slowed substantially.

COVID-19 and Russia's war on Ukraine

are key contributors to present

economic challenges. There also have

been policy missteps by world leaders

that exacerbated existing problems

and risks, however well-intended those

policies might have been.

Putting all the causes aside — and there

are many — one ramification facing the

forest and wood products industries

from the economic slowdown is reduced

consumerism in all major markets

around the world. Specifically at risk

are housing sales and sales of nonessential,

big-ticket items, such as home

furnishings.

AN UNNECESSARY REALITY

The frustrating part of this potential

outcome is that the marketplace

had prepared for housing and home

16 Panels & Furniture Asia | November / December 2022
---
MARKET REPORT

have affected production capacity

utilisation and the product mix of

sawn lumber and timbers. That said,

continued financial strain could alter the

production make-up by acquisitions and

attrition of sawmill companies.

COVID-19 and subsequent pressures have affected production capacity utilisation and the

product mix of sawn lumber and timbers

furnishing sales to increase. There is

pent-up consumer demand in markets

held back by government lockdowns

to control the spread of COVID-19 and

delayed deliveries of goods. There also

is increasing demand in other markets.

It is an important distinction that

demand is not the same as the ability or

inability to fulfil demand.

In particular, the US has a large and

growing population of young people

that extends in ages from 40 years

and younger. Over half of the total US

population falls within this age group,

which means there can be tremendous

consumer buying power for homes and

home furnishings for many years to

come.

financial stress for almost three years.

The historic rise in prices that occurred

in 2021 did create profits for sellers,

but not for long. Rapidly rising costs of

replacement goods and materials cut

into profit margins and left companies

exposed with high-cost inventories

when sales prices began to fall.

TIME AGAIN FOR TRANSITION

In the case of US hardwood sawmill

production capacity, there has been

no measurable change since the

early recovery phase from the Great

Recession. However, changes caused

by COVID-19 and subsequent pressures

This pattern of business is similar

to that which began in Q4 2018 and

carried over to the start of 2020, as

the pandemic emerged. There was

evidence of tighter supplies of US grade

hardwood in H2 2019, and there was a

growing sense of optimism then about

improved business heading into 2020.

Yes, COVID-19 was unforeseen and

changed the marketplace. But before

then, US hardwood lumber supplies

were corrected.

And they are correcting now, again. P

Hardwood Market Report (HMR)

is the leading source of pricing

and market information for North

American hardwoods. It has

provided reliable, expert analysis

of pricing and market trends to

hardwood companies throughout

the world since 1922. Sample copies

and subscription services for HMR

and all other HMR publications are

available online at www.hmr.com.

Non-essential items

like home furnishings

are at risk of reduced

consumerism

from the economic

slowdown

While wood products manufacturing

and distribution can support increased

product demand at present, companies

involved in these businesses cannot

stand by idly and indefinitely while

waiting for a non-responsive customer

base to re-engage.

First, supplies will adjust to present

market conditions. That is happening

now, even if results from production and

inventory cutbacks are not yet evident.

In time, and without improvement

in economies and consumer activity,

manufacturing and distribution

capacities will contract. The reality

is that businesses have been under

Panels & Furniture Asia | November / December 2022 17
---
ENVIRONMENTAL REPORT

The role of an

independent auditor

in forest management

By Yap Shi Quan

As forests are increasingly subjected to harmful causes,

whether natural or man-made, the need to preserve and

protect them arises. Auditing is one such way. Forest

Practices Board, a forest watchdog organisation based in

British Columbia, Canada, explains what auditing in forestry

comprises, and how it contributes to healthier forestlands.

Forestlands are depleting across the world.

Regardless of whether it is due to natural causes

like climate change, or man-made causes like

illegal logging or deforestation, forests need to

be preserved if businesses want to maintain the

global consumption of timber used for wood

and non-wood products, or simply, to protect

our environment. Timber certification systems

have been implemented to ensure that timber

is harversted ethically and legally. But is it

adequate?

Another way is through auditing. Darlene

Oman, director of corporate performance from

Forest Practices Board (FPB), explained what

auditing comprises: "During a forestry audit,

[our] board examines timber harvesting, road

construction, maintenance and deactivation,

silviculture activities, such as replanting

and tending of new forests, and wildfire

preparedness and prevention, as well as

operational plans related to these activities."

FPB is a watchdog organisation based in British

Columbia (BC), Canada that provides oversight

of both forest companies and government

agencies. It ensures that forest planning and

practices in BC are sound, and that the public's

interests in the forests are being served.

According to Oman, their auditors in BC check

for compliance with legislation, specifically

with the Forest and Range Practices Act

and the Wildfire Act. The Forest and Range

Practices Act sets out BC government's

objectives for how the province's forests

should be managed, and the Wildfire Act aims

to prevent wildfire caused by industrial activity

in the forests.

Oman continued: "Inspections take place in

the field and plans and permits are reviewed

in the office. Examples of practices audited are

18 Panels & Furniture Asia | November / December 2022
---
ENVIRONMENTAL REPORT

1

2

Legend

1 The trend

of warmer

temperatures

and drought

have subjected

BC forests to

stressors

2 BC forests cover

approximately 57

million hectares

and are used for

different activities

checking reserves left along streams to

protect fish habitat and water quality,

ensuring roads and bridges are safe

for industrial use and are not causing

soil erosion or landslides, checking the

number and quality of replanted trees,

and ensuring that any fire hazards from

slash and debris are treated to reduce

the risk of wildfire."

THE STATE OF BC FORESTS

Currently, BC's forests are "generally

very healthy", but the trend of warmer

temperatures and drought have

subjected their forests to stressors,

according to Oman. In the last 10-20

years, insect infestations and wildfires

have caused damage to millions of

hectares of BC's forested lands.

The forests in BC cover approximately

57 million hectares and are used for

different activities. For instance, about

20 million hectares are available for

timber harvesting and the forest

industry harvests about 1%, or 200,000

hectares each year. The forests also

provide forage for ranchers to graze

cattle, and are important for the tourism

and recreation sectors. Furthermore,

forests are important to indigenous

lives. BC is home to about 200

indigenous nations, each with their own

unique language, dialect, and traditions.

The government is committed to

implementing the United Nations

Declaration on the Rights of Indigenous

Peoples — a framework that aims to set

standards on maintaining the rights

and dignity of indigenous people

globally — by involving indigenous

nations in decisions about the

management of BC's forestlands.

In 2021, BC passed legislation that

enshrines this commitment in law.

INDEPENDENCE

As an independent auditor, FPB is

responsible for holding governments

and businesses accountable,

ensuring that all forestry policies

and legislations are abided. The

organisation assures the public

that forest companies follow legal

requirements to protect forest values,

and that the government is enforcing

any forest-related legislation.

This independence is what separates

FPB from other certification or

auditing bodies — it is not directed

by the government or market forces,

and hence key to gaining the public's

trust in their findings and policy

recommendations: "Having an

independent third party that provides

this assurance builds public trust in the

stewardship of BC's public forests."

FPB has audited various woodworking

businesses in the past, including

Interfor, a forest products producer

based in North America, and

Kalesnikoff, a mass timber and lumber

manufacturer. From these audits, FPB

will make policy recommendations

to the government, so that any harm

done to forestlands from industrial

and woodworking activities can be

mitigated.

As Oman explained: "Over the years,

the board has made a number of

recommendations to the government

to improve the forest management

system in BC. The government

recently introduced amendments to

the legislation that would address

a number of our recommendations,

such as a new forest landscape

planning requirement, maps that

showed the public the location of new

logging roads and cut blocks, and

giving government managers greater

authority to direct forest companies if

their activities might cause harm to the

environment."

Indeed, in that sense, FPB is more

answerable to the public and the

forestlands. With a stronger forest

management and stewardship,

ensuring no long-lasting harm to the

ecosystems, a stronger forest industry

will emerge as well — contributing

to a more regular revenue flow for

companies producing forest-related

products. To that end, the board

encourages all companies to "comply

with the Forest and Range Practices

Act and the Wildfire Act and to

follow best management practices in

planning and designing their forestry

operations", so that the public remains

confident in the management of BC

forests. P

Panels & Furniture Asia | November / December 2022 19
---
ENVIRONMENTAL REPORT

Innovative recycling and

upcycling for furniture

and furnishings: Giving

plastic waste a new life

By Ken Hickson

Wood used by

Roger&Sons to

repurpose airline

seats and galley

carts

There is a fair chance that plastic

will get back into "my good books".

Particularly if I find a few more examples

of where ocean-bound plastic is being

put to good use. Like being turned into

furniture or textiles for furnishing, or

even panels for boats or buildings.

Admittedly, my preference is for wood

— everywhere — in furniture and fittings

and even in complete built structures.

But I must admit I am looking much

more closely as plastic gets recycled

more and can be turned into an object

to admire and use. Sometimes in

combination with wood.

I saw this for myself when I went to the

launch of the new global headquarters

of Archwey in Singapore recently.

Archwey is a holding company for

various brands that innovate materials,

including Arch & Hook.

Not only did Sjoerd Fauser, the CEO of

Archwey make a seemingly outlandish

claim that his company intended to

"rid the world of virgin plastics", but he

showed me how it could be done. He

showed me how his brand-new office

has been filled with recycled plastic

furniture and fittings.

He started in the Netherlands by turning

plastic waste into coat hangers for the

fashion industry. Now he has found an

efficient way of putting plastic waste,

literally, through the mill, turning it into

tiny pellets which can then be moulded

into objects of desire.

Arch & Hook has also done a lot of

work for Nike, not only to make use of

recycled plastic in all the sports shoes

it makes, but using what he calls "the

BLUE recycling process".

On top of this, retail stores themselves

have become shrines to the

convenience of virgin plastic — often

crammed with plastic display cases,

shelving, packaging and furniture that

has been designed to be thrown away

rather than reused.

Arch & Hook's experimentation with

sustainable materials dates back

to 2016, when the company started

exploring a way to turn ocean-bound

and post-consumer plastics into new

products.

20 Panels & Furniture Asia | November / December 2022
---
ENVIRONMENTAL REPORT

During London Fashion Week in

September 2019, the company launched

BLUE: a fully-recyclable hanger

made from 100% recycled plastics

predominantly sourced from four of the

most polluting rivers in the world.

Arch & Hook takes

plastic waste

through the BLUE

recycling process

Fauser has been quoted in media around

the world as he believes "any fashion

or retail company dragging its heels

on eliminating virgin plastic from its

business will soon be left behind. The

tide is turning against single-use plastic

— both in the public consciousness and

now through global legislative action".

In March this year, at the Environment

Assembly in Nairobi, Kenya,

representatives from the United Nations

(UN) Member States "endorsed a historic

resolution" to combat plastic pollution.

An Intergovernmental Negotiating

Committee will be established this year

with the aim of drafting an international

legally binding agreement before 2025.

This is truly significant. Rather than

only focusing on waste management,

the agreement will address diverse

alternatives to the full lifecycle of

plastic, including production, design

and disposal.

So, through the work of Archwey and

others, we should expect to see a lot

more practical uses for recycled plastic;

furniture and furnishings made to last,

too.

We have reported before on the

Singapore social enterprise, Semula,

because it has been doing its best to

show what can be done by recycling

or repurposing plastic waste, taking

it through a heating and moulding

process to produce items for home and

office environments.

According to Jeryl Yep, co-founder

of Semula, the company is still going

strong whether "by design and good

Panels & Furniture Asia | November / December 2022 21
---
ENVIRONMENTAL REPORT

intentions", taking discarded highdensity

polyethylene (HDPE) bottles

and turning them into "one-of-akind

material which can be used as

decorative claddings, fittings and the

making of furniture and more".

Limited only by the imagination, Yep

said Semula has to date diverted

1.7 tonnes of plastic waste from

the incineration plant and landfill

into upcycled new plastic sheets for

partners to use in commissioned

projects.

Semula believes strongly that only by

showing how plastic waste can have

commercial value can we change

people's perspective about it.

"We need to reduce the overuse of

finite resources," Yep insisted. "And,

instead, consider the use of nontraditional

material like upcycled

plastic. This takes away some of the

pressure on our natural ecosystems,

and through time, leads to behaviour

change for a more sustainable way

of living."

Semula operates and makes all

its sheets locally. It works and

collaborates with local fabricators

and craftsmen to design and turn

waste into a treasured thing of

beauty. Educating businesses

and creating greater awareness in

the minds of the consumer is an

important by-product of the work

done by Semula.

Working in partnership helps too, so

maybe Semula and Archwey could

find ways to collaborate in a similar

way to what Semula has done with

the woodcrafts firm, Roger&Sons.

These innovative and creative people

in Roger&Sons have just told us

about their latest Singapore project.

They now have a collaboration with

the Singapore Airlines by repurposing

economy class three-seaters and

galley carts from retired Airbus A380

planes.

While they had in mind making these

for airline enthusiasts, they have

recreated limited-edition collectables

using repurposed local wood. This

upcycling collaboration features

Roger&Sons' initiative, The Local Tree

Project — an effort to rehabilitate

abandoned logs felled in our city.

Its version of the economy class

three-seater showcases local African

mahogany as the material of choice,

while retaining its original aluminium

frames and plastic armrests.

Even identifying its forms, the

enterprising woodcrafters mimicked

its curvatures to mould the seats for

comfort. They also kept its functional

seat-recline mechanism, allowing

additional control for passengers'

comfort.

There will probably be many furniture

collectors — more than just aviation

enthusiasts — who would love to

feature these unique "flying objects"

in their homes or offices.

Whether for repurposing airline

seats and galley carts, largely made

of plastic and metal, or producing

furniture and useful objects for the

home and office from ocean-bound

plastic, we are seeing a desire by

committed businesses to come up

with a second life for what would

normally be dumped.

Archwey puts it this way: "We collect

post-consumer and post-industrial

plastic waste via blue bins and put it

2

through a process of technological

1

2

3

recycling, including extrusion and

granulation, before transforming it

into high-quality recycled pellets that

can be manufactured into anything.

We design for the future — and work

with companies that realise that is

the only option, both ethically and

economically."

The trick here is making sure that

materials are designed from the

very beginning with their second life

already in mind. That is "sustainability

thinking". That is applying the

principles of a circular economy.

And maybe that is the future for the

built environment — inside and out

— as its grapples with the challenge

of producing a large share of global

greenhouse gas emissions. P

Legend

1 Semula takes

plastic bottles and

turns them into

coasters, plates or

tiles

2 Plastic recycled

and used in this

bar table top

and stool seats

for Archwey's

Singapore

headquarters

3 Close up of the

wood treatment

used for upcycled

airline seats

22 Panels & Furniture Asia | November / December 2022
---
Canadian wood.

Versatile and durable.

Gỗ Canada.

Đa dụng và bền bỉ.

WESTERN HEMLOCK GỖ ĐỘC CẦN BỜ TÂY

TRY CANADIAN WOOD

HÃY DÙNG THỬ GỖ CANADA

canadianwood.com.vn

+84 (0)274 380 3609

A range of high-quality certified lumber from sustainably

managed forests of British Columbia, Canada.

Các loại gỗ xẻ chất lượng cao được chứng nhận từ nguồn rừng trồng

được quản lý bền vững của tỉnh bang British Columbia, Canada.
---
IN PERSON

"Delivering added

value to our customers":

Teknos expands to Vietnam

The new commercial and competence centre in Vietnam by

Teknos promises faster response time, and solutions and services

tailored to each customer. How can this customer-centric

business model strengthen the value of the company?

By Yap Shi Quan

Teknos's new commercial

and competence centre in

Vietnam

OFFERING "VALUE-ADDED SERVICES"

Everything a company does impacts their

customers' perceptions and decisions to keep

choosing the company's brand, solutions,

products and services: This customer-centric

model is one of the guiding business principles

of Teknos, as declared by Paula Salastie,

CEO of Teknos and owner of Teknos Group.

It is also one of the various reasons why the

coating solutions provider has opened a new

commercial and competence centre in Vietnam

in September, with the aim of enhancing their

collaboration with Vietnamese customers

and support them with faster response time,

and tailored solutions and services of their

offerings.

Located in the province of Dong Nai, the new

centre includes Teknos's sales and business

development, customer service, technical

application and services, training, and

warehouse facilities. Wanda Smith, managing

director of Teknos Malaysia, elaborated: "Our

local technical support and extensive global

network are at our customers' service to help

find the right solution for their needs. On top of

that, we train our customers, help with safety,

chemistry, application, painting line processes

and so on. All these can be done from either our

new facility centre or at the customer's site."

24 Panels & Furniture Asia | November / December 2022
---
IN PERSON

As a whole, Teknos offers various types of

value-added services, including product

development and adjustment, production

line configuration or set-up, line audit,

sampling and pre-line trial, colour matching,

quality performance testing, on-site or

virtual technical troubleshooting, and more.

According to Salastie, such services are part

of the company's strategic pillar of 'Customer

Experience', where it aims to be as close to

their customers as possible by increasing

customer satisfaction and creating "long-term

customer relationships". In essence, Teknos

hopes to interact with them "at all stages and

touchpoints of their journey, before and after

they become [their] customer".

She added: "Each customer has their unique

operation model and pain points. For some,

this might be about energy savings, others

might want to solve recycling of over-sprayed

paint, or they might need to understand their

contribution to greenhouse emissions. We

tailor our services with close collaboration,

to understand our customers better all the

way to their end customer. For us, aftersales

services involve following how our

customers' products develop and adapting our

collaboration, so that our services suit their

given circumstances."

1

As mentioned by Salastie, Teknos looks at their

own manufacturing footprint and emissions

throughout the lifecycle of their customers'

products. The company is committed to

sustainability in their own processes, their

customers' journey, and in the collaborations

with suppliers and other stakeholders, by

practising their own strategies modelled after

the United Nations' Sustainable Development

Goals (SGDs): future generation, sustainable

solutions and services, people and culture, and

responsible operations and supply chain. For

instance, Teknos chose to open the new centre

in the JSC Industrial Park because the park

was equipped with sustainable infrastructure

systems, including a central wastewater

treatment and built-in air ventilation.

2

Legend

1 Teknos team with the

JSC team

2 The reception area

3 The technical

application room

Salastie intuited that building ESG values

and after-sales services is crucial in delivering

added value to their customers: "This will

reinforce or reassure our customers that they

have made the right choice in choosing us, and

make them feel good about the Teknos brand.

3

Panels & Furniture Asia | November / December 2022 25
---
IN PERSON

It plays an important role in customer

satisfaction and long-lasting customer

relations, generating loyal customers

and increasing Teknos brand value."

WHY VIETNAM?

In 2021, Vietnam contributed 36% of

Teknos's total sales revenues in the

South East Asian region, among other

key markets that Teknos is located in,

such as Malaysia, Thailand, Indonesia

and Cambodia. This is an indicator of

the company's growing demand in the

country, and hence their decision to

expand into Vietnam to better support

the demand. Smith commented that

they are also aware Vietnam is one

of the fastest growing economies in

the world, with "openness to foreign

investment and the Vietnamese

government putting incentives in place",

attracting Teknos to invest further in the

market.

4

5

"Currently, Vietnam is already one of the

leading manufacturers and exporters of

furniture, including wood for indoor and

outdoor purposes. With all the existing

and growing opportunities in sight, we

are confident that our Teknos solution

offerings, be it products or services, will

be able to benefit customers in Vietnam

— such as our bio-based products,

finishings and systems such as digital

printing or embossing, and value-added

services for pre- and post-purchases."

For better collaborations with their

customers, Teknos chose Dong

Nai province also because it is one

of Vietnam's main manufacturing

centres. Smith explained that the JSC

Industrial Park is most favourable in

terms of geographical location for

business development, investment, and

transport intersections for connectivity,

being close to various ports like Cai Lai

and Cai Mep ports, and airports such as

Tan Son Nhat airport and Long Thanh

international airport. With Teknos's

waterborne and UV products imported

from Malaysia, and additional products

from their Finland, Germany, Denmark

or China factories, customers can

choose from different supply channels.

Furthermore, they can have easier

access to local sales and technical

support team, as well as regional and

global specialists for more complex

projects.

Following their Vietnam expansion,

Teknos is planning to grow their

business by penetrating existing

markets in Asia-Pacific, mainly

Indonesia, Thailand, Australia, Japan

and New Zealand. Salastie concluded:

"Currently we are managing these

markets via export directly or with

our distribution network. The aim

is to expand our product range and

services in furniture as well as to other

customer areas and, as the business

grows, eventually to have our own

entities." P

Legend

4 The technical

laboratory

5 Warehouse

containing

Teknos solutions

26 Panels & Furniture Asia | November / December 2022
---
PRODUCT HIGHLIGHT

Greater sustainability

with Dieffenbacher's CPS+

continuous press system

Environmental regulations are

tightening and the cost of CO2 emissions

is increasing, but with Dieffenbacher's

CPS+ continuous press system,

manufacturers can balance economic

and sustainability goals to build a

better future for their business and the

environment.

Dieffenbacher's Press Emission

Control System is just one tool to help

achieve that balance. It protects the

environment by cleaning exhaust gases

from the press through a washing

process. Dust and condensable fractions

of exhaust gases are bound to fine water

droplets. These solid and liquid parts

are separated in the system's Inline

Scrubber. In addition, pre-absorber

units are available to reduce volatile

organic compounds (VOC) emissions,

particularly formaldehyde.

Another way to balance economic and

sustainability goals is to reuse heat

from the press exhaust air elsewhere

in the production process. When the

press exhaust air is cleaned by a wet

air cleaning system, for example, the

Inline Scrubber in the Press Emission

Control System, the process water

from the wet air cleaning system cools

down. The result is more effective

air cleaning, as cold water can bind

emissions better. The recovered

low-calorific heat from the process

water can then be used, for instance,

to preheat the hall air inside the

production building to save heating

energy and costs. It can also be used

to preheat the glue. This not only

saves energy, but the resulting lower

viscosity glue enables a more precise

glue spray pattern. More consistent

operations, meanwhile, produce less

excess glue. These are two of the

various ideas to reduce energy costs

and emissions and increase profits by

reusing press exhaust air, according to

Dieffenbacher. P

Reuse heat from

the press exhaust

air elsewhere in the

production process,

such as to preheat

the glue

Panels & Furniture Asia | November / December 2022 27
---
PRODUCT HIGHLIGHT

Automated spray coating

In carpentry and joinery services for living, working and

commercial areas, carpentry company Bantli focuses on

quality, customer satisfaction and innovative technology. Their

automated spray coating line from Buerkle is an example of this.

SEEING AND FEELING SURFACES

Interior designers and furniture manufacturers

face the challenge of making the looks and

feel of doors, furniture and wall panelling

convincing. "Natural", "durable", "elegant" and

"attractive" are adjectives that describe surface

finishing. The range of different materials

requires a high level of flexibility, and it takes

economic efficiency to create the ideal surface

finishing, despite small batch sizes at times.

To meet these requirements to the customer's

satisfaction, Bantli has been working with a

manual spraying station for years. Painters

manually apply the desired surface finishing

with spray guns. However, because of

increasing requirements and larger numbers of

incoming orders, the spraying station gradually

became a bottleneck in the production

process. Moreover, it has been increasingly

difficult to find skilled staff for this field of work.

Oliver Bantli, owner and managing director

of Bantli, therefore preferred an automated

solution to avoid bottlenecks in the field of

surface finishing.

Bantli, a company in the Swiss carpentry

industry, aims to attach importance to data

consistency throughout the company. The

owner Bantli explained: "Our company

objective is ambitious: We strive for 100%

customer satisfaction. Our comprehensive

employee and apprentice training activities

as well as the consistent use of innovative

technology in all areas contribute significantly

to this."

With a branch office in Regensdorf, Switzerland,

Bantli caters to customers in Zurich and the

surroundings with a portfolio of services and

advice. Business growth has been steady for

the company since their beginning in 1982.

Computer numerical control (CNC) technology

and planning support through 3D computeraided

design (CAD) made their appearances in

the early 2000s.

ROBUSECO

Bantli was convinced of his decision of obtaining

Buerkle's ROBUSeco spray coating line, in favour

over a system from the surface specialist Black

Forest: "The ingenious concept of the ROBUSeco

spray coating line developed and built for us

by Buerkle had convinced us on the spot. Data

consistency and, above all, a very high degree of

automation were important for us."

The automation is accomplished through the

combination of workpiece cleaning, integrated

automatic turning unit, and the largely

28 Panels & Furniture Asia | November / December 2022
---
PRODUCT HIGHLIGHT

automatic removal and loading of

the rack trolleys. The spray-painting

machine and its upstream and

downstream machines thus enable

almost unmanned, individual coating

of quality. The installation of the

ROBUSeco also opens up an additional

business segment for Bantli. The

carpentry business can now offer

cost-efficient contract work in the

coating field to fellow carpenters.

This complements the cooperation

with colleagues in the field of parts

production.

VERSATILE EXPANSION OPTIONS

Robert Buerkle entered the spray

coating segment with its first

machines in 2017. The company from

Freudenstadt, Germany, has realised a

number of projects to date, ranging from

stand-alone machines to automated

batch-size-one lines. With the flexibility

of the ROBUSeco spray coating concept,

workpiece materials and their geometry

are of little importance; a customised

edge spray gun, for example, was

developed for the Bantli application.

High edges, which regularly occur when

coating doors, can thus be coated in

ideal quality.

1

With the combination of automated

surface finishing and the traditional

manual spraying station, Bantli now

sees itself well positioned for the near

future in this area. "Since we started

producing with the ROBUSeco, we keep

discovering more possible applications

that we had not even thought of

before. Buerkle proves to be a partner

who is always prepared to make

appropriate adjustments, extensions or

conversions," Bantli stated.

In his experience, even the software

adaptations that usually become

necessary for the quite complex plant

are in good hands with the Buerkle

specialists. "So far, they have found a

solution for every requirement," Bantli

concluded. P

This article was first published in

Schreinerzeitung and is reproduced

here with permission.

2

3

Legend

1 Cross conveyors

automatically

retrieve

workpieces from

the rack trolleys

2 Manual removal

of finished coated

workpieces from

the rack trolley

3 With the new edge

spray guns, even

high edges can be

coated

Panels & Furniture Asia | November / December 2022 29
---
PRODUCT HIGHLIGHT

woodCommander 5:

Simpler, faster and more

cost-efficient production

Relevant parameters

are displayed, and

preview images

based on 3D

simulation enable

faster programme

changes

HOMAG has launched a new generation

of software to boost the performance

and productivity of their EDGETEQ

S-500 machine. woodCommander 5,

an upgraded version of the previous

system, is now available to offer users

additional internal and external options

for data exchange.

woodCommander 5 is designed for

the quick selection of machining

programmes and edge material,

and enables the fast recording of

production parameters as well as

the workpiece-oriented creation of

machine programmes. The software is

recommended for operators who need

to run various programmes for their

product range through the edgebanding

machine.

According to HOMAG, customers who

have tried woodCommander 5 reported

that it is easy to find their way around

the software. Fewer clicks are required

to produce the desired edging results,

since the software groups the levels of

information in an intuitive way. Relevant

parameters can be displayed depending

on the situation, and preview images

based on 3D simulation enable faster

programme changes. Especially for

EDGETEQ S-500, where its automated

production requires a lot of parameters,

all of the production meters are visually

displayed, so operators need not

memorise anything to use the software.

woodCommander 5 also ensures that

the first test edgebanding workpiece

comes out as accurate as possible,

true to the operator's desired results.

This allows savings in real-time

production and costs, since there

are fewer faulty test pieces. The 3D

workpiece simulation, the display

of the dimensions directly on the 3D

workpiece, and the automatic check of

impermissible parameter combinations

also ensure a high level of operating

safety. Additionally, with the operatorspecific

arrangement of parameters and

the integrated user rights management,

personnel have more flexibility when

operating the edgebanding machine.

Widgets, such as for programmes or

edge material, aim to simplify the

handling.

EDGE DATA PLUG-IN MODULE

The woodCommander 5 also comes

with an edge data plug-in module,

which creates a connection between

the machine control unit and the

Edgeband Management Set, HOMAG's

edgeband assistant that keeps an

information overview of the edge

material and material stock. The

plug-in transfers data such as edge

30 Panels & Furniture Asia | November / December 2022
---
PANEL PRODUCT MANUFACTURING

HIGHLIGHT

From left: IMAL Belt

Dryer; GLOBUS OSB

Strander

glue blender. Hence, the gluing area contaminants potentially inside the mat, the top surface. A double diagonal saw

may be certified as ATEX 22, where an thus protecting the steel press belts produced by IMAL cuts the master panel

explosive atmosphere from a mixture of

combustible dust in the air is not likely

from damage.

to the size required after it has been

pressed.

A visual display of the

edge data plug-in module

to occur.

At the infeed to the press, the

thickness, edge height and available length Dynasteam when system recording is fitted the to edgeband inject data, thus A board saving weighing operator scale with and other users in work preparation

In of addition the selected to the edge mat weighing roll from scale the edgeband steam into time the and mat minimising to reduce possible the input errors. thickness gauge and and purchasing, blister detector simplifying stock management

and assistant moisture application meters, an to x-ray the edgebanding

operated press factor Furthermore, and achieve the a data better transfer is not manufactured a one-way and by IMAL production is installed for operators.

in the

system machine. is installed on the forming line,

called PSD 400 or Power Scan Device. It

distribution street of — the the heat. edgebanding In the case machine of also after-press reports area. The company declared

LSB production, the remaining a second length Dynasteam of the edge roll that back it to has installed Currently, approximately woodCommander 5 is only available

controls For the operator, the weight this per minimises area of the the mat need for is installed the to edgeband "iron" the assistant. strands, This so means that 870 thickness the gauges for EDGETEQ worldwide S-500, with but it might be available for

utilising manual x-rays, and redundant and detects intermediate any foreign steps that small edge particles stock will may be be up applied to date to for the machine over 7,000 measuring other EDGETEQ heads. The machines IMAL in the future. P

CONTI-SCALE X

Non-contact Panel Scale

Measurement of area weight

GERMAN TECHNOLOGY

Calculation of panel weight

Required space for installation

only 335mm [13.2"]

WIDE RANGE OF MEASURING SYSTEMS

FOR ENGINEERED WOOD PRODUCTION

www.electronic-wood-systems.com

Panels & Panels Furniture & Furniture Asia | November Asia | March / December / April 2022 31 37
---
PANEL MANUFACTURING

2022: A year rich

in achievements

CMC Texpan, a wood-based panel

manufacturer, and part of the Siempelkamp

Group, celebrated its 60th anniversary

earlier this year. In light of this, the company

recounts all of its achievements over the year.

was physically launched at Xylexpo.

This system can be installed inside

LYNX as an expansion or as a single

device to allow the classification of

different wood composites, such as

particleboard (PB), medium-density

fibreboard (MDF), wood chips and

oriented strand board (OSB). With the

implementation of artificial intelligence

(AI) algorithms, Speed Classifier is

able to predict the area and geometric

barycentre of the examined samples,

simultaneous to the type classification,

while they are carried on the LYNX's

conveyor belt.

Another system introduced during

Xylexpo was a system based on THz

technology (Fig. 3) to measure the

density profile of the wooden panels

and mats, in real time and with

"non-contact" technology applicable

for various types of wood and mat

heights. Moreover, it is possible to

install an additional device that has

the capacity to identify humidity

gradients. With such systems, it

is possible to collect information

regarding the quality and repeatability.

With respect to other systems present

in the market, the THz technology

is not "dangerous", and permissions

or particular authorisations are not

needed.

Fig. 1: The glue

kitchen system

Located in Colzate, Italy, CMC Texpan

celebrated its anniversary on 26 Mar

2022, with a speech by the president

Paolo Gattesco on the importance of

teamwork and team spirit. To leave a

tangible memory of this milestone, the

company gave an elephant made of

wood and metal to all its employees.

This present stood for solidity, majesty

and impressiveness — characteristics

of what CMC Texpan strives to be — and

in overall for what represented the

Siempelkamp group for the company.

The elephant also symbolised longevity,

health and happiness.

From 12-15 Oct, CMC Texpan

participated in the Xylexpo fair, which

took place at Fiera Milano-Rho in Italy,

to signal its presence in the furniture

industry. During the exhibition, the staff

members met their partners from all

around the world, and their customers or

potential clients to give the information

regarding CMC Texpan's range of

machines, to explain its products and

services, and last but not least to give

technical support clarifications.

During Xylexpo, CMC Texpan emphasised

one of its latest products: the LYNX

sorter. LYNX is a compact and versatile

technology for the detection and removal

of contaminants. It is specially designed

for the removal of pollutants.

Another of CMC Texpan's latest CMC

technology, the Speed Classifier (Fig. 2),

CMC Texpan also has experience in

glue blenders, particularly in designing

and manufacturing blenders with highand

low-speed execution. High-speed

glue blenders represent a conventional

technique that was, and still is, in

some plants appreciated for their

compactness and cost-effectiveness.

However, to preserve the geometric

shape of the particle, CMC Texpan's

low-speed blenders reportedly reduce

the particle impact and fragmentations

with a decreased peripheral speed of

the mixing tools. The mixing chamber

walls of the blenders can be equipped

with ceramic or tungsten carbide

coating to reduce wear problems and

ensuring longer operation life. For

the production of unique panels like

ultra-particleboard (U-PB) or sandwich

32 Panels & Furniture Asia | November / December 2022
---
PANEL MANUFACTURING

Fig. 2: The Speed Classifier

Fig. 3: The THz

particleboard (SPB), different configuration

or dedicated arrangements of the blenders

are also available to salvage the geometric

shape of the flakes and, consequently,

increase the mechanical proprieties of the

boards.

CMC Texpan has also designed and patented

a magnetic coating system named Mag Shell

(Fig. 4). This system is composed of metal

sectors with tungsten carbide coating applied

in the mixing chamber of the blenders.

The scope of this system is to recover the

worn mixing chamber without having to

replace the complete machine. The system

is also composed of magnetic sheets with

tungsten carbide coating surface, which will

be in contact with the wood flakes inside the

mixing chamber. This system includes strong

magnets when combined one another, but

not any more harmful or dangerous than a

normal magnet — in fact, in this case, CMC

Texpan claimed that the airfreight shipment

of Mag Shell is typically approved. In case of

wearing over time, CMC Texpan said that the

system allows for a possible fast and easy

replacement of the single sectors. As such, it

is economical and fast to revamp an existing

worn-out machine.

CMC Texpan also has a glue kitchen (Fig. 1),

which consists of a storage, allowing for

the dosing of the different components of

the glue mixture according to the present

throughput values. The glue mixture is made

up of the glue additives, such as hardener,

Fig. 4: The

Mag Shell

urea, paraffin emulsion, water, polymeric

methylenediphenyl diisocyanate (PDMI)

and dyeing agents. The glue kitchen system

can be integrated with dusty or granulated

additives too. Compared to the conventional

and common systems present on the market,

CMC Texpan's new glue kitchen aims to be

economical, all-purpose and undemanding

with very low maintenance. The main phases

of the glue kitchen system are preparation or

storage, and dosing.

The storage of common additives is made

using tank with agitators and filtering group for

the components, so as to remove encrustation

of the foreign bodies. During the dosing phase,

there is a combination of mass-flow mater and

magnetic flow meters depending on the product

used. It is possible to ensure a precise and full

control of the regulation and the metering with a

dosing pump powered by a frequency converter

and with pressure sensors and an automatised

valve. Separate metering of every component

and static mixer ensure a correct mixing of all

the glue mixture. CMC Texpan's glue kitchen

system can be also fitted with a transparent,

graduated vessel used for instrument calibration

during start-up. Directly controlled and

managed by a programmable logic controller

(PLC), the vessel can be used to run verification

tests on every component without stopping the

production. P

Panels & Furniture Asia | November / December 2022 33
---
FURNITURE MANUFACTURING

Defect detection

in batch-size-one

production

Around 98% of Hali furniture is delivered

to the customer fully assembled.

However, inspection only at the end

of production also means that any

defects in the individual workpieces are

noticed late. This causes a stir, since the

remanufacturing will be a rush so that

the delivery does not stop completely. In

addition, such a rush job at Hali cannot

run through the variant production line

with the corresponding recording in the

waste optimisation, but is automatically

a part for the make-to-order production

to be available again in time. All these

were disadvantages that Hali no longer

accepted.

Mario Helfenschneider, production

manager at Hali, commented:

"Discovering surface defects only during

furniture assembly was a problem

and economically a great loss for the

company. That was why we thought

about how we could improve the

situation. And we came up with the

idea of having the parts inspected

automatically by a scanner during the

ongoing process so that defects were

noticed much sooner."

When workpieces pass automatically

through a production process, defects

are usually noticed late — namely, only

when an employee is involved in a visual

inspection, unless, an inspection system

performs this task during the ongoing

process. Office furniture manufacturer

Hali has decided to go this route and

invested in a system from Baumer

Inspection.

Hali's production in Eferding, Austria

takes place in a showcase production

facility, and has efficient, interlinked

production facilities with decoupling

buffers in Europe. The company

aims to produce at a high quality in

batch-size-one. For this purpose, the

individual workpieces do not pass

through production labelled; instead,

prefabrication from cutting to the

drilling line is data-based. This means

that each workpiece passes through

the process steps of production as

pre-programmed data record with

individual information, and is not

'read in' anew by each machine so

that it can set itself up individually for

processing.

Yet, despite how advanced its

processes are, Hali has invested in a

ColourBrain Furniture 4.0 scanner from

Baumer Inspection to detect defects

on the workpiece surfaces earlier. This

is because low manpower production

means that the workpieces are only

inspected by employees at a late

stage in the value chain. At Hali, this

is usually not until assembly, shortly

before loading and delivery, which is

largely carried out by employees.

In 2019, there were initial discussions

with Baumer Inspection for their

ColourBrain Furniture 4.0 system

and also competitors at LIGNA, the

international woodworking trade show

held at Hanover, Germany. However, it

became apparent that Baumer's system

was the ideal fit for Hali.

"There were clear knockout criteria

for other systems at an early stage, so

our choice fell on the Baumer system,"

said Helfenschneider. "For example,

in terms of material colours and also

workpiece thicknesses. At Hali, we are

talking about batch-size-one production

with around 1,200 parts per shift, where

hardly one part is the same as another.

Since we wanted the scanner to detect

at a normal line speed, other systems

reached their limits. The illumination

and camera settings from one part to

the next, for example, was a challenge,

as was the thickness change-over to

guide a thinner 16mm part through the

34 Panels & Furniture Asia | November / December 2022
---
FURNITURE MANUFACTURING

system just as reliably and without vibration

after a thicker 25mm part. In addition, a wide

part with 1m could also be followed by a very

narrow one with 30cm.

"In any case, all adjustments from transport

to camera settings must be made in fractions

of a second, and not every scanner could do

that. The resolution quality of the images was

also not the same for all suppliers, and we

had determined for ourselves that we would

digitally recheck the parts marked as faulty on

the screen."

Helfenschneider and his team fiddled to find

the ideal position for the scanner within the

interlinked plant. In the end, they decided

to place ColourBrain Furniture 4.0 between

the edging line and the picking warehouse.

"At this point, it was still a good time in the

value chain and in the overall process flow

to be able to react. On one hand, the part

had not yet been finished, and on the other,

the picking warehouse held about a day's

production directly after the scanner until it

was then outsourced, drilled and assembled

according to the order. This meant that we had

enough time to inspect the part that had been

marked as defect and, if necessary, to initiate

remanufacturing. This was then automatically

included in the next day's waste optimisation

and ran normally via variant production.

Ultimately, we now have savings of between

40-50% as a result."

The scanner inspects both the top and bottom

of the workpiece in a single pass and provides

feedback as the part continues on its way to

the picking warehouse. Hali decided against

a 360° inspection, even though the Baumer

system could handle this as well, since there

were rarely problems in the edge area. They rely

on employees to check edging lines instead,

according to Helfenschneider.

SHORT INSTALLATION TIME

After the initial contact with Baumer Inspection

in May 2019, the project was concretised and

visits were made to the scanner manufacturer

at Lake Constance. The inspection system

was delivered in July 2020 during the

summer vacation period. Nevertheless, it

was a huge task for Baumer, because variant

production had to be shut down accordingly

for the installation of the scanner. With good

preparatory work and preliminary acceptance

at Baumer in Constance, everything went

quickly and smoothly. In the end, it was less the

installation than the individual connection that

became a challenge for Baumer.

Stefan Eisenkohl, head of sales and marketing at

Baumer Inspection, recalled: "The production of

Hali with connection of the scanner was special

in that the parts passed through data-based.

This meant that we had to integrate the scanner

into HOMAG's production control system of

the entire plant by means of an interface. This

was because it was necessary for the scanner

to provide each data record with an individual

description after the scan if a defect was found.

At a later point in time, the system operator used

the digital image to check whether the part really

had a defect.

"In principle, he had three options: He could

release a part because the error message was

due to, for example, contamination by dust,

which could be easily removed, or he ordered a

remanufacture because it was actually a scratch

or similar surface defect. If he was unsure, he

could also enter the information that another

visual inspection must be carried out. It was

important to attach all the information digitally

— cleanly programmed interfaces were the basis

for this. We did not have something like this with

every new plant; this form of software linking

was new territory for us."

All these worked to Helfenschneider's

satisfaction: "The plant functionality we had

imagined established within one month. The

difficulty lay in setting the quality individually

according to our requirements. In the end,

it would be of no use to us if parts were

permanently marked as defective where there

were no real defects and an employee then

had to check them using a scanner image.

Conversely, we did not want the machine

to measure so laxly that real defects slipped

through and we were back to square one.

"In this respect, the step from installation to

regular operation with exact detection was

almost the trickiest. We have defined guidelines

with templates that show which defect was

acceptable to what extent at which location,

and where it was not. On a front or a table

surface with uni-decor, for example, a maximum

defect of 0.2mm 2 might occur on an area of 1m 2 .

Basically, a part was given its 'personal' quality

zones in the data record. And all this was already

pre-set for the scanner. But we had to get there

first; not every detail could be clarified despite

professional preliminary acceptance of the

system."

The inspection system finds various defects on furniture parts with a high hit rate

AI DEPLOYMENT FOR IMPROVED INSPECTION

Helfenschneider was hoping for another

leap in defect classification from this further

development so that, for example, dirt that

needed to be removed is also recognised as such

and no longer led to an error message and timeconsuming

visual inspection by an employee.

Panels & Furniture Asia | November / December 2022 35
---
FURNITURE MANUFACTURING

"First, we had a lot of chip generation in

upstream processes that could not be

completely removed from machining,

even with very good extraction. Then

it was a matter of cleaning the parts as

close to detection as possible — brushes

and also cleaning fluid were used for

this. The brushes could not be kept

100% clean in ongoing production, and

the liquid did not evaporate optimally

every time. And we already had a

breeding ground for contaminants or

even detect streaks on the workpiece

due to remaining moisture. In our case,

the path to the scanner tended to be a

bit too long, and this could cause dust

to settle again. The system should be

able to detect this in the future. It was

the same with labels. We did not actually

use them. However, it was possible that

parts from the residual board storage

were included in the waste optimisation,

which were given a label for storage. This

label, or even a piece of it, should also

not lead to an error message."

Eisenkohl added: "The classifier for dirt

detection that we are currently working

on is a lever for all companies to further

improve the accuracy of a 'real' error

message in the future. We are already

doing well, but we want to work with

customers like Hali to improve system

performance even more. And experience

shows that most detections are caused

by contamination; large scratches in the

surface are rather rare."

A scanner also has its limitations. Labels

are a problem, because they can conceal

surface defects. Even high-gloss surfaces

with protective films cannot be detected.

Nevertheless, Hali is satisfied with the

results, as Helfenschneider declared:

"Before we got the inspection system,

we detected about 40% of rejects in the

machine area and 60% of the defects

precisely when the furniture was

assembled. Now, in more than 80% of

the cases, we find the defects already in

the parts production. And this increases

our potential enormously."

Since the system was installed, the

scanner has already helped to detect

machine problems and minimise them

at an early stage. A bent collet chuck on

the saw has left distinctive marks at a

specific point on the workpiece surface,

and with the error messages and digital

recordings, the problem is found and

eliminated.

DETECTION PERFORMANCE

STATISTICS

The Baumer scanner also helps

with general quality control vis-à-vis

suppliers. Helfenschneider described:

"Even before we got the ColourBrain

Furniture 4.0, there was documentation

of defects to prove that the material

was already of inferior quality upon

delivery. Based on these records, we

even launched a quality offensive in

2017 in the direction of our suppliers.

In general, the quality we receive is

now right. But with the scanner and

the digital recordings, it is now much

easier to create a good 'defect log'. This

is because Q-Live, a tool in Baumer's

plant software, allows companies to

obtain comprehensive statistics on

detection performance. While we cannot

necessarily trace a defect back to a

specific wood-based panel, we can at

least trace a batch."

Helfenschneider also praised the

Baumer scanner's user-friendliness:

"Maintenance and servicing take up only

a small amount of time. For what the

system does, this part is unproblematic

and easy. We are also able to configure

and set up everything ourselves, so

we do not have to contact Baumer for

every action. In addition, the range of

individual setting options is enormous."

The easy handling of the system also

refers to the detection of new decors,

as Helfenschneider reported: "There

are already enough possibilities given

on the part of the software. We only

have to 'categorise' a decor, whether

it is smooth or textured, light or dark,

plain or patterned. So, any number of

new decors can be added. We could

not afford to train the plant with a new

decor over a long period of time first: If a

customer ordered furniture in a special

decor, which we consequently ordered

from the supplier for the first time, then

we must be able to programme it in and

make it 'scannable' within a very short

time so that production ran efficiently.

Alternatively, we could exclude these

parts from detection. But then such a

system would not be worthwhile. We

already wanted to inspect 99.9% of all

parts."

Eisenkohl elaborated: "There are usually

a maximum of 12 categories for grouping

a workpiece or decor. This is exactly

what makes our systems so applicationoriented

— there is no need to teach

600 decors if there is a large variety in a

company. Instead, the system brings a

really large amount of knowledge to the

table to reliably find the defects in the

most diverse decors."

Such close cooperation with new tasks is

beneficial for a machine manufacturer,

because it moves the plants forward in

the long term. Eisenkohl concluded: "The

scanner project for Hali was another leap

for us in terms of gaining know-how. This

will benefit other customers with similar

requirements in the future. With Hali,

we were very fortunate to have access

to certain data from the company in

detection during the project. Analysing

the faults we found and assessing the

stability of the system gave us another

boost. We rarely get that much insight,

especially after installing a scanner." P

The article was first published in

Möbelfertigung by Doris Bauer and is

reproduced here with permission.

The Baumer scanner

is located in the

variant production

line at Hali and

detects all furniture

parts at normal

throughput speed

36 Panels & Furniture Asia | November / December 2022
---
FURNITURE MANUFACTURING

Ways to improve

the quality of

edgebanding

equipment accuracy and technologies.

The company focuses on EVA, PUR

adhesive, hot air banding, laser banding

process, striving to provide high-quality

edgebanding solutions for furniture

enterprises.

Continuous development of the

furniture industry and improvement

of people's quality of life have led

to higher expectations of furniture

quality by consumers, and wholehouse

customised furniture and

custom-made concepts have

become a trend. In the face of new

furniture concepts and technologies

put forward by businesses, the

edgebanding effect for consumers

is arguably the most intuitive and

easiest factor for them to judge

the quality of furniture, apart

from different design styles. Ideal

edgebanding includes aesthetic fitting

and firm pasting, smaller colour

difference and glue seam between

edgeband and the panel, as well as

smooth and flat corners, making the

panel look like a whole board with

minimised traces of processing. In

essence, the quality of edgebanding

directly affects the overall aesthetics

and durability of the furniture.

Various factors such as edgebanding

machinery, edgeband, melt adhesive,

boards, and process will have an

impact on the final banding effect.

Currently, the edgeband and

workpiece joining process usually

includes ethylene vinyl acetate (EVA)

hot-melt adhesive, polyurethane

(PUR) hot-melt adhesive, hot

air banding, and laser banding.

Nanxing Machinery, for the past

25 years, aims to keep enhancing

HOT-MELT GLUE: DOUBLE PRE-MELTING

GLUE APPLICATION SYSTEM

With low cost and low technical

threshold in woodworking equipment

and materials, traditional EVA hot-melt

adhesive banding still dominates the

market. The glue pot adopts the glue

taking method of absorbing glue on

the glue wheel. The glue pot has a large

capacity, and the glue near the glue

shaft will be consumed first, and the

remaining glue will be heated repeatedly

in the pot, which is prone to scorch

and discolouration , and impacts the

adhesive's performance and aesthetics

of the glue seam. Using Nanxing's premelting

glue application system, a part

of the hot-melt adhesive is preheated to

a certain temperature in the pre-melting

glue box above. Then the pre-melting

glue is injected into the glue tank below

for a short period of heating through

motor control according to the amount

of glue needed for the board, before the

glue is applied directly to the workpiece.

Repeated heating is avoided. The

50mm-diameter gluing roller also has

a heating rod in the middle, ensuring

better control over the temperature and

amount of glue applied. The glue can be

melted and used immediately to keep

the hot-melt adhesive, thus ensuring

an optimal performance at a proper

Panels & Furniture Asia | November / December 2022 37
---
FURNITURE MANUFACTURING

temperature. Such a method

ensures a stabler edgebanding

quality and more even gluing.

Compared to conventional glue

application method, the glue line

is smaller and more aesthetic,

the glue supply is large, and the

heating is fast.

In addition, white boards and

dark boards are used in furniture

production. Typically, white

boards are matched with white

edgeband and white glue, dark

boards with dark glue. The

consistent colour matching of the

banding material can enhance the

integrity after banding, making

the glue lines less visible. For this

reason, the design of the double

glue pot in Nanxing double premelting

glue application system

edgebanding equipment such

as NB7PCGM-PC and NB7CJM

reportedly achieve rapid switching

between dark- and light-colour

hot-melt glue for colour matching

with the workpieces and

edgeband, thus saving time for

machine adjustment. There is also

a narrow version of the automatic

edgebanding machine NB7CJMN

with double gluing system, and

the short-end corner rounding can

achieve a minimum processing

width of 45mm, which not only

realises switching between two

kinds of glue colours, but also

solves the problem of narrow

board and end edgebanding.

PUR GLUING SYSTEM

For PUR, adhesive molecules

and water molecules in the air

react to form an irreversible

adhesive-linked curing structure,

resulting in a more solid

and durable adhesive layer.

According to Nanxing, due to the

characteristics of PUR adhesive,

PUR adhesive edgebanding

achieves better performance

in water resistance, corrosion

resistance, durability, cold

resistance and long preservation

after an irreversible curing

reaction in the production of

panel furniture. Compared to EVA

hot-melt adhesive, the amount of

glue applied is about one times

less, the texture is relatively thin

after melting, and the glue line

is smaller, about 0.03-0.05mm.

The glue lines are reportedly

barely visible to the naked eye

after matching of the same colour

system — that is, white plates with

white glue, and dark plates with

dark glue. The bonding strength

is also several times higher than

traditional hot-melt adhesives, and

it has performance advantages

in scenarios with relatively high

temperature and humidity such

as bathrooms and kitchens. The

method is now being adopted

by more and more furniture

manufacturers to improve the

quality of edgebanding.

Nanxing reported that all of its

top feed glue pot can be directly

installed with PUR devices. The

double gluing-pot equipment

NB7CJM, NB7CJMN and NB7PCGM-

PC can be installed with two sets

of PUR device to realise the quick

switching of dark and light PUR

hot-melt adhesive and improve the

edgebanding effect.

Some of Nanxing

Machinery's

edgebanders use a

double pre-melting

glue application

system

The NB-Laser10

38 Panels & Furniture Asia | November / December 2022
---
FURNITURE MANUFACTURING

1 1

LASER EDGEBANDING TECHNOLOGY

Currently, laser edgebanding is

the most technically advanced

process in the market and solves the

problem of glue lines with traditional

edgebanding. Laser edgebanding

comes with a functional polymer.

Through laser activation of the

functional layer, the functional layer

of the edgeband penetrates the board

fibres to form a mechanical 'riveting' to

achieve seamless banding and strong

joint strength. The whole process

is the jointing between the board

and the edgeband, and it has better

closure performance since there is no

additional glue coating in the middle,

thus improving the joint strength

and water tightness. Furthermore,

it is more environmentally friendly,

seamless, and aesthetic.

Laser edgebanding has high

requirements on the performance

and laser head of the edgebanding

machinery. Nanxing's NB-Laser10

uses advanced rectangular spot laser

edgebanding technology in China,

which has a stabler energy output,

and more even temperature control

and power density, thus reducing the

risk of coating burn and producing

quality products more stably. In

addition to one laser set, NB-Laser10

is equipped with a pre-melting glue

application unit for EVA glue, and it

can also be installed with a PUR unit

to enable EVA, PUR and laser to be

used in one machine and to switch

quickly. The laser generator, together

with its integral steel beam, servo

tape feeder and presser, servo end

cutting, servo fast corner rounding and

other configurations, can ensure high

edgebanding quality even at speeds up

to 32m/min.

Legend

1 The laser

edgebanding

process

2 Hot air banding

technology

2

HOT AIR BANDING TECHNOLOGY

As a low-cost banding solution

alternative to laser banding, hot

air sealing technology, similar to

laser banding in principle, applies

a banding strip with a pre-coated

adhesive layer, and the hot air

system sprays hot air at a high

temperature and pressure onto

the strip through a nozzle, thus

melting the functional layer and

pressing the banding strip to the

surface of the workpiece to achieve

a seamless joint between the strip

and the workpiece. Compared

to EVA adhesives, it has higher

durability and resistance to water

and high temperature, and the hot

air used in hot air systems is easier

to obtain and greener. Nanxing's hot

air system adopts a high-pressure

hot air conveying control system

from Germany, with short heatingup

time, stable performance, and

speeds of up to 20m/min. It can be

installed on automatic edgebanding

machines with pre-milling and

profiling functions, such as NB7PCGM-

PC and NB7CJ edgebanders.

In terms of the above-mentioned

joining methods between edgebands

and boards, from the edgebanding

effect, laser edgebanding is better

than hot air edgebanding, PUR

edgebanding and pre-melting

gluing edgebanding. However, hot

air banding is less cost-effective

than PUR and EVA edgebanding,

and the latter two still dominate the

market. Besides, with the continuous

advancement of edgebanding

equipment, process and materials,

as well as the same-colour system

matching between hot-melt adhesive

and panels, the gap of edgebanding

effect will become increasingly

smaller. Furniture manufacturers

should also identify product

positioning, and consider product

demand and cost in a comprehensive

manner to select the equipment

and process most suited for their

products. P

Panels & Furniture Asia | November / December 2022 39
---
FURNITURE MANUFACTURING

The role of Malaysian

Furniture Council

in improving sustainability

Can Malaysian furniture manufacturers

and suppliers adapt to the dual challenges

of advancing the industry to remain

competitive, while transitioning towards

greater sustainability in their processes and

sourcing of raw materials?

As an export-driven market, the

Malaysian furniture industry faces

a number of challenges to remain

competitive internationally, particularly

in the wake of the pandemic. The cost

and availability of raw materials, and

confronting the carbon footprint of the

industry as a whole are just a few of the

most pressing issues.

These issues emerge within the context of

a national shift towards a more efficient

and resilient Malaysian manufacturing

industry, with the Industry 4.0 policy

proposed by the Ministry of International

Trade and Industry (MITI) 1 . In addition,

the world has experienced a variety of

extreme weather events in H1 2021, and

this has magnified the importance of

sustainability in every facet of life, as well

as in international supply chains and

manufacturing processes.

RUBBERWOOD: A SUSTAINABLE AND

RENEWABLE RESOURCE

The Malaysian Furniture Council

(MFC) has introduced initiatives to

help both small and medium-sized

enterprises (SMEs) and larger furniture

manufacturers address some of these

issues. For example, it encourages its

members to source sustainable materials

where possible. The Malaysian furniture

industry has relied on a relatively

renewable and sustainable source of

wood in furniture use for decades: the

rubber tree. The wood harvested from

this tree, after decades of supplying

latex, is traditionally a waste by-product.

Malaysian furniture manufacturers were

among the earliest to commercialise the

wood for furniture use in the late 1970s,

and rubberwood now comprises over

80% of Malaysia's furniture exports.

Rubberwood is reportedly also an

efficient carbon sink, particularly in

mixed agroforestry systems where

rubber trees are planted among other

crops and trees. While studies of carbon

sequestration in rubberwood are yet to

still be fully explored, the next generation

of Malaysian scientists are taking strides

to determine rubberwood's role in

removing CO2 from the atmosphere

with the support of the MFC and the

Malaysian Timber Certification Council

(MTCC). A student from Universiti

Malaysia Sabah, Chai Lee Ting, recently

won the Freezailah Forest Sustainability

Award from the MTCC for developing

Light Detection and Ranging (LiDAR) as

a method in quantifying and mapping

the aboveground carbon (AGC) stock at

rubber plantation areas. This method

can be used to provide further insights

into the planning of rubber plantations

and the role they play in carbon

sequestration.

However, for a number of reasons,

including the length of time it takes to

harvest rubberwood — typically 20-30

years — and the impact of high rainfall

and flooding in Malaysia, the industry

cannot rely on rubberwood alone to

40 Panels & Furniture Asia | November / December 2022
---
FURNITURE MANUFACTURING

sustain the local furniture industry. The MFC

relayed concerns from its members about

the availability of rubberwood to the national

government, and the government banned the

export of raw rubberwood in 2017 as a result 2 .

SCALING UP SUSTAINABILITY EFFORTS

Forests are considered national treasures in

Malaysia, and have been, and still are, closely

linked to the socio-economic development

of the country and its people. The Malaysian

Timber Certification Scheme (MTCS) developed

and managed by the MTCC is a certification

scheme for tropical forests in the Asia-

Pacific, endorsed by the Programme for the

Endorsement of Forest Certification (PEFC).

PEFC awarded a gold medal to the MTCC for

its efforts to certify almost 1 million hectares

of forests under sustainable management

plans in 2020 alone. Malaysia is now home to

over 5,600,000 hectares of certified forests 3 ,

which remain productive for the economic

development of the forestry sector while

protecting the natural ecosystems that exist

within these forests.

Certification schemes ensure that timber and

non-wood forest products derived from these

areas are sourced sustainably, allowing the

forests to regenerate naturally at a rate that

does not deplete or degrade them over time.

PEFC certification can also help protect water

catchment areas, conserve the environment

and animal and plant biodiversity living within

forests, as well as improve the economy of local

communities which depend on forest products

as a source of their livelihoods. In line with

the country's sustainable forest management

commitment 4 , the MTCC plans to add 10 more

forest management units (FMUs) by 2025 5 ,

potentially representing hundred thousand

hectares of protected forests.

MFC'S ROLE

Electricity consumption among manufacturing

industries in Malaysia has grown at an annual

rate of 3.5-4.5% and constitutes roughly 40% of

the total energy consumption of Malaysia. The

MFC, through its subsidiary Export Furniture

Exhibition (EFE), has sought to address this

problem at the source by promoting the use

of solar power and supplying solar panels to

its members to trim the generation of fossilfuel-intensive

electricity. The generation of

electricity through solar panels is not only

environmentally viable but also cost-effective.

A study in August 2021 by United Overseas Bank

(UOB) Malaysia indicates that a typical solar

photovoltaic panel installation on commercial

or industrial properties will potentially help

businesses save 25% in electricity cost.

CLEANER AIR

On the manufacturing side, the MFC has

encouraged its members to adopt the use of E1

standard particleboards in lieu of the oftenused

E2 standard particleboards. E1 and E2

refer to European standards for the emission

of volatile organic compounds (VOCs) such as

formaldehyde, particularly in the adhesives of

engineered wood products. VOCs are toxic gases

that are released into homes and offices over

time and are generally considered dangerous

to human health, with links to cancer and other

health conditions 6 . VOCs may also have adverse

effects on the environment. When they are

released in large volumes during manufacturing,

they can contribute to smog and air pollution

in cities and industrial areas. E1 standard

particleboards reportedly emit just a tenth of

the VOCs that E2 particleboards do, making E1

standard boards safer for consumption.

With the MFC advocating and working towards

sustainability, the future of the industry looks

bright even in the face of challenges. The MFC

will continue to work towards a resilient supply

chain by introducing initiatives that enhance

the capacity of both SMEs and larger furniture

manufacturers to adapt and change, while

remaining internationally competitive. P

References

1. Ministry of International Trade and Industry. Industry4wrd Readiness

Assessment.

2. The Nation Thailand. Malaysian government to ban export

of rubberwood from July 1.

3. Programme for the Endorsement of Forest Certification. Facts and

figures.

4. Malaysian Timber Council. Sustainable forestry in Malaysia.

5. Malaysian Timber Certification Council. Minister calls for state

governments to increase certified forests to complement

Malaysia's sustainable forest management efforts.

6. Environmental Protection Department. Volatile Organic Compounds.

Forests are considered national treasures in Malaysia, and are closely linked to its socio-economic

development

Certification schemes ensure that timber products

derived from forests are sourced sustainably

(Image: The Green Factory)

Panels & Furniture Asia | November / December 2022 41
---
FURNITURE MANUFACTURING

Advanced

woodworking

solutions

pay off with

Jager and HOMAG

wood products: flooring, windows,

doors, and other types of furniture.

While these factories have proliferated,

some common issues exist in the

industry. Many processes involved in

manufacturing are still labour-heavy

with little to no machine assistance,

resulting in production bottlenecks,

defective products and the lack of

skilled workers.

HOMAG, a global provider of

integrated woodworking solutions,

has been providing machines and

software that have helped multiple

Asian companies rely less on

manpower and transition towards

automated processes. This is also

useful for manufacturers as many

prefer to access data logged by their

machinery; understanding production

metrics helps them set and achieve

KPIs, ultimately increasing efficiency.

Another emerging industry trend is

a shift away from mass production,

necessitating manufacturers to move

down to batch-size-one production.

Consumers prize customisation — after

all, who would not want something

uniquely made for them? Furniture

is no different. Order volumes have

shrunk from 100-500 pieces in the past

10 years, to 5-20 pieces.

The rise of Industry 4.0 or the fourth

industrial revolution has changed the

face of the field of manufacturing with

the use of autonomous systems driven

by data and machine learning — Internet

of Things (IoT), cloud computing,

analytics, and artificial intelligence (AI),

among others. It creates greater value

with data gleaned from production and

operation. It brings to light insight from

areas such as supply chain, customer

service and other enterprise systems,

which would have in the past remained

concealed. These smart factories

feature higher automation, predictive

maintenance, self-optimisation in

terms of processes as well as greater

efficiency and responsiveness to

customers. Flexibility in production is

also a highly prized effect of Industry

4.0.

These are especially true for small,

medium and large enterprises in South

East Asia.

COMMON MANUFACTURING TRENDS

IN THE INDUSTRY

Many of these manufacturing plants

cater to interior designers, fit-out

contractors and end users, and they

focus on the design and fabrication of

With batch-size-one production,

manufacturers have flexibility.

Automated machines make for a less

cluttered factory floor and encourage

skilled workers who might otherwise

leave for other manufacturing

industries.

Finally, as Asian companies look into

phase-by-phase growth, HOMAG

presents itself as an industry partner.

Jager, a Vietnamese furniture

manufacturer, is one such company

that has teamed up with HOMAG,

trusting the woodworking machinery

manufacturer to guide them through

their business expansion and

journey into advanced woodworking

automation.

42 Panels & Furniture Asia | November / December 2022
---
FURNITURE MANUFACTURING

PROUDLY VIETNAMESE

Jager uses technology whereby customers can

determine how their space is designed and

furnished without spending excessive time in

communication between furniture maker and

client. With this, the company aims to lead the

domestic furniture market and export to other

countries. Their clientele includes real estate

corporations, designers as well as individual

customers.

While maintaining their production, Jager

strives to incorporate "Vietnamese values and

pride" in each and every piece of the furniture

they make. They place a premium on beauty

and perfection, especially as the company

promises their customers a "high-class living

space" and "high living quality".

MODERNISING MANUFACTURING

Apart from their company's goals and vision,

Jager commits and invests in woodworking

automation. Le Quon Khanh, CEO of Jager,

recognises the need for technology in this

business. Jager's first factory was equipped

with a panel saw, edgebander and computer

numerical control (CNC) system but when he

was planning for his new factory, he knew

he had to invest into a new, more automated

production to cater to the lower batch

environment. This commitment paid off.

"In 2009, I started research and learning in the

industry from my experiences doing business

with clients and handling previous projects,"

Khanh shared.

Aiding them in their technological journey was

HOMAG, which the CEO of Jager described as a

"key partner" and "one of the best decisions"

that the company had made to develop their

products successfully. He is proud to call Jager

a "modern, new-generation manufacturer".

When Khanh set out to build his business,

he made his decisions based on two key

objectives: to create a company not dependent

on manpower, and to nurture one that

promotes effectiveness and sustainability.

HOMAG's machines and solutions have helped

him with respect to these objectives.

Among HOMAG's products that have

improved their manufacturing processes are

the STORETEQ S-200, a horizontal storage

system; SAWTEQ B-300, an integrated panel

saw; CENTATEQ N-300, an integrated CNC

nesting centre and another SAWTEQ B-300 as

an external panel saw. Other machines the

Vietnamese manufacturer utilised are HOMAG's

Legend

1 Industry 4.0 ensures

greater value with

data gleaned from

production and

operation

2 Jager aims to

create a company

not dependent on

manpower, thus

enlisting the help of

HOMAG's automated

products

3 With automation,

understanding

production metrics

can help companies

set and achieve KPIs,

ultimately increasing

efficiency

2

edgebanding machine EDGETEQ S-380 with

return conveyor belt LOOPTEQ O-300; and

the routing and drilling processing centre,

CENTATEQ P-110 and DRILLTEQ V-200.

Jager's ongoing transformation reflects

not just the impacts of Industry 4.0, but the

potential that technology and automation

have on manufacturing, production, and

distribution in various industries.

GROWING WITH CUSTOMERS

HOMAG strives to design its machines and

solutions with Asian markets in mind. Jager's

success and continual progress are not

only a reflection of how HOMAG commits to

helping its customers expand, but also proof

that manufacturers can grow and flourish

when they make the right investments in

automation and advanced woodworking

solutions. P

1

3

Panels & Furniture Asia | November / December 2022 43
---
MATERIALS

On market diversification

and educating new markets:

A conversation with AHEC

The American Hardwood Export Council (AHEC) has recently

concluded their appearances in Vietnam and Bangkok timber

events. We speak to Michael Snow, the executive director of

AHEC, on the current hardwood market outlook, the council's

strategies for diversification and education, and what

sustainability means to them. By Yap Shi Quan

This year started out strong, but now,

the last two or three months were

bad. Prices are going down quickly,

lots of people in the industry are

sitting on too much inventory. It is not

helping in Europe with what is going

on, the energy prices and inflation,

and housing markets slowing down

everywhere, whether in China, the US,

or Europe. And these are usually big

drivers of demand. So, I think we will

be looking at probably, at least, six

months of difficult trading conditions.

DIVERSIFYING THE MARKET

How was the recent convention by

AHEC in Bangkok?

Michael Snow: We were pleasantly

surprised. We were hoping for maybe

150 people, and we ended up with

more than 200. We had 30 American

companies that travelled with us, which

was good too, given the problems in

the industry now with low prices and

a difficulty in selling stock anywhere. A

lot of them came [to Bangkok] to find

new customers, and we already know

from several members that they made

sales during the convention. From that

perspective, I think the convention was

very good.

Can you describe what the timber

market is like now?

Snow: It has been a roller coaster ride

the last two years, especially last year.

And in Europe, one of the AHEC's

biggest regions, people are worried

about how they are going to afford

to keep their homes this winter. So, I

do not think people are doing much

renovation work. Compared to 2021

and early 2022, we saw big increases

in demand everywhere. After being

cooped up at home during COVID, a

lot of people wanted to do furniture

and flooring, then we had a big push,

and we probably saw three years'

worth of normal home renovations

in one year. But now it is slowing

way down. We have a shortage of

truck drivers in the US, there are still

problems with logistics. Shipping is

getting better, but there is still a lot of

bottlenecks.

44 Panels & Furniture Asia | November / December 2022
---
MATERIALS

What about the demand for US

hardwoods in South East Asia?

Snow: For South East Asia in the last

couple of years, especially since COVID,

we are now selling more to the region

than we ever have. It is better than it

was pre-COVID. Vietnam is one of the

biggest markets in South East Asia for

us, and of course, Indonesia, Thailand,

and Malaysia.

your exports go to one country. That is

one of our biggest goals right now, to

start developing other markets, even

if they are small, which is why we are

going to South Africa, Algeria, Morocco,

the Middle East, Saudi Arabia, among

others. If we can spread the risk over

to more than one country, any trade or

real war will not impact the business

much.

The other thing we are seeing that is

exciting for us is Vietnam moving up

the value chain. If we look back to

2017, more than half of what was sold

to Vietnam was yellow poplar, which

is the least expensive wood in the US

that we sell internationally. Now they

are using less of that, and much more

white oak, red oak, and walnut than

before. They are no longer looking to

be the cheapest manufacturer. They are

moving up the value chain and making

more expensive, higher-end furniture.

And that is good for us too, because we

need to sell a bigger spread of species,

and the spread to Vietnam now is more

even.

What kind of markets is AHEC trying

to expand into to promote the use of

US hardwoods?

Snow: We have been focusing a lot on

India. We still have a small percentage

of the Indian market, so that is one area

where we see a lot of growth. We have

also been looking at North Africa, like

Algeria and Morocco. We are trying to

find more smaller markets to pick up

some of the slack from the declining

market in China, such as Brazil, and

a little bit in Colombia. So, we are

reaching out a little more into South

America. And Mexico continues to grow

very much. I was in a show in August

in Guadalajara, Mexico, where a lot of

the furniture is made. A big part of our

promotion is the nearshoring in France

too. There are also a lot of Taiwanese

looking to invest in the US market.

Our main focus now is to diversify

our markets as much as possible. We

learned a big lesson with China, that

it is a problem when more than half of

EDUCATING THE MARKET

What strategies does AHEC have to

expand to these markets?

Snow: It really depends on the

knowledge level of hardwoods in these

markets. They need to understand first

the species, and more importantly,

the grades. Because if they do not

understand the grading rules, and they

just look at price per cubic metre, AHEC

is almost always the most expensive.

But with grading rules, certain grades

are made for certain uses. If you are

making flooring, for example, you do

not need to buy the highest grade.

We spend a lot of time on this

education with smaller markets, but

for markets that are more mature, like

Australia, New Zealand, Japan, and

Europe, that is when we try to pull

the demand by influencing architects

and designers. Our goal there would

be to influence the influences, making

architects talk about the species.

We can talk about it, but at the end

of the day, we are trying to sell you

something. An architect does not really

want to be sold something, but they do

want to listen to their colleagues, about

what they are doing.

In India, it will be several years before

we could do that. Right now, we work

directly with the manufacturers and

importers there. We are spending more

time making sure they understand

the grades, what species are good for,

what type of species or wood grades

for flooring, and others. For example,

you do not want to use poplar if you

are making flooring. So, education is

always the first step. And then you can

start talking to designers. It does not do

"The forest is growing quickly,

and that is sustainable. But for

us, we need to make sure there

is a home for all the different

species… We need to open up

the forest."

Michael Snow

Executive Director, AHEC

you any good to get architects excited

about wood if there is nobody there

that can sell to them.

Some of the countries you mentioned

grow tropical timber. How can

US hardwoods compete with the

demand of tropical timber?

Snow: The way we look at it, we do not

compete with other woods suppliers.

For us, the real competition is other

materials. In 1999, we produced the

most employment, and we had a high

domestic use of US grade lumber. But

Panels & Furniture Asia | November / December 2022 45
---
MATERIALS

more slowly, they absorb less. So, by

taking out bigger trees and allowing

smaller trees to grow, you actually get

more carbon stored in the forest. But

people often overlook the importance

of carbon stored in the wood products

made. If you make a table and pass it

down to your children, and that table

has been sitting around for 60 years,

then that really is carbon negative,

because in the time that the tree was

cut down to make that table, it has

been replaced by new trees now. And

the carbon that has been taken out is

stored in that piece of furniture.

AHEC at their

Bangkok convention,

presenting on

one of their latest

design showcases,

Discovered

now the domestic consumption is

lower because of, for example, floors

made out of luxury vinyl tile, and

we have got a lot of particleboards

and the IKEA-nisation of furniture.

Essentially, we are not making things

to last, we are making throwaway

furniture. Whether it is using French

or Canadian wood, or as long as it is

sustainably sourced, we do not look at

other wood suppliers as competition.

But we are in deep competition with

all the other types of materials.

"[OPENING] UP THE FOREST"

Given the council's past projects

with interior designers or

architects, what is the council

focusing on now?

Snow: We are looking at doing more

structural work, and we are trying to

push red oak. One of the problems we

always had with red oaks, the most

abundant species in the forest, is that

China used to buy a lot of it, so it was

not really a problem before. But now,

with the Chinese market down — and

Europeans previously never really

liked red oak — a lot of our projects

now try to showcase red oak, because

one of our main goals is to match

demand for species with what the

forest provides. That is the one thing

when you are talking about natural

forests and not plantations: You get

the species that nature gives you. You

got to create demand for what nature

gives us. Everybody loves walnut,

but walnut is 1% of the forest. Red

oak is 30% of the forest. That is a big

difference.

What does sustainability mean to

AHEC?

Snow: You got forest sustainability,

which has the growth removal ratio of

2.4:1. For every tree that is cut down

or dies naturally, we have two and

a half more trees. So right now, we

have more than double the number

of trees we had 50 years ago. The

forest is growing quickly, and that is

sustainable. But for us, we need to

make sure there is a home for all the

different species. We do not just take

white oak or walnut. We need to open

up the forest.

The second part is understanding the

role the forest and wood itself play

in carbon sequestration and climate

change. If we make something out

of wood, we will cut down that tree

and allow new trees to grow where

the old tree was. New trees absorb

carbon quicker than mature trees,

but mature trees will hold carbon

inside. As they stop growing or grow

Now we started looking at mass

timber, building buildings out of wood

instead of steel and concrete. That

also locks away carbon. Plus, mass

timber buildings go up much quicker

and there is less disruption compared

to steel or concrete buildings where

you have to dig deep foundation, with

trucks coming in and out all the time,

and the work done on-site. These

cause disruption to nearby buildings.

Whereas if you construct buildings

using wood panels, the building is

made somewhere else, brought in,

and put together — it goes up quicker.

And all of that wood stores carbon. It

will have a carbon footprint of about

1/20 of a same size building made of

concrete or steel. So, we really want

to look at it on a larger scale, and it

is something that can be done right

now.

Currently we are also working on a

new certification system, because

the Forest Stewardship Council

(FSC) and Programme for the

Endorsement of Forest Certification

(PEFC) schemes do not really work

in the US due to land ownership. So,

we are researching on certification

systems of jurisdictional certification

that looks at individual areas, and

we are seeing these systems used for

things like wood pellets, soybeans,

or olive oil, to show that this region

is sustainable. More information will

come out soon, so do look out for

that. P

46 Panels & Furniture Asia | November / December 2022
---
FLOORING

New herringbone

technology: One panel type

for simpler production

The conventional method of installing

herringbone flooring requires two

distinct types of panels, and this

raises several challenges in producing

and installing herringbone. As Floris

Koopmans, sales director IP at

Unilin Technologies, explained: "The

installation of a herringbone pattern

has one big downside: you normally

need two types of panels — left and

right or A/B panels which are mirror

images of each other — to be able to

lay this flooring pattern. The method

of using A/B panels makes installation

more difficult, and also creates a more

extensive production process, supply

chain and stock management."

To address these inconveniences,

Unilin Technologies, a researcher and

developer of solutions for interior

design- and construction-related

industries, has launched a new

herringbone installation method that

removes the need for two types of

panels, and instead uses one universal

type. Unizip, Unilin's new herringbone

technology, is their answer to simplify

the production, supplying and

installation of herringbone flooring.

Without using glue or plastic inserts,

the Unizip profile leverages on a

tongue-and-groove locking system

and positions it around the panel so

that the short side of the panel can be

locked into the long side of the adjacent

panel without having to compromise

on the locking strength. According

to Koopmans, Unilin focused on

developing a locking system that creates

strong locking strength on both the

short and long sides of the panel, while

ensuring that the panel could fit other

panels in every way possible.

Koopmans added: "After a lot of R&D

effort we developed a breakthrough

locking system that combines an

innovative design that is partly groove,

partly tongue. It is a great locking

system that can be incorporated by

48 Panels & Furniture Asia | November / December 2022
---
FLOORING

integrating some adjustments to

existing product lines."

Hence, this rules out any confusion

from using two different sets of

panels. From a logistical perspective,

producing only one type of panel

compared to two reduces the supply

chain storage and distribution

requirements. Additionally, the Unizip

profile can be integrated in the current

production process, as producers only

need one additional tool: a machine

integration for the milling machine.

This tool pushes the milling blade

forward and backwards at precise

moments.

The development of Unizip also

responds to the rising demand for

herringbone. According to Unilin,

what makes herringbone popular is

its trendy and timeless look, while

creating the illusion that a room

looks larger than it is. The developer

reported that they have seen "an influx

of interested parties" for herringbone

patterns, and "more producers have

invested in production lines for Unizip

panels".

For instance, according to a press

release by Unilin, Novalis Innovative

Flooring, a designer and manufacturer

of sustainable luxury vinyl tile

(LVT) flooring, adopted the Unizip

technology for their flooring products

and will be investing more to lead the

trend for herringbone stone plastic

composite (SPC) flooring. Another

manufacturer, Jiangsu Shengchang,

described how their turnover time

was reduced with Unizip, since only

one type of panel is needed to be

produced.

1

Unizip is available for all main types

of flooring, although it is generally

more popular with engineered wood

floors. P

Legend

1 Using Unizip rules out any confusion

from using two different sets of panels

2 Herringbone can create the illusion that

a room looks larger than it is

2

Panels & Furniture Asia | November / December 2022 49
---
RECYCLING

From wood to resource:

Market updates in

times of challenges

Trees are circular

by nature

With over 15 years of experience

in wood-based solutions and

production, Jose Matas joined

Tomra Recycling as segment

manager in 2021 to advance

the material recycling and

circularity of waste wood for

the panelboard industry. His

international experience with some

of the world's largest wood-based

producers offers insights into

the challenges and future of the

industry.

Wood is becoming an increasingly

desirable commodity, especially in

times when the market finds itself under

extreme pressure due to supply chain

shortages and high prices.

In only a couple of months, two

developments have been influencing

the status quo of the sector. On the one

hand, there is no place in the world

where the impacts of climate change

have not become evident. Whether it

is extreme heat, large-scale floods or

wildfires, climate change is quickening its

pace. On the other hand, energy prices in

Europe are on the rise and winter ahead

could lead to sky-high power bills. In

50 Panels & Furniture Asia | November / December 2022
---
RECYCLING

this article, we will look at how both the

energy crisis in Europe and the weather

extremes impact the wood industry and

how transitioning to a circular economy

can help overcome these challenges.

EUROPEAN ENERGY CRISIS

The current energy crisis, with gas prices

at record highs, has a major impact

on the wood sector. Households now

tend to turn to conventional heating

methods such as wood-burning stoves.

In Germany, for instance, where almost

50% of homes are heated with gas,

people started to stockpile wood for

fear of gas shortages 1 . For centuries,

wood has been a reliable and affordable

source of energy. To date, 50 million

homes in Europe use energy recovered

from biomass 2 . With the aim to create

sustainable energy systems and limit

resource scarcity, renewable energy

sources like biomass will only continue

to grow 3 .

CLIMATE CHANGE

It has been decades since people

heard about the urgency to combat

climate change and little has happened

to mitigate its effects. This year,

maybe more than ever before, we are

experiencing the devastating aftermaths

of climate change. Extreme weather

has significantly impacted forests and

thereby the condition and availability

of wood. Canada, which covers about

one quarter of the wood demand in the

US, is suffering from severe drought

and wildfires that disrupt the supply

chain 4 . At the same time, drought

leads to insect infestations that affect

the condition of wood and, thereby,

potentially the quality of the woodbased

products.

LACK OF WOOD

A variety of industrial and consumer

products consists of wood, and

the furniture industry is producing

wood-based panels on a large scale

to meet growing consumer demands.

Unfortunately, wood has turned into a

product that no longer grows on trees

since its demand has long exceeded the

volume Earth can naturally provide 5 . The

lack of supply has only recently been

exacerbated by the climate emergency

and the European energy crisis, as well

as the ongoing war between Russia and

Ukraine. With the start of the war, the

EU decided to stop imports including

wood and wood-based products from

both Russia and Belarus. This entails a

gap of approximately 4.5 million cubic

metres of sawn lumber annually 6 . As a

consequence, the wood-based panel

industry is exposed to challenges in

sourcing enough raw material that is still

suitable to be processed into superior

quality products.

PRICING TRENDS

Current lumber prices are a reflection

of the scope of the sector's challenges.

In Bulgaria, for instance, where the use

of wood-burning stoves is common,

firewood prices have doubled,

reaching up to €150/cubic metre 7 . In

Germany, prices for wood and pellets

have multiplied by 2.5, and pellet

production plants can hardly keep pace

in producing enough saleable material 8 .

In the US, lumber prices outperformed

those of gold and bitcoins and wood is

expected to become the most desirable

commodity 9 .

The price for non-processed wood chips

for instance shot up by 450% within the

last year. In 2021, collectors had to pay

for disposing of hazardous waste wood

but today some licensed facilities are

even rewarding waste collectors for the

material. Given the recent challenges,

prices are predicted to increase even

more mid-to-long term.

Such trends can be turned into

opportunities and incentivises us to

change the way we treat and manage

our resources.

RECYCLING ENABLES ACCESS TO

MATERIAL

When energy-intense primary

production is hampered by material

shortage and unprecedented prices,

manufacturers must find ways to

access materials to secure profits.

An environmentally friendly and

economically viable solution is the reuse

of recyclable materials. Until recently,

most wood has been downcycled rather

than being turned into recycled content

that features virgin-like qualities and

is applicable for the manufacture of

higher-grade applications 10 . If we kept

wood-based panels in a closed loop,

we can bridge the gap between supply

and demand and contribute to meeting

sustainability targets.

WOOD IS CIRCULAR BY NATURE

Wood is a circular material and trees are

a best-practice example of renewability:

It all starts with a small seed that is

planted and nurtured by nutrients

found in the soil, and the tree starts

growing. During the tree's lifecycle, it

uses nutrients from the soil to produce

oxygen with its leaves. During autumn,

the leaves fall, are absorbed by the

soil, and provide nutrients for the next

generation of trees. As this example

shows us, trees are circular by nature

from the beginning to their end of life.

Given the recent developments and the

industry's aim to make its processes

more sustainable, it is time to also apply

the concept of circularity to the end-oflife

cycle of trees.

Panels & Furniture Asia | November / December 2022 51
---
RECYCLING

ENABLING A CIRCULAR ECONOMY

FOR WOOD

To date, huge volumes of wood end up

in landfill instead of being recycled and

processed into new products. Stepping

away from linear production and

consumption towards a circular model

would enable the industry to alleviate

supply shortages and prices and save

valuable resources. To get there, we

must introduce a holistic approach

that includes the collection, sorting,

and recycling of waste wood. While

the necessary infrastructure is still in

its infancy in many countries, market

trends signal that investing in waste

wood recycling can be economically

advantageous.

Apart from the economic advantages,

a circular economy for wood is a

promising concept to reduce CO2

emissions. Production with recycled

wood emits less CO2 than processes

with primary materials. For example,

1m 3 of ready-to-market particleboard

absorbs 720kg CO2, and for mediumdensity

fibreboard (MDF), even 820kg 11 .

TECHNOLOGICAL ADVANCEMENTS

A circular economy that exploits the

full potential of natural resources

like wood depends on the advanced

cleaning, sorting and recycling of

waste wood. Whereas traditional

cleaning methods, such as magnets,

air and water separators, deliver

adequate results for smaller plants

that do not require high throughput

and purity levels, manufacturers

looking to increase recycled content

require the most advanced sorting

technology. A combination of x-ray

sorting units to remove inert materials

from waste wood and optical sensorbased

sorters for further purification

enables plant operators to unleash

new opportunities. First, they can

run high throughputs and reach new

purity levels. Second, they can create

new revenue streams when upgrading

the optical sorter with deep learning

technology. Sorting software based on

deep learning allows for the detection,

analysis and separation of different

Droughts endanger the condition of vegetation and trees

wood grades and can even recover MDF

from a processed waste wood stream.

WHAT'S NEXT

In recent years, the industry has

undergone considerable change and

made progress related to sustainability.

Infrastructures to collect, sort, and

recycle waste wood have been put

in place in countries and regions

that have recognised the untapped

potential of waste wood. With the

market introduction of smart sorting

technologies that outperform many

conventional methods, recycling has

become a promising concept for both

the industry and nature. In the future,

the wood-based panel industry will

increasingly turn to recycled wood to

access materials, develop products

of higher quality, reduce costs and

dependence on material availability,

and realise higher yields.

Once holistic approaches are

established, we must go beyond

closing the loop on particleboards

and address circularity for all types

of wood-based materials, some of

which are still difficult or impossible to

recycle. In general, the solution is quite

simple: The more wood is kept in use,

the more we protect our planet and

minimise deforestation, a factor that is

propelling climate change. There is still

a long way to go, and the imbalance of

supply and demand will not disappear

overnight, but we will get there if we

join forces and remind ourselves of the

necessity to maximise resource use

and recovery.

Do not forget: wood is good, recycled

wood is better. P

References

1. Deutsche Welle. Germany: Stockpiling wood in fear

of gas shortage.

2. The Post. Firewood: The premodern solution to Britain's

3. Renewable Energy Magazine. Biomass market growth

promoted by increasing investments in renewable power

generation.

4. CNBC. Climate change will disrupt supply chains much

more than COVID — Here's how businesses can prepare.

5. Material Trader. Cascading wood towards the circular

economy.

6. Metsä Group. Price of sawn timber settling at a new

normal.

7. Euractiv. Firewood prices, shortages spell cold winter

for Europe's poorest.

8. Deutsche Welle. Germany: Stockpiling wood in fear

9. The Atlantic. Lumber prices are off the rails again.

Blame climate change.

10. Material Trader. Cascading wood towards the circular

economy.

11. ResearchGate. Carbon shortage in wood products.

52 Panels & Furniture Asia | November / December 2022
---
STRUCTURAL ELEMENTS

Little

Finlandia

Location:

Helsinki, Finland

Architectural design:

Jaakko Torvinen, Havu Järvelä,

and Elli Wendelin, in collaboration

with Pekka Heikkinen, Architects

NRT, and Arkitekturum

Client:

Finlandia Hall and

the City of Helsinki

Building year:

2021

Structural design:

Asko Keronen

Construction:

FM-Haus

Photography:

Kimmo Räisänen, Jaakko Torvinen,

Mikko Raskinen, FM-Haus

Finlandia Hall, a venue in Helsinki,

Finland for conferences and other

events, is now flanked by a wooden

construction known as Little

Finlandia. The pavilion-like building,

offering facilities for events and

catering, is made 100% from Finnish

wood and will provide temporary

facilities during Finlandia Hall's

renovation until the end of 2024. The

building covers approximately 2,000m 2

and can host up to 800 participants.

Little Finlandia is a joint project of

the City of Helsinki, Finlandia Hall,

Aalto University and FM-Haus, and its

elements are built with Metsä Wood's

Kerto laminated veneer lumber (LVL)

products.

Panels & Furniture Asia | November / December 2022 53
---
STRUCTURAL ELEMENTS

A VARIETY OF PURPOSES

Little Finland was designed by

architects Jaakko Torvinen, Havu

Järvelä, and Elli Wendelin in

collaboration with professor Pekka

Heikkinen from Aalto University,

and architecture and design firms

Architects NRT and Arkitekturum. The

structural design of Little Finlandia

was based on the possibility of

reusing the building. Once the

renovation of Finlandia Hall is

completed, Little Finlandia can be

moved to other locations and used

as temporary facilities for schools

and day care centres, or for other

renovation projects.

1

A VERSATILE AND SUSTAINABLE

CONSTRUCTION MATERIAL

Little Finlandia is an example of

Finnish wood architecture, blending

into its surroundings. It also adheres

to the principles of sustainability

and the circular economy. Wood is

a sustainable construction material,

and the use of wooden modules

enables the building to be flexibly

adapted, ensuring it a long, useful life.

"Wood stores carbon throughout

the building's lifecycle. For example,

the Kerto LVL used in Little Finlandia

has a carbon storage of 484.5 tonnes

of CO2e," said Lassi Moisio, sales

manager from Metsä Wood.

The renovation of Finlandia Hall is

slated to complete by the end of

2024, so Little Finlandia will serve

its current purpose at least until

then. The building can then be

used for other purposes. Moisio

explained: "To ensure the building

meets the requirements for

adaptability, transport, and reuse, it

must be constructed from durable

and premium-quality materials.

The elements, made of Kerto LVL

products, ensure a long-lived building

that withstands heavy use."

FM-HAUS

Little Finlandia was constructed by

FM-Haus, a family-owned company

established 25 years ago in the

municipality of Jokioinen, Finland.

The company is a partner in module

and wood construction. FM-Haus

operates across Finland and has

been Metsä Wood's partner for more

than 20 years.

The cooperation between Metsä

Wood and FM-Haus is based on

mutual trust and the wish to develop

and boost wood construction. The

partners' joint work has focused

especially on developing the

structure of Kerto LVL RIPA slabs.

"Metsä Wood offers first-class

delivery reliability. We also have

a designated sales representative

and get personal customer service

whenever needed. We have engaged

in close cooperation with Metsä

Wood for nearly as long as our

company has existed. In recent

years, our joint development work

has mainly focused on multi-storey

construction, and we have carried out a

lot of product development for various

components," said Juhani Sjöman,

managing director of FM-Haus.

Metsä Wood and FM-Haus share the

same goal: They aim to be sustainable

and environmentally friendly operators

in the construction value chain. The

buildings constructed by FM-Haus are

adaptable and modifiable while offering

the properties and fulfilling the criteria

of permanent buildings. FM-Haus

wants its buildings to serve people as

versatilely and for as long as possible.

Another major goal is to put a stop to

single-use construction.

Little Finlandia was constructed

from wooden volumetric modules,

prefabricated by FM-Haus at its

element factory in Jokioinen, 120km

north of Helsinki. Modular construction

had an impact on the speed of

construction compared to on-site

construction.

2

Legend

1 Little Finlandia

can host up to 800

participants

2 The on-site

construction

time was a third

of the duration

for normal

construction

3 The wooden

volumetric

modules were

prefabricated offsite

4 The volumetric

modules were

built using Metsä

Wood's Kerto LVL

products

5 The floor and roof

structures feature

Metsä Wood's

Kerto LVL RIPA

technology

6 Three-ply CLT

panels were used

and folded to gain

structural integrity

7 The Kerto LVL

panel

54 Panels & Furniture Asia | November / December 2022
---
STRUCTURAL ELEMENTS

"In the case of Little Finlandia,

modular construction cut the on-site

construction time to a third of the

usual duration," said Sjöman.

3

KERTO LVL

The load-bearing structures of the

modules used in Little Finlandia were

built with several Kerto LVL products,

including Kerto LVL S-beams, as

well as Kerto LVL Q- and Kerto-Kate

panels. Each of these products offers

optimal usability and properties for

their purpose. Although lightweight,

the products are strong and rigid,

according to Metsä Wood.

4

The floor and roof structures feature

Metsä Wood's Kerto LVL RIPA

technology, as elaborated by Sjöman:

"Thanks to Kerto-RIPA technology, we

didn't need as much Kerto LVL for the

elements. This matches our ecological

values, as it means a reduced volume

of material. Of course, it is also more

cost-effective for us."

5

FIRE-RETARDANT WOOD MATERIALS

Little Finlandia must meet stringent

standards for fire resistance. Metsä

Wood reported that the Kerto LVL

structures used in the building have

a fire resistance of 60 minutes. The

building also features three fire

compartments, bordered by fire

dampers that withstand fire for 30

minutes. The ventilation engine room

and the intermediate floors were

constructed to ensure a fire resistance

of 30 minutes.

The wood panels used in the

building have a high fire and char

resistance, and they have been

treated with a certified fire retardant

to ensure they satisfy the fire safety

requirements of European design

standards. The building also has

an automated fire alarm system

and four fire hydrants, according

to Jere Kinnunen, the site's project

manager. P

6

The article was first published by Metsä

Wood, and is reproduced here with

permission.

Panels & Furniture Asia | November / December 2022 55
---
WOOD CLINIC

Hello, Mr Shim

I am working for a company supplying adhesives, responsible

for the sales of woodworking adhesives. A customer who owns

a factory producing solid wood doors with mahogany wood

sourced from its forest farm complained that the two-component

emulsion polymer isocyanate (EPI) glue we supplied was unstable,

resulting in the assembled doors prone to loosening and warping,

and hence not durable. I appreciate it if you can help analyse the

reasons for warping and the poor durability of the doors, and put

forward solutions. According to local government regulations,

new trees must be planted after logging in the client's forest farm,

with Acacia mangium as the main plantation species. Recently,

the client is considering planting Azadirachta excelsa, and I hope

you can provide general knowledge about Acacia mangium and

Azadirachta excelsa to enhance my communication with the client.

Thank you.

Sincerely,

Mr Chen

Reasons

for solid

wood doors

prone to

warping and

loosening

Shim Yee Shin is a

specialist consultant

in the woodworking

and panel industry,

with more than

four decades of

experience in the

field. He graduated

from Taiwan's

National Chun-Hsing

University with a

major in forestry

in 1973, and has

since accumulated a wealth of experience through his work in

various countries across South East Asia and Greater China.

Mr Shim now runs his own consultancy firm providing ad-hoc

consultancy services and bespoke training workshops. Prior to

this, he was Henkel's Woodworking Adhesives technical service

director for the Asia-Pacific region.

Mr Chen, thank you for your message. According

to the information you provided, the factors

that cause assembled wooden doors to be

prone to loosening and warping, as well as the

improvement measures, are briefly described

as follows:

I. Unstable wood moisture content: Excessive

moisture content in solid timber used for

doors may result in the following defects:

1. Poor adhesive strength: When lumber

with moisture content between 16-20%

is used for the door post or ledge, the

adhesive strength will not be ideal.

When the moisture content of the

lumber decreases to 10-12%, the wood

will shrink and lead to gaps and the

warping of solid wood door parts.

2. Fluffing of round timber tenon hole:

If the moisture content of the timber

is up to 20% and the drilling bit is not

sharp enough, it may cause fluffing

of the round timber tenon hole of the

door post and ledge, resulting in poor

adhesive strength.

3. Unstable wood: Most mahogany

timber is mixed with different species

with large density tolerance. When the

homogenisation treatment in the dry

kiln is not in place and the moisture

content is too high, these will cause

wood instability, causing solid wood

doors to be prone to warping and

deformation.

4. Suggested improvement measures:

Logs of the same species or similar

densities should be selected in the

lumber mill and then collected for

lumber production. Raw logs of the

same species, similar densities or

synchronous drying times are also

preferred for lumber production. It is

recommended to control the lumber

density tolerance below 0.2g/cm³ or

classify it according to the species of the

tree.

Additionally, use qualified stacking

rods and ensure they maintain an

appropriate distance to minimise the

disadvantages of the kiln-drying wood

warping. And regularly check whether

the drying kiln is operating normally

and whether the homogenisation

56 Panels & Furniture Asia | November / December 2022
---
WOOD CLINIC

II.

treatment is in place before

the drying timber leaves the

kiln. An ideal moisture content

is 8-10%. The drying timber

should not leave the kiln until

its temperature drops to room

temperature.

Unstable quality control (QC) of raw

logs for door post or ledge: Try to

avoid bending and warping when

cutting and sawing the raw logs. It

is recommended that the raw logs

should be planed on the side and

front with a hand planer, and a foursided

planer is used to complete the

secondary processing process after

ensuring the logs are straight and

free of warping defects.

III. Poor processing accuracy of door

post or ledge: If the thickness or

door slot accuracy of the door post

or ledge during four-sided planing

is not handled properly, it will lead

to gaps when the door post or ledge

is assembled, causing damage to

tightness performance (Fig. 1). It

is recommended to use a simple

mould to check the accuracy of the

door post or ledge during planing.

IV. Poor accuracy of dowel tenon

hole of door post or ledge: When

drilling the dowel tenon holes into

the door post or ledge, ensure that

the thickness is error-free. When

drilling tenon holes in the centreline

of the door post or ledge, ensure

that the spacing, hole depth, hole

diameter and right-angle accuracy

are accurate. If the dowel mortise

and tenon hole are not at a right

angle, it will cause the assembled

solid wood doors to spring back and

loosen (Fig. 2). It is recommended

to use a simple mould to check the

accuracy of the door post or ledge

when drilling the tenon holes.

V. Unstable dowel tenon quality:

Misplacement of the chamfering

and grooving of the dowel tenon,

excessively large diameter

tolerance, hit miss, and excessive

moisture content will cause the

assembled wooden door to be not

durable and prone to loosening. It

is recommended that the moisture

content of the dowel be controlled

at 8%, and the diameter tolerance of

the dowel tenon be less than 0.1mm

(Fig. 3).

VI. Improper glue application: If the

glue applied to the tenon holes

is too little or uneven, the solid

wood door will not be durable. It

is recommended to use a steampressure

glue barrel and a glue gun

with a small hole in the nozzle, so

that the glue can be sprayed on

all sides, to ensure that the glue is

applied evenly and a proper amount

is used (Fig. 3).

VII. Unstable QC of glue mixing:

Employees must control the glue

mixing ratio and use it up within

45 minutes of the pot life, or the

glue will lose efficacy. Therefore,

the adhesive force is often unstable

due to human errors, resulting in

the degumming and poor durability

of solid wood doors. EPI twocomponent

adhesive is used in the

assembly of solid wood doors, but

it is recommended to use EU D3

grade one-component white latex,

or polyvinyl acetate (PVAc) glue that

features an appropriate anti-solvent

effect.

VIII. Lengthy assembly time: If it takes

too long to assemble the solid wood

door, the glue film of the tenon

hole will dry prematurely, causing

poor glue strength of the solid

wood door. It is recommended to

complete the door assembly within

the effective opening and closing

times after glue application.

IX. Improper control of assembly

pressure: If the assembly machine

for the solid wood door has been

used for a long time, and the oil

seal of the oil cylinder piston wears

and leakage occurs, these will

result in the poor tightness of the

Fig. 1: Gaps in between the door posts or ledges from the improper

handling of the thickness or door slotting accuracy of the post or ledge

Fig. 2: Misplacement of the round tenon's chamfering and grooving,

excessively large diameter tolerance, hit miss, and excessive moisture

content will cause the assembled wooden door to be prone to loosening

Panels & Furniture Asia | November / December 2022 57
---
WOOD CLINIC

Fig. 3: Using a straight six-inch-long round tenon or a round rod with the same diameter as

the tenon to drive into the tenon hole, while using a square to check whether the drilled hole

is at a right angle

assembly, and a slit between the

door post and ledge. If the material

density tolerance of a pair of door

pillars is too large, it will cause the

flimsy pillars to be under too much

pressure, which further causes the

compressed door pillars to rebound

after decompression and destroy

the glue film that penetrates the

cellular tissues of the pillars. It is

recommended to check the solid

wood door assembly machine

regularly to maintain proper

pressure, and it is recommended

to control the density tolerance of

lumber used for door pillars below

0.2g/cm³ or classify according to

the tree species.

A brief description of the two plantation

species is given below:

I. Acacia mangium, with a scientific

name of Acacia mangium Willd,

also known as big-leaf acacia,

is an evergreen tree native to

Queensland, Australia, and later

introduced to South East Asia.

It belongs to the Mimosaceae

family with alternate leaves, flat

leaf margins, and 3-5 longitudinal

veins with acuminate ends. As a

fast-growing species, it has small

diameter timber and grows to

full size within 7-8 years. Acacia

mangium is most commonly

II.

used for pulp making: The wood

is brown, with a wood moisture

content of 15% and a density of

0.53-0.69g/cm³. The material is

refined, with a colour similar to

teak, and can be used for furniture.

The sapwood is light yellow and

white, and the heartwood is often

decayed or broken. It has a low

utilisation rate of materials, slow

artificial drying, and is easy to

produce collapse or honeycomb

crack if not well controlled.

The neem, or sentang, with a

scientific name of Azadirachta

excelsa, is an evergreen tree of

the neem family, distributed in

South East Asia. If the growth

environment is good, it can reach

125cm in diameter and 50m in

height, with an average height

of 20-30m, and is a fast-growing

timber. It has alternate, oddpinnately

compound leaves, usually

7-11 pairs which are 30-75cm. The

pinnae are lanceolate or falcate,

with serrated leaf margins and all

green near the petiole of 1-2cm

(Fig. 4). The leaves have a bitter

taste and insect pests. It grows to

full size within 7-8 years and has

12% moisture content and 0.58g/

cm³ density. As medium hardwood,

it has light brown sapwood and

dark red-brown heartwood,

suitable for furniture, plywood and

other woodworking materials. In

addition to being used for wood,

the bark and leaves are rich in neem

seeds, which can be extracted to

make neem oil and insect repellent.

If added to other materials, it can

be made into insecticide, fungicide,

and others. It has a scientific name

of Azadirachta Indica in India and

Melia Azedarach L in China.

In addition to the above two species,

Albizia Facata Bacher ex Merill and

Eucalyptus Grandis are also worth

considering for afforestation.

Based on the information you provided,

the above are my analyses and

suggestions for improvement. I hope

they can help solve the problems of

poor durability in the solid wood door,

and the door post and ledge prone

to loosening or warping. I have also

provided some general knowledge of

afforestation species, which I hope are

helpful. P

Sincerely,

Shim Yee Shin

Figure 4: The aluminium rubber roller

has been used for a long time and the

rubber tank is worn out, or the rubber tank

is deformed due to improper cleaning,

causing the glue to be uneven

Fig. 4: Sapling of

neem, or sentang

58 Panels & Furniture Asia | November / December 2022
---
Build

Sustainably

Build

with Wood

Every two minutes

U.S. forests grow

700 cubic meters

enough to build a

12-story building
---
SUSTAINABILITY

How sustainable

is palm wood?

Inspiring the next "material revolution" by

creating sustainable and high-performance

materials from oil palm waste, Peter Fitch,

together with IOI, have set up IOI Palm

Wood to commercialise this untapped

potential.

Palm wood comes from various tree-like

species in the palm family. However, the most

abundant and sustainable supply comes from

Elaeis guineensis, or commonly known as oil

palm. Palm wood can be sustainable due to

the high availability of oil palms but logging in

tropical forests and deforestation causes great

ecological damage. So, the question is: Just

how sustainable is it to buy products that are

made from palm wood?

Palm wood is sustainable because of its

carbon storage and carbon sequestration.

Palm trees are only cut down when they stop

bearing economically valuable fruits. Thus, the

production of palm wood from oil palm trunks

(OPT) that are chopped and left to rot in the

fields serves as an environmentally friendly way

to repurpose an otherwise waste material.

To understand the sustainability of palm wood,

let us assess the lifecycle of furniture and

other building materials using the lifecycle

assessment (LCA) to evaluate the potential

environmental impacts of each stage of palm

wood's lifecycle. LCA is a strategic method that

has been used by companies over the years to

research and create more sustainable products.

In this article, we will use the cradle-to-grave

perspective to examine each stage of the

lifecycle of flooring, furniture and building

materials made from palm wood.

THE LIFECYCLE STAGES OF PALM WOOD

As oil palms grow, they uptake carbon

dioxide, thus reducing its presence in the

atmosphere. Throughout the ages, oil palms

have adapted to many habitats in the world's

tropical regions and have provided fruit crops

such as crude palm oil. While only 5% of the

world's vegetable oil farmland is used for palm

plantations, palm cultivation produces 38%

of the world's total vegetable oil supply. In

terms of oil yield, a palm plantation is 10 times

more productive than soyabean, sunflower or

rapeseed cultivation because palm fruit and

kernel both provide usable oil. The production

of palm wood from discarded trunks adds to

the usefulness and climate positive aspects of

palm wood.

GROWING PALM WOOD

The palm family has 190 genera and 2,800

species, making it one of the largest in the

monocotyledon, or monocot, group. Other

families in this group are banana and bamboo.

Palms, like all other monocots, are more closely

related to grass than trees: The plants have only

a single stem and no bark, branches or secondary

growth. Thus, palm wood is technically neither

hardwood nor softwood. Palms have been used as

alternative sources of wood for hundreds of years,

such as the flexible stems from climbing rattans

— a large palm sub-family — which is commonly

used to make furniture and household items.

Some palm species which palm wood is

commonly utilised for building homes and making

furniture include palmyra palm, or Borassus

flabellifer; red palm or coconut palm; date palm,

or Phoenix dactylifera; peach palm, or Bactris

gasipaes; and rattans.

At IOI Palm Wood, we aim to add oil palm,

or Elaeis guineensis to this list. Palm wood's

sustainability lies in the potential for carbon

sequestration due to the abundance of

plantations throughout Malaysia and South East

Asia, and the multiple benefits of land used for

growing these palm species for vegetable oil

production.

Oil palms are grown in large plantations for their

fruits. Once these palms are no longer productive,

60 Panels & Furniture Asia | November / December 2022
---
SUSTAINABILITY

they are cut down to make room for the next

generation of palms. OPT, which is the byproduct

of the fruit crops, provides a quantity

of sustainable biomass material for the wood

industry. For example, oil palms can grow

up to 20m in height and 1.5m in diameter. If

plantations are replanted after 25 years, the

felled trunks could be used to produce palm

wood. It can be estimated that a typical trunk

volume of 140m³ per hectare can sequestrate

80 tonnes of CO2. Additionally, removing the

trunks prevents the release of methane during

the decaying process which is 24 times as

detrimental to the climate as CO2. The use

of the palm wood thus reduces the pressure

on endangered hardwood species located in

tropical rainforests.

Hardwoods have annual growth rings that are

similarly dense. Conversely, a typical palm stem

consists of two regions with unequal density.

The region around the core is larger and softer

than the outer region, which is often made of

densely packed fibres.

The energy needed to power sawing machines

and the kilns can come from fossil-free sources

to reduce carbon emissions. Burning wood

waste is one way to avoid using fossil fuel in

this step. At IOI Palm Wood, we intend to derive

100% of our thermal energy from biomass.

Another fossil-free fuel option is solar power

which will be a potential investment for us in

2023.

USING PALM WOOD

Using palm furniture and building materials is

sustainable with the carbon capture during the

product's lifetime. Palm wood, for example,

can last for more than a decade, provided

they are dry and treated properly. When wood

is decayed, either naturally in the forest or

MANUFACTURING PALM WOOD

Turning palm wood into furniture has a

relatively low carbon footprint because wood

waste can be recycled fully as by-products

or biomass energy to off-set the carbon

emissions during harvesting and processing.

The first step of manufacturing palm furniture

and building materials involves cutting down

the palms and turning them into lumber in a

sawmill. Electricity is needed to run sawing

machines. The next step is to dry the lumber

before turning it into furniture. A piece of

lumber needs to be dried to the desired

moisture content. Then, a kiln is used, which

requires extra energy, which can be off-set by

using biomass energy.

The rate of drying palm wood depends on the

moisture content and the temperature. This

can take many days, or even weeks. Density

is another deciding factor for the drying time.

Turning palm wood into furniture has a

relatively low carbon footprint

Panels & Furniture Asia | November / December 2022 61
---
SUSTAINABILITY

because of damage caused by usage at home,

the carbon stored in the wood is released back

to the atmosphere. Therefore, long-lasting

furniture can be a good way of keeping carbon

out of the atmosphere. If the wood is reclaimed

for making another piece of furniture, its

positive carbon storage environmental impact is

even higher.

TRANSPORTING PALM WOOD

The transportation of palm wood is a relatively

carbon-intensive stage in the palm wood's

lifecycle due to the distance from its source

and the emissions associated with operating

the vehicles from taking the OPT at the oil

palm plantations to sawmills, to factories, and

lastly to stores. As palm wood typically comes

from the tropics, transporting palm wood

furniture would typically have a similar carbon

footprint to furniture produced in other Asian

regions such as Vietnam, China and Indonesia.

THE END-OF-LIFE STAGE

The end-of-life stage for palm wood products is

sustainable when the wood is reused or burned

as bioenergy. There are a few scenarios for wood

products — furniture, building materials and

household items — at the end of their lifecycle.

First, they can end up in landfills and do not

decompose. In this case, it keeps its role as

carbon storage. Second, wood products can

also be upcycled and reused, extending their

role as carbon storage and reducing the fossil

carbon emitted. New wood products often travel

much further to their markets, compared with

recovered wood products. The latter is typically

made in urban centres and sold locally, which

lowers the transportation environmental

burdens. Third, in another end-of-life scenario,

products like a palm wood cabinet can be

burned for biomass energy displacing coal or

natural gas in generating electricity.

BUYING PALM WOOD SUSTAINABLY

Buying sustainable wood helps to prevent

illegal or unsustainable logging, which harms

the forests' biosystems and accelerates climate

change. Logging accounts for 26% of forest and

biodiversity losses. Cutting down trees for wood

has less impact on carbon storage than farming

or mining. However, if logging is not sustainably

managed, it can damage the biodiversity.

Sustainable use of palm wood will absorb

carbon from the atmosphere and reduce the

overall effect of climate change. And, to make it

even more sustainable, use any palm furniture

for as long as you can, upcycle the material

to extend its usage, and arrange for it to be

recycled fully. P

Keeping long-lasting

furniture can be a good

way of keeping carbon

out of the atmosphere

62 Panels & Furniture Asia | November / December 2022
---
SHOW REVIEW

IFMAC & WOODMAC 2022

encourage industry

innovation and growth

IFMAC &

WOODMAC 2022

gathered 11,225

trade visitors over

four days

Indonesian furniture manufacturing

components and woodworking

machinery technology exhibitions

IFMAC & WOODMAC 2022 closed its

doors on 24 Sep 2022 on a positive

note with 11,225 trade visitors from 22

countries. They returned to a physical

edition after a two-year postponement

due to the pandemic, and gathered

participation from 108 exhibitors from

18 countries and regions, including

Austria, Canada, China, Germany,

Indonesia, Italy, Japan, Malaysia, South

Korea, Taiwan, the US, among others.

Various furniture and woodworking

machinery, tools and components,

software for furniture design, raw

materials, solutions for interior works

like adhesives and coatings, and fittings

were showcased.

Over the four days of exhibition,

exhibitors and visitors got back to

face-to-face business, conducting

live machinery demonstrations and

business back at the top of the agenda.

Complementing the exhibition were

seminars and presentations, which

were reportedly well-received by

trade attendees. These industryspecific

sessions ran concurrently with

the exhibition and feature industry

specialists to address problems in the

Indonesian furniture industry, as well

as provide insights on world furniture

industry trends to Indonesian

furniture industry players.

Shaun Yee, marketing and

communications specialist in

Raute Corporation for Asia-Pacific,

commented: "We are very happy to

be back in IFMAC & WOODMAC to see

people, to interact and mingle again

with customers. A huge crowd came

to our booth to see our products and

watch our demonstrations, where our

experts could explain more to them."

Similarly, Tri Purno Adianto, chief

representative of Jowat Adhesive in

64 Panels & Furniture Asia | November / December 2022
---
SHOW REVIEW

Indonesia, expressed his satisfaction: "The

exhibition is good. A lot of visitors came

to our booth and we have a lot of new

potential here."

IFMAC & WOODMAC 2022 have also

garnered the support of industry

associations. Abdul Sobur, chairman of

the presidium of the Indonesian Furniture

and Craft Industries (HIMKI), said that the

use of technology could be a solution in

competing with other countries, since it can

not only increases the domestic industry's

production capacity, but also increases

the efficiency of production costs. As he

explained: "To meet the export market,

Indonesian industry players must shift from

traditional patterns to the use of advanced

technology. The cost of technology is

not always high. Therefore, HIMKI invites

furniture industry players to attend IFMAC

& WOODMAC 2022 as reference and

motivation."

companies to explore the Indonesian

market through IFMAC & WOODMAC. This

includes Felder Group, Raute Group Asia,

Dainasint, Qualitech Indopiranti, Cabinet

Vision South East Asia, Global Timber Asia,

Furnisoft, Jowat, and more.

The next edition of IFMAC & WOODMAC

will take place from 20-23 Sep 2023, at

Jakarta International Expo in Jakarta,

Indonesia. Space bookings are now

open. P

Live demonstrations of various furniture or interior

design technology

This statement was also supported by H.M

Wiradadi Soeprayogo, chairman of the

Indonesian Sawmill and Woodworking

Association (ISWA): "The IFMAC &

WOODMAC exhibition has been highly

beneficial to Indonesia's wood processing

industry. It is a must-attend exhibition

for wood processing industry players to

learn about the latest developments in

machining technology displayed here."

Sofianto Widjaja, general manager of

Wahana Kemalaniaga Makmur (WAKENI),

the organiser of IFMAC & WOODMAC,

said that to boost the performance of the

Indonesian furniture and craft business,

quality interaction is expected between

producers and suppliers at the exhibition:

"Given that IFMAC & WOODMAC unite from

upstream to downstream a spectrum of

furniture production under one roof, the

exhibition is proud to be the link for the

entire industrial value chain that brings

together the tools, fasteners and hardware

needed for the entire furniture production

and production process."

WAKENI's partnership with Deutsche

Messe, the organiser of Germany-based

woodworking exhibition LIGNA, is said to

attract more European and other global

Panels & Furniture Asia | November / December 2022 65
---
SHOW REVIEW

VietnamWood 2022

The 14th Vietnam International

Woodworking Industry Fair

(VietnamWood), concurrent with

Vietnam International Furniture

Accessories, Hardware and Tools

Exhibition (Furnitec), was held

from 18-21 Oct 2022 at the Saigon

Exhibition and Convention Center

(SECC) in Ho Chi Minh City, Vietnam,

with the online platform live from

18-24 Oct. Both exhibitions aim to

boost the wood industry and pave

the way for future investment.

1

This year, VietnamWood gathered

233 exhibitors from 25 countries

and regions to display their

manufacturing solutions, machinery

and technology for business

contacts and technical exchanges.

During the four-day event, more

than 8,992 visitors came to

experience the event, attending

business interactions and catching

up with the Vietnam market.

Despite pandemic challenges

and the current market situation,

statistics showed that VietnamWood

and Furnitec were a place of

choice for the woodworking and

furniture industry to unveil

innovations. According to Chan

Chao International Enterprise

Group, the organisers behind

VietnamWood, 85% of the

exhibitors were satisfied with

the exhibition and showed

interest to participate again in

2023. Moreover, over 67% of the

visitors influenced purchasing

decisions. The visitors hailed

from 53 countries and regions

and had the opportunity to

check out exhibitors' launches

and new brands, and explored

woodworking trends. Over 88%

of them were satisfied with their

experience in VietnamWood 2022.

Legend

1 Businessmen

interacting at the

German pavilion of

VietnamWood 2022

2 Over 8,992 visitors

participated the

exhibition

2

The 15th edition of VietnamWood

aims to continue the momentum

and bolster the growth of the

woodworking industry and

market in Vietnam. It will be held

from 20-23 Sep 2023. P

66 Panels & Furniture Asia | November / December 2022
---
EVENTS CALENDAR

Events Calendar 2022–2024

2022

Cairo WoodShow 2022

Cairo, Egypt

DOMOTEX 2023

Hannover, Germany

DECEMBER, 15 – 18

2023

JANUARY, 12 – 15

MARCH, 09 – 12

Export Furniture Exhibition

Kuala Lumpur, Malaysia

MARCH, 28 – 31

Interzum Guangzhou

Guangzhou, China

AUGUST, 10 – 13

AUGUST, 24 – 27

in conjunction with

Smart Furniture Solutions and Mass Timber

Binh Duong, Vietnam

Hawa Expo

Ho Chi Minh City, Vietnam

Malaysia International Furniture Fair 2023

Kuala Lumpur, Malaysia

DelhiWood

New Delhi, India

FEBRUARY, 22 – 25

MARCH, 01 – 04

MARCH, 02 – 05

MARCH, 07 – 09

Dubai WoodShow

Dubai, United Arab Emirates

Photo: Jonathan Bernard / Unsplash

Photo: Jonathan Bernard / Unsplash

Salone del Mobile

Milan, Italy

Wood Taiwan

Taiwan

interzum Cologne

Cologne, Germany

LIGNA

Hannover, Germany

imm Cologne 2023

Cologne, Germany

APRIL, 18 – 23

APRIL, 20 – 23

MAY, 09 – 12

MAY, 15 – 19

JUNE, 04 – 07

Photo: Thomas Tucker / Unsplash

Korean International Furniture & Interior Fair

Seoul, South Korea

IFMAC & WOODMAC

Jakarta, Indonesia

VietnamWood

Ho Chi Minh City, Vietnam

Holz-Handwerk 2024

Nuremberg, Germany

SEPTEMBER, 20 – 23

SEPTEMBER, 20 – 23

OCTOBER, 4 – 6

126th NHLA Annual

Convention & Exhibit Showcase

Ohio, US

2024

MARCH, 19 – 22

Panels & Furniture Asia | November / December 2022 67
---
INDEX OF ADVERTISERS

PANELS & FURNITURE ASIA • November / December 2022

COMPANY PAGE COMPANY PAGE

American Hardwood Export Council

OBC

Lensaya Industriya Journal 63

Baillie Lumber 11

BAUMER Inspection GmbH 61

Berndorf Band GmbH 9

Cabinet Vision South East Asia 21

Nanxing Machinery Co., Ltd 2,3

Northwest Hardwoods 1

Plytec Oy 13

Quebec Wood Export Bureau 4,5

Electronic Wood Systems GmbH 31

Smart Furniture Solutions & Mass Timber 2023

FC

Forestry Innovation Investment Ltd. 23

Softwood Export Council 59

Global Timber Asia Sdn Bhd 7

IMEAS spa 68

Technik Associates, Inc

Teknos (M) Sdn Bhd

IBC

IFC

Interzum Guangzhou 47

Weitmann & Konrad GmbH & Co KG 15

Kuang Yung Machinery Co.,Ltd 65

ai161597024816_EN_PFA_IMEAS_202105.pdf 1 17/03/21 09:37

Scan to download eBook

PFA November/December 2022

The new EvoL sanding machines from Imeas are the result of more than 50

years of know-how and evolution and offer State-of-the-Art technologies

for sanding of wood-based panels such as MDF and ParticleBoard. EvoL

sanders feature Minimal Costs, Excellent Calibration, High Speed,

Flexibility, Superior Quality, and Full Automation.

C

M

Y

CM

MY

CY

CMY

K

IMEAS S.p.A. via Pacinotti, 36 - 20020 VILLA CORTESE (MI) ITALY | Tel. +39.0331.463011 | Fax +39.0331.432311 | imeas@imeas.it | www.imeas.it

68 Panels & Furniture Asia | November / December 2022