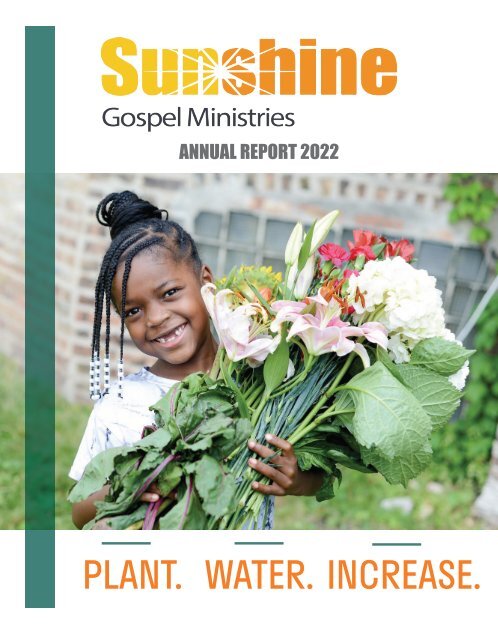 Create successful ePaper yourself
Turn your PDF publications into a flip-book with our unique Google optimized e-Paper software.
ANNUAL REPORT 2022

PLANT. WATER. INCREASE.
---
1

LETTER FROM OUR

EXECUTIVE DIRECTOR...

As I reflect on 2022, I am in awe of God's goodness and his grace. For Sunshine

Gospel Ministries the song that says, "He is a Waymaker, Miracle Worker, Promise

Keeper, Light in the darkness my God that is who You are", sums it up. For

youth, families and BridgeBuilders it has been a year of resumed in person

programming, in person outdoor/indoor community events and collaborative

engagement. This Fall 2022, our youth programs are at capacity with

a waiting list. Our programming with teens, families and guests have continuously

grown and served in new impactful ways. Our Sunshine Team

has persevered and been faithful in their pursuit to love and be obedient to

their calling and commitment to love and serve others with excellence. I am

proud and it brings me joy to serve alongside them.

Our ministry theme for 2022, that will also continue in 2023, is Seeds of Faith:

Plant, Water, Godly increase (1 Corinthians 3:6-8).

During 2022, we broke through COVID's looming barriers of fear and uncertainty, and are trusting God

earnestly as we have been planting seeds!

We've been blessed to spend significant time with our community; attending events, hosting events,

engaging in conversations to hear concerns and needs in the community, and casting vision together

for our new Sunshine Community Center Project! We joined with community partners in providing additional

programming for families to help combat health inequities related to mental health, physical

fitness and nutrition. Additionally, we have addressed the housing need by researching, planning and

developing models for deeply affordable housing and support (education and other resources) for

sustainability, homeownership and neighorhood revitalization. And

finally, we expanded our reach and capacity, support and advocacy

for gunshot wound survivors and their families in our community.

We are so thankful and forever grateful for the financial support

and prayers of our Sunshine Family and Friends. Your consistency

allows us the opportunity to serve and sustain our mission and live

into our vision. We pray that as we grow and increase our outreach

that you will continue with us. Keep us in you prayers - pray with us

for general and programmatic operations, open staff positions, volunteers,

funds and donations of building supplies and materials for

building affordable homes in Woodlawn for indigenous residents. I

have heard it said, and I truly believe, "Love wins, prayer works and

God is able."
---
2

TABLE OF CONTENTS

NEW SUNSHINE COMMUNITY CENTER

YOUTH OUTREACH PROGRAMMING

FLOURISHING COMMUNITY INITIATIVE

FAMILYHOOD PROGRAMMING

HOUSING EQUITY INITIATIVE

BRIDGEBUILDERS SERVICE LEARNING

HONORING THE HAMERNICK LEGACY AND

ANNUAL FINANACIALS

3-6

7-8

9-10

11-12

13-14

15-16

17-18

BOARD OF DIRECTORS

RICHARD WILSON

BOARD CHAIR

KIM LODEWYK

VICE CHAIR

JAY SCHOMMER

TREASURER

WENDELL DAVIS

SECRETARY

TUAN HUYNH

TRUSTEE

PETER KISLUK

TRUSTEE

CATHY MCNEIL-STEIN

BOARD CHAIR

TIFFANY ALLEN

TRUSTEE

KIMBERLY SALLEY

EXECUTIVE DIRECTOR
---
3

BREAKING GROUND IN 2023!

Since our earliest days, Sunshine has been

deeply imbedded in the communities we

serve. From our first location on North Clark

St. (1905-1970) to Cabrini Green (1970-2001)

and most recently West Woodlawn, our dedication

to be a physical presence in the work,

play, and worship of the communities we reside grows

with each passing year.

We are so excited to announce that the "seeds of faith"

planted 20 years ago in the Woodlawn community are now

flourishing into a new 75,000 sq ft Community Center! As

our programming has expanded over the years, the need

for larger and more functional space has also grown. The

Sunshine Community Center will offer community fitness

space, shared office space that we can also extend to

other non-profits in our community, youth outreach programming

space, senior programming, space for community events, and retail space.

With the support of State Representative Lamont J. Robinson, Jr., the City of Chicago, our local

20th Ward Alderwoman Jeanette Taylor, and key individual supporters we have the funding in place

to break ground on this exciting new center, located just blocks away from our current buildings!

"THE ROLE OF THE SUNSHINE COMMUNITY CENTER,

SIMPLY STATED, IS TO FOSTER COMMUNITY THRIVING

AMONG OUR NEIGHBORS WHO LIVE, WORK AND PLAY

ALONG MLK DRIVE!"
---
The new

location is just

blocks away from our

current Sunshine

buildings! The site is currently

a vacant 4 acre lot

on the southwest corner

of MLK Drive

and 60th St.

4

The proposed 75,000 sq ft outdoor

space would include basketball

courts, a court yard, play area, and

perimeter garden!
---
5

20,000 sq ft of fitness space

including a dance studio, fitness

room, and two indoor

basketball courts

MAIN LEVEL

18,000 sq ft of shared office

space with Sunshine Gospel

staff, Sunshine Enterprises

staff, other non-profits, and

private therapist spaces

SECOND FLOOR

2,000 sq ft of retail space for

cafe and proposed demonstration

kitchen

3,000 sq ft of multipurpose

space to be used for entrepreneur

training, pop-up retail

space, community events,

and private function rentals

10,000 sq ft of youth and senior

programming space

THIRD FLOOR
---
6

Proposed budget

PROJECT PARTNERS
---
7

Our new Youth Outreach dance team performed at the fall Woodlawn Festival "Black Wallstreet"

"Sunshine is a safe place. Once

gang members saw you were a

part of Sunshine, they left you

alone. It saved our lives."

-Demetrius Crawford
---
8

Our Youth Outreach Program currently has a waitlist.

The reputation continues to build in the community

as a place of belonging, mentorship, discipleship,

and enrichment for youth. Woodlawn youth

(K-12) fill our buildings every day as they participate in

after-school programming, dance team, basketball club,

student council for middle school students, WorkLife,

and bible studies.

But perhaps the most rewarding sucess is hiring 5

program assistants this year, all of whom are former

Sunshine youth!

Seeds that were planted years ago, watered through

mentorship and discipleship from Sunshine staff and

support of our volunteers and donors, are now seeing

the increase as these young adults are eager to pour

into the next generation. Elementary Program Coordinator

Mariah Price shares her experience, "Sunshine is

a place where I've grown in my faith, as a leader, and as

a person. It's a vital asset to Woodlawn's community. As

a child, I went to Sunshine Cove two consecutive summers.

I also participated in Writer's Block led by CW Allen.

I vividly remember experiencing Christ on a level

that was catered to me as a 9 and 10 year old. Although

I grew up going to church, Sunshine added to that experience.

Sunshine Gospel Ministries is more than just a

job to me. I enjoy working on my team-we're more like

family. I especially enjoy working with the kids in our

community. It means a lot to know that I'm making an

impact in our kids' lives."

Youth Outreach Program Assistant Demetrius Crawford

was raised in West Woodlawn and attended Sunshine

programming since he was young. To say Sunshine

impacted his life would be an understatement. "As a

kid, Sunshine impacted me in many ways. We grew up

in the hood and most people were committed to gangs

and violence. Sunshine helped me to get away from this

violence. Sunshine is a safe place. Once gang members

saw you were a part of Sunshine, they left you alone. It

saved our lives. It has been inspirational to me to see

Sunshine go from 20 kids to 100+ kids. Sunshine allowed

for us to understand what was beyond just the

corner, the block, and the neighborhood. It made my understanding

of the world broader."

Demetrius Crawford is a former Sunshine youth who is

now one of our Program Assistants

As funding for the arts and extra-curriculars is not available

to many of our students through their schools,

Sunshine is stepping into that gap. We are blessed to

expand opportunities for our youth through a variety of

new community partnerships.

• Growing Home in Englewood provided participants

with the opportunity to learn more about food nutrition

through gardening.

• YMCA in Woodlawn provided swimming safety

lessons for our youth

• Redwood Literacy Program and Math Circles of

Chicago provided academic enrichment in the areas

of reading and mathematics.

• YoungLife partnership led to a collaborative basketball

program that staff from Sunshine and

YoungLife created

• Off the Pews offered photography classes to 10

of our youth

Our staff also piloted some new initiatives- a dance

team, a Junior Counselor Program for Sumer Programming,

and a Parent Advisory Committee. The

dance team was led by former Sunshine youth and

current Elementary Program Coordinator Australia

Anderson. The Junior Counselor Program identified

high school freshman and sophomores and they received

leadership training, worked in our elementary

program, and receive a stipend.

As our programs continue to expand, we look forward

to moving into the new Sunshine Community Center,

which will allow us to increase our capacity by 300%.

Our staff continues to pour into their community.

God is blessing the years of faithful planting and watering.
---
9

"FCI RECOGNIZES THE UNIQUE

BARRIERS THOSE IMPACTED BY GUN

VIOLENCE ENDURE, AND WE HELP

CHANGE THE TRAJECTORY OF THE

TRAUMA INTO A PATH OF SUCCESS."

-VANESSA KNOX, CASE MANAGER

The seeds for Flourishing Community

Initiative (FCI) were planted in

2020 in response to the desire to

further step into community solutions

to gun violence. In the coming

years, the foundation for the program

was watered as we hired a Case Manager

and Violence Intervention Specialist to provide

wrap-around services to support survivors of

gun violence in overcoming trauma. This works

to reduce the reality of retaliatory violence in the

city of Chicago. In 2022, this initiative served 23

individuals/families.

Flourishing Community Initiative envisions a

community that inspires youth and residents to

live with pride as well as in harmony and purpose

with one another; where the sounds of

gunshots have been replaced by the sounds of

organizing, collaboration, laughter, and learning.

The overarching goal of FCI is to restore neighborhoods

where the common elements of trust,

healthy relationships, and mutual reconciliation

can be experienced by residents, youth, and law

enforcement alike.

Justice and equity are intertwined. You cannot

have justice without equity and vice versa. Sunshine

Gospel Ministries acknowledges that equity

recognizes that we do not all start from the
---
10

same place and must acknowledge, identify, and

provide different supports to adjust for the disparities.

Through our violence intervention work,

we individually assess our client's needs and

create an action plan to provide interventions

and support that will adjust for their disparities.

Our programs and services seek to meet needs

related to social determinants of health, which

are inclusive of economic stability, neighborhood

and physical environment, education, food,

community and social context, and the health

care system.

FCI piloted and implemented a community event

for families who have been affected by gun violence.

We are also working on solidifying partnerships

with street outreach programs that can

provide more referrals for follow-up services.

Research informs us that addressing these

social determinants are key to reducing disparities

within our neighborhood. Collaborative

partnerships allow our survivors of gun violence

access and opportunity to impactful possibilities

such as employment, affordable housing,

healthy food, community engagement and support

systems, as well as quality healthcare options

that address follow up and long-term care,

preventative care, and mental health.

One of the highlights in 2022 has been the expansion

of our community engagement efforts

through formalized event offerings. In April, FCI

led a youth empowerment event which was a

great success! This event was a collaborative

effort with 15+ organizations. Over the summer,
---
11

"THROUGH THE WOMEN'S BIBLE

STUDY I AM NOW SEEING THERE

IS PURPOSE IN MY PAIN."

-MOTHER WHO LOST HER CHILD TO GUN

VIOLENCE 8 MONTHS AGO
---
12

FAMILYHOOD FACILITATES

RICH COMMUNITY

Reflecting on the past 4 years of growth for Familyhood,

Director Sasha Simmons is humbled that "All

the programs that have been born out of Familyhood

are a testament to God's faithfulness." In 2018, the seeds for

Familyhood were planted when the program came under the

organization of Sunshine Gospel Ministries. At the time, the

program started with one Raising Highly Capable Kids cohort.

These programs were watered through the consistent work

of building relationships and the financial support from our

donors. And God gave the increase.

This year we have piloted Your Money Matters, a financial literacy

course that was requested by our families. It is led by

Tiffany Allen, a financial advisor for Prudential. She joined

our SGM board in August of 2022 and will assume the role of

Treasurer in 2023! We have led 5 cohorts for Raising Highly

Capable Kids, our Men's bible study group has grown to 4 cohorts

that participated in The Crucible Project, and our Women's

Bible Study launched this summer.

"MY GIFTS AND

GOD'S DESIRE FOR

ME TO LEAN INTO

LEADING WAS CON-

FIRMED DURING MY

TIME AT CRUCIBLE. I

FEEL LIKE I AM A BET-

TER MAN AS A RESULT

OF BEING GIVEN THIS

OPPORTUNITY."

-CRUCIBLE PROJECT

PARTICIPANT

To date, Familyhood has served more than 160 families!

Through the different programming and cohorts

families are encouraged, supported, and restored. Facilitator

Reynonda Townsend feels that Familyhood is

an all-encompassing term that represents wholeness.

"It is the foundation for building a healthy family." Facilitator

Kenneth Townsell echoes those same sentiments,

"For me, Familyhood is an intimate community

of people who have been designed by God to live life

together."

Simmons shares that she has seen lifelong relationships

form among cohort members that provide accountability.

1 Thessalonians 2:8 states "So, being affectionately

desirous of you, we were ready to share

with you not only the gospel of God but also our own

selves, because you had become very dear to us." This

verse has been palpable this year. "It has been rich to

share life with the Familyhood families this year!"

Familyhood facilitators and their spouses share a meal together during summer break.
---
13

In 2022, Sunshine officially launched the Housing

Equity Initiative (HEI) after piloting the Tax Sale

Benevolence Program (TSBP) in the Fall of 2021.

The Housing Equity Initiative has now expanded

to three areas of focus: home retention (TSBP),

homeownership, and neighborhood revitalization

in the Woodlawn community of Chicago.

Home retention occurs through the Tax Sale Benevolence

Program (TSBP) which rescues families whose

homes are in jeopardy of sale due to Cook County property

tax arrears. Through an intake process HEI is able

to discern the advocacy needed to assist families in

troubleshooting their set of circumstances: applying for

an exemption, legal assistance, mitigating fines, etc. After

a full assessment and consultation with the family,

HEI provides funds necessary for individuals and families

to remove their homes from the current tax sale list.

Homeownership occurs through assisting families in

the home buying process. HEI conducts an intake process

for families who are interested in purchasing a

home in Woodlawn. This intake allows HEI to identify

needed areas to assist the family in so that they are

financially prepared to qualify for a mortgage to purchase

a home and financially astute for sustainability.

The program also connects the home buyer with credible

resources: a mortgage lender, Real Estate Broker

and Real Estate Attorney. HEI will assist families with

down payment assistance between $5,000 and $20,000

towards their home purchase. This year, HEI helped one

family purchase their first home!

The neighborhood revitalization process occurs through

HEI rehabilitating vacant homes and developing vacant

lots in the neighborhood of Woodlawn. HEI's goal is to

sell these properties at a truly affordable price for those

in Woodlawn. In October 2022, Sunshine acquired their

first property on the 6400 S. Eberhart block and is in the

planning process to begin the renovation of the property.

For all of the HEI programs, HEI participants are required

to commit and fully engage in our educational platform

which provides an informative workshop series on the

topics of budgeting, homeownership essentials, banking,

and a year of coaching, advocacy and support.

Client Success Story

Charles is a veteran who lives in the Woodlawn neighborhood

of Chicago. His home was listed on the Tax Year 2018

tax sale list. Charles knew that Cook County property

taxes were waived for veterans with 70% or more disability,

and he thought he was eligible for this waiver.

Through our Housing Equity Initiative (HEI), Sunshine

Gospel investigated his case and discovered that Charles

was not yet eligible for this waiver when his property

appeared on the sale list. In order to keep Charles from

losing his home, Sunshine Gospel helped him figure out

how to overcome his challenges related to his outstanding

tax payments due.. The HEI team met with Charles for

an intake interview, he attended three financial education

workshops, and HEI paid part of his arrears to prevent the

sale of his home. He was eligible for our matching funds

to help pay his 2019 tax arrears, but he decided to pay it

on his own, demonstrating the financial independence and

empowerment he received from our program.

Charles says the program taught him financial skills

and supported him through a financially difficult time.

Charles' involvement with the HEI program saved him from

losing his most valuable asset, his home.
---
14

OUR PASSION IS CREATING DEEPLY AFFORDABLE

HOME OWNERSHIP OPTIONS IN WOODLAWN

Today's economy and developers in

our community with other agendas

present issues and concerns that

must be overcome. But Sunshine is

working with community partners

and the City of Chicago to purchase

vacant lots and abandoned properties to both

build and rehab for current Woodlawn residents

at an affordable cost, which will provide families

the opportunity to create generational wealth

through homeownership. Our current rehab project

is a 1,800 square foot property - a 3 bedroom,

1.5 bath, single family home with an 800 square

foot, 2 bedroom, 1 bath legal basement apartment

that can be used as investment income property

for the homeowner. Properties like this will help

the new homeowner financially sustain their financial

commitment associated with homeownership.

Executive Director Kimberly Salley shares, "Being

a major contributor in revitalizing several blocks

in Woodlawn with the development of vacant lots

and rehabbing properties that are deeply affordable

homes for residents aligns with our mission.

And this allows indigenous people an opportunity

to share in the appreciation of assets that exist

in their community. The goal being to transform

the 74% of renters in Woodlawn to 74% homeowners

which will generate wealth creation and housing

justice."
---
15

When BridgeBuilders was launched in 2004,

the goal was to bring people from outside

our community into the community to give

them a deeper understanding and insight into the

beauty and brokeness of neighborhoods like Woodlawn.

At the end of trips, individuals are always

tasked with taking what they've learned back to their

own communities.

To date, thousands have been through the Bridge-

Builders experience. Seeds that were planted nearly

20 years ago have born fruit throughout many communities.

This past year, 191 individuals participated

in our service-learning experiences, and over 200 individuals

participated in our newly-launched poverty

simulation, planting and watering more seeds.

BridgeBuilders is continuing to foster relationships

with churches and colleges that have attended the

ministry in the past. BridgeBuilders Director CW Allen

is asking the difficult question of "Do people still

have the capacity to journey with us after all that was

shaken up in 2020?" Due to the pandemic, people

have lower capacity to attend extended experiences

like our BridgeBuilders program. Jokingly, CW notes

that a grocery store run was a major trip for all of us

in 2020. As society returns to some semblance

of normalcy, the BridgeBuilders team is creatively

developing new ways to reach this generation

with experiences that teach about the Biblical understanding

of Justice.

The BridgeBuilders in-person Experiential Service

Learning trips program continues to increase in

it's reach, bringing groups from all over the United

States, impacting more participants each year.

One of the main highlights for this year was the

continued curation of lessons for BridgeBuilders

of different backgrounds.
---
16

"GOING THROUGH THE POVERTY SIMULATION WAS SO EYE OPENING TO THE FEELINGS OF

HELPLESSNESS AND UNCERTAINTY EXPERIENCED BY PEOPLE LIVING IN POVERTY. IT

DEMONSTRATES THEIR PRECARIOUS POSITION IN LIFE."

-MARLISS NEAL, WESTMONT COLLEGE

In 2021 we launched a

new interactive experience

based on real-life

scenarios, aimed at spurring

greater depth of understanding

and connection

to the complexities

of poverty.

When creating the poverty

simulation, a 3 hour

experience that mimics a

month in the life of individuals

or family groups,

BridgeBuilders Director

CW Allen drew from his

own life as well as the

lives of his neighbors

in the Woodlawn community.

While no real

names are used, real-iife

scenarios are presented,

such as having to

choose between missing

a day of work or attending

your child's school

performance.

After the simulation, Allen

debriefs with groups,

allowing for deeper

dialogue and processing.

His challenge at the end

is to take what they have

learned back to their

home communities.

The poverty simulation

experience can be run at

our location in Chicago

or brought to groups

remotely.

POVERTY SIMULATION
---
17

HONORING THE LEGACY OF JOEL

AND PAULA HAMERNICK

On May 12th friends, family, colleagues,

supporters, and community

partners gathered at the

Sheraton Hotel in downtown Chicago to

honor 22 years of service for Joel and

Paula Hamernick. Many people from

near and far shared their love and appreciation

for Joel and Paula's leadership

and commitment to the Woodlawn community

and the continued growth for

Sunshine Gospel Ministries. Sunshine's

High School Programs Director Lamar

Simms shared a poem he had written in

their honor.

Andy Combs and Arnold Sojourner pray over Paula aand Joel during the May

12th event

HEROES NEVER DIE

by Lamar Simms

HAMERNICK LEGACY CAMP FUND

I was once told that

Not all heroes wear capes,

They don't all

Run at the speed of light

Nor do they all fly through

dark skies

Defeating every Villain in

their path,

They don't all shoot lasers

from

Their eye or

Take down galaxies of

aliens

Who have invaded our precious

earth,

Some,

Some heroes are called to

project buildings

In cites where Justice has

been relocated,

Some speak of Shalom

Not the absence of war

But the presence of peace

In the midst of the storm,

When you think of Heroes

Let not your mind forget to

Frame pictures of everyday

People that laid a foundation

where others

Thought we lost ground,

We fight

Show up in spaces uninvited

With your welcome signs

Tatted on our hearts,

Seeking to the renewal of

the city

By empowering youth and

families

To thrive,

Not all heroes wear capes

They don't all have super

strength

Or walk through walls,

But there are some that

stood up

For a generation that will

never sit down

Despite how often we are

expected to fall,

Watch me stand

Where they stood,

Run

Where they ran,

Today we celebrate 2 heroes

that have 7 children

Yet still find time to help

others

Give birth to their dreams,

Lift up your heads

Brighten up that smile,

We might be living in crazy

times

But thank God that Heroes

Never die!

In 1999, Joel and Paula and their children were hired to

direct the Sunshine-owned campground in Union, MI.

Offering summer camp experiences to urban youth is

a long standing tradition for Sunshine. Though their time

running the campground was cut short as they transitioned

to living and working in the city, the value of offering our

youth an away-camp experience remained. Sunshine has

continued to send

youth to away camps

during the summer,

knowing the value

these experiences offer

our youth.

During the event on

May 12th, Sunshine

announced the newly

established Hamernick

Legacy Camp

Fund as a way to

honor the seeds of

faith and service

the Hamernick family

planted and continue

to invest in lifechanging

experiences

for our youth. If you

would like to contribute

to this fund,

please visit our giving

page at

sunshinegospel.org/giving.
---
18

SUNSHINE RECEIVES GENEROUS GRANT FROM

COOK COUNTY JUSTICE ADVISORY COUNCIL

In August we were the proud

recipients of a $1.5 million

dollar grant awarded by the

Cook County Advisory Council

for our gun violence prevention

work. This grant will

be dispersed over the course

of 3 years to cover the costs

of staffing and running programming

for gun violence

prevention. We were one of

68 recipients across the city

to receive grant funding for

this work.
---
19

500 E 61st ST CHICAGO, IL 60637 | WWW.SUNSHINEGOSPEL.ORG