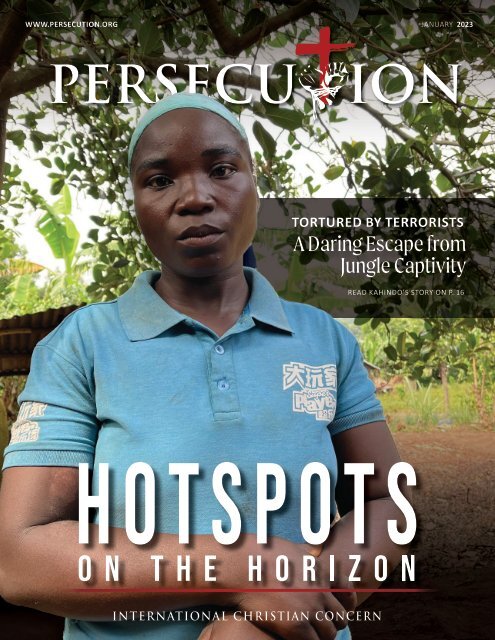 January 2023 Persecution Magazine
Create successful ePaper yourself
Turn your PDF publications into a flip-book with our unique Google optimized e-Paper software.
WWW.PERSECUTION.ORG

JANUARY 2023

PERSECU ION

PERSECU ION

TORTURED BY TERRORISTS

A Daring Escape from

Jungle Captivity

PERSECU ION

PERSECU ION.ORG

INTERNATIONAL CHRISTIAN CONCERN

PERSECU ION.ORG

INTERNATIONAL CHRISTIAN CONCERN

PERSECU ION.ORG

INTERNATIONAL CHRISTIAN CONCERN
---
Contents

JANUARY 2023

FEATURES

HOTSPOTS ON

THE HORIZON

Emboldened to Terrorize

RECURRING

04

06

08

26

YOUR HANDS AND FEET

ICC NEWSROOM

MURDER IN

THE CONGO

From Tragedy to

Thanksgiving

FRONT LINES OF MINISTRY

HOPE FOR THE PRESENT

ICC Projects Made Possible by Supporters

Your Source for Persecution News

THE GREAT

ESCAPE

A Family Leaves

Everything Behind to

Freely Follow Christ

ON THE COVER

Kahindo's life was

completely torn apart

when ADF terrorists

killed almost her entire

family. She recounts her

story in her own words

on page 16.

12 16 20 24

OUR MISSION: Since 1996, ICC has served the global

persecuted church through a three-pronged approach of

advocacy, awareness, and assistance. ICC exists to bandage

the wounds of persecuted Christians and to build the church

in the toughest parts of the world.

THE SAHEL

A Hotbed of Terrorism

A Deep Dive Into the Lives of Church Planters and Pastors

Find Hope and Victory in the Messages of the Persecuted

@persecuted @persecutionnews @internationalchristianconcern International Christian Concern

DONATIONS: International Christian Concern (ICC) is a nonprofit 501(c)(3) (all

donations tax-deductible). ICC makes every effort to honor donor wishes in regards to

their gifts. Occasionally, a situation will arise where a project is no longer viable. ICC

will redirect those donated funds to one of our other funds that is most similar to the

donor's original wishes.

Jeff King, President

International Christian Concern

Author: The Last Words of the Martyrs and

Islam Uncensored

A Year Like No Other

2022 was a challenging year. Just a glance at the

spread on page 10 can remind you of some of

the low points.

Our persecuted brothers and sisters face hardships

we can't even fathom in the West. Yet, I marvel at

their tremendous strength, their faith, and even the

optimism I see in them. They remind us that despite

what the world sends our way, we can rise above

through the power of the Holy Spirit.

On page 16, you'll meet a beautiful soul, Kahindo

(featured on this cover). The Allied Democratic Forces

(ADF) attacked her village in the Congo, killing

her parents, husband, two children, and two brothers.

Kahindo and her remaining daughter were kidnapped

and taken to the forest where the mother

was abused for days. Immeasurable suffering and a

river of tears followed.

Because of your help, we were able to give Kahindo

a safe place and a fresh start with a small business.

Thanks to your investment, she's waking up out of

a long nightmare, beyond touched that some Christians

around the world were willing to rescue her.

But this is the Lord's work we do together. We bring

the touch of God's healing and restoration to those

Satan sought to destroy.

I am incredibly grateful to do this work in partnership

with you and always remember, your gifts will

be used ethically, effectively, and efficiently!

I promise.

- JEFF

© Copyright 2023 ICC, Washington, D.C., USA. All rights reserved.

STAFF

Publisher Jeff King

Permission to reproduce all or part of this publication is granted

MEMBER

Editor Mike Anderson

provided attribution is given to ICC as the source.

Designer Hannah Campbell

2 Persecution | JANUARY 2023

PERSECUTION.ORG 3
---
Your Hands and Feet

ICC PROJECTS MADE POSSIBLE BY SUPPORTERS LIKE YOU

Making a

difference,

one project

at a time.

MIDDLE EAST

From Betrayal to Redemption

RESTORE: LIVES & COMMUNITIES

Mona struggles to provide for her six daughters as her handicap

makes it difficult to find work. She successfully found a job at a

public school where she befriended a kind teacher, Mr. M. They

would talk about her family and her Christian faith and he even

offered to help her pay her debts on multiple occasions, but she

refused.

When her job shifted and she began working the copier machine,

she asked administration if she could bring the copier home to

better support her daughters. Suddenly, Mr. M showed his true,

extremist colors and accused her of using the machine to print

money to pay her debts.

The school opened an investigation, but because Christians are

not often believed, she was suspended for a year. During that

year, she attempted to take her own life because of the mounting

pressure of her debts.

Recently, Mr. M offered to get Mona's job back in return for letting

him marry one of her daughters. Mona swiftly rejected his offer.

ICC got in contact with Mona and helped her relocate and start

her own clothing business. Now, she is able to work from home

and generate an income to support her family and pay back her

debts.

AFRICA

Free to Love Everyone

RESCUE: WIVES & KIDS

Sofia has lived most of her life a Muslim—but it's rarely been filled

with peace. She converted after she married her late husband, but

quickly began to disagree over how Muslims and Christians should

be treated. Sofia wanted to love everyone, but her husband thought

only Muslims deserved love.

When Sofia's husband died last year, she was free to convert back

to Christianity. His family took away everything he left her because

they disproved of her renewed faith in Christ. They went so far as to

threaten to poison her.

ICC got in contact with Sofia while she was living in a local reverend's

kitchen. ICC relocated her and helped her rent a house and bought

her new household items.

"I thank ICC so much for the support they have given me today...

May the Lord bless you for showing me Christ-like care when I was

suffering," Sofia said.

SOUTHEAST ASIA

The Reality of Ministry Work

MESSENGERS: UNDERGROUND WORKERS

ICC works in volatile places throughout the world, and Indonesia

is no exception. While we can pray and prepare that projects

go as planned, there are things we cannot expect. We worked

with a farmer last year who planted chili peppers and ministered

to Muslim-background believers through his business. But

suddenly, the land was sold and the chili crops died, sidelining

the evangelist's plans.

"Without my knowledge, the land was sold partially, so my chilis

just died. The soil on the remaining land was not as fertile, and in

the end those chili trees slowly dried up and died," the evangelist

said.

The evangelist pivoted to cultivating catfish while continuing to

minister to those around him.

"ICC continues to help us as field workers who are at the forefront

of evangelism to help us develop a form of business that we can

use as a platform for our ministry," he said.

4 Persecution | JANUARY 2023

PERSECUTION.ORG 5
---
ICC Newsroom

HEAD TO OUR WEBSITE, PERSECUTION.ORG, FOR THE LATEST NEWS

YOUR SOURCE FOR PERSECUTION NEWS

Kachin Bible School Shelled by Burmese Army

The Burmese Army (the

Tatmadaw) attacked a

Baptist seminary in northern

Myanmar, injuring four men in the

dormitory. The Tatmadaw launched

a series of attacks on the Theological

Seminary when there was no active

fighting in the area at the time.

The victims were hit by shrapnel

and sustained non-life-threatening

injuries.

"The attack against this Kachin

Bible school was certainly not

an accident," said Gina Goh, ICC

regional manager for Southeast

Asia. "The Tatmadaw deliberately

targeted a Christian facility knowing

how important faith is to Kachin

people."

Christianity account for more than

90% of Ethnic Kachin in Myanmar.

Forty Children Abducted by Militants in Northern Nigeria

Unidentified militants have abducted 40 children in a farm attack

in Katsina state, in northern Nigeria. The Nigerian newspaper 'The

Premium Times' reported that the kidnappers had demanded the

payment of 30 million Naira (about $70k USD) as a ransom.

Laws in Algeria Restrict Mission Work

Officials in Algeria make it difficult for

missionaries to evangelize or challenge

the Islamic faith in any capacity. Any

attempt to convert followers of Islam is

met with the possibility of jail and hefty

fines.

Algeria's population is about 99% Suni

Muslim. The country has blasphemy

laws, anti-proselytization laws, and laws

governing worship that make mission

work nearly impossible. Anything that

could be said or seen as going against

Islam is criminalized.

Algeria discourages the practice of faith

systems outside the Sunni Muslim sect.

As a result, mission work has become

dangerous.

One Hundred Killed in Somalia Terror Attack

Al-Shabaab, an al-Qaeda affiliated

terrorist group, launched a deadly attack

in Somalia's capital city, Mogadishu, at

the end of October.

Two cars packed with explosives blew up

within minutes of each other near a busy

intersection. Following the explosion,

militants opened gunfire on passerbys.

"The ruthless terrorists killed mothers.

Some of them died with their children

trapped on their backs," he said.

The attack took place at the same

intersection where a truck exploded in

2017, killing 512 and injuring 200 more.

The attack, attributed to al-Shabaab,

was the deadliest in Somalia's history.

Archbishop Warns

About the Extinction of

Christians in Iraq

Iraqi Archbishop Bashar Warda of

Erbil warned hundreds of religious

leaders of the impending extinction

of Christians in Iraq. He spoke at

the G-20 Religion Forum in Bali,

Indonesia.

If the level of general violence and

persecution toward Christians and

other religious minorities continue,

there will be no religious diversity

left in Iraq.

Militant Islamic groups and non-

Christian government officials

perpetrate much violence and

oppression, leaving most Christians

to practice secretly.

Without a change in the overall

culture of Iraq, the number of

Christians within the country will

continue to dwindle.

The militants have contacted the parents of the children asking for

the money.

Attacks against Christian farming communities in northern Nigeria

have become a common occurrence. But they are becoming more

concentrated in regions previously not affected by this violence,

signaling a rising tide of terrorist activity across Nigeria.

At the time this article was written, the children are still held hostage.

For the latest updates, please visit our website, persecution.org. Please

pray that the abducted children will be returned to their families.

"So far the number of people who died

has reached 100 and 300 are wounded,

and the number for both continues

to increase," said Somalia's president

Hassan Sheikh Muhamud.

Police spokesperson Sadik Dudishe

released a statement following the

attack describing some of the victims

of the attack, which included women,

children, and the elderly.

"The ruthless

terrorists killed

mothers."

- Police spokesperson Sadik Dudishe

6 Persecution | JANUARY 2023

PERSECUTION.ORG 7
---
Front Lines of Ministry

A DEEP DIVE INTO THE LIVES OF CHURCH PLANTERS AND PASTORS

"ICC was a huge blessing

to our situation over here,

many times many people

say we will help and no one

helps...ICC was there with

us from the beginning of

this incident."

- PASTOR RAJVEER

An Enduring Faith

The earth-toned walls echoed with the praises of believers

lifting their voices to the Lord. Pastor Rajveer led his

congregation in worship, when an eruption cut through

the house. The group of radicals that had been threatening the

congregation had finally followed through.

Led by none other than Pastor Rajveer's brother, the group of

Hindu radicals began tearing down the roof, setting things on fire,

and physically beating members of the congregation. Then they

turned their wrath toward the pastor.

Two men grabbed Rajveer's wife and held her back and another

group began kicking and punching Rajveer.

"Please, please, I beg you to stop this!" She pleaded. But the

radicals ignored her and continued. When it was all over, Pastor

Rajveer and his congregation were left with bruises and a broken

home, but not a broken spirit.

The days and weeks following the attack, the congregation

continued to face bullying and intimidation from the group of

radicals that had just attacked them and destroyed their place of

worship.

Stock image used to protect the true identity of Pastor Rajveer.

Through the difficulties, Pastor Rajveer continued

his ministry to his congregation and community. He

conducted a weekly prayer gathering in the church

with the sky peaking through the half-demolished

ceiling. Many nonbelievers saw his endurance and

heard the word of God through his preaching.

The church began fasting and they prayed for God to

provide them the means to rebuild their church. "We

prayed by faith that God will help in rebuilding the

house," the pastor said.

ICC got in contact with Pastor Rajveer and his

congregation and helped rebuild the church, which

was also the pastor's home. The attack could now be

put behind them.

"ICC stood with us when we were lonely and

discouraged, saying, 'We are with you.' Your support

was a huge blessing to us and helped to rebuild the

damaged house...In tough times, ICC's support was so

amazing, and we are very touched by their love and

support."

Once construction finished, the church had a

thanksgiving meeting to give praise and thanks to the

almighty God who had answered their prayers.

"We as a family are so thankful to God for ICC's

assistance in rebuilding the house that was completely

in bad shape," Pastor Rajveer said. "Now that the

house was rebuilt, we as a congregation are meeting

for worship in the house again."

8 Persecution | JANUARY 2023

PERSECUTION.ORG 9
---
2022 Snapshots

A LOOK BACK AT ICC'S MINISTRY FROM THIS PAST YEAR

The Stories Their Scars Tell

ICC staffers checked in on young survivors of two earlier

horrific bombings in Indonesia.

The first attack occurred in November 2016 and injured

toddlers Alvaro (4), Anita (2), Intan (2), and Trinity (3). Intan

died from her injuries, and the others endured suffering and

surgeries.

ICC, along with other organizations, helped the families of

Alvaro, Anita, and Trinity and have chronicled their recoveries.

Breaking News on the Ground

Gunmen burst into a Catholic church in Nigeria on a Sunday

morning in June, opened fire on congregants, and set off

explosives, reportedly killing dozens of worshipers as they

celebrated Mass on Pentecost Sunday.

The attack surprisingly occurred in the southwestern state

of Ondo, which rarely sees this kind of violence.

ICC obtained footage after the attack of bodies lying

between pews as worshipers wailed in mourning.

ICC works with our international staff in every region to

report news straight from the source. With this specific

attack, ICC was the first major western outlet to break the

news.

Screenshot of ICC footage taken after the attack.

"What I see through these young victims is resilience," said

Gina Goh, ICC's regional manager for Southeast Asia who

visited the young survivors and stayed in touch with their

families over the years. "They are doing well and recovering."

The second suicide bombing occurred at the Sacred Heart

Cathedral in March 2021.

The blast injured friends Edeline, Karina, and Valeri.

ICC came alongside the survivors from the get-go, supporting

their basic needs and covering travel costs for family

members to and from treatments.

"We walked with them through this process from the attack

until today; we reached out to them at the beginning," said

Goh. "Edeline said it meant so much when we visited them

at the hospital and offered to pray for her, knowing she was

being cared for by someone she didn't know."

ICC staffers visited Valeri and Karina (Edeline already returned

to her hometown) this past year. Valeri started an internship

as a hospital nurse. Karina is a nursing student and Edeline

works for a government outsourcing firm.

Left Alone in the World

More than 200 little ones packed a children's refugee

shelter in the Democratic Republic of Congo. The

orphans' parents were killed by terrorists of the Allied

Democratic Forces. An ICC staffer visited the shelter and

orphanage and bought mattresses and food for the kids. ICC

will also install a fishpond to supply long-term sustenance.

Valeri's scared hands from the blast.

Two children play tag in the open space surrounding the

refugee camp an ICC staffer visited in 2022.

1.

INDIA

April 12, 2022 March 30, 2022 March 19, 2022 April 2, 2022

The Supreme Court of The displaced and traumatized

Christian comtian

pastor, was mur-

Yalam Sankar, a Chris-

India rejected a petition

for a nationwide law munity was attacked for dered when five masked

against religious conversions.

The court statitants.

They destroyed tor's house, dragged

eight days by Fulani mil-

men broke into the pased

that people above their farm crop and attacked

the community. him to death. Local rad-

Mohamed,

him out, and stabbed

the age of 18 are free to

choose their religion of Local security forces ical Hindu nationalists

choice in a huge win for watched as militants threatened the pastor

international religious burned down Christian two days before they

freedom.

homes.

killed him.

The Islamic State ravaged

many Christian

historical sites during

its rampage in Iraq. Recently,

archaeologists

restoring a church discovered

about a dozen

ancient relics and

parchments connected

to several saints.

TOP-STORIES-FROM-PERSECUTION.ORG

2.

NIGERIA

Maria, a 20-year-old

Christian TikToker was

murdered by her family

after she posted a video

singing a worship song.

She converted to Christianity,

but her Muslim

family was unaccepting

of her conversion.

3. INDIA

4. INDONESIA

A Nigerian Christian

documented his kidnapping

on Twitter after

Fulani militants ambushed

his vehicle in

Jos, Nigeria. When his

attackers found out him

and his brother were

Christians, they kidnapped

them and killed

his brother.

An Indonesian Christian

YouTuber was sentenced

to 10 years in

prison for a viral Youtube

video allegedly

insulting the prophet

offending

Muslims across the

country.

5. IRAQ

6. IRAQ

7. NIGERIA

8. NIGERIA

June 23, 2022 March, 8, 2022 January 16, 2022 May 14, 2022

At least 896 civilians

have been killed in violent

attacks in Nigeria

during the first three

months of 2022. Open

Doors cited a report by

SBM Intelligence, a Nigerian-based

research

firm, for the reported

killings in the West African

country.

10 Persecution | JANUARY 2023

PERSECUTION.ORG 11
---
HOTSPOTS

O n t h e h o r i z o n

EMBOLDENED TO TERRORIZE

We recently sat down with Darius*, who is involved

with ICC's international relief efforts and projects

and asked him to assess trouble spots as we look

ahead to 2023. Where are Christians in peril? Where can

they find hope? And what is ICC doing to relieve the suffering

of those who put their faith in Jesus?

What were some of the overarching contributors to

global persecution in 2022?

In 2022, two significant events affected persecution: the

Ukraine War and the sour global economy. Radically empowered

dictators, regimes, and terrorist groups took advantage

of the situation. With the world's attention distracted

by this new war and the financial crisis, villainous

leaders saw an opportunity to accelerate their actions

and pursue their agenda—to the detriment of Christians.

The U.S. government doesn't have a lot of leverage right

now, displaying the limited impact a leading world power

can have. As a result, the regimes and the groups do

more of what they want to do without the world's big

reaction to them.

These situations will worsen for Christians without a

doubt. To some, the U.S. influence has diminished,

though it continues to pursue diplomatic efforts, freeze

accounts, support embargoes, and more. North Korea is

a good example, emboldened to expand its nuclear program.

You can imagine what's happening for Christians

and others living there.

The same thing applies to radical groups. So, you see terrorists

like Boko Haram, the Allied Democratic Forces, and

Fulani militants in Sub-Saharan Africa and the Democratic

Republic of Congo getting a free ride to spread terror.

Also, socioeconomic factors significantly contribute to

Christian persecution. With increased poverty, desperate

people take desperate measures. If the only way to get

food is to attack a Christian village and take what they

have, they just don't care.

The way we struggle now—a deficiency of resources, currency,

and inflation—creates more desperation. Minority

groups and Christians in many areas are being taken advantage

of.

* Name changed for security reasons

12 Persecution | JANUARY 2023

PERSECUTION.ORG 13
---
How is this playing out in some of the

trouble spots?

China CHINA

In China, we see more acceleration in

the crackdown on house churches and

religious leaders than ever before. Our

comprehensive reports on China show

this concerning rise. We have been

tracking persecution incidents for several

years and concluded that persecution

in China was worse in 2022 than in

any other year.

Myanmar MYANMAR

The political coup in Myanmar in 2021

led to a crackdown on all minorities, including

Christians. As a result, we see a

lot of attacks on churches and bombings

of churches. The internally displaced

often use churches as shelters.

Iran IRAN

Iran is another example of how a regime

took advantage of the world being

distracted by the war in Ukraine

and the poor global economy. The government

did the biggest crackdown on

churches, Christians, and Muslim-background

believers this year, with more

arrests and torture of Christians.

India INDIA

More states enforce anti-conversion

laws, which many Indian scholars agree

are unconstitutional. More states try

to stop any evangelism or outreach to

Hindu communities by adopting anti-conversion

laws.

ARTSAKH (NAGORNO-KARABAKH)

About 100,000 Christians remain stuck

in Nagorno-Karabakh (Armenian: Artsakh)

and don't have access to the

world. The government took more

land and closed the only road that gave

Christians access to Armenia, essentially

putting them in a big, geographical

prison. The Russian peacekeepers are

not doing anything, which has made

this so much worse for Christians.

Afghanistan AFGHANISTAN

I think the desperate situation in Afghanistan

will remain, unfortunately.

They have an economic crisis, and

funds are not coming into the country.

This financial crisis will allow the government

to enforce more restrictions

on freedom, rights, and religion because

no other entities have a strong

hand to control the country. It's already

as bad as it can get with a mob that

doesn't know how to run the country.

No national income exists, and all the

country's assets are frozen worldwide.

Afghanistan is not a country that has

natural resources or oil or anything. It

has created a desperate situation for all

Afghans. The case for many Christians

"As believers,

however, despite

what's happening

in this world, we

have an eternal

hope in Jesus Christ..

Persecution will

never go away; it is a

Biblical promise."

is primarily unknown because it's illegal

to be a Christian, so all worship occurs

underground. We continue to work in

the country, support those who have

either chosen or been forced to stay,

and help others escape to safe havens.

It's a big mess.

Turkey TURKEY

Turkey is taking advantage of the international

climate at all levels. Their persecution

is outward, not inward. They

spread persecution in Libya, Syria, Iraq,

and all neighboring countries. They

monopolize terrorist groups and harass

Christians in Iran. Turkey stays a big

player in this game—and its influence

goes beyond its border. Recep Tayyip

Erdoğan and his cronies are more emboldened

than ever to persecute Christians.

Where do you see hope?

I do not see immediate but more longterm

hope. There tends to be this global

malaise as people are discouraged.

As believers, however, despite what's

happening in this world, we have an

eternal hope in Jesus Christ. It is hard

to see any light coming soon for persecuted

Christians. Persecution will never

go away; it is a Biblical promise.

The immediate relief that we do, where

we come in and help persecution survivors

after an attack, will always be our

core ministry work.

I see great hope in our long-term sustenance

initiatives. ICC implements

programs that empower Christians and

improve their socioeconomic status

through job training and entrepreneurship.

We help Christians stand up for

themselves and improve their situations.

For ICC, we see great promise and results

through programs such as Generation

Transformation, which helps

young adults and families rise above

the harassment as they gain new job

skills and start small businesses.

Investing in children (through ICC's

Hope House in the Middle East) and

young adults (through ICC's Generation

Transformation) gives me hope to educate

kids with the hope of becoming

a doctor or engineer. It's an incredible

investment that will have a ripple effect

on families and the Christian community.

The ICC Communal Farms initiative in

Nigeria, where we launch sustainable

farms, offers immediate relief for Christian

communities. But we are looking

at what we can do to widen the community

rebuild and turn it into something

bigger—to invest in women and

kids, literacy programs, and look at the

situation from multiple angles where

we are investing in communities at all

levels.

14 Persecution | JANUARY 2023

PERSECUTION.ORG 15
---
HOTSPOT: DR CONGO

IN THE

FROM TRAGEDY TO THANKSGIVING

On March 20, 2022, Kahindo, 25, and her two-yearold

daughter, Nuela, were captured from their village

by the Allied Democratic Forces (ADF), an Islamic

extremist group operating in the Congo. Kahindo and

her family are all Christians, as were much of the people

from her village.

Following the ADF raid, during which her husband, two

children, two brothers, and both of her parents were brutally

murdered in front of her, Kahindo and her daughter

were imprisoned by the militants at their camp in a nearby

forest for more than three weeks.

This is a recounting of her story.

Scan this QR code with your

mobile device to have Kahindo's

story read aloud.

"They killed over 30 people in our small village in Luna.

They said that they wanted to kill all unbelievers because

they have defiled the call of Allah and the teaching of Mohamed.

My child and I are the only ones who survived. My two children

were shot dead while escaping and I could also see

their little bodies crumpled on the ground. I was lying next

to my husband's dead body, pretending to be dead as well.

I lay there for about 30 minutes as the rebels went on to kill

my parents, brothers, and other villages.

I scooped the soil that was soaked in my husband's blood,

hoping to keep it as a reminder of him if I survived. They

saw my body moving and they pulled me up from my husband's

body. They shouted that they had found a wife for

their leader.

16 Persecution | JANUARY 2023

PERSECUTION.ORG 17
---
So, they took me and my child away to the forest. They

abused me for days.

During the three weeks that they held us, we were not given

any food. Desperate, I took the dirt soaked in my husbands

blood and mixed it with wild green leaves. This is what my

child and I ate to survive. We had no water, but we could trap

some with our hands when it was raining.

There were many of us being held at the camp in the forest.

Those who did not cooperate were being shot dead or slaughtered.

They were speaking Arabic words as they slaughtered

them—one of them was taking a video. We were forced to

sleep on dead bodies.

When the army attacked the rebel camp, they were shooting

all over and two bullets barely missed me. They scratched

my right hand as I ran for my life and the life of my child. I

escaped from my captors and fled the battling forces.

I found more dead bodies along the way. They were people

who had been killed by the rebels.

I walked for five days until I reached Kasindi where I was registered

as a refugee. I was tired and had given up. I even contemplated

ending my life to be in heaven with my husband,

my children, and my family members.

It is not easy to lose all family members in one attack, and you

can only wish to die and escape from this ugly reality."

The Healing Begins

In March 2022, ICC stepped in to rescue Kahindo and her

daughter Nuela. ICC set them up in a safe home and helped

her start a small grocery business at the local market.

"Thank you, I now have a shop of my own. Today we will be

sleeping in our own home, cook our own food, and sleep in

our own bed. By running a grocery stall in the market, I will

now be able to provide for myself and my child. Thank you,

ICC, for visiting me and organizing my resettlement and empowerment

in a very short time.

My child and I are now starting to see life from a different

perspective. We see the Lord as the Shepherd for all people

and gracious to the widows and the orphans. We are slowly

coming out of the bondage of emptiness after so much loss.

This has been made possibly by you together with other

Christians who have been praying for us after hearing our

story."

We can never erase the evils of persecution, but we can act

as Simon and help them carry their crosses.

Kahindo's shop has become very successful and she often

turns over all her inventory. She continues to heal from her

physical and emotional scars.

Kahindo remains hopeful as she builds a future for her and

her daughter.
---
HOTSPOT: TURKEY

The Great Escape

A FAMILY LEAVES EVERYTHING BEHIND TO

FREELY FOLLOW CHRIST

Leyla is a loving mother and wife in her forties,

married to her faithful husband, Murat. A

beautiful family who loves the Lord and lives

in scenic Turkey. One wouldn't suspect that

Leyla grew up in a radical Islamic family. When Leyla

met Murat, he became a catalyst for her Christian

journey and led her to accept Christ and become a

believer. But because of her unaccepting family, she

needed to hide her faith.

When they found out, it marked the beginning of a

trying time.

"My family has a point of view that sees anyone who

doesn't think like them as infidels. If it is learned by

our big family that we are Christians, they can easily

reach us...even if we change the city we live in. And

in such a case, our safety is in serious danger," Leyla

said.

During a visit from out of town, Leyla's Muslim father

confronted his daughter and discovered their

faith in Christ. Without giving Leyla a choice, took

her and her children hostage.

"You are never allowed to see Murat again," he said.

"You must divorce him. Or else."

While the couple was separated, they said it felt like

their souls were wounded living with the fear, pressure,

and uncertainty of the situation.

"I was so scared that I couldn't say anything. I was

just praying to the Lord to help us overcome these

problems. I spent three weeks like a nightmare at

my father's house," Leyla recalled.

Murat made the decision to speak to his father-inlaw,

but this frightened Leyla because of the radical

Islamic beliefs that she knew could drive her father

to kill her husband. This is all because he chose to

20 Persecution | JANUARY 2023

PERSECUTION.ORG 21
---
"If we had stayed with my

family...my children would

never see their father

again...This is unfortunately

a common occurrence in

our culture."

- LEYLA

When a Muslim-background believer is discovered by their family, they often have to make life or death decisions.

leave their religion and become a Christian, which means

that he "lost" the right to be her husband and the father to

her children.

In the eyes of her family, he was contaminated.

Despite the risk, he went to the home where no one spoke

to him or ate at the same table with him, as it was haram according

to Islam. Murat wanted his wife and children home,

so he met with his father-in-law to tell him how he came to

know Christ and how his life was changed. He declared he

would not give up on Christ, but he would also not give up

on his family.

Leyla expresses what happened between her father and her

husband, "Thank God, the Lord heard my pleas. My father

agreed to this on one condition: my husband would never

take me and my children to church. My father said to my

husband, 'If I hear such a thing, I will sacrifice you with one

bullet.' Even that was a great miracle for us because I knew

my father very well. I knew I would never come home again."

Murat accepted his father-in-law's request, but he knew

they could no longer live in peace where they were living.

"If we had stayed with my family, we would never have been

able to get together. My children would never see their father

again, and they would brand my children as 'children of

the infidel,'" said Leyla. "If I had stayed with my family, they

would have married me to someone else after I divorced

my husband. This is unfortunately a common occurrence

in our culture. This was going to be a very difficult

and heavy situation for me."

Before they were released from Leyla's father, he

warned his grandchildren, "If your father takes you

to the church among the infidels again, you will inform

me immediately. I'll come and get you, and

you'll never see your father again."

Leyla's father threatened to kill his son-in-law without

caring about his daughter's future or feelings. He

believes he is justified simply because his faith allows

him to do so. And as long as Murat was breathing, he

would never be safe from his father-in-law's threat.

One of their children, who is afraid of what her grandfather

said, cried and begged on the way home, saying,

"Please let's not go to church, mom."

Word spread throughout Leyla's radical Islamic

family, and the pressure to stay in the Islamic faith

mounted. "My family is constantly video calling me

to check where I am. And when they don't call, my

sister sends my nephews to our house," Leyla said.

"Since we cannot go to church on Sunday, we wanted

to attend our meeting online, but we cannot do

that because my family is constantly following us."

Leyla and Murat considered moving to another city

to be safe, but moving would not protect them from

danger. Wherever they go throughout Turkey, Leyla's

family has the power to find them.

They made the decision, despite the danger, to move

out of the country. Leyla and Murat desire to raise

their children with the love of Christ. They plan to

move somewhere where the language and culture

are different. This move will be painful, and their

lives will never be the same again, but it's worth it for

the chance to publicly practice their faith and attend

church without fear.

The Rise of Persecution

Incidents in Turkey

ICC heard about Leyla and her family's story

after they had stepped into their new life.

But telling these stories is important because

Turkey adamantly denies that any such stories

exist within the country. By raising awareness

and telling compelling stories, we are helping

counteract the false narrative that all is well

for Christians in Turkey, keeping the pressure

on the country and its leadership to make

real changes.

Turkey is taking advantage of the

international climate at all levels. Their

persecution is outward, not inward. They

spread persecution in Libya, Syria, Iraq, and

all neighboring countries. They monopolize

terrorist groups and harass Christians in

Iran. Turkey stays a big player in this game—

and its influence goes beyond its border.

Recep Tayyip Erdoğan and his cronies are

more emboldened than ever to persecute

Christians.

22 Persecution | JANUARY 2023

PERSECUTION.ORG 23
---
HOTSPOT: THE SAHEL

THE SAHEL

a hotbed of terrorism

The Sahel region of Africa is a belt

of land immediately south of the

Sahara Desert that stretches east

to west across the African content.

The region has garnered global

attention due to the rise in extremism

over the past decade, in what is now

considered an epidemic of jihadism.

Mali is known to be the epicenter of the

Sahel's insurgency ever since jihadists

hijacked a coup attempt in 2012 and

established a caliphate. Though French

military troops drove out the jihadists

just months later, the northern portion

of the country has remained a hotbed

of terrorism. Many extremist groups call

northern Mali their safe haven and continue

to train and recruit their militants

from there while conducting attacks

across borders into Niger and Burkina

Faso.

In 2021, Burkina Faso experienced a record

year of conflict and replaced Mali

as the epicenter of Sahel terrorism. On

June 4, 2021, the country underwent

the bloodiest attack in its six-year struggle

with jihadists. Al-Qaeda affiliates

killed more than 135 civilians over two

nights. Seven months and several attacks

later, soldiers staged a coup and

announced a military-run government.

In Niger, attacks doubled in 2021 compared

to 2020. In March 2021, insurgents

raided three villages in Niger's

Tahoua region, bordering Mali, and massacred

137 civilians. Blamed on affiliates

of the Islamic State, the attack followed

a January attack that killed 100, as well

as an attack weeks earlier which left 58

civilians dead.

In addition to Niger, Boko Haram has

some presence in Chad and Cameroon.

Most of the Boko Haram activity,

however, remains in northern Nigeria

where they have maintained an insurgency

for 13 years. Now split into two

factions, Boko Haram seems to be making

a comeback after its territory was

significantly reduced in 2015, the year it

pledged allegiance to Islamic State and

created the Islamic State West African

Province (ISWAP). Boko Haram soldiers,

largely forced out of northern Nigeria,

entered the lake Chad Basin where

weak governance has enabled them to

regain strength.

As jihadists continue to gain momentum

throughout the Sahel, they will deepen

their influence across borders and claim

territory further into Western Africa. If

left without international intervention,

2022 is projected to be a year of expansionism

for radicals on a quest for global

Jihad.

24 Persecution | JANUARY 2023

PERSECUTION.ORG 25
---
Hope for the Present

FIND HOPE AND VICTORY IN THE MESSAGES OF THE PERSECUTED

Religion is not an Inheritance,

but a Personal Journey with God.

THE POWERFUL TESTIMONY OF A YOUNG WOMAN IN INDONESIA

My name is Ruth, and I am 26 years old. I was born into a

Muslim family, and we belonged to a tribal community

with the largest Muslim population in Indonesia.

In 2009, when I was only a young child, I dreamed of walking

up a hill. When I woke up, I felt tired. Night after night for

one week, I would dream of walking up the hill, and in the

morning, I would feel tired, like I had actually climbed a hill

the previous night. I vividly remember that dream.

Later, in junior high school, the dream came again, except

this time, I was not alone—I walked with a man. But when

I woke up, I did not feel tired. The dream lasted about two

weeks.

Around that time, I met a new friend at my school who was

a Christian. One day, I told her about my dream. She said,

"I think I know that man." And she showed me a picture,

and I immediately recognized him. I said, "Yes! Who's he?"

She told me that He is Jesus. I was surprised and filled with

curiosity. I went to a bookstore and bought a Bible. Though

I still considered myself a Muslim, I started reading the Bible

secretly.

At the time, I was still wearing a hijab at school because the

school required it. After graduating high school, I worked in

a beauty clinic in Jakarta. I took off my hijab because I felt

uncomfortable.

In October 2019, while I was scrolling on TikTok, I saw a

"You did not

choose me, but

I chose you."

JOHN 15:16

quote from a church: "You did not choose me,

but I chose you (John 15:16)." Interested in

these words, I went to that church. I started

attending church without anyone knowing that

I was a Muslim.

I remembered that Christian friend and asked

her to guide me. She took me to her church

leaders, and they taught me about Jesus and

the Bible. In December 2019, I was baptized.

In September 2022, one morning, my mother

suddenly said to me, "I know you are a Christian

now; what do you want to do if you become a

Christian?" I realized that she had found out

because she found the Bible in my room. I told

her I would never pray again at home. She was

still furious and told me to leave Christianity or

leave the house.

Heartbroken, I left my home and started

living in my neighbor's garage, which was far

from my house. My neighbor is actually my

family's driver. I began to live in my family car

because my parents cannot drive, and the road

in front of my house was inaccessible by car.

Whenever my parents need to use the car to

go somewhere, they will call the driver to take

it to our house. I told the driver not to tell my

parents I lived there.

I do not regret my decision; I've found the

Truth.

I believe that religion is not an inheritance but

the spiritual journey that a person experiences

with her Creator. And I truly believe what the

Bible says, "Everyone who has left houses or

brothers or sisters or father or mother or wife

or children or fields for my sake will receive a

hundred times as much and will inherit eternal

life" (Matthew 19:29), and "Though my father

and mother forsake me, the Lord will receive

me" (Psalm 27:10).

26 Persecution | JANUARY 2023

PERSECUTION.ORG 27
---
PERSECU ION.ORG

INTERNATIONAL CHRISTIAN CONCERN

PERSECU ION.ORG

INTERNATIONAL CHRISTIAN CONCERN

PERSECU ION.ORG

INTERNATIONAL CHRISTIAN CONCERN

WE'D LOVE TO HEAR

FROM YOU!

ICC

PO BOX 8056

SILVER SPRING, MD 20907

OR ONLINE AT

WWW.PERSECUTION.ORG

OR BY PHONE

800-ICC-5441

GIVING VIA WILL

Provide now for a future gift to ICC by including

a bequest provision in your will or revocable

trust. If you would like more information on

giving to ICC in this way, please give us a call at

1-800-ICC-5441.