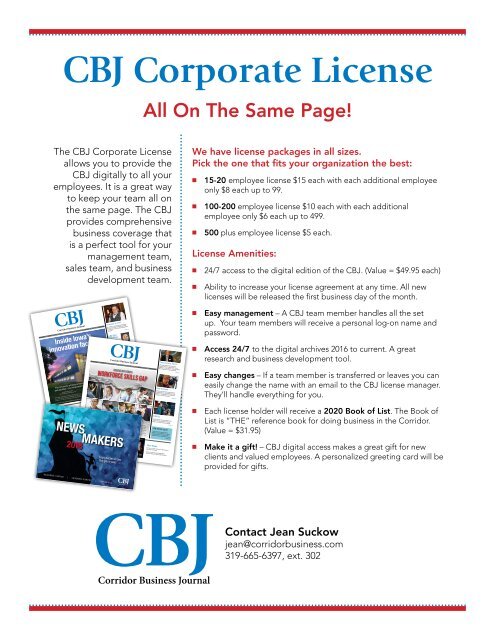 You also want an ePaper? Increase the reach of your titles
YUMPU automatically turns print PDFs into web optimized ePapers that Google loves.
2018 SPONSORS

REPORT

FEBRUARY / MARCH 2019

The Cedar Rapids Metro Economic

CBJ Corporate License

All On The Same Page!

The CBJ Corporate License

allows you to provide the

CBJ digitally to all your

employees. It is a great way

to keep your team all on

the same page. The CBJ

provides comprehensive

business coverage that

is a perfect tool for your

management team,

sales team, and business

development team.

We have license packages in all sizes.

Pick the one that fits your organization the best:

n

n

n

15-20 employee license $15 each with each additional employee

only $8 each up to 99.

100-200 employee license $10 each with each additional

employee only $6 each up to 499.

500 plus employee license $5 each.

License Amenities:

n

n

24/7 access to the digital edition of the CBJ. (Value = $49.95 each)

Ability to increase your license agreement at any time. All new

licenses will be released the first business day of the month.

$2.00 I A LOCALLY OWNED BUSINESS WEEKLY IN IOWA'S CREATIVE CORRIDOR I JAN. 28 - FEB. 3, 2019

Inside Iowa's

innovation factory

Innovator in chief

Jon Darsee is leveraging lessons learned

as a member of the Hawkeye basketba l

team to help his alma mater innovate faster

and be ter.

PAGE 3

CBJ Q&A:

Nate Dunn

F&M Bank's new

president and CEO

talks about where he

sees the ag economy

going in 2019.

PAGE 10

Pientok joins

Timberline

Veteran executive

Tom Pientok is back in

action as the new chief

executive of Timberline

Manufacturing.

PAGE 11

$2.00 I A LOCALLY OWNED BUSINESS WEEKLY IN IOWA'S CREATIVE CORRIDOR I FEB. 4 - 10, 2019

Past, present, future

n

n

Easy management – A CBJ team member handles all the set

up. Your team members will receive a personal log-on name and

password.

Access 24/7 to the digital archives 2016 to current. A great

research and business development tool.

The University of Iowa is home to top-flight researchers

and facilities – but what exactly are they coming up with?

By Katharine Carlon

katharine@corridorbusiness.com

Marie Kerbeshian jokes with her colleagues tha the innovations

coming out of the University of Iowa today

might not see any revenue returned to the university

Co ridor Business Journal

2345 Landon Road, Ste. 100

North Liberty, IA 52317

until long after they've retired.

First, there's the three- to five-year delay between

filing an initial provisional patent and final approval.

"And since our biggest blockbusters are coming out of

The UI BioVentures Center, which provides lab and office space for life science companies. CREDIT UI

NEWS

WORKFORCE SKILLS GAP

INNOVATION PAGE 4

Digging into Iowa's

Edgewood Town Center

Plans have emerged for a $25 mi lion

commercial development ca led River

Ridge Square and a 190,000-square-foot

Fleet Farm store in Cedar Rapids.

PAGE 12

Next Week

The Feb. 4 edition wi l launch our first of the

CBJ's new six-part series, (un)hired help.

Inside

2018 MAKERS

Co ridor Business Journal

2345 Landon Road, Ste. 100

North Liberty, IA 52317

The Greater Iowa City Area Home Builders

Association's monthly newsle ter Builders News.

In this six-part, members-first series beginning today, the CBJ is exploring

the causes and symptoms of Iowa's worker shortage, and whether

it's likely to be a long-term, systemic issue or a transient one that wi l

disappear during the next recession. Future installments wi l address the

specific needs and wants of employers and workers, the changing nature

of work, why diversity is such a big piece of the puzzle and the most

promising solutions being pursued by the private and public sectors. >>>

top stories from

the past year

ECONOMIC A LIANCE UNVEILS 2019 STRATEGIC PLAN WITH STREAMLINED FOCUS

FEAST YOUR EYES ON THE CEDA RAPIDS RESTAURANT WEEK LINEUP

EXISTING INDUSTRY REPORT SHOWS THE STATE OF OU REGIONAL ECONOMY

LEADERSHIP FOR FIVE SEASONS APPLICATION OPENS IN APRIL

Next Week

The Feb. 11 edition will focus on Starting (and

Surviving) in Business.

And don't miss the Cedar Rapids Metro

Economic A liance's February/March report.

A liance's annual meeting looked to the

cha lenges of the new year while also taking

time to celebrate a major anniversary.

PAGE 8

Real Success

Entrepreneur and CBJ contributor Nate

Kaeding sits down with Prairie Lights coowner

Jan Weissmi ler to talk books and

ba tling an e-commerce giant.

PAGE 10

CBJ 5Q

Cecilia Rokusek, the new president and

CEO a the National Czech & Slovak

Museum & Library, introduces herself.

PAGE 16

CBJ NEWS QUIZ

Test your comprehension with the

CBJ News Quiz, compiled from stories

appearing over the last month. How

we l have you been fo lowing the news?

PAGE 19

n

n

n

Easy changes – If a team member is transferred or leaves you can

easily change the name with an email to the CBJ license manager.

They'll handle everything for you.

Each license holder will receive a 2020 Book of List. The Book of

List is "THE" reference book for doing business in the Corridor.

(Value = $31.95)

Make it a gift! – CBJ digital access makes a great gift for new

clients and valued employees. A personalized greeting card will be

provided for gifts.

READERS' CHOICE | LEADERS SURVEY | TOP DEALS

Co ridor Business Journal

2345 Landon Rd.

North Liberty IA 52317

CBJ NEWSMAKERS DEC. 31, 2018 - JAN. 6, 2019 1

Contact Jean Suckow

jean@corridorbusiness.com

319-665-6397, ext. 302