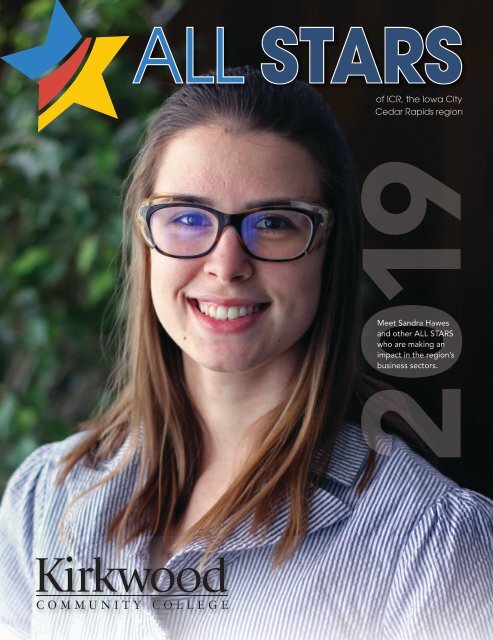 Create successful ePaper yourself
Turn your PDF publications into a flip-book with our unique Google optimized e-Paper software.
Meet Sandra Hawes

and other ALL STARS

who are making an

impact in the region's

business sectors.
---
CONTENTS

A Message from the President

ALL STAR SECTORS

ACE (ARCHITECTURE,

CONSTRUCTION ENGINEERING)

4 Matt Doubet

6 Duncan MacDougall

ADVANCED MANUFACTURING

8 Sandra Hawes

10 Katie Wagner

FINANCIAL SERVICES

12 Kayla Crawford

14 Kyla Pfeiler

HEALTHCARE

22 Jared Murphy

24 Teresa Young

INFORMATION TECHNOLOGY

26 Alex McCaslin

28 Randall Pugh

TRANSPORTATION, LOGISTICS

30 Nick Fisher

32 Lewis Minehart

FEATURES

AND RESOURCES

The Iowa City Cedar Rapids Region

(ICR) of Benton, Cedar, Iowa, Johnson,

Jones, Linn and Washington

counties is a land

of opportunity.

Across our great

seven-county

area, employers

are looking to fill

in-demand job

openings with

Lori Sundberg

qualified, hardworking

employees.

Our local

economy is definitely strong, but it

could be even stronger. The key to

reaching our full potential is to help

our workforce thrive by making sure

that the future leaders of the ICR receive

the education and training they

need to make an immediate impact.

At Kirkwood Community College,

the faculty and staff pride themselves

on knowing that everything they do

serves the greater good of the ICR

community — even for those that

never step foot on our campus. That's

because we work with industry sector

boards to promote careers and

develop the curriculum necessary to

educate and train the leaders of tomorrow

in vital industries. Kirkwood

graduates fill positions that are crucial

to the success of our area employers.

Businesses flourish with the right employees,

which leads to a strong economy.

When that happens, everyone in

our region benefits.

Take a look at the people featured

in this magazine. I encourage you to

read their stories so you can understand

how they became so successful.

These ICR All Stars are leaders in their

fields and are shining examples of the

opportunities that are out there in our

region. You, or someone you know,

could follow in their footsteps. A future

in a great career is within reach.

However, deciding on a career

pathway or even changing from one

career to another can be an intimidating

problem. It doesn't have to be.

The solution is literally in your

hands.

In the middle of this publication,

you'll find all the information you

need to start down the path to success.

Regardless of what stage you're

at in life, it's never too early or too

late to find the career of your dreams.

Great-paying careers are available

right now in very important industries

here in eastern Iowa. No matter

if you're still in high school or need

to go back to get your diploma, need

short-term training or are ready to

start a two-year degree — Kirkwood

can help you find your future.

You could start on your path to be

the next All Star that inspires the next

generation of our workforce. But as

with all journeys, it takes the first step.

Lori Sundberg

President

Kirkwood Community College

16 All Stars Honorable Mentions

17 Pathway to an All Stars Career

34 Jr. All Stars: Student Project

35 Jr. All Stars: Elisha Sir-Louis

Main Campus, 6301 Kirkwood Boulevard

Southwest, Cedar Rapids, IA 52404

(319) 398-5411 • www.kirkwood.edu

A print product of the

Corridor Business Journal

corridorbusiness.com

2 2019 ALL STARS of ICR
---
WHO ARE THE ALL STARS?

All Stars represent outstanding employees who are between the ages of 18-35

and have great stories to tell about their achievements. All Star and Honorable

Mention winners represent careers within one of these industries:

• Architecture, Construction and Engineering (ACE)

• Advanced Manufacturing

• Financial Services

• Healthcare

• Information Technologies

• Transportation, Logistics

Architecture, Construction

& Engineering (ACE)

and

Advanced Manufacturing

Sector Boards

have created a resource for educators,

students and job seekers

to generate awareness about their

industry and careers.

• Using an Interest Profiler on the portal, students identify their

personality traits and interests and match them to careers for which they

have an aptitude.

CHECK OUT THESE RESOURCES:

www.explore-ace.org

explore-manufacturing.org

• Students/job seekers can learn about the industry from photos and

videos of businesses, local statistics on job outlook and salary ranges.

• Opportunities for job seekers and students are listed on the portal.

2019 ALL STARS of ICR 3
---
ARCHITECTURE, CONSTRUCTION, ENGINEERING (ACE) SECTOR

Matt Doubet

Project Superintendent

Woodruff Construction

Tiffin, Iowa

Watch Matt's story

youtu.be/o5pp6iNQbYY

What do you do as a project superintendent?

I oversee Woodruff's field personnel as well as any subcontractors

at a construction site. I supervise the planning and

scheduling of projects and work with the owner representatives,

architects and engineers. I also really enjoy teaching

our employees carpentry skills every opportunity I get: framing,

hanging drywall, setting doorframes/windows, siding,

setting cabinets.

What has been your career pathway to your current job?

I started at Woodruff part-time as an intern while I was enrolled

in the carpentry program at Kirkwood. I really enjoyed

Kirkwood because they have a very good program. I graduated

in May 2011 and then started full-time as a carpenter

at Woodruff. After a year, I had worked my way up to a

carpentry crew lead/foreman. In early 2017, I was promoted

to project superintendent after completing a few in-house

trainings with Woodruff as well as some Master Builders of

Iowa classes. I am very passionate about my work and the

construction industry. I try to come up with better processes

and try to always keep improving.

What gets you excited to go to work each day?

I really enjoy that every day I can see what I've accomplished,

and I have the ability to work on all sorts of projects.

I also enjoy that every project, such as the Stead Family

Children's Hospital at the University of Iowa, has its own

unique aspects and challenges. This was a fun and challenging

project because Woodruff had the finish package for the

majority of the building. I was in charge of a crew that was

installing Fiber Reinforced Laminate wall panels on every

floor of the building. Since we were installing finish product,

our work was to be done on the tail end and with a short

time constraint, which made it challenging trying to coordinate

with all the different contractors on-site. I helped come

up with a building process that allowed us to keep up with

the demands of the schedule for our work.

How did you get into the construction field?

I grew up around construction: My dad is a local contractor

who specializes in sound and video solutions in residential and

commercial projects. I also have to give credit to my building

trades program at Marion High School. I was fortunate to have

a great instructor and a program that taught me so much and

helped me realize I had a passion for construction.

What do you do in your job that you find especially cool?

The coolest thing is that I get to be a part of building something

from start to finish. I have been fortunate to be able to

work on schools, churches and hospitals in my community

and see how my work helps them grow.

Has there been anything in your work that has surprised

you?

One thing is the need for good communication skills. Typically,

when you think about construction, that's not something you

think about as a high-priority skill to have. It makes a huge difference

in our industry to be able to communicate well.

If someone isn't sure if construction is the right field for

them, what should they do to check it out?

Take any shop, drafting, CAD or home-improvement classes

you can. If you're 18, get on with a company for a summer

and see how you like it. At least give construction a try. At

the very least you'll learn some skills that you can use the

rest of your life.

4 2019 ALL STARS of ICR
---
ARCHITECTURE, CONSTRUCTION AND ENGINEERING (ACE)

Growth 2019-2023

Surveyors +7%

Drafters +5%

Environmental Engineering Technicians +10%

Construction/Laborer +5%

Pipelayers +9%

Median Hourly Earnings

$24.44

The source of the information above is provided by: Emsi occupation employment data are based on final Emsi industry data and final Emsi staffing patterns. Wage estimates are based on Occupational

Employment Statistics (QCEW and Non-QCEW Employees classes of worker) and the American Community Survey (Self-Employed and Extended Proprietors). Occupational wage estimates also affected

by county-level Emsi earnings by industry.

WOODRUFF CONSTRUCTION, LLC

2019 ALL STARS of ICR 5
---
ARCHITECTURE, CONSTRUCTION, ENGINEERING (ACE) SECTOR

Duncan

MacDougall

Apprentice Electrician

Price Electric

Robins, Iowa

Watch Duncan's story

youtu.be/vJ0R3B17qBY

What do you do as an apprentice electrician?

By preplanning and prebuilding, or "prefabbing," as much

as possible in a very controlled environment, with bigger

and better tools, and with more access to hardware and

support, we can save an uncountable number of hours in

fieldwork, minimizing risk and making buildings go up faster.

That is my job. This includes small things – like wiring outlets

and switches, precutting wire, and landing wire into residential

panels – all the way to building pipe racks for an entire

building, temporary power stations and even complete

traffic intersections. If we thought that it would save time, we

would do it.

Why did you choose the architecture, construction and

engineering (ACE) field?

My entire life I knew I would need a career that allowed me

to do work with my hands. I couldn't sit at a desk all day.

When I was offered an internship, later a job, with Price, I

knew I couldn't turn it down. My workplace learning experience

is the absolute best thing about my job. There

are constant classes to learn about any aspect of being an

electrician. And Price is very good about having the more

experienced teach anyone who asks about anything. I

recently learned about wiring controls, something I've been

interested in since I first saw a diagram for them.

What has been your career pathway to your current job?

My career started when I was 15 and was offered an internship

with Price, and it started in an unconventional way – by

sweeping floors, cleaning, filling the gas in trucks and taking

out the trash. It was not enjoyable in the slightest way for a

15-year-old, but I stuck with it and ended up enjoying my

job far more than I ever thought. I took a few classes at Kirkwood

while I was in high school, mainly because I wanted

to take advantage of all the opportunities for learning that I

could get. And Kirkwood has some of the best ACE programs

around, is very affordable and is well-respected.

What are some of the challenges you experience on

the job?

There are more challenges than I can count, and that's an

aspect of my job I really like. You wake up before dawn, go

to work eight to 10 hours a day, five to six days a week, and

every hour you face a new problem. Where is my pipe going

to go? How am I going to fit everything I need into this tiny

space? Why is this plumber in my way? And it's more than

mental challenges. There is an amazing amount of physical

challenges too: the long hours, heavy lifting, standing/walking

all day long, etc. But the worst is the weather. I've gone

to work in -20 weather, in 100+ weather, in rain, snow and

storms. But those challenges have made me who I am, and I

cannot imagine my job without them.

What does it take to be successful in your line of work?

Ask for help and work hard. And remember: Your attitude

matters. I had a 110-pound vegetarian woman outwork a

220-pound guy who was built like a linebacker because

she had a better attitude. Most of the time there will be

on-the-job training, which means you'll be paid to struggle

through hard and annoying work. If you don't have an

attitude that allows you to fail, you will not learn from the

inevitable failures.

If someone isn't sure if the ACE sector is the right fit,

what should they do to check it out?

Do internships. Talk to people in the trade. Ask all the questions

you can think of. Most people love to talk about what

they do and will gladly offer advice.

6 2019 ALL STARS of ICR
---
BUILDING OUR COMMUNITY

Join our team and make a difference

WHY ACE?

Architecture • Construction • Engineering

Changing lives.

HBA & Habitat for

Humanity

Building something

out of nothing.

HBA & Kirkwood

partnership

We're mentoring, training and hiring.

Parade of Homes $1million house

Making dreams come true.

Contact Melissa Olson at your LOCAL

Cedar Rapids Housing & Building Association

eo@crhba.org or 319.395.0778

Building Futures • Building Community

ACE median hourly earnings $25.18

In Iowa, construction occupations are projected to grow by 24% from 2015-2025 (EMSI)

EMSI occupation employment data are based on final EMSI industry data and final EMSI staffing patterns. Wages estimates are based on Occupational Employment Statistics (QCEW and Non-QCEW

Employees classes of worker) and the American Community Survey (Self-Employed and Extended Projections). Occupational wage estimates also affected by county-level EMSI earnings by industry.

2019 ALL STARS of ICR 7
---
ADVANCED MANUFACTURING SECTOR

pabilities we could bring to the department. We have

found our niche to be making more customized products

for our customers. Our sales department works

closely with the customer to get an idea of exactly

what the customer wants, and from there it's manufacturing's

job to figure out how to make it happen.

What gets you excited to go to work each day?

The chance to work with a variety of people who have

different skills and strengths. It's incredible to watch

everyone's different strengths come together to make

things run smoothly.

Sandra Hawes

Second Shift

Manufacturing Manager

Clickstop

Urbana, Iowa

Watch Sandra's story

youtu.be/gFypQ28D6PE

What do you do as a manufacturing manager?

I manage all of our part-time manufacturing associates. More specifically,

I work within my teams' strengths and skills to get product

to our customers as safely and efficiently as possible while having

a lot of fun along the way.

"Advanced Manufacturing" is the category in which you've

been honored as an All Star. What is meant by that term?

Advanced manufacturing is all about continuous improvement.

Companies that are considered "advanced manufacturing" are

focused on improving the way a product is made, whether it's

through changing their processes or through investing in newer

technology and/or equipment. When I started at Clickstop, we

manufactured tie downs and cargo nets and have since added

tarps and chain slings. We continue to look at new products or ca-

What has been your career pathway to your current

job?

My dad was a production manager at a Marion

business that makes electrical harnessing for power

machinery. I started working there in college because I

needed a part-time job, and it really opened my eyes

to how much I enjoyed the work. I wasn't enjoying my

college nursing program, so I decided to learn a little

bit more about manufacturing. I followed my family to

Michigan, where I'm originally from, and started working

for an automotive company as a quality rework

technician. I learned a lot about the quality processes

in manufacturing and traveled to a few states, working

on different projects for the company. In 2016 I moved

back to Iowa and started at Clickstop. I started out on

the sewing line making tie downs and was presented

with the second-shift manufacturing manager position

a few months after that.

Why did you choose the manufacturing field?

I love knowing that the work I do every day plays a

part in getting a customer what they need. I never

leave work feeling like I haven't accomplished something.

What advice do you have for people who might

want to work in manufacturing?

Research the different opportunities within the industry

and take advantage of tours that are offered at local

manufacturing facilities, which will familiarize you with

the work environment.

Why is manufacturing a great field to get into?

There are a lot of different aspects to manufacturing

that make it a great career for anyone who enjoys

working in a fast-paced environment. There are manufacturing

associates who enjoy working to build the

product, schedulers who are good at prioritizing and

building the schedule for manufacturing, quality assurance

employees who have a high attention to detail to

ensure we're building the products to industry standards,

and many others. A hunger for learning about

new areas or different aspects of the business is really

what drives your advancement within the industry. Really

think about the things you enjoy doing, and utilize

your strengths.

8 2019 ALL STARS of ICR
---
ADVANCED MANUFACTURING

Median Hourly Earnings

Machinists $20.16

Maintenance Workers Machinery $15.96

Sheet Metal Workers $21.24

Millwrights $26.37

Welders $17.17

CNC Operators $28.00

Industrial Machinery Mechanics $28.21

The source of the information above is provided by: Emsi occupation employment data are based on final Emsi industry data and final Emsi staffing patterns. Wage estimates are based on Occupational

Employment Statistics (QCEW and Non-QCEW Employees classes of worker) and the American Community Survey (Self-Employed and Extended Proprietors). Occupational wage estimates also affected

by county-level Emsi earnings by industry.

Congratulations to

Sandra Hawes

on your

All-Star Recognition!

Sandra is a tenacious worker with a

dedication to her values and to quality

in manufacturing. Her commitment to

hold her team equally accountable to

the work that they do and to how they

do it has helped our manufacturing

team reach new heights of production.

Well done, Sandra!

2019 ALL STARS of ICR 9
---
ADVANCED MANUFACTURING SECTOR

Katie Wagner

Regional Business

Development Manager

World Class Industries

Hiawatha, Iowa

Watch Katie's story

youtu.be/spumoM9ltO0

What do you do as a business development

manager?

I'm responsible for enterprise-level management of

our largest original equipment manufacturer (OEM)

customer account. This means closely collaborating

with our customer units on new strategic projects

allowing for continued growth while also working

to help ensure we meet and exceed our customer's

expectations on existing business.

What gets you excited to head to work each day?

I work with a lot of incredibly talented and intelligent

people, so it's always fun to head to work when

you're surrounded by great people. I also love that

I get to interact with our customers on a daily basis,

hear what their challenges are, then come back to

our team to collaborate and identify a solution that

we can present to resolve our customers' constraints.

What has been your career pathway to your current

job?

I started with WCI right out of college as a supply

chain specialist working with suppliers to procure

parts. I then transitioned to quote specialist where

I began doing the pricing and setup of parts. After

that I moved to Germany for two years in a bit of

a hybrid role. I was the only WCI employee and

only U.S.-origin employee at our facility. We were

just launching the facility and beginning the direct

relationship with our European customers (previously

we supplied them via their U.S. factories), so I spent

time either being responsible for or helping train in

10 2019 ALL STARS of ICR
---
the following areas: quote, product realization, supply

chain, quality and operations. I then returned to the

United States as the operations supervisor overseeing

our Hiawatha production team, then spent two

years as our strategic quote supervisor. I have been

in my current role for just over two years. The ability

to continuously learn and develop new skills through

different roles has been one of the most rewarding

aspects of working at WCI.

What has been the most challenging part of your

career?

My initial assimilation into Germany. I was 25 and

had moved to a foreign country by myself with very

limited understanding of the language and culture. I

quickly learned a young American female from an organization

rooted in innovation, agility and adaptability

was not the norm in our location or with our European

customers and suppliers. Fortunately, I was able

to develop good relationships with colleagues and

friends in Germany who helped educate me on best

practices so that after a few trial-and-error learnings, I

was able to better assimilate and provide value.

What is especially rewarding about your job?

I get to hear from our customers about their biggest

headaches and constraints and then come back and

share that feedback with some extremely intelligent

and highly capable co-workers who come up with innovative

ideas that I then get the privilege of presenting

to our customers as easy-to-implement solutions

for them. Knowing you get to be a part of improving

the day-to-day operations of a well-respected OEM is

a rewarding feeling.

If someone isn't sure if manufacturing is the right

fit, what can they do to check it out?

Ask questions. Do research. Engage with local programs,

such as at Kirkwood, where you're provided

opportunities to tour facilities and see things up-close

and personal. Advanced manufacturing is an exciting

field because there's constantly new and different

technologies, capabilities and methods that are being

developed and implemented to ultimately do things

better. This results in many new opportunities for folks

in the field, which allows for a long-term career with

lots of diversity for those excited to explore it.

The world is at your fingertips.

Let World Class Industries help you get there. We have exciting opportunities

areas like engineering, operations, assembly, and supply chain integration.

At WCI you'll find:

• Comprehensive competitive benefits

• Vertical advancement opportunities

• Complete industry-specific training

• Prospects domestically and abroad

A world of opportunities and possibilities abounds at World

Class Industries. Contact us today!

(319) 378-1766 • careers@worldclassind.com

WorldClassInd.com

Corporate Headquarters

World Class Industries, Inc.

925 North 15th Avenue

Hiawatha, IA 52233

LOCATIONS

CRYSTAL LAKE (IL)

EAST MOLINE (IL)

CEDAR FALLS (IA)

DES MOINES (IA)

HIAWATHA (IA)

AUGUSTA (GA)

KAISERSLAUTERN (GERMANY)

2019 ALL STARS of ICR 11
---
FINANCIAL SERVICES SECTOR

Kayla Crawford,

CPCU, AU, AINS

Senior Supervising

Underwriter

UFG Insurance

Cedar Rapids, Iowa

Watch Kayla's story

youtu.be/Kn_edKeP5Ng

What do you do as a senior supervising underwriter?

I spend a majority of my time coaching/mentoring the support

professionals whom I supervise. I also spend a portion of

my time underwriting, which includes reviewing new business

applications, making changes to existing policies and

reviewing renewal business. I also get to be involved in many

projects to help continue to move our company forward.

Why did you choose the financial services industry?

I knew I wanted to pursue a business degree, and after taking

a Principles of Insurance class in college, I knew that was

the more specific path I would take. Insurance is such a vital

part of society, and its use to help businesses manage the

risks to their business is really what led me to this career.

Did you go to college for this kind of work?

Yes. I received my bachelor's in finance with a certificate in

risk management and insurance. Continuing education is

also very important to me as well as to UFG. I received my

insurance license as part of my position in our service center;

I was working directly with our policyholders, which required

the license. My designations are something I wanted to

obtain to always be improving myself and to have more

knowledge to better serve our customers.

Speaking of customers, how do you define excellent

customer service?

It means doing everything you can to help your customer.

It has always been important to me that I actively listen to

my customer to understand the situation, do my research to

make sure I have the most accurate answer and make sure

they fully understand the answer. Whether the answer is

what a customer wants, they should always walk away knowing

I did all I could for them and that they understand why

the answer is what it is.

What has been your career pathway to your current job?

I began working at UFG Insurance as a rater associate after

graduating from college. After a year, I transitioned to our service

center, and after two-and-a-half years as service center account

specialist, I transitioned into underwriting. In 2016, I was

hired into my current role as a senior supervising underwriter.

What do you find especially rewarding about your job?

Helping people. That can be anything from helping

agents get their customers the policies they need to cover

their business to coaching staff to help them advance in

their careers.

Has anything in your work surprised you?

Yes. The opportunity to travel and build even stronger relationships

with our agencies. My region works with agencies

in Iowa, Missouri, Arkansas, North Dakota, South Dakota and

Ohio. I've gotten to travel to most of these states, which has

been an amazing opportunity to see the areas that I am writing

insurance for.

If someone isn't sure if financial services is the right fit,

what should they do to check it out?

Talk to individuals currently working in the industry to see

what exactly they do and what their favorite part is. Reach

out to companies to see if there are any opportunities to do

a job shadow to learn more about the company/industry. If

insurance is an area of interest, look at colleges that have

insurance-specific classes, certificates or degrees. Look

into internships with insurance companies and/or agencies

in your area. Insurance is more than sales. There are many

careers within the industry: underwriting, accounting, IT,

project management, human resources, investments, etc.

There truly is a wide array of paths you can take.

12 2019 ALL STARS of ICR
---
Jim, Information Services

Quinson, Surety

Jenna, Underwriting

Corey, Claims

Alissa, Corporate Marketing

Seth, Information Services

Shawn, Risk Control

Tara, Service Center

YOU?

Cora, Claims

Ryan, Underwriting

Usha, Project Management

Daniel, Claims

Bedora, Corporate Underwriting

Kyanna, Surety

We've We've found found our our place place at at UFG. Will you?

Visit ufginsurance.com/careers to see our current openings.

UFG Insurance | 118 Second Avenue SE, Cedar Rapids, Iowa 52401 | www.ufginsurance.com | 800-332-7977

© 2019 United Fire & Casualty Company. All rights reserved.
---
FINANCIAL SERVICES SECTOR

What do you do as a GIS technician?

My main responsibility is to keep all of our utility infrastructure,

address and parcel layers up to date with the latest information.

I use all of this information to create maps for employees,

contractors or residents if they are wanting to know where

the water or sanitary sewer comes into a property. In order to

make this all happen, I do fieldwork to collect the required

data using a GPS device at various construction sites. Once

I've completed my data collection, I compare it to construction

plans in the office to make sure everything is installed correctly.

Along with GIS work, I help out in the Water Department and

assist customers when they call or stop in to City Hall.

What gets you excited to head to work each day?

Knowing each day is going to be different than the previous

one; I never know what the day has in store. I enjoy getting

new projects assigned to me and being able to see the

finished product. Someone might come visit me about a new

project they need me to work on, a certain layer of our system

needs to be updated or they simply need me to create maps

of the city with various features on it. I like being able to assist

the citizens and contractors when they stop in.

Did you go to school for this kind of work?

Yes. I attended Kirkwood, graduating in fall 2015 with my A.A.S.

in geographic information systems (GIS) and A.A. in liberal arts.

During my time at the City of Hiawatha, I've made multiple

layered maps, helped many different departments with mapping,

and proposed and bought a new GPS system – all things I was exposed

to at Kirkwood. During the summer of 2015, I interned with

the City of Hiawatha, and with my class schedule the way it was, I

had the flexibility to continue working here while earning my B.S.

from UNI in geographic information science: planning and policy.

Kyla Pfeiler

GIS Technician

City of Hiawatha

Hiawatha, Iowa

Watch Kyla's story

youtu.be/ESyiIN_THVQ

What do you find especially rewarding about your job?

Having the ability to go out in the field and give a precise

location of where a missing manhole, curb stop or water valve

might be. Or even simply printing off a map or being able to

give distances from our GIS system to a particular feature for

either myself, a co-worker or a contractor to use when locating

it. It's a wonderful feeling knowing my job is important for others

to be able to do their jobs.

Has anything surprised you throughout your career?

While going through college and working in the field, I found

out there aren't many women in this field. I encourage women

to look into a degree that is nontraditional for women. And the

same for men. It's easy to write off a degree because you think

it's gender-based, but give it a chance. It may be just what

you're looking for.

What advice do you have for people interested in your line

of work?

If you're in high school and you're given the opportunity to

do job shadows, do as many as you can. This can give really

good insight about the job or degree you're looking into. And

attend as many program conferences as needed, or reach out

to a teacher in the program for more information. Never close

your mind off to new opportunities.

14 2019 ALL STARS of ICR
---
FINANCIAL SERVICES Growth 2019-2023

Credit Analysts +8%

Medical Secretary +9%

Loan Officers +5%

Credit Counselors +5%

Median Income

Loan Officer $29.41

Customer Service Representatives $16.06

Insurance Sales Agent $22.68

Financial Examiner $31.12

The source of the information above is provided by: Emsi occupation employment data are based on final Emsi industry data and final Emsi staffing patterns. Wage estimates are based on Occupational

Employment Statistics (QCEW and Non-QCEW Employees classes of worker) and the American Community Survey (Self-Employed and Extended Proprietors). Occupational wage estimates also affected

by county-level Emsi earnings by industry.

We Believe in Making

a Difference

If you're ready for more than a job, you're

ready to join our team. Hiawatha grows

and supports positive work environments,

professional-personal growth and giving back

to community!

We make a difference in people's lives!

www.hiawatha-iowa.com

Kyla Pfeiler is one

of those individuals

making a difference.

Congratulations

Kyla on your All-Star

Recognition. We are

proud of you!

OPERATION OPENINGS

IN NORTH LIBERTY AND NORWAY

Interested in a steady income that is

more than a job? Want to join a company

that will invest in your well-being and

development?

Locally rooted and growing, Frontier Co-Op is seeking

new individuals to join our Operations team! Our

openings are located just outside of Cedar Rapids in

Norway and North Liberty on all three shifts.

Explore and apply on our website

www.frontiercoop.com

Frontier is an equal opportunity employer.

2019 ALL STARS of ICR 15
---
HONORABLE

MENTION

The following individuals are All Star Honorable

Mentions and are to be commended for the

contributions they make to their industry:

Brian Banowetz

Primus Companies, Project Manager

Lucas Claussen

Raining Rose, Quality Chemist

Lee Coblentz

CRST Expedited, Director of Load Planning

Jeff Crew

LL Pelling CO, Foreman

Sarah Dale

International Paper, Continuous Improvement Manager

Ryan Dalziel

Worley Warehousing Inc, Shift Lead

Hector Fernandez

Frontier Co-Op, Master Sanitation Lead

Jake Galloway

Thompson Truck & Trailer Truck, Sales Representative

Matt Hoffman

CRST Lincoln Sales, Asset Coordinator

Aaron House

Van Meter, Automation Product Specialist

Sam Kott

JM Swank, LLC, Transportation Analyst

Brenton Rice

Stutsman Logistics, Logistics Specialist

Matthew Russell

Raining Rose, Packaging Floor Supervisor

Jacob Schwind

CRST International, Assistant Corporate Controller

Mike Scroggs

Think Safe, Developer

Tyler Simoens

ADM, Shift Supervisor

Kurt Winnike

CIVCO Medical Solutions, Planning & Material

Logistics Manager

DeLandis Wright

Centro, Inc., Business Process Support

Congratulations,

DeLandis Wright!

ICR All Star Honorable Mention,

Advanced Manufacturing Sector

No matter what career you are seeking, Centro's

desire for continuous improvement, supports

a culture that empowers everyone with

opportunities to make a difference. DeLandis is a shining

example of seizing that opportunity and committing

to growth as a valued Associate and leader within the

organization. Centro is growing and promotes from

within. Visit the website to learn more.

For additional information on careers, visit

Centroinc.com/career

950 North Bend Drive

North Liberty, IA 52317

(319)626-3200

16 2019 ALL STARS of ICR
---
2019 ALL STARS of ICR 17
---
18 2019 ALL STARS of ICR
---
2019 ALL STARS of ICR 19
---
Challenge Yourself. Change Lives.

For more than 35 years, CIVCO Medical

Solutions has been committed to bringing

cutting-edge technology to medical

professionals around the world.

With offices in Kalona and Coralville,

CIVCO designs and manufactures products

for use in ultrasound-guided diagnostic and

therapeutic procedures.

CIVCO's history of success is built by people

who are passionate about creating innovative,

life-enhancing solutions.

To learn more, visit CIVCO.com/careers

102 First Street South | Kalona, IA 52247 | 800.445.6741

COPYRIGHT © 2019. CIVCO IS A REGISTERED TRADEMARK OF CIVCO MEDICAL SOLUTIONS. ALL

OTHER TRADEMARKS ARE THE PROPERTY OF THEIR RESPECTIVE OWNERS. 2018A-3094 REV 2

Congratulations Kurt Winnike,

CIVCO Planning & Materials Logistics Manager

2019 Creative Corridor

All Stars Honorable Mention

STAY INFORMED

Morning Rush

Business Morning Daily Rush

ARE YOU SIGNED UP TO RECEIVE THE FREE CBJ E-NEWSLETTERS?

Business Morning Daily Rush

Balance

CBJ MORNING RUSH

Morning Rush

MON-FRI BY 8AM: An executive briefing-style

newsletter recapping the local, regional and national

stories you'll be Business Morning talking about. Daily Rush

CBJ BUSINESS DAILY

Balance Business Morning Daily Rush

MON-FRI BY 12PM: A roundup of the latest business

news from the Corridor, including a look at area

events, headlines Innovation Balance Business and weather. Daily

Watch

CBJ BALANCE

Innovation Balance

Real Estate Watch Report

EVERY MON BY 4PM: A look at what's new at local

health care providers and facilities, with information

about wellness Innovation Real on and Small recreation Estate Watch

Business Report

the area.

CBJ INNOVATION WATCH

Innovation Balance Business Daily

Watch

EVERY TUE BY 4PM: A weekly roundup of tech, STEM

and innovation news, columns from regional innovation

leaders and content Innovation Balance

Real from Estate around Watch Report the web.

CBJ REAL ESTATE REPORT

Innovation Real on Small Estate Watch

Business Report

EVERY WED BY 4PM: Track the latest real estate and

development news. Filled with updates on notable

Corridor real estate

Real on Events Small deals

Estate

and Business market

Report

forecasts.

CBJ ON SMALL BUSINESS

on Events Small Business

EVERY THU BY 4PM: Designed for those interested in

local enterprise. Featuring startup and small businessfocused

news Events from around the Corridor.

SIGN UP AT CORRIDORBUSINESS.COM/ENEWS

Real Estate Report

on Events Small Business

on Events Small Business

Events

2019 ALL STARS of ICR 21
---
HEALTHCARE

Jared Murphy

Clinical Data Advisor

UnityPoint Health – St. Luke's Hospital

Cedar Rapids, Iowa

Watch Jared's story

youtu.be/xjOLMPzD3Jo

What do you do as a clinical data advisor?

I'm part of our performance improvement team. I get to

work with doctors, nurses and other health care professionals

across the care continuum to collect, interpret and analyze

data to help make decisions and improve the quality of

care. I create reports, presentations, graphs and other visualizations

to help share this information. Some of the areas I

get involved with include readmission work, patient satisfaction,

infection prevention and chronic disease management.

What gets you excited to head to work each day?

This role brings together two of my passions – numbers and

health care – and I get to spend time doing what I love every

day. I get excited knowing the work I'm doing is helping

patients get better. I don't ever speak with or touch a patient.

Most of my work goes on in the background, but that

doesn't mean it isn't helping improve the care given. There

is also just an energy working in a hospital. Babies are being

born here, patients are undergoing surgery, people are healing,

and I ultimately get to play a small role in all of that.

What did you study in college?

I have my bachelor's degree in mathematics and am pursuing

my MBA with an emphasis in health care management.

Why did you choose healthcare as a career?

I spent a lot of time in hospitals as a kid. Some of the scariest

and hardest moments of my life happened in a hospital.

But during that time, I was cared for by some great doctors

and nurses. They helped me get through the tough parts,

and it really stuck with me. I knew I wanted to work in health

care so I could also help people.

What has been your career pathway to your current job?

I always knew healthcare was the field for me, but I had a

hard time figuring out where I fit in. I graduated from high

school thinking I wanted to be a retail pharmacist. I started

working as a pharmacy tech while in school, but I felt the job

was a little too repetitive for me. I then considered actuarial

science and wanted to work for a health insurance company.

That also didn't feel like the right fit. I wanted to help

people. Then I read a job posting for a data analyst at UnityPoint.

Something just clicked. I knew this was the right fit

and UnityPoint was the place to be. I took a pharmacy tech

job within UnityPoint while finishing school, and I used this

time to network, do some job shadowing and build relationships.

After graduating, I accepted my current role and have

loved every minute of it.

Why is healthcare a great career field?

There are so many areas for people with all types of backgrounds.

Outside of the more well-known areas (nursing,

physical therapy, surgery, etc.), there's dietary services, environmental

services, finance/business, quality and regulatory,

to name a few, which all play crucial roles in how hospitals

operate and affect how patients are treated. It's truly a team

effort to ensure the best possible care for patients. It is very

rewarding to know the work you do is helping make someone

else's life better, even if you never meet, see or touch

that person.

22 2019 ALL STARS of ICR
---
ADVERTISEMENT

Why choose a career with

UnityPoint Health - Cedar Rapids?

As a team member, regardless of your position,

you will have the opportunity to

change lives on a daily basis, delivering on

our vision of Best Outcome for Every Patient

Every Time. That privilege drives employees'

passion for making a difference in the lives

of our patients, helping them create healthier,

more rewarding lives. UnityPoint Health

sets high expectations for team members in

order to establish a trusted team capable of

taking on the toughest of challenges.

Our team members strive to work as one

through four key values:

1. Foster Unity

– We use the skills and abilities of each

person to enable great teams.

– We collaborate across departments,

facilities business units and regions.

– We seek to understand and are open to

diverse thoughts and perspectives.

2. Own the Moment

– We connect with each person treating

them with courtesy, compassion,

empathy and respect.

– We enthusiastically engage in our work.

– We are accountable for our individual

actions and our team performance.

Our Mission: Improving the health

and lives of communities and

patients we serve

Our Vision: Best Outcome Every

Patient Every Time

Our Values: At UnityPoint Health,

we know our collective actions

determine the experience we

create.

3. Champion Excellence

– We commit to the best outcomes and the

highest quality.

– We have a relentless focus on exceeding

expectations.

– We believe in sharing our results,

learning from our mistakes and

celebrating our successes.

– We take responsibility for solving

problems regardless of origin.

4. Seize Opportunity

– We embrace and promote innovation

and transformation.

– We create partnerships that improve care

delivery in our communities.

– We have the courage to challenge the

status quo.

UnityPoint Health team members come for a job, but stay for a career.

When will you begin yours?

Career Opportunities

Our award-winning providers,

specialists and care teams

contribute to our communities,

support patient's family members

in time of need and make a difference

in the lives of our patients

every day. And they wouldn't

have it any other way because

that is why they are in this business

in the first place – to care for

others. To us, everything begins

and ends with delivering an

unparalleled health care experience

for our patients. That begins

with a culture that leverages our

most powerful resource – our

team members – who make a difference

on a grand scale across

our organization, regardless of

the role:

Clinical Opportunities

Registered Nurse

Certified Medical Assistant

Home Care Coordination

Hospice and Palliative Care

My UnityPoint Nurse Call Center

Pediatrics

Pharmacy

Laboratory

Advanced Practice

Therapy/Behavioral Health

And More!

Non-Clinical

Administration/Clerical

Billing Office

Environmental Service

Finance and Accounting

Home Medical Equipment

Human Resources

Information Technology

Patient Registration

Procurement, Supply, Distribution

And More!

Come for a

job, stay for

a career.

unitypoint.org/career

2019 ALL STARS of ICR 23
---
HEALTH CARE

Teresa Young

Health Psychologist

UnityPoint Health

Cedar Rapids, Iowa

Watch Teresa's story

youtu.be/njIdiHOsw88

What do you do as a health

psychologist?

My primary role is to see patients who

are struggling with adjustment to a

disability or major traumatic accident.

Other aspects of my work include

running a caregiver support group, cofacilitating

a program for patients with

chronic pain, developing and supervising

a peer support program and seeing

patients before elective surgeries

to maximize a good outcome from the

procedure. The remainder of my time

is spent consulting with our medical

team and serving on hospital-wide

committees to enhance the services

we provide. I love working in a hospital

setting and absorbing the input folks

from different fields contribute.

What gets you excited to go to work

each day?

I feel a strong sense of purpose when

I sit with people during their most difficult

times in life. I get to guide them

toward healthy activities and people.

I derive a lot of meaning and joy from

seeing my patients take action outside

of my office as they adjust to the world

around them and accept themselves

compassionately.

Why did you choose to get into

healthcare?

I think I have a talent for being able to

connect with people when they are at

their most vulnerable. There is such a

high need for mental health providers

and accessible services, and I want to

be part of what meets that need and

advocate for even more.

What did you study in college?

I graduated with a B.A. in psychology

and a minor in Spanish from

Illinois State University, and I stayed

there to complete my M.S. in clinicalcounseling

psychology. After working

in the field for a year, I got my Ph.D. in

counseling psychology from Tennessee

State University.

What has been your career pathway

to your current job?

When I was a senior in college, I received

a lot of support from a mentor

of mine to pursue graduate training.

She encouraged me to consider working

in a clinical field with patients.

After earning my M.S., I worked as a

crisis intervention specialist, evaluating

folks who were suicidal, homicidal

or with chronic mental illness in the

community. During my doctoral training,

I chose a variety of experiences to

find the right fit. I worked at university

counseling centers, conducted

evaluations for children and counseled

veterans of varying age groups and

circumstances.

Some people hear the term "health

care" and think "physician" or

"nurse." What do you want people

to know to help broaden their outlook

on the field?

Physicians and nurses are, of course,

an integral part of healthcare. But

there is a reason why healthcare has

expanded to include psychologists,

specialists, physical therapists, occupational

therapists, speech pathologists,

social workers, etc. We see better

outcomes when you get all those services

in one place! There are also many

people working "behind the scenes"

in administration, IT, the cafeteria and

gift shop, for example, who keep the

hospital running and going forward.

We need them all.

If someone isn't sure if healthcare is

the right fit for them, what should

they do to check it out?

First, search healthcare jobs through

a website called O*Net. Once your

options narrow down, contact someone

in that position to connect with

through email or job shadowing.

Health care can be something that

takes getting used to, so volunteering

at a hospital or nursing facility can be a

way to see what one might encounter.

Any other thoughts?

Just that Iowa needs psychologists!

24 2019 ALL STARS of ICR
---
HEALTHCARE

Median Hourly Earnings

$21.16

Growth 2019-2023

Home Health Aides +22%

Nurse Practitioners +12%

Personal Care Aides +12%

Registered Nurses +5%

Physician Assistants +10%

Health Educators +7%

The source of the information above is provided by: Emsi occupation employment data are based on final Emsi industry data and final Emsi staffing patterns. Wage estimates are based on Occupational

Employment Statistics (QCEW and Non-QCEW Employees classes of worker) and the American Community Survey (Self-Employed and Extended Proprietors). Occupational wage estimates also affected

by county-level Emsi earnings by industry.

Innovative Equipment

Talented People

ACP, Inc. is located in SW Cedar Rapids,

and is proud to be the only US manufacturer

of Amana and Menumaster commercial

high-speed and microwave ovens

used in many of your favorite restaurants!

Established in 1969, we are the industry

leader and pioneer of commercial microwave

and speed cooking technology.

225 49th Ave. Dr. SW

Cedar Rapids, IA 52404

Production opportunities

available on 1st and 3rd

shifts including:

Assembly

Welding

(Spot, Projection)

Fabrication

(Press, Press Brakes, Lasers)

Material Handling/Warehouse

Service Parts

(Pick, Pack, Ship)

WHY ACP, INC.?

Competitive compensation

package including bonus

opportunities

Full-time 4-10's work

schedule (Fridays off)

Fantastic benefits

Advancement opportunities

For more information on current openings, benefits,

apply online or complete an application visit:

www.acpsolutions.com/employment or submit your inquiry

or resume to: careers@acpsolutions.com

EOE

Pre-employment physical and drug screen required

2019 ALL STARS of ICR 25
---
INFORMATION TECHNOLOGY SECTOR

Alex McCaslin

Controller

ProCircular

Coralville, Iowa

Watch Alex's story

youtu.be/e9fxofYNcmE

What do you do as a controller?

The primary functions of the job are to oversee the day-today

accounting functions, month-end reporting, delivery of

accurate financial information to the appropriate parties,

budgeting, maintaining the 260e/260f programs and the

research and preparation of requests for proposals (RFPs). As

a small and growing business, we wear many hats and much

of my job can also fall under the "other duties as assigned."

I have the opportunity to have my hand in sales, operations,

project management and facilities management.

What gets you excited to head to work each day?

With the variety of the work that needs to be done, no day

is ever the same. Accounting often gets stereotyped as

uneventful or boring, and this led me to look at how I could

help other areas of the business, which has enabled me to

streamline processes and contribute in several different areas.

How did you choose your line of work?

I love working with numbers. I have an analytical personality

and thought process. I took accounting classes starting

in high school when I was trying to figure out what I

wanted to do with my life. I loved the ability to see how the

information came together to tell the story of a business.

Accounting isn't just crunching numbers – it's telling a story

of a business.

Where did you go to college?

I have an A.A. from Kirkwood and a bachelor's in accounting

from Kaplan University.

Is there a challenge you've overcome at work that you're

especially proud of?

The biggest challenge has been starting many things from

scratch. ProCircular was a new company when I joined in

2016, and we've had to continuously make improvements.

Everyone's ability to "learn on the fly" is something I'm

proud of, and we have the growth results to show for it.

Is there something in your work that has surprised you?

A controller or accountant is not always associated with

helping generate revenue for a company. ProCircular knew

that government contracting was an area that could be

crucial for the success of the business. I had never worked

on government contracting and bids/RFPs, and it's not

generally something you'd find a controller doing. I love

the ability to contribute to the growth of the company, and

this is a way to do so. There's no greater feeling than when

you win a government bid.

What does it take to be successful in your role?

A person can be successful if they come in with subjectmatter

expertise or industry knowledge. However, what truly

stands out is the ability to adapt to change, foster new experiences

and expand their horizons professionally. I feel that

I've succeeded because I've worked hard and always sought

out new opportunities to learn all aspects of whatever position

I was in. It was more than just coming in and crunching

numbers; it was a hunger that I wanted to learn more so I

could help the business succeed.

If someone isn't sure if a finance-related career is right for

them, what should they do to check it out?

The first step is determining if you're passionate about this

area. If you're not passionate about it, it becomes much harder

to succeed and stand out. If you're truly interested in the

field, there are a number of college/university organizations

or clubs that you can get involved in. It also helps to talk to

an adviser who can offer guidance and to speak with several

people within the field about what they enjoy and what they

don't. Keep in mind that you don't have to rush and make a

decision. Take your time to think things through.

26 2019 ALL STARS of ICR
---
INFORMATION TECHNOLOGY

Median Hourly Earnings

Software Developers, Applications $41.63

Web Developer $25.60

Database Administrators $37.98

Computer Programmer $34.72

Network and Computer Systems $35.17

Administrators

The source of the information above is provided by: Emsi occupation employment data are based on final Emsi industry data and final Emsi staffing patterns. Wage estimates are based on Occupational

Employment Statistics (QCEW and Non-QCEW Employees classes of worker) and the American Community Survey (Self-Employed and Extended Proprietors). Occupational wage estimates also affected

by county-level Emsi earnings by industry.

AT MERIT CONSTRUCTION,

our employees recognize

the importance of community

involvement.

Together, we build stronger

communities.

Kris Ehlinger,

Superintendent

meritconst.com

2019 ALL STARS of ICR 27
---
INFORMATION TECHNOLOGY SECTOR

Randall Pugh

Service Desk User

Support Specialist

Collabrance LLC

Cedar Rapids, Iowa

Watch Randall's story

youtu.be/C3Q-M05VDh8

What do you do as a service desk user support specialist?

I spend roughly 40 percent of my time on inbound calls and chat requests and another 40

percent working on user-submitted and alert tickets. I'm a subject-matter expert for our

image-based backup solution, so a good portion of my tickets are making sure those devices

are functioning properly. The rest of my time is spent writing PowerShell scripts for

task automation projects, assisting other team members with tickets, learning new things

through trainings or self-study and training our new service desk intern.

What does it take to be successful in your role?

Technical expertise and exceptional customer service skills are important, and you need a

little bit of both to be successful because they feed off each other. You also have to be a

good listener. In a way, you need to be a good "translator" of the user's words to technical

terms and vice versa. Being able to give easy-to-follow steps that don't use jargon makes

the customer experience a whole lot better. And having a passion to learn is a plus because I

always feel like I'm learning something new.

28 2019 ALL STARS of ICR
---
What gets you excited to head to work each day?

I enjoy the challenge of solving difficult problems and

the satisfaction of finding the solution. I like talking

with our customers. It's pretty easy to strike up a

conversation while working, and you meet all sorts

of people. I also enjoy the task automation projects I

work on. I started with no PowerShell experience before

Collabrance, took it on as a hobby and then was

able to make it into a part of my career. It's cool that

I can create something that can be impactful to our

organization and it doesn't even feel like work to me.

Why did you choose the IT field?

Ever since I was little, I have had a passion for computers.

I took Visual Basic and Java programming classes

in high school and built my own computer, picking

each part individually for my build. I was feeling pretty

knowledgeable about computers at that point and

started fixing them for people in my hometown. After

high school, I enrolled at Kirkwood to study computer

science.

Has there been something in your work that has

surprised you?

I never imagined I would have become a subjectmatter

expert for the image-based backup solution we

offer: Datto. Datto offers two certifications – Technical

Specialist I and Technical Specialist II. I completed

both certifications and became the first person from

Collabrance to earn the Tier II certification, leading the

way for others on my team to earn the certification.

Looking back at where I started, it's wild to reflect on

how much my technical knowledge has grown.

If someone isn't sure if IT is the right fit for them,

what should they do to check it out?

If programming classes are an option, take them.

Whether you find programming interesting or not,

understanding programming concepts is extremely

helpful for troubleshooting issues. Also, if you have the

ability to build your own computer, you should give it a

try. I built my first computer after reading some guides

on the internet and used the manuals that came with

the parts to put it together. Not only is it rewarding

to do something that seems so complex, but you are

building something you can use for several years with

occasional upgrades. Overall, the IT sector is a great

career to join at any age. It's a growing field with endless

opportunities for specialization.

AARON HOUSE

Automation Product Specialist

CONGRATULATIONS

AARON HOUSE

ON RECEIVING HONORABLE MENTION AS AN ALL STAR OF ICR!

vanmeterinc.com 1-800-247-1410

Everything you need to succeed.

2019 ALL STARS of ICR 29
---
TRANSPORTATION, LOGISTICS SECTOR

What has been your career pathway to your current

job?

While I was working on my degree in diesel truck technology

at Kirkwood, I worked as a detailer, cleaning the

inside and outside of trucks. Once I earned my degree,

I started as a diesel technician. While that is still my official

title, I've been able to progress in my career. I'm

continually learning and improving the more I experience

in my job. I'm also required to complete ongoing

training through our original equipment manufacturer

(OEM), which is International and Isuzu. The more training

I complete, the more money I'm able to earn because I can

work on more difficult repairs. Currently, I'm the lead on second

shift. If another diesel technician doesn't know how to complete

a repair, they come to me and I'm able to help them diagnose it

accurately.

Nick Fisher

Diesel Technician

Thompson Truck and Trailer

Cedar Rapids, Iowa

Watch Nick's story

youtu.be/G8wbfHBkcDQ

Why Kirkwood?

The diesel truck technology program is short (18 months), so I

could learn what I needed quickly and then get back to working.

And as a student, I had access to tools at 50 percent off because

Kirkwood partners with tool retailers to provide students a discount

to get started.

What kind of advancement opportunities are there within

the industry?

As a diesel technician, you can get certified in many different

brands of trucks, different engines, transmissions, etc. The more

you know, the more opportunities you have. There are a lot of

other jobs you can transition to as well. You'll still utilize the

knowledge gained as a diesel technician, but you'll be

doing different things with it: shift manager, truck sales,

parts specialist, warranty, truck leasing, service writer,

fleet manager. You can even open and run your own

repair shop.

Speaking of different brands, how do you keep current

on what's new within the industry?

Training is a continual process. There are hours of

videos to watch, followed by quizzes. Our OEMs are always

updating their truck models and correcting issues,

so new information and training is constantly posted. I

always try to stay up to date on my training because it

ultimately helps me be successful in my job.

What do you find especially rewarding about your

job?

The problem-solving is rewarding. I often see trucks

I've worked on driving down the road.

What do you do as a diesel technician?

I diagnose and repair trucks. We generally only work

on the cab of a semi where the mechanical, electrical,

steering and suspension work is located.

What gets you excited to head to work each day?

I'm excited to see what's in the shop that needs repaired.

I don't know what I'll be working on until I get

there, so it's always something new.

Has anything in your work surprised you?

Knowing how to program, reprogram and update different computers

in the truck. You usually think of a mechanic job as dirty

and manual labor only, but there is so much technology involved

in semis now, and we're the ones required to know how to use it

and program it.

What personal and professional skills are needed to be successful

in this industry?

Problem-solving, hand-eye coordination, communication and

patience. Also, you need to know how to use a computer well,

including how to research and find the information needed to

then go fix a truck.

If someone isn't sure if the transportation industry is the right

fit, what should they do to check it out?

There are a ton of videos online you can watch to get a sense of

what the job requires and what the environment of a shop is like.

The state of Iowa is known for the number of trucking companies located

here. There's always a transportation company hiring for roles

such as mine or others in this field.

30 2019 ALL STARS of ICR
---
TRANSPORTATION

Transportation Workers, 9% growth from

2019-2023

Industrial Truck and Tractor Operators, 6%

growth from 2019-2023

In 2019, there are 16,053 jobs in the ICR

Region, 37% above the national average

Median Hourly Earnings

$18.14

The source of the information above is provided by: Emsi occupation employment data are based on final Emsi industry data and final Emsi staffing patterns. Wage estimates are based on Occupational

Employment Statistics (QCEW and Non-QCEW Employees classes of worker) and the American Community Survey (Self-Employed and Extended Proprietors). Occupational wage estimates also affected

by county-level Emsi earnings by industry.

QUESTIONS?

If you are interested in learning more about the ICR

Sector Boards, or want to become an employer

board member, please contact:

Architecture Construction and Engineering (ACE)

Kylie.Gudenkauf@Kirkwood.edu

Advanced Manufacturing

Barbara.Rawson@Kirkwood.edu

Financial Services

Judy.Stoffel@Kirkwood.edu

Healthcare

Judy.Stoffel@Kirkwood.edu

Information Technologies

Gary.Vogt@Kirkwood.edu

people

Our

make us

better!

Ryan Dalziel was named

Honorable Mention from the

Transportation and Logistics

sector board.

Congratulations Ryan!

Transportation, Logistics

Ashley.Grimm@Kirkwood.edu

2019 ALL STARS of ICR 31
---
TRANSPORTATION, LOGISTICS SECTOR

Lewis Minehart

ICON Program:

Independent Contractor

Don Hummer Trucking

Cedar Rapids, Iowa

Watch Lewis' story

youtu.be/9TJyy0MJTYo

What do you do as an independent contractor?

I really have two jobs. First, as a truck driver, I regularly inspect

my truck and trailer to ensure all the equipment can be

operated safely. The other important part of being a driver is

to safely arrive at my appointments in a timely manner with

everything intact. Of course, there is a lot more involved

when it comes to safely operating an 80,000-pound vehicle,

but at the end of the day, it really is that simple. The second

part of my job is managing my truck, which includes things

like scheduling maintenance, ensuring compliance, monitoring

costs and revenue. This involves all the details on the

business side of trucking that keep you running profitably.

Why did you choose to get into the trucking industry?

After serving eight years in the Marine Corps, I was honorably

discharged in 2011. I had saved up some money while

in the service but didn't really have a plan for my future. I

spent the next few years contemplating what I should do

next. I did some construction work, some welding, attended

college for a couple years and tried working security, but

nothing ever felt right. In the back of my mind I was always

curious about truck driving. I had no driving experience, but

my dad was a truck driver in the '80s and always told my

younger brother and me interesting stories from his time on

the road. I decided to look into becoming a truck driver and

went to Kirkwood to obtain my commercial driver's license

(CDL). I thought I'd give it a shot and if nothing else, I'd at

least end up with a few good stories of my own, but I ended

up falling in love with it.

What has been your career path after receiving your CDL?

I graduated from Kirkwood's professional driving program

in 2016. One of my Kirkwood instructors helped me get my

first job in Cedar Rapids. At the time I had a dog at home

and couldn't do "over the road," so I drove a dump truck

for about a year in order to be home daily. It was a blessing

and a curse; I was home every night, but I also worked 18-

hour days. After my dog passed away, I figured it was time

to use my license for the reason I got it: to drive big trucks.

I applied with Hummer because of the reputation they have

for being committed to their drivers. For the next year I

scrimped and saved every penny, and by the end of my first

year with Hummer, I had saved enough money to buy my

own truck. I decided to lease that truck on with Hummer.

The company really went out of their way to help me get

into the industry, actually negotiating with third parties at

times on my behalf. I've been operating my own truck for

the last year and have no regrets.

What advice would you give to people who want to get

into the transportation industry?

There is no other career which costs so little to get into that

will have you making this much money in a short period of

time without incurring debt. When you're just starting out,

pick a company that will treat you right. Talk to other drivers

to get a feel for a company's atmosphere. The state of Iowa

subsidizes a training course through Kirkwood for certain

circumstances, and military veterans can apply their benefits

toward driving programs. Research as many of these options

as you can to see what's right for you. The great thing about

trucking is that you decide how much or how little you work:

work more, get paid more; work less, get paid less. You

decide the level of your success. All it takes is a little bit of

effort and some serious determination.

32 2019 ALL STARS of ICR
---
ADVERTISEMENT

Customize Your Career

with Don Hummer Trucking

At Don Hummer Trucking, we understand what it means to be driven. When

Lewis Minehart was considering joining Hummer through our Driving Forward

and Heroes to Hummer training programs, it was clear that his goal was to end

up in our ICON: Independent Contractor program.

Before making the transition to independent contractor, Lewis worked

closely with our team to get a better understanding of our industry and all

its moving parts. Through his own determination – and a little help from

our crew – Lewis went from trainee to Independent Contractor in just under

three years. We couldn't be prouder to see him representing Don Hummer

Trucking!

A Great Career Starts with Great Training & Mentors

Whether you're fresh out of school or an experienced professional looking

for a change, Hummer offers the support and guidance to steer your career

in the right direction.

Driving Forward – Our training program for new drivers helps you

learn the ropes alongside our experienced trainers.

Heroes to Hummer – Our VA-approved apprenticeship program for

veterans and active reservists helps new drivers use skills they learned in

the military to transition into a rewarding civilian career.

Ongoing Support – The support you receive at Hummer doesn't end

when your training does. You'll stay connected to our training team

who can answer questions and offer career advice. Even when you're

driving solo — you're never on your own at Hummer.

Non-driving Jobs – Drivers are the backbone of our company and our

industry, but they can't do it alone. Driver and customer support positions

are also available and include tractor and trailer technicians, driver managers,

driver recruiters and additional office support.

Don Hummer Trucking Benefits

- Driver trainees are salaried and eligible

for full benefits

- Excellent pay + regular bonus potential

- Raises as you gain experience

- Standardized home time policy gets you

home when it matters

- Affordable medical, dental, vision and

disability insurance

- Save for retirement with 401(K) + company

match

- Pet friendly – take your dog on the road

Career Opportunities Available Now

- 12 Nights Out – Explore the country

as you rack up miles. A great fit for

drivers who want maximum miles and

bi-weekly hometime.

- 5 Nights Out – Perfect for drivers

who like consistency and need regular

hometime.

- Team Drivers – Share the drive with a

friend or spouse.

- Independent Contractor – Our ICON

Program allows experienced contractors

to operate within our network.

Check out all the career opportunities

in transportation by visiting

donhummertrucking.com

(888) 323-6115

Don Hummer Trucking Salutes

LEWIS MINEHART

AND THE 2019 CBJ ALL STARS

donhummertrucking.com

888-323-6115

Congratulations to Lewis Minehart, Independent Contractor for

Don Hummer Trucking, and all 2019 CBJ All Stars. We're proud

of our drivers like Lewis, and all Hummer employees, who put

their talents to work in the ICR Corridor.

2019 ALL STARS of ICR 33
---
Reach For Potential House Project

JUNIOR ALL STARS

WINNERS

In June 2018, five Kirkwood Community College

and high school students embarked on the Greater

Iowa City Home Builders Association's initial

summer Vocational Training Program. Through the

program, the students constructed a 2,339-squarefoot

house in Iowa City.

Pallavi Gopalakrishna

Student, Kirkwood Community College

Cullen Klebe

Student, Highland High School, Riverside*

Jake Nietfeldt

Student, Durant High School, Durant

George Marcy

Student, Solon High School, Solon

Lia Weiner

Student, Iowa City West High School, Iowa City

What did the five of you accomplish?

JAKE NIETFELDT: A group of us, ranging from a junior in

high school to a 38-year-old Kirkwood student, built a house

through the Iowa City Home Builders Association for Reach

For Your Potential, which houses adults with disabilities that

need 24/7 care. The house was Americans with Disabilities Act

(ADA)-approved, making it 100 percent handicap accessible.

PALLAVI GOPALAKRISHNA: Under the constant support and

impeccable guidance of Tim Rouse, starting from how the

building permit was obtained to the housewarming ceremony,

from digging to building, from using hands to using machines,

we were laid out the opportunity to learn and build the home.

A confidence that came from trusting a group of students to

deliver a live product was a boost to my self-confidence.

CULLEN KLEBE: Everyone worked on various things. I helped

put the foam board along the footings and tie rebar together

for the concrete slab. I helped frame, helped put the roof on,

helped side the house and all sorts of other fun stuff. Our first

day working on the site was June 12 and we had the house

showing on Sept. 1.

How did you and your team members get connected,

especially since you're from different schools?

Cullen Klebe and Jake Nietfeldt are two of the five Junior All Stars

winners.

JAKE: The opportunity was offered to me by my high school

shop teacher, Mr. Tim Rouse. He was told about it by Joe

Greathouse, associate professor of construction management

at Kirkwood.

PALLAVI: I was also told about the project by Joe Greathouse.

(I'm an architectural technology student.) Prior to attending

Kirkwood, I had completed my bachelor's in architecture studies

in India before following my husband to the United States.

CULLEN: I found out about it through my boss at McCreedy-

Ruth Construction, Tim Ruth. He mentioned that we were

going to start a new student-built house and that I should take

part. I signed up for the project, signed up to have it be used

as my summer internship for Kirkwood and off things went.

Has Kirkwood been a good choice for you?

PALLAVI: Yes. I chose Kirkwood because it has the courses I

was looking for, and when I approached the faculty, they gave

me all the attention I needed, listened to me and guided me.

What appealed to you about the housebuilding project?

JAKE: I have an interest in the trades and this helped me get

my foot in the door. It also appealed to me because of who

we were building it for.

PALLAVI: With great communication from the start of the project

until the end, every person who contributed had a noble,

yet humble, thought in their minds, be it the design team,

various consultants, banks, etc. The one cause in mind was the

community support and reassurance of faith in humankind.

CULLEN: I started working for McCreedy-Ruth Construction

in the summer of 2017, so I wasn't too experienced when I

started working on the Reach house. I want to be a framer and

I saw an opportunity to do that.

34 2019 ALL STARS of ICR
---
What did you find especially rewarding about the project?

JAKE: The happiness we gave those four adults who had not

gotten to experience their own home to have, in a way, their own

home. (They will always live in a supervised home.) The happiness

that they expressed at the ribbon-cutting spoke for itself.

PALLAVI: The smiles of the homeowners on the housewarming

day! That was a heartwarming reward.

CULLEN: Seeing the final product. I worked on the house from

when they poured the foundation until the nail holes were

filled, so I was fortunate enough to see the project all the way

through. To see the people's faces who were going to be living

in the house was priceless. They thanked us and hugged us, but

the best part was seeing how happy they were and how great

the house turned out.

Did you face challenges while building the house?

JAKE: For most of us, this was our first time building a house,

so we didn't know what to do. My teacher, Mr. Rouse, and Tim

Ruth from McCreedy-Ruth Construction did a wonderful job

of helping us and not getting frustrated with us! They were

wonderful mentors. The other challenge we faced was the

weather. We had a few rainy days and we had a lot of superhot

days – we were sheeting the roof on one of the hottest

days of the summer.

CULLEN: The biggest challenge we faced had to be our inexperience,

even my own. We were all learning new things as the

job went on and we just had to face it.

If someone isn't sure if construction is the right fit, what

should they do to check it out?

JAKE: Do research on it and look for things such as a studentbuilt

home in your community or in a community around you.

Do a job shadow or talk to someone in the trades. Just give it a

shot. If you don't like it, then you can back out.

PALLAVI: Being in the construction field is like a banquet every

day because there are numerous things going on at one place:

learning engineering, managing social and economic conditions,

team and time coordination, planning and much more.

Having a roof over your head is a satisfying feeling. Being able

to be in an industry that helps provide one is even better.

Watch Reach For Your

Potential House Project story

youtu.be/wo43fUELVHM

CULLEN: Talk to a teacher

or your guidance counselor

and see if there are job

shadow opportunities you

can try. Go out and see if

you really want to do this,

and if you don't, that is perfectly

fine. This line of work

is not for everyone, but if you do want to do construction and

you are sure of it, now is a great time to get into the trade – any

trade for that matter. Be prepared to work hard, and don't be

afraid to get after it. Be a go-getter, be energetic and excited

to learn and people will want to teach you. Everyone will make

mistakes, but that's how you learn.

*Cullen graduated in 2018 and is now a construction management

student at Kirkwood.

JUNIOR ALL STARS

HONORABLE MENTION

Elisha Sir-Louis

Student, Mid-Prairie Home School

Assistance Program

Kirkwood Advanced Manufacturing/

Engineering Technology & Welding Career

Academy, Kirkwood Regional Center at the

University of Iowa

Why did you choose

to participate in

Kirkwood's advanced

manufacturing academy

experience?

The opportunity to attend

a college course

free of charge while still

in high school and gain

life experience in a field

that is in high demand right now was an experience

I couldn't pass up. The advanced manufacturing

and welding classes intrigued me. I realized

I was gaining an experience few get at my age.

And it taught me what it means to be in the environment

of a job mindset.

Share some details about your academy

experience.

I am currently enrolled in Kirkwood's advanced

manufacturing program, which is a yearlong commitment.

We are studying CNC lathe, CNC mill,

press brake and different forms of welding. Last

summer I had an internship through Kirkwood's

Workplace Learning Connection, which is a program

for high schoolers to experience on-the-job

training and explore different job opportunities.

I did my internship with Open Gates Group, a

small-town milk and dairy company that had an

internship for an apprentice welder. That was the

first encounter I had with a welding job.

If someone isn't sure if manufacturing is right

for them, what should they do to check it out?

If you're interested in advanced manufacturing,

welding, CNC or other machines used in a

manufacturing setting, there are demo days held

at the regional center that you can attend to get

a glimpse into the manufacturing world. You are

able to use the virtual welders and possibly see

the machines at work during the demo day. The

advanced manufacturing curriculum is great for

those who want to work with their hands and see

some sparks fly. The classroom and bookwork are

really easy to understand, along with the lectures.

2019 ALL STARS of ICR 35