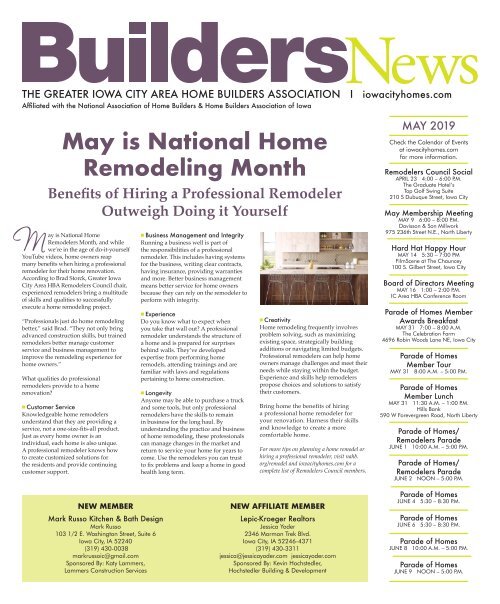 Create successful ePaper yourself
Turn your PDF publications into a flip-book with our unique Google optimized e-Paper software.
THE GREATER IOWA CITY AREA HOME BUILDERS ASSOCIATION I iowacityhomes.com

Affiliated with the National Association of Home Builders & Home Builders Association of Iowa

May is National Home

Remodeling Month

Benefits of Hiring a Professional Remodeler

Outweigh Doing it Yourself

M

ay is National Home

Remodelers Month, and while

we're in the age of do-it-yourself

YouTube videos, home owners reap

many benefits when hiring a professional

remodeler for their home renovation.

According to Brad Storck, Greater Iowa

City Area HBA Remodelers Council chair,

experienced remodelers bring a multitude

of skills and qualities to successfully

execute a home remodeling project.

"Professionals just do home remodeling

better," said Brad. "They not only bring

advanced construction skills, but trained

remodelers better manage customer

service and business management to

improve the remodeling experience for

home owners."

What qualities do professional

remodelers provide to a home

renovation?

n Customer Service

Knowledgeable home remodelers

understand that they are providing a

service, not a one-size-fits-all product.

Just as every home owner is an

individual, each home is also unique.

A professional remodeler knows how

to create customized solutions for

the residents and provide continuing

customer support.

n Business Management and Integrity

Running a business well is part of

the responsibilities of a professional

remodeler. This includes having systems

for the business, writing clear contracts,

having insurance, providing warranties

and more. Better business management

means better service for home owners

because they can rely on the remodeler to

perform with integrity.

n Experience

Do you know what to expect when

you take that wall out? A professional

remodeler understands the structure of

a home and is prepared for surprises

behind walls. They've developed

expertise from performing home

remodels, attending trainings and are

familiar with laws and regulations

pertaining to home construction.

n Longevity

Anyone may be able to purchase a truck

and some tools, but only professional

remodelers have the skills to remain

in business for the long haul. By

understanding the practice and business

of home remodeling, these professionals

can manage changes in the market and

return to service your home for years to

come. Use the remodelers you can trust

to fix problems and keep a home in good

health long term.

n Creativity

Home remodeling frequently involves

problem solving, such as maximizing

existing space, strategically building

additions or navigating limited budgets.

Professional remodelers can help home

owners manage challenges and meet their

needs while staying within the budget.

Experience and skills help remodelers

propose choices and solutions to satisfy

their customers.

Bring home the benefits of hiring

a professional home remodeler for

your renovation. Harness their skills

and knowledge to create a more

comfortable home.

For more tips on planning a home remodel or

hiring a professional remodeler, visit nahb.

org/remodel and iowacityhomes.com for a

complete list of Remodelers Council members.

MAY 2019

Check the Calendar of Events

at iowacityhomes.com

for more information.

Remodelers Council Social

APRIL 23 4:00 – 6:00 P.M.

The Graduate Hotel's

Top Golf Swing Suite

210 S Dubuque Street, Iowa City

May Membership Meeting

MAY 9 6:00 – 8:00 P.M.

Davisson & Son Millwork

975 236th Street N.E., North Liberty

Hard Hat Happy Hour

MAY 14 5:30 – 7:00 PM

FilmScene at The Chauncey

100 S. Gilbert Street, Iowa City

Board of Directors Meeting

MAY 16 1:00 – 2:00 P.M.

IC Area HBA Conference Room

Parade of Homes Member

Awards Breakfast

MAY 31 7:00 – 8:00 A.M.

The Celebration Farm

4696 Robin Woods Lane NE, Iowa City

Parade of Homes

Member Tour

MAY 31 8:00 A.M. – 5:00 P.M.

Parade of Homes

Member Lunch

MAY 31 11:30 A.M. – 1:00 P.M.

Hills Bank

590 W Forevergreen Road, North Liberty

Parade of Homes/

Remodelers Parade

JUNE 1 10:00 A.M. – 5:00 P.M.

Parade of Homes/

Remodelers Parade

JUNE 2 NOON – 5:00 P.M.

NEW MEMBER

Mark Russo Kitchen & Bath Design

Mark Russo

103 1/2 E. Washington Street, Suite 6

Iowa City, IA 52240

(319) 430-0038

markrussoic@gmail.com

Sponsored By: Katy Lammers,

Lammers Construction Services

NEW AFFILIATE MEMBER

Lepic-Kroeger Realtors

Jessica Yoder

2346 Mormon Trek Blvd.

Iowa City, IA 52246-4371

(319) 430-3311

jessica@jessicayoder.com jessicayoder.com

Sponsored By: Kevin Hochstedler,

Hochstedler Building & Development

Parade of Homes

JUNE 4 5:30 – 8:30 P.M.

Parade of Homes

JUNE 6 5:30 – 8:30 P.M.

Parade of Homes

JUNE 8 10:00 A.M. – 5:00 P.M.

Parade of Homes

JUNE 9 NOON – 5:00 P.M.
---
2 ICAHBA Builders News | May 2019

Message from the President

Dear HBA Members,

Spring sales are is in full swing and homes are starting

to fly off the market. The 30-year mortgage interest rates

are below 4 percent once again, and the local economy

continues to grow

adding new businesses,

restaurants, grocery

stores and entertainment

venues. Growing up in

Iowa City it was easy

to take for granted how

fortunate I was to live

in an area with such

great education, low

unemployment and

low crime. Even while

attending and graduating

from the University

of Iowa, my goal was always to move away to find

employment and achieve "success." Today, with proper

perspective after all these years of living in the greater Iowa

City area, I am thankful for the multitude of opportunities

I have had. Now, it's my turn to impress upon younger

generations what a terrific community we have in which to

live and work.

On the board, and in many of the member meetings, a

main topic of discussion is how to recruit new workers --

including ways to educate students about and encourage

students to enter the building trades. Hard work and long

hours are what people see, without fully understanding

how personally and professionally rewarding construction

work can be. I painted houses every summer during high

school and part of college with John A. Cress Painting.

At that time, most trim (and many wood windows) were

stained and finished on site after framing. That meant I was

able to watch the construction process from beginning to

end and see the various trades working together as a team

despite their different jobs. I saw everyone's role, including

how the general contractor orchestrates the entire project.

Our Vocational Training Council, the Student-Built

House leaders and various Kirkwood programs are to be

commended for their efforts to educate and drive more

young people into the homebuilding trades. The recent

Build My Future event is a perfect example of this (see

pages 4-5). There is no better way to learn than hands on.

No matter how smart or talented you are, everyone can

learn from a mentor. Not only are we fortunate to live in

the area that we do, but our organization is fortunate to

have many members sharing their time and knowledge.

For that we say "Thank You!"

Sincerely,

Mike Bails

Urban Acres Real Estate

2019 Greater Iowa City Area HBA President

2019 BOARD OF DIRECTORS

PRESIDENT

Mike Bails

Urban Acres Real Estate

PAST PRESIDENT

Adam Hahn

Watts Group

1ST VICE PRESIDENT

Glenn Siders

Siders Development

2ND VICE PRESIDENT

GT Karr

Sueppel's Siding & Remodeling

SECRETARY

Kelly Manning

Sobaski Abbey Carpet & Floor

TREASURER

Marty Tunning

RSM US LLP

Patrice Carroll

Tracey Achenbach

HBA-Linked Professionals Named

Women of Influence Winners

One Greater Iowa City Area HBA member and another close ally to our association

have been named two of 10 honorees for the 2019 Corridor Business Journal's Women

of Influence awards during a dinner ceremony April 4 at the DoubleTree by Hilton

Cedar Rapids Convention Complex. The recognition identifies women who have

made a difference in the corridor and are representative role models as leaders in their

fields and community.

HBA-member Patrice Carroll is President and CEO for ImOn Communications. She

launched the company in 2007 and has grown it from 35 to 115 employees and more

than 17,500 customers. Patrice also serves on multiple boards and committees for

community organizations focused on her passion for the arts, education and local

economic development. Among them are the Theatre Cedar Rapids Board of Directors

and the Junior Achievement of Eastern Iowa Regional Executive Board.

"It is an incredible honor to be selected as a 2019 Woman of Influence. I would not

even have been noticed, let alone been selected for this honor if not for ImOn's

success and the amazing people that played a role in that success. Their passion and

commitment to serving our customers and communities are what allow me – and

inspire me – to do the things I do."

Tracey Achenbach is housing director for the East Central Iowa Council of

Governments and an HBA friend. She was instrumental in securing a grant for our

2018 Student-Built House initiative. As a community developer and housing planner,

Tracey has administered a variety of federal and state grants and worked with many

different communities in assisting them with the development of affordable housing

or writing housing plans.

"I do what I do, because I love it and not because I want to be recognized," said Tracey.

"I am honored to have received this award with so many accomplished women."

DIRECTORS

Mike Pugh - Pugh Hagan Prahm, PLC

Art Floss - CBI Bank & Trust

Chad Keune - Advantage Custom Builders

Rory Triplett - Insurance Associates of Iowa City

Todd Helle - Terry Lockridge & Dunn

Andy Martin - Martin Construction

NATIONAL REPRESENTATIVE

Aaron McGlynn - Cabinet Works

STATE REPRESENTATIVE

Tim Ruth - McCreedy-Ruth Construction

WOMEN'S COUNCIL REPRESENTATIVE

Melissa Schooley - Great Western Bank

REMODELERS COUNCIL REPRESENTATIVE

Kevin McCreedy - McCreedy-Ruth Construction

2019 COMMITTEE CONTACTS

PARADE OF HOMES

Mitchell Manning - Sobaski Abbey

Carpet & Floor

THE HOME SHOW

Katy Stutsman - McCreedy-Ruth Construction

Maggie Gehrls - PSC Distribution/Studio H2O

The Greater Iowa City Area

Home Builders Association

EXECUTIVE OFFICER

Karyl Bohnsack

karyl@hbaofic.org

MARKETING AND

ADMINISTRATIVE COORDINATOR

Michelle Moore

michelle@hbaofic.org

PO Box 3396, Iowa City, IA 52244

Phone: 319.351.5333 • Fax: 319.358.2443

Website: iowacityhomes.com
---
May 2019 | ICAHBA Builders News 3

We want to see you at the

MAY MEMBERSHIP MEETING

THURSDAY, MAY 9 | 6:00 P.M. - 8:00 P.M. | FREE

Let's celebrate the nice weather.

Stop by for networking, drinks and appetizers.

Hosted and sponsored by

Davisson & Son Millwork

Davisson Millwork

975 236th St. N.E.

North Liberty, IA 52317

RSVP by May 6 to karyl@hbaofic.org

or michelle@hbaofic.org.

SAFETY FIRST

Members Have Fun, Learn Important

First Aid/CPR Skills at Training Class

Twenty-six Greater Iowa City Area HBA members had some laughs and got twoyear

certifications during our CPR/First Aid Training education class March 27.

PSC Distribution hosted members who learned how to treat everything from a

simple sprain to a serious emergency. They also mastered one- and two-rescuer

CPR techniques and how to use an automated external defibrillator. National Safety

Training Service provided and led the course.

"I signed up for the class because I believe everyone needs to have some knowledge

of both CPR and First Aid. Having a husband, two married children and five

grandchildren, I feel any training can only help if an emergency arises personally or

professionally," said Patricia Litton, IT manager with PSC Distribution. "Thank you

HBA for providing such classes to members."

Greiner Buildings Takes Home Four

National Frame Builders Awards

The Greater Iowa City Area HBA is proud of Greiner Buildings for earning two first

place and as many second place 2018 Building of the Year awards from the National

Frame Builders Association (NFBA) last March in Louisville, Ky. Their first-place

wins were for Remodeled/Retrofitted Building and Livestock Building. Second-place

accolades were for Residential Garage and Hobby Garage.

Gary Watts from

Watts Group (right)

carefully applies a

practice tourniquet to

Mike Dennis of Martin

Construction, who was

a good patient.

"Greiner Buildings, Inc. is honored and humbled to be recognized nationally by the

post-frame industry," said Creative Marketing Manager Rachel Fishback. "In all

projects, our team strives to achieve design, craftsmanship and innovation, while

providing customers a wonderful building experience."

Pictured from Greiner Buildings (unless noted) are: Front Row, left to right: Zac

Murther, Ashley Greiner, Matt Greiner, Rachel Fishback and Kathy Rode. Back Row,

left to right: NFBA's Todd Carlson, Matt Kiley, Cody Anderson, Brandon Slaughbaugh,

Jake Redlinger, Russ Hunger, Tony Turner, Brian Chisholm and NFBA's Ken Gieseke.

CONNECT

WITH US:

facebook.com/IowaCityAreaHBA

instagram.com/icareahba

twitter.com/iowacityhomes

Sueppel's Siding &

Remodeling's Jesse Strienz

(left) attempts to revive

"Annie" with CPR, while fellow

employees William Keating

(center) and Jesus Vazquez

study his technique.
---
4 ICAHBA Builders News | May 2019

Build My Future Gives Students Hands-on Constr

Steps were taken April 2 to shrink

the home-building industry's skilled

workforce gap thanks to our inaugural

Build My Future-ACE Career Day &

Industry Showcase. The event, hosted by

the ACE Sector Board, was held at Jones

Hall on the Cedar Rapids Kirkwood

Community College campus. Sponsors

were Hills Bank, The Greater Iowa City

Area HBA's Vocational Training Council,

The Greater Cedar Rapids HBA and

Kirkwood Community College.

A total of 153 7th- and 8th-grade students

from nine different junior highs or middle

schools in three Eastern Iowa counties

busily learned construction-trade skills

through 15 interactive, hands-on exhibits.

Volunteers from HBA-member companies

directed and inspired the kids. The fun

included hammering nails for roofing

carpentry, piecing together plumbing,

operating heavy equipment, building a

wall with brick and mortar, drywalling

and more. Students also heard about

architecture and engineering careers

during educational sessions and stepped

inside a tiny house.

"I liked that we got to do a bunch

of things in different areas," said

Kennady Breitfelder, an 8th-grader from

Springville. Her classmate Emerson

Ripple's favorite thing was the tiny

house. "It was interesting and reduces

space," she said.

Learning about the construction trade in

this way shows students early in their

schooling an alternative path to a fouryear

college degree and lets them testdrive

different careers. "Informing kids

while they're in junior high allows them

time to learn more about the field, find

what peaks their interests and explore

throughout high school how it can be a

viable choice for them," said ACE Sector

Board member Tim Ruth of McCreedy-

Ruth Construction, whose company

taught kids how to build housing frames

at the event.

The Iowa City-Cedar Rapids area

Build My Future is one of four such

events being held across Iowa this

Spring. Others are through the Quad

Cities Home Builders and Remodelers

Association; HBA of Greater Des Moines

and HBA of Greater Siouxland. Materials

– including photos and video – from

the four showcases will be used to put

together a tool kit for HBAs nationwide

to implement similar events, thanks to

a grant from the National Association

of Home Builders National Housing

Endowment.

Our Volunteers Were Amazing

Leadership in Attendance

National Housing Endowment CEO Mark

Pursell (left) and Dr. Lori Sundberg, president

of Kirkwood Community College, were two

of several leaders at a pre-event breakfast

during Build My Future day. The National

Housing Endowment provided a grant for

Iowa's four Build My Future expos.

Local, state and national industry leaders were on hand for Build My Future. Pictured are

(back row, left to right): National Association of Home Builders (NAHB) Regional Field

Representative Matt Milroy from Chicago; Greater Cedar Rapids HBA Executive Officer

Melissa Olson; Greater Iowa City Area HBA Executive Officer Karyl Bohnsack; and Home

Builders Association of Iowa (HBAI) Executive Officer Jay Iverson. Front row (left to right):

HBAI and HBA of Des Moines Workforce Development Director Brandon Patterson; National

Housing Endowment CEO Mark Pursell; HBA of Des Moines Executive Officer Dan Knoup;

and Greater Iowa City Area HBA member Tim Ruth of McCreedy-Ruth Construction who is

an HBAI representative to NAHB.

Andy Martin (left) of Martin

Construction; and ACE Sector Board

Vice-Chair Eric Heim from Precision

Drywall were two of many volunteers.

Among the exhibitors were (left to right) Tim Ruth,

McCreedy-Ruth Construction; Alex Andino, Andino

Construction; David Mapes, CertainTeed; and

Jessica Andino, Andino Construction.

McCreedy-Ruth Construction's (left to

right) Riley Sullivan, Ava Peterman and

Cullen Klebe taught kids framing.
---
May 2019 | ICAHBA Builders News 5

uction-Field Experience

City and County Officials – and Pie –

Highlight March Membership Meeting

Nearly 75 Greater Iowa City Area HBA members convened March 14 for our

monthly membership meeting at the Kirkwood Regional Center in Coralville.

The March meeting is always a chance to hear development updates from, and

strengthen relationships with, city and county administrators.

Following dinner and networking, members eagerly listened to presentations

from the following officials, who graciously took time out of their busy

schedules: City of Coralville Building and Zoning representative Jim Kessler;

City of Iowa City Senior Building Inspector Tim Hennes; City of North Liberty

Building Department's Tom Palmer; and City of Tiffin Building and Zoning

leader Brian Shay. Impressively, nearly all projects included during the evening

featured our members as a prime or subcontractor.

1st Annual Build My Future

April 2, 2019

Thank You To Our Sponsors!

Culligan Water/Vetters Inc. generously donated the raffle prize, valued at $125 and

won by Brad Storck of Bachmeier Carpet One. Brad now is getting three months of

free bottled water delivered and received an assortment of other goodies, such as

coffee mugs. The 50/50 Raffle individual winner was Chad Keune of Advantage

Custom Builders who snagged $60 and promptly donated it to the Women's

Scholarship Fund for students entering the building trades. The winning company

wasn't present so $60 went back into the pot to start the next membership meeting.

And for dessert? Pie, of course, in honor of National Pi Day!

Hawkeye Ready

Mix's (from left)

Dylan Schindler and

Clint Kirk digest

their dinner before

adjourning to the

meeting room.

The Greater Iowa City Area

HBA

HOME BUILDERS ASSOCIATION

Advocates for homeownership by promoting

standards for quality and affordability.

IT'S

THAT

TM

SIMPLE.

Bachmeier Carpet One's Brad

Storck (center) won the raffle

prize – including three months of

free bottled water – from Culligan

Water/Vetters Inc., represented

by Greg Peeters (left) and Corey

Ringle. Brad will be nice and

hydrated when summer hits.

Chad Keune of

Advantage Customer

Builders (left, foreground)

and Mike Bails with

Urban Acres (center), chat

about projects with City of

Tiffin Building and Zoning

official Brian Shay.

City of Iowa City

Senior Building

Inspector Tim Hennes

makes a point about

a S. Dubuque Street

development.

in kind donations

Thank you to our wonderful meeting sponsors:

Hands On Exhibitors

MERIT CONSTRUCTION | KINZLER CONSTRUCTION | MCCREEDY-RUTH CONSTRUCTION | STAR EQUIPMENT | WOODRUFF CONSTRUCTION | PRECISION DRYWALL

BOOMERANG | SUEPPEL'S SIDING & REMODELING | HODGE CONSTRUCTION | IOWA WORKS | CITY OF CEDAR RAPIDS | MMS | SHOEMAKER HAALAND

GREINER BUILDINGS | MARTIN GARDNER ARCHITECTURE | ANDINO CONSTRUCTION LLC | MASONRY INSTITUTE OF IOWA

PLUMBING-HEATING- COOLING CONTRACTORS ASSOCIATION IOWA APPRENTICESHIP PROGRAM
---
6 ICAHBA Builders News | May 2019

Sueppel's Siding & Remodeling

Volunteers on Tipton Habitat House

Construction hats off to Sueppel's Siding & Remodeling for volunteering at the Iowa

Valley Habitat For Humanity's Tipton Build home March 15. Three employees were

on hand to set up around the house; set starter, corner posts, channel entry doors,

roofline and back gable; and run the first row around the house. The company also

donated the starter siding work. "Habitat is a worthy cause and we enjoy being able

to help out when we can," said GT Karr, Sueppel's Siding & Remodeling general

manager. "It's a good way to be involved in the community and help support it."

The house is for a mother-daughter duo named Betty and Emma.

The 2019 Iowa Valley Habitat for Humanity Tipton Build House.

M&R Construction is

Now Mills Custom Homes

On April 1, Lone Tree-based M&R Construction became Mills Custom Homes after 19

years in business. "We wanted a name and brand that better

represents our focus on custom homes and unique design

services," said Designer Lindsey Mills, who in 2018 joined

husband Ryan Mills – the owner and general contractor for

Mills Custom Homes – to focus on design-service offerings.

The company's specialties center around providing 3D

renderings to clients so they can see selections and "walk

through" their home before breaking ground. Mills Custom

Homes, which services the greater Iowa City area, is sponsoring the awards for our

Parade of Homes this year and will have a new home on the parade.

Ryan and Lindsey Mills own Mills Custom Homes, formerly known as M&R Construction.
---
May 2019 | ICAHBA Builders News 7

52nd Annual Parade of Homes and

22nd Annual Remodelers Parade

The 2019 Parade of Homes and

Remodelers Parade is Co-Sponsored by:

Member-Only Tour, Breakfast and Lunch is May 31

Awards Breakfast

The Celebration Farm (4696 Robin Woods Lane NE, Iowa City)

7:00 – 8:00 a.m.

Breakfast Sponsor: CBI Bank & Trust

Awards Sponsor: Mills Custom Homes

Tour of New Homes

8:00 a.m. – 5:00 p.m.

Lunch

Hills Bank (590 W Forevergreen Road, North Liberty)

11:00 a.m. – 1:30 p.m.

DATES AND TIMES

Saturday, June 1: 10 a.m. – 5 p.m.

Sunday, June 2: Noon – 5 p.m.

Tuesday, June 4: 5:30-8:30 p.m.

Thursday, June 6: 5:30-8:30 p.m.

Saturday, June 8: 10 a.m. – 5 p.m.

Sunday, June 9: Noon – 5 p.m.

9

CONTRACTOR PARADE ADDRESS CITY SUBDIVISION

Advantage Custom Builders 810 Tranquil Bluff Trail Iowa City Mackinaw Village Part 6

Bedrock Builders 791 Linder Rd Iowa City

Cedarwood Homes 1205 Ironwood Lane Tiffin Prairie Village Prairie

Cedarwood Homes 608 Fawn Ave Tiffin Tiffin Heights East

Elevation Home Builders 487 Windmill Place Iowa City Windmill Heights

Elevation Home Builders 401 Windmill Place Iowa City Windmill Heights

Gary Frakes Construction Inc. 3838 275th St NE North Liberty

H&H Home Builders Inc 1110 Cullen Dr Tiffin Tiffin Heights Part 4

H&H Home Builders Inc 1360 Salm Dr North Liberty Scanlon Farms North Ridge

Hochstedler Building & Development LLC 1100 Croell Ave Tiffin Woodfield Ridge

Hochstedler Building & Development LLC 606 Greyson Ln Tiffin Tiffin Heights

Jim Buresh Construction Co 3010 Forest Ridge Dr NE Swisher Jacobs Landing 4th Addition

Larson Builders Inc 2917 Pine Hills Trace Coralville Pine Hills Estates, Eighth Addition

Mills Custom Homes 1701 Croell Ave Tiffin Woodfield Ridge Part 5

Mike Roberts Construction 708 Owen Court Tiffin Tiffin Heights

Navigate Homes 1258 Ava Circle Iowa City Cardinal Pointe West

Navigate Homes 2839 Armstrong Dr Iowa City Sandhill Estates

Watts Group Inc 1330 E Tartan Dr North Liberty Scanlon Farms North Ridge

PARADE

DATES AND TIMES

Saturday, June 1: 10 a.m. – 5 p.m.

Sunday, June 2: Noon – 5 p.m.

COMPANY

PARADE ADDRESS CITY

929 Design Inc 2464 Wickham Trace Coralville

Elevation Home Builders 5 Highview Knoll NE Iowa City

Gary Frakes Construction, Inc. 16 Cherry Lane NE Iowa City

Home Repair Team 180 Auburn East Ln Coralville

McCreedy-Ruth Construction LLC 1035 Prairie Grass Ln Iowa City

Martin Construction 3711 Foxana Dr Iowa City

Sueppel's Siding & Remodeling 2139 Chael Dr Solon

Official Parade

of Homes

Lumber Sponsor
---
8 ICAHBA Builders News | May 2019

IVHFH Women Build Breaks Ground as Women's Council Provides Walls Support

Members of The Greater Iowa City

Area HBA Women's Council built

relationships while building walls

at their April 4 social. The event was

timed with the ground breaking of

the 2019 Iowa Valley Habitat for

Humanity (IVHFH) Doris Preucil

Women Build house. Our Women's

Council participated in the ground

breaking, spent the morning putting

together wall frames for the home

and finished with lunch. Thanks to

all who participated!

A cloudy day didn't outshine the excitement felt as Nasr, Rasha and their boys

Obada, Awab and Yassin – the family who will own the 2019 IVHFH Women Build

house – joined Doris Preucil in shoveling to launch the home's construction at 2629

Blazing Star Drive in Iowa City.

Working with Our

Future Members

Shout outs to three Greater Iowa City Area HBA

members for recently helping students with

segments of their Kirkwood Community College

Architecture, Construction and Engineering (ACE)

Professions class. Students attend the course at

Kirkwood's Washington County Regional Center.

We are grooming our future workforce!

GT Karr (left) and Lori Kramer with Sueppel's Siding & Remodeling

conduct a mock interview. Hope they weren't too tough on her.

Armed with the knowledge of what employers look for, Adam

Hahn (left) from Watts Group gives resume feedback.

Meet our Mortgage Professionals

PURCHASE • REFINANCE • CONSTRUCTION

Jeff Nielsen

Mormon Trek

319-341-4510

Eric Baumgarth

North Liberty

319-341-3070

Pete Johnson

Iowa Avenue

319-341-2213

Matt Frascht

Coralville

319-341-3062

Tami McGary

Financial Center

319-341-2126

Sean Pottratz

Towncrest

319-248-7128

All loans subject

to approval.

Let's discuss the options today • uiccumortgage.com