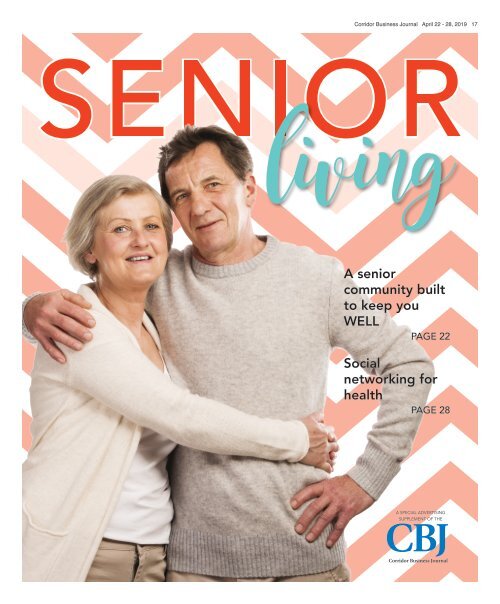 You also want an ePaper? Increase the reach of your titles
YUMPU automatically turns print PDFs into web optimized ePapers that Google loves.
Corridor Business Journal April 22 - 28, 2019 17

A senior

community built

to keep you

WELL

PAGE 22

Social

networking for

health

PAGE 28

A SPECIAL ADVERTISING

SUPPLEMENT OF THE
---
18 April 22 - 28, 2019 Corridor Business Journal ADVERTISING SUPPLEMENT OF THE CBJ

Meth-Wick Community

PRESIDENT

ROBIN MIXDORF

DIRECTOR OF

OPERATIONS

TERESA DUSIL

MISSION & PURPOSE:

Our mission is to provide a secure and caring

living environment to those we serve, allowing

them to maintain their dignity and to enrich

the quality of their lives as they age.

COMMUNITY INVOLVEMENT

• Alzheimer's Association – Walk to End

Alzheimer's Team

• American Heart Association and Go Red for

Women

• Work with HACAP & Kids on Course to

provide meals for Harrison students

• Residents prepare and provide sandwiches

for the Salvation Army 3x per month

• Partner with Eastern Iowa Arts Academy for

programming opportunities on campus

• Work with the University of Iowa, Mount

Mercy University and Kirkwood Community

College for student interns and mentoring/

training relationships, as well as research

projects

• Partnership with Red Cedar Chamber Music

to host concerts, open to the public and on

our campus

FOOD & DINING OPTIONS:

Meals include a wide variety of options for

residents to choose from. Each day a Chef's

Special entrée gives residents the opportunity

to try new items, and for those wanting a

lighter or healthy option, a Mindful Special is

available. Gluten Free and other special diet

options are also available upon request. A

Registered Dietitian provides clinical nutrition

care for health care residents and is available

campus-wide to provide both group and

individual nutrition education and counseling.

LEVELS OF SERVICE:

• Independent Living - For active seniors who

want to maintain their interests, hobbies and

independent lifestyle without the demands of

maintaining a house.

• Independence Plus - For those seniors who are

independent but prefer assistance with some

of their daily tasks, such as housekeeping and

laundry, among other services.

• Assisted Living Custom Care - Offering Assisted

Living for Physical Needs to residents who need

additional assistance but are not in need of 24-

hour nursing care.

• Assisted Living Memory Needs - For those in the

early to mid-stages of Alzheimer's and forms of

mild dementia.

• Nursing Care for Physical & Memory Needs - 24-

hour nursing care is available for those seniors

who can no longer live independently or who have

unique health needs.

• Respite Care - For residents and non-residents

on a temporary basis while they are recovering

from surgery or their primary caregiver is

unable to provide care.

• Transportation Services - Keeping you connected

to the community, allowing you the freedom and

independence to do the things you want to do.

methwick.org

1224 13th Street NW

Cedar Rapids, IA 52405

(319) 365-9171

• Rehabilitation with Skilled Nursing Care -

Quality, cost-effective therapy at The Woodlands,

our Medicare–certified skilled nursing facility.

Short-term rehabilitation is available. Physical

therapy solutions for post-surgery recovery as

well as many conditions that cause physical

limitations and lessen enjoyment of daily life.

WELLNESS & EXERCISE:

We promote the whole person wellness model in all

levels of care, which emphasizes six dimensions of

wellness: spiritual, physical, vocational, emotional,

intellectual and social wellness.

Educational programming, events, and classes

serving all of the six dimensions of wellness are

offered throughout the year to help each resident

live their best life.

Wellness and Recreation highlights:

• Intellectual programs in collaboration with

Mount Mercy University

• Variety of fitness classes offered 5 days a week

• Certified Therapeutic Recreation Specialists

• Bus trips to events, restaurants, and shopping

• Three LifeTrail fitness kiosks on campus that

residents can use during walks

• State-of-the-art exercise equipment

• Cedar Rapids' only warm water therapy pools
---
ADVERTISING SUPPLEMENT OF THE CBJ

Corridor Business Journal April 22 - 28, 2019 19

You planned it this way.

You're a planner. You knew the house you wanted to buy, the vacations you wanted to

go on, and how you were going to pay for your kids to go to college. So, plan ahead for a

seamless transition into the next stage of life. Meth-Wick is the only Life Plan Community

in Cedar Rapids offering five styles of living, a full spectrum of choices ranging from

single-family homes to congregate residences. Learn more at methwick.org

1224 13th St NW, Cedar Rapids, IA | 319–365–9171 | methwick.org
---
20 April 22 - 28, 2019 Corridor Business Journal

ADVERTISING SUPPLEMENT OF THE CBJ

Summit Pointe Senior Living

EXECUTIVE

DIRECTOR

SARA KUEMPEL

SALES & MARKETING

DIRECTOR

JOSH CAMPBELL

HOW WE'RE DIFFERENT:

Summit Pointe is the only established

Marion senior living community that

offers transitioning from Independent

to Assisted Living without having to

move rooms or buildings! Your family

is our family and that includes your

pets, too, since we are pet friendly!

Summit Pointe has won numerous

awards, including the Silver National

Quality Award which has only been

awarded to three Assisted Living

Communities in Iowa.

Call to schedule a tour!

3505 English Glen Ave., Marion, IA 52302

(319) 373-4242

www.summitpointeseniorliving.com

MISSION & PURPOSE:

We are not your average Senior Living Community.

Your independence doesn't end at Summit Pointe,

we work hard to ensure that you keep your hobbies

alive and provide a range of enriching activities

and social opportunities. We love who you are! Our

mission is to be here to guide you through this next

stage of your journey.

HEALTHY LIVING:

From our scenic walking path to our indoor exercise

options, including instructor-led classes, you'll stay

as healthy and fit as you want to.

DINING AND ENTERTAINMENT:

Our dedicated culinary team, including chefs

and wait staff, will ensure you have a wonderful

dining experience. Three delicious meals a day are

included with your rent, and you'll always have a

choice. As far as entertainment, we offer a wide

variety of activities both in and out of the building

to accommodate your individual interests. We have

Social Hours weekly and Happy Hour every Friday

with live music and adult beverages.

LEVELS OF SERVICE:

n Independent Living - Includes a pendant alarm,

housekeeping, 3 meals a day, transportation, all

utilities (including soft water) as well as phone

(local and long-distance), internet and cable.

n Assisted Living - Has options for services such

as bathing, dressing, medication set-up and/or

administration, and escorts to and from meals

or activities. Nursing staff is in the building 24

hours a day, 365 days a year.

n Memory Care - Has an all-inclusive rate that

covers rent as well as all services needed. It's a

smaller, quiet environment with 12 apartments.

AMENITIES

n On-site beauty shop

n Manicures and pedicures

n Sundry Cart with stamps, toiletries, etc.

n Weekday transportation

n Library

n Front and back patios

n Pool table and game space

n Private dining room

n Heated underground parking garage

n Storage units

n Car wash

n Soft water
---
ADVERTISING SUPPLEMENT OF THE CBJ

Corridor Business Journal April 22 - 28, 2019 21

Stay On Pointe

Kaleidoscopic Living

Summit Pointe is a collage of colorful characters. No

need to mute your hue. Be unapologetic. Be vivid. Be

you. Our affection is limitless & our care is adaptive.

summitpointeseniorliving.com
---
22 April 22 - 28, 2019 Corridor Business Journal

A senior community built

to keep you WELL

The Views Senior

Living of Marion

takes shape around

an innovative new

building and wellbeing

certification

By Dave DeWitte

dave@corridorbusiness.com

Wellness is a big part of the conversation

as new senior communities spring up

around the Corridor, but for one community

nearing completion in Marion, it's literally

baked into the design, construction,

operation and maintenance plans.

When The Views Senior Living of Marion

opens later this year, residents will

dine from a menu with low levels of processed

foods and artificial ingredients.

They'll breathe clean, fresh air generated

by a hospital-level air filtration and circulation

system, and they'll have ample

sunlight in every room. Good hydration

will be encouraged from an abundance

of water stations, and water quality will

be monitored. Cleaning will be done with

supplies using no volatile organic compounds

(VOCs) that could trigger allergies

or sensitivities.

Employees will also benefit, through

accommodations such as fitness equipment

in the employee lounge and ergonomically

correct workstations.

These measures, and many others,

will be monitored to achieve and maintain

compliance with the WELL Building

Institute's WELL Standard. The 30-unit

assisted living portion of The Views of

Marion is on track to become the nation's

first assisted living community

with the WELL certification.

WELL certification has become available

only in recent years, and has mostly

been used in high-profile projects by

prestigious architectural firms. The idea to

seek the certification for an assisted living

facility arose from Dr. Mik Pietrzak, one of

the five managers of The Views Senior Living,

which also has communities in Cedar

Rapids. One way to understand WELL certification

is to compare it with the older

and more widely used LEED green building

standard, he says, although they often

go hand in hand.

"WELL is much more focused on the

benefits to the occupants rather than

What is the

WELL Building

Standard?

The WELL Building Standard is

a performance-based system

for measuring, certifying and

monitoring features of the built

environment that impact human

health and well-being, through

air, water, nourishment, light,

fitness, comfort and mind.

WELL and LEED certification

go hand in hand. While LEED

addresses health and wellness,

WELL delves further into those

topic areas and provides a closer

examination of the occupant

experience.

Today there are five new pilot

programs within the WELL

Building Standard. While WELL

v1 is applicable to commercial

and institutional projects, pilot

programs are available for retail,

multifamily, residential, education,

restaurant and commercial

kitchen projects.

just the concept of sustainability of the

community," said Dr. Pietrzak, an MD

and medical educator who specialized in

medical facility design at global architectural

firm HKS. "LEED is more concerned

about your electric bill, and WELL is more

concerned about the quality of air in your

building. The biggest focus is on the occupant,

the staff and the visitors."

WELL certification focuses on seven

tenets of health: air, water, nourishment,

light, fitness, comfort and mind. The actual

standards span more than 300 pages,

and cover such seemingly minute details as

what kind of coyote repellent can be used

on the grounds, and the ratio of water features

to square feet of building space.

As a proponent of the idea, Dr. Pietrzak

said it was incumbent on him

to inform his fellow managers of the

advantages and costs. From a business

standpoint, he said one advantage was

to differentiate The Views from the many

other senior living communities recruiting

residents in the Corridor.

"It does take work to explain it to people,

but they do latch onto it," said Angie

McClure, director of corporate marketing

A wall of windows at the entrance helps The Views of Marion meet the WELL Building

Standard requirements for natural daylight, and helps link the interior and exterior

environments. PHOTOS DAVE DEWITTE

Native Anamosa limestone and wood trim milled from native trees that had to be removed

for construction are among building materials in The Views of Marion that link the facility

and its residents with their surroundings. Stone surfaces include the curved coffee shop

counter and a stone lobby fireplace.

and communications for The Views Senior

Living. "It makes sense to them."

The Views of Marion is a roughly $20

million continuum of care community located

east of Menards and north of Furniture

Row at 720 Oakbrook Drive. Assisted

living is the only component of the project

that is pursuing WELL certification,

however the other components, including

a 40-bed skilled nursing facility and 34-

bed memory care facility, will share many

of the same amenities and benefits.

Only a handful of other senior living

facilities nationwide are pursuing WELL

certification, according to Jamie Matos

of Delos, the company that developed

the standard. They include communities

in Colorado, New York and Pennsylvania.

No other facility in Iowa besides The

Views Senior Living of Marion has sought

WELL certification.

Pursuing WELL certification increased

the overall project cost between 5-10 percent

and added a little time to the construction

schedule, Dr. Pietrzak said. He

expects the paybacks to include things

WELL PAGE 36
---
ADVERTISING SUPPLEMENT OF THE CBJ

Corridor Business Journal April 22 - 28, 2019 23

The Gardens of Cedar Rapids

EXECUTIVE

DIRECTOR

JENNA GARDNER

COMMUNITY

RELATIONS DIRECTOR

AMY KUBIK-HASLEY

A full continuum of care in southwest

Cedar Rapids, The Gardens of Cedar

Rapids opened in August of 2017 and is

proud to be locally owned and managed.

The Gardens provide more than just

a campus of care. It provides the

opportunity for residents to enjoy so

many of the things that bring joy to life.

"We want to give purpose to those who

live here," said Amy Kubik-Hasley,

Community Relations Director for The

Gardens. "We want to keep people moving

and feeling their best so they can continue

to have fun and do what they love. We

want to help transition seniors to the next

phase of living and take the fear out of

that transition."

5710 Dean Road SW

Cedar Rapids IA 52404

(319) 632-1350

facebook.com/thegardenscr

www.thegardenscr.com

SERVICES:

Assisted living, skilled rehabilitation, memory care, long-term care, and outpatient therapy all

under one roof.

Specializing in a variety of services within one community, The Gardens of Cedar Rapids can

guarantee lifetime housing, social activities, chef-prepared meals, and increased levels of care as

needs change. Your loved one has the ability to live on one campus for the duration of their future

care already figured out which can provide a great level of comfort and peace of mind for families.

Prairie Gardens Cooperative will open an independent living option on the same campus in

January 2020, which will provide a full campus of care.
---
24 April 22 - 28, 2019 Corridor Business Journal ADVERTISING SUPPLEMENT OF THE CBJ

Stoney Point Meadows

STEVE MELCHIOR

DIRECTOR OF HOUSING

BOB SAMPLE

OWNER REPRESENTATIVE

JENIFER ANGERER

MARKETING DIRECTOR

The newly opened Stoney Point Meadows

is ready to help our residents lead a good

life. We want them to worry less and enjoy

more. To feel secure, comfortable, and

right at home.

Stoney Point Meadows is a place where all

the daily details are taken care of. A lovely

environment, exceptional hospitality and

a full array of health and personal care

services are what set us apart as the place

for a good life.

1900 Stoney Point Road SW

Cedar Rapids, IA 52404

StoneyPointMeadows.com

(319) 382-5080

Nestled in the lush meadows of southwest

Cedar Rapids on Stoney Point Road,

Stoney Point Meadows is in the quiet

countryside, yet near churches, shopping,

entertainment, and professional services.

Bus transportation is regularly scheduled

for errands and events.

LEVELS OF CARE:

n Assisted Living

n Memory Care

n Respite Care

ASSISTED LIVING

Well-appointed apartments at Stoney Point Meadows

include large studios, one-and-two bedroom floor plans

with amenities and comforts to make you feel right

at home. Each apartment features a full kitchen with

appliances, laundry room with washer and dryer, a bath

with step-in shower and safety bars, and individuallycontrolled

heat and air conditioning for your comfort.

You can leave behind the daily chores. Weekly

housekeeping, all maintenance and all utilities, including

cable TV and WiFi, are included.

You can bring your furry family member too! Pets are

welcome at Stoney Point Meadows.

ASSISTED LIVING AMENITIES INCLUDE:

Fine Dining Experiences include house-made breakfast,

lunch, and dinner every day. Chef Antonio has created

an amazing menu including daily specials made with the

freshest seasonal ingredients professionally served in

the Meadowlark Dining Room. Snacks and beverages are

enjoyed at Season's Pub and Bistro.

Fitness Center with scheduled classes for all levels and

state-of-the-art fitness equipment designed for older adults.

Larkspur Salon and Barber Shop is a full-service salon

and barber shop where professional stylists offer hair

care, manicures, and pedicures.

Prairie Moon Theater where you can see your favorite

classic movies or new releases, complete with comfortable

chairs and a popcorn machine!

Art Studio for crafts and hobbies where you can find your

hidden talents.

Spa where you will enjoy a walk in jet tub!

MEMORY CARE

Stoney Point Meadows Memory Care residents can find a

warm, welcoming neighborhood for people with Alzheimer's

disease and other forms of memory loss. Residents can

freely move about this single-level, barrier-free area.

Proprietary Occupational Therapy-based Program.

Meeting the special needs of people with memory loss begins

with our dedication to maintain dignity, respect, encourage

independence, and focus on ability rather than disability.

MEMORY CARE AMENITIES INCLUDE:

Private Suites with private bathroom and kitchenette.

Terrace Dining Room with chef-prepared meals

where residents gather together, just like a family, in a

comforting space, complete with a cozy fireplace.

Ice Cream Parlor

Fireside Living Room

Memory Garden is a secure, outdoor courtyard with porch,

pergola, seating areas, and walking path.

Stoney Point Meadows is developed and owned by a

partnership of local investors in Cedar Rapids. The owners

are led by Bob Sample, a long-time resident, senior living

specialist, and pharmacist of Cedar Rapids.

Stoney Point Meadows is managed by Cassia, an Augustana/

Elim Affiliation based in Minneapolis. A nonprofit

organization, Cassia, brings over 200 combined years of

history to healing, compassion, and renewal to residents.
---
ADVERTISING SUPPLEMENT OF THE CBJ

Corridor Business Journal April 22 - 28, 2019 25

NOW OPEN

CALL FOR A TOUR TODAY!

319-382-5080

Stoney Point Meadows

nestled in the meadows of

southwest Cedar Rapids!

Live a good life.

1900 Stoney Point Road SW | Cedar Rapids, IA 42404 | www.StoneyPointMeadows.com | Like us on Facebook!
---
26 April 22 - 28, 2019 Corridor Business Journal

ADVERTISING SUPPLEMENT OF THE CBJ

Cottage Grove Place

ASSOCIATE

EXECUTIVE DIRECTOR

ABBY BRUCE

DIRECTOR OF SALES

& MARKETING

BRIAN KRAMER

MISSION & PURPOSE:

At Cottage Grove, we understand searching

for the right retirement community can be a

daunting task — it's our job to help, no matter

the situation. Our later years don't have to

be less worthy of living than our vivacious,

vibrant 20's.

Cottage Grove Place wholly supports each

person's individuality and needs through

expertise, amenities, community and quality

care that makes life rich, comfortable and

exuberant.

HOW WE'RE DIFFERENT:

No other retirement community offers

LifeCare in the Cedar Rapids/Marion area; it's

long-term care insurance — for life. As you

continue to age, we continue to adapt to your

unique needs. There's never a need to move to

a different community. We have everything

you need right here.

Another unique feature our community has to

offer is our underground tunnel system — you

never have to go outside into the elements if

you don't want to.

Speaking of our community, we're close to

completing a large expansion, set to open

Summer of 2019, which will include:

• 21 Independent Living homes

• 24 Assisted Living

• 18 Assisted Living Memory Care

• 12 Sub-acute beds for rehabilitation

COMMUNITY INVOLVEMENT:

Cottage Grove Place takes a lot of pride in

supporting the community. Each year we

participate in the Alzheimer's campaign to help

raise money. We also sponsor two Freedom Festival

events every year. Not to mention we're a part of

the Elderly Consortium and the Economic Alliance.

HEALTHY LIVING:

Cottage Grove Place offers exercise class daily. We

recently opened a new fitness center complete with

brand new equipment that looks directly out into

our new courtyard.

DINING:

Every morning we offer free continental breakfast.

The dining room is open at night for supper and

for Sunday brunch. You can also bon appétit at the

Cottage Grill, which serves food all day long. All

dining options feature a variety of meal choices.

LEVELS OF SERVICE:

Independent Living – You'll enjoy the comforts

of a home without all the work. This includes a

variety of dining options, weekly housekeeping,

full access to our amenities and activities such as

transportation services, cable/internet, lifelong

learning classes, a beauty salon and more!

Assisted Living – If someone needs extra services

such as bathing, medication management, or help

getting dressed, they would qualify for assisted living.

www.cottagegroveplace.com

2115 First Ave. SE

Cedar Rapids, IA 52402

(319) 298-5398

Memory Care – This level of service fits the needs

of someone specifically with cognitive issues who

would also need extra services.

Skilled Nursing – If someone needs 24-hour

skilled care, they have the option of residing in our

health center.

Rehabilitation – If someone has a fall, or needs to get

stronger to return to their Independent home, they can

utilize rehabilitation services right here on campus.

AMENITIES:

Cottage Grove Place in an all-inclusive community

that offers:

n Weekly housekeeping

n Transportation

n Meal plans

n Maintenance

n Cable

n Phone

n Wi-Fi

n Garage space in the underground garage

n Priority access to health care

n 24-hour emergency call system answered by our

nursing staff
---
ADVERTISING SUPPLEMENT OF THE CBJ

Corridor Business Journal April 22 - 28, 2019 27

Meet the Sunday Night

Supper Club, Bill and Merilee.

They live for cultivated entertaining,

tonight with Helen.

Cottage Grove Place is a community of

neighborhoods, alive with the vibrant,

unique personalities of our residents.

Be who you are.

So, posh dining?… dig in! Even if you're

feeling a little cheeky and serving fast

food burgers under a silver cloche.

Sorry, Emily Post.
---
28 April 22 - 28, 2019 Corridor Business Journal

Social networking for health

Connection is key for seniors'

well-being, and senior living

communities are stepping up

By Katharine Carlon

katharine@corridorbusiness.com

Robin Mixdorf, CEO of Cedar Rapids' Meth-Wick Community,

checks in regularly with a men's coffee group that meets

daily, always asking them the same question: Have you solved

the problems of the world?

"And every day, they have — a little differently," Ms. Mixdorf

laughed, sharing one of several anecdotes about Meth-

Wick's buzzing, sometimes noisy social scene. "Our community

is engaged, vibrant and thoroughly thoughtful about life

and how they want it to be."

With 85 activities on the independent living calendar in

April alone — everything from restaurant and museum outings

to game nights, wood carving and book clubs — opportunities

for socializing abound. And that's without mentioning

informal get-togethers like the men's coffee group and lively

conversations sparked daily in the dining room.

"It's not just bingo anymore," Ms. Mixdorf said of the senior

living world. "We have all kinds of things to keep people

engaged."

Evidence abounds that social connectedness is key to the

health and mental well-being of seniors. The University of

Michigan National Poll on Healthy Aging, released late last year,

found older Americans who reported feeling socially isolated

were twice as likely as those with adequate companionship to report

fair or poor physical health (28 percent versus 13 percent).

The results were even more striking when it came to mental

health, with 17 percent of respondents who said they felt isolated

rating their mental health as fair or poor, compared to 2

percent of those who reported

hardly ever feeling

isolated.

"Loneliness, especially

as it relates to social

isolation factors, has

real consequences for

people's health," said

Lisa Marsh Ryerson, of

the AARP Foundation.

"Studies show that isolation

and loneliness are

as bad for health as obesity

or smoking."

Social isolation is

It's not

just bingo

anymore.

Robin Mixdorf, CEO,

Meth-Wick Community

linked with malnutrition, reduced hydration and lowered activity

levels — a risk factor that can lead to falls, said Angie

McClure, director of corporate marketing and communications

for The Views Senior Living Communities, which has

operated a Cedar Rapids location for 15 years and will debut

its Marion facility next month (see page 22).

"Loneliness in seniors can cause all different kinds of spiral-down

effects," Ms. McClure said, adding that The Views'

social programming is geared toward recognizing and avoiding

the risk factors associated with loneliness and isolation

— a condition that plagues 45 percent of senior adults, according

to one AARP study. "It used to be that [people entered senior

living] because they couldn't be on their own and it was

seen as a negative. We're trying to turn that around and show

that transition can improve the quality of life."

Ms. McClure said experience and statistics have shown that

Storyblocks

the greater the number of activities offered, the greater

the odds residents perceive themselves to be in good

health. That includes standard fare like bingo, cards

and music, but also outings, massage therapy sessions

and opportunities to engage in the greater community,

whether through volunteering, mixing with other seniors

outside the community or frequenting the local

coffee shop and mingling with neighbors.

"The question is how do we offer mature adults mature

activities that give them a sense of purpose," she

said. "Part of that is getting our residents back out in

the community."

Kimberly Haring, marketing director for Oaknoll Retirement

Residence in Iowa City, said Oaknoll takes a

similar holistic approach to meeting the needs of residents

— socially, spiritually and mentally.

"We have great programming that stimulates the

mind, body and soul of our residents," Ms. Haring

said, citing social events, including themed parties like

a 1950s-style sock hop once a quarter, spiritual gatherings

and wellness activities ranging from Zumba to tai

chi. "We have a little bit of everything to meet the needs

and interests of the 380 residents we serve."

In addition to an evening program every Tuesday

Freepik

Freepik

and Thursday, Oaknoll offers social opportunities like

a movie theater, a pub/lounge where residents gather

to watch sporting events, game nights, art classes, book

clubs, ping pong and billiards groups, and a summer

outdoor concert series.

"Even dining at Oaknoll can be a fun social event

to meet with friends to discuss the day," she said, adding

that a good chunk of a resident's social life revolves

around breaking bread together at one of the facility's

three venues. In addition to meal time conversation,

residents gather for breakfast clubs, morning book

clubs, lunch groups and dinner clubs.

Dining and food is also high on the social activity

meter at Meth-Wick, where chefs demonstrating food

preparation and a regular Nutrition Connection event

are among the best attended activities. Ms. Mixdorf said

the community calls its social programming "recreation

and wellness," focusing on residents' emotional, spiritual

and intellectual needs.

"Social circles change with aging; many times your

kids don't live close or your friends have predeceased

you," she said. "The consequences of social isolation can

be alarming, which is why the act of being socially connected

improves quality of life in so many ways." CBJ
---
ADVERTISING SUPPLEMENT OF THE CBJ

Corridor Business Journal April 22 - 28, 2019 29

Melrose Meadows Retirement Community

WORRY-FREE

RETIREMENT LIVING

All-inclusive Independent and

Assisted Living in a friendly,

elegant setting that feels

like home. Spacious, lightfilled

apartments. Fresh air.

Smiling neighbors. Freedom

from upkeep, maintenance

and boredom, with endless

social opportunities and

beautiful grounds.

AMENITIES

Established in 2002

Award-Winning Staff

Delicious Dining Options

Housekeeping

Maintenance

Transportation

Underground Parking Garage

Fitness and Wellness Center

Heated Indoor Pool

Personal Trainers

Social Activities

Pets Welcome

Simple Security Deposit

No Community Fees

350 Dublin Drive | Iowa City, IA 52246 | 319-341-7893

Visit us on the web: melrosemeadows.com

Come see why we've earned our exceptional

reputation and been voted One Of The Best Of The

Area multiple years in a row!
---
30 April 22 - 28, 2019 Corridor Business Journal ADVERTISING SUPPLEMENT OF THE CBJ

Oaknoll - An Active LifeCare Community

EXECUTIVE DIRECTOR

STEVE ROE

OUR MISSION:

Oaknoll provides exceptional retirement living

and Health Services through LifeCare.

SERVICES:

You don't have to worry about home repairs

and other essential services such as…

Maintenance

You may choose carpet and paint colors for your

new apartment and receive a window treatment

allowance. We will handle all your repair needs

from changing light bulbs to blocked drains.

Lawn care and snow removal are courtesy of our

Buildings and Grounds crew.

Housekeeping and Laundry

Apartments are cleaned by housekeepers

every two weeks. Our team performs various

duties including vacuuming, dusting, cleaning

bathroom(s), kitchen floors and all surfaces.

1 Oaknoll Court | Iowa City, IA 52246 | www.oaknoll.com | (319) 351-1720

Technology

Computer support when you need it at no

charge. Oaknoll offers free on-site technology

classes for our residents: instructions and tips

on using computers, mobile devices, surfing

the internet, sending emails and much more.

Banking

MidWestOne and Hills Bank come to Oaknoll

twice a month.

Transportation

Oaknoll offers convenient transportation

services to our residents at all levels of care.

LEVELS OF SERVICE:

Independent Living, Assisted Living, Health Center,

At Home with Oaknoll, Short Stay Unit, 24-Hour

Nursing Care and The Loft.

THE WELLNESS CENTER:

In the Wellness Center, open 24 hours a day, you can

use some of the latest exercise equipment to increase

strength and endurance. Our exercise equipment is

specifically designed for the more mature exerciser.

Residents may schedule one-on-one time with our

instructors who can help design a program that

will meet your health and fitness needs. If you

want an exercise routine that does not involve gym

equipment, we offer many wonderful programs.

Light aerobic workouts of stretching and toning, yoga

classes, Pilates, aquacize, Boot Camp and walking

groups. Oaknoll also has a beautiful warm water lap/

swimming pool. Water aerobic classes are offered to

reduce stress on muscles and joints. Our pool area

also has a hot tub and bubble seat.

ACTIVITIES & AMENITIES:

At Oaknoll we offer our residents many places to

relax and unwind—a 45-seat movie theatre with

daily showings; salon with full hair care services,

massages, pedicures and manicures, ping pong

table, golf simulator, art room, lounges, meeting

rooms, libraries, outdoor courtyard areas and decks

with stunning views.

Our programming reflects the diverse tastes,

preferences and experiences of our residents. Our

residents enjoy live music concerts (indoor year

round and an outdoor summer concert series

June – Sept. featuring local musicians), stage

performances by local acting groups, themed

dinner parties, beer & wine pairings, dances,

tailgate parties, Wii tennis and bowling leagues,

and much more!

FOOD & DINING OPTIONS:

Our dining areas provide menus with choice and our

Chef Specials offer unique cuisine from around the

world. We also feature an Internet Café and Coffee Shop

The Oak Room - Restaurant style dining with madefrom-scratch

meals.

Hope Dining Room and Café - Offers a more casual

atmosphere.

Third on Third Bistro - Contemporary dining in a

relaxed atmosphere.

Mixers on 5th Pub Lounge - A great place to meet

friends, relax over a drink or light snack.

Catering - We're here to make your party a success.
---
ADVERTISING SUPPLEMENT OF THE CBJ

Corridor Business Journal April 22 - 28, 2019 31

Introducing

aknoll East...

Looking To Downsize?

Downsize With The LifeCare Guarantee

u INDEPENDENT LIVING APARTMENTS (865-2,578 sq ft) u SECLUDED WOODED LOT

u SCENIC AREA u NEAR PARK & WALKING TRAILS

u CAFÈ u HEATED UNDERGROUND PARKING

u PET FRIENDLY BUILDING OPTION u PROGRAMS & EVENTS

u LOCATED OFF SCOTT BLVD, IOWA CITY

Steve Roe

Executive Director

Call me today for more

information

351-1720

1 Oaknoll Court ● Iowa City, IA 52246 ● www.oaknoll.com ● oaknoll@oaknoll.com

http://www.facebook.com/Oaknoll
---
32 April 22 - 28, 2019 Corridor Business Journal ADVERTISING SUPPLEMENT OF THE CBJ

Evergreen Estates Residential Care Communities

PAT GIORGIO

PRESIDENT & CEO

ADMINISTRATOR

EVERGREEN I

29 YEARS

MATT GIORGIO

OPERATIONS

MANAGER

11 YEARS

KATHY ELY

ADMINISTRATOR

EVERGREEN II

27 YEARS

PAM GUILFORD

ADMINISTRATOR

EVERGREEN III

10 YEARS

At Evergreen Estates, we are very proud to

have been in business for more than 30 years

and have worked hard to build a reputation in

the Corridor for being a compassionate senior

living community that remains committed to

quality care and affordability. We feel that it is

vitally important that we remain locally owned

and are committed to having all our decisions

related to policy, resident care and community

building made right here in Cedar Rapids.

Our mission is to build community with

respect and hospitality.

Evergreen Estates is and has been locally

owned and managed by experienced and

caring staff since opening in 1987. Decisions

about our organization are made locally by

owner Pat Giorgio and in the best interests of

those whose care we have been entrusted.

Research shows that length of employment of

caregivers in communities directly impacts

the resident's quality of life and sense of

satisfaction. That's why we are very proud to

have so many employees — from administrator

and nurses, to housekeeping, activities and

dietary staff — who have worked for us for a

decade or more. Our team at Evergreen Estates

is a group of a professionals who believe we

have more than a job to care for seniors. We

believe it is a vocation to do so.

www.EvergreenEstates.biz

www.facebook.com/EvergreenEstatesCR

Residential Care offers greater supervision than assisted living, yet its primary focus is on socialization and

an active lifestyle. Evergreen Estates offers three Cedar Rapids locations, all offering private rooms and

a whole host of amenities. While each building and its residents have their own personalities, all offer a

genuine sense of community.

Evergreen Estates I

3410 12th Ave. SW

Cedar Rapids (319) 396-3692

There is just one, set monthly fee that covers the cost of housing and care when you are a resident at

Evergreen Estates. While the Cedar Rapids and Iowa City area boasts many options for senior care, some

facilities, especially newer facilities with more amenities, will cost anywhere from $5,000 to $7,000 per

month. We know that affordability is a key factor for many seniors. Here at Evergreen Estates, residents can

expect to pay between $3,000 and $4,000 per month. We like to keep costs simple and upfront at all times.

Residents at Evergreen Estates enjoy the following as part of their monthly payment…

n A private room with a bathroom

n Three delicious meals per day

n Three snacks per day

n Daily housekeeping, linen service and personal laundry service

n 24/7 direct nursing care on site

n Medication administration by our dedicated and professional nursing staff

n Bathing and dressing assistance

n A robust activity and social program

n Exercise opportunities

n Scheduled transportation

n Water, gas and electric utility service

Evergreen Estates II

307 Edgewood Road SW

Cedar Rapids (319) 365-4116

Evergreen Estates III

2204 Johnson Ave. NW

Cedar Rapids (319) 363-8116
---
ADVERTISING SUPPLEMENT OF THE CBJ

Corridor Business Journal April 22 - 28, 2019 33

Evergreen

Estates

RESIDENTIAL CARE COMMUNITIES

We care for your family

like they are our family.

Proud to

be locally,

female owned

for 25 years!

Affordable, quality care

Our employees have worked for

us an average of ten years!

Call for a tour today! (319) 396-3692

www.EvergreenEstates.biz

www.facebook.com/EvergreenEstatesCR

Three convenient

locations on the west

side of Cedar Rapids.

Evergreen Estates I

3410 12th Avenue SW

Evergreen Estates II

307 Edgewood Road SW

Evergreen Estates III

2204 Johnson Avenue NW
---
34 April 22 - 28, 2019 Corridor Business Journal ADVERTISING SUPPLEMENT OF THE CBJ

Grand Living

EXECUTIVE DIRECTOR

KIM EMRICH

GRAND LIVING

AT BRIDGEWATER

EXECUTIVE DIRECTOR

ADAM ZANGER

GRAND LIVING

AT INDIAN CREEK

MISSION & PURPOSE:

Grand Living is driven by our passion

to provide remarkable, personalized

experiences for residents and their

families and by our unparalleled

commitment to exceptional service.

Our vision is to be trusted leaders and

innovators in senior living environments

and services, recognized for embracing the

uniqueness of each individual we serve.

COMMUNITY:

Grand Living provides a unique approach

to enriching programs and upscale

experiences – all at a remarkable value.

Grand Living at Bridgewater in Coralville

and Grand Living at Indian Creek in

Cedar Rapids offer rental apartments

ranging from studio to two-bedroom.

Some residences offer balconies and

fireplaces, and all feature stainless steel

appliance packages, granite countertops,

and a washer and dryer. A resort style

carries through the entire Grand Living

community, and while the communities

may appear large on the outside, they are

very walkable and accessible on the inside.

With four main floors, the buildings are

laid out similar to the spokes of a wheel,

with five relatively short corridors all

coming off the central part of the building.

The communities feature four elevators

conveniently located for resident use.

LEVELS OF SERVICE:

Independent Living, Assisted Living,

Memory Care

FOOD & DINING OPTIONS:

Dining is redefined at Grand Living.

Venues include formal, casual, and

bistro settings, along with private dining

and a club room. Each serves chefprepared

meals with a multitude of fresh,

homemade selections.

AT BRIDGEWATER

3 Russell Slade Blvd., Coralville, IA 52241

(319) 930-3000

www.GrandLiving.com

AT INDIAN CREEK

325 Collins Road SE, Cedar Rapids, IA 52403

(319) 930-3250

EXERCISE & WELLNESS OPTIONS:

Grand Living communities feature an engaging wellness center and spa, including a state-ofthe-art

exercise studio and dedicated, full-time Fitness Coordinator. There's also a full-service

salon and offices for rotating medical providers. As a pet-friendly community, Grand Living also

offers a pet grooming center to keep your furry companion looking its best.

ACTIVITIES & AMENITIES:

If you enjoy the outdoors, you'll love the gardens, walking paths, and fire pit. There's also

a woodworking shop; a 150-seat theater offering many special events, including theater,

learning programs, piano, and other musical performances; a library, grand lounge, chapel and

meditation center; and many resident-driven programs to choose from.
---
ADVERTISING SUPPLEMENT OF THE CBJ

Corridor Business Journal April 22 - 28, 2019 35
---
36 April 22 - 28, 2019 Corridor Business Journal

STOP!

LEASE!

We'd love for you to be a part of one of our communities!

In Downtown Iowa City - 319.338.7450

Rent Based on Income for those 62+

Utilities Included

FREE High Speed Internet Service

Elevators

Updated Apartments w/ Dishwashers

Spacious Community Room w/ Kitchen

Private Ramp Parking

Grounds Landscaped & Maintained

by Master Gardners

Service Coordinator to Link

Residents to Community Resources

1 BR Apartments for those 62+

Rent Based on Income

Heat & Electric Included

Beauty/Barber Shop On-Site

In Cedar Rapids - 319.399.1550 Community Patio

In Marion - 319.373.8696

Community Room w/ Kitchen

Fun Social Activities

Smoke Free Environment

Small Pets Allowed

Elevator

Laundry Facilities

Indoor Mail Delivery

Generous Closet Space

Park-Like Setting

Quiet Neighborhood

On Bus Route

Service Coordinator to Link

Residents to Community Resources

www.homzmanagement.com - Licensed Broker in Iowa

WELL

CONTINUED FROM PAGE 22

like lower staff turnover, which reduces

the amount of training costs.

"If you prevent the loss of one [staff]

person because their asthma is triggered

by a cleaning compound, you've probably

paid for five years of extra cleaning material

costs," he noted.

For residents, the hoped-for benefits are

greater overall wellness and longer lives.

People are happier if they feel better, Dr.

Pietrzak said. Having an abundance of natural

sunlight helps the circadian rhythms

in the brain and produces more normal

sleep cycles. Healthier foods will leave residents

and staff feeling more energetic.

Even features like the use of natural

architectural materials have been shown

to have a calming, beneficial effect on the

mind. The Views of Marion makes ample

use of native Anamosa limestone and

hardwood, including wood milled from

the trees on the community site that had

to be removed for construction.

The woodwork plays well with the facility's

Prairie School-style architectural

design, which contrasts with the contemporary

styling of several other new

communities in the area. The design was

selected because it reflects the tastes of

the current generation of retirees who

are reaching move-in age, Ms. McClure

said, and will contribute to their sense of

well-being.

While it's not yet a powerful marketing

tool, WELL certification has already brought

the project local and national attention. Dr.

Pietrzak and Nate Kass of Fehr Graham Engineering

& Environmental in Cedar Rapids,

which provided site engineering for the

project, will discuss the certification during

the Growing Sustainable Communities

Conference Oct. 24-25 in Dubuque.

Achieving full certification won't be

possible until about one year after The

Views of Marion opens and inspections

are completed, Dr. Pietrzak said. Even after

that, maintaining the certification will

be a continuous process.

The Views of Marion will be opening

at a time of intense competition for residents

among the many new communities

opening up in the Corridor. Its advantages

include becoming the first continuum of

care facility in the Marion market, in addition

to seeking WELL certification.

With talent in short supply and rising

construction costs a challenge for all

senior community developers, Dr. Pietrzak

said The Views will have to succeed

on merits rather than undercutting other

communities on price.

"We're going to have to compete by

having a better product and making our

people happier," he said. "There is only so

much you can do with cost."

Marketing has gone well so far for the

assisted living component, Ms. McClure

said. Without even a finished model to

show prospective residents, about 40 percent

of the units have been leased. CBJ

Home Instead

CAREGivers SM can

provide a variety of

services. Some include:

Call for a free,

no-obligation appointment

319.247.0400

We're by your side so

your loved one can stay

at home.

• Companionship Care

• Personal Care

• Meals & Nutrition

• Transportation

• Household Duties

• Respite Care

• Hos pice Care

Support Services

HomeInstead.com/468

Each Home Instead Senior Care ® franchise offi ce is independently owned

and operated. © 2015 Home Instead, Inc.
---
ADVERTISING SUPPLEMENT OF THE CBJ

Corridor Business Journal April 22 - 28, 2019 37

VINTAGE COOPERATIVES

Vintage Cooperatives offer a secure alternative to home ownership which is uniquely different from

other housing options for active adults. Featuring the finest in quality construction, our one-level floor

plans are thoughtfully designed. Enjoy the leisure of maintenance-free living while focusing on the spirit

of community.

Amenities

Great Room with Serving Kitchen

Guest Suites

Fitness Center

Fireside Lounge

Club Room

Library

Workshop

Gardening

"While You're Away" Service

Heated Underground Parking

Car Wash Bay

Benefits

Home Ownership

Tax Advantages

Equity

Member-owned Community

Maintenance-free Living

On-site Management

Sound Investment

Established Resale Process

Vibrant Community Lifestyle

Supportive Environment

Social Opportunities

Coralville

1180 Kennedy Parkway

Coralville, IA 52241

(319) 530-5910

www.vintagecooperatives.com

Iowa City

750 E Foster Rd

Iowa City, IA 52245

(319) 354-3433
---
38 April 22 - 28, 2019 Corridor Business Journal ADVERTISING SUPPLEMENT OF THE CBJ

The Views of Cedar Rapids

DANIELLE HELGERSON

COMMUNITY RELATIONS DIRECTOR

CERTIFIED DEMENTIA PRACTITIONER

"The Views of Cedar Rapids'

Meadowview Memory Care

offers the area's ONLY

experiential center.

Our science -based

community provides familiar

visual cues to tap in to longterm

memories.

Residents are surrounded by

spacious areas that

encourage freedom of

movement and physical

activity, as well as enhanced

socialization through our

unique activity calendar."

www.ViewsSeniorLiving.com

Activities

Engagement

Socialization

Freedom

Experience

Thrive

(319) 540-4787

2975 & 3005 F Ave NW

Cedar Rapids

@TheViewsSeniorLiving
---
ADVERTISING SUPPLEMENT OF THE CBJ

Corridor Business Journal April 22 - 28, 2019 39

The Views of Marion

Marion's ONLY senior living community offering ALL LEVELS of care

on one campus is preparing to open. Come live WELL with us!

Schedule a tour

(319) 390-8439

Michelle Milcoff

Community Relations Director

Proud to be the 1st WELL registered

assisted living in the nation!

720 Oakbrook Dr. Marion, IA | www.ViewsOfMarion.com | @TheViewsSeniorLiving
---
40 April 22 - 28, 2019 Corridor Business Journal

The Villages At Marion

EXECUTIVE DIRECTOR

DIANA NIEMEIER, RN

ADMISSIONS

AND OUTREACH

COORDINATOR

JANET ANDREWS

MISSION STATEMENT:

Dignity in life

Commitment to independence

Assistance when needed

Integrity above all

LEVELS OF SERVICE:

Assisted Living

Memory Care

Senior Living Apartments

ADMISSIONS

AND OUTREACH

COORDINATOR

RACHEL KUHN

COMMUNITY INVOLVEMENT:

Alzheimer's Association

Rotary

Iowa Health Care Association

Elderly Consortium

Chamber of Commerce

www.marionvillages.com

365 Marion Blvd.

Marion, IA 52302

(319) 377-9808

The Villages at Marion is a warm and inviting community, alive with friends who bring

their unique personalities and history to our community. Where our tenants come together

from different walks of life and memories unfold to weave a colorful patchwork creating a

community our tenants call home.

For seniors in need of supportive services our Assisted Living offers medication

management, assistance with personal care and more. Village Ridge memory care offers

tenants with memory impairment an atmosphere where they can enjoy their independence

through daily routines, and specialized programming.

EXERCISE AND WELLNESS OPTIONS:

Live 2B Healthy Exercise Classes

Exercise and Wellness Rooms

Walking Paths and located adjacent to Thomas Park

ACTIVITIES:

Variety of social, recreational, educational and spiritual activities offered daily

Scheduled outings, lunch out and trips to area events

Transportation to shopping and medical appointments

Community spaces for resident use including pool table, puzzle area,

community room, computer lounge, chapel and more