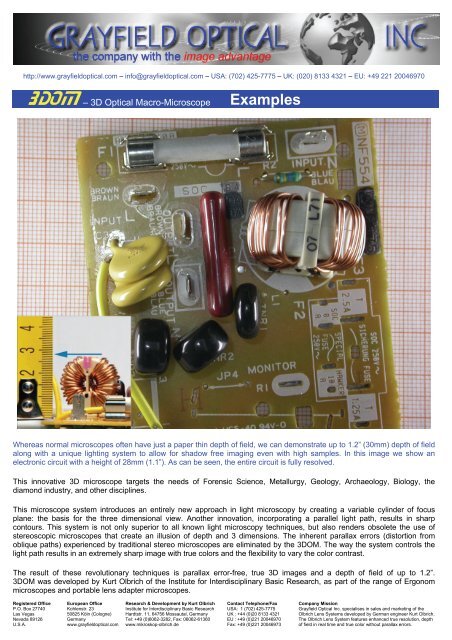 Examples - Grayfield Optical Inc
Examples - Grayfield Optical Inc
Examples - Grayfield Optical Inc
SHOW MORE
SHOW LESS
You also want an ePaper? Increase the reach of your titles
YUMPU automatically turns print PDFs into web optimized ePapers that Google loves.
http://www.grayfieldoptical.com – info@grayfieldoptical.com – USA: (702) 425-7775 – UK: (020) 8133 4321 – EU: +49 221 20046970<br />
3DOM – 3D <strong>Optical</strong> Macro-Microscope<br />
<strong>Examples</strong><br />
Whereas normal microscopes often have just a paper thin depth of field, we can demonstrate up to 1.2" (30mm) depth of field<br />
along with a unique lighting system to allow for shadow free imaging even with high samples. In this image we show an<br />
electronic circuit with a height of 28mm (1.1"). As can be seen, the entire circuit is fully resolved.<br />
This innovative 3D microscope targets the needs of Forensic Science, Metallurgy, Geology, Archaeology, Biology, the<br />
diamond industry, and other disciplines.<br />
This microscope system introduces an entirely new approach in light microscopy by creating a variable cylinder of focus<br />
plane: the basis for the three dimensional view. Another innovation, incorporating a parallel light path, results in sharp<br />
contours. This system is not only superior to all known light microscopy techniques, but also renders obsolete the use of<br />
stereoscopic microscopes that create an illusion of depth and 3 dimensions. The inherent parallax errors (distortion from<br />
oblique paths) experienced by traditional stereo microscopes are eliminated by the 3DOM. The way the system controls the<br />
light path results in an extremely sharp image with true colors and the flexibility to vary the color contrast.<br />
The result of these revolutionary techniques is parallax error-free, true 3D images and a depth of field of up to 1.2".<br />
3DOM was developed by Kurt Olbrich of the Institute for Interdisciplinary Basic Research, as part of the range of Ergonom<br />
microscopes and portable lens adapter microscopes.<br />
Registered Office European Office Research & Development by Kurt Olbrich Contact Telephone/Fax Company Mission<br />
P.O. Box 27740 Kohlenstr. 23 Institute for Interdisciplinary Basic Research USA: 1 (702) 425-7775 <strong>Grayfield</strong> <strong>Optical</strong> <strong>Inc</strong>. specialises in sales and marketing of the<br />
Las Vegas 50825 Köln (Cologne) Hardtstr. 11, 64756 Mossautal, Germany UK : +44 (0)20 8133 4321 Olbrich Lens Systems developed by German engineer Kurt Olbrich.<br />
Nevada 89126 Germany Tel: +49 (0)6062-3282, Fax: 06062-61360 EU : +49 (0)221 20046970 The Olbrich Lens System features enhanced true resolution, depth<br />
U.S.A. www.grayfieldoptical.com www.mikroskop-olbrich.de Fax: +49 (0)221 20046973 of field in real time and true color without parallax errors.
---
3DOM – 3D <strong>Optical</strong> Macro-Microscope<br />
Parallax-free<br />
reflected light<br />
<strong>Examples</strong><br />
3D-Illumination<br />
(both sides)<br />
1.5" pipe section with a heavy crust. Sample height 0.9" (23mm)<br />
Fractured sample from a tensile testing machine. Sample height 0.37" (9.5mm)<br />
Fiber mat (0.03" / 0.8mm thick), picture on right at a higher magnification<br />
Pipe samples approx. 0.24" (6mm) diameter. Sample height 0.55" (14mm).<br />
Both images taken with shadow free coaxial illumination<br />
Further examples available on our website www.grayfieldoptical.com<br />
We reserve the right to make technical changes and improvements at any time without notice. See our website for the latest details. 3DOM-<strong>Examples</strong>-US 2007-03-14 22:35