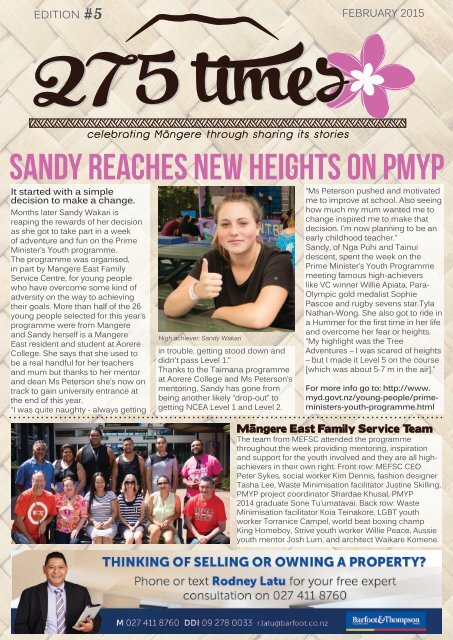 275 Times. Mangere community news.
Celebrating Mangere through sharing its stories
Celebrating Mangere through sharing its stories
SHOW MORE
SHOW LESS
You also want an ePaper? Increase the reach of your titles
YUMPU automatically turns print PDFs into web optimized ePapers that Google loves.
Edition #5

february 2015

times

275 times

celebrating Māngere through sharing its stories

Sandy reaches new heights on PMYP

It started with a simple

decision to make a change.

Months later Sandy Wakari is

reaping the rewards of her decision

as she got to take part in a week

of adventure and fun on the Prime

Minister's Youth programme.

The programme was organised,

in part by Mangere East Family

Service Centre, for young people

who have overcome some kind of

adversity on the way to achieving

their goals. More than half of the 26

young people selected for this year's

programme were from Mangere

and Sandy herself is a Mangere

East resident and student at Aorere

College. She says that she used to

be a real handful for her teachers

and mum but thanks to her mentor

and dean Ms Peterson she's now on

track to gain university entrance at

the end of this year.

"I was quite naughty - always getting

High achiever: Sandy Wakari

in trouble, getting stood down and

didn't pass Level 1."

Thanks to the Taimana programme

at Aorere College and Ms Peterson's

mentoring, Sandy has gone from

being another likely "drop-out" to

getting NCEA Level 1 and Level 2.

"Ms Peterson pushed and motivated

me to improve at school. Also seeing

how much my mum wanted me to

change inspired me to make that

decision. I'm now planning to be an

early childhood teacher."

Sandy, of Nga Puhi and Tainui

descent, spent the week on the

Prime Minister's Youth Programme

meeting famous high-achievers

like VC winner Willie Apiata, Para-

Olympic gold medalist Sophie

Pascoe and rugby sevens star Tyla

Nathan-Wong. She also got to ride in

a Hummer for the first time in her life

and overcome her fear or heights.

"My highlight was the Tree

Adventures – I was scared of heights

– but I made it Level 5 on the course

[which was about 5-7 m in the air]."

For more info go to: http://www.

myd.govt.nz/young-people/primeministers-youth-programme.html

Mängere East Family Service Team

The team from MEFSC attended the programme

throughout the week providing mentoring, inspiration

and support for the youth involved and they are all highachievers

in their own right. Front row: MEFSC CEO

Peter Sykes, social worker Kim Dennis, fashion designer

Tasha Lee, Waste Minimisation facilitator Justine Skilling,

PMYP project coordinator Shardae Khusal, PMYP

2014 graduate Sone Tu'umatavai. Back row: Waste

Minimisation facilitator Koia Teinakore, LGBT youth

worker Torranice Campel, world beat boxing champ

King Homeboy, Strive youth worker Willie Peace, Aussie

youth mentor Josh Lum, and architect Waikare Komene.
---
2

Māngere playcentre gives eco-nappies a go

By Justine Skilling

The Mangere East Family Service

Centre's early childhood centre has

come a long way in 21 years.

Centre Manager Karen Matata says

the centre used to be run out of the

Mangere East School hall - which

was also used for assemblies and

gym classes – and it has always

been about providing children and

their families a place to learn, play

and connect with each other over

conversations about simple things

like nappy rash or swap tips on

getting local bargains.

Karen remembers how many of

those first parents and grandparents

enjoyed participating in the activities

themselves, "reliving a childhood they

never had".

Nurturing those family connections

is an important part of what the early

Pictured: An example of a cloth nappy

Looking for

Childcare

Mangere Early Learning Centre

Come in and see what makes us so different from

other centres.

At Barnardos KidStart Childcare we understand that your child

needs a safe and nurturing environment to learn, play and grow.

Our centres provide a warm and positive environment for

children under five years.

20 ECE Hours and WINZ subsidies available.

Drop in for a visit or call us now as limited spaces are available.

7:30am – 5pm 33 Cape Road 09 275 5978

Mangere

www.kidstart.co.nz

BarnardosKidStartChildcare

Mangere East Family Service Centre early childhood centre manager Karen Matata

childhood centre does as Karen

says, "it's all about whanau and

relationships - as that's the most

important thing".

Nurturing the environment is part of

this too. Over the years the children

have learned to separate their food

waste and recyclables from landfill

waste and make a weekly trip to

Makaurau Marae to feed the scraps

to the worms and create compost.

And recently, the centre took the

opportunity to trial cloth nappies,

ditching disposables entirely for three

months.

Although initially not convinced that

cloth nappies would work at the

Centre, Karen decided to "give it a

go" after hearing about the terrible

environmental impact of disposable

nappies. She was shocked to

discover that these nappies remain in

our landfills for over 500 years without

breaking down. With a mixed-age

roll of 44 children requiring around

45 nappy changes per session, using

cloth nappies would significantly

reduce the Centre's environmental

impact and save parents a huge

amount of money at the same time.

Karen says that Centre staff found

the modern cloth nappies reasonably

easy to use, once they got the hang it.

The Centre has it's own laundry, and

staff were responsible for soaking

and laundering the nappies each

day. Nappies were dried on an

outside line when the weather was

fine. Importantly, parents were very

pleased to be saving money on the

disposables they would normally

supply for their children to use during

sessions.

The Centre plans to use cloth nappies

permanently once their new building

is completed in early 2015. Karen

also wants to encourage other early

childhood centres to give cloth

nappies a go, saying it's "for the

benefit of the environment".

If you're involved with an early

childhood centre and are interested

in trialling cloth nappies, Karen is

more than happy for you to contact

her on 280-3499 to discuss her

experience further.

If you want to see your ad appear in our next issue or if you have a suggestion for a story email

us at: 275times@gmail.com
---
Ex-Apia Way bouncer busy making a difference

3

Mangere's infamous Apia Way Bar in

the town centre has seen its fair share

of colourful characters, but few would

have predicted one of its young

bouncers would one day be a lawyer

doing his bit to keep South Auckland

healthy and happy.

But that's exactly what Jospeh Liava'a

does as the Company Lawyer and

Community Manager for East Tamaki

HealthCare. The former Massey

road resident worked the door at the

Mangere bar, now know as Club R8,

after dropping out of Auckland Boys

Grammar. His stint as a bouncer also

led to him developing an addiction

to alcohol. He says he didn't realise

he had a problem until a doctor told

him his liver was close to shutting

down. After kicking the bottle, he

went on to do a variety of professions,

both here and overseas including

factory worker, fruit picker, bank teller,

labourer, pipefitter and wharfie.

But he says it was his wife Lorraine

who gave him the motivation to go

back go to law school and realise

a long-held dream. His current role

Joseph Liava'a, East Tamaki HealthCare

Company Lawyer and Community Manager.

with East Tamaki Healthcare (ETHC)

gives him the opportunity to promote

not only the work of one of the city's

largest healthcare providers, but he

also provides a valuable service to

community workers and healthcare

professionals with his weekly

"Communitycations" emails which

inform those working out south of

great events or opportunities coming

up around the region.

Joseph says his motivation for

working for ETHC is to make an

impact in the community.

"I used to think about the massive

gap in health outcomes and life

expectancy between Pacific/Maori

people and the rest of NZ and get

really sad. Then I started to get really

angry at the glaring injustices and

unfairness in the situation. Now,

I just get busy and together with

like minded souls we make those

changes that need making."

And if he won Lotto what would he

do to improve his old hometown of

Mangere

"If I could, I'd buy everyone a house

so they could feel secure."

To get Joseph's weekly event

updates email: joseph@ethc.co.nz

Roy shares secret to Māngere Markets' success

The Mangere Markets have become

one of the city's most popular

weekend attractions bringing

thousands every Saturday morning

to sample the huge range of fruit,

vegetables, delicious food and an

assortment of household goods and

fashion products.

But few know the man who keeps the

whole thing ticking along smoothly

like a well-oiled machine.

That man is Roy Bagshaw and he's

been the Mangere Markets manager

for the last six years.

The retired sales and marketing guru

says the key to the markets' on-going

success is ensuring the stallholders

sell quality products.

"I love our stall holders – they are

really hardy people who are also

really lovely.

"And if we get good stall holders,

selling good products then we get

good customers, coming back again

and again."

Roy says another special thing about

the markets is the range of cultures

and ethnicities represented.

"It's a totally different world [to what

Mangere Markets Manager: Roy Bagshaw

many kiwis know]. We get every

race and colour here. French, Dutch,

Hungarian, Afghani, Chinese plus

every Pacific culture is represented."

He says one recent development is

the use of Facebook to offer prizes

and promote good deals.

"Marketing has just been by word

of mouth, but with Facebook now,

we're starting to promote it more that

way." He expects the markets to keep

growing and continue to pour money

back into the region through the

Mangere Markets Trust.

"We aim to create a family friendly

environment. It's been going for over

20 years and in that time thousands

of dollars has been put back into the

community."

For more information about the

Mangere Markets: https://www.

facebook.com/MangereMarkets

Verse of the month: You who bring good news to Zion, go up on a high mountain. You who

bring good news to Jerusalem, lift up your voice with a shout, lift it up, do not be afraid.
---
Community Notices

Free Community Fitness

Family friendly, children welcome, building community

relationships through healthy active lifestyle.

Every Saturday morning 7am @ Walter Massey Park

Ring: Tash - 0211663636 or Josh - 0211040382

Moana-Nui-a-Kiwa Pool

The annual Family Fun Day is on February 14th (11-4pm).

Also free Aquacise classes Mon and Wed 11am-12pm.

Wriggle and Rhyme

Mondays 10.30am at the Mangere Town Centre Library.

Wriggle and Rhyme is a fun, free programme that provides

positive movement experiences to stimulate development

of both the brain and body for babies 0 - 2 years.

Mangere Community Law Centre -

Law In A Nutshell

Mangere Community Law Centre is currently offering an

eight-week programme covering a wide-range of legal

topics relevant to our everyday lives. This programme runs

every Wednesday 9:30am – 12:30pm for 8 sessions: Cost:

$40 for the whole course. Dates: February 11 – April 1.

Anamua at the Mangere Arts Centre - Nga

Tohu o Uenuku

Sat 28 Feb 6:00pm / Choir, Vocal Music

Workshop of ANAMUÃ - a personal work by Composer

Poulima Salima inspired by his homeland villages of Safotu

and Faletagaloa-Safune in Savai'i, Samoa. Cost: Free.

Mangere East Rugby League Club - Muster Day

New Registrations Only. Friday 13 February 2015.

4.00pm-6.30pm. Walter Massey Park, Hain Avenue Entrance

Fundview Funding Workshop

Mangere Town Centre Library. Thursday 5 February @ 1 pm

(Funding Relationship Adviser, Funding Information

Services). FREE. Phone 275-9294 for further details.

OneFit Fitness with Jerry and Mary

Their training sessions are intense, fun and everyone is

welcome from different fitness level and age groups.

WHERE: Mangere War Memorial Hall, Mangere Bridge

WHEN: Tuesday & Thursday 5.30-6.30pm and Saturday

7.00-8.00am **Gold Coin per Session**

Sustainability Hui

Anyone who lives, works or plays in the Mangere/Otahuhu

area and who has an interest in sustainability, reducing

waste, gardening, and caring for the environment should

get along to an upcoming Sustainability Hui on February 24,

from 9.30am - 12.30pm at Papatuanuku Marae. For more

info contact Justine on justine@mefsc.org.nz or 0221028195.

NZRL Playgroups

Free for all children aged 0-5yrs.

Hawks Playgroup: Tuesdays & Thursdays 10am-1pm and

4pm-6pm. Mangere East RLFC. Contact Casey 021 247 6975

Magpies Playgroup: Mondays, Tuesdays and Wednesdays

10am-2pm. Contact: Johanna 021 0332727.

Budgeting and Family Support Services

There are now food parcels available. Contact either:

appointments@mangerebudgeting.org.nz / ph: 09 275 2266

NITTY GRITTY

Editor: Justin Latif

Design: Jo Latif

Publisher: Mangere East Family Service Centre

e: 275times@gmail.com f: www.facebook.com/275times