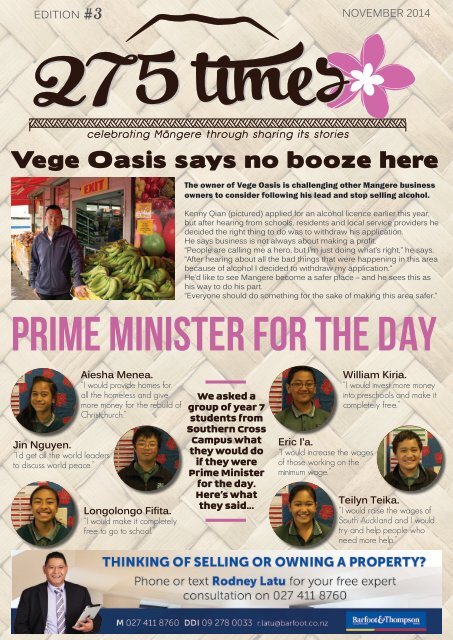 275 Times. Nov 2014
Mangere Community News
Mangere Community News
SHOW MORE
SHOW LESS
You also want an ePaper? Increase the reach of your titles
YUMPU automatically turns print PDFs into web optimized ePapers that Google loves.
EDITION #3

NOVEMBER 2014

times

275 times

celebrating Māngere through sharing its stories

Vege Oasis says no booze here

The owner of Vege Oasis is challenging other Mangere business

owners to consider following his lead and stop selling alcohol.

Kenny Qian (pictured) applied for an alcohol licence earlier this year,

but after hearing from schools, residents and local service providers he

decided the right thing to do was to withdraw his application.

He says business is not always about making a profit.

"People are calling me a hero, but I'm just doing what's right," he says.

"After hearing about all the bad things that were happening in this area

because of alcohol I decided to withdraw my application."

He'd like to see Mangere become a safer place – and he sees this as

his way to do his part.

"Everyone should do something for the sake of making this area safer."

Prime Minister for the day

Jin Nguyen.

"I'd get all the world leaders

to discuss world peace."

Aiesha Menea.

"I would provide homes for

all the homeless and give

more money for the rebuild of

Christchurch."

Longolongo Fifita.

"I would make it completely

free to go to school."

We asked a

group of year 7

students from

Southern Cross

Campus what

they would do

if they were

Prime Minister

for the day.

Here's what

they said...

Eric I'a.

"I would increase the wages

of those working on the

minimum wage."

William Kiria.

"I would invest more money

into preschools and make it

completely free."

Teilyn Teika.

"I would raise the wages of

South Auckland and I would

try and help people who

need more help."
---
2

My Mangere:

Ihumātao

By Qiane Matata-Sipu

Some people call it Ishy. Others know

it as 'that village by the airport'. If

you've watched The Dead Lands in

cinema you might recognise it as the

backdrop of the first fight scene. And

it is most often referred to as 'The Pa'.

To me, Ihumātao (Te Ihu o Mataoho),

is home.

While Mangere is famous for its

abundance of churches, its arts

scene, its sporting prowess and its

melting pot of ethnicities, Ihumātao

adds to that richness with its cultural

and historical significance. The area

is reputedly the longest continual

settlement of Maori in New Zealand

and was once a home away from

home for the first Maori King, Pōtatau

Te Wherowhero.

Three kilometres from Auckland

International Airport, Ihumātao boasts

80-plus houses where almost all of

the residents are whanau, descents

of Te Wai o Hua and Waikato-Tainui

iwi. Oruarangi Awa is on the pa's back

doorstep, and the Otuataua Stone

Fields and Manukau Harbour are on

its front.

At its core stands Makaurau Marae,

the wharenui built by hands of the

iwi's men.

I can whakapapa here to as far back

as my tupuna Hape, who travelled to

Aotearoa on the back of Kaiwhare, a

stingray.

To this day, much like my

grandmother's, the kids own the

culdesac, the dogs roam free and

no matter who's front door you land

on there is always an aunty, cousin,

nanny or nephew ready for a catch

up and a cuppa tea.

Years of development have caused

environmental degradation and

changed the surrounding landscape.

Qiane Matata-Sipu

is a documentary

photographer. Her

first solo exhibition,

IHUMATAO taku

tangata-taku whenua

spent six weeks at

the Mangere Arts

Centre and has since

gained international

recognition. Her work

is set to show at

the Angkor Festival

of Photography in

Cambodia, later this

month.

www.Qiane.co.nz

FB/IG @qianephoto

Jet fuel is sent through our skies,

wastewater into our awa and

urbanisation has crept onto our

doorsteps bringing significant social

changes. But, our now 'Urban Pa'

is still very much a reflection of

yesteryear. Back then my great

grandfather, Papa Mac, was the

community-appointed warden - 10

years running. Pastimes included

gathering kaimoana and picking

watercress.

Today most of us run the rat race.

We blend our careers, families and

commitments with working on our

marae and upholding the tikanga

and mana of our papakainga. It is

an ongoing commitment spanning

generations, with our tamariki at the

core. We're a proud lot here and no

matter where in the world we venture,

we're always blessed to come home

to our semi-rural piece of paradise.

Creating a resilient, sustainable local economy

By Justine Skilling

Mangere East Family Service

Centre's Waste Minimisation

Facilitators Koia Teinakore and

Justine Skilling used the opportunity

provided by the Sustainable South

week to host a workshop with a

difference in September.

Billed as a conversation for anyone

interested in "taking scraps of time,

waste, food, land, and turning their

life around", the workshop offered a

space to talk about microbusiness

as an alternative way of building

wellbeing for families and creating

opportunities for employment.

Hosted in the heart of the community

at the Mangere East Rugby League

Club, the workshop attracted over

60 participants. Local residents,

business owners, workers, Council

staff and representatives, as well as

Sustainable South week participants

Wharenui: Makaurau Marae

from around Auckland, joined

together to hear inspiring local stories

and make connections.

The day began with five 'pechakucha'

style talks by local people,

all at varying stages on their

microbusiness journey.

After hearing these and other stories

from the community and beyond,

people gathered in smaller groups

to discuss some of the challenges

and successes people have had in

starting microbusinesses.

Mangere East Family Service Centre's

chief executive Peter Sykes summed

up the conversations by calling to

mind the story of Stone Soup, which

starts out as nothing but turns into

something wonderful once everyone

has made their unique contribution.

He felt the key idea was that people

were talking about creating "real jobs,

not waiting for someone to come and

employ us".

Introducing the Mangere East

Family Service Centre's Waste

Minimisation Facilitators' Koia

Teinakore (left) and Justine Skilling.

If you have a small business idea that

would benefit the environment or

your community and would like to talk

more about it with the team, please

contact justine@mefsc.org.nz or

koia@mefsc.org.nz.

If you have business skills or

resources that you'd like to share with

others, they'd love to hear from you as

well!

If you want to see your ad appear in our next issue, email us or if you'd like to make a donation

to help with printing costs visit: http://www.givealittle.co.nz/cause/275TimesNews

I

o

t

R

p

a

g

T

Y

M

m

g

n

l

g

T

C

t

E

L

T

a

d

f

s

o

f

o

k
---
Garden paradise one of Mangere's hidden gems

3

Visionary gardener: Yvonne Thomas would love to see more people make use of the community

garden at the back of Kirkbride Road Reserve

If you ever venture behind the

old school hall in Mangere

to the back of Kirkbride Road

Reserve you'll find a garden

paradise brimming with life -

and if you're in luck you'll also

get a cup of tea from Yvonne

Thomas.

Yvonne and her co-worker

Mona Nimmo have been

managing the 'teaching

gardens' for almost five years

now and would love for more

locals to uncover this hidden

gem.

Over the years Yvonne and

Mona have developed small

streams, a wetland area

around the gardens, whilst

also creating a beautiful

demonstration herb garden

completely out of recycled

materials.

Yvonne describes working at

the site as an addiction.

"We work here six days a

week, but get paid for much

less – because it's like a

drug."

Yvonne and Mona both live

locally and they love being able to

give back to the community.

"Our dream is to see a food forest

established here, serving the local

kindies and schools and we hope

that it will go some way to changing

people's attitudes about gardening

and growing their own food.

"You can buy a grubby $3 bunch of

spinach from the supermarket - or

you can grow it - it's so much cheaper

and it'll taste nicer than what you'll

get at the supermarket."

The garden was established by Robert

Findlay under the former Manukau

City Council and if you'd like a plot

make enquires at the site or call 261

8137 for more information.

Water feature: Yvonne Thomas and Mona Nimmo have transformed a

swampy piece of land into a gardening paradise.

Continued... Profiles on the pecha kucha speakers

Tasha Tasmania,

Chairperson of

the Mangere

East Rugby

League Club.

Tasha talked

about the club's

dream to become

financially

sustainable and

open a healthy

food restaurant

out of the club's

kitchen.

Darrell Joseph,

professional

gleaner and

artist. His

special skill

is "finding a

treasure in

what other

people think

of as rubbish."

Darrell posed the

question "How

do you turn this

into a business?"

King Homeboy,

beat boxing

champion and

local resident,

talked about the

challenges of

gaining funding

for artistic

pursuits through

traditional

sources. His

message was

that "each of us

has something of

value."

Recommended

Dosage told us

the story of his

journey from

WINZ beneficiary

to musician and

founder of his

own Mangerebased

record

label and radio

station (REP FM).

"I'm 100% about

my community,"

he says.

Natasha Lilo

connected

her health

and nutrition

microbusiness

story to the

legacy of her

grandfather.

Building on his

foundation, she

has created

employment for

herself that fits

around her family

responsibilities.

Verse of the month: The light of the eyes rejoices the heart,and good news refreshes the body.

Proverbs 15:30 Sponsored by Bill and Bridie Keenan
---
Local focus for festival

Cosy vibe: Hone Fowler is helping put together this year's Mangere

East Xmas Festival

Christmas is coming and so is the Mangere East Xmas

Festival.

It will be on November 29 from 10am – 2pm at the Mangere

East Village Green and Mangere East Community Learning

Centre's Hone Fowler says it's going to be another great

get-together.

"It's got a nice community vibe and the village green is a

cosy place to hold it," he says.

"The main focus is on being local, so we'll have local performances,

local stalls, local music acts plus face painting

and fun activities for families and kids."

The festival has been running for over ten years and Hone

says it's a cherished community tradition - so don't miss it!

Upcoming Events

Social Netball

Every Thursday night @ 7pm Mangere East Hawks Netball

Club, Walter Massey Park. Cost $1 per player per game.

Teams welcome! Enquiries to Tash 0211663636

Free Community Fitness

Family friendly, children welcome, building community

relationships through healthy active lifestyle.

Every Saturday morning 7am @ Walter Massey Park

Ring: Tash - 0211663636 or Josh - 0211040382

Moana-Nui-a-Kiwa Pool

The outdoor pool will be opening up for the summer season from

December 13 until the end of March 2015. The pools are still free

entry for all.

Free sports every Wed

Strive are offering a free sports/tag programme @ Moyle Park,

Bader Drive every Wednesday 3.30pm-6pm. Contact 255-0144 or

larry.c@strive.org.nz

Moyle Park Play Group

NZRL Community Playgroup @ Magpies RLC. Free for all kids under

5 years. Runs during school term. Contact: Johanna 0210332727

Summer Skate Series

Want to qualify for the Auckland-wide skate series Grand Final on

March 7? Then be at David Lange Park, Dec 13, 10am - 2pm.

NITTY GRITTY

Editor: Justin Latif

Creative Director: Jo Latif

Publisher: Mangere East Family Service Centre

e: 275times@gmail.com f: www.facebook.com/275times