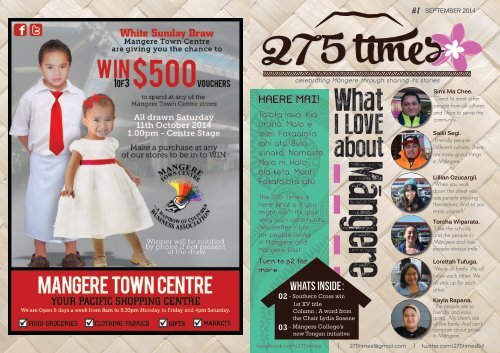 275 Times. Sept 2014
Mangere Community News
Mangere Community News
SHOW MORE
SHOW LESS
You also want an ePaper? Increase the reach of your titles
YUMPU automatically turns print PDFs into web optimized ePapers that Google loves.
#1 September 2014

275

times

275 times

Haere mai!

Talofa lava, Kia

orana, Malo e

lelei, Fakaalofa

lahi atu, Bula

vinaka, Namaste,

Malo ni, Halo

ola keta, Mauri,

Fakatalofa atu.

The 275 Times is

here! What is it you

might ask?! It's your

very own community

newsletter – just

for people living

in Māngere and

Māngere East.

Turn to p2 for

more.

whats inside:

02 - Southern Cross win

1st XV title

Column : A word from

the Chair Lydia Sosene

03

celebrating Māngere through sharing its stories

- Mangere ˉ College's

new Tongan initiative

What

I love

about

Mangere

Simi Ma Chee.

"Great to meet other

people from all cultures

and I love to serve the

community."

Sailii Segi.

"Friendly people.

Different cultures. There

are many good things

in Māngere."

Lillian Ozucargil.

"When you walk

down the street you

see people enjoying

themselves. And so you

enjoy yourself."

Torcha Wiparata.

"I like the schools

and the people in

Māngere and how

people always smile."

Lorettah Tufuga.

"We're all family. We all

know each other. We

all stick up for each

other."

Kayla Rapana.

"The people are so

friendly and easy

going. My clients are

all like family. And can't

complain about prices

in Māngere."

facebook.com/275times | 275times@gmail.com | twitter.com/275timesEd

I
---
2 3

The

275 Times

team,

with the help

of Māngere East

Family Service

Centre, have set up this

community newsletter

to provide a platform

for Māngere people to

communicate their messages

back to the community. We

hope for this newsletter, and

our 275 Times Facebook

page, to be the place to

go to see the triumphs and

awesome initiatives for

Māngere people. Feel free

to get in touch with your

feedback.

E noho rā,

275 Times Team

Publisher: Māngere East

Family Service Centre

Contact details: 0276302700

Nitty Gritty

Another aim of this newsletter is to

give organisations and businesses

a place to share what they're up

to - through becoming a 275 Times

sponsor. If you want to see your ad

appear in future issues email us

at 275times@gmail.com and we

can discuss our sponsorship rates.

Or if you'd like to make a one-off

donation to help with printing costs

visit: http://www.givealittle.co.nz/

cause/275TimesNews

NZRL Community Playgroup

Moyle Park

Mon-Wed

10am - 2pm

FREE for all kids under 5 years

Runs during school term

Call Johanna Muller 0210332727

Fearless Southern Cross girls win title

Comeback Queens: Peter Fatupaito (far left) with the Southern Cross Girls 1st XV Rugby team after their

victory over Fielding High in the National Champs semi-final.

What do you do if you're playing in the grand

final of the Auckland champs, you're losing

22-nil and the crowd is getting louder and

louder? If you're the Southern Cross Girls 1st

XV Rugby team you stage a miracle secondhalf

comeback to win your schools' first Girls

1st XV title.

Southern Cross coach Peter Fatupaito credits

the character of his team, particularly his

captain Moana Fineaso-Levi and star centre

Olivia Poloniati for helping the team come

back from such a big deficit to win the title by

one point 28-27.

"At halftime the girls were still looking quite

nervous and the Onehunga crowd was very

Warm Pasifika Greetings to you all,

Thank you for the opportunity to give comment

to this inaugural newsletter for our community

in Māngere! This is a great initiative for local

news in our community.

As many of you are aware, it's time for New

Zealand voters to take part in the central

Government election. It is an

important time – and for those

of you who haven't registered to

vote, do so as soon as you can.

As a voter living in Māngere,

think about your personal

situation and those around you.

Have things improved for you

in the last little while? Or have

your personal matters for your

family and friends worsened? What do you

expect for your family, for your household,

your income, your children and grandchildren?

As an elderly or disabled resident, are your

circumstances better?

When choosing a Political Party give thought

to what matters to you most. As Chair of the

vocal," says Peter. "So I told them they could

either fear it and run or face everything and

rise – and that's what they did."

Peter says the team have gone through the

season undefeated. "It was a massive day for

us." The team then went onto the National

Top Four Champs in Palmerston North. In the

semi-final the girls pulled off another miracle

comeback, scoring three times in eight minutes

to beat two-time defending champions

Fielding High. Southern Cross then faced

Hamilton Girls High School in the final, but

after losing four crucial players to injury the

Māngere team were unable to take the title.

A word from the Chair: Vote !

Māngere-Otahuhu Local Board, I see a

number of specific issues affecting our Ward.

One major issue to consider, which affects

many in Māngere, is housing. There is a large

housing stock situated here, and we have a

number of residents living in Boarding Houses

and sub-standard living arrangements.

Whoever is the Government

post September 20, it will be

important for our Local Board

that this issue is addressed.

Māngere has a high

population of young people

and of elderly people living in

our Ward. And this is reflected

in our Draft Māngere-

Otahuhu Local Board Plan and

is among the six key priorities. It's my hope

that the Māngere-Otahuhu Local Board will

continue to highlight the community's needs,

along with Local Government agencies.

Manuia,

Lydia Sosene,

Chair - Māngere-Otahuhu Local Board

Tongan language

to open Uni doors

Learning Tongan at Māngere College will not

only enrich students in their culture but now,

thanks to a new initiative, also help them gain

entrance to university.

Toa Bloomfield has been teaching Tongan

at the College for the last five years – but it

was only assessed as unit standards. However

the Ministry of Education will now offer new

Lea faka-Tonga achievement standards and

associated resources at NCEA Levels 1, 2

for this year and Level 3 next year. The new

achievement standards mean students can

use their credits from studying Tongan to count

towards university entrance.

The school launched the new initiative on

September 3 with powhiri and Tongan dance

performances and Mrs Bloomfield expects

to see a rise in students signing up for her

classes.

"I'm expecting more enrolments as parents will

be able to see that this now counts towards

university entrance," she says.

Mrs Bloomfield says there are many benefits

for students to study their own language.

Gardening guru Tom has much to share with Māngere

Tom Winchman is a man on a mission - an ecomission

that is.

The 74-year-old has been running the

Māngere Community Garden for the last two

years, with the help of a team of volunteers.

He works tirelessly without pay in the hope

that people will be empowered by learning

key food growing skills. "The price of food is

going to keep going up, so we're looking at

different ways of growing vegetables, which

Language learners: Toa Bloomfield with some of her students studying towards their NCEA credits.

"It's amazing how the students respond to

study when it's related to their culture. We

teach them to be proud of their culture and

values. But I also believe learning in their

mother-tongue can be a step towards them

becoming more successful as there are now

many careers which require being able to

speak more than one language."

Team Green: Samantha Cooper and Tom Winchman at the Māngere Community Garden.

also includes different ways of getting water."

Tom has set up a special demonstration

garden in which he has a large water tank

hooked up to two small solar panels. These

panels power a battery which pumps water

into a gravel-based garden bed and into a

row of pipes. Due to the nutritious water he's

pumping into these two 'garden beds' he has

thriving vegetables of all varieties. Some of the

nutrients in the water come from the two large

Mrs Bloomfield credits the school for making

language learning a priority.

"We are so fortunate to have our language

block and it's making a huge difference to

achievement. We're seeing many Excellences

and Merits achieved from the students

learning Samoan and I believe we'll see our

Tongan students following in their footsteps."

eels that are swimming around the tanks. And

a massive worm farm is also a key source of

nutrients for this experimental garden.

"We've been able to grow kale, broccoli, taro,

cabbage and watercress in the aquaponics

garden beds – all without any top soil. This is

ideal for growing veges in atolls or beside a

beach," he says.

Tom says the garden is a service to the

community - both in Māngere and overseas

- and he says many people visit the garden

to learn skills before taking them back to

their homelands in the islands or within New

Zealand.

One such trainee is Samantha Cooper.

She's been volunteering at the Māngere

Community Garden for the last three months.

"I want to take what I'm learning here to help

my iwi back home," she says.

Tom is also using the garden to help kids and

those who normally can't get down and dirty

in a vege patch.

He's constructed extra-high raised beds

and concreted a section of the garden so

that people in wheelchairs can come and

experience the joy of sowing and reaping a

little patch of veges.

"I also run workshops to teach people how to

cook different types of veges as many people

don't know what to do with things like kale or

choko."

facebook.com/275times | 275times@gmail.com | twitter.com/275timesEd

facebook.com/275times | 275times@gmail.com | twitter.com/275timesEd