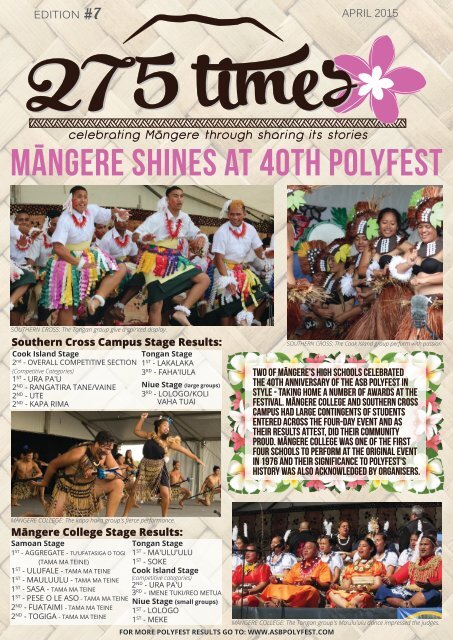 275 Times. April 2015
Mangere Community News
Mangere Community News
SHOW MORE
SHOW LESS
Create successful ePaper yourself
Turn your PDF publications into a flip-book with our unique Google optimized e-Paper software.
Edition #7

april 2015

275 times

275

times

celebrating Māngere through sharing its stories

mĀngere SHINES AT 40th Polyfest

Southern Cross: The Tongan group give a spirited display.

Southern Cross Campus Stage Results:

Cook Island Stage

2 nd - Overall Competitive Section

(Competitive Categories)

1 st - URA PA'U

2 nd - RANGATIRA TANE/VAINE

2 nd - UTE

2 nd - KAPA RIMA

Tongan Stage

1 st - Lakalaka

3 rd - Faha'iula

Niue Stage (large groups)

3 rd - LOLOGO/KOLI

VAHA TUAI

Southern Cross: The Cook Island group perform with passion

TWO OF Māngere's high schools celebrated

the 40th anniversary of the ASB Polyfest in

style - taking home a number of awards at the

festival. MĀngere College and Southern Cross

Campus had large contingents of students

entered across the four-day event and as

their results attest, DID their community

proud. MĀngere College was one of the first

FOUR schools TO PERFORM AT THE ORIGINAL EVENT

in 1976 AND THEIR SIGNIFICANCE TO POLYFEST'S

HISTORY WAS ALSO ACKNOWLEDGED BY ORGANISERS.

Māngere College: The kapa haka group's fierce performance.

Māngere College Stage Results:

Samoan Stage

1 st - AGGREGATE - Tu'ufatasiga o Togi

(TAMA MA TEINE)

1 st - ULUFALE - TAMA MA TEINE

1 st - MAULUULU - TAMA MA TEINE

1 st - SASA - TAMA MA TEINE

1 st - PESE o le ASO - TAMA MA TEINE

2 nd - FUATAIMI - TAMA MA TEINE

2 nd - togiga - tama ma teine

Tongan Stage

1 st - Ma'ulu'ulu

1 st - Soke

Cook Island Stage

(competitive categories)

2 nd - URA PA'U

3 rd - IMENE TUKI/REO METUA

Niue Stage (small groups)

1 st - LOLOGO

1 st - MEKE

MĀngere College: The Tongan group's Ma'ulu'ulu dance impressed the judges.

For more Polyfest results go to: www.asbpolyfest.com
---
2

Markets provide tasty career change for Kira

Passion for pastry: Kira Gribble with some of her yummy creations at the Mangere Markets.

Kira Gribble has swapped the high

flying world of finance and sales for a

spatula and hot plate at the Mangere

Markets.

But Kira has no regrets and is loving

her new vocation.

"After leaving my job in the finance

sector I decided I needed a change in

direction – and I thought it was time I

did something for myself – and this is

the first step."

The Mangere resident has just

completed a diploma in baking and

patisserie from Manukau Institute

of Technology and has been selling

American Indian tacos at the markets

since November.

She says working at the market has

been a breath of fresh air.

"I love the people here – they are so

lovely – but also really honest - if they

don't like something they'll tell you."

She settled on tacos after finidng a

recipe on the internet but was blown

AC_BCXXXX_XX

away when an American Indian

sampled her fare.

"I met a lady from the Blackfoot clan

at the market who tried my tacos," she

says.

"She told me that they were so good

that she told her children this was the

food of their ancestors.

"Tears just starting streaming down

my face when I heard that because

it meant a lot to hear that from

someone who's from that culture. "

Kira also makes cakes and cupcakes

and is hoping to one day start a

speciality store for all her tasty

creations.

She says working at the Mangere

Markets can be a challenge if you like

a sleep in on a Saturday but it's not

something she minds missing out on.

"I grew up in markets because my

parents have run stalls for years – so

I'm used to the early mornings and

I've learnt a lot from just watching

them."

Kira's stall can be found in the

north-western corner of the

Mangere markets every Saturday

morning.

Know your rights

By Louise Darroch

Lawyer at Mangere Community Law Centre

Māngere-Ōtāhuhu Local Board

Community Volunteer Awards

We couldn't do without you

The Māngere-Ōtāhuhu Local Board is seeking your nominations, for volunteer people

or groups whose outstanding work is making a positive difference to our community.

These special people and groups will be officially thanked at the Māngere-Ōtāhuhu

Local Board Community Awards function.

For more information please contact Lana Roberts.

Address: Māngere-Ōtāhuhu Local Board Office,

Shop 17, 93 Bader Drive, Māngere, Auckland 2022

Email: lana.roberts@aucklandcouncil.govt.nz

facebook.com/mangereotahuhu

Nominations close 5pm, 29 May 2015.

Find out more: phone 09 256 5133 or visit

aucklandcouncil.govt.nz/mangereotahuhu

Significant changes have been made to the laws

governing our employment relations.

Of most interest is that from April 1st the adult

minimum wage will be $14.75 hour. Even if your

employment agreement says you are on less than

this, you must be paid at least $14.75 hour. There

are some exceptions to this law for young people

in the first six months of work or in training. Other

changes to employment law came into effect on

6 March 2015. These include changes to collective

bargaining and rules for strikes and lockouts.

Rest and meal breaks: These are no longer

guaranteed. However if your employment

agreement says you have specified rest and meal

breaks, these continue to apply. But the employer

may wish to renegotiate these breaks, and new

employees are not guaranteed specified rest and

meal breaks at certain times. The employer must

compensate employees who do not get a break.

If you are unsure of your rights, call Ministry

of Business, Innovation and Employment on

0800209020.

The Law Centre holds weekly employment

clinics on Wednesday afternoons.

Call 2754310 for more information.

If you want to see your ad appear in our next issue or if you have a suggestion for a story email

us at: 275times@gmail.com
---
Getting fit inspires couple to dream big

3

GOOD FIT: Jerry, Mary, and daughter Nathanie.

ROPED IN: Onefit Fitness runs sessions at Mangere War Memorial Hall on Tue, Wed and Sat.

Jerry Mamea was tipping the scales

at over 120kgs in 2008 - so before he

could fulfil his dream of becoming a

personal trainer he had to lose the

pounds.

"I was telling my family what not

to eat but I wasn't living what I was

preaching – so I got myself fit and

now I'm passing that experience on to

others. "

Jerry and wife Mary have now

launched their own group training

business called Onefit Fitness.

It started with just four people

working out in his backyard and now

over 100 people gather on Tuesday,

Thursdays and Saturdays at the

Mangere War Memorial Hall.

The inspiring couple live by the motto

of "dream big and live it" and hope

to establish a purpose-built training

facility in Mangere with its own indoor

obstacle course to provide a fun

fitness alternative to what most gyms

provide.

"Our church has been so supportive"

says the Life South church member.

"Our calling is to motivate people to

reach their fitness goals and we love

it."

The first session is free so check it out.

For more info go to: www.facebook.

com/Onefit Extreme

Determined students aim high

Community Briefings

Auckland airport is continuing to grow as it plays

a vital role in the economic growth of South

Auckland, the region and New Zealand.

please come along to one of our community

briefings to find out more about what is happening

at Auckland airport.

tuesday 14 april, 2015 5:30 p.m.-6:30 p.m.

Māngere Community Law Centre

Unit 9, Shop 27, Bader Drive, Māngere Town Centre,

Māngere.

Wednesday, 15 april 2015 5:30 p.m.-6:30 p.m.

mIT manukau Campus: Level 2, Theatre Pre-Function,

Corner Manukau Station Rd and Davies Ave, Manukau.

CAMP FUN: Students rockclimbing

By Deanna Johnson - Principal of Nga Iwi School

Glenda Shipman our assistant principal and the senior

team led another successful Education Outside The

Classroom (EOTC) programme both on and off site. It

was great to see our children shine in a different learning

setting, showing that they can achieve "excellence" (one

of our school values) as they displayed determination to

achieve goals in a safe and challenging environment.

tuesday, 21 april 2015 5:30 p.m.-6:30 p.m.

MIT Ōtara Campus: Manuhiri Room, Gate 14, NT Block,

Alexander Crescent, Ōtara.

Verse of the month: Blessed are the peacemakers for they will be called children of God.

Matthew 5:9
---
Community Notices

Get digital

The Mangere Park Jam is taking place at the Mangere Town

Centre and the Mangere Central Library from 10am – 4pm on

April 11. This event will feature a number of digital workshops

focused on 3D printing, graphic animations, game making, web

development and social media.

For more info visit: http://www.acceleratingaotearoa.co.nz

Healing Meeting

Christian Healing Meeting every first Thursday of the month at

the Mangere Baptist Church 7.30pm run by Forerunners Ministry.

Open to everyone.

Anzac Day parade

There will be an Anzac parade in Mangere Bridge on April 25. It

starts at 9.30am, outside the Mangere Bridge cafés and will go to

the Mangere War Memorial hall which has a service starting at

10am. Email here for more info: radio@xtra.co.nz.

Sustainable Garden Hui

Tues 28 April, 9.30am - 12.30pm at the Old School Reserve

Community Gardens. 299R Kirkbride Rd. Garden tour, workshops

with local champions on dealing with food and garden waste and

delicious umu. Please RSVP to Justine Skilling by Mon 13 April:

justine@mefsc.org.nz, 0221028195

Free swimming lessons

Free Water Safety and Aquatic Competence Lessons at Moana-

Nui-a-Kiwa in Mangere. Enrol in Whanau Nui today and have lots

of fun while you learn. Lessons are from April 13 - 17.

Time: 12 - 2pm (30 minute lessons). Enrol now, spaces are limited.

Mangere Town Centre Library

The library has host of interesting activities, almost every day

through the school holidays so visit their Facebook page for more

info: https://www.facebook.com/MangereTownCentreLib

Plus there are the following programs for adults:

English course for beginners Tues and Thurs for 11.20 – 1.20pm.

Every Wed 9.30am and 11am there is free computer lessons.

future

print

◊ Building Signage ◊ Vehicle Graphics

◊ Large Format Printing

◊ Digital Printing ◊ Offset Printing

◊ Wedding Invites ◊ Birthday Invites

◊ Funeral Notices ◊ Raffle Tickets

PH: 0800 353 283 ◊ PH: 09 256 0881

sales@futureprint.co.nz

www.futureprint.co.nz

71A Montgomerie Road, Airport Oaks, Auckland

NITTY GRITTY

Words: Justin Latif

Design: Jo Latif

Publisher: Mangere East Family Service Centre

e: 275times@gmail.com f: www.facebook.com/275times

Check out our new 275 Times website!

www.275times.com

Read all the editions | Send feedback | find out more...