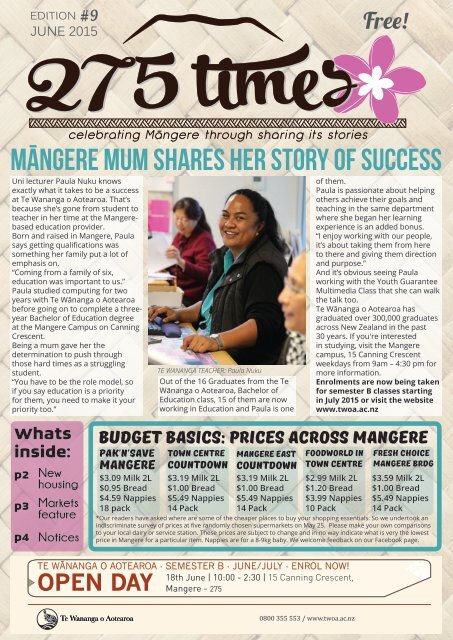 275 Times. June 2015
Mangere Community News.
Mangere Community News.
SHOW MORE
SHOW LESS
You also want an ePaper? Increase the reach of your titles
YUMPU automatically turns print PDFs into web optimized ePapers that Google loves.
EDITION #9

JUNE 2015

Free!

275 times

275

times

celebrating Māngere through sharing its stories

māngere mum shares her story of success

Uni lecturer Paula Nuku knows

exactly what it takes to be a success

at Te Wananga o Aotearoa. That's

because she's gone from student to

teacher in her time at the Mangerebased

education provider.

Born and raised in Mangere, Paula

says getting qualifications was

something her family put a lot of

emphasis on.

"Coming from a family of six,

education was important to us."

Paula studied computing for two

years with Te Wānanga o Aotearoa

before going on to complete a threeyear

Bachelor of Education degree

at the Mangere Campus on Canning

Crescent.

Being a mum gave her the

determination to push through

those hard times as a struggling

student.

"You have to be the role model, so

if you say education is a priority

for them, you need to make it your

priority too."

TE WANANGA TEACHER: Paula Nuku

Out of the 16 Graduates from the Te

Wānanga o Aotearoa, Bachelor of

Education class, 15 of them are now

working in Education and Paula is one

of them.

Paula is passionate about helping

others achieve their goals and

teaching in the same department

where she began her learning

experience is an added bonus.

"I enjoy working with our people,

it's about taking them from here

to there and giving them direction

and purpose."

And it's obvious seeing Paula

working with the Youth Guarantee

Multimedia Class that she can walk

the talk too.

Te Wānanga o Aotearoa has

graduated over 300,000 graduates

across New Zealand in the past

30 years. If you're interested

in studying, visit the Mangere

campus, 15 Canning Crescent

weekdays from 9am – 4:30 pm for

more information.

Enrolments are now being taken

for semester B classes starting

in July 2015 or visit the website

www.twoa.ac.nz

Whats

inside:

p2

p3

p4

New

housing

Markets

feature

Notices

BUDGET BASICS: PRICES ACROSS MANGERE

Pak'n'Save

mangere

$3.09 Milk 2L

$0.95 Bread

$4.59 Nappies

18 pack

town centre

countdown

$3.19 Milk 2L

$1.00 Bread

$5.49 Nappies

14 Pack

mangere east

countdown

$3.19 Milk 2L

$1.00 Bread

$5.49 Nappies

14 Pack

Foodworld in

town centre

$2.99 Milk 2L

$1.20 Bread

$3.99 Nappies

10 Pack

fresh choice

mangere brdg

$3.59 Milk 2L

$1.00 Bread

$5.49 Nappies

14 Pack

*Our readers have asked where are some of the cheaper places to buy your shopping essentials. So we undertook an

indiscriminate survey of prices at five randomly chosen supermarkets on May 25. Please make your own comparisons

to your local dairy or service station. These prices are subject to change and in no way indicate what is very the lowest

price in Mangere for a particular item. Nappies are for a 8-9kg baby. We welcome feedback on our Facebook page.

TE WANANGA O AOTEAROA - SEMESTER B - JUNE/JULY - ENROL NOW!

18th June | 10:00 - 2:30 | 15 Canning Crescent,

Mangere - 275

OPEN DAY

0800 355 553 / www.twoa.ac.nz
---
2

Faith and fellowship at heart of new village

Lay Pastor Moi Kaufononga of the Lotofale'ia Congregation in Mangere

What started as one man's dream

has become a place of beauty and

hope for a whole community. The

Matanikolo Housing development

is the brainchild of Lay Pastor

Moi Kaufononga of the Lotofale'ia

Congregation in Mangere. The

property at the end of Hall Road

in Mangere has been turned

from a large community garden

into a modern-day village of 22

houses, with more still to come. Mr

Kaufononga says there are two basic

needs all humans have - one is for

food, and the second is for a roof over

their heads. The gardens used to fulfill

that first basic need, but now, thanks

to a $4 million Government subsidy

and some wise investment from the

church, the Matanikolo development

has meant 22 families will have their

own quality home at a very affordable

rental rate. Mr Kaufononga's dream is

driven by the desire to see people live

and learn together.

"When you work together, learn

together, and eat together – that's

when you experience Jesus. Jesus

is here in Matanikolo when we are

together, loving one another."

The development was named

Matanikolo by the Tongan King's

brother Prince Fatafehi which means

gateway in English as it represents

the beginning to a new life that so

many families will experience in this

urban village nestled in a quiet corner

of Mangere. This development has

also received support from local

police, Auckland Council and the

Methodist Church's LIfewise social

workers to ensure the families living

in the development get any necessary

support and protection they need

so the community can flourish as a

whole. Mr Kaufononga says it's taken

a lot of hard work and faith to get to

this point, but there's still a further

eight to ten units for the elderly, an

apartment block and a community

hall to be built in the coming years.

Samoa House set to wow Māngere

and a three storey building. It's all

about going with the flow. We opened

our consulate on K Rd in the late 60s

to be near where most Samoans lived,

so now that most are in the south it

makes sense for us to move."

Mr Pogi says the new building will

be completed by early 2016 and its

construction will cut his own commute

into the city dramatically as the Consul

General's residence is in Favona.

Samoan Consul General Faolotoi Reupena Pogi

Not sure what's going on at the corner

of Bader Drive and Mascot Ave?

Well here's the low-down: it's going

to be the new home of the Samoan

Consulate.

Samoan Consul General Faolotoi

Reupena Pogi says the multi-million

NITTY GRITTY

Words: Justin Latif Design: Jo Latif

Publisher: Mangere East Family Service Centre

275times@gmail.com | www.275times.com

www.facebook.com/275times

dollar project will make the consulate's

services more accessible for the

majority Samoans who generally live

in South and West Auckland and it

will also add something special to the

community of Mangere.

"The site will include a fale, a Marae,

Print

Your printing house

022 1612 927

(09) 2575887

www.minzltd.co.nz

info@minzltd.co.nz

Massey Road, Mangere

Samoan Consul General Faolotoi Reupena Pogi

Check our Special Deals on

Invitation Cards such as:

Birthday

Wedding

Special Events

Call us for a free quote
---
Sustainability network

continues to blossom

Umu: Food from the garden was cooked traditionally and enjoyed!

The Mangere Otahuhu

Sustainability Network goes

from strength to strength

and another successful hui

just goes to prove it. Around

70 locals, many of whom are

neighbours of the Old School

Reserve Teaching Gardens in

Kirkbride Rd, which hosted

the event (with support

from Mangere East Family

Service Centre) attended

the event on a beautiful

autumn morning on the first

of May. This gathering also

attracted a number of schools

and children from the area.

Garden co-ordinator Yvonne

Thomas opened the hui

with a talk on the history

of this amazing community

resource before participants

took part in tours,

workshops and community

notices. The event was

rounded out with a delicious

umu.

More gatherings are coming,

so email Justine@mefsc.org.

nz to go on the database,

or check out the Mangere

Otahuhu Backyard Project

page at www.facebook.com/

wastechamps.

Katoteu, kafa and kahoa

Beauty

Services

BUILDING

AND

CARPENTRY

Welding +

Panel beating

Recreation

& Sport

Business

Admin and

Computing

Forces

Pre-Entry

Don't

just dream it.

Warehousing

& Forklift

Operations

BECOME IT!

Retail

3

Crafty family: From left, Taufa Vaka'uta, Taeao Vaka'uta and Akosita Takai

The Mangere Markets is home

to not just an amazing range

of fruit and veges, but also the

place to go for all your Pacific

cultural needs. Akosita Takai

and her family run one of the

many stalls selling Tongan

necklaces and baskets every

Saturday morning. Despite

the competition, they do a

roaring trade in baskets or

"katoteu", traditional belts or

"sisi" and "kafa" and necklaces

or "kahoa". Akosita says it

can take a day to make the

baskets, whereas she can

make up to four necklaces in

a day. Flanked by her sister

and niece, the Mangere

resident says selling in the

markets can be a fun way

to spend a Saturday. "We

want to have fun, and help

to promote Tongan culture –

and hopefully we are one of

the best in the market."

ZERO FEES &

TRAVEL SUBSIDY

FOR 16-19YRS

FREE SELECTED

PROGRAMMES FOR

20+ YEAR OLDS

HANDS ON

TRAINING

Conditions apply

MANGERE

(09) 257-5732

KELSTON

(09) 818-1257

PAPAKURA

(09) 296-0511

If you want to see your ad appear in our next issue

or if you have a suggestion for a story email us at:

275times@gmail.com
---
Community Notices

Fitness Expo

"Let's Get Moving Mangere" is a healthy lifestyles expo being held

at the Mangere Town Centre from 9am -2pm, June 27 to promote

ways to stay healthy. It's going to be an action-packed day of

Zumba, salsa dancing, boxfit and yoga demonstrations plus

heaps of helpful info on how to get fit and stay that way. If you're

interested in being a stall holder email: 275times@gmail.com

Talent Quest

Te Puea Memorial Marae is hosting the "Inter-marae Challenge"

at 10am, June 6, Miro Rd, Mangere Bridge. Includes food stalls/

bric a brac/corporate stalls. Contact: Johnboi Nepia Kukutai

02102348215 or tepueamemorialmarae@gmail.com

Study Information and tours

MIT is hosting a range of information sessions over June for

Semester 2. These will cover a range of areas including carpentry,

creative arts and automotive studies. Sessions run through June

so go to manukau.ac.nz or email: experience@manukau.ac.nz

Workshops for new migrants

The Auckland Regional Migrant Services (ARMS) is holding a

series of workshops in Mangere to help new Pacific migrants.

Please tell those you know who are new to New Zealand. They

are; a Job Search Workshop, 9.15am June 19, Mangere Town

Centre Library, Bader Drive, NZ Legal System and Legal Rights

and Responsibilities in NZ, 9.30am June 9, Mangere Community

Law Centre, Tenancy and Home Ownership, 9.30am June 16,

Mangere Community Link, ,NZ's Education and Health Systems,

9.30am June 30, Mangere Community Law Centre.

South Auckland Comedy Jam

Comedian Guy Williams (from Jono and Ben) has wrangled up a

few of his comedy mates for a night of hilarity at the Mangere arts

centre. June 5, call 0800 BUY TIX for tickets.

Innovation injection sessions

InnovateChange is holding a series of brainstorming sessions in

Mangere. By participating you'll get a $30 shopping voucher. Call

378 7642 or email hello@innovatechange.co.nz - for more info.

'Re-new' - Mangere Baptist Church Op Shop

Hours are 11am - 4pm Tuesday, Wednesday, Thursday.