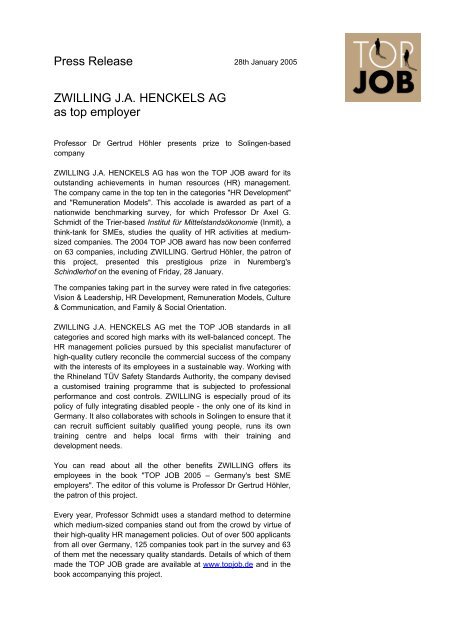 ZWILLING J.A. HENCKELS AG wins award as top employer - Home ...
ZWILLING J.A. HENCKELS AG wins award as top employer - Home ...
ZWILLING J.A. HENCKELS AG wins award as top employer - Home ...
SHOW MORE
SHOW LESS
You also want an ePaper? Increase the reach of your titles
YUMPU automatically turns print PDFs into web optimized ePapers that Google loves.
Press Release28th January 2005ZWILLING J.A. HENCKELS AGas top employerProfessor Dr Gertrud Höhler presents prize to Solingen-basedcompanyZWILLING J.A. HENCKELS AG has won the TOP JOB award for itsoutstanding achievements in human resources (HR) management.The company came in the top ten in the categories "HR Development"and "Remuneration Models". This accolade is awarded as part of anationwide benchmarking survey, for which Professor Dr Axel G.Schmidt of the Trier-based Institut für Mittelstandsökonomie (Inmit), athink-tank for SMEs, studies the quality of HR activities at mediumsizedcompanies. The 2004 TOP JOB award has now been conferredon 63 companies, including ZWILLING. Gertrud Höhler, the patron ofthis project, presented this prestigious prize in Nuremberg'sSchindlerhof on the evening of Friday, 28 January.The companies taking part in the survey were rated in five categories:Vision & Leadership, HR Development, Remuneration Models, Culture& Communication, and Family & Social Orientation.ZWILLING J.A. HENCKELS AG met the TOP JOB standards in allcategories and scored high marks with its well-balanced concept. TheHR management policies pursued by this specialist manufacturer ofhigh-quality cutlery reconcile the commercial success of the companywith the interests of its employees in a sustainable way. Working withthe Rhineland TÜV Safety Standards Authority, the company deviseda customised training programme that is subjected to professionalperformance and cost controls. ZWILLING is especially proud of itspolicy of fully integrating disabled people - the only one of its kind inGermany. It also collaborates with schools in Solingen to ensure that itcan recruit sufficient suitably qualified young people, runs its owntraining centre and helps local firms with their training anddevelopment needs.You can read about all the other benefits ZWILLING offers itsemployees in the book "TOP JOB 2005 – Germany's best SMEemployers". The editor of this volume is Professor Dr Gertrud Höhler,the patron of this project.Every year, Professor Schmidt uses a standard method to determinewhich medium-sized companies stand out from the crowd by virtue oftheir high-quality HR management policies. Out of over 500 applicantsfrom all over Germany, 125 companies took part in the survey and 63of them met the necessary quality standards. Details of which of themmade the TOP JOB grade are available at www.topjob.de and in thebook accompanying this project.
---
The next TOP JOB competition begins on 1 April, and the closing datefor entries is 30 June. Companies interested in participating canregister now for a free information pack by contacting compamediaGmbH at info@compamedia.de.Project patron and partnersThe patron of this project is Professor Dr Gertrud Höhler. Its partners areaccess AG, HRblue AG, Gallup GmbH Germany, jobpilot AG, KienbaumConsultants International GmbH, Klaus Lurse Personal + Management AG,Personal & Informatik AG, and SchmidtColleg.Project managementThe TOP JOB project is coordinated by the Institut für Mittelstandsökonomie(Inmit) at the University of Trier. Its chief executive is Professor Dr Axel G.Schmidt.Organiser: compamedia GmbHcompamedia specialises in organising benchmarking projects and creatingnetworks for small and medium-sized enterprises. It concentrates onpromoting its projects in the media, leaving technical implementation to itsspecialist partners. compamedia runs the "TOP 100 - Germany's mostinnovative medium-sized businesses" project, and the employers'benchmarking award "TOP JOB – Germany's best SME employers". Its latestproject is "ETHICS IN BUSINESS – pioneers of ethical conduct".Contact at ZWILLING J.A. HENCKELS AGRalf WernerGrünewalder Strasse 14-2242657 SolingenGermanyTel.: +49 (0)212 882-255Email: personalabteilung@zwilling.comwww.zwilling.comContact at compamedia GmbHSilke MasuratTel.: +49 (0)7551 9498 634Mobile: +49 (0)172 6370 512Email: masurat@compamedia.dewww.topjob.dewww.top100.dewww.ethics.deThis text is available in digital format from masurat@compamedia.de. Yourcontact there can provide photographs of the prize-winning company, andgeneral pictures of the awards ceremony will be available from Sunday, 30January in the "Press" section of www.topjob.de.