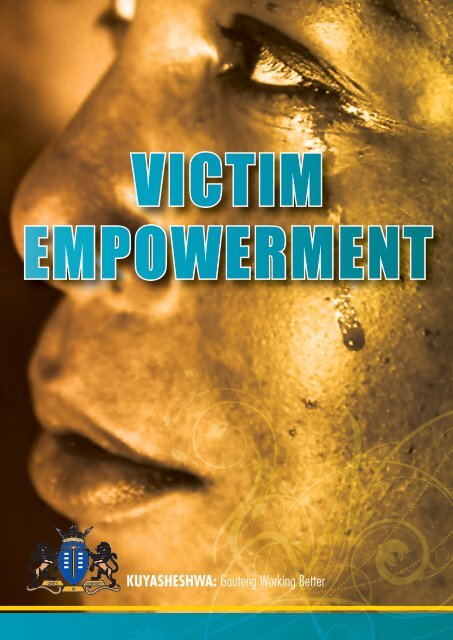 Victim Empowerment Booklet - Gauteng Online
Victim Empowerment Booklet - Gauteng Online
Victim Empowerment Booklet - Gauteng Online
SHOW MORE
SHOW LESS
You also want an ePaper? Increase the reach of your titles
YUMPU automatically turns print PDFs into web optimized ePapers that Google loves.
VICTIMEMPOWERMENTKUYASHESHWA: Gauteng Working Better
---
Emergency Numbers and HelplinesSAPS: 10 111SAPS Crime Stop: 08600 10111Women Abuse Helpline: 0800 150 150Childline: 0800 055 555AIDS Helpline: 0800 012 322 011 725 6710Police Emergency ContactsLinden 073 447 4451Cleveland 082 559 0450Jeppe 084 868 6544Mondeor 083 546 8863Parkview 082 851 5698Sandringham 082 093 8208Sophiatown 082 588 2721Douglasdale 084 360 6880Sandton/Buccleuch 082 774 7564Randburg 083 458 5887Rosebank 072 248 0013Yeoville 072 519 5367/ 082 093 8208Langlaagte 073 149 8747Alexandra 082 867 0506/ 083 315 074834SAPS Family Violence, Child Protection and SexualOffenses Unit, Head Office, Pretoria 012 393 2363
---
PROVINCIAL COMMISSIONERGauteng – Mzwandile PetrosTel: 011 274 7991AREA COMMISSIONER- East RandTel: 011 8715267 /9/000Fax: 011 8715273AREA COMMISSIONER- JohannesburgTel: 011-4977141/700 Fax: 011-8381178AREA COMMISSIONER- North RandTel: 011-5709000 Fax: 011-5709189AREA COMMISSIONER- PretoriaTel: 012-3534061/4000 Fax: 012-35346584AREA COMMISSIONER- SowetoTel: 011-9869060/1/2 Fax: 011-9869206AREA COMMISSIONER- Vaal RandTel: 016-4221470 Fax: 016-4221578AREA COMMISSIONER- West RandTel: 011-9511353 Fax: 011-9521354
---
IntroductionSurvivors of crime and violence have historically beenmarginalized and disempowered by unjust laws and unequalaccess to economic opportunities and social services.Despite the efforts of the Gauteng Provincial Government andcivil society, crime and violence remain problem, affecting allSouth Africans directly and indirectly with detrimental effects tovictims, their families and communities.The Victim Empowerment Programme (VEP) is programme of theNational Crime Prevention Strategy launched in 1996. It aimsto make the criminal justice process more victim-friendly andminimize the negative effects of crime on victims.Provincial and Regional Victim Empowerment Forums wereestablished to ensure that services are integrated and coordinatedbetween government departments and civil society at provincial,regional and local levels. These forums are responsible forcoordinating the process in the province and regions and inliaising with the national structure.5This booklet outlines key services which stakeholders within theVictim Empowerment sector provides within Gauteng. It aims atensuring that victims of crime and violence, community and thoseproviding love and care for them are aware of and able to accessservices and other resources for the victims.
---
What constitutes abuse?Domestic violence is violence, whetherphysical or sexual, it occurs withinthe home. It can involve parents andchildren, brothers and sisters, partners,husbands, wives. Other forms of abusewhich occur outside of the home suchas rape and assault are forms ofgender violence.Anyone may be a victim of violence.Help for abusers and abused6This Directory includes contact information for counselling centreswhere both the victims and perpetrators of domestic and genderviolence and abuse may receive help. Not all perpetrators ofabuse are opposed to trying to change. The counselling servicesare designed to assist perpetrators to see why they abuse, and howthey can stop themselves from being abusers. Victims of abusemay receive support, shelter, assistance in removing themselvesfrom the abusive situation, help in charging an abuser, and in thecase of legal action being taken, legal support and assistance inpreparing for court testimony.
---
What to expect from policePolice are required to enforce the Domestic Violence act. Theymust investigate all charges of abuse.Victim Empowerment centresAll police stations have Victim Empowerment Officers andvolunteers who are trained to assist victims of violence.What to do in a rape situationTry to remain calm DURING THE RAPE. Memorise what the rapist(not his clothes) looks like so that you can be able to identify himlater. If there is a gang, try to remember at least one attacker. Donot make it obvious that you are doing this. Remain calm unlessyou believe you can fight them off or deter them. You have abetter chance of this in a public place than in an isolated settingor in your home which is where 65% of women get raped.7AFTER THE RAPE do not bath, change your clothes, go to thetoilet or clean your teeth if you were forced to perform oral sex.Phone the police, you will not be forced to lay a charge but theywill help you. Laying a charge helps protect others at risk of rapetoo - by jailing a rapist, we protect others. Ensure the police takeyou FIRST to the nearest clinic, hospital or district surgeon's office,ideally do not go to your family doctor as most have no rape orforensic training.
---
Post-exposure prophylaxis (PEP)Post-exposure prophylaxis (PEP) is a short-term anti-retroviral(ARV) treatment that reduces the likelihood of HIV infectionafter exposure to HIV-infected blood or sexual contact with anHIV-positive person. The drug regimen for PEP consists of acombination of ARV mediations that are taken a period of fourweeks.South African policy advises that PEP should be administeredwithin 72 hours after the potential exposure to HIV.8Conditions of effective treatmentIn order to make sure that PEP treatment is effective and to preventHIV infection after a rape incident, the survivor should:• start PEP treatment as soon as possible, but no later than 72hours after the rape or sexual assault;• take every dose of the medication as prescribed for 28 days;• be tested and treated for other sexually transmitted infections(STIs);• be tested for pregnancy; and if reported early morning afterpill to prevent chances of getting pregnant should be given.• practice safe sex for at least six month after the rape incident;• return to the health facility for follow-up tests and counsellingat six weeks, three months, six months, and one year afterthe rape incidentPost Exposure ProphylaxisYou must get antiretrovirals (Post Exposure Prophylaxis - PEP)within 72 hours of the first act of penetration or attempted penetration.Oral sex also puts you at risk of HIV. The sooner you getPEP the better, the police can take statements much later. A list ofPEP clinics is available below. For more information go to www.speakout.org.za
---
List of clinics where p . e . p is availableJohannesburg MetroH.E.L.P. Hillbrow0117202288 - 24 hoursCoronation Hospital011 470 9000 - 24 hoursFuel Road OudtshoornNthabiseng011 933 8000 - 24 hoursChris Hani BaragwanathDiscoverers CHC011 674 1200 - 24 hoursClaridon Drive DiscoveryLenasia South011 855 1312 - 24 hoursCHC /1320Stretford Clinic011 850 0250 - Mon FriOrange Farm 07:30 16:00Teddy Bear Clinic011 838 1565 - Mon Fri07:30 16:00Zamokuhle ClinicMon Fri 07:30 16:00Edenvale Hospital011 882 2400 - Mon Fri07:00 16:00Charlotte Maxeke Hospital011 488 4911 - 24 hoursJubilee Street, ParktownSouth Rand Hospital011 435 0038 - 24 hours24 Friars Hill Rd RosettenvilleHelen Joseph Hospital011 726 5425 - 24 hoursPerth Road Auckland parkWest RandRahima Moosa Hospital018 787 2111 - 24 hoursLeratong Hospital011 411 3500 - 24 hoursYusuf Dandoo Hospital011 951 6000 - Mon-Fri07:00-19:00EkurhuleniDaveyton Main Clinic011 424 3206 - Mon Fri07:30 16:009
---
10Far East Rand Hospital011 817 1426 - 24 hoursGermiston Hospital011 345 1200 - Mon Fri07:30 16:00J. Dumane (Vosloorus)CHC Mon Fri - 07:30 16:00Masakhani Crisis Centre(Tembisa Hospital)011 926 0814 - 24 hoursNokuthela Ngwenya CHC(Nigel)011 734 2111 - 24 hoursPholosong Hospital011738 5020 - 24 hoursSebokeng Hospital016 930 3000 - 24 hoursSinakekelwe Crisis Centre(Natalspruit Hospital)011389 0500 - 24 hoursTambo Memorial Hospital011898 8000 - 24 hoursSedibengEmpilisweni CHCMon Fri - 07:30 16:00Heidelberg Hospital016 341 2171 - 24 hoursJohan Heyns CHC016 950 6000 - Mon Fri07:30 16:00Pasteur Boulevard VanderbijlparkKopanong Hospital016 428 1133 - 24 hoursLevai Mbatha CHCMon Fri - 07:30 16:00TshwaneAdelaide Tambo Clinic012 545 9937 - Mon Fri07:30 16:00Boikutsong Clinic012 790 0091 - Mon Fri07:30 16:00Bophelong Clinic012 375 5955 - Mon Fri07:30 16:00
---
Botsalano Crisis CentreSoshanguve CHC 3012 790 3305/6 - 24 hoursDr. George MukhariHospital (Ga Rankuwa)012 529 3111 - 24 hoursEast Lynne Clinic012 800 1727 - Mon Fri07:30 16:00Eersterust Clinic012 806 7000 - Mon Fri07:30 16:00Holani Clinic012 3792039 - Mon Fri07:30 16:00Jack Hinden Clinic(Pretoria North)012 5466151 - Mon Fri07:30 16:00Kalafong Hospital012 318 6400 - 24 hoursKaren Park Clinic012 308 9148 - Mon Fri07:30 16:00Laudium CHC012 374 4021- 24 hoursMamelodi Hospital(012) 841 8300 - 24 hoursMandisa Shiceka Clinic012 70113906 - Mon Fri07:30 16:00MetswedingPretoria Academic Hospital012 354 1000 24 hoursPretoria West Hospital012 3275347 - 24 hoursSkinner Street Clinic012 3200346 - Mon Fri07:30 16:00Soshanguve Clinic012 7972714 - Mon Fri07:30 16:00Soshanguve Clinic012 7903305/6 - Mon Fri07:30 16:00Stanza Bopape CHC 0128401012 Mon Fri 07:3016:0011
---
HIV and AidscounsellorsFor information on HIV/Aids counsellors in different regions,contact:Ekurhuleni:Ntombi Khambule Tel: 011 876 1819Sedibeng:Ntateleng Nthoba Tel: 016 950 6000Johannesburg Metro:Lucky Hlatswayo Tel: 011 481 500012Tshwane/ Metsweding:Anna Mashego Tel: 012 303 9034
---
SheltersJohannesburg AreaIkhaya Lethemba –is a one stop centre for victims of domesticviolence and sexual assaults.176 Smit Street BraamfonteinTel: 011 242 3000 Fax: 011 242 3017Bethany ShelterHours of service: Mon – Sun 24 hours.Tel: 011 614 3245 Fax: 011 614 2874Frieda Hartley Shelter for WomenHours of service: Mon to Sun 24 hoursTel: 011 648 6005 Fax: 011 648 3016Jewish Community Services-Shalom Bayit- only available tothe Jewish communityTel: 011 486 1900 Fax: 011 4861887Nisaa Institute for Womens DevelopmentHours of service: Sat-sun 24 hoursTel: 011 854 5804 Fax: 011 854 5718Emergency 011 231 5050 (leave a message)Email: nisaa@sangonet.org.za13People Opposing Women Abuse (POWA)Hours of service: 8.30 17:00 weekdaysTel: 011 642 4345 Fax: 011 484 3195Email: powa1@wn.apc.org
---
East RandManjer Care Center (The Mission Shelter)Benoni-Hours of service: Mon – Fri 7.30 – 4.30Tel: 011 967 1011 Fax: 011 967 2328PretoriaBeth ShanHours of Service: Mon- Fri 8:00 to 16:30Tel: 012 327 3005 Fax: 012 327 2506Leamogetswe Safety HomeHours of service: Mon-Sun 24 hoursTel: 012 375 8845 Fax: 012 375 8845People against Human Abuse ShelterHours of service: Mon-Sun 24 hoursTel: 012 805 7416 Fax: 012 805 741614The Potters House (under Pretoria Community Ministries)Hours of service: Mon-Sun 24 hours.Tel: 012 320 2123 Fax: 012 322 9354Suid Afrikaanse VroueFederasieHours of Service: Mon- Fri 8:00 to 16:30Tel: 012 325 3920 Fax: 012 324 4109Vaal TriangleLife Line Vaal TriangleHours of service: Mon-Sun 24 hoursTel: 016 428 1740 Fax: 016 428 1741
---
Counsellingfor Victimsof AbuseAlpha Abuse Support centreHours of service: Mon-Fri 8:00-4:30Tel: 011 394 1880 Fax: 011 975 0770Are Ageng Social ServicesHours of Service: Mon-Fri 8.30-4:30Tel/Fax: 011 412 1940Agisang Domestic Abuse Prevention and Training (ADAPT)Tel: 011 885 3305 Fax: 011 885 330915OUT - LGBT Well-being (Lesbian and Gay Services)Tel: 012-344-5108 Fax: 012-344-6501Bee Court WiseJHB Central Police Station First Floor, Room 102 & 103,1 Commissioner Street Services: Tel: 011 497 7551/2Fax: 011 836 0556
---
Catholic Womans League Social ServicesHours of Service: Mon-Fri 8:00 to 4:00Tel: 011 618 1533 Fax: 011 618 1538Centre for the Study of Violence and Reconciliation (CSVR)Hours of service: Mon – Fri 8:00 to 5:00Trauma Clinic.4th Floor, Braamfontein centre, 23 Jorissen Street, Braamfontein.Tel: 011 403 5102/ 5103 Fax: 011 403 7532Centre for Applied Psychology, UnisaTel: 012 429 8089/8544 Cell: 083 282 0791Fax: 012 429 6853/3414E-mail: nelja@unisa.ac.za16Eldorado Park Women's Group: Women against WomenAbuse (WAWA)Hours of Service: Mon – Fri 8:30 to 4:307 Kombres Street, Eldorado ParkTel: 011 836 5656 Fax: 011 945 5531Reiger Park Crisis CentreTel: 011 910 3166 Fax: 011 910 3674Restorative Justice Centre 3rd Floor, Adverto House,80 Celliers, Str, Sunnyside, PTATel: 012 440 1479 Fax: 012 440 8303Brakpan Rape Crisis CentreCnr of Voortrekker and Wanderers Streets, Brakpan.Tel: 011 740 5500 Fax: 011 744 3647
---
Inter Trauma Nexus99 8th Street, Menlo Park, Pretoria.Tel: 012 346 3655 Fax: 012 346 0585Natalspruit crisis centreNatalspruit hospital,Tel: 011 389 0675 Fax: 011 909 3015Honey "B"C/o Poseidon Primary School, EnnerdaleTel: 011 211 0788 / 855 1472Youth Development Centre, EnnerdaleCell: 082 290 9804 Fax: 011 855 1024Services: Basic counselling, victim supportSouth African Women in DialogueExtension 5, LenasiaCell: 083 381 9206 Fax: 011 854 2214Services: Women empowermentSA Stop Child Abuse (SASCA)Sebokeng Magistrate CourtCell: 083 999 8084 Tel: 011 211 1968 Cell: 083 925 451617Men, Women and Child Abuse (MWACA)Ennerdale Civic Centre, Ext 9Cell: 082 729 8706 Tel: 011 213 0078
---
Men AbuseSouth African men are increasingly falling victim to physicalabuse at the hands of their female partners. And sadly those thatare abused are unlikely to speak out because of fear of losingface and being labeled as "un-manlike".For men who fall victims of abuse help is at hand:Family and Marriage Association of South Africa (Famsa)Tel: 011 9757106/7 Fax: 011 9757108E-Mail: national@famsa.org.zaMen, Women and Child Abuse (MWACA)Ennerdale Civic Centre, Ext 9Cell: 082 729 8706 Tel: 011 213 007818
---
KUYASHESHWA: Gauteng Working Better