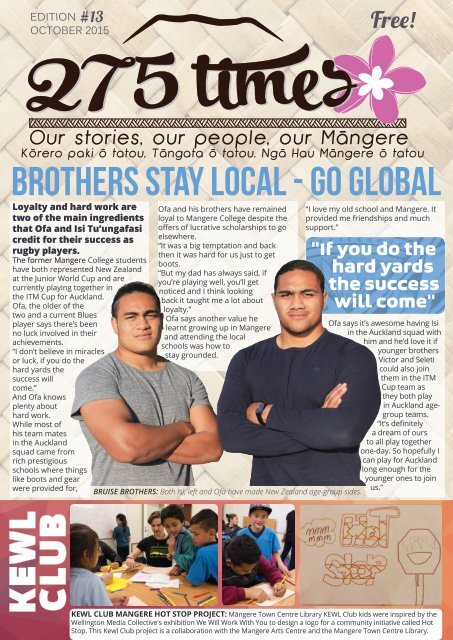 275 Times. October 2015
Mangere Community News
Mangere Community News
SHOW MORE
SHOW LESS
Create successful ePaper yourself
Turn your PDF publications into a flip-book with our unique Google optimized e-Paper software.
Edition #13

october 2015

Free!

275 times

275

times

Our stories, our people, our Māngere

Kōrero paki ō tatou, Tāngata ō tatou, Ngā Hau Māngere ō tatou

brothers stay loCal - go global

Loyalty and hard work are Ofa and his brothers have remained "I love my old school and Mangere. It

two of the main ingredients loyal to Mangere College despite the provided me friendships and much

that Ofa and Isi Tu'ungafasi offers of lucrative scholarships to go support."

credit for their success as

elsewhere.

"It was a big temptation and back

rugby players.

then it was hard for us just to get "If you do the

The former Mangere College students

boots.

have both represented New Zealand

"But my dad has always said, if

hard yards

at the Junior World Cup and are

you're playing well, you'll get

currently playing together in

the success

noticed and I think looking

the ITM Cup for Auckland.

back it taught me a lot about

Ofa, the older of the

will come"

loyalty."

two and a current Blues

Ofa says another value he

player says there's been

Ofa says it's awesome having Isi

learnt growing up in Mangere

no luck involved in their

in the Auckland squad with

and attending the local

achievements.

him and he'd love it if

schools was how to

"I don't believe in miracles

younger brothers

stay grounded.

or luck, if you do the

Victor and Seleti

hard yards the

could also join

success will

them in the ITM

come."

Cup team as

And Ofa knows

they both play

plenty about

in Auckland agegroup

hard work.

teams.

While most of

"It's definitely

his team mates

a dream of ours

in the Auckland

to all play together

squad came from

one-day. So hopefully I

rich prestigious

can play for Auckland

schools where things

long enough for the

like boots and gear

younger ones to join

were provided for,

BRUISE BROTHERS: Both Isi, left and Ofa have made New Zealand age-group sides.

us."

Kewl

club

KEWL CLUB MANGERE hot STOP PROJECT: Māngere Town Centre Library KEWL Club kids were inspired by the

Wellington Media Collective's exhibition We Will Work With You to design a logo for a community initiative called Hot

Stop. This Kewl Club project is a collaboration with the Mangere Arts Centre and the Mangere Town Centre Library.
---
2

Empowering families still at heart of ME

of age and have gone from a centre

based on providing services to more

of a social enterprise organisation."

However, he reiterates the underlying

focus of ME hasn't changed as it will

still be about making families better.

"Our vision is to see strong family

units being created and empowered

and each year we have grown that a

little bit more."

CELEBRATION: Christine Porio and her team ended the festivities with a special dance.

Over 100 people gathered

at the Mangere East Hawks

Rugby League clubrooms

to celebrate the launch of

ME Family Services' new

branding and to say goodbye

to the old name of Mangere

East Family Service Centre.

ME Family Services chairman Peter

Cleland says despite the service

supporting families and individuals

Garden to table inspires culture change

"Green Food Zone: No Junk

Food" declares the sign in

the entrance to Mangere

Central School on Kirkbride

Rd.

The school has recently become part

of Garden to Table, a comprehensive

programme that allows children to

experience the whole process of

growing, harvesting, cooking and,

most importantly, eating food right in

their school grounds.

"In his work with families around

budgeting, our social worker

discovered that many were spending

substantial amounts weekly on tuck

shop lunches" says Principal Maria

Heron.

"The 'garden to table' movement is a

way for us to move away from having

a school tuck shop. "We also hope

that the plants the kids take home

will survive and contribute to feeding

NITTY GRITTY

Words: Justin Latif Design: Jo Latif

Publisher: ME Family Services

275times@gmail.com | www.275times.com

www.facebook.com/275times

right across Mangere and South

Auckland, they will never forget their

roots.

"Even though our name has changed,

our heart will always be in Mangere

East."

Mr Cleland says this change isn't just

about a new logo and slogan but

reflects a shift in the organisation's

whole philosophy.

"There's been a collective shift to

being more empowering. We've come

LEADERS: ME Family Services chairman

Peter Cleland and CEO Peter Sykes

GRUBS UP: The Garden to Table programme at Mangere Central School is making a

real difference to budgets and health for families and their children.

families well into the future".

theme in our strategic plan, so

The school plans in a few years, to sustainable living is an important part

have an abundant food forest for the of our curriculum", says Maria.

school community to enjoy.

"The students are loving the

The school is also aiming to be zero programme and it has very quickly

waste by 2017.

become an important feature in our

"We have a strong 'future focus' school culture."

Contact: Tuhin Choudhury
---
Fresh take on old story

set to challenge youth

Beauty

Services

BUILDING

AND

CARPENTRY

Recreation

& Sport

Forces

Pre-Entry

Welding +

Panel beating

Don't

just dream it.

Warehousing

& Forklift

Operations

BECOME IT!

3

Playwright and

accomplished actor

Jason Manumu'a

and the Good Seed

Trust are teaming

these school holidays

to bring a fun,

fresh take on the

Cinderella story

called Isitolo and the

Magic Brush.

Jason, who's worked

on a number of plays,

both an actor and on the

production side, says

working with children is

an exciting challenge.

"There's a big difference

between working with

children and adults.

"Children obviously find

things like learning lines

hard, but they aren't as

shy as adults."

The Mangere Bridge

resident has written

and directed this play

and expects up to 70

children to take part

over the two shows. He

says the story will be a

familiar one for many

locals.

"It's based on the

structure of Cinderella,

about a young boy who

comes from the Islands

to New Zealand and tries

to find himself.

"He learns to become

more courageous and

holds his own in the face

of bullying."

Business

Admin and

Computing

ZERO FEES &

TRAVEL SUBSIDY

FOR 16-19YRS

FREE SELECTED

PROGRAMMES FOR

20+ YEAR OLDS

HANDS ON

TRAINING

Conditions apply

MANGERE

(09) 257-5732

KELSTON

(09) 818-1257

Retail

PAPAKURA

(09) 296-0511

QUOTE OF THE MONTH: "You don't think your way into a new kind of living. You live your

way into a new kind of thinking."
---
Community Notices

T3 Sport & Team Ltd presents the inaugural:

"T3 COMMUNITY BUSINESS EXPO"

The T3 COMMUNITY BUSINESS EXPO is set for October 31st.

From 10am - 2pm at the Mangere East Hawks netball courts

carpark side. This expo is a great opportunity for businesses of

all sizes in and around Mangere East to showcase their products or

services, create new networks and engage with the local community.

There'll be a mixture of businesses including health and sports

providers, hospitality and craft makers and social support services.

Stalls are still available, to register your interest phone Tony on 027

4497900 or email tony@t3sportandteam.co.nz and check us out at

www.t3sportandteam.co.nz ,

MANGERE TOWN CENTRE LIBRARY HOLIDAY

PROGRAMMES

Just dance!

Monday 28 September, 10.30am - 11.15am

Get your groovy shoes on and learn some crazy dance moves.

3D crafts with a buzz!

Wednesday 30 September, 10.30am - 11.15am

Learn about electric circuits as you create your special neon

masterpiece! Check out their Facebook page for a full events

calendar: https://www.facebook.com/MangereTownCentreLib

ART EXHIBITION

Man-Atua at Mangere Arts Centre - Nga Tohu o Uenuku, A dance

performance as a tribute to mankind's response to war. The ever

changing world repeats yesterday, today, tomorrow. Saturday 31

October 2015 7:30pm – 9:00pm.

For more info go to: https://www.facebook.com/mangereartscentre

Mangere East C.C. holiday programme

Looking for someone to care for your kids these holidays?

Check out the MANGERE EAST HOLIDAY PROGRAMME

~ DAY TRIPS (e.g. Kelly Tarltons, Amazing Race, MOTAT)

~ EXTENDED HOURS (7.30am - 6pm)

Leave your child in safe hands these holidays with our amazing staff

of experienced and engaging child carers.

Contact Maia: 029 773 0146 - 275 6161 - maia@mangereeast.org

OTAHUHU ETHNIC FOOD FESTIVAL

Celebrate Auckland's ethnic diversity through food.

It will be held on Saturday 10 October along the mainstreet of

Otahuhu amongst the bargain shops. There will be more than 50

ethnic food stalls, stage entertainment from DJ SirVere, Swiss, Tyree,

Deach, PNC and KOne, plus heaps of other awesome activities.

AMBURY FARM DAY

Give the kids a taste of life on the farm. Sunday 4 October, 10am-

4pm, Ambury Regional Park. Free entry - rides cost extra.

MOANA-A-KIWA POOLS JUNIOR B-BALL CLUB

Mangere heat - Join our Basketball club on Wednesday afternoons!

Under 9's 3.45pm, Under 11's 4.30pm, only $5 per lesson, term time

only. Term 4 starts 21 October - ENROL NOW!

MANGERE GARDEN TOUR

A tour of inspiring gardens in Mangere to get ideas for starting your

own garden. Lots of ideas about low cost gardening using resources

that are all around us. day, October 15at 9:15am - 2:30pm. 16-18

Ferguson St, Mangere East.

HOT STOP - FREE HOT DRINKS AT BUS STOP

A community initiative has been started at the Mangere Town

Centre Bus Stop aimed at making our people feel safer around the

town centre at night. Currently it runs every Thursday from 730pm

-9pm. Volunteers are needed to give out free drinks to the public

and bus drivers. For more info go to: https://www.facebook.com/

Mangerehotstop

LAW IN A NUTSHELL

The popular Mangere Community Law Centre 8-week course starts

again on October 14, Law In A Nutshell. This weekly course provides

attendees with a wide range of in-depth knowledge into important

areas of the law that can upskill us for our work and daily lives. For

more info call: 275-4310

these notices are

sponsored by....

mangere east

Festival

Walter Massey Park

28TH NOV

10AM - 5PM

Be a Stallholder |

performer | volunteer

contact: hone@mangereeast.org 09 275 6161

www.mangereeast.org