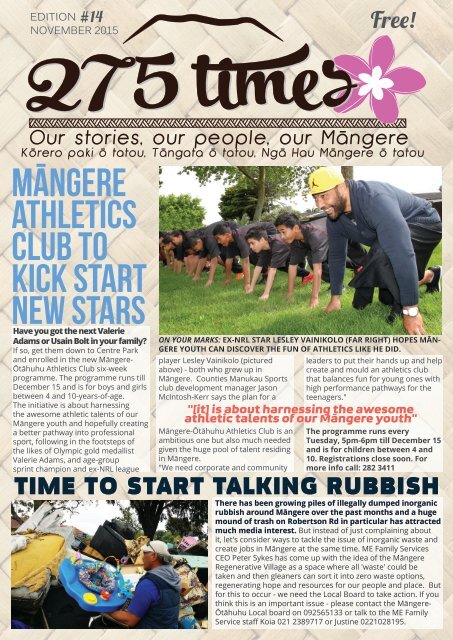 275 Times November 2015
Mangere Community News
Mangere Community News
SHOW MORE
SHOW LESS
You also want an ePaper? Increase the reach of your titles
YUMPU automatically turns print PDFs into web optimized ePapers that Google loves.
Edition #14

November 2015

Free!

275 times

275

times

Our stories, our people, our Māngere

Kōrero paki ō tatou, Tāngata ō tatou, Ngā Hau Māngere ō tatou

Māngere

ATHLETICS

CLUB TO

KICK START

NEW STARS

Have you got the next Valerie

Adams or Usain Bolt in your family?

If so, get them down to Centre Park

and enrolled in the new Māngere-

Ōtāhuhu Athletics Club six-week

programme. The programme runs till

December 15 and is for boys and girls

between 4 and 10-years-of-age.

The initiative is about harnessing

the awesome athletic talents of our

Māngere youth and hopefully creating

a better pathway into professional

sport, following in the footsteps of

the likes of Olympic gold medallist

Valerie Adams, and age-group

sprint champion and ex-NRL league

ON YOUR MARKS: EX-NRL STAR LESLEY VAINIKOLO (FAR RIGHT) HOPES Māngere

YOUTH CAN DISCOVER THE FUN OF ATHLETICS LIKE HE DID.

player Lesley Vainikolo (pictured

above) - both who grew up in

Māngere. Counties Manukau Sports

club development manager Jason

McIntosh-Kerr says the plan for a

Māngere-Ōtāhuhu Athletics Club is an

ambitious one but also much needed

given the huge pool of talent residing

in Māngere.

"We need corporate and community

leaders to put their hands up and help

create and mould an athletics club

that balances fun for young ones with

high performance pathways for the

teenagers."

"[it] is about harnessing the awesome

athletic talents of our Māngere youth"

The programme runs every

Tuesday, 5pm-6pm till December 15

and is for children between 4 and

10. Registrations close soon. For

more info call: 282 3411

time to start talking rubbish

There has been growing piles of illegally dumped inorganic

rubbish around Māngere over the past months and a huge

mound of trash on Robertson Rd in particular has attracted

much media interest. But instead of just complaining about

it, let's consider ways to tackle the issue of inorganic waste and

create jobs in Māngere at the same time. ME Family Services

CEO Peter Sykes has come up with the idea of the Māngere

Regenerative Village as a space where all 'waste' could be

taken and then gleaners can sort it into zero waste options,

regenerating hope and resources for our people and place. But

for this to occur - we need the Local Board to take action. If you

think this is an important issue - please contact the Māngere-

Ōtāhuhu Local board on 092565133 or talk to the ME Family

Service staff Koia 021 2389717 or Justine 0221028195.
---
2

Aspiring MPS show future's bright

FUTURE LEADERS: THE APPLICANTS IN THE YOUTH MP COMPETITION. CHRIS OLEVA-TA-

NUVASA (SECOND FROM RIGHT) WON THE PRIZE OF Māngere'S YOUTH MP FOR 2016.

The future is looking bright for

Māngere if the calibre of applicants

at the recent Youth Parliament

competition is anything to go by.

Eight Year 12 and Year 13 students

from a range of schools presented

speeches and answered a number

of tricky questions from a panel of

prestigious judges.

Christopher Oleva-Tanuvasa was

selected as the winner, but the judges

made it clear it was no easy decision,

Garden club to spread green thumb bug

Like gardening? Then join the club.

If you love gardening and want to

share tips and learn from fellow

green-thumbed aficionados then the

Māngere Garden Club is for you.

The club will run every Thursday at

the Māngere East Community Centre

from 1.30-3pm.

The idea to start a group such as this

was birthed following a Garden Tour

organised by the awesome Waste

Minimisation team from ME Family

Services, Justine Skilling and Koia

Teinakore. The pair took a group of 18

passionate gardeners to Dale Harvey's

Quarter Acre Paradise in Vine St,

the Lilo Whanau garden in Māngere

East, the Māngere Teaching Garden

in Kirkbride Rd, Māngere Central

School's Garden to Table growing

spaces and the Māngere Mountain

Education Centre's mara kai.

Lots of connections were forged

between participants and there is

NITTY GRITTY

Words: Justin Latif Design: Jo Latif

Publisher: ME Family Services

275times@gmail.com | www.275times.com

www.facebook.com/275times

as all the other candidates presented

themselves well before a crowd of

friends, family and community leaders

including Auckland Councillor Alf

Filipaina and Māngere-Ōtāhuhu Local

Board chair Lydia Sosene.

The high-powered audience were

treated to a range of speeches

from candidates on issues such as

education, youth unemployment and

the proliferation of alcohol.

Christopher made particular mention

interest in ongoing opportunities

for gardeners in the area to connect

with each other and share knowledge

and resources. The Māngere East

Community Centre will host the

Māngere Garden Club every Thursday

of the need for more affordable

housing in Māngere and this is one

thing he promises to raise at Youth

Parliament when he attends on July 19

and 20, 2016.

"For me, issues that are important are

education and housing," he says. "Not

many people have the ability to own

their own home. Housing needs to be

affordable and the state houses need

to be good quality."

Māngere electorate MP Su'a William

Sio says the Youth Parliament is a

great opportunity for young leaders

to network and upskill and he hopes

to also take the two runner-ups,

Haris Murtaza, head boy at Al-Madina

School in Māngere and Chunte Sua

from Southern Cross.

Youth Parliament replicates the

real Parliament as closely as

possible. Youth MPs have the

opportunity to debate legislation

and ask oral parliamentary

questions. 121 Youth MPs hold their

positions from 25 January, 2016 to

25 July, 2016.

GREEN THUMBS: A group of garden enthusiasts on the recent Garden Tour.

from 1.30- 3pm.

If you're a keen to join drop in to

372 Massey Rd and check it out, or

contact Jeannine-Madeleine Fischer

(jeannine-madeleine.fischer2gmx.

net, 02108851575) to find out more.

Contact: Tuhin Choudhury
---
Hone's big goal

on target: hone fowler IS ON A MISSION TO GROW FOOTBALL

Hone Fowler has played on

some of the world's most

prestigious football fields

and rubbed shoulders with

the game's elite.

But now he's aiming to

help others have a crack at

making it in the world's most

popular sport.

Fowler, who trialled with

famous English clubs'

Swansea City and Millwall

FC as well as playing in the

World Club Cup, is hoping

to set up a football academy

based in Māngere to foster

the talents of South Auckland

and South Pacific footballers.

"My hope is for an academy

to become a vehicle to

develop football, not just in

South Auckland but in the

South Pacific."

The academy would be

run with close links out

of the newly established

Auckland United FC which

is a franchise club set up

to represent all the clubs

within the southern part of

Auckland. The organisation

has an under-20s team

currently playing in the

national ASB Youth League

and they are riding high after

beating perennial champs

Auckland City.

And the plan is to field a

mens' and womens' teams in

the adult Premiership league

in the coming years.

Fowler says trying to make it

in football was tough going

for a South Aucklander like

himself as he had to take his

talents to Mt Albert Grammar

and then on to the semi-pro

team Waitakere United.

"It wasn't the most popular

sport when I was growing up

in Māngere. One of my best

mates dragged me along to

one his games when I was

at primary and after playing,

I loved it and never looked

back.

"I really got into football at

MAGS and I started making

NZ teams when I was 16.

"One highlight was getting

to tour Europe with the NZ

Secondary Schools team and

scoring a match-winner in

the game against England."

He says there's no reason

why others can't follow in

his footsteps and go even

further.

"There's a huge potential for

football to grow and develop

here in South Auckland and

creating opportunities is key,

that's what this academy and

Auckland United will offer,

as well as opening doors to

playing football overseas."

Auckland United's home

matches this month are at

Centre Park; 4pm, Nov 8 &

3pm, Nov 29.

Or try out football yourself

at one of the three local

clubs in our area: Manukau

City AFC, Māngere United

AFC or Onehunga-Māngere

United AFC (www.omuafc.

org.nz)

Beauty

Services

BUILDING

AND

CARPENTRY

Welding +

Panel beating

Recreation

& Sport

Don't

just dream it.

Business

Admin and

Computing

Warehousing

& Forklift

Operations

BECOME IT!

ZERO FEES &

TRAVEL SUBSIDY

FOR 16-19YRS

FREE SELECTED

PROGRAMMES FOR

20+ YEAR OLDS

HANDS ON

TRAINING

Forces

Pre-Entry

Conditions apply

MANGERE

(09) 257-5732

KELSTON

(09) 818-1257

Retail

PAPAKURA

(09) 296-0511

VERSE OF THE MONTH: Each of you should use whatever gift you have received to serve others, as faithful stewards of

God's grace in its various forms. 1 Peter 4:10 (Sponsored by Bill & Bridie Keenan)

3
---
Community Notices

Park Jam 275

Saturday, November 7, Māngere Town Centre, FREE.

A wide range of digital workshops throughout the day at the Library

and around the Town Centre including Augmented Reality, 3D

Printing, Game Making, Coding, Animation, and Robotics.

THE FAMOUS MANGERE BRIDGE TROLLEY DERBY

Māngere Bridge Trolley Derby 2015 - coming back to your

neighbourhood - race day Sunday, November 22, start building your

trolley now!

FREE ACTING CLASSES

Māngere East Community Centre, 372 Massey Rd, Māngere.

November 5, 12, 19, 26. 4pm to 5.30pm.

Black Grace - 20 for 20

Black Grace Celebrates 20 Years In 20 NZ Centres This Summer.

Māngere Arts Centre - Nga Tohu o Uenuku, Thursday, November 19,

7.30pm.

HOT STOP - FREE HOT DRINKS AT BUS STOP

A community initiative aimed at supporting our bus users and those

who hang out around the Māngere Town Centre in the evenings.

Currently it runs every Thursday from 7.30pm-9pm.

FRIDAY NIGHT FOOTBALL

Social Soccer/ 7-a-side at Walter Massey Park. From Nov 6 - Dec 11,

5.30-8pm. Enter as a team or player. Entry fee is $300per team.

Ice Skate Tour

November 10 – 15 . Come enjoy ice skating at Robertson Road

School. The Ice Skate Tour travels around with a mobile ice rink in

the Auckland Region. Entry fee is $7 for kids (under 16) and $13 for

adults (ice skates included).

these notices are

sponsored by....

Looking for employees?

Hi I'm Ianeta, 19,

I am keen to seek

employment.

I have a National Certificate

in Employment Skills.

I am hard working and

will be an asset to your

company.

Hi I'm Tania, 18,

I am keen to work in the

retail industry

I have gained a National

Certificate in Retail L3.

I'm a hard worker with a

bubbly attitude.

Hi I'm Renee, 18,

I'm very keen to get

employment in the fields

relevant to my Skills Update

qualifications.

I have a National Certificate in

Retail L2 & L3 and Sports &

Recreation L2 & L3.

Hi I'm Reihana, 18,

Very keen to get into

employment with

qualifications gained

I have National Certificate in

NCEA L1 & L2 and

Fitness & Exercise L2

I am a hard worker & can

get the job done.

Call (09) 257-5732 to employ these fantastic

young people and others just like them.