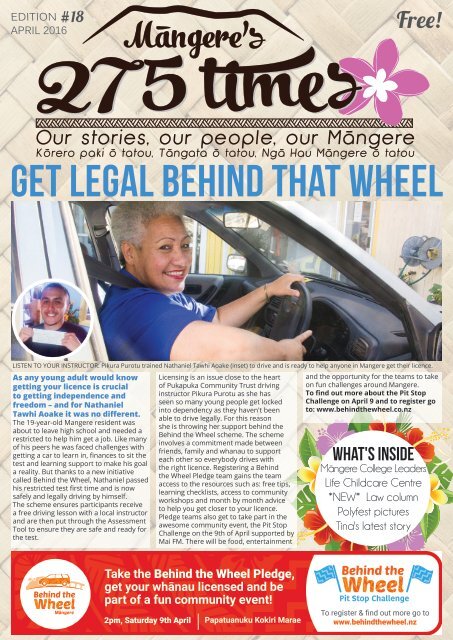 Mangere's 275 Times. April 2016
Mangere's Community News.
Mangere's Community News.
SHOW MORE
SHOW LESS
Create successful ePaper yourself
Turn your PDF publications into a flip-book with our unique Google optimized e-Paper software.
Edition #18

april 2016

275 times

275

Māngere's

times

Our stories, our people, our Māngere

Kōrero paki ō tatou, Tāngata ō tatou, Ngā Hau Māngere ō tatou

Free!

GET LEGAL BEHIND THAT WHEEL

LISTEN TO YOUR INSTRUCTOR: Pikura Purotu trained Nathaniel Tawhi Aoake (inset) to drive and is ready to help anyone in Mangere get their licence.

As any young adult would know

getting your licence is crucial

to getting independence and

freedom – and for Nathaniel

Tawhi Aoake it was no different.

The 19-year-old Mangere resident was

about to leave high school and needed a

restricted to help him get a job. Like many

of his peers he was faced challenges with

getting a car to learn in, finances to sit the

test and learning support to make his goal

a reality. But thanks to a new initiative

called Behind the Wheel, Nathaniel passed

his restricted test first time and is now

safely and legally driving by himself.

The scheme ensures participants receive

a free driving lesson with a local instructor

and are then put through the Assessment

Tool to ensure they are safe and ready for

the test.

Licensing is an issue close to the heart

of Pukapuka Community Trust driving

instructor Pikura Purotu as she has

seen so many young people get locked

into dependency as they haven't been

able to drive legally. For this reason

she is throwing her support behind the

Behind the Wheel scheme. The scheme

involves a commitment made between

friends, family and whanau to support

each other so everybody drives with

the right licence. Registering a Behind

the Wheel Pledge team gains the team

access to the resources such as: free tips,

learning checklists, access to community

workshops and month by month advice

to help you get closer to your licence.

Pledge teams also get to take part in the

awesome community event, the Pit Stop

Challenge on the 9th of April supported by

Mai FM. There will be food, entertainment

and the opportunity for the teams to take

on fun challenges around Mangere.

To find out more about the Pit Stop

Challenge on April 9 and to register go

to: www.behindthewheel.co.nz

WHAT'S INSIDE

Māngere College Leaders

Life Childcare Centre

*NEW* Law column

Polyfest pictures

Tina's latest story

Take the Behind the Wheel Pledge,

get your whānau licensed and be

part of a fun community event!

To register & find out more go to

www.behindthewheel.nz
---
2

New leaders shine at MC

MANGERE COLLEGE LEADERS: Left to right: Principal Tom Web, Head Girl - Ana Taulanga and

Head Boy - Seleti Tu'ungafasi.

Ana Taulanga and Seleti

Tu'ungafasi love their community

and hope they can use their new

roles to make it even better.

The pair ​have just achieved the honour of

being named the new Head Girl and Head

Boy at Mangere College​.​

Ana says her parents were so excited that

her sister could hear their excited screams

from across the street.

"I was sleeping when Mr Webb called and

woke up to see the call. When Mr Webb

told me, my parents just started yelling,"​

she says.

Seleti says the news of his achievement ​

was a huge shock to his family.

"My mum didn't believe me at first," says

Seleti. "But when she realized it was true

she started crying. I didn't cry, but I was

pretty happy too."

The pair are both born-and-raised in

Mangere and will be following in the

footsteps of ​older ​family members who

have been ​student leaders as well.

Seleti says the role will help him develop

his leadership skills and confidence which

will put him in good stead for a future

both on the rugby field and in tertiary

studies.

​"​I really like the values the school has and

how the staff have helped me so much."

Ana hopes she can use her influence to

help others gain a sense of pride in their

community.

"It feels good to be raised around these

people, even though some bad stuff

happens, it's still a good place to be."

Mr Webb says both students stood out for

their leadership abilities and humility​.

"They both enjoy helping people, and they

talked about ensuring the school keeps

improving which we're all keen for."

INTRODUCING TOM WEBB

What started as an overseas holiday

in 2000 has turned into an exciting

opportunity as the new principal of

Mangere College sixteen years later.

Tom Webb first came to New Zealand for

an overseas experience with his soonto-be

wife Elaine. The couple loved it so

much they returned with the intention

to make it their permanent home - and

they haven't looked back since. Mr

Webb says he loves New Zealand and

is particularly passionate about the

opportunity he has to help students

reach their potential. For the last 12

years he's been honing his educational

and management skills at Onehunga

High School but he now feels ready

to lead a school for himself. He says

Mangere College is ideal as his values

and the school's are closely matched.

"The main part of my philosophy is

that every student has the potential to

achieve and that it's our job in school to

ensure that happens. That's something

the staff feel here too."

Mr Webb says he feels very fortunate to

be coming to a school that's clearly on

the up.

"Last year the results the school had

were the best they have ever had - right

through level one, two and three," he

says.

One area of expertise that Mr Webb is

keen to bring to the school is that of

E-Learning.

"E-learning is something I led at

Onehunga, and it's something we're

looking at here about how to bring more

technology into the teaching."

Despite taking over from longtime

Principal John Heyes, he isn't over-awed

by the shoes he has to fill.

"I'm just excited about the years ahead

and all the possibilities we can achieve."

NITTY GRITTY

future

Editor: Justin Latif Design: Jo Latif

Publisher: ME Family Services

print

275times@gmail.com | www.275times.com

www.facebook.com/275times

Life Childcare Centre children and whanau enjoyed the annual

Pasifika day in March. They are pictured here learning a cultural dance.

Children and whanau enjoyed dressing in cultural dress, sharing

delicious food and reading stories in different Pasifika languages.

Contact: Tuhin Choudhury

Unit 7/17 Airpark Drive
---
LAW... What is it good for?

3

The law and our legal system is a scary

thing – or it might seem that way if you've

never had much to do with it. But it's

actually designed to protect you.

However as many would know this

principle doesn't always play out in

reality. Many of us do get ripped off, and

sometimes it might seem it's too hard

getting our rights upheld. So what can

you do? Get informed is a good start

and getting proactive is the next thing.

Mangere has some great free services

which provide a wealth of information,

assistance and support, including my place

of work which is the Mangere Community

Law Centre.

So if you're in a spot of bother, don't fret

until you've had a word to one of the

friendly lawyers at the law centre and

hopefully they can ensure you'll be treated

fairly no matter the situation.

This is a new monthly column and next

edition I'll give some tips on using the

Disputes Tribunal and if you'd like to send

ASB Polyfest 2016

Well done to all of the Mangere secondary schools who competed

in the largest secondary schools Polynesian cultural festival in the

world. Here are some of our local schools' top results:

Mangere College:

Samoan Stage: 1st AGGREGATE Tu'ufatasiga o Togi -Tama ma teine.

Tongan Stage: 1st Ma'ulu'ulu, 1st Soke.

Cook Island Stage: 3rd in Overall competitive Section

Best overall Co-Ed school

Southern Cross Campus:

Cook Island Stage: 1st in Overall competitive Section

Diversity Stage - Asia: 3rd Sri Lankan

Mangere College's Cook Island Group

in your law related questions email:

justin.latif@mangerelaw.org.nz

The Mangere Community Law Centre has

been serving the unmet legal needs of the

community since 1987.

If you'd like to make an appointment

to see a lawyer call 09 275 4310.

Southern Cross Campus' Kapa Haka Group.

Latest story from Ernestina Bonsu Maru:

Check out her latest story about Mangere based Anuanua Dance

Troupe - Cook Island Entertainment at Pasifika. Go to

facebook.com/mangereotahuhuarts/ to read the full story

or view the video interview on Tina's youtube channel:

www.youtube.com/watch?v=WXWMqgRWFww

VERSE OF THE MONTH: Let us not love with words or speech but with actions and in truth. 1 John 3:18

(Sponsored by Bill & Bridie Keenan)
---
Community Notices

FREE HOLIDAY PROGRAMME

SPLASH are running their Break-Away Holiday Programme again

in the April school holidays at Moana-nui-a-kiwa Pool and Leisure

centre in Mangere. SPLASH is a FREE programme of essential skill

learning and FUN for 11-17 year olds.

Contact Barbara: wai@watersafe.org.nz for more info.

MAKE MOMENTS ART TOUR

The Make Moments project is a series of free facilitated art tours for

people living with dementia and their carers.

Free on April 7, 1pm – 2:30pm at the Mangere Arts Centre.

CODE BREAKERS GAME SHOW

A Game Show which sees female international athletes represent

their countries in a game of wit, dance, singing, charades, acting and

code breaking. Get along on April 8, 7pm–10pm at Mangere War

Memorial Hall, Dominion Road.

Out and About Summer Skate Series

Join the Out and About team and Summer Skate Series team for this

great event. Show us your skills on the park and go in the chance to

make it to the final held at Barry Curtis Skate Park on May 7. Great

prizes to be won for age group winners, lunch and drinks provided.

It's FREE at Mangere Mountain, April 16, 10am – 2pm.

ORIENTEERING FUN FOR FREE

Join the Out and About team at David Lange Park on April 26, 10am

- 12pm. Follow the clues, overcome the challenges and see who

finishes the race first. Suitable for all ages and abilities a great FREE

holiday activity!

PREPARE FOR WINTER - FREE INSULATION

The Warm Up New Zealand Programme which provides free

insulation in homes with a Community Services Card or Super Gold

CSC is running out in June! Ring 0800 777 111 to find out more.

COMPUTER & CV WORKSHOPS AT TOWN CENTRE

Free basic computer skills lessons at Mangere Town Centre Library

every Wednesday, 9.30am - 12pm. The Mangere Town Centre

Library is also hosting CV writing workshops every Friday.

MANGERE EAST COMMUNITY CENTRE CLASSES

Learn Te Reo Maori, salsa dancing, sewing, gardening or how to

make a Korowai and much more! Ring 09 275 6161 or go to

www.mangereeast.org for more details.

Do Good Feel Good

Welding +

Panel beating

BUILDING

AND

CARPENTRY

Employment Skills

Automotive

Recreation

& Sport

Joinery

& Cabinet

making

Forces

Pre-Entry:

Army, Navy,

Air force,

Police

Don't

just dream it.

Warehousing

& Forklift

Operations

Fitness &

Exercise

BECOME IT!

Corey (front row, second from right) and the Do Good Feel Good squad.

Do Good Feel Good is all about helping young people

connect to activities in the community which are fun,

and will make them feel good.

Corey is a squad leader for this Alliance Health initiative and

he organized a sports day at the Mangere gym earlier this

month. The fulltime lifeguard says this initiative will help get

young people not only having fun while exercising but also

hopefully connect them to important health services they may

be missing out on. "Do good feel good means trying to do

good in the community so we can all feed good."

Check out their Facebook page for the next event and to do a fun

survey to find out what health services you might be eligible for.

https://www.facebook.com/dogoodfeelgoodnz

FREE LEARNERS

OR RESTRICTED

LICENCE *

ZERO FEES &

TRAVEL SUBSIDY

FOR 16-19YRS *

FREE SELECTED

PROGRAMMES FOR

20+ YEAR OLDS

MANGERE

(09) 257-5732

59 TIDAL RD

Conditions apply.

HANDS ON

TRAINING