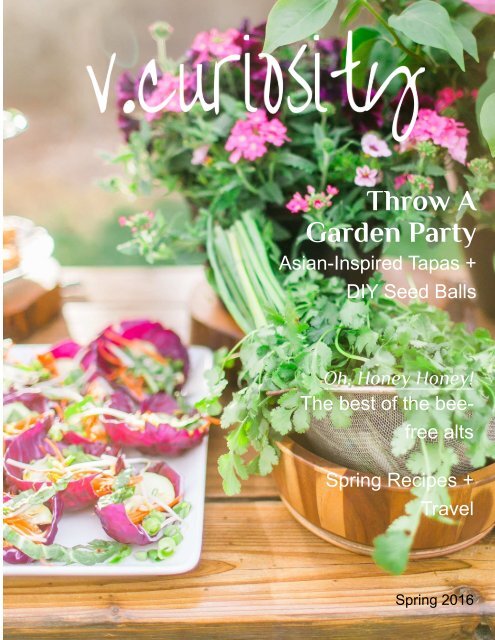 v.curiosity | spring2016 | issue 2
v.curiosity | eat. live. travel. vegan. A digital lifestyle magazine for the v and v-curious. Throw a Garden Party + DIY Seed Balls, Asian-Inspired Tapas, Honey Alternatives, Seasonal Recipes
v.curiosity | eat. live. travel. vegan. A digital lifestyle magazine for the v and v-curious. Throw a Garden Party + DIY Seed Balls, Asian-Inspired Tapas, Honey Alternatives, Seasonal Recipes
SHOW MORE
SHOW LESS
You also want an ePaper? Increase the reach of your titles
YUMPU automatically turns print PDFs into web optimized ePapers that Google loves.
Throw A

Garden Party

Asian-Inspired Tapas +

DIY Seed Balls

Oh, Honey Honey!

The best of the beefree

alts

Spring Recipes +

Travel

Spring 2016
---
AVAILABLE ONLINE SOON

WWW.VIRGINCHEESE.COM
---
1
---
2
---
Contents

Ginger and basil create a refreshing

and unique Asian spin on hard

lemonade.

PHOTO BY J.ANNE PHOTOGRAPHY

22

pg.

Cover Feature

The smell of new grass, freshly sprouted herbs in every store, and

the promise of warm summer nights. Spring has sprung, and what

better time to host a garden party. In this issue's feature, you'll find

refreshing and bright tapas recipes, a fun interactive way to get

guests into the planting season spirit, and speaking of spirits, a

vibrant cocktail to cool off on a warm afternoon.

..................................................................................................................................................................................................

3
---
Contents

14

41

Seasonal Recipes

Make the most of the abundance of spring

with lively recipes featuring seasonal

produce.

Oh Honey, Honey

Bee's a-buzz, pollinating our trees with

juicy fruits all summer long. Our line-up of

honey alternatives will have your sweet

tooth satisfied all while leaving our little

flying workers alone to do their job.

PHOTO BY MCKENZI TAYLOR

10

Beauty + Style

Strut your stuff with this seasons beauty

must-haves straight from the runway

31

Travel

Break Away! Travel-writer Caitlin Galer-Unti

serves up tips for the plant-based spring

break.

PHOTO BY MCKENZI TAYLOR

4

...................................................................................................................................................................................................
---
Masthead

EDITOR IN CHIEF

Amelia Cooper

Director of Operations

Feature Photographer

Feature Photographer

Recipe Developer

Beauty + Style Writer

Travel Writer

EDITORIAL

Rob Cooper

J. Anne Photography

McKenzi Taylor

Maximina Santi Burton

Kristina Balaam

Caitlin Galer-Unti

SPECIAL THANKS

Valerie + Ron Atiyeh

Hayley Moore

Nathan San Burton

Kathie Kurkjian

HOW TO REACH US

MAIN OFFICE

7260 W Azure #140-96

Las Vegas, NV 89130

PHONE NUMBER

702-610-8699

WEBSITE

www.vcuriosity.com

PHOTO BY J. ANNE PHOTOGRAPHY

© 2016 by v.curious. All Rights Reserved

Reproduction in whole or in part without permission is

prohibited.

...................................................................................................................................................................................................

5
---
Contributors

THANK YOU to our incredibly talented contributors! For more of their

work, check out their websites!

J. Anne

photographer. mom. gilded.

j-annephotography.com

McKenzi Taylor

photographer. climber. biker.

tayloredphotomemories.com

Maximina Santi Burton

raw. cuisiner. entrepreneur.

theheavenlyvegan.com

Kristina Balaam

cookbooks. beauty. fitness.

mustlovevegan.com

Caitlin Galer-Unti

traveler. writer. food finder.

theveganword.com

Monika Soria Caruso

student. micro farmer. mom.

windycityvegan.wordpress.com

6
---
7
---
Editors Letter

Sprouts. Seeds. Spring. All

things that are the start of

something new.

It will never cease to amaze me how this incredibly

tiny little dot of something can, with the right

attention, turn into something that I can actually eat. I

used to plant carrots (poorly) in the side garden of our

first house. If you've ever wondered why a 10lb bag of

organic carrots costs a paltry $3.99 at the buyers

club, I'm here to tell you it's because if I can make

them grow, anyone can make them grow.

Carrots for

breakfast? Why not!

With warm summer

days ahead, a bright

and sweet

vegetable that's

been growing

during the cold

season is ready to

be a cheerful

addition to any

sweet smoothie or

juice.

They weren't the long, beautiful, thick carrots you

normally buy, they were short and stubby and

sometimes misshapen. The hard clay soil in Las

Vegas isn't very kind to things that have to grow

downwards, and I didn't know till it was too late that

I'd have to dig deeper. But, I'll never forget the day I

plucked my first little carrots out of the ground. I

waited till it was my husbands birthday. I harvested

these tiny baby carrots, cleaned and peeled them up,

then put them on a vegetable tray and made sure

everyone knew I was so fancy, because I grew my

own appetizers.

The way I grew those carrots isn't unlike the way we

are growing this magazine. v.curiosity is a vegan

food and lifestyle magazine for non-vegans. The

planting area doesn't get much harder than that. The

whole point though, is to plant the seeds that will then

grow into something wonderful. Just like my tiny,

homegrown carrots, the first sprouts don't have to be

perfect and they don't have to be pretty enough for

display. They just have to be enough to be enjoyable,

and I remember, those little young carrots were the

sweetest I've ever tasted. Cheers to spring! Let's plant

some seeds and see what happens.

Amelia Cooper

Editor-in-Chief

...................................................................................................................................................................................................

8
---
Fresh Start

Here Comes The Sun Smoothie

5 clementines, satsumas, or tangerines

2 medium carrots, cut into chunks

3 frozen bananas, cut into chunks

1 tablespoon coconut oil (optional)

2 cups ice water or nondairy milk

Recipe Developed by Monika Soria Caruso

Find more of her recipes at

windycityvegan.wordpress.com

91
---
Beauty + Style

Put a spring in your step with this seasons must haves.

So

long

pastels!

Bold is

beautiful

for spring.

Kristina Balaam

Beauty + Style writer

Kristina publishes her

own blog on

mustlovevegan.com,

where she waxes

poetic about poutine,

fitness, animals and

beauty. Be sure to

follow her on

Facebook and

Instagram at

@mustlovevegan.

From Milan to New

York, trends at this

years Spring

Fashion Week

pointed toward

natural beauty, with

a few daring twists

away from the

typical pastels

weave seen in

previous seasons.

Weave come a long

way from the days

when vegan-friendly

make-up meant

muted beige

shadows and lip

balm. Recreate

fashion weeks

hottest looks with

these amazing,

completely vegan,

beauty products.

1. Kat Von D

Everlasting Liquid

Lipstick in

BAUHAU5 and

Lolita - $20.00,

katvondbeauty.com

Kat Von D Studded

Kiss Lipstick in

Adora - $21.00,

katvondbeauty.com

Gone are the

pastel-hued lips

that have typically

marked Spring

fashion week in

years past. This

year, designers

continued the

darker, neutral

tones from Autumn

with an emphasis

on gorgeous plums,

universally attering

terra cotta neutrals,

and cherry reds.

Great vegan

lipsticks can be

difficult to nd.

Unfortunately, many

102

....................................................................................................................................................................................................
---
cruelty-free cosmetics

brands still ll their lipsticks

with carmine, beeswax and

other nasty animal-based

products. Kat Von D

Beauty, however, offers an

incredible selection of

completely vegan, longlasting

matte lipsticks.

Their Everlasting Liquid

Lipstick in Lolita and

BAUHAU5, offer the

perfect terra cotta and plum

tones for Spring 2016. Or,

opt for a fun cherry apple

red lip - as seen on the

runways at Dolce &

Gabbana and DKNY - with

the Studded Kiss lipstick in

Adora. As with all matte

lipsticks, these can be a

little drying. Apply a dab of

coconut oil, or your

favourite vegan lip balm,

under your matte lipstick.

2. Urban Decay Naked

Skin Weightless Ultra

Denition Liquid Makeup

- $40.00, urbandecay.com

Dewey, awless skin was a

universal trend on all

runways this season. Vera

Wang and Michael Kors

exemplied the "nomakeup"

look with evened

skin tones and natural

eyes. Urban Decay's

Naked Skin foundation

offers buildable coverage

while still feeling light and

airy on your skin - perfect

for overcoming post-winter

dryness. Not only is the

formula 100% vegan, it's

also oil-free, paraben-free,

fragrance-free and loaded

with happy skin goodies

like Vitamin E and green

tea.

3. Anastasia beverly Hills

The Original Contour

Palette - $40.00,

anastasiabeverlyhills.com

Evened skin was

accentuated with

highlighting and contouring,

giving models a freshfaced,

but structured look. ABH's

Original Contour palette

offers six different shades

of contouring powder: three

darker shades to mix and

match for contouring the

face, and three lighter

shades for highlighting.

The palette is available in

three tones: light to

medium, medium to tan

and tan to deep. Use the

darker powders in the

areas where you'd like your

facial structure to recede —

typically the hollows of the

cheeks, jawline, temples

and sides of the nose.

Lighter shades are used to

highlight areas like the

cheekbones, cupid's bow of

the lips and bridge of the

nose. Remember to blend

with a big, uffy (synthetic!)

brush to avoid any tell-tale

contouring lines!

4. Spa Ritual Nail Lacquer

in Gentle, Breathless and In

the Buff - $8-$12,

sparitual.com

Nearly every runway in

Milan, London, New York and

Paris showed a preference

for simple, neutral nails. Spa

Ritual's entire line is vegan

and formulated without any

nasty DBP, toluene,

formaldehyde and

formaldehyde resin. In the

Buff (a nude creme), Gentle

(a neutral creme) and

Breathless (an off white

creme), match the barelythere

nail trend from this

season.

5. Power of Love Eye

Shadow Palette - $20.00,

pacicabeauty.com Artists

favored light blue shadows

this season, blending with

nudes and yellows to

achieve a sort of tropical 70's

theme. While

11 3
---
lues may seem daring for

some, pairing these colors

with a neutral lip and dewy

skin makes the look a little

tamer. Pacica's shadows

use coconut water to offer

a long-lasting cream nish

in blendable, diverse

shades.

6. Anastasia Beverly Hills

Brow Wiz - $21.00,

anastasiabeverlyhills.com

Anastasia Beverly Hills

Brow Powder Duo -

$23.00,

anastasiabeverlyhills.com

Anastasia Beverly Hills has

long been regarded as the

ultimate provider for brow

maintenance. Not only

does the company offer a

wide array of brow llers

and tools, their colour

selection ensures a perfect

match for every brow tone.

Fashion Week reminded us

that the strong brow trend

is continuing into the spring

season, with an emphasis

on natural and full brows.

Sparse brows can be lled

with ABH's mechanical

brow pencil using short

strokes to imitate hairs.

Use the spooly mascara

wand at the opposite end

to soften lines and give

brows a natural, but full,

nish. The Brow Powder

Duo offers two shades of

brow powder: lighter for the

inner brow, darker for the

tail. Use this powder with a

stiff angled brush for a

polished nish.

7. 100% Pure Black tea

Long Last Liquid Eye

Liner - $29.00,

100percentpure.com

Dream Big Lash Extending

7 in 1 Mascara in Black

Magic - $16.00,

pacicabeauty.com Feline

eyes made a comeback

this season, varying from a

natural tiny cat eye with

Tory Burch, to dramatic,

jewelled winged liner at

Anthony Vaccarello.

Recreate the look with a

versatile liquid liner brush

and a great mascara. Made

from black tea leaves

instead of nasty dyes,

100% Pure's eyeliner lasts

all day and contains no

articial fragrances or

chemical preservatives.

The thin brush allows for

versatility in your cat eye

look - everything from thin,

inconspicuous lines to 60's

winged drama. Pacica's

new Dream Big mascara

features a twisting brush

that swivels for length and

volume. The natural, totally

vegan formula builds long,

full lashes while remaining

chemical-free.

Organic

Fair Trade

Vegan

www.homemadebetty.com

124
---
13 5
---
EAT

Recipes by

Amelia Cooper

Photos by

McKenzi Taylor

1

THE BEST FLAVORS and bang for your buck? Eat seasonally.

Thankfully, spring produce offers an abundance of bright and beautiful

produce that steals the show all by itself!

146

....................................................................................................................................................................................................
---
2 3

4

5

1 Haricots Verts with Shallots + Horseradish

Thin and delicate haricots verts quickly panfried

with charred shallots and spicy horseradish

2 Tuscan Summer Vegetable Soup

The best vegetables of the season in a warm bowl

perfect for drizzly cold spring nights

3 Quinoa Zucchini Medley

Quick and light, perfect lunch for swimsuit season

4 Herbed Rice Pilaf

Versatile and flavorful rice pilaf that's as

appropriate for Sunday lunch as it is for Tuesday

dinner

6

5 Baked Leeks with White Wine Cream

Tender young leeks and a little white wine cream to

to impress guests, or just because

6 Pan Seared Lemon-Garlic Tofu

Quick and lean but packed with tangy lemon

....................................................................................................................................................................................................

15 7
---
Haricots Verts with Shallots + Horseradish

2 tablespoons extra virgin olive oil

4 shallots, thinly sliced

1 lb fresh haricots verts, rinsed

2 tablespoons prepared horseradish

1 1/2 teaspoons sea salt

fresh cracked black pepper

Heat oil in a heavy cast iron skillet. Sear shallots in

oil over high heat for 5-7 minutes or until just

softened and slightly burnt around edges. Reduce

heat to medium and add haricots verts. Cook for an

additional 3-5 minutes. Remove from heat, stir in

horseradish, salt, and pepper to taste. Serve

immediately.

Tip: When buying jarred

horseradish, check

ingredients to be sure

no 168 cream or dairy was

added.
---
Simple Seared Lemon Garlic Tofu

1 block firm or extra firm tofu, pressed over night

1/4 cup extra virgin olive oil, plus extra

1/4 cup lemon juice

6 cloves minced garlic

1 teaspoon salt

1 cup fresh chopped parsley

Slice tofu down the middle, then place each section cut side down and slice again into half

thickness, then slice each of those sections on a diagonal to make one long, skinny triangle. In

a large, non-stick skillet, heat olive oil over medium-high heat. Sear tofu, flipping only once, till

brown and crispy on each side. While tofu is searing, combine remaining ingredients except

parsley in a small sauce pan. Warm gently over medium heat. Transfer tofu to a serving dish,

stir parsley into sauce and pour over tofu. Serve immediately.

17 9
---
Baked Leeks with White Wine Cream

6 small to medium leeks

1 cup plain unsweetened almond milk

1/2 cup dry white wine

2 tablespoons nutritional yeast

4 cloves minced garlic

2 tablespoons corn starch

1 teaspoon salt

2 tablespoons non-dairy margarine,

such as Earth Balance

vegan Parmesan, optional

Heat oven to 350.

Trim off the tough green tops of leeks, leaving only pale green and white part. Half leeks

lengthwise, then trim bottom ends, cutting off roots but leaving bottom core in tact. Rinse

under cold water, gently separating leaves to remove all dirt. Drain and set aside.

In small saucepan, combine almond milk, white wine, nutritional yeast, and butter. Warm

gently over medium-low heat for 5 minutes, then add cornstarch, whisking continually until

dissolved. Continue to cook cream sauce over medium low heat, 15-20 minutes, stirring

frequently until thickened. Stir in garlic and salt, cook for five minutes more.

Spray large casserole dish with cooking spray. Place leeks cut-side up in glass dish, gently

pour cream sauce over. Cover and bake for 30 minutes. If using optional vegan parm, remove

leeks and sprinkle parm on top, then place back in the oven for an additional 10 minutes at

425. Serve immediately.

18 10
---
Tuscan Summer Vegetable Soup

6 tablespoons extra virgin olive oil,

divided

6 cloves minced garlic

1 medium onion, diced

3 medium zucchini, diced

1 orange or yellow bell pepper, diced

1/4 cup sun-dried tomatoes, diced (in oil

or dry)

3/4 cup chopped fresh parsley

2 tablespoons tomato paste

1 tablespoons garlic powder

1 tablespoons onion powder

2 tablespoons dried oregano

1 teaspoon dried red pepper flakes

1/4 cup white wine vinegar

2 teaspoons sea salt

1 teaspoons black pepper

4 cups water or vegetable broth

In a large heavy pot over medium heat, warm three

tablespoons olive oil. Add garlic, onion, and 1 teaspoon of

salt. Cook for about 5 minutes, or until fragrant and

softened. Add bell pepper and continue to cook additional

2-3 minutes. Add zucchini, red pepper flakes, oregano, and

tomato paste and cook additional 2-3 minutes. Stir in

parsley, sun dried tomatoes, and water or broth. Bring to

boil and reduce to simmer for 20 minutes. Stir in vinegar,

garlic powder, onion powder, remaining salt and black

pepper and simmer an additional 10 minutes. Serve pipping

hot garnished with optional vegan Parmesan and crusty,

warm ciabatta bread.

11 19
---
Herbed Rice Pilaf

1/2 cup whole wheat spaghetti, broken into

small pieces about

2 tablespoons non-dairy margarine, such as

Earth Balance

2 cups vegetable broth

1 cup long grain white rice

1 teaspoon dried thyme

1 teaspoon dried rosemary, crushed with

palms

1/2 teaspoon dried ground sage

2 teaspoons onion powder

2 teaspoons salt

In a medium pot with tight fitting lid, melt margarine over

medium-low heat. Add broken spaghetti and cook until

fragrant and brown. Watch pasta carefully, stirring

consistently, as it can burn very quickly once it begins to

color. Immediately add vegetable broth to stop pasta from

burning once a medium brown toasted color has been

reached. Add all remaining ingredients and stir to

combine. Turn heat up and bring to a rapid boil, then

reduce to a simmer and cover. Cook for 20 minutes and

then check, then cook for an additional 2-3 minutes or

until all liquid has been absorbed. Remove from heat and

let stand, covered, for 10 minutes. Fluff with fork and

serve immediately.

20 12
---
Quinoa Zucchini Medley

1 cup quinoa, rinsed

2 medium zucchini, diced

2 tablespoons dried dill

4 tablespoons tahini

6 tablespoons lemon juice

3 large cloves garlic

1 1/2 teaspoons salt

In a medium pot with a tight fitting lid, combine quinoa with 2 cups water and bring to a boil.

Reduce heat to a simmer, cover, and cook for 15 minutes. While the quinoa is cooking,

prepare the dressing. In a mini food processor or blender, combine tahini, lemon juice, garlic

and salt. Process or blend until combined, set aside. Once quinoa is finished, remove from

heat and toss in zucchini and dill. Fluff gentle with a fork to combine, allow to cool for 5

minutes, then pour over lemon-tahini dressing. Toss to combine, serve at room temperature or

cold.

....................................................................................................................................................................................................

13 21
---
LIGHT AND BRIGHT AND EASY. Keep the spring vibe all

the way through your menu by focusing on festive and

fresh flavors with Asian-inspired tapas.

22 14

....................................................................................................................................................................................................
---
EVERYTHING BECOMES SO INCREDIBLY

FRAGRANT IN THE SPRING GARDEN. Not

yet warm enough to shoo guests inside, not

cold enough still to require more than a light

sweater. Garden Party's are the easiest to

host, they practically throw themselves.

Rustic and at-odds elements like wooden

picnic tables and vintage silver trays, set

against a backdrop of an abundance of

colorful potted plants from the local

housewares store make this one spring fling

you won't be breaking a sweat over.

WRITTEN BY AMELIA COOPER

PHOTOGRAPHY BY J. ANNE PHOTOGRAPHY

....................................................................................................................................................................................................

15 23
---
24 16
---
IS THERE ANY DRINK that's more perfect for warmer days than lemonade? We

didn't think so, either! Hard Thai Basil Ginger Lemonade is sophisticated enough

for a cocktail party but playful enough for sipping in the garden.

17 25
---
26 18
---
GET A LITTLE DIRTY WITH

DIY SEED BALL FAVORS

4 parts shredded paper

1 part water + extra

1 part quality soil

1 part mixed wildflower seeds

In a blender, combine paper and water. Blend to combine, adding water as necessary to make the texture of thick children's

craft glue. In a large bowl, combine paper mixture, soil, and seeds. Use hands to combine. Squeeze mixture into balls the size of

large marbles. Have mini burlap gift bags on hand for guests to take home, with instructions to allow balls to dry on a flat surface

for one week.

To Use:

Seed balls are used for guerrilla gardening. Toss anywhere that needs a pick-me-up, in unused areas of your own garden or in

abandoned dirt lots. Just be sure to use seeds that are native to your region and environment!

19 27
---
28 20
---
21 29
---
PICTURED: HERB SEED PAPER

INVITATIONS

SEED PAPER INVITATIONS FROM BOTANICAL PAPER WORKS Set the tone by

inviting guests with custom seed paper invitations. These unique and eco-friendly

invites only require a small space and a little water to sprout herbs or flowers that will

carry on the merriment long after the party is over. Order at

www.botanicalpaperworks.com

30 22
---
23 31
---
32 24
---
THE EVER-VERSATILE Spring Rolls are a cold and welcoming

sight. Filled with tangy and spicy mango, fresh cilantro, and crisp

jicama, they are every bit as delicious as they are beautiful.

25 33
---
Hard Thai Basil Ginger

Lemonade

1 cup sugar

1 cup water

2 tsp sliced or grated fresh

ginger

1/4 cup loosely packed

Thai basil leaves, plus

more for garnish

1 cup fresh squeezed

lemon juice

2 cups mid-quality vodka

In a small saucepan,

combine sugar, water,

ginger, and basil. Bring to a

boil and then quickly lower

heat to a simmer, cooking

until sugar is completely

dissolved, about 10

minutes. Remove from

heat and allow to cool, then

strain syrup into a jar and

discard both ginger and

basil. Chill completely.

In a large pitcher, combine

lemon juice, syrup, and

vodka with lots of ice. Stir

and serve over more ice

with basil leave garnishes.

Sweet Sesame Tofu

Skewers

1 block firm tofu, pressed

for at least 6 hours

1 teaspoon rice vinegar

1/2 teaspoon chili paste

1/2 teaspoon garlic powder

3 tablespoons agave syrup

+1 teaspoon

2 tablespoons sesame oil

3 tablespoons soy sauce

Black sesame seeds, for

sprinkling

6 wooden skewers, soaked

in water for at least one

hour

Preheat oven to 350.

Cut tofu in half widthwise,

then cut each smaller block

in half again twice, once

lengthwise then widthwise,

then diagonally, to form

sixteen triangles. Carefully

thread three triangles onto

each skewer (two skewers

will have just two triangles),

and place on a parchmentlined

baking sheet. In a

small bowl, whisk together

remaining ingredients

except sesame seeds.

Baste tofu on one side, flip,

and baste on other side.

Place in oven and bake for

45 minutes, basting at 15

minute intervals to build up

glaze as each layer bakes

in. Remove from oven,

pour any remaining glaze

over skewers and garnish

with sesame seeds. Can

be served warm or at room

temperature.

Asian Sunflower Pâté

Cabbage Cups

Marinated mushrooms:

2 cups sliced shitake

mushrooms

1/2 tablespoon sesame oil

(oil free: 1 teaspoon

sesame seeds)

1 teaspoon lime juice

salt and pepper to taste

Pate

1 ½ cups sunflower seeds,

sprouted if preferred

¾ cup celery, roughly

chopped

1 large carrot, roughly

chopped

¼ cup broccoli stalk

1 heaping tablespoon

peanut butter

1 teaspoon lime juice

1 garlic clove

¼ cup coconut amino's

dash of ginger powder

Toppings

34 26
---
1 cup Napa cabbage,

shredded

1 cup carrot, julienned

1 cup sugar snap peas

½ cucumber sliced in

halves

bib lettuce or purple

cabbage cups

For the mushrooms: In a

medium bowl, combine

mushrooms and marinade

ingredients. Cover and

refrigerate for 30 minutes.

For the pate: In food

processor, combine all

ingredients. Pulse until well

combined and smooth.

To assemble: Place one

heaping tablespoon of pate

on a lettuce or cabbage

leaf. Top with mushrooms,

shredded cabbage, carrots,

snap peas, and cucumbers.

Raw Thai Curry Carrot

Soup

Flesh of 2 young Thai

coconuts

3 cups coconut water from

the Thai coconuts

2 tablespoons red curry

paste

1 carrot, cut in chunks

1/2 cup coconut amino's

1/2 cup raw, unsalted

cashews

1 cucumber

2 teaspoons fresh lime

juice

1 tablespoon fresh lemon

juice

1 garlic clove

3 tablespoons green onion,

roughly chopped

1 tablespoon jalapeño,

roughly chopped

Dash of ginger powder

1 teaspoon pink salt

Combine all ingredients

into high-speed blender,

such as Vitamix. Blend till

smooth. (This may take a

few minutes.) Chill for at

least one hour before

serving.

Mango-Jicama Spring

Rolls

1 large jicama

12 ounces frozen mango

chunks

4 tablespoons agave syrup

1 teaspoons chili powder

1 teaspoons minced ginger

1/2 teaspoons salt

1 bunch fresh cilantro,

rinsed

dash cayenne pepper

rice paper wrappers

In a medium bowl, add

mango, agave, chili

powder, ginger, and salt.

Chill in refrigerator for at

least two hours or overnight,

then use a blender to puree

into a smooth filling. Set

aside. Using a large, sharp

knife, cut jicama into a large

square, then slice into

matchsticks. Working one at

a time, wet rice paper and

place flat on work surface.

Add 5-7 cilantro leaves,

layer on 2 tablespoons

mango puree, top with

jicama. Roll tightly and

proceed the same process

until all ingredients have

been used. Can be served

immediately or chilled up to

two hours.

Coconut Nests with

Pineapple Cream

Note: This recipe is quite

simple and quick, but

requires some downtime.

The easiest way to prepare

is to rinse the rice and make

the pineapple cream the

night before.

For the pineapple cream:

1 cup pineapple juice (no

sugar added, 100% juice)

27 35
---
cont..

1 cup coconut cream (firm,

white solid from canned

coconut milk)

1/8 cup corn starch

1/4 tsp vanilla

For coconut nests:

3 cups shredded

unsweetened coconut

1 cup rice, rinsed and dried

overnight

3/4 cup agave syrup

1/4 cup coconut oil, melted

In blender, combine all the

ingredients for the

pineapple cream and blend

until smooth. Pour cream

into small saucepan over

low heat and bring to a

simmer. Allow to simmer

for 12-15 minutes or until

thickened and coating the

back of a spoon. Pour into

bowl and chill for at least

one hour.

Preheat oven to 350. On a

clean, dry baking sheet

spread rice out into an

even layer. Toast rice for

30-45 minutes, keeping a

close eye on it after the 30

minute mark, until rice is

golden brown and smells

both nutty and sweet. Allow

to cool for 15 minutes, then

transfer to a high speed

for the pineapple cream

later. Bake for 10-12

minutes or until golden

brown. Allow to cool

completely. If the nests

loose their shape a little

during cooking, simply

reshape them while still

warm and they will firm up

in that shape.

blender. Blend rice until it

becomes a fine powder.

This may take some time.

In a large bowl, combine

coconut, rice powder,

coconut oil and agave

syrup. Stir to combine.

Measure out about 1

tablespoon of coconut

mixture and roll into a tight

ball. Place balls on

parchment lined baking

sheet and press thumb in

the middle to form a dent

Once both nests and

pineapple cream are cool

begin to fill nests. Spoon

pineapple cream into a zip

tight bag, snip off one small

corner, and pipe pineapple

cream into each nest. Keep

chilled until ready to serve.

36 28
---
SPRING BREAK

WRITTEN BY CATLIN GALER-UNTI

UNDER THE LIME TREE SPA B&B, FRANCE

Break Away

SPRING BREAK- EVEN

the words conjure up

images of pure

bacchanalian hedonism.

But we're here to show you

how to have a happy,

healthy (or at least

healthier) vegan travels this

year!

Pack your bags

If you're flying off to Florida

or Cabo, make sure you

order your meal for the

flight beforehand (ask for

VGML – it's airline code for

vegan vegetarian meal,

and comes without meat,

fish, egg or dairy). If your

flight doesn't include a

meal, pack some snacks

for the plane – for example

nuts and dried fruit, carrot

sticks, or grapes (make

sure you don't pack any

fruit that might easily get

squashed, like a banana).

Think about your drinks

It's spring break – you'll

probably be imbibing a

cocktail or two. But why

not make your cocktail with

fresh fruit, or alternate with

fresh-squeezed juice or a

smoothie? It's spring and

fresh, local fruit is starting

to grace store shelves

(especially true the further

south you get) so take

advantage! For harder

drinks, check the listings on

Barnivore.com to check

whether your tipple of

choice is vegan-friendly

(beer, wine and even some

spirits may be filtered using

animal products).

Do your homework

Look up vegan-friendly

restaurants before you go.

Happycow is a fantastic

resource for finding vegan

and vegan-friendly

restaurants anywhere in

the world. Don't forget to

add a review and update

the listing if the hours or

address has changed! If

you don't find listings on

Happycow, look for

bloggers who live in or

have visited the area, and

don't hesitate to get in

touch with them if you have

questions or want more

advice – most bloggers

love hearing from their

readers!

Road Trippin'

Hitting the road this spring

break? Check out

29 37
---
Happycow before you head

off and see what

vegetarian and vegan

restaurants you might run

into on your way, but also

look up vegan options at

chain restaurants before

you head off! That way,

you won't get caught out

even at rest stops. Useful

apps to download on your

smartphone are the

Happycow app (which can

use your phone's GPS to

show you the nearest

listings) and Vegan Xpress

(which has listings of vegan

options at fast food and

casual restaurant chains

across the US).

Travel with non-vegans

What if your travel

companions aren't

interested in plant-based

eating? Introduce them to

vegan eateries before you

hit the road – make sure

you choose the best, most

delicious place in your train

to knock their socks off and

show them meat-free

dining is delicious! That

way, when you're on your

trip, they'll be more likely to

want to join you in

sampling vegetarian and

vegan restaurants.

If they're adamantly

opposed to setting foot in a

meat-free establishment,

then make sure to choose

restaurants that cater to

both of you and have

plenty of vegan or

veganizable options – for

example Indian (ask them

to leave out the ghee/

dairy), Chinese (ask them

to leave out oyster sauce)

or pizza sans cheese are

great options that can be

found in most destinations!

Treat yourself

For a real treat, consider

spending your spring break

at a plant-based spa or

retreat like El Ameyal, a

holistic spa and retreat

centre in Cabo San Lucas,

Mexico, with a vegetarian

and mainly vegan

restaurant on-site or Under

the Lime Tree, a vegetarian

and vegan retreat in the

southwest of France.

About the Author

Caitlin Galer-

Unti is a vegan food and

travel writer originally from

the U.S. and currently

living in Barcelona, Spain

(after a 7-year stint in

London). She's traveled to

30 countries (and counting)

and blogs about the vegan

food she finds around the

world at

theveganword.com, which

has been featured on The

New York Times and

Yahoo!. The Essential

Vegan Travel Guide, a DIY

guide showing you the best

resources and methods to

find vegan food anywhere

in the world, is her first

book.

38 30
---
31 39
---
Under The Lime Tree

Spa B&B

France

40 32

www.underthelimetree.com
---
OH,

HONEY

HONEY

SATISFYING

YOUR SWEET

TOOTH HAS NEVER BEEN

SO EASY. There's just too

much dreamy, silky, oh-soyummy

liquid sweeteners

available right now. And the

best part? You can let the

bees do their thing while you

do yours.

WRITTEN BY AMELIA COOPER

PHOTOGRAPHY BY MCKENZI TAYLOR

33 41
---
MEET MY SWEETIE

>>>>>>>>>>>>>>>>>>>>

BROWN RICE SYRUP

AGAVE SYRUP

MAPLE SYRUP

COCONUT NECTAR

BLACKSTRAP MOLASSES

42 34
---
THICK AND NUTTY

Perfect for October popcorn

balls and December candy

making. $4.99

SWEETEST EVER

Easy to find, easy to use, just

remember to reduce another

liquid by 1/4 cup. $8.99

LIQUID GOLD

The androgynous sweetener,

use in savory or sweet dishes.

Opt for Grade B Pure, $7.99

NEW FANGLED FAVORITE

Sub in place of simple syrup

in cocktails to trick your palate

and your mind into a healthier

happy hour. $3.99

BAKERS BOOST

Loaded with trace minerals

and rich, deep flavors. Opt for

black strap when you can.

$2.99

35 43
---
IT'S TIME TO HAVE THE

TALK ABOUT THE

BIRDS AND THE BEES

(ok, maybe just the bees)

BITING INTO A PEACH STILL

warm from the summer sun is one of

the greatest pleasures I've had in my

life. When we first bought our new

home, a fixer-upper on the west side

but in a great neighborhood, I was

happily surprised when the sadlooking

and hard-leaning tree outside

our kitchen window burst into pink

buds our first spring. Our sink is

directly in front of this window, and

scrubbing pots and pans became an

hour-long affair because I would find

myself stopping and staring at our

blossoming peach tree. Then, it

seemed like overnight, the peaches

were clearly ready to be plucked, and

there I was on a warm summer day

having my first peach straight off the

tree. That summer, we planted six

more fruit trees, and several times a

week I go outside to marvel at the

new buds turning into fruit on their

spindly new branches.

Although we had given up honey

long ago and although the outcry of

Colony Collapse Disorder had been

heard multiple times by my husband

and I, it wasn't as real to me until I

saw all the bees buzzing around my

fruit trees, working hard on these

fledging plants of mine that would, in

a few months time, turn into that

moment when I could go no further

than my own yard for a seasonal

snack.

Research is still being done on CCD,

and the information and reasonings

behind the crisis (yes, it is a crisis)

change daily. But, there is something

we can do about it. We can remove

ourselves from the equation. There

are just too many wonderful options

to have honey on the table.

44 36