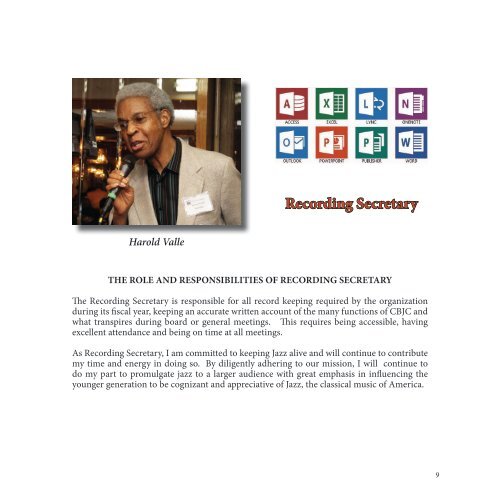 CBJC Festival Magazine 2016 Central Brooklyn Jazz Consortium produces a Jazz Festival every year. 2016 brings our 17th Annual Festival. The Brooklyn grassRoots festival this year runs from April 15th until May 15. This years event was fantastic. View our magazine for a look inside.
Recording Secretary

Harold Valle

THE ROLE AND RESPONSIBILITIES OF RECORDING SECRETARY

The Recording Secretary is responsible for all record keeping required by the organization

during its fiscal year, keeping an accurate written account of the many functions of CBJC and

what transpires during board or general meetings. This requires being accessible, having

excellent attendance and being on time at all meetings.

As Recording Secretary, I am committed to keeping Jazz alive and will continue to contribute

my time and energy in doing so. By diligently adhering to our mission, I will continue to

do my part to promulgate jazz to a larger audience with great emphasis in influencing the

younger generation to be cognizant and appreciative of Jazz, the classical music of America.

9