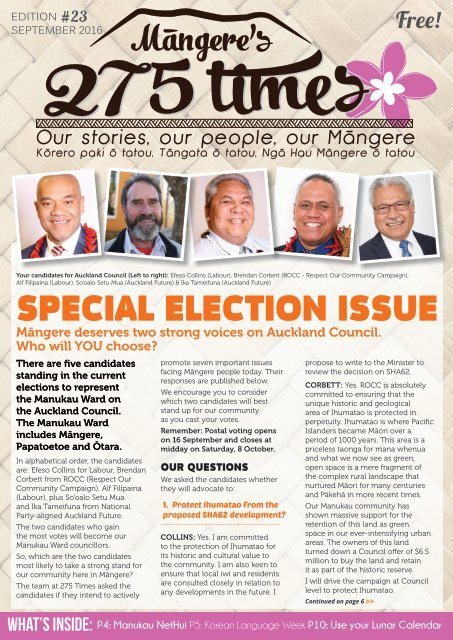 275 Times. September 2016.
Mangere's Community News. Edition 23.
Mangere's Community News. Edition 23.
SHOW MORE
SHOW LESS
Create successful ePaper yourself
Turn your PDF publications into a flip-book with our unique Google optimized e-Paper software.
EDITION #23

SEPTEMBER 2016

275 times

275

Māngere's

times

Our stories, our people, our Māngere

Kōrero paki ō tatou, Tāngata ō tatou, Ngā Hau Māngere ō tatou

Free!

Your candidates for Auckland Council (Left to right): Efeso Collins (Labour), Brendan Corbett (ROCC - Respect Our Community Campaign),

Alf Filipaina (Labour), So'oalo Setu Mua (Auckland Future) & Ika Tameifuna (Auckland Future)

SPECIAL ELECTION ISSUE

Māngere deserves two strong voices on Auckland Council.

Who will YOU choose?

There are five candidates

standing in the current

elections to represent

the Manukau Ward on

the Auckland Council.

The Manukau Ward

includes Māngere,

Papatoetoe and Ōtara.

In alphabetical order, the candidates

are: Efeso Collins for Labour, Brendan

Corbett from ROCC (Respect Our

Community Campaign), Alf Filipaina

(Labour), plus So'oalo Setu Mua

and Ika Tameifuna from National

Party-aligned Auckland Future.

The two candidates who gain

the most votes will become our

Manukau Ward councillors.

So, which are the two candidates

most likely to take a strong stand for

our community here in Māngere?

The team at 275 Times asked the

candidates if they intend to actively

promote seven important issues

facing Māngere people today. Their

responses are published below.

We encourage you to consider

which two candidates will best

stand up for our community

as you cast your votes.

Remember: Postal voting opens

on 16 September and closes at

midday on Saturday, 8 October.

OUR QUESTIONS

We asked the candidates whether

they will advocate to:

1. Protect Ihumatao from the

proposed SHA62 development?

COLLINS: Yes. I am committed

to the protection of Ihumatao for

its historic and cultural value to

the community. I am also keen to

ensure that local iwi and residents

are consulted closely in relation to

any developments in the future. I

propose to write to the Minister to

review the decision on SHA62.

CORBETT: Yes. ROCC is absolutely

committed to ensuring that the

unique historic and geological

area of Ihumatao is protected in

perpetuity. Ihumatao is where Pacific

Islanders became Māori over a

period of 1000 years. This area is a

priceless taonga for mana whenua

and what we now see as green,

open space is a mere fragment of

the complex rural landscape that

nurtured Māori for many centuries

and Pākehā in more recent times.

Our Manukau community has

shown massive support for the

retention of this land as green

space in our ever-intensifying urban

areas. The owners of this land

turned down a Council offer of $6.5

million to buy the land and retain

it as part of the historic reserve.

I will drive the campaign at Council

level to protect Ihumatao.

Continued on page 6 >>

WHAT'S INSIDE: P4: Manukau NetHui P5: Korean Language Week P10: Use your Lunar Calendar
---
2

Filling

the soup pot

from the

soil up

Members of the Tiare Taina

Kuki Airani Group (Tivaevae

sewing group) have been

taking time out from their

stitching to focus on reducing

waste and producing food

at the soup kitchen they run

on Mondays at Whare Koa,

the Māngere Community

House in Robertson Rd.

The new community garden project

has been supported by Therese

Mangos, a Community Facilitator

with the Compost Collective, an

Auckland Council initiative which

aims to get people into composting.

Therese has been teaching the value

of composting through workshops

using bokashi (fermentation buckets),

worm farms, and the building of

Below (Left to right): Enthusiastic no-dig gardeners Papa Mii, Alofa Sepu, Fuatino Sepu,

and Eric Sepu, with Compost Collective Community Facilitator Therese Mangos

WITH COMPLIMENTS

an outdoor compost bin using

recovered heat-treated pallets.

Last month, Therese set up

some garden beds, using 'Kiwi

collars' (metre square garden

frames) which were donated

by the Compost Collective.

Therese says: "The Whare Koa

whānau have been enthusiastically

learning how to create a no-dig

garden by just building up materials

on top of the ground – like dead

leaves, grass clippings, chicken

manure, seaweed and food scraps.

"The Whare Koa

whanau have

been learning

how to create a

no-dig garden."

Topped off with a couple of bags

of compost from a local food

collection trial, this all combines

to provide nutrient-rich soil into

which they have planted some

vegetable seedlings (silverbeet,

spinach, bok choy and celery). All

good healthy ingredients for the

soup pot in the months to come".

Therese is keen to share her love

of composting and gardening

to Pacific Communities through

Compost Collective.

Contact her on 021 905 961 or

therese@compostcollective.org.nz

Find out more about

Compost Collective at

www.compostcollective.org.nz

- Auckland Council -

WITH COMPLIMENTS

Authorised by L Fuli, 7 Fulton Cres, Otara 09) 274-8263
---
3

Members of Māngere PIPC Samoan Autalavou,

including President Leituala Setefano (in grey sweatshirt)

with their donations for Te Puea Marae.

Putting words

INTO ACTION

'How can we help those in need?'

was the theme of the Māngere PIPC

Samoan Autalavou (Youth Group)

service last month - with a focus

on putting words into action!

Following the service, members of the

group organised a collection of food and

clothing and delivered the donated items

to Te Puea Marae, Māngere Bridge.

"We had seen on TV what was happening

within our community of Māngere, so it was

important to portray this message to our

Autalavou and church, and get them on

board to support this very good cause,"

said group secretary Jane Vaueli.

"This was such a humbling and eye opening

experience for us, and we were able to see

first hand the tremendous work that Te Puea

Marae do in helping homeless families."

* * *

The team at 275 Times salutes Te Puea

Marae for their great efforts in helping

homeless families this winter.

Te Puea Marae is no longer receiving donations

of goods and clothing, however the Manurewa

Marae has now taken on this important work.

#ROCCYOURVOTE

CORBETT

FOR COUNCIL

Respect Our Community Campaign www.rocc.org.nz

Authorised by E. Worman, 18 Linnet Place, Mangere, Authorised Auckland by E. Worman, 18 Linnet Place, Mangere, Auckland
---
4

NetHui comes to Manukau

In October, South Auckland

will host the regional NetHui

event at MIT in Manukau.

NetHui bring people together to

discuss anything and everything to do

with the Internet, and they prioritise

participation and interaction from

attendees rather than traditional

conference-style presenting.

Topics can range from new

technologies and apps; to using

the internet in education, within

specific cultural or geographic

settings, or to tackle issues; to

discussing new online movements

– really anything of interest to the

community attending the event.

The NetHui organisers encourage

anyone with an interest in the Internet

to attend. The event isn't just for

people working in IT, it's suitable

for anyone that wants to talk about

the Internet - whether you know

how to write code or can barely

use Facebook on your phone.

All that matters is you are interested

in tech and the way the Internet is

changing New Zealanders' lives.

In the past, NetHui have been

three-day events in the CBDs of

the major cities, but the group

that organises the hui, InternetNZ,

wanted to recognise the interest

and innovation happening in the

digital space all across the country.

"NetHui is for anyone

that wants to talk

about the Internet..."

South Auckland was chosen to be one

of three regional hosts because of

the amount of digital innovation and

activity happening across the region.

Both Manukau Institute of Technology

(MIT) and The Southern Initiative

(TSI) are working to support South

Aucklanders in the digital space

and encouraged InternetNZ to hold

the regional NetHui in Manukau.

"Harnessing the power of the

internet is a fantastic way for South

Aucklanders to connect, innovate

and create opportunities, TSI is also

looking at using digital technologies to

create and enable long-term, positive

change here," says Gael Surgenor,

director of Social Innovation at TSI.

NetHui South Auckland will be held at

the Manukau Institute of Technology

on 15 October, and all South

Aucklanders are invited to attend.

For more information visit the

NetHui website at 2016.nethui.nz

MELLOW BUMPS

A six-week ante-natal programme for expectant parents.

Bond with baby and enhance their development both

during pregnancy and after birth.

Tuesdays 10am - 12:30pm

Enrol for the next course starting 10 October.

Call Tawera: 263 0798 www.ohomairangi.co.nz
---
5

Korean language week

at Mangere Central School

It was all about the kimchi,

the taekwondo and

the "Annyoung haseyo"

in August, as Māngere

Central School held its first

Korean Language Week.

The 'Korean Whānau', a language and

cultural class attended by a range

of students, wanted to share their

learning and celebrate this unique

culture with the rest of the school.

They were led by their teacher, Karina

Powys-Calder-Watson, who fell in love

with Korean culture while teaching at

an elementary school in South Korea.

The main event, a Korean Cultural

Day, was made possible through

funding from ASIA NZ, supported by

the Korean Education Centre, and

parts of the day were filmed and will

screen on a local Korean channel.

Activities included playing traditional

Korean games, trying on traditional

clothing, and a Taekwondo lesson.

There was a noticeable connection

between the tutors and the students

and many commented that it

was a very special experience.

The volunteers and 480-odd students

thoroughly enjoyed the event, with the

learning immeasurable for both parties.

The activities were run by the Korean

Education Centre who provided all of

the resources and organised volunteers

from the Korean community in Auckland.

Māngere Central School wishes

to thank ASIA NZ for funding our

'unofficial' Korean language week

and the Korean Education Centre:

Yoomi Won and Daniel Hyun.

The event was a first for both the

school and the Korean Education

Centre and it marks the beginning

of a beautiful friendship.
---
6

MĀNGERE'S VOICES ON COUNCIL: WHO WILL YOU CHOOSE?

>> Continued from Cover page.

FILIPAINA: As people would know,

the only person who can revoke

SHA62 is Minister Nick Smith and

I will support any correspondence

asking for the Minister to reconsider

his decision not to revoke.

I have already advocated that the

voice of mana whenua has to be

heard and will continue to do so.

MUA & TAMEIFUNA: The Council

has already made its decisions on

this. There is no process for a single

councillor to overturn a decision

made by Council, but we can happily

meet with SOUL (Save Our Unique

Landscape) to discuss their concerns

and ensure that their voice is heard.

2. Consider a trial period

of fare-free public transport

in South Auckland to help

cut traffic congestion?

COLLINS: Yes, I would definitely

consider a free public transport trial

period. This is motivated by freeing up

our roads but also for the economic

benefit of Manukau residents who

are more often than not, of lower

socio-economic backgrounds.

CORBETT: Yes. To achieve the best

return on our huge investment

in commuter rail we need it to

be so attractive to commuters

that they will leave their cars and

choose rail and bus as the default

way to get around Auckland.

If rail and bus use is not maximised

we will be faced with extraordinarily

expensive pressure to build more

roads. The East-West Link between

State Highway 1 at Ōtāhuhu and State

Highway 20 at Onehunga/Māngere

Bridge is estimated to cost $1.5 billion.

This will speed the journey between

congestion at Ōtāhuhu to congestion

on Māngere Bridge at Onehunga

and do nothing to reduce the

number of cars on the road - and

may even encourage more cars.

We have been experimenting with

free travel for seniors with the Gold

Card and it has been a wonderful,

positive, life changing policy.

Many young school-leavers face

economic obstacles travelling to

work or training opportunities. Free

travel could have a major impact

for these young workers gaining

employment across the city.

Auckland commuters are aware

of the congestion load when

schools and universities are open.

Free train and bus travel for all

students could arguably reduce

congestion by 20 to 25 %. To build

25% new roading capacity would

be an astronomical amount.

Let's be creative with our community

assets. I see public transport as how

we move around modern cities.

This is why I will advocate for a trial

of free travel on trains and buses.

FILIPAINA: This has already been

discussed around the Council

table and for public transport to

be free in South Auckland, we

need at least another $28 million

to come from ratepayers or taxes.

I am unsure if our ratepayers

would want to pay the extra.

If the residents of the Manukau Ward

wish me to advocate for this, I will.

MUA & TAMEIFUNA: Auckland

Transport has just conducted a

review of public transport fares.

We will be monitoring closely the

effects that fare reductions such as

these have on getting more people

out of cars and into buses and trains.

We need a lot more investment

in a range of transport initiatives

over the next three years, and

getting Auckland moving again

will be a major priority of ours.

3. Increase affordable housing?

COLLINS: Absolutely. This is pivotal

to a civil, caring and decent society.

CORBETT: Yes. Possibly the most

pressing issue in Manukau and

Auckland in general is the availability

and cost of renting or buying a home.

It is outrageous that homelessness,

and sleeping rough or in cars, has

been tolerated by WINZ and Council

agencies. Private construction

companies will not build low-cost

housing. Council and government

agencies must fund and project

manage the urgent construction

of emergency housing.

Leaving volunteer groups and Marae

to do the work of government is

criminal neglect. Affordable housing

is possible and examples such as

the Waimahia Estate at Manurewa

demonstrate how this can be done.

Thousands of tradespeople are

being trained across Auckland by

schools, polytechs and private

training providers and with some

coordination they could be the

workforce that will help deliver the

thousands of houses needed.

I will advocate in council to support

groups working to solve this issue.

FILIPAINA: I have advocated for

affordable housing across the region

but like everything else when you are

dealing with regional issues, you are

just one vote amongst 21 people.

MUA & TAMEIFUNA: Auckland has

not built enough houses for the last

30 years. This has meant that housing

has become unaffordable for far too

many Aucklanders. The Unitary Plan

provides for 420,000 more houses to

be built. Auckland Future has been

supportive of the Unitary Plan since

the Independent Hearings Panels

reported back. The only way to make

housing more affordable for more

Aucklanders is to increase the supply

of housing. Auckland Future has a

range of initiatives to make sure that

the Council delivers on its plan.

4. Extend rail services

to the airport?

COLLINS: Yes. I still can't understand

why this hasn't been done to this

point in our history. I also support

a heavy rail option to the airport.

CORBETT: Yes. This is a critically

important piece of infrastructure.

Auckland Airport has accepted the

reality of how a modern airport

of this scale should operate and is

building a railway station into the

new terminal as we speak. They

are yet to decide if it will be light

or heavy rail but it will be rail.

I will advocate to get a commitment

from Council to build the airport

branch line heavy rail from either

Wiri or Onehunga. This must be

decided and implemented now.

FILIPAINA: I am on public

record for supporting the heavy

rail option to the airport.
---
7

Which candidates will support the community campaign to save Ihumatao from the SHA housing project?

MUA & TAMEIFUNA: There are

many projects that Auckland needs

to get underway to get Auckland

moving again. Many of these come

from the Unitary Plan, which is an

integrated housing, transport, and

infrastructure plan for Auckland.

If a rail service to the airport

stacks up economically, then we

will support it, but it has to be

judged alongside all the other big

infrastructure needs that Auckland

has over the next twenty years.

5. Uphold local democracy?

COLLINS: Yes. As a chair of a local

board I am keenly aware of the views

of local residents and am committed

to ensuring that their views are heard

and that they are provided with full

and unprejudiced information.

CORBETT: Yes. Our modern

society is built on a foundation of

democracy. We must ensure that

tradition continues and flourishes.

With recent government legislation,

for example, the Special Housing

Area Act 2013 removed the

right of communities to be

notified or to be able to object

to zone changes for housing.

The Local Government Act 2002

Amendment Bill (No 2). will give the

government the ability to appoint

directors of Council Controlled

Organisations (e.g. Watercare) instead

of elected local representatives having

that role. That's hardly council control.

The Government's preoccupation

with privatising public infrastructure

will remove local accountability

and decision making. The ability

of Local Boards to advocate for

their communities is also under

huge pressure. The courageous

Māngere/Ōtāhuhu Board was

recently prevented by the Auckland

Governing Body from objecting to

the issuing of Liquor Licences in

Māngere. The Chair, Lydia Sosene,

was forced to pursue the case in

a private capacity. In no way does

this situation represent a model

of effective local democracy.

These attacks on basic democratic

functions of our local bodies

must be resisted strongly. I will

advocate for strengthening the

role of Local Boards and hold the

Democracy Services division of

Auckland Council to account.

FILIPAINA: Yes. The Māngere-

Ōtāhuhu Local Board is your

local voice and they will

continue to be that.

MUA & TAMEIFUNA: We are

deeply committed to ensuring that

local democracy is maintained

and strengthened, and that

our communities are able to

express their views and that

Council hears our voice.

6. Restrict liquor

& gaming outlets?

COLLINS: Totally. Liquor stores and

pokie machines are an indictment

on our Manukau area and South

Auckland has more of these than

other parts of Auckland. This is

unacceptable and the poor are being

preyed on by ruthless business

owners and poor laws that allow for

this. I have this term advanced the

need to review District Licensing

Committee (DLC) hearings so that

community voices are heard and not

made to feel belittled and intimidated.

CORBETT: Yes. These businesses

offering liquor and pokie machines

are destroying people's lives and have

a huge negative impact on family

and community welfare. We do not

need a liquor store and a pokie outlet

in every community shopping area.

Our communities must decide where

and how many of these outlets

should be allowed, not the Liquor and

Gaming industry as is happening now.

Only 10% of the money generated in

the pokies in Manukau is distributed

to organisations in Manukau. Once

again our community is being

exploited and impoverished.

I will advocate for community board

control of licensing these outlets.

FILIPAINA: Yes. I supported the

Local Boards in their advocacy for

a stronger voice in regards to the

District Licensing Committee.

MUA & TAMEIFUNA: This is

an issue that frequently comes

up when we are speaking to

church-based communities and

door knocking in Manukau.

We strongly support the right of local

communities to play an active part

in the decisions about the number

and density of liquor and gaming

outlets in our communities.

7. Upgrade community facilities?

COLLINS: All our community facilities

need to be well maintained and I

have experienced a few in Ōtara that

are desperately due for upgrading.

Our locals deserve the best facilities

which extend libraries, sports fields,

community halls and the like.

CORBETT: Yes. We must be creative

and holistic in addressing how we

keep our communities healthy,

positive and safe. Well-funded and

well maintained facilities are essential

to achieving a good quality of life and

a liveable city of vibrant communities.

FILIPAINA: [No response]

MUA & TAMEIFUNA: We will always

support the development of the

community facilities in Manukau. We

believe we can do a lot better, through

better representation at the Council

table and better representation on

our Local Boards to ensure that

Manukau is getting a fair share

of community facility funding.
---
8

Reach new heights in trades

It's a common fact that many of our Māori and Pasifika young people are

practical, hands-on learners who learn by doing; this is a great way to gain

skills and learn a trade.

By Dale Williams

The Southern Initiative,

through the Māori & Pasifika

Trades Training programme,

offers completely fees-free

trades training that assists

Māori and Pasifika aged

16-40 years to become

qualified in a trade.

Opportunities are

available to enter into an

apprenticeship and become

sustainably employed in the

infrastructure, construction,

horticulture, automotive

and electrical industries.

The Māori & Pasifika Trades

Training programmes

include work readiness, free

driver-licence training, and

a $1000 tools grant upon

completion of training and

once into employment.

Trainees also benefit

from employer links and

exposure to the various

trade-related industries.

Currently, we have 33

young women enrolled

in The Southern Initiative

Māori & Pasifika Trades

Training programmes,

and these trainees will

be given opportunities to

engage with our employers

throughout their training.

Employers have explained

that there is a shortage of

female trainees within the

trades industries, and we

collectively support raising

the participation of female

Māori and Pasifika aged

16-40 into trades as an

alternative career option.

Discover your

potential by learning

a trade – what have

you got to lose?

When I visited Skills

Update last month, I spoke

to Sapphire Rauwhero-

Ashworth, a female

trainee enrolled in the

automotive programme

at the Māngere Branch.

When I asked what

she enjoyed most

about the programme,

her response was:

"My automotive tutor

inspires me to learn the

skills needed for the trade.

He is supportive and makes

me want to learn and come

to the course every day".

She continued to explain

that "Being able to work

with engines and going to

an automotive workshop

in the weekends helps

me put into practice

what is learnt in class".

The automotive

programmes are currently

being delivered at the

Skills Update Training

ADVERTORIAL

Above: Sapphire Rauwhero-

Ashworth, automotive

trainee from Skills Update,

Māngere in work placement

Institute's Māngere and

Takanini Branches.

For more information

visit our website: www.

mptt.co.nz, or call our free

phone (0800) 874-678.

ENROLLING NOW FOR

2017

Court Town Close, Māngere, Auckland, New Zealand

Ph: 09 275 4332 Fax: 09 275 5420

Email: officeadmin@bader.school.nz

www.bader.school.nz

Above: The team from Manukau City AFC

CONGRATULATIONS

Manukau City AFC!

Manukau City AFC, which is based at Walter

Massey Park in Māngere, is celebrating the final

stages of a successful 2016 campaign, having

won promotion to Division 1 of the Northern

Regional Football League for next season.

The team is also likely to take home the Championship

title this year - at the time of writing they have just

one game left. Congratulations to all involved!!
---
Cultural brothers

& sisters at Bader

Intermediate

Community is everything,

and we are blessed that

Māngere has both a

strong, unique identity

and a cultural richness

not seen anywhere

else in New Zealand.

In the spirit of building great

communities, Sir Douglas Bader

Intermediate and Māngere College

have been working together more

than ever to develop stronger

links between the schools.

One of the great initiatives to emerge

is the tuakana-teina relationship, or

big brother/sister supporting and

guiding our younger students.

Every week, a dedicated group

of Māngere College students

(Winners of the Samoan stage at

Polyfest) tutor the Diversity Team

at Sir Douglas Bader Intermediate

in Pasfika dance and song.

Danita Samuelu, Mema Futi,

Fiapai Leota, Mike Sanerivi Pio

and Clarance Soti dedicate their

time and skill to supporting the

talents of the students at Bader

Intermediate, who hope to follow

in their footsteps and represent

Māngere College on the main stage

at Polyfest in years to come.

This is a great example of not only

how the two schools have come

together to support each other, but

also the selfless commitment of older

students supporting young people to

explore and be proud of their culture

and identity; while providing them

with great community role models.

Sia Halatanu and Pesi Tevaga,

students at Bader Intermediate agree

that the students from Māngere

College make the learning fun. "They

teach us things that we haven't learnt

before, so its new and exciting."

ADVERTORIAL

Driving without a licence:

It's not worth the risk

Cameron (27), has recently gained his learner licence after

four attempts. So, what made the difference this time?

"The way Koia, the Behind The

Wheel tutor, explained things helped

– and the after-work classroom

environment," he explains.

Cameron admits that in the past

he's driven without a licence due

to pressure from friends and family.

He's had three cars impounded and

received hefty fines: "Four hundred

bucks every time!" Then he's had

to pay to get the cars released

after 28 days. "If you don't have

the cash up front, the price [for

the storage fees] keeps going up",

he says. "It's just a massive hassle

and very costly, especially when

you have a family to support".

Cameron recommends other

young people ignore the pressure

-"it's not worth the risk"- and join a

driving course to get their licence:

"Get it over and done with!"

Coping with peer & family pressures

ÊÊWe know it can be tempting

to ask a young person in the

whānau to drive somewhere for

you, even though they might not

Above: Behind The Wheel tutor Koia

(right) congratulates Cameron (left)

on receiving his learner licence.

have the right licence. But it's

also important to keep them safe.

Remember, you're not only asking

them to do something illegal but

also putting them in an unsafe

position. Let's come together to

look after our young people and

find a safer option that doesn't

involve them breaking the law.

ÊÊIf you're a young person feeling

the pressure to break the rules

of your licence or even drive

without one, remind those who are

pressuring you that you could face

a fine of $100 and 35 demerit points.

ÊÊDriving outside of licensing

conditions puts our young people

and others on the road in danger.

That's why it's important we help

them to cope with any pressure to

break these conditions – we can

do this by role-playing or talking

through what they might do to

be prepared for these situations.

Find out more about local driving courses at www.behindthewheel.

nz or on Facebook@behindthewheelmangere

9
---
10

Eating healthy,

staying healthy

By Justine Skilling

Waste Minimisation Facilitator

Talking Rubbish, ME Family Services

Hari Narayan is a Māngere local with

a wealth of gardening wisdom, which

he freely shares with his community.

Originally from Fiji, Hari came

to New Zealand with 23 years'

experience in the forestry industry.

His family loved life in New Zealand,

and Hari decided to retrain in

horticulture as his ticket to stay.

After working in logging and having to

wait 10 years for trees to grow, he loved

being able to see vegetables harvested

and eaten only six weeks after planting!

Hari completed his studies at MIT

and by the time he graduated, was

already teaching on the course.

His first job took him to an organic

farm, where it became clear to him

that if you wanted to grow healthy

vegetables, you needed healthy soil.

"Healthy soil, healthy vegetables,

healthy people", says Hari.

This learning has all come together

in his current roles: working as an

educator with both Gardens for

Health and the Compost Collective.

Above: Hari Narayan offers free gardening

and composting workshops in Māngere.

"Health is wealth...

We spend a lot of money on

our health, but prevention

is always better than cure."

In Māngere, Hari works closely

with seven community gardens,

where he runs gardening and

composting workshops and teaches

people how to feed their families

from their own backyards.

"If you grow your own, you know

what's going into the soil and

what's in your food", says Hari.

"You can avoid the chemicals that

are going into growing the food

that's sold in supermarkets."

People don't need to spend lots

of money on gardening, Hari

believes. Growing in containers that

you recycle from your home and

making your own compost and

fertiliser from your household food

scraps works well and helps the

environment at the same time.

"We should be proud Kiwis trying to

stop waste going into landfill", he says.

Hari believes that it's important for

us to look ahead at the future for

our children. "If we start educating

our kids now, the future will be very

bright for everyone", he says. "We

need to rethink our health and go

back to the way things were in our

grandparents time. They had their

own 'supermarkets' in their backyards

and grew food without chemicals".

Hari's workshops, through

the Compost Collective and

Gardens for Health, are free.

Check out the websites below to

find out about upcoming workshops,

or contact Hari directly at Kiwi

Garden & Composting Ltd (ph.

021 029 17519), if you'd like him

to come and run a workshop in

your neighbourhood or group.

"Health is wealth", says Hari.

"We spend a lot of money on

our health, but prevention is

always better than cure".

www.compostcollective.org.nz

www.dpt.org.nz/ourprogrammes/garden-4-health

RISING

STARS

By Ernestina Maro

Ex-Māngere College students Gloria Aiono and Tolu Lesa are representing New Zealand

in volleyball and gridiron respectively.

Gloria has recently returned from Australia, where she has been playing for the New

Zealand Women's Volleyball team in preparation for the Asian Volleyball Championship.

Tolu Lesa is an up-and-coming star from the gridiron fields of South Auckland,

who has managed to claim a spot in the NZ Gridiron team.

Both these athletes have worked extremely hard to get to where they are. Your

community congratulates you and your families on your successes and wish you

both all the very best in your endeavours.

NZ Volleyball & Gridiron Reps: Gloria Aiono (bottom row, second from right) and Tolu Lesa (below).
---
11

MARAMATAKA

SEPTEMBER 2016

B y Ayla Hoeta

Our tupuna created

the maramataka (moon

calendar) based on three

connected elements:

the sky (Te Rangi), the

land (Te Whenua) and

the water (Te Moana).

By observing the sky, the

land and water, we can

predict activities in our

natural environment.

In last month's 275 Times we

introduced the dial which

helps set the activities for

each day of the month.

To set your dial:

1. Cut out the two circles.

2. Place the small circle inside

the large one and put a pin

through the middle of both.

3. Now you need to set the month,

which starts on Rākaunui.

Rākaunui falls one day before

the full moon (West Coast) and

on the full moon (East Coast).

4. This September, the full moon

is on the 17th, so rotate the

small dial to make the number

'16' line up with Rākaunui on

the big dial. You should see

that September 1 falls on Tirea.

The 9th is Huna and the good

fishing Tangaroa days are on

September 22, 23 and 24.

Now you've set your dial, you

can start looking at key days of

the month such as high energy

days: Ōturu, Rākaunui and Rākau

Mātohi (September 15 - 17). High

energy days are best for planning

events that require a lot of energy

or working outside, e.g. planting

crops like hue, kamokamo,

watermelon and pumpkins.

Another recent event was the

coming of spring (Koanga).

In the maramataka this is

predicted by the sighting of two

stars that rise before day break

in the eastern sky. These stars

are Whakaahu Kerekere (Pollux)

and Whakaahu Rangi (Castor).

This year, both stars were visible

from about August 24, therefore

contrary to popular belief, spring

actually began on August 24

not the 1st of September.

There are many tohu/signs

in our natural environment -

like the kohurangi. When the

kohurangi starts to flower it's a

sign that we can start planting

crops. This year it flowered

in mid-July. Really early!

These tohu continue to help us

understand and predict what is

happening around us. By keeping

up with the maramataka we

too should be able to do this.

In next month's column will have

more explanations of each Māori

name in the dial as we head into

the seven periods of summer.

#watchthisspace

* * *

If you're enjoying learning about

the maramataka, why not head

along to the Wananga Tirotiro

Whetu/Free Science & Stargazing

Expo on Sept 7. See the Community

Notices on page 12 for details.

More than just books

Beside the village green

is Māngere East's best

kept secret – our local

library. The library is one

of three in the Māngere

area and one of 55 in the

wider Auckland region.

Joining is easy and

gives you access to

the whole network.

The friendly staff are

always on hand to

show you around the

collection, which includes

an extensive range of

electronic resources.

They also offer computer

services including printing,

copying and scanning - and

you can now print directly

from your personal devices.

The library is an active

part of our local

community, celebrating

the diversity of our local

people through culturally

specific collections and

annual language weeks.

The next focus is on

the Tongan language,

beginning 4 September.

Drop in for the weekly

activities, a warm place to

study or cosy up with a

book, or even just to have a

chat – everyone is welcome

at Māngere East Library.

Run, stroll, cycle or

drive on down – there's

so much more to the

library than books!

Check out these

regular activities:

Knitting & Craft Club:

Thursday 10.30am

Any level welcome;

learn something new

or bring along a current

project to work on.

Above: You always get a warm welcome from the

librarians at the Māngere East Library

Wriggle & Rhyme:

Tuesdays 11am

Brain development through

active movement to music

for mums and babies.

After School Club:

Mondays & Thursdays 4pm

Games, crafts and

activities for primary to

intermediate age kids.
---
12

Community Notices

ACCESS TO EMPLOYMENT (A2E)

All the tools you need to get a job. The A2E programme is a

relaxed, informal session held in the Māngere Town Centre

Library at 10:30am on Friday mornings. Meet other locals and

hear from employers and training agencies about opportunities

and advice that can assist you in your job search. All ages and

backgrounds welcome.

COMIC BOOK MONTH: MANGERE BRIDGE LIBRARY

Delve into the world of comics with Comic Book Craft on Friday

9 Sept at 3:30pm, Superhero Sing-a-long Storytime on Friday 16

Sept at 10:30am and Superhero Sunday on 25 Sept. For more

info, check out the library's website or Facebook page, pop in, or

contact the library on 09 636 6797 or email:

Mangerebridge.library@aucklandcouncil.govt.nz.

WANANGA TIROTIRO WHETU

FREE SCIENCE & STARGAZING EXPO

An introduction to science combined with mātauranga Māori

and mātauranga Pasifika. Join Rereata Makiha and colleagues

from the Society of Māori Astronomy Research and Traditions

for a public workshop on 7 Sept from 6:30pm - 9pm at MIT,

above the Manukau Train Station. Contact David Rameka:

david.rameka@aucklandcouncil.govt.nz.

STRIVE SPRING CLEAN GARAGE SALE 2016

A family and community event that attracts bargain-hunters

from all over Auckland, and gives families, sports team, and

community groups the opportunity to raise funds by selling

things they no longer want. This year's event will be held at Ngā

Tapuwae Hall, 253 Buckland Rd, Māngere, on Saturday, 24 Sept,

from 7am - midday. If you'd like to be a stallholder, call 09 255

0144 or 021 0877 4234 or email matariki.strive@gmail.com.

YOUNG WOMEN'S SUPPORT GROUP - MANGERE

Grab your girls and come to this FREE support group - all

welcome! Get to know other young women - share what's up in

your hood - learn new things - increase your self-confidence.

Every Tuesday 4pm - 6pm at the Māngere East Community

Centre. Contact Bonnie: 021-022-76486.

MANGERE FRIENDSHIP GROUP

Communicare Māngere run a Friendship Centre in Māngere.

Weekly group meeting in the Netball Centre in Court Town

Close opposite the Town Centre. Guests enjoy morning tea, light

exercise, craft activities then some bingo and a cooked lunch

from 9.30-12.30 for $6. Call 09 631-5968 for further information.

Community notices are FREE for non-profit organisations.

Send us details of your group or event for the next issue!

275 times

275

Māngere's

times

Design: Belinda Fowler Editor: Roger Fowler

Publisher: Māngere East Community Centre

275times@gmail.com

www.facebook.com/275times

www

www.275times.com

09 275 6161

Welding +

Panel beating

BUILDING

AND

CARPENTRY

Recreation

& Sport

Automotive

Joinery

& Cabinet

making

Forces

Pre-Entry

Employment

Skills

Don't

just dream it.

ZERO FEES &

TRAVEL SUBSIDY

FOR 16-19YRS

FREE SELECTED

PROGRAMMES FOR

20+ YEAR OLDS

FREE

Learners or

Restricted Licence

(conditions apply)

NCEA Level 2

Warehousing

& Forklift

Operations

BECOME IT!

Conditions apply.

HANDS ON

TRAINING

MANGERE

(09) 257-5732 | 59 TIDAL RD

Contact: Tuhin Choudhury

TWR000695 HP

Unit 7/17 Airpark Drive